Wana buy a secondhand yacht?
You´ve probably heard of all these horrific stories about osmosis ("plastic cancer"), boats with hulls that have been "sailed soft" over the years, big or small hidden flaws that turn out to be neverending construction sites and season-long wharf-sitters? After having spent hours browsing the internet forums and seeking answers to my thousand and one questions I resigned: No help in sight. The internet doesn´t seem to be much more than a wild mingle-mangle of facts that say NO! DON`t BUY USED! than the opposite.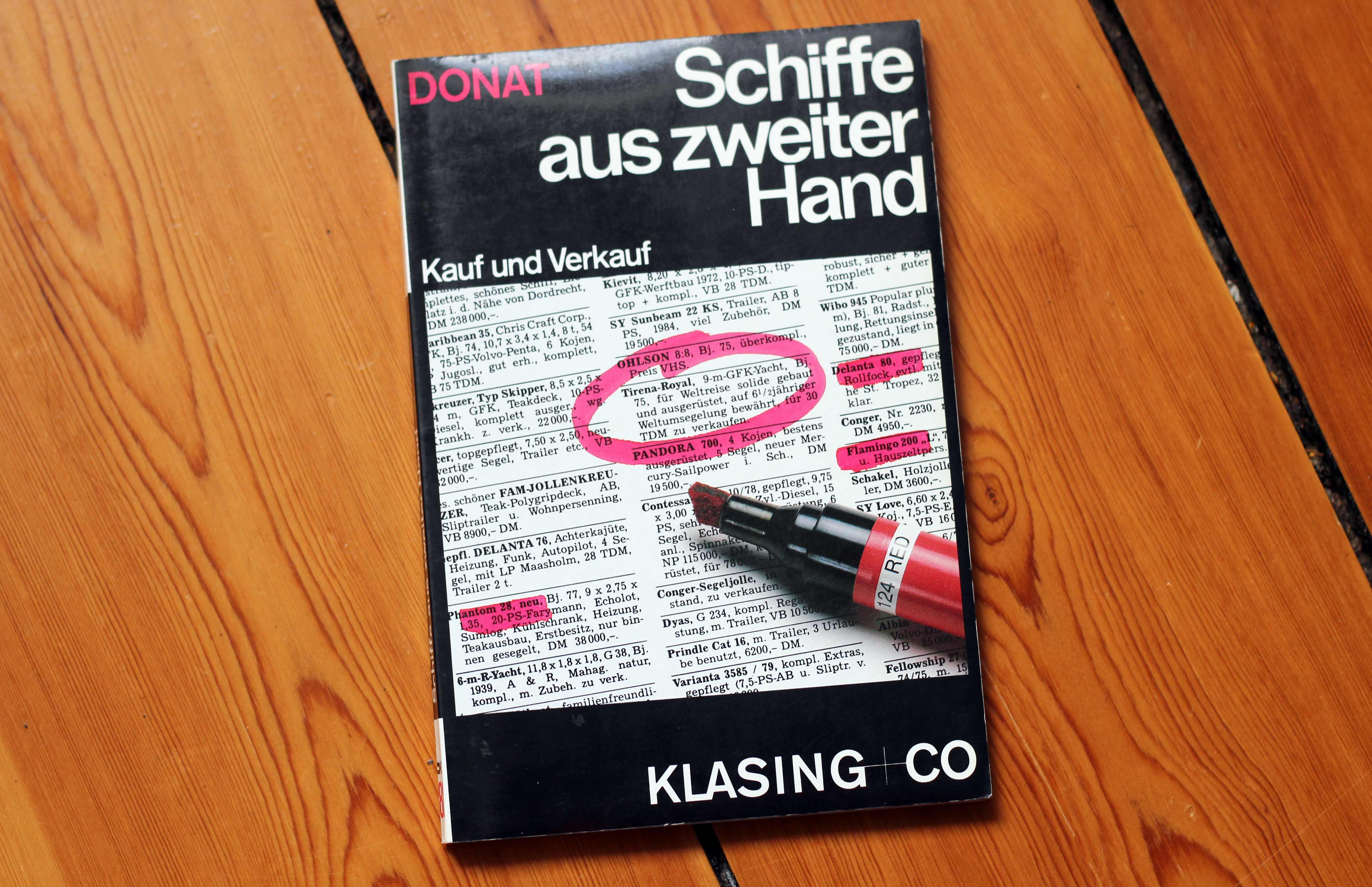 So I crawled amazon.com for helpful books – and behold I have found a couple of really helpful literature which I am glad to share with you here today. Don´t bother if my recommended books are in german. I would encourage the willing buyer to search the net or your local second hand bookshop  store for comparable books.
Publishing Company Klasing, no Delius-Klasing – Yachtie´s Paradise.
Two of my recommended books have been published by Klasing, a well known publishing house here in Germany. They offer books of all kinds of various so called "special interest" topics, ranging from World War 2-Stuff from Messerschmidts to Uboats over all kinds of Sporting Activities and – of course – Yachting.
Mayby as my english-speaking reader you´ll find english translations of these books or your country has its own sister-company or clone similar to Delius-Klasing. This article should inspire you to ask for comparable books with the same contents.
Book #1: Dated but not outdated, "Schiffe aus zweiter Hand" by Hans Donat.
My edition (second) of this book dates back to the year 1988. I was 10 years old when this book was printed, so all the stuff connected to books such as the smell, the appearance, the style, the pictures and graphics are a bit oldschool, but I was surprised how up-to-date the information was.
"Ships from second hand" is written by a person who knows clearly everything about GRP-boats, their flaws and hints and tricks of both buyers and sellers. It offers a rich variety of facts but manages to write them down astonishingly short and easy to grasp. One could clip this book under his arms and use it whilst looking at a yacht on-site …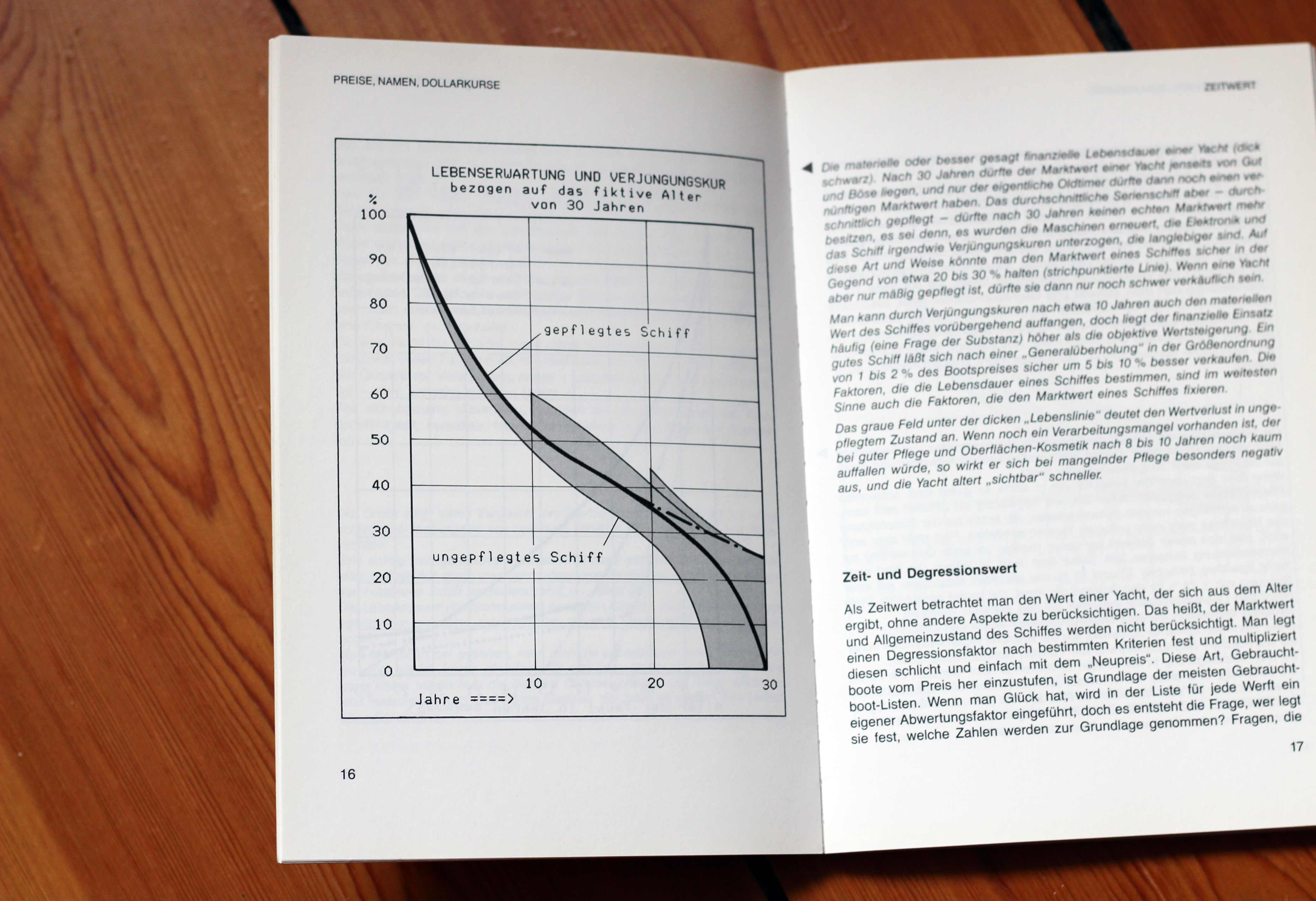 It starts by giving hints how to answer THE most important question of them all: "Is this boat worth it´s price?". Hans Donat states how the value of a new boat declines – right after the contract is signed. "10% down in value even if the ink of the signature under the contract hasn´t dryed out yet." Wow. He shows descriptively how the overall value of GRP-boats decreases over the years and nears nill after some 30 years if not refitted.
Very helpful when your next seller offers a Bianca 27 built in 1972 for 25.000 Euros …
After having cleared all the factors that determine the price and value of a secondhand yacht, the next chapter deals with checking the boat itself. The author takes us on a ride through a boat from the outside hull – rudder, screw, keel, antifoul, gelcoat and so on – to the upper decks – fittings, rigging, cockpit – and into the inside with engine, bilge, windows, bathroom in short – every aspect of your new ship is considered.
But that´s not all – crystal clear graphics show all the points where you might take very close looks onto. Where is it good to have a second sight? Where to use a Maglite and where to ask a specialist? Did you know that Batteries older than three years have no value at all? Did you know that all technical appliances onboard decline in their value by 90 per cent after 5 years?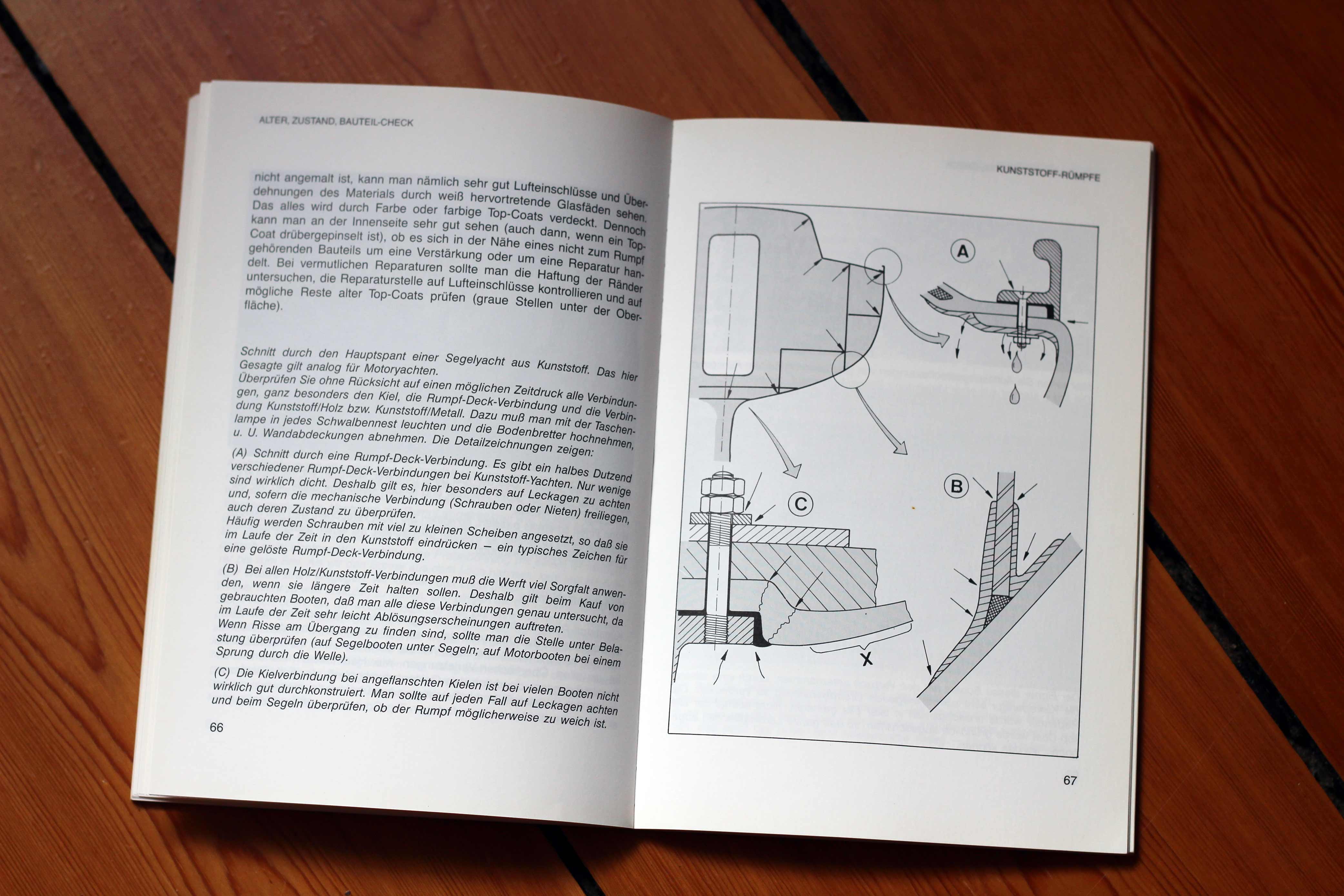 You´ll find not only graphics but also black/white photography of the worst cases showing very clearly what to look for and where.
The book has only 125 pages but is so stuffed with valuable knowledge that it is a clear pity that there is no English translation available. The book concludes with a checklist a buyer should have with him when having an on-site date with a potential boat: Go down the list point by point and don´t forget anything. Small book – good read.
Book #2: Michael Naujok´s "Secondhand Yachten" from 2004
What made me buy this book was it´s first chapter. Michael Naujok lists on 33 pages his view of well-tried and value-stable, high-quality boats and yachtmakers worth buying. Ranging from small yachts from 22 feet to the big ones of up to 44 feet.
You´ll find the Sunbeam 22, the all-known Folkeboot or Nord 80 as well as the famous Hallberg-Rassy 29, Bianca 27 or Vindö 32 and in the end the – for me unreachable – Bavaria 34, Rassy 36 or the Queen Rassy 382. Small texts sum up the pros and cons of the ships and give hints when and where to buy them.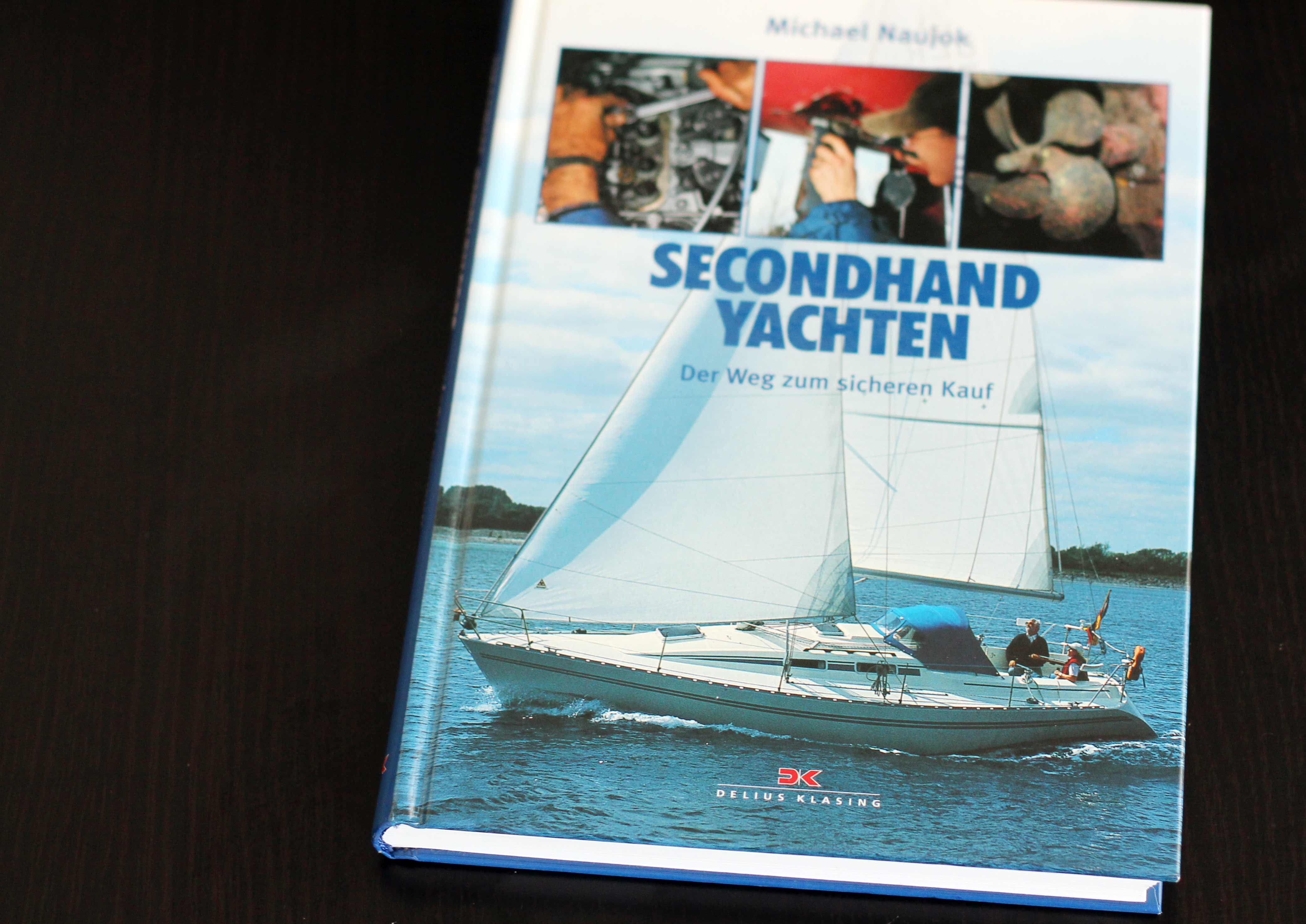 Similar to my first recommendation, this book dedicates its main part for the examination of a used yacht. The autor describes well and in great details where to find flaws and – WHY these flaws came there in the first place. So by reading the book one will learn what not to do when owning a yacht in order to prevent all these small and big catastrophes.
Where this book is far more elaborately than "Schiffe aus zweiter Hand" is the part trial run. Here the new yachtmaster gets a great insight on how to handle a test ride, what to do, what to prevent and how such a test run should proceed. Did you know that when the engine is warm (pre-heated?) this could indicate a problem? Hands off or price down.
Also a detailed checklist concludes this book and comprises all in all to a worth to read but nevertheless very entertaining shortwhile book.
Last but not least, Book #3: "Reparatur und Wartung von GFK-Booten"
English readers won´t have any problem to find a similar book. There will be plenty of "How to repair GRP-boats"-books around in shelves all over the world. I´ve bought this book because it doesn´t really deal with buying used boats, but with repairing them.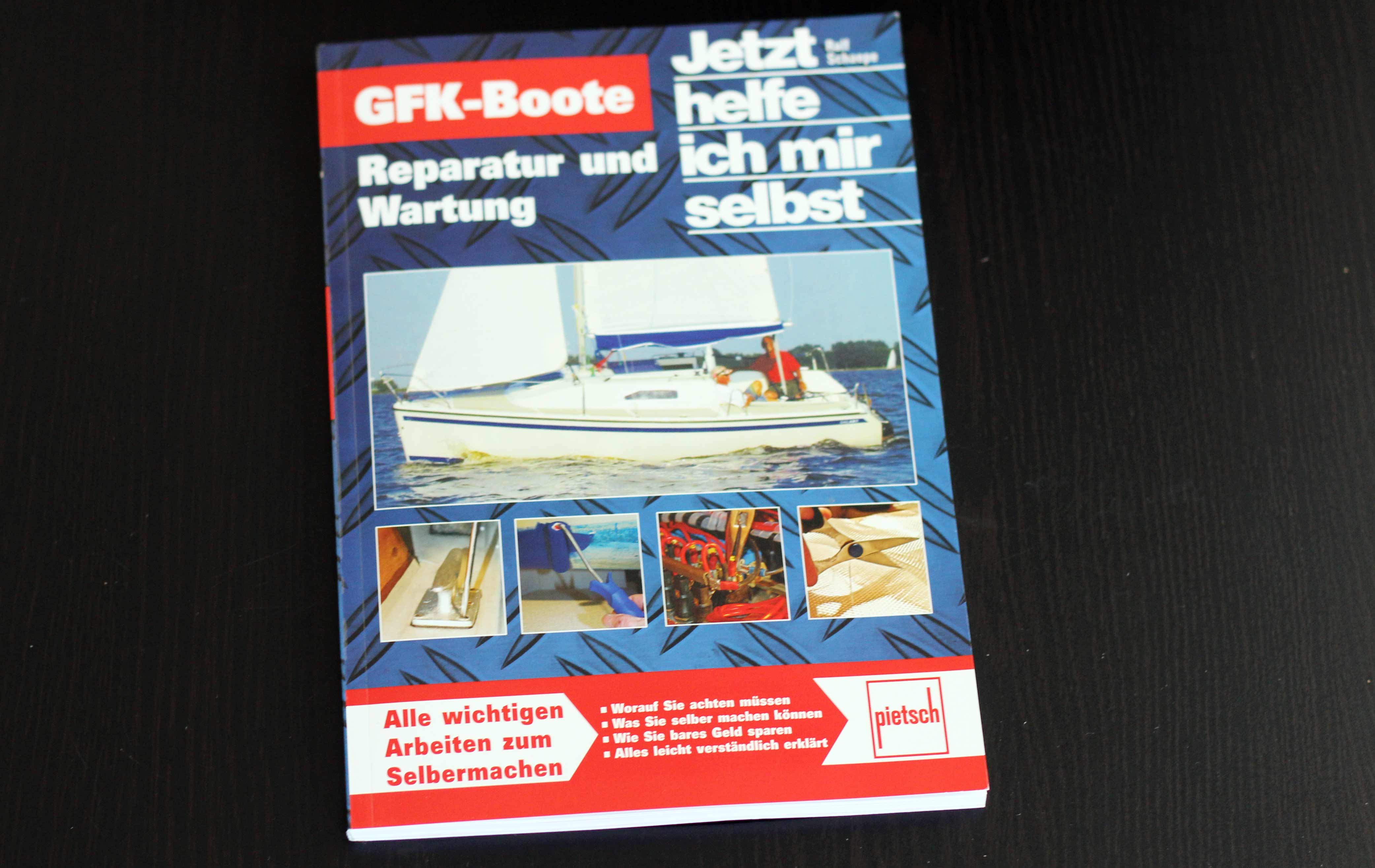 So in learning how to repair flaws and damages, I should learn how to spot them in the first place. I thought. And really – it helps. This book comprises excellent guidance of how to repair all kinds of damages of the inner and outer hull, the steering and rudder, screws and engine, toilet, pantry, electrics, rigging, even how to stitch damaged sails.
The best is – I can use this book after I have bought my yacht as well when I want to refurbish the boat from keel on.
Don´t browse – read!
Even if these three german books won´t help you this much. My advice is clear: Don´t waste your time in endless browsing in the internet forums. Too many people you do not know with questionable qualifications can publish too much unchecked stuff here – believe me – that will only confuse you than rather help you out.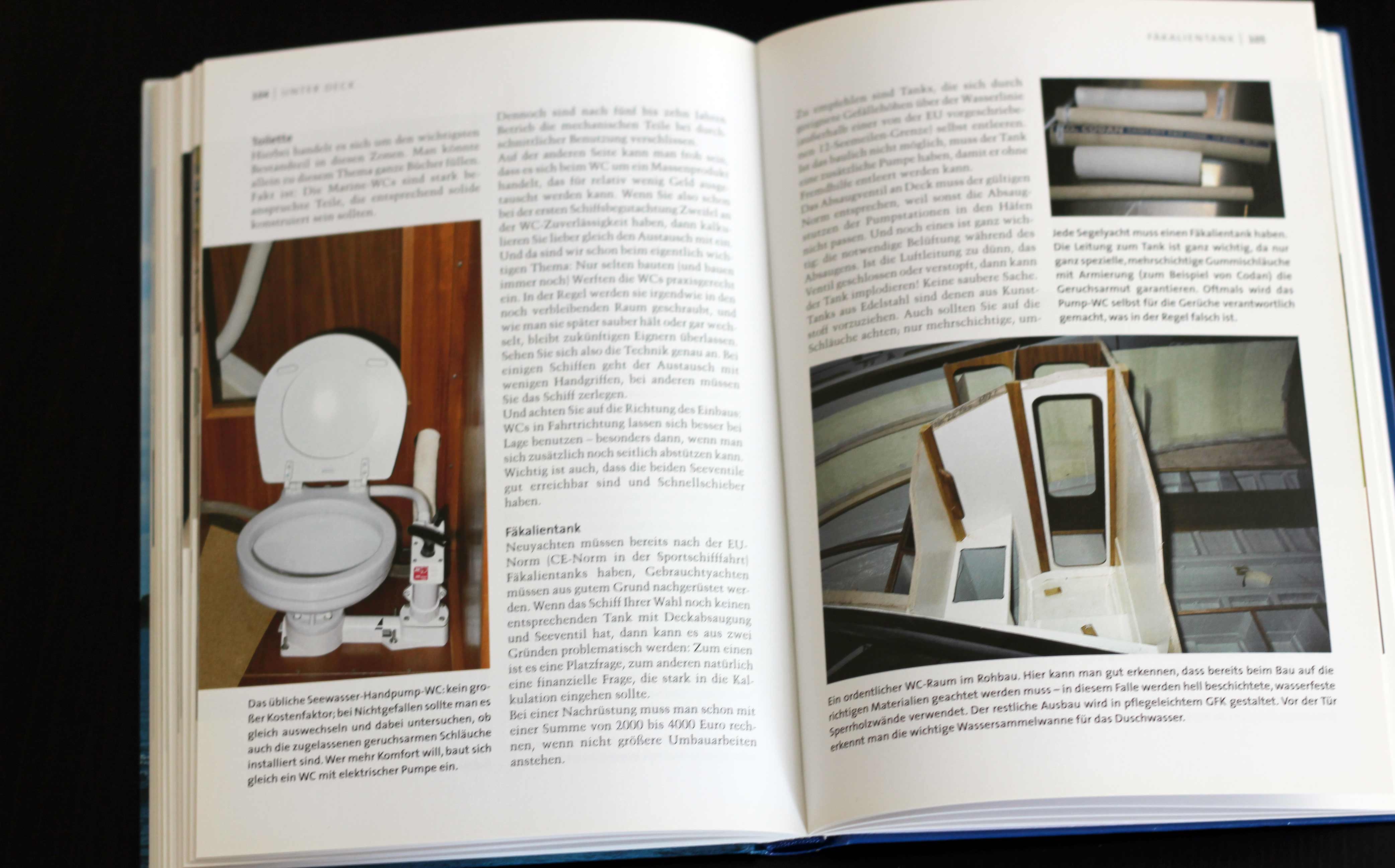 Seek a good book-shop, a specialist in maritime literature or simply ask in your local sailing community where to find the next good book shop. This will spare you waste of time and bring you some joyful hours of really good information sucking from good books.
Which books did you read and how did you manage to find the flaws in your secondhand yacht if there where any? Feel free to share your thoughts and feedback.