Sometimes you are blessed with finding little dots and bits and pieces here and there, smaller and bigger stories, interesting connections, history made and in the making. Sometimes, those connections are amazing, surprising or exciting – like it happened the last weekend, just around the corner from my hometown of Luebeck. A glorious summer´s day, we went to Travemuende, a small coastal town just downriver, a 15 minutes drive. This little town is a sailing hotspot in Luebeck Bay area and peppered with marinas and smaller shipyards. This is where I met Marcus Schlichting.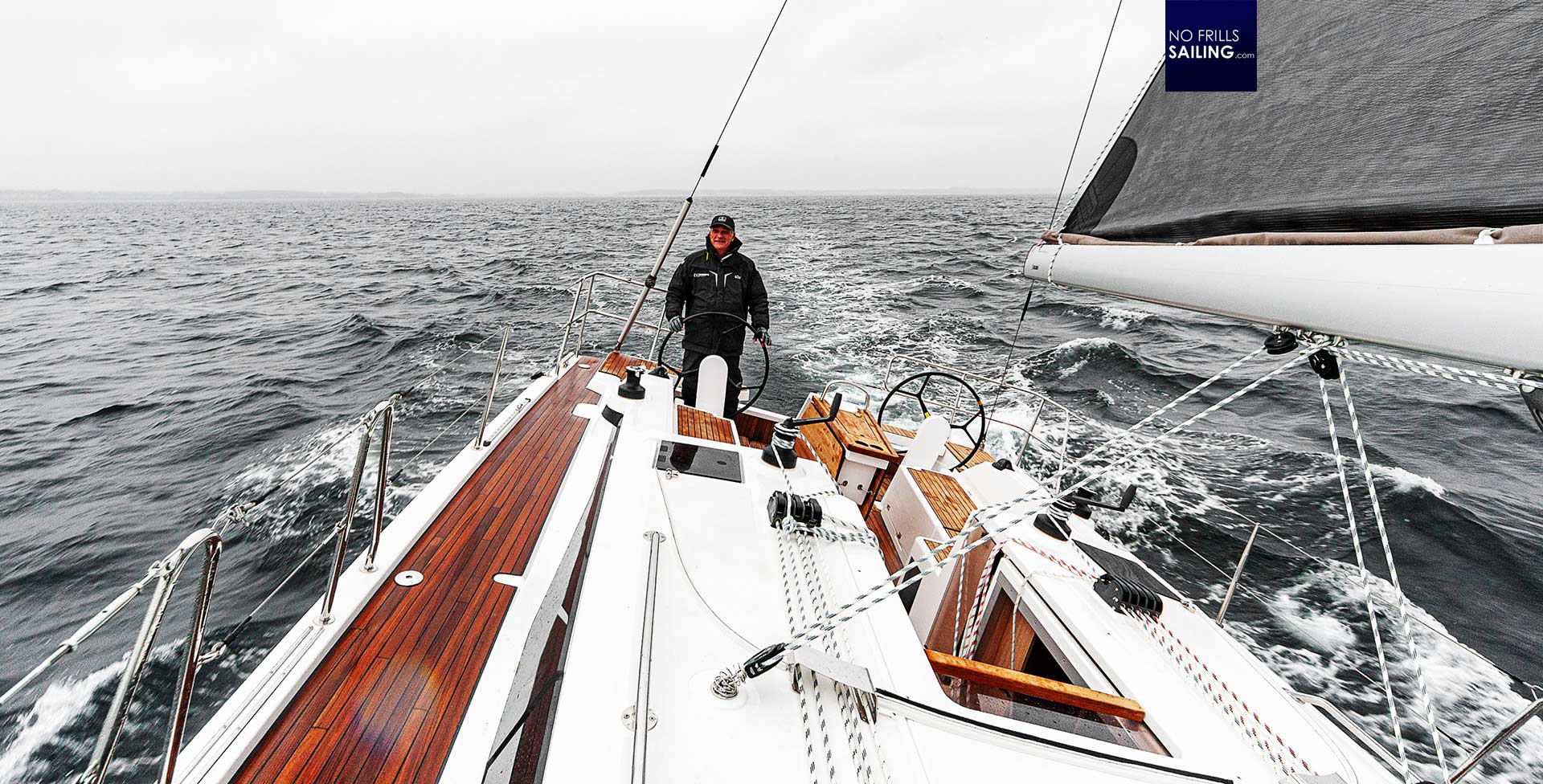 You may have seen Marcus Schlichting here and there, mostly in the sailing magazines, maybe on a boat show. Marcus is the Press Officer of Bavaria Yachtbau, one of the big German boatbuilding brands. Responsible for marketing and PR, he is making sure that the sailing community knows about the latest yachts created by Bavaria, that sea trials with journalists work out just fine and that the communication strategy of Bavaria Yachts is paying off. Well, this is the "official" Marcus Schlichting. But, as I discovered by chance, the is much, much more.
Meeting Marcus Schlichting of Bavaria
Since I am working in the industry for some seven years now in a similar, but ultimately far less important position for my own company, I got acquainted with Marcus right from the start. The business is consisting of not more than 1.000 people I´d say, so it was a matter of time until we crossed our paths. Ou relationship is open, friendly, mutual respect and interest. Meeting and greeting during the boat shows, the casual business-talk – a nice guy, ex-journalist, funny. I like him. So, last week, by chance, I noticed – don´t ask me how! – that Marcus Schlichting is indeed part of Germany´s shipbuilding tradition: And I don´t mean Bavaria Yachts!
Apparently, there was a shipyard called Schlichting Werft, loosely translated to "Schlichting Yard". Founded way back in 1898 in the old German Empire, this company became well known not just locally but made its name in building boats and big ships, known throughout the whole country and beyond. I found this so compelling that I called Marcus, who happens to live Travemuende as well, asking him if he would like to tell me the story of his family. He happily agreed: "Why don´t you come by, meet me on my sailboat and I´ll bring some old photo albums …" Said, done.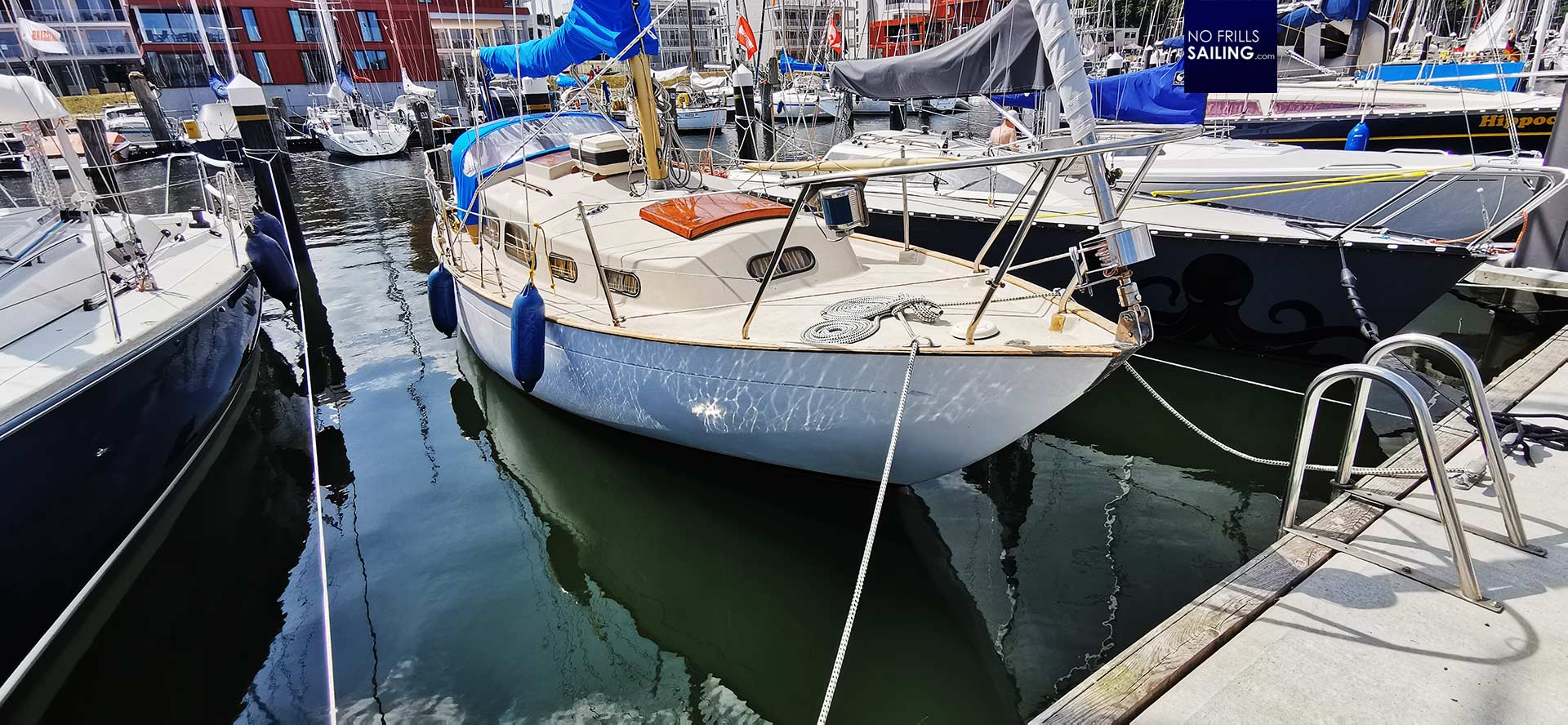 He´s a man of surprises. As I also only knew him dressed in boat show-suits, freshy shaven and underway on behalf of the brand he represents professionally, imagine my astonishment when I arrived on the berth number on the pontoon of his home marina – the famous Passat harbor of Travemuende right in the shadow of the mighty Flying-P-Liner PASSAT, moored as a floating museum like her equally impressive sister ship PEKING in Hamburg. Imagine my surprise: The chief press officer of Bavaria Yachts is not sailing the latest C38 or C46 by Bavaria … but a 70ies built 27 feet Danish made Bianca sailboat. He is waving: "Hello there, come aboard, Lars!"
History next door
Marcus already had two guests aboard so I didn´t wanted to waste their precious weekend sailing day and stress his hospitality too much, and we started right away. He pulled out a photo album, opened it and showed me a picture of 1898. "This is where it all began", Marcus said. On the other side of the river where his grand-grandfather founded a little workshop, the Schlichting shipyard. That was 125 years ago!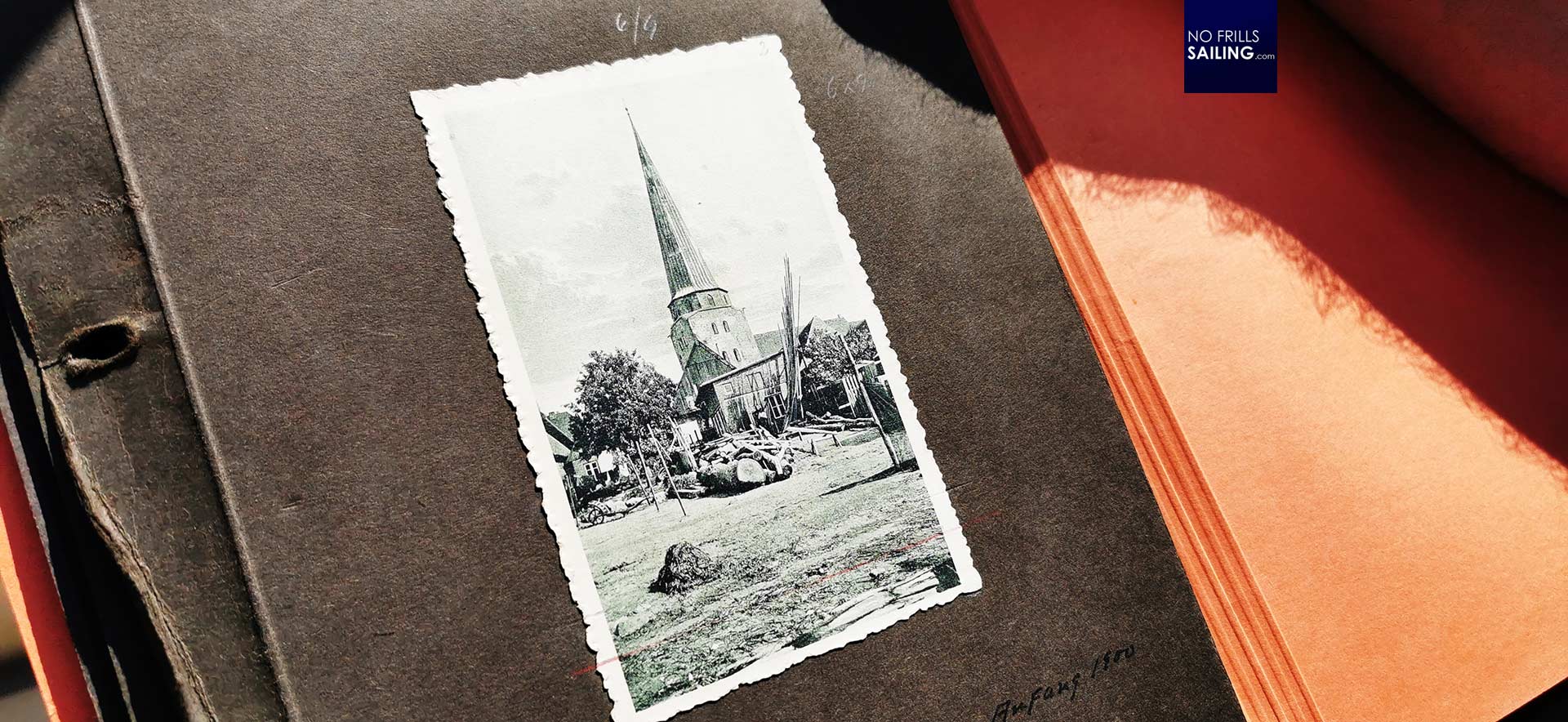 At first, Marcus said, the business was specialized in making wooden rowboats and smaller sailing vessels. Mainly rescue boats for the merchant navy and the German High Seas Navy, which was some years later pushed to grow by the Kaiser, who, in a giant armament program, was starting to set up a fleet that would later confront the mighty British Navy. The Schlichting yard became a regular supplier of those boats and smaller auxiliary vessels, growing nicely. As the business began to flourish, the old place where the yard was founded became too small. "The traditional Luebeck Yacht Club, LYC, then asked the City of Luebeck to assign a bigger, better suited plot of land to the company", Marcus tells me: "And so the whole company re-located to the opposite side of the river." Which was just a 300 meter walk from where we sat in his boat!
Shipbuilding for the merchant navy and the military
"The business grew", Marcus tells me and flips through the pages, showing me gorgeous photographs of more than 100 years in age. More and more orders from private purchasers who appreciated the yachts made by my ancestors came in." Especially after the First World War when private sailing became fashionable, the Schlichting yard build impressive, beautiful and fast sailboats.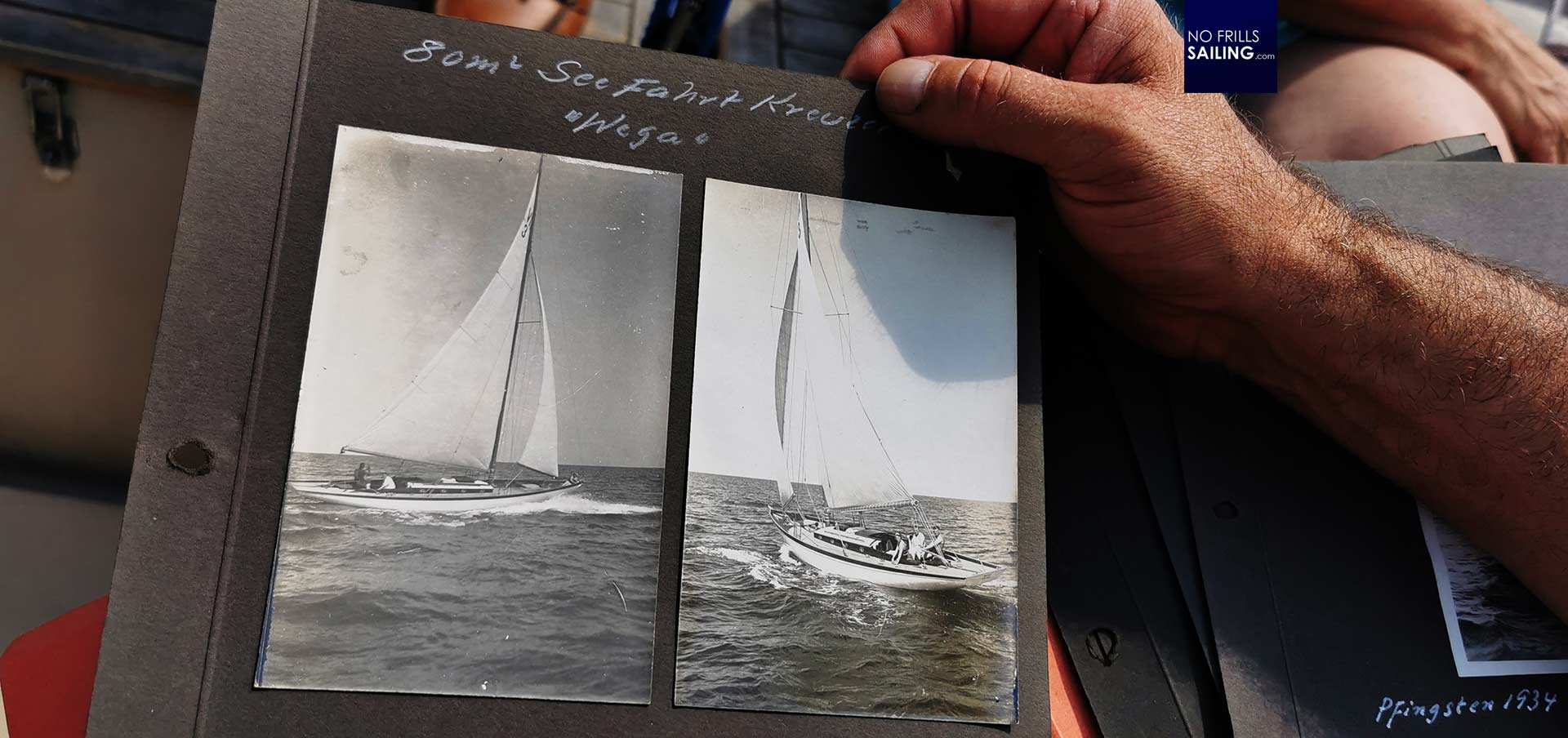 "Of course my grandfather worked together with well-known naval architects, like Max Oertz for example, but most of the designs were done by the shipyard, can you imagine?" He shows a picture of a wonderfully sleek and clean sailboat, the WEGA, that could also quite surely have been a classic design by Sparkman & Stephens. "At some point, as the story goes, they decided that they wanted to win regattas", Marcus tells me, "So they built a sailboat especially designed for the Lake of Constance. They went there, more than 1.000 kilometers down to the southernmost point of Germany, to compete in those races. And as far as I know, not all-too unsuccessfully."
The Schlichting yard flourished, even when darkness covered Germany and Europe as the Second World War plunged our continent to burn again. The yard was still specialized in wooden boat building and put out smaller and mid-sized vessels for the Navy, like mine sweepers. Marcus talks about the history of this company like a distant observer, I feel like he struggles to fully apprehend this legacy as his own, very personal, heritage. But can anybody inheriting such a family history consider himself part of this? He certainly has nothing to do with those guys some 100 years ago, I feel his interesting imbalance between acceptance, distance, pride and awe in the face of this. I feel like he is equally fascinated like I am.
The most modern shipyard in Germany
After the war, Luebeck being under allied control, private sailing was not only out of question due to sheer survival and the people´s struggle to rebuild the country, but it was forbidden too. "But very soon the British ordered my family to regain control of the area, clean it up and he first orders came in.", Marcus tells me: "Mostly repair jobs for allied vessels, but it was enough to feed the family and re-employ most of the staff." But things didn´t go all too well: It was the first ever order of an all-steel ship, the infamous ANTONIA, when the purchaser couldn´t pay for the boat. They had to sell the yard to a conglomerate, the Harmstorf Group." But his family stayed employed, even after the sale.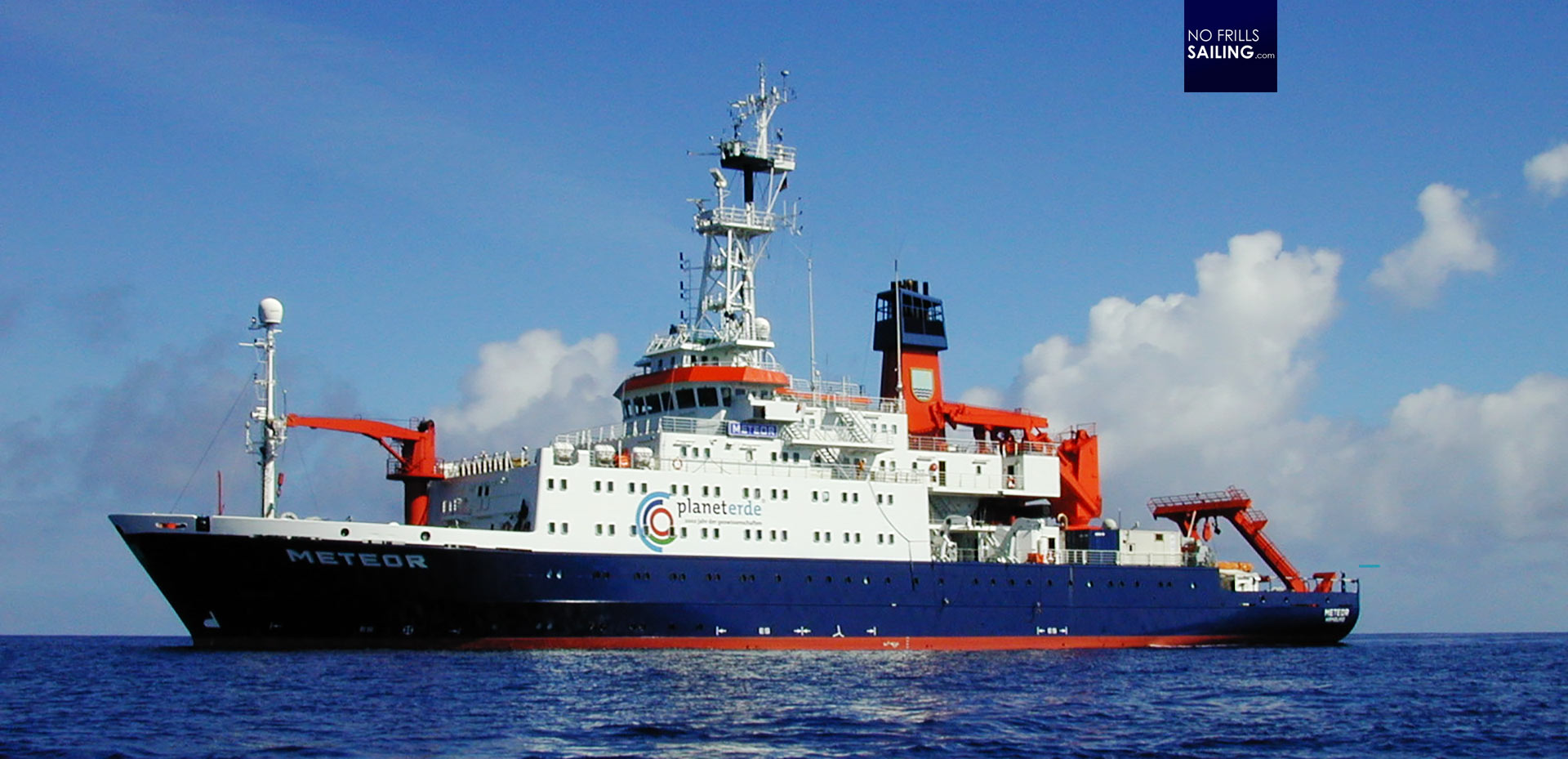 Heavily investing in a new 160 meters long drydock, a boom set in. The yard managed to get a foothold in steel boatbuilding and more and more bigger vessels rolled down the slipway. "There were some more crisis coming up," he tells me, "Like the oil crisis and the usual ups and downs in commerce, which always affects shipping industry very hard, but during the years the yard became one of the most modern shipyards in all of Germany. This went on until the late Sixties!" Amazing, I find: The yard was able to put together tankers, coastal freighters and even highly specialized ships. Like the scientific vessel METEOR, a 98 meters long, still operating on the Seven Seas as a platform for scientific research done by top universities and marine scientists.
"But, sadly, things went down in the Seventies", he continues: "Finally, during the Oil Crisis in 1973 and ´74, no more tankers had been built. Also, the freight rates plunged and thus no more new ships were needed." As there was no state-financed program to save the shipbuilding industry or give out incentives to shipping companies, ship building capacity had to be reduced. Finally, in Harmstorf Group spiraled down in the Eighties with closing Schlichting shipyard in 1986.
Family heritage
A roller coaster ride. A vivid, interesting and compelling history: From wooden row boats, rescue dinghies and regatta racing sailboats to mine sweepers and finally tankers, heavy lift cargo vessels and scientific research vessels. A family history in shipbuilding dating 125 years back, colorful 88 years of stories, memories and fascination. I am impressed, moved. Thanking Marcus for letting me dive into the history of his family, I leave his little sailboat, say Goodbye and promise to do the little 300 meter walk to the former area of the Schlichting shipyard.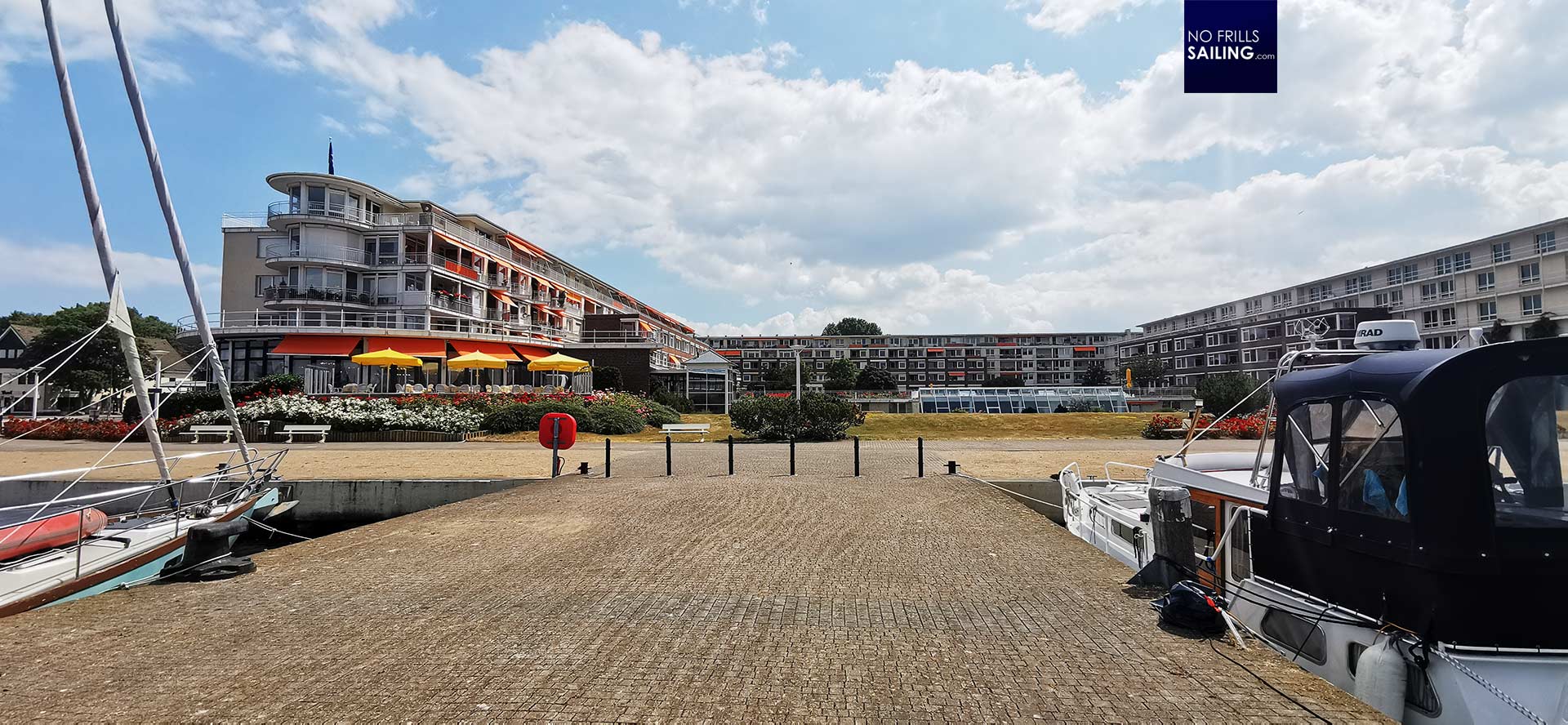 This place exists still today. There is no shipyard anymore, no sound of steel-bending machines, no hammering, no smell of iron melting furnaces. Instead, the municipality of Luebeck re-acquired the area, beautifully situated right at river Trave, a glorious view onto the waterfront of beautiful touristic center of Travemuende. A retirement home, called the "Rose Farmyard", is now occupying the area. The building kind of resembles a dry dock. A big anchor placed in front of the house in the middle of huge, enchanting and overwhelmingly sweet smelling plantation of colorful roses is the last reminder of the rich history this place has seen.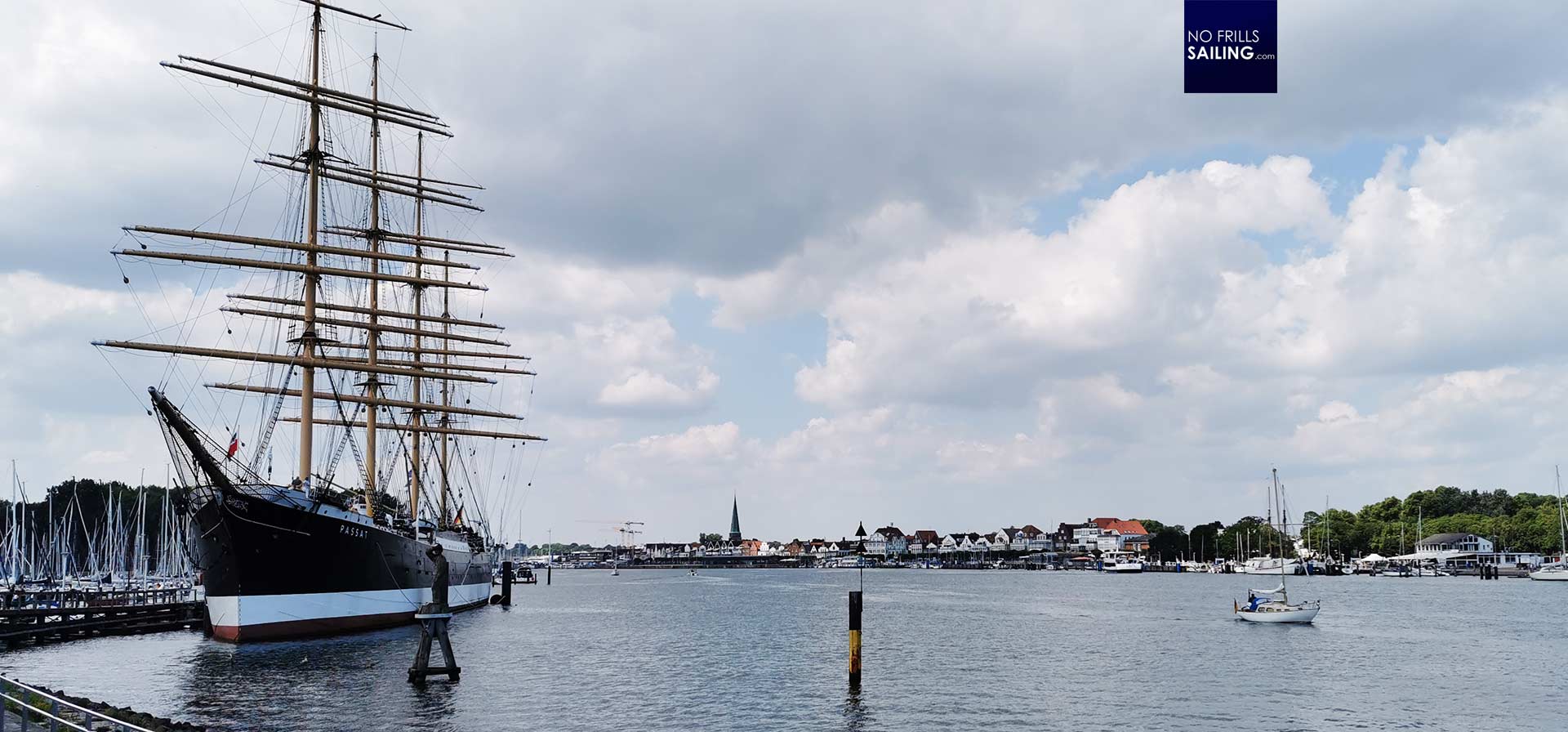 Strolling back to the nearby beach, I pass the PASSAT sailing ship, heading to the lush sandy beach where my girlfriend is taking a sunbath while I was away. I look over my shoulder a last time to appreciate the view, as I see a small boat chugging out of the harbor: It is Marcus in his little Bianca, going out for a lush Sunday sail. He waves as he passes by, smiling. What a great story, what an unusual co-incidence and what an fascinating connection of dots in time. "History is often just around the corner", I think to myself, watching the press officer of Bavaria Yachts setting sail.
You may also like these related articles:
The origins of my (first) boat: History lessons
Family matters: Discovering my own maritime heritage
ENDURANCE found: A sensation!