The City of Lisbon is one of the nicest places to visit in Europe. It is called "The White City" for you will always find to breathe a uniquely fresh and clear air here. That´s of course due to the all apparent wind – by the way making the Airport of Lisbon one of the windiest to fly to. Sailors might find Lisbon attractive as it poses a perfect jump-point for the great loop over to the Azores, the canaries (as I did, read it here) or as one of the first Ports of Call upon reaching Europe from the South to avoid the stormy marinas more up North in Portugal.
How to sail to Doca di Alcantara Marina
Doca di Alcantara is the second largest marina of Lisbon and situated some 6 miles upriver Tejo from famous landmark Forte de S. Laurenco de Cabeca at the entrance of the Tejo estuary or – more precise – right after the (rather more famous) San Franciso-like Bridge Ponte 25 de Abril. To enter the marina one must pass a commercial pier with some bristling traffic, including bigger freighters.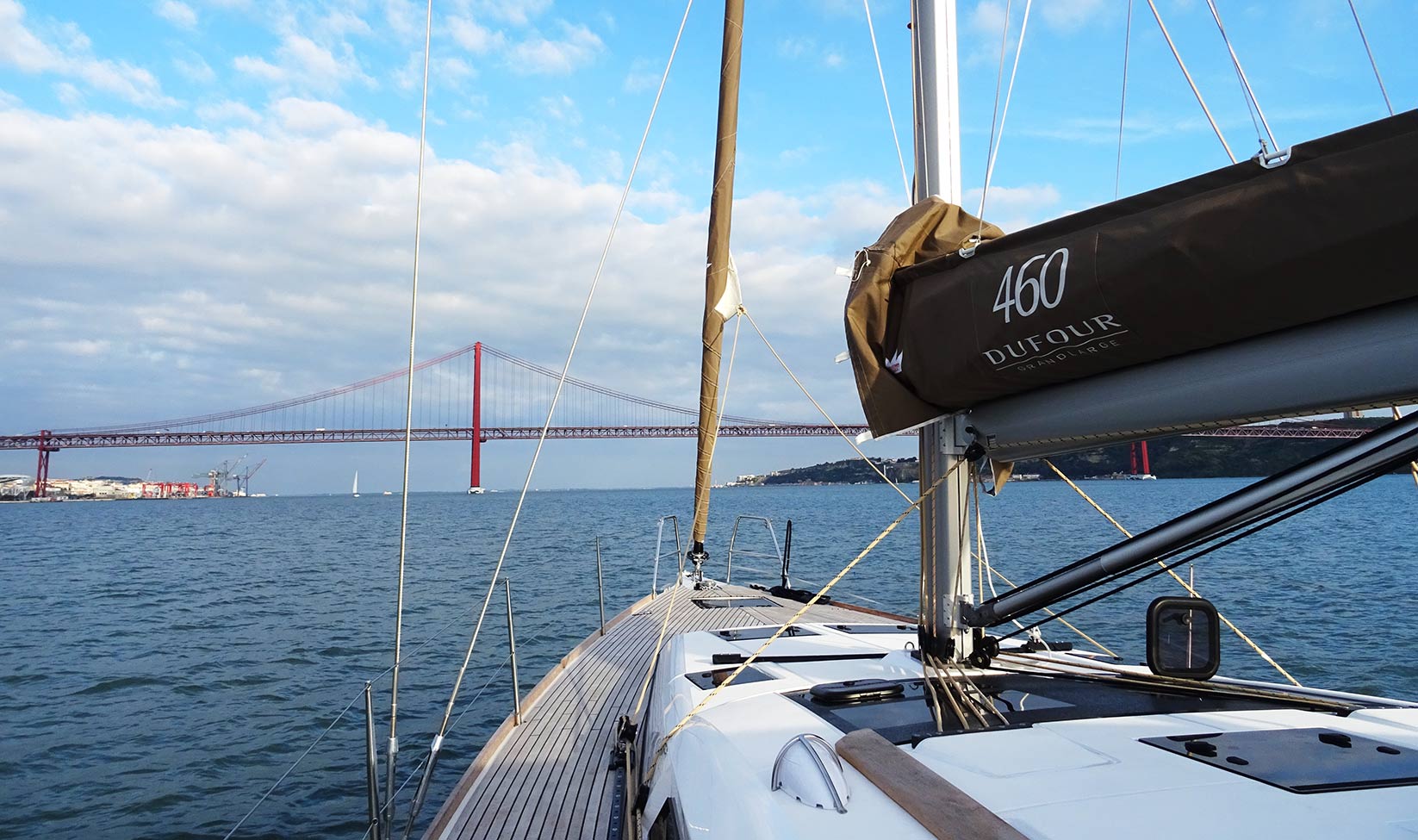 Doca di Alcantara offers 370 berths for yachts (though other sources state 440) of up to a length of 20 meters. You will find an immigration office to do the paperwork here and all amenities needed for a sailor to have a stopover in Lisbon. WiFi is available but I found connectivity very poor. You will have plenty of plugs for electricity and fresh water hoses.
Mooring in Alcantara Marina
We felt welcome. Never but one time of our three days here we saw any officials around, employees of the marina are as well rarely seen. If you dock here, you may feel kind of disconnected. Leaving the area will let you stand in front of multistoried ex-industrial buildings which house a Café (where you can have a nice ice cold Sagres beer), a nautic shop (with very limited offers). The rest is empty.
It´s just a 10 minutes walk from the marina to reach the Lisbon borough of Alcantara, keep walking to the right (away from the huge bridge and its always crowded distributor roads to reach famous Bairro Alto borough, the old heart of the City. Speaking of the bridge – the cars make a fantastic noise sounding like a million bees coming after you, day in and day out. It takes quite a lot to get used to it, we found this noise very disturbing, especially at night.
Demurrage in Doca di Alcantara
Portugal is beaten up heavily by economic crisis. This is expressed in low prices in this country. We paid (a boat of 14 meters in length and 4.50 meters maximum beam) a tariff of 29 Euros per day, 130 Euros per week or 400 Euros per month, which we considered a very fair price.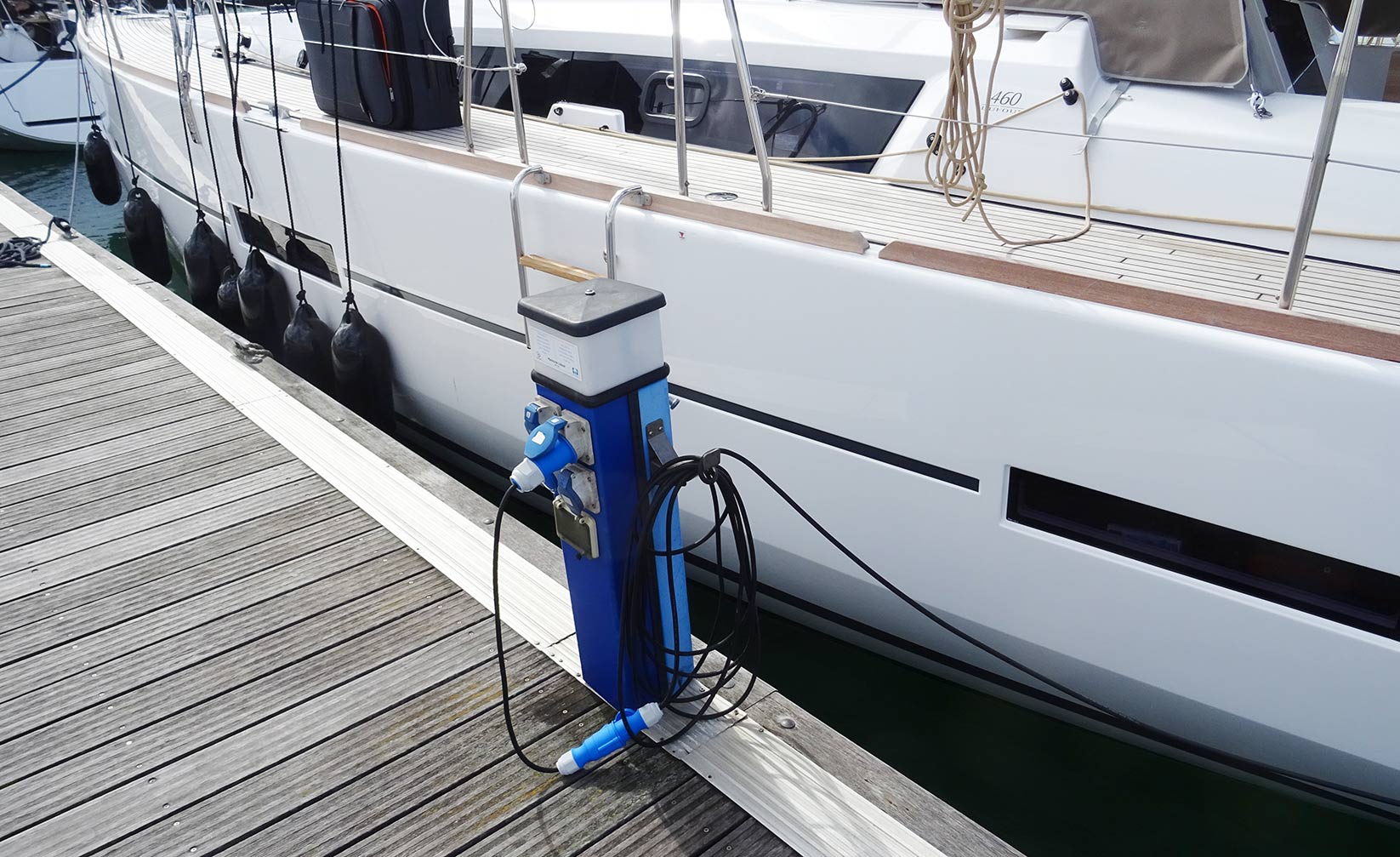 All amenities are incorporated in this demurrage like water, utilization of waste, WiFi and electricity. Nevertheless a sailor should be aware that Doca di Alcantara does not offer craning service, does not have a land area for repairs and – most of all – no fueling station.
Bathroom Facilities
That´s a different story. There is a bathroom house with facilities for ladies and gentlemen. In the year 2017 it should be possible to avoid smells like we´ve had to sniff in the bathrooms as there is no real effective air venting system for the toilets. The toilets are frequently cleaned though it´s advised to bring your own wet wipes for disinfecting the seats.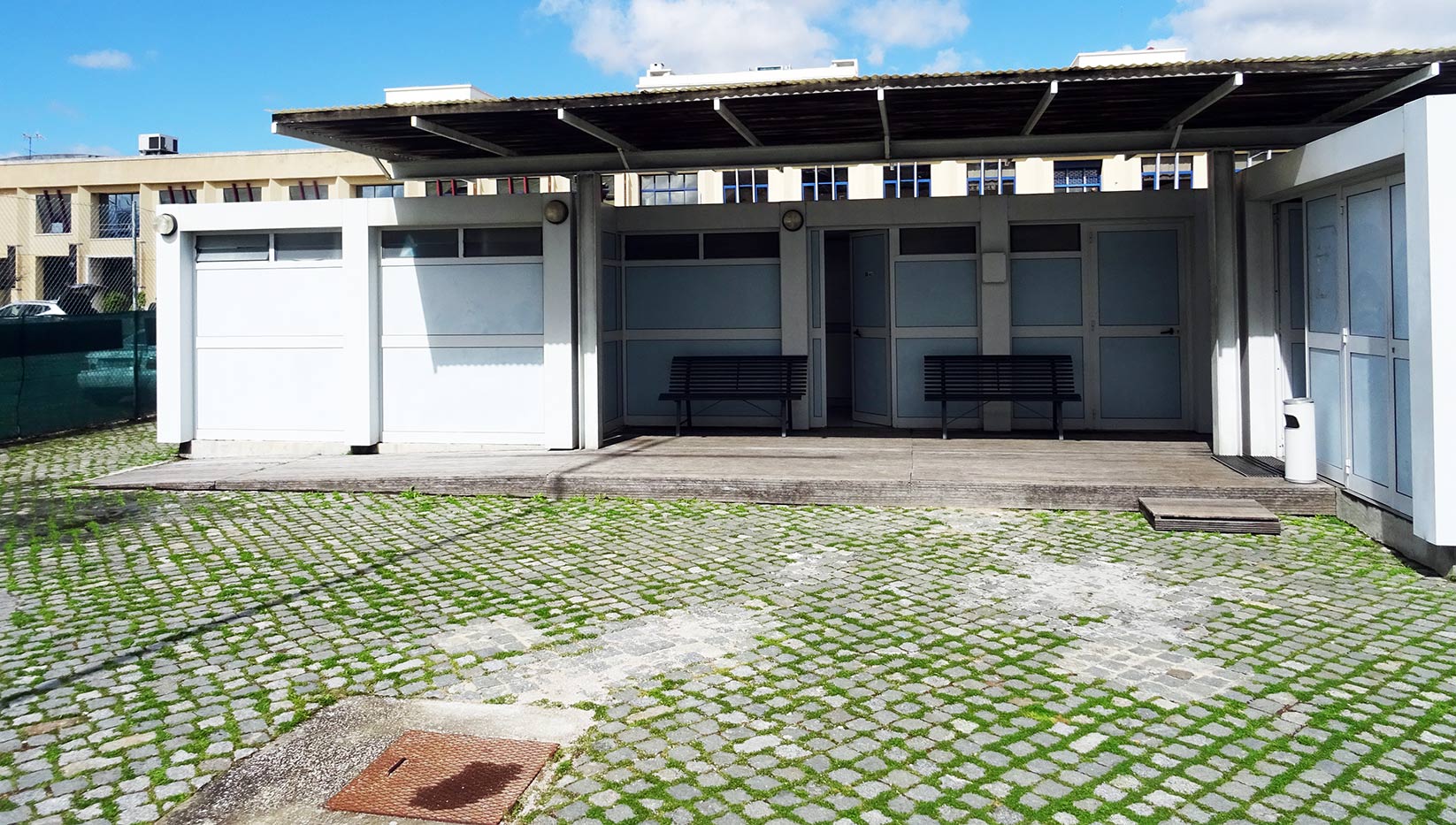 There are 4 showers available. We never took off our flip-flops as we assumed from the visual impression that on a microscopic scale the showers are also frequently visited by other visitors. It´s no fun to clean oneself here, one aspect might be that all the two times I used the shower I didn´t get really hot water out of the hose.
Portugal is a land of smokers and so it is done in every imaginable place. It seems that the visitor´s bathrooms are also used by the local employees and we sometimes found cigarette ashes and butts of cigarettes, also had the pleasure to take a dump next to a smoking employee. Not so funny.
Eating and Resting One´s Oars
Going out to dine is a matter of a 20 minutes walk to Alcantara or Bairro Alto. As with every capitol city of any country one should keep an eye open for restaurants crowded by locals as there the food will be traditional and credible as well as the prices fair. Resting in Doca di Alcantara is a different topic as the noise of the bridge – a constant deep humming – never ceases and it can go on one´s nerves quite much.
Alcantara Marina: My Overall Assessment
I love Lisbon very much. It´s a City for people who love culture, eating fresh fish and bakery, drinking the famous Vinho Verde and stroll around for hours climbing the narrow streets and adoring the beautiful Azulejo-covered houses. It´s truly a City for fresh couples. Doca di Alcantara is a marina that offers very good protection from the sometimes harsh Atlantic fronts, though one should accept some demerits like bathroom facilities, WiFi-connectivity and alike. It´s a place for a short stopover and an early leave.
All in all: 4 of 10 points
Link to the Marina Website here 
All previous and upcoming articles on this sailing trip from Lisbon to Lanzarote can be browsed by clicking on this hashtag #dufourcanaries
Special Thanks to LAVA CHARTER for the chance to sail on one of their boats. For information and offers on charter trips on the Canaries on these Dufour Yachts please visit www.lavacharter.com  A unique and special discount for my readers of 1.5% on all LAVA CHARTER bookings may be acquired by stating web code NOFRILLSSAILING along with your booking.