I´ve never heard of an Island called Porto Santo in the first place when I arrived here some weeks ago on my way to Lanzarote to bring down a brand new Dufour Grandlarge 460 sailing yacht for the LAVA CHARTER company. Never ever heard of it – though I thought I´d had read everything about the history of the great Atlantic Ocean. Porto Santo, that was the very island the great seafarer Columbus once lived on a couple of years and got married to the daughter of its govenor. Read more about this dream Island here.
How to sail to Porto Santo Marina
Porto Santo is – as I´ve learned – the first Port of Call for a lot of sailors going south through the Atlantic for the Canary Islands or the Cape Verde Islands and furthermore south or over the Atlantic Ocean. What makes Porto Santo especially attractive in my opinion is it´s little size: If you are seeking a quiet, small place to relax, to find some tranquility, Porto Santo is surely the place to go!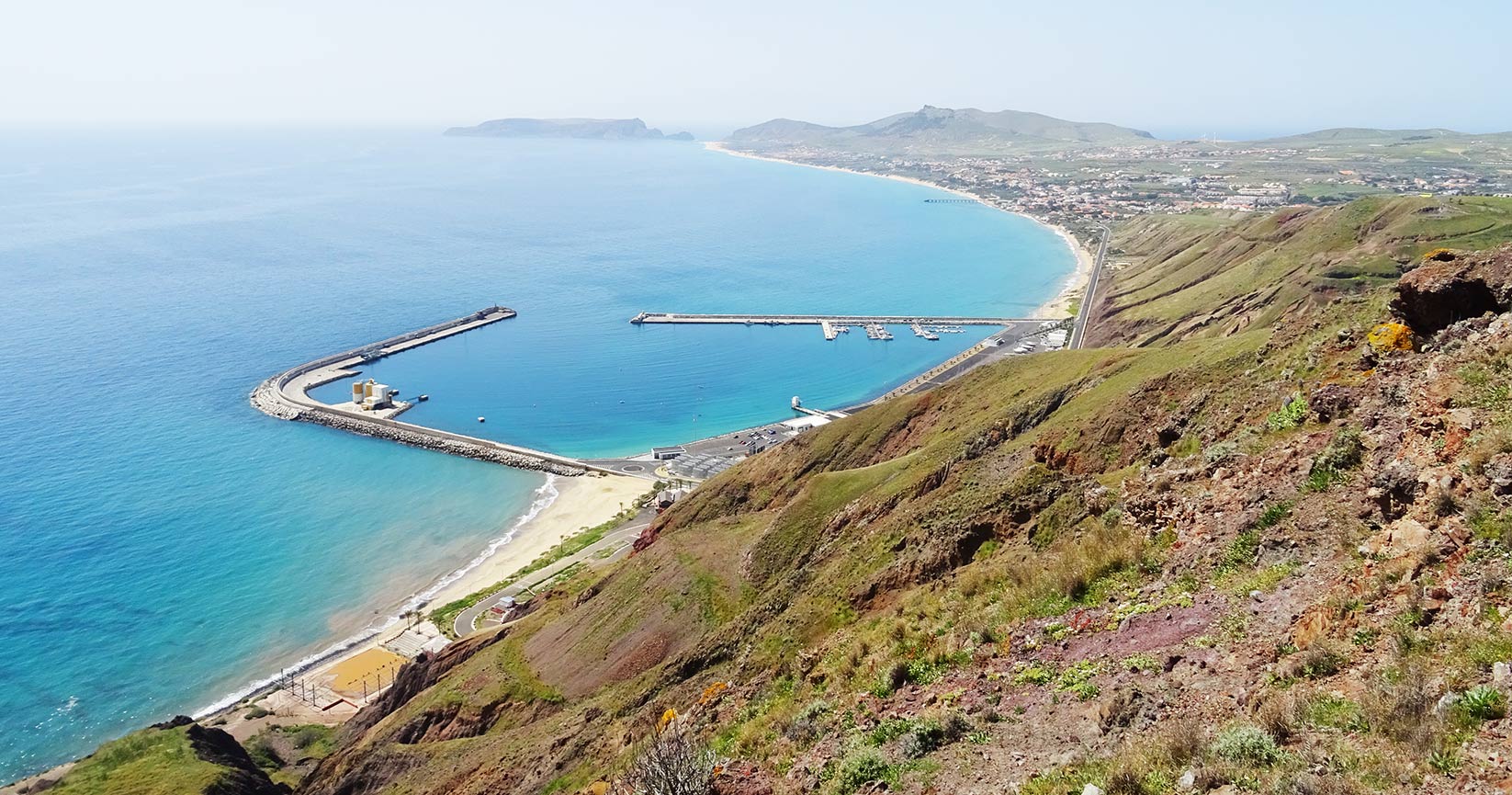 In this region north and north-easterly winds prevail blowing you straight to the windward side of the island. Going around the eastern tip you should avoid the hazardous waters between Porto Santo and the small island of Ilheu de de Cima (where the lighthouse is situated). Also, we experienced some neat williwaws around that island so going by in a few miles distance is advised. Reaching the marina will take you through the commercial port where a big ferry to Madeira can depart and arrive, fishermen will set out for their work and small- to mid-size freighters can moor for delivering supplies for the island.
Mooring in Porto Santo Marina
Once you´ve contacted the marina staff you´ll get assigned a berth. The marina is a small one and there are not many berths for yachts of a +44 size with a draft of up to 3 meters so reserving in advance is highly recommended. You may contact the marina via facebook.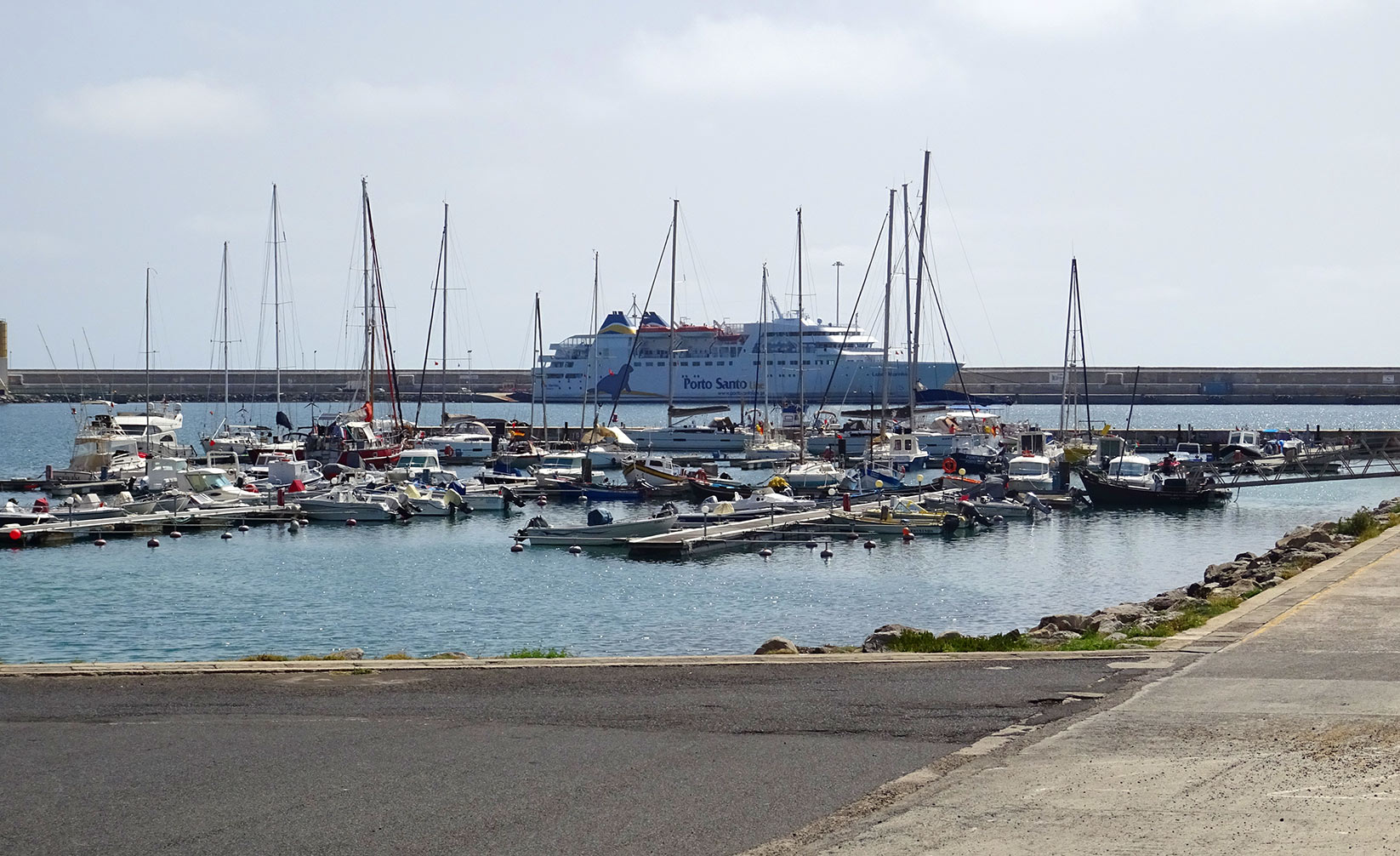 When we arrived we had to spent a night outside in the commercial harbor which was not very amusing size tides of some 2.50 meters can do some harm whilst mooring at the concrete non-floating pierside. There´s also some anchorage inside and outside of the harbor which can also be a bumpy sleepless experience as we have been told by a fellow sailor arriving some days after us. Nevertheless – once tied up, this place is truly a marvel!
Demurrage in Porto Santo
Prices are low (maybe due to the current economic crisis in Portugal) and so daily and weekly rates are sufficiently lower than for example on nearby Madeira. Porto Santo won´t be as overcrowded as Madeira. The Marine offers immigration services as well as a fully equipped yard for repairs and other stuff. It will also be possible to let your boat on dry land here during winter time.
Bathroom Facilities & other Amenities
Porto Santo Marina will have standard floating jetties with connections to electric energy and fresh water hoses every 20 or so meters. You´ll find garbage bins well within reach and one large bathroom house to be opened by a key available in the marina office. Concerning the bathrooms, there is some backlog demand here. (Just speaking for the facilities for men)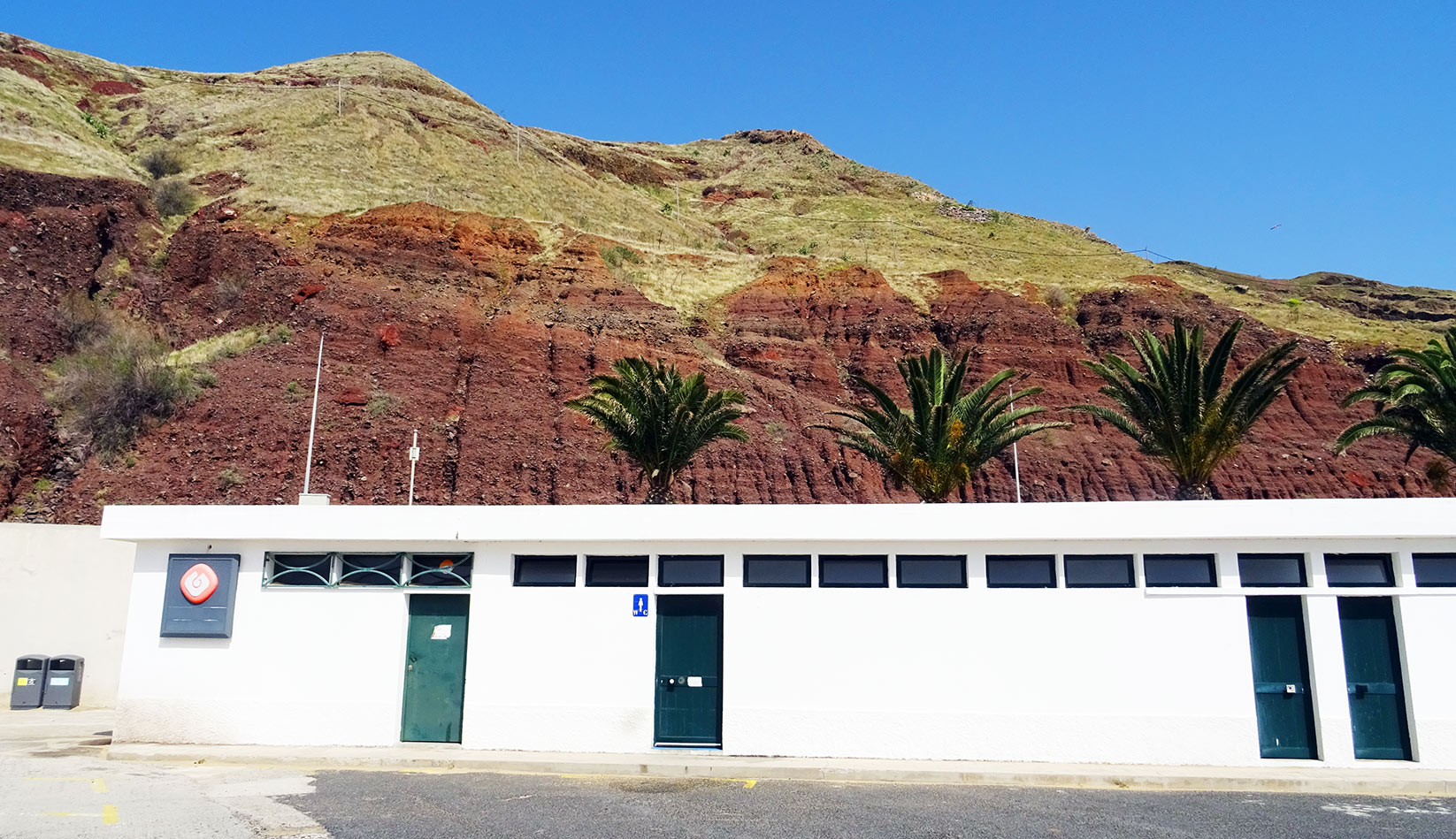 You´ll find four cabins to take a shower, which is comfortable and just enough for a marina this size. What´s a bit odd is that there is just one WC available for all of the male sailors and you can imagine the traffic going on here in the morning and evening rush hours: Especially for the "big business", which can take a while. There´s definitely need for more WCs around. Another thing is that the WC is situated right next to the showers, one cabin further, and there´s nothing preventing the odors from flowing through all of the shower-cabins. This can also be very disturbing.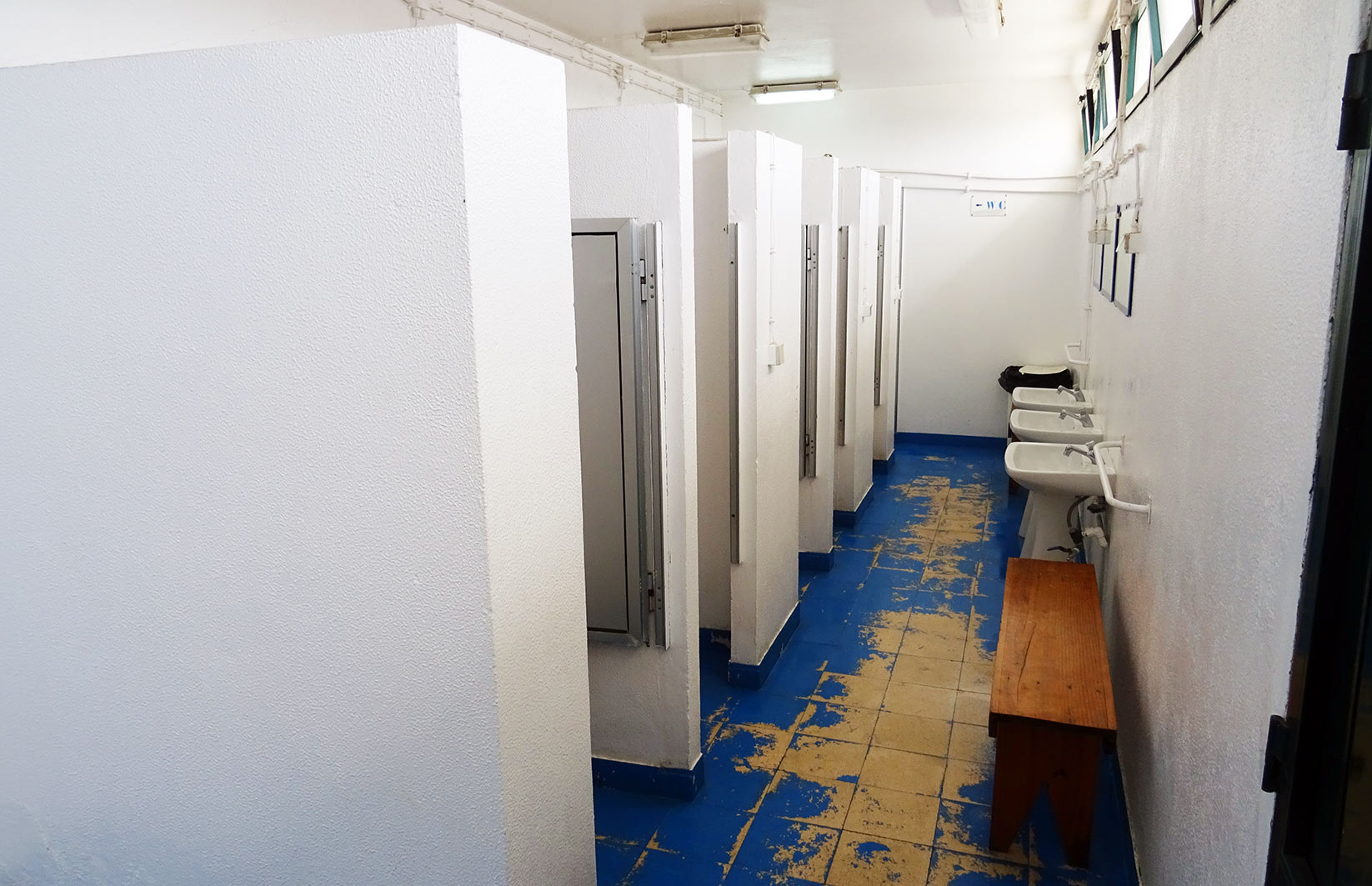 Nevertheless, we found it pretty clean here and – which is also not a matter of course in all marinas – we´ve had very hot water anytime we chose to take a shower. So arriving very early or late in the night after a freezing sailing trip any sailor can look forward to taking a hot shower.
Eating and Resting One´s Oars
The center point of the marina is the bar, situated right next to the bathroom facilities. There´s always excellent coffee, ice cold beverages, Portuguese bakery (delicious Natas!) and a menu du jour for small money. Lots of local people employed in or around the marina use to gather here as well as sailors.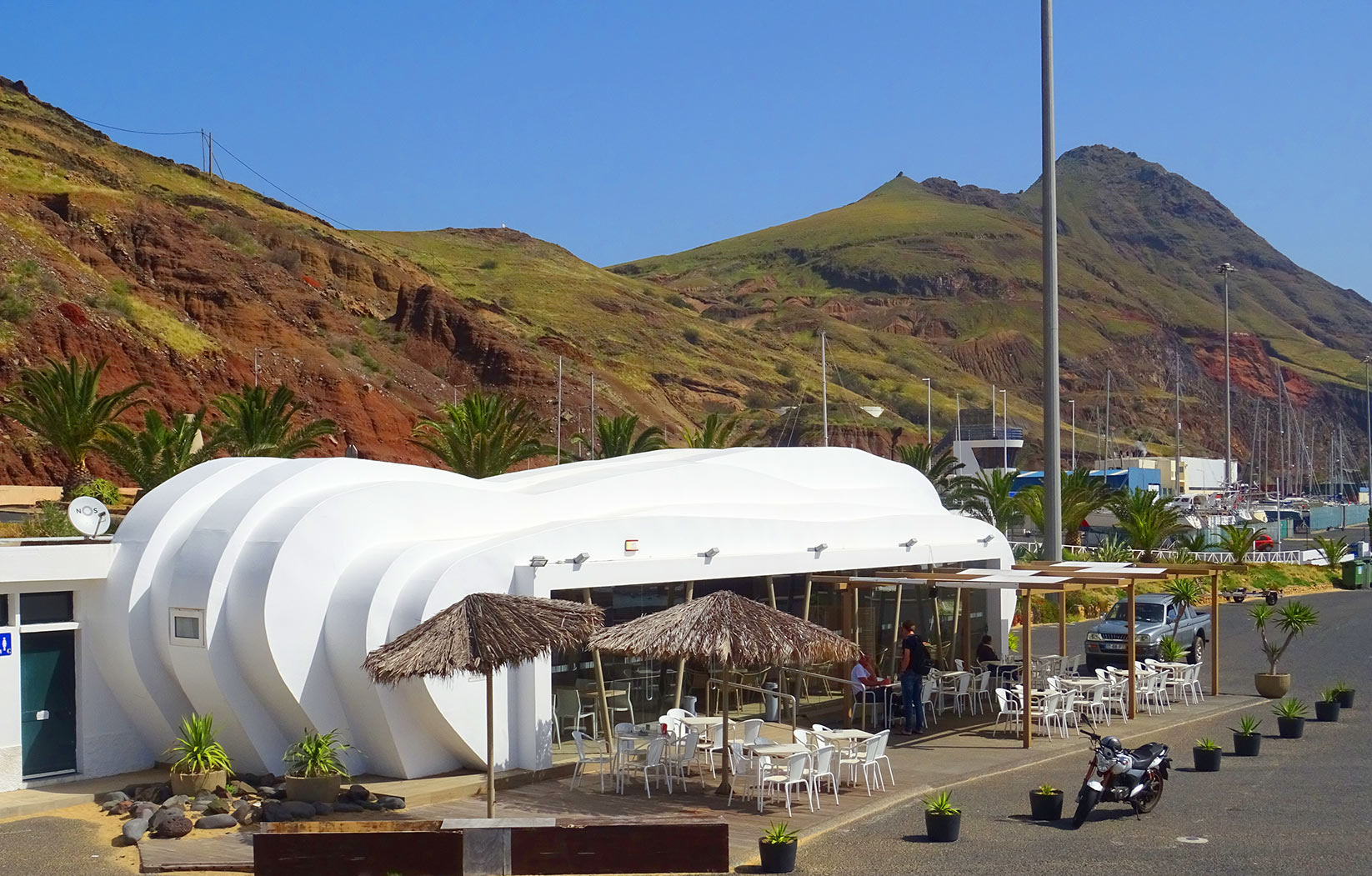 That´s also due to the WiFi connection available here. We found it pretty indulging to have a seat in the sun here, have a couple of beers and chat with others about the trip, the weather and the upcoming miles to be sailed. Porto Santo town is a 10 minute walk away where you´ll find a huge supermarket to restock your supplies, excellent cafeterias and restaurants and a lot of cultural activities. See my article on Porto Santo as well, click here.
Porto Santo Marina: My Overall Assessment
This place is a treat after 4 or 5 days out on the open seas from Europe. It´s not as commercialized nor is it as crowded as Madeira´s ports although you won´t find all of the needed spare parts here. In the late afternoon hours we´ve experienced pretty heavy williwaws of up to 30-40 knots so arriving during the more calm noon-hours is safest. The one and only demerit is the lack of a sufficient number of WCs for men, but one can arrange with that. Otherwise, Porto Santo Marina is a true marvel for sure.
My overall assessment: 8 of 10 points
Link to the Marina Website here
See other marina reviews here
All further upcoming articles on this sailing trip from Lisbon to Lanzarote can be browsed by clicking on this hashtag #dufourcanaries
Special Thanks to LAVA CHARTER for the chance to sail on one of their boats. For information and offers on charter trips on the Canaries on these Dufour Yachts please visit www.lavacharter.com  A unique and special discount for my readers of 1.5% on all LAVA CHARTER bookings may be acquired by stating web code NOFRILLSSAILING along with your booking.