It was the first stopover of this year´s VIP-charity-regatta, the "Pelorus Jack Ocean Trophy" of which I have written before: Epidavros. Or, to be more precise, Palea Epidavros as there are apparently three towns/villages bearing this name. First of all, it is a hidden gem: Not more than 20 miles from Athens/Pireaus harbor away, it seems like this little town is kind of forgotten by mainstream sailing tourism in the Saronic Gulf. I guess, most charter crews head straight for the "classics", like Hydra. Well, good for us: Hitting Epidavros was a big welcome to our whole fleet.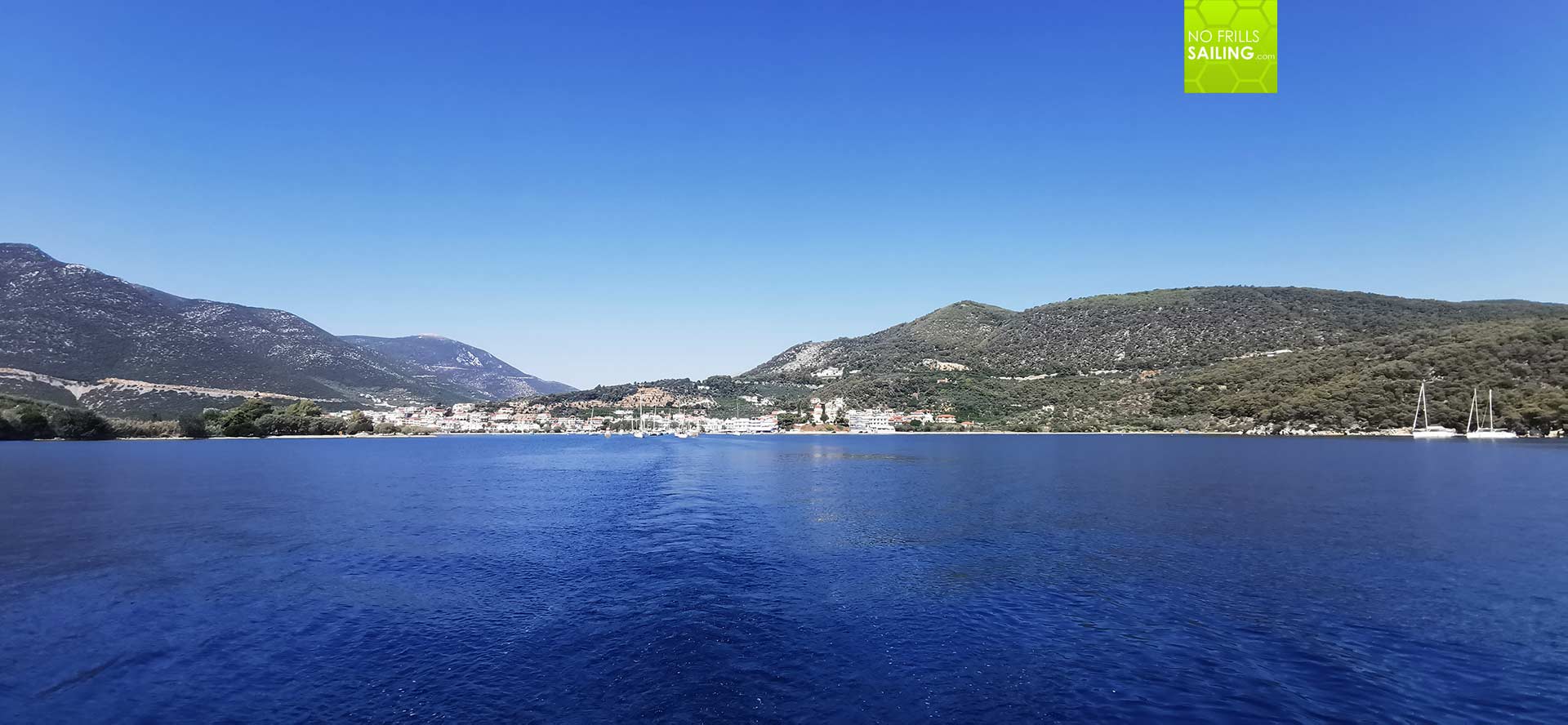 Quiet, small and seemingly unspoiled by big-time tourism. A bit run-down, like it is sadly the fact for most of Greece due to the crisis, but nevertheless, the kind and heartfelt welcoming behavior of the locals make up for it ten times as much. I really enjoyed the stark contrast of Epidavros to the bustling city of Athens with the traffic jams, honking and hustle – this was a complete new world. I recommend this destination to all who charter a boat in Pireaus to start their holidays. Now, how is Epidavros like?
How to sail to Epidavros Harbor
Palea Epidavros is situated around 7 miles south of her more prominent name-twin Epidavros. Founded some 3.500 years ago by Epidavros himself, as the myth goes, he was one of the God Apollons sons. Also, the Kingdom of Epidavros was one of the participants in the big Greek war against Troja, as Homer in his Iliad tells us. The surroundings of this rich landscape are renowned for their good wine and both the ancient city of Epiduaros with its big Greek Theatre (and the site of Asklepius´ life) as well as Palea Epidavros with its small ancient theatre are a tourist attraction and frequently visited by day-trips from Athens.
Going here by boat is a no-brainer. From Pireaus it´s a merely straight course due South-West, passing the small islands of Agistri and Kyra. You will enter a bay (where depending on swell and wind mooring at anchor is possible). The bay is wide open and only protected by the approximately 500 meters deep bay-inlet. To the North Kalamaki Beach will be a site to go for if you look for a nice smooth sunbathing-day or Nisi Beach to the South.
Mooring in Palea Epidavros
As with every Greek harbor I had visited so far, you will have to moor stern first with anchor in the front. There are no mooring lines. Depth is around 2.90 meters so check water before. I always go for 3-4 boat lengths and put out the equivalent of chain. There are no servicemen around but you may try to get Marineros via VHF. As most of the time string winds won´t we a problem, mooring even alone shouldn´t take too much of an effort.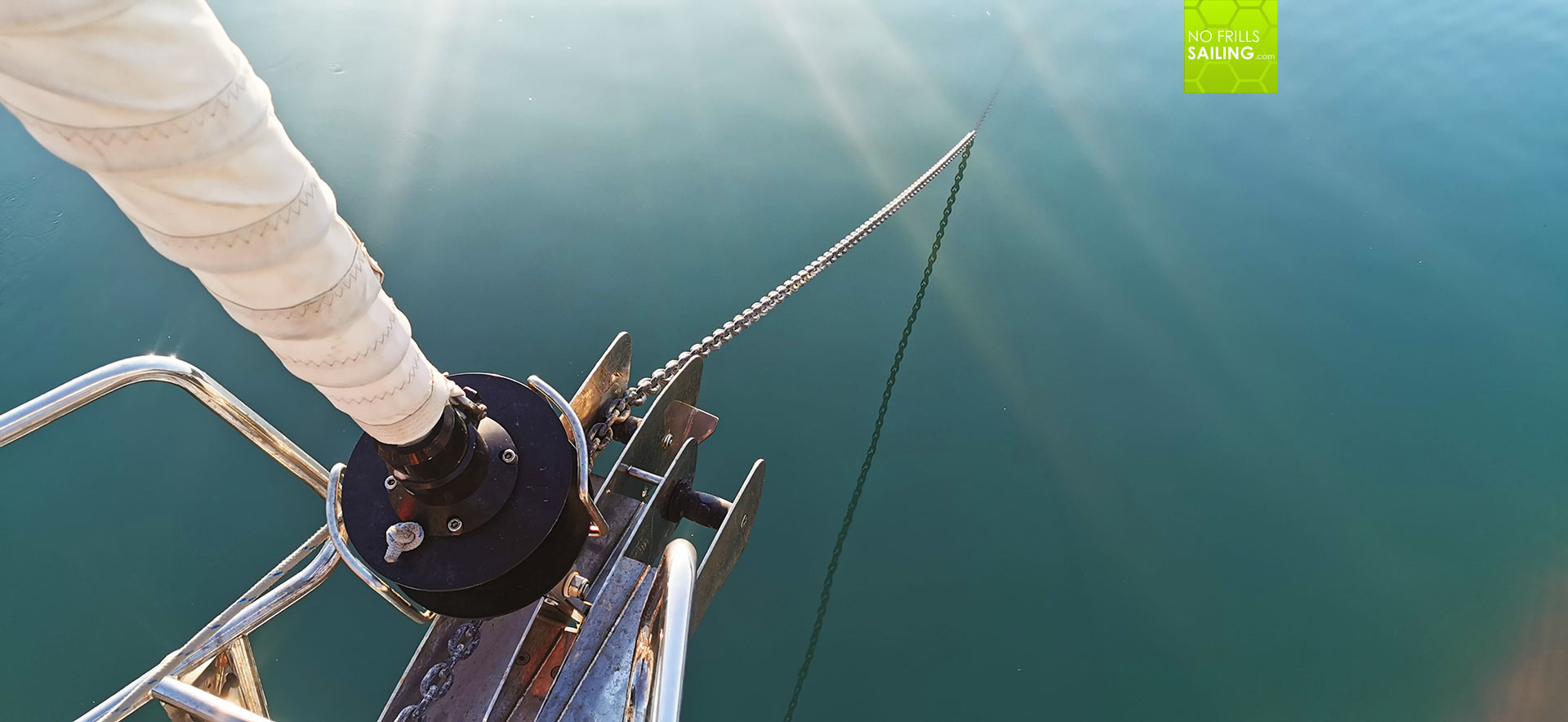 Palea Epidavros, this is an approximation, should offer berths for some 15-20 boats in total. To the North a fleet of a dozen or so smaller fishing vessels will require some of the quay´s space, so you´d better be looking for a berth to land to the South. Check with binoculars beforehand where the nearest plug for shore power is situated as there aren´t many. As with every maneuver with anchors involved make sure you don´t cross another anchor and try to go back mooring in a straight line.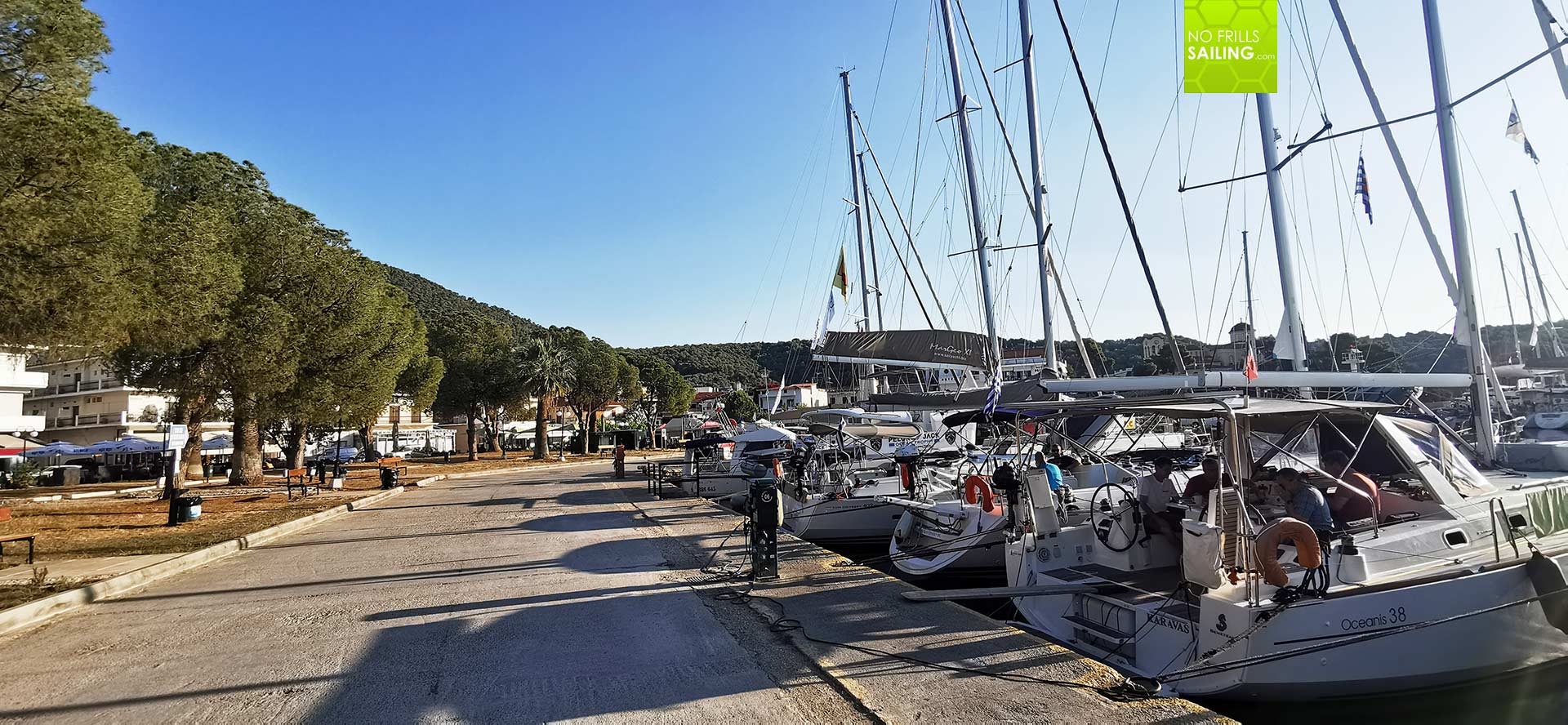 Women on bicycles will come by to collect the demurrage. As we had been a part of a fleet that day I cannot give a definitive information about the demurrage itself, also, due to current inflation rates this info ma be old in a few months time: But Greece is and I guess will be a very price-worthy country to sail in so I don´t think that the price will be that high. You may check in advance or even call the port authority for a clear price information before you come here.
Bathroom facilities & Amenities
As with most of the Greek marinas, this harbor does not offer any bathroom or shower facilities like we know it from the French Mediterranean or Baltic marinas. You will have to shower and get clean on your own boat as well as taking a dump. Be sure you have closed the waste water tank valves upon entering the bay area. Nevertheless, Palea Epidavros has a lot to offer.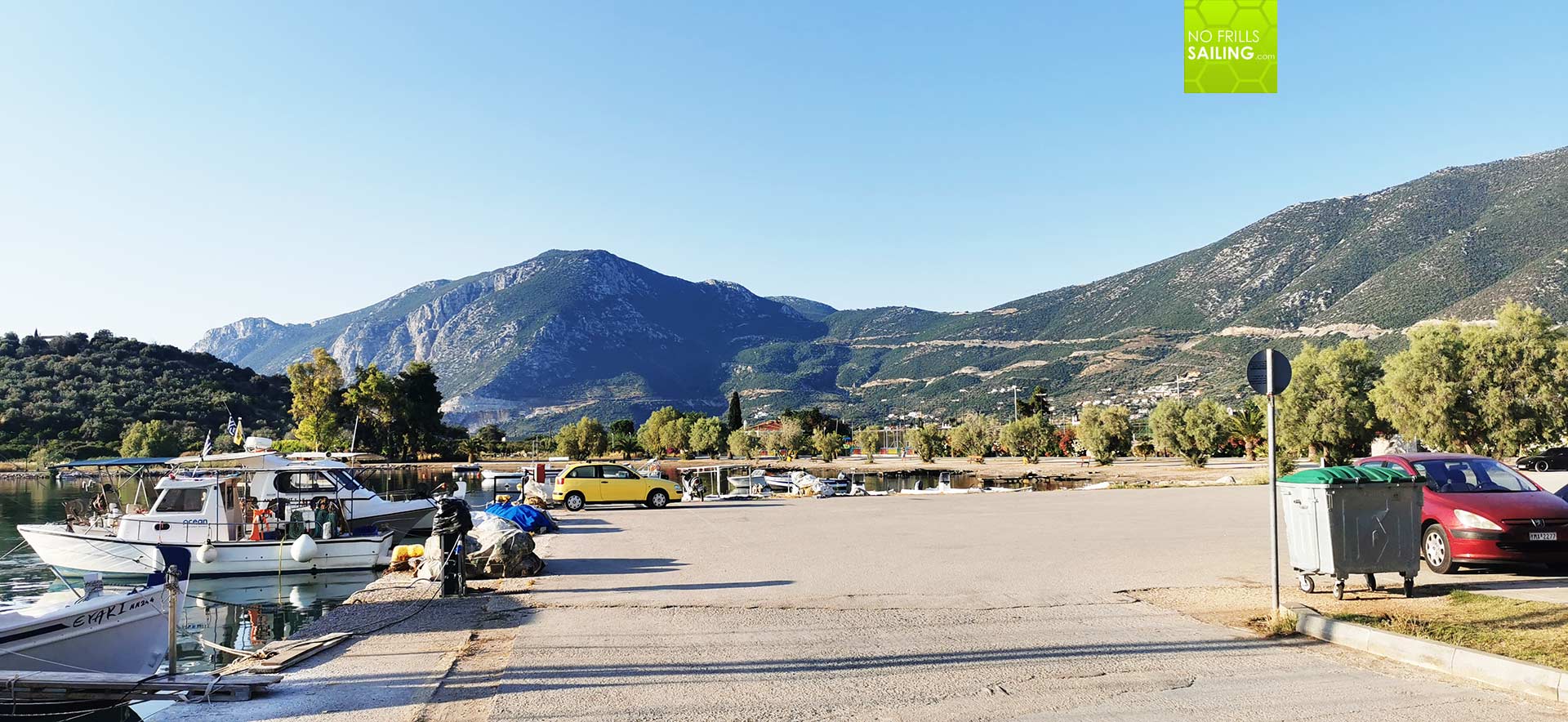 I was surprised to see a good chunk of Hotels right at the waterfront as well as many, many Airb´n´bs which leads me to the conclusion that there is quite some tourism going on. When I was there in mid-June of course we didn´t see any of it and it felt like we´ve had the whole town for ourselves. So, let´s get off the boats and start to explore …
Dining out and resting one´s Oars
Right at the waterfront there is a little park with trees and some green spending shadows for the dozens of cats strolling around. Also, in second line, there are restaurants of all sorts, mostly traditional Greek-style food, but also an Italian restaurant (with strange Greek interpretations of Italy´s classy dishes) and a nice, well-stocked supermarket where you can re-stock and get fresh veggies.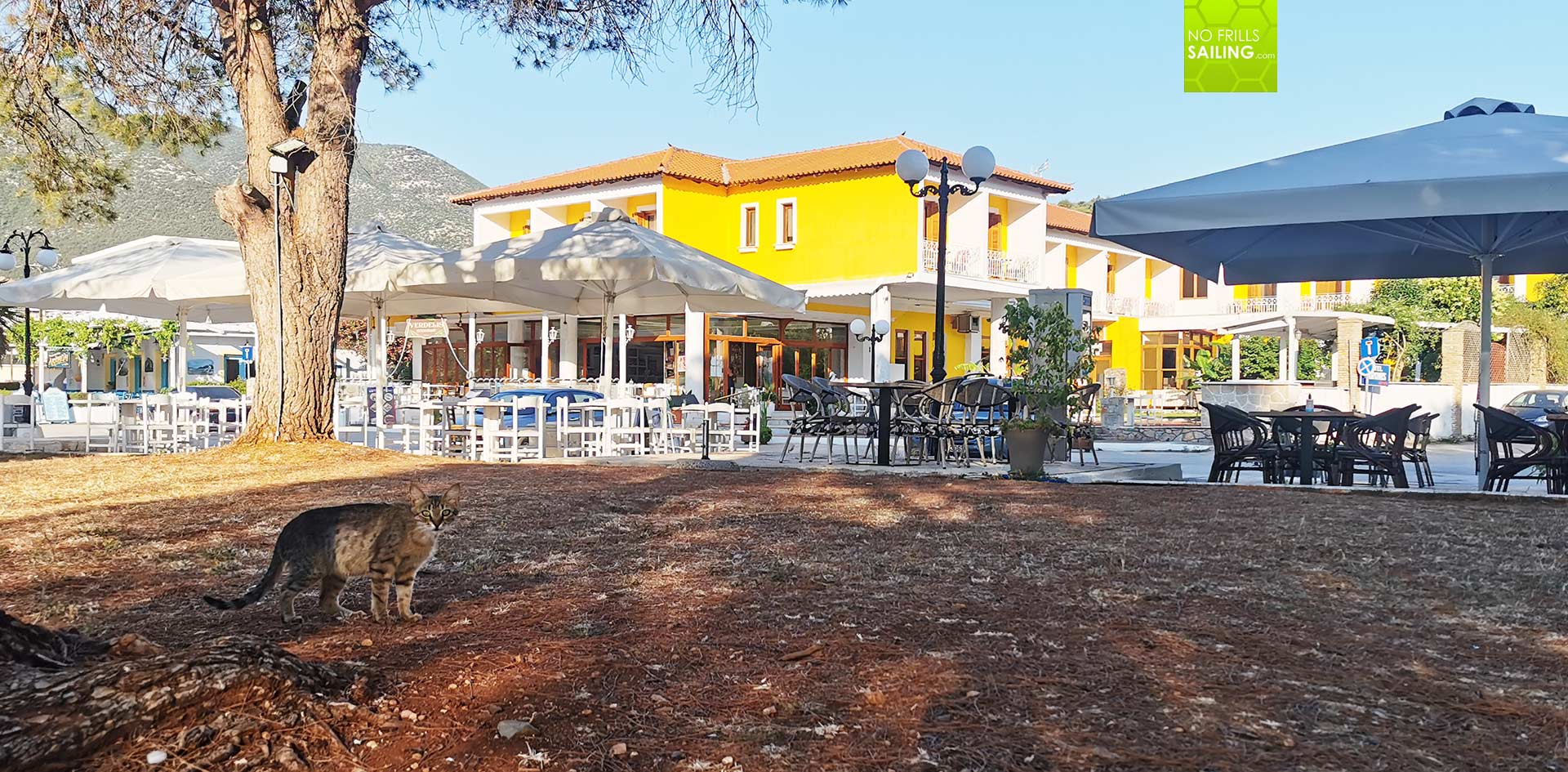 We dined that evening at this Greeko-Italian guy who served quite a nice Pizza. Pasta should be eaten in Italy and so it goes for the well-known Antipasti. Nevertheless, it was quite a feast and we enjoyed the welcoming style, the rich food and good, ice-cold beer. I especially liked that place because you dine under two very old Mulberry-trees. That being a reminder of my happy childhood, make me choose this place.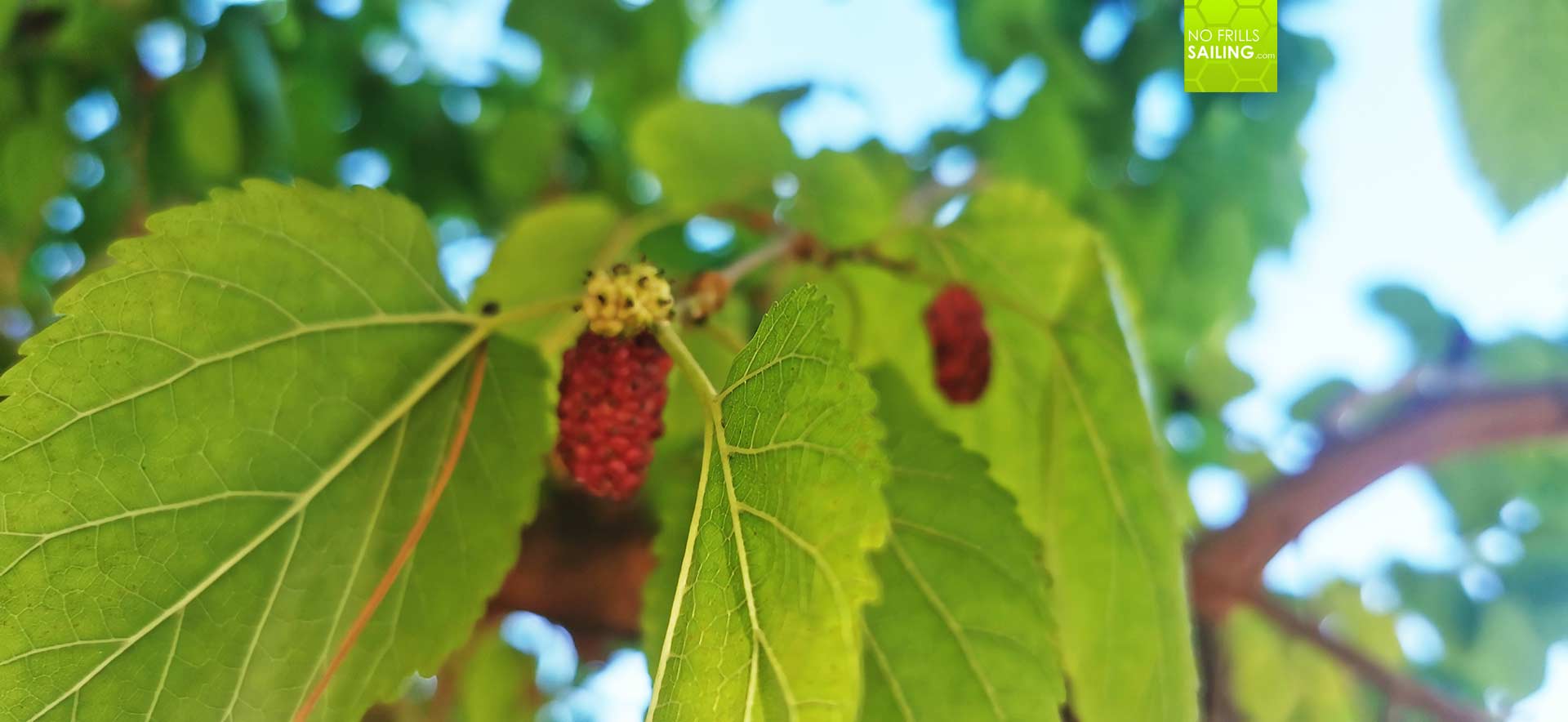 You can also choose the big restaurant at the Northern end of the quay where you have a table directly one meter away from the water and a breathtaking view South, watching the sun go down over the hills. This restaurant serves excellent Greek-style food, the fresh classy Greek salad is a must, as well as grilled fish or the other exquisite food.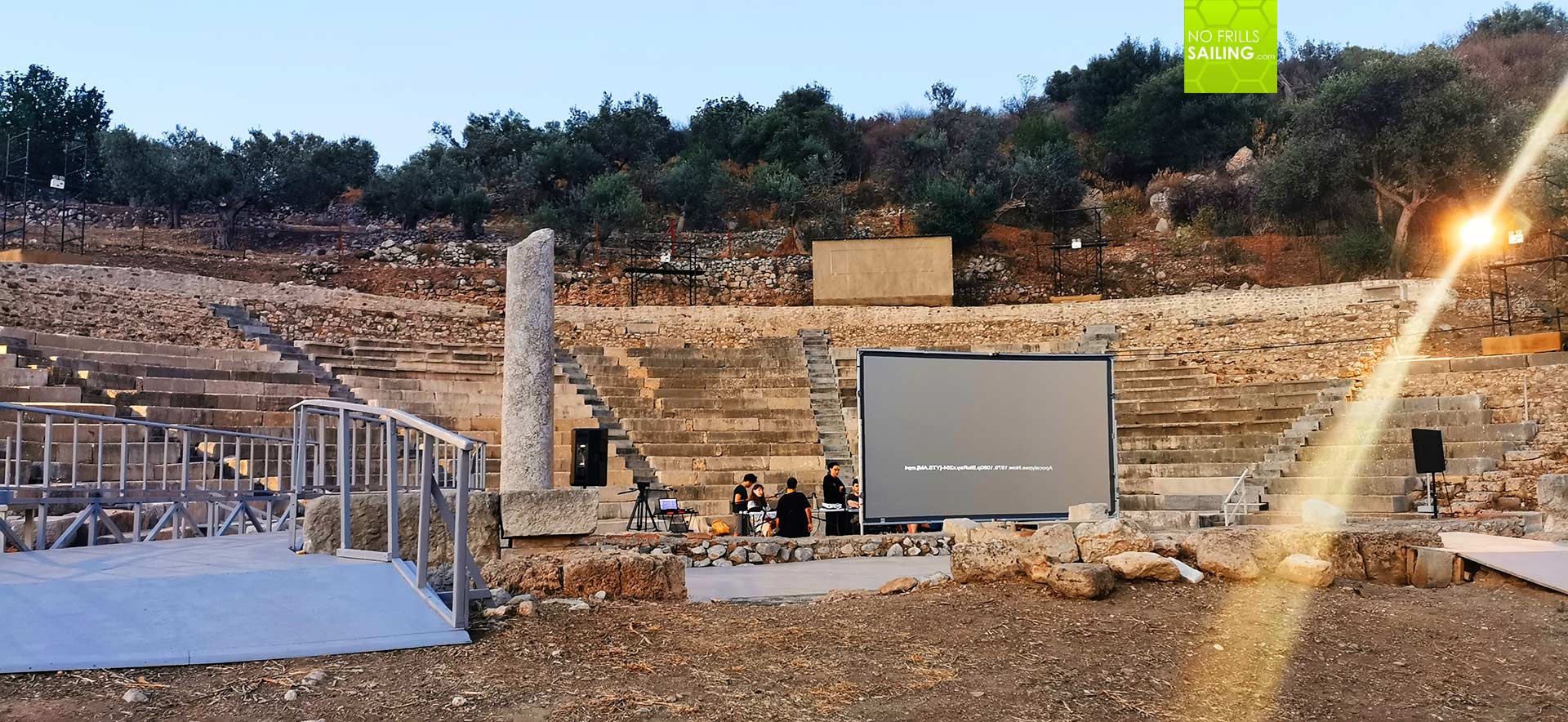 Walking the town is a matter of half an hour, but worth it: Well kept, groomed houses, quite colorful in contrast to the perceived white-blue-only out in the travel catalogues. You might also take a short walk through Orange-tree fields to reach the small ancient theater of Epidavros. If you are lucky you might enter and sit down for a classic concert or other cultural event. We all enjoyed being here, Palea Epidavros is much appreciated for its quietness, honest and true style. A happy place – a place you definitely should visit if you seek tranquility.
My overall assessment of Palea Epidavros Harbour is 9 out of 10 points
You may read all Marina Reviews by clicking here