It is said that you should learn something new every coming day. That keeps you young, they say. With sailing, it´s the same but it does not just solely keeps you young but every new aspect of sailing, every mile under canvas, every hour at the wheel but will help to shape your abilities as a sailor and at last make you become a better skipper. I had to experience one of these lessons by myself during my "Sweden Sailing" trip which I recently concluded: I brought the prototype of the new Beneteau Oceanis 30.1 from Germany to Sweden. That´s 540 miles. Double handed. And here I´ve learned fog. The hard way.
It was just 15 miles off Sweden mainland and some 5 hours from our harbor of the day when our boat was suddenly encapsulated by thick fog. The thickest actually you could imagine: At peak there was no more than one boat length (10 metres!) visibility. I say "suddenly encapsulated" because that´s what it was: I saw a strange white cloud forming and – literally minutes later the boat was wrapped in cold, moist air. Welcome to the fog!
Rule one: Be heard!
So, how to behave in such a situation? I was assessing: We´ve had no VHF running and thus no AIS signals on the plotter: I could not see Class A-emitting ships. We were near the coast with some shallows nearby and rounding a cape so there was a good chance to run into some traffic. To make matters worse, Baltic fishermen tend to switch off their AIS transponders to be unseen for competing vessels. I got up the "Mini Trump", which essentially is a small fog horn and thanked my boss who insisted taking one of these to the boat.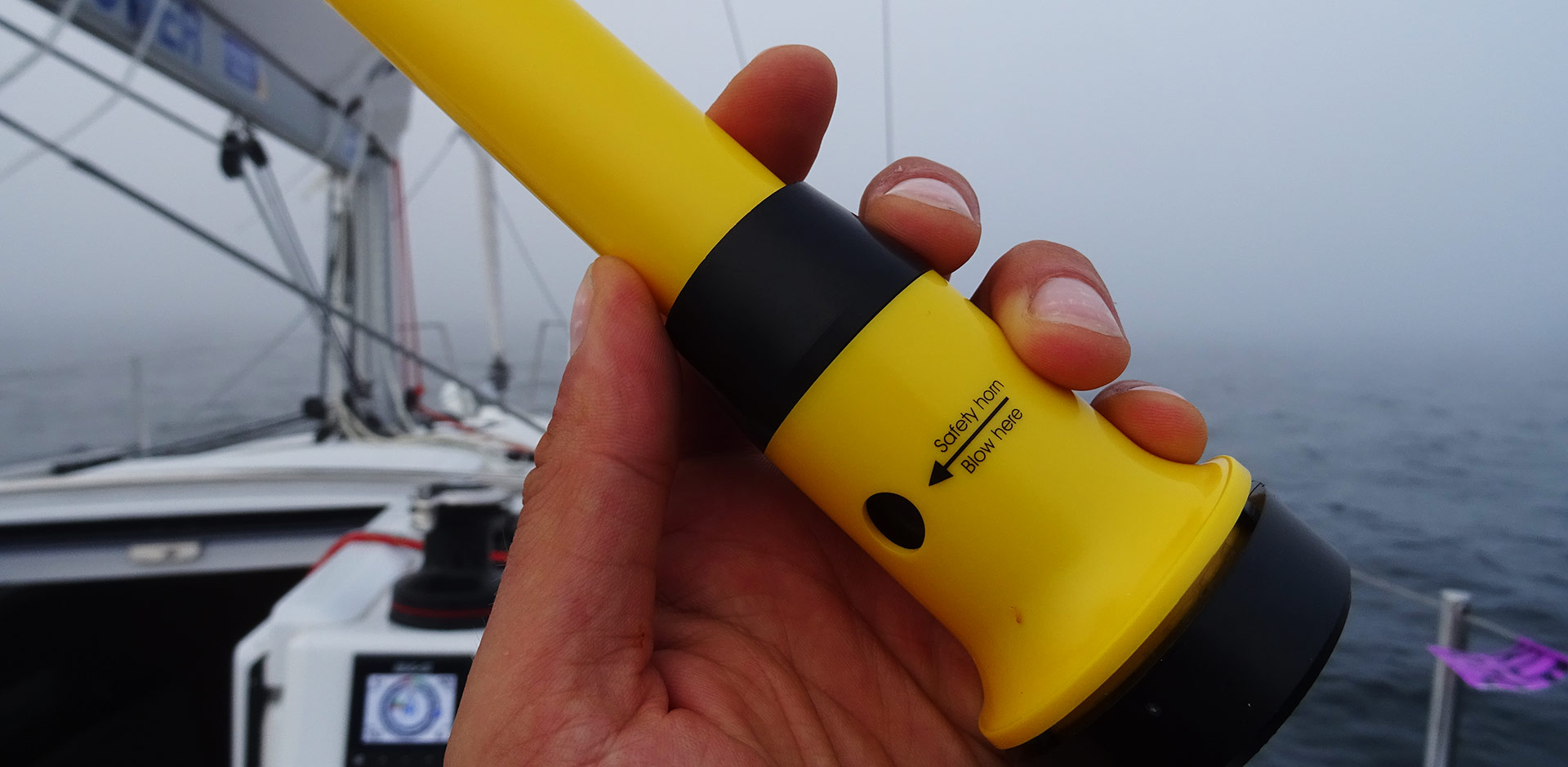 When there is no visibility, other senses will have to take over. It´s a thing from the past but a pretty efficient one, to send out a sound regularly that can be traced by others. The international signal for boats travelling in the midst of a low-visibility field is one long and one short signal every two minutes. This is what we did. For 5 long hours. Apart from the fact that blowing the horn will make you own ears deaf for … well, 2 minutes the least … it is a very strange situation. When you cannot see anything but have to listed for others, it´s a fear inducing moment. We could feel the tension.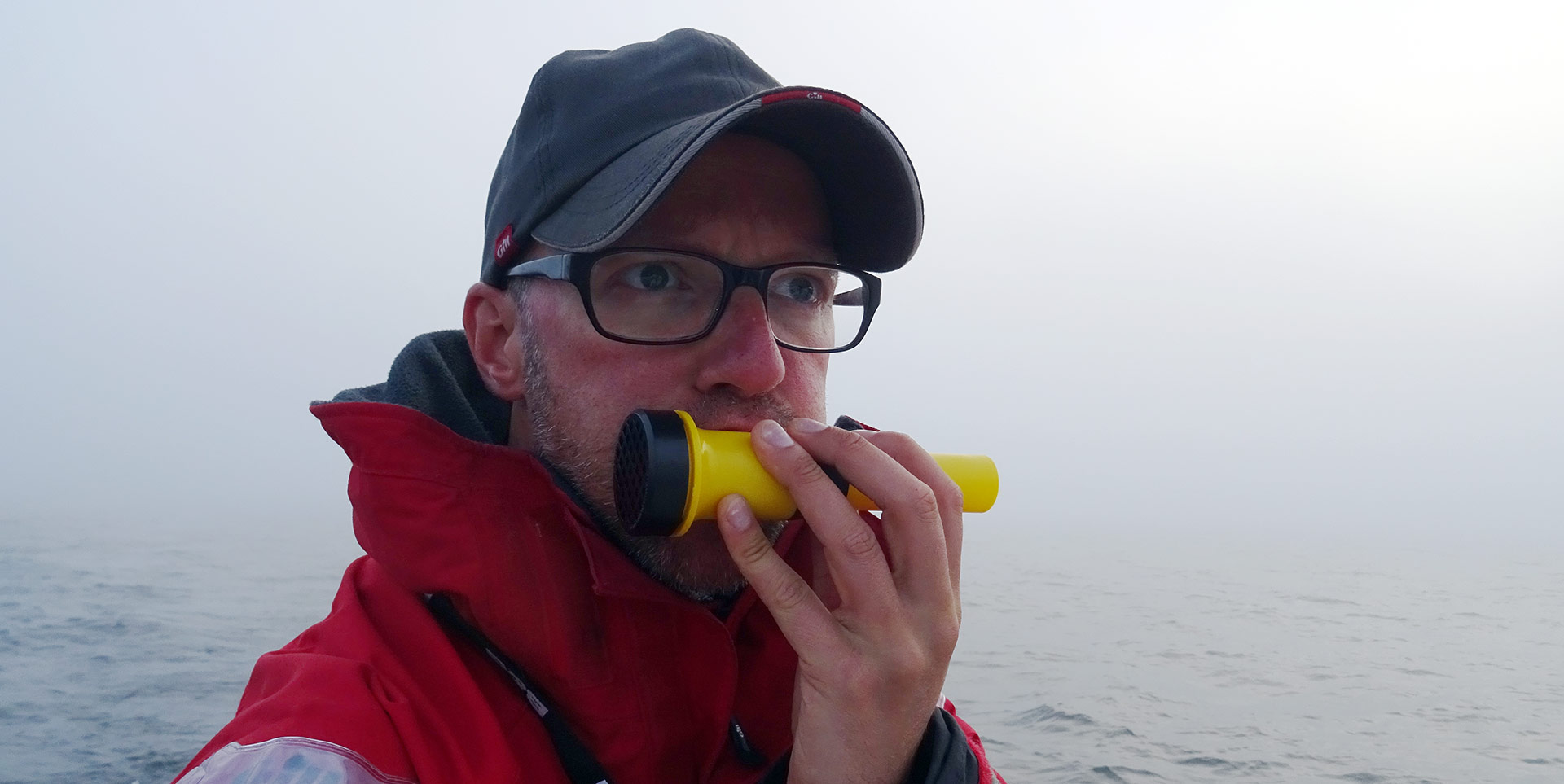 Nevertheless, it worked. We blew the horn and we knew we had done everything we could to make ourselves "visible" in this situation. We as well listened to possible other signals: I commandeered my mate who otherwise was off-duty to the cockpit to have a second pair of ears listening out into the white noise. We were lucky: No Class A-signal crossed our way. No ghostly fisherman floating around.
Rule two: Be seen!
A second thing: Even though eyes may not be able to see you, Radar still can. Again I thanked my boss who handed me a slightly oversized Radar reflector for the boat. Even though I couldn´t see any AIS-emitting ships, at least Radar-equipped ships would most certainly "see" me as a thick blip on their screens. Of course we switched on our navigation lights although during daylight that´s a more cosmetic action. It quickly changed when the sun was going down. The lights were illuminating a huge sphere around the mast top in green and red which certainly widened the radius in which somebody could see us.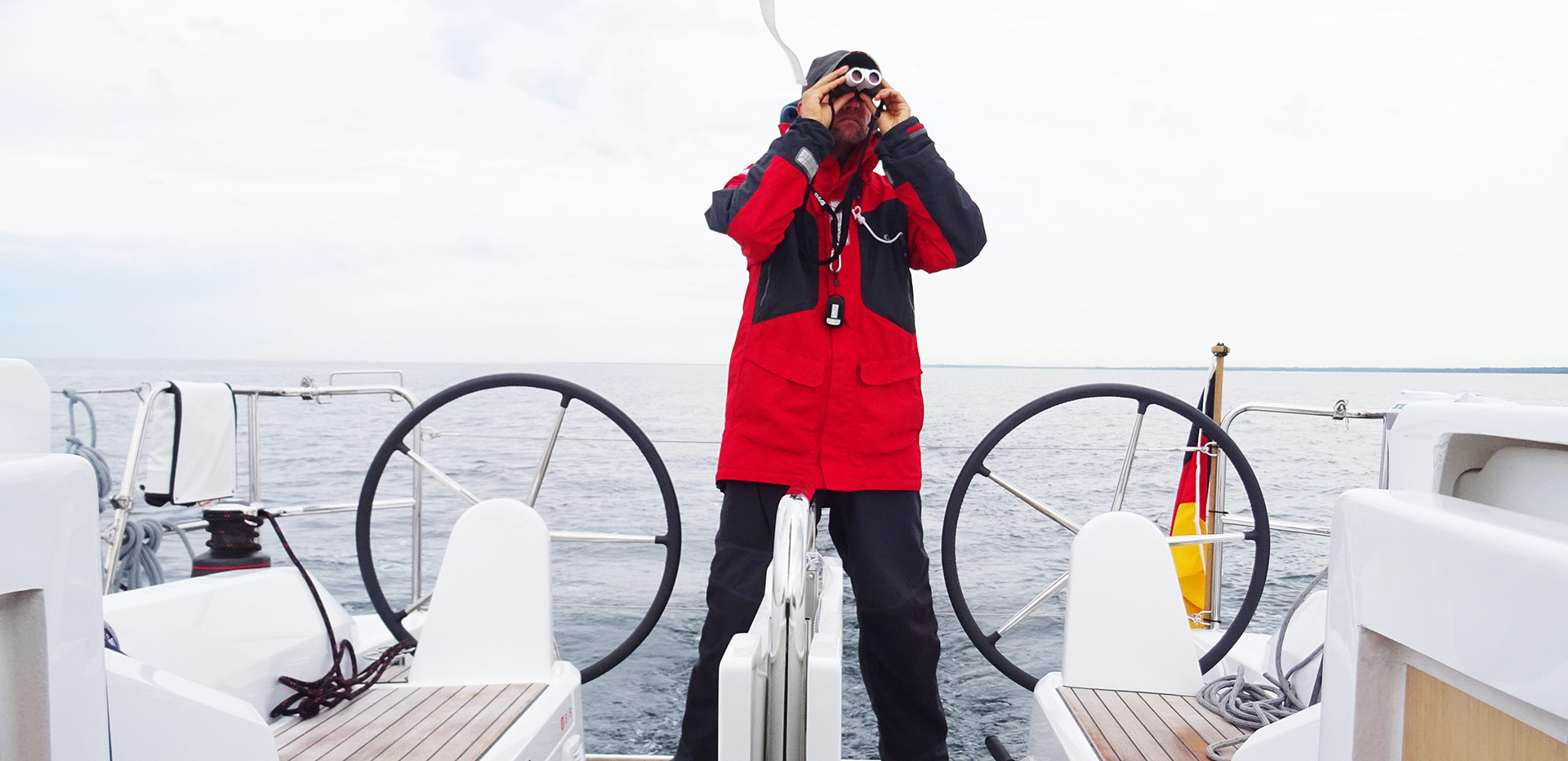 I tried hard to listen to the white and also to try to see something in the fog. Luckily, all my probable contacts turned out to be ghost ships. But that changed when night came over us and I had to steers towards the harbor. I was very happy having binoculars and being able to visually confirm course and heading of the boat towards the narrow harbour´s entrance with my own eyes. Even the best charts and the best calibrated plotter can put a boat slightly off an actual position: You certainly don´t want to hit a breakwater. In the end this experience was a boost for my blood pressure, but it taught me a very valuable lesson in how to calmly and professionally react to such a situation, how to handle crew and ship and at last bring both safely to a pier side to have the boat tied up.
All articles on my Oceanis 30.1-Prototype trip from Germany to Sweden can be browsed here: #swedensailing
You may also find these articles on Skipper´s Basics interesting:
What makes a sailing yacht seaworthy?
Offshore Sailing, Lessons learned – Technical stuff
Weather routing software