It was not my Boat24.com-App …
… but surprisingly enough the good old eBay-website which brought a very promising offer before my eyes. Pictures of a finnish made King´s Cruiser 33 grabbed my attention and constrained my focus me for quite some time. Since my guts had already decided against the Leisure 27 we´ve had in mind as our boat this new offer seemed to be a very good alternative.
After researching for similar boats in the net I´ve found out that there are currently only 2 boats of that type for sale here in Germany and some 5 to 6 offers in all of Europe. Since only 150 King´s Cruisers have been built, that might be a good sign: Either most of the boats have been struck or sunk (which I don´t hope) or these kind of boats are so durable and beloved that their owners seldom sell them.
The boat looked sharp, fast and I really like the portholes in the freeboard: A quite modern design still, even if these boats turn 40 nowadays.
The Fiskars King´s Cruiser 33 is a fine boat.
The Fiskars King´s Cruiser 33 have been built from 1972 to 1978 – as I said, 150 of these yachts hit the waters. A renown yacht-designer named Pelle Petterson did the drawings for that yacht, that has some 10,24 metres length overall and a some 3.12 metres at her broadest width.
Her underwater hull is sharply cut, a 2 ton cast-iron keel provides for both very a stable and an as very fast regarded boat. King´s cruiser 33s have circumnavigated the globe and stood their man even in heaviest gales and adverse weather conditions.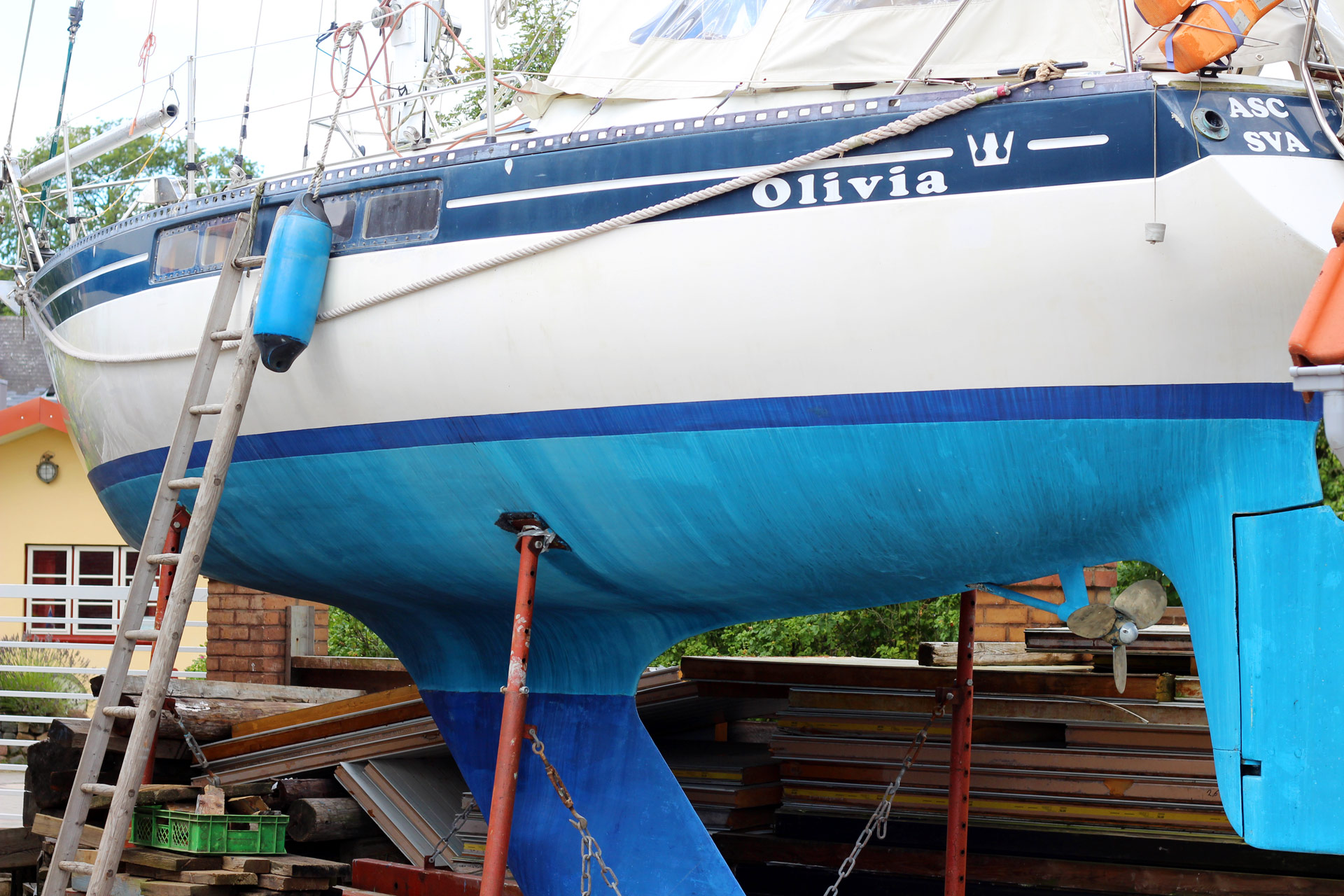 My sailing friend Jan warned me: "It´s a huge boat. Are you aware of her size? Maybe she is a bit too big as a rookie´s yacht?" Maybe. But then I realized that I didn´t bought an aluminum-racebike in the first place – I started with a high-end carbon-bike as well. So why not? 27 feet or 33 feet – I will make mistakes as a rookie, no matter the size my boat has anyway.
The more I´ve read the more I longed to see the King´s Cruiser by myself. One phone-call later we´ve had an appointment.
Arriving at the baltic shores …
… I straightaway saw the blue-striped white boat pop through between some trees and a brick-wall. Fully rigged she was o dry-berth for almost one year, I quickly learned from her current owner: A real seafarer judging from his dark coloured sun-skin and deeply carved wrinkles. His face told stories of endless hours at the helm.
I was lucky in getting my appointment: I tried to get a date for looking at both currently available yachts of that type but the other one told me he had been so overwhelmed by requests that he was confident to sell the boat very soon.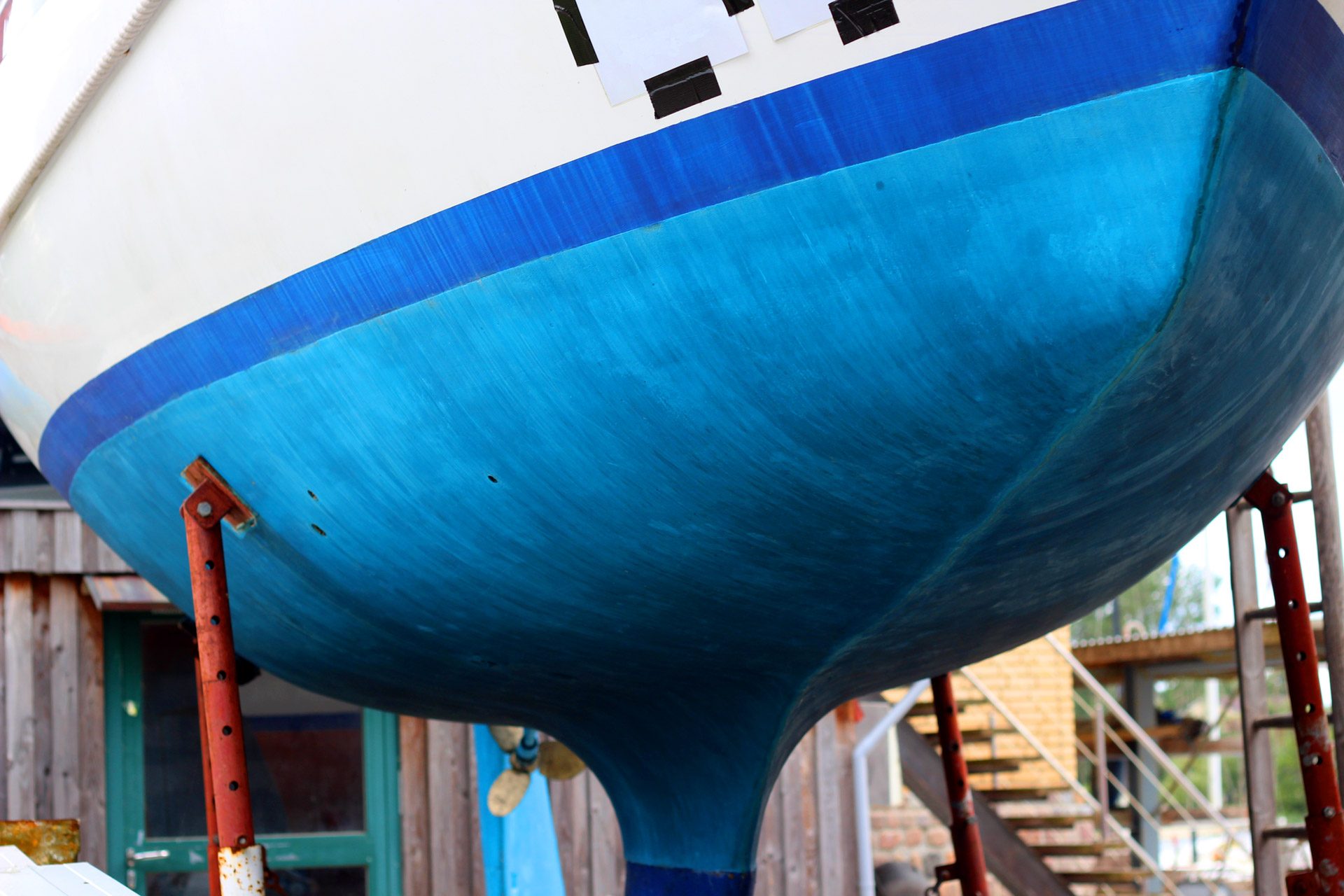 Reality could easily keep what the pictures of this yacht promised in eBay: Her hull seems to cut through rough waters with easy – even here on dry land –  her bow so sharp and dynamic and her stern well-curved. Again, I roamed around the hull inspecting every inch of her. Then her current owner invited us to have a look inside.
Spacious, bountiful and well equipped.
33 feet. That´s long. Comparing her interior space with the – considered a spacious boat – Leisure 27 or the Neptun 31, I can only say: She´s huge!
We could easily move about in the saloon where a 3 person sofa and vis-à-vis an even bigger sofa (convertible to one and two berths) offer great space for sleeping, dining and spending time when the weather forces the crew under deck.
Through a small bulkhead-door one reaches the forward cabin where the bathroom, a very big closet and the forecastle-cabin offers roomy berthing. Aft on the portside a spacy pantry with fridge offers enough space for preparing food for the crew. On the starboard-side a big chart-table (fixed) and a comparably big quarter berth round up a bountiful living space.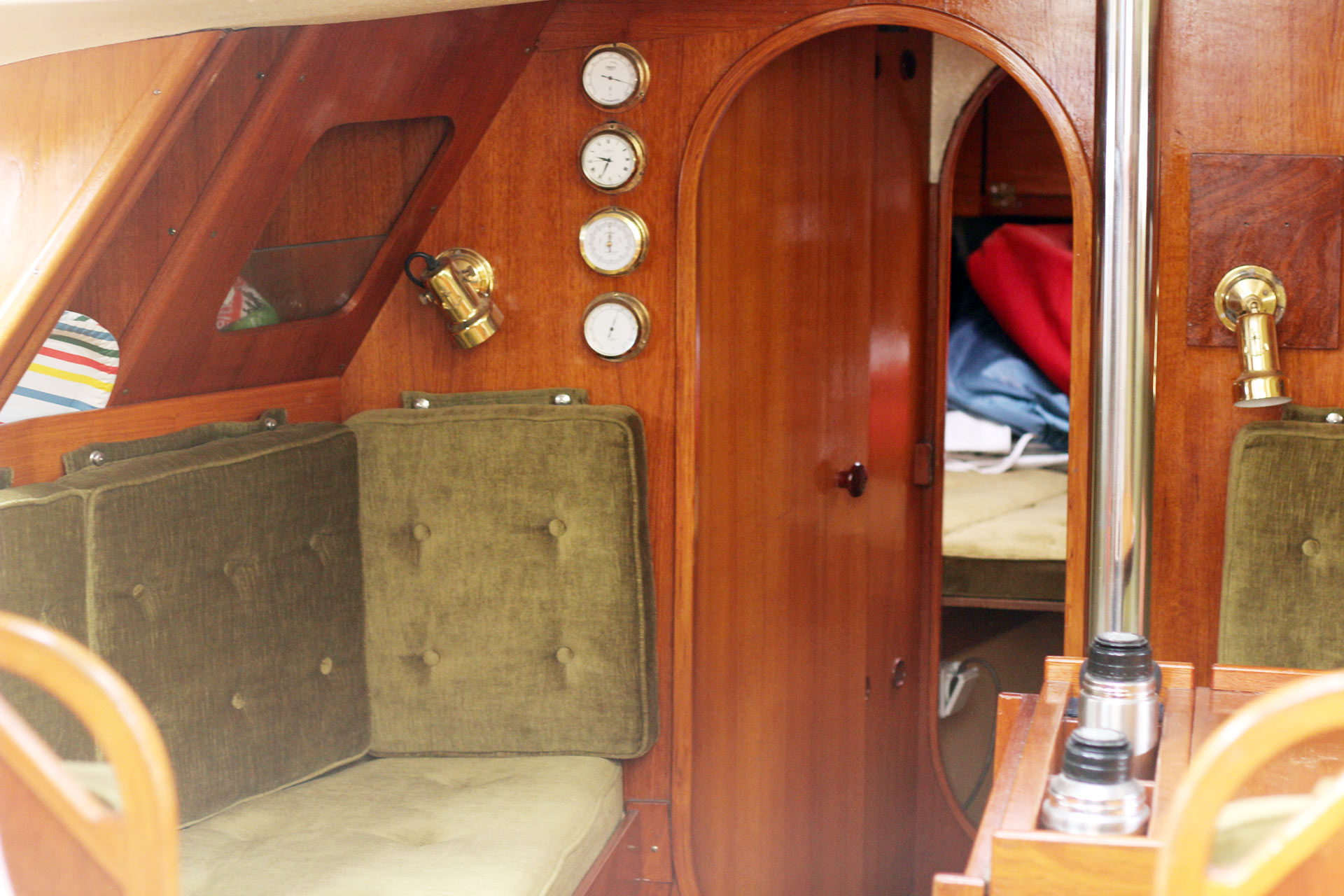 I was enthused by the cockpit. Considered to be one major point of criticism of the Leisure 27 of being to small, just big enough to house 2 people, the cockpit of the King´s Cruiser is just huge again. I can imagine 4, even 6 people spending time here without feeling overcrowded. Lucky me, the owner offers a big cake stall which turns the cockpit into some kind of winter garden.
I am zealous of so much wood inside – no comparison to the more caravan-like plastic-look of the Leisure we looked at some days before. Well, of course. Space has it´s price and so this King´s Cruiser is far more expensive than the other offer. But, as I pointed out in one of my postings before, one should think of preferring to buy big than to buy twice.
For me, the decision was a no-brainer.
Could this be my boat?
This King´s Cruiser is so well equipped and has been maintained so well by her current owner (second owner so far), one could see it by looking at the engine. A 34 PS 3-cylinder machine that appeared brandnew, a neat rigging and electronic equipment completed the overall good shape of the boat. It has a heating-system as well and is fully loaded with all sails needed.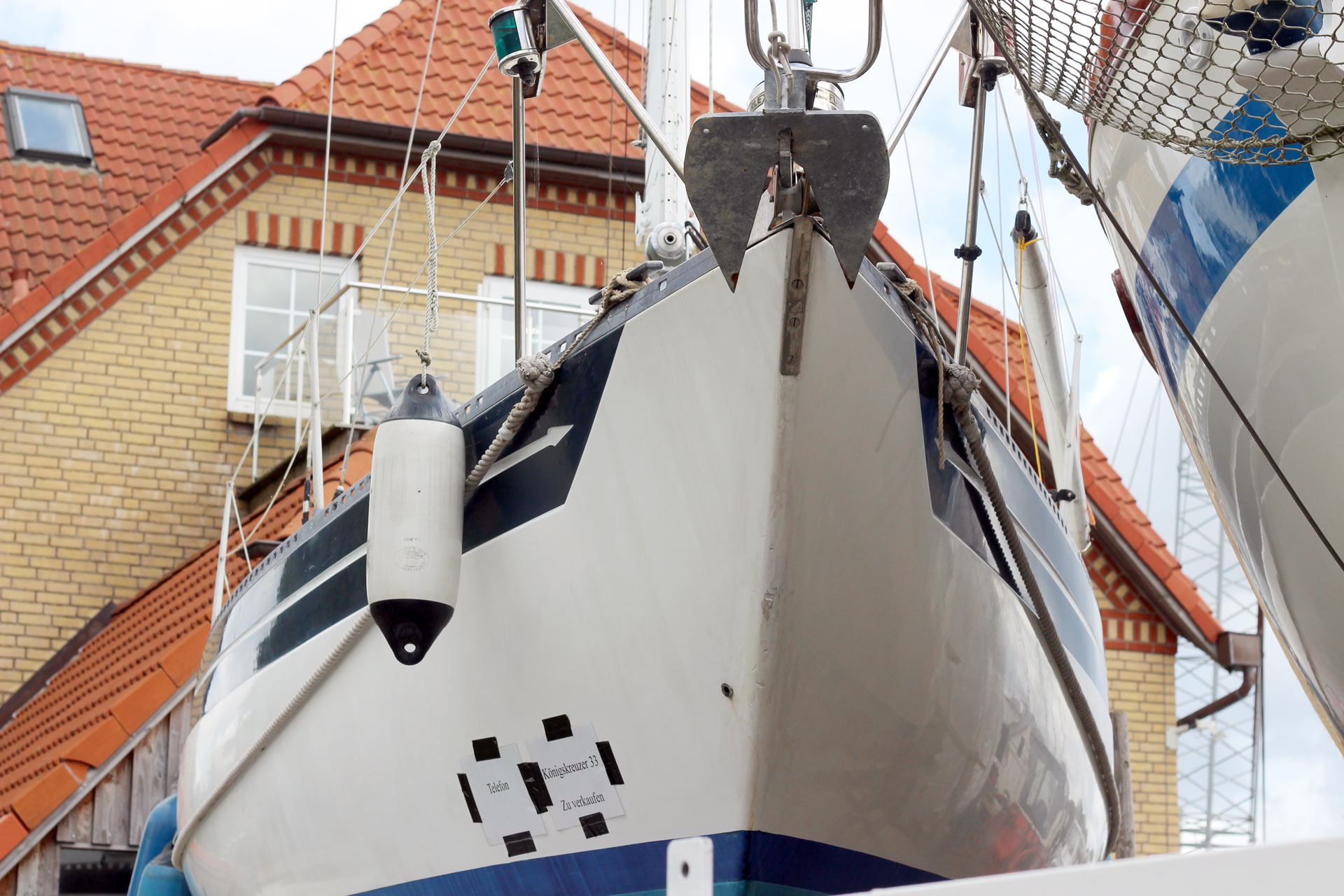 Her both friendly and presumably capable owner instantly offered to have a test-run with us and invited us to spend a night onboard, which we accepted of course. So I especially look forward to the next weekend: Some miles on the Baltic Sea and a shaky night mooring at pierside in this beautiful King´s Cruiser 33. And why not? Maybe we´ll meet the ship´s kobold.
When and what did convince you to buy your particular boat? I´m looking forward to your comments.