If you are a business insider or currently deep into buying a boat, I bet that you came across the question of Teak. If you haven´t been confronted with this, you will, trust me. The point is: Western countries have imposed sanctions on the Myanmar military regime after their violent taking over of power in that country. That means, all deals with state companies are prohibited. Since all of boat-proven Teak timber comes from Myanmar, this source of our favorite decking material is practically dried out. And this is how we receive our boats now …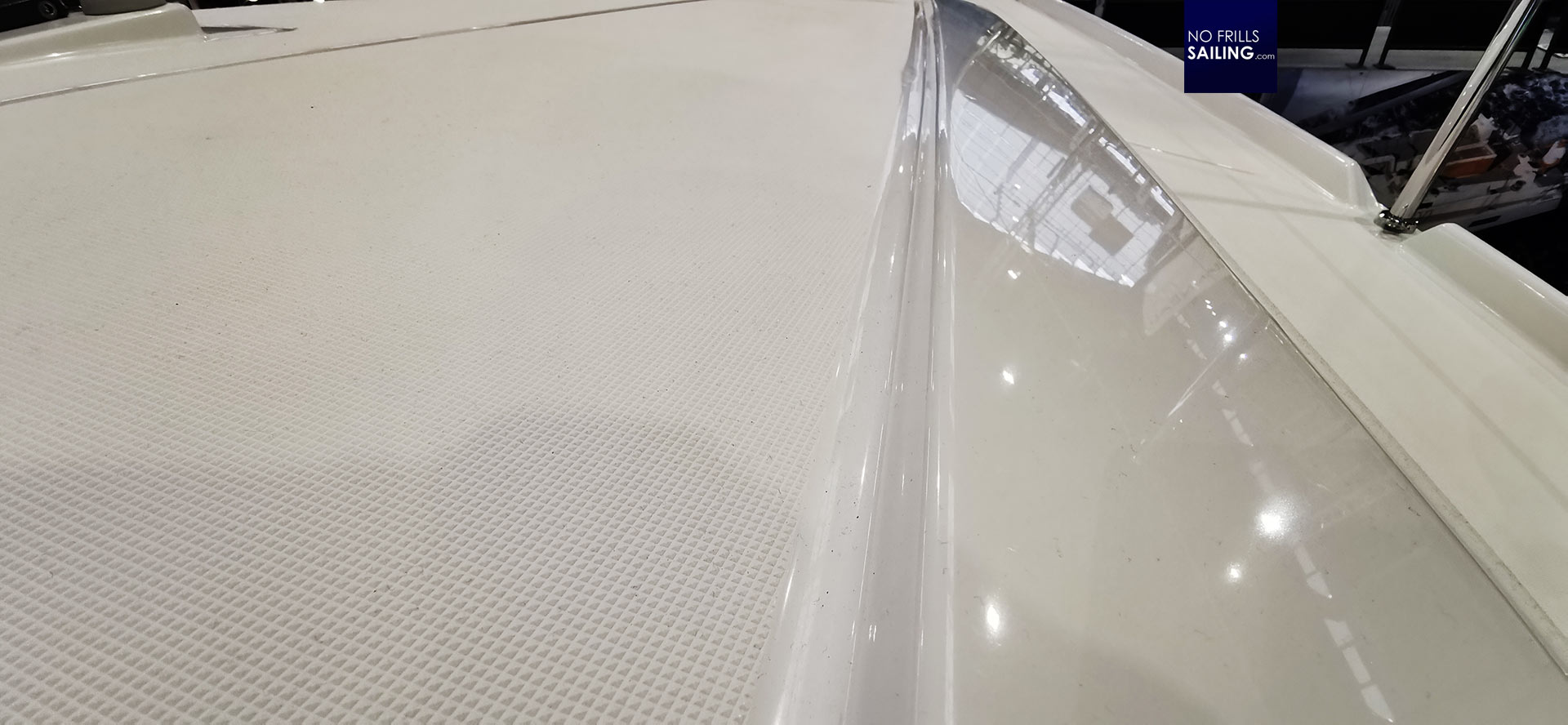 Bare Gelcoat surface with non-skid pattern. Looks fairly nice on a brand new boat during a boat show, it starts to get annoying when subjected to natural forces, dirt, rain and moisture in the open outside. Since all boat builders are currently running out of their last logs in store, boat dealers cannot order new boats with Teak decks anymore. This is a thing of the past. I have written an article earlier this year on how our catamaran brand Excess is dealing with that problem: They switched to Cork.
Synthetics on the move
Many other did not. "FlexiTeak" is a brand name that is used synonymous for synthetic decking. These plastic- (hence crude oil-) based materials are on the move. Many brands have introduced these materials on their options lists, like Hanse or Bavaria, but also Hallberg-Rassy moved to synthetic, they call it "EcoDeck", which essentially is based on polyurethane.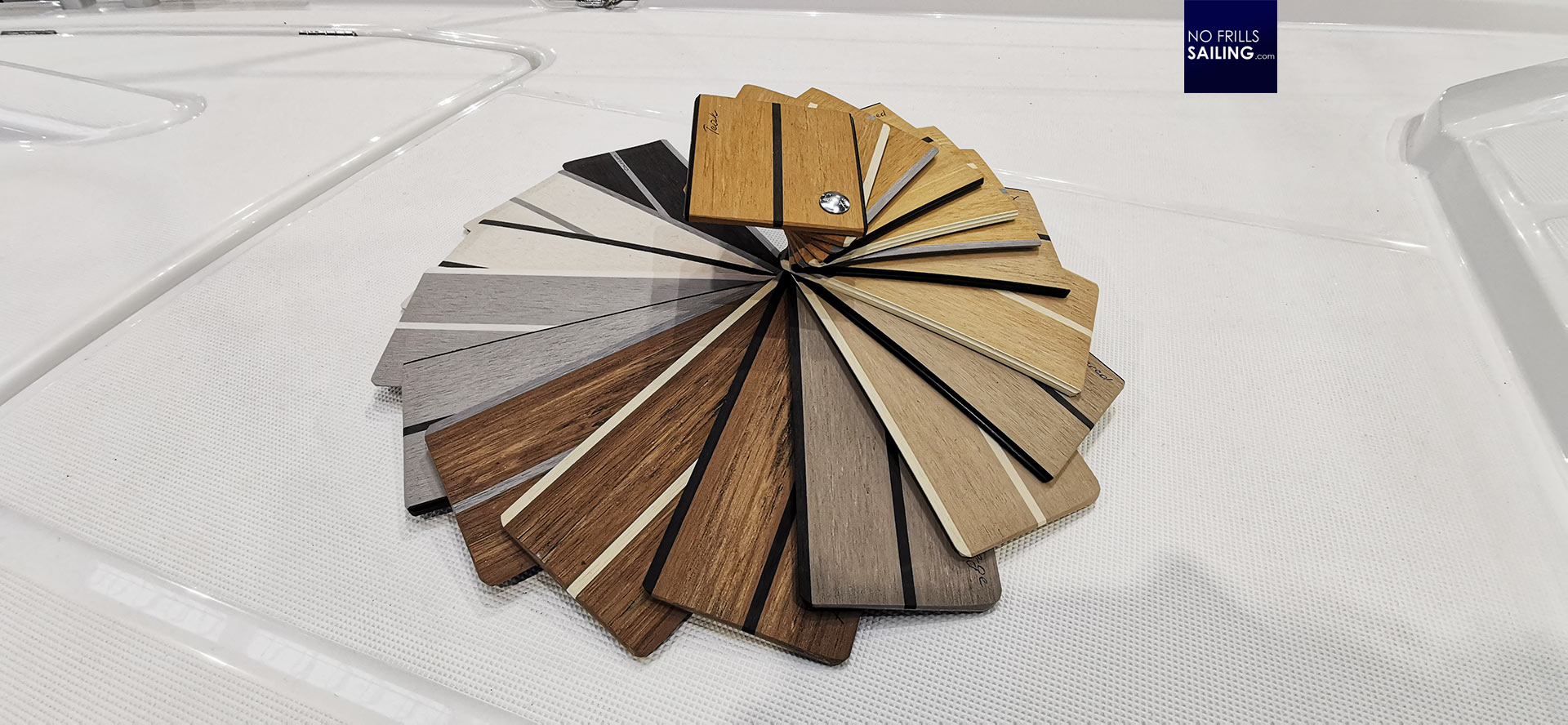 I must confess I don´t really fancy synthetic decking: I find it is very heavy and since their basic ingredients are based on crude oil, it is not sustainable nor "green" in any way. On the other hand, these decking materials come in many, many different shapes, colors and styles. Where we´ve had a very cheap and plastic-like look a few years ago, the modern materials and surface patters used are fantastic: As an owner there are practically no boundaries in how to design your boat.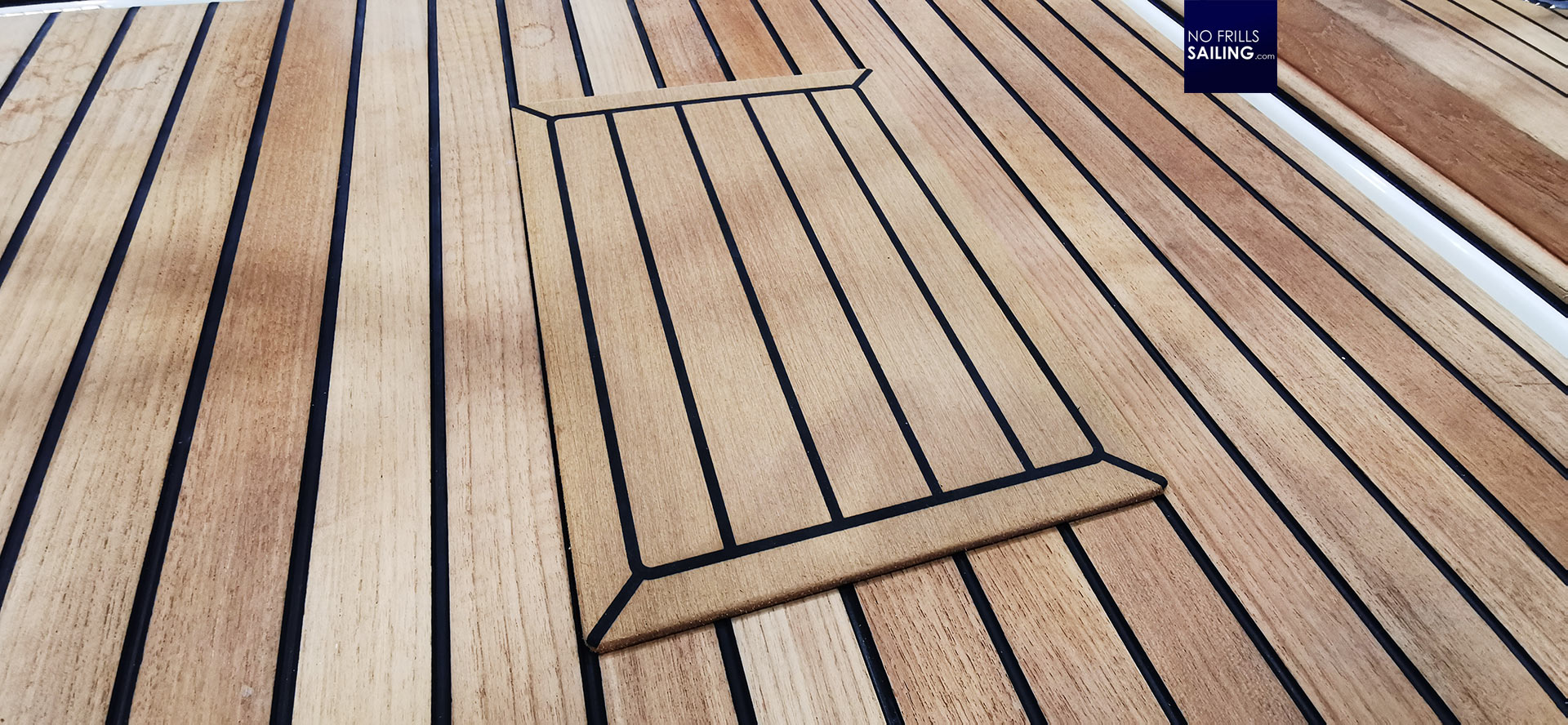 During last boat show I took some of our showcase decking-panels we use to give people an impression and put them on one of our boats that was still delivered in real Teak. The outcome is fascinating: There is no distinction possible anymore between real and faux Teak decking. It is said that plastic Teak decking needs no attention and is literally free of care. Well, we will see in 5 to 10 years if this marketing promise was true. But can´t there be any natural surrogate to Teak?
Teak alternatives with real timber?
Well, first of all, why do we love Teak in boat building? This timber is used for making boats and ships since centuries and this is due to the very unique properties of the Teak. First, it is a very oily, easy to work on material. The oil is a natural pesti- and fungicide and a natural insect repellent. It can withstand the ever so constant change of humidity, temperature and moisture level. This is, by the way, the reason why garden furniture utilized outside is made of Teak as well. Secondly, when being wet, Teak "spreads" out the ends of its fibres, creating a very effective non-skid surface.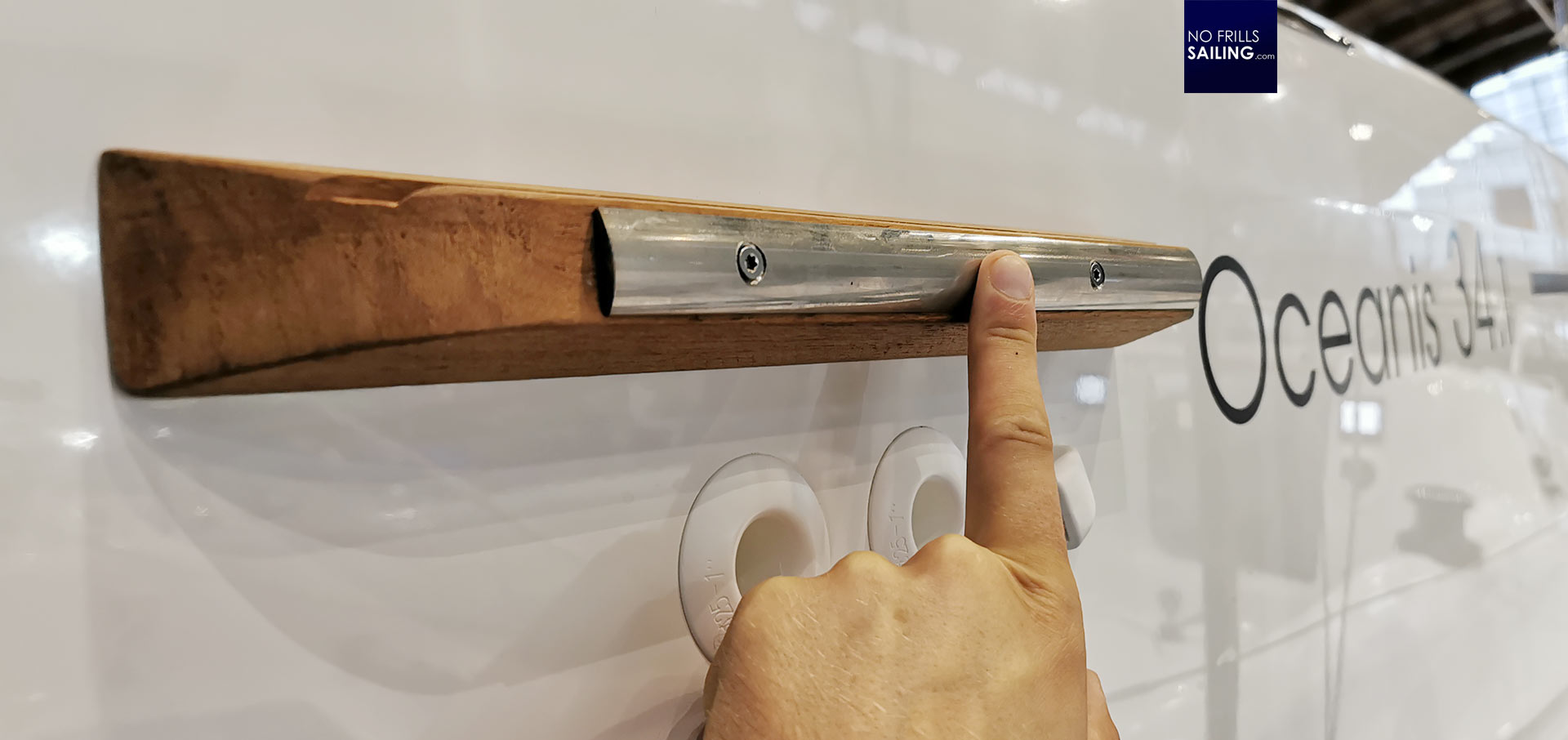 There is rarely any other timber with these properties. We need Teak not just for boat decks. In Northern Europe where we do not land boats Roman-Catholic (stern first on mooring lines) we have berth with bollards. So we fit many of our boats with bumper strips made of Teak. Teak is hard but also soft enough to absorb collision energy before it enters the GRP structure of a glass fiber-boat.
One of our suppliers recently brough another bumper strip-mockup and showed it to me. It looked like the other one – massive Teak – but smelled different. It was Sapeli Mahogany, or Sapelli. It is also often called "cheap Mahogany" because it has hardly the cost of it. It´s a very hard timber that has its origins in Africa. Since this is also natural wood from rain forests, the import of such timber is restricted under CITES and must be purchased only via FSC-certified companies, which we of course do. Sapeli Mahogany isn´t available in abundance, of course. And some other craftsmen I interviewed on that topic said it wasn´t weather-proof and prone to splinting. All this shows how hard it is to find alternative solutions to the Teak-problem.
Will Sapeli Mahogany do the trick?
If Sapeli is the non-plus-ultra we don´t know yet. We have set up some test-dummies, like shanks of Sapeli-timber forming a bumper strip. Our partner fixed that test object to the roof of his house, submitting the wood to the Northern German forces of nature: With a wet and cold autumn arriving, a freezing winter approaching and a hot, dry summer afterwards, this will be a good test. We´ve also mounted a whole bathing platform decking in Sapeli just to see how the bond between the glue agent works over time and the material behaves in real life.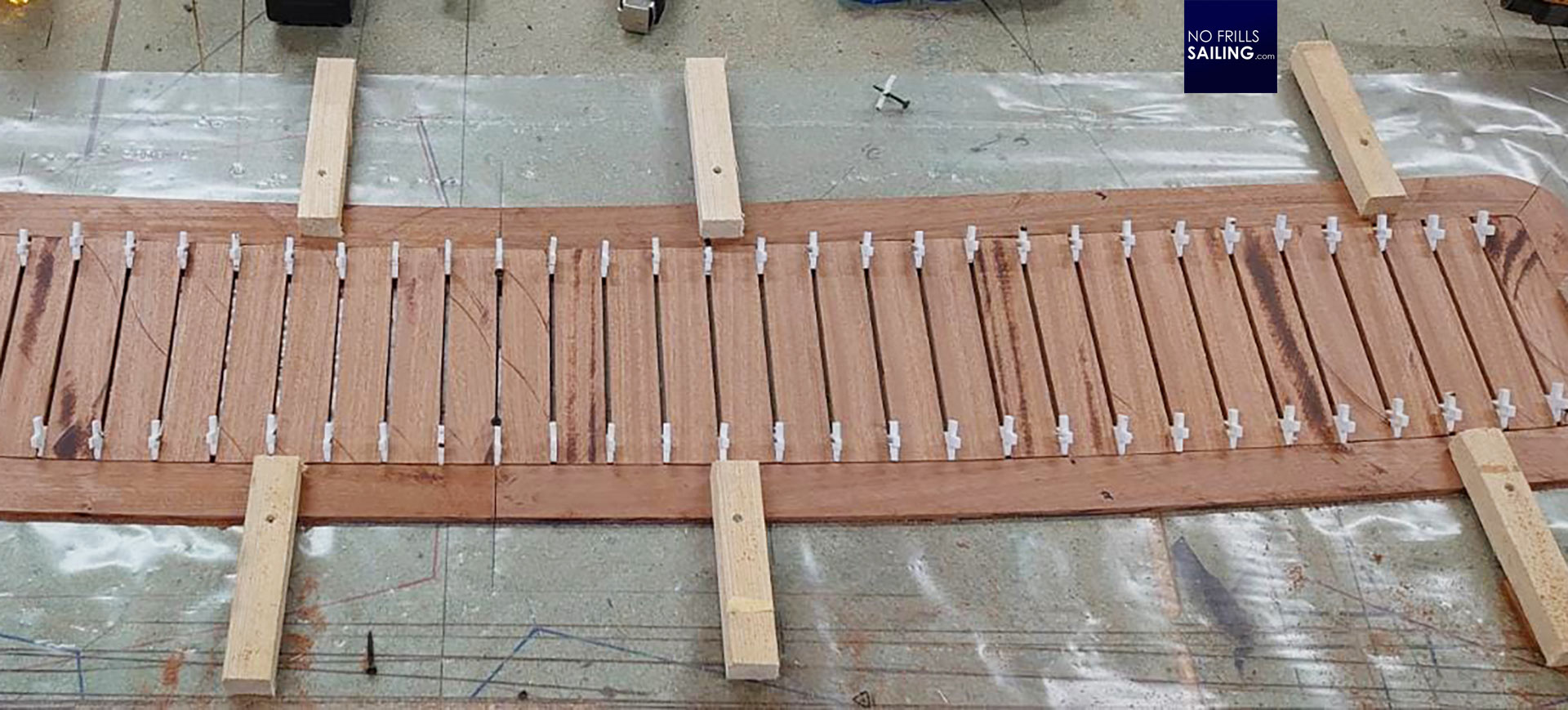 We just don´t know yet. It´s a hard task to find alternatives. I personally tend to having found my favorites in Cork for big boats and EVA-foam – but not the cheap one! – for performance-oriented boats. In this, I am currently re-furbishing my old boat GEKKO to make her nice for her new owners, but I will keep my eyes wide open to see if more alternatives to Teak arrive.
Related articles on that topic:
Cancelling Teak: Quo vadis, boating industry?
Faux Teak – visiting Rosch Yachts
EVA-foam, my material of choice