New York City reigns as the most important name when it comes to dream destinations for people. This has been so since at least 200 years and was heavily exploited during the big immigration waves of the last century. The last big wave was the Golden Age of the big ocean liners of which TITANIC wasn´t the biggest, she did not even reach New York as we all know, but she is most certainly the biggest name of them all.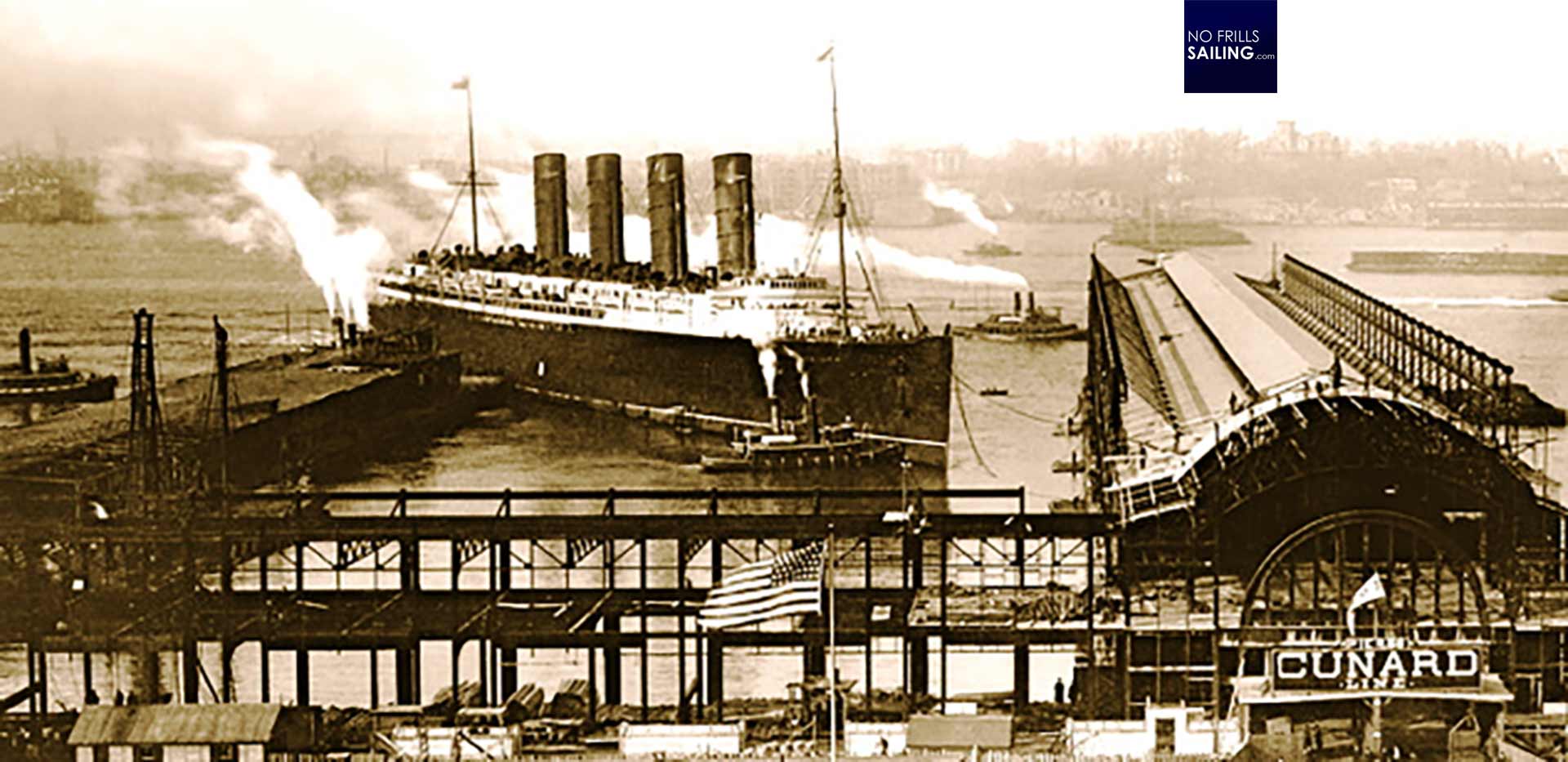 Some traces of this past time can still be seen when wandering the Hudson Riverside Park, a wonderful example for architecture and re-cultivation of once heavily industrialized areas. All along the Hudson, New York used to feature its harbor. The city still sports the third biggest harbor of the United States but it moved to Bayonne vis-à-vis Staten Island. Since the old docks and piers aren´t used by the countless freighters and majestic ocean liners, the whole area had been turned into attractive living quarters and this great riverside park.
TITANIC´s traces at the Chelsea Piers
Now, back to TITANIC and New York. Those piers on the Hudson river have mainly been either transferred into Golf putting courses, shopping malls or parking space for cars or they have been neglected. The huge "fingers" are two-, three-hundred meters long reaching out into the river Hudson. Hundreds of massive Oak trees had been rammed into the riverbed to form a rugged, stable base for the piers. Only a few still look like in the old times.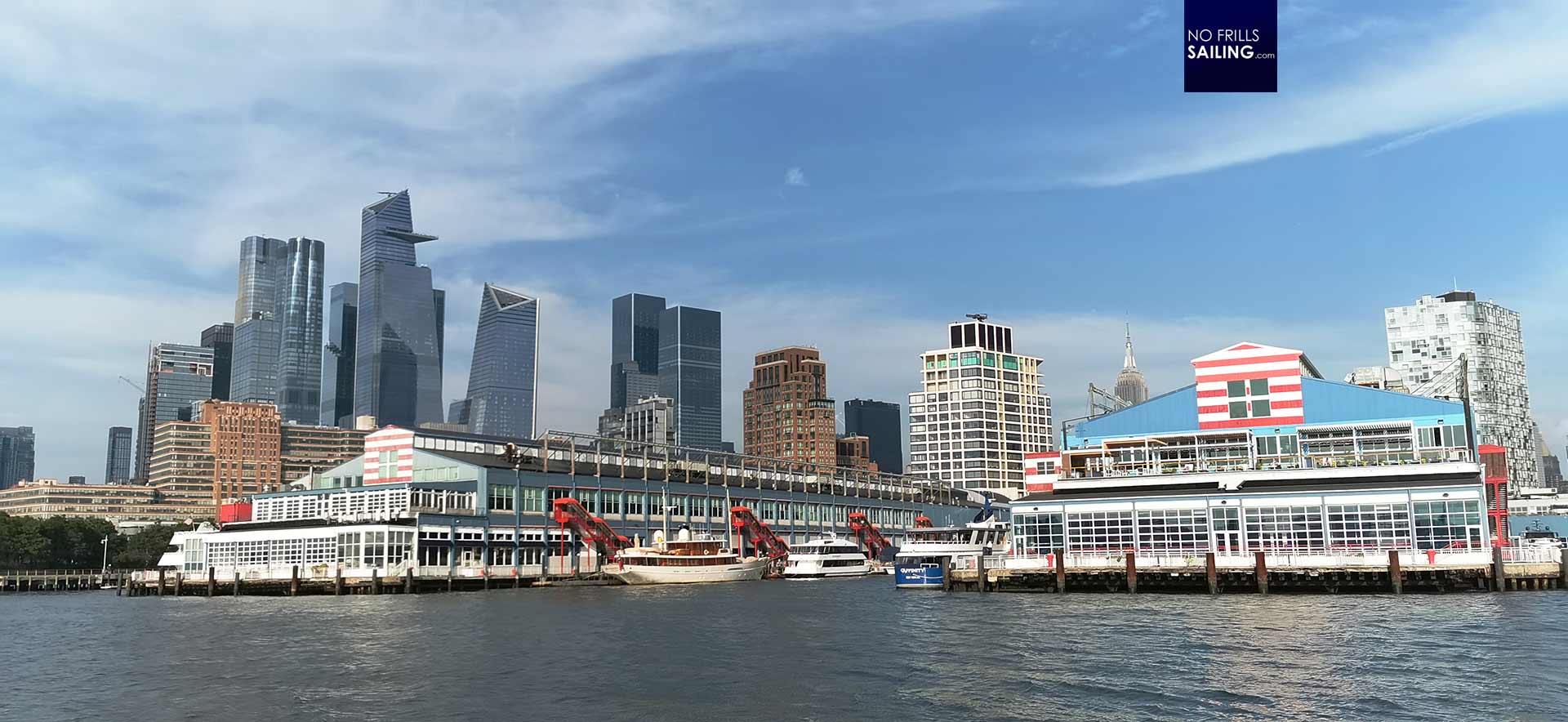 Chelsea Piers 62 to 64 for example, now used as a huge theme park for restaurants, clubs, sports grounds and docking space for boats (here is where I boarded the AMERICA 2.0 for a sailing trip around Lady Liberty (LINK)), still retain much of their old looks. Standing there it is quite impressive to imagine one of the big ocean liners docking alongside, being loaded with hundreds of tons of coal, food and passenders. Such as the TITANIC was supposed to …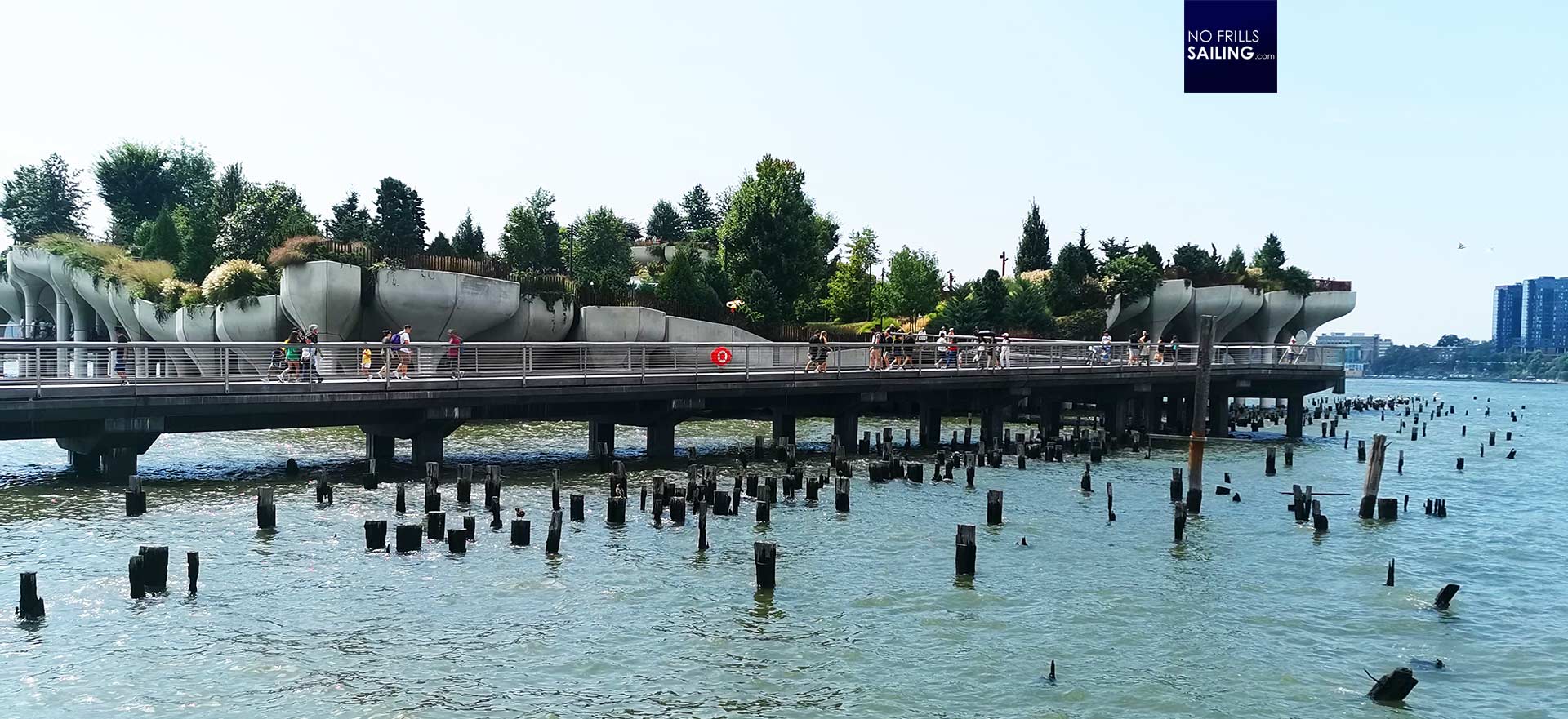 There is a rumor in the internet that a few hundred meters away, at Pier 54, TITANIC was supposed to dock after her maiden voyage. The rumor says that since the ship was tragically lost at sea, no other ship docked at Pier 54 ever since and that this facility was left to decay as a sign of respect. Well, this is not true – as some people told me. The real story is that CARPATHIA, the ship that rescued the few lucky survivors, finally arrived here and that those survivors left the ship via Pier 54. Which sounds much more believable.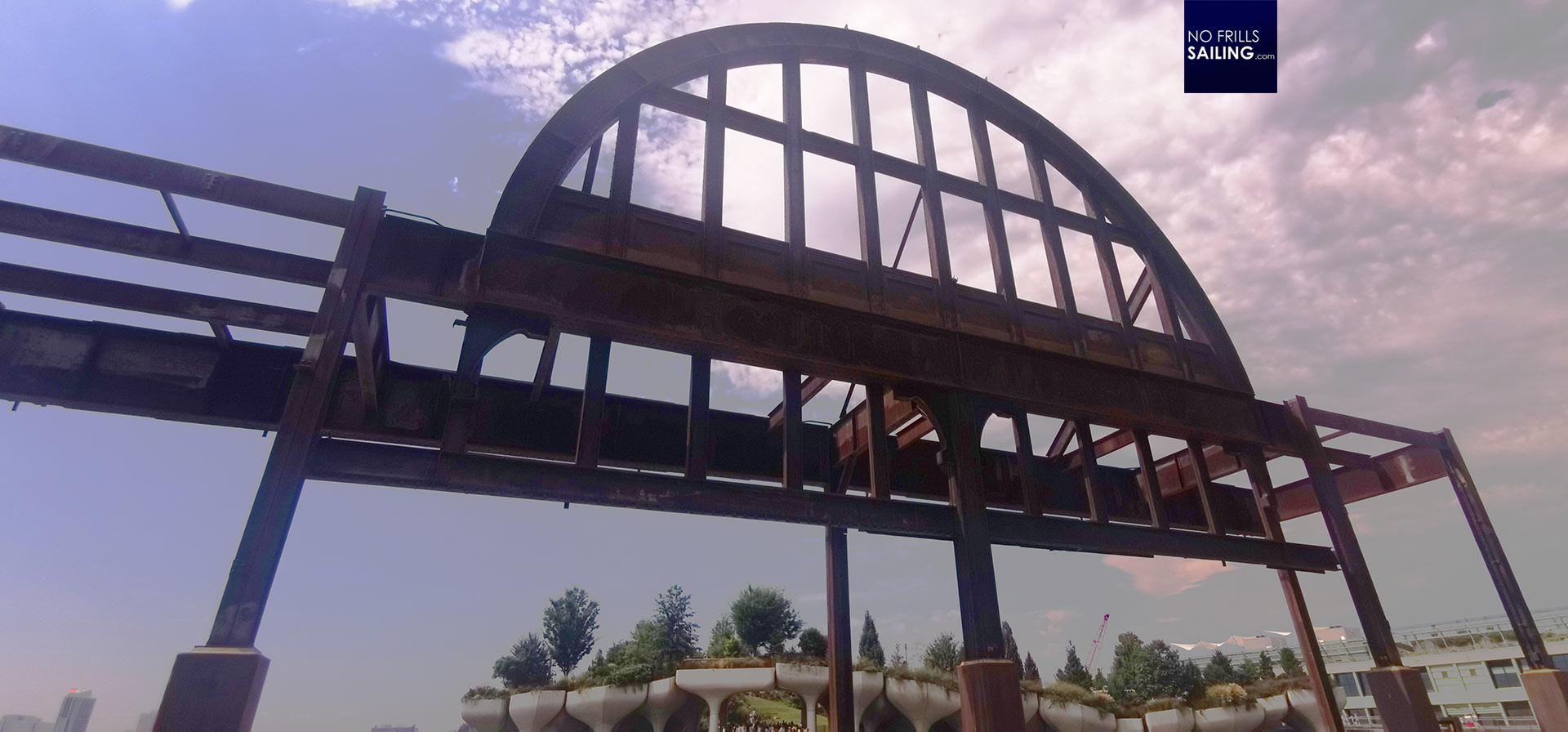 The stubs of the pier´s basic structure is still visible, but the pier itself is long gone. Instead, the City of New York built "Little Island" here, a wonderfully designed, huge park that attracts hundreds of visitors each day. It features nicely sloped walkways, an open-air theater and nicely crafted vintage points. All that is left leaving a faint memory of the old times is the rusty steel structure of the pier´s entrance building. When looking very closely, one could decipher some letters. Thy spell: CUNARD. The CARPATHIA was a ship operated by the Cunard Line.
The Titanic Memorial Park at South Street Seaport Museum
Sadly, there is no memorial badge or anything fitted to the steel frame structure so that people could commemorate and pay tribute to this place, which is a bit sad. Anyway, on the traces of TITANIC, when browsing the internet or checking Maps, I found out that New York has a memorial park with a monument in remembrance of the tragic TITANIC loss. The Titanic Memorial Park is situated in the Financial District of Manhattan, right at the South Street Seaport Museum.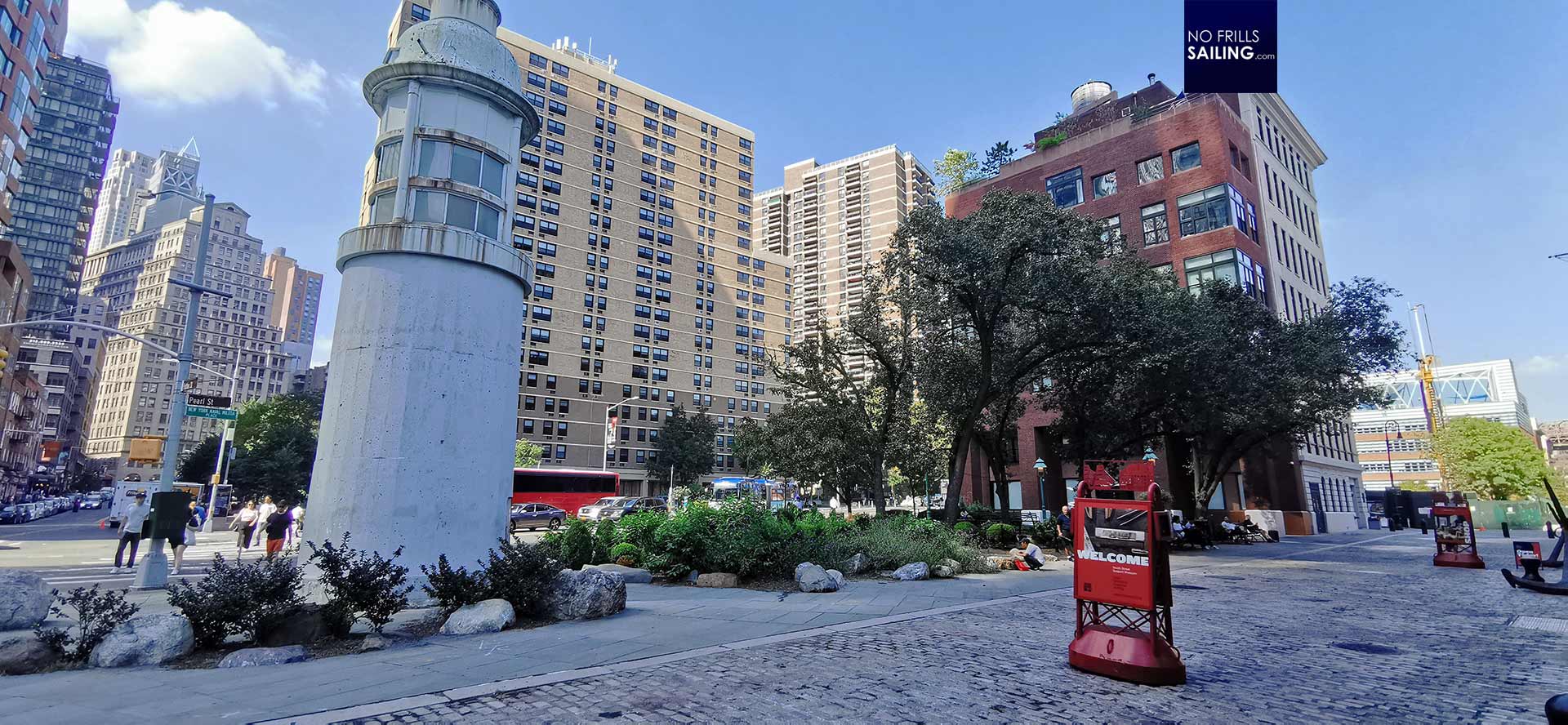 Arriving there is a bit … well, disappointing. The word "park" suggests something bigger than just a few trees, some benches and a small lighthouse marking the memorial. This lighthouse, as a badge tells, was used to signal noon to the harbor´s ships until the year 1967 when it was dismounted and donated. I can see the connection between TITANIC´s loss and the picture of a lighthouse signaling safe passage, but this installation does not have any connection whatsoever to the sinking of the ship in the North Atlantic.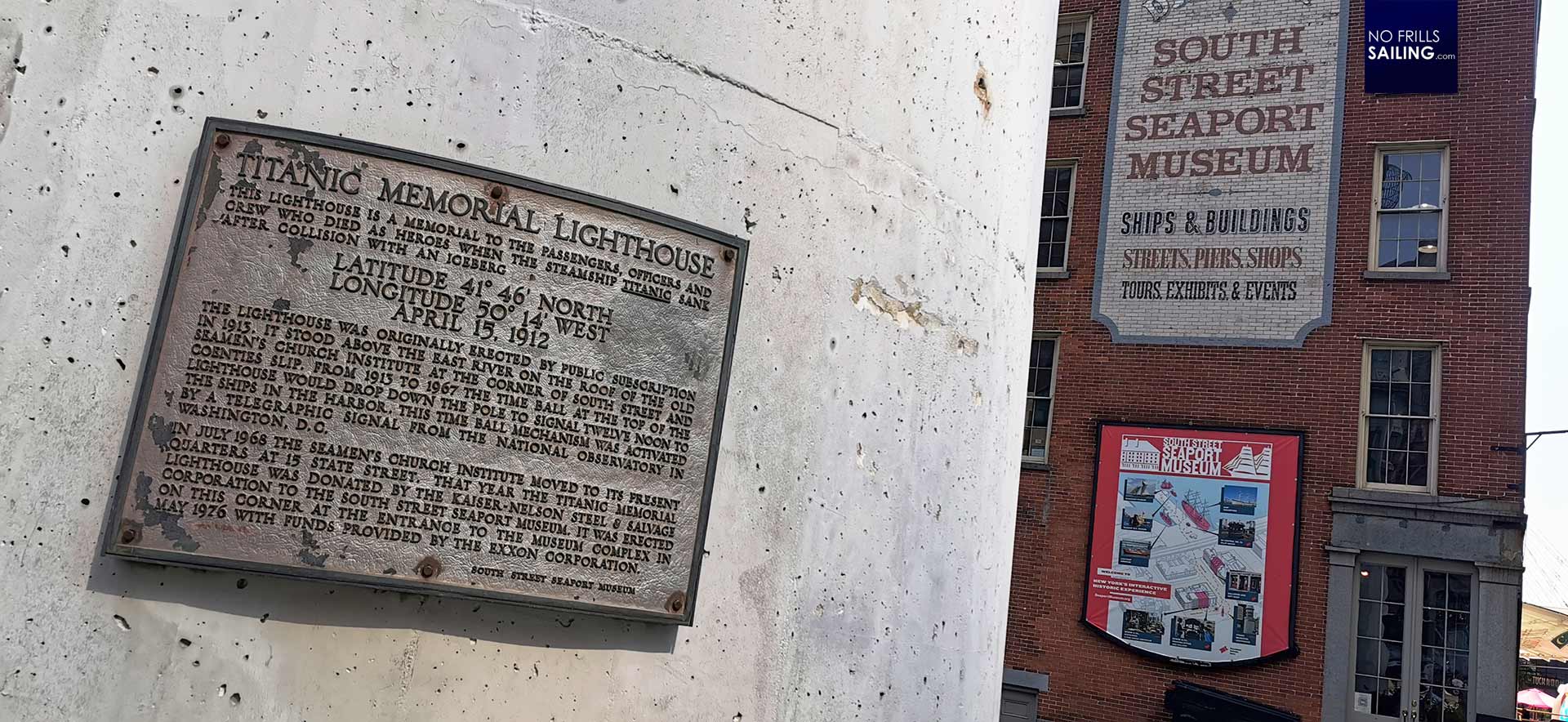 Again, a bit disappointing to see that apparently there is no real urge there to do something truly and deeply fitting to properly live up to the topic. The Titanic Memorial Park is a nice opener for the adjoining South Street Seaport Museum, about which I am going to write a dedicated article in the coming days, but this installation very well also could have been named "Apollo 11 Memorial Park" or "Harbor Lighthouse Park". Anyway,  enjoyed the shadow provided by the trees whilst having an Iced Latte.
Gone as well: "The Titanic Experience"
Next on my TITANIC-list for New York City was a visit to the famous "Titanic Experience". This is a much hailed multimedia exhibition featuring models, artifacts from the wreck, mock-ups of cabins true to the original and much more – a true highlight of the whole trip and a must for TITANIC-enthusiasts. I checked, of course, with Google Maps and went there just to be disappointed once more …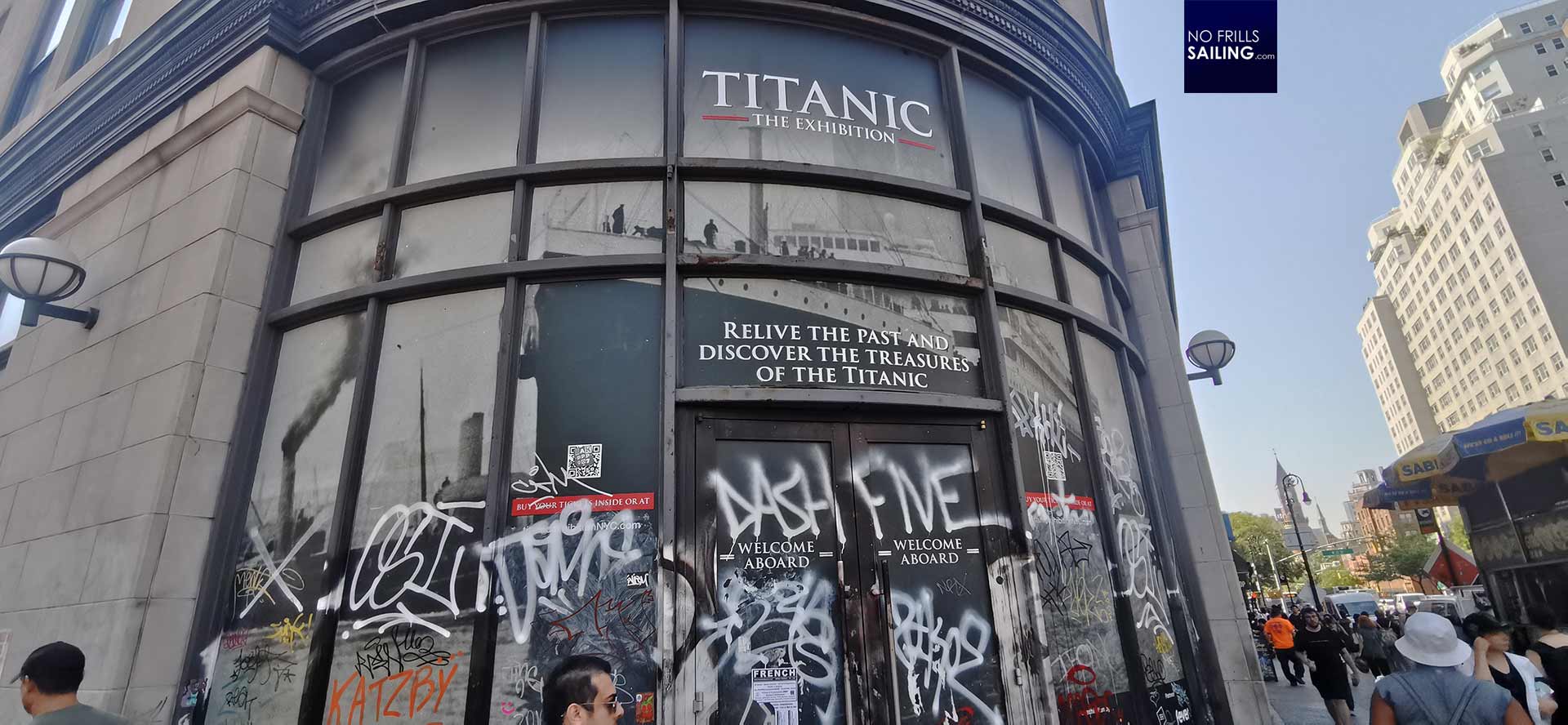 The exhibition apparently shut down a few weeks ago, subsequent research into it revealed that this exhibition (or a similar concept) opened up in Belfast attracting guests there right on the old premises of Harland & Wolff where TITANIC and her sister ships had been built. Well, this was stupid and so the blame goes on me. But again, I wonder, why a city like New York, welcoming more than 60 million visitors per year, does not offer this kind of exhibition anymore or why there isn´t an investor seeing a business here.
Keep your eyes open
Well, it´s quite hard actually to follow TITANIC´s footprints through New York. Even the rich historical heritage of this city, dating back more than 400 years, is hardly documented. There are places, here and there sprinkled all over the city. Small artefacts, one-room museums and places to see, but you really have to keep your eyes open, do a thorough research and read deeply into the topic.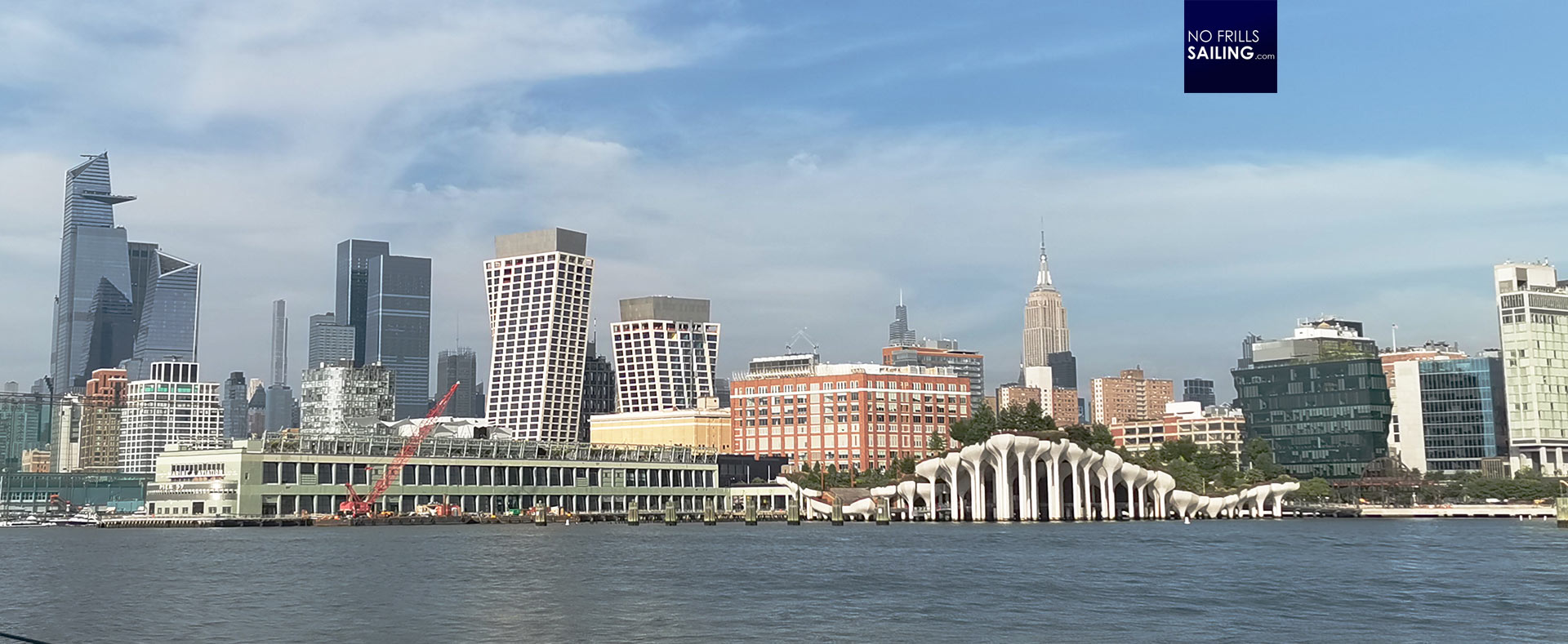 Just as "Little Island" tells us, this is indeed a city that never sleeps. Instead of looking back and sticking to the old times, new things pop up everywhere, being built on top of others. Traces get blown away, time and the tides of the mighty river Hudson slowly but surely peel off what is left there from the past. Aspiring architects realize their ideas, writing new chapters of history. Maybe this is the biggest lesson told by this fascinating city: No standstill, no looking back. Ever.
Also interesting to read:
Sailing to Lady Liberty in a classic American schooner
Visiting Brooklyn Navy Yard of New York
Watching the heartbreaking "Chasing Bubbles"