During Dusseldorf Boatshow I was honoured to meet one of the most renown yacht designers of our present – Umberto Felci. His work is known all over the world as he is designing one-offs and fast, seaworthy racing yachts. The Italian also works for the production boat company Dufour Yachts based in La Rochelle at the Atlantic Ocean and he took his time showing me around aboard his latest creation for the French, the Dufour 63.
From hand sketches to 3D modelling
No Frills Sailing.com | Lars Reisberg: "Umberto, it really is a pleasure having you here with me aboard the all-new Dufour Exclusive 63, your latest project. What I am interested in is your approach to designing a yacht like this, the whole process that´s behind it. So my first question would be: How are you working yourself into the project in terms of converging more and more to the new boat?"
Umberto Felci: "I am doing first sketches of course, I generally trace the first lines by hand, doing several sketches and shape models but I shift to computer aided modelling very soon."
NFS.com: "Oh, and I thought you yacht designers would sit behind huge tables and do sketches by free hand …"
Umberto Felci: "Especially when it comes to the superstructure I would do some drawings by hand, but very, very soon they get digitalized. And you know why? That´s because as a designer, or naval architect, I need to be able to look at what I do from all different angles, I need to see the very form from every possible direction to judge what I am doing. That gives me the chance to visualize my ideas in a certain way."
NFS.com: "… and this is only possible with 3D computer models. I understand."
Umberto Felci: "Right. In past times I would have put out different models made of Balsa to judge the shapes I am designing, but today it´s computer work. That´s my personal style of working."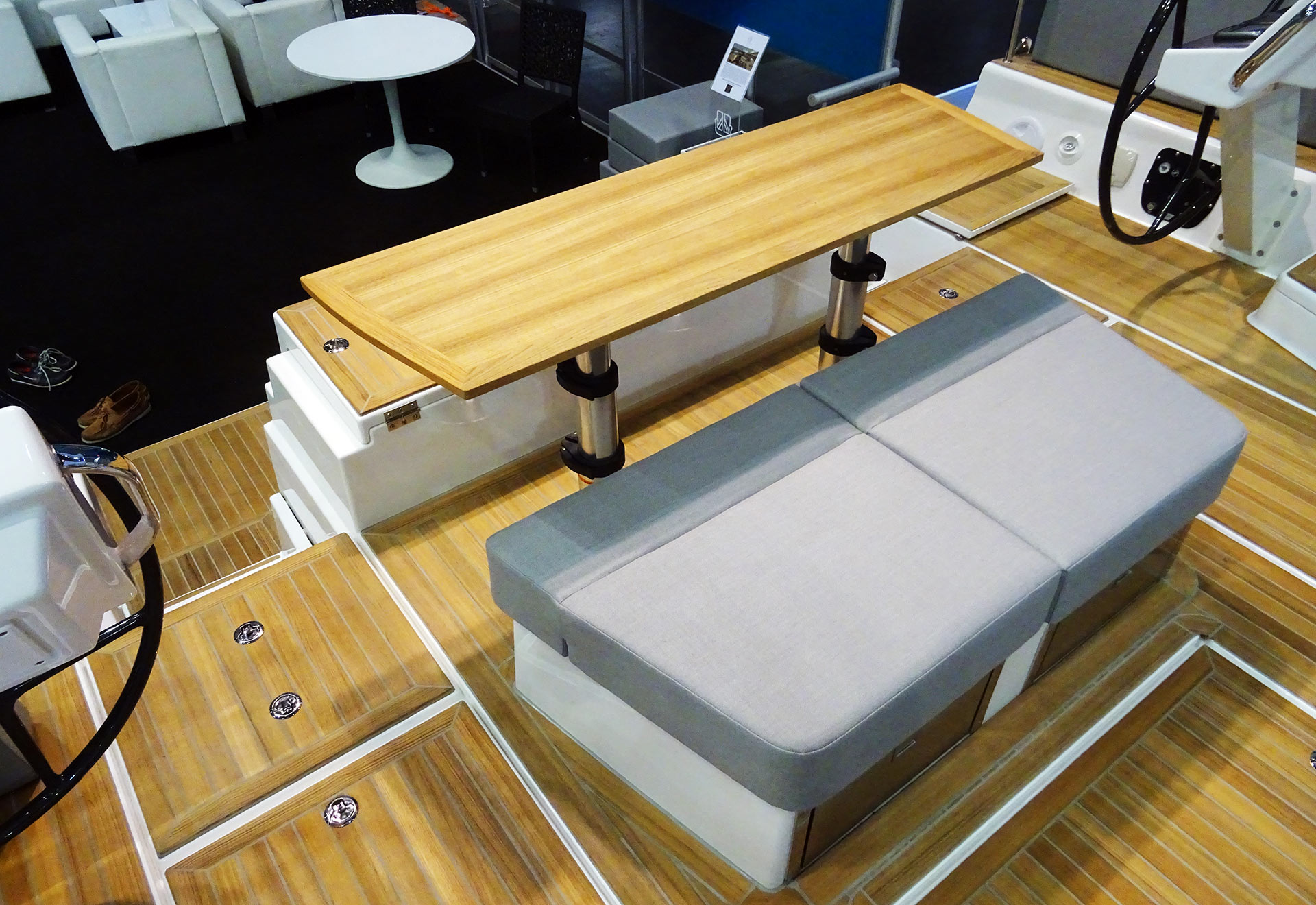 NFS.com: "Tell me more about the very design process itself. How do you perceive ideas and how are you making the decisions which lead to a new shape or detail?"
Umberto Felci: "First of all, there is a difference between making a racing yacht or designing a cruiser production boat – for example this new Dufour 63. When you are making a racer, then hydrodynamics, weight, layout and the very shape of a fast hull is priority. That´s a different approach than I would make when there is a new cruiser in the making."
On designing a yacht
NFS.com: "When I look at some brands of the so called "volume-boats" it seems obvious that those boats are made from inside-out. Meaning, that the number and size of berths, bathrooms and stuff seem to have been designed first and afterwards it has been tested which hull would fit around the interior. How are Dufour Yachts designed by you as they are cruisers of a large production company too?"
Umberto Felci: "Well, first of all, I like to consider myself a Naval Architect with the ability to balance  the different and contrasting elements which are part of a sail boat. With that in mind, it is a matter of course that when I design a new sail boat  I take pride in the statement that Felci Yachts do sail very, very well. For this reason I do not sacrifice seaworthiness for volume. But if there is more volume required I study the way to design a great hull with that volumes, keeping seaworthiness and performance always safe."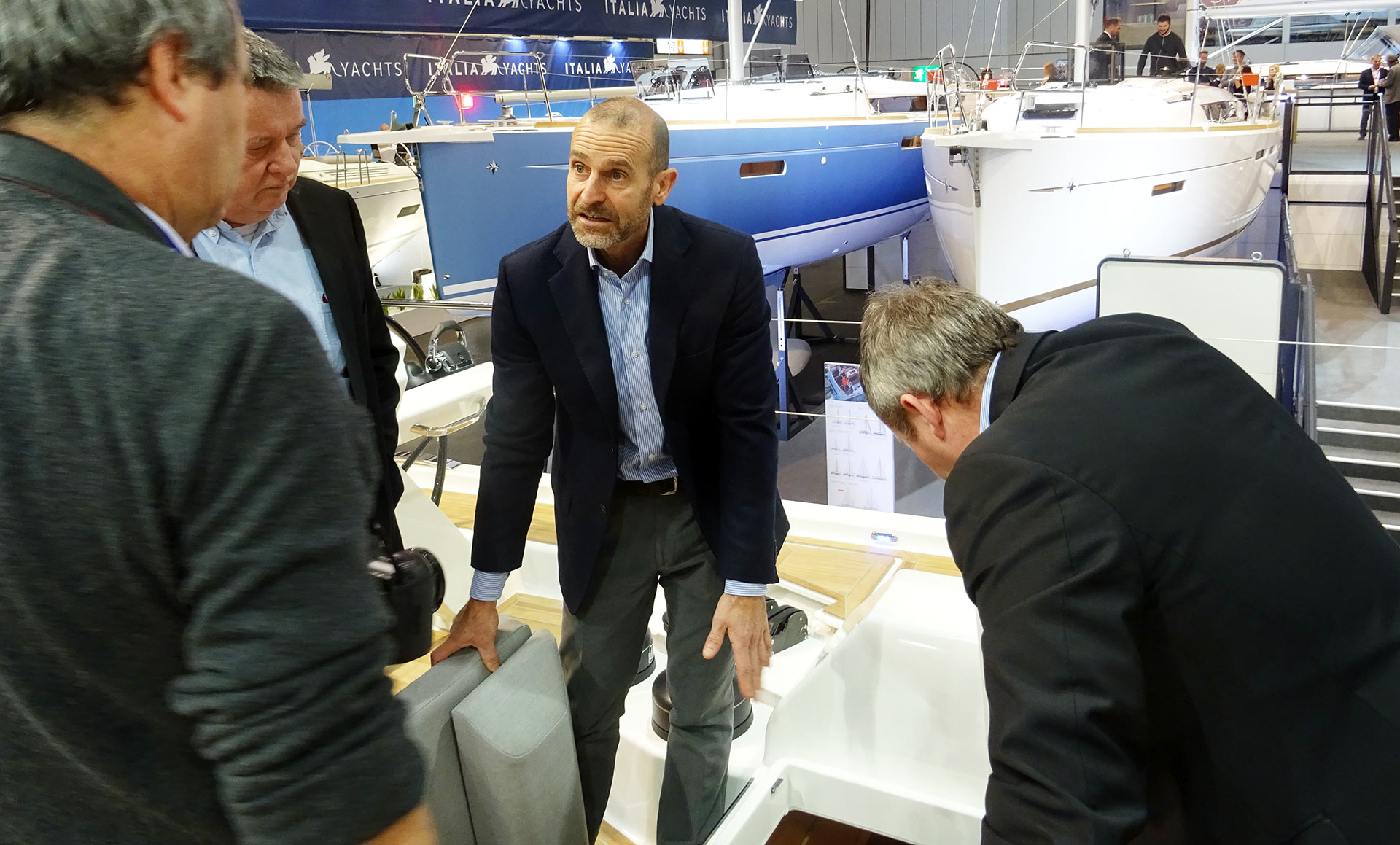 Umberto Felci: "But honestly, designing a yacht is always a compromise, for sure. All elements have to be aligned to form an order. That´s maybe another uniqueness in the work of my design office: We try to always manage the whole project of a new yacht. That means that we think it is not a good idea to split exterior and interior design for example: It will raise the costs and will be a cause for problems. Having all aspects of a project concentrated in one hand will avoid long decision periods, misunderstandings and all sorts of problems."
NFS.com: "… that´s the "too many cooks"-thing, isn´t it?"
Umberto Felci: "Exactly. Designing a sailing yacht is a very long process and even with one designer and one client a complex one. So being the principal design office for Dufour Yachts for example is a very rare opportunity. It is not just because we have been able to make one single design but to work with Dufour Yachts for 15 years now – that is a whole range of boats! We started by re-working the Dufour-approach and then we have been able to develop ourselves along Dufour with every new yacht we were putting out for the yard."
On client-designer-relations
NFS.com: "Which one could observe when roaming the different yachts. I could really see how you changed over the time, for example, the saloon-concepts and even details like the skylights or the shelves in the saloon. That´s an interesting factor. Speaking of your collaboration with Dufour, please tell me more about the client-designer-relation."
Umberto Felci: "First of all I have to thank Salvatore Serio, President of Dufour Group and a friend of mine, for this opportunity. Being responsible for the development of a whole fleet for more than 15 years now is really rarely seen in the business and I think it has been paying off for both the company and the boats themselves. Asking for the relationship, well, it´s easy: For example the new Exclsuive 63 we are sitting in. The whole process of making that boat up to a point when we where able to hand construction plans to the workers in the yard approximately took some 3.000 hours."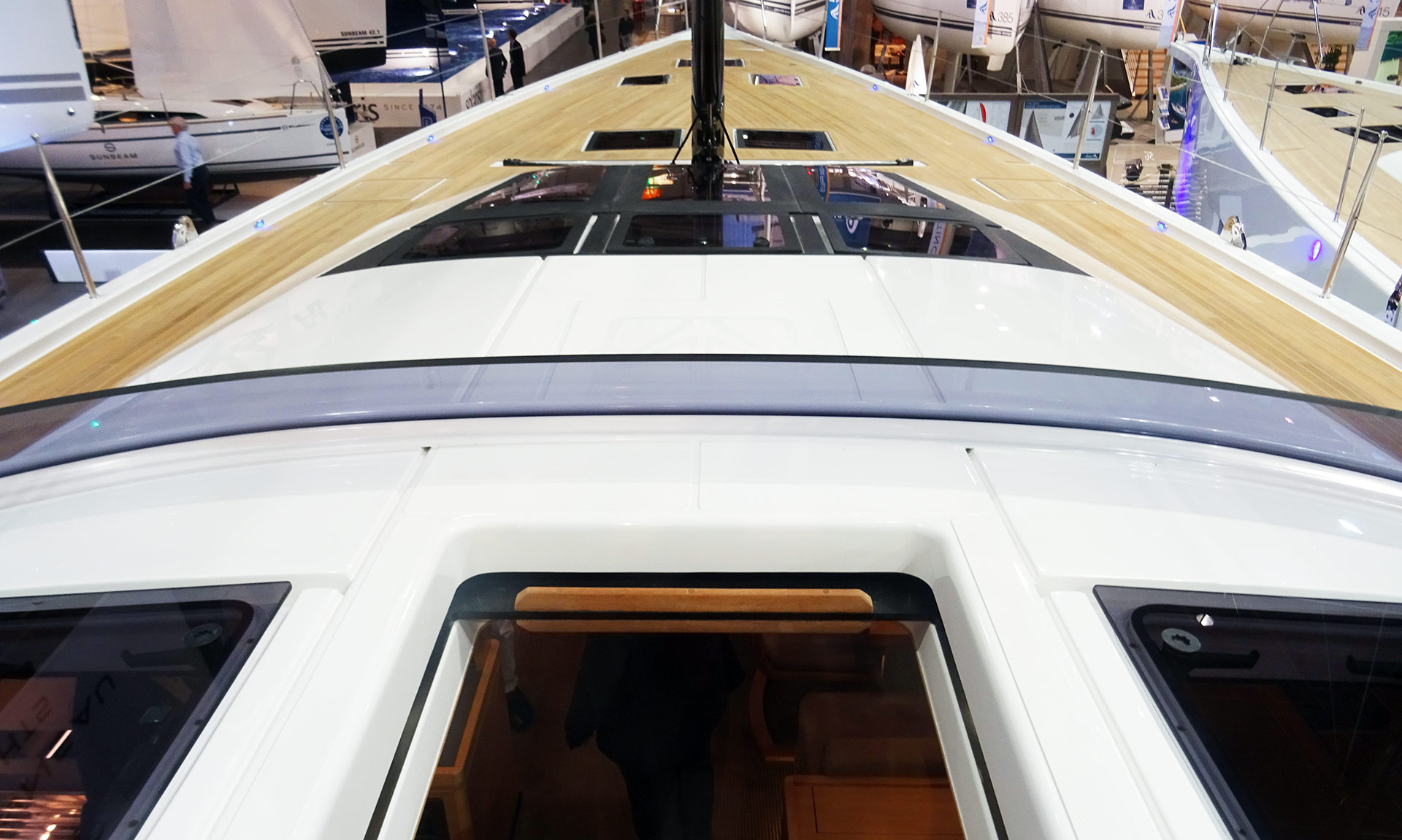 Umberto Felci: "As a very first step, there are just written words, pictures and graph. It is on a such a briefing on which both Salvatore and his team would work on parallel to me and my team. It´s a collection of ideas, of inspirational writings. We compare it, prioritize it, discuss it. Initially there are no drawings needed, just words. A wide range of ideas as to speak."
NFS.com: "Can you give an example?"
Umberto Felci: "Well, looking at the new 63, the overall idea was "communication". Salvatore believed that as a family-capable boat, this new yacht should improve communication between crew and guests, between the guests and all on board in a way how it was never done before. That would for example lead to these small steps between steering wheels and winches to grant an easy access to the deck – this is what improves communication because it cuts hurdles. Once again we are lucky working with Dufour because we know each other and there is a huge trust between us to make the right things."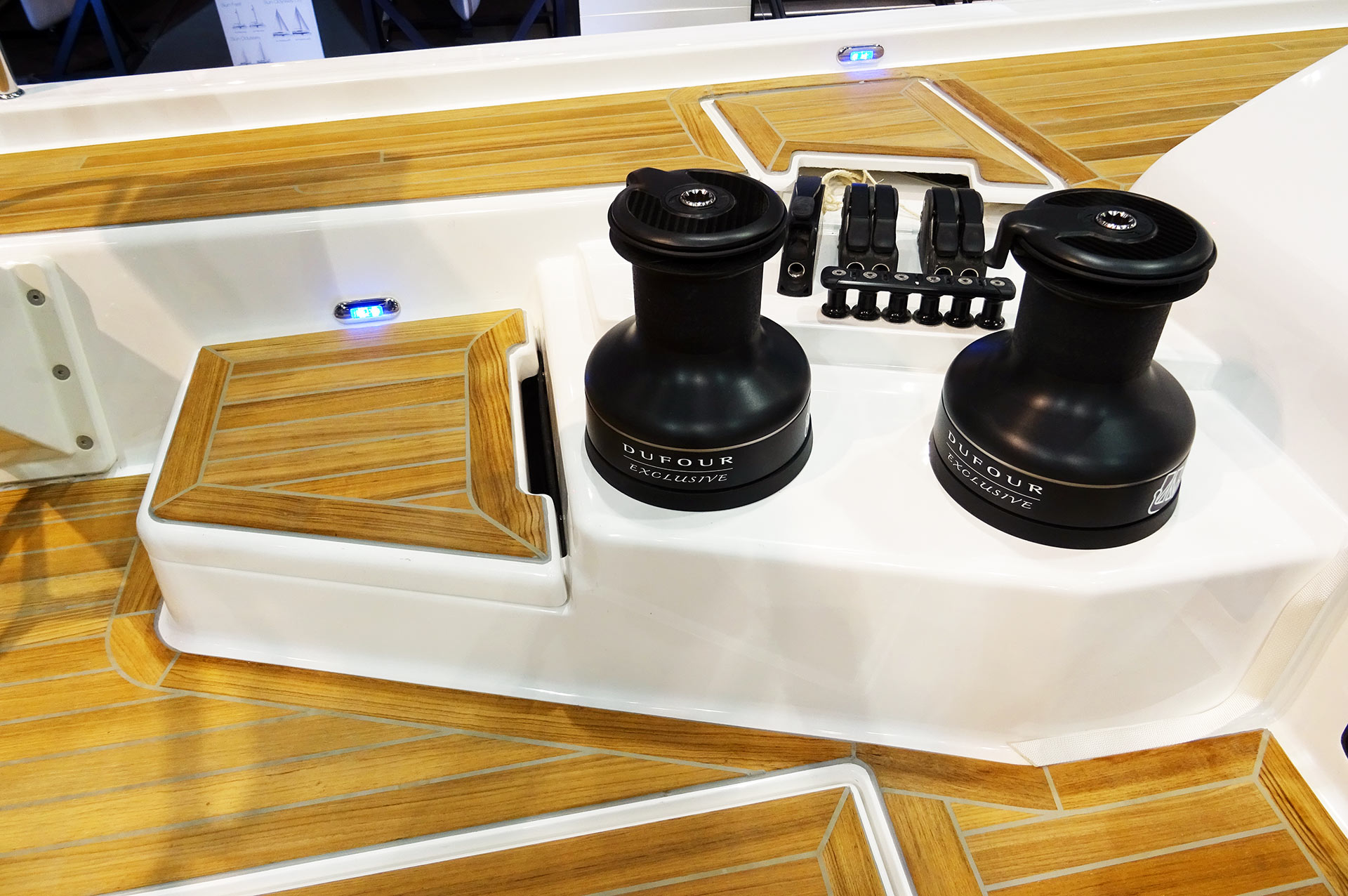 Umberto Felci: "Another example would be the task that I wanted to change a bit the motto of our work here. Mostly it´s like "we want to combine comfort with performance", right? But what is this comfort? That´s the thing: Comfort is a very individual thing. So, we changed this motto to: "We are to combine family wishes with performance". That´s a new one, right? Family, that is your wife, your kids with all their demands: A large dining table, where there´s the communication-theme again, the steps here and there and even down below deck when you look at the saloon: No navigation station anymore (it´s in the aft cabin) but a more home-style approach, bookshelves instead of classic stowage. That´s where designing makes great fun because you define something new, something better. And many times we have to thank our clients who somehow "force" us towards new directions."
NFS.com: "So after the written words you start designing process digitally. And I suppose you are often reviewing the steps either with your team and with your clients as well?"
Umberto Felci: "Of course we do. A boat, a design, as I mentioned before, is a compromise. And here we have the communication-theme again."
On his latest project: Dufour Exclusive 63
NFS.com: "Looking at your latest project, this Dufour 63, what are your personal Top 5 when it comes to design details?"
Umberto Felci: "Well, at first, it´s her hull shape: She is and will be a true sailing yacht with a high performance under canvas. That is what she is made for, to be a sailing boat. Secondly I like the new details we have been able to incorporate from motoryachts, like the sofa turning into a breakfast folding table in the aft that is very motorboat-style but will be a major step forward in terms of enjoying the boat and improving communication. Third, the shape of the coach roof which is very racy, very flat and flush with the aggressive skylights. It makes the boat almost appear like a proper racing yacht."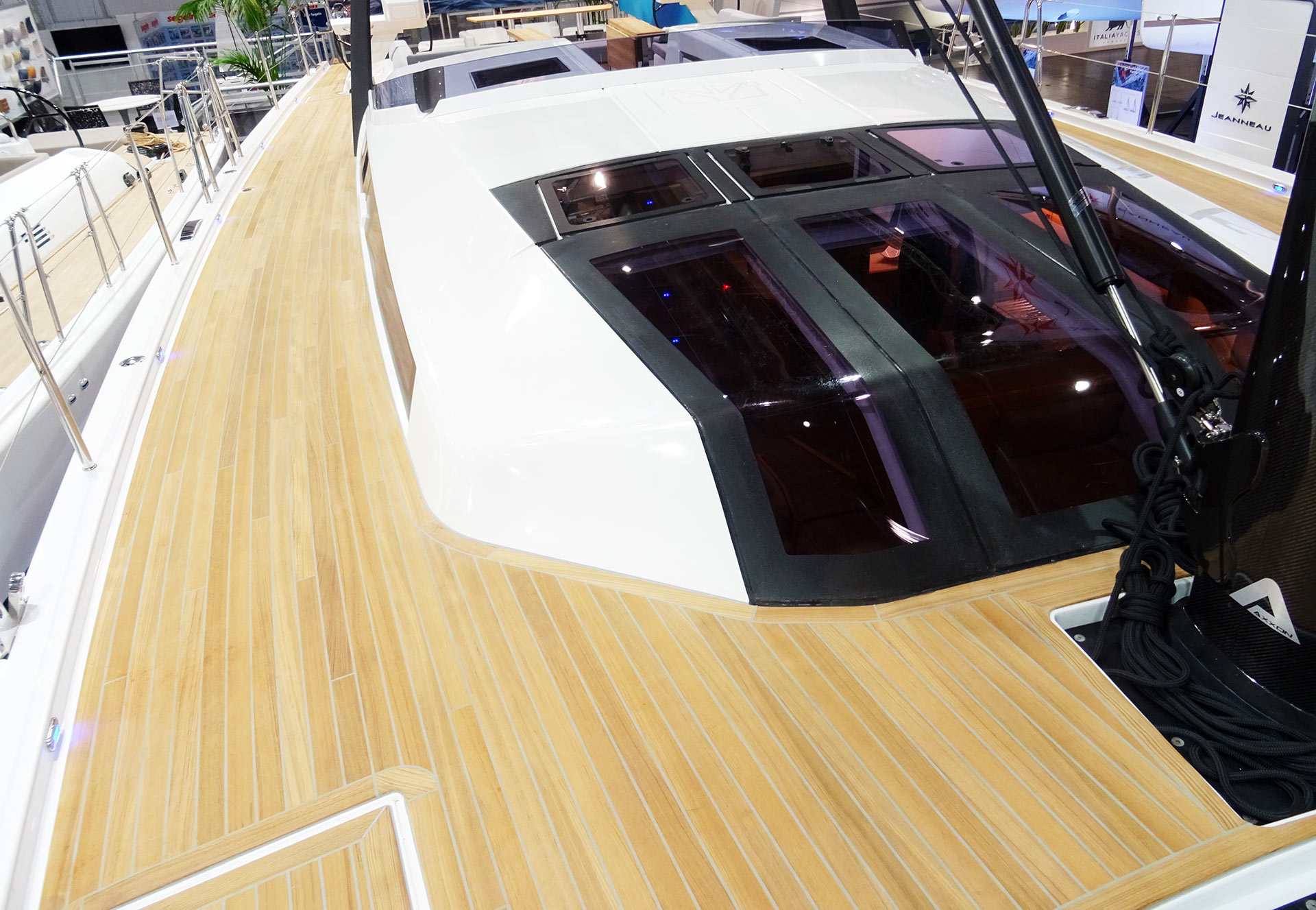 Umberto Felci: "Well, fourth would be the Owner aft cabin, which is appearing more like a small loft. The bed, the size of the cabin overall is unmatched in this class of yachts and I think we achieved to make the whole interior appear more like home than like a yacht. If an owner would like to have a cabin with comparable volume, he would have to go for a lot larger yachts, but we managed to do this with a production boat, which is a great step forward indeed."
NFS.com: "Last question for now, Umberto. When it wouldn´t be for a client but solely for yourself, how would a sailing yacht by Umberto Felci for Umberto Felci look like?"
Umberto Felci: "That is easy: It would be a light boat, made also with carbon fibre. It would be an extremely fast yacht, very stable, sturdy and robust in every condition. It would probably be open space inside."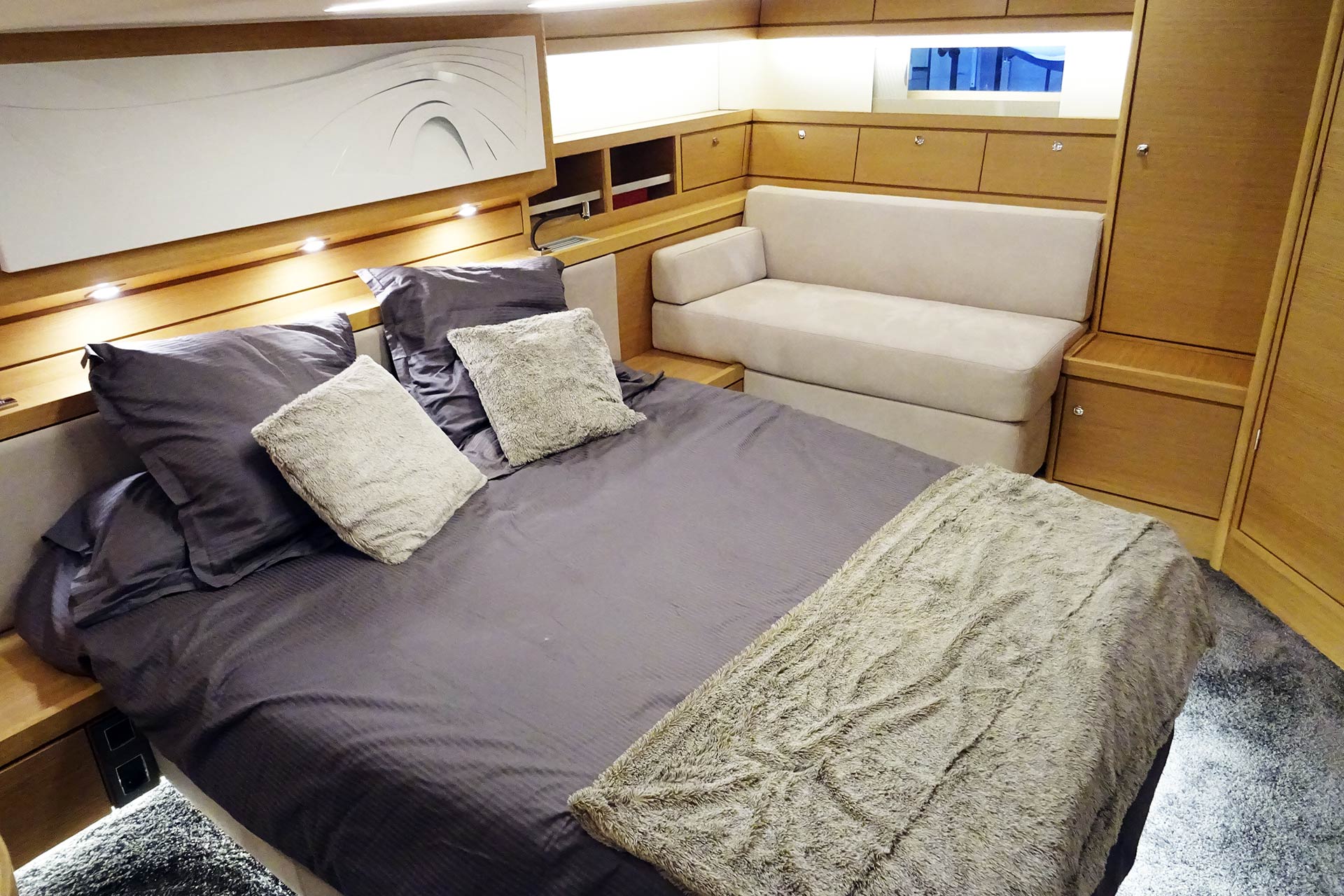 NFS.com: "And why don´t you do this kind of yacht?"
Umberto: (is laughing) "Oh, I did: The 45 feet Felci Yacht NORDICA comes really close to this, also my latest 65 feet design. I love seeing those yachts sailing."
NFS.com: "Umberto, thanks so much for spending your time answering my questions and giving an exclusive inside into your working process and the work for Dufour Yachts."
It have been impressive 60 minutes with Umberto. After we spoke, he was approached by an Italian and they greeted each other with most of joy. As Umberto told me, the man was the current holder of the professorship at University of Milan of Naval Design. Here, decades ago, young Umberto wrote his final thesis on yacht design, which had made such an impact that the University afterwards created the study course "naval design". So much for speaking to a legend …
I also spoke to Marc Lombard, Charly Fernbach, Magnus Rassy and Franco Corazza on designing sailing yachts pulling the same questions, please check hashtag #designingayacht to browse these very interviews.
Other interesting articles:
Designing a fore cabin
Marc Lombard and Niels Jeppesen of X-Yachts on Scandinavian Sailing Philosophy
Designing the head for my own boat-refit