My new own boat, Beneteau First 27 SE by Seascape, offers, as you may know, a nice place to sleep for up to 6 adults. I haven´t ordered two of these berths so that I can easily house up to four people in my boat. That is two to either side in the saloon, two more in the fore cabin. Underway and with guests I would always choose the saloon and let my guests take the fore cabin, which I "tested" during the first big trip with my kids this summer.
It worked very much but I got complaints about the thickness – and thus sleeping quality – of the matrasses. To be honest: These are very thin and hard. They are not made for a comfy and healthy sleep but rather offering a compromise for a tired sailor after a busy regatta. When I sailed GEKKO alone I also slept in the fore cabin, didn´t found it too bad but I must admit, there could have been a little more comfort. Now, this is going to be tackled in this article.
Easy as ABC (with a hurdle)
I did some research what to do. A new, custom made mattress would be clocking in at several hundred Euros and this was naturally no option. An underlay is the solution. Market leading product is a mesh-garment called "Airflow", which also can be bought via amazon. Said and done, I ordered the 3D-Mesh "Airflow" product, measuring 200 by 140 centimetres which arrived a couple of days after purchase.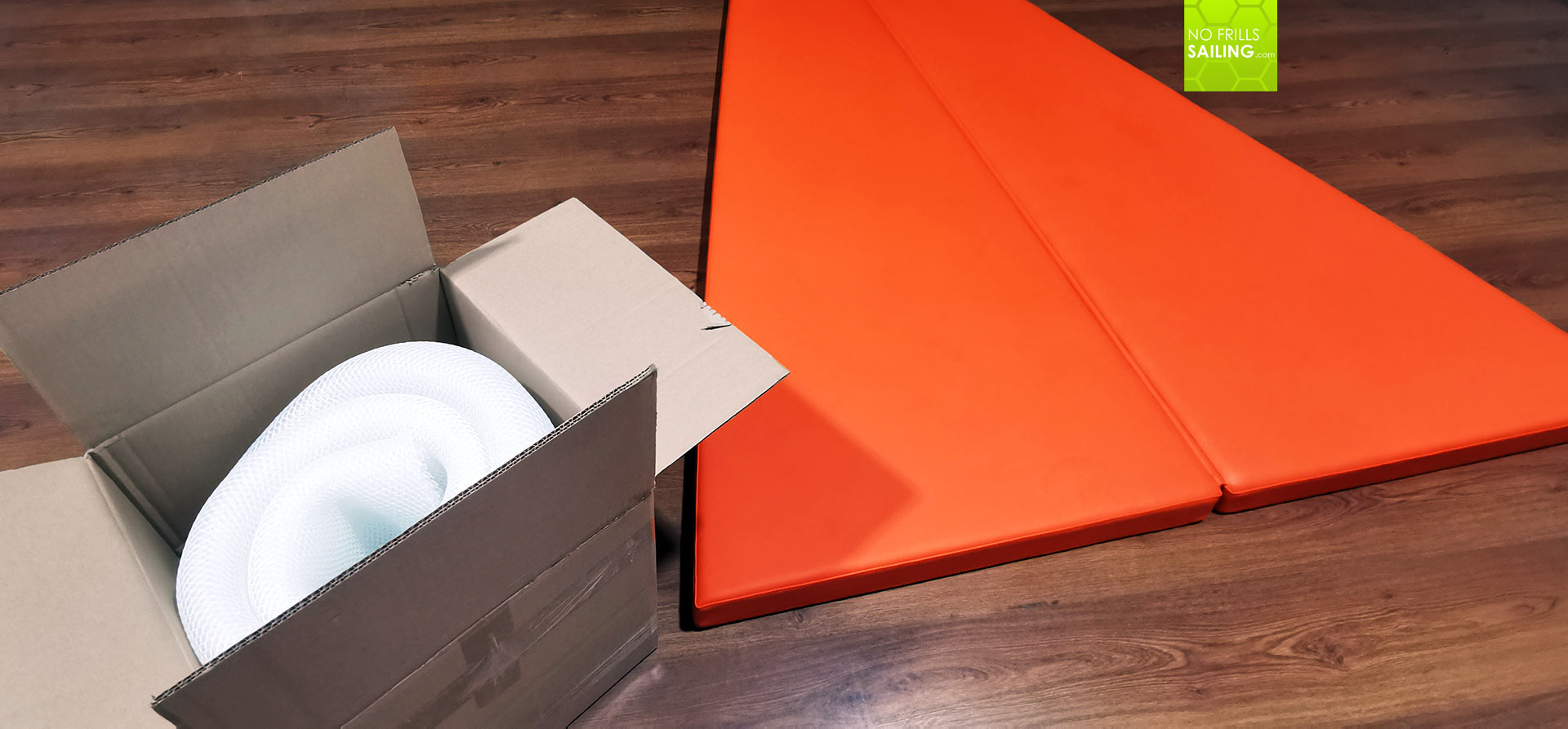 I took out the double mattress from the fore cabin and noticed that there was moisture underneath it. Even a well-vented boat like mine, being in a dry hall for some two weeks now will accumulate moisture underneath the mattresses. I was astonished, wet although nobody has slept in this boat for so long? That is, of course, another – if not the most important – argument for a venting underlay that will make for a slight distance between mattress and the GRP of the boat.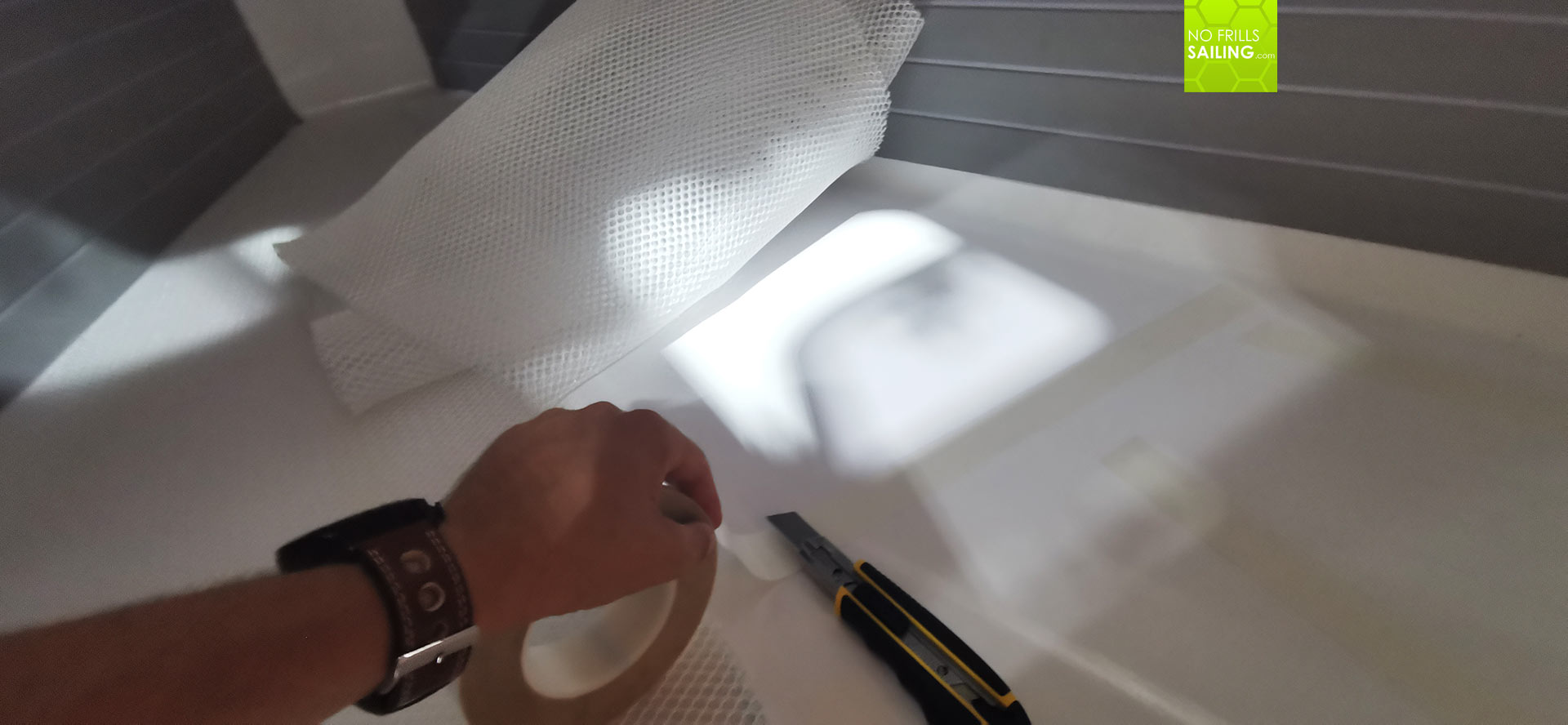 Cutting the rectangular 200 by 140 centimetres mesh-garment into shape wasn´t that easy. The material is very, very stiff and sturdy. Even a fresh blade of my carpet knife couldn´t cut through in three slices. That speaks volume for the durability I guess. To fixe it in place (it´s going to be quite rocky on the forepeak when sailing the First 27 SE) I used double-sided adhesive tape and it all went quite well.
A definitive plus in comfort
When all was done I put back on the mattresses and the difference to the original state is quite noticeable. I went for the 12 millimetre thick underlay mesh-garment and it can be seen easily. Laying down onto the mattress I instantly noticed that the comfort has been improved quite much, it´s an absolutely noticeable effect. Nice work!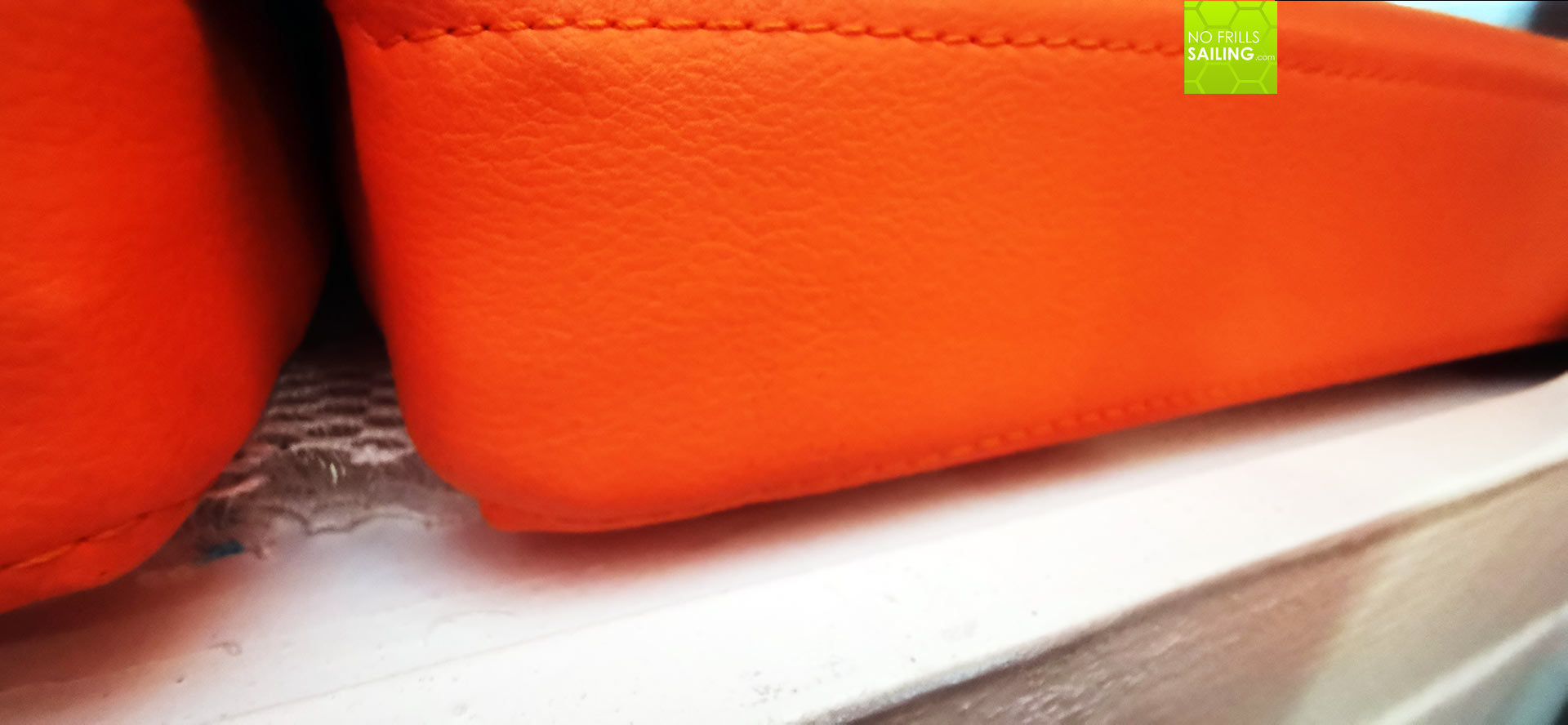 In this I am now a bit more easy on letting the boat in the water for longer times: Of course, upon leaving the boat I will go on to fold up the mattresses to further increase airflow and prevent mildew from growing, but my past experience with the boat, namely finding the car organizers where I store navigation and safety equipment and my galley, full of mildew, made me aware of this problem. At least for the fore cabin this is solved now.
Looking at the nice outcome I am now thinking of utilizing the rest of the 3D-Mesh that is offcut leftover to fit it in the saloon as well. When underway with my kids or friends this will be the place where I sleep and why should I have it less comfy than the rest? All in all, the 3D-Mesh is an investment of some 170 Euros and a good hour of work: The outcome will improve living (better: sleeping-) conditions immensely and I can only suggest you add this gimmick to your boat´s berths too.
You may also be interested in these articles:
#microcruising: My approach to comfortable cruising in a small sailboat
Go small – go now! A plea for small boats