Today marked a very special day in GEKKO´s life as my dear friend and colleague Finn and I have fully rigged and trimmed the boat – she is now proudly wearing her sails and is ready to go out. As, unfortunately, a series of heavy rain showers and string wind earlier and one client appointment later have prohibited a first dash out with the boat under sails, I will have to skip this precious moment for tomorrow or the weekend. And I will certainly deliver an article on this as well, of course.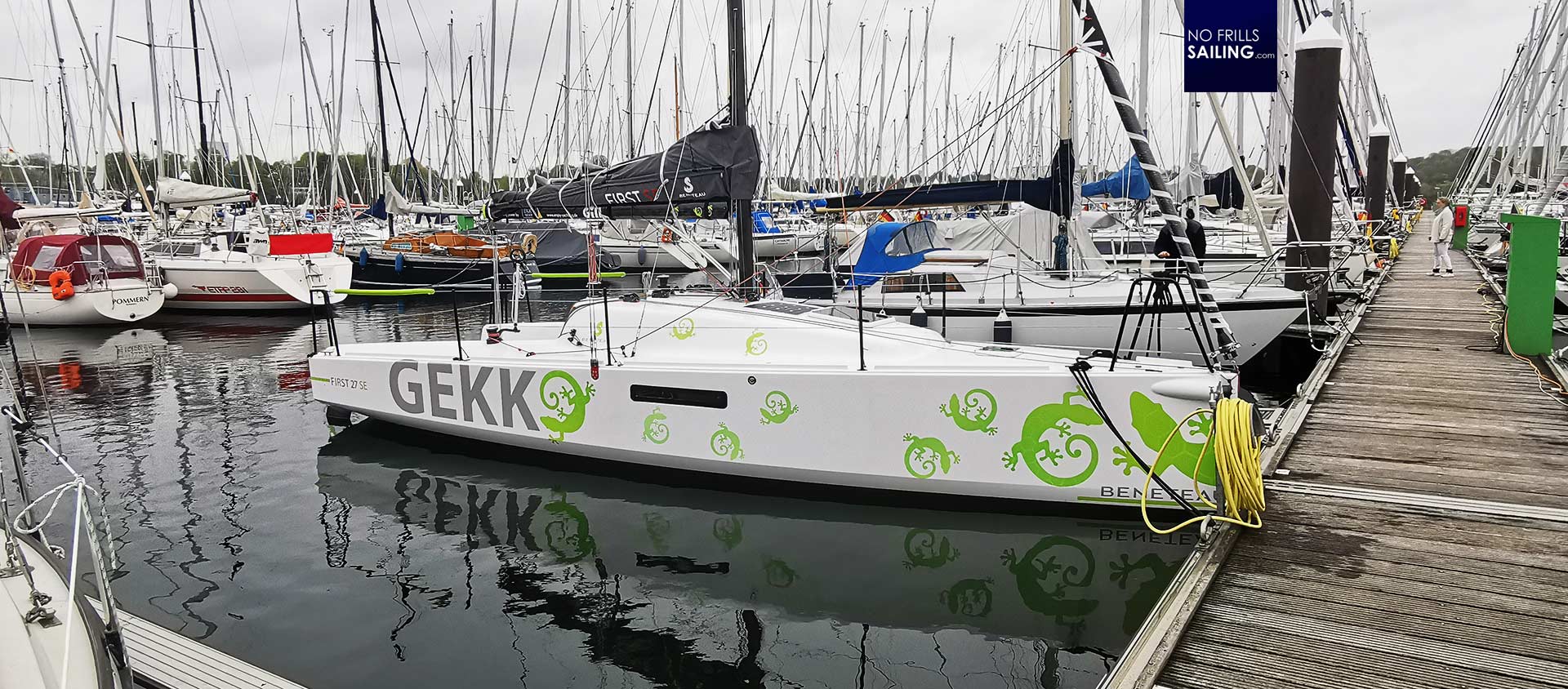 Nevertheless, I used the rain-time most effectively and switched my focus from the outside to her interiors where I further improved living quality. You may have read about my #microcuising idea: Shrinking comforts to a level of the smallest possible state of equipment by squeezing out the biggest possible level of comfort. Although my list of equipment is pretty small, it´s nevertheless a load full of stuff. Stuff, that needs to be stowed away and organized. But how to tackle this best? Well, here we go …
How to utilize small volume boats best
First of all, the "small" boat FIRST 27 SE isn´t that small at all! This pocket sized racing yacht offers surprisingly big volume. Although there isn´t any standing height provided, the length of eight metres is astonishing. In the aft there are two pilot berths which could be equipped with cushions. In this, two adults can find a very wide and cozy place to frind a good night´s sleep here. I skipped the option and offered GEKKO without these cushions: Exactly to have more stowage.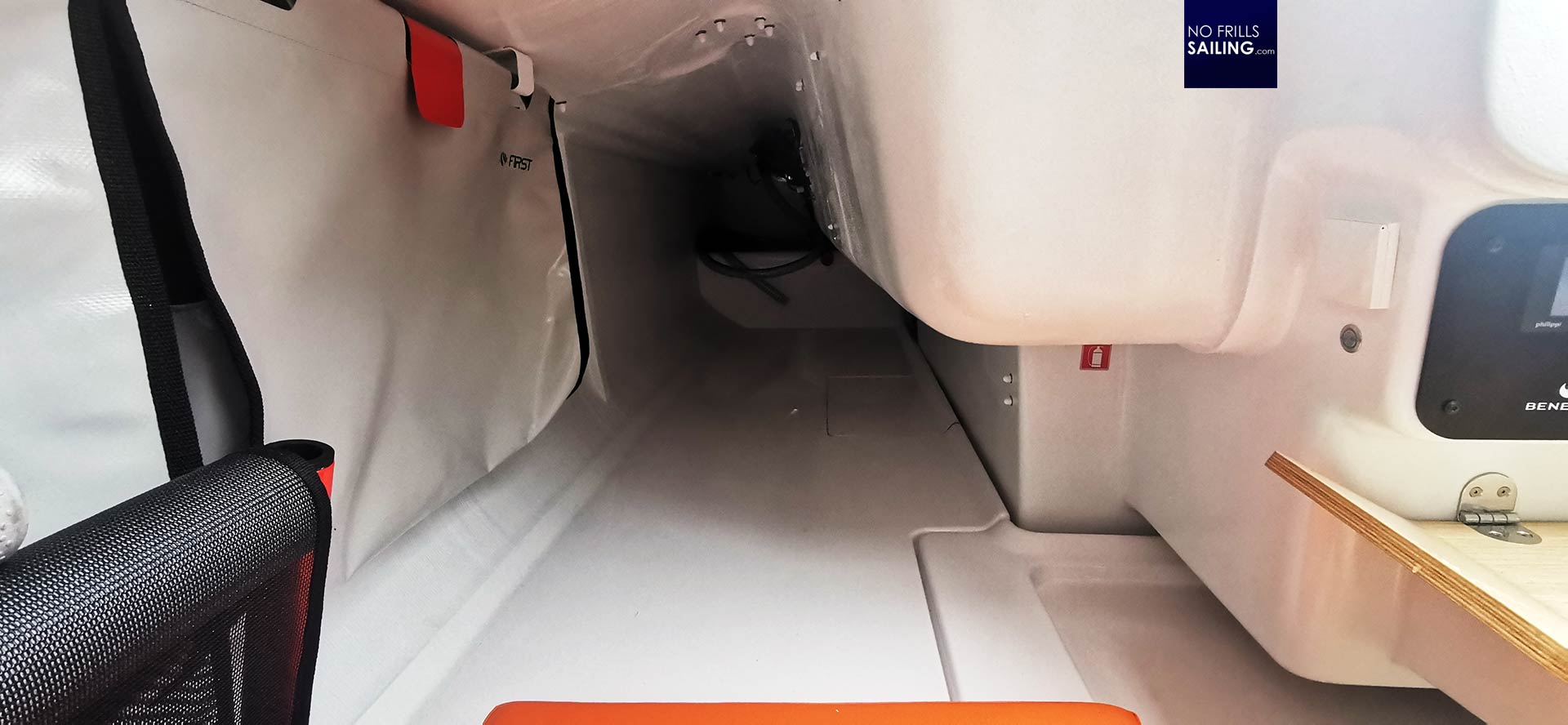 The berths are much longer than 2 metres, some 45 to 60 centimetres wide and – depending on how deep one crawls inside, a height of up to 70 centimetres. You cannot cram this area full as both sides are maintenance access to compass, bilge pump and other auxiliary equipment, also access to the reverse side of the Torqeedo-machinery and other parts of the boat. Nevertheless, so much space to use up.
A cheap and convenient solution: Car Trunk Organizers
Many people I spoke to advised me to buy some hard plastic chests and organize my stuff in boxes. That is a good idea, I thought, but hard plastic my over time damage the Gelcoat surface and I hate it when brand new things are worn out so fast. Another option are PVC-made big pouches, such as Outils Oceans is offering, these are perfect and well designed just for boat use. But they are so expensive! Is there no alternative?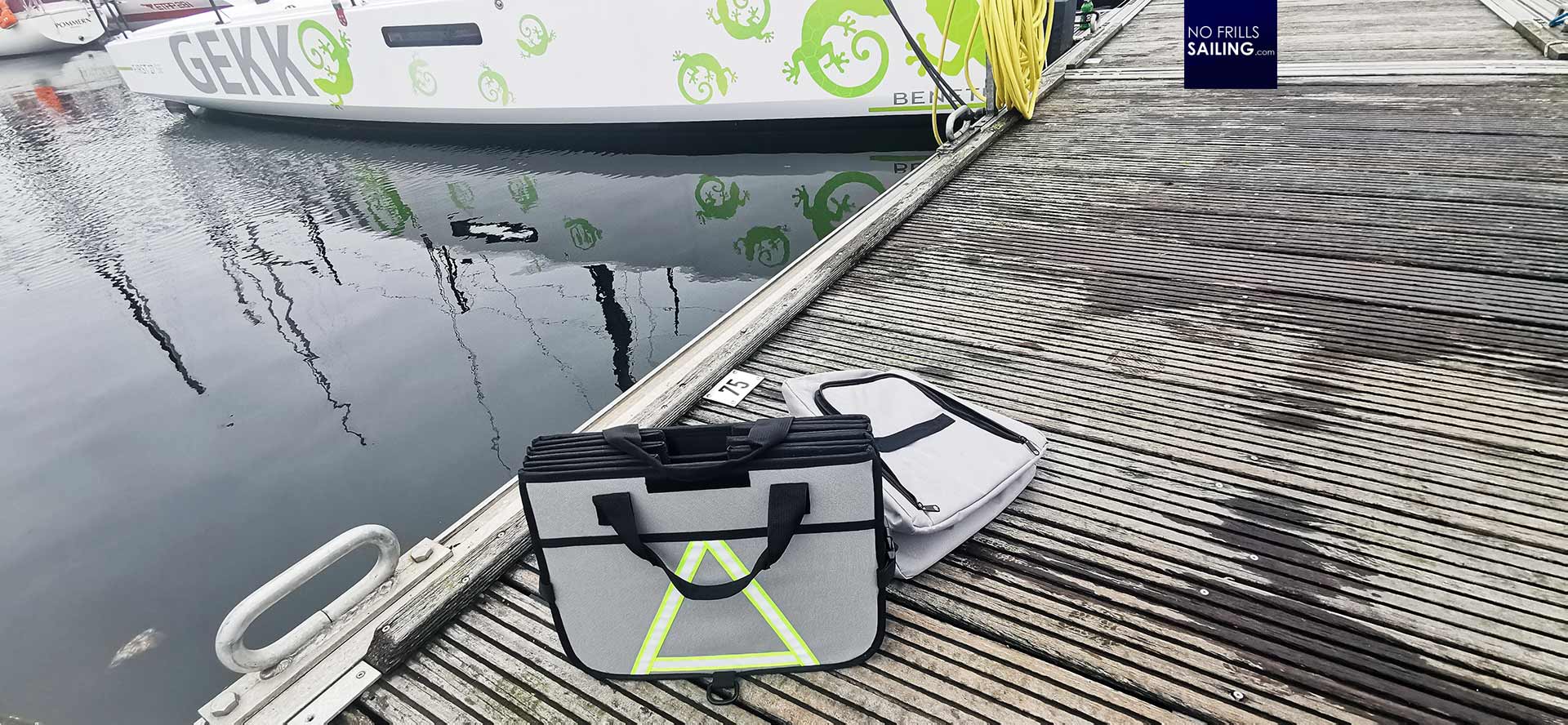 Yes, there is: Car Trunk Organizers. Another dear friend gave me this hint and so I roamed amazon. There are a load full of offers and many solutions, I found one that seemed fully appropriate and perfect for what I wanted. I ordered two of them and some days later Prime delivered the packages. Pretty heavy but small-sized, this product can be folded together and stowed away saving volume by itself. Unpacked, it is roughly 1.20 metres by 40 centimentes: Pretty big!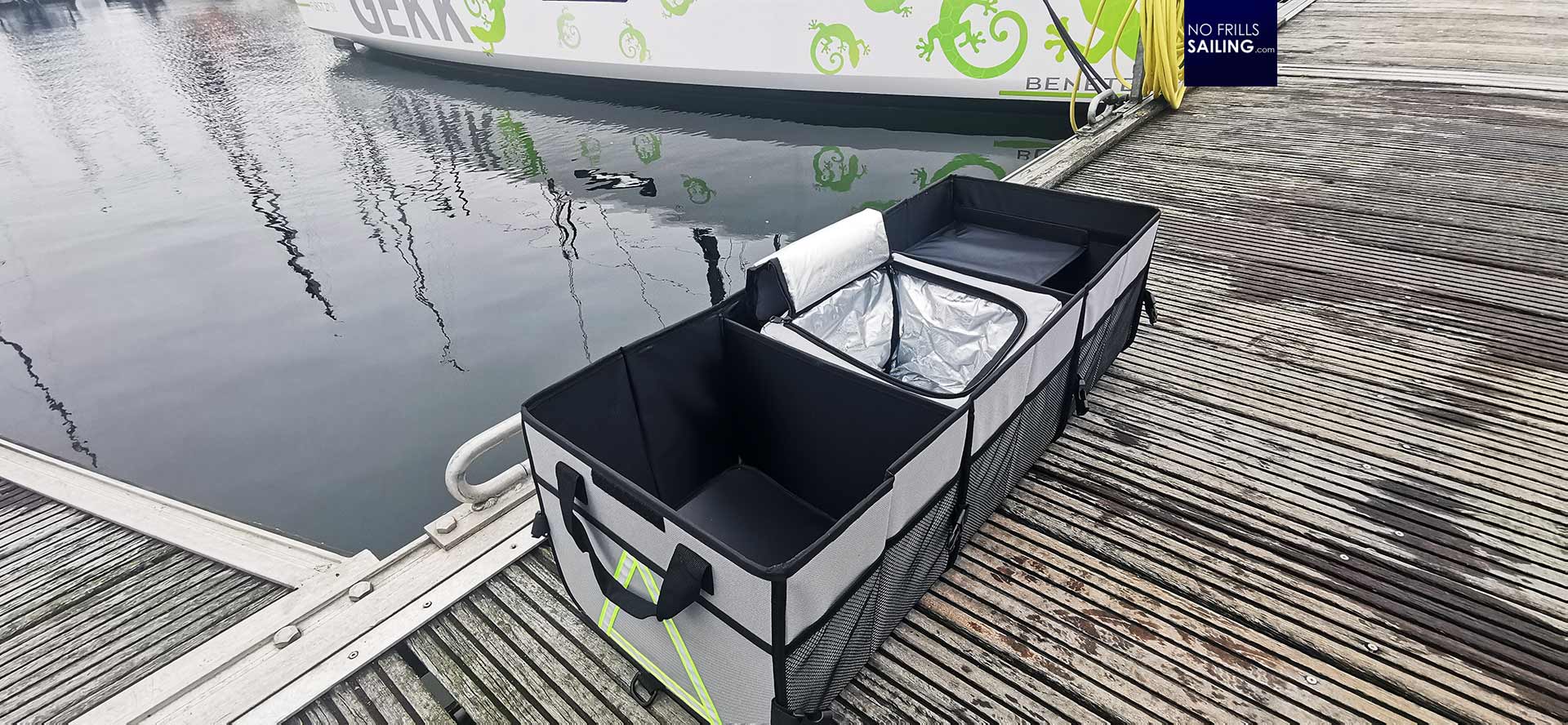 This stowage chest comes with three separate compartments, each stiffened by a shelf. There is also a folding lid to protect the inside from durst and dirt and also enabling stacking. This car organizer comes with one insulated cool box, which is just perfect as my boat does not (yet) have a fridge. The best thing is, instead of paying over 150 Euros for a dedicated sailing bag, these two together cost me no less than just 40 Euros each! Perfect, I shall say. Now, let´s start and get organized.
Packing and fine tuning
The system I have in mind for my boat is very simple and classic: Port side (left pouch) is for the galley, starboard side (right pouch) is for running the boat. At first I stacked the freshly bought marine crockery, the French Press for coffee, a thermos flask for tea, knives and salt and sugar and all that´s needed for cooking a small but tasty onboard-meal (LINK). I am sure that this won´t be the final configuration, but here we are: The new small boat galley is ready.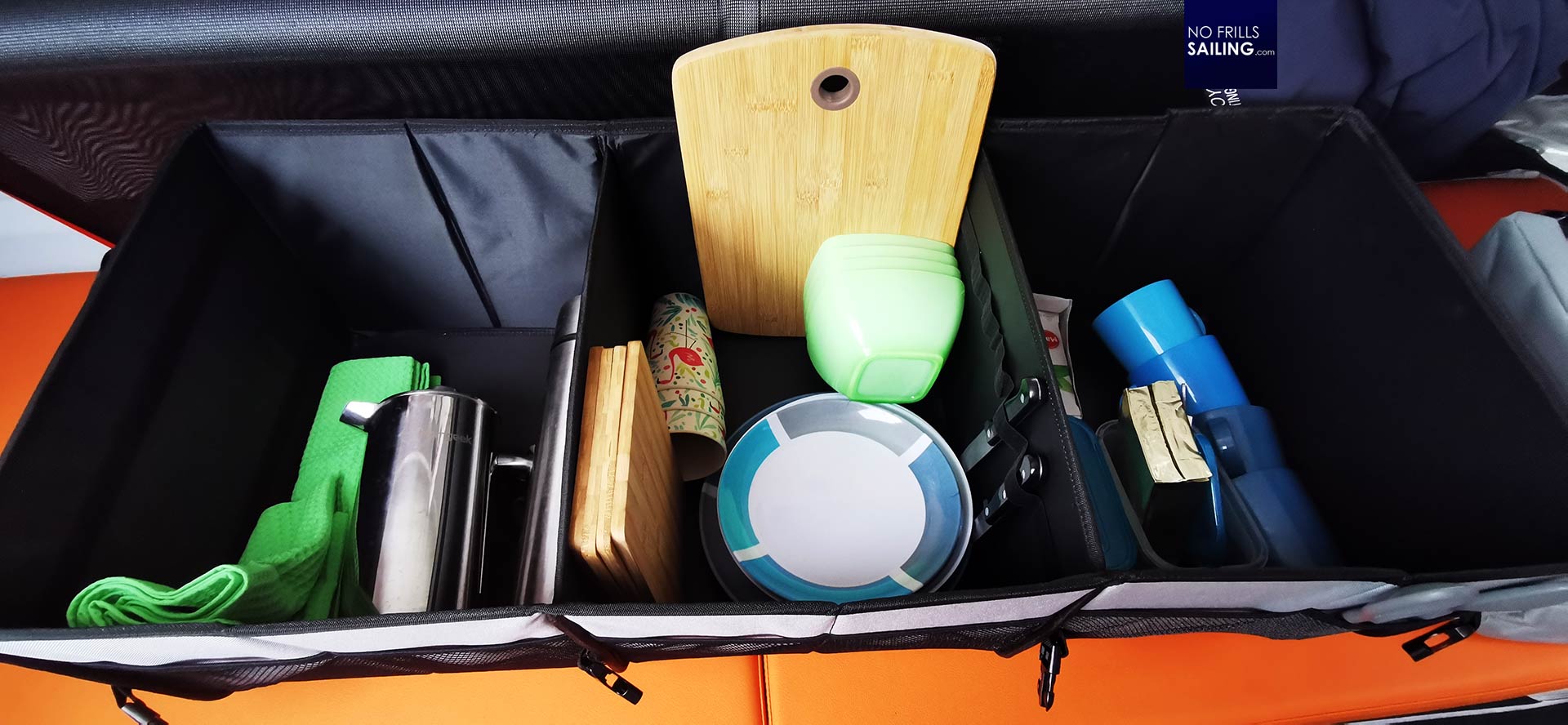 I also put the Jetboil cooker in its gimbal and stowed away the Lotus BBQ grill into the ex-pilot berth. There is still so much volume left unused! Doing some remarks of acquiring cleansing utensils like a small washbowl and some spicery reminding myself that shopping for this boat isn´t done at all. Let´s switch to starboard side then.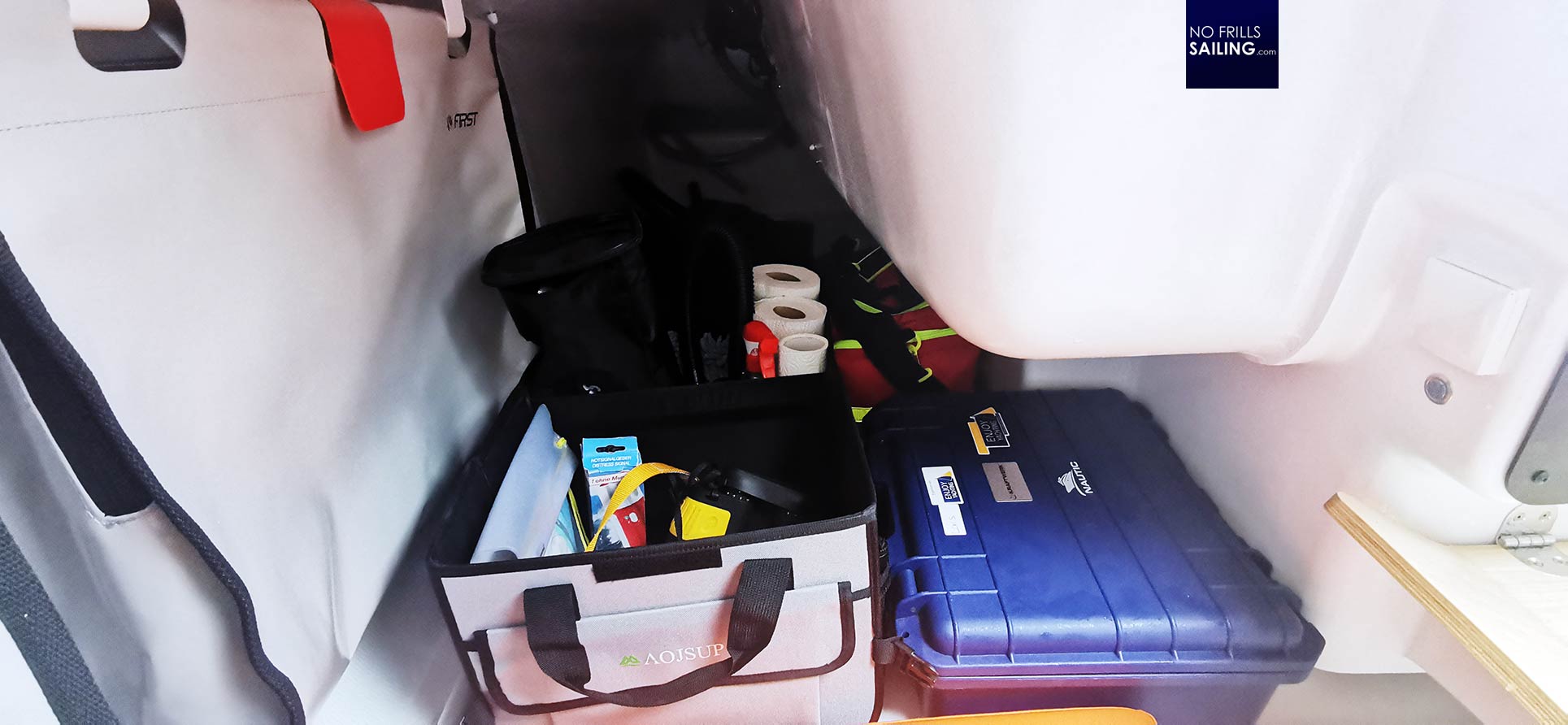 In this car trunk organizer the navigational toolset, my binoculars, distress signals and most used almanacs went well stacked as well as some cleaning equipment and spare parts. In the starboard aft berth I also stowed away the emergency paddles, the grapple, the re-board MOB system, the first aid kit and the toolbox. Clean, easy, efficient! Thanks, car industry, for this convenient solution: Car trunk organizers can bring order to a boat as well: I am proof of concept!
Also interesting:
Small boat comforts: Seascape 24 / Beneteau First 24 SE
Talking to Andraz Mihelin on how the Seascape 27 was conceived
All Seascape-related articles