Today was the "big day" as I was determined to take GEKKO out for the first time. I am a bit late in my own schedule as it took roughly 4 weeks too long getting the boat ready with antifouling (LINK), manage her pre-commissioning and finally bring her to her new home port near the city where I live. Nevertheless, she is now moored and fully rigged – I woke up at 0500 this morning, sun still up and birds chanting: "Get up! Get her out!", a voice inside my head made me jump out the bed and into my sailing jumpsuit.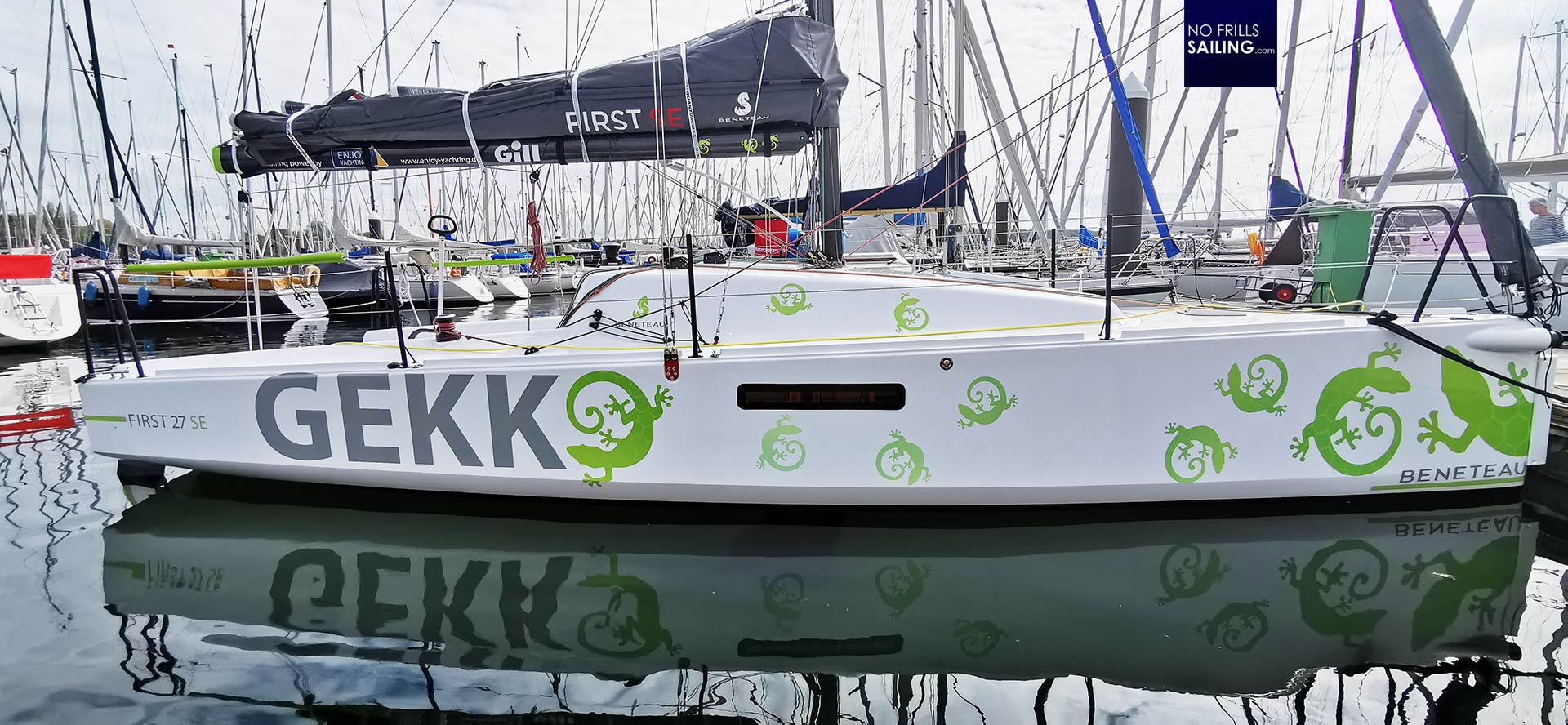 Arriving at the berth there she was: Spick and span and clean as a whistle, I was shampooing her yesterday (before the thunderstorm arrived) and I could even smell the lemony taste of the cleansing agent. Now, checking weather radar beforehand I knew that my window of opportunity was narrow – nevertheless, most perfect conditions for a first time out so I wasted no time, jumped aboard and got ready.
A quick look back: Rigging the First 27 SE / Seascape 27
To reach this level of preparedness, of course, a load of work had to be done prior to this first time out sailing GEKKO. A day before my dear colleague and sailing friend Finn arrived (with his very nice and patient girldfriend) to have the boat finished in rigging with me. Finn is a keen sailor and a skilled boat builder, he had most certainly rigged more boats than I will ever be sailing on. I trust him my own boat and so we got started.
Some days before another friend of mine, also a professional boat builder, arrived at GEKKO and had her standing rigging fine trimmed. I was very sad not to had the chance observing his work and asking a thousand questions (probably to turn this into an exciting article on boat trimming) but the big thing of having a carbon rigging tuned the right way has already been crossed off the list. Now, let´s have her forestay fixed and the Facnor Flat Deck furler mounted the right way.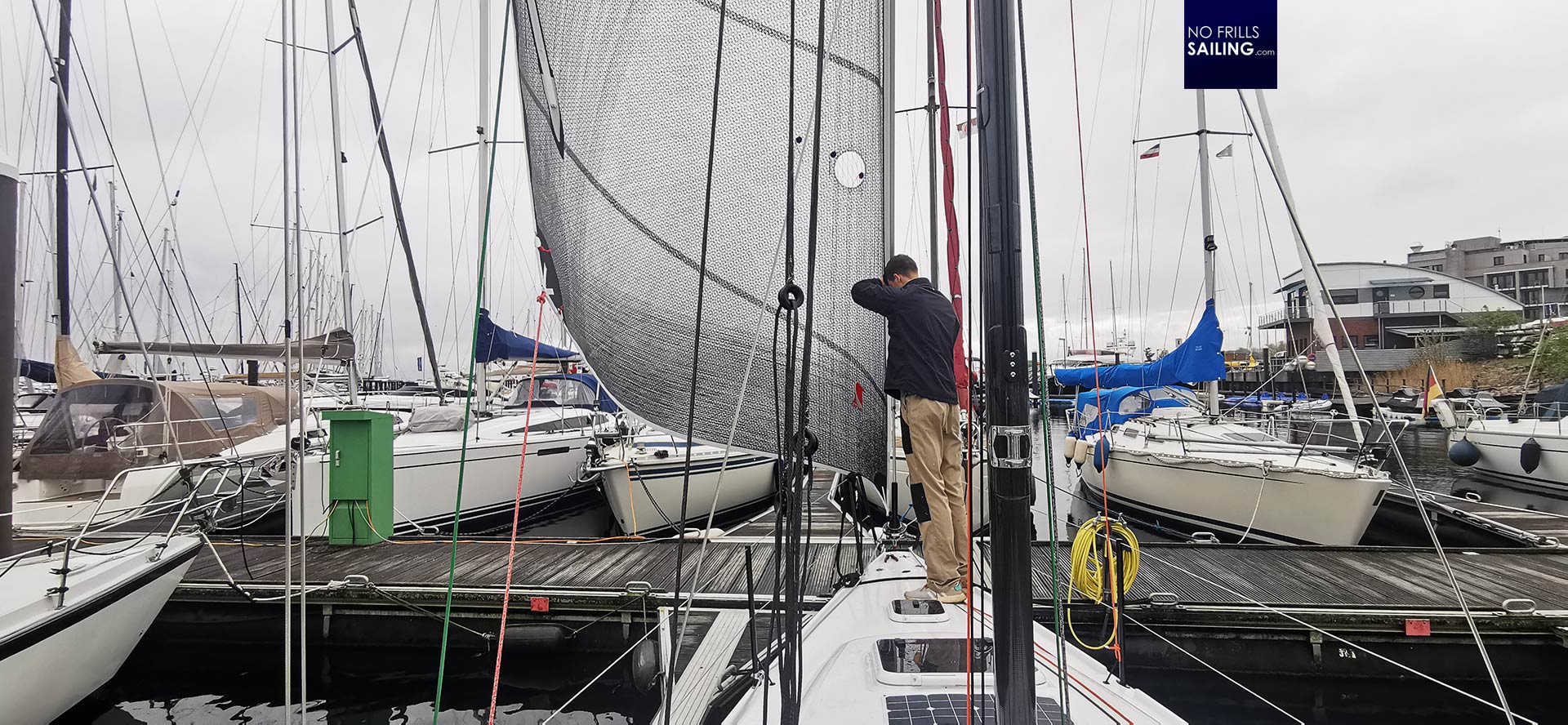 After we ad this we trimmed the forestay Tuff Luff to fit fine and untangled the Jib halyard, pulling up the large One Sails Jib, gradually putting in the batten. We were lucky passing the gusty periods and getting up the sail in a relatively calm sequence, furling in the Jib and adjusting the length of the reefing line to the furler: That was it, nice job!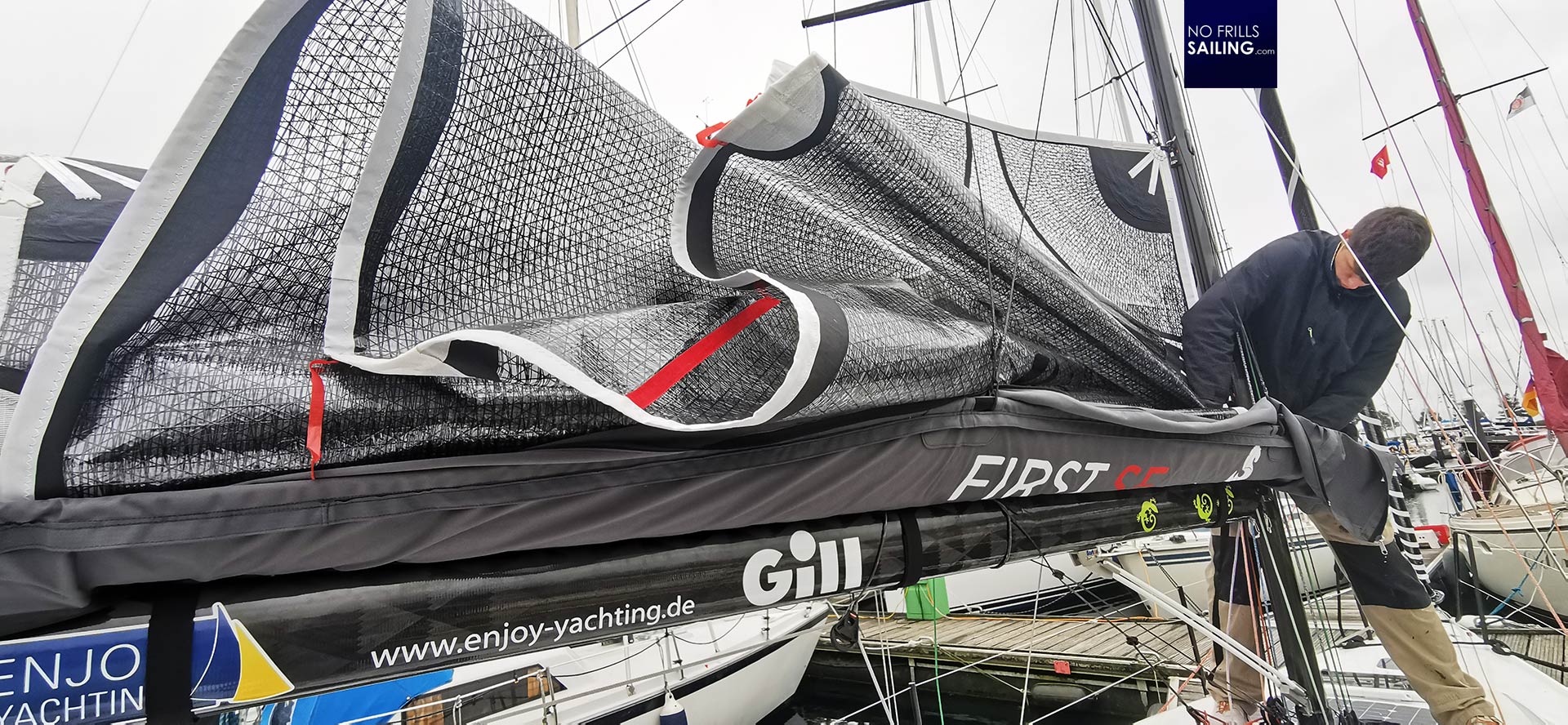 After doing the same with the even more impressive mainsail – we needed to trials because we had put in two of the Ronstan sliders upside down – I noticed that there was a problem with the custom lazy bag. As I upgraded the mainsail to come not with standard but with ball-bearing Ronstan sliders, it turned out that the stack of sliders on top of each other amounted to an oversized mountain of sailcloth – no way the lazy bag can house this. I hope we can sort this out with the yard as of course the precious laminate sails need being packed inside a bag.
Update: Due to a mistake, I´ve received the Lazy Bag for mainsail without sliders, the proper, slightly wider Lazy Bag is now on the way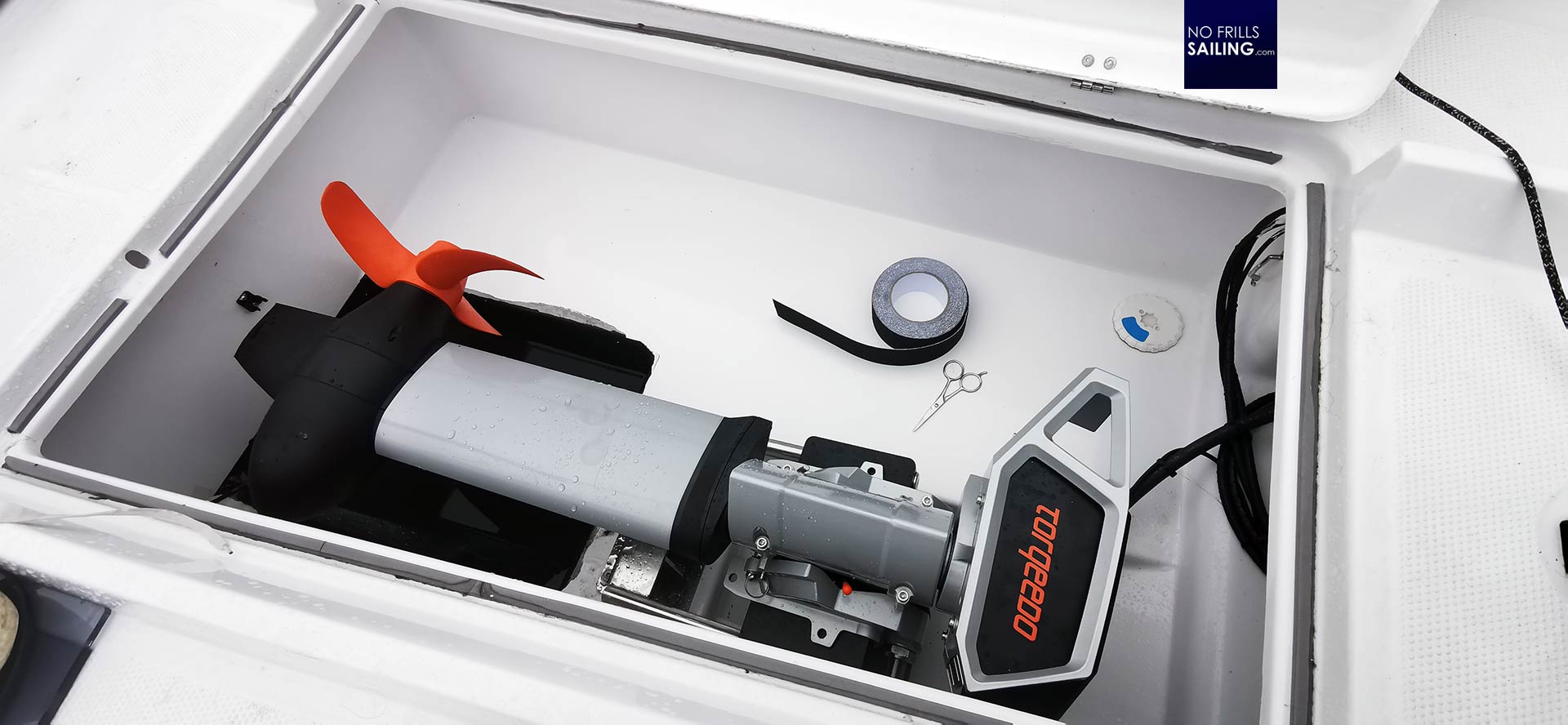 I also added some more details to the Torqeedo engine room, one deck below the cockpit. The day before, sitting at home and visualizing th first day out, I figured the process of when to do what when pulling up the sails. So, I said to myself that first the mainsail goes up. Then I would be luffing the boat so that it sails by the power of the winds. After this is achieve, I would turn off the engine and have the propulsion unit retrieved, closing the engine-shaft for sail mode.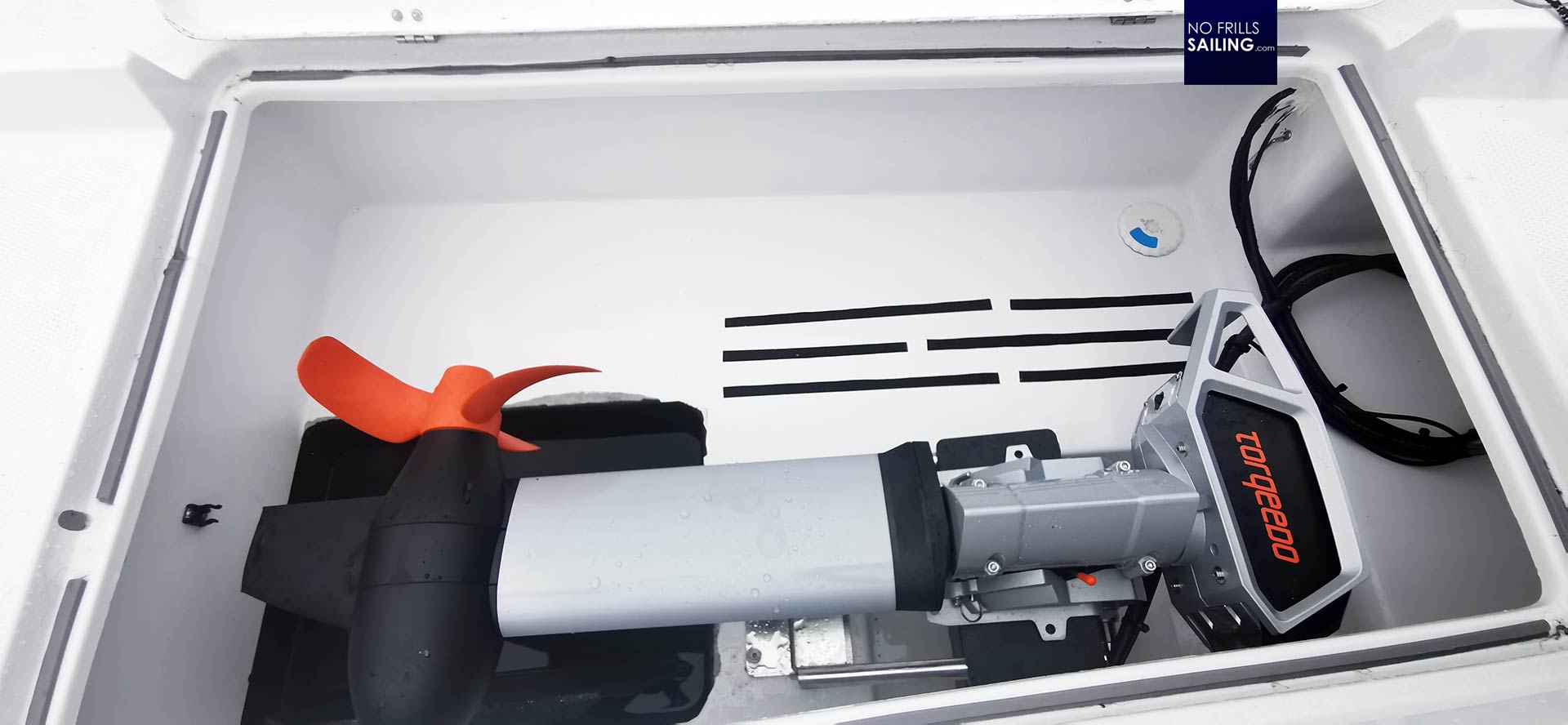 And here I thought, well, even in moderate winds the massive 26 square metres of the mainsail will cause significant heeling. Combined with waves in more rockier conditions this is a hazardous moment: Water will constantly be washing up and down the engine room, heavy motion of the boat will complicate the delicate process of retrieving or driving out the prop unit. So I added some more stripes of self-adhesive non-skid tape and hoped that it would be sticking at least some weeks or months in this constantly wet and flooded environment down there …
The big day: GEKKOs shakedown
Now, back to today´s morning when I arrived at the jetty. I opened up the boat and stowed away some more parts of the equipment I brought with me. After taking on the sailing gear I switched on master battery, the mighty Torqeedo WH 48-5000, unplugged the bort from shore power cast casted off the mooring lines. Starting the engine, I … got an error message.
Well, "E84" might be an old error message displayed since my colleague Sven had fitted and installed the whole Torqeedo engine setup (read articles 1 and 2 here). He assured me that everything works fine and I had tested the engine right the day the boat was touching water the first time. Nevertheless, it is not a nice feeling to rely on a fully electric and electronic propulsion – that is displaying "Error". I mean, would you stay on a plane where the Captain announces: "Ladies and Gents, we will shortly be taking off – I do have an error message on my display here in the cockpit, but never mind, you can see and hear the turbines are running … so let´s take off!"
Update: The Message has now been cleared and all of the system works perfectly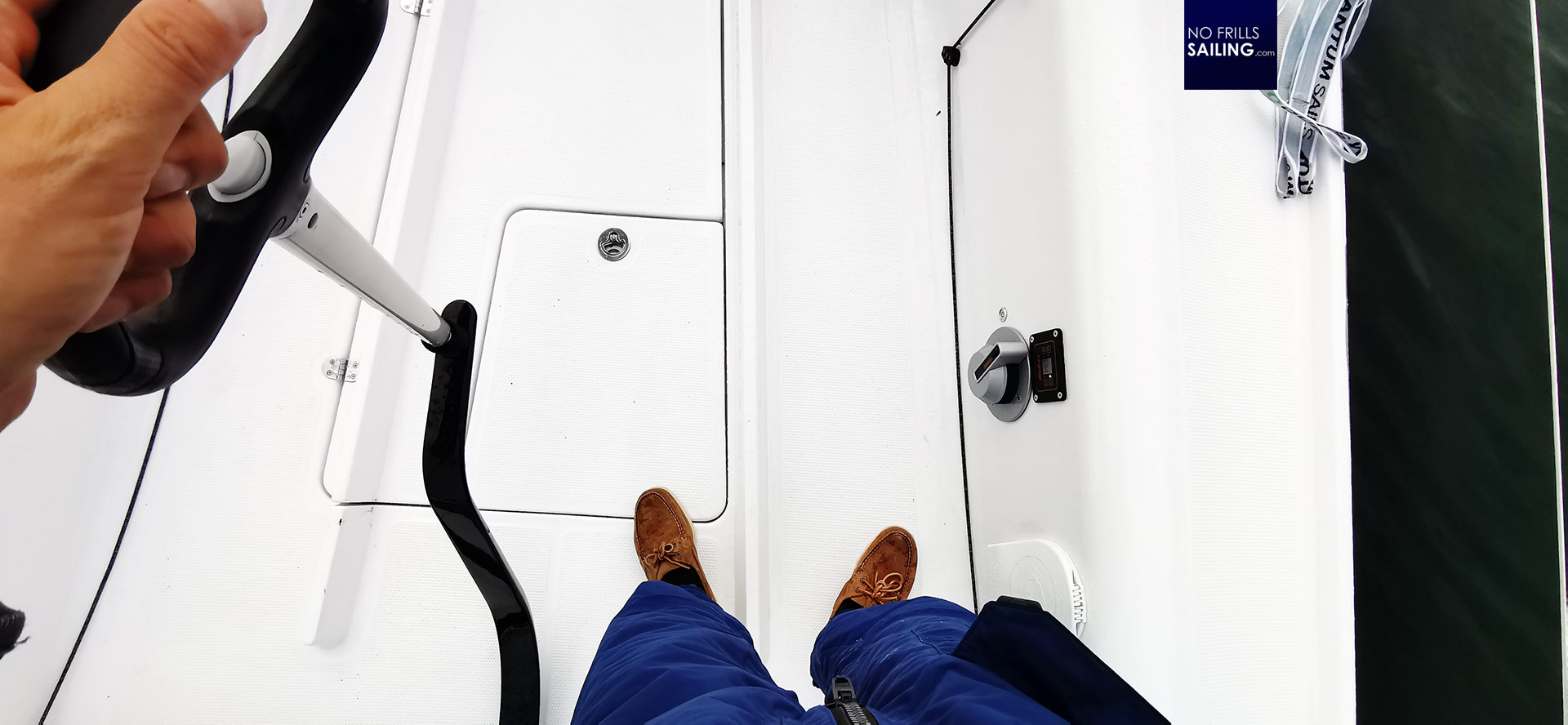 Well, I did take off (not without getting the emergency paddles ready for immediate use and deciding to not take in the fenders, just in case). "Steaming" slowly down the alley and taking some turns to leave the marina I could fully get accustomed to the steering position when motoring. Lucky me, I re-assured myself now in real life-test that the decision to place the throttle at a certain position was absolutely fine: I was able too control speed and course with ease.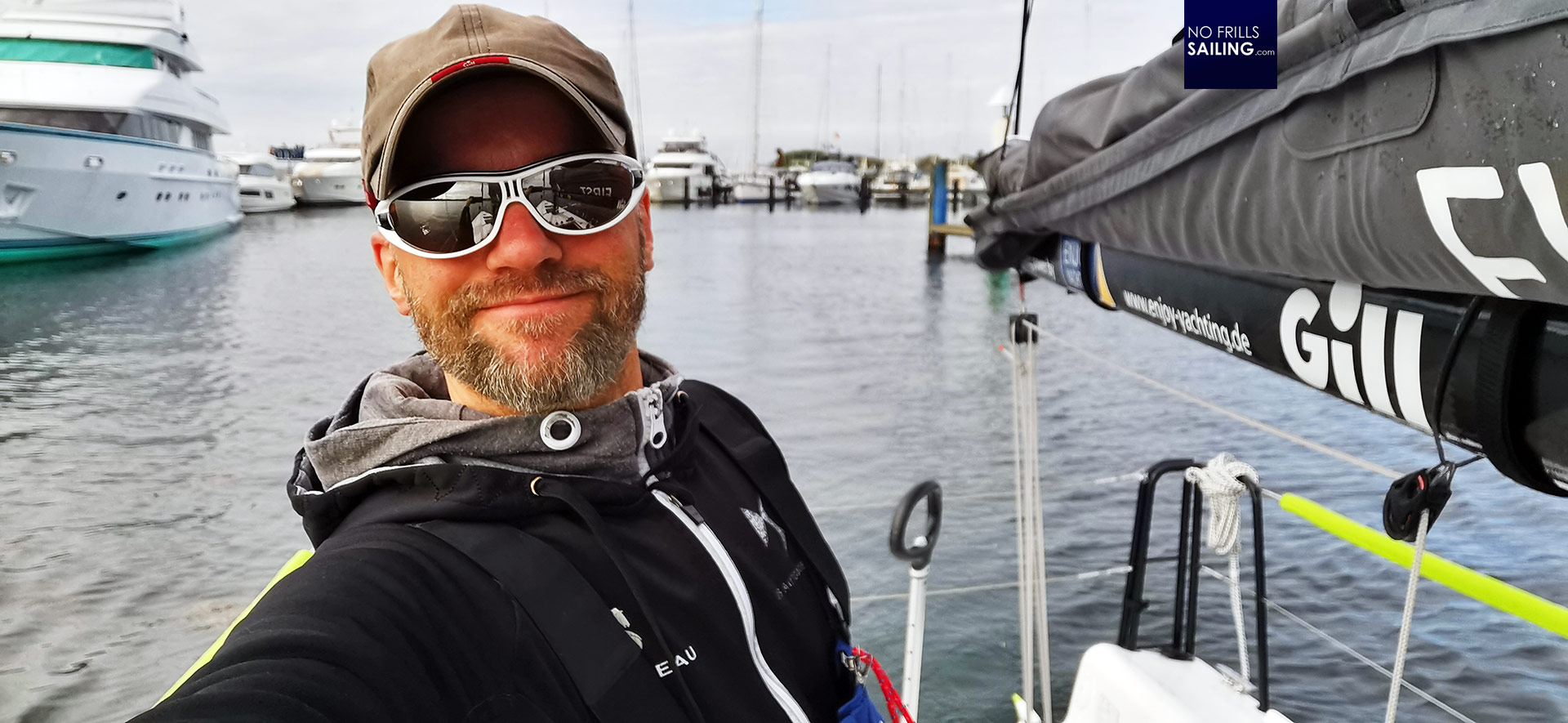 What a happy day!, I thought to myself: It was warm, relatively calm and dry. Although a new rain front was coming in and my window of opportunity was down to roughly two hours of sailing in these conditions, I put this aside and simply enjoyed this moment: First time out with my new own boat! Not with a client´s boat or a chartered boat or a boat belonging to my company – my own boat. My GEKKO. Oh boy, can you imagine the heartbeat, the joy and the pure excitement of these first couple of cables?
Get her sails up, ho!
I steered her out of the marina and into the waterway, following the buoys. The First 27 SE has a draft of 2 metres which is no problem here at all, but I know the marina very well and especially right after the breakwaters it gets pretty shallow, garnished with some rocks. Not with me, comrades! And certainly not today on her maiden trip! So I held course in the waterway, greeting the occasional fishermen. I was the only one taking his boat out, well, Sunday at 0800 Germans still tend to sleep. After clearing the shallows, I stood up and let the tiller go, took down the speed a bit and put her nose up in the wind: Time to get the sails up!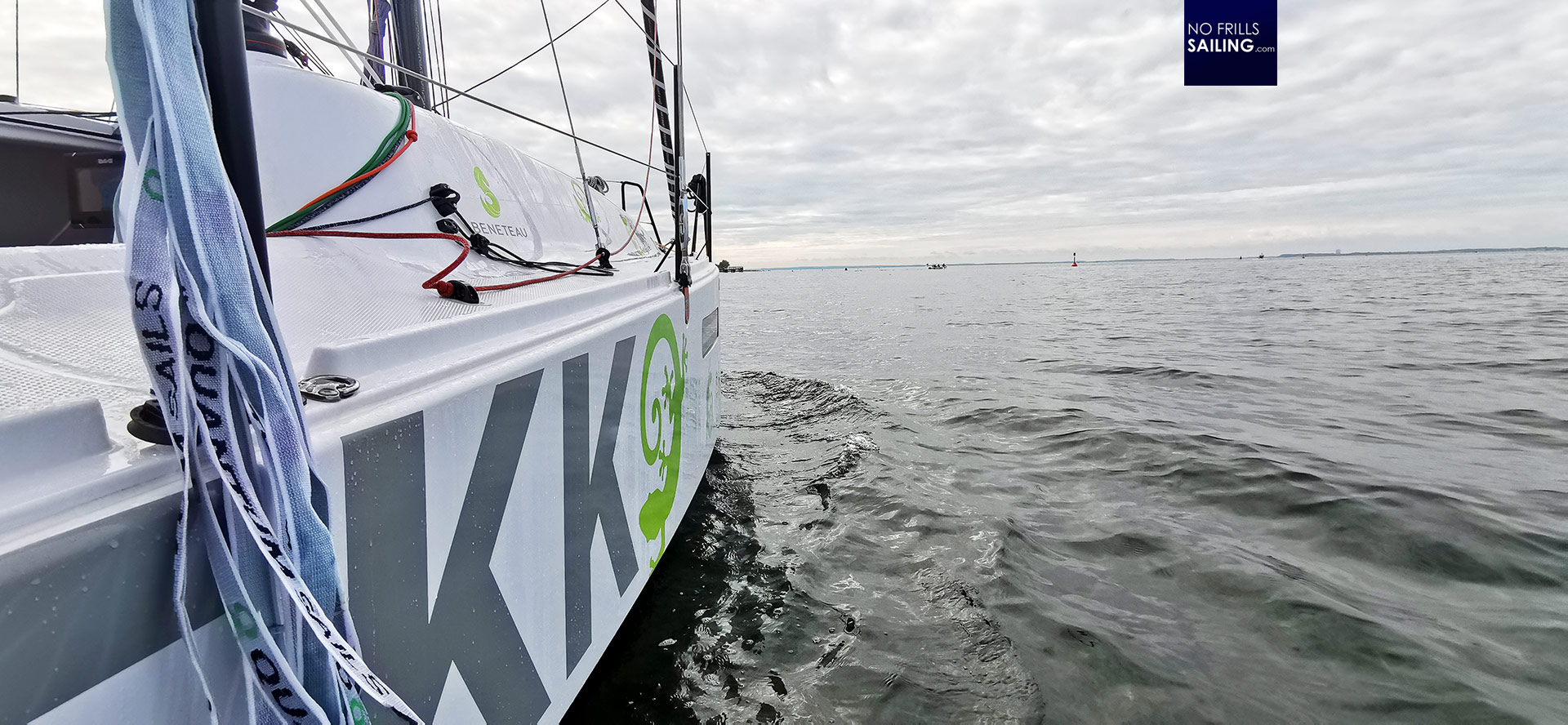 As the B&G-network of my boat has not yet been calibrated or put into operation (I do not even have a chart-chip for the plotter yet I as well did not have the NAC 2 autopilot ready for operation. Lucky me that conditions were very, very calm and I could easily skip the help of Mr. Computerhelsman. Anyway, I was – and kept on doing so – astonished how nicely the boat would stay on course even without a hand on the tiller.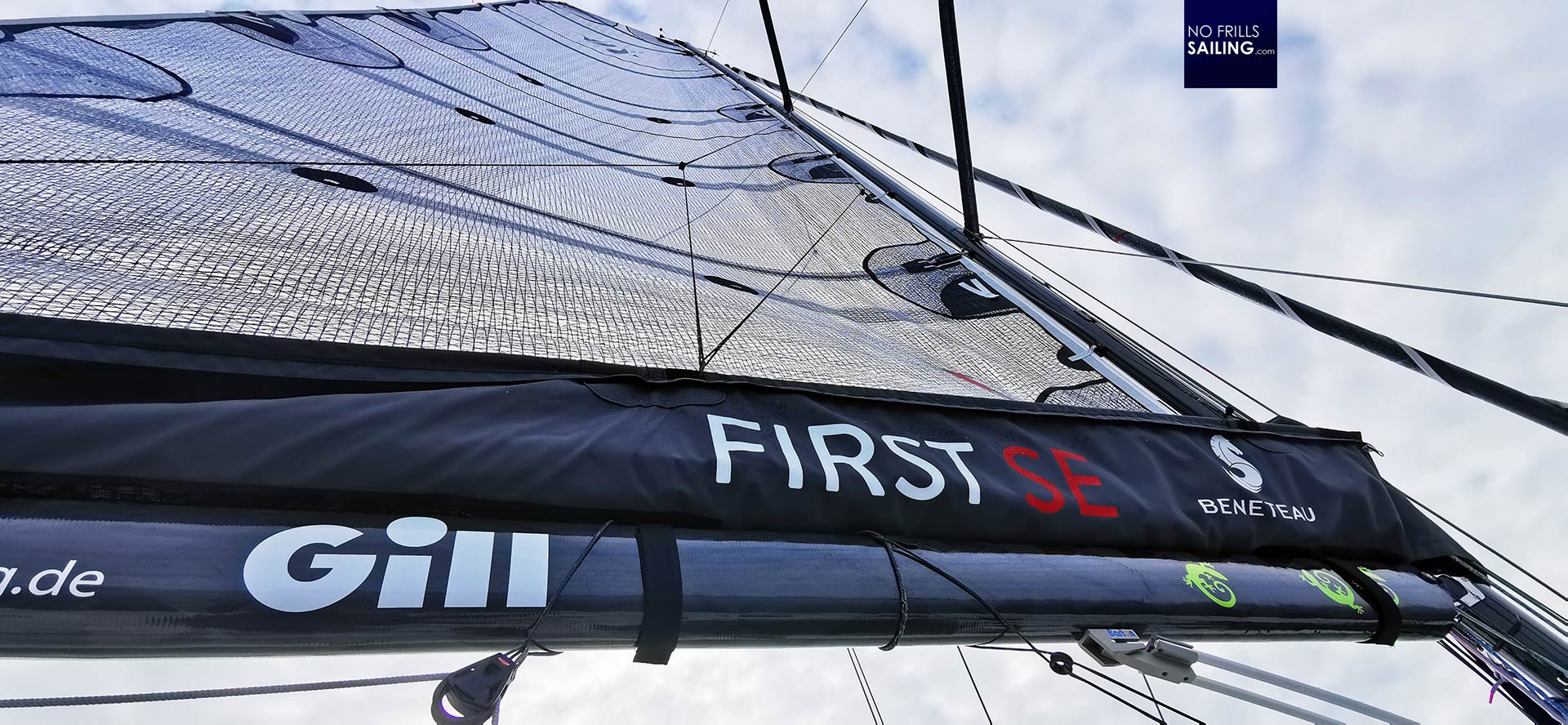 Taking up the mainsail was a no brainer. As the main halyard has a 2:1 reduction ration, it is without any strain a matter of seconds to hoist the mainsail. The investment in uprading the mast sliders is a true must as I did not felt any resistance of the sliders going up – what a difference to the basic plastic sliders of the basic sailcloth on our Oceanis-boats. I noted to myself that I from now on will recommend every one of our clients to do the same. Magic!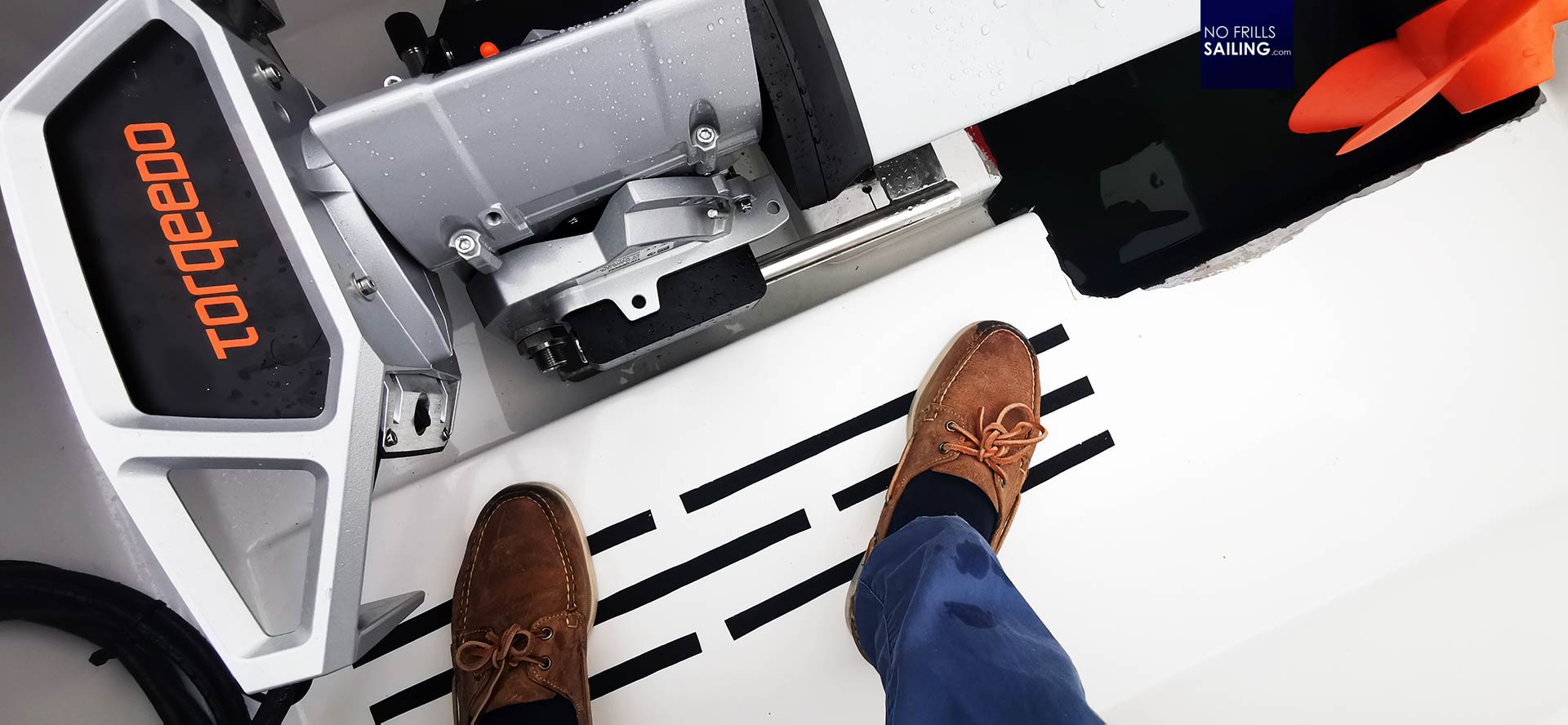 Now, with mainsail open I luffed the boat to an upwind course. The boat began to heel a tiny bit and the sail filled with air. Switching off the engine the speed dropped a bit but we sailed. We sailed! Now I opened the engine room and – how right I was – it was wet and slippery as expected. Even now with virtually no wind and no waves at all, I was happy to be standing on non-skid surface. I pulled in the Torqeedo prop unit, switched off the engine computer and losed the bottom hatch of the shaft, the gurgling in the shaft stopped as the water outside now found a smooth surface to glide by.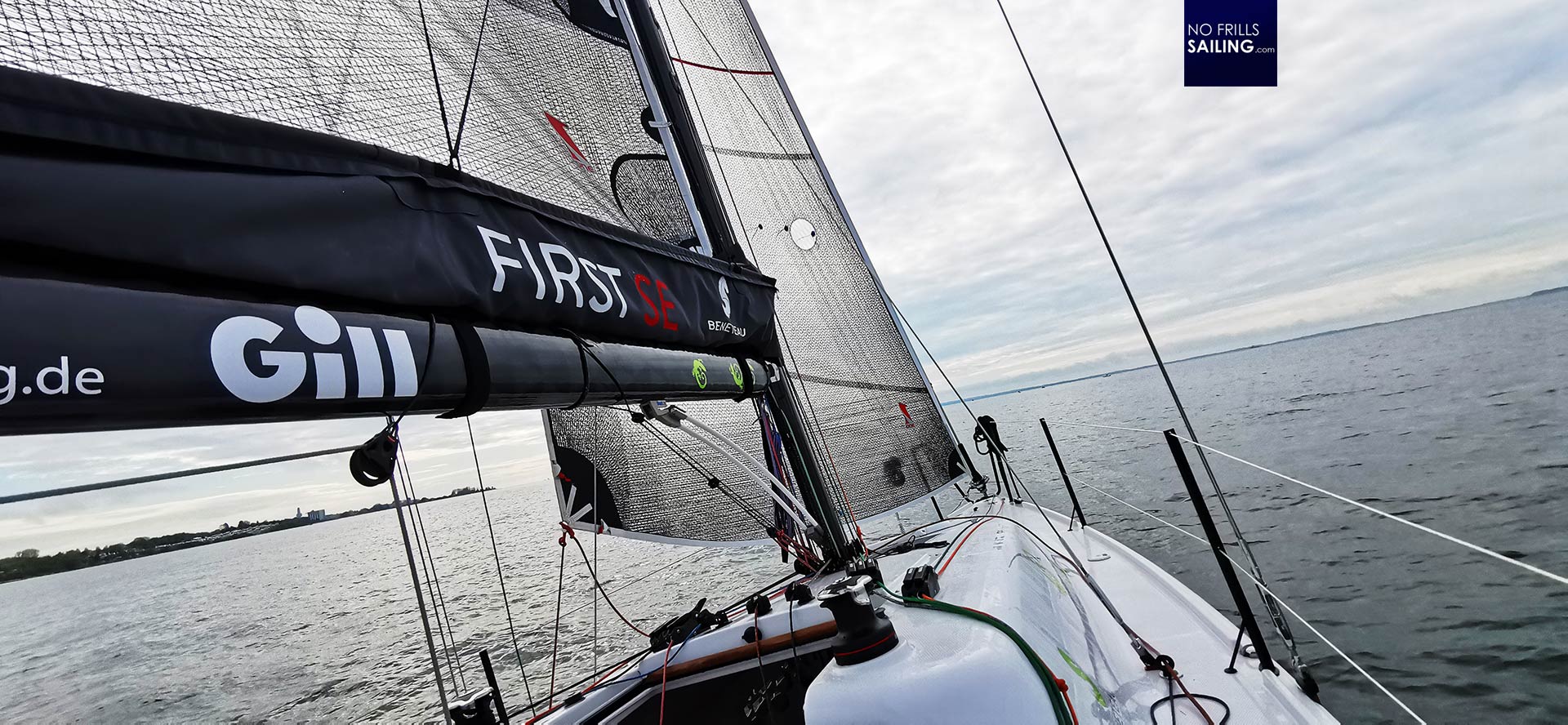 Still, with nobody at the helm, it needed just an occasional dip here and there to have the boat on the right course. Amazing how stable and good-natured this boat behaved! I unfurled the Jib, had it sheeted in for upwind and suddenly the boat sprung to life. She heeled over a bit more but instantly I could hear a loud murmur at our stern as the water shot by. What a great feeling!
Getting a feel for steering position
You can imagine that my heart was pounding quite a bit as this was of course a very special situation for me. I have been doing this literally a hundred times or more – but never in my own boat. Everything was so new and so un-accustomed to my feel. I can cast off an Oceanis 46.1 with closed eyes, I can reef an Oceanis 30.1 whilst sleeping, but this was completely different now. So I told myself to calm down. Relax. Sit down on the coamings, have your back resting on the lifeline cushion and just … sail. Just look. Just listen.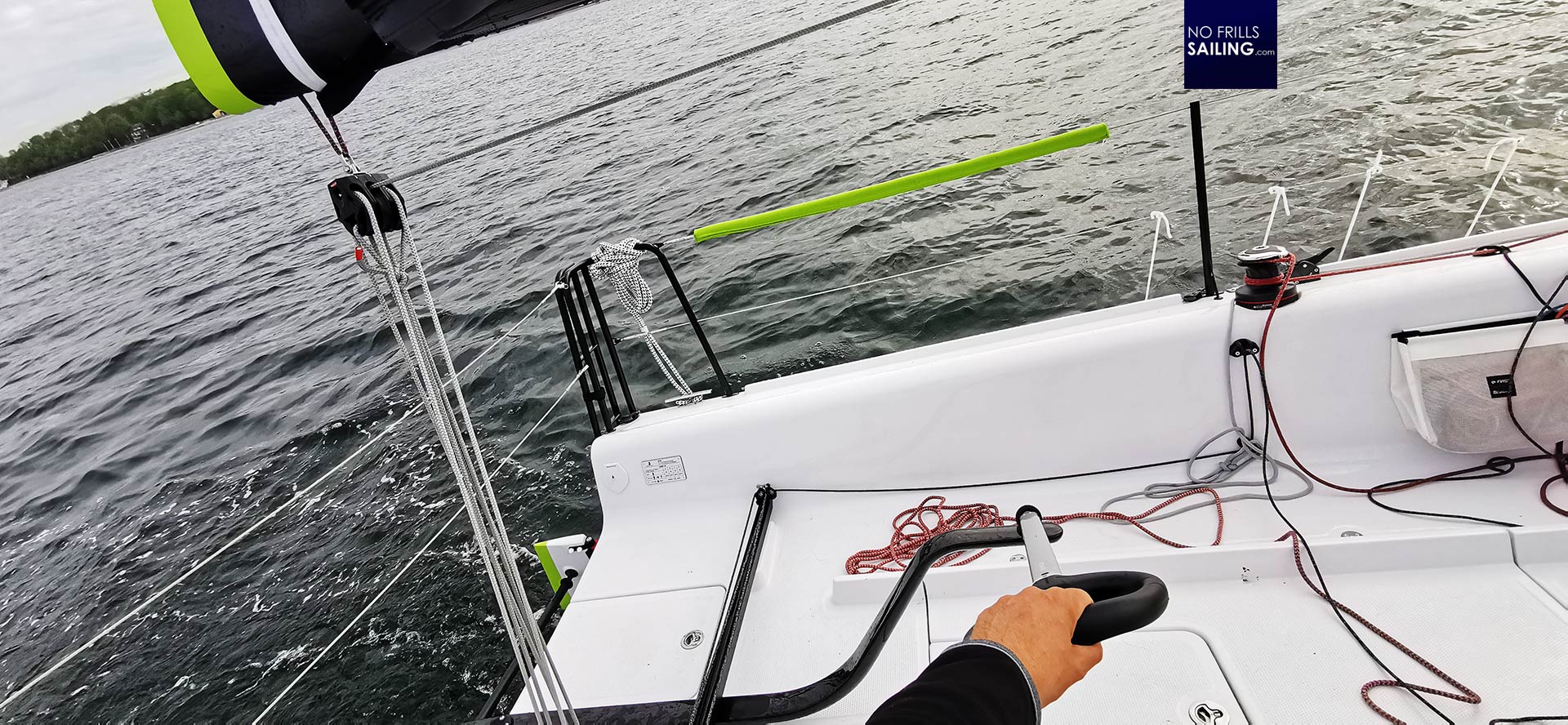 I remained on upwind course and tried some steering positions. One near the Jib winch, another one, much more relaxed, leaning backwards into the aft pulpit. Great! Congratulating myself as well for upgrading from standard Battle Stick tiller-extension to Spinlock-tiller that will always put itself to an upright "ready" position. As well an option I will most certainly suggest to my clients much more often now.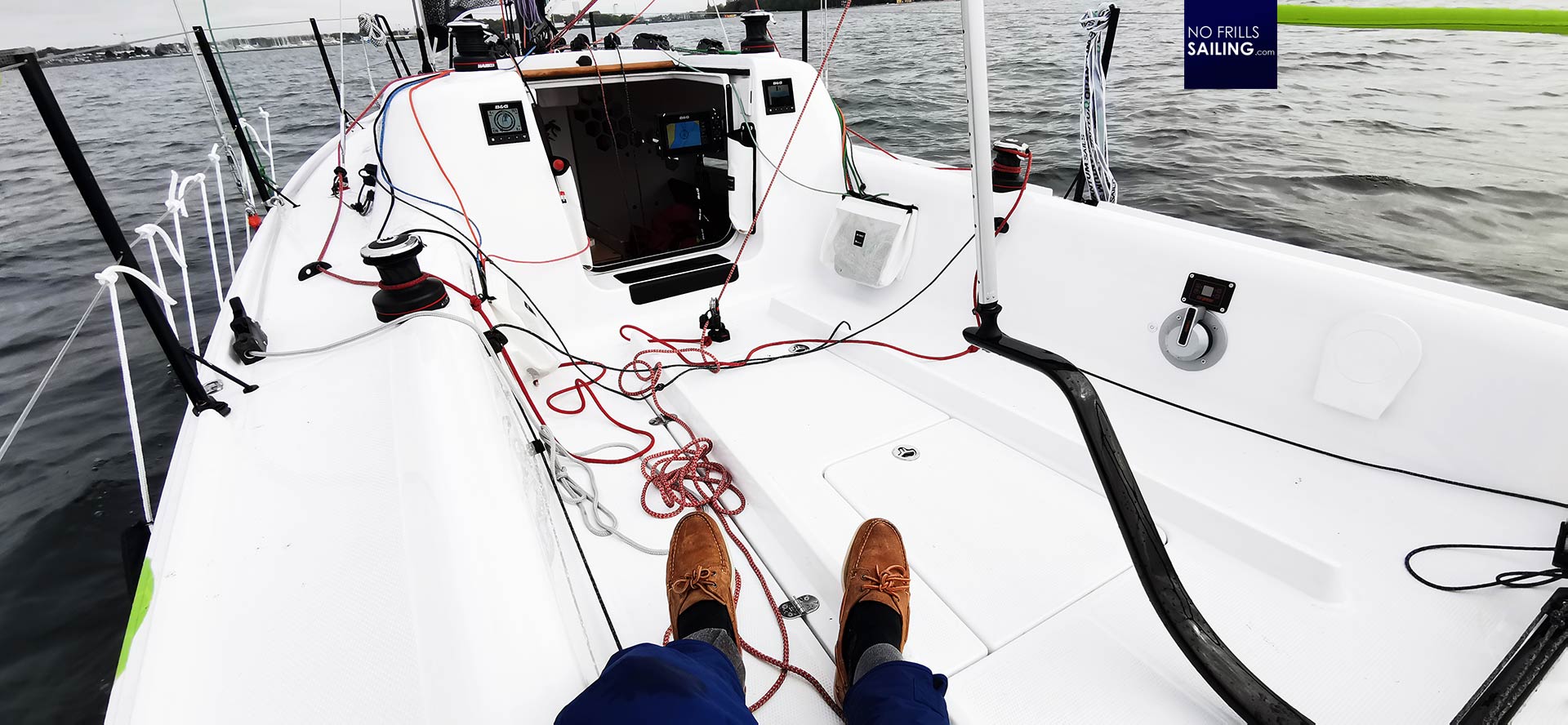 Sailing was so relaxed: I veered off to a reaching course, the boat accelerated immediately. It must be a dream to have the autopilot engaged and sit back here, looking at the amazing sails and watching the great hull designed by Sam Manuard riding the waves! What I must get accustomed to, by the way, is the sheet mumble in the cockpit which is "racy" and, especially the mainsheet and the traveller-sheets, couldn´t be solved in another way, but as I am a very correct sailor always cleaning up the sheets after using them, this is now different.
First Impressions of the Boat´s Performance
After twenty minutes or so of pure sailing you and cruising around, I decided to check some performance figures and look for the power of this boat. Now, today sailing conditions might have been all too perfect for a first time out and a quick check if everything works fine, these conditions haven´t been good for a clear "performance" test: Just 6 to 8 knots of true wind, more Gennaker- or Code-0 time than anything else.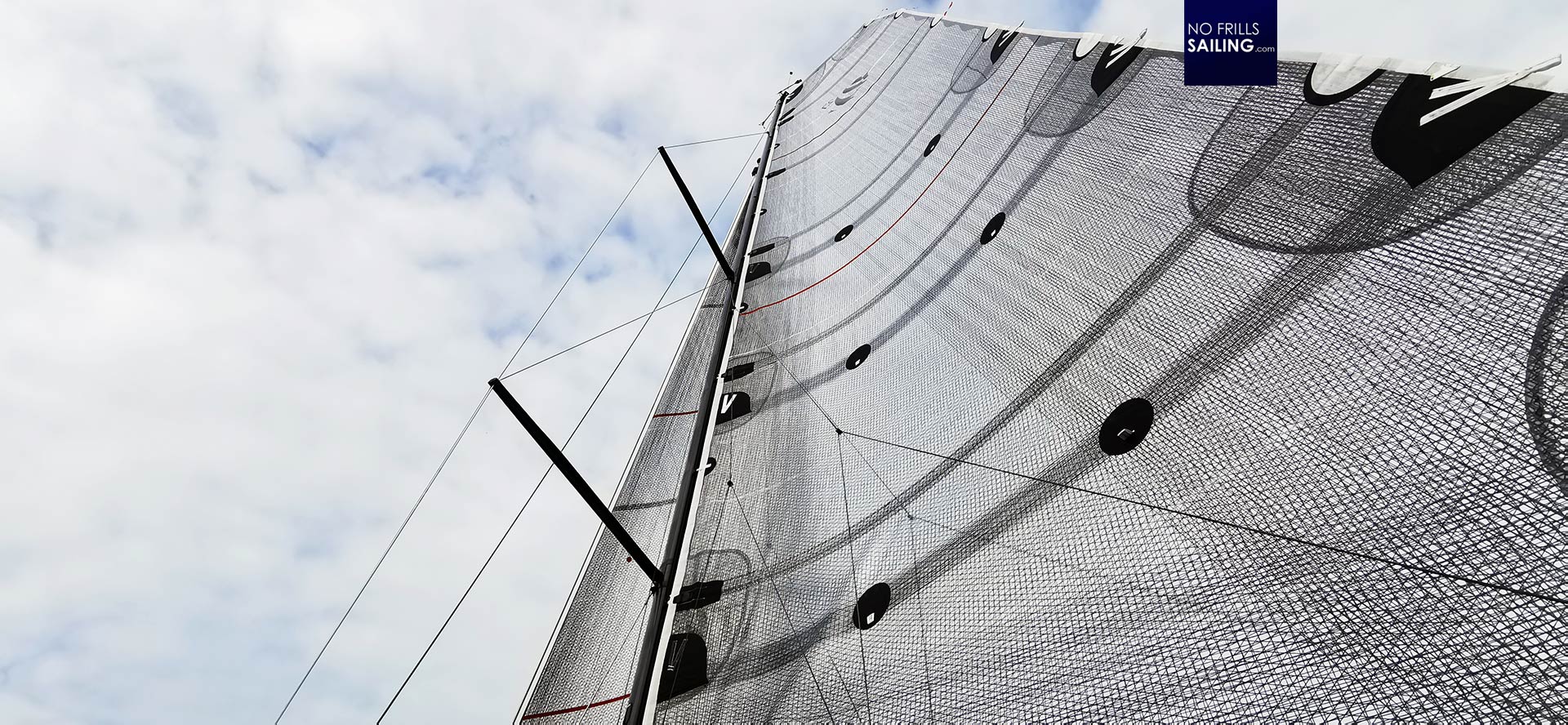 But, nevertheless, the sail cloth was up and standing there sharp like knives in the wind. No flagging or wobbling, just high quality laminate doing its job. I was able to sheet in the Jib thanks to 3D sheet leads and have the mainsail much much much more aligned thanks to the traveller – the boat did 6 knots in this whizz, which I found amazingly fast for a lush wind like this!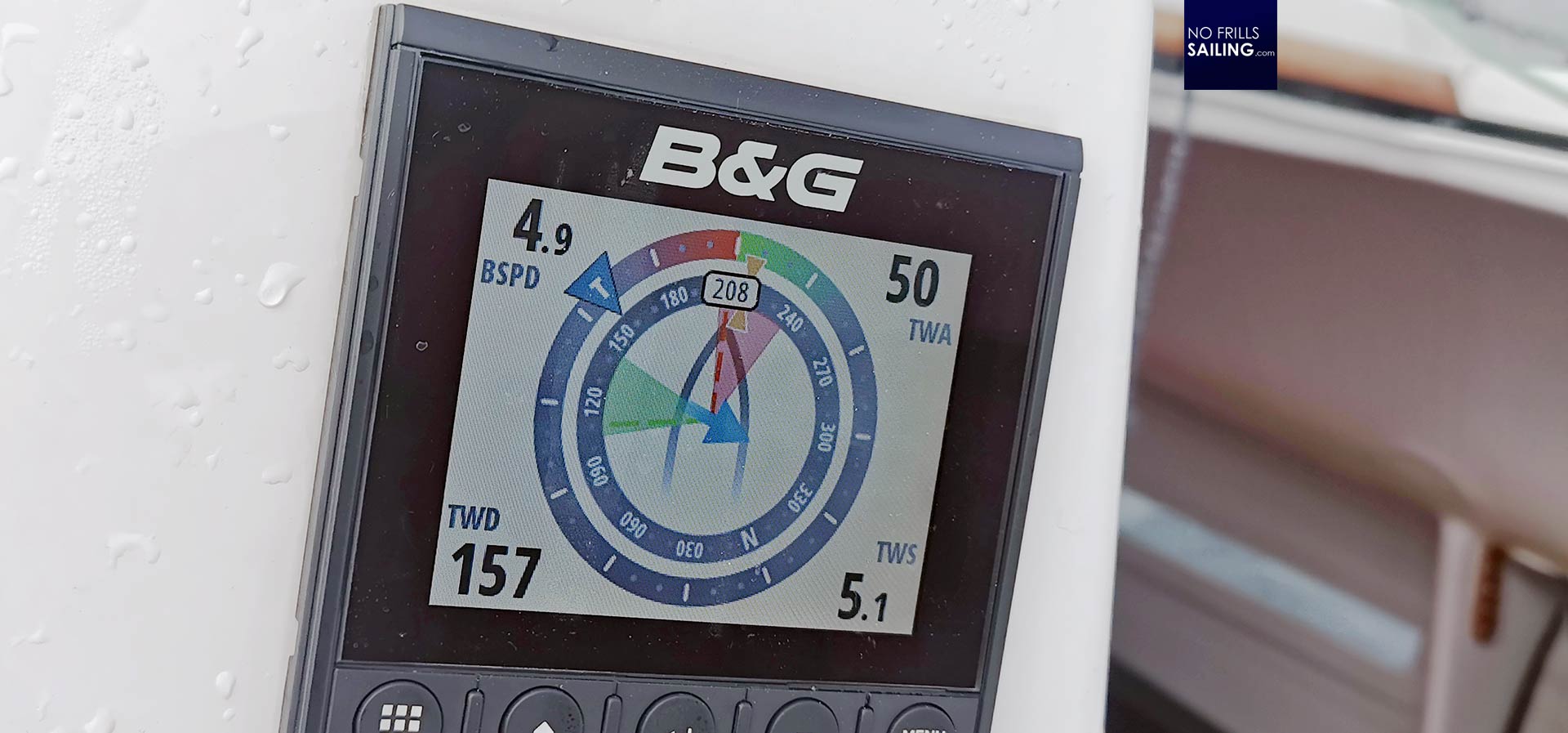 Also, veering off to a reaching point of sails, the boat accelerated much more and was able to reach speeds up to half a knot slower than the actual TWS. Amazing, what a light boat can achieve! I would have loved to take out the Gennaker right away but honestly didn´t knew where I had put the Genni-sheets (probably at home), anyway this is saved for a crewed day out when I will have a sailing mate on board with me. Nevertheless, in this 8 knot breeze, a Gennaker certainly would have worked wonders.
On the other hand, I had so much fun even with standard sails up. Just like back in the day on the Dinghy with which I learned how to sail, it was so much fun steering the boat, changing courses and have the manoeuvres practiced: Tacking and gybing was a no-brainer as this nimble, quick light boat reacts like a Prima Ballerina, ways to work the winches are just arm-lengths and as the steering is so incredibly sensuous and stable, I found not one single problem at all in mastering the boat.
Well, of course, that being said, I reminded myself that in these pleasant conditions anything else would have meant a serious problem – either with me as a skipper or with this boat. I know that in 20 knots TWS with gusts of more this is going to be a very, very much different action aboard, but for now I am truthfully relieved and excited at once that this First 27 SE, aka Seascape 27 turned out to be such a sweet boat.
A pretty successful first time out
Seeing the clouds building up and changing their colors from innocent white to grey at the horizon, I felt the bad weather front coming up. I gybed a last time and slowly sailed back into the buoyed waterway, luffing again and taking in the mainsail – God save these sliders! – was matter of 10 seconds, getting down the engine, furling in the Jib I returned to the Marina.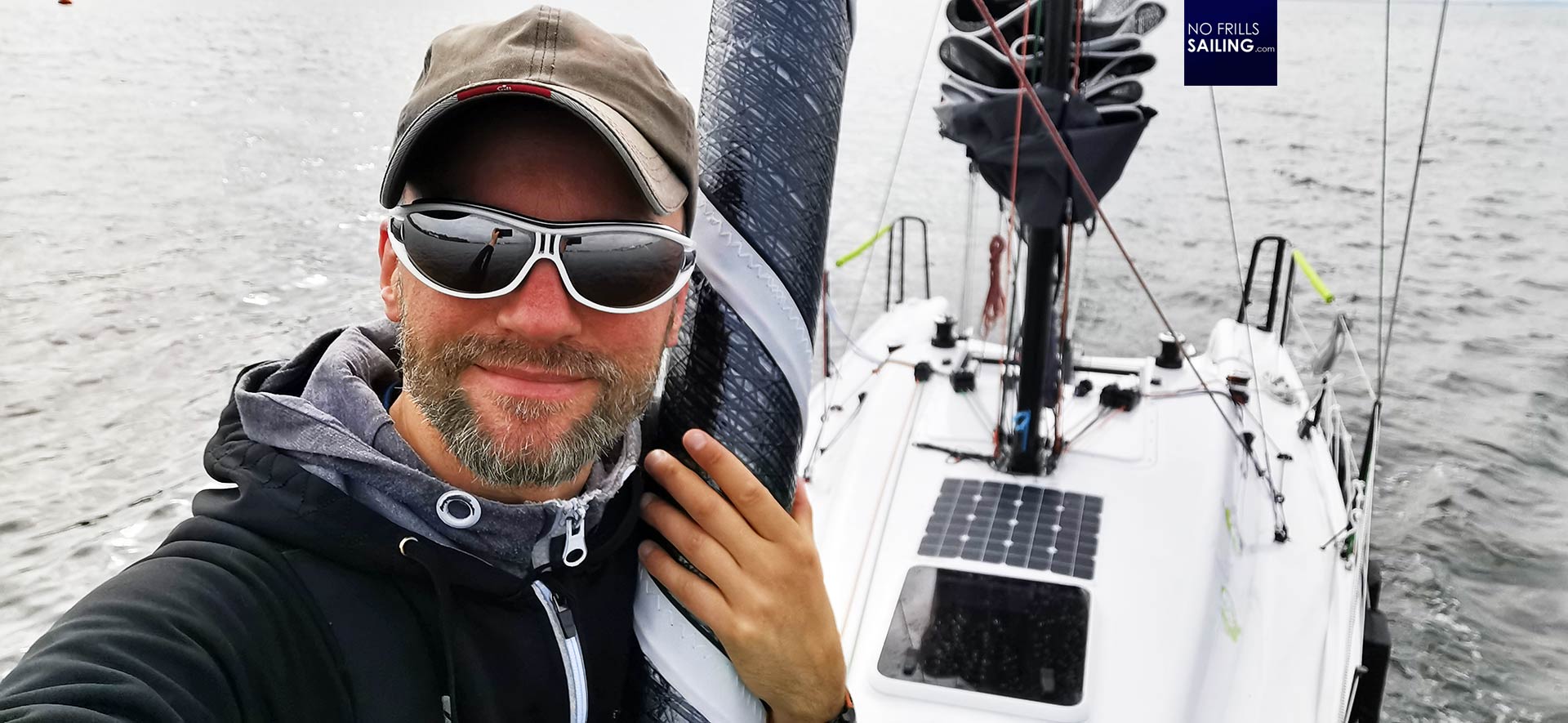 How I love this boat! Such a satisfying first and fulfilling first sea trial! Smiling all the way, I couldn´t spot one single – even not a tiny one – point that annoyed or worried me (well, apart from the error-message on the Torqeedo-display and the lazy bag issue). Everything worked out just fine, the boat sails and behaves absolutely spot on. Just gorgeous!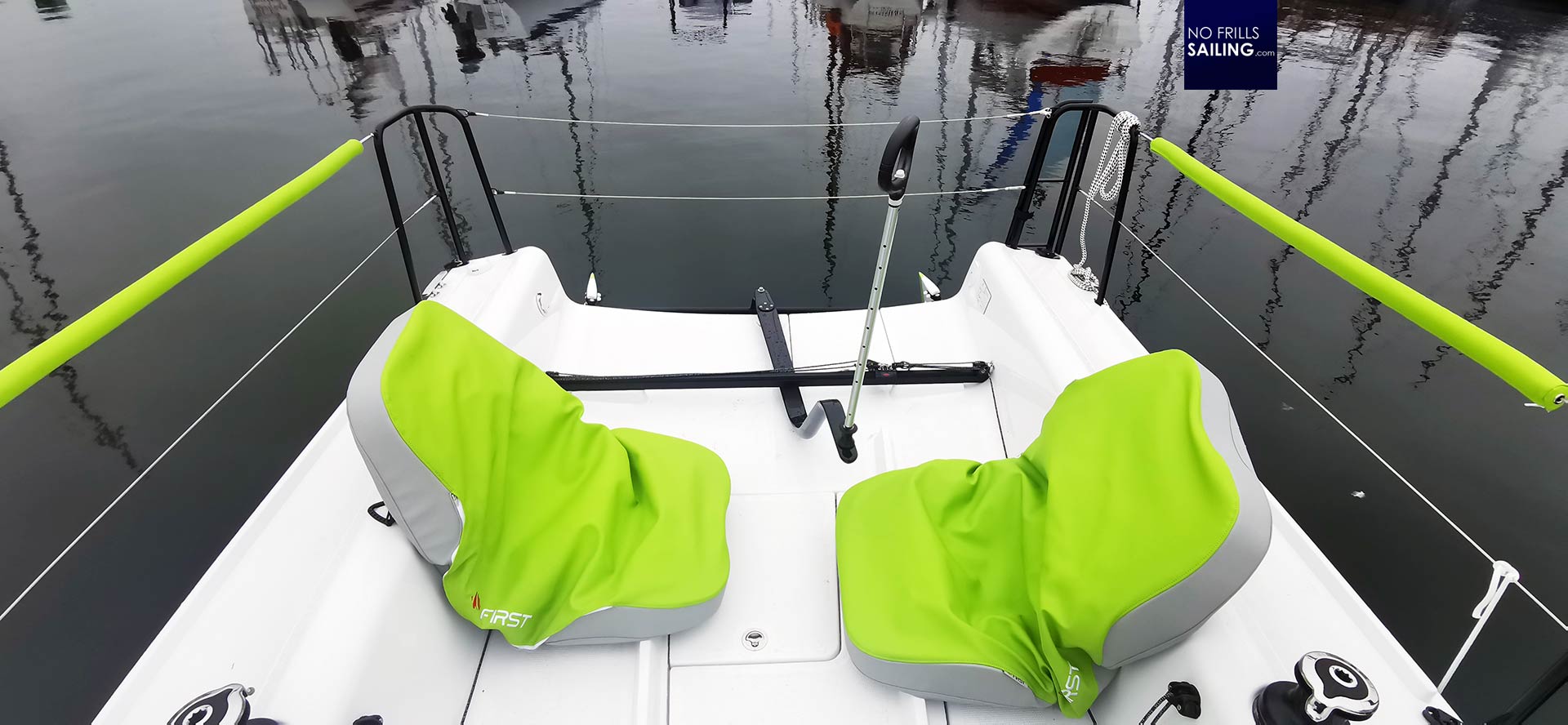 I landed GEKKO back in her berth, not without occasional other boat owners who sat in their cockpits, having their breakfast coffee, shaking their heads as they realized that I was propelled silently by electric engine. I re-arranged the fenders, put on a front-fender as landing stern-first with this boat is a no-go due to her rudder arrangement and put on the Jib-cover again. What a great day out!
XXXXXBILD 25 beauty, easy, light & fast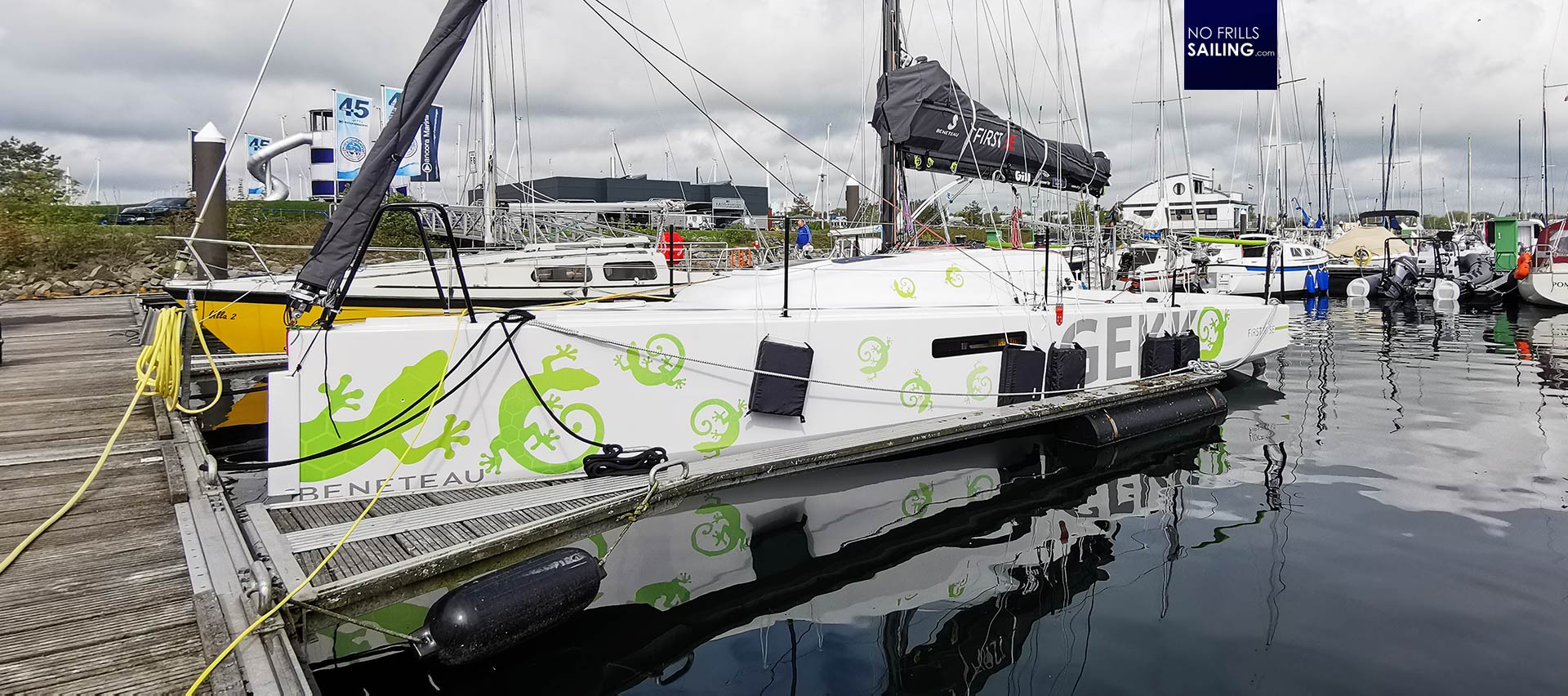 Thinking back to the endless discussions with myself (and others) about which boat would fit me best, of the endless calculations and thoughts about how to finance a boat; thinking of four years of seemingly endless refit of my King´s Cruiser 33, reminding me that my boys literally every day ask how GEKKO is doing, thinking of the plans I am making of where and how to sail to this season … I cannot imagine a better, more happy, more joyful first time out with my new boat than this!
Thank you all, my dearest readers, for following me. Thanks, Meik, for making this happen, thanks to the ENJOY YACHTING-crew, especially Ahmed for his antifouling-action, Sven for Torqeedo-mounting and Finn for rigging; thanks to all who helped me getting GEKKO ready and in the water, like Robin and Marcel and dearest Antonia – and finally thanks to Sam Manuard and Seascape for conceiving such a fine boat! GEKKO is now in the water – and behold, I am going to start a season of sailing adventures!
You may also love to read these articles:
All Seascape/First-related posts under the hashtag #thinkseascape
Riding the fast Archambault A35