Weeks ago this adventure began: A client bought our stock boat, the fine Beneteau Oceanis 46.1 and the task was now to bring the yacht from the far North Baltic Sea shores down to her new homeport, the fine Greek marina of Preveza. You may have read on the first legs, the Baltic Winter Sailing and the trip to Bremerhaven through a stormy North Sea as well. Now, the boat had arrived by transport ship at the Croatian port of Split and was sailed to Trogir. Here she received a brand new professional antifouling and was awaiting her crew for the second leg of the transfer since.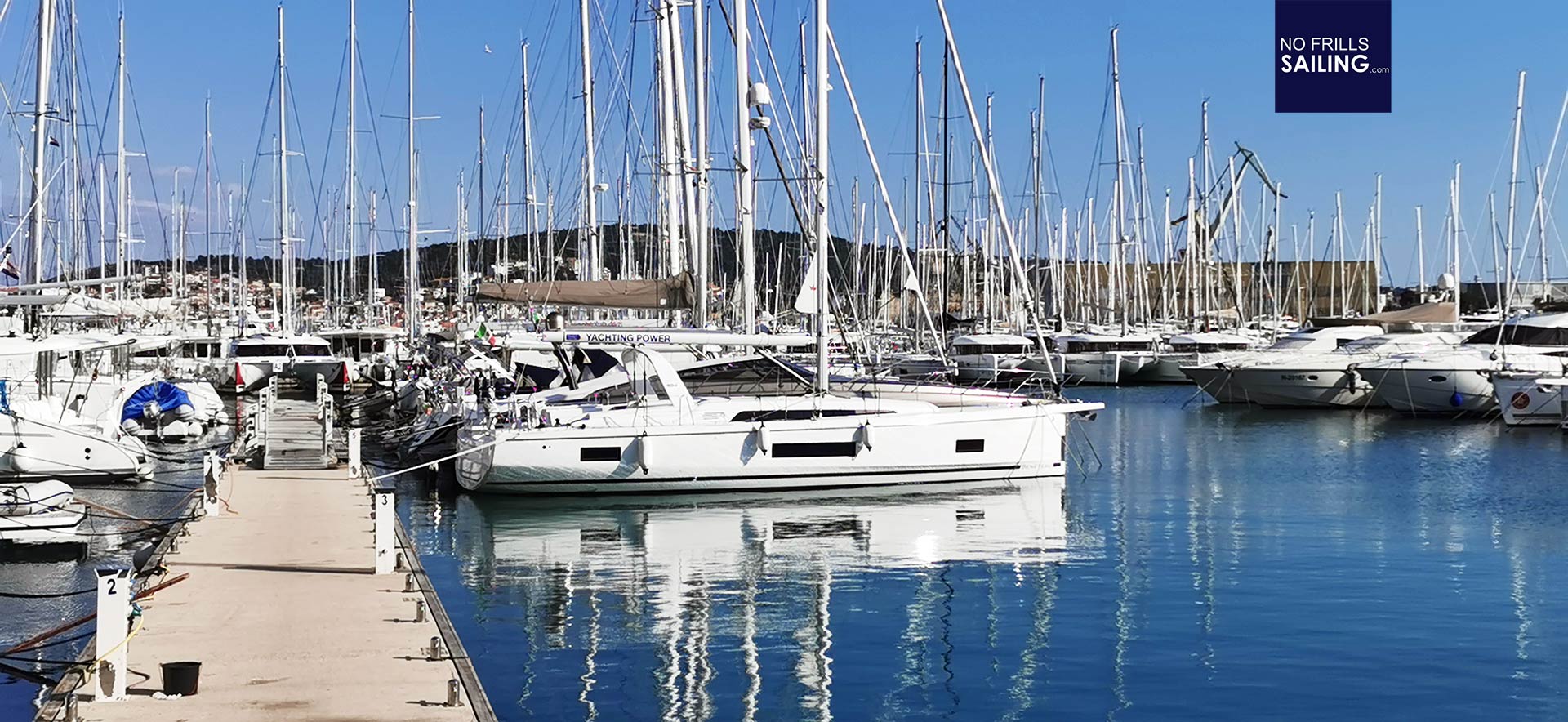 I arrived with my partner on January 18th to the Baotic Marina where we found the fine boat in perfect condition. We had already been stored provisions in December here so we only had to go shopping for all the fresh stuff, vegetables and perishables. It was a matter of one noon. Arriving to Croatia from Germany was by the way pure bliss: 15 degrees Celsius, even higher temperatures out in the sun, I couldn´t believe it: It wasn´t summer yet, but spring for sure! Let´s take off the heavy jackets, I rejoiced: I jumped all over the boat in a T-Shirt and couldn´t believe how happy we had been!
Checking the boat prior casting off
"The boat was in perfect condition" means, it looked well. But at a second glance I realized that there was still much work ahead: When I loosened the lashings of the furling sails (to prevent the sails from coming out whilst underway on the transport ship) I soon noticed that both Genoa sheets had been fraying under tension on the shrouds, severely damaging the ropes: Of course I replaced the sheets instantly and checked all the other lines even more closely.
In order to have the yacht put on a crane for loading and unloading the boat off the transport ship, the crew had to take away the backstays. Of course, they had them re-attached but checking the tension I felt that the backstays had been too loose. Also, the splint-pins for securing the turnbuckles were missing. I knew that some heavy winds had been in the forecast and I didn´t want to risk anything, so I spent half an hour to trim the backstays accordingly, get new pins and secure the tunrbuckles the old-fashioned way.
Speaking of safety: The cool "Magic Reboard" emergency ladder had not been attached properly, so I also fitted it so that it would work. Much more things had been on my to-do list: Setting up the sprayhood (which later would be adding 100 per cent sailing comfort!), checking and tightening all shekels and blocks, having all blocks, travelers and moving parts lubrified on deck. I then checked the proper function of all electronic parts, such as plotter and autopilot and moved on to the inside of the boat.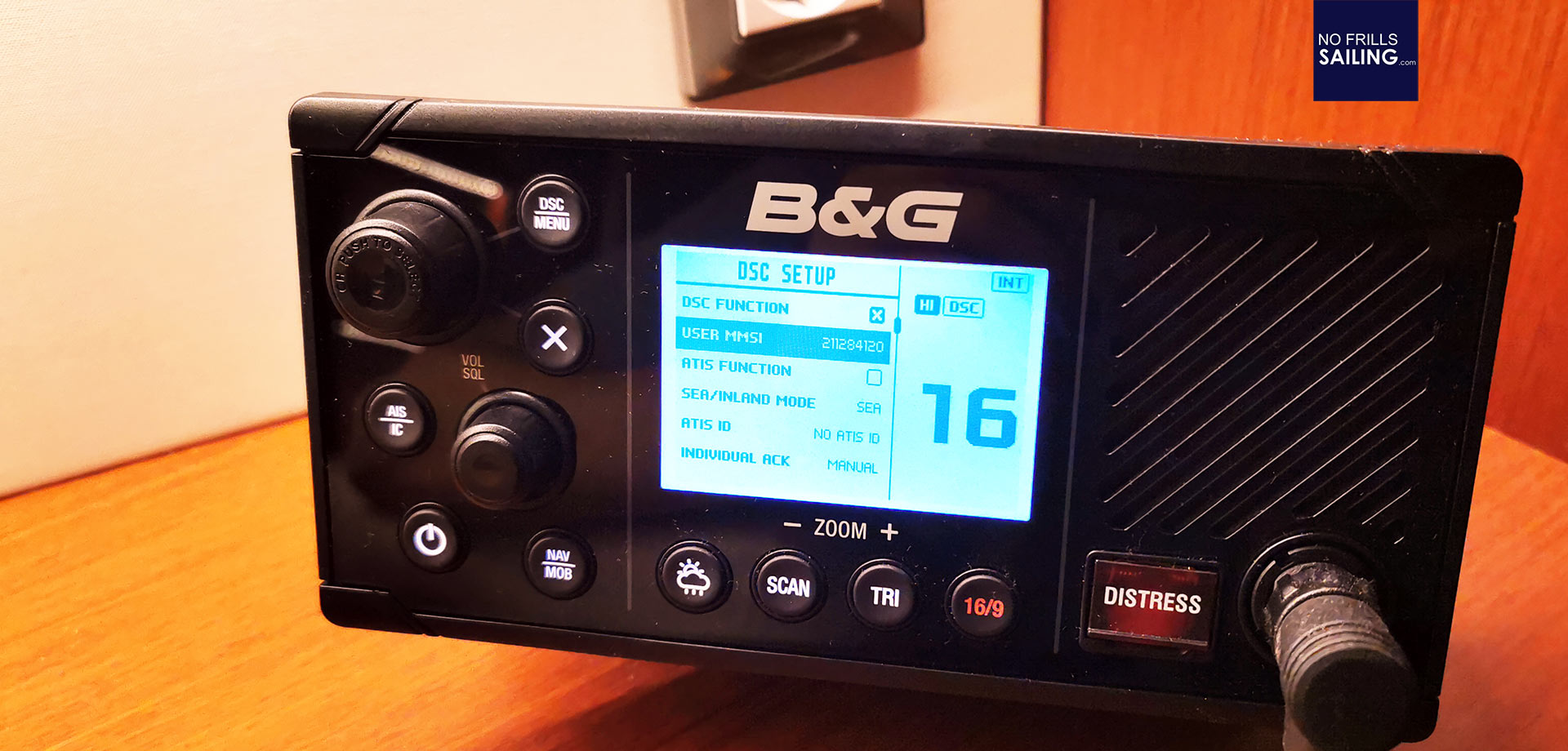 First of all the VHF had to be programmed with the MMSI of our client and I checked the DSC-configuration as well (not that I hoped to ever need it, but I put "Person over board" into the system as I guessed that this might be the most possible of all emergencies. Switching to our engine, I checked for coolant and tightened all hose clips again. Well, it took me about four hours to get the boat to a "ready to go"-status. My girlfriend worked hard to stow away our provisions and ready the galley as well as our cabin.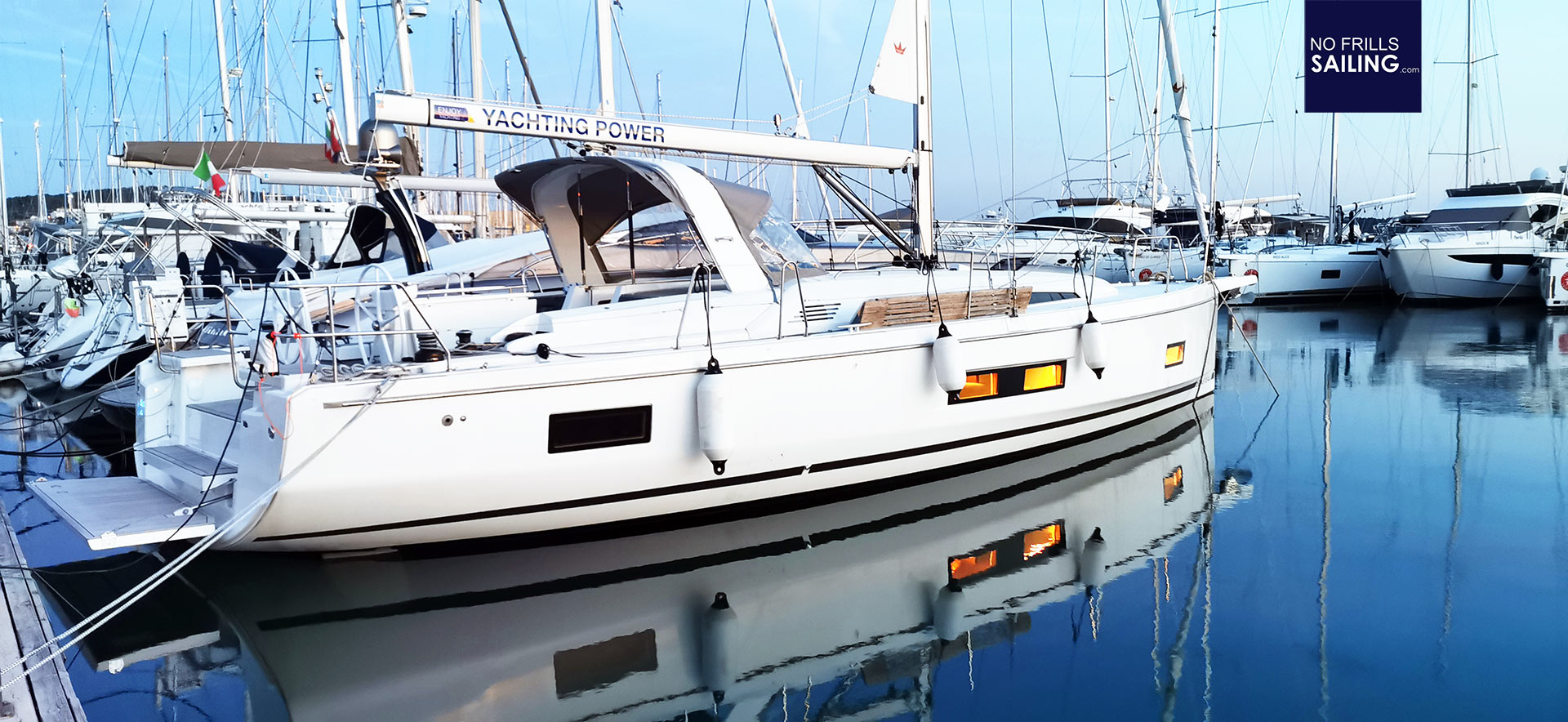 As we sat together, had a beer during knocking-off time I again checked for the weather conditions ahead: Promising, I would say. "It will be a slow start", I summed up: "There won´t be wind anytime before noon or early afternoon tomorrow … but then we will get plenty of it!" There was a wind field running down all the Adriatic from North-West to the South-Eastern exit, the Strait of Otranto with wind speeds of 25 knots. At the same time, much more wind was expected to blow starting from noon the other day all along the Croatian coastline: The Bora! I decided to skip the first originally planned port, which would have been the wonderful City of Dubrovnik. Since my first encounter with the violent winds of the Bora, I was sure that I´d never wanted to have a boat not tied up safely. So, the new plan was now to sail away through the bad weather to flee the even worse weather.
Sailing Croatia: No wind at all
It was a calm night and a frosty one too: As much as I greeted the mild temperatures during daylight, it has been really chilly when the sun had disappeared. God bless the heating which was switched on two hours prior getting up. After enjoying a hot coffee at the large salon´s table and another weather check, sun came up pretty fast and with it temperatures rose. We dropped the lines and started the engine, steaming half a mile to the fuel station.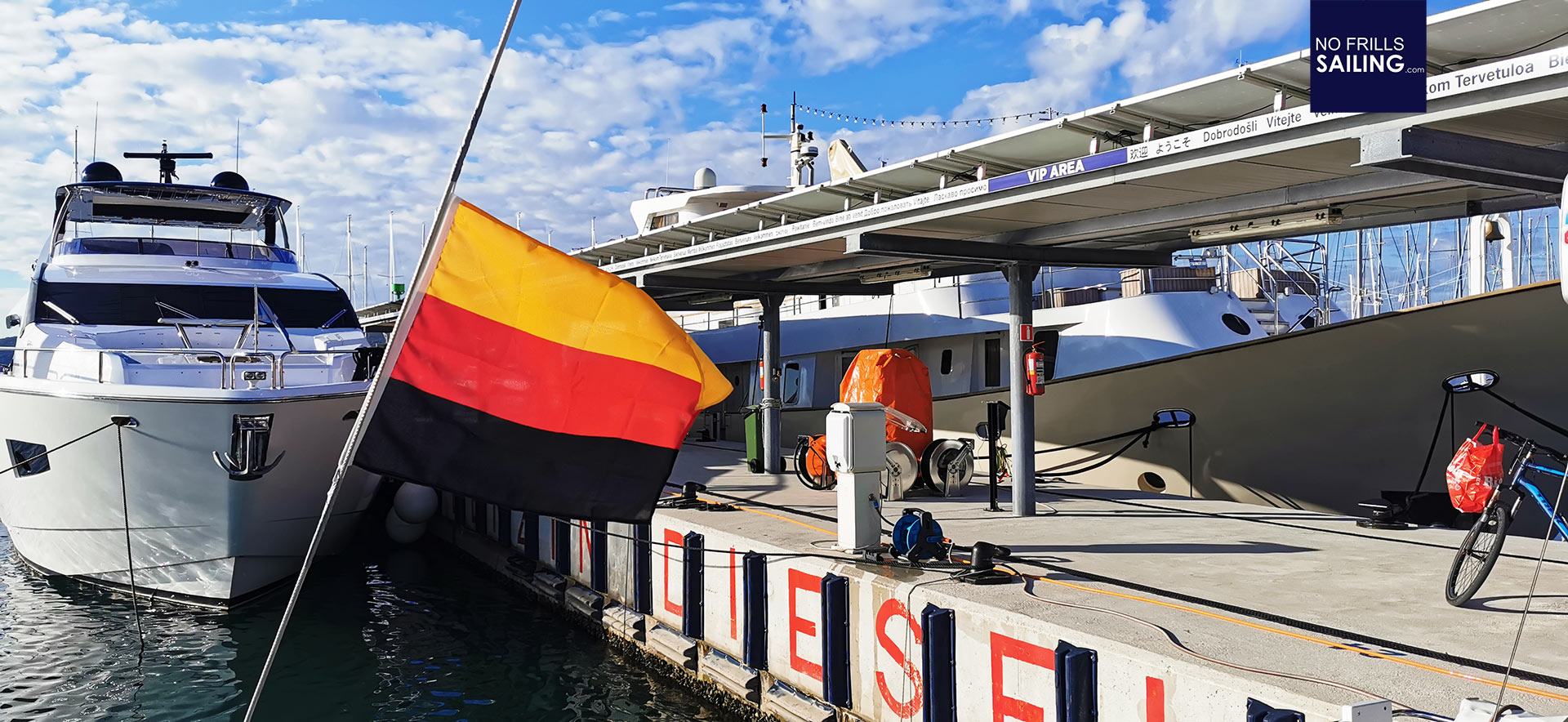 When we arrived, the Marineros smiled and welcomed us at the fuel station. Filling the 200 litres of Diesel of the Oceanis 46.1 took some minutes, it had been the fresh water tanks which took a while to fill to their top edge. Whilst we refueled, I went to the bow where my partner kneeled to hold the fresh water hose, as she stuck and said: "Okay, now that´s the time I definitely break up with you, get myself in a Taxi and fly home, never boarding a boat again!", she smiled. I couldn´t see it. With a big question mark in my face, I looked at her: "What …?!" She pointed to our stern: "Honestly, Lars, of you cannot see it, I will instantly leave the boat!", she smiled even more …
After hoisting our national flag properly we left Trogir finally at 0930, which was 30 minutes before scheduled time. The logbook notes: Wind with 6-8 knots, SSW, no clouds. "Testing the sails, but no wind at all. Steaming at 6.5 knots" We cleared Trogir bay, came past the Island Drvenik to our starboard side, some time later we passed the Island of Solta – I smiled, looking at this somehow familiar sailing area, remembering a perfect racing week two years ago during the "Rose of Charity"-regatta. How nice it was, being at anchor in Maslenica, a dream. Now, we still had some more than 180 miles to go. And still no wind.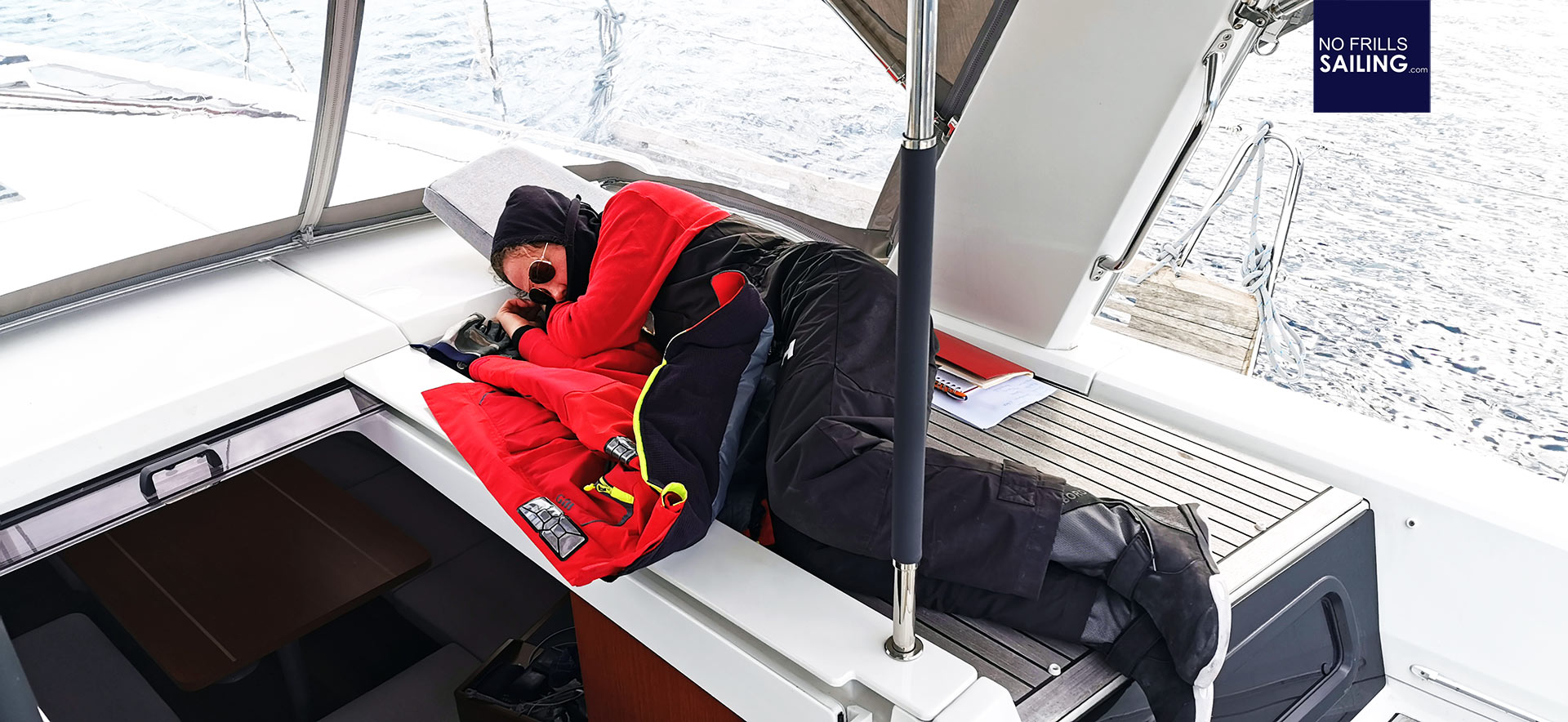 The somewhat frosty night demanded its toll and so we both took our time to use the boring motoring-hours to find some sleep. As the sun was out and slowly heating up the air, it was full bliss to stretch out on the benches near the companionway, on the Oceanis 46.1 free of working winches, under the sprayhood which worked as a greenhouse, creating a warm atmosphere which, paired with the gentle motion of the boat, made us fall into short but deep sleep. What a bliss!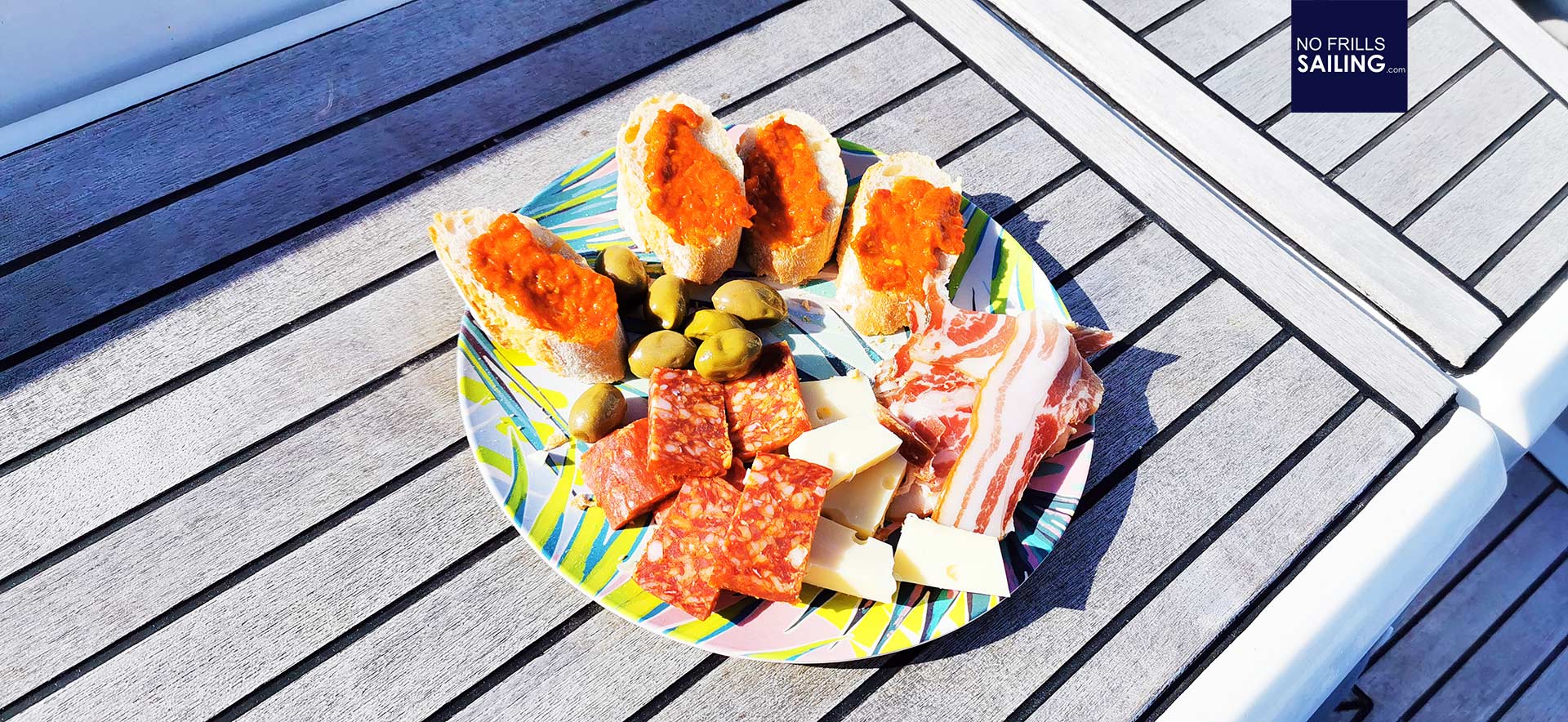 I also enjoyed local food: The Adriatic countries offer a great variety of very tasty stuff. First of all the Ajvar, which is a very yummie red paste that can be used for every dish imaginable. Fresh white bread, olives, local cheese, bacon and fiery red, hot Salami … oh boy. When then, as the cherry on top, the fine smell of freshly brewed coffee came out of the galley into my nostrils, the whole life on dry land, all the sorrow, the worries and hassle of my real life seemed so far away. So unimportant. Far more important on the other hand was the fixing of a loosely hanging VHF antenna: My girlfriend spotted the important piece of equipment hanging at the mast top. So … well, let´s winch her up!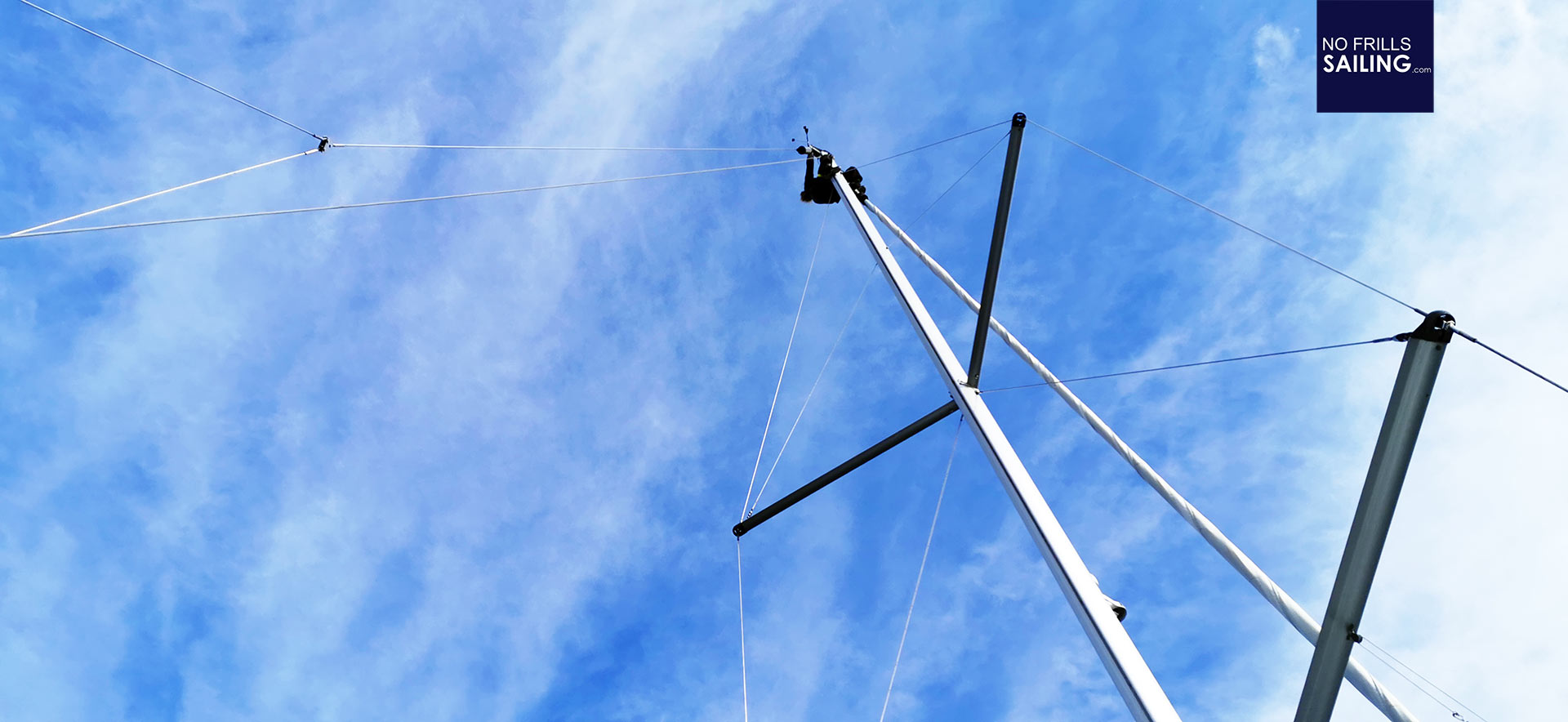 I have been in the mast of 44 and 41 feet yachts and although I do not suffer from Vertigo, I did not quite like it. Well, these boats had been mooring in the harbor. This was now a different thing: Lucky as we were there still wasn´t any wind but a long swell of 0.5 metres made the boat swinging heavily. I winched my partner up, securing her with a second halyard. She did a wonderful job and although fearing the 23 metres up in the top, she pulled it off like a pro and finally securely fitted the vital antenna. I took a deep bow, well done, my lady – hats off!
Wind sets in: Let´s sail!
After 38 miles wind began to get stronger at around 1400, blowing with a steady 13 to 14 knots true and I took out the sails. Seeing the boat carrying canvas again and killing the engine was pure joy and it´s always a very special moment for me when heeling sets in, the murmur and gurgling at the stern takes over and the only thing your ears will hear is the sound of the wind and the humming of the auto pilot. The boat had now passed the Island of Hvar, accompanied by four of five Dolphins which disappeared too fast to take a picture, and although we only sailed at 4-5 knots SOG, it didn´t matter.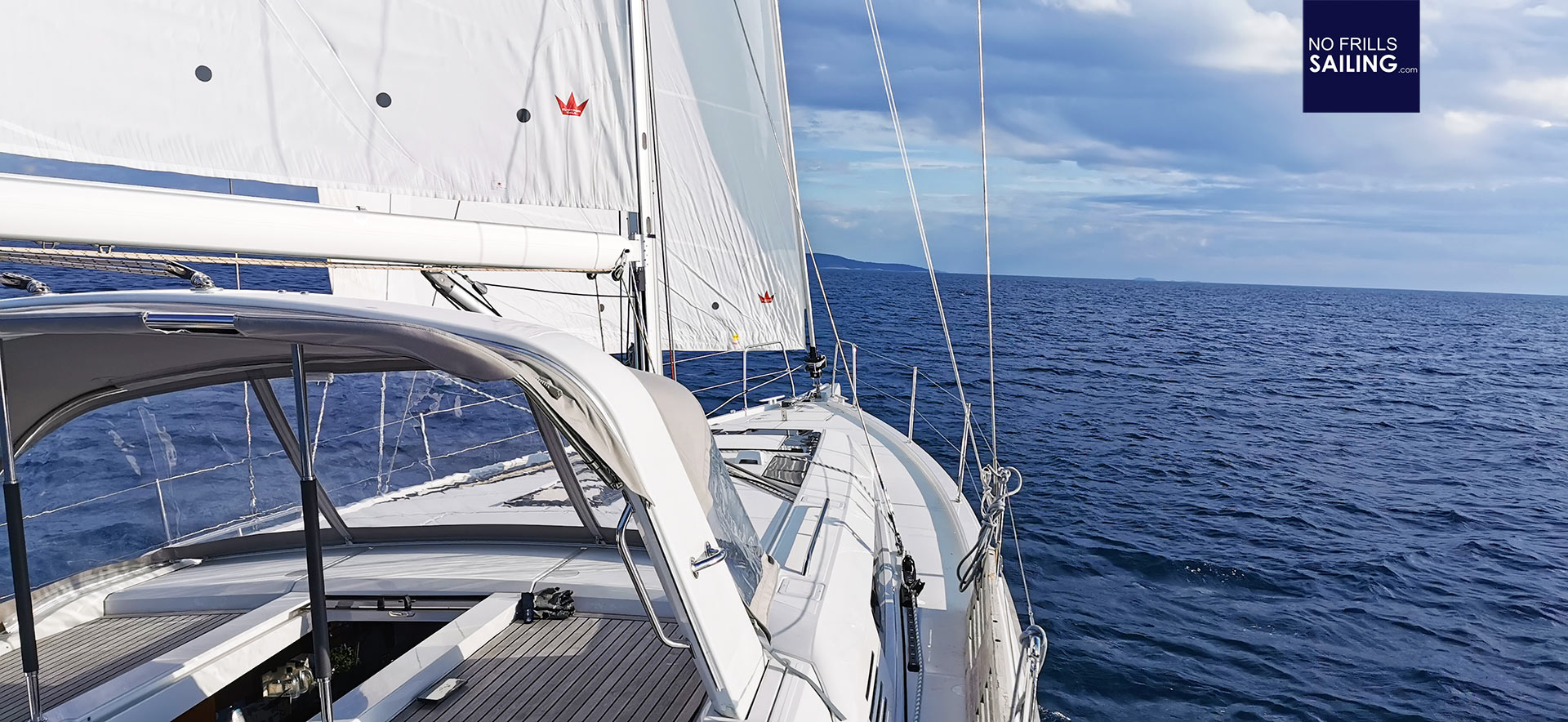 Yes of course, going by engine would have made us 3 knots faster, but for what? "I expect strong winds setting in at 2300", I told my girlfriend: "Until then we can have a soft sailing-start and make good some miles, there will be plenty of motion coming at us during the night anyways." Wind shifted to a cleat North-Westerly as predicted and got stronger at 2100. We began to prepare the boat for night sailing mode.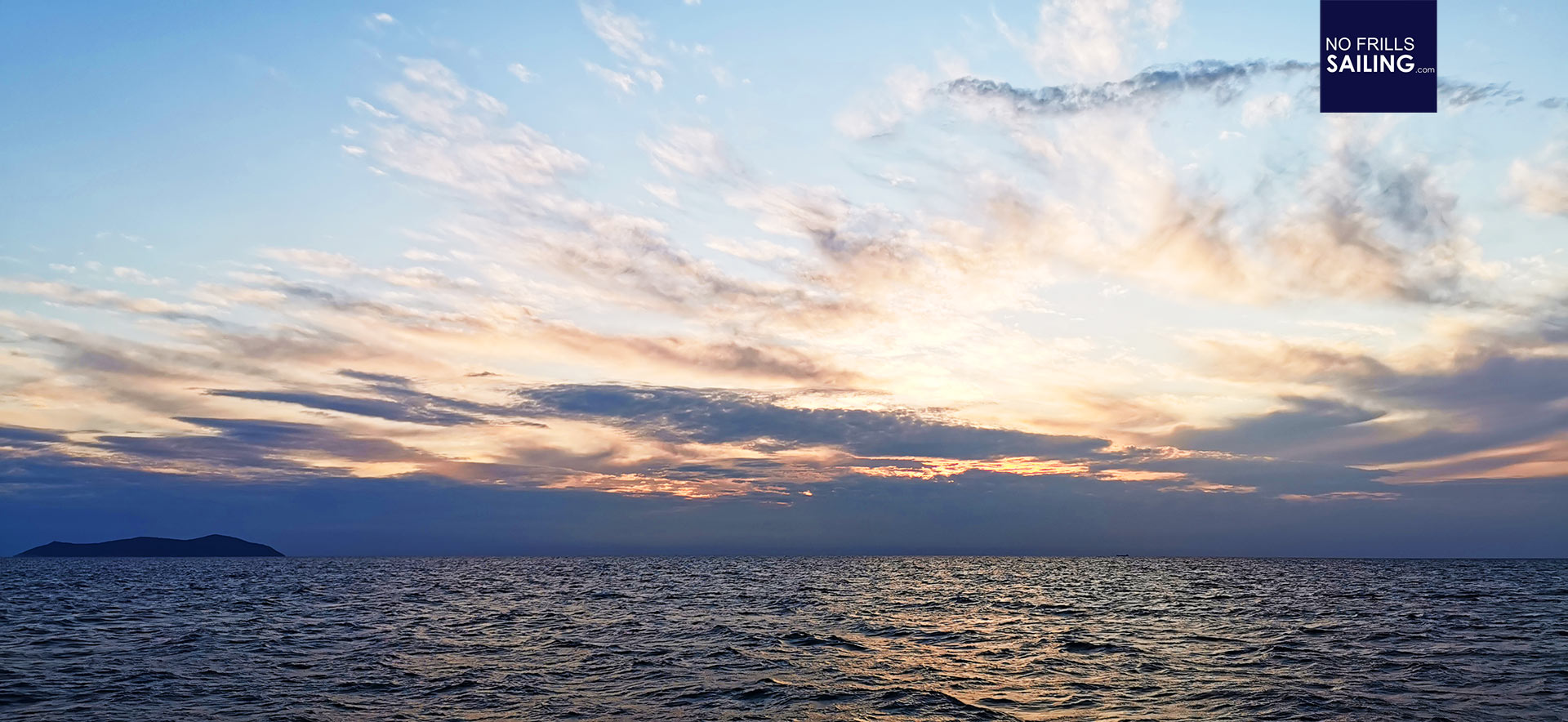 Switching electronic equipment to night-lighting, switching on position lights and readying some hot tea in thermos jugs. Slipping into thermal underwear, adding more socks and even more layers of clothing because we knew that it would get chilly again. Still more than 150 miles to go and a field of strong winds coming at us, the prospect of being cold was one we had to avoid at any cost.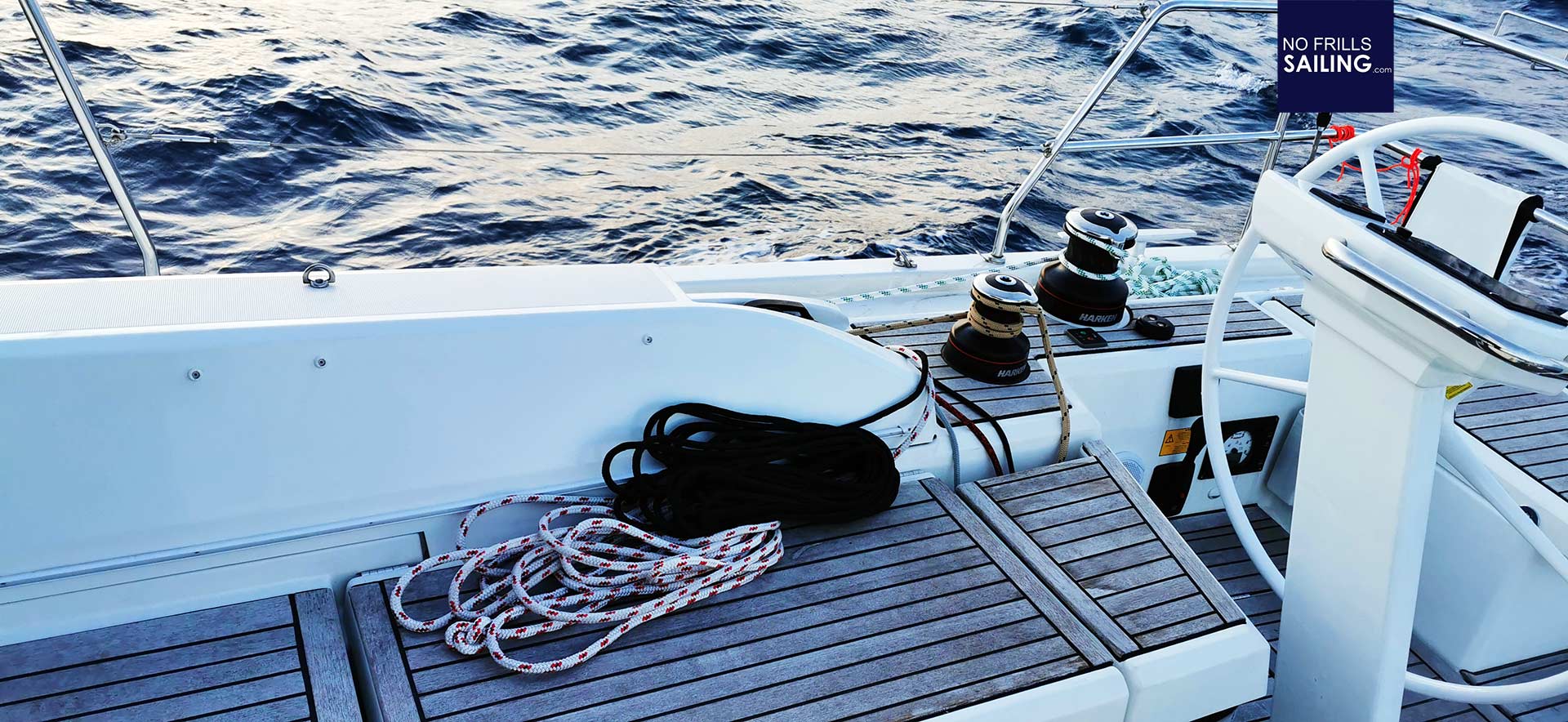 The boat still was in full sails out and since I could not foresee how fast the strong wind will be approaching, I thought it might be a good idea to have everything ready for reefing-action, so I took out all lines needed to reef our main. A wise decision, as we would be learning some hours later. Slowly but surely wind speeds increased. As we´d had the last of the Croatian islands in sight – Lastovo – night set in as the sun went down ever so gently.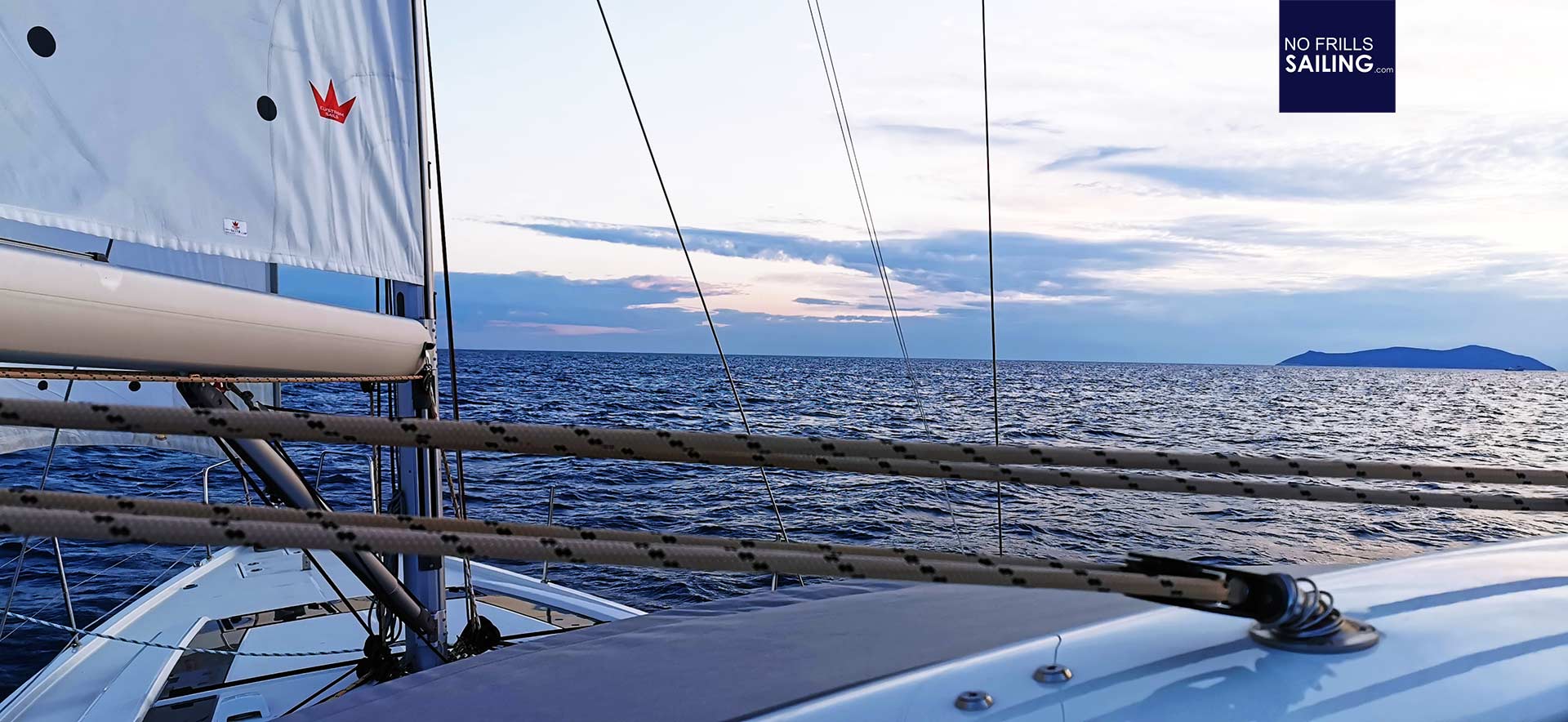 We could see at the horizon right on our starboard sight lightnings flashing and sometimes I felt like hearing the grumble of thunder. This sheet lightning was to accompany us for the whole night and came nearer and nearer until it was nearly over our boat. It wasn´t a proper thunderstorm and we did not experience rain or showers, but having these lightnings striking all the time, lightening up the clouds wasn´t quite a soothing occasion. Now, later, I learned that we never had been in danger. Nevertheless, quite an experience.
Heavy wind night sailing
Temperatures dropped significantly when it became really dark and wind was now at steady 23 knots. I reefed the main sail, which was a wise decision, and took it in completely. The wind was now blowing directly from astern making the mainsail taking away wind pressure from the Genoa. I did not want to steer a reaching point of sail, let´s say on a 120 degrees wind angle which would have made us using both sails because maintaining a southerly course would bring us away from the Bora. I´d prefer 25 knots anytime over the fierce gusts of a full-grown Bora!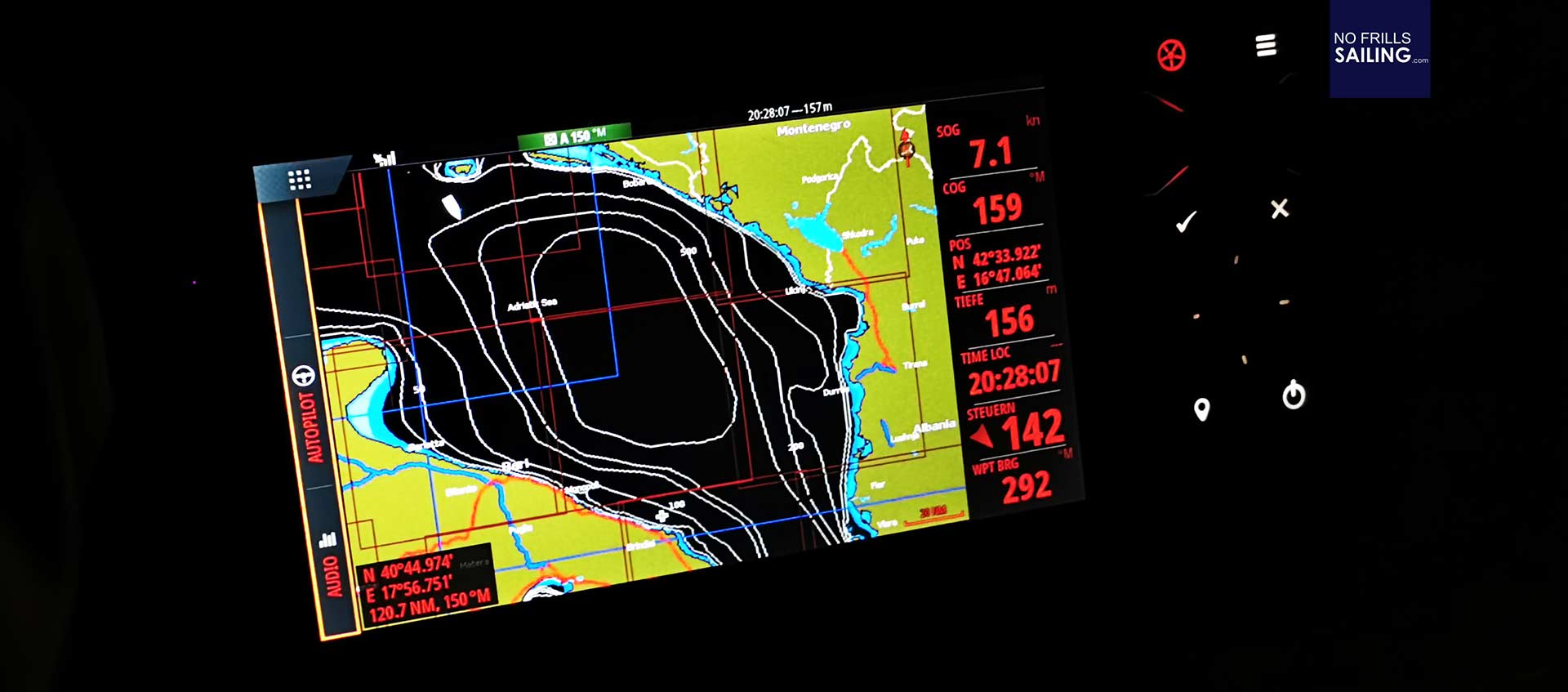 Now in complete darkness, I had one of the plotters always counting down the miles to our destination: Brindisi in Italy. Although the boat was dashing downwind with some 7 to 8 knots (just genoa out), it seemed that our little pixel-boat couldn´t move fast enough. My girl went down to take a nap whilst I cramped myself under the sprayhood, checking course and wind and AIS-signals every 10 minutes or so. Whilst laying on the Teak, I began to admire the starlit sky.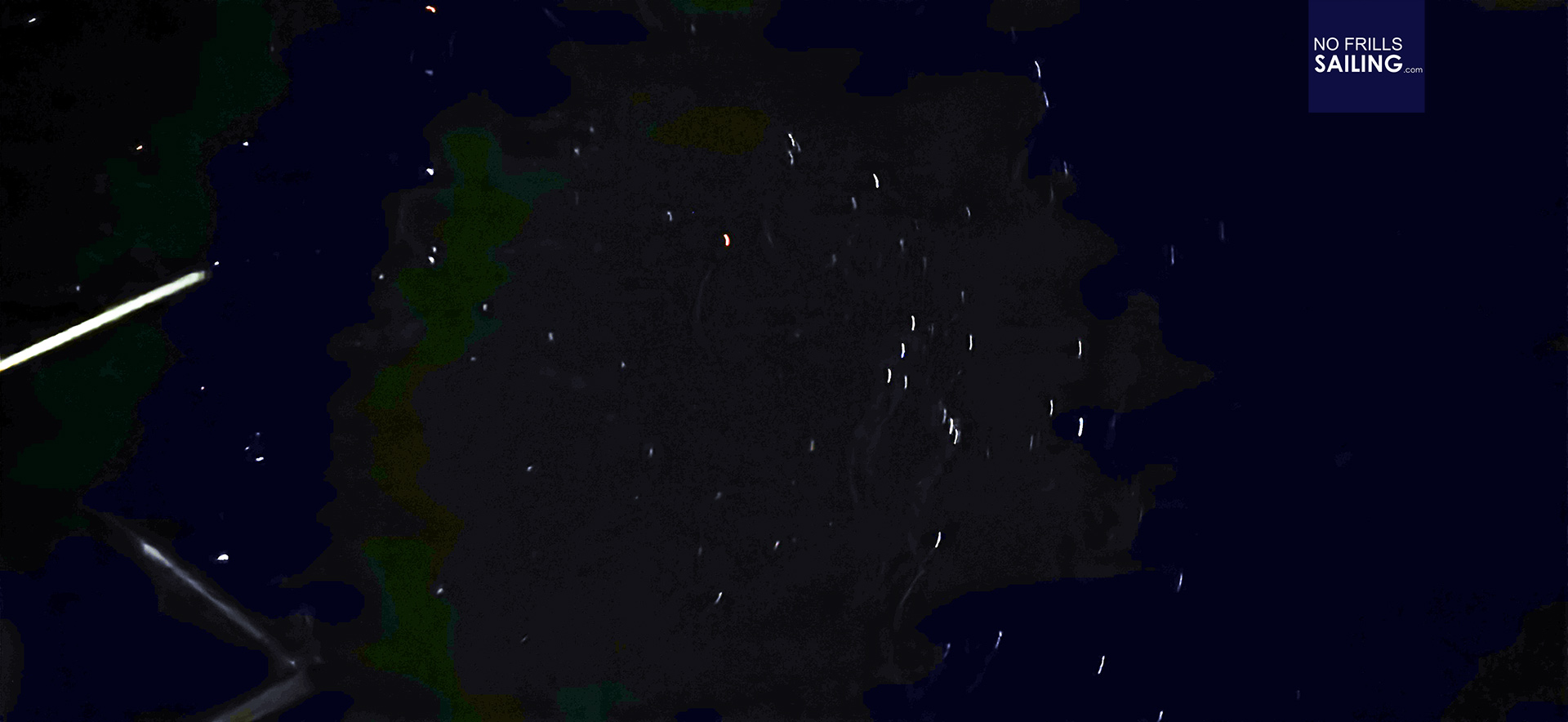 It was so overwhelmingly beautiful! Without any man-made light around us, the stars and the milkyway came out so clearly that I couldn´t take my eyes off of it. I spotted the Plough, Cassiopeia and of course the favourite one, Orion. Taking a picture of Orion (with my Huawei P30 pro smartphone) and checking it, I was delighted to see Belegeuse in clear red color (will it go Supernova?) and saving at least some of the delightful view on the stars that night.
Ever building seas
The night went by without any noteworthy events. Sheet lightning in the South, winds steady at 22 to 25 knots. The boat dashed downwind under Genoa and everything went just fine – except for the waves. With a fetch that now was the whole depth of the Adriatic, the seas kept building and growing. When the sun was up and immersing the Ocean and our boat in rich yellow and red colors, we had 2 metres and counting. Now the effect of surfing down the waves set in, sometings propelling the Oceanis to 9 knots and more.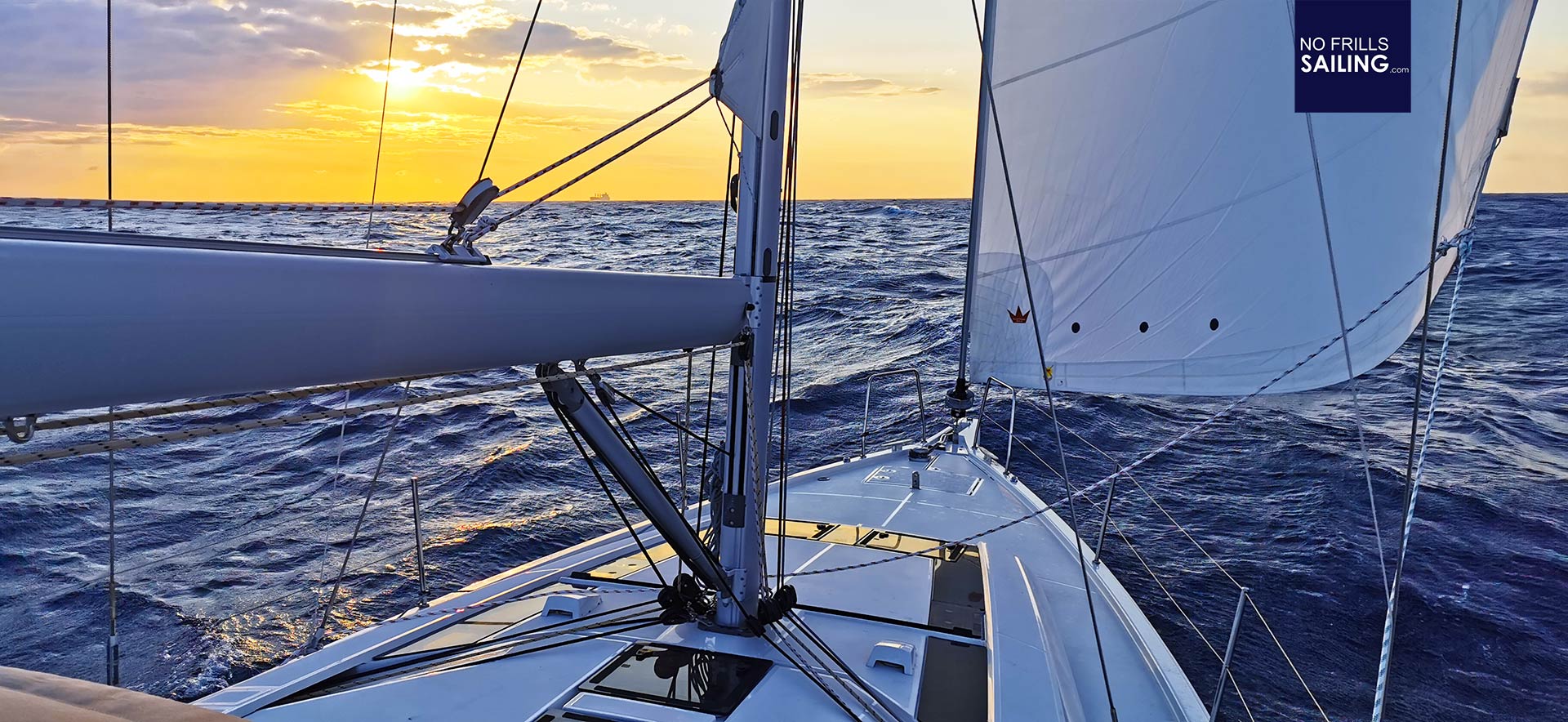 There was no need to worry: Apparently the weather forecast had been wrong as the wind did not increase to over 30 knots as predicted but, according to my log, calmed down to 22-23 knots true at 0700 in the morning. We were tired, both. During the night we had some kind of watch, but without a system. I remember going down to try to take a nape two or three times, my partner did the same. Of course, I could not find a real sleep so that we both again snuggled on the Teak under the sprayhood to enjoy the warmth of the morning sun.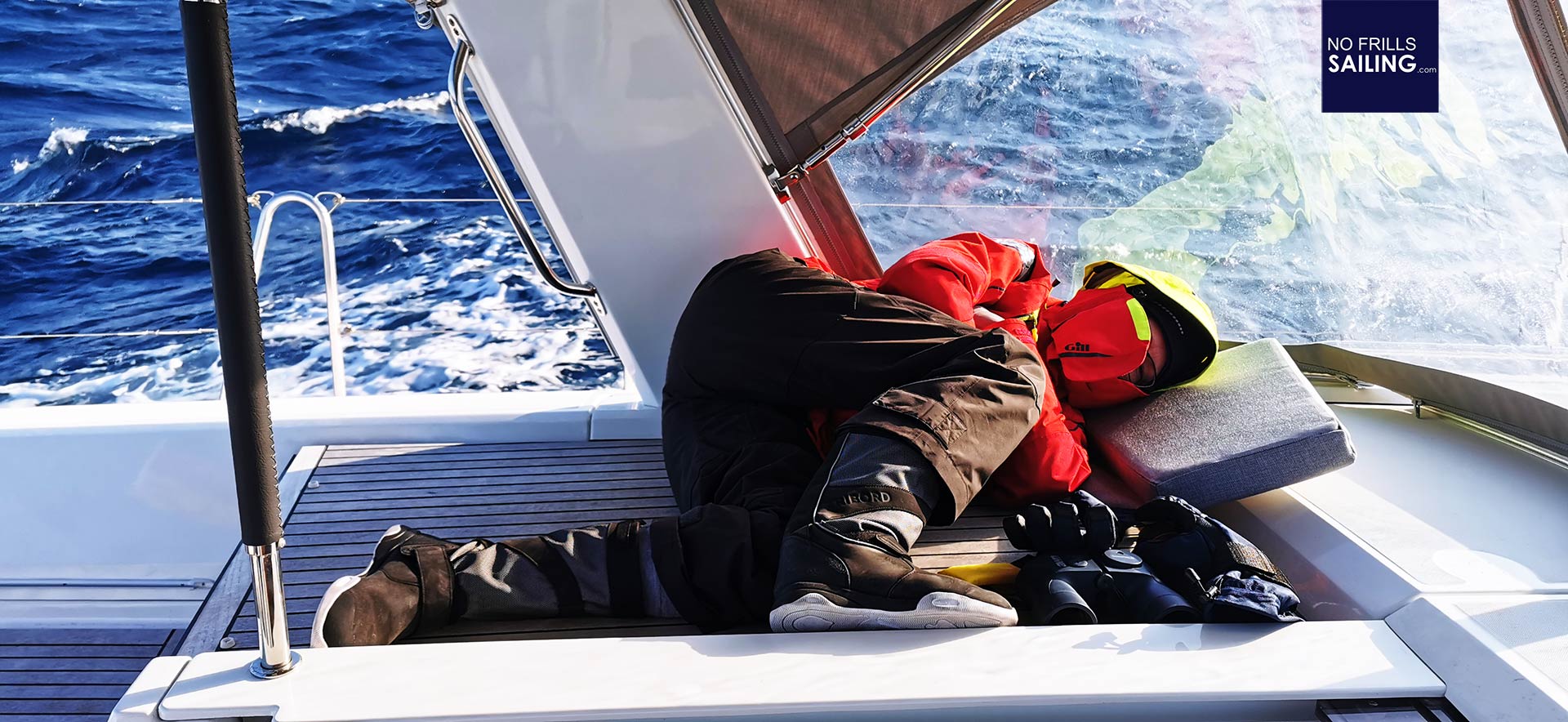 At 0700 that day the log stops. Still more than 50 miles away from Brindisi, the stress began. Waves were now coming in at 4 metres steady with occasional big breakers. Wind suddenly increased to 30 knots – the wind field! Lots of hours later than expected, but here it came! Huge waves from behind, wild surfs downhill and big motion in the boat. Still we both did not sense any insecurity or mistrust in the boat´s capabilities, but somehow I stopped taking notes.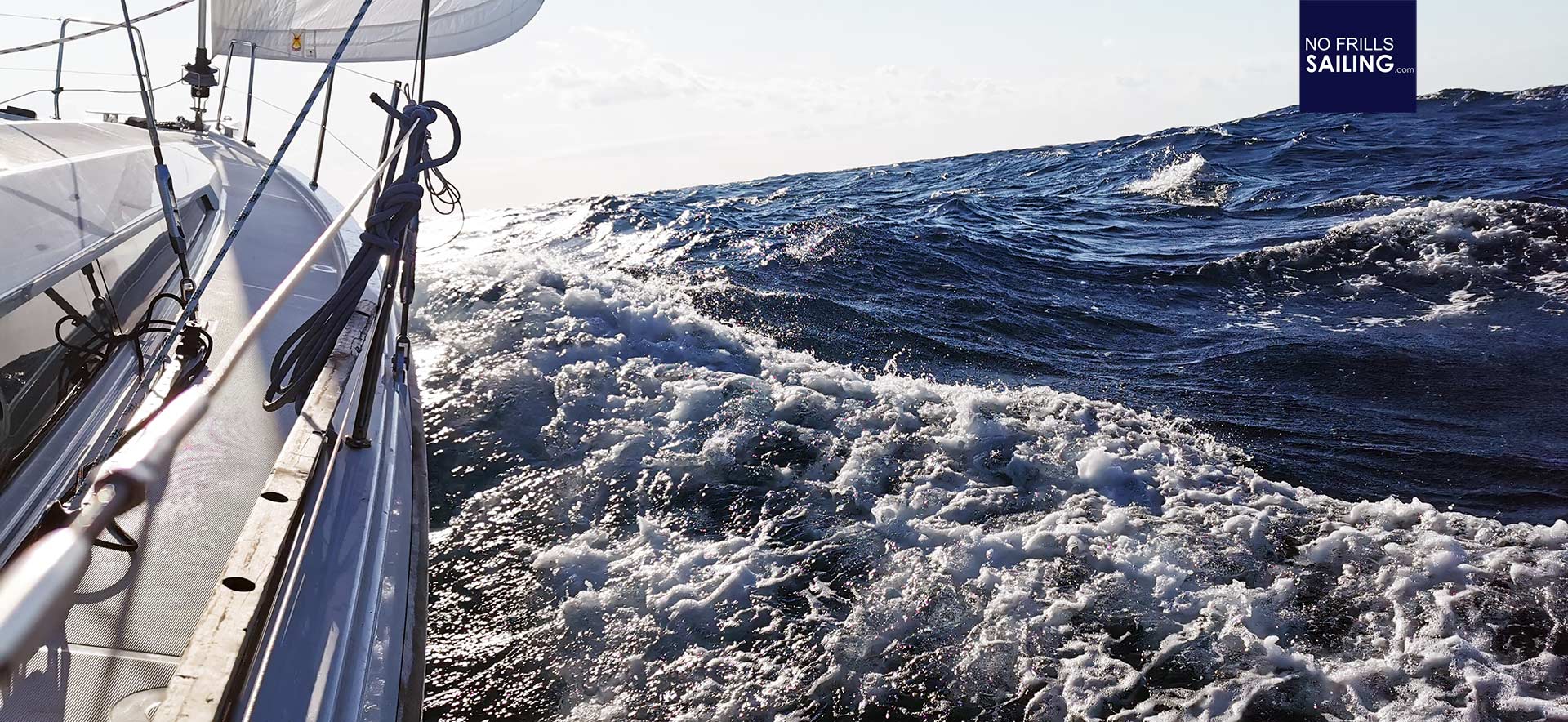 I do not know or remember exactly as to why, but apparently I couldn´t leave the cockpit since then. I did have two or three "Lost AutoPilot Controller"-events during the night which now appeared more often. Both plotters would sound an alarm, auto pilot ceased to steer the boat. If this was to happen with rudders not aligned to the boat´s direction, it quickly meant broaching – which wasn´t funny anymore in these high waves. So, since I couldn´t find a reason for the auto pilot´s occasional dropouts, the only thing I could do was to wait for the next and try to jump as quickly as possible to my feet to steer by hand and re-engage the AP.
Heavy winds up to 35 knots
And it was good I did so because wind grew ever more! As we approached the line of Bari, our phones picked up connection and my partner downloaded the last weather reports: "Oh, good news!", she screamed up against the roaring winds: "When we arrive at Brindisi, there will be the height of the windfield with over 30 knots steady." Oh my …
After two more auto pilot-events and some really steep waves breaking directly astern, annulling the boat and causing it to broach, I placed myself right behind the steering wheel because I felt that even the 3 metres from sprayhood to the wheel was now too long for a proper reaction. "Why don´t you reef?", my girfriend was asking. I told her that we needed the speed and that being slower would increase the risk of being overturned by the waves, causing more broaching events. She had a different opinion, but I did not react. I really wanted to race down to Brindisi as quickly as possible not risking being out here with potentially higher waves or even more wind.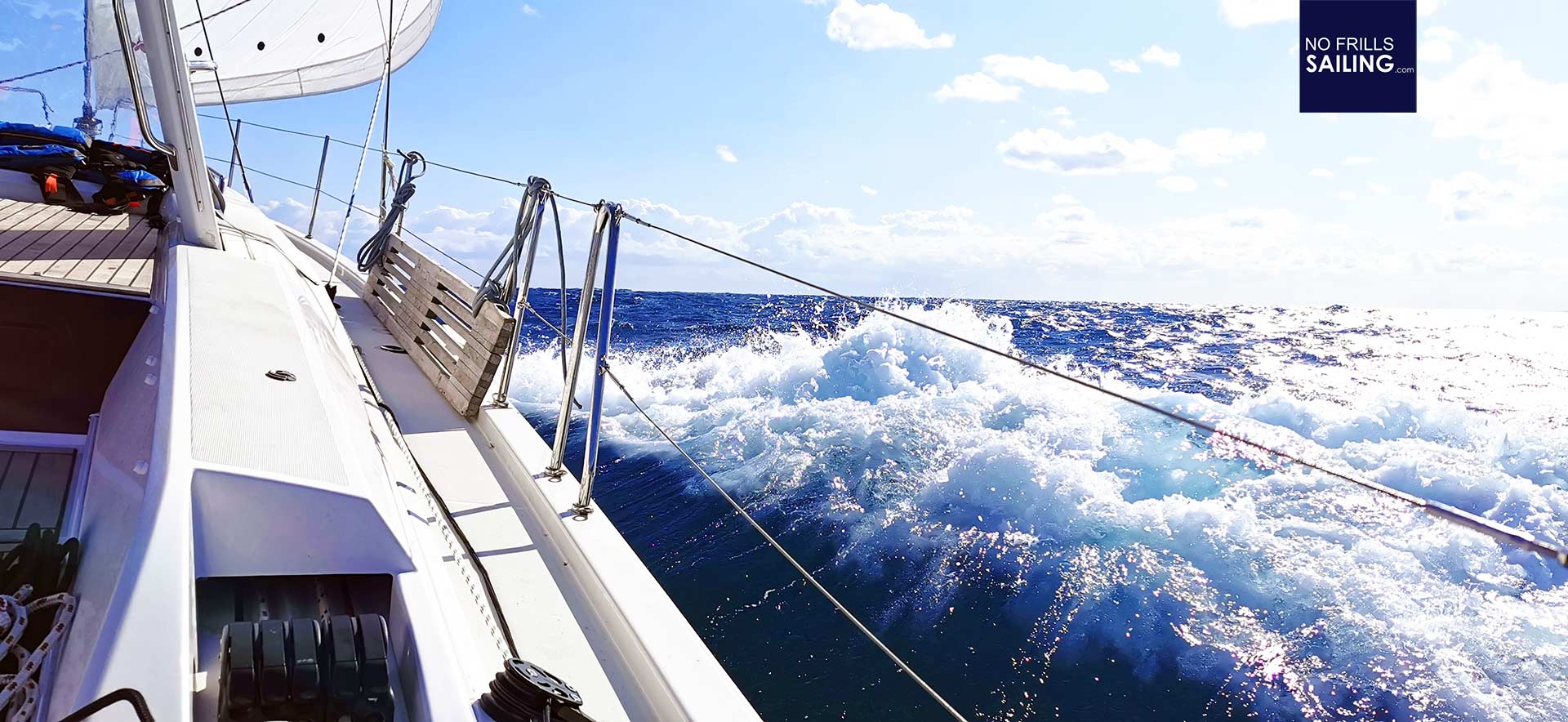 The boat was mastering it with flying colors. I never had the feeling that the hull was inappropriate for these conditions. Sure, the auto pilot had this glitch and I found out that there wasn´t any "fast mode" available because there hadn´t been a proper programming, but all in all she was taking it on bravely and superbly: The Oceanis 46.1 is a true blue water boat and can take severe weather, I now know that. On the other hand: For no money in the world I would have switched to a smaller platform in these weather conditions!
"Brindisi in sight!", I yelled when I saw the first chimney of the port, half an hour later some cranes and structures. My girl was pissed and she did let me feel it. Right now winds were at 35 knots and waves well around 4 to 6 metres, the sea was a boiling, deep blue mayhem. After two more serious broaches I switched on the engine, put the lever to 2.500 revolutions and finally reefed the Genoa: Not to appeal my girlfriend (well, kind of), but because I thought that especially when a wave was "overtaking" the boat it might be clever to have some push by the propeller. It worked, the boat felt more stable and no more broaches occurred.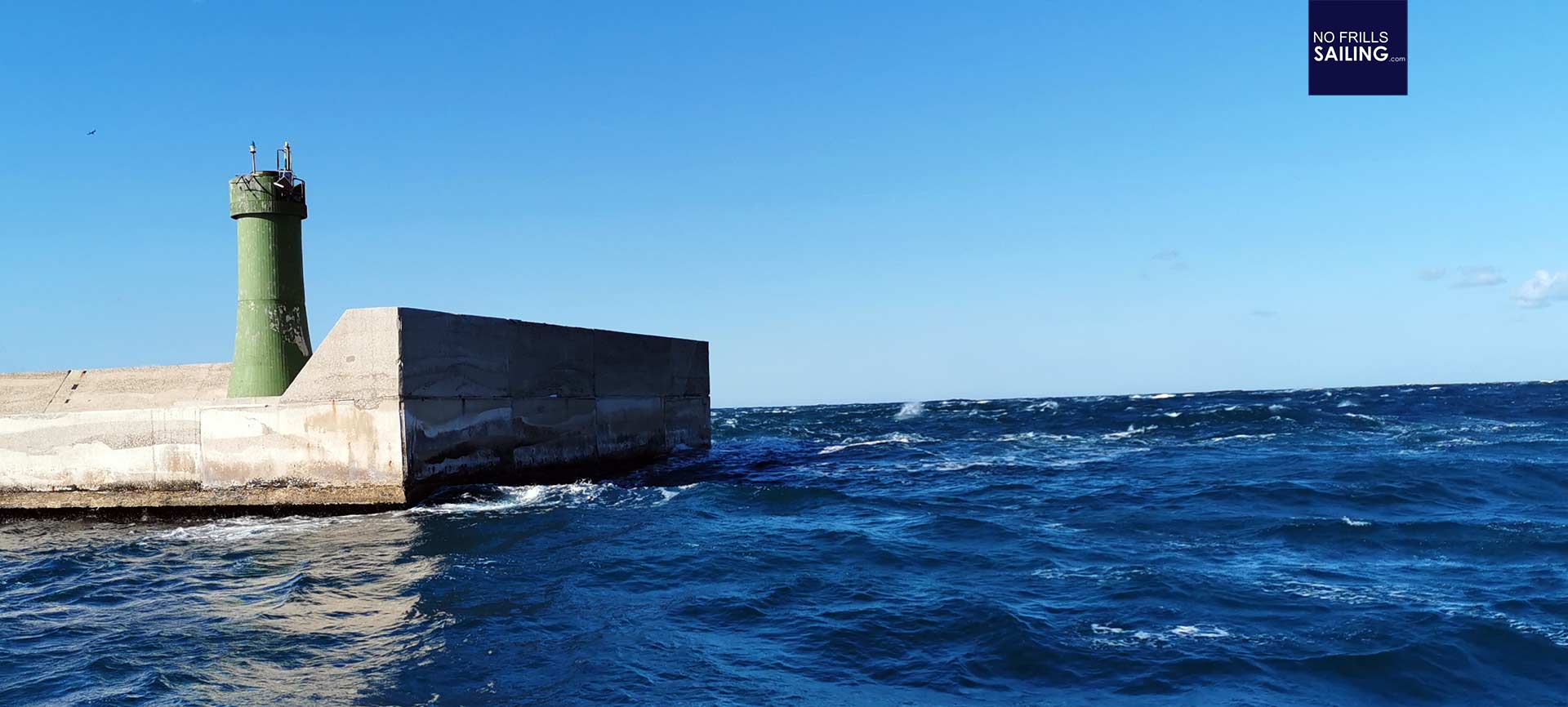 I set to almost full throttle when we dashed passed the breakwater. For 5 minutes or so my heartbeat was at 200 because this manoeuvre wasn´t easy nor was it quite hazard-free: I had to pass a moment when our yacht would be surfing down a wave, lay hard rudder to starboard and be in the wave-shadow of the breakwater before a new wave would catch the hull full broadside: I really did not want to test how the hull would react to a 6 metre-wave breaking alongside. Boldly turning the wheel and dashing in between two waves into the harbor, I´ve made it and we suddenly moaned as the heavy motion of the boat stopped. But only seconds later we learned that one thing did not stop here: The strong wind!
Safe harbor?
Well, problems didn´t go away: I knew that Brindisi had basically two marinas. One, the big one, outside South of the airport. Looking at aerial images I reckoned that this would be the best place to go to in terms of wide open pontoons and enough berths to tie up the boat. On the other hand, the marina was situated prone right to the open winds, no shadow zones, bare pure power of the windforce. The other marina, some mile upriver in the City, maybe in a wind shadow, but much, much smaller. "Let´s take a look at the big marina first", I said and we readied the boat with fenders and lines.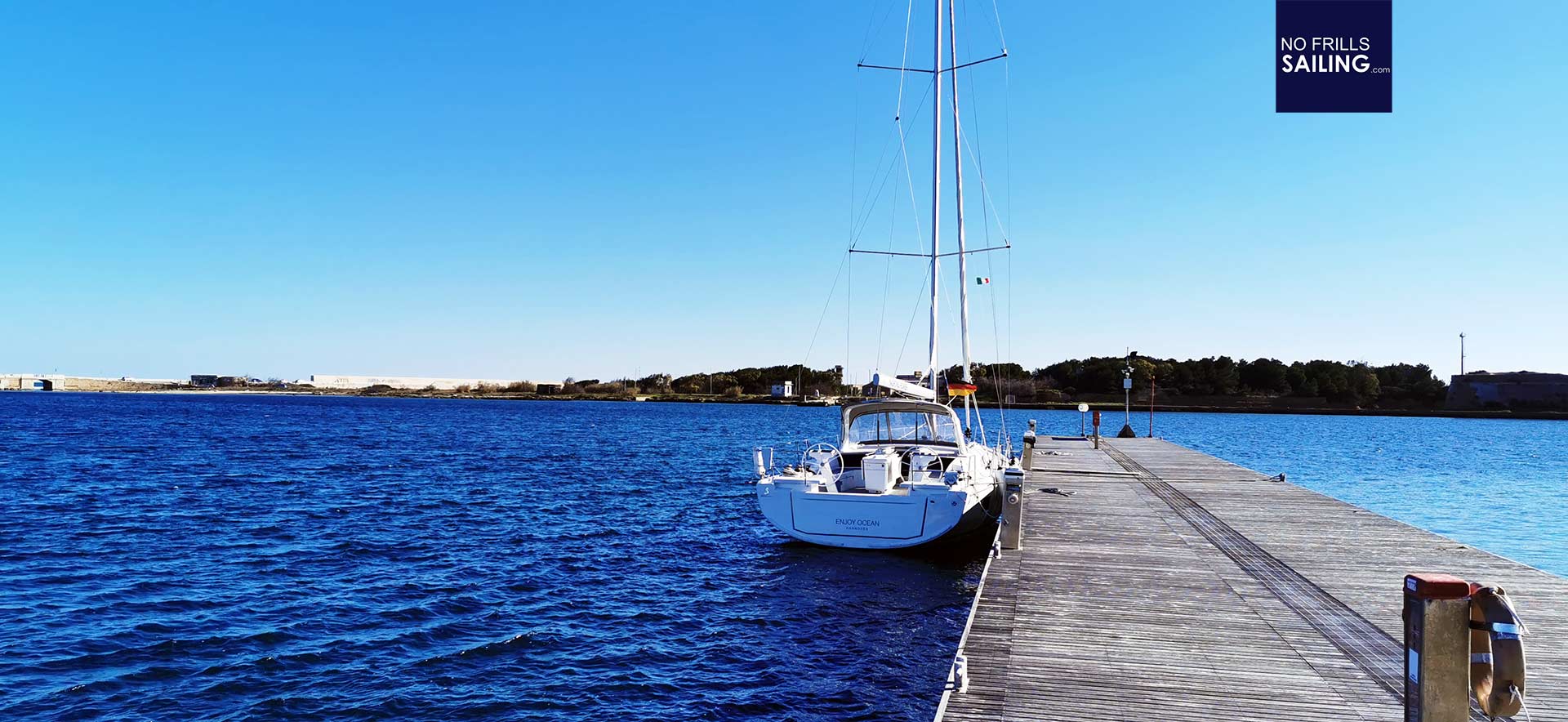 I couldn´t resist the impulse: There was an empty pontoon, our starboard side full of fenders. Still having 30 knots flat out Force 8 winds in harbor, I turned the boat and had her drifting gently to the pontoon. What might have been a good idea in moderate winds, was a catastrophe under these conditions: The sheer power of the storm simply made the boat heel towards the pontoon immediately. After having her tied up we realized that it was so stupid to moor to windward: Fenders pushed to their limits, her coamings impending to flounder under the pontoon. Shit!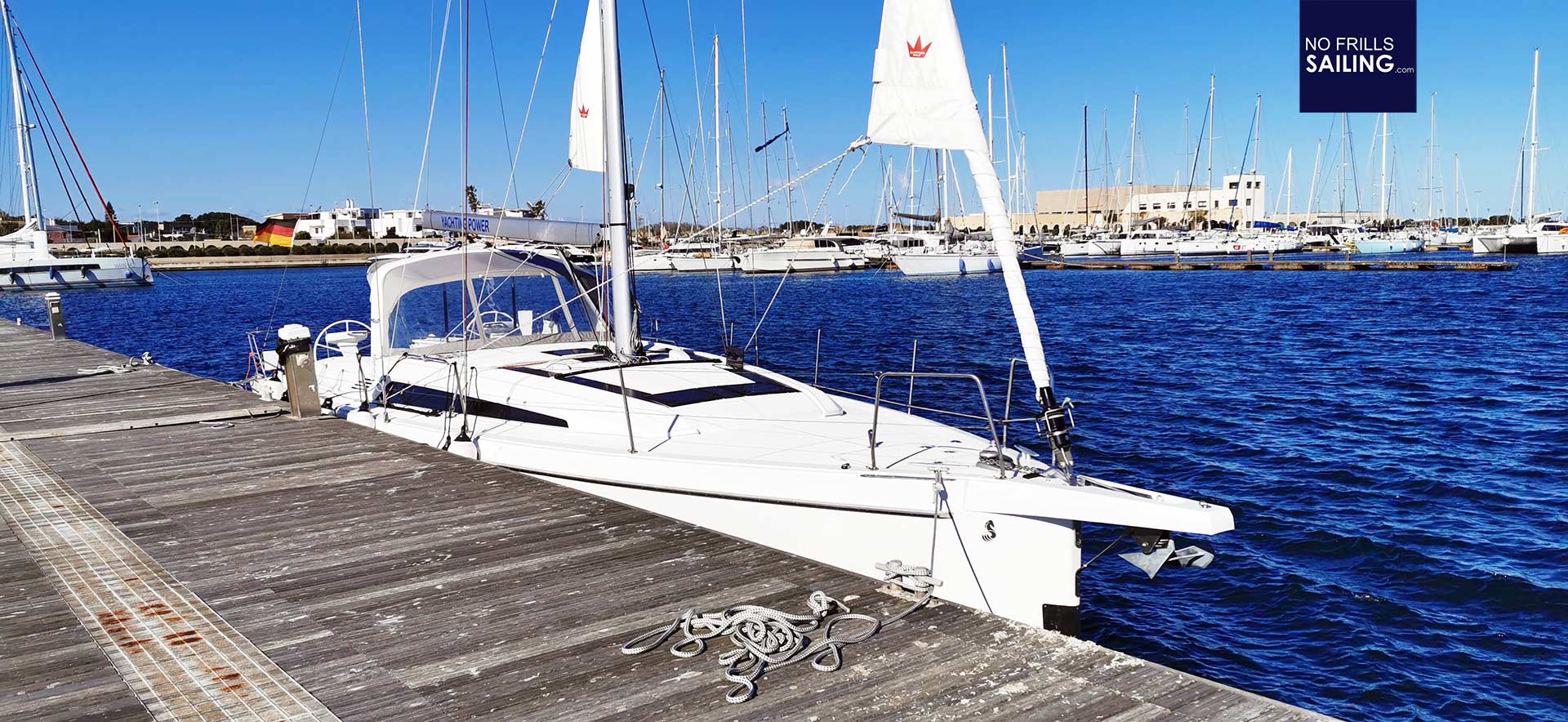 As night set in and still no easing of wind in sight, we fought hard to secure the boat. It was simply impossible to push her away from the pontoon to stuff more fenders between the boat and the jetty. Even full throttle, much less the bow thruster, had enough power to push her away against the wind. I couldn´t sleep the whole night, getting up every 2 hours or so, checking fenders and re-adjusting lines. At midnight – at last! – wind dropped to 12 knots and I finally could find some sleep.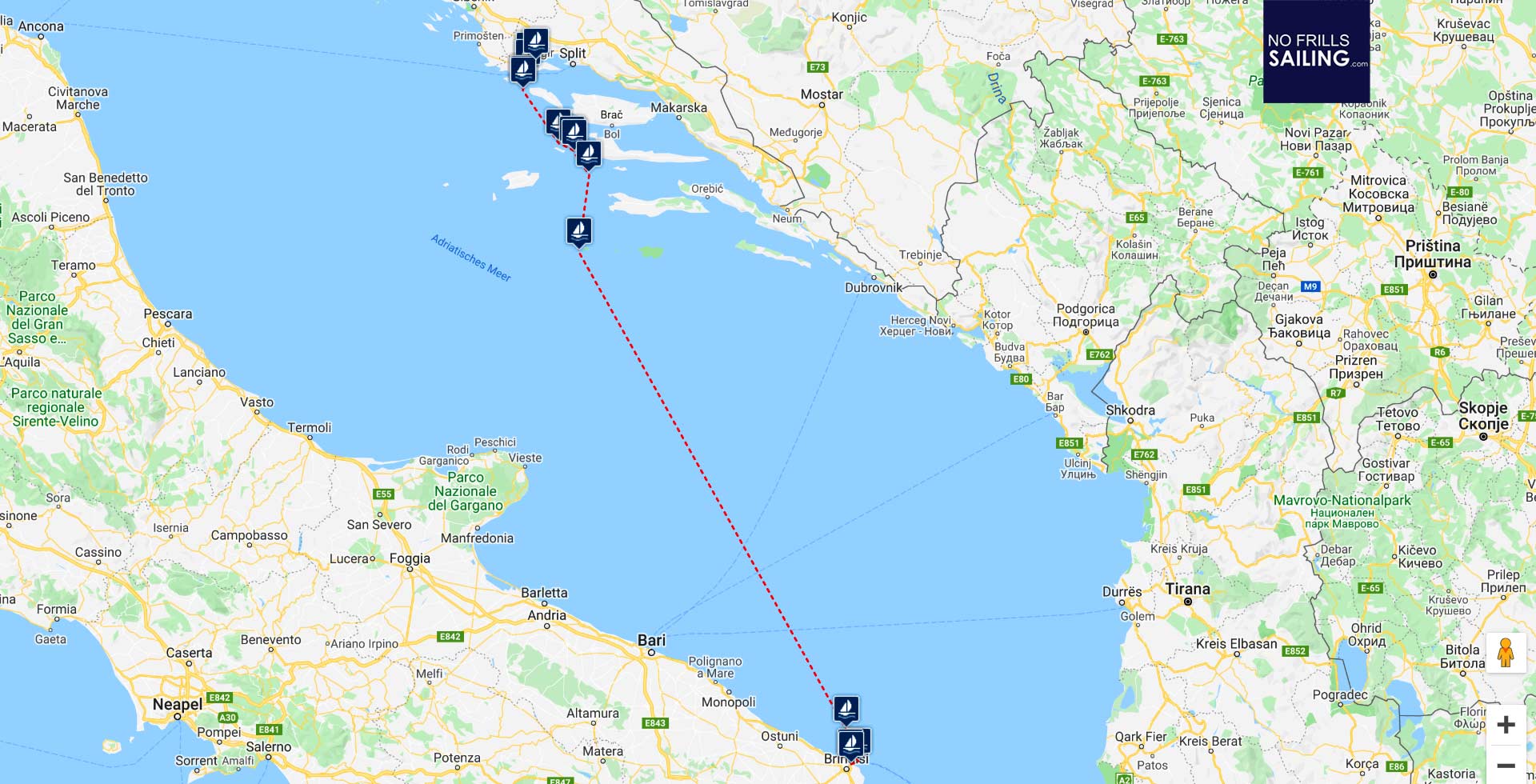 Well, this first leg had been a great adventure: 198 miles in 29 hours. Such a soft start and such a rough end! The night in Brindisi was sheer horror, I was in pain for the boat and always fearing that a fender might give way to the brute force of the wind, damaging the boat. I learned that in storm-force winds you shall never bring your boat alongside to windward! And – no matter how exhausted you might feel – you should give in to the first opportunity without having checked the alternatives. "1430 – at last, tied up in Brindisi", my logbook closes, withholding the dramatic hours of the coming night. I had learned a lot about sailing, weather and landing that day – when I finally drifted away into a sterile, dreamless sleep.
You may browse all Adriatic Sailing-articles by clicking on the hashtag #adriaticsailing
Interesting related articles:
My first foul weather sailing trip on a Beneteau First 30R
Good books on heavy weather sailing
Sailing Skills: Gennaker