The first part of this Oceanis 46.1 transfer cruise can be read here. After arriving to the Gieselau canal, which is a junction off of Kiel Canal we had to tie up the boat: Kiel Canal traffic rules prohibit pleasure craft to traverse the area after sunset. Being in early November that sunset is due to arrive at half past four p.m. so we found ourselves at ease pretty early. Time well spent, because the coming day we would be entering the mighty River Elbe which boats strong tidal currents. For me a reason to plan ahead well the coming day.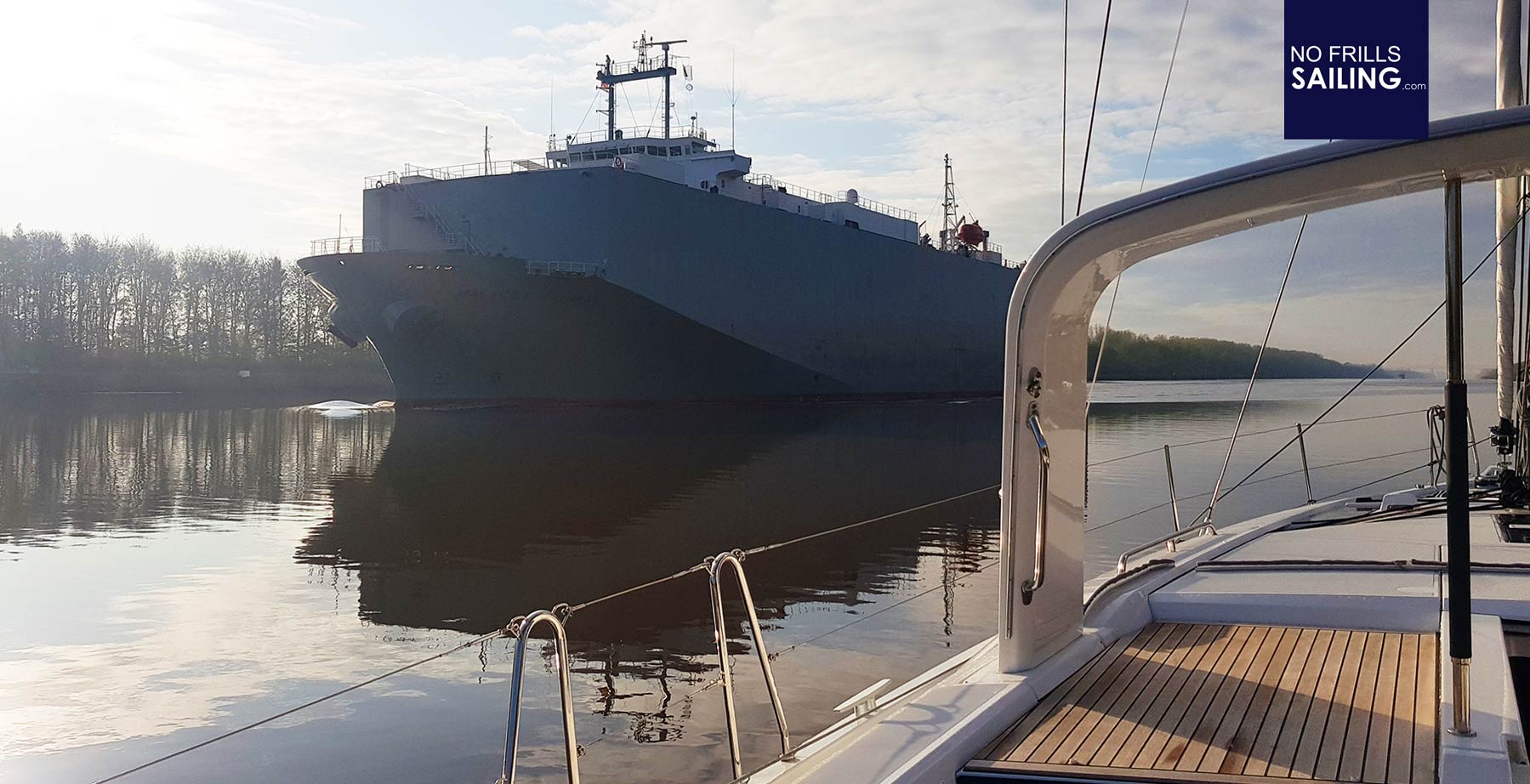 Enjoying a nice dinner be checked for the tides. Going out of Kiel Canal to the North Sea means to have an exact timing with the fall of the tide. Currents of Elbe can speed up to 4.5 knots which makes it ridiculously hard for a yacht to steam against the current. Even with the bigger engine on our Beneteau Oceanis 46.1 (80 horse power) that would cut top speed from 7 down to 3.5 knots. Stupid! Checking the tidal calendar revealed that falling tide would arrive no sooner than noon so we were in no hustle to get up early. Casting off at 0800 was sufficient enough for the last 20 or so miles down to the Elbe locks.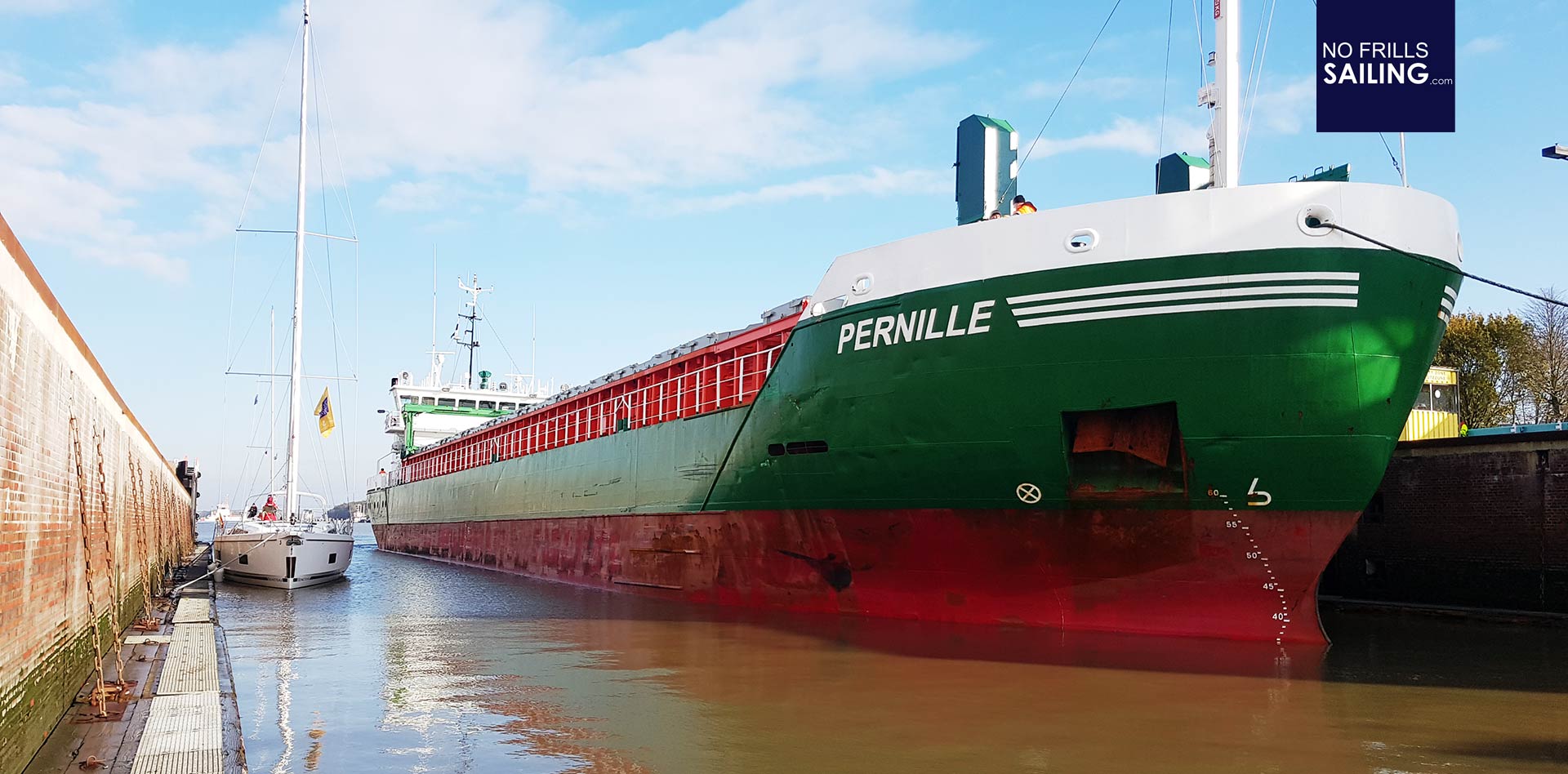 That morning was a real harbinger of the coming winter: Moist, cold air with condensing breath, I was shivering up in the cockpit. So we went down and added another two layers of clothing which made things a little bit more bearable. I noted to myself that during the coming day – when we were going to be really out at sea, I would have to be dressing up like a Matrjoshka in oder to stay warm. Brunsbuettel locks was a no-brainer sailing-wise: You just register via VHF to the lock master who ordered us in some 40 minutes after arrival. With us a Varianta 38 that was bound to the Netherlands and a small-sized commercial vessel went out. Doors opened and here we were: River Elbe had me back again.
Sailing with the tides: Elbe to Cuxhaven
Leaving Kiel Canal meant a change in habits aboard too: During the 50 mile-cruise of the inshore waterway safety was a bit lusher aboard, meaning that we didn´t really stowed away lines and fenders and we also didn´t wore life jackets (LINK). Without question it was common sense for my partner an myself to switch back to full offshore safety mode.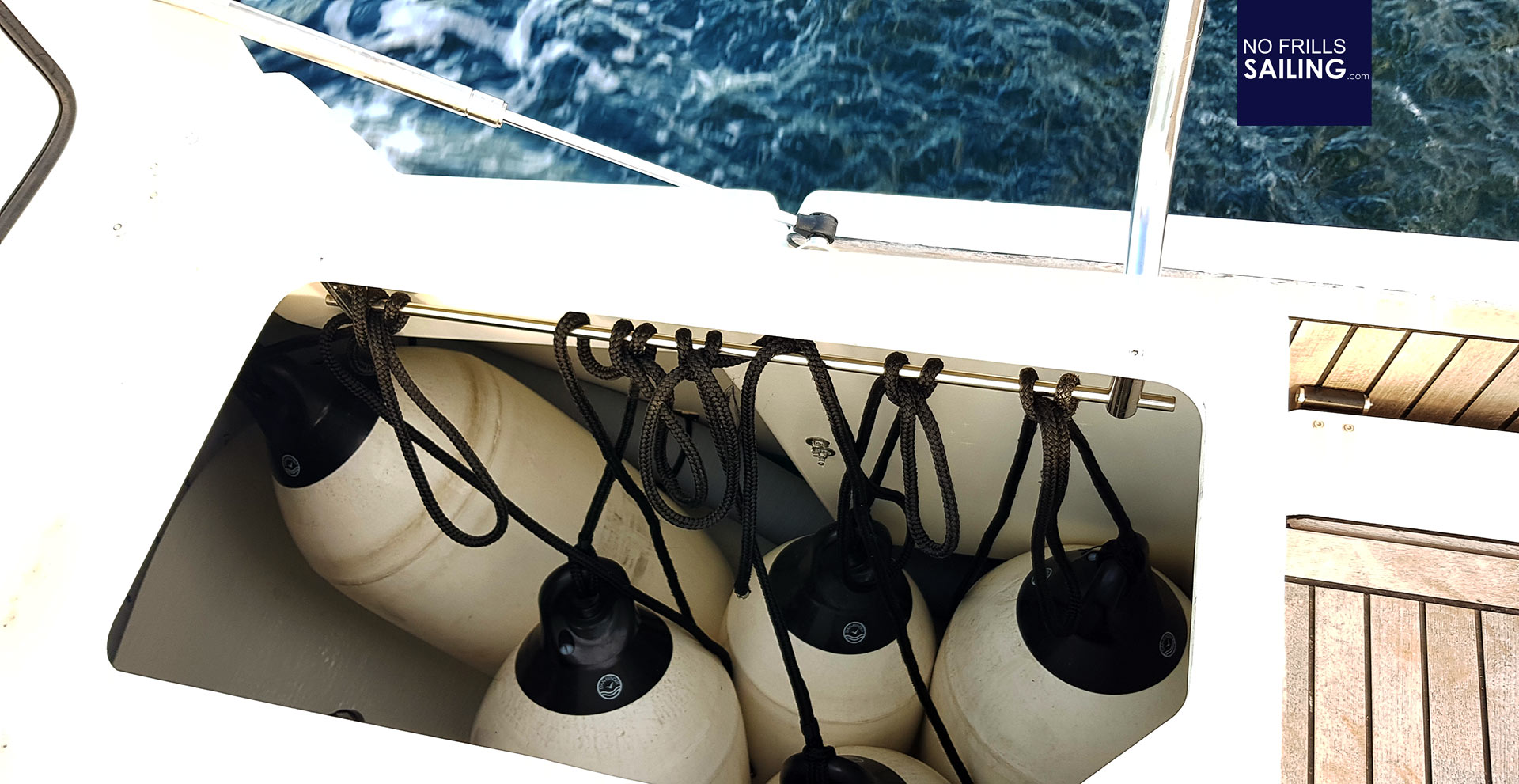 In this, the Oceanis 46.1 proofed to be a great thought-through boat as well: Take the fenders. At starboard side under the helmsman´s seat is a large fender-locker where all 6 big bumpers find enough room to be stowed away safely. There´s even a stainless steel installation (no option, that´s standard) to tie up the fender´s lines: Safe, convenient and fast. When taking out the fenders the poor crew member doing the job doesn´t have to climb down to the oily wet bottom of the lazarette in order to catch the fenders. Nice!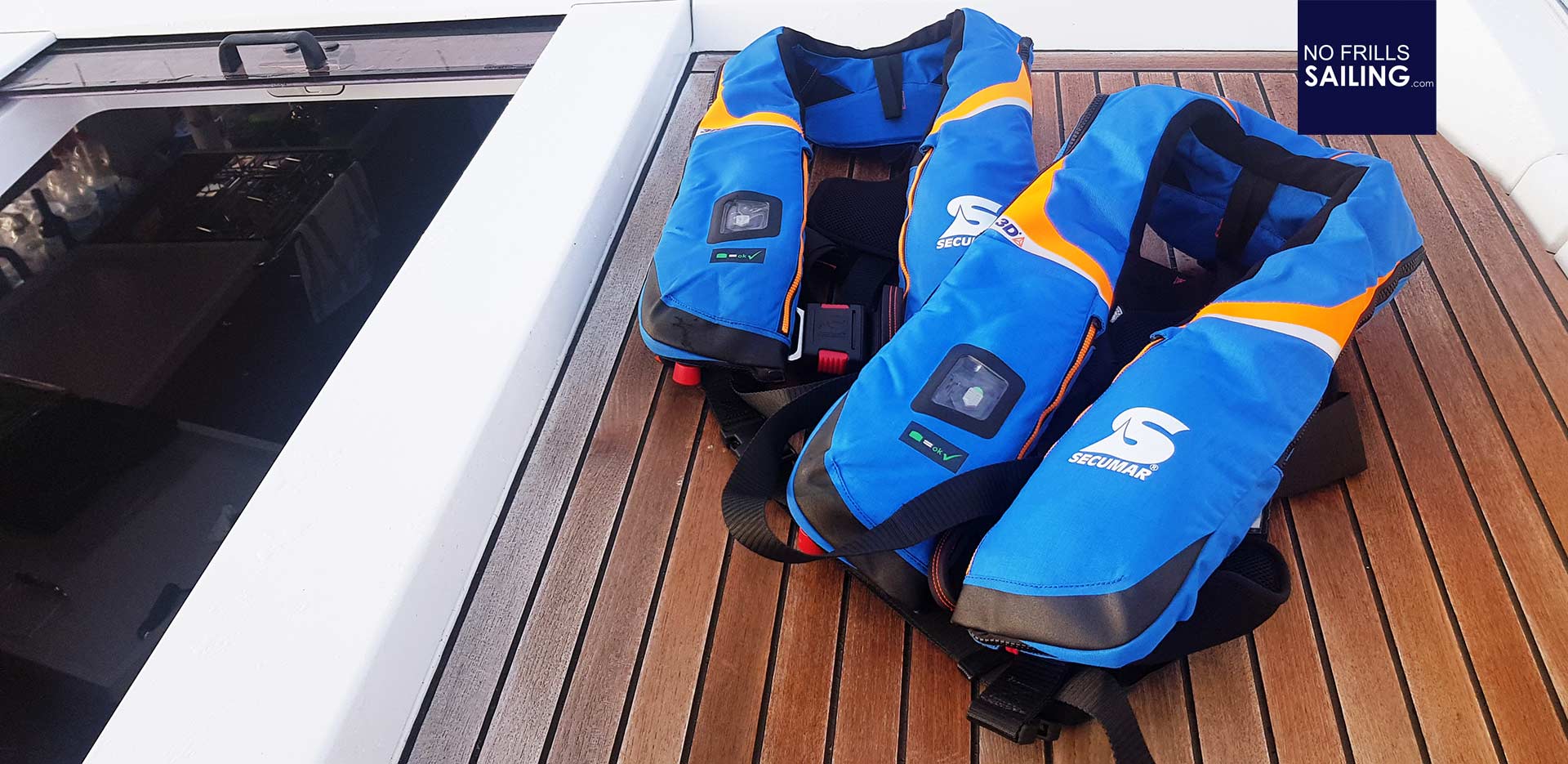 When it comes to safety, you know me as a skipper, I do not do compromises. I consider Secumar life jackets among the best available, which is lengthy discussed in one of my early articles about German-made high quality products. For this trip I chose the pro-jacket "Scout" which indeed is a bit expensive (around 540 Euros) but fail-safe and the right choice for a stormy offshore ride.
Couple sailing a 46-footer
Another interesting aspect of sailing this 46 feet cruiser on this trip was to find out whether such a large yacht is really "couple proof" as advertised by the boating industry. Personally I would say that for coastal cruising with occasional offshore passages 42 to 44 feet is more than enough for a couple. That´s a nice size offering large internal volumes and a big-enough hull to generate decent speeds. For sailing in the Baltic Sea with all those small nice marinas 40 feet may be the maximum. But, when it comes to real long trips or even circumnavigations yachts between 46 and 55 feet are commonly accepted to be the most suitable size for the sailing couple. But can a couple really operate such a big boat safely and competent?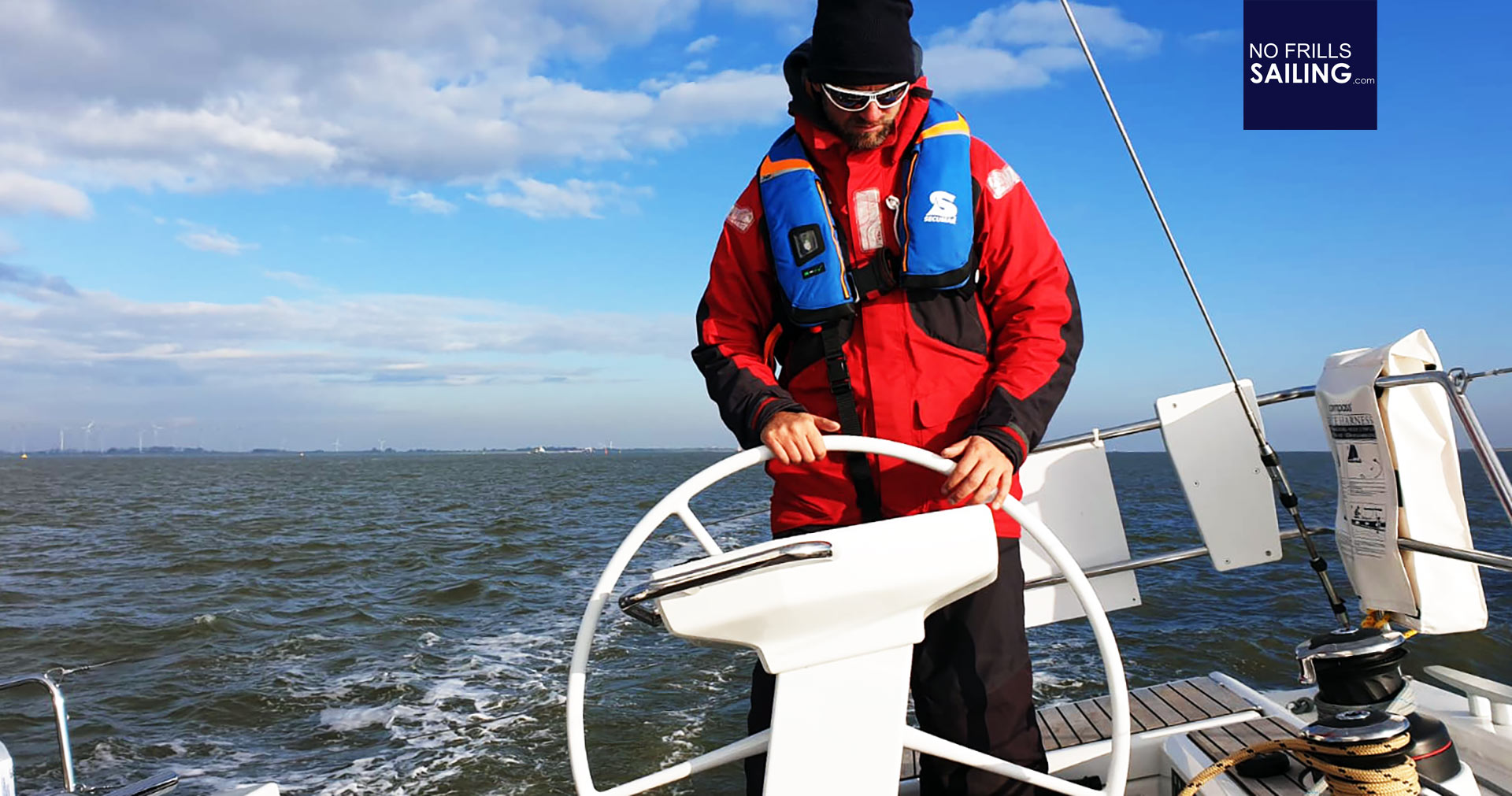 Yes, it can! First of all, the new Oceanis 46.1 is designed to be sailed single handed: All running rigging is lead aft to the primary and Genoa winches just comfortably reachable by the helmsman. On "my" Oceanis both genoa winches have been selected to be electric, which made working both the main and Genoa sails a child´s play. Even easier with an in-mast furling mainsail, the only downside being a poor upwind performance of the standard Dacron sails (much better performance when you choose battened DCX-laminate sails instead!). Working and trimming the sails is a no-brainer indeed.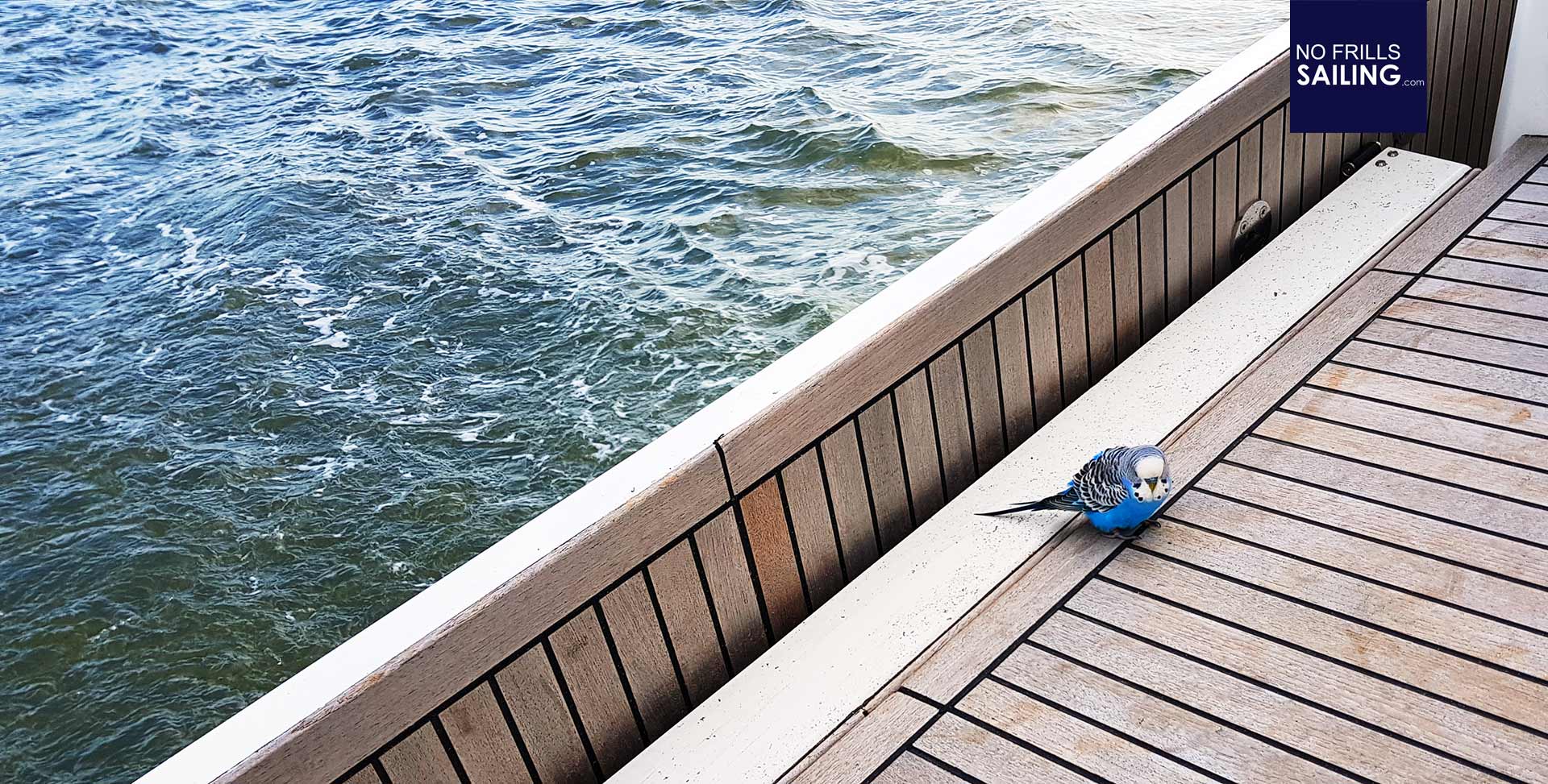 With autopilot engaged – an option that must not be skipped on boats going out to sea – a boat the size of the 46.1 and even larger can easily be run by one single person. The second hands are needed for manoeuvres like landing and casting off. Perfect setup for the sailing couple – which we tested tediously throughout the whole trip. My partner is a dedicated sailor but was aboard such a yacht for the first time: She perfectly well handled the boat after one day of coached sailing.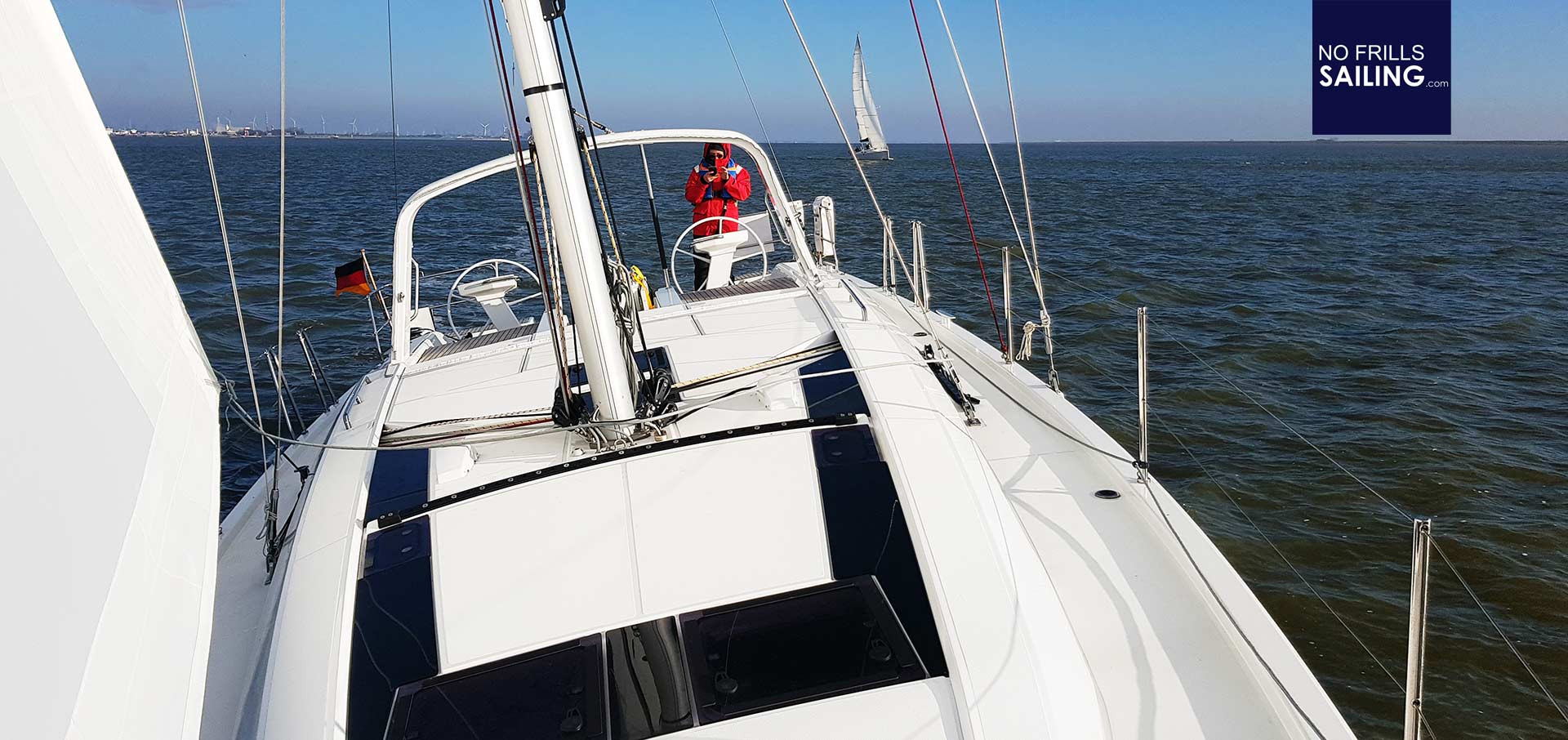 So we went out to River Elbe, hoisted the sails, trimmed them nicely to fit a 65 TWD angle and the boat sped to 8.8 to 10 knots, pushed additionally by the low tide. The power of the river was easily conceivable by the currents and vortexes spotted at the fairway buoys. What a rush! Nevertheless we had to change plans: Due to late low tide at noon and an even later passage of the locks it was clear that we could not clear Elbe estuary in daylight that day. Winds would be favourable with no more than 18 knots TWS but we calculated that we would have to catch the high tide currents into River Weser down to the port of Bremerhaven in the middle of the night: Bremerhaven approach in the buoyed waterway was tricky – narrow with no clearance left nor right and frequent passages of the really big freighters.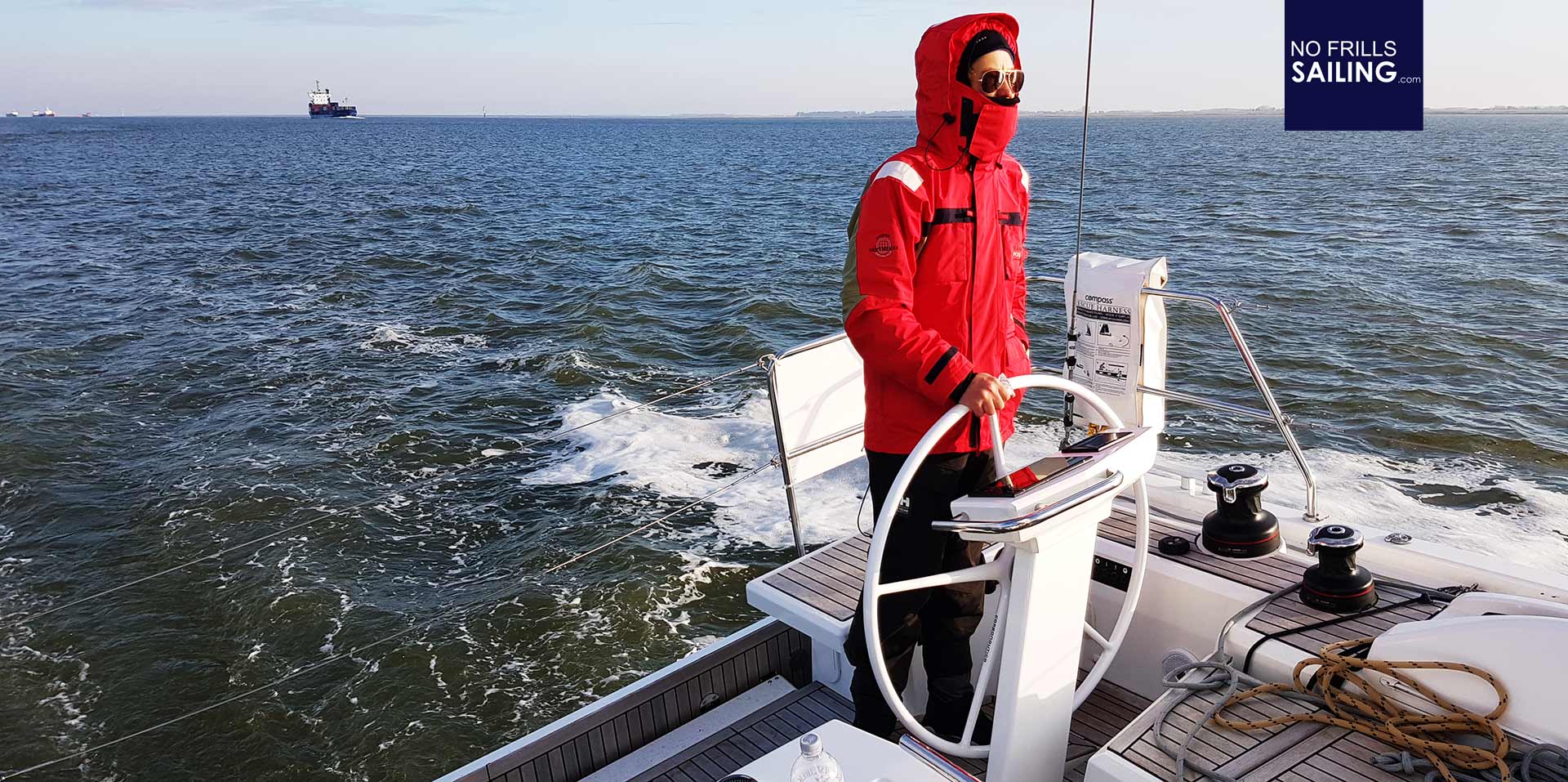 So, with regards to the fact that this wasn´t our property and the fact that due to our early casting off in Rostock we already gained one day in our plan, I decided to sail to Cuxhaven instead and stay there over night, just to catch the next tide and thus be able to arrive to Bremerhaven in broad daylight. That took off some of the pressure and made us really enjoying the something 15 miles to Cuxhaven, which went by very fast. Nevertheless, we gained some taste of North Sea sailing for the coming day.
North Sea sailing feeling
Which is foremost a very different wave pattern. The Baltic Sea experiences no real tides. Being enclosed by landmass most of the time no further apart than a few dozen kilometres, there is basically not sufficient enough wind fetch to generate larger waves. With wind directions changing every 6 hours in general, wave patterns are short, very steep and choppy. We call it "Baltic Minced", a really annoying wave character. By the way, that is the reason why Scandinavian yachts like Luffe or Arcona in general are tuned to perform very, very well upwind, because that´s what you have to do in 50 per cent of sailing time here. That´s completely different in the North Sea.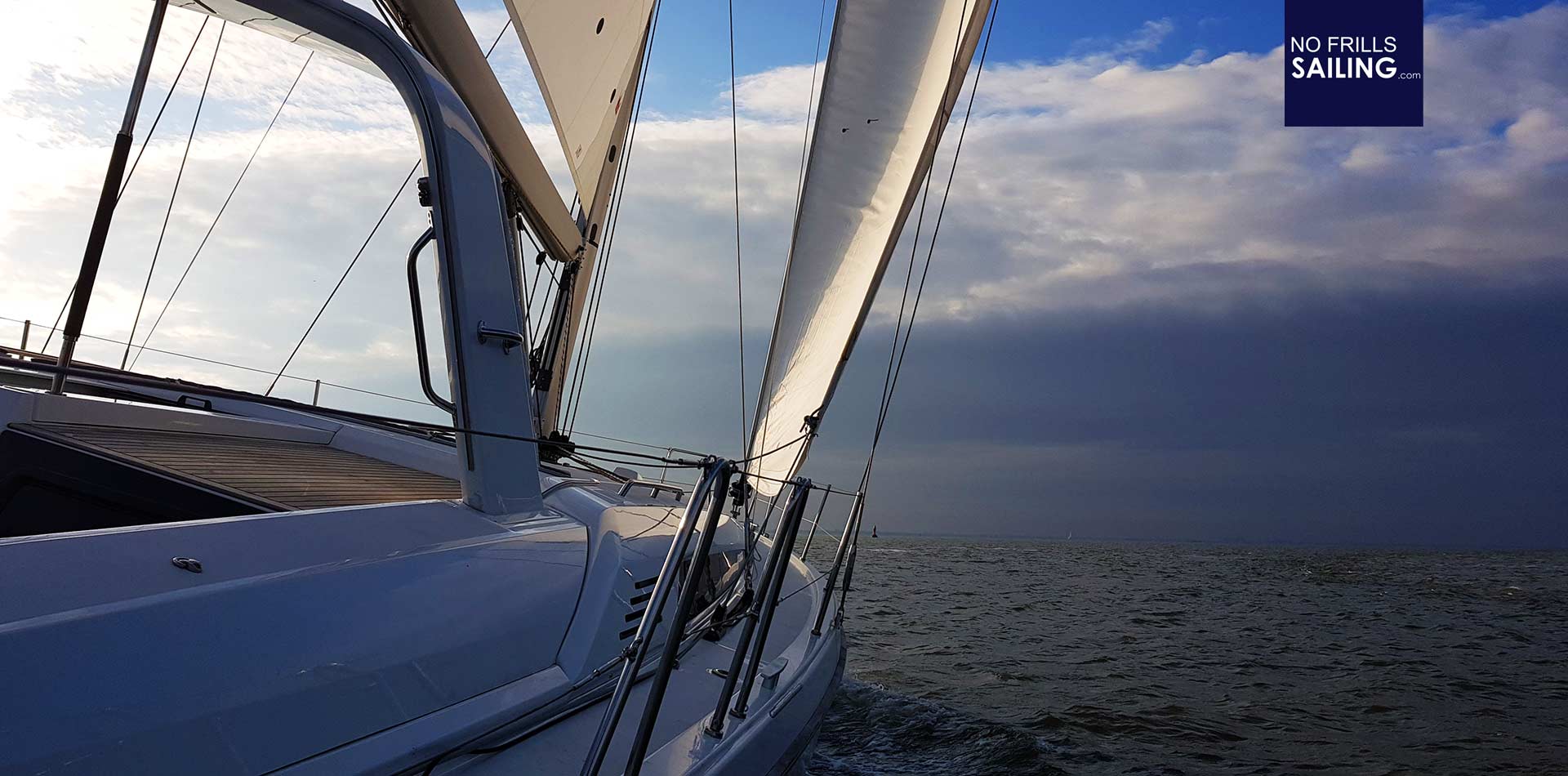 German Bight – even as far out as to the Island of Heligoland is subject to strong tides. Both rivers Elbe (up to Hamburg) and river Weser (up to the City of Bremen) are thus experiencing fast currents reaching 3 to 4.5 knots. So skippers ought to pre-plan their sailing trips very carefully because the three aspects 1) commercial traffic in and out the two big ports 2) (tidal) current and 3) wind are putting up complex situations. Now, sailing so lush with some sun coming out, this seemed a bit far away. But it changed quickly – increasing winds brought thick clouds and small showers. When the sun disappeared behind these, it got chilly very fast. What a contrast to our sunny sailing ride just two days ago!
Cuxhaven came in sight fast. We checked the internet for a free berth which turned out to be check if marinas are open at all! The marina I planned to go to ceased operation and was closed by Cux City Marina answered – we were welcome to spend a night out there. With my partner at the helm, I cleared the boat and prepared fenders for landing her. From past sailing trips in and out of Cuxhaven I knew that currents are ridiculously fast there and I looked forward to her reaction. Quickly harbor entrance came nearer, sun began to go down as well.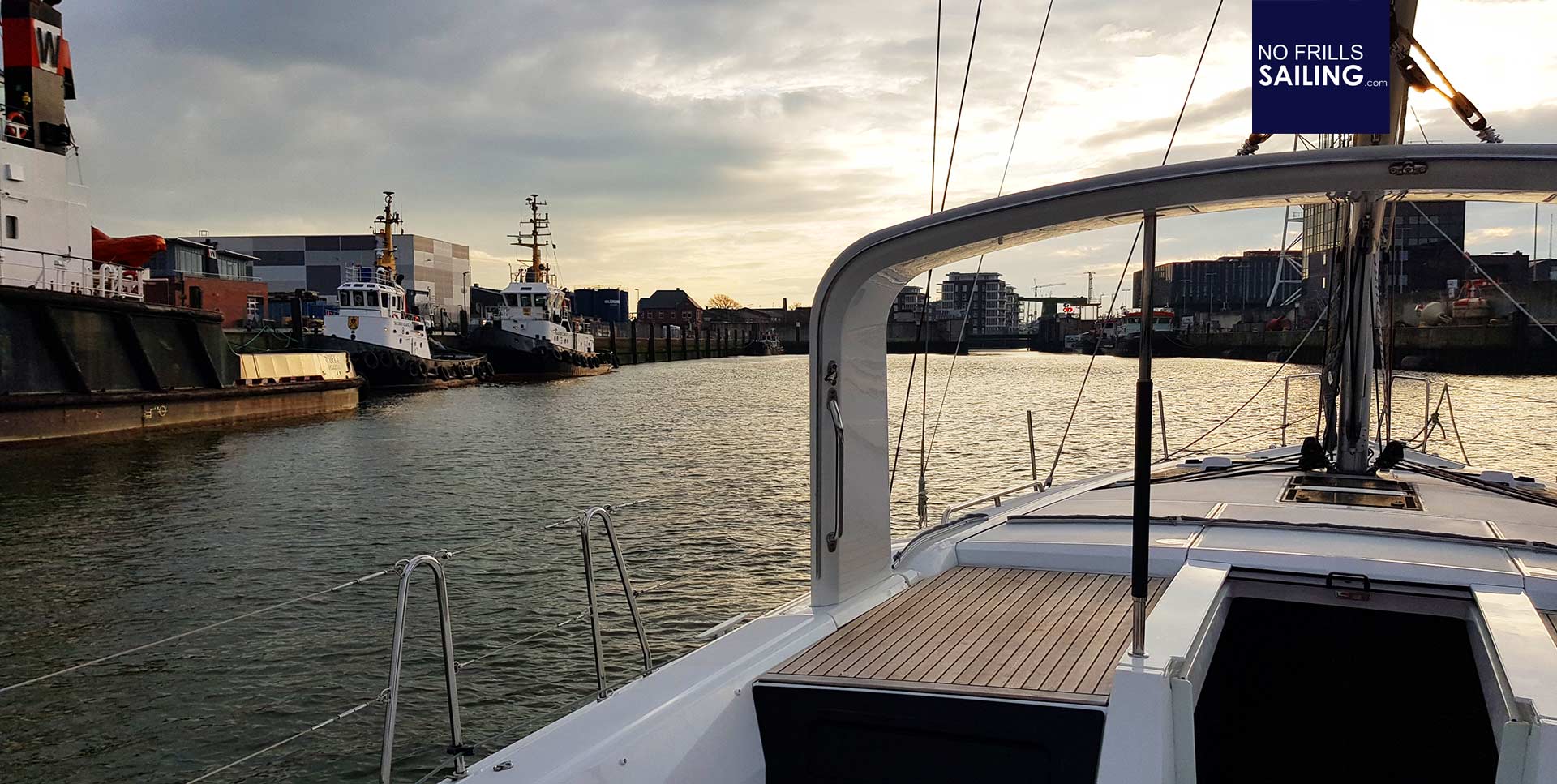 When she beared away (after taking in all sails and switching on the engine) she steered towards the entrance – being pushed aside by the current. She began to experience a dogleg: A direct course toward the entrance was impossible being drifting away ever more. So she had to correct heading more and more – but drifting as well. The solution: Steering with a much, much bigger correction angle. Which put some sweat on her forehead – "Take the helm, please!", she said some 100 metres away from the entrance. What a brutal sight: With maximum thrust I steered the boat "into" the upriver harbor wall, knowing that drift would put me directly inside the entrance once arriving. Nevertheless, it just looked brutal …
Rocket-propelled by the tides!
We landed safely, had a nice dinner and again checked the plan for the next day. The plan was as following: Casting off at 0430 to clear the bridge and harbor and catching the low tides of river Elbe. This would hopefully propel us out into the German Bight clearing the large "Watt" called areas at port side which fall dry or posing a hazardous area with depths shallower than 50 centimetres. Scharhoern Reef was the name of the game. Then, with tides changing to high, plan was to steer due South into Weser estuary back again and now have water pushing us inside all the way down to Bremerhaven. So far so good. The only uncertain factor was the wind.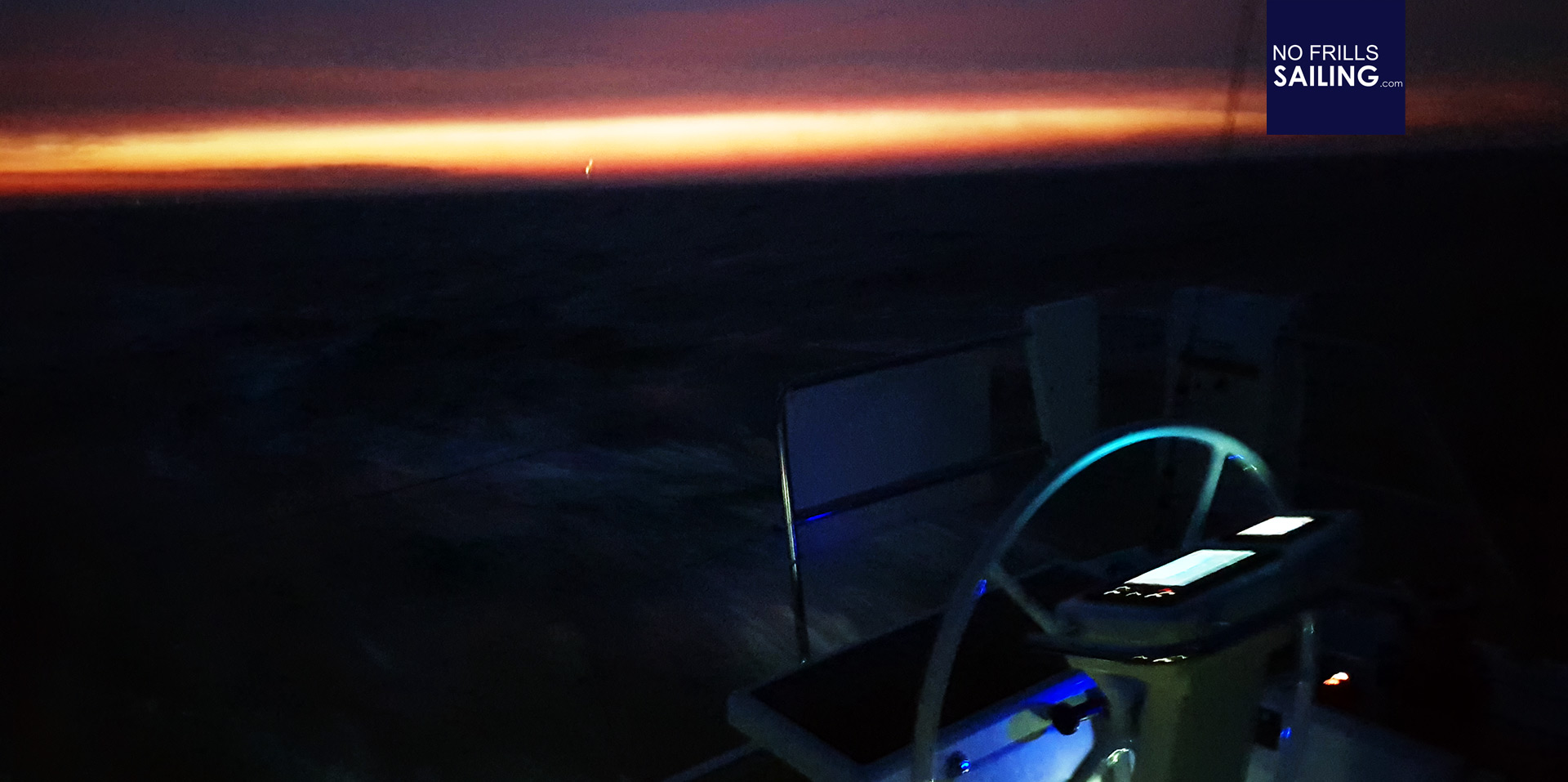 I double checked weather again and as fortunate sailing would have been wind-wise yesterday, the more uncertain it became today. Winds are expected to rise up to 30 knots, which is a lot. My biggest concern was the wind direction: Forecast said it would be blowing from 180 degrees and shift later to 190 to 200, which was fine considering the fact that with this wind shift speed are due to increase to the full blow. If only this forecast would be turning out to be precise … because, other that in river Elbe, the waterway to river Weser is much, much narrower with virtually no space outside. Well, no choice – we had to arrive to Bremerhaven that exact day, no matter what.
Well, so we did it. At first it was a bit spooky: River Elbe is a busy waterway and in this full of lights. Buoys, tankers, Cardinal buoys, ships at anchor – so many things went on after we casted off. Dashing down with 10.5 knots SOG just by tidal and Diesel power made the miles melt away. I kept an eye closely to the plotter (LINK) and checked for the strength of the current, which started with 3 knots and wend down to 2.2 after a few miles, still propelling the boat. After tidal shift set in, I took out the Genoa and the yacht was back at full 10.5 knots over ground. But in this I realized that forecast indeed wouldn´t be true for this day …
The worst: Wind against tides
To be precise, it was a failure that day. Wind set it much, much stronger and much earlier than predicted. After we reached the northernmost point of the trip I was in the third reef of Genoa (with no pushing effect anymore but just stabilizing the boat) and took it in completely. It was a complete fuck-up, I sensed it just the moment our boat turned into the waves. River Weser has a steady flowing current coming downriver that now was pushed hard by the ever-increasing wind. Wind speeds had been up around 20 to 23 knots piling up the waves to steep little bastards.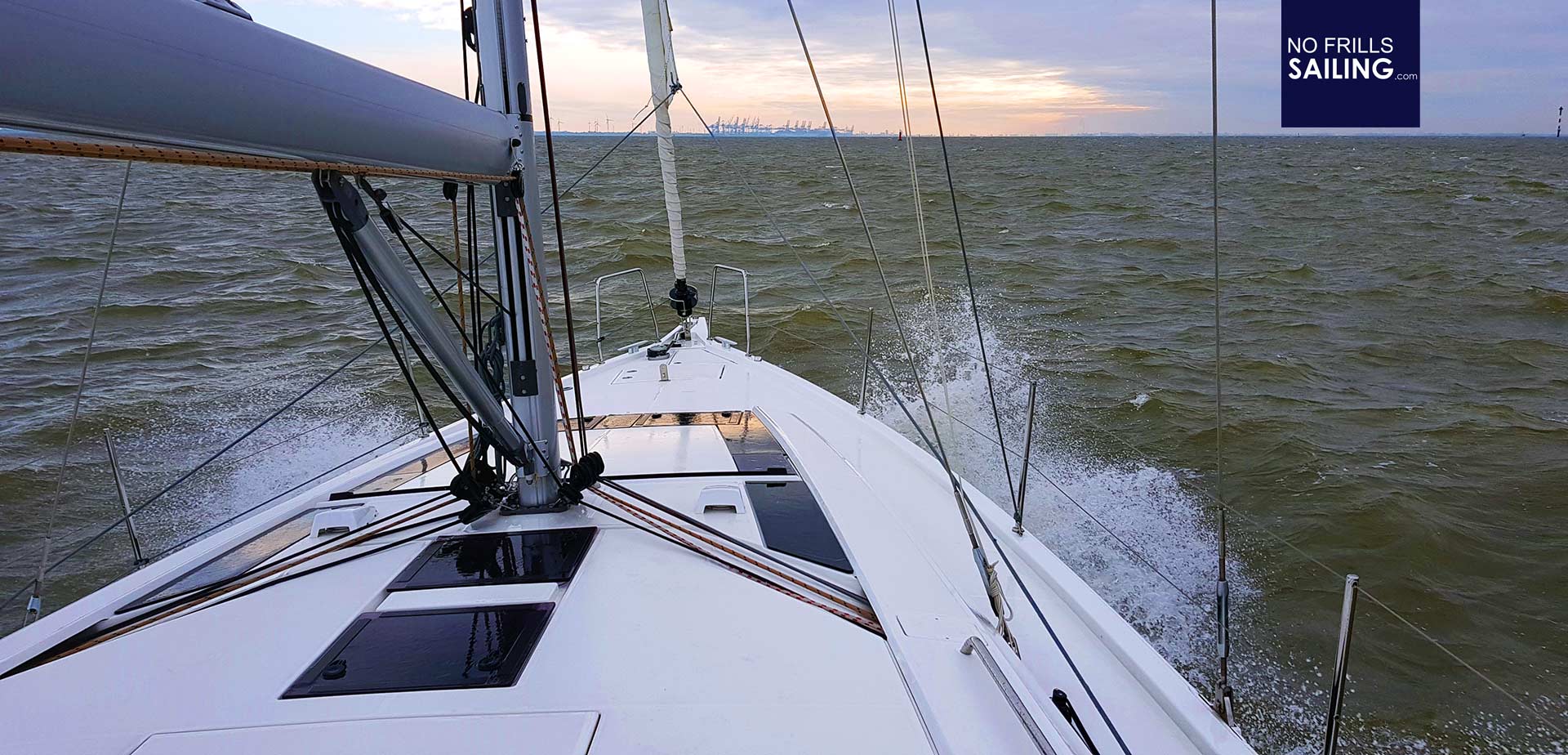 Now high tide set in, pressing water with 2.5 knots into the river´s estuary fighting against the flow of the river and the wind-fetched maves. It was a nightmare! Since wind did not blow from 180 nor from 200 degrees, which would have made things easier in this matter, it blew directly from 160 degrees – which was the due course I had to steer into Bremerhaven. I tried, but the boat shook dangerously and moaned when taking on waves directly and falling back to the water straight into the next waves. Speed went down to 3.5 knots, obviously, no chance left but to "tack" down. In this, way over ground would increase from 15 miles to Columbus-Quays to more than 20 miles. Nevertheless, the boat shook significantly less because I took the waves in an at least tolerable angle.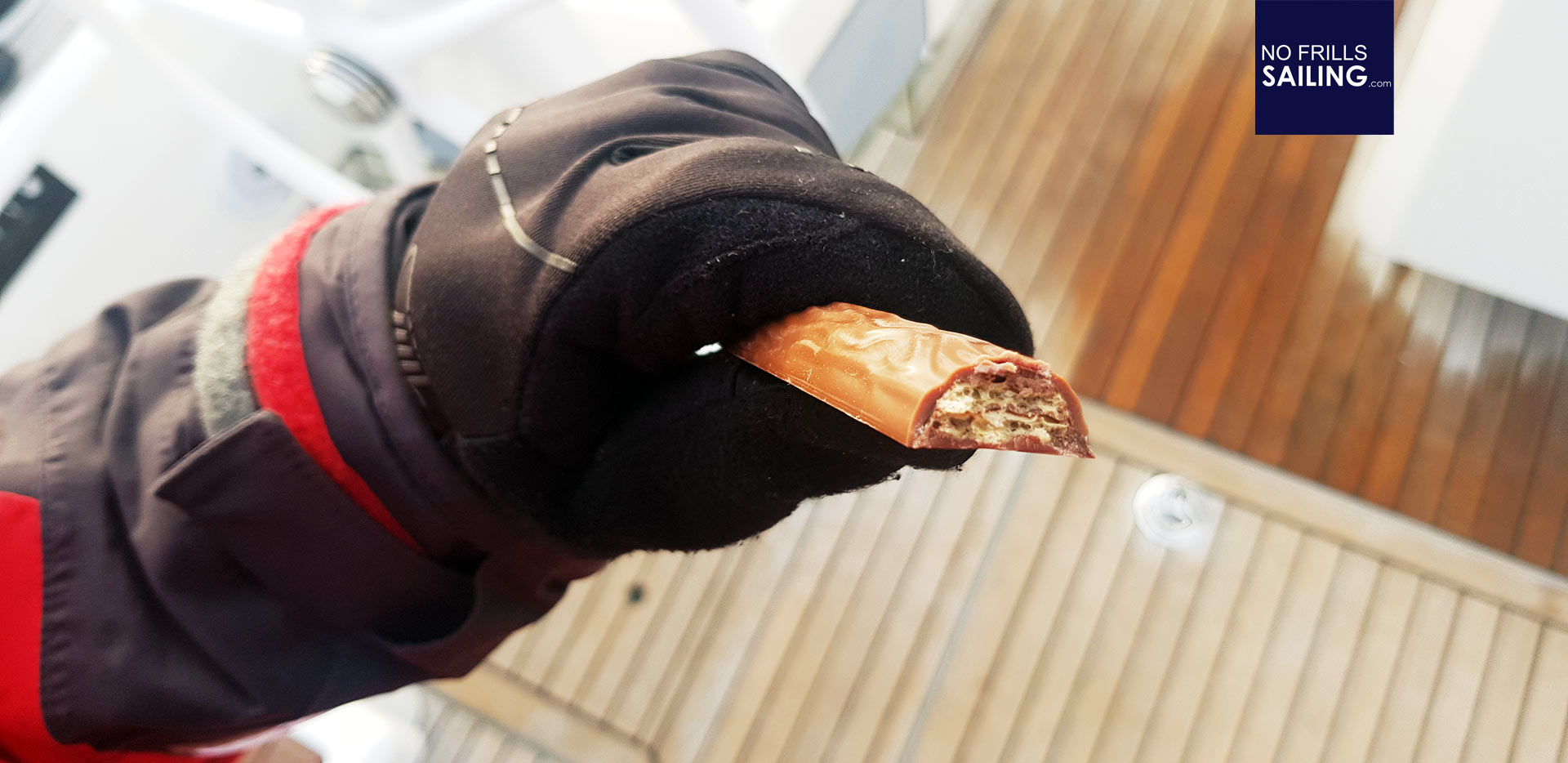 To make things worse, weather deteriorated quickly and the hours became a foul weather sailing exercise: Icy cold water spray, rain showers and the cold wind battered me. I sent down my partner to the at least dry saloon and stayed on watch. I was shivering, not because my Gill oilskin didn´t do a good job but because my f*****ing sailing boots which clearly have been a bad buy took on water and quickly soaked my feet. Note to myself: Get new proper sailing boots!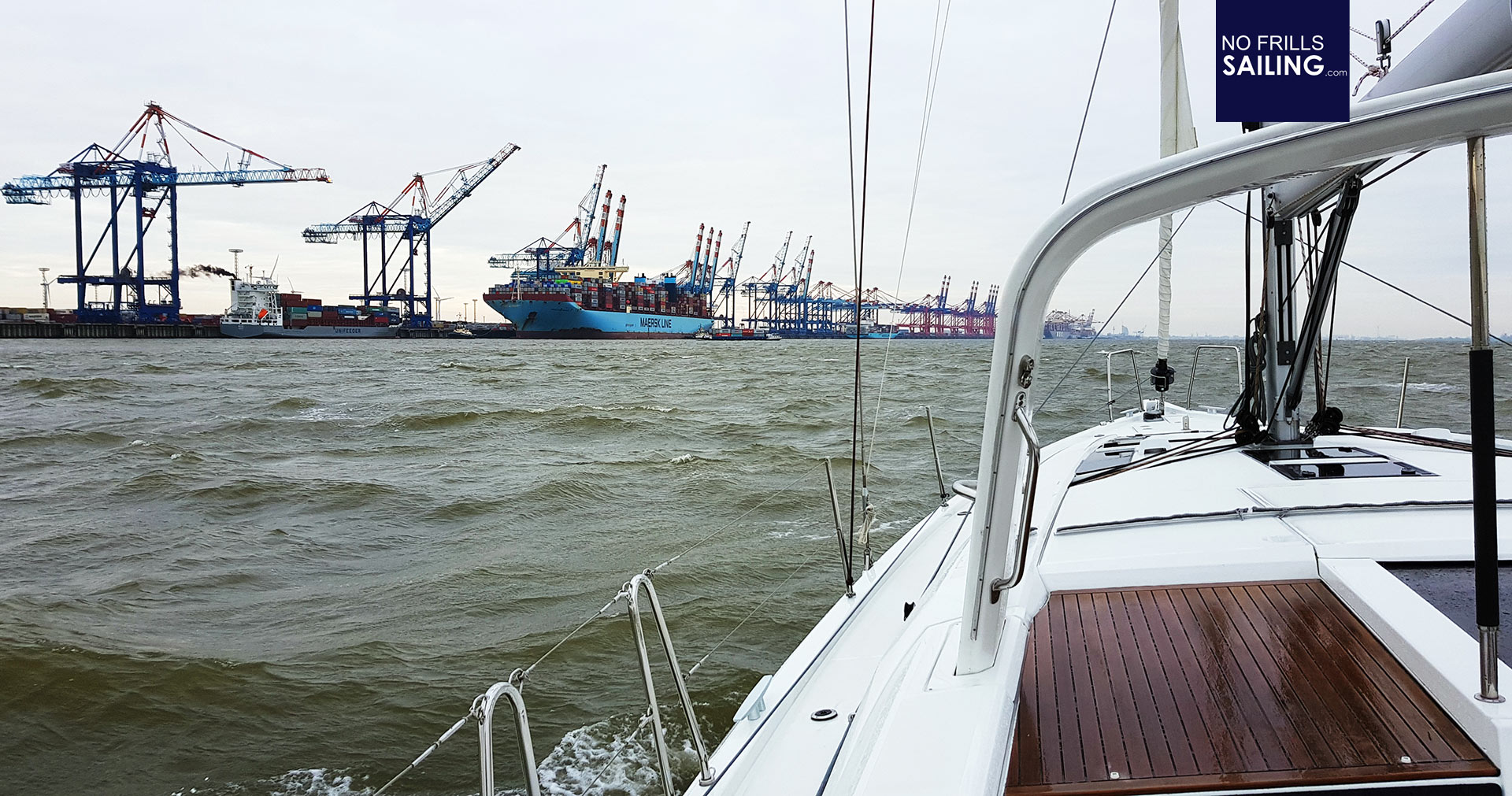 It took us many hours more than calculated to reach Bremerhaven Offshore Port, from which it´s still a 5 mile-ride upriver to the old fishing harbor. No less than three Triple E-class freighters passed us  with myself of course leaving them a clear way. After the worst part was over, my partner took over and I devoured some six chocolate bars at once, refilling some fast sugar-energy and plopped to the saloon´s settee in full gear, happy to being able to close my salty eyes for thirty minutes. This last leg of our cruise proved to be harder than expected, later I revealed to my girlfriend that I already had pre-planned a worst-case scenario with an escape route to the Island of Heligoland just some 30 miles offshore out in the German bight.
My learnings as a Skipper
Well, you should always use your experiences to learn something. First and foremost, this sailing trip was a huge experience for me in many ways. It was the first time I was responsible for a boat that big with such a small crew – on a complex trip like this. As it was the first time ever sailing together with my partner combined with the challenging sailing area and weather conditions I would say we passed this trial with flying colours.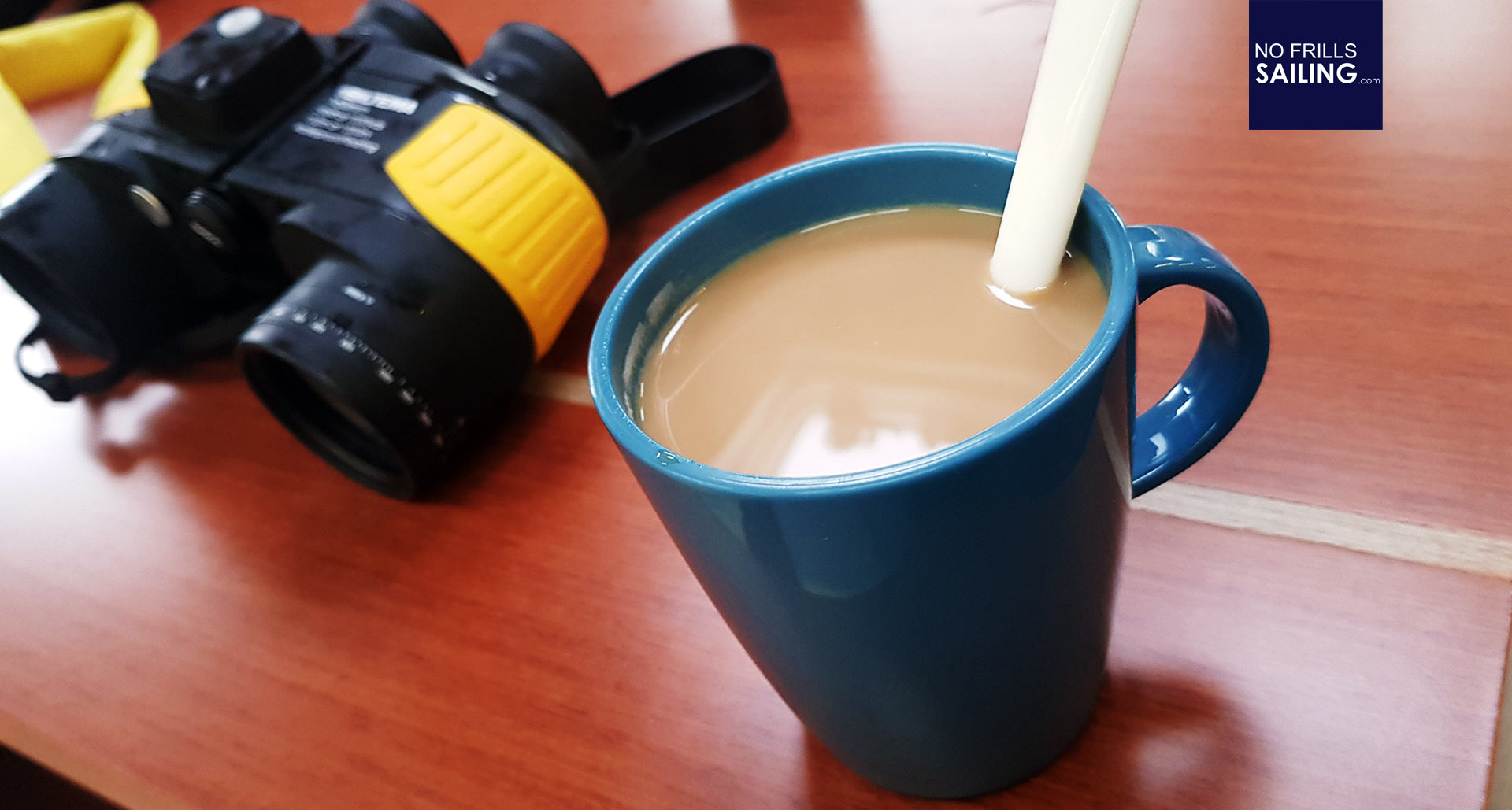 As wes at down upon arrival and tying up the boat we summed up our learnings: For me, the most impressive part was the fact how thoroughly we gathered information from various sources to plan this last leg: Wind, waves, tides, currents, daylight … a complex situation well planned! In this, even our reaction to the change of situation wind-wise was a by-the-book manoeuvre. I was and I am really proud of our performance as a couple-crew: We brought this 420.000 Euro boat safely without any damage and just in time to her destination.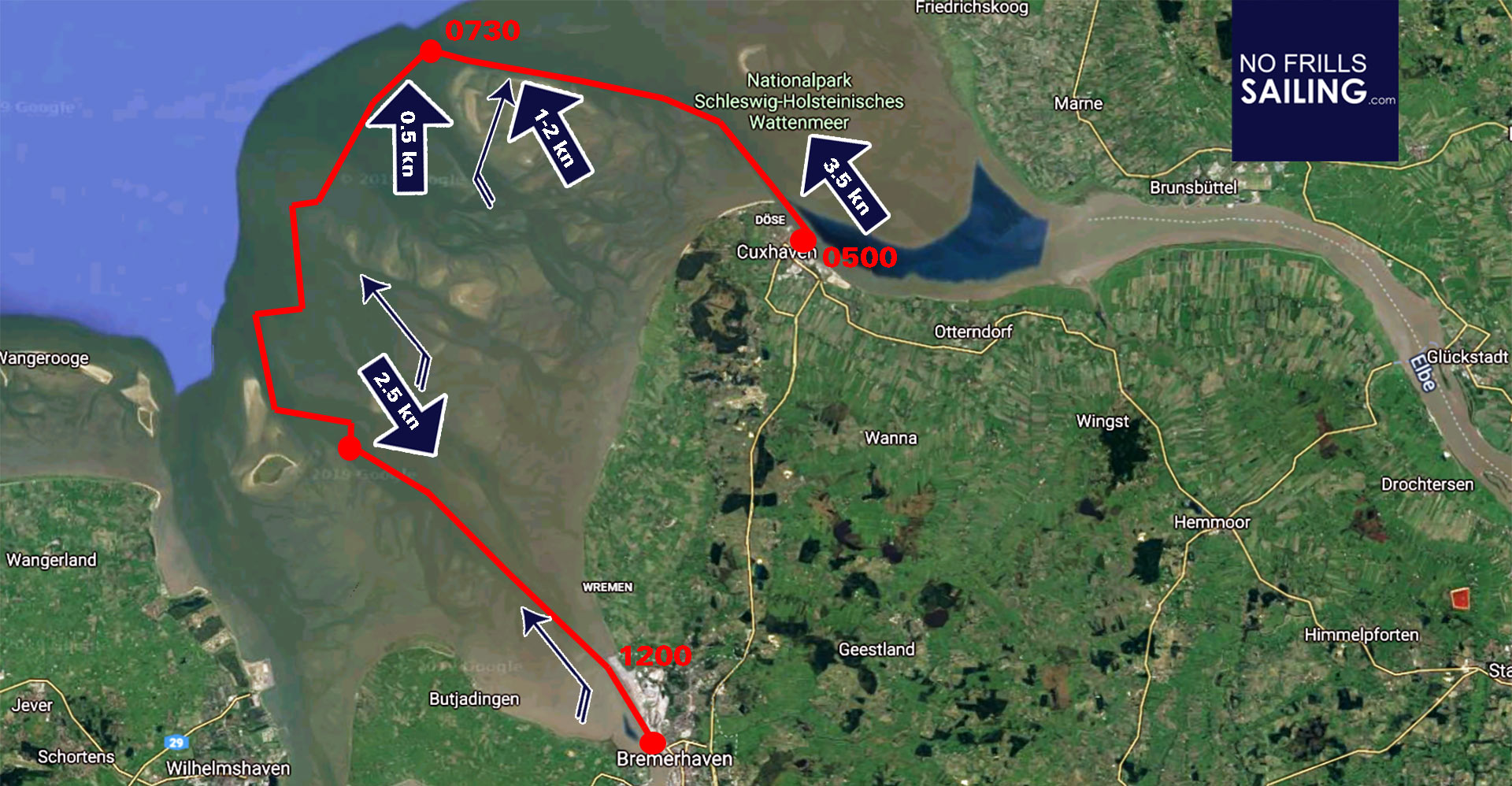 Both owner and my boss congratulated us, and when I got up the following day I joined in: Wind was now up to a clear Force 8-9 storm outside in the German Bight and I thought to myself that if we would have missed our window of opportunity for just 12 hours steaming up to Bremerhaven against a steady 35-knots-wind with waves of 2.50 metres would have been just impossible. Nice job!
Shipping a Ship
A job that didn´t end just with having her landed. My partner left for her job, I stayed aboard and prepared the Oceanis for an even more thrilling voyage. As the boat was sold to a charter base in Greece, overland transport was impossible with her mainsheet arch already bomb-proof mounted. So the company booked a ship-transport departing from Bremerhaven. I secured all moving parts inside, lashed the sails and the boom and waited for the commercial transport ship to arrive. It arrived full 6 hours late – guess what – due to the strong winds and scarcity of pilots to bring ships in safely.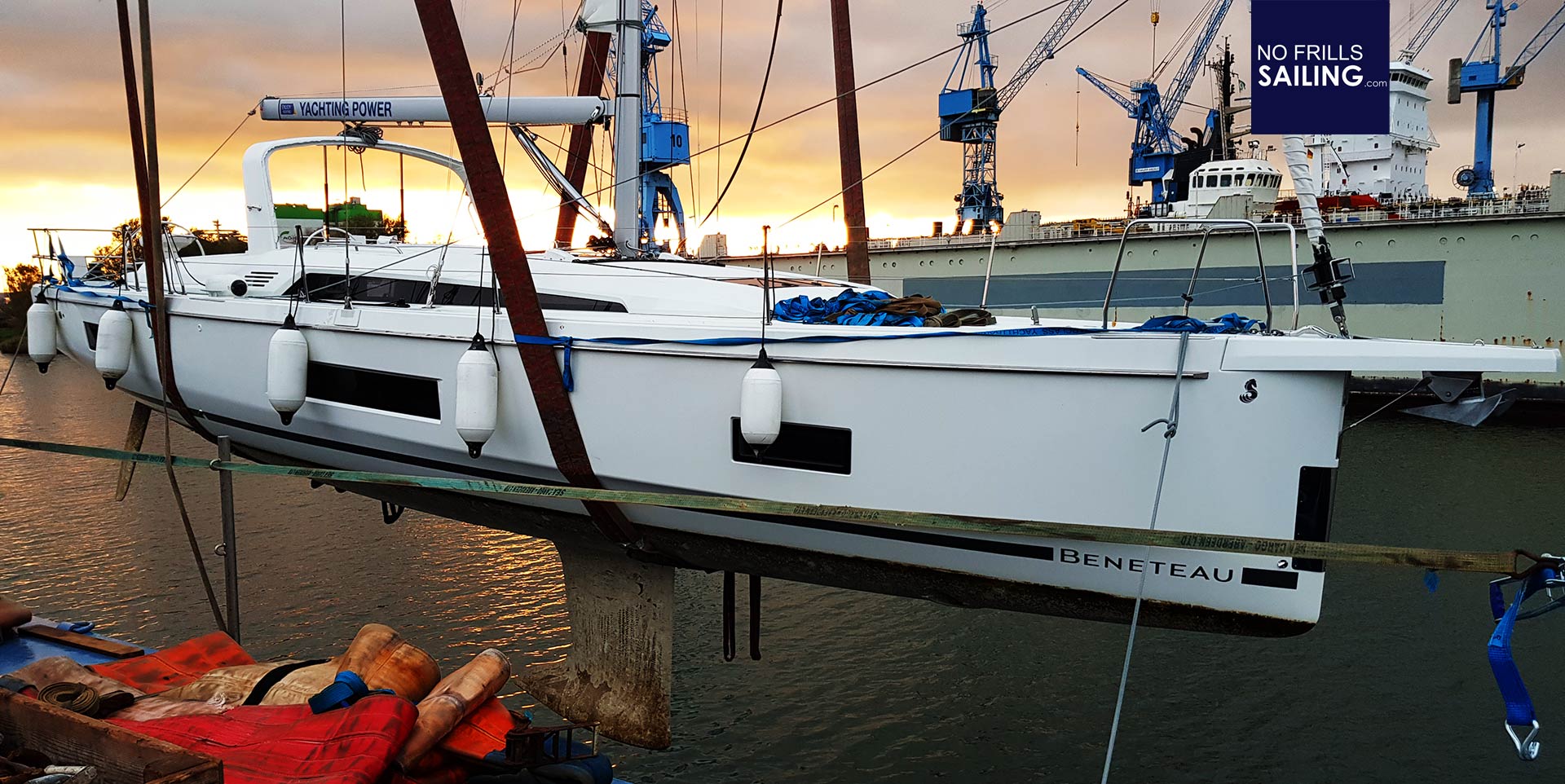 Going alongside, the professional crew dismounted the backstay and fitted thick straps. The Oceanis then flew up, coming out of the water. For me an interesting occasion to check her underwater body: Since this brand new boat never received a proper antifouling cover I was keen to see if any encrustation had already set in, but it hadn´t. When the boat arrived to her destination, she of course will be treated by pros to get a full underwater cover.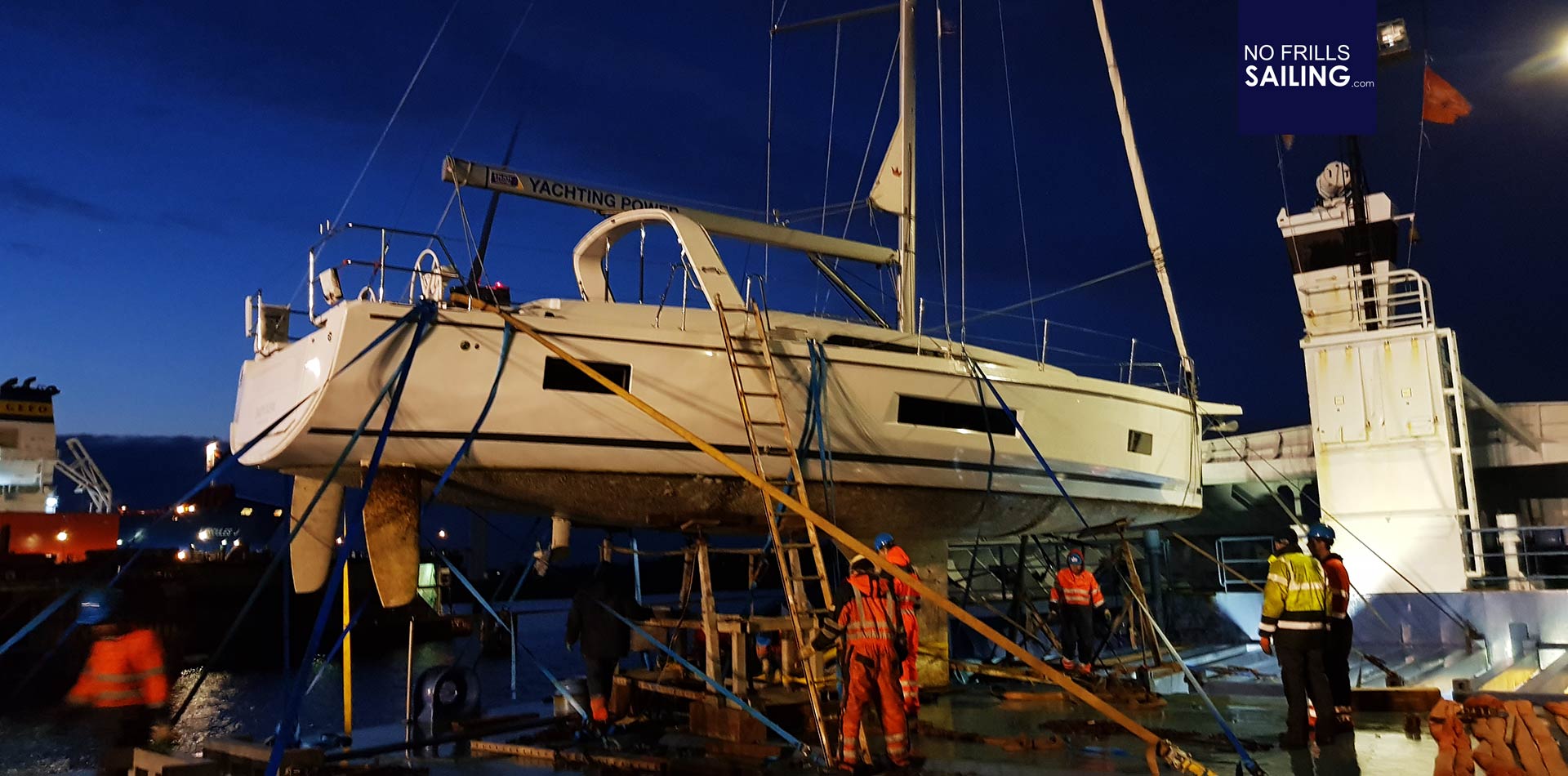 Loading oft he Oceanis took hours. The crew hauled her up on deck and began to secure the boat with dozens of straps, of course, not without re-attaching the back stay. Sun went down and with weather still being nasty it was a nightmare work. Lucky me, I just occasionally checked for progress and kept myself warm otherwise. Just after eight o´clock I signed the papers and released the yacht to her new Dutch masters who will bring her safely through the English Channel, the Gulf of Biscay and Gibraltar all through the Mediterranean Sea to Croatia, where I will take on the boat again to sail her down to Greece – you might be interested in reading about this sailing trip as well?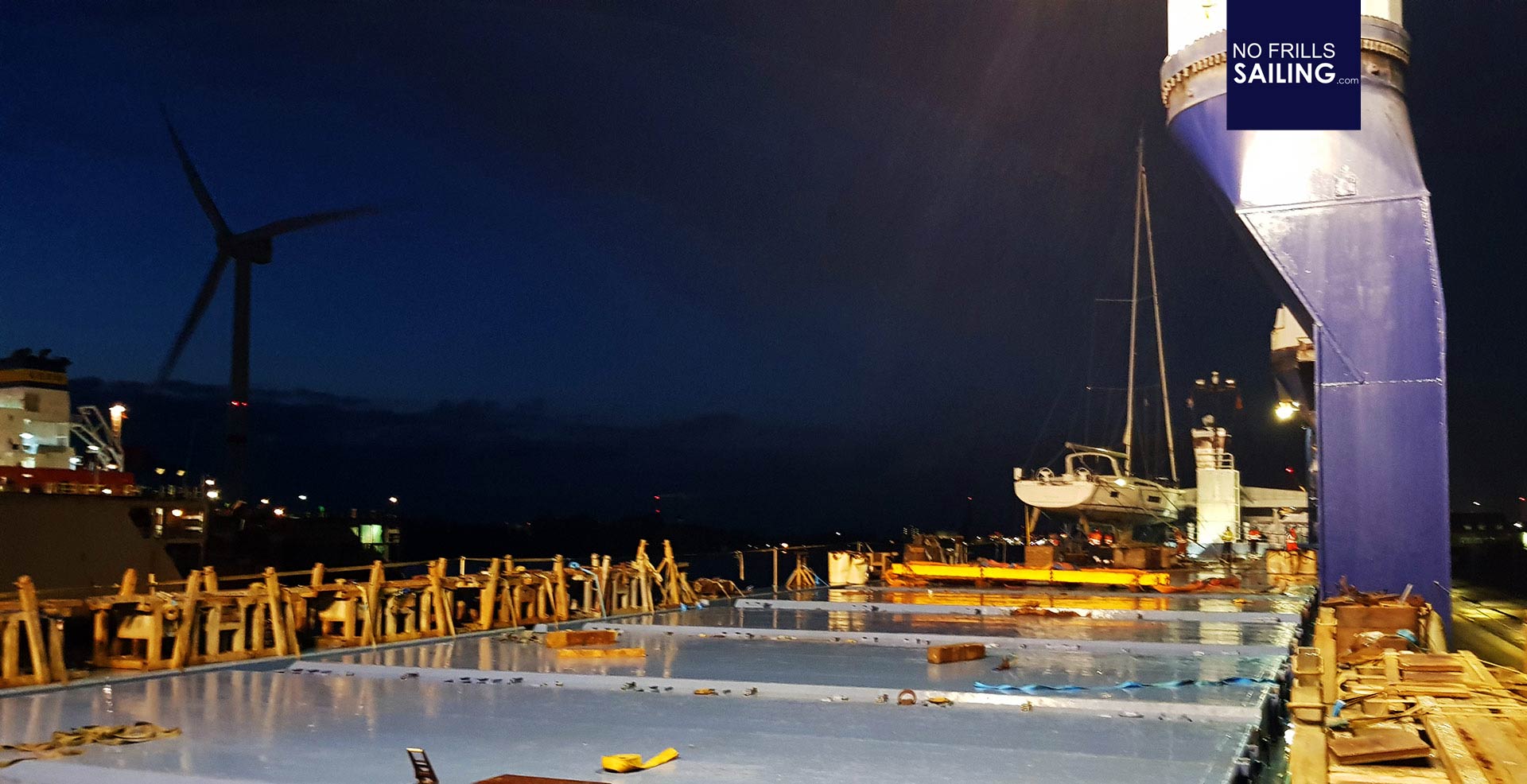 In the end, these 250 miles Baltic Sea, Kiel canal and North Sea sailing in November have been among the most interesting done so far: Commandeering a 46-footer turned out to be a challenging, complex and diverse "job" as skipper and sailor but at the same time – days later – I am appealed by the fact how fast one gets used to such a big boat – well knowing that for two people a 30-footer would as well do perfectly well. Which in turn proves that it is the sea, the wind and the waves, not necessarily the boat, that is most fascinating and responsible for our addiction.
You may also like to read these articles:
November Baltic sailing, Part 1
A foul weather sailing trip
Perfect Baltic sailing: Bornholm