After finishing my basic sailing education by acquiring the yachtmaster degree (SBF See/Sportbootführerschein as you may read here and the Short Radio Certificate (SRC) read here) I did accomplish a great deal in becoming a skilful sailor. Yet, no matter how many books I do read – that won´t make a yachtmaster out of me. Having done the basic sailing class the past month with two weekends of sailing (read here and here) and 3 days of theoretical class I felt able to safely handle a 4.70 m Menhir drop-keel yawl (well, at least in moderate wind conditions). So right before my RYA Coastal/SKS-course with a 7-day sailing cruise in three weeks I opted to have a cruise on real sailing yacht. And I mean a real sailing yacht …
Arriving at Bremerhaven Marina … there she is!
I arrived at the newly built Bremerhaven marina "Im Jaich" some three hours early and thus had plenty of time to make myself familiar with the boat. When I booked the trip I was knowingly searching for an organizer offering the most unlikely yacht to embark being a rookie: The Class 40 Pogo racing yacht. And there she was. What a sight! She´s as sleek when looked at from the side as one may imagine a ship can be: Very low freeboard, to the stern even lower, stocky rounded cockpit, a huge carbon fiber mast and so all of her lines tell one single thing: I AM FAST.
I phoned the skipper, Michael Mühlmann and he invited me to come on board right away. Nice!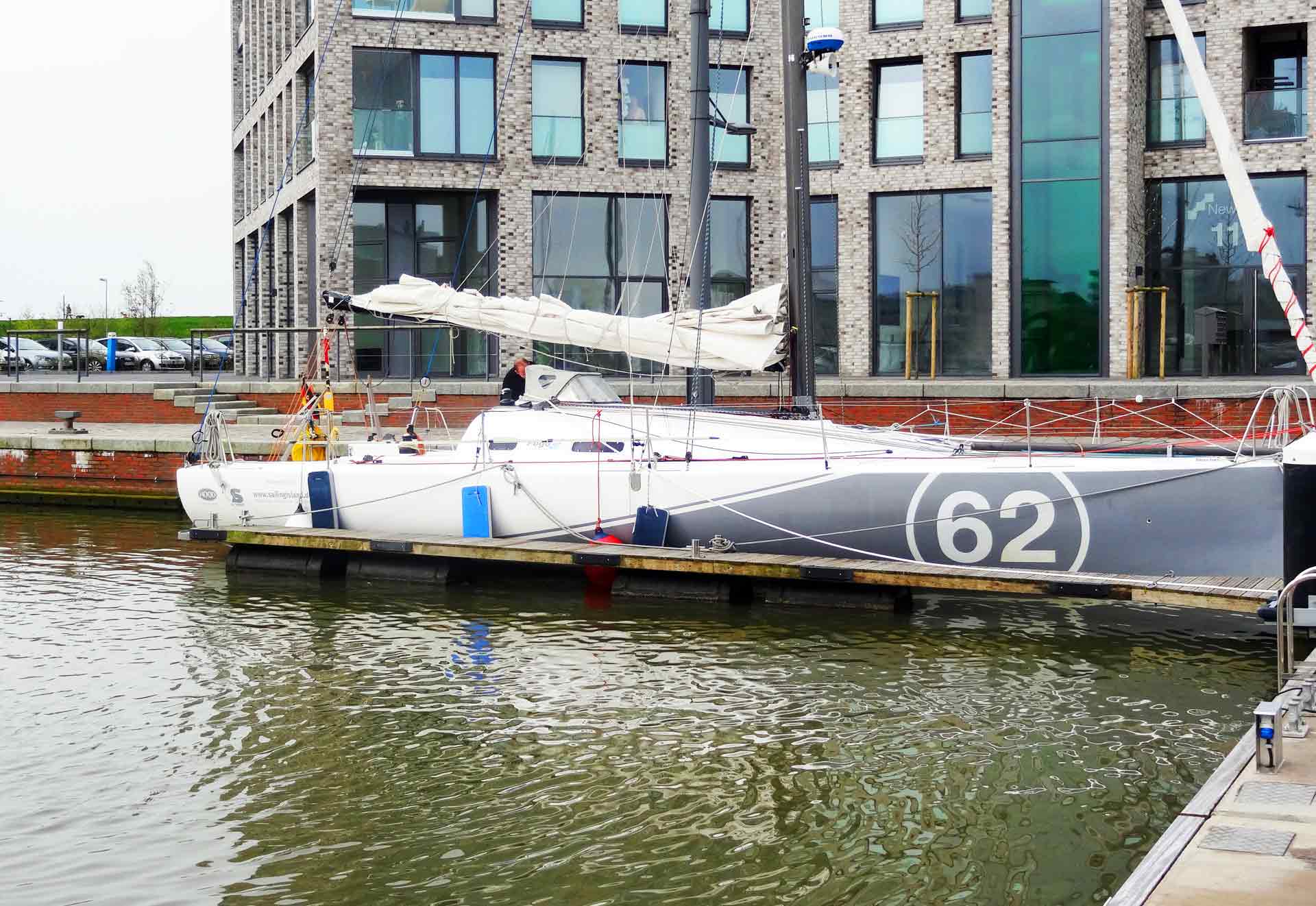 This Pogo 40 is operated by German Charterfirm Sailingisland.de and is one of two sisterships named POGO 1 and POGO 2. Built by French yard Pogo Structures of Brest this ship is a real racer incorporating everything needed to comply with the Open 40-class box-rules. Our POGO 1 was built in 2008, so she already has a bunch of years and a couple of miles in her wake, nevertheless she resembled a well-kept appearance. A Pogo 40 is 12.18 meters in length over all, has a beam of 4.40 meters and weighs fantastically light 4.8 tons. She has a fixed bulb keel and was first built in 2005. You may be interested in this article on her follow-up boat, the Pogo 12.50 as well.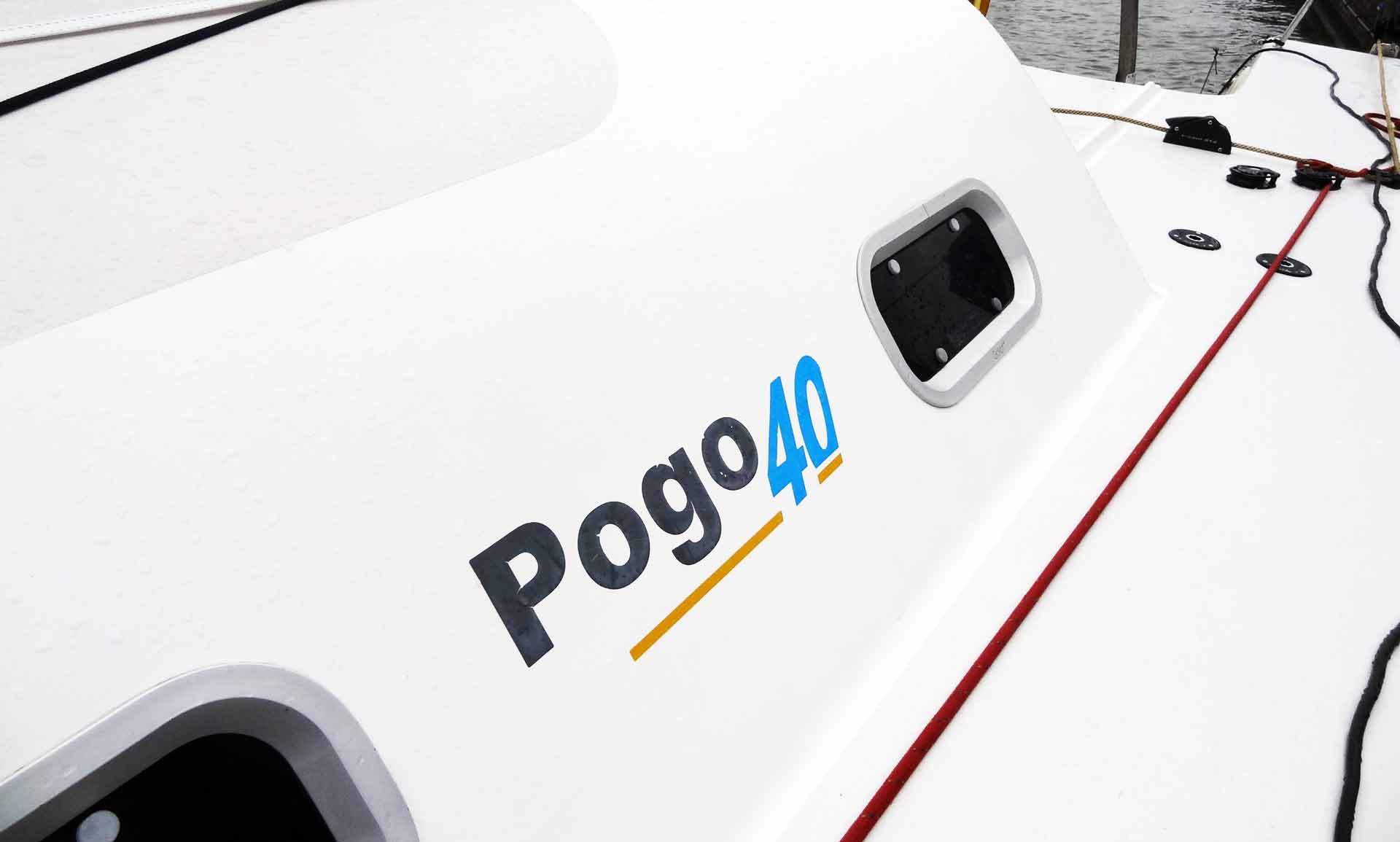 I stowed my belongings under deck and sat down as the skipper went ashore to meet Pauli, skipper of POGO 2 for a short briefing. Spending some time alone in her wide white saloon I was thinking of what brought me here. What did I expect from this trip? Well, I want to learn. Want to learn real sailing on a real yacht, want to watch and experience by myself what it means to be in control of such a fine, fast 40 feet racer. Experience so valuable for both my further yachtmaster-training and being master of my own ship, the Kingscruiser 33 OLIVIA.
Pogo 40 S – a Thoroughbred Racing Yacht
But why a racer? Instead I could have had a smooth and nevertheless equally enjoyable cruise on a, let´s say, Bavaria or Beneteau. Why not learning to sail on a +40 feet Hanse or Jeanneau? Well, that´s where the child in me comes into play. It´s the fascination of speed, the nimbus of Fastnet Race (POGO 1 has attended this famous regatta four consecutive times) and my longing for fast sailing and speedy adventures which drives me to have my berth booked on this Pogo 40. It´s much more fascinating than cruising on a Bav, isn´t it? Well, at least it seemed that way.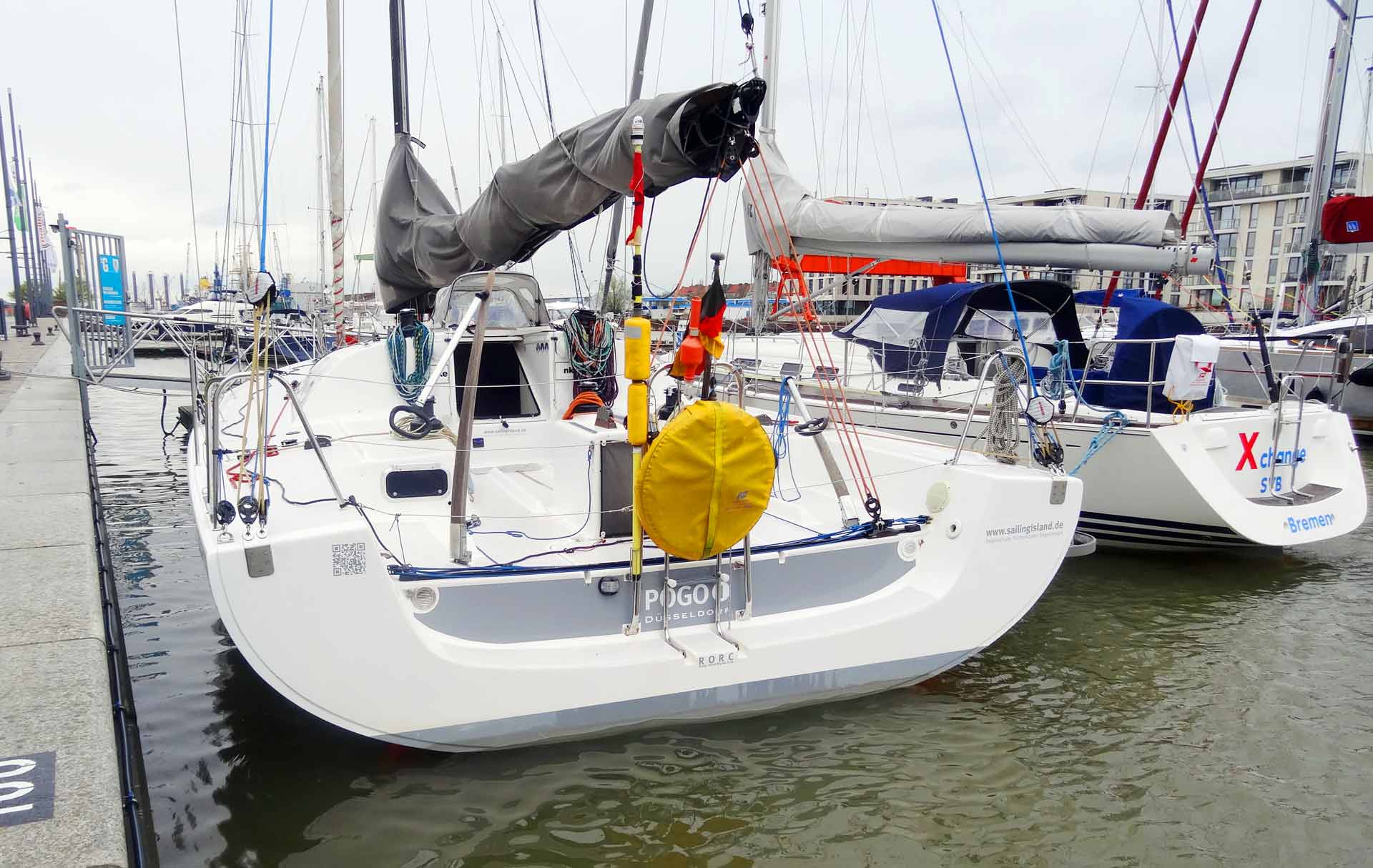 When strolling around the boat in Bremerhaven I got lost for almost an hour watching at her hull from every angle possible, admiring the sleek, yet wide and aggressive lines, imagining her hull heeling in heavy seas, planing over the surface, racing on to beat to windwards. What have I heard in advance, all those stories about Class 40 racers: Unstable, only good in beam- and broad reached sailing and a hell when beating windward or close hauled. God beware of waves when sailing upwind, as people are discussing in forums and posting in the internet, this boat was awful to sail, nothing but a wet, fast and too specialized boat for race-fanatics. Well, that´s another reason for me to be here: Is all that true? I will have the chance to get an own insight and opinion on Class 40-racers as being part of her 5 person crew for 3 full days now. And I am looking so much forward!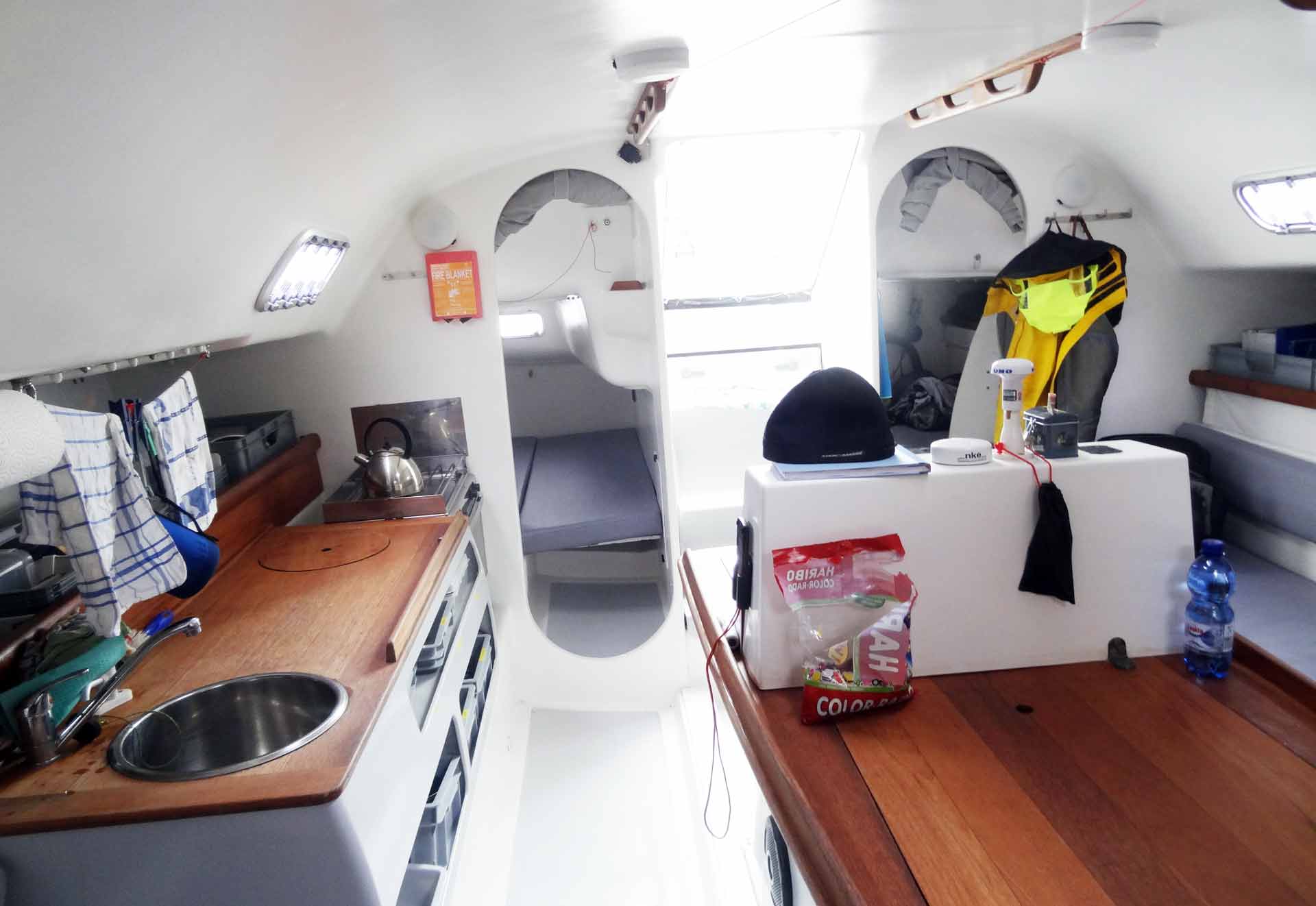 As fascinating as she is from the exterior, her internal appearance is as uncompromising as ever. A Pogo 40 is no-holds-barred. She really is! There is virtually nothing, no believe me, nothing you would attach importance to in your own yacht: No wood, except for the galley and the large folding table on the saloon. No panels, no veneers, not even doors (really, not even for the head). White painted walls, pure glassfiber, the decking is anti-slip paint, no flooring. She-is-a-racer. Matrasses are covered with waterproof simple grey faux leather, the simplest lighting – a no frills boat to every corner. Having a 4.8 tons boat can thus only be achieved by the art of omitting. This ship is just perfect in terms of omitting.
Our Cruise: 3 Days – 1 Island – 2 Ports
It´s 5 p.m. and the the others of the POGO 1-crew do arrive one by one. First is Michael, a mid-50ies hotelier from the River Rhine. As with all Rhinelanders he is full of friendliness and does always have a short funny story to tell. Second is Oliver, a Accountant Financial from Osnabrück, having freshly acquired his RYA Coastal/SKS certification. Last but not least, Jens and Peter. Two friends who are earning their income in the digital business just as I do. We are complete: A crew of five plus skipper Michael, who joins us shortly after arriving of the last of us.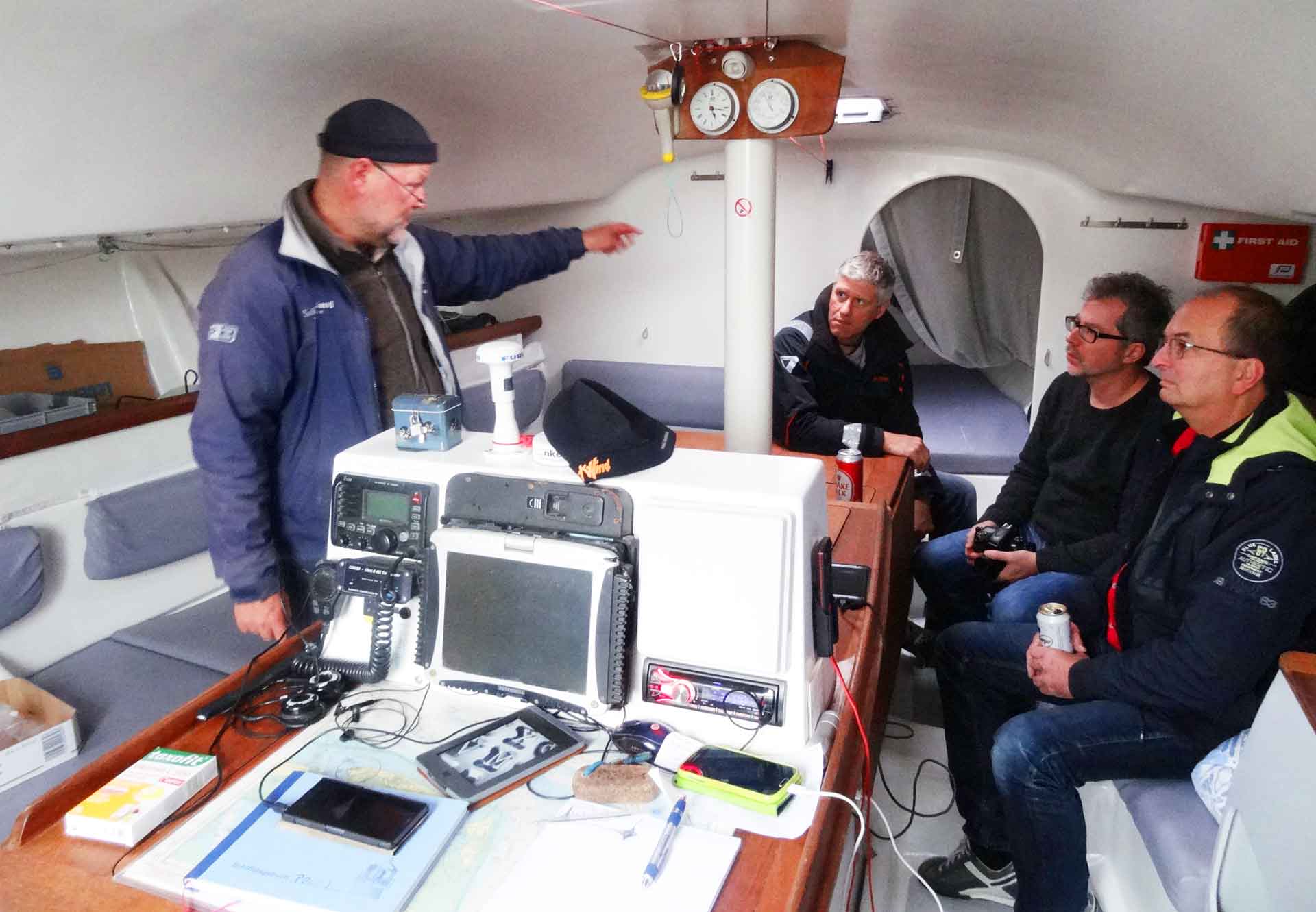 Though POGO 1 and her sister ship POGO 2 will cast off tomorrow, skipper Michael insists of having one part of the security briefing done this very evening. Michael Mühlmann is sailing since 40 years and works as professional skipper since 2003. He has travelled multiple times to the Antarctic, rounded Cape Horn a couple of times and is a salt in it´s very deepest meaning. He not just loves sailing, it seems, he lives sailing. He´s under full canvas for 35 weeks of the years. "There´s only one real rule aboard this ship that must not be broken. Ever.", he begins: "That´s an MOB. There´s simply no reason to go overboard. You will always wear the life vest with lifeline. Prior casting off and after we safely landed. No excuses, no exception." Security briefing lasts some 30 minutes. He shows the ships, all the valves, pumps, drainage, electrical stuff, engine and everything to know under deck. "Rest like sails and rigging will be done tomorrow. For now: Let´s have dinner." When chewing his rare steak he´s talking about the Pogo 40: "She is a ship full of fun. But she´s demanding. A complex machine." All right well, that´s exactly what I want!
What´s this Yacht built for? Racing? Let´s Race!
Next morning, 7 a.m. we do have freshly brewed coffee, crispy buns and an hour´s time to get started. "Casting off is 8.30 a.m., I want our sails hoisted no later than 9.", skipper says and we hurry to get the ship clean and ourselves prepared. Just in time our engine is running and Michael has his new crew spread to the foredeck to handle the ropes, when we casted off to steam through the basin to pull alongside POGO 2. Her equally shy new crew of five is giving us a big welcome when both racers steam further up to wait in front of the lock for transferring to the mighty River Weser which is flowing into the North Sea.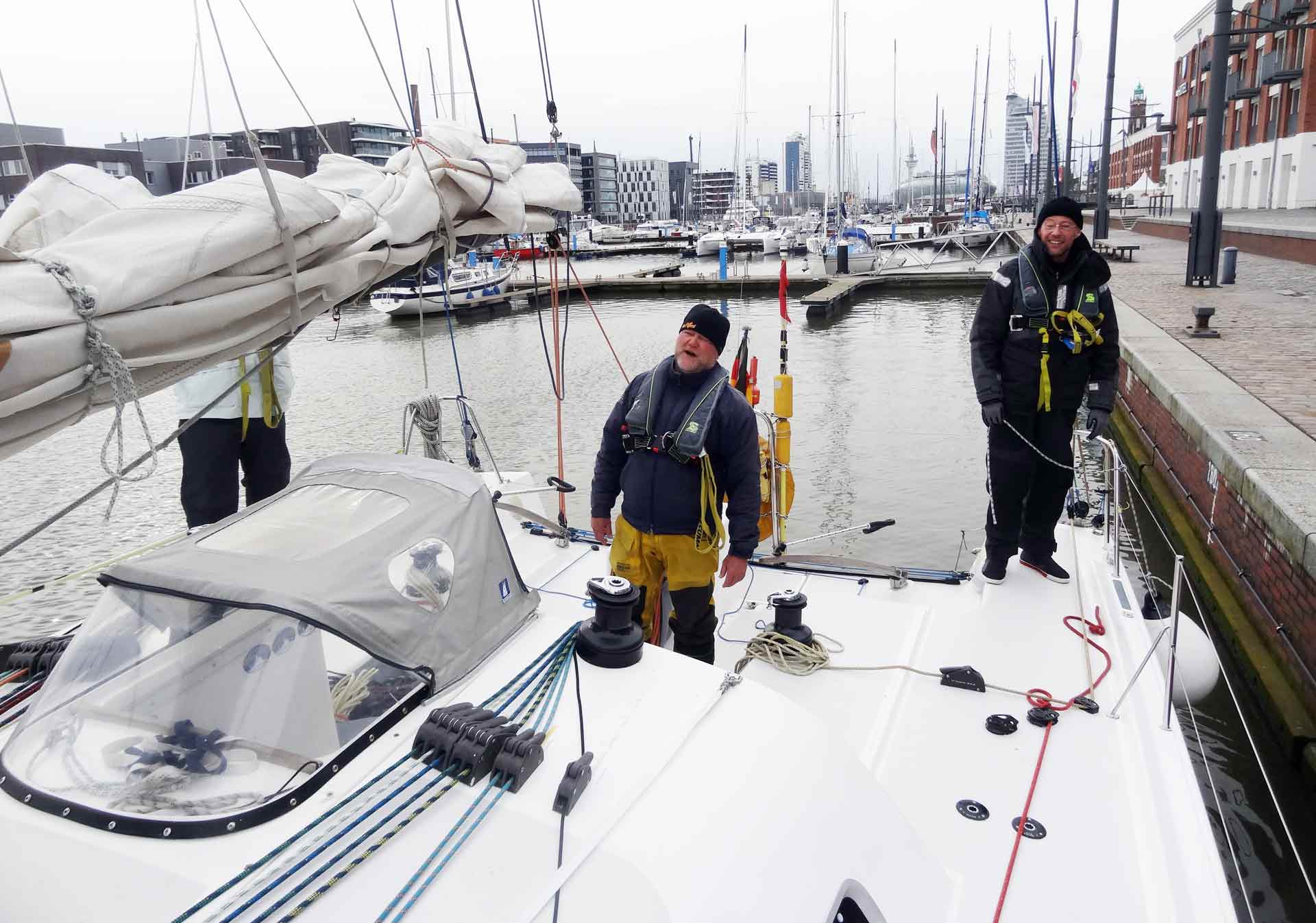 Seeing the faces of the other crew seems odd. They have the same fun as we have, the same questions in their faces and a bit uncertain glimpses what might be expected. What strikes me: They are significantly younger than we are. Being the youngest amongst my own crew the other five hands onboard POGO 2 might not be older than 37 years as I am. Two of them look and act like they know what they are doing: Last night when having dinner our two skippers have been joking around with the idea of having a race between the two Pogo 40 yachts: "Whoever reaches port second shall pay for the beer." Oh my. A race. But well, that´s what our ships are made for, aren´t they? Do we have a strategy? Well, that´s far from consideration. In my opinion we should be lucky to being able to domesticate this sailing beast and control her. I just can´t think of any strategy.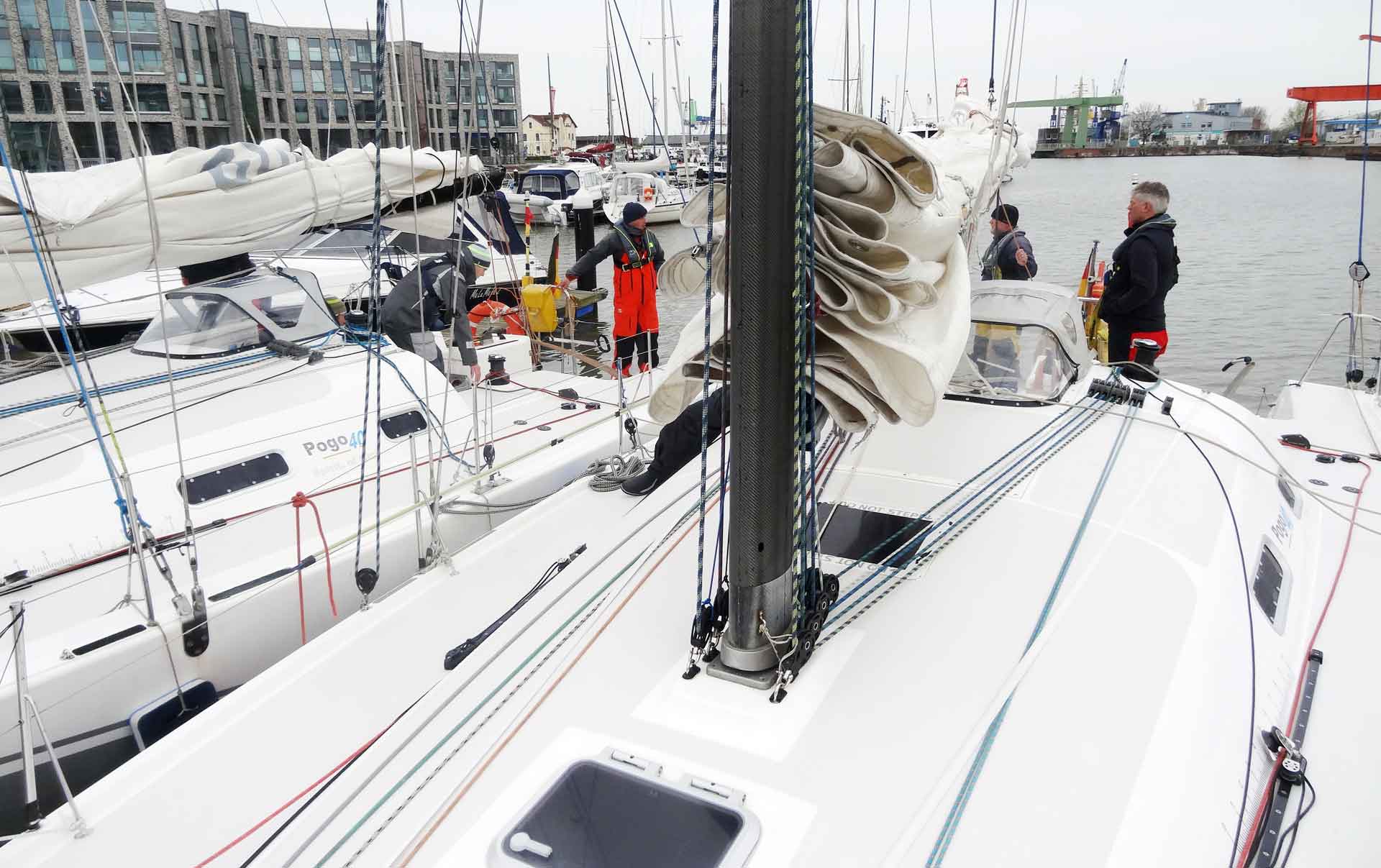 Then, finally, lock opens and we are steaming slowly out onto river Weser. Now the trip begins. Open water. Ship´s free. My heart begins to beat faster. I feel a steady, though not very strong north-westerly wind, which would mean to beat upwind. Perfect! It also means we do not have to change course to hoist sails – northwest is our main bearing for reaching Helgoland. So … let´s get ready to rumble? All the eyes on skipper Michel.
Hoisting the Mainsail and Off she goes …
One look to POGO 2 in our wake. Then the race is on: "Two hands to the mast, ready to hoist main sail!" I raise my arm, hungry for work, and step forward to the mast. Peter with me, Jens is manning the halyard putting the rope on the winch. All ropes and lines are diverted to the cockpit but since there´s no electrical winching system hoisting main sail means hard work. Muscles needed. I wish I´d had the rare steak yesterday evening too. To hoist the main one has to grab the halyard tightly and lean abruptly backwards, pass the rope down to the mast shoe whereas the halyard has to be secured in the same moment. Each backflip pulls the main sail some 40 centimeters up. The mast has a height of 18 meters … I don´t know what the main sail is weighing. At end it appears like tons.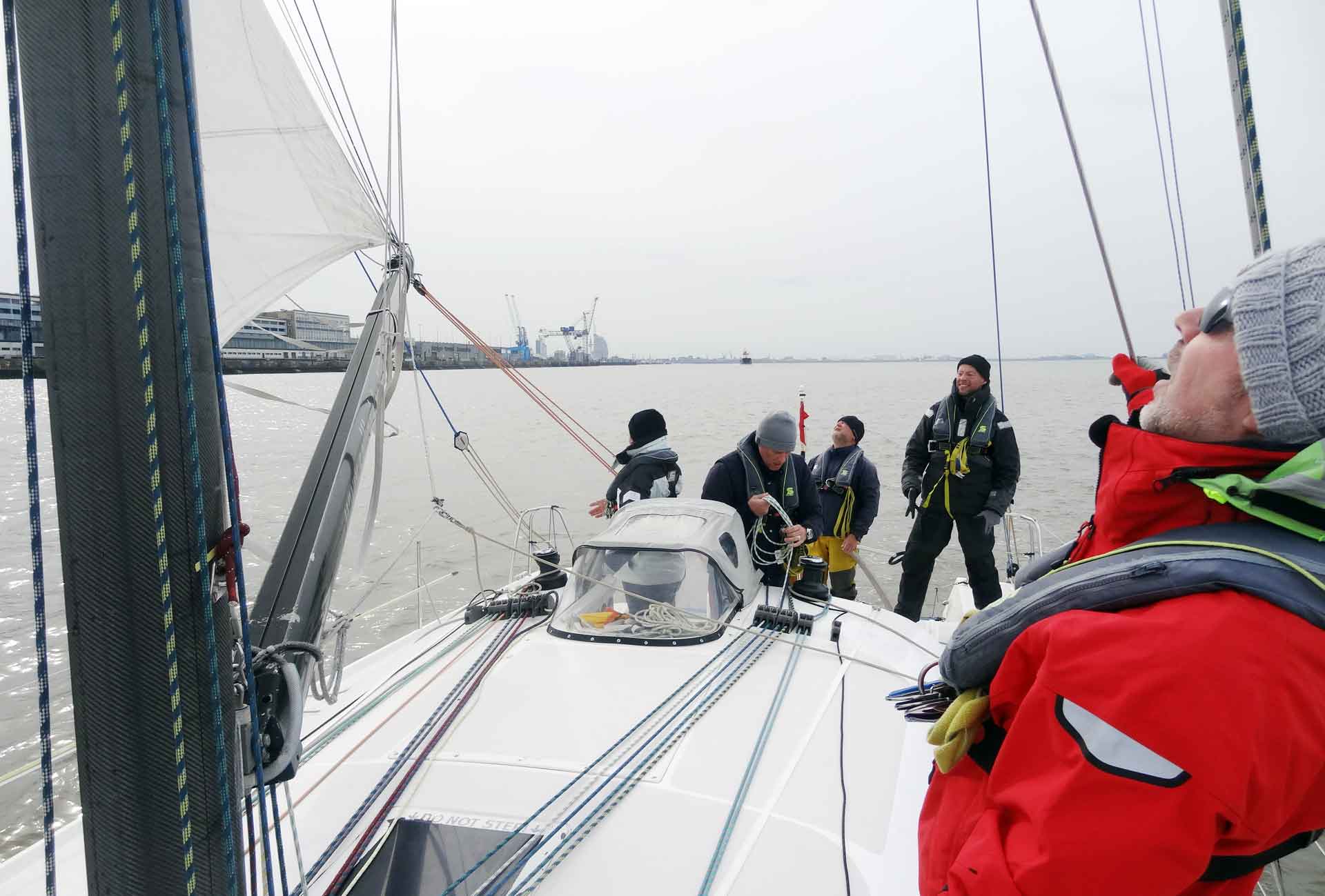 The work is sweaty and I do have to put all my weight into the halyards to get the damn sail hoisted bit by bit. Peter is taking every second pull and after a while we do have figured out quite a nice technique to get the canvas to the masttop. "All that is missing is a nice shanty, isn´t it?", I do ask him out of breath after the sail is fully set. It took us about tw minutes to have the main sail set and after the halyard is securely fastened we proceed astern to sit down for a minute or two. I am sweating all over my body, my clothing intensifying the greenhouse-effect of my body´s micorclimate. Down below deck, get a cold drink! We do have a leg of some 50 miles straight to the Island of Helgoland and having to beat upwind which is blowing with some 12 to 15 knots we predict nine to ten hours of sailing. Now, that the fore sail is hoisted as well (speedy by furling) our Pogo accelerates perceptible. Off we are!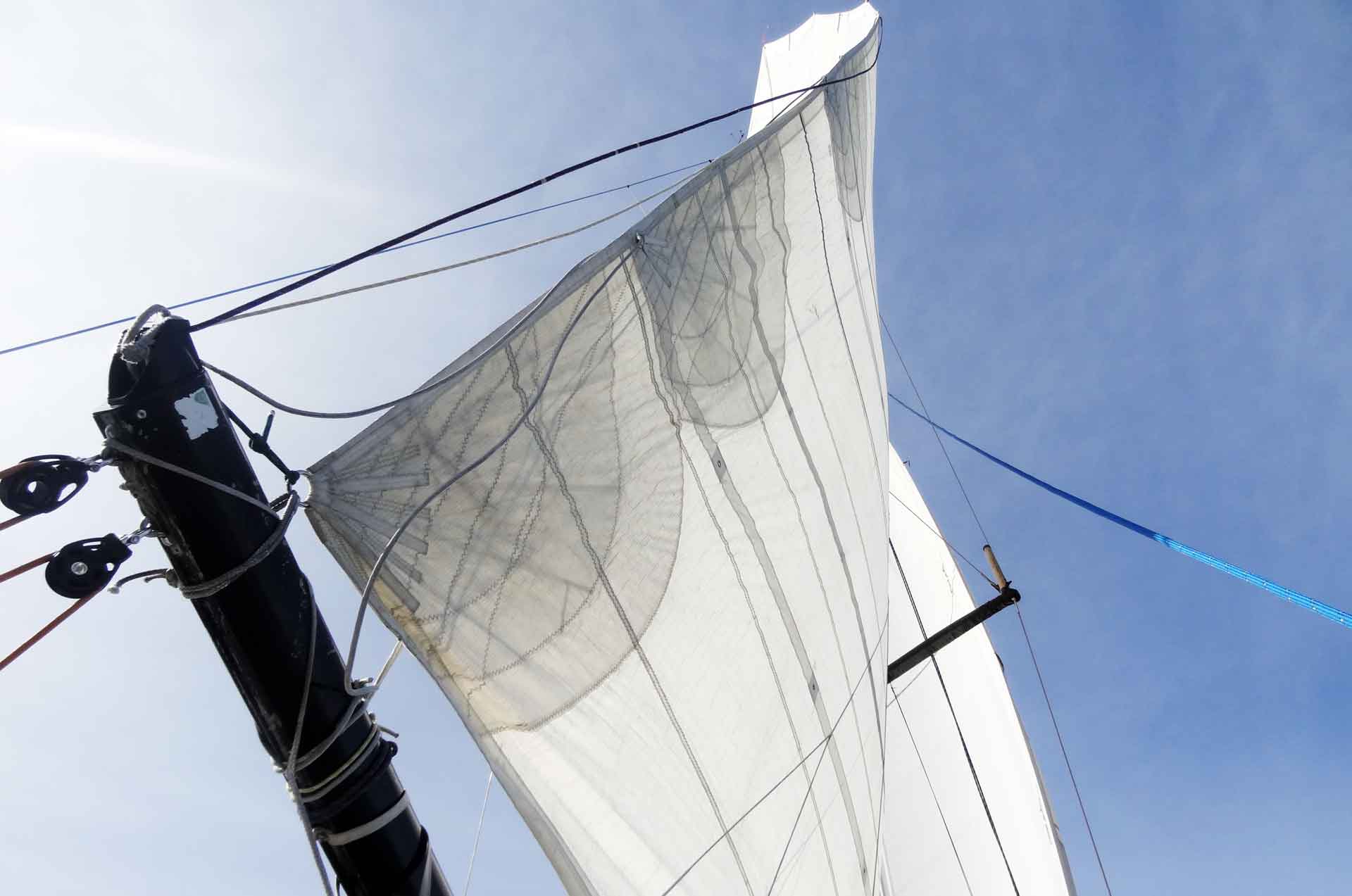 Taking a look to the sails above my head I can see some 115 square meters of sail area beautifully close hauled to beat upwinds. Taking the main sail as close hauled as we can, Michael begins to let us trim it by means of mainsheet-traveller until the tell-tales are flattering to his complete satisfaction. Same with our jib. As well as with all the other sailing yachts, al Pogo is trimmed by having the tell-tales standing horizontally parallel to each other. The leeward tell-tale is the most important one because two thirds of propulsion is created on the leeward side of a sail, so my task as helmsman is to hold steady to our course and try to keep the leeward tell-tales flowing horizontally. Our boat is moving faster and faster, it takes like nothing to get 8 knots over ground – despite being still on the River Weser and under land cover.
After some two miles we reach the estuary having the World´s longest quay wall on our starboard side. I am amazed by the fact that this port does seem to attract a lot of ships seeing nearly all of the mooring lots occupied and busy. We are roughly scheduling our watches: 30 to 45 minutes at the helm should do because steering the Pogo 40 is an exhausting and very demanding job. We have one of us manning the leeward sheets of the jib and the mainsheet at a time and two being ready to man the traveller-sheet and backstays at short notice. Most of the time helmsman and bowman are occupied constantly, the rest is trying to make themselves comfortable with sitting in windward position. `
What´s that? Apparently, the crew of POGO 2 has been faster in hoisting their sails – we find ourselves some 8 to 10 boat lengths behind. Can we still manage to catch them?
Sailing a Class 40 Yacht: At her Helm
So, how does it feel to control a Class 40 Pogo racing yacht? Well, very good indeed! This boat features two interconnected tillers making steering a no-brainer. It is said that yachts of up to 42 to 43 feet could easily be steered by tiller mechanisms. Having a direct and very accurate feedback in my own hand I can apply small corrections and pushes to the rudders very sensibly. Embarking on this Pogo 40 right away after having practiced on yawls is a definitive advantage as I will later see that some of the other crewmembers will have slight problems to adjust to tiller-steering being accustomed to wheel-steering on their own yachts.
The Pogo 40 has a 4.40 meter wide cockpit which is providing for a lot of space for the crew. At the same time I don´t ever have the feeling of being unsafe. One can sit directly next to the tiller and grab the wood or take a more out outward steering position and have the helm with the attached forespar tiller extensions. This boat is outfitted with a stable big and comfortable spinlock creating a good felling in my hand. Having to apply constant corrections the best position to be seated is forward of the helm but for now with perfectly trimmed sails and relatively low windspeeds there´s nothing more cozy than having my back pushed against the rails and let go the ship.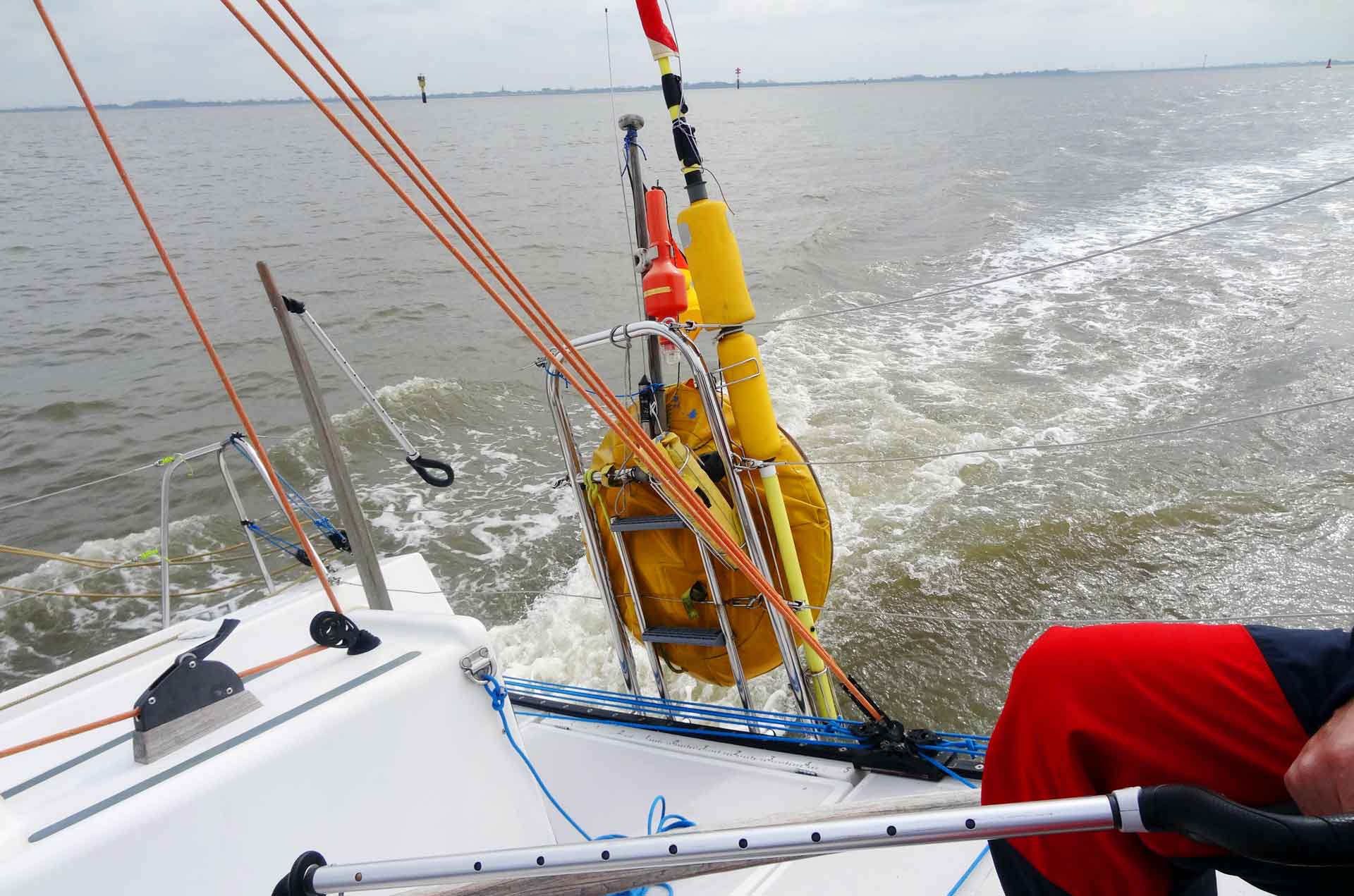 I do have an excellent view over the low fore deck to the area in front of the ship to windward, needing regular updates to the leeward side of the ship obscured by our large sails. Because of the fact that all of POGO´s halyards, sheets and all the others of the running rigging are diverted to the cockpit there´s a lot of ropes coming in to both sides of the entryway hanging over the side ready to be put on the winches at any time. All these ropes do sometimes obliterate my sight onto the two multifunctional displays and the compasses making it hard to steer correct and neat for true course and yaw angle. Anyway, constantly taking a look above to the tell-tales and asking the crew from time to time to give an update will do.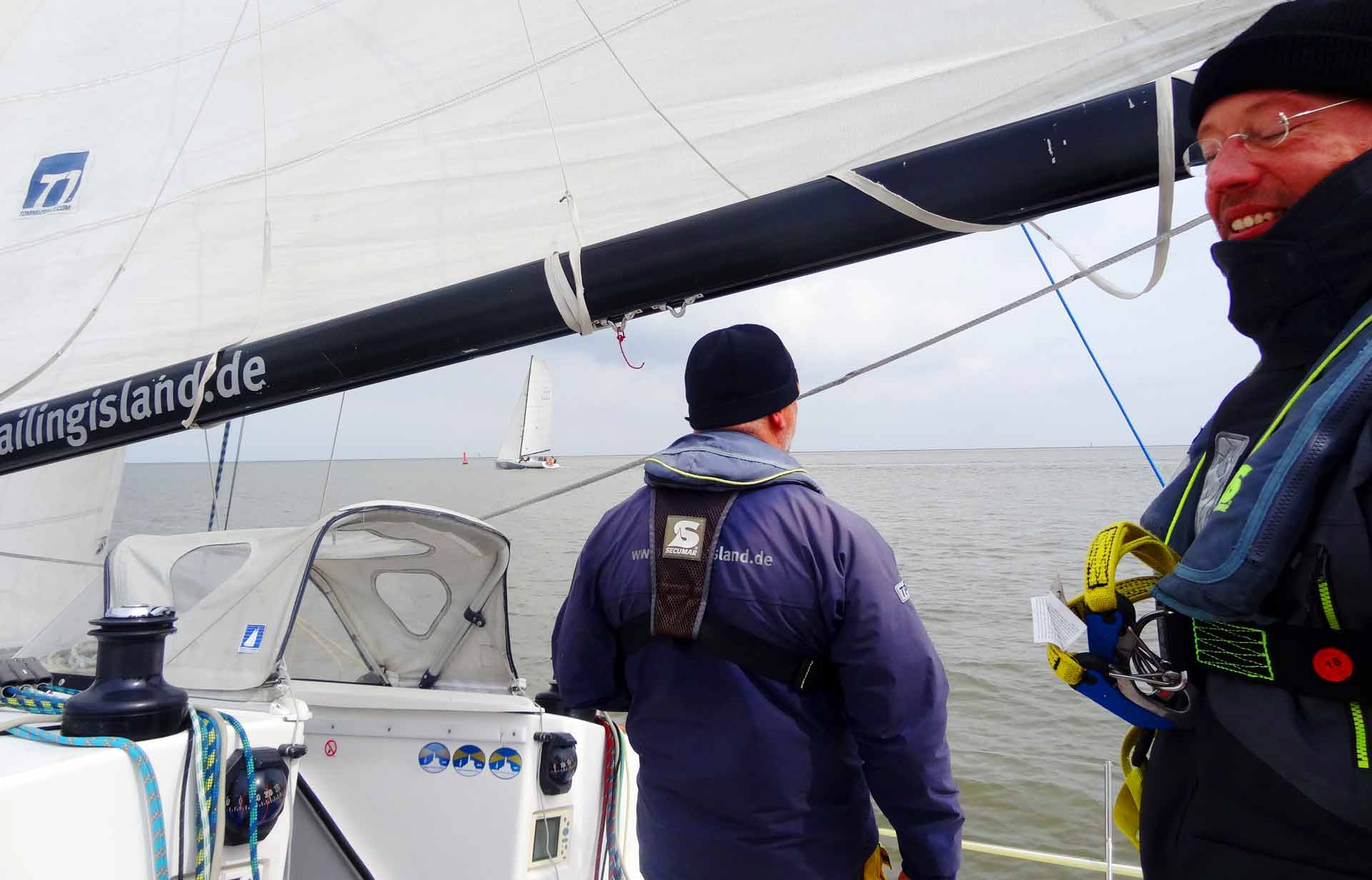 Skipper Michael is constantly exhorting to strive for perfect sail trim. A thorough training: Being accustomed to relatively clumsy sailing yachts compared to this racing-boat we indeed have to apply minor corrections virtually all the time to our sails to squeeze out the last tenth of a knot. As he puts it: "The difference between good sailing and shitty performance on a Pogo 40 is … just three degrees!" And 3 degrees is not a big margin at all: Having smoothly adjusted course and my tell-tales at long last flying horizontally parallel … a whiff of too much of reaching and everything starts again. The extremely flat and wide hull is reacting immediately to the smallest push or pull on the tiller even if there´s only one rudder in the water due to heeling.
"Allright helmsman", says Jens, "let´s sneak up to POGO 2 and try to overtake in windward." Easy said, having my attention aimed at keeping to the right in the Weser fairway and have an eye on commercial traffic as well as our course.
Racing against Pogo 2
That´s the way when five men are spending time together without their wives: Crude humor and machismo tend to go hand in hand. Falling behind POGO 2 more and more became an unbearable situation so plans are made to change that. Being helmsman at this time it´s my responsibility to act whilst others talk: Finding ourselves too much to leeward in comparison to our adversaries I am to overtake the old fashioned way in windward. But here´s the problem: We are both very close to the wind and luffing even higher will inevitably put everything in jeopardy. Our skipper had given a general course which I have to steer to avoid running aground in mudflat. Besides there´s multiple commercial traffic and I have to keep to our right in the fair way. Oh my.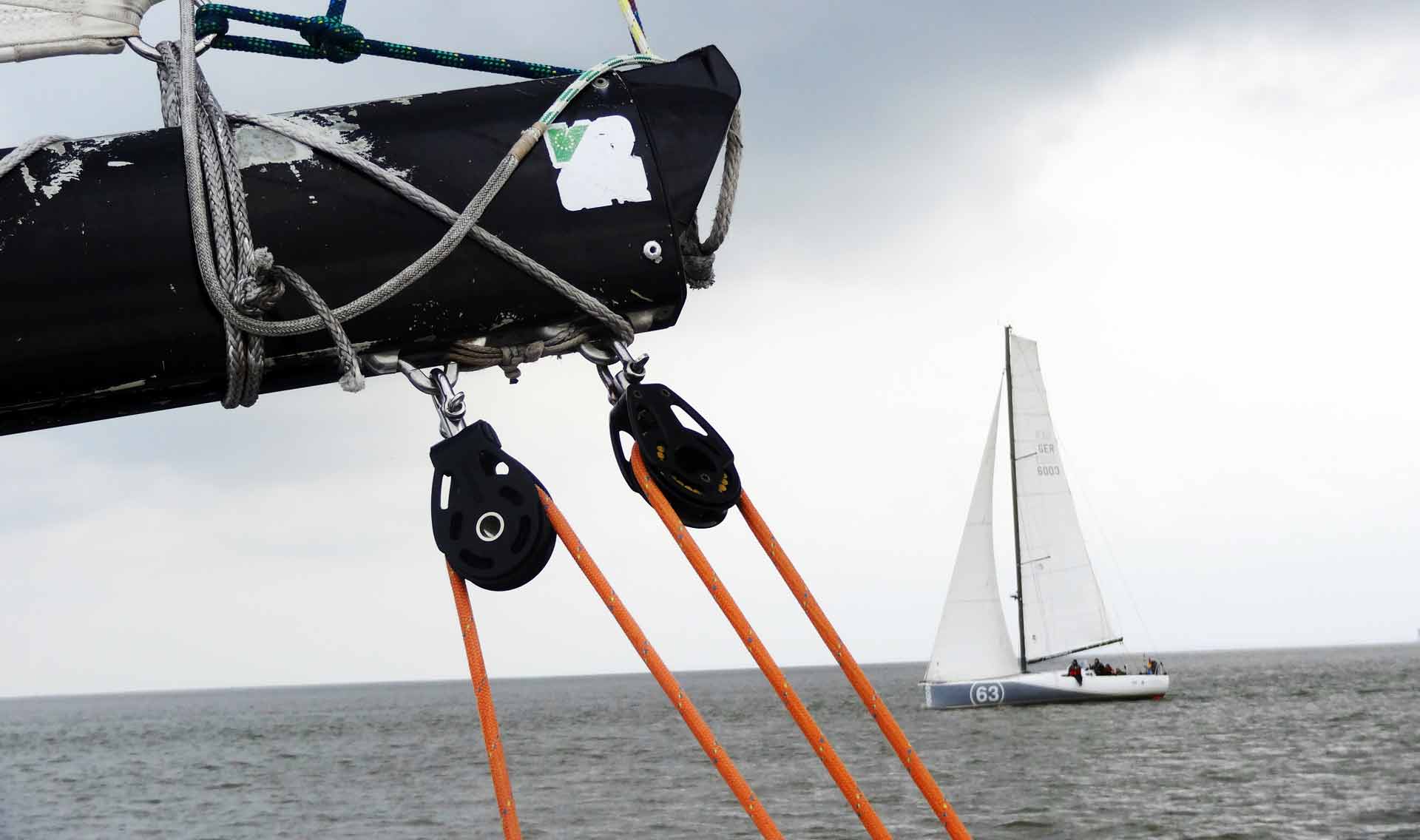 Our Pogo 40 is sailing like a dream. Every little breeze is instantly converted into propulsion, when heeling even more since our lateral plan and wetted surface is reduced. Right behind me is our aft wake boiling as we gain further speed – at some point the constant gurgle changes to that remarkable fizzling. We are planing! There´s virtually no pressure on the rudders and it seems that control over the yacht is ensured, I might be able to control the ship. Slowly we begin to gain ground and distance is shrinking over POGO 2. Go to Warp-Speed, Mr. Data!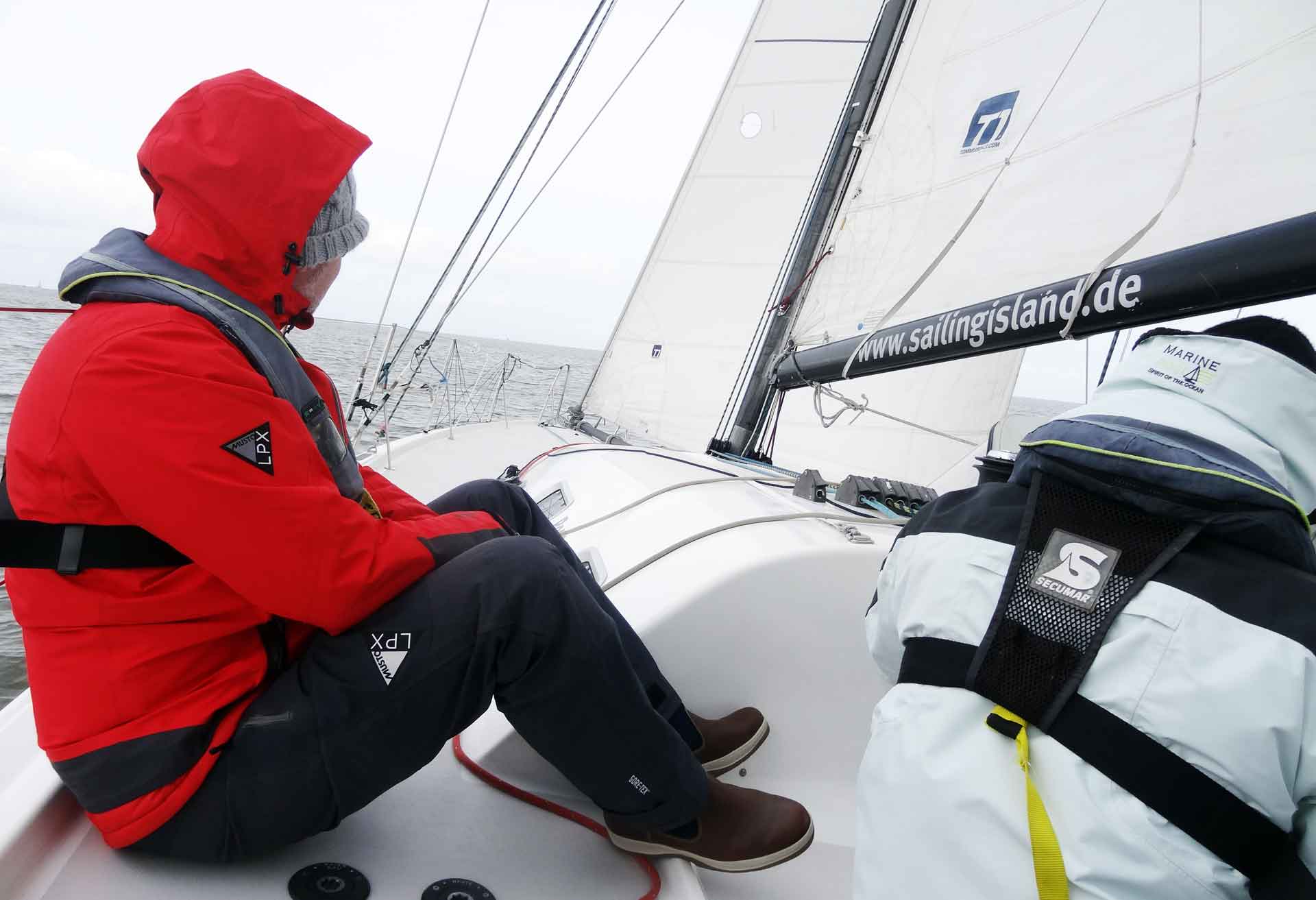 Some 30 minutes later – we´ve changed helmsman – it all goes too quick. I would assume due to superior sail trim we manage to be able to change to windward and overtake POGO 2. We are waving at each other, have a big smile on our faces and take pictures. What a nice feeling this is. But instantly our view is set forward: No margin for failure anymore, neat steering and constant trimming of sails is the motto. How did Michael say? Three degrees will decide between neat and fast sailing and shitty performance. Somebody is below decks and offers chocolate bars, apples and water. I take my chance but will have eaten and drank too less today upon arrival. That can have an unpleasant ending …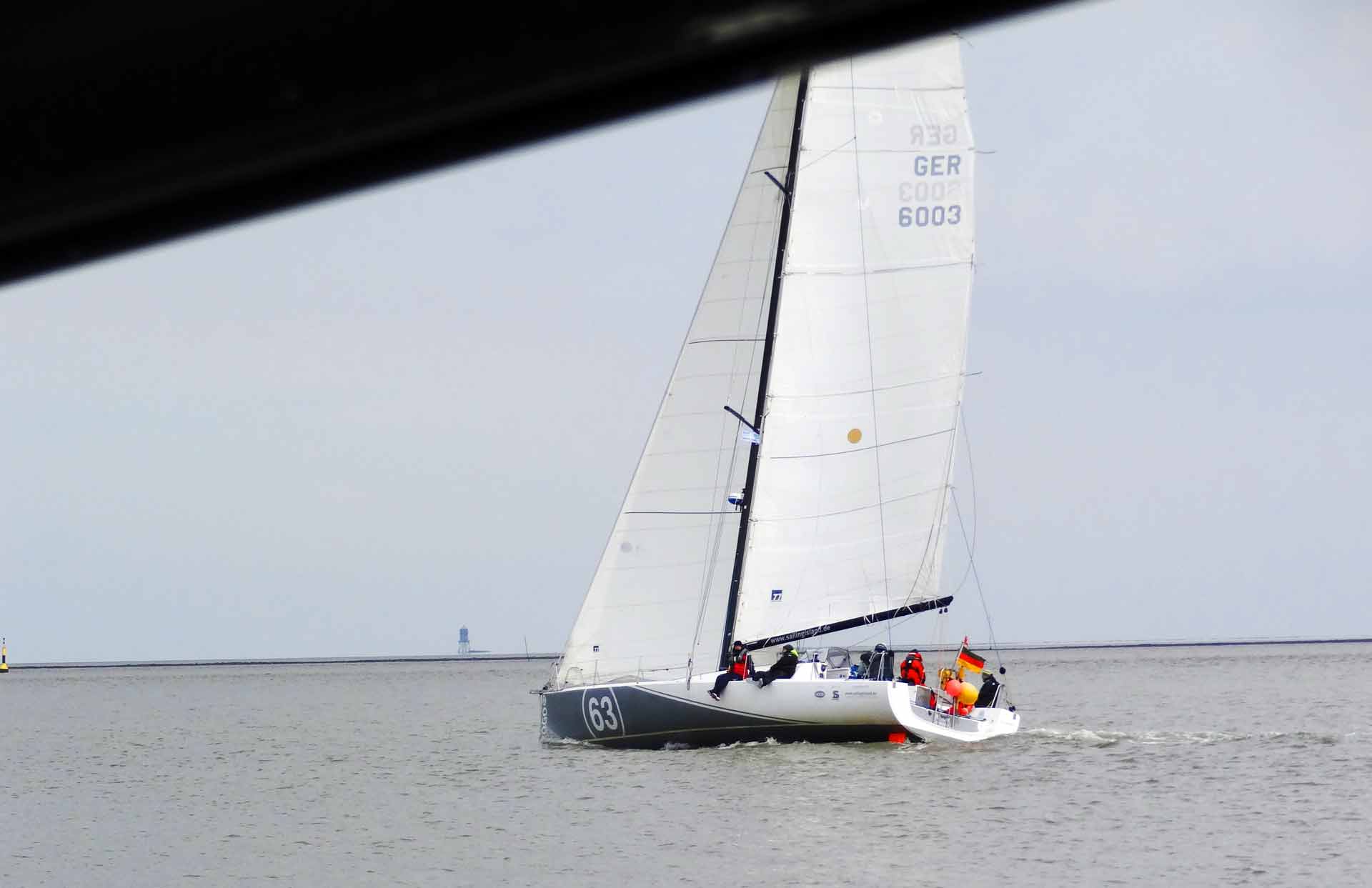 Gaining more and more advance over POGO 2 the general mood on board our sailing yacht eases a bit. We begin a lively talk about the Pogo 40 and her sailing qualities. My attention is catched by the fact that this boat seems to be so well balanced that I couldn´t notice any tendencies to weather helm at all. The Pogo seems to follow her course steadily and stable. Well, of course, today we do have perfect conditions: A steady wind without gusts. More and more we gain confidence and begin to play with sail trim – even without advice by our skipper Michael. Now and then his head appears behind the small sprayhood as he checks course and trim. Some 2 hours after leaving Bremerhaven he suddenly announces: "Ready for tacking!"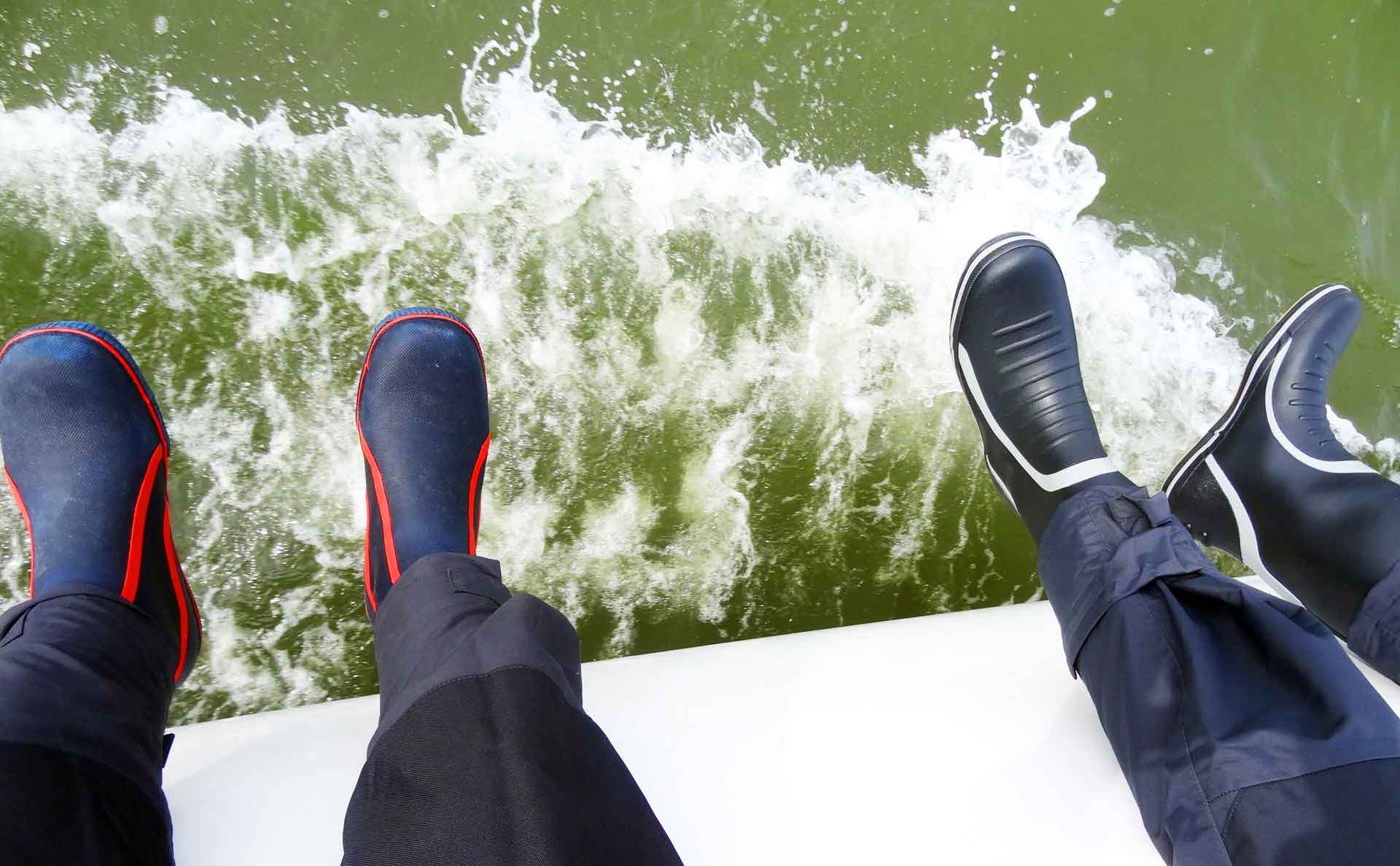 As we are steering too close to a mudflat on starboard we have to tack to gain some miles. A tack may be the simplest of all maneuvers to be executed on a sailing yacht but tacking a 40 feet racer going 12 knots for the first time proves to be of some challenge even for our experienced sailors. Some of the hustle is due to the fact that a Pogo 40 features adjustable backstays: When tacking the old windward-backstay has to be let loose whilst the opposite one has to be tightened fast to absorb the pressure on the mast quickly. At the same time bowmen have to loosen and tighten jib sheets, traveller and mainsheet as well. Even after having pre-talked the whole maneuver and tasks for everyone through, execution of it caused some trouble. Our huge cockpit suddenly appears very small when 5 people hastily handle sheets and ropes.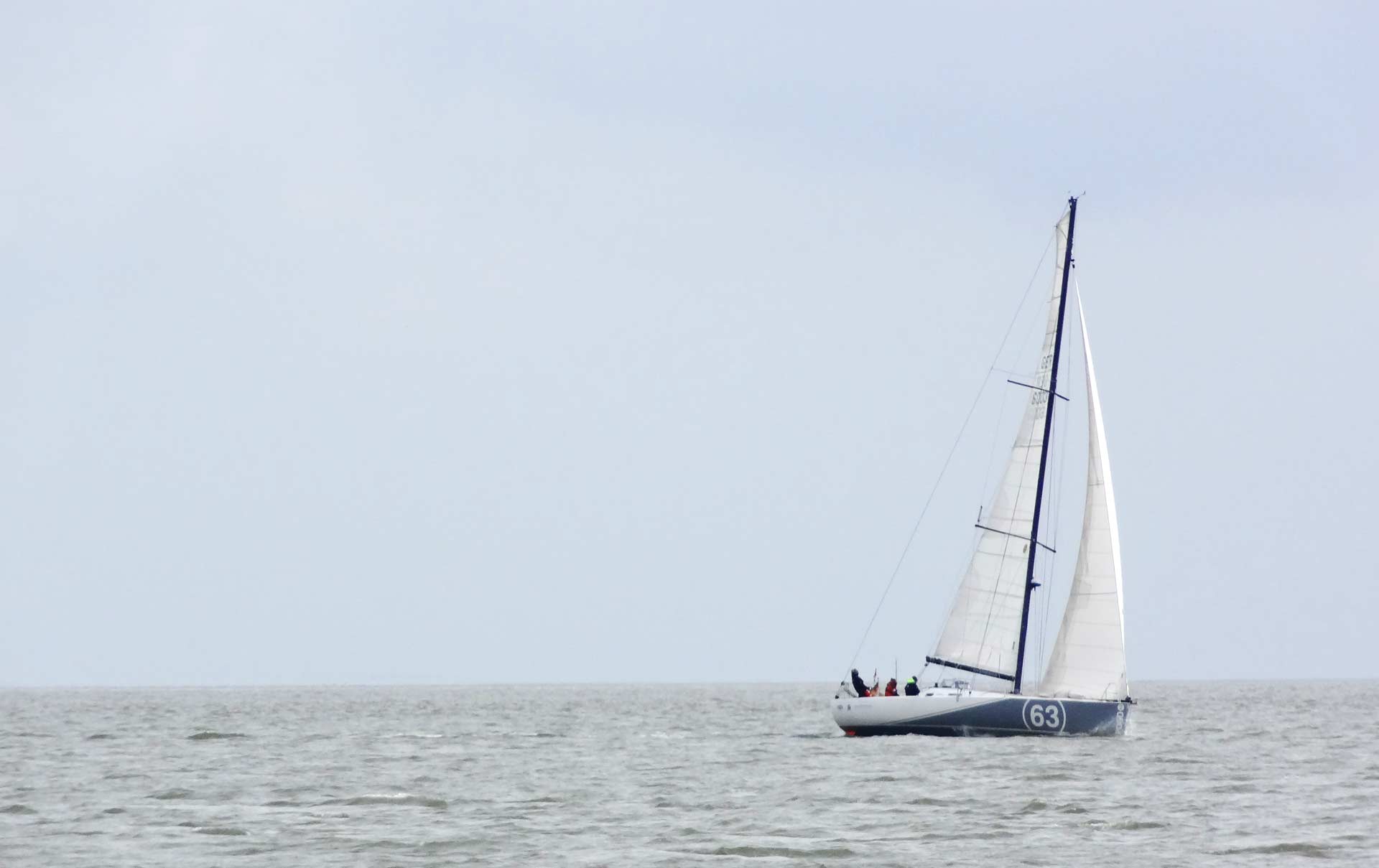 Eventually POGO 1 tacks and we can quickly adjust sail trim to the new course to obtain speed. Then POGO 2 is tacking too. But we all have the impression that they do have some more hustle to cope with …
After doing a fetching leg of one or two miles our skipper decides it´s good for tacking again to steer the old course. This time the confusion is less severe and we manage to have a pretty neat maneuver. It appears if skipper Pauli on POGO 2 does the extra mile because we count not less than four tacks – again, our sister ship loses time. We are (almost) uncatchable now.
Planing on a Pogo 40
Flying for rookies. What have I read about planing, chines, Pogo Structures, the Class 40-yachts and their seaworthiness. What have I imagined how it would be like to feel the boat surfing – would it be too fast? Uncontrollable? Possibly dangerous? We have a very wide and flat cockpit, a narrow freeboard and virtually no "perceived safety" as other yacht brands are actively marketing them. Here´s a different approach to safety, which lies in speed. But on our Pogo 40 that´s of no concern at all: Nothing. It´s just so simple. When speeding up to 8 or 9 knots the hull will start planing. Just as simple as that: The wake will collapse and the gurgle is replaced by a "Swoosh". A truly awesome experience!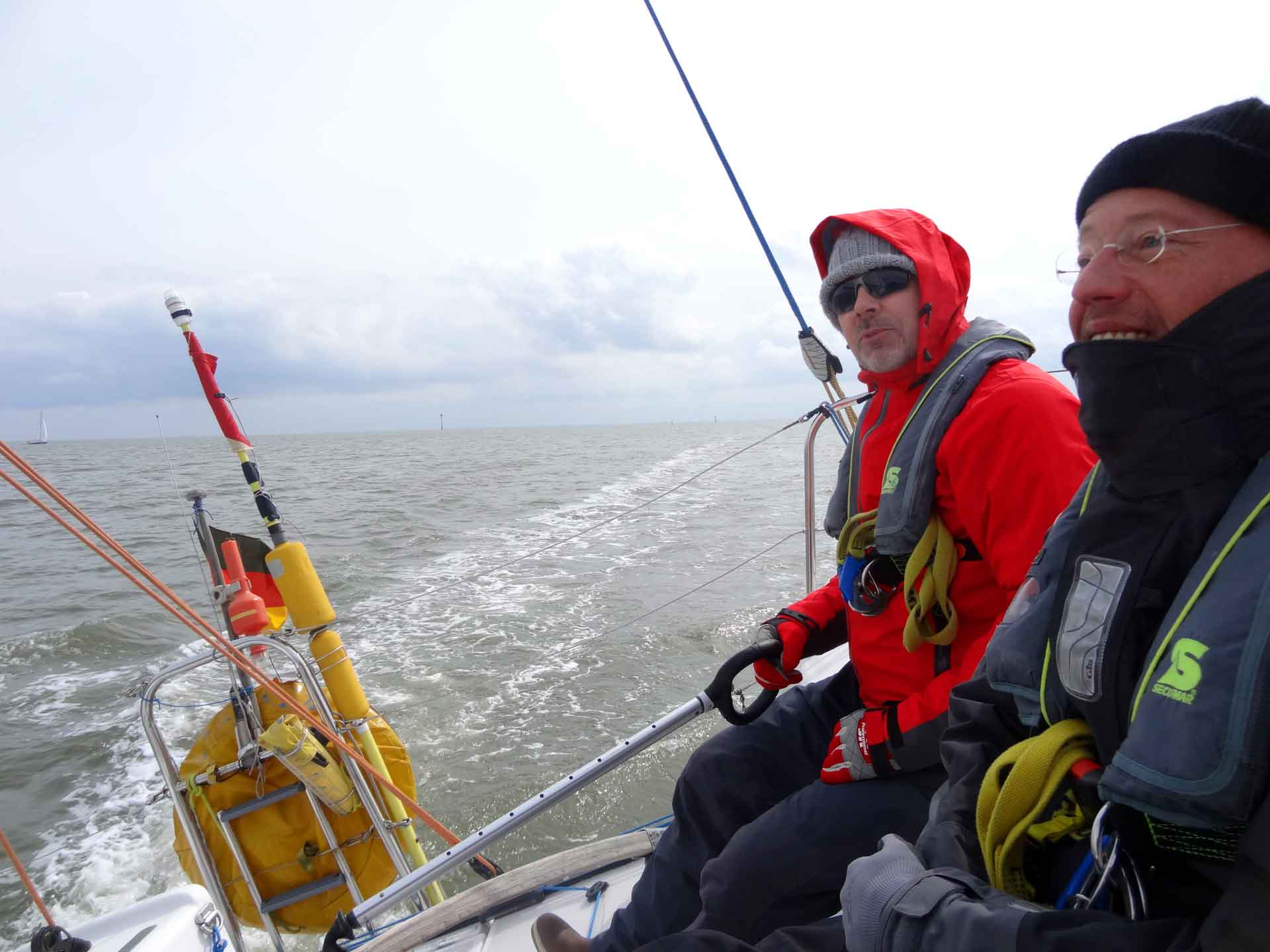 In doing so, heeling will never be a problem at all: The wide open cockpit nevertheless offers enough hold by multiple footings and steps molded into the surface. We did have axtreme heeling angles of up to 45 degrees and I didn´t had the feeling of instability or weird insecurity at all. Sure, when trying to roam about on board one should grab a safe hold, but that´s no exception on other yachts as well. Our skipper is a pro in wedging himself during heeled sailing. He works almost exclusively on this Pogo 40, has raced multiple regattas with her and did short-time cruises as well as long haul trips and heavy weather trainings with our boat. He is communicating calmly a general feeling of "everything´s okay" among the crew, which is a good feeling.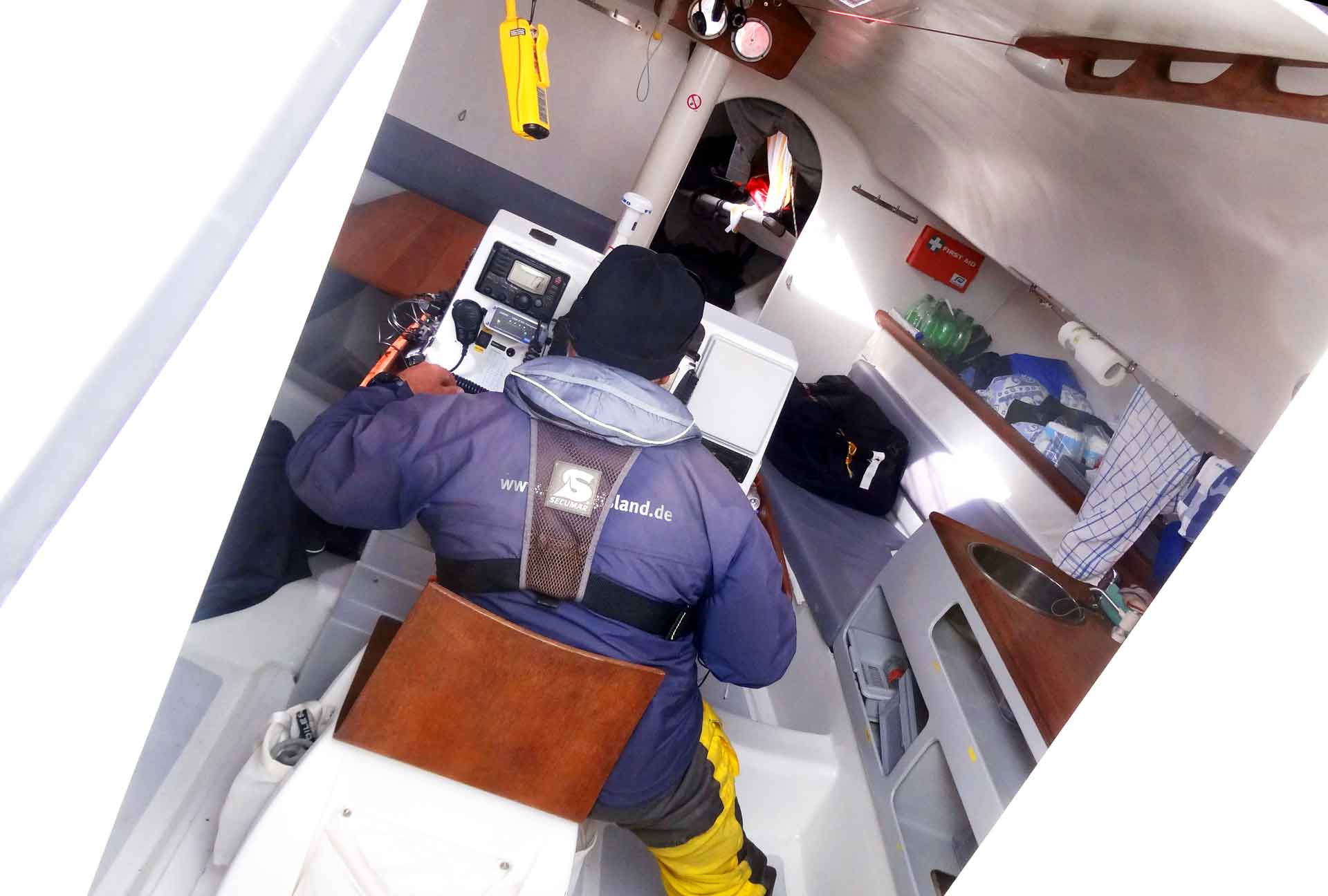 When he is under deck and having a quick game of Solitaire it´s a sure sign for us that everything is in order. From time to time he will check bearing, speed and AIS on the Toughbook and plotter, will put his head up through the entryway to have a look at our sail trim and if everything is just satisfactory, he will proceed returning to sit in front of the laptop to relax. Sometimes he joins us in the cockpit, smokes a cigarette and does align the mainsheet traveller for a centimeter or so, just to disappear below again for the next 20 minutes.
The miles are melting like the hours do. In our wake we struggle to get a clear sight of POGO 2 as we are constantly gaining distance over our rival. I would assume we did widen our lead to some two miles at this point of the cruise. We have a constant blow of 15 to 18 knots, being able to drive the ship constantly at 11 to 12 knots flat. Best speed today will be gauged at 13.8 knots – isn´t that just fantastic?
Why a Class 40 Yacht needs constant Attention
As the miles pass the hours melt away as well. It strikes my mind that we do not have any commercial shipping in sight for quite some time, despite the fact that the German Bight is normally crowded with inbound and outbound traffic. Good for us – one factor to take care of less. We have a constant blow to the winds, no gusts at all, sail trim is just perfect and we get more and more sunshine as well – anyway, it stays cold (we left Bremerhaven at 4 degrees above zero this morning). Swell increases therefore. Drastic I should say: We have waves rolling up towards the boat from portside of 2.50 meters in spikes. Most of them can be hacked by our skilled helmsmen: Luffing when beginning to climb, on the wave crest beginning to reach a bit to surf down on her leeward side gaining immense speed for the moment.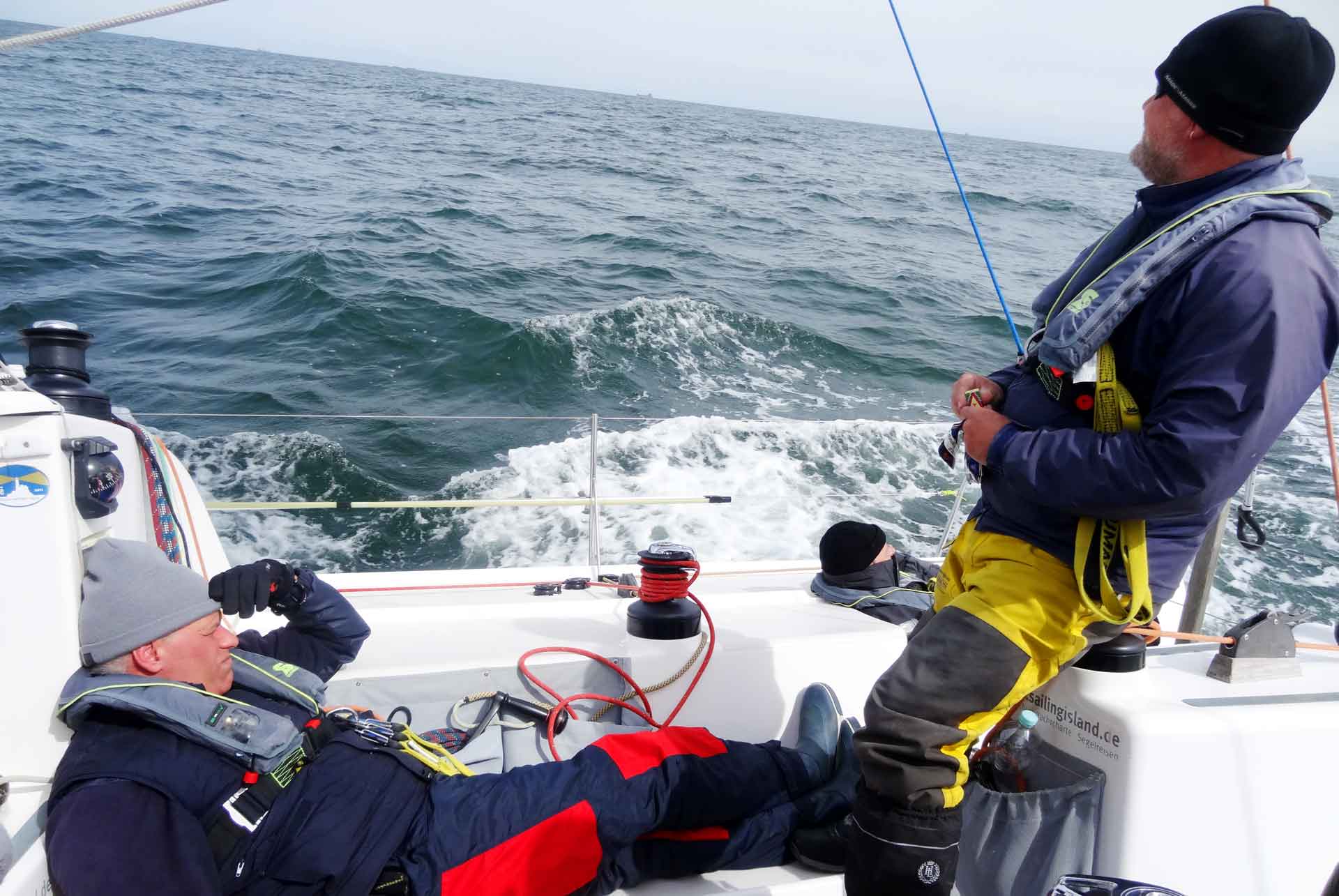 Some of our crew do not appreciate the motion of the seas as much as I do. This roller coaster trip does tend to affect their stomachs. Peter – having dressed up way too cold for today and having eaten far too less – disappears below deck for an hour or so. Nothing serious but annoying enough for him. Jens and Oliver lay down resting leeward in the cockpit. This leaves Michael at the helm, I am his bowman but I don´t have anything to do for the most part. Because there´s no shifting in the winds I can relax, let my feet dangle over the freeboard and dream away staring at the horizon … what a great feeling it must be to know that this sailing would go on for a year or two? I love the constant up and down. Motion of the ship, the swing, the pitching and pounding into the waves.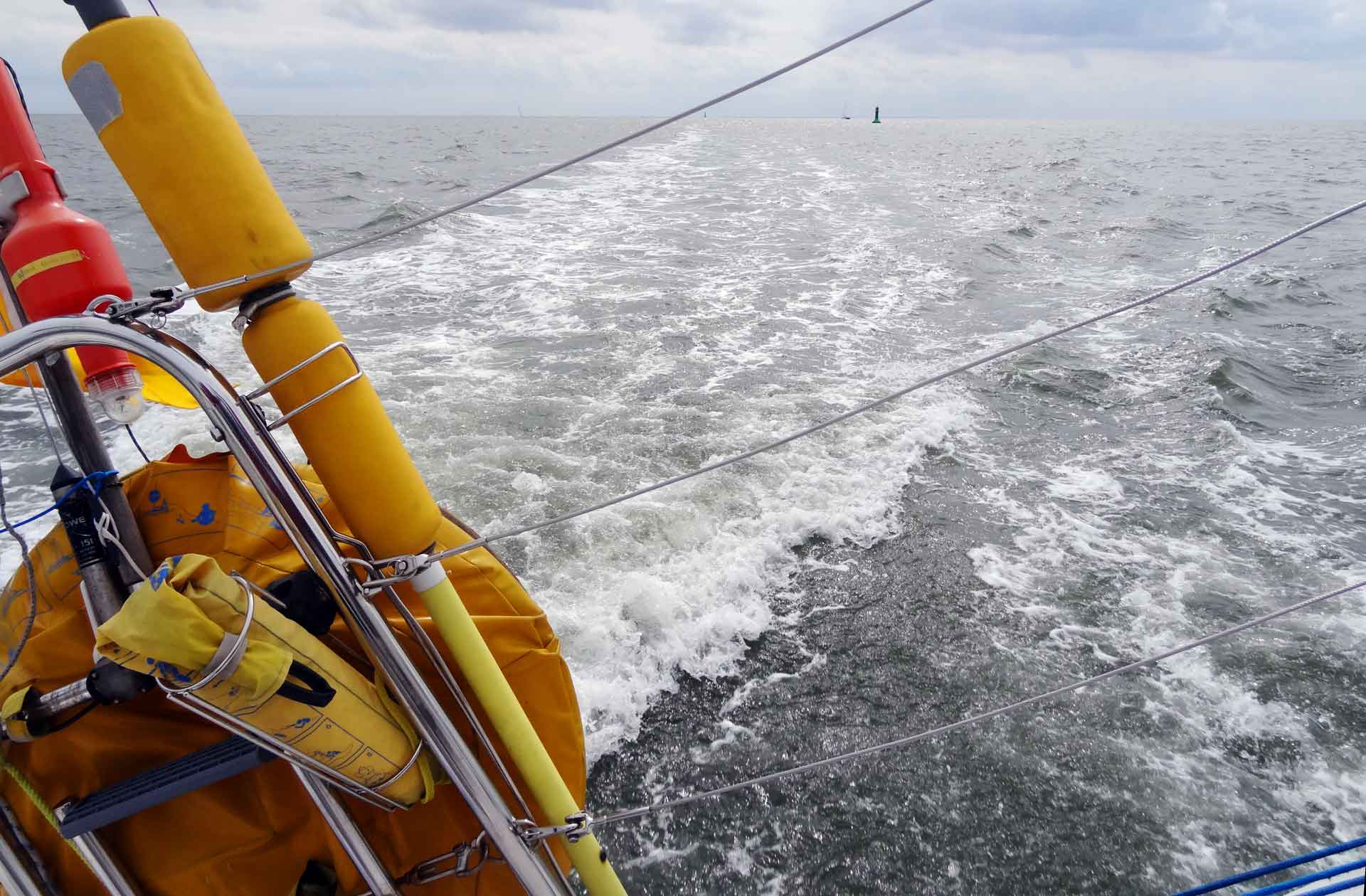 However, every fifth to sixth wave does hit us hard. Mostly the bow would be banging down hard flat into the greenish waters of the wave through. The hull would tremble, mast vibrating and the rigging clanks like hell. What a sound this must be below deck. Nevertheless the boat manages to keep speed and races on like if nothing has happened. Seldom but harder a wave would bang into the bow. A sudden yank, almost complete standstill like a full brake. Water would splash all over the fore deck, but barely strong enough to flood our cockpit.
After some time an emerging freighter from abaft briefly causes some stirrup but as we couldn´t observe a standing bearing it all goes well – she passes over the bow in some 1 mile distance. Meanwhile the rest of our crew seems a bit sedated and exhausted …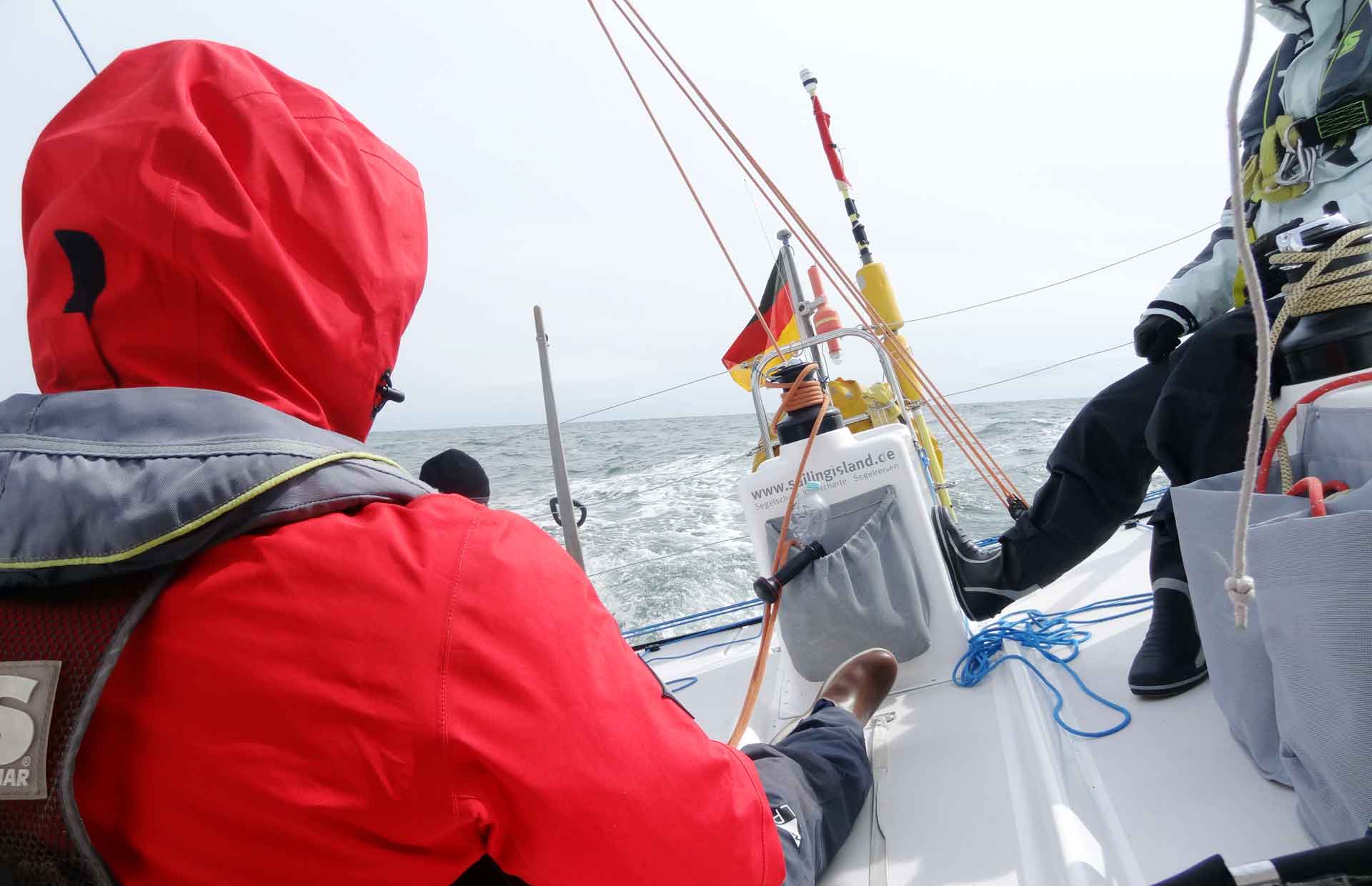 The Pogo 40 is deceptive. Sailing her seems to have a lulling influence on us. We do have perfect sailing conditions today. No gusts, steady wind, easy commercial traffic, no rain (which was predicted) and no cold temperatures (when dressed accordingly). Cockpit and ship would remain dry all the time, we don´t have to perform maneuvers at all and more and more the sun would make us glad. Jens falls asleep …
A tricky situation because this racer needs constant attention. When at the helm you´d have to steer exact and neat. Our planing hull doesn´t have a noticeable lateral plan and a few square meters wetted surface. Every wave makes her yaw, she´s constantly sheering up to 15 degrees from due course. That means: Stay awake and alert!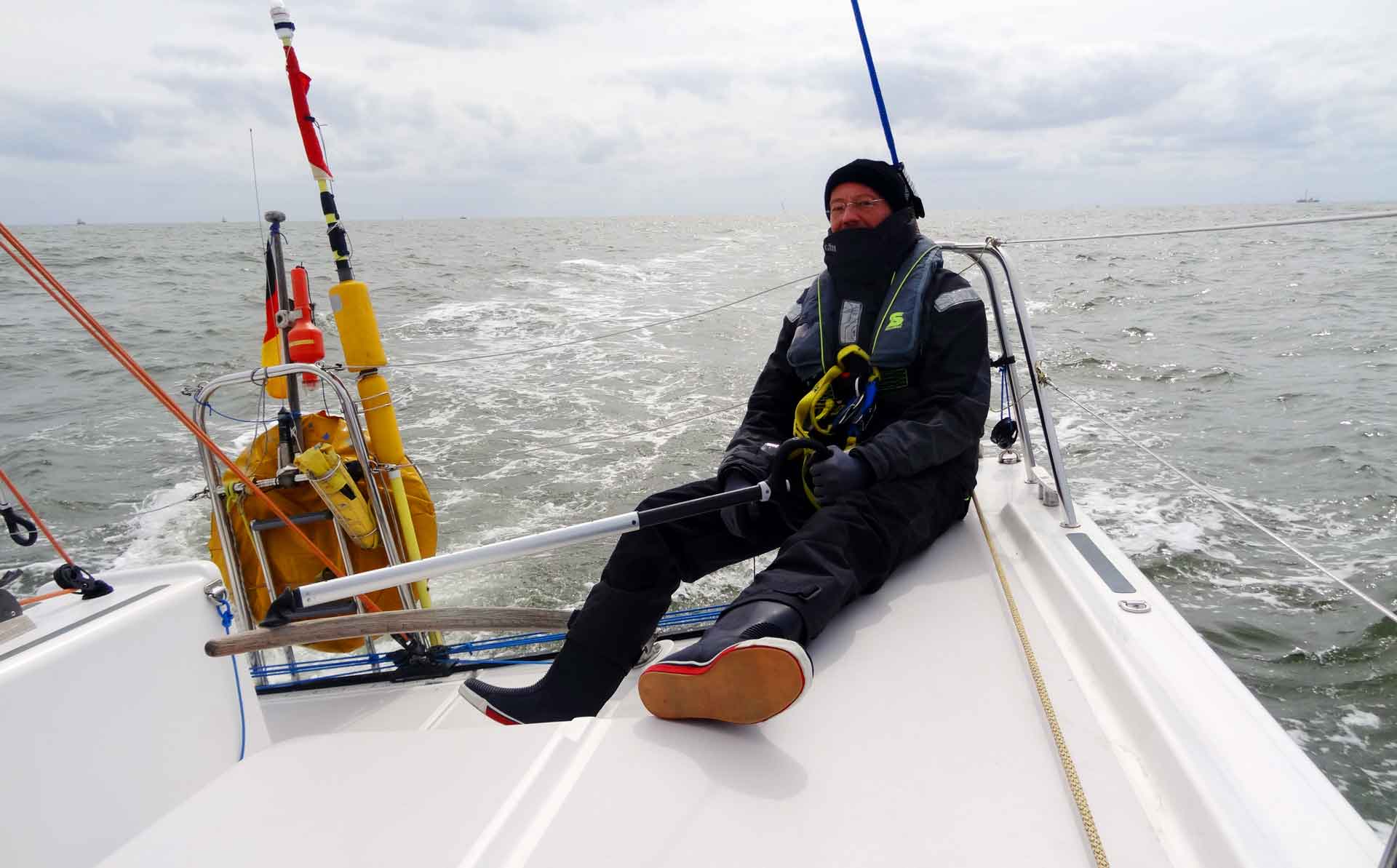 This is why we have a change in watches every 30 minutes or so. Because you won´t be able to draw this much attention to controlling this huge boat longer than that – remember: We arrived yesterday and had no prior experience with that kind of racer. I enjoy riding the waves, occasionally my feet and legs get wet by the waves but no match for my waterproof clothing. I zoom through my camera to search for POGO 2. She is yawing heavily through the waves just as we do – what a marvelous view! Anyway, if nothing happens they don´t stand a chance in catching up.
A masttop and later a hull comes into sight dead ahead – another sailing yacht. Some minutes later we finally take the first sight on our destination. Germany´s only island in the high seas: Helgoland.
Helgoland. Less than 6 Hours!
We gain distance over the mast and after some 15 minutes. It´s a 34 feet sailing yacht. No canvas hoisted. She is pitching hard in the rough seas, her mast pointing up to 40 degrees on either side. I suppose the yacht cannot beat to windward that high so that they took in all sails and try to reach the island with engine power as quickly as possible. The poor crew is cramped into the cockpit, I can identify grey bored faces as we pass them by. Out boat is more than 5 knots faster …
There´s nothing that could make me change with them. As we are rolling hefty in these conditions it´s still nothing compared to their gross situation: Without sails there´s no stabilizing factor against the wild movements of the seas. I suppose it´s unequally nastier to be there than riding our hell-machine.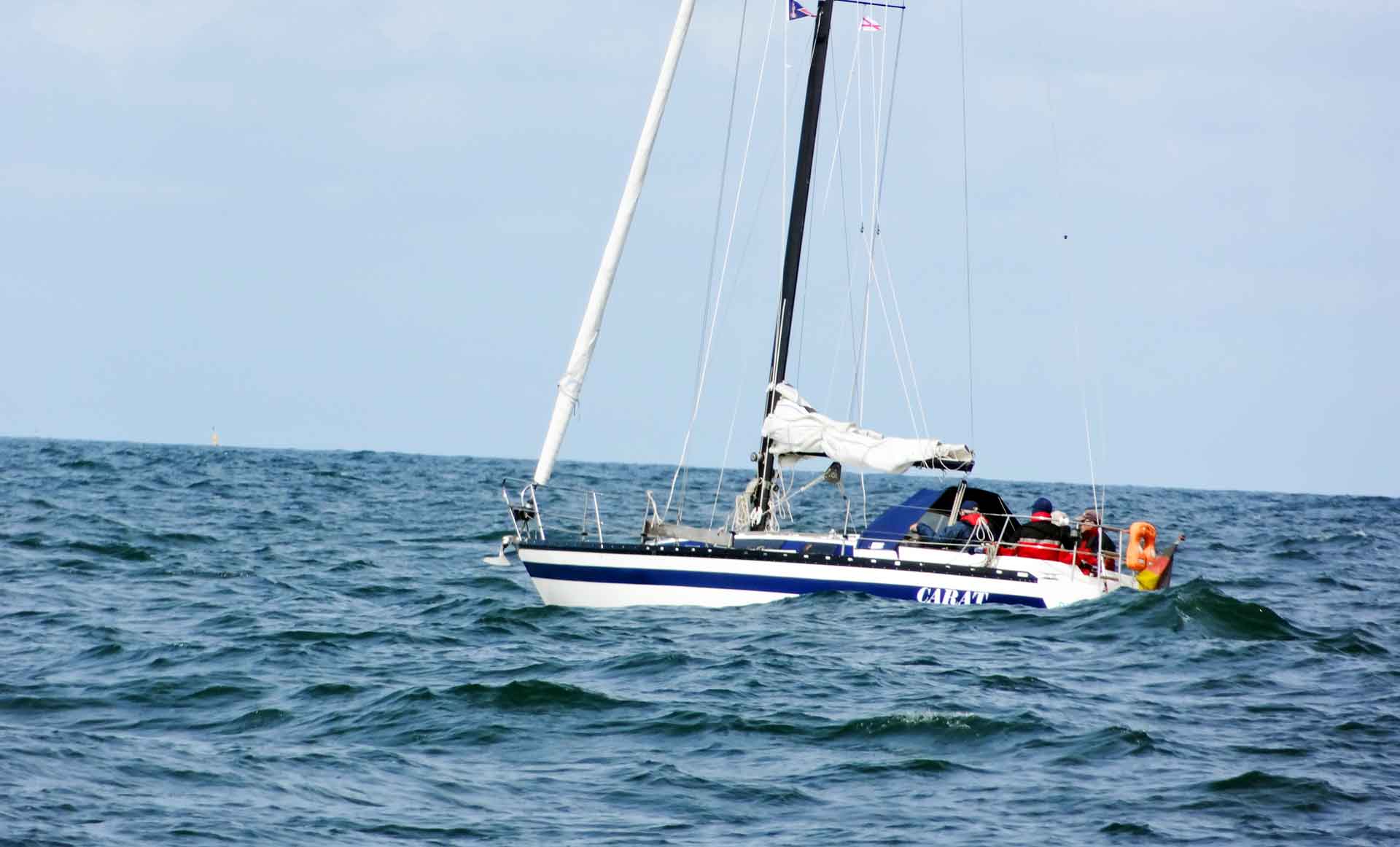 If anything I cannot draw a single foul from our Pogo 40 seaworthiness in upwind conditions. Pounding into the seas can happen on traditional yachts with inclined stems as well. And I must admit I do not feel the pitching and rolling as bad as often described in blogs and forums when speaking of the Pogo sailing yachts. This boat will go extremely fast even upwind and will do so in a safe and manageable way. Where other more traditional yachts cannot run this high up to the wind – as the yacht under engines we´ve passed recently – we can still sail right away under full canvas.
An hour later we can manage to see details on Helgoland. "Less than hour ETA", says skipper Michael. Suddenly our crew is back and moving.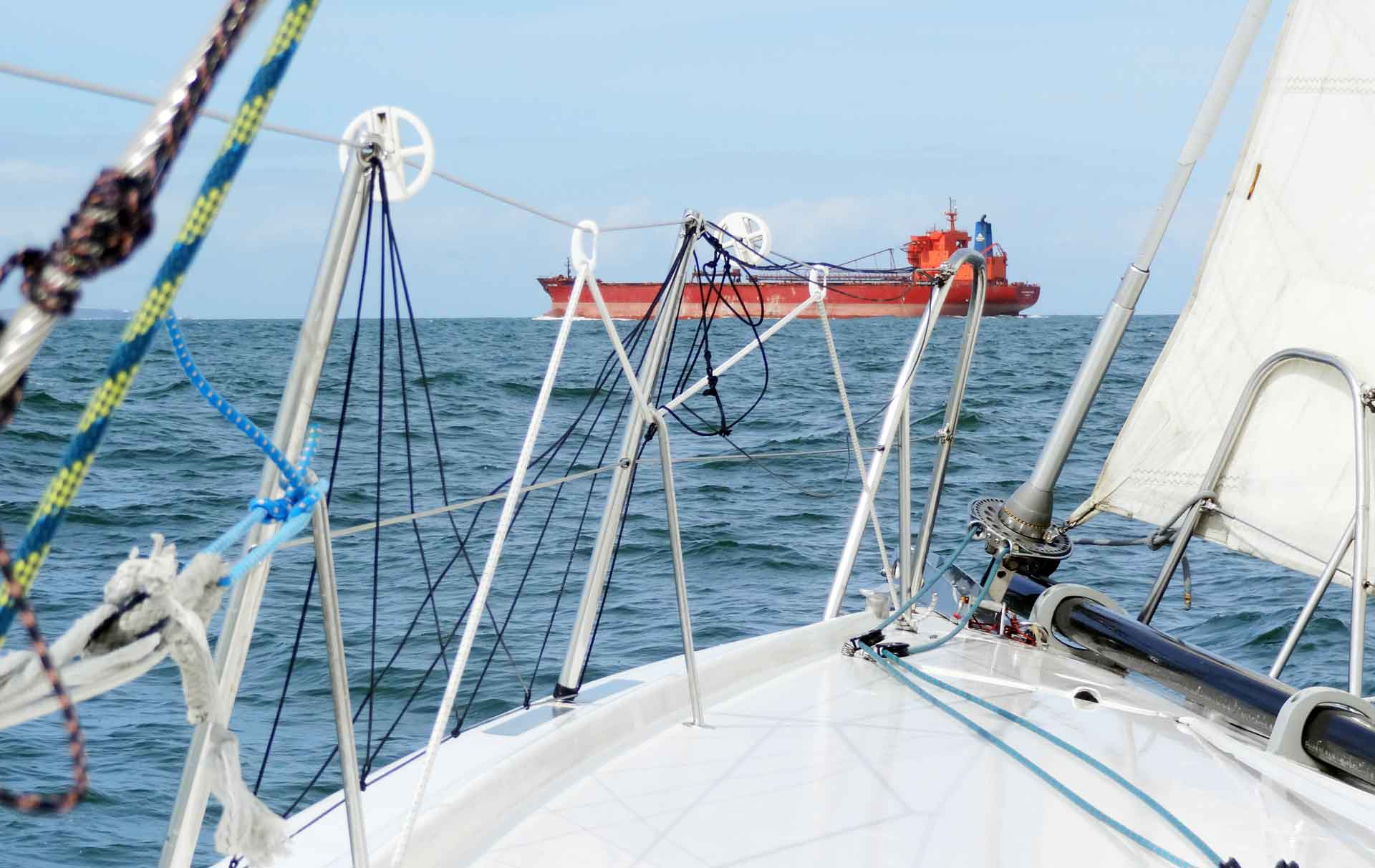 We are all surprised having managed to reach Helgoland that fast. Michael suggests not to land in port immediately but to sail the small channel between Helgoland and the sister Island called Düne (Dune) and have another maneuver – a gybe. As he puts it: "We have time, haven´t we? Besides, we don´t want to be in port too fast to prevent POGO 2´s crew from all too much shame …" He is laughing just as we do.
We are passing the two islands fast, the gybe is executed neatly and running back to the inlet of the marina we can begin to take in our sails. Which is done surprisingly fast for a yacht this big: Jib is furled in quickly, the main sail takes two minutes to have it lying in it´s Lazy Jacks. Our Volvo Penta starts at an instant. We are finally here.
Helgoland. 50 miles upwind. Less than 6 hours. Hammer!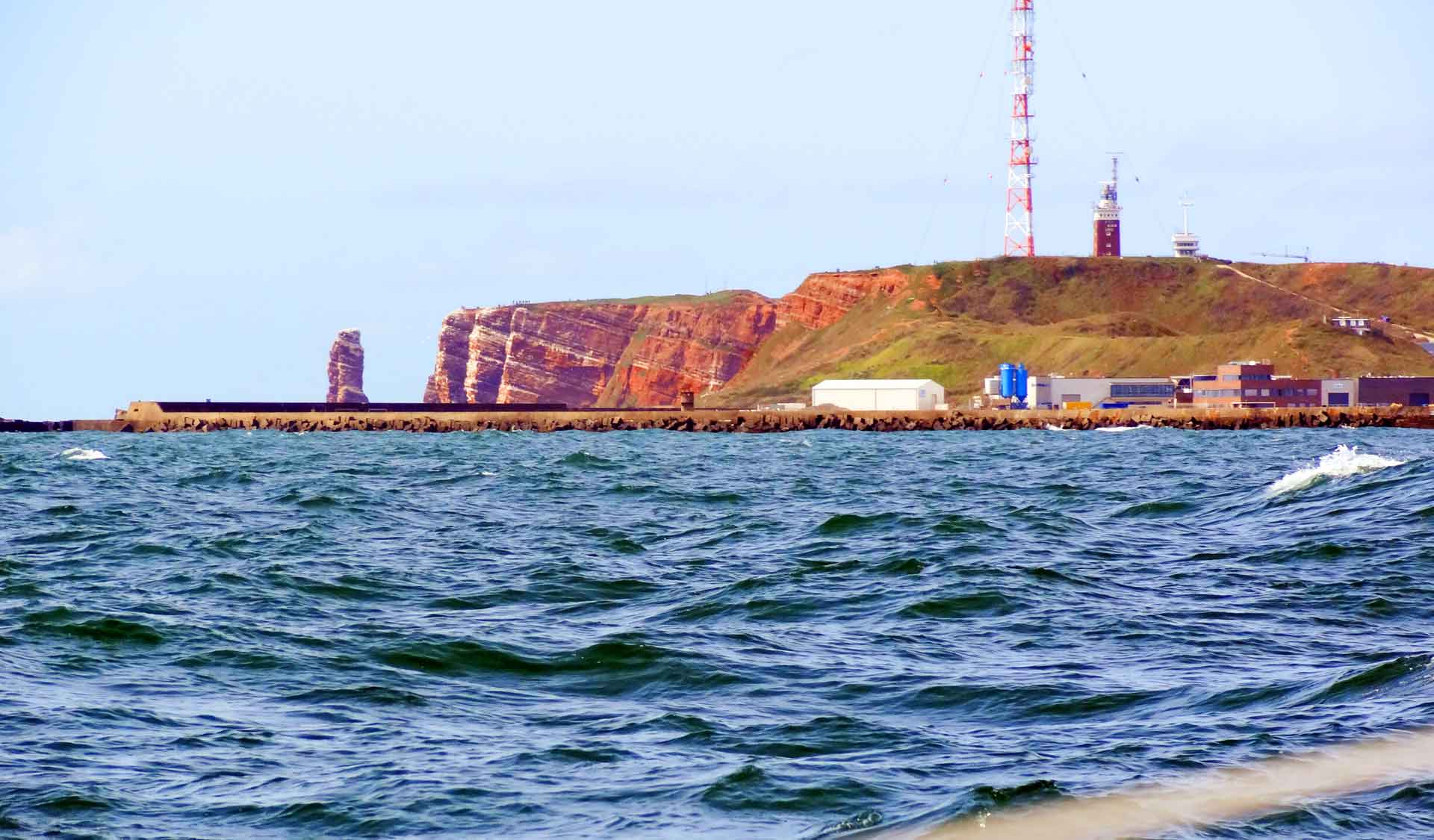 As we are landing all the stress and strain suddenly drops down. We go alongside and moor our yacht. Some time later POGO 2 arrives and we cheer her crew happily to have them in safely and lucky as well. Spirit and mood is high. What a ride! What a wicked ship this Pogo 40 is! What a nice crew and skipper. I run down, plug a handful sausage into my mouth, chew it hard as I realize I did eat way too less today and hand out ice cold beer to the cockpit.
With a big loud "Prost!" we raise our glasses (well, cans) and the alcohol gets into my head instantly.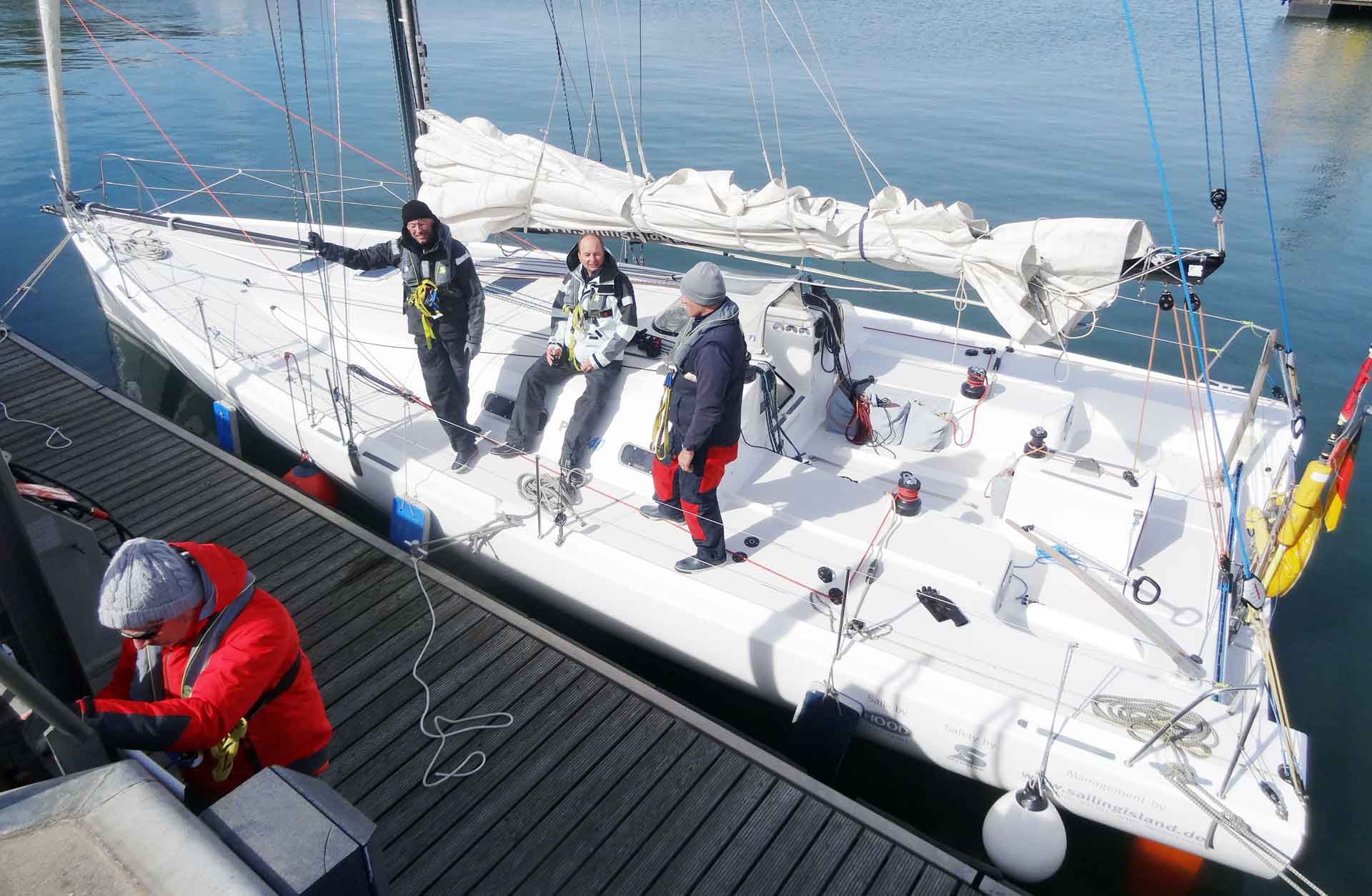 Let´s get out of the three layers of sailing cloth, stow away the life vest and ready the ship for port. We prepare our berths for the night: I have the aft-cabin with Oliver, Jens and Peter move into the fore cabin, Michael and the skipper occupy the saloon. Let´s fast slip into civil clothing and another 30 minutes later we have some ore "Prost"s sitting in Helgoland´s sailor´s bar "Bunte Kuh" where a lot of beer and mountains of food get consumed in the course of the evening.
Although happy I can barely manage to find a good night´s sleep today. I am full of vim, filled up to the jaw with endorphin – Pogo sailing is addictive! Highly addictive!
Good night then folks. Our skipper is not only a sailing genius but also world champion of snoring. A Pogo 40 hasn´t got any cabin doors nor any damping material, I´ve forgotten to bring earplugs so I struggle to fall asleep. But eventually I dream away. Still swinging. Still yawing and pitching. Surfing the waves. And I cannot wait to wake up again tomorrow to have our sails hoisted again.
What a perfect ride!