What do you expect from you sailing clothing? Well, I would bet it´s something like "should keep me dry" and "should keep me warm", right? When weather is great and in summer time, these demands are secondary as we all strive for more shadow and cooling, but in late summer, autumn and during cold periods this becomes dominant. Moreover, when we do a sailing trip in late season – just as I did last week – having the best possible sailing cloth is an absolute essential. When most emphasis is put on foul weather gear and oilskin (read my article here), having good sailing boots is a costumary item in your packing list.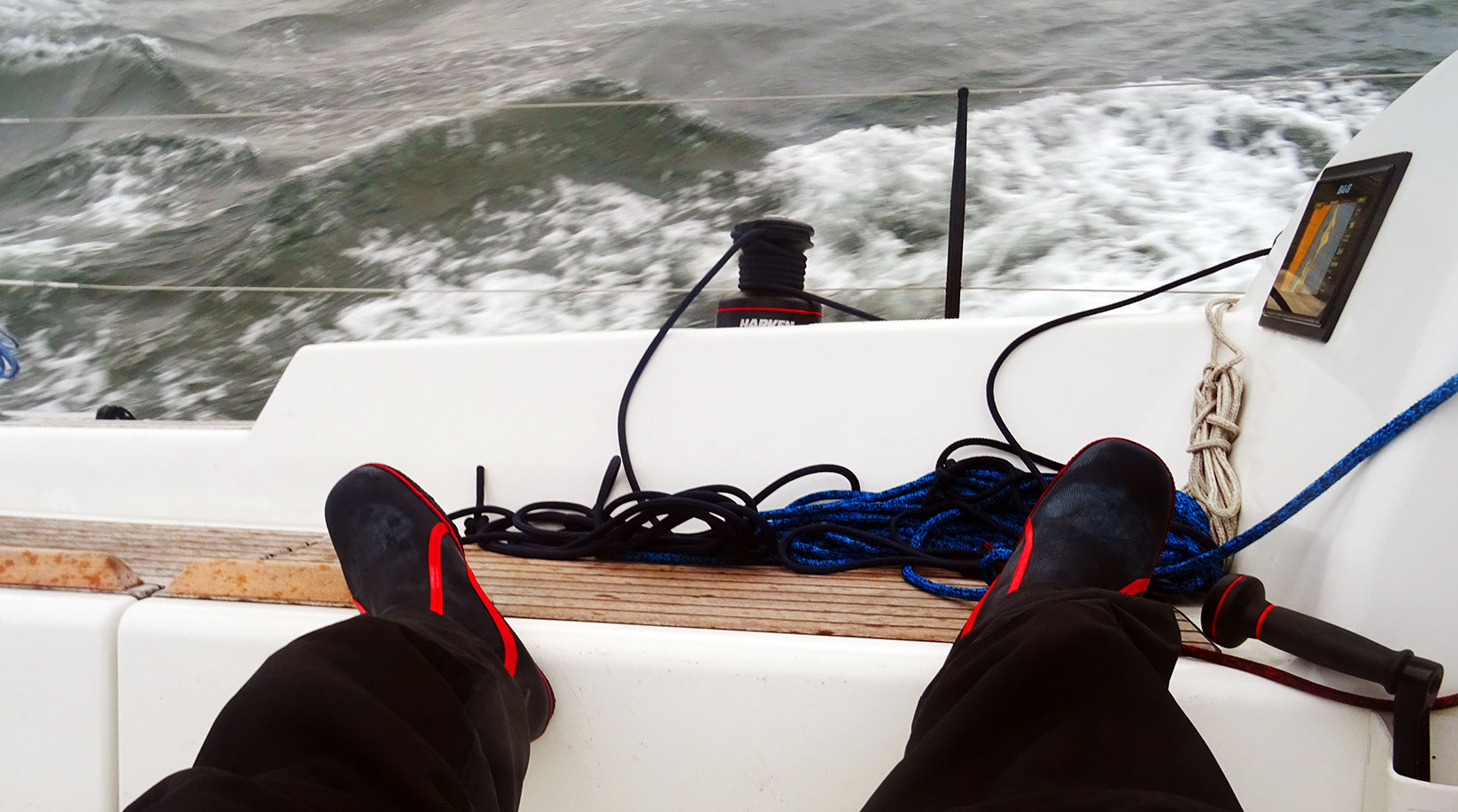 I´ve got aware of this fact during my latest sailing trip around the Danish island of Fyn last week. It was originally planned as an easy season´s closing sailing voyage with but due to some low pressure it quickly escalated to a foul weather sailing course with winds up to 39.4 knots and waves as high as 2.50 metres – in a 9.99 metre long boat. Thank god, I did have my foul weather gear with me (as I always have when I board a boat) and with it my sailing boots. Time to find out what perfect sailing boots should be like.
A disappointment: Sailing boots by Gotop
Well, they should not be like my pair, a local Hamburg brand from Germany called Gotop. When I bought the pair I thought it might be a good idea to help a small, local brand but I must say – sadly – that I´ve got disappointed deeply by the quality of this pair of boots. Why? Well, basically, this was the third time ever (!) that weather got so nasty that I did had to put on the boots. So, let´s assume that I was wearing these boots for not longer than 10 days all in all. To put it short: They are broken.
Directly between two seams of the left boot one of the seams had opened up on three centimeters leaving a gaping hole and therefore offering water a nice way into the boot itself. So basically, the boot lost its function to protect me from moisture and to provide thermal cover. It´s the last thing you want to do whilst trying to keep cool and steer your boat: Worrying about cold and soaken wet feet during your 4-hour shift in the cockpit, fighting course offset by big waves.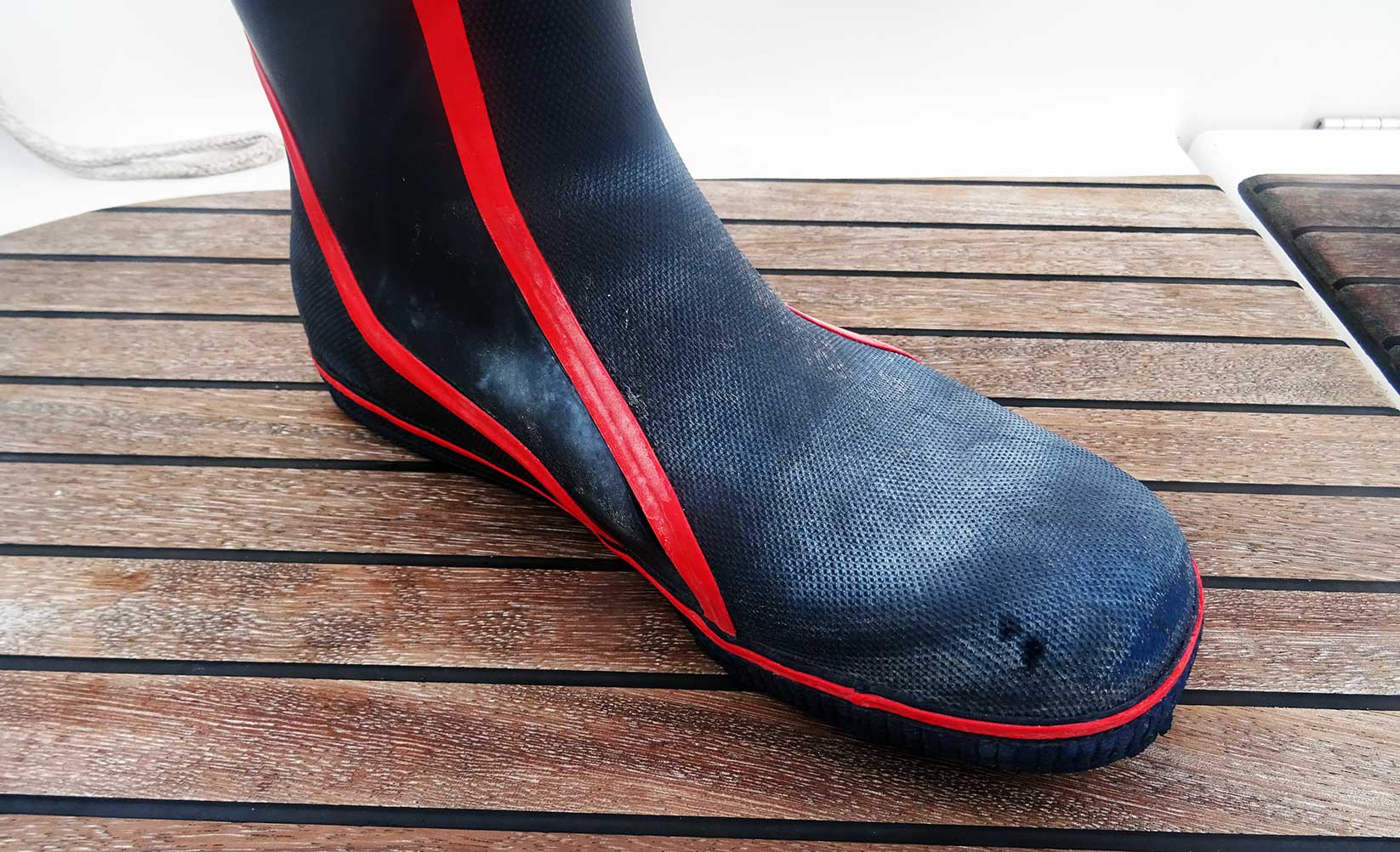 Besides this, the blue color of the boots are kind of water soluble, as I noticed later the day when we were mooring alongside the jetty once and I saw blue trails on the fore deck, leftovers by the boots when I was down on my knees preparing the mooring lines on the bow clamps. Remember: This happened after just three times having those boots on my feet! So, what you should be looking for in good sailing boots: Strong, preferable welded seams – especially in those areas which get bend when you are working kneeled, the boots should consist of multiple different layers to keep water out even if one layer gets perforated or breaks up and of course some kind of insulation against cold temperatures. Sadly enough, my new pair of sailing boots won´t be made by the local Hamburgian brand …
Related articles you may find interesting as well:
The classic Ibberson sailing knife
Skipper´s essentials: Sailing shoes by Sebago
A great, affordable VHF with DSC and AIS receiver: Standard Horizon Matrix