It all began back in my home marina at the Baltic Sea when I saw a very beautiful boat hanging at the crane. One the blink of an eye I understood that this wasn´t the usual GRP sailing boat, but judging from the nice matte greyish colour, it must have been an aluminium yacht. I jumped off my seat and went down to the crane where this awesomely beautiful yacht had been hauled out of the water, owner, friends and a tall man surrounded the boat as a worker cleaned the hull with a high pressure hose. ANTONIA was written in large white letters over her stern. She was a Berckemeyer BM43. As I already got a chance to inspect the interior of a Berckemeyer BM36 yacht (read it here) I was keen on getting to know more …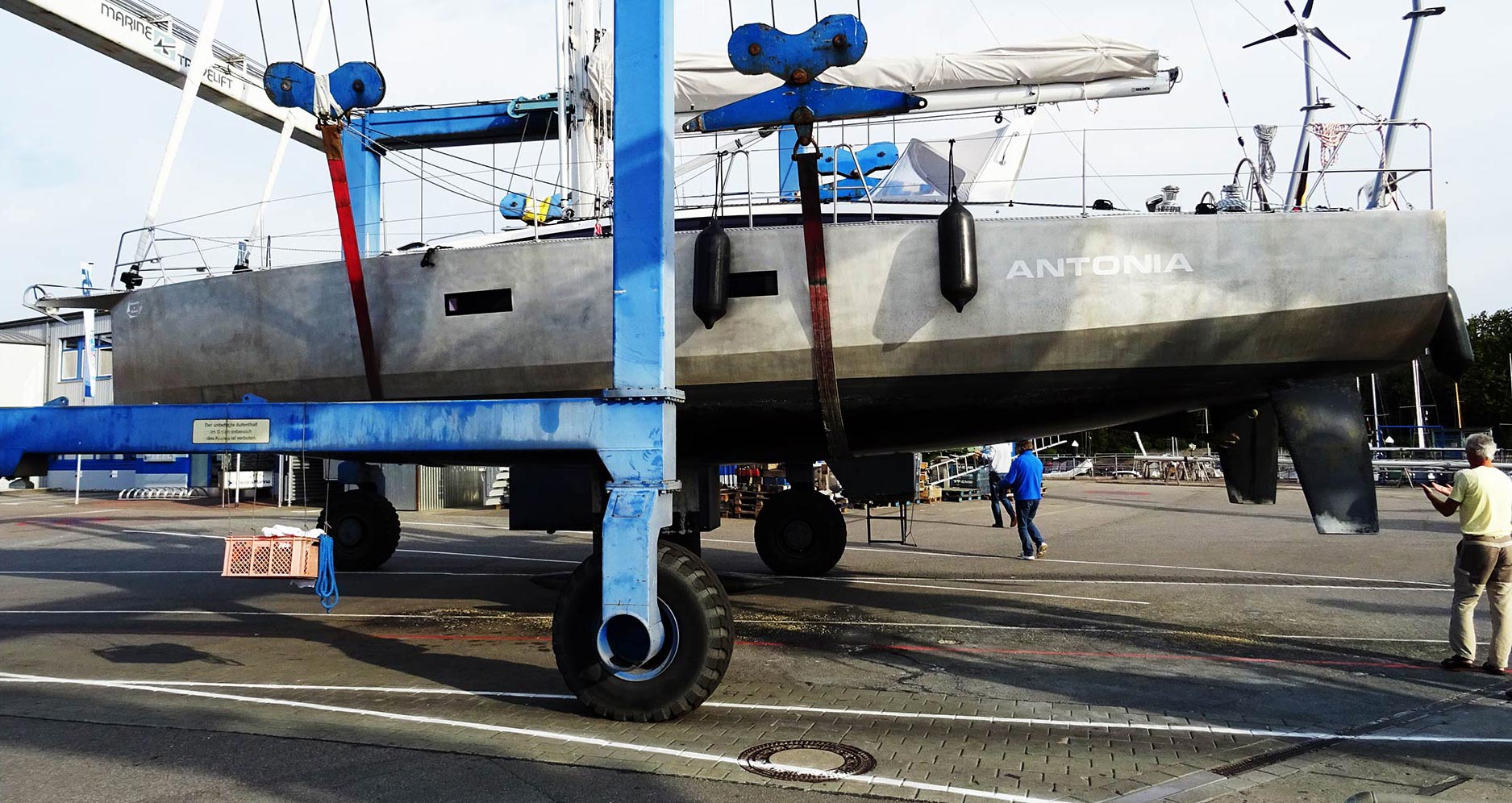 I was stunned by the beauty of her lines and stood some minutes and began to talk to the owner. Who – of course – wasn´t quite in the mood of chatting and referred to the tall man: "Talk to him, he is the designer." So I went there, shook his hand and we made acquainted ourselves. Then I remembered his face: His name was Martin Menzner, who is very much known in the German sailing scene. He is a competitive (and successful) sailor in the J/80-class and famous for his very beautiful LA28 design. We chatted a while and when he recognized my real interest he said: "Why don´t you come over to Emden to Yachtwerft Benjamins – I´ll show you how a BM Yacht is made." And so here I am, some weeks later, standing in the very production hall of the small Northern German yard and meet again with Martin and Heiner Uffen, the CEO and owner of the yard.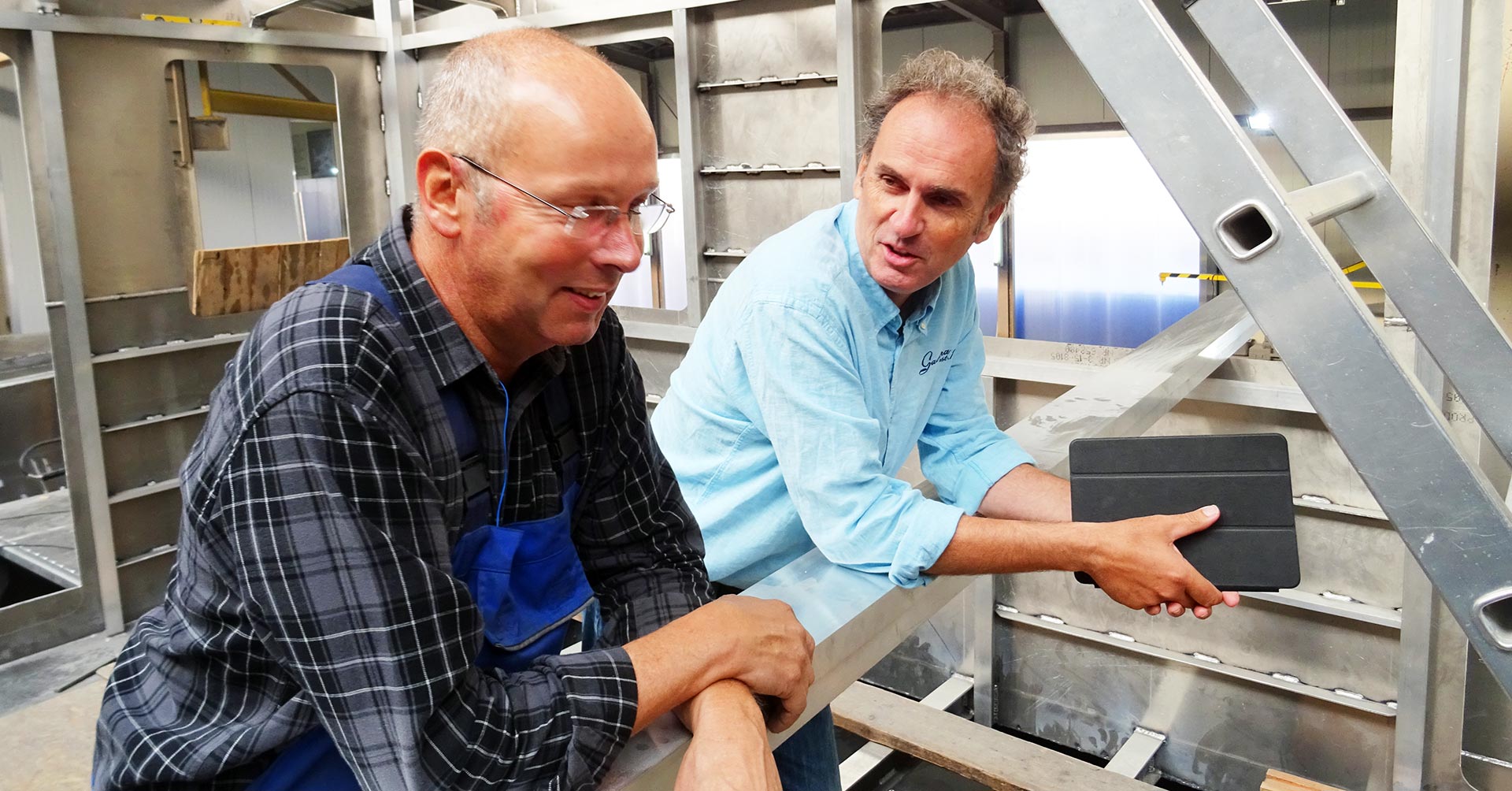 Both take their time to show me around and through their latest build: A BM49 Pilothouse, as we crawl onto and inside this massive hull and I am allowed to ask any question and look behind every corner. What a day!
Lars Reisberg | NO FRILLS SAILING.com: "Martin, Heiner, it´s such a great thing to be here in Emden and getting the chance to see one yacht being built – what´s this boat?"
Martin Menzner: "Well, this is a Berckemeyer BM 49 Pilothouse. Made of aluminium of course."
NFS.com: "A custom yacht?"
Martin Menzner: "Semi-custom, indeed. The hulls of the Berckemeyer yachts are readily constructed and don´t need to be changed. The owner may decide then which kind of yacht he prefers: Berckemeyer yachts are available as "Clippers", "Pilothouse", "Bristol" or "Classic"-configurations which refers to the style of the deck superstructure. I can do anything the owner wants which also depends on where he wants to sail his new boat and what he wants to do with it. Owners can also choose between tiller and wheel-steering. And then there is a lot of room for the future owner when it comes to the internals: The layout of the boats, size and number of cabins, saloon configuration and interior material choice is completely in the hands of the owner. A Berckemeyer yacht is always a unique and individual boat completely suited for the very owner."
NFS.com: "Who is buying these yachts?"
Martin Menzner: "Sailors of course. Most of our clients are real sailors with lots of experience in sailing. They decide to go for a Berckemeyer yacht because they want a boat that is 100 per cent tailored to their needs – something they cannot get with a production boat. Another client group is the circumnavigator – or let´s call it, the adventurer: That´s a client who wants to sail to the extreme northern or southern Latitudes, explore faraway lands and even wants to dry out with his yacht. Our clients are manifold and do really come from every part of the sailing community."
NFS.com: "What would you say describes a Berckemeyer yacht best?"
Martin Menzner: "For me, a Berckemeyer yacht is the most versatile and best performing boat in the world. I should say that because I am the architect. No, honestly: There are so many things about a BM-Yacht. First of all, it´s made of aluminium alloy and I think this is the best material to make a yacht from. Second, it´s a round chined hull – which sets a Berckemeyer yacht apart from other aluminium yachts available – with tremendous sailing capabilities. These yachts just fly! Third, the variable draft is something I wouldn´t skip in world: You are spending a fortune for a boat to be able to experience the trip of a lifetime. The variable draft enables you to sail wherever you want and then to really explore the area, go into inlets, up the rivers and even dry out. That´s amazing! Last not least, these yachts are durable and of course as a piece of real German craftmanship made with highest standards."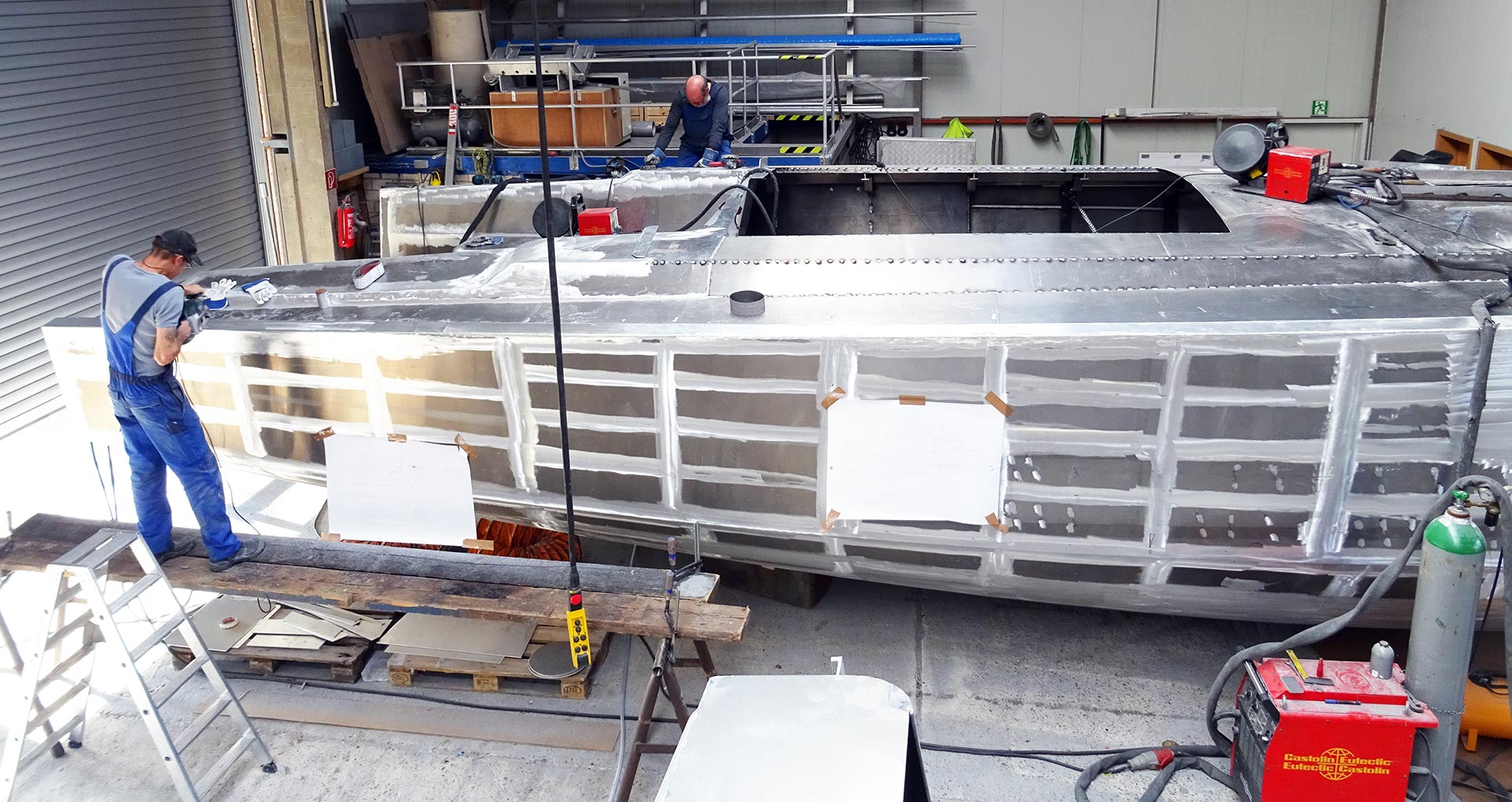 NFS.com: "Heiner, which brings me to the Yachtwerft Benjamins, the yard building these boats. Tell me about the yard."
Heiner Uffen: "Yachtwerft Benjamins was founded back in 1974 here in Emden and is since then specialized in shipbuilding, in aluminium shipbuilding. I took over the yard in the year 1999 from the then aged owner. I am a master shipbuilder, have a degree in mechanical engineering and an expert in all forms of welding. We build aluminium yachts almost exclusively – like the new WAPPEN VON BREMEN (read about my encounter with this boat here) but we also do refit works. Mostly we manufacture yachts but we also make motorboats and ships for the authorities like the police, customs or port authorities. Martin and I met years ago and I admired his designs. We as a yard are producing the Berckemeyer yacht designs since the year 2004 …"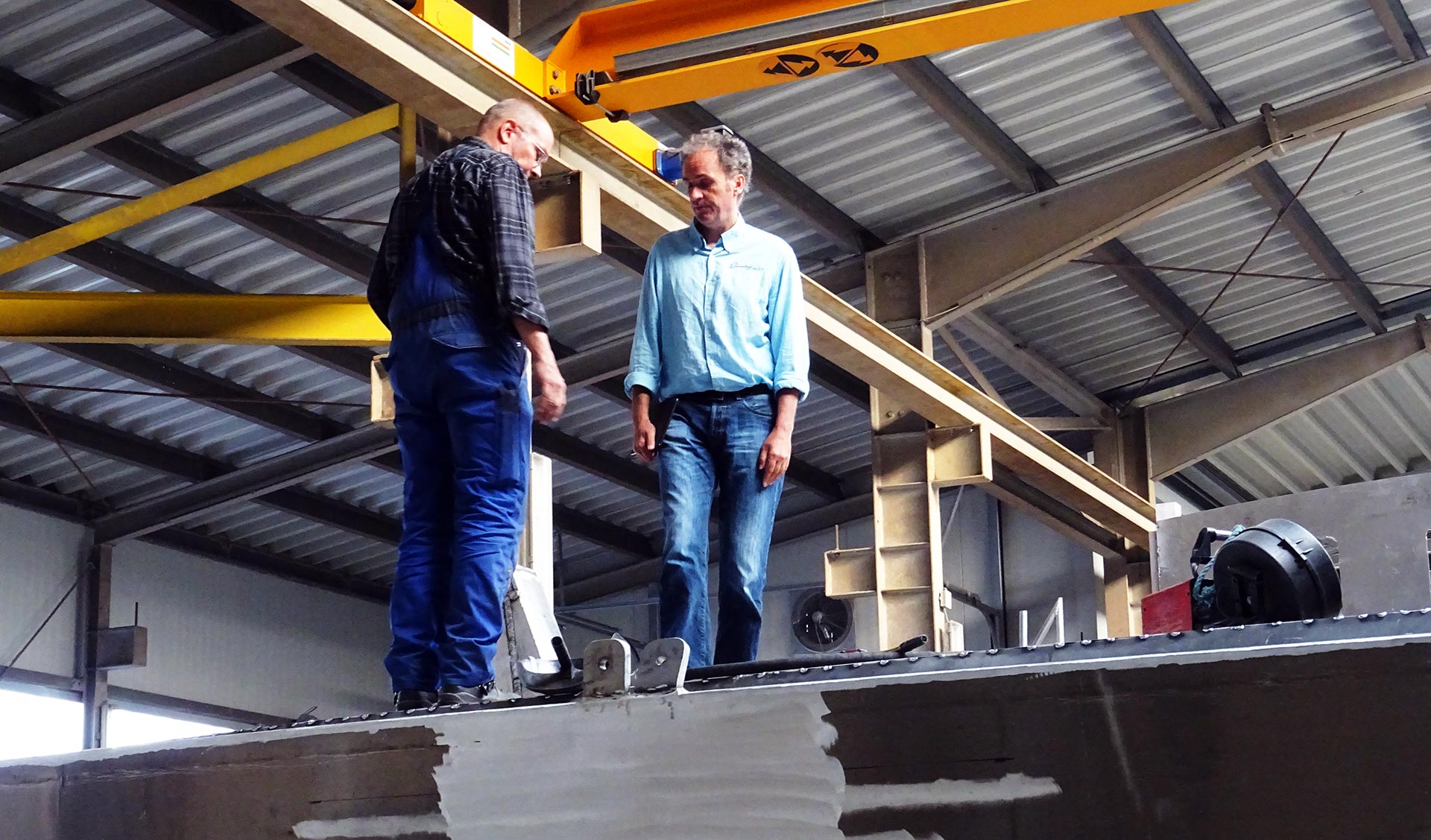 Martin Menzner: "… Berckemeyer yachts are essentially designs the owner is finishing and rounding up with me as the principal architect. A design may also be just purchased and the build may be assigned to another yard. But essentially, 8 out of 10 Berckemeyer yachts are built here in Emden."
Heiner Uffen: "Referring to your question who is acquiring a Berckemeyer yacht: It´s mostly private owners of plus 50 years of age. My experience with the Berckemeyer-owners is that all of them want things they simply cannot get with GRP-boats. Some of them just don´t like or trust plastic, they admire aluminium, some want a specific individual interior layout and materials. But most of them are seeking the unique stiffness and rigidity you can only get with an aluminium yacht. Almost all of them are skilled and experienced sailors."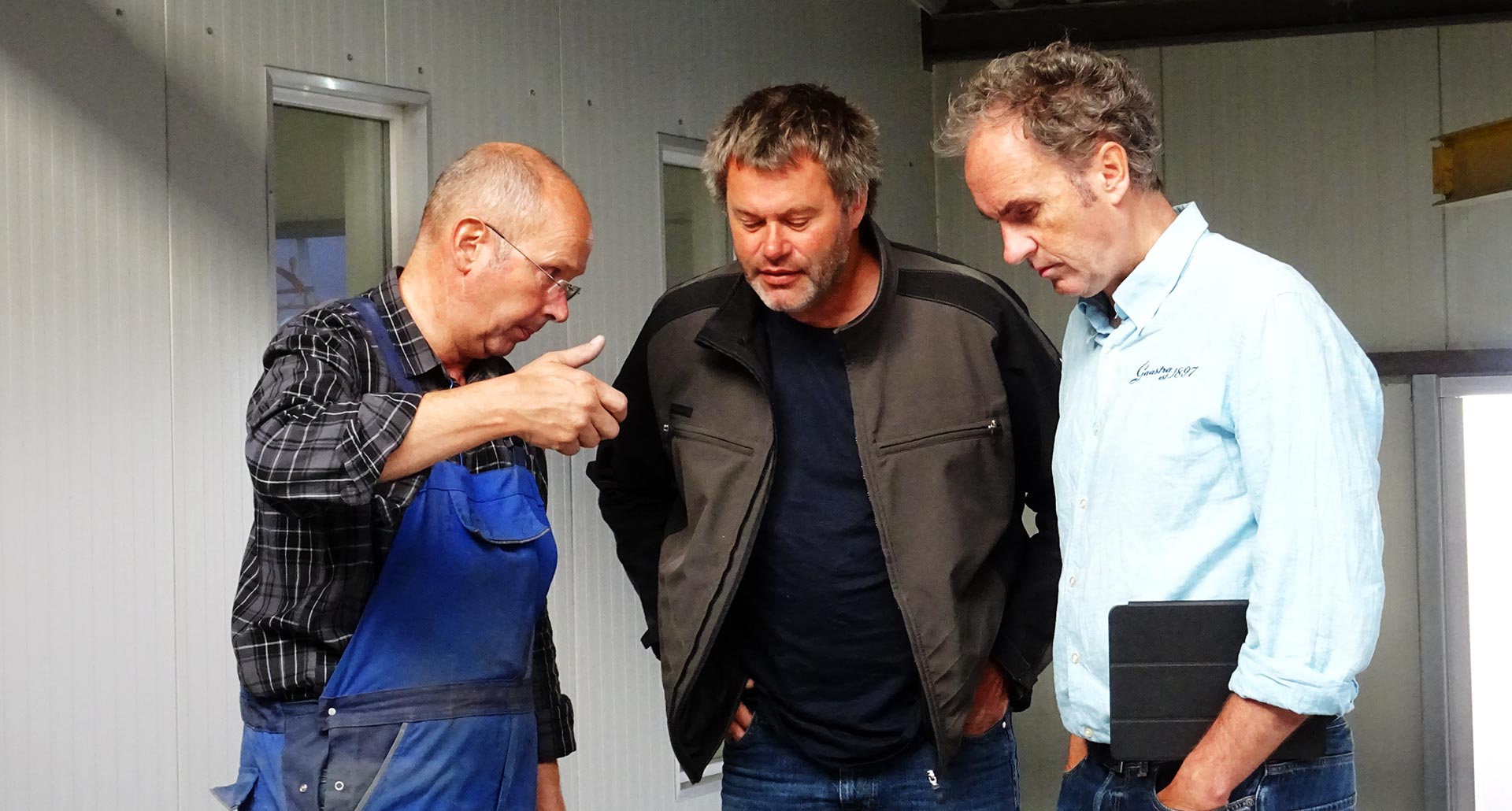 NFS.com: "You both have talked about the features of aluminium alloy as a material in shipbuilding. What are the pros of this material?"
Heiner Uffen: "From my point of view as a shipbuilder and professional engineer, that´s mainly four things. First of all, all the specific characteristics of the material aluminium, it´s rigidity, the stability, form and quality, are kept throughout the whole life of the boat. The material won´t change. It won´t lose any of the qualities nor will it deteriorate in some case. There is no osmosis nor any delamination or something. It is super durable and thus perfect for making a boat. Secondly, aluminium don´t need too much attention. There is almost no expenditure for care needed for aluminium. Even when damaged – like touching the jetty or another boat – it will get a scratch but you don´t need to do anything. With a GRP-hull, you have to close each scratch meticulously in order to prevent water to enter the material. Not with aluminium. Third: Our yachts have integrated tanks for fresh water, Diesel and waste water. That means that the tank itself is part of the structure and serves the integrity and stiffness of the construction. It´s not extra-weight. Fourth, as Martin mentioned already, the variable draft. It´s just something no sailor should skip. The ability to dry out and to enter shallow waters – even with a large yacht – opens up so many new possibilities."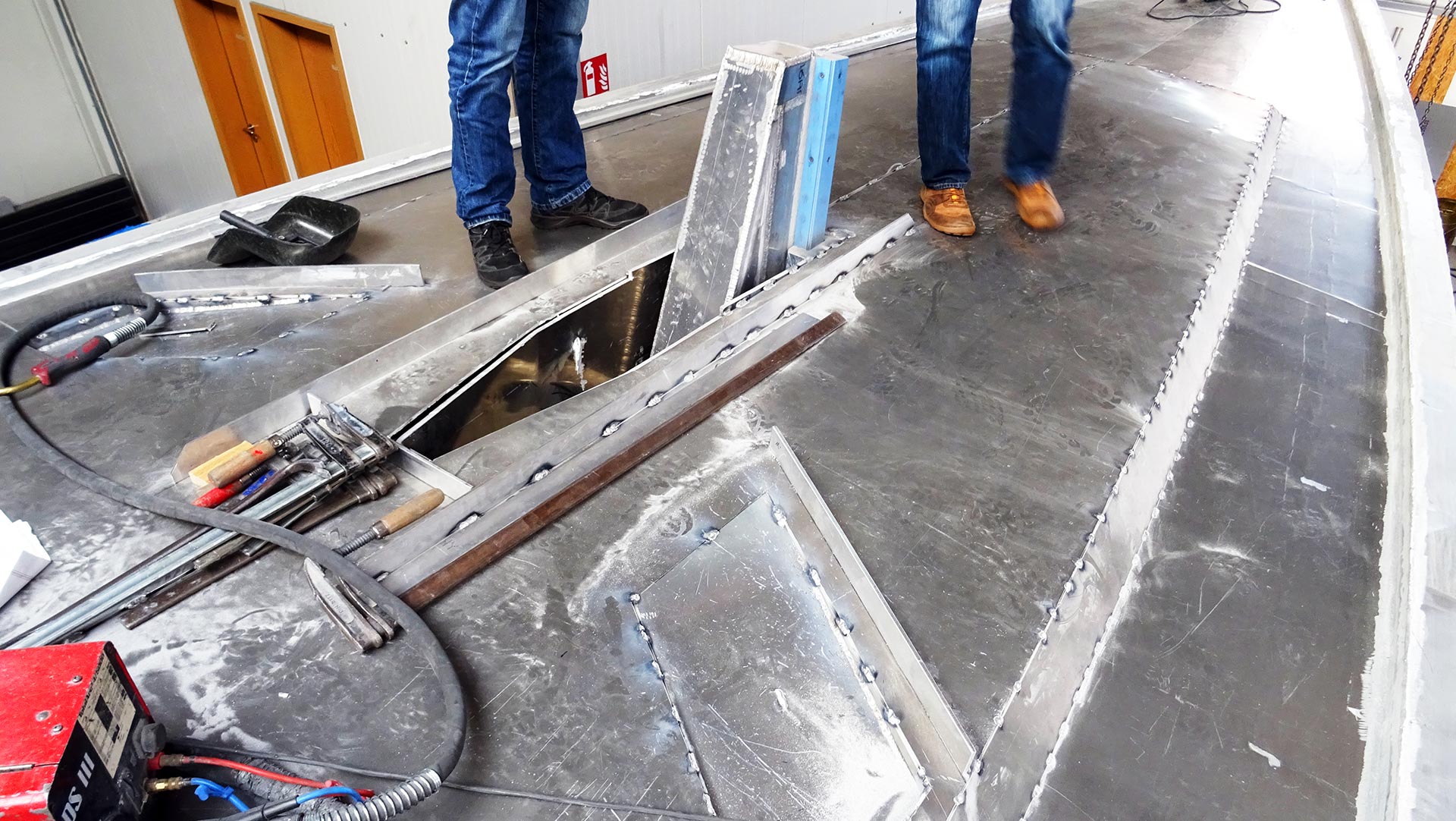 Martin Menzner: "… I would add a fifth point: A Berckemeyer yacht is as light and nimble as it possibly can and it´s a fast yacht. The BMs are also rich performers when going upwind as this is a characteristic not many of the aluminium yachts bear. You´ll get exactly the boat you want, each boat is an individual yacht. In the end, it´s a stable and light boat, a true performer!"
NFS.com: "But there are also disadvantages …"
Heiner Uffen: "… I wouldn´t say disadvantage. It´s just that this material has some properties which need to be addressed and served. Just like any other material: Wood, steel and of course even GRP. But I can say, most of those so-called disadvantages are myths."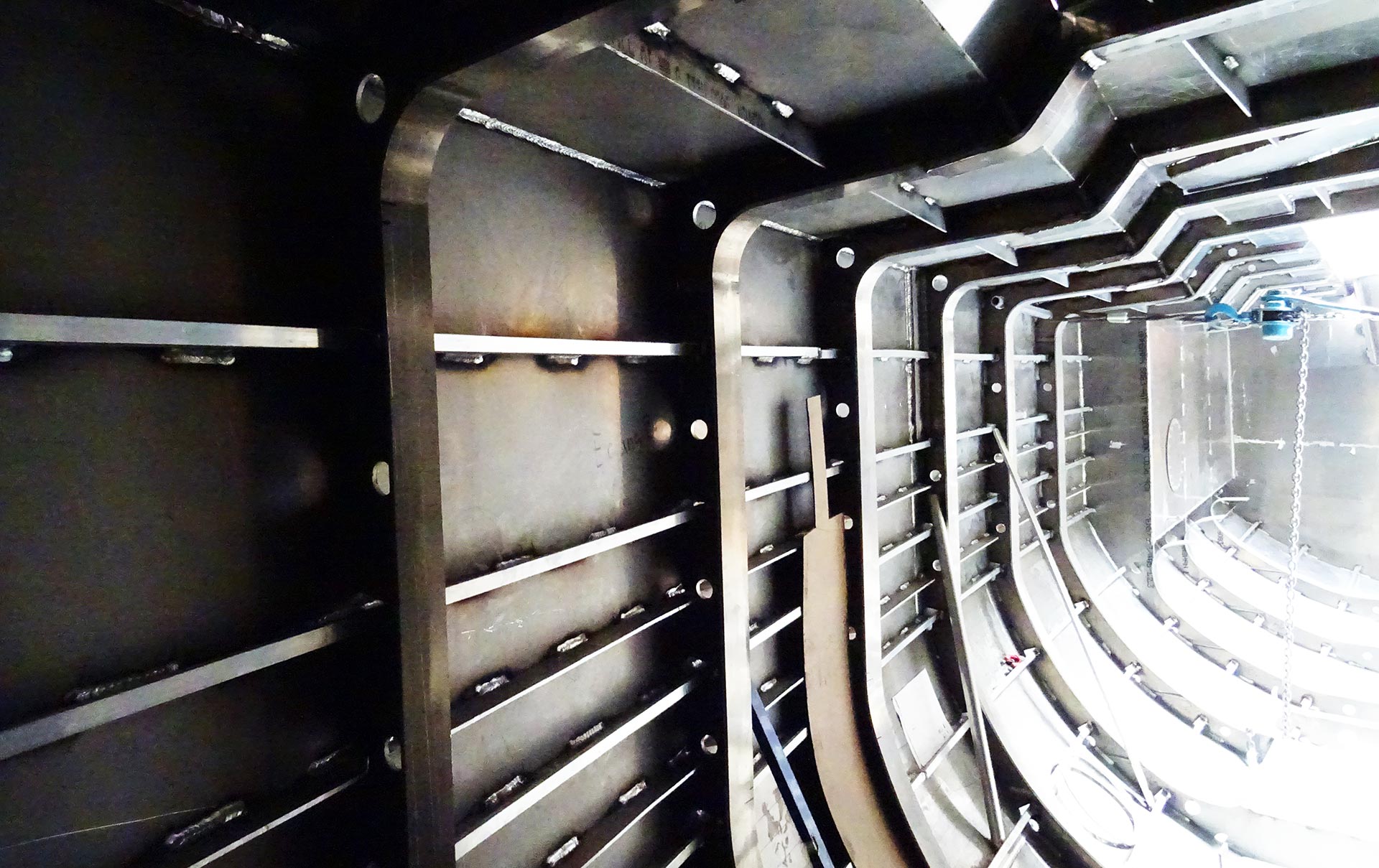 NFS.com: "What are these special properties then?"
Heiner Uffen: "I would say it´s three things one should very much care about when making an aluminium yacht. First and fore most the electric installations. It is an absolute imperative that all of the electric fittings need to be installed as floating ground. Absolutely and 100 per cent FG-complicit. No margin in here. The aluminium yacht lives and dies with this matter. And I must say, not everyone can do this properly, you need specially skilled electricians. Secondly, of course, you need a floating ground engine which itself must be mounted in that way too. And third you need to know that painting an aluminium yacht is very expensive as you need special techniques and paint to do the job. If you have a painted aluminium yacht, you will need to renew the paint every 8 to 10 years and that´s going to cause harm in your wallet. I would say that re-painting deck, superstructure and cockpit of a 36 foot yacht will sum up to a 20 to 22.000 Euros bill. In my eyes, that´s the three things you need to know about aluminium yachts."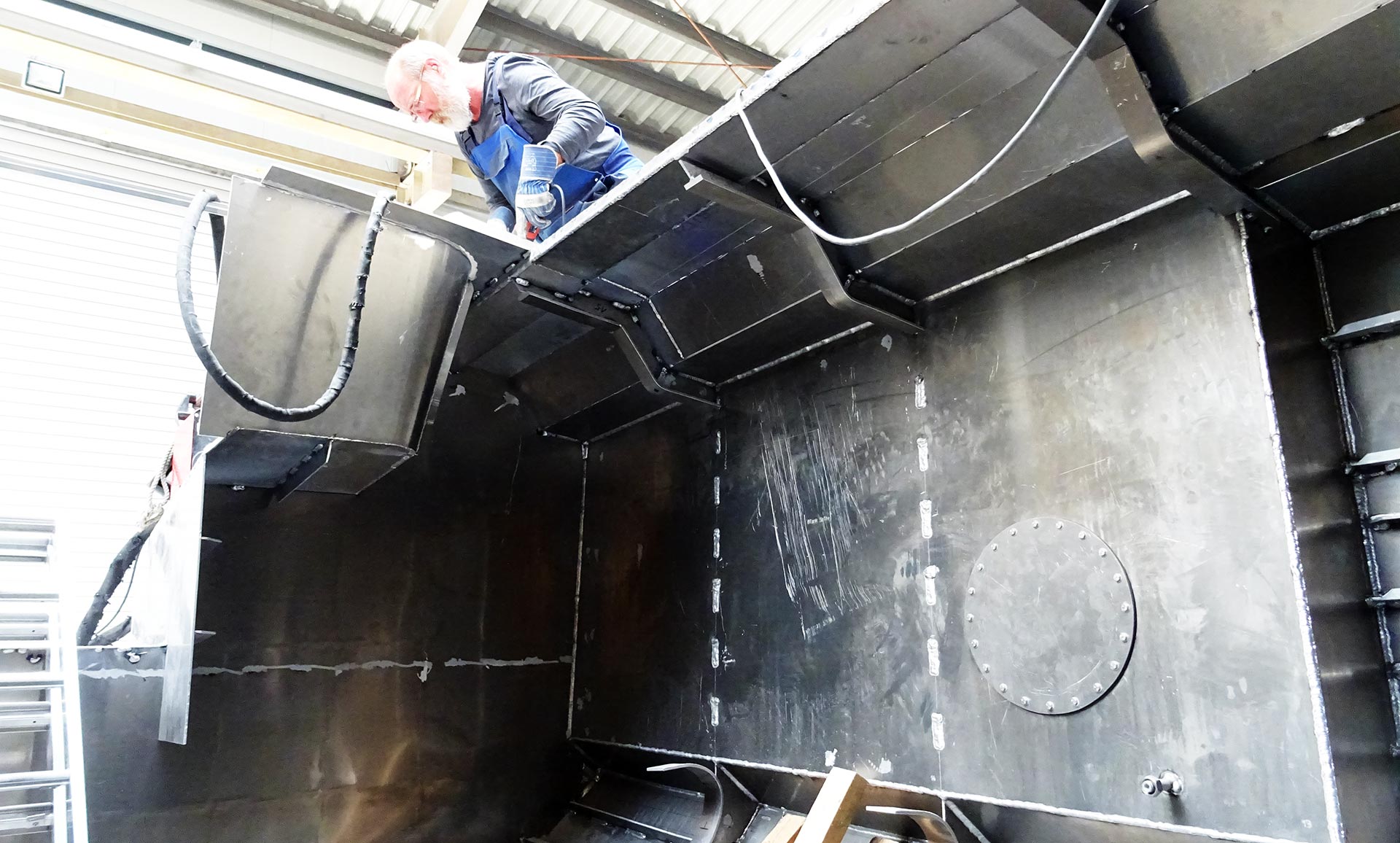 Martin Menzner: "That's why a lot of owners do not paint their boats. They just don´t need to be painted, if you ask me."
NFS.com: "But what about the often claimed loose change in the bilge that causes electrolysis and then …"
Heiner Uffen: "… and then it literally burns huge holes in the hull? (laughs) That´s a myth. I´ve never ever seen electrolysis on any aluminium hull caused by loose change or other metal stuff in the bilges. Even in very old boats. Of course, as aluminium is an ignoble alloy, more noble metals in combination with water should enable electrolysis but it´s just not the case. If so, it´s barely recognizable. Electrolysis happens, don´t get me wrong, and it can and will do harm to an aluminium hull, but in most of these cases the cause wasn´t just loose change. Mostly it´s a wrong installation in the electric wiring circuits that isn´t floating grounded. Sometimes it´s also the berth where the boat is moored: Some piers are made with iron sheet piles. This can create a huge flow of electricity which over time can do harm to the hull."
NFS.com: "What about the high price?"
Martin Menzner: "Well, that´s not a disadvantage. First of all, if you ask for a price on a Berckemeyer yacht, I will get you the real end-price. The very amount you have to pay in the end. With production boats, the price you see in the brochures isn´t the real price. It´s a basic price and everybody knows that you can add one third of this basic price on top in order to just get your new boat to sail. With our boats, there´s no hidden charge at all. Secondly, this yard makes tailored yachts – you can customize your boat as you wish: We build the pure hull and you do the interior fitting by your own, you can hire another company to do these fittings or we do the fittings with our partner-company here just around the corner. You are perfectly free to choose."
Heiner Uffen: "Another point to consider: We are a German company. Five people are employed here and we do have apprentices. We are not a huge enterprise with shareholders and stocks, we are a traditional yard. See, just one third of the price of a yacht like this is material. Two thirds is labour. Zero shareholders. So you see, I don´t think that such a yacht is overpriced. You will get absolute high quality, hand crafted by professionals you will get to know by name. The owners are invited to come here and oversee the progress anytime they wish. They can even apply changes during the process."
Martin Menzner: "You see, our clients don´t have a problem with budgets or prizes at all. They have a problem with delivering times. Right now the waiting queue for a Berckemeyer yacht made here in Emden is very long. Time for a new yacht to even start building process is 1.5 years now upon order signed …"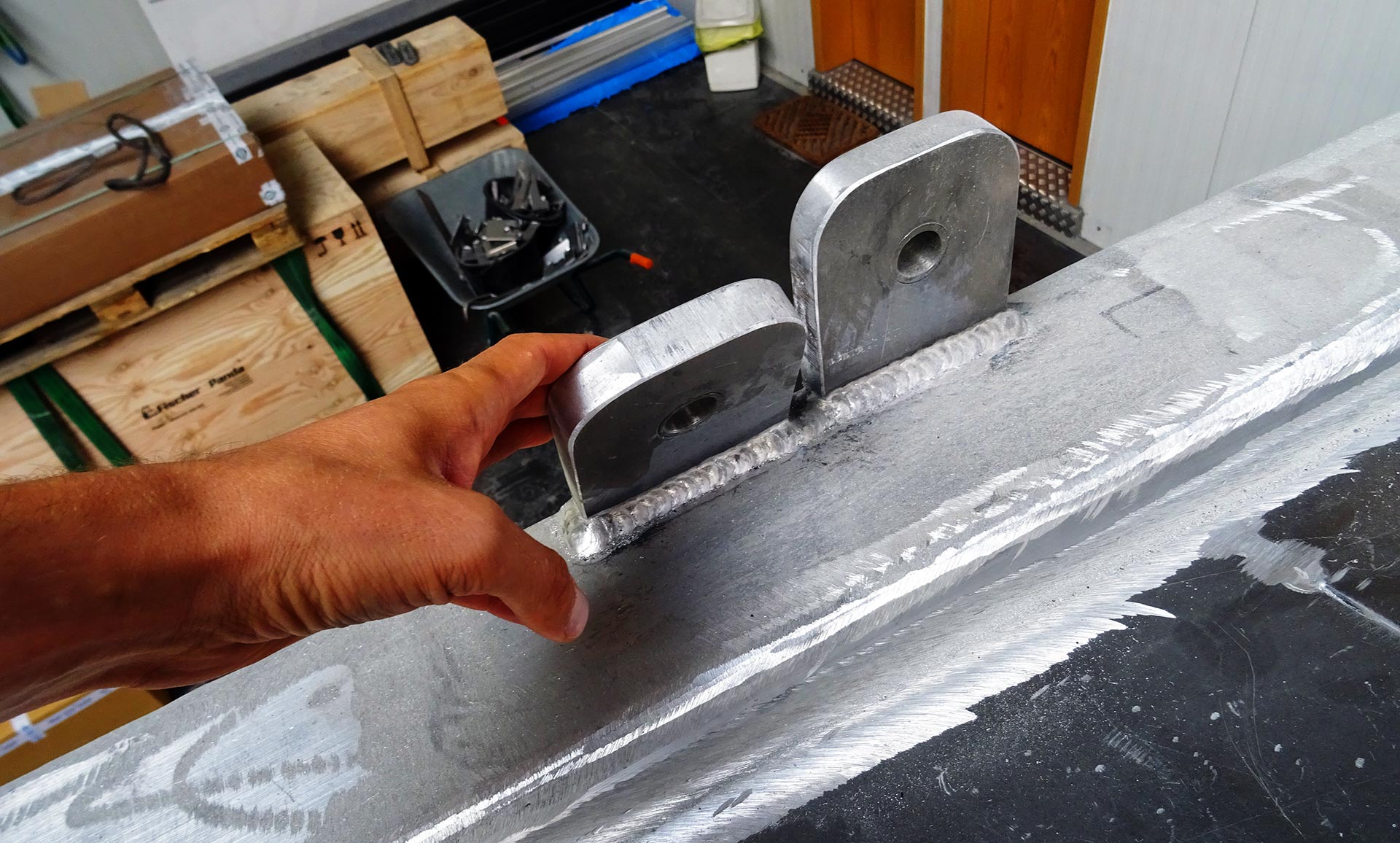 NFS.com: "Let´s go back to the actual yachts. You were mentioning the variable draft. Tell me more about this."
Martin Menzner: "This is one of the core features of a Berckemeyer yacht. As I said before: If you take so much money to build your dream boat, you shouldn´t skip the lifting keel. This feature will enable your boat to dry out – think of the North Sea, the Wattenmeer, Brittany or any tidal area in the world. You can also enter shallow bays, even rivers. The construction is very stable, very rigid. I know, many people have fears or restrictions against lifting keels, but with a BM-yacht that´s no problem. Stability even in rough seas is guaranteed – and when falling dry, the construction is perfectly able to hold the boat. It just opens up so many possibilities!"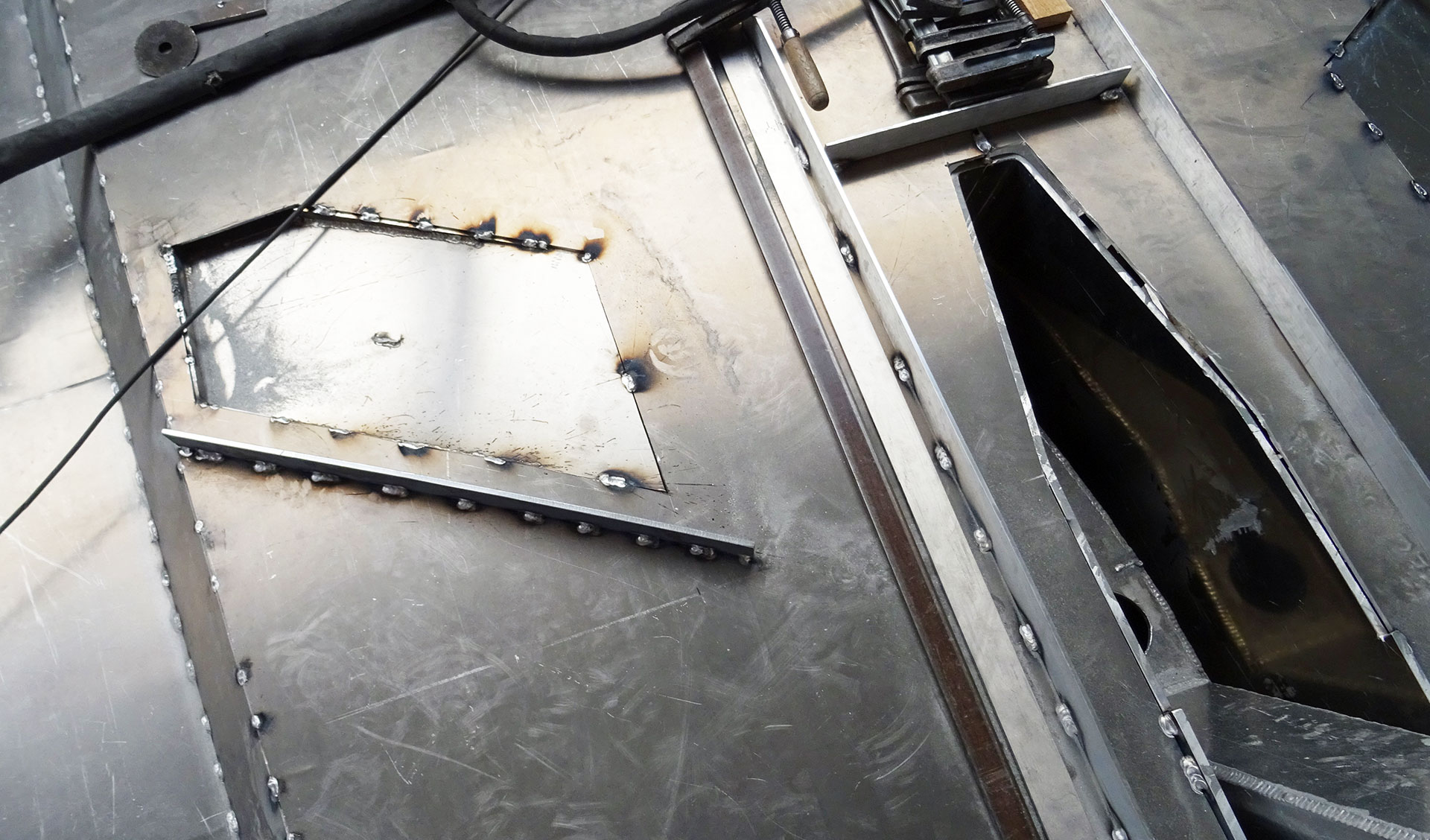 NFS.com: "I often hear the argument – on a pro-aluminium-side – that boats made with this material are safer when it comes to collisions."
Heiner Uffen: "Well, floating objects and hitting them indeed is a concern. It can happen here in the "home waters" but is also a thing in blue water sailing. Not to mention the extreme latitudes in the Arctic and Antarctic waters: Icebergs and Growlers. Let´s put it this way: Aluminium as a hull material will only deform when hit by an object. It won´t break in large portions as GRP – especially with sandwich lamination – will eventually do. But you know what? As collisions happen very rarely, which is good, there is also a certain psychological thing in aluminium which can be seen in almost every owner of our boats: Their trust. They do have a sheer boundless trust in the boat. They are feeling completely safe with a metal boat as strong and as rigid as ours. After just a few weeks of sailing, they are enthusiastically reporting of the stunning sailing abilities which give them absolute trust in their boats. This applies for collisions, but foremost applies to the stiffness: A yacht made of aluminium won´t boggle nor bend in any way. It´s as stiff and as solid as you can think of it. There is no bending at all, even in roughest sailing conditions."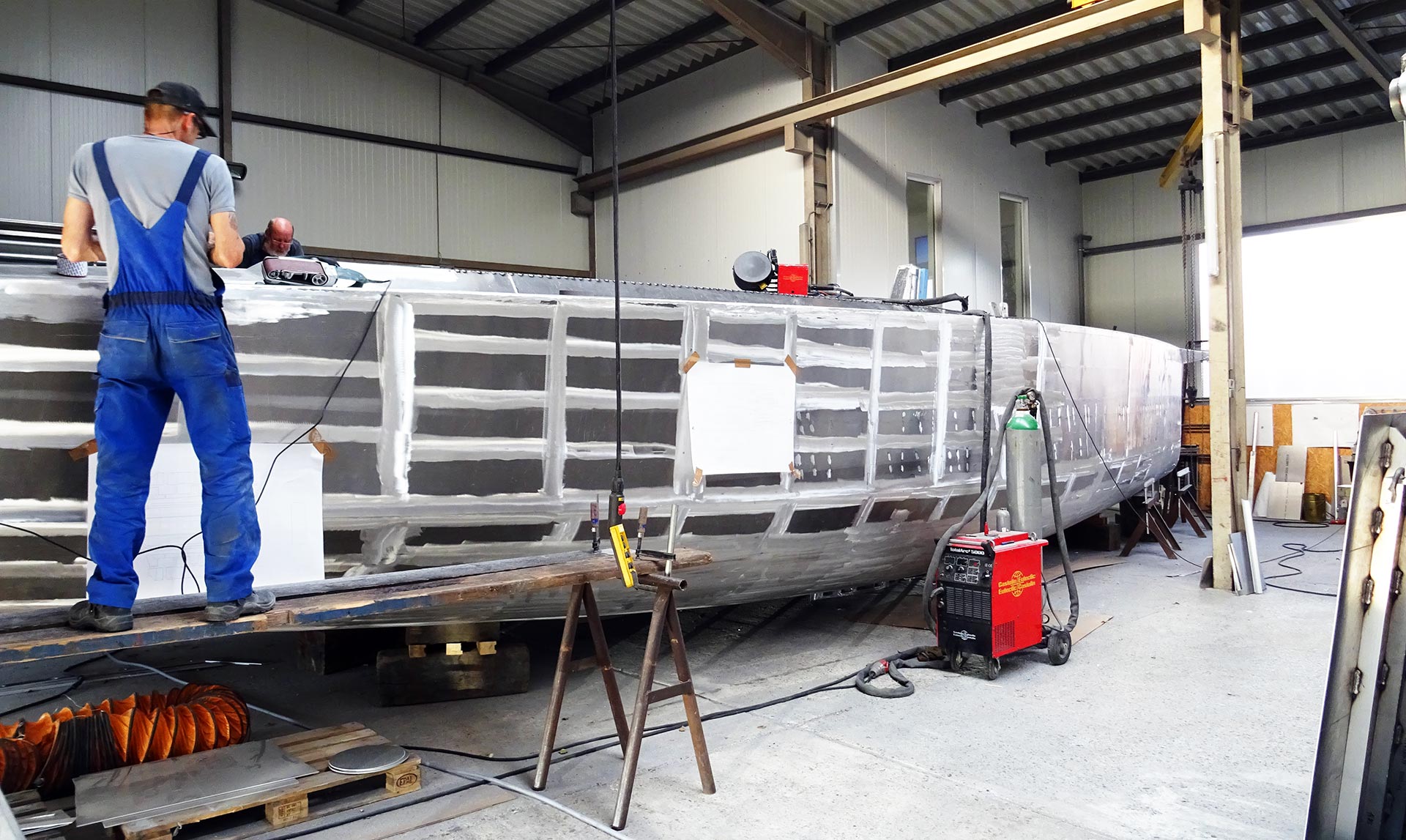 Martin Menzner: "That´s true. It normally doesn´t take long for our new owners to feel perfectly safe on these yachts. And when you think of real long haul trips, maybe around the world, you do not want to have to be unsure whether your boat can do the trip. You just want to be sure it can."
NFS.com: "By stating that two thirds of the boat´s price is for the human labour, this means that the material aluminium is somewhat special to work with? Tell me about the material and working techniques in particular."
Martin Menzner: "Well, first of all, there is not the aluminium. This material is an alloy that comes in many different shapes – depending on where and for what the material is needed. In shipbuilding we use a special alloy that can withstand saltwater for more than 100 years easily, a very high-grade alloy that has a high guaranteed tensile strength as well …"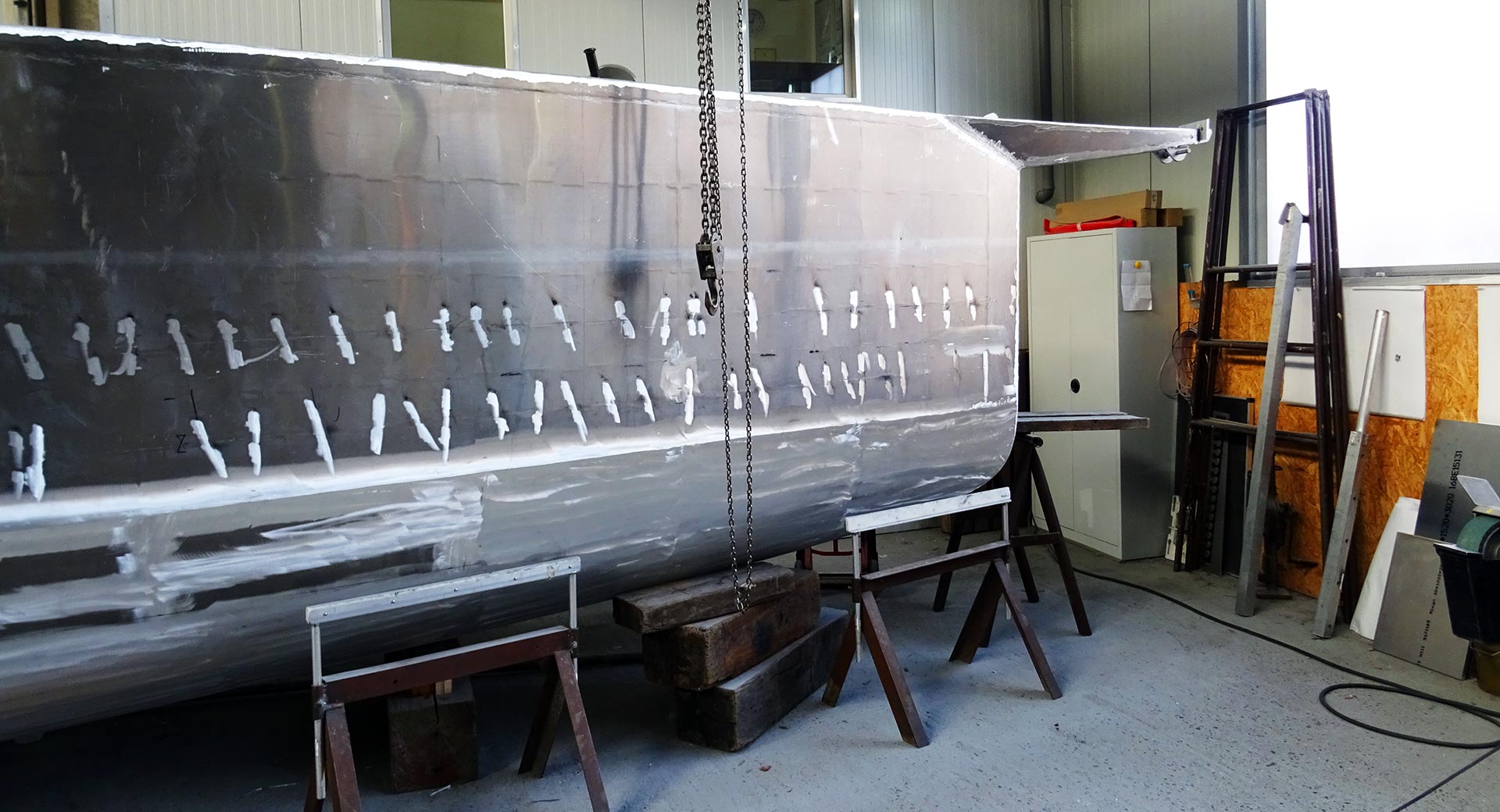 Heiner Uffen: "… although there is a trend nowadays amongst owners to have their yachts built with an aluminium derivate called Alustar. It comes from superyacht and military shipbuilding. A special alloy that has a 20 per cent higher tensile strength. But honestly, the "ordinary" alloy is perfectly suitable and we don´t think that there´s a need for this "upgrade" unless you need to have a battleship or a supersized yacht."
NFS.com: "The aluminium sheets are welded. Please get more into details about the very welding techniques."
Heiner Uffen: "The welding process is called "Mig Mag welding", which basically means that an endless metal strike is electric-welded surrounded by a special gas in order to ensure the best possible connection between two sheets. We use a special, if you will homemade, gas mixture here that we have invented and brought to best perfection over the years. This mixture prevents gas pores and has a high factor of plant and process security. German know-how if you will."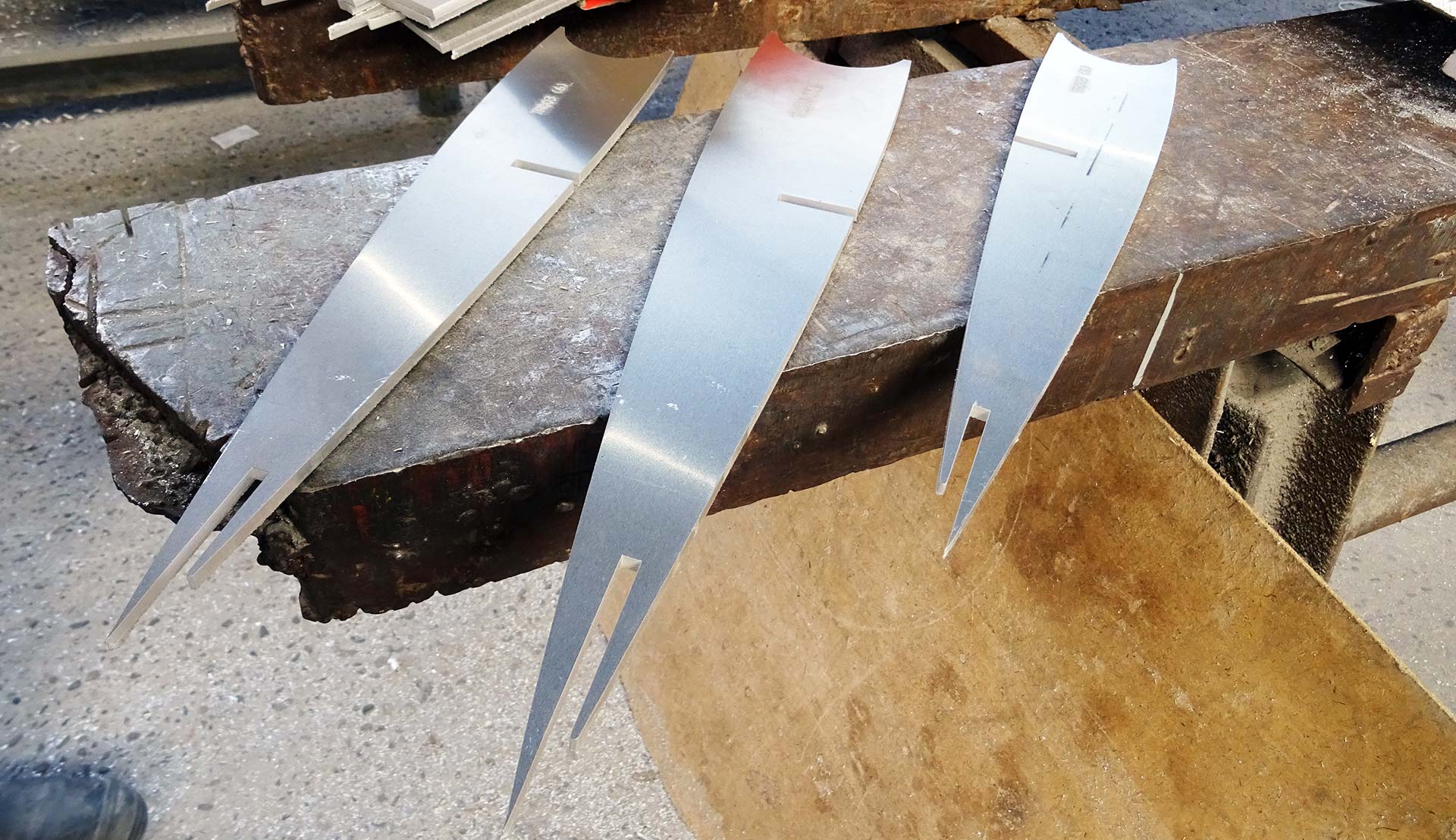 NFS.com: "Thanks so much Heiner. Martin, as the naval architect, you are involved also in the building and later the testing process with the new owner from day one onward. As a last question: What is a complete no-go on your yachts?"
Martin Menzner: "Oh, that´s easy: A Banana Boat. (both laugh loud) No, honestly, there are some things I don´t like personally but I always try to translate the wishes and dreams of the clients into the boat. But, yes, there are sometimes wishes I just cannot nor want to make come true. For example, I once had a man who was interested in getting an aluminium-made Hallberg-Rassy. But this is not possible: A Hallberg-Rassy is a Hallberg-Rassy and if he wants one, he should get the real boat. Another example is a guy who wanted to convince me that a rudder blade works best when mounted at the bow. Well, people like this are seldom, but they appear from time to time. So in the end, as long as you won´t put a Banana Boat onto the boat, I am mostly happy with making all dreams of our clients come true."
Thank you, Heiner and Martin, so much for showing me around and explaining all the details of the production of your fantastic yachts!
You may also be interested in these related articles:
Steel is real: Aboard a Berckemeyer BM36 Aluminium Yacht
My favourite dream yacht: Alubat Cigale 14
The perfect yacht for circumnavigation: Interview with Trans-Ocean.org CEO