It was a perfect sunny and warm day in September when I arrived back on the Island of Helgoland – Germany´s one and only offshore Island in the German Bight. I arrived by the 36 knot fast catamaran HALUNDER JET casting off in my home town of Hamburg in around 3 hours. What a ride! We planned to have a nice day out here with the kids enjoying a trip over the seas, a good walk around the island and some nice food. Which we did. And, as a cherry on the cake, I´ve got a nice goody as well: A sight of the brand new WAPPEN VON BREMEN sailing yacht.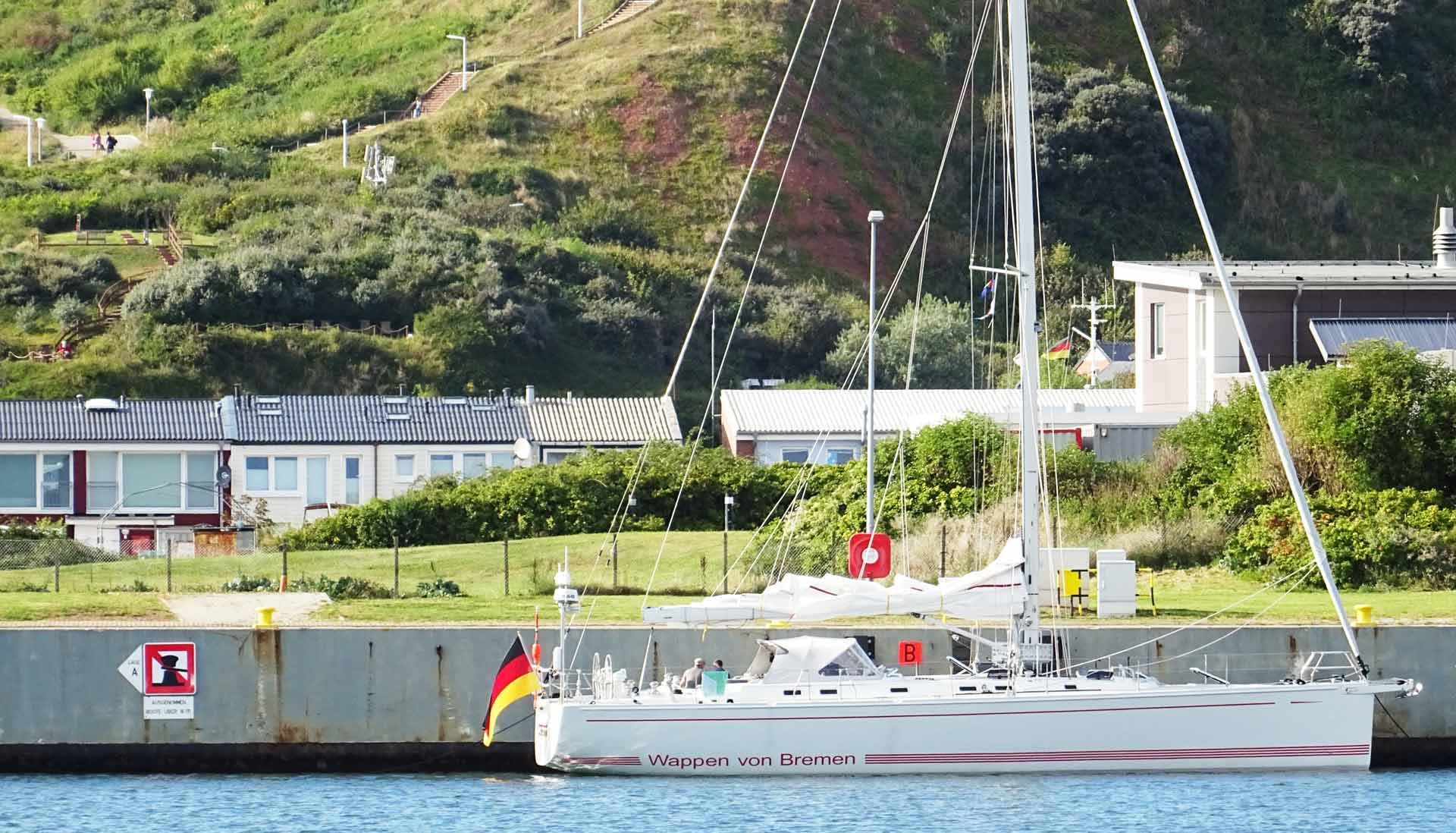 She was mooring in the south harbor of Helgoland, away from the ordinary boats in their ordinary berths just as to state her claim of being something special. And she truly is. Well, her name, to be honest, because this boat – the fourth bearer of the proud ship´s name WAPPEN VON BREMEN – hasn´t really achieved anything up until today. That´s because she has hit the waters most recently and simply couldn´t earn any laurels yet.
A rich History and a legendary name
WAPPEN VON BREMEN is German and means "Crest of Bremen" and that´s really what she is. Owned by the SKWB, the Sailing Camaraderie of the City of Bremen, she is the flagship of their fleet. And as I said, she is now the fourth bearer of that name. The first boat has been acquired in 1934 and was sailing for the club for some 34 years to be replaced by the second WAPPEN VON BREMEN which was a newly built boat designed by Bill Tripp.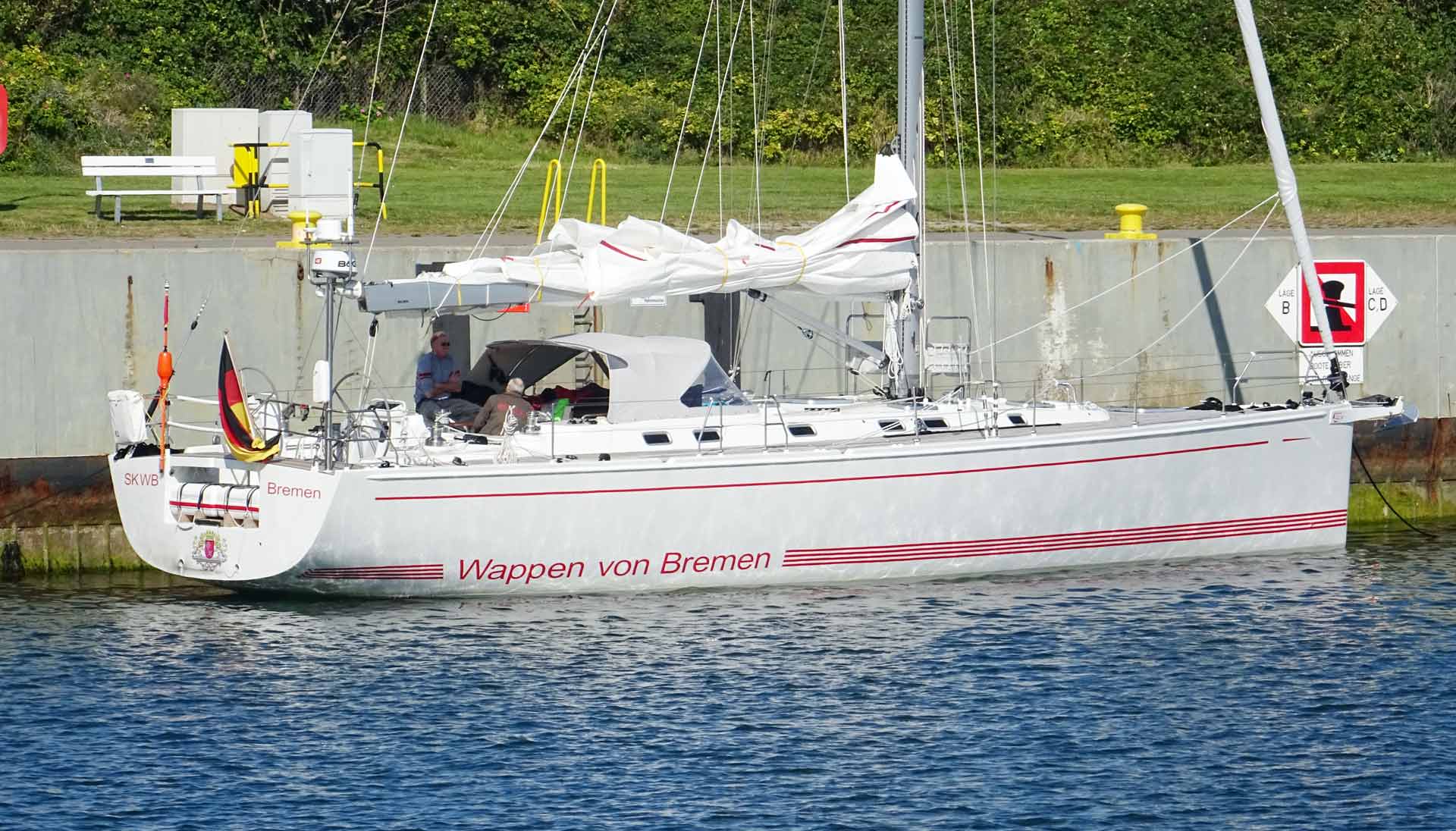 She was used by the SKWB to the year 1982 when the third boat arrived, a speedy Van de Stadt-built that is now up for sale. When I saw the new WAPPEN VON BREMEN moored at the pier side I couldn´t resist to grab the cam, despite my wife rolling her eyes. A pair of nice shots to see some details of this brand new sailing yacht was the minimum I could hope for.
The WAPPEN VON BREMEN Sailing Yacht: A Beauty by Judel & Vrolijk
As I was approaching the yacht from her stern I noticed her almost classic lines. Although designed by famous German design bureau Judel & Vrolijk, most recently known for their works for the Hanse Group, this yacht does not resemble any of J&V´s signatures. Instead, one could not determine this yacht being a product of the year 2016. A slight sheer line, no overhang and a slightly positive bow. Nice. I particularly liked her classic transom, featuring two life rafts.
Her superstructure is low, presenting an almost clean flush deck, although even here it´s a classic timeless look. Not less six vertical portholes at each side in the superstructure and six more skylights in the roofing reveal that this boat has multiple berths to offer. Ten berth all in all can be manned as the WAPPEN VON BREMEN will make her famous trips up to the Arctic or to the Southern Ocean. Latter was the reason to have her built from Aluminum alloy.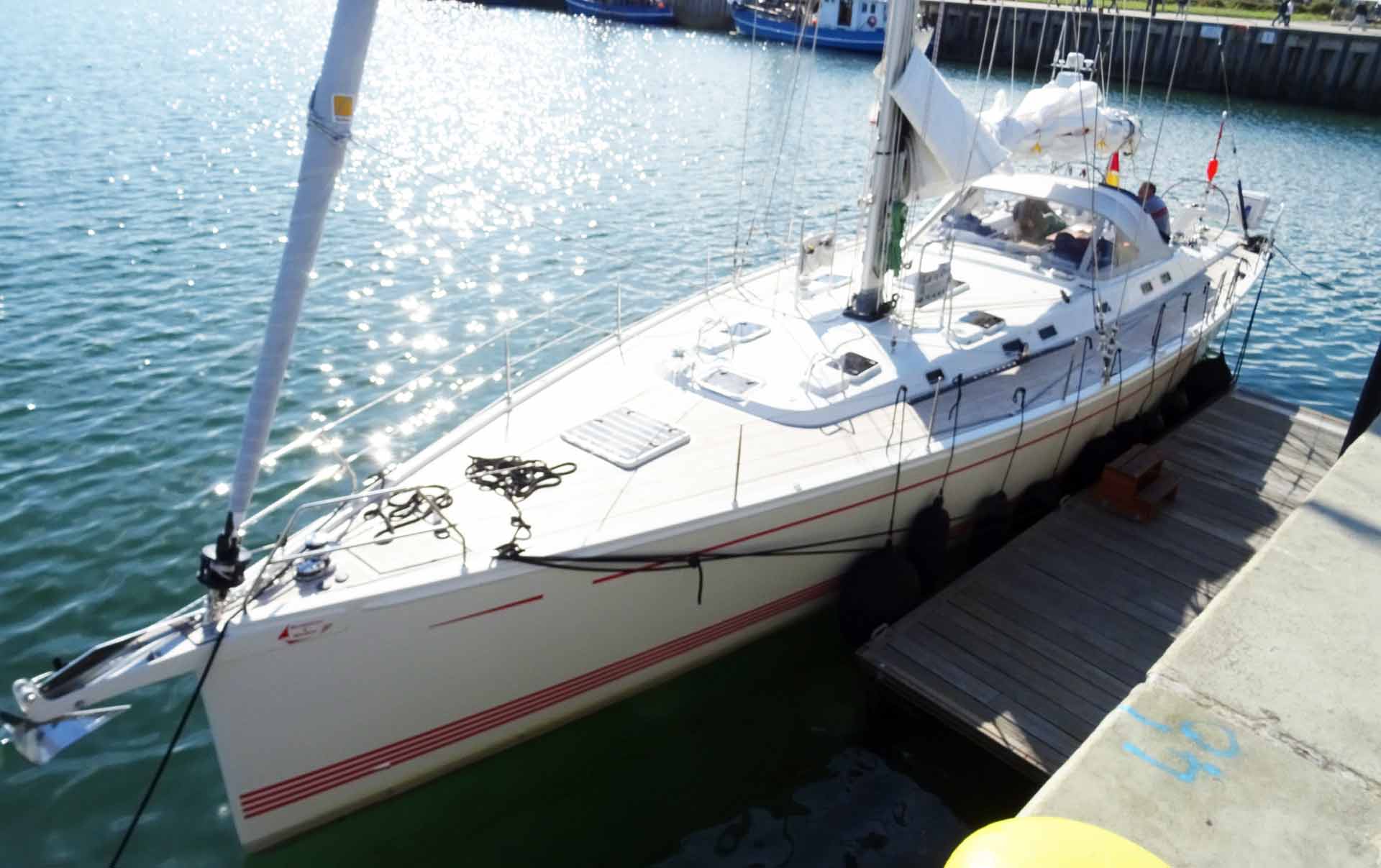 Granny bars at the mast shoe, nevertheless all ropes seemed to be diverted into the cockpit, are another hint of her exotic and exciting destinations. Despite – this ship means business. It was built for serious sailing. The SKWBs mission is to teach and train sailors in the art of sailing, navigation and marine business. This boat is the manifestation of that mission.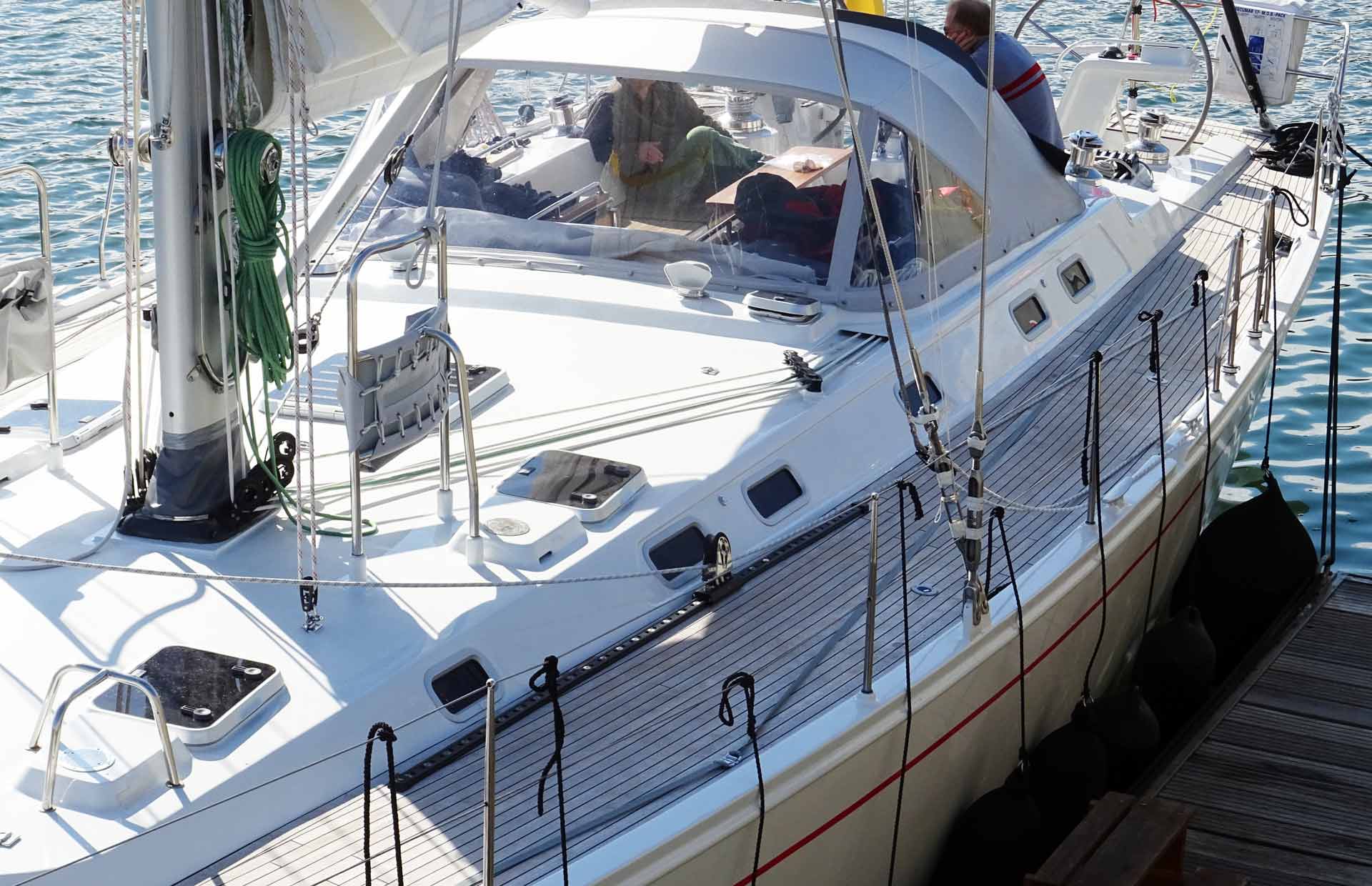 I noticed the nice sprayhood with its huge front window made of plexiglass. It should offer great sight to the fore deck and onto the mast even in heavy weather conditions, though I am asking myself if the crew would take it away when under canvas – something I am doing when sailing. I greeted the crew and asked for permission to take shots, which they thankfully agreed to. "She´s doing fine!", one of the crew members answered when asked about her qualities.
Mighty Winches and Clever Cockpit Layout
Upon inspecting her further, especially the sprayhood, it came to my mind that this structure could even work as a dodger. But that´s a thing the high seas of the higher latitudes and Beauforts will have to decide. I took a look onto her cockpit design and noticed that the designers have separated helming and winch work from the guest-area. Which is nice.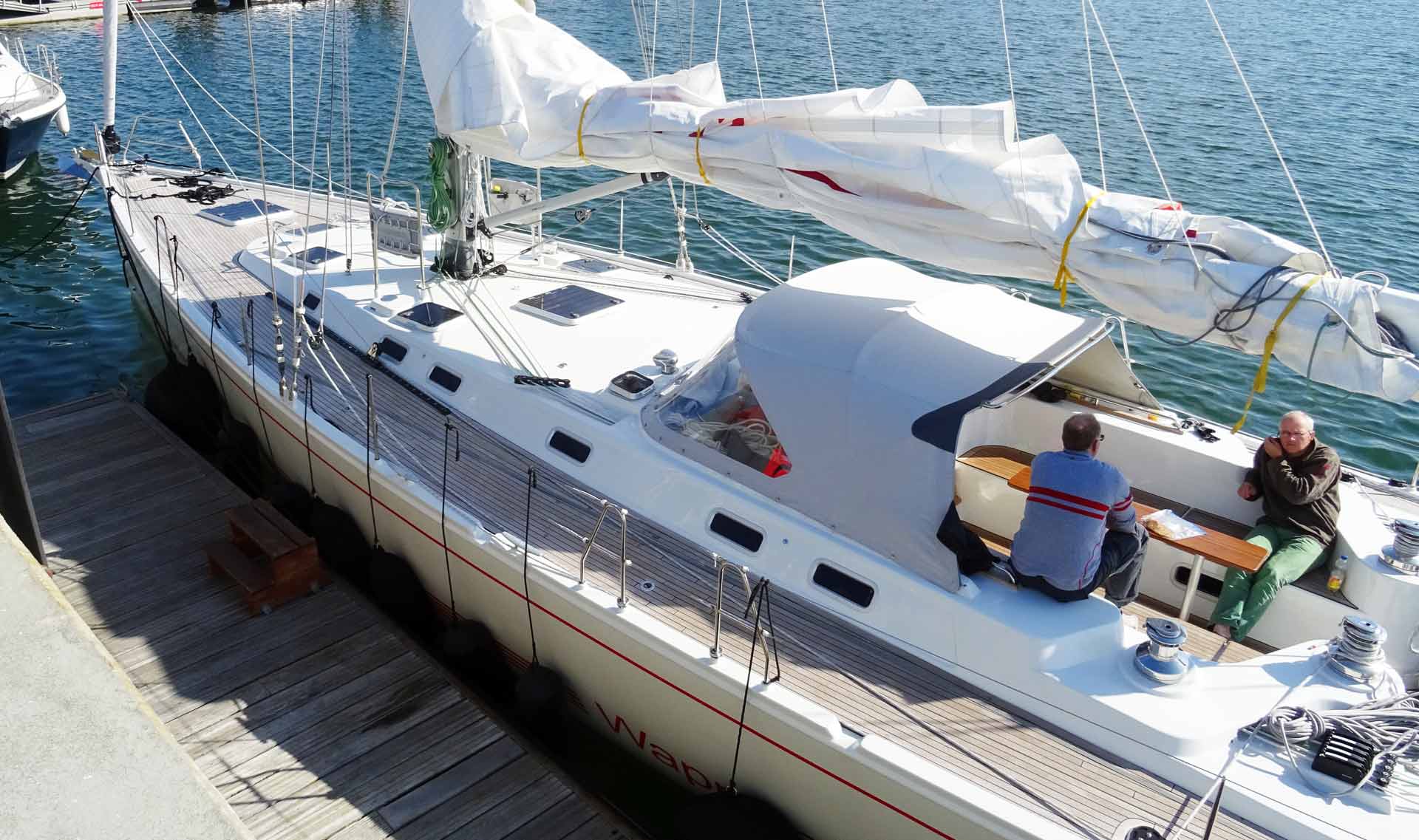 Well of course, on a nearly 17 meter long ship (that´s 55 feet!) there´s plenty of space to have such an amenity and I think it works fine. The helmsman has an easy and fast grip from one of his two steering wheels (on one rudder blade) to the central elevated main sheet winch and to not less than 4 winches which could operate all sails from Genoa or Jib sheets to reefing lines, halyards and other stuff. Two more winches are situated more up front. Ropes are lead to the cockpit through covered ducts. All seems neat and thoroughly thought through for offshore sailing.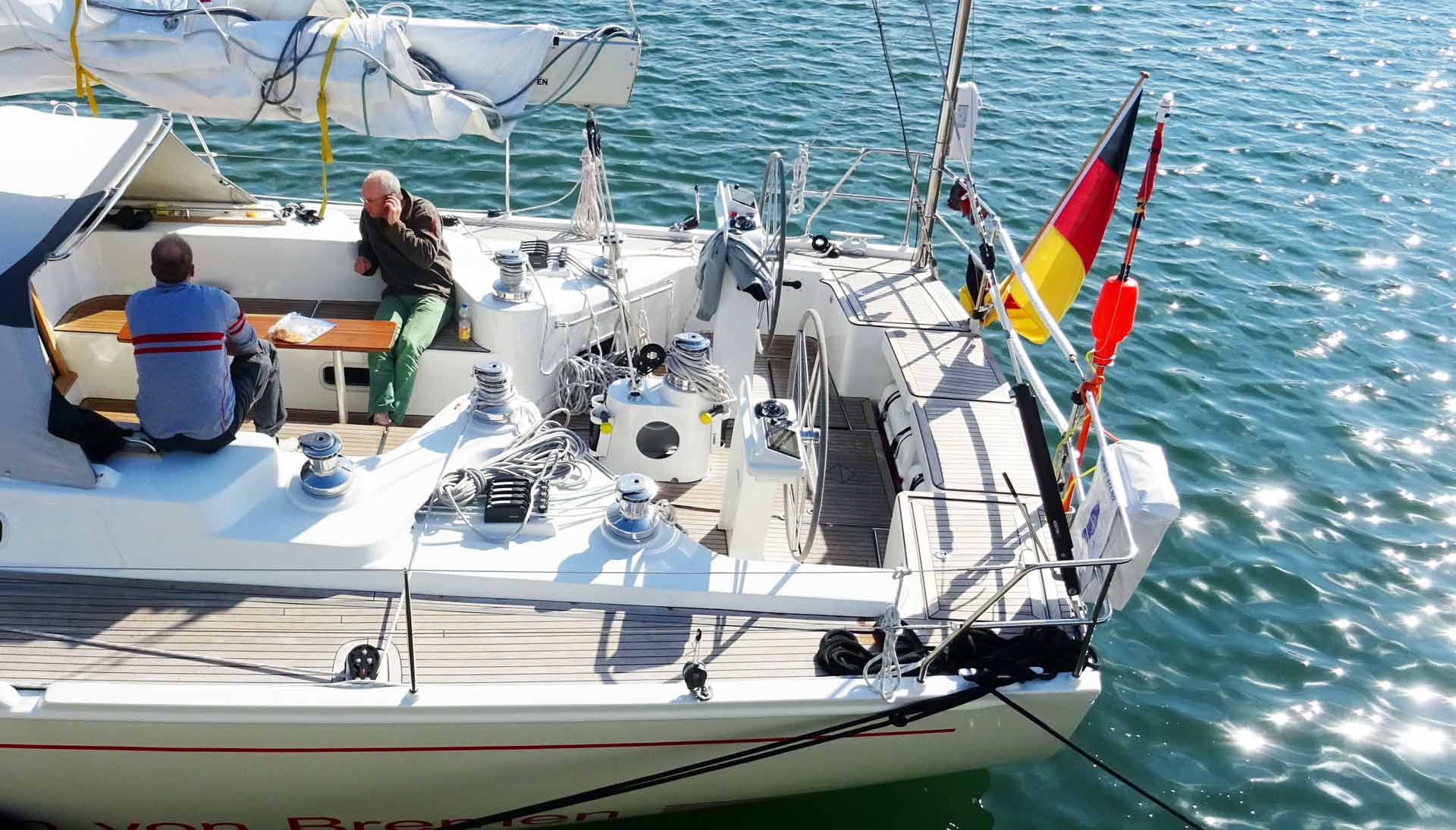 Looking up her data in the internet, I learn that the WAPPEN VON BREMEN has a 16.60 length over all with a waterline length of 15.80 meters, a draft of 2.70 meters and a mast height of 24.30 meters. She´s displacing 20 tons, has 7 tons of ballast in her keel and an upwind sail area of a total of 163 square meters – all of which I would have loved to see been flown by her.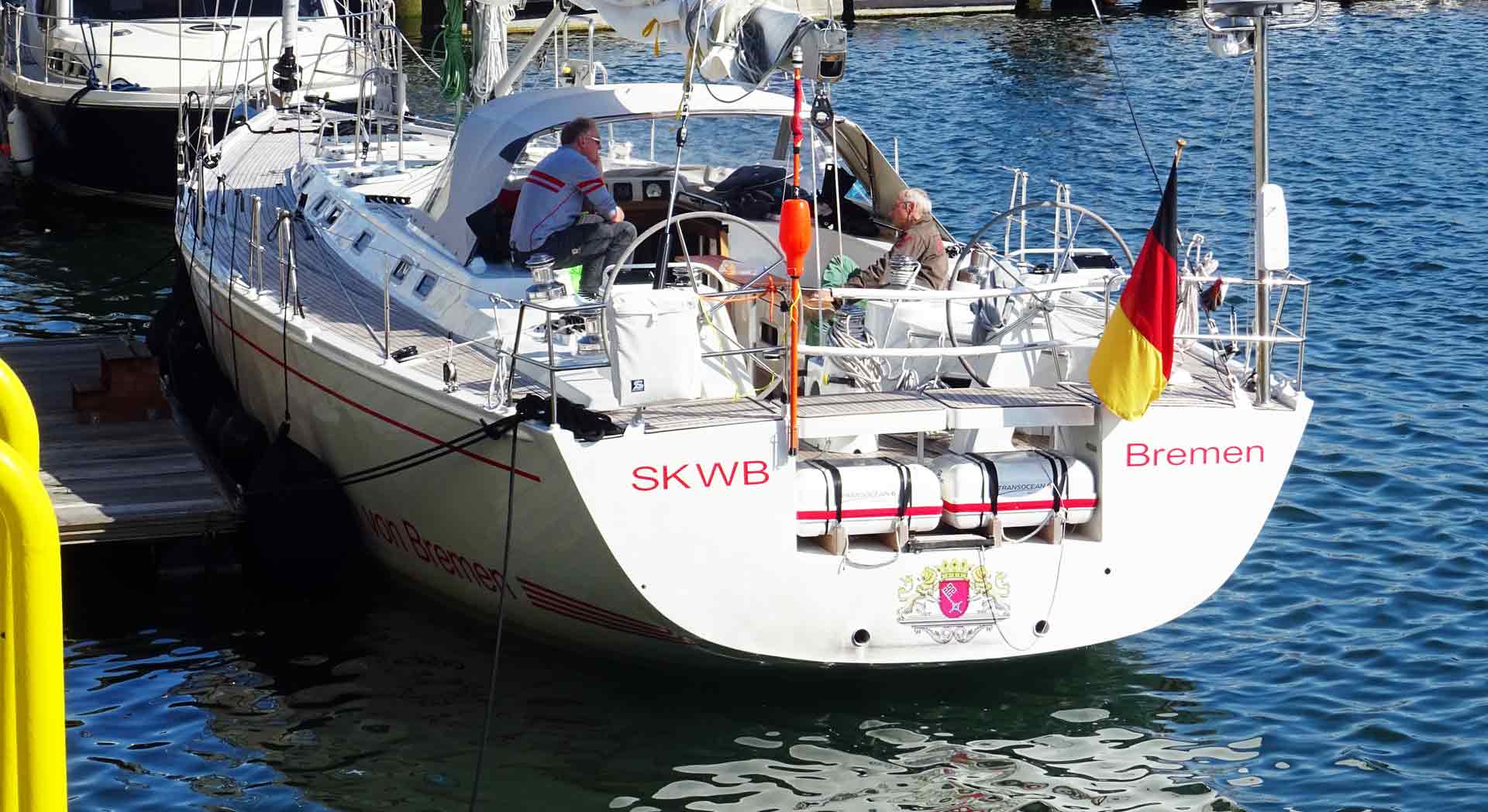 When asking permission to shoot some pictures I must admit I was hoping for an invitation to come and have a look at her interior – which sadly didn´t came (and certainly was the right thing not to spoilt the family´s day). Having seen some pictures I can say that her internal fittings are modern, yet not exaggerated or too luxurious. She´s handsomely outfitted with joinery to last and withstand hopefully decades to come. A classic ship from the inside too.
Bon Voyage, WAPPEN VON BREMEN!
So I wish her and her crew a safe journey all the time, exciting adventures and moments of joy and peace on our world´s oceans. I hope seeing this boat again, hopefully under canvas and hopefully under deck. After some 20 minutes of awe inspiring contemplation I turned my back on her and went back to my kids to eventually start our day off on Helgoland.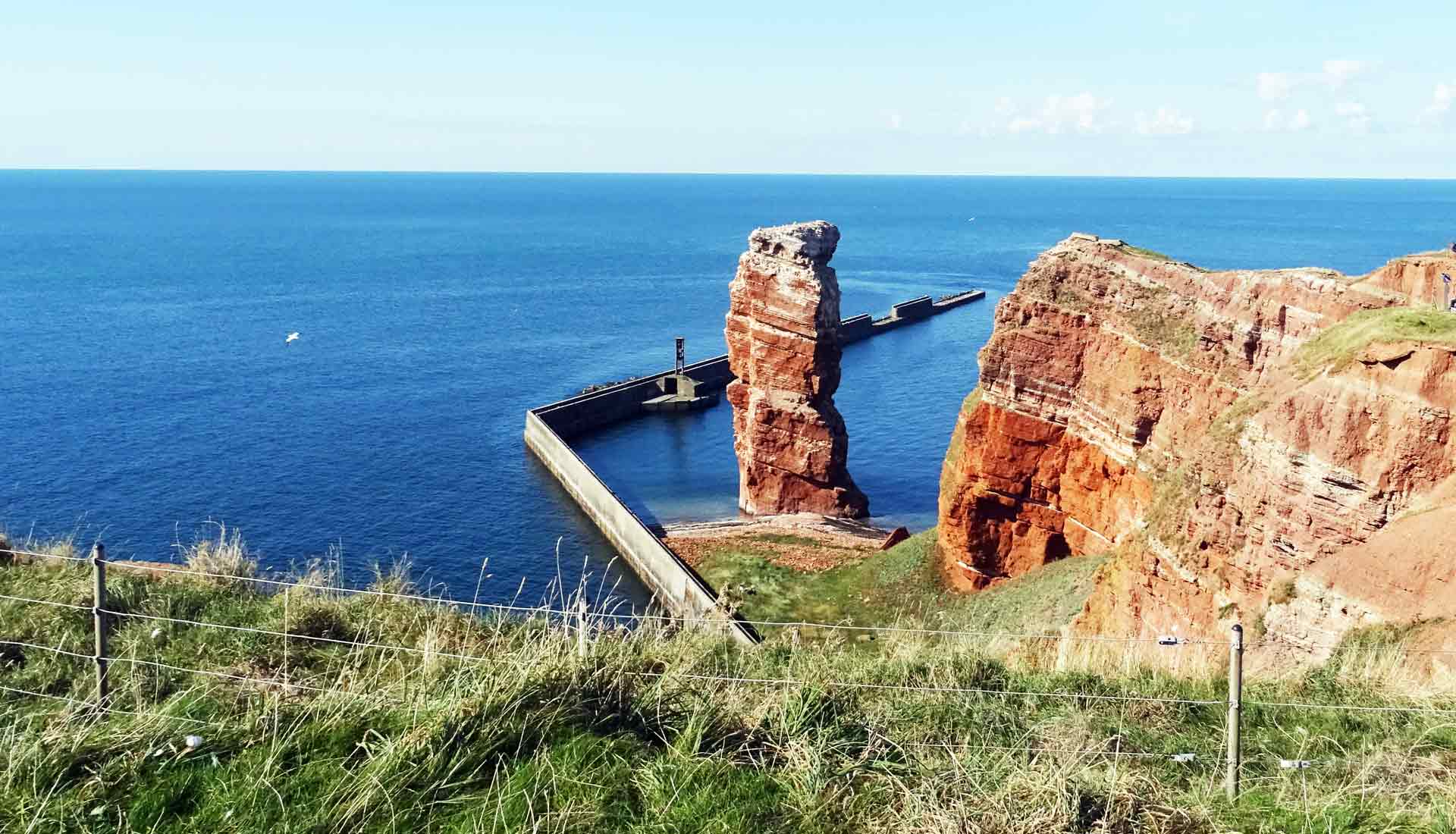 Here´s an article on sailing to Helgoland from the port of Bremerhaven on a Class 40 sailing yacht and here´s a  review of the Helgoland marina in the southern port of this beautiful, rough island in the midst of the German Bight.