Welcome to my first ever marina review here on NO FRILLS SAILING.com sailing magazine. As my yachtmaster´s education advances I will have the pleasure to head for more and more marinas and thus acquire knowledge about those harbors I would be glad to share with you fellow readers and sailors. I am trying to give answers to hopefully most of the crucial questions a skipper may have prior piloting the particular waters. I hope this would contribute to your cruise planning and – knowing that these first reviews won´t be perfect – I am hoping too to be able to further refining my assessment process. Feel free to comment if there´s something you´d like to add or a question remains unanswered.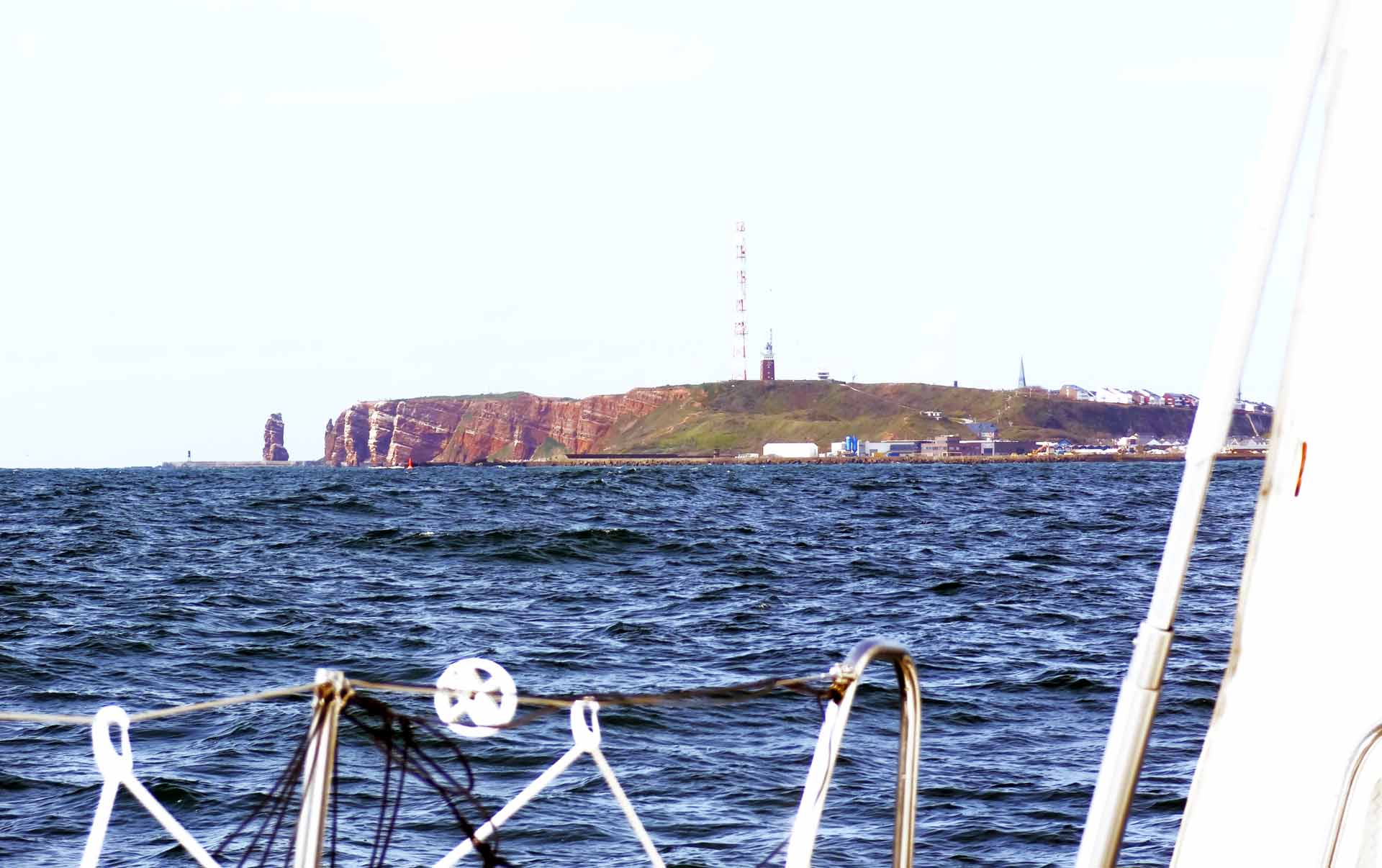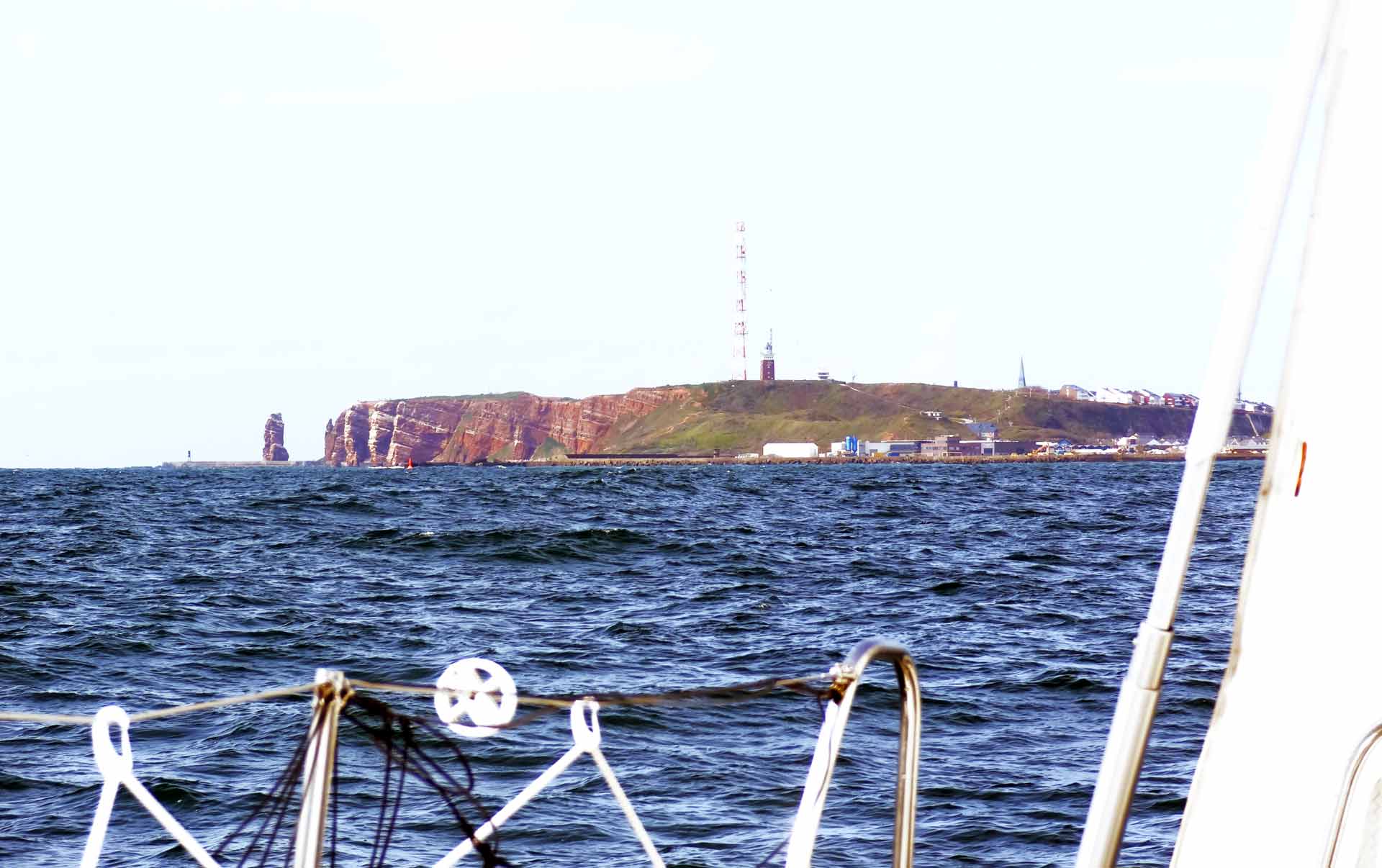 Helgoland. Germany´s one and only offshore island. I love this piece of red sandstone-like rock situated some 50 miles north-west of Bremerhaven, 35 miles from Elbe estuary. Hordes of tourists will visit this island on a daily basis – lured by a duty free shopping paradise, XXL packages of cigarettes, Whiskey and Gin and perfumes. Six regular services carry up to 300 guests each to the island where there remain some 4 hours until casting off again: Enough time to have a walk around the impressive cliff line of the steep coast, a hearty meal and the mandatory shopping alert. Then it´s all over, the island is silent again. We sailed to Helgoland on a Pogo 40 racing yacht and it was something very special to me, to see this beautiful island from the skipper´s perspective.
How to sail to Helgoland Südhafen Marina
Helgoland can be the last German port of a North Seas cruise to the United Kingdom, round Jutland/Denmark or the English Channel – or maybe the first German port after a cruise. It can be a safe harbor during a storm or heavy weather and it´s definitely worth a visit due to its beauty, marine wildlife (there´s a huge seal colony on the small neighboring island called Düne) and the moving history (the biggest ever non-nuclear explosion nearly did rip the island into half). Piloting the island is tricky because it is surrounded by huge environmental safety zones. There is a small corridor which is negotiable right between Helgoland and Düne.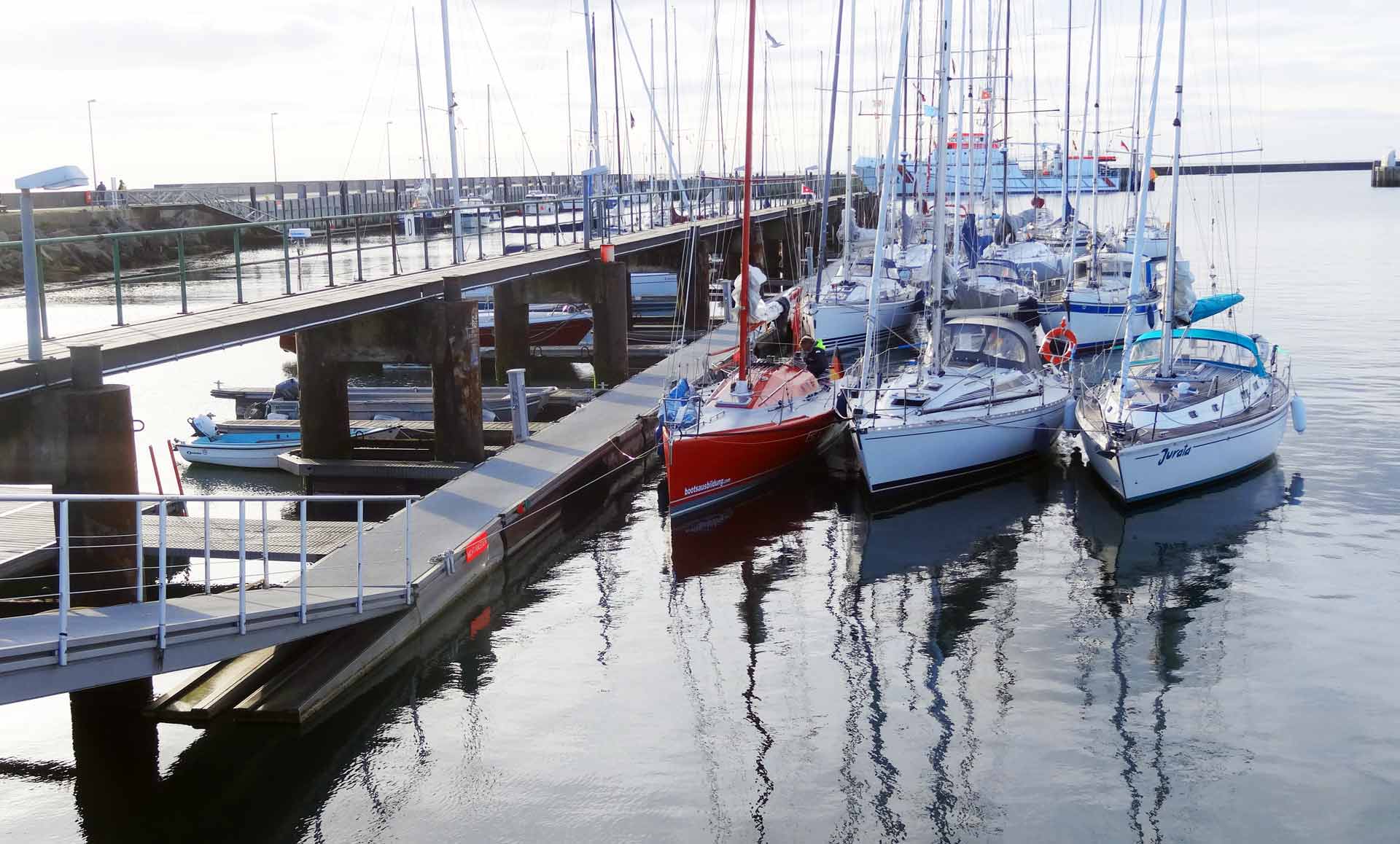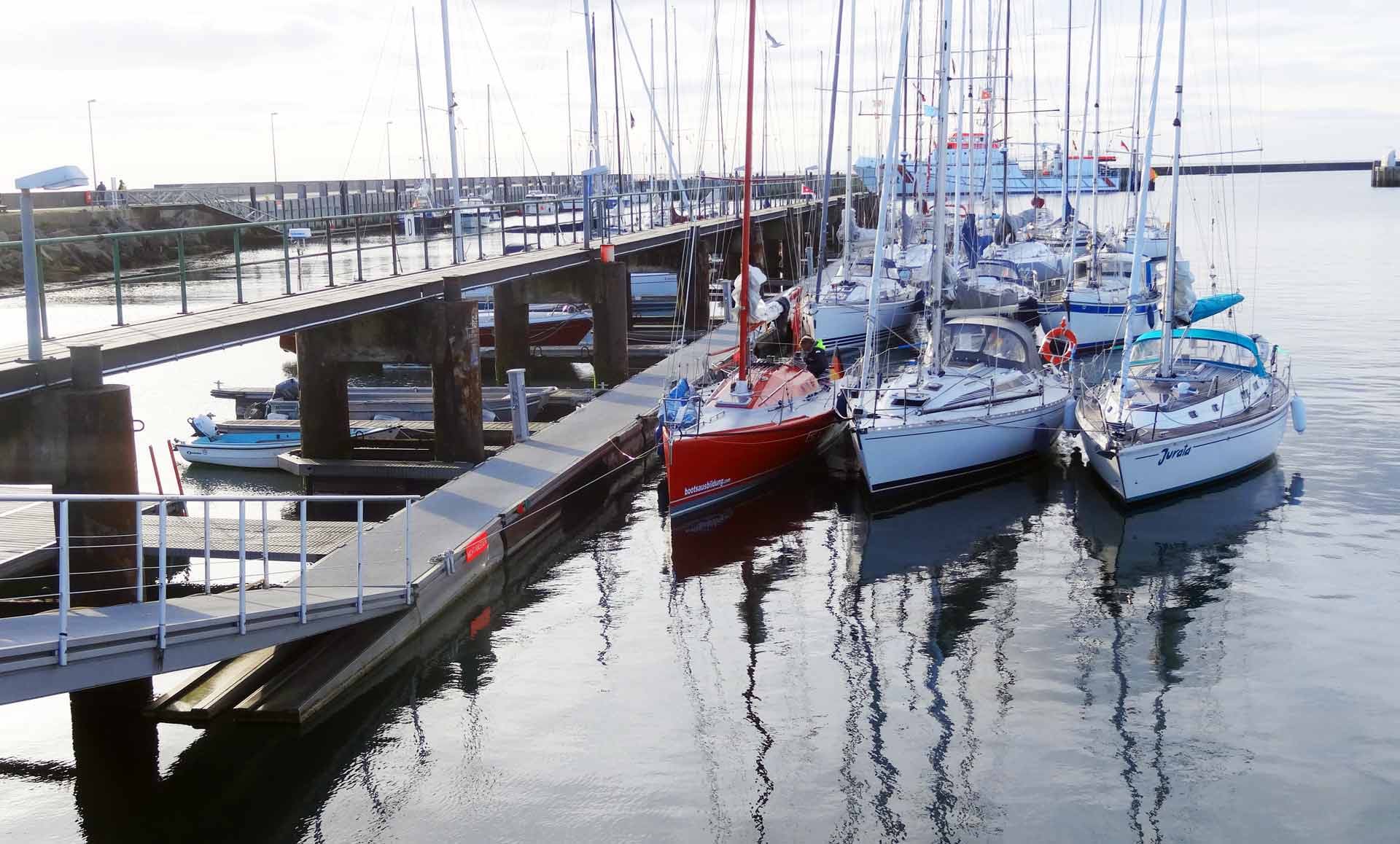 The best way is an approach from the south-eastern side of the island where a comfortable fairway with buoys will mark the entry into the port. Beware: Helgoland is a center for maintenance craft and crews of the near offshore wind parks (there is a huge one some 10 miles north of the Island) and pleasure craft are restricted to the so called Südhafen. That is the main entry when coming from the south. You should keep to starboard side heading to the SAR-ship moored in the so called Südhafen which marks the entry to the yachting area between "Ostkaje" and "Westkaje". There is another harbor ready to take of yachts to the north but since there are no facilities whatsoever the yachtsman should head for the Südhafen.
Mooring in Helgoland Südhafen Marina
Arriving early (or late) is the motto of the day. Berthing is very limited here in Helgoland and especially during the summer months of the high season Helgoland is the destination of dozens of yachts daily. So rafting is the agenda of the day. Three, four boats mooring in one berth is not uncommon. If you arrive at your berth you should ask your mooring neighbors when they want to leave in order to be ready. When I was there I was astounded by the friendliness and relaxed mood since rafting isn't the most preferred way of berthing a yacht.
Upon arriving in Helgoland we filled up our Diesel bunkers at first. This cannot be done in the Südhafen Marina but in a neighboring basin north of the marina. It´s a 5 to 10 minutes trip under engine. Going alongside a small pier, the CCTV-operated filling pump will be activated by a nice friendly woman who will ask for the name of your ship and recite a mandatory appeal not to spill any fuel into the water. Climbing the ladder you will proceed some 20 steps to pay for the Diesel. Then run back to the marina.
Demurrage in Helgoland Südhafen Marina
Prices for demurrage are a fair calculation from my point of view. We did pay some 13 Euros as we arrived in a 40 feet sailing yacht, which would correlate with the "every meter is one Euro"-rule of thumb. Harbor masters are friendly and to have an open ear for all sorts of skipper´s concerns. If you leave the EU or arrive here after a longer cruise you may also clear in- or outward at the near customs office. Everything is done with German precision – but in a very relaxed and friendly manner.
As I was mentioning before, Helgoland is a duty free zone so a skipper can buy certain things with savings capacity, such as tobacco, liquor, beer, chocolate and perfumes, but also sailing clothing. In the same way do please adhere to the laws concerning the maximum quantity of those goods. What can be more expensive here on Helgoland are things of daily consumptions. I could only detect one supermarket-like shop on the island. I didn´t have the impression of higher prices but as I was talking to skippers who know Helgoland more they didn´t recommend to take on provisions here but to just restock.
Bathroom Facilities
Having a hot shower or having a private half an hour on a real water toilet in a real restroom can be something very special for a yachtsman. So bathroom facilities are crucial. Well. Where to begin? They do have WC, showers and stuff but I would say it´s on an absolute basic level. Situated in a basement-level of a near house it feels like going down into a bunker when heading for the lavatories. Not very welcoming indeed. It´s clean, of course, but facilities are not new and you shouldn´t expect too much luxury here.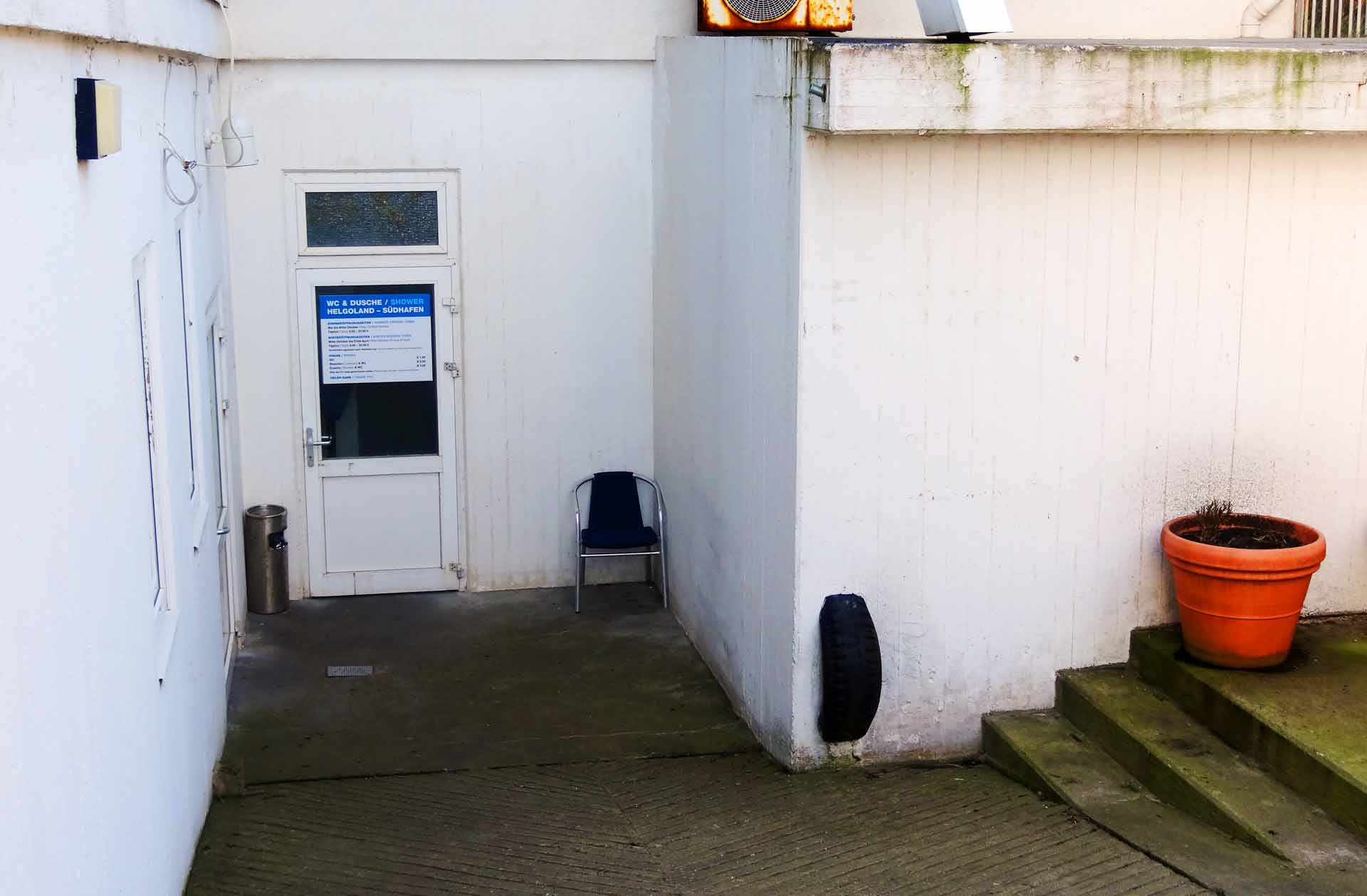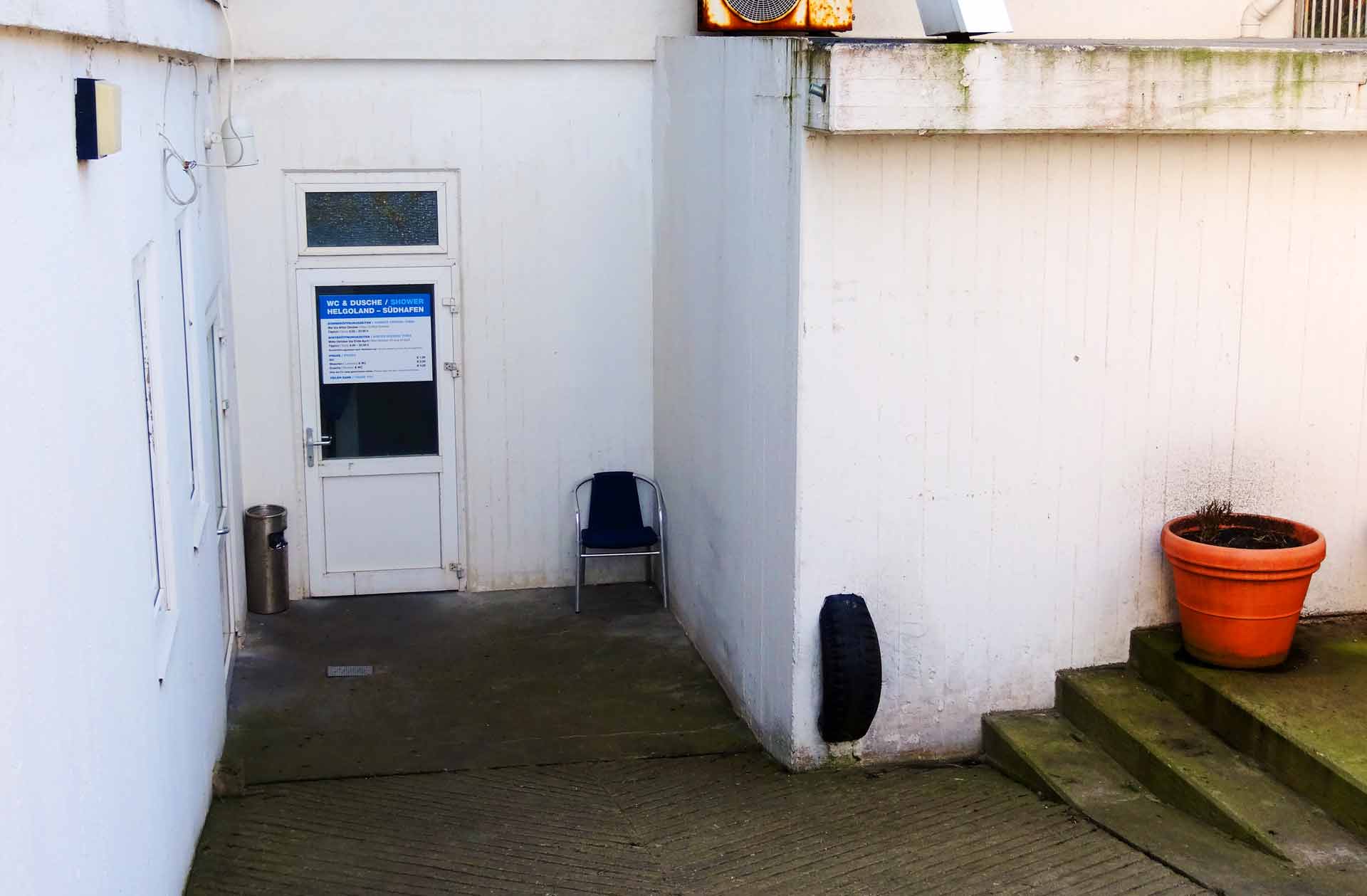 What was really bothering me have been the high prices. Taking a dump is one Euro. Each time you enter the restrooms you are expected to leave one Euro. That´s far too much as in most marinas I know using the lavatory is free. As we have been mooring in Helgoland some 20 hours I had to go there as many as four times. Taking a shower is 4 Euros. I understand that Helgoland hasn´t got any own fresh water reservoirs but I consider these prices too high – especially in view of the lower standard provided here. Monopoly …
Eating and Resting One´s Oars
Staying in Helgoland is a feast for the senses. You will enjoy this very unique rocky red island with its rich history, the steep, cliffy coast and the clean air. What can be annoying is the daily invasion of German tourists flooding the island if you seek a quiet insularity. Instead, maybe you combine a trip to the sister island of Helgoland, the "Düne" to have a look at the seals and later watch the liquor-hoarding countrymen to your amusement.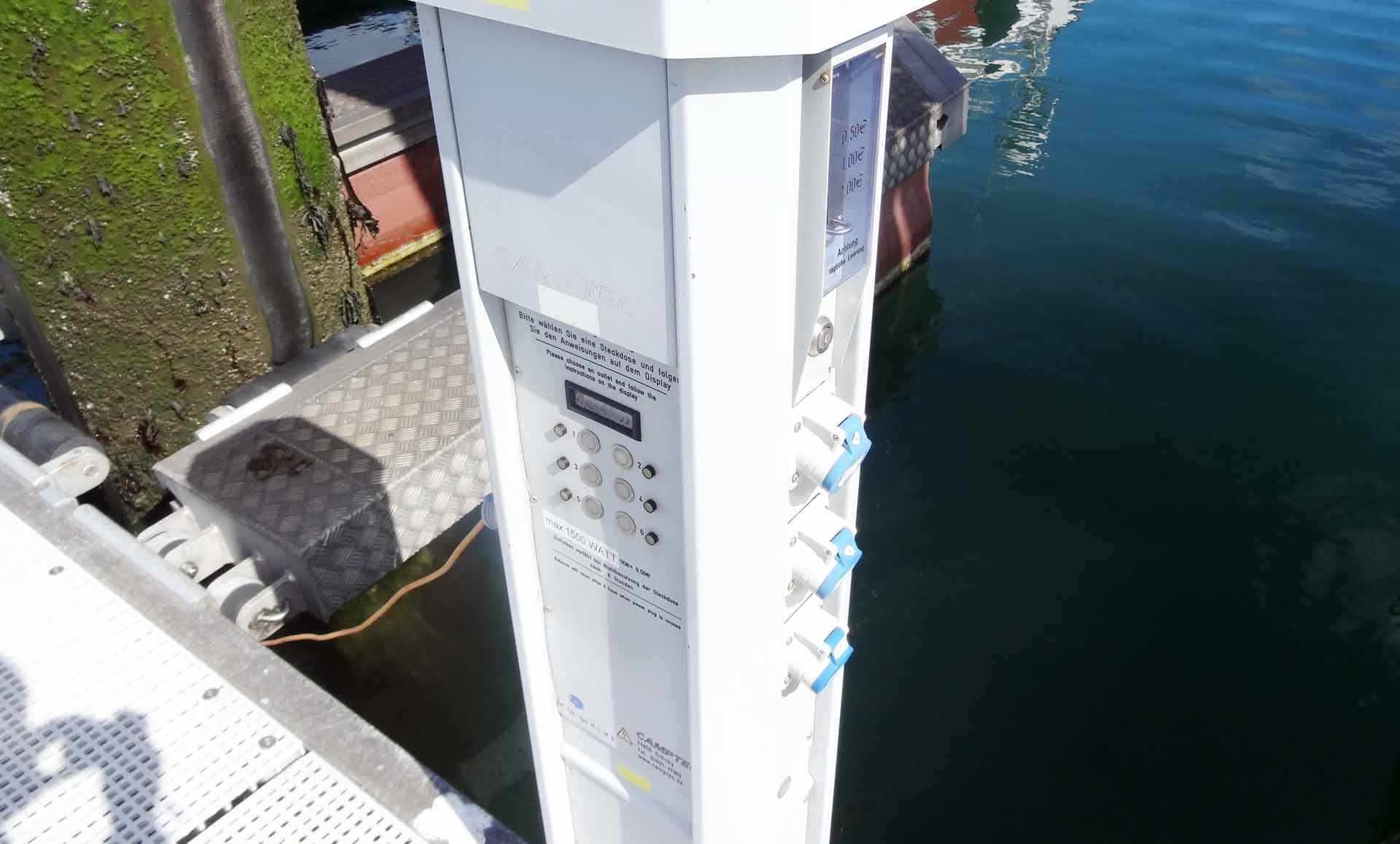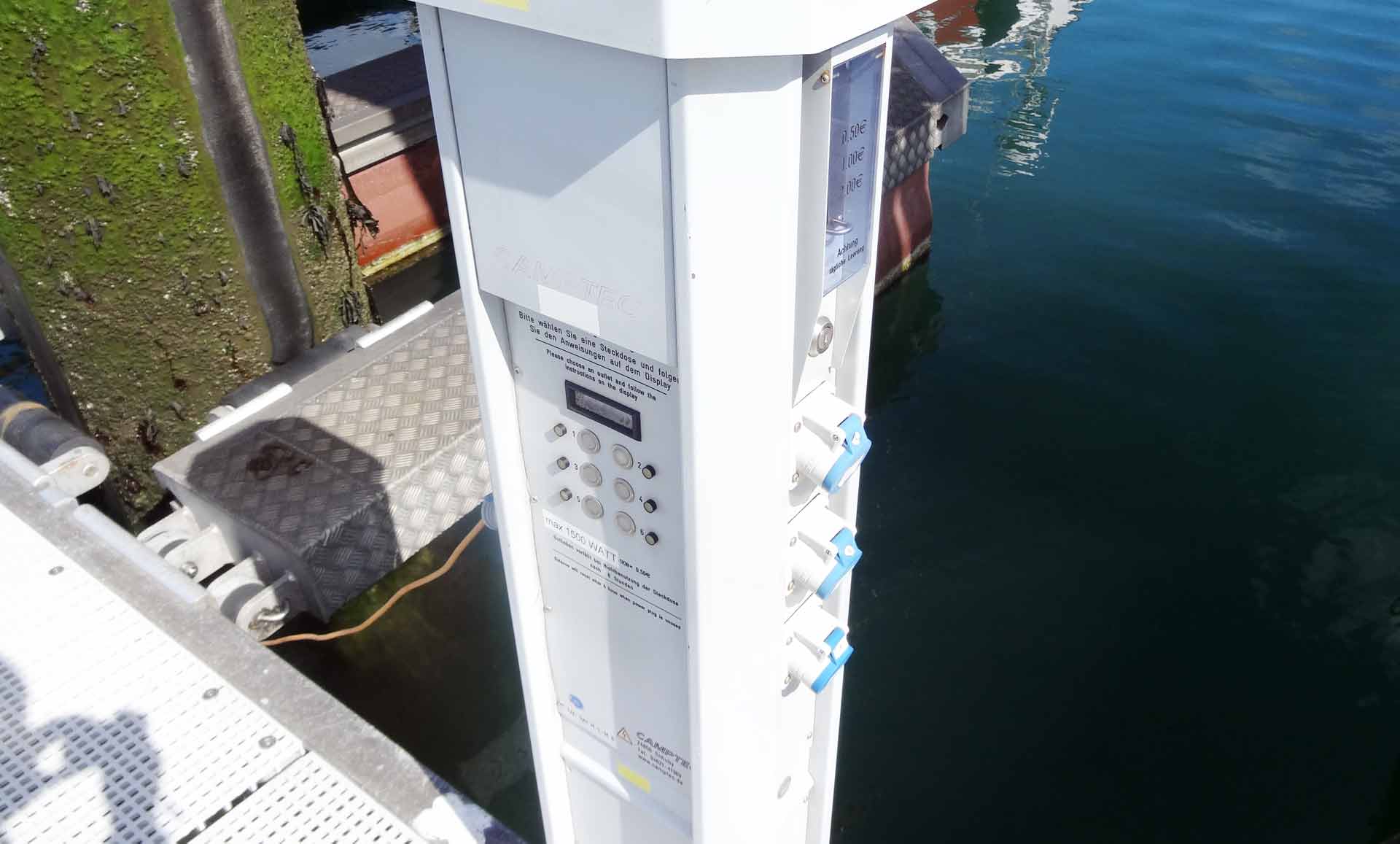 You will find a lot of restaurants and bars here. Most, if not all, are clearly targeted on serving the tourists so don´t expect high culinary special treats here. You will get stuffed, but it will be ordinary – maybe a bit overpriced – middle standard food. What can be recommended is Helgoland´s night life because there are some "legendary" bars and clubs where you may acquire your next day´s headache.
Helgoland Südhafen Marina: My Overall Assessment
Arriving in Helgoland is a pleasure since landfalls on islands are always a very special and emotional thing. Helgoland offers a rich variety of things to do – a stay is worth two or three nights to discover the island´s secrets and treats. Mooring can be stressful since rafting is normality here. Prices are fair except for the bathrooms which I consider overpriced.
All in all: 5 out of 10 points
You may browse to the article of the Helgoland-cruise on a Class 40 sailing yacht too.