Living conditions on a sailing yacht are to a great extend determined by only a handful of different factors. That be standing height, size of the cabins and berths and amenities of the head(s) and saloon and finally of course the yacht´s galley. You now the saying, as it goes that the second most important man on a boat is the ship´s cook and a cook without a proper galley is a man fighting on a lost position. But what makes the perfect yacht galley, which equipment should it bear and how to refurbish an old galley during a refit program? That´s what this article is dealing with.
Inspired by the Refit of SY ZIRKON
As you may have read in a number of recent posts, I am right now refitting my 40 year old Finnish made King´s Cruiser 33, a fine GRP-classic with neat lines, good sailing qualities and – for a boat made in the IOR-era, very spacious dimensions. I must admit that I originally didn´t intended to refit the galley to a greater extend because I wasn´t assigning this corner of my ship too much significance. I thought I´d just throw out the old stove, replacing it with a new one, have everything painted in fresh new White and that would be it. But that opinion changed. Most due to all the various boats I had the pleasure to visit during the past months, just like the marvelous Dufour 350 on the Cannes Yachting Festival, of which I particularly liked her galley.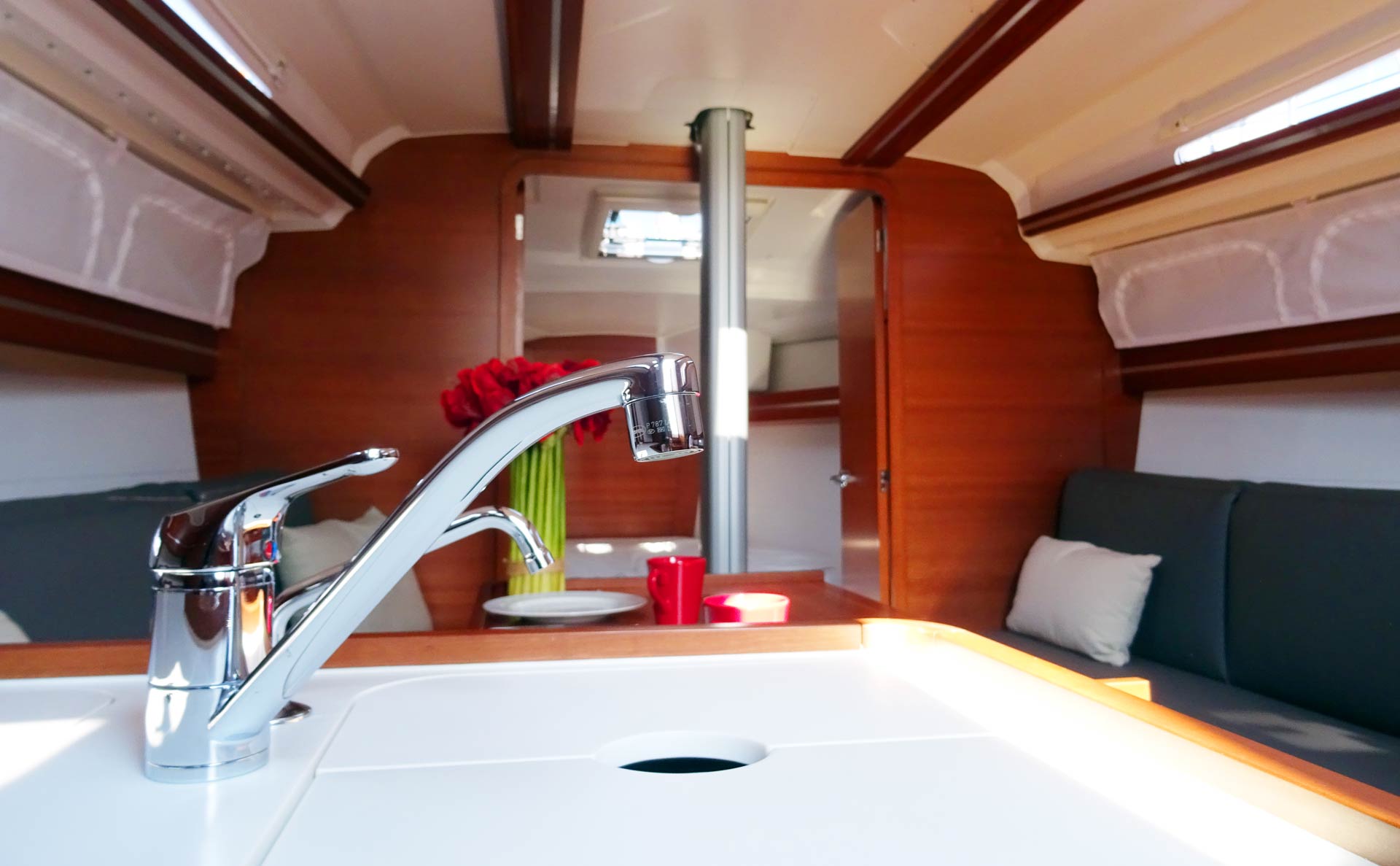 And of course there was an interview I did some months ago with the good people of SY ZIRKON. Refurbishing their Dutch built Breeon-class Sloop they were talking about refurbishing their galley a lot. And looking at the pictures and most of all feeling the pride they took in showing me those pictures did do something with me. Finally, it was the realization that the galley might be something more than just a spot to heat water and cook a stew. It was whilst I was working on cutting out some of the inner shell of my ship´s GRP construction to house the new Dometic Coolfreeze compressor fridge (read it here) when it finally struck me that I would have to do some more than that.
Modern Galley on a Sailing Yacht
So what does a sailor need to have in his galley – and what not? That´s really a tough question because you can easy get lost and overwhelmed by the task of refitting a boat. In fact, I am experiencing this matter almost every day when working on the boat: One this leads to two new things and if one is not stepping on the brake from time to time a whole new bunch of items on your refit list will transform the project into a never ending one. When thinking about a ship´s galley, there are essentially two antipodes. Between them two we are negotiating our yacht refit project.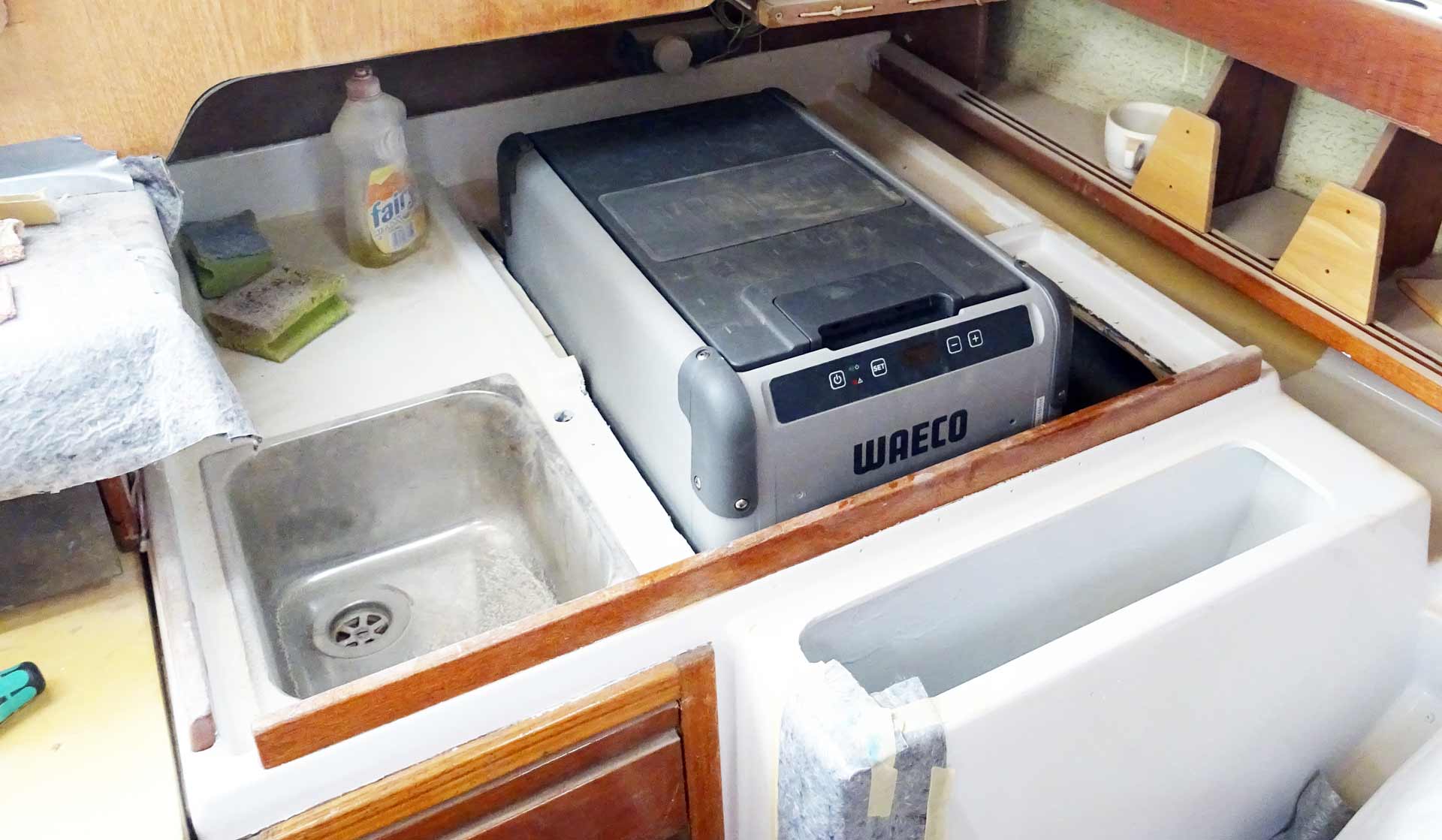 There´s a more Spartan approach to the topic: You´ll essentially need a stove at least and a tap with a sink to do the dishes. That´s all you need. With the stove you can provide for hot food and drinks like coffee or tea, the sink will clean it all up. Fullstop. End of talk. That´s what I was originally planning. But then I saw what the crew of SY ZIRKON did do with their galley and I was astonished. Talking to my wife let quickly arise the idea that this might not be the most feasible way of doing the refit. The antipode of being Spartan is a luxurious style galley. The stove is additionally equipped with an oven, the sink is outfitted with a hot-water system and there´s a full fledge fridge providing for fresh and ice-cold food and beverages. Like the one seen in the Dufour 350.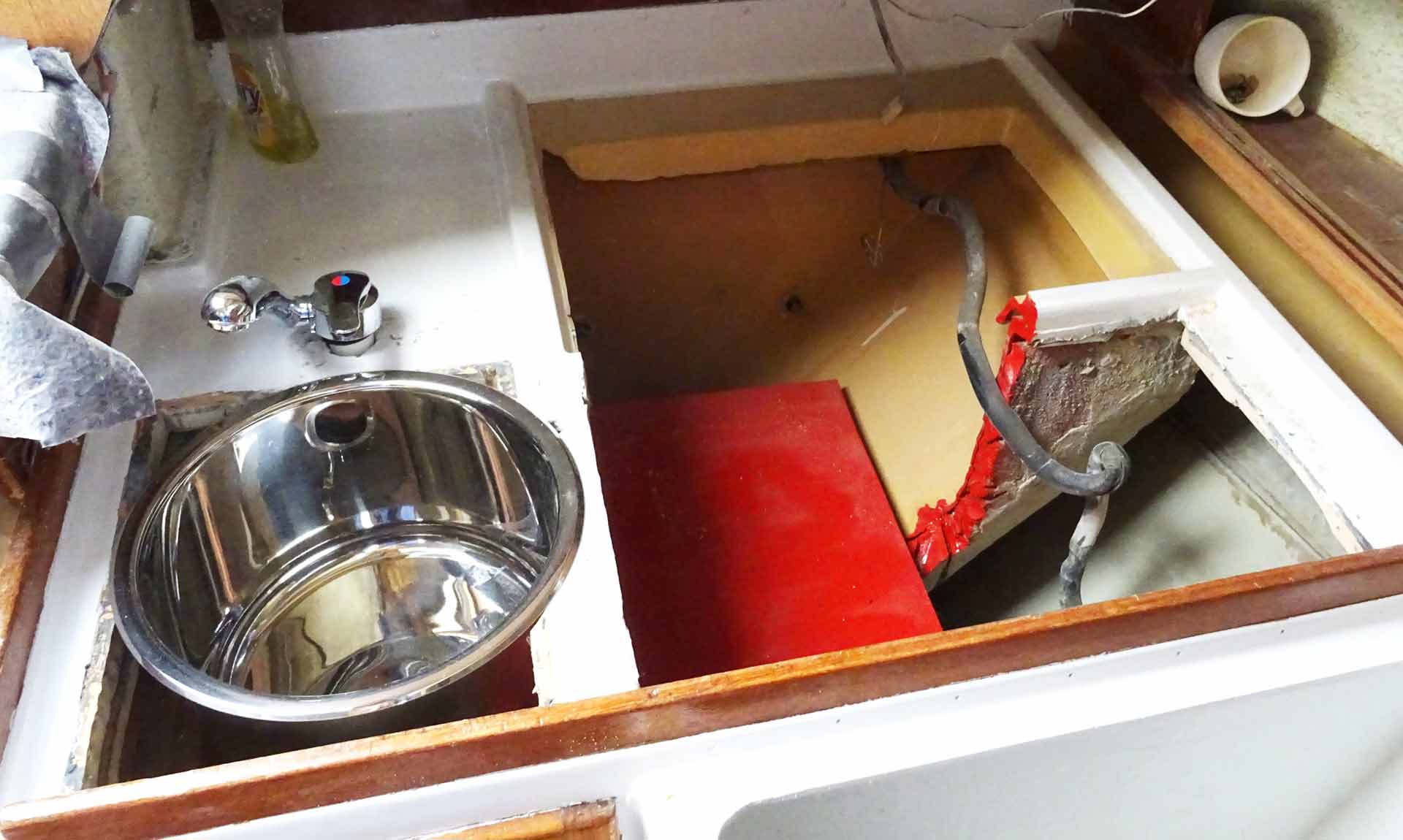 The sink alone has huge dimensions, opening the top hatch of the fridge is supported by gas pressure springs. Well, like I´ve said: That´s the top edge of transforming a yacht´s galley. I want to go a less baroque way but having a certain approach to style as well. Let´s start by the galley´s appliances. More to that, what you will need on a yacht first of all is a big enough sink. The old angular one on my boat was okay in its size but after some decades the aluminum was kind of worn out and I thought a rounded sink would do more in terms of design and appeal. So I went on to buy one and fitted the new stainless steel sink to the galley by cutting away some more GRP. Because it was such a fun thing to do, I indulged myself to go for a brand new tap as well. Perfect!
Fridge and Stove on a Sailing Yacht
As you may have read in a previous article about the King´s Cruiser 33 fridge I´ve decided to get rid of the old fridge as it appeared to be too big and too old (and too energy-consuming). Instead I opted to have a brand new compressor cooler made by Dometic fit into the boat: It´s savvy on electric energy, smooth and silently running and offers has enough space for the short and week-long sailing trip with my little family or a few guests on board. I will have the Dometic cooler installed where the old fridge has been situated though due to the lack of space underneath the galley I won´t be able to completely hide the fridge levelled with the galley´s worktop. But that´s okay, I will try to mask the modern-plastic appearance of the fridge by a Teak made veneer or something alike.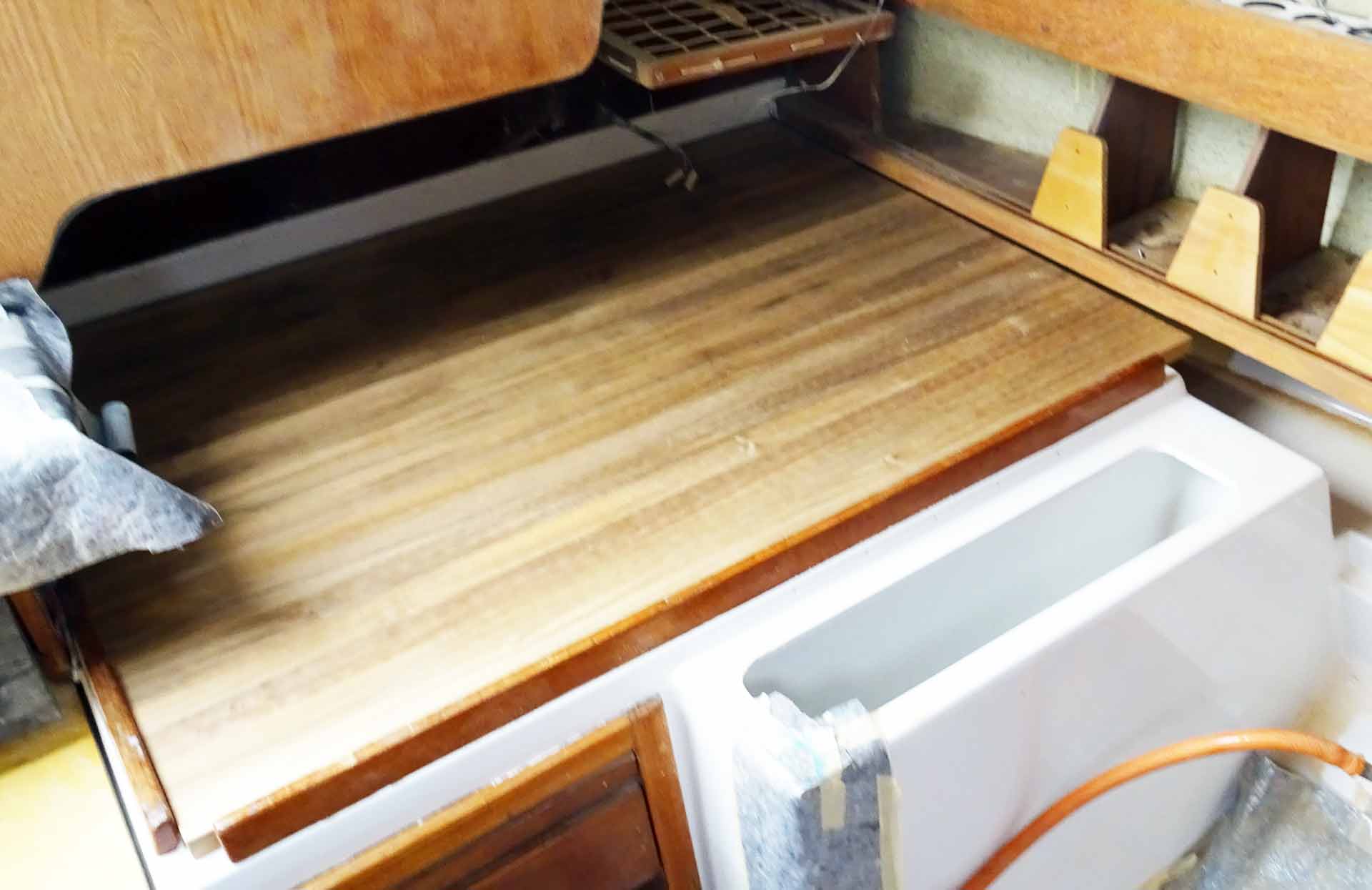 When deciding to go for the Dometic fridge it was clear that I would need a new worktop to cover up all that cutting away GRP-stuff. As I´ve made very good experiences with massive Teak in building the perfect chart table (read it here and here) I again bought a board of FSC-certified Teak and began to cautiously sawing the board to fit. Apropos, when it comes to the fireplace of my yacht, I again opted to have good compromise between the Spartan and the luxurious approach. Instead of having a two-flame stove-only solution I bought a two-flame oven-integrated stove (made by branch leader Dometic as well, read here). I loved that particular stove for his electric ignition system: Just press a button and fire will be burning automatically. No more tampering with a lighter needed. But that´s another story for later …
Domestic Hot Water on a Sailing Yacht?
Providing for hot water is a treat, no doubt about that. Having a hot shower in the morning or before going to a full four hour night watch (or after having completed one) will certainly awaken one´s animal spirits. Even in the galley it´s simply more hygienic to have the dishes done with hot water, rather than trying to scratch off the dried leftovers from last night´s dinner in cold water. But again, adding a hot water-system is complicated. You´ll need a boiler, another separated water-cycle, an additional pump, a two-way tap (which at least I have now) and last but not least, you´ll add yet another energy consuming appliance to the list. I refrained from doing so.
A New Worktop for my Sailing Yacht´s Galley
What I indeed want to add to the Yacht in terms of luxury is a new worktop. That´s what I´ve learned from the crew of SY ZIRKON: A new worktop will significantly improve a galley´s appearance and add a certain level of pleasantness to the ship´s galley. As vis-à-vis from the galley on starboard side of my boat is situated the all new Navigator´s station with a brand new chart table it seemed quite logical to have some of the nice Teak-look in the galley as well. And here we go. After fitting the board as a whole I cut out the inlets for the sink and the tap, later on I took measurements to saw away the opening for the Coolfreeze appliance.
Having the large Teak surface freshly painted with varnish will add significantly to the look of the boat. Much more, I assume, than just having it painted in white. Basically, a King´s Cruiser 33 galley is bare GRP-surface. I did paint everything in fresh White, which is definitely an improvement over the original yellowish topcoat-tone, but after completing works on the chart table I wasn´t so sure anymore. I guess this is the far better solution.
Finishing the first step of refurbishing the yacht´s galley
To provide some cover for the Dometic Coolfreeze against splashes of water from the sink and for aesthetical reasons I decided to add two Teak made veneers to the side and front which I cut out, sanded, added round edges and glued together. Four more stainless steel screws from below will add strength to the construction.
Done so, I reassembled the whole construction at the end to see if everything was done properly. Know what? After some 4 hours of taking measurements, sawing, sanding and correcting; of climbing to the boat, fitting the worktop and return for the next round of corrections I am pretty proud of my work. The new galley definitely looks far more inviting that the old one. I indeed sacrificed some of the stowage to fit in the new fridge but I guess that was worth it. Besides, there´s still a lot of stowage throughout the boat available.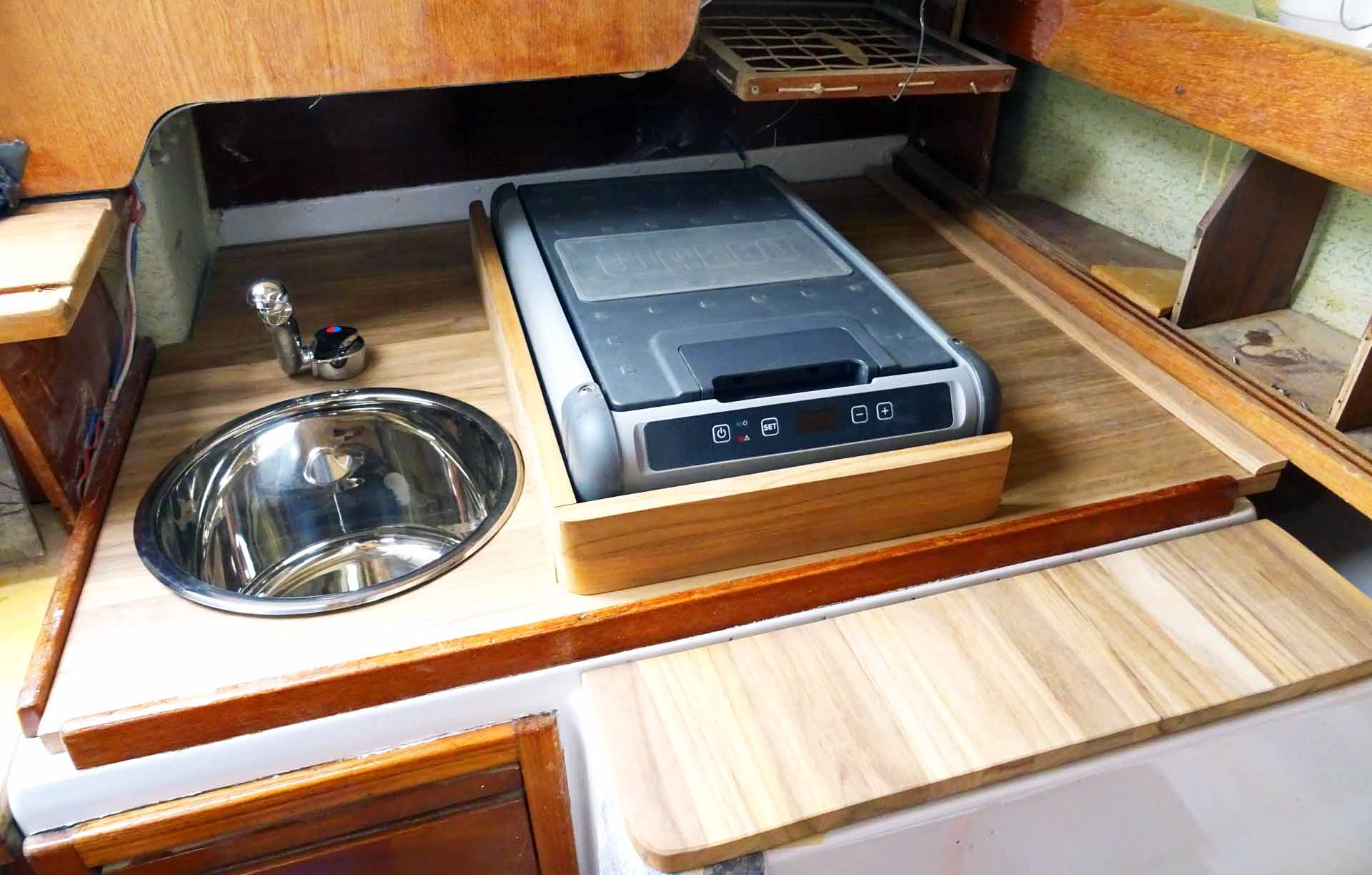 So here we are. Doesn´t it look awesome? The Dometic Coolfreeze is the new defining element, but by covering the fridge partially with Teak I can hide away most of the grey plastic look. Later on I will add some cupholders and rackets for stuff, the spare room will be transformed into stowage as well as a defined place to mount the 12 V kettle. My brand new oven as well as some more Teak-made details will complete the new galley.
Yet still a long way to go but I know it will be worth it.
You do have cravings to read some more nice sailing yacht refit-stories? Here we go:
Read SY ZIRKON´s refit story here
Refurbishing a stinky filthy old bilge to shiny new white can be read here
Refitting old chain plates may be read here