Well. Let me admit first that there are far more annoying places in the world where one could work than the French Cote d´Azur. When I arrived for a quick dash to the Cannes Yachting Festival on late Friday I swept typical Hamburg Summer (which is 15 degrees Celsius and rain, same like London Summer except for the fog) for 30 degrees, bristling sunshine and a hot summer breeze at the famous Palm d´Or beach. Welcome to the annual Cannes Yachting Festival.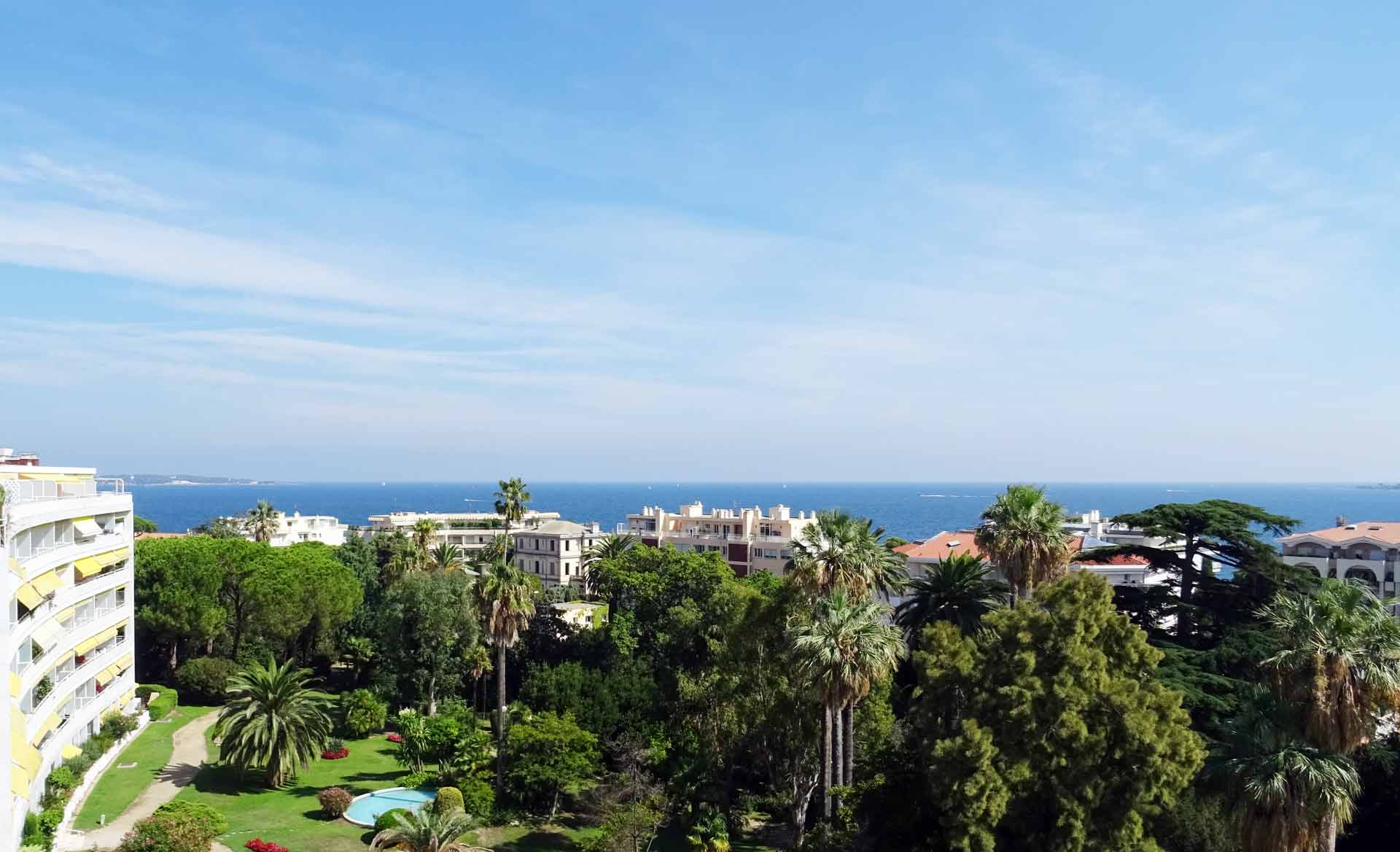 After meeting some friends in the evening I went to bed pretty early to get up early next day in order to be one of the first at the opening of the gates to the fairground which is situated in the famous Cannes Marina. Normally these exorbinant expensively moorings are occupied by perversely large superyachts. And that fact didn´t change much during the festival. In short: Cannes Yachting Festival is not about sailing or seafaring. It´s about showing off and luxury. I would say that 70 per cent of the boats here are motor yachts, a large chunk of the "Super" category. Nevertheless, there could be seen quite a number of masts …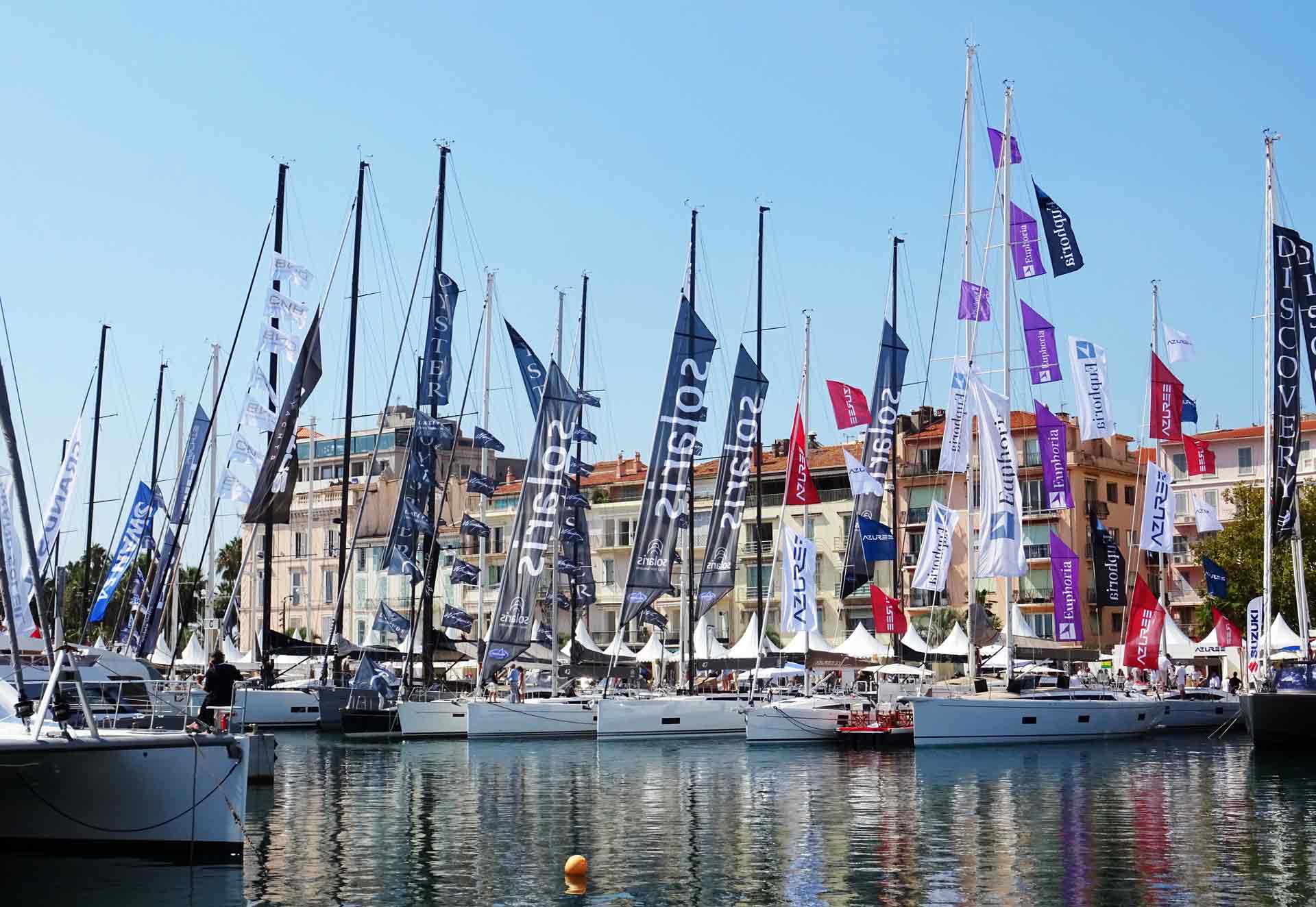 After making my way through the crowds admiring the hulks of Sheiks and millionaires I finally arrived at the area reserved for the sailing vessels. Huge masts have been sticking into the perfect clear blue sky, flags and branded banners at their shrouds to draw the visitor´s attention. Here´s an account of what I was able to observe at Cannes Yachting Festival. And what not …
The New Dehler 24 and Old Friend X-Yachts
Quite at the start of the sailing vessel exhibition I met the possibly smallest yacht shown here at Cannes: The new Dehler 34. Famous German yacht builder Hanse Group, of which Dehler is a brand, recently launched the starting model of their product range and with the 34 feet Dehler they´ve redone one of their past most renowned boats.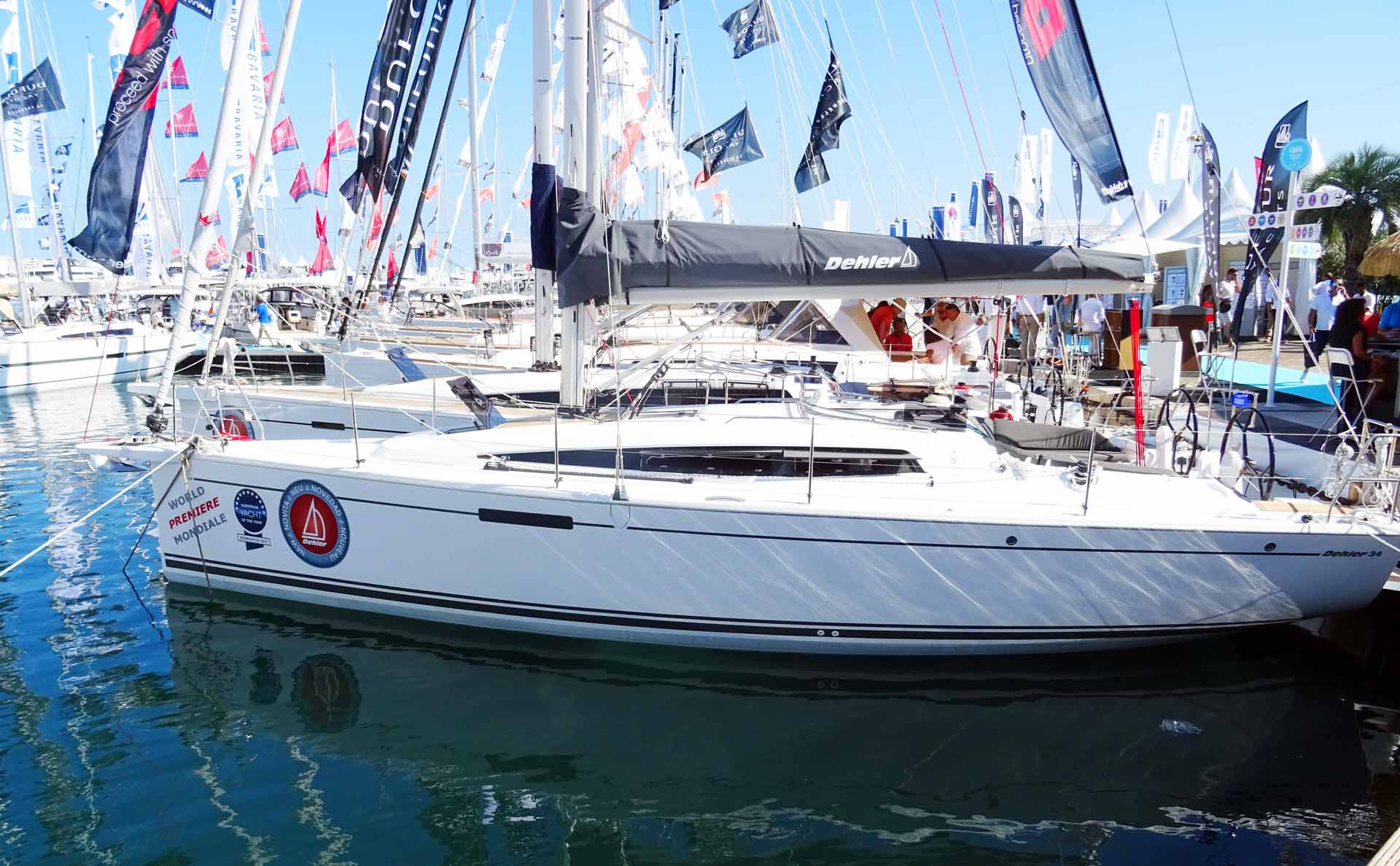 Unfortunately I wasn´t able to crawl inside the boat as there were many other visitors wanting to have a look inside and honestly I didn´t want to wait in queue for 15 or so minutes of being cramped inside the boat so I just took a thorough look at her sporty lines from the outside and got amused by the general feeling of how damn small 34 feet are compared to her neighbors – all of which seemed to start at 45 feet minimum. (Besides, here´s an article on the new Dehler 42 I was able to have a more detailed look at some months ago)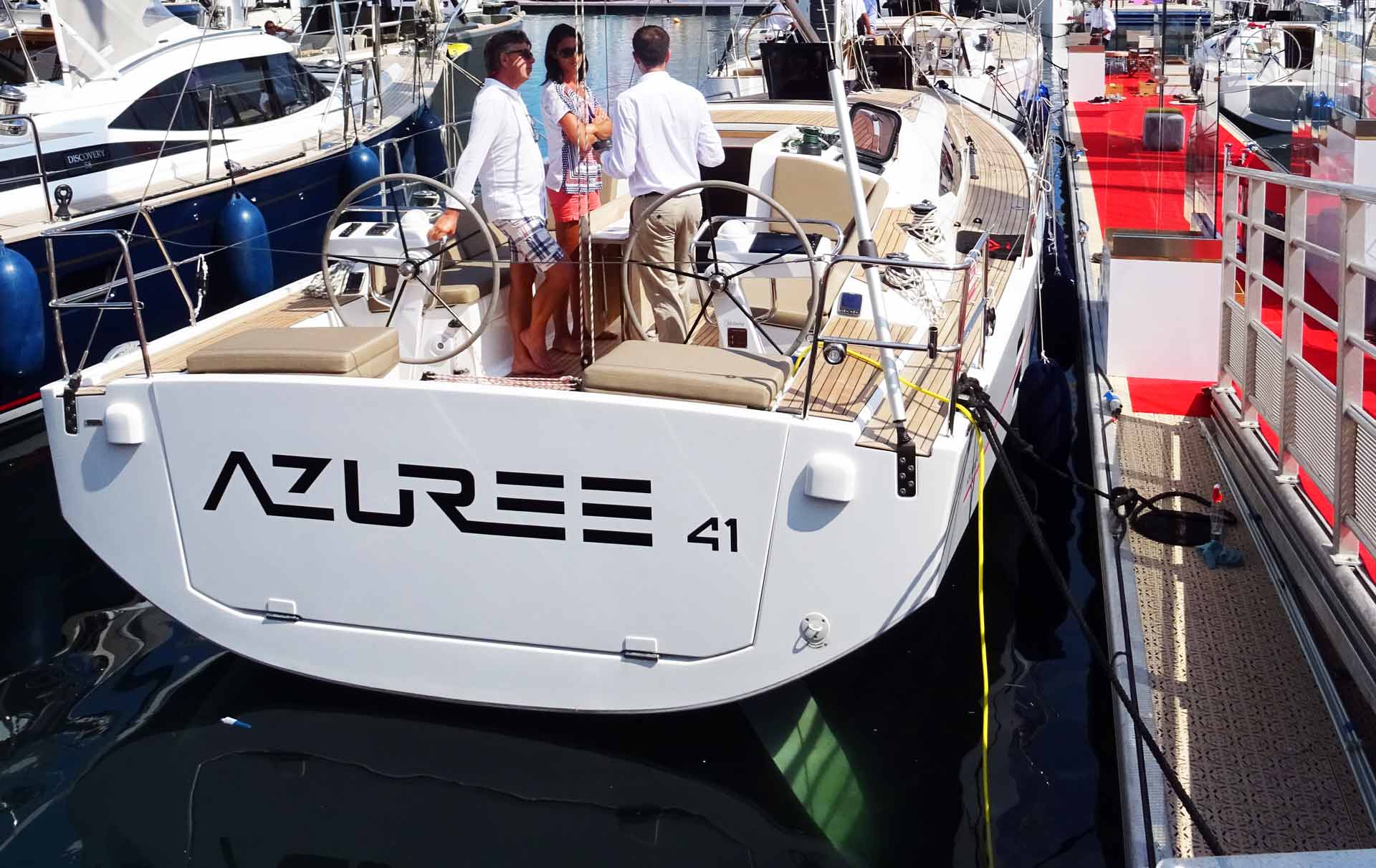 I also was keen on having a look inside the Azuree 41 fast cruiser as these boats of a Turkish yard promise to combine Class 40-like sailing capabilities with comfort and style. Again, unfortunately the massive rush of visitors has been so high (and the sunshine so hot) that I didn´t found it attractive to place myself in a waiting position at the jetty so I spent some time crawling around her wide stern. Looking at her sharp chines, the twin rudders and her comparatively low sheer line. At the neighboring mooring I was filled with joy when I recognized the X-Yachts Logo, one of my most beloved yacht builders. And as luck struck me, I was finally able to inside of the boats.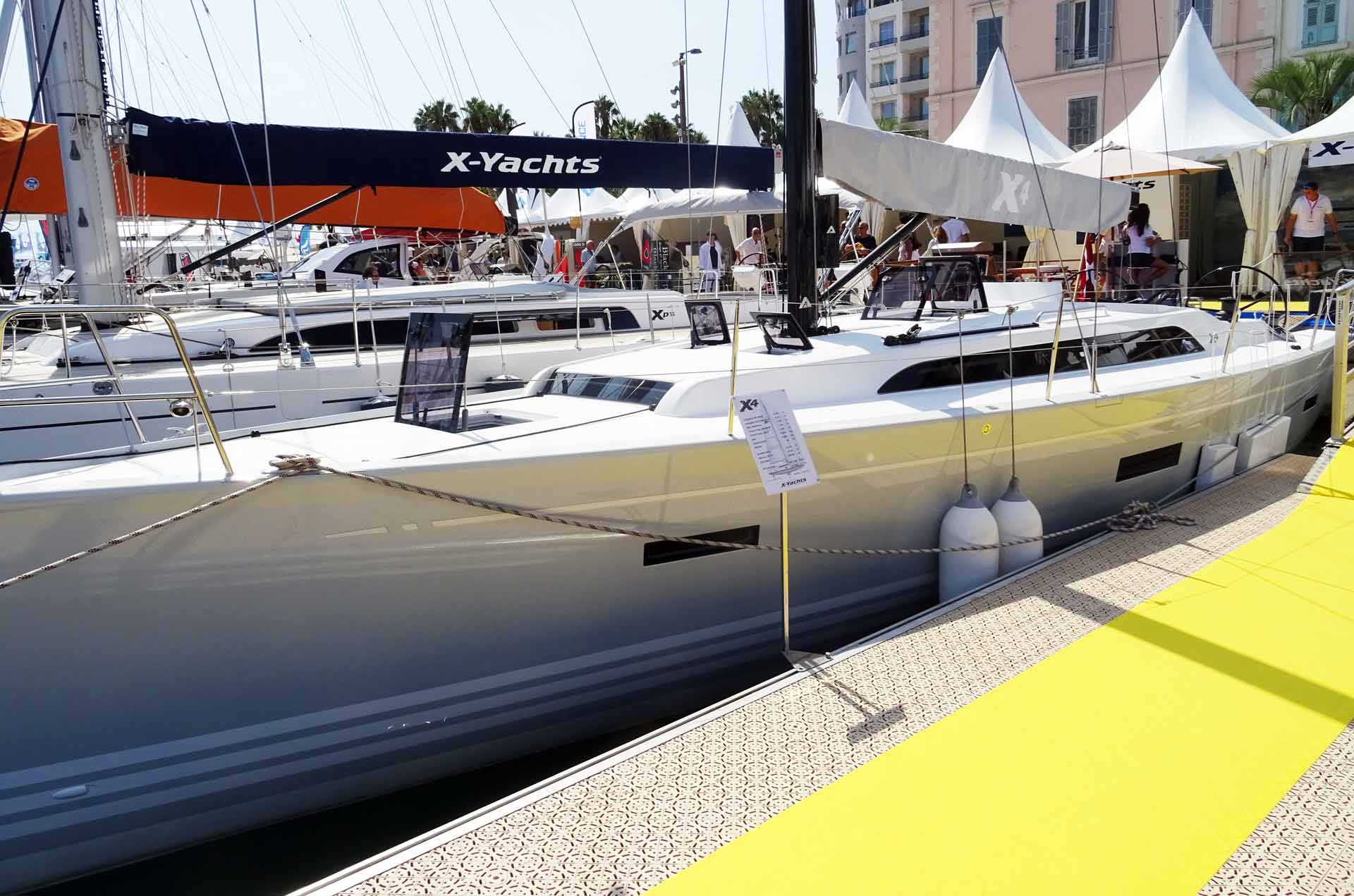 X-Yachts of Denmark had brought two ships to Cannes Yachting Festival this year: The Xp55 sailing yacht as their largest model of the X-Performance range and the brand new X4 (which in fact I was able to have a look at when being under construction, read it here). Again, seeing a 40 feet yacht mooring next to the much, much bigger other boats created an odd feeling and I really struggled not to being misled about the sizes of the boats. X4´s interior didn´t really touch me, I must admit: The "modern fast cruiser line" as X-Yachts uses to praise their latest creation seems a bit of being too much modern to me personally. Although I´d love to see her under sails.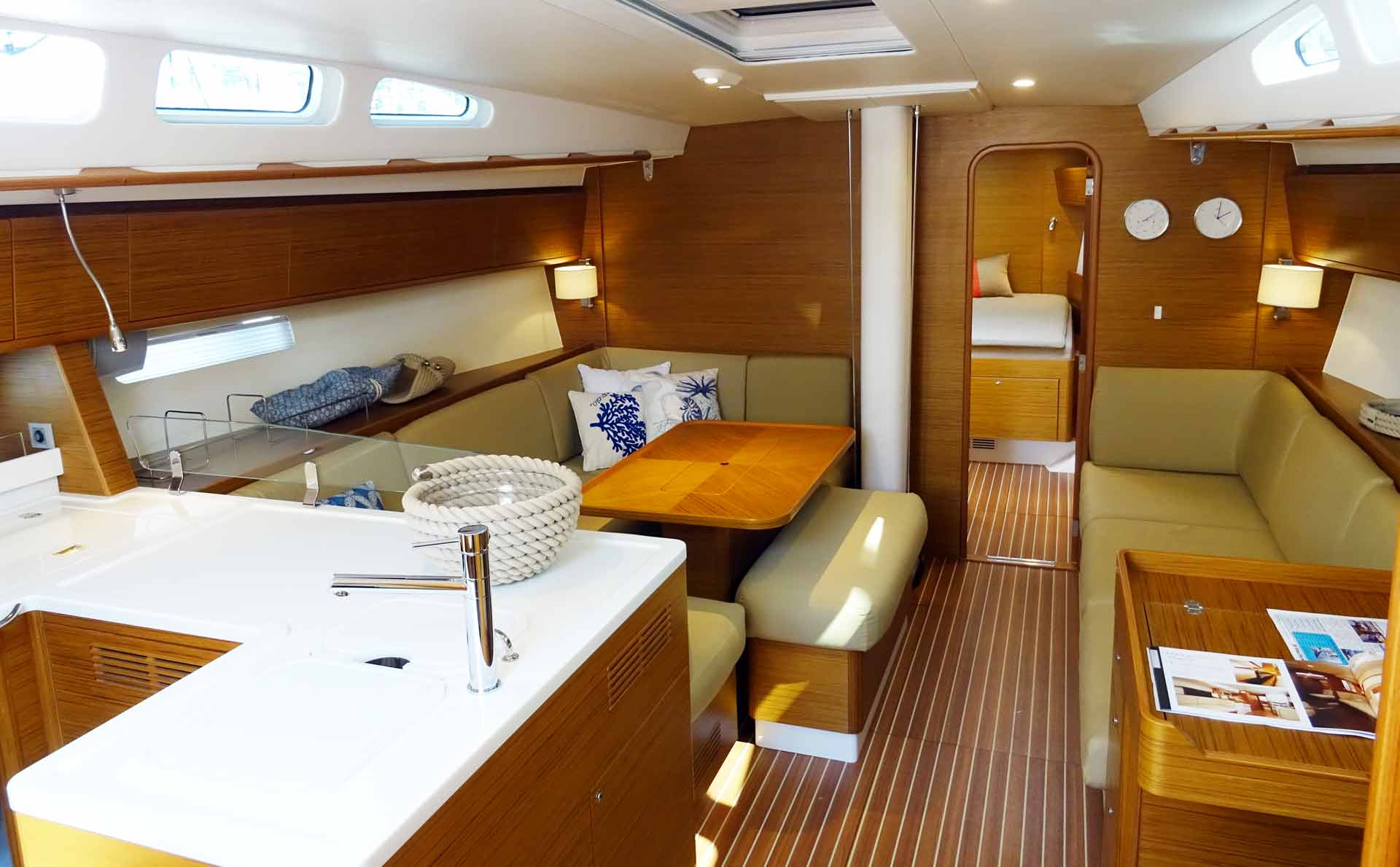 As I really admire the Xp44 performance cruisers very much I spent some more time in her larger sister, the Xp55 to see how a rich regatta-oriented sailor could spend a day after the races. And well, yes, he may spend it with style. Carbon cage in the hull and full carbon mast with excellent rod rigging is standard on X-Performance yachts as well as a balanced interior design, to me much more appealing than the somewhat too modern style of the X4.
As with every X-Yacht her lines drawn clearly neat to create a sleek, fast hull, trimmed for speed and competition, which could be seen best admiring her cockpit layout and arrangement of lines on deck. I must admit freely that 55 feet is too big for me when it comes to my personal taste as this size of a boat clearly requires having a crew to control a beast like this. That´s a toys for millionaires, not meant for the lone sailor. But the Xp55 surely wasn´t at the top end of those toys as I proceeded to stroll along pier side.
Super Sailing Yachts: From Solaris to Swan
Top Italian brand Solaris had a handful of yachts in Cannes and it not needs much words to describe my excitement upon looking at those marvels of boat design done by Javier Soto Acebal. Low structures, sleek hulls and top finish of all surfaces – Solaris yachts are a cajolement to one´s eyes. Yachts shown here started at 50 feet minimum up to 70 feet and I wasn´t quite sure if sailing one of these would be much of fun as all of the work needed to sail a yacht would is done effortless by powerful joystick-operated electric winches and other devices.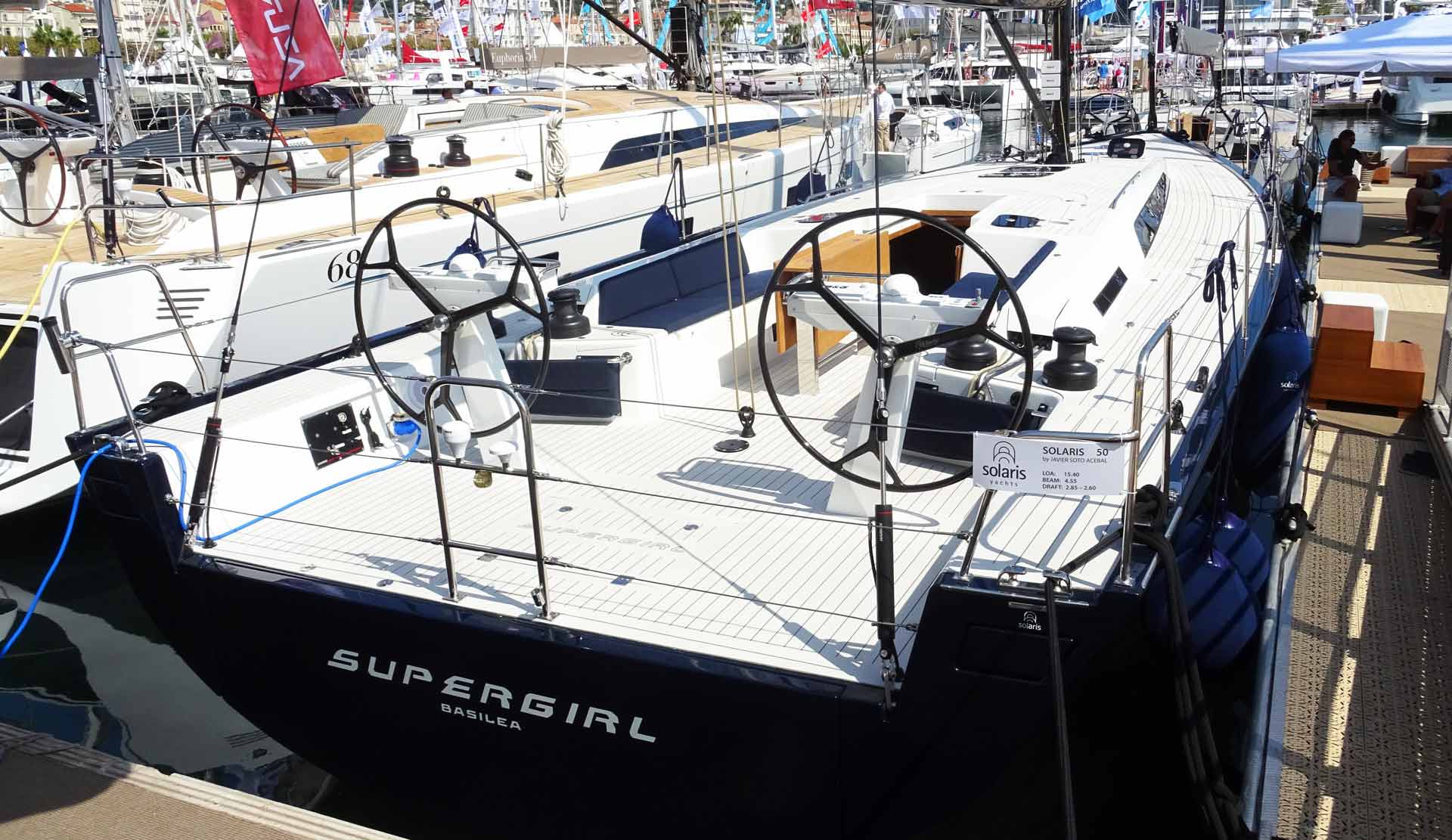 Again entrance to the yachts was restricted and sun burned even much heavier that I proceeded to take a look onto the other yachts of the "Super" category and stood still like petrified as I attempted to crawl into a cockpit of another huge yacht imagining her at full speed under canvas. The GRILLO PARLANTE built by Mylius Yachts was kind of fascinating. Her cockpit reminded me somewhat of Star Trek ENTERPRISE´s bridge. Huge steering panels with large touch screens as big as my flat´s TV set. Beam me up, Scotty …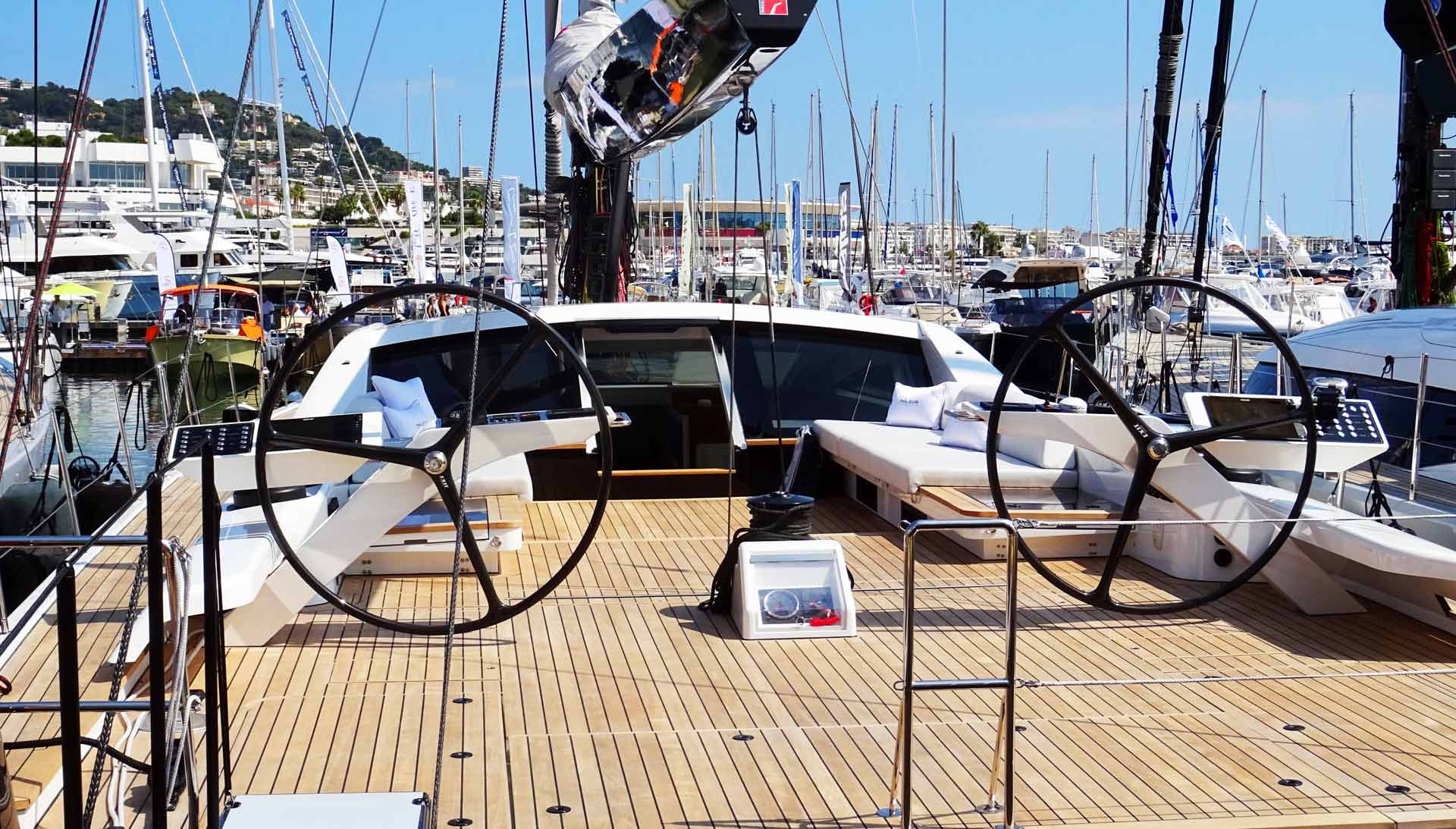 Also, GRILLO PARLANTE´s stern – housing the compulsory (huge) dinghy-garage – seemed to be taken out of a dancing school´s ballroom. Flat and huge. Just immensely flat and huge. It took quite a while to grasp the situation and put this yacht to sea in my mind to envision her going at +10 knots under full canvas. It must be fascinating. And scary at the same time I guess.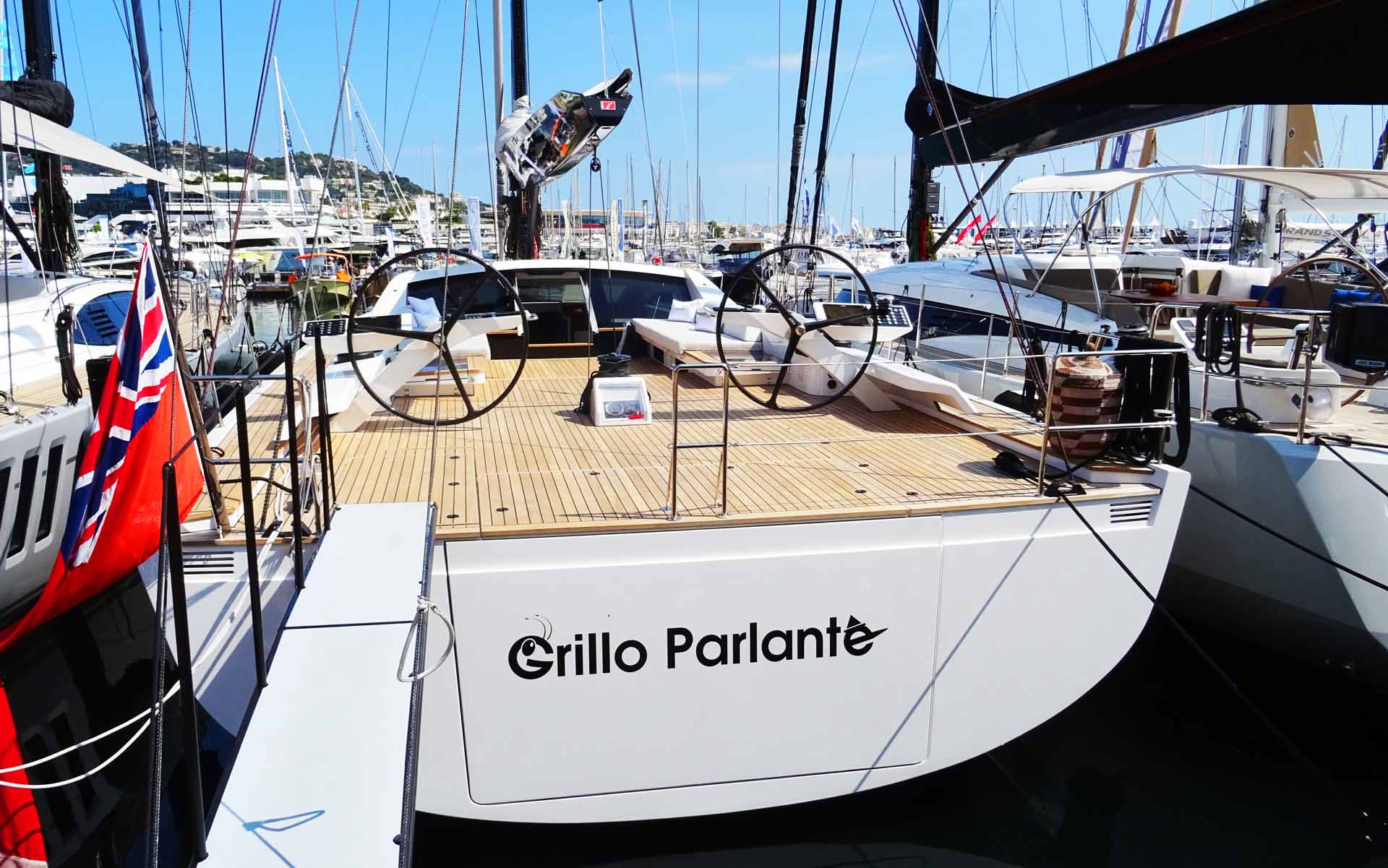 Another millionaire´s toy but clearly meant for the somewhat elder and less performance oriented rich man was the Moody deck saloon yacht which I gladly visited thoroughly as this time nobody was looking at her interior and I was offered to enter her deck. Honestly, deck saloon yachts are not my favorite type of sailing vessels but I must admit that there might not be a better way of getting so much space out of a monohull than doing it this way.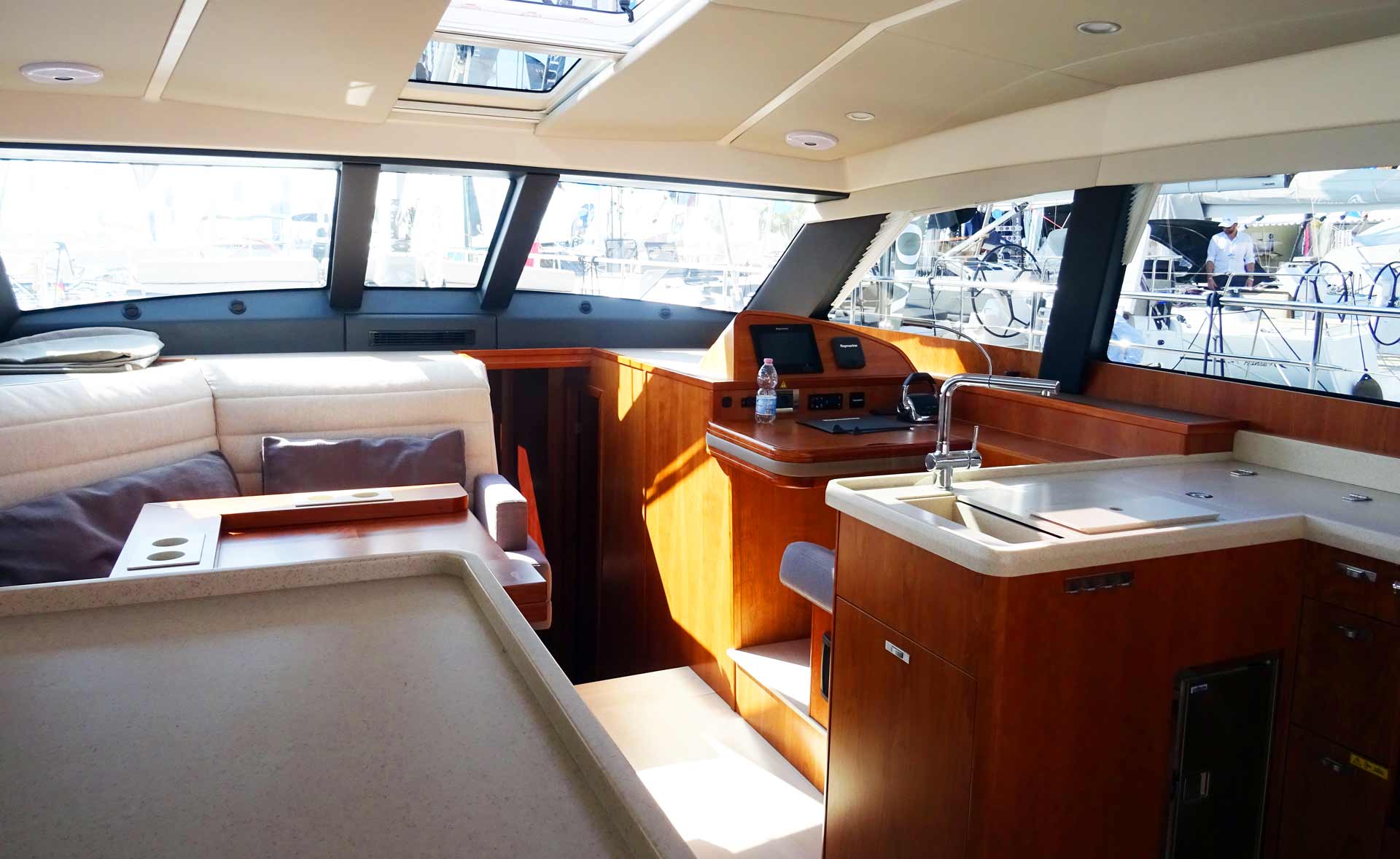 In short: This Moody offered just immensely huge internal space. Entering her saloon from stern brought me through a large group of lounge-like arrange settees. Her saloon combines a full fledged helming station at starboard side, a twin armchair arrangement for private conversations behind the helmsman´s seat and on port side another arrangement of cozy couches. All of which have a marvelous view through the large windows offering a breathtaking 360 degree view.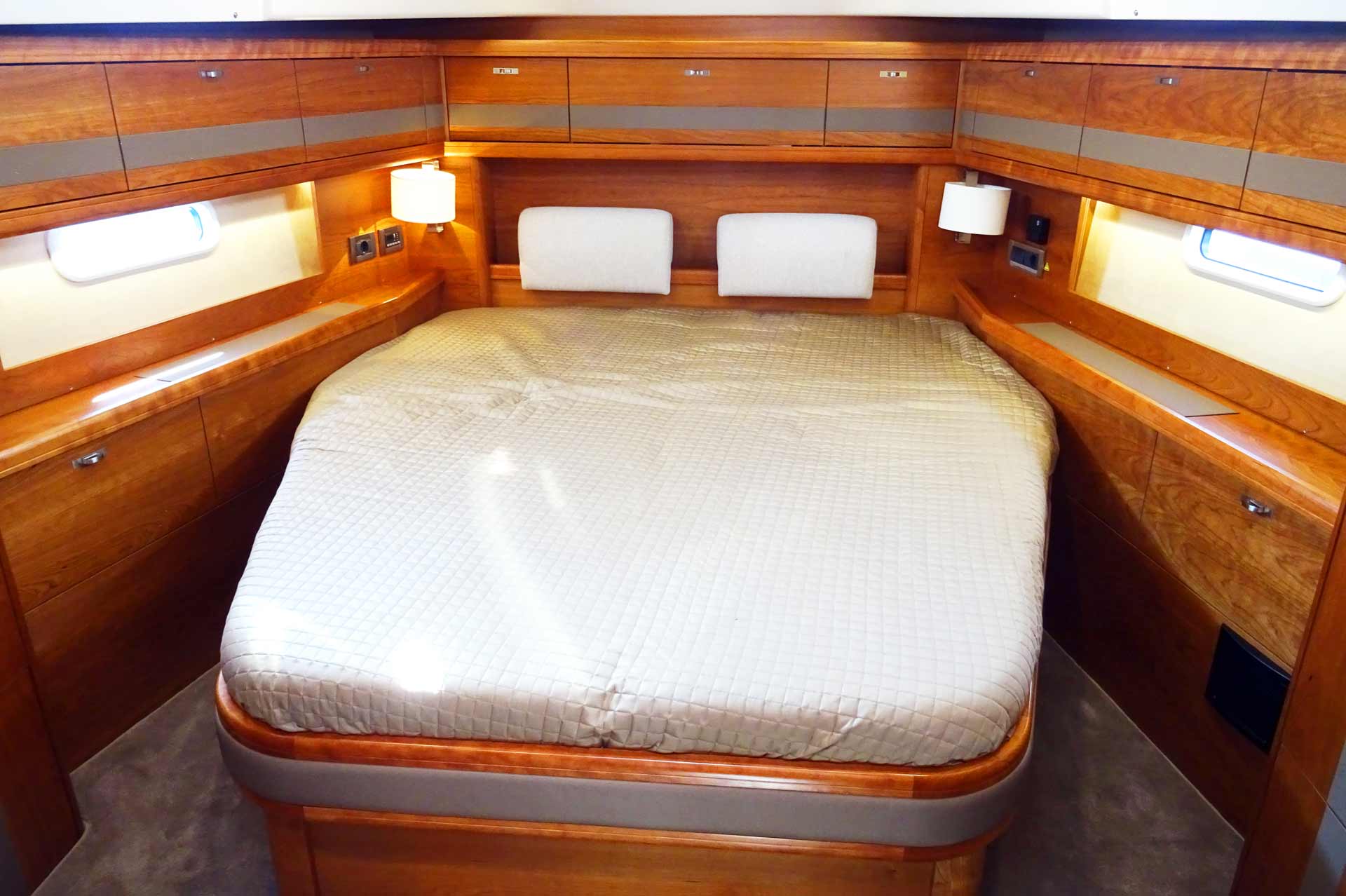 Going forward upon entering her cabins – of which I visited her owner´s cabin first – was breathtaking as well facing the sheer luxury and space of the cabins. Huge beds, cupboards, flatscreens and large portholes (let´s call them panoramic windows) create an exclusive atmosphere that would normally belong to an at least four star rated suite at Cannes Carlton Hotel. After some 20 minutes I left the Moody as I saw the flags of another much admired brand: Nautor´s Swan of Finland.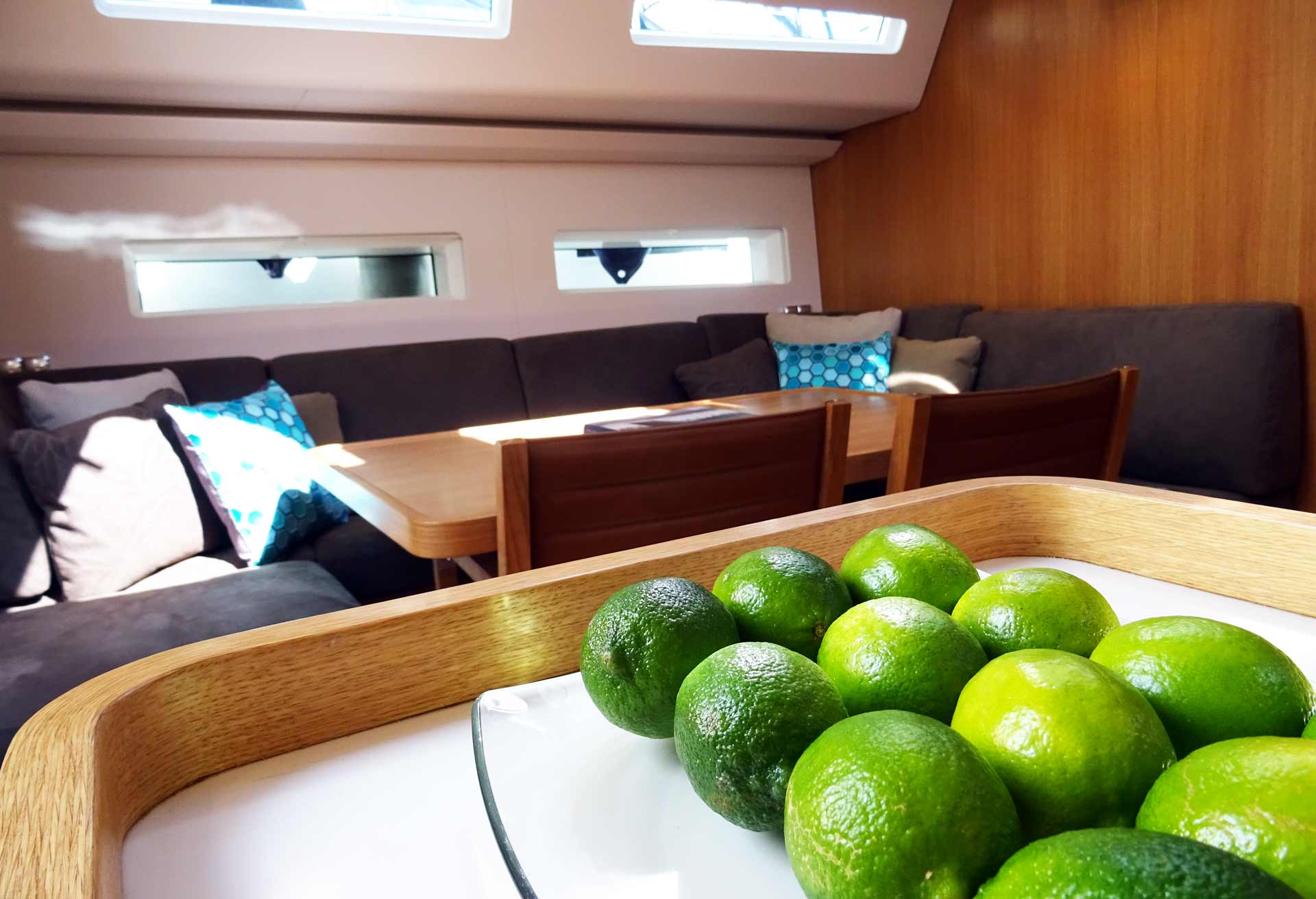 Upon giving way my E-Mail address to the nice hostess I was cleared to enter the Swan and I was roaming her deck at first, having a thorough look at her rigging. Huge instruments at the carbon mast indicated her aspiration of offering sailing performance. Below deck I was struck by the much admired Scandinavian sense for material, structures and design. The sensation of attractive materials, combined by spotless handcrafted workmanship and the unmatched taste for both understatement and yet high demanding design was simply marvelous to look at. On this yacht, I thought, it would be perfectly possible for me to spend months sailing as it was not bristling with perverted luxury but really good ship´s design. I just loved the atmosphere this yacht was creating.
Dufour: French Sailing Couture
Speaking of atmosphere, it was the exhibition of French yacht brand Dufour Yachts of La Rochelle where I was spending most of my time in the end. Honestly, their pavillion wasn´t really a treat for the visitor´s eyes, more so in contrary thee boats have been. I was allowed to roam freely on board the almost completely shown range of boats, an offer I thankfully accepted.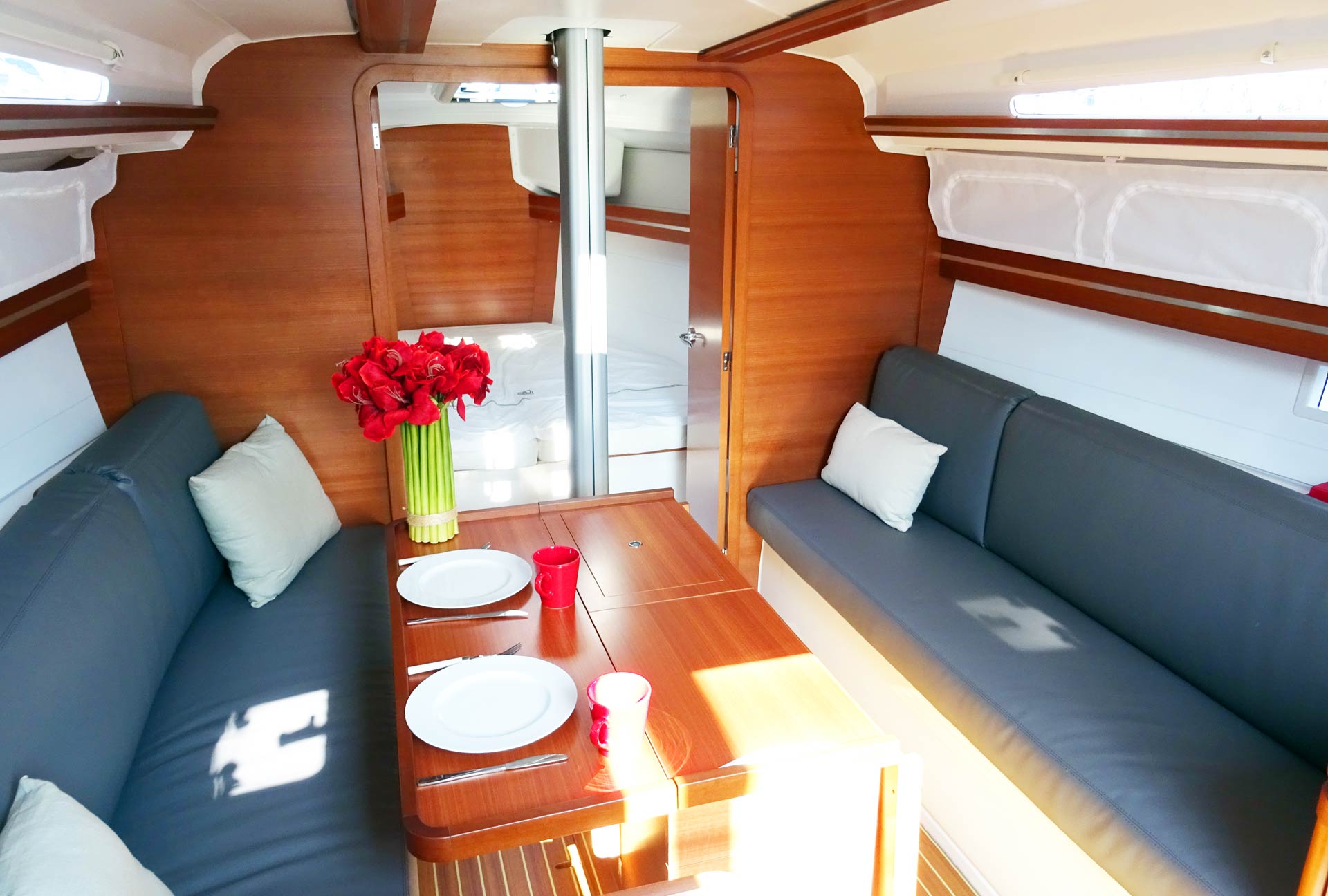 As you may have read in one of the past articles, I did have the chance to visit Dufour´s smallest yacht, the 310 back home in Germany (which can be read here) and so I was keen on beginning my visit on the 350. Why is that? Because 35 to 40 feet is the backbone of sailing and to be honest, for most of us the only manageable size of yacht in terms of sailing and financing her. The 350 was a treat to my eyes upon entering her saloon. A well balanced and tasteful arrangement of settees, folding dining table and materials, a very nice choice of surface material, fabric and colors created a very welcoming yet shiplike atmosphere.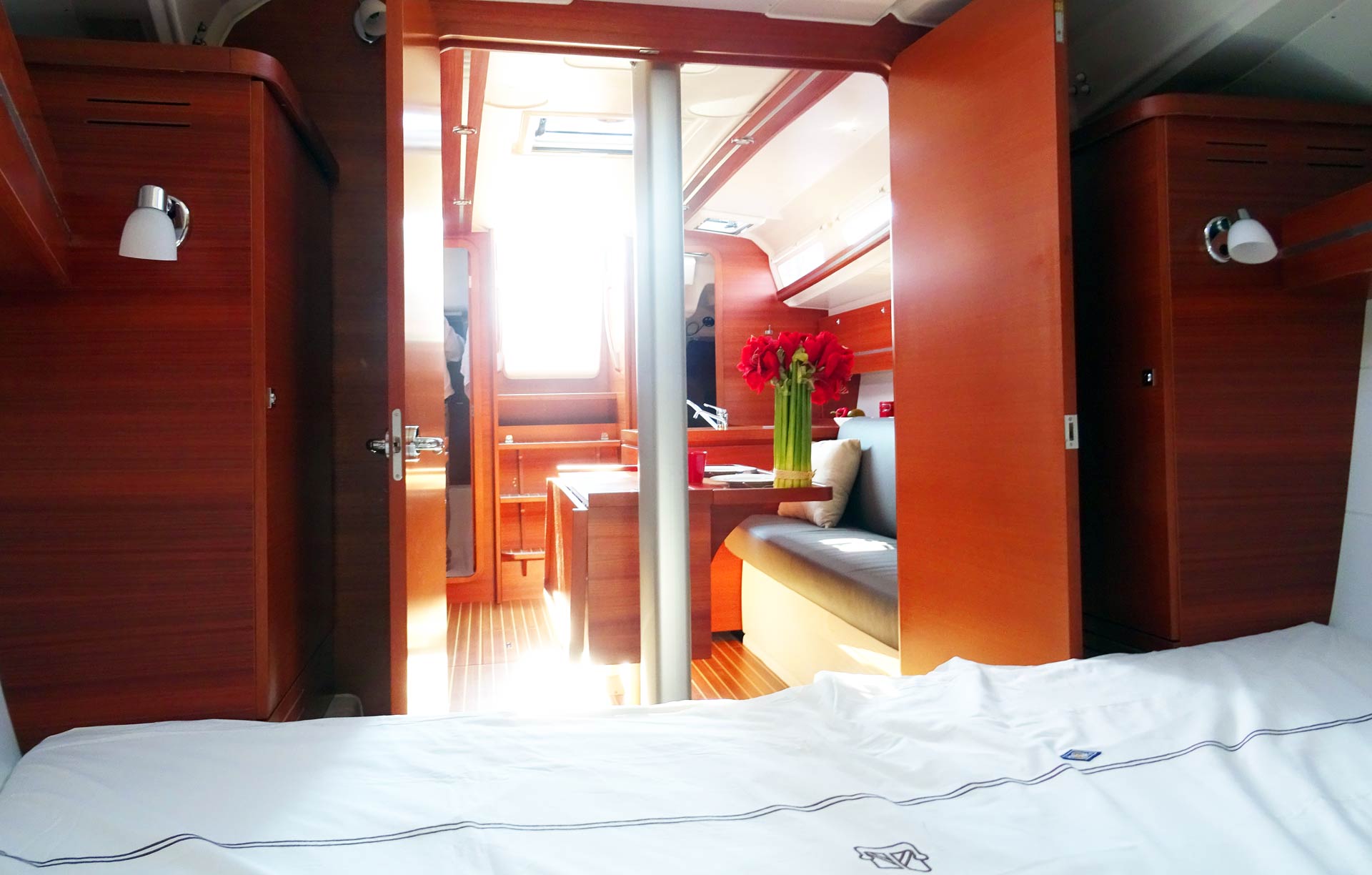 Again, as well as I found attractive with the smaller 310, the 350 also features a completely foldable fore bulkhead thus creating a large lounge-like atmosphere and the impression of a much bigger boat when done so. Cabins both in the bow as well as in the stern are more than sufficient in terms of bunk size. That´s really a boat I would love to own by myself – given the boat´s sailing performance would match her design. A fact I am eager to being able to prove in a test under sails in the near future.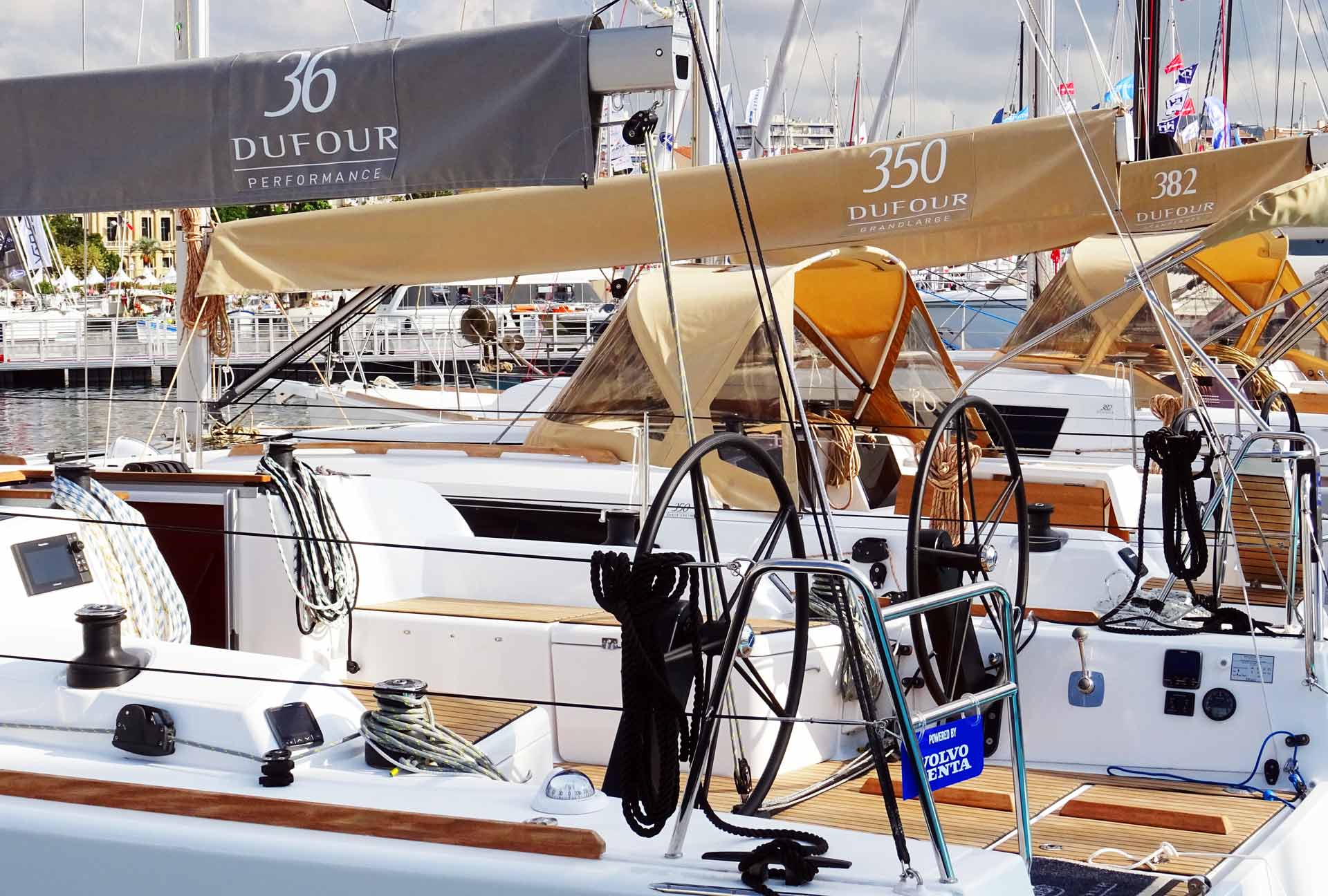 It was really nice to see Dufour´s complete range at Cannes (as well as done by Beneteau/Jeanneau), not just the big expensive boats. And so it was no wonder that the exhibitions of these two brands have been among the most frequently visited and almost always crowded jetties of the whole fair. Well, which does not mean that they did not bring their crown jewels to Cannes …
A New Exclusive Line by Dufour
Á propos crown jewels. The largest and newest of Dufour´s vessels shown at Cannes Yachting Show was a big one too and could be described as the company´s crown jewel: The all new Dufour 56 Exclusive Line. Designed by the Umberto Felci (as with all Dufour yachts) I was interested in taking a look at this boat because as far as I know the yard didn´t built such a big boat for a long period of time.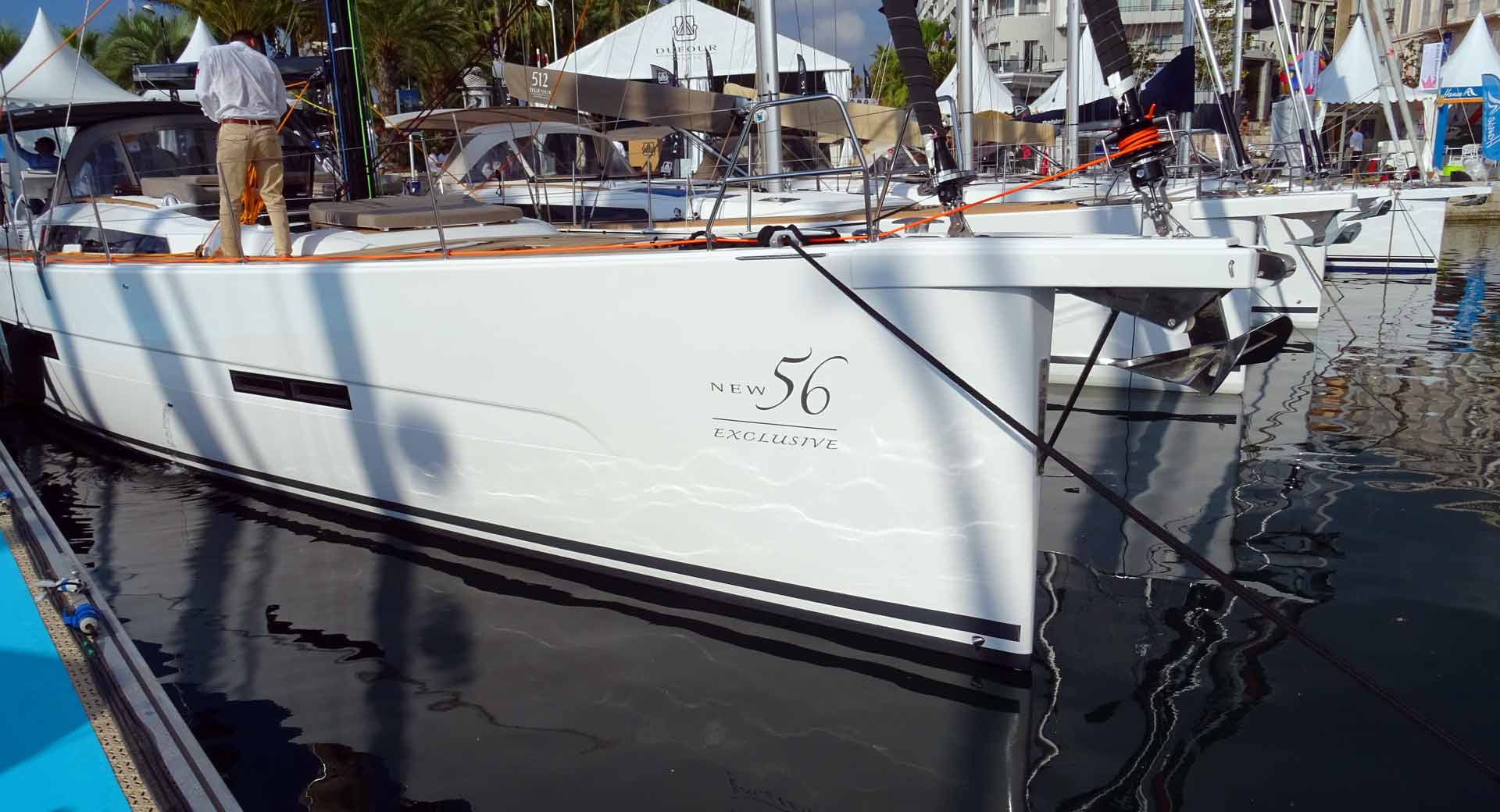 And guess what? I really liked what I saw. The boat although being over 55 feet long does resemble fine lines, a relative low freeboard thus offering an understating appearance. Other than some of her competitors, she is not wasting around and showing off, she´s as elegant as one could expect it to be. I was particularly interested in her internal appearance and boarded the vessel.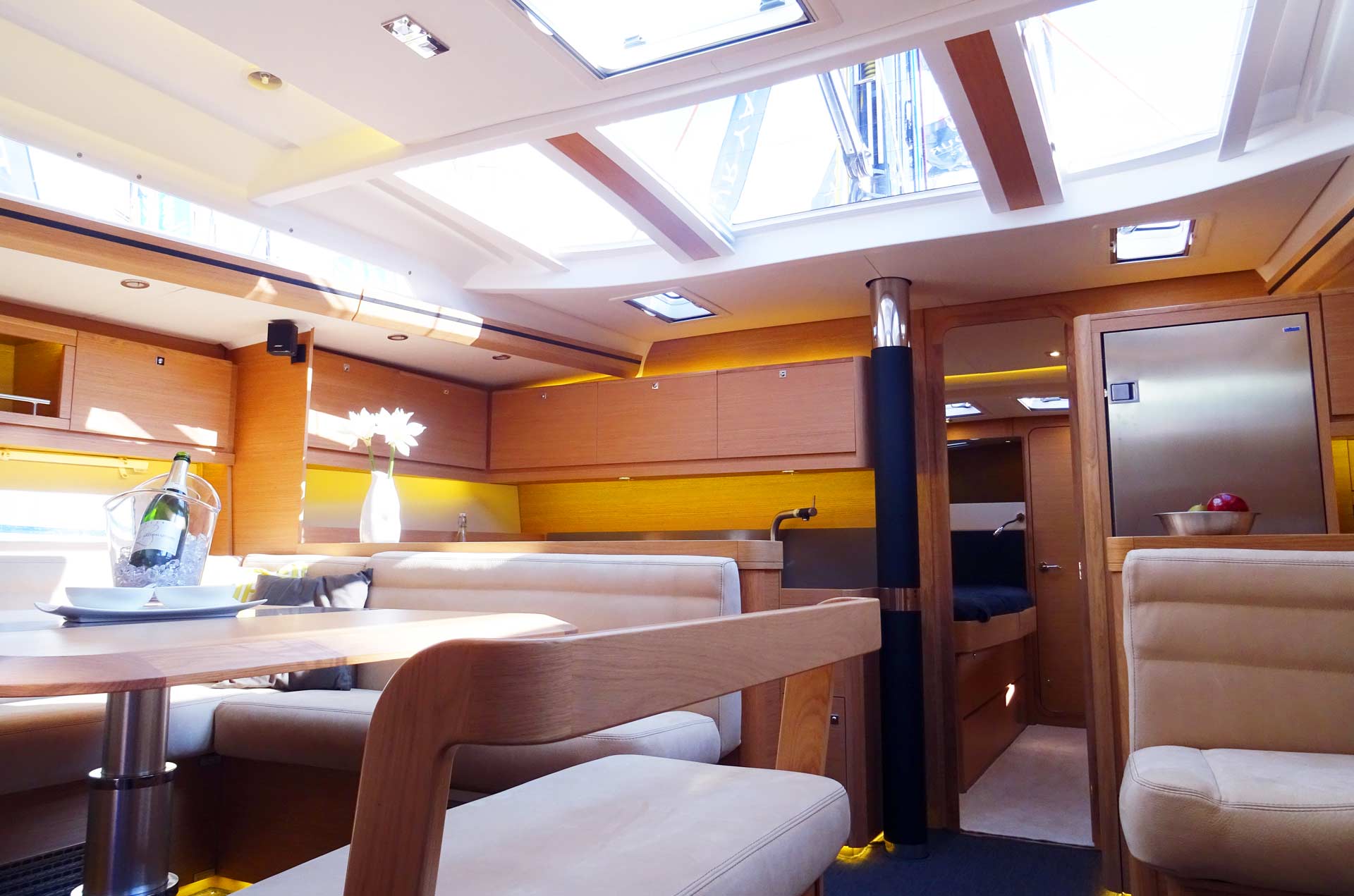 French elegance and a choice of fine material, fabrics and colors embraced me, I really liked her saloon and cabins. Yes, it´s a luxury sailing cruiser bringing the Grand Large-concept a step further to higher class sailing experience. There´s all amenities one could dream of, starting with hot water, fresh water maker, fridges and ice-makers, air condition for the whole boat and a full spectrum remote controlled LED-lighting system.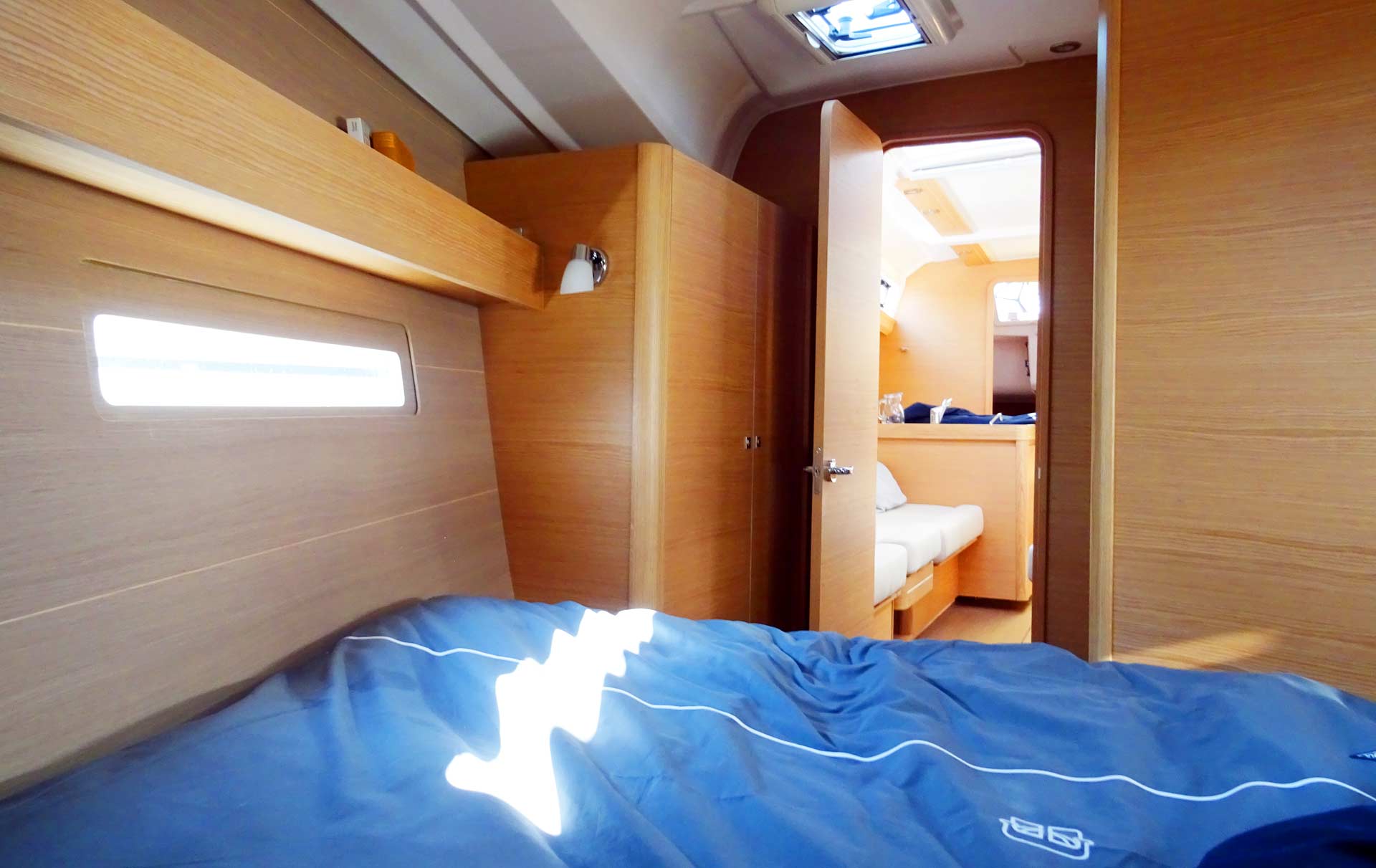 I must admit, the big hard top-styled bimini and the targa frame are elements I could appreciate as much as the 56 clients will certainly do, but all in all this boat was a surprise, leaving a big impression with refreshing understatement. I decided to spend a lot more time on board the Dufour 56 to have her details documented to have a closer review of that boat in a later article. All in all, it was a contrary impression compared to the one the following boat made on me …
Behold, German Panzer: Hanse 675
Oh my, what can I say? The Hanse 675 is currently the largest available production yacht. Full stop. Bearing an overall length of some 21 meters and a beam of nearly 6 meters her sheer numbers are awe-inspiring. Although looking at pictures and drawings of the boat Nevertheless is fairly okay, seeing that behemoth in real live is just … well, how should I put it? … not amusing I must admit. It is just a H-U-G-E hulk. And if you ask me, it really does not represent what "luxurious yachting" means to me. To be honest, in my eyes she´s a damn ugly huge plastic-box.
Her incredibly high freeboard may produce endless internal volume and contribute to the amusement of interior´s designers, the owners and guests, but in the same time it accounts for a bulky and unpleasant hull design. She has clearly not an elegant outward appearance. Her huge portholes (again, big, big square windows, may offer a breathtaking view over ocean waves and harbor waterfronts, but her design is galaxies away from the fine and stylish lines of comparable super sailing yachts like CNB, Amel or Solaris.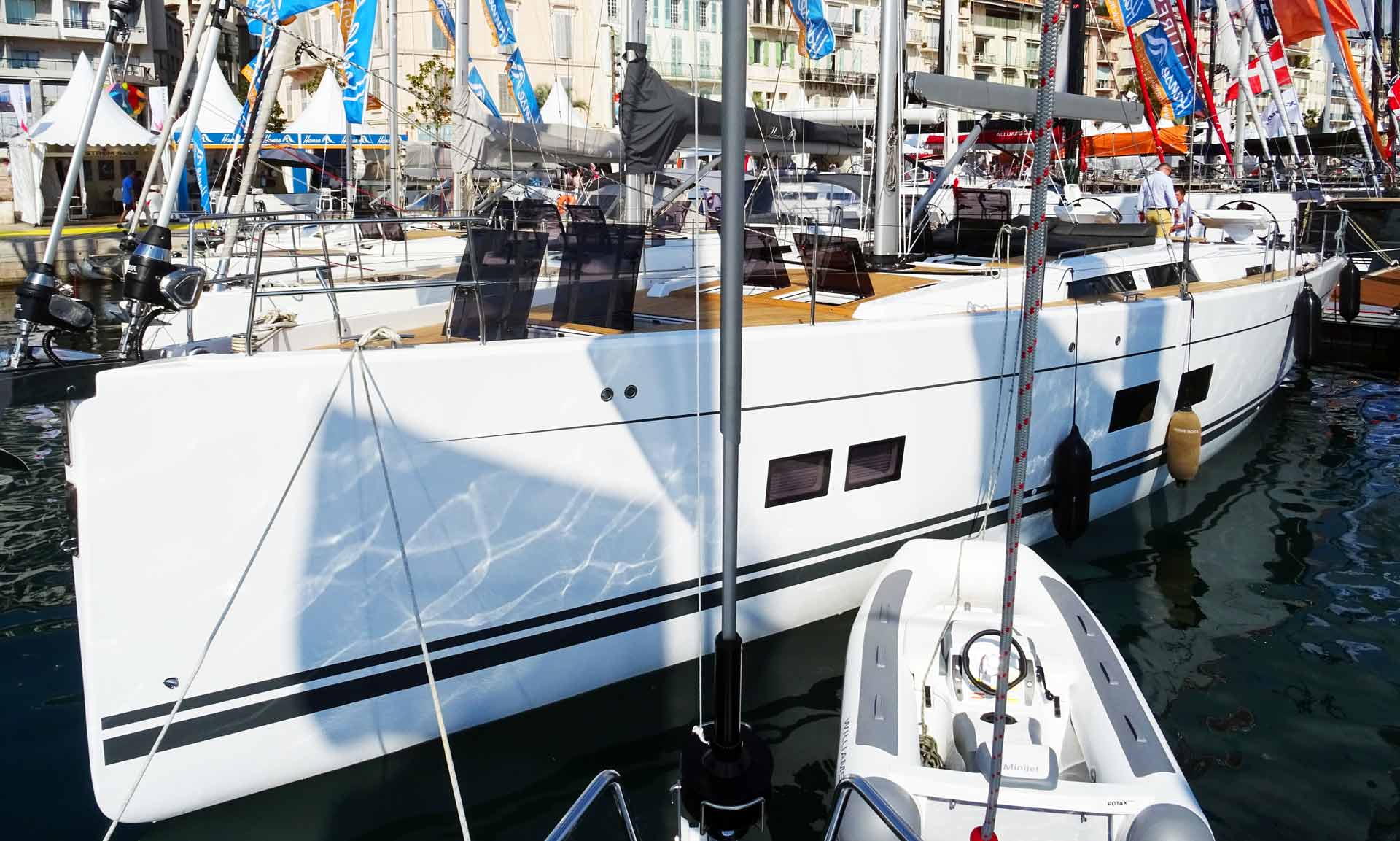 Besides, I just cannot imagine this boat sailing well. Or to put it into other words: Her huge freeboard may create a surface which may make hoisting sails unnecessary. Nevertheless, people´s interest in having a look at the Hanse 687 was huge and so there was again some waiting time to be calculated, which, again, was not an option for me.
Luxury at Cannes Yachting Festival
So, what remains from one full day at Cannes Yachting Festival? Well, it´s definitely not a boat show made for sailors. Just in line with the haute couture-image of Cannes and the Cote d´Azur this boat show is clearly addressing rich people, very rich people. Blue water sailors, families and ordinary seafarers are not the main target group. Instead of sailing performance, the emphasis is on amusement, amenities and luxurious lifestyle.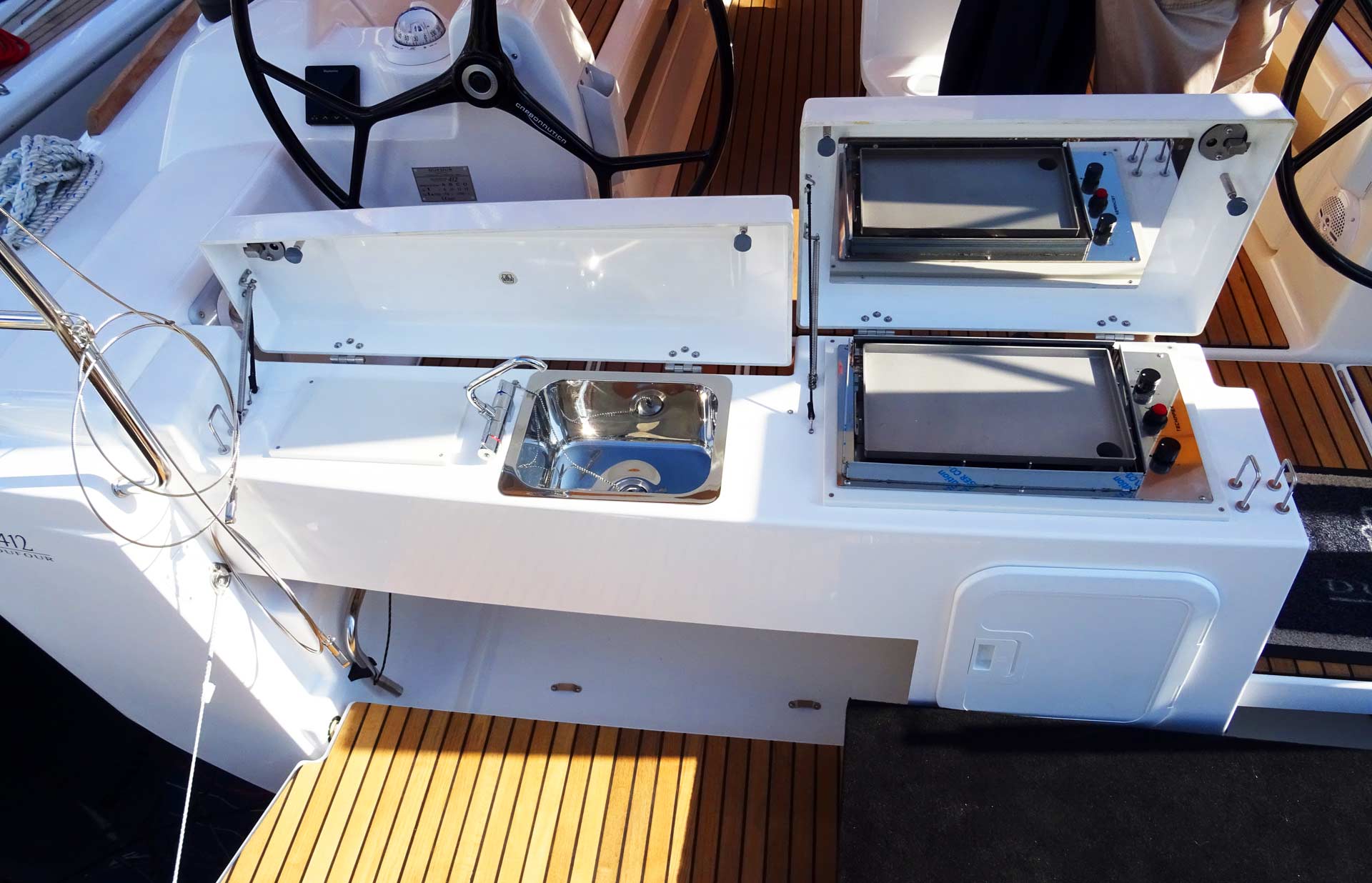 It´s no wonder that on this very Yachting show well established brands like Hallberg-Rassy – normally seen as producing luxurious cruisers – is not amongst the exhibitors, which is a strong statement in my eyes. Having spent some hours roaming the pier side of Cannes Marina the impression left is that of being alien to this world. I am looking very much forward to return to more "ordinary" sailing stuff as to be expected in Friedrichshafen at the Interboot fair and in my home town of Hamburg during the upcoming Hanseboot. Serious sailing ahead.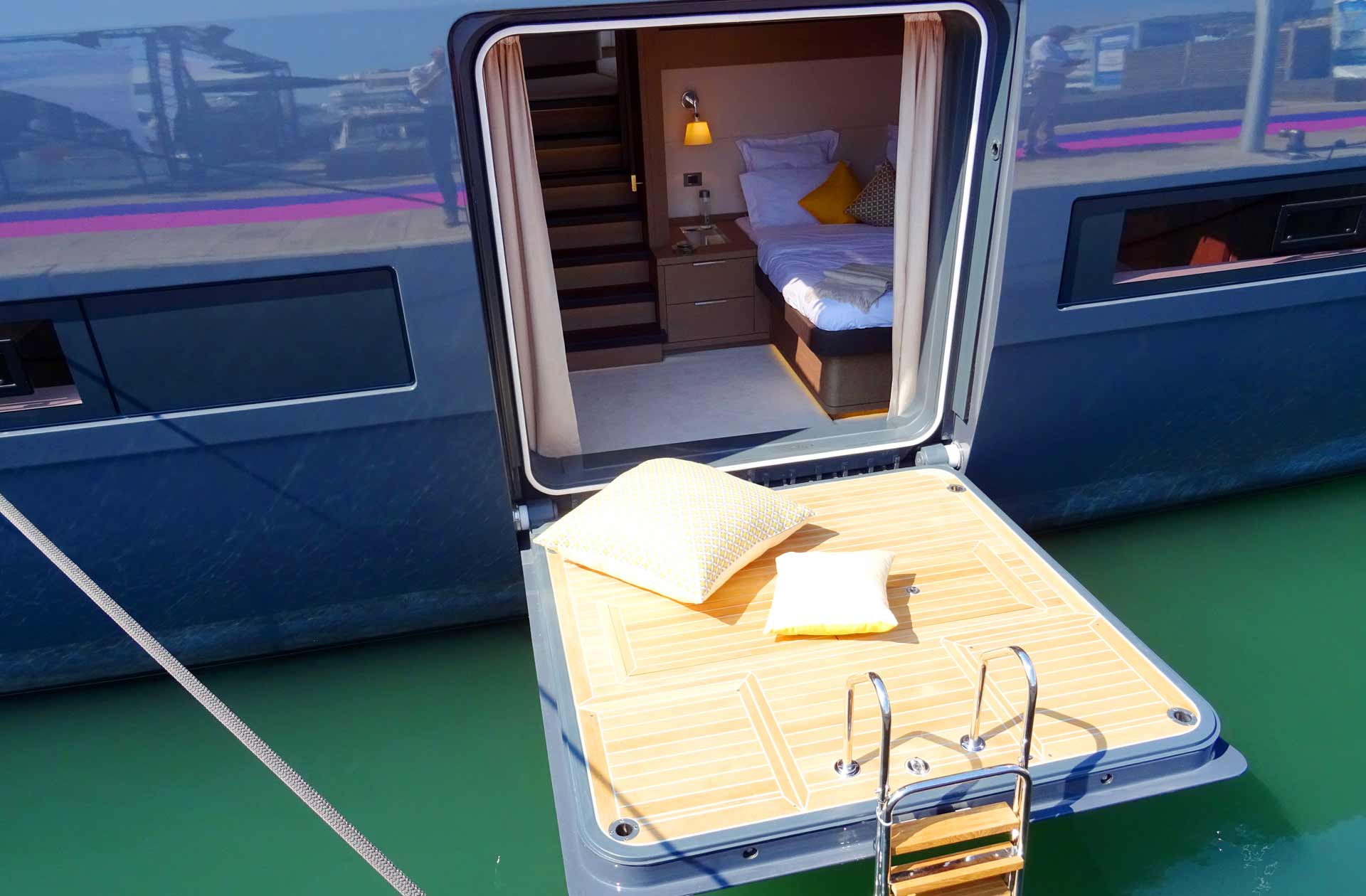 Nevertheless, it was very interesting to witness the latest developments of the high class yachting industry where stern-integrated barbeque-stations are just the beginning and wide hydraulic opening hatches with private bathing platforms in the hull´s side, huge garages for multiple 15 feet long dinghies and much, much more marks a never ending benchmark of delivering toys to the billionaires of the Cote d´Azur.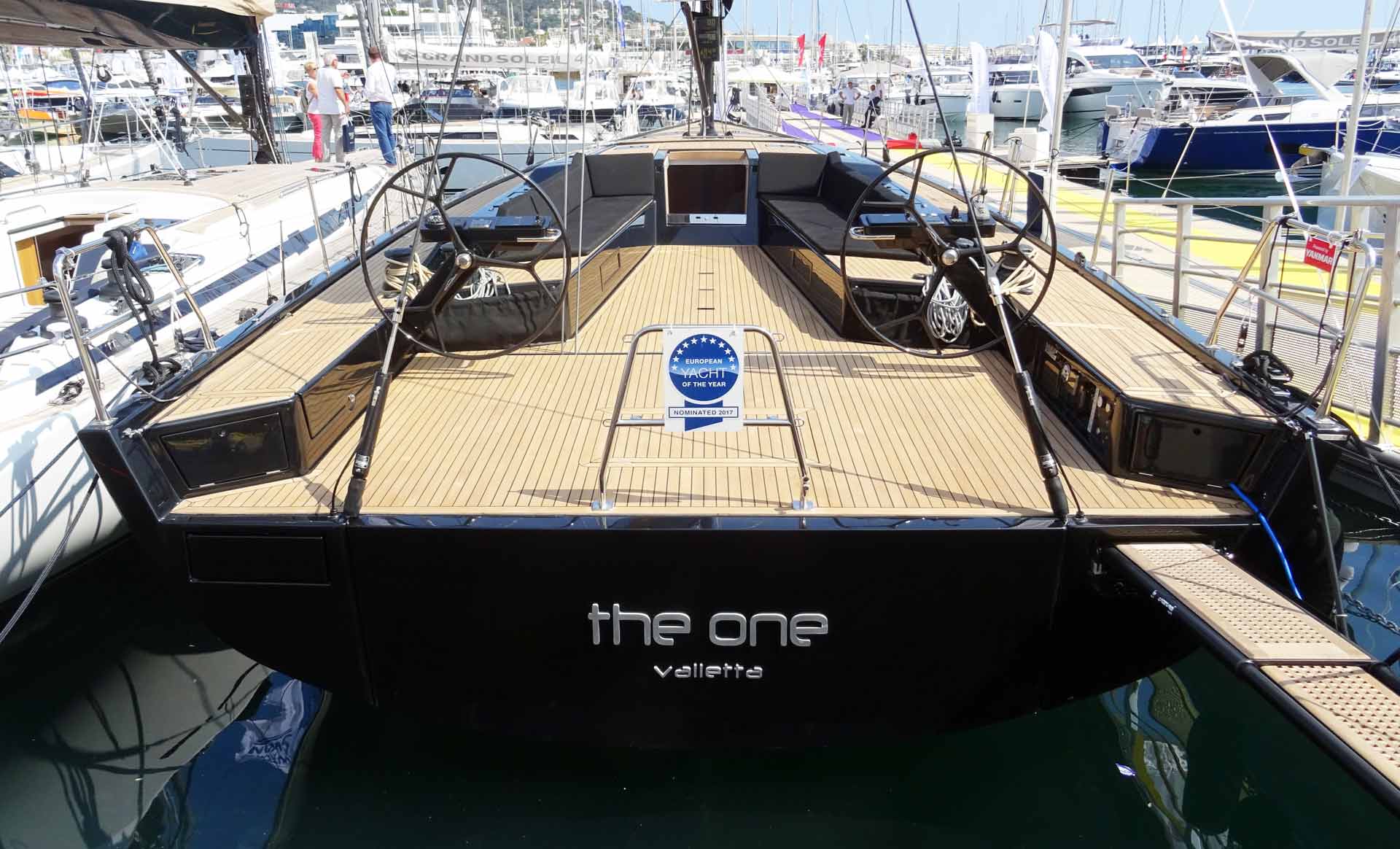 So I returned to my apartment after a long tiring day at the marina, full of impressions, bristling with pictures of beautiful and not so beautiful boats. Of fine lines, large V-booms and varieties of beautifully crafted Teak decking bringing tears to my eyes. I really admired the Swan (though I would have preferred to see the all new Swan 54), the CNB and Solaris and of course the Grand Soleil yachts, which are always marvelous to look at.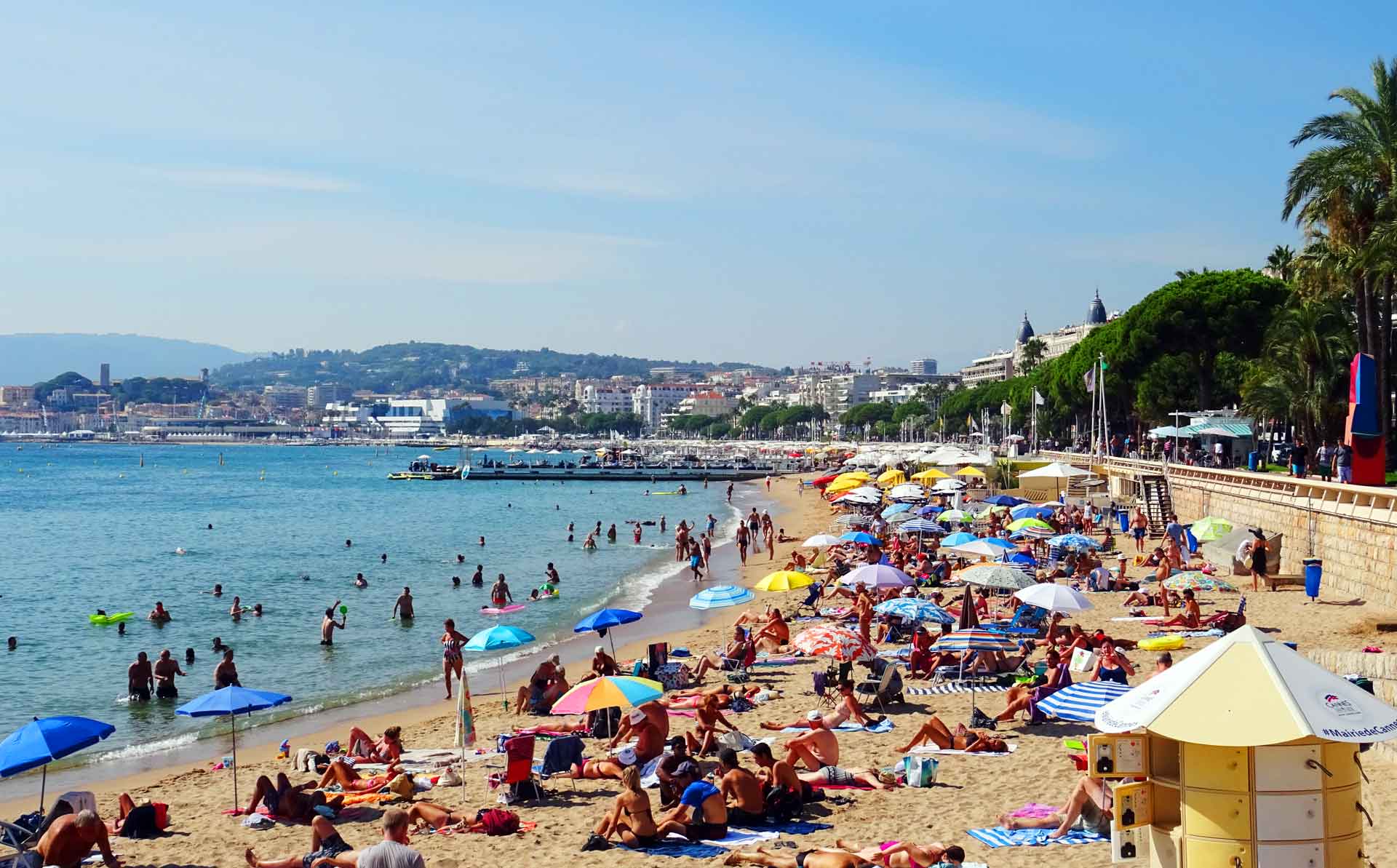 I took the long walk back to the studio. Along the beach of Cannes, where untouched by the events next to them, hundreds of families, couples, children and old people enjoyed a warm summer´s day and the fresh floods of the Mediterranean. Cannes was definitely worth the trip but I admit I am looking forward to returning to Hamburg to be confronted with yachts and boats I can realistically sail.
Here´s an article on the Hanseboot 2015 boat show