I just love Denmark. Why? It´s a country with a rich culture and history (the Vikings!), it is situated between two oceans, the Baltic Sea with the admirable Danish South Sea and the wild, aggressive yet beautiful North Sea shores. So, having a couple of days here in Denmark is always very relaxing and nice – and, bonus, here we have some interesting yacht manufacturers and thus a lot more to see. Just 2 days after my visit to Luffe yachts in Kolding (which can be read here) I was humbled by the chance to have a look onto the yard of famous X-Yachts in Haderslev.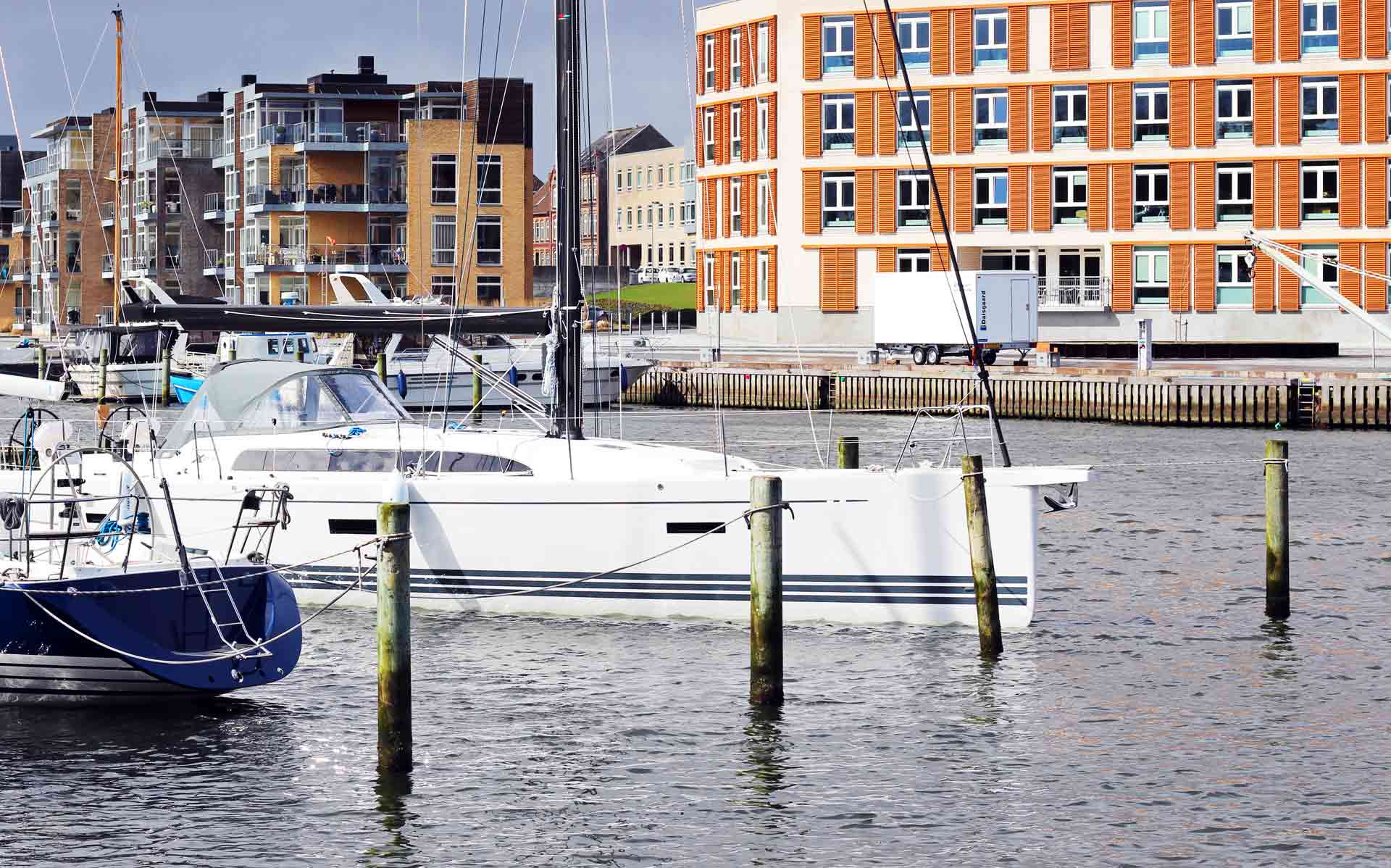 X-Yachts has been founded 1979 – the year of my birth – and has since then a growing number of enthusiasts, fans, admirers and owners of course who swear these boats are the best you ought to buy when it comes to performance yachts. I am greeted by Flemming Ancher, X-Yachts Sales Director and passionate sailor by himself. Flemming will invest some 4 hours in our meeting, will answer astonishingly open and freely and will show me around in the holy halls of X-Yachts with granting me a thorough, long and exclusive look onto the brand new model X4.
"X-Yachts builds the best sailing yachts worldwide. That´s my earnest belief!"
How could I describe Flemming? He is a true Danish man, likes to throw a joke from time to time, as with all Scandinavians, speaks a perfectly fluent English and has this whimsical smile whilst talking: "I am sailing now for 25 years.", he starts our conversation: "And I can say that I love all the aspects of sailing, being outside in nature and all the details which are connected to boats as well." It seems like the perfect job for him: "It is! I have been a dealer for Dehler-yachts here in Denmark. They used to build high quality sailing yachts, sturdy and nicely done. Up until the point this brand went bankrupt, it has been a nice business. As I wanted to stay with the sailing community, after Dehler´s smashup there have been only two brands here in Denmark I considered worth working for: Dragonfly and X-Yachts." Since joining the yard Flemming worked his way up from the after-sales services and the production department to his current status, sales director. He loves his job, this is clear after we had talked for some 5 minutes …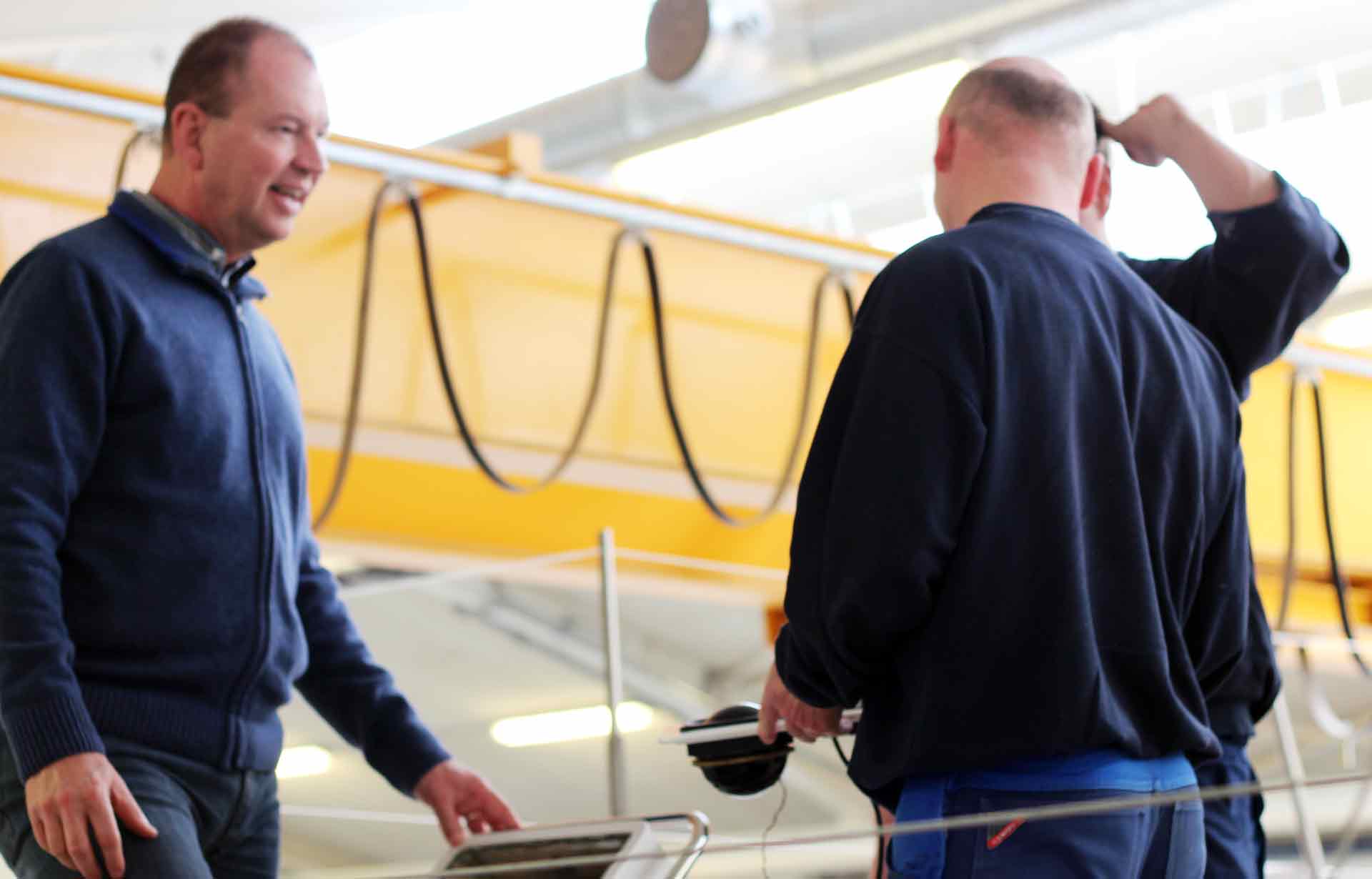 "You see, in this business you´ll have to be really, really, really effective in order to perform well.", Flemming starts to answer my first question about X-Yachts in the market in general: "Margins are very tight, pressure from the competitors is high and the market in general is uncompromisingly hard." He refers to the huge amount of used yachts currently flooding the market: "This keeps prices very low. With a high-priced brand such as X-Yachts, that´s a problem." He refers to used X-Yachts which are still in a superior condition, albeit being 20 or more years of age: "These boats are so well built people will decide to go for a well kept used X-Yacht than to invest in a new one. That´s kind of hard." Although, he admits, it´s nice and makes him proud to see all the classic X-Yachts in such a good condition still. "But you have to be inventive to draw attention from the costumers."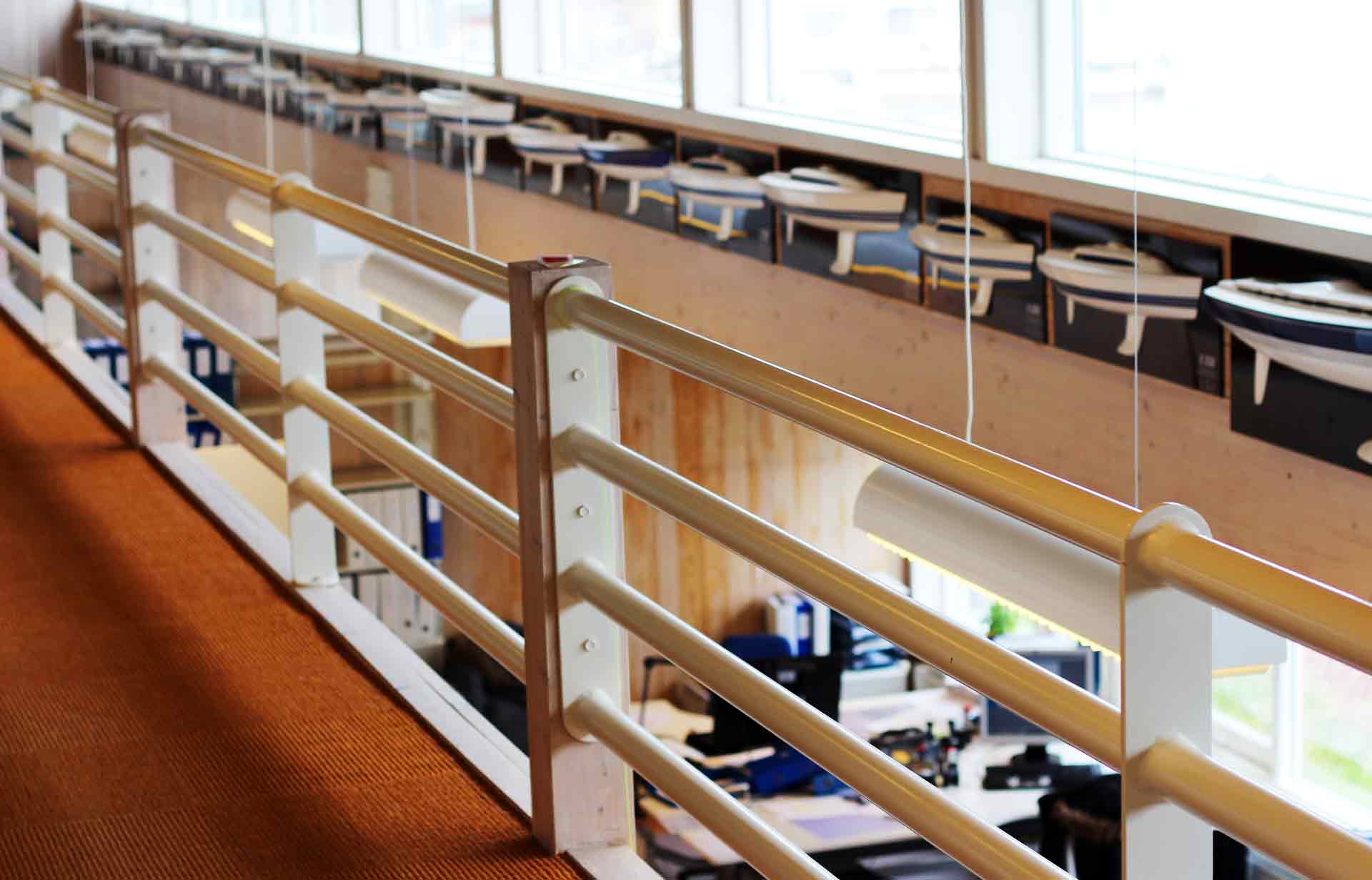 This is why X-Yachts goes for quality. "You see, we want to make the best performing sailing yachts in combination with offering a unique sailing experience. That´s something we are always trying ourselves to get constantly better at with each new boat." Example please. Flemming says, that sailing performance is a combination of a perfectly designed hull that must not be too wide: "This means less volume, we know that, but our boats are simply sailing faster than those roomy wide ships built by others." Secondly and most important: "A yacht that is built for performing well above all has to be stiff. That´s the basic groundwork of our design philosophy: A stiff, stiffer, stiffest hull!" This is what the designers – and on top of the list is owner and chief-designer Niels Jeppesen (whom I´ve had the pleasure to talk to about Scandinavian Sailing Philosophy, read here) – are striving to achieve with every single new boat made here. Made here?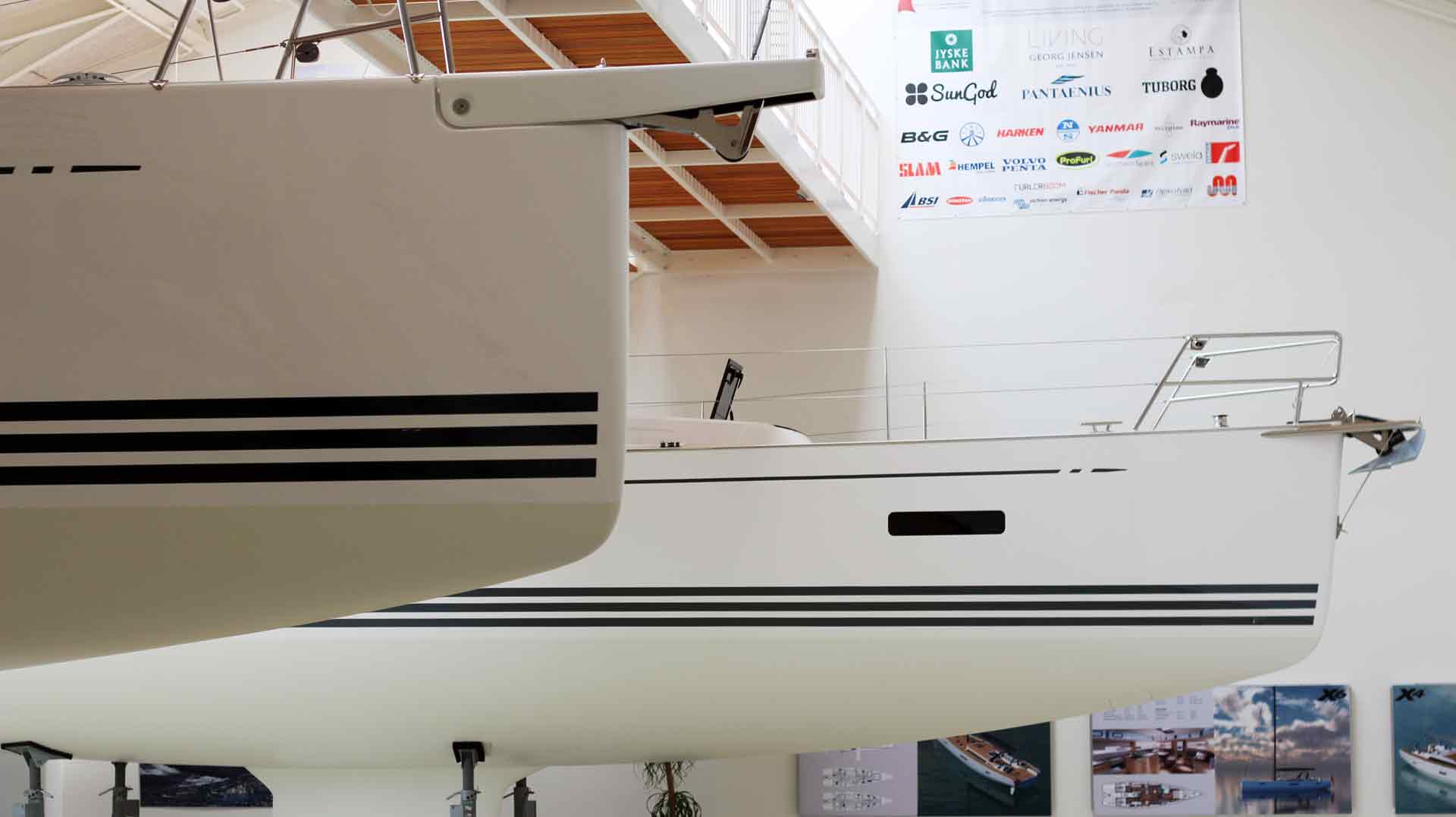 "Well, we do have the assembly lines here in Haderslev. In general this means that an X-Yacht is built here, but her hull is not. Hulls are made in Poland where we do have a huge facility and many years of experience with making GRP hulls for yachts." Isn´t that a contradiction, to have the stuff built in Poland, talk about highest quality and being among the higher priced brands in the market? "It totally isn´t! You see, in Poland we do have a high tech manufacturing site with a highly professionalized team. Poland is perfect for production because you have talented, young and well educated people with a high motivation combined with a relatively low cost structure. In the bottom line: Making stuff there is good because salaries are low." He raises his trigger finger: "To put it right: Compared to other brands which are taking these savings and giving them to shareholders and other people, we do re-invest every Cent saved in better material. I will show you …", says Flemming and takes out a sales brochure: X-Yachts hulls are made from the finest materials available, it´s almost as stiff as a full carbon hull, they do utilize the stiffer – yet more expensive – M-Foam for the sandwich-core which won´t be saw-cut. "And, each and every X-Yacht is full epoxy infused."
"Epoxy Infusion does only make Sense when baked."
Flemming is smirking as I am nodding my head upon the keyword "epoxy infusion". Why is that? "Well, Lars, Epoxy is kind of a trend word now amongst yacht builders – which is good because epoxy infusion is a superior technology over hand laminating: It´s saving weight whilst being stiffer. But, you see, the true secret of getting a stiff hull with epoxy infusion is … simply baking it." And this is what most of the other brands won´t do. "It´s expensive. It needs time. And you need to have these big ovens. That´s nothing when you want to build a yacht and sell it for 130.000 Euros. It´s simply too expensive. So they mostly tend to refer to an osmosis-protection when talking about epoxy, but we … we are doing it the hard way. We are baking each Yacht of our Xp-line, the new X4 and X6 as well, to achieve a single solid hull." Also, with an X-Yacht all the bulkheads giving lateral strength and stiffness are part of the hull, not laminated or even glued to the hull. No squeaking either …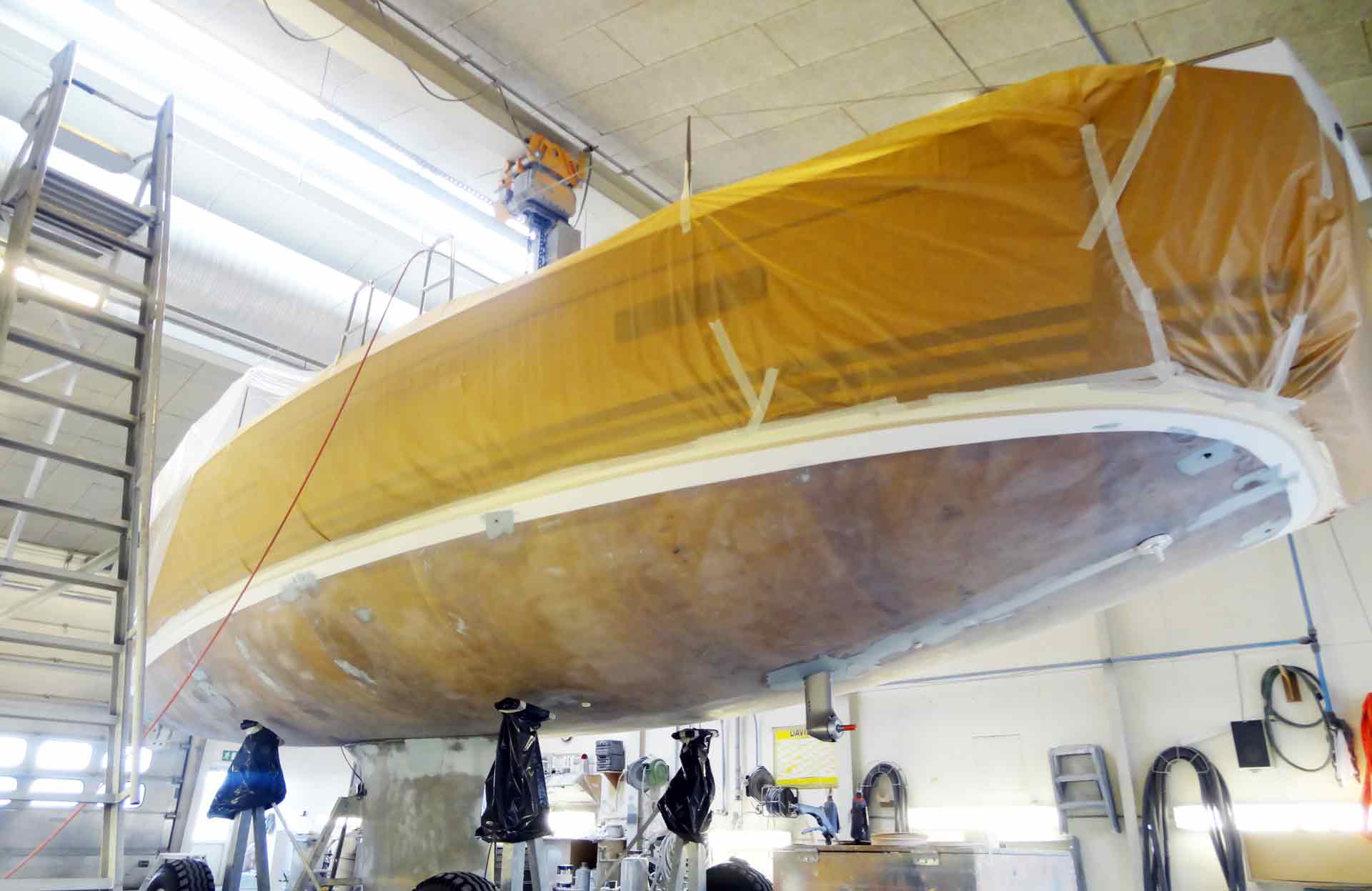 "We have rod rigging, take pride in our perfectly shaped lead bulb keels and of course we do have our steel or carbon frames. These are basically solid cages mounted tight onto the hull adding extra strength to the hull as well as to the keel bolts." But as Flemming puts it: "Quality is a disaster!" Old boats do not vanish, they simply stay like forever, won´t lose stiffness and remain to fetch high prices in the market, despite being far less expensive than a brand new X-Yacht. "But we believe this is the right thing to do, you know. This is all expensive stuff but it results in real superior sailing yet making a boat very comfortable. All we do is intended to make the boat stiffer." That's why X-Yachts offers a unique service for owners: The "X-approved" used boat service, which Flemming shows me first. We enter a big workshop: "We have space for six yachts here, but you can see just two." Used yachts are sold almost at an instant here …
"When an X-Yacht owner want to get a new boat he can give his used yacht to us. It will then undergo a thorough check and a complete refit. "If done so a costumer can be sure to acquire a boat that is like brand new." And from as far as I can see, the boats in the hall looked amazingly fresh and new despite seeing a 15 year old model. X-Yachts did have a hard time during the economic crisis of the last years, as Flemming admits freely. "Recession is hard for the whole business, you see. Here at X-Yachts we´ve had pretty hard times too. But since 2014 it´s reviving and I guess we will be a profitable business again in 2016 or 2017." Having sold some 350 boats in 2009 of which 260 alone have been the X-35, the smallest model of that time, the company has now sales of 60 to 120 boats per year: "That´s due to the crisis, again, but there´s also a trend towards bigger ships and richer costumers which results in less sales by numbers whilst achieving the same high turnarounds." While some years ago the top-seller of X-Yachts have been the boats of some 35 feet in length, it´s now different. "People want bigger boats. Bread and butter today are yachts within the 45-50 feet range."
"X-Yachts Clients are very loyal."
We proceed into another big workshop where we stand next to a nice "little" boat: "This is our Xc 35", says Flemming pointing to her sleek white hull with the distinct three stripes at the waterline, a trademark design of X-Yachts: "We did build this boat to attract young people. It´s our smallest boat yet offering all the advantages of an X-Yacht such as superior sailing qualities and luxury. But we have a problem …" Flemming explains, that it is very hard to get young clients to invest in a new ship (as I would resemble his target group perfectly, a starter in sailing, but I did opt for a used yacht too.) "Our clients are very, very loyal indeed. We have people buying their sixth X-Yacht here. But getting them connected to the brand is hard. That's why we have built this Xc 35. We do not make a single Euro profit with that ship." My jaw drops. "Believe me, this is not making money at all. We want to attract young buyers and have them enthused for X-Yacht quality. When they get older it´s our intention to have them as costumers for the bigger boats." Just to get people attracted? Seems like a clever yet risky strategy … a brand new Xc 35 does come with a 200.000 Euro price tag.
Performance is the key? "Well, of course not. We can see that sailing qualities is one thing, the other is … luxury. Let´s be honest, an owner´s wife does have her voice when it comes to buying a boat and since we all want our wives to feel good, a yacht should offer at least some amenities. Thatswhy we have invented our Xc – cruising – line apart from the Xp – performance – line." As Flemming puts it, Xc-boats are built with an emphasis on living conditions below deck. "It´s the classy cruiser but with nearly all features her performance-sisters do have as well." Flemming is telling the story that when trialing the new Xc 35 yacht they were astounded that the yacht was still outperforming the polar-diagram predictions … they simply cannot fully explain why the boat is sailing so good, he adds winking. "Our product line is simple: We have the Xp line for performance oriented sailing, regatta and sporty, fast sailing. You wanna get a boat with classy shiplike-design? Than the Xc line is perfect for you. It will be looking nice in another 20 years to come as well."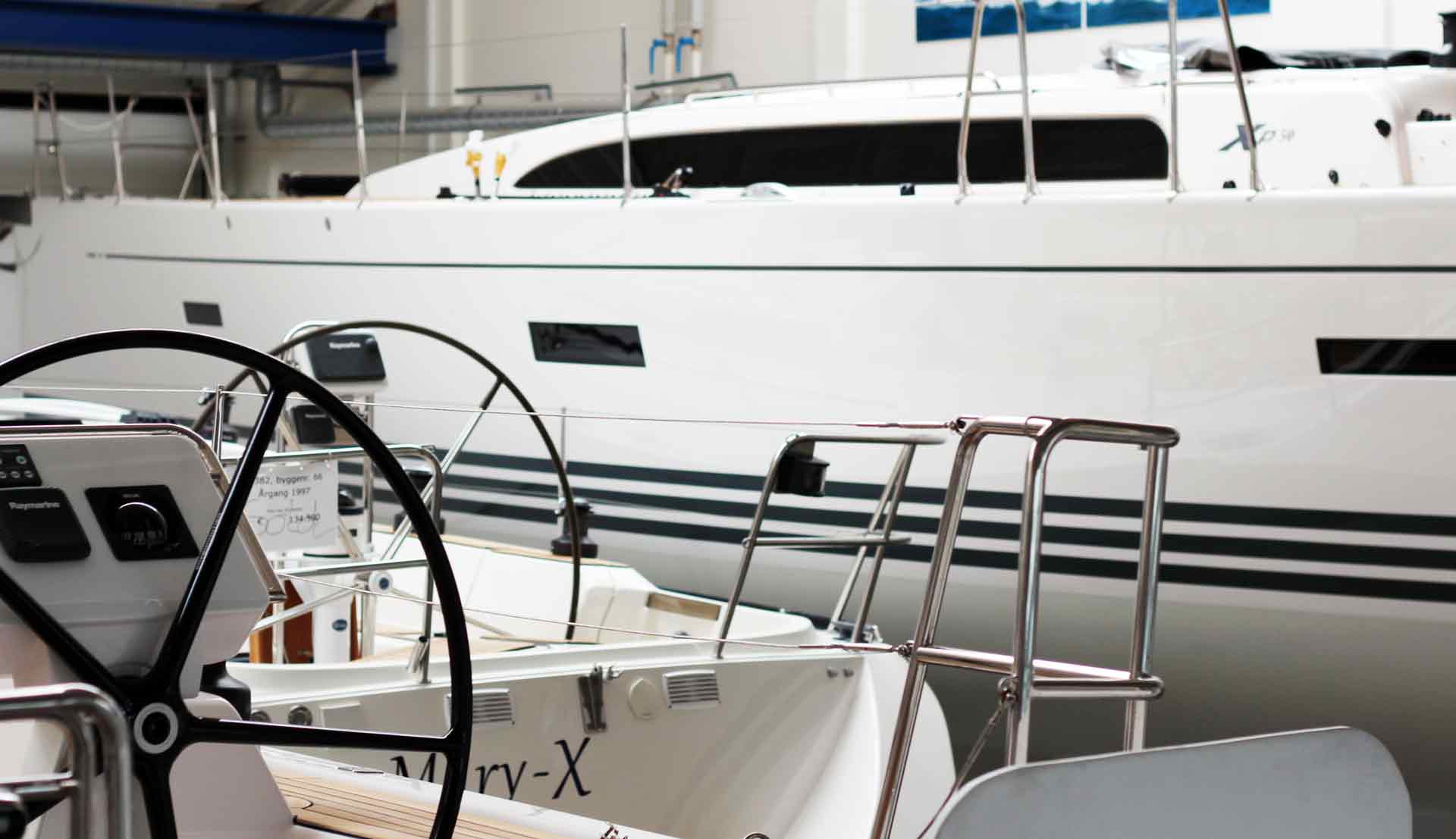 The Xc does incorporate everything that an Xp does have but with a strict emphasis on safety. "We went through the whole of the construction of the Xp and have asked ourselves: Would we really send somebody with this and that on a three year circumnavigation?", Flemming says: "And so we did replace the carbon cage by a steel-made frame, the carbon mast with a well-tried aluminum mast just to be 110 per cent sure, added a little more volume for stowage and space and yet – this yacht is also faster than expected and performes so well!" One might compare an Xc to an Hallberg-Rassy in getting performance and sturdiness and a beautiful boat. X-Yachts sales devide nearly 50-50 between Xp and Xc with a slight tendency to the latter. We stroll about and I come to see my absolute favorite yacht of the whole range. "Oh yes, the Xp 44. That´s a true beauty, I know!", it seems that even Flemming has a crush here.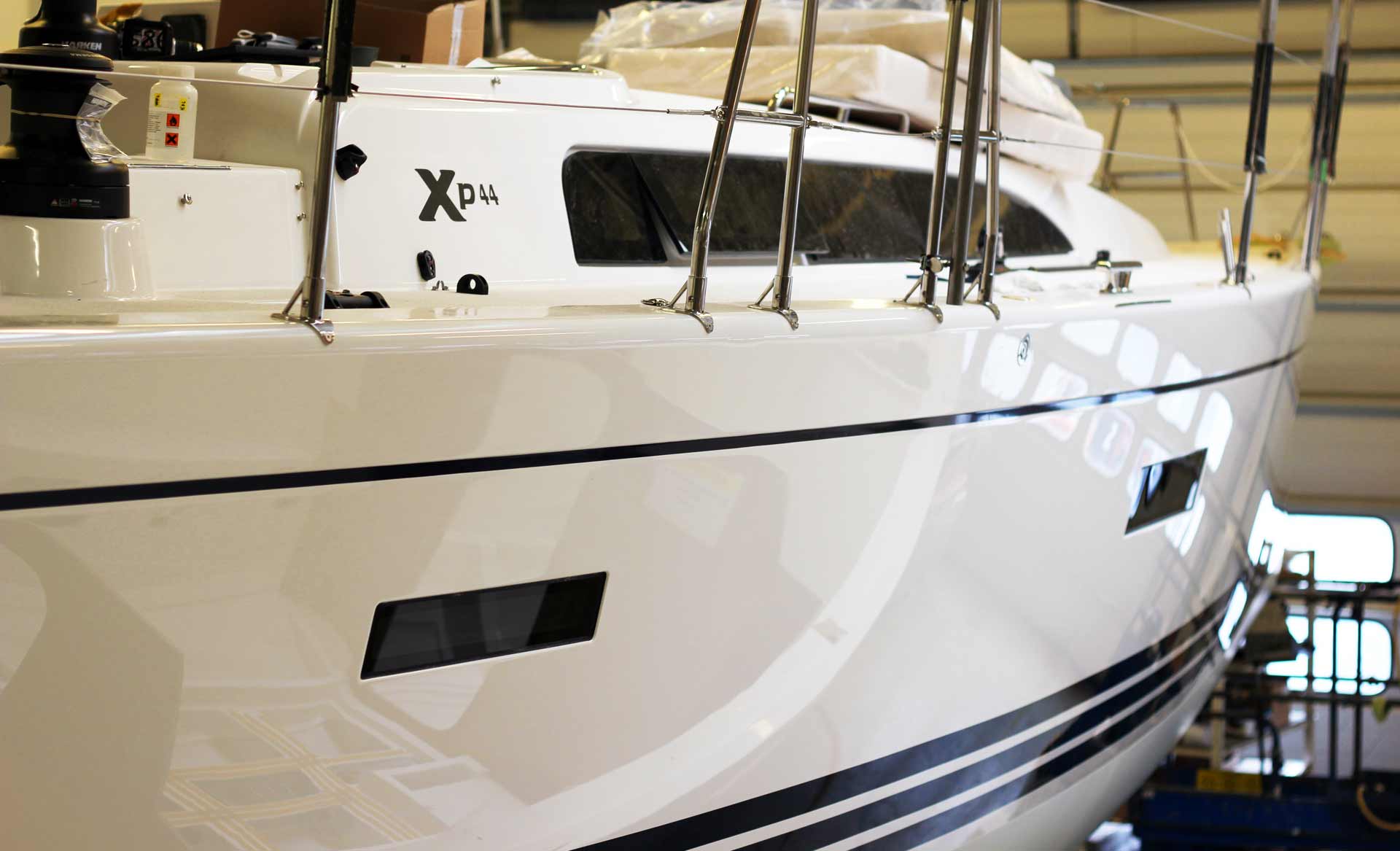 "This is my absolute personal hero!", Flemming admits standing next to an Xp 44-hull. As he is talking, he mentioned his personal experience in sailing this boat. One needs to be a sporty (and well off) guy to be the right owner for this stallion, Flemming says: "It sails just fantastic! She is not an easy boat to sail, I must admit, because it takes some time to get to know her fully." This is the reason why it´s only now that more and more Xp 44s will have their first regatta wins despite being sold to their crews and owners some one or two years ago: "It just takes time to get to know her. But we´ve won the Monaco Regatta and the Middle Sea Race recently with an Xp 44 and we are expecting to see more." Though she isn´t a pure racer – offering a load of luxury an Xp 44 is a perfect boat for a sailing family as well. One may really enjoy sailing and life aboard. Though Flemming admits: "When it comes to a true Blue Water circumnavigation, I would choose an Xc boat."
"Building Quality is above Standard at X-Yachts."
We enter another hall where I can see five or six boats in different stages of the built. The hulls are side by side and workers are roaming about fitting different things to the ships. There´s no noise at all and despite people being busy to work through their tight schedules every time we walk by they seem to have a second to take a look, give a friendly nod or greet us.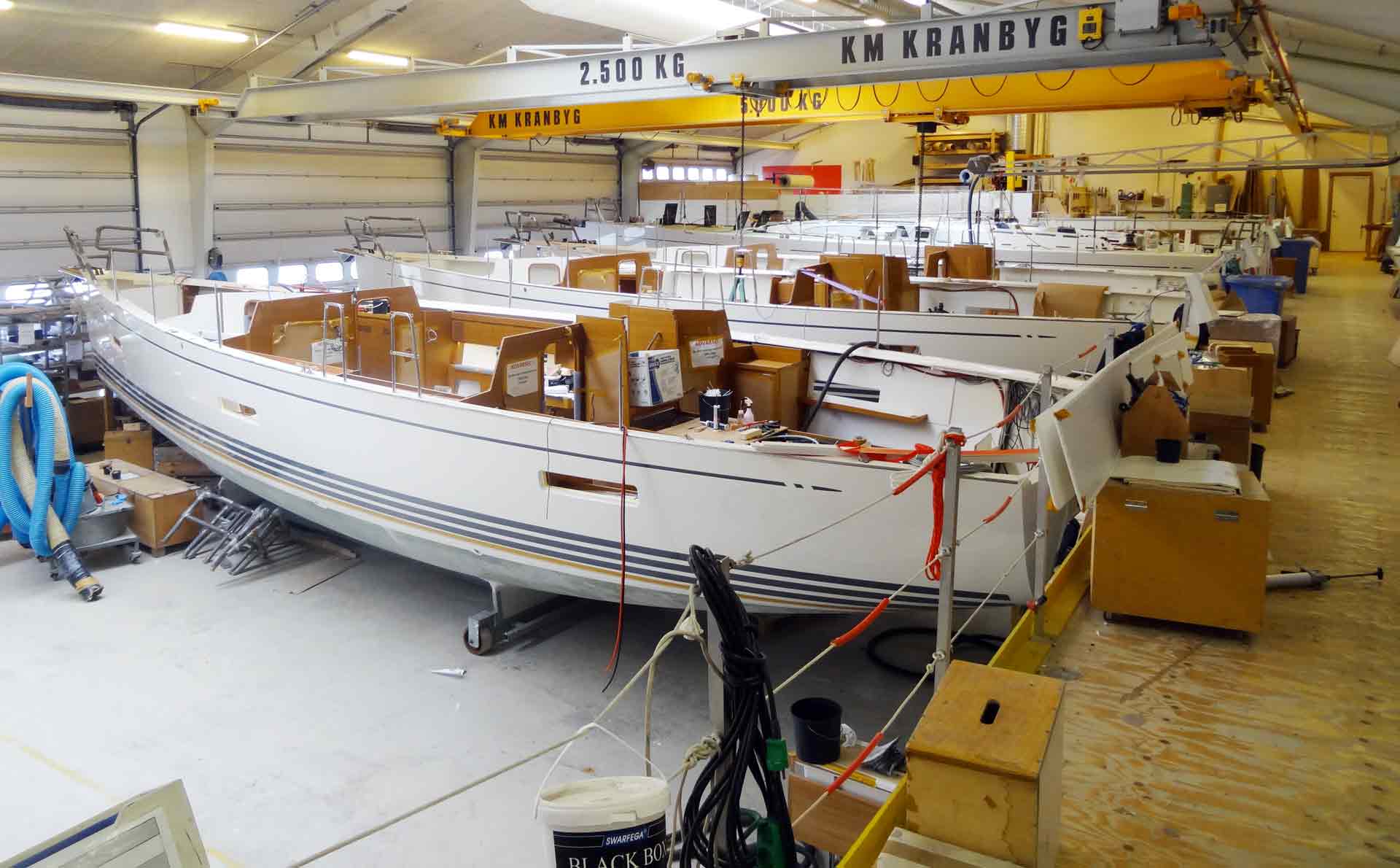 I can observe all the different stages of building a hull. First the lower main shell is outfitted with everything from piping, cables, engine and saildrive, furniture and woodworks, tanks, electronic equipment and lighting – the complete interior will be installed and thoroughly tested prior assembly. Then the "marriage" takes place: With a crane the upper shell – or the deck – will be lowered, bolted and glued to the hull. When the upper shells arrives, it will come fully operational.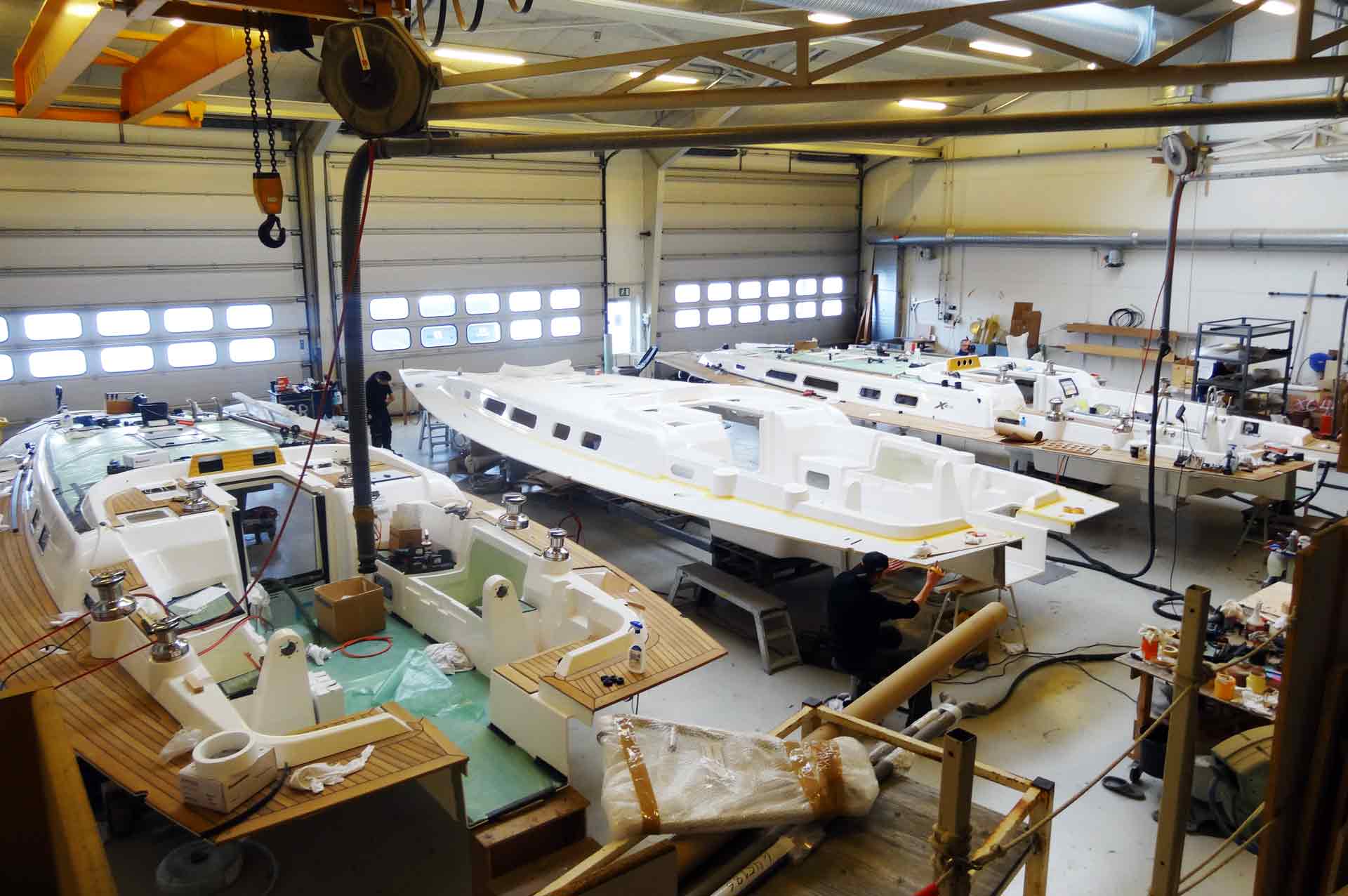 On another assembly line I can see some of the upper shells in different stages too. "When the deck-shells arrive, we will cut out the portholes, drill holes and stuff and install all the equipment needed on deck.", Flemming explains. "We will also apply the decking to the shell. Mostly its real Teak decking, but we have an increasing number of owners requesting artificial decking materials, such as PVC." (Read my article on synthetic decking here)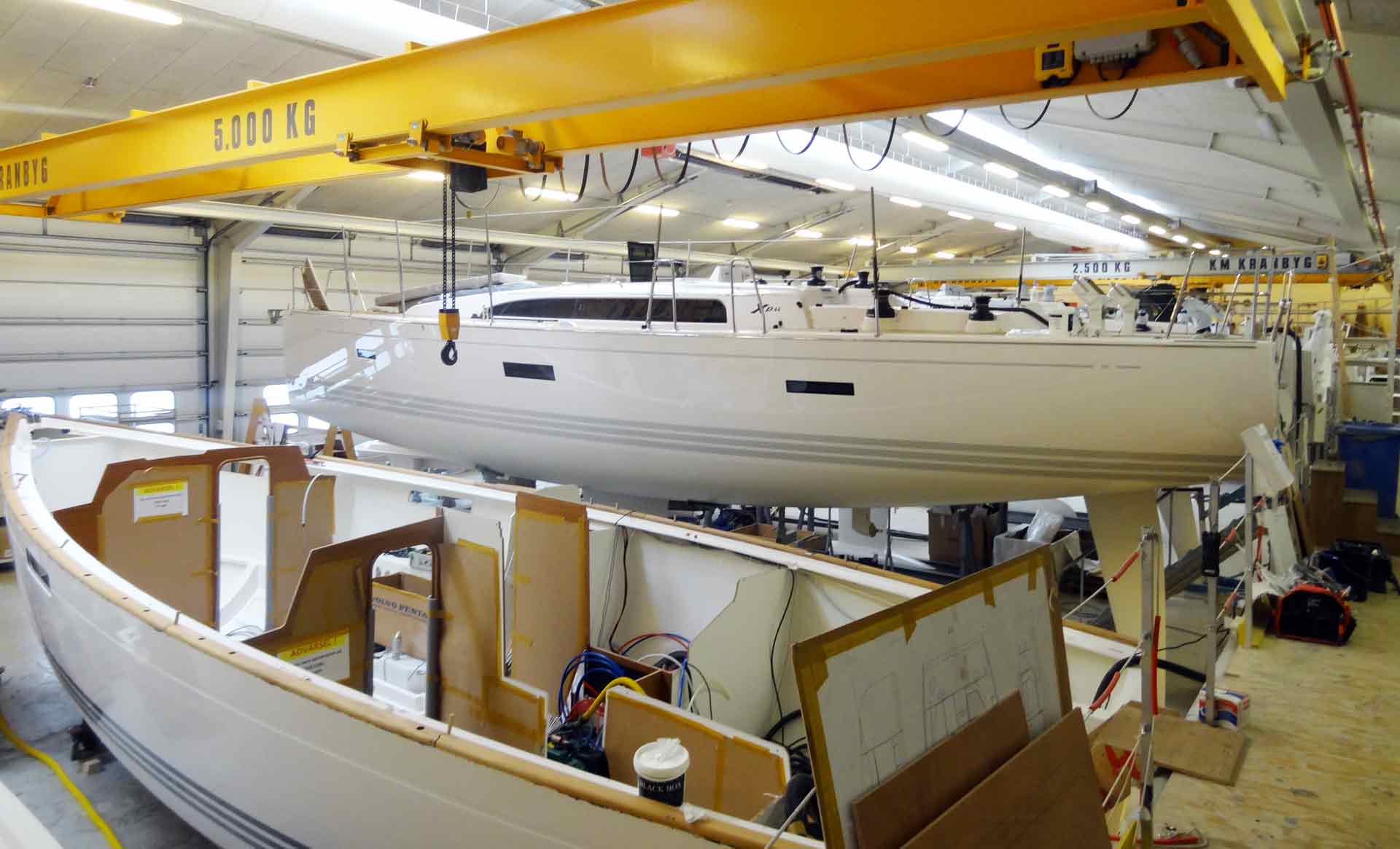 I ask whether every X-Yachtv still breathes the spirit of Niels Jeppesen. "Oh yes, Niels is not just a name giver or some kind of a e-minence grise", Flemming answers: "He is still drawing the lines of every single boat built by X-Yachts. Every single. That´s because we still learn. We are constantly trying to get better." Niels lives in Southhampton, UK where he maintains a small office. "Southhampton because he has his wife and family there and despite private things it´s where one of the most renowned universities for boat design has it´s headquarter. So it´s good to be there to have all these young, talented and motivated new boat designers in one place." Still, upon submitting his drafts, the bulk of the work is done in Haderslev, Denmark.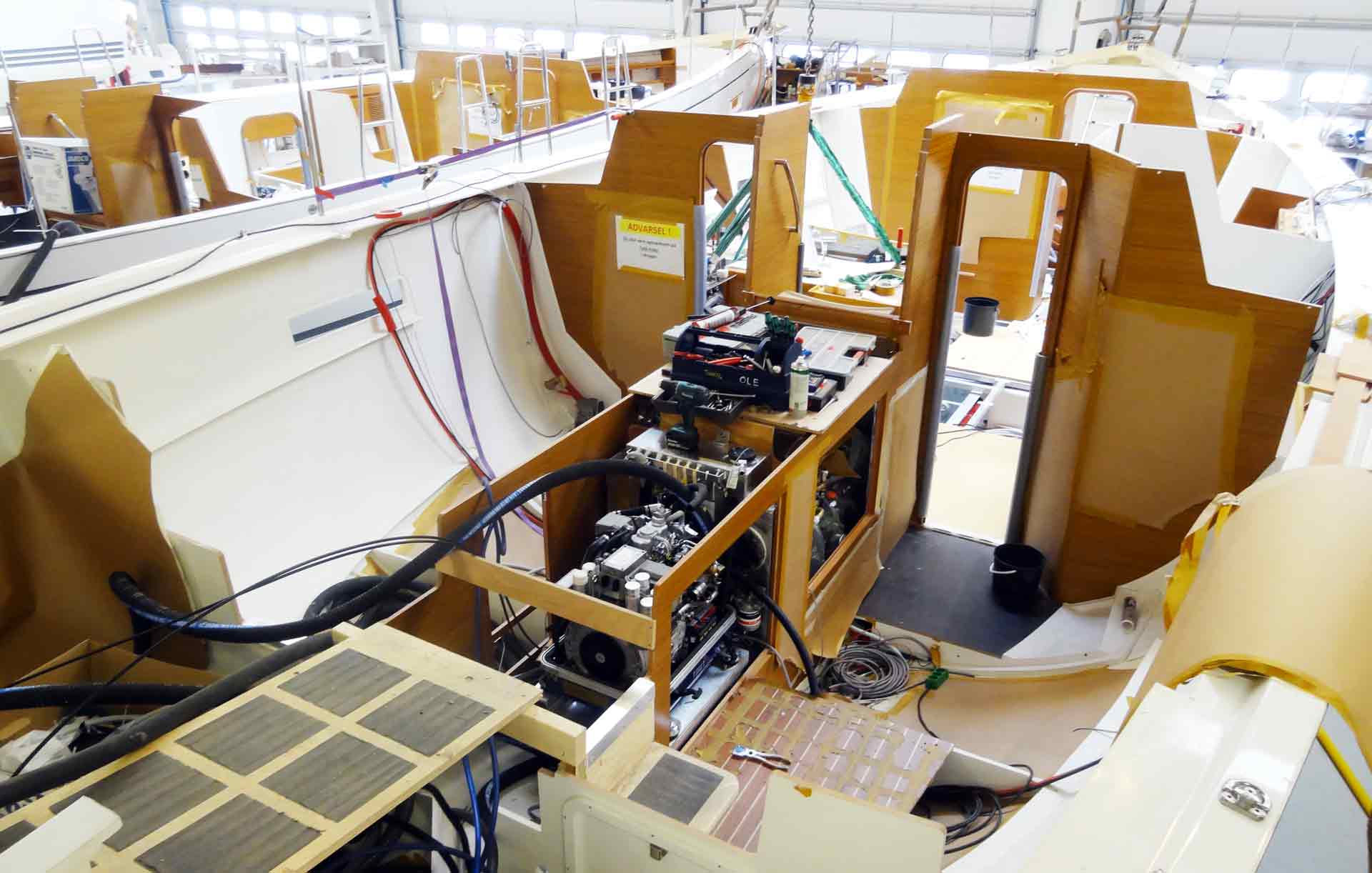 "It´s a game of Ping-Pong if you want", Flemming tells me the story of how a boat is designed in the process: "When Niels´ ideas arrive we do have a team of engineers and designers here that will minister the details. All the practical solutions and different answers to all the thousands of questions which arise during the process." These will be sent to Niels and either approved or further refined. "Niels has 37 years of experience in building yachts", Flemming explains, "but he is still on fire like a child before Christmas when a new project takes form." Just as the upcoming X4, is ask? "Oh yes. I will show you later …"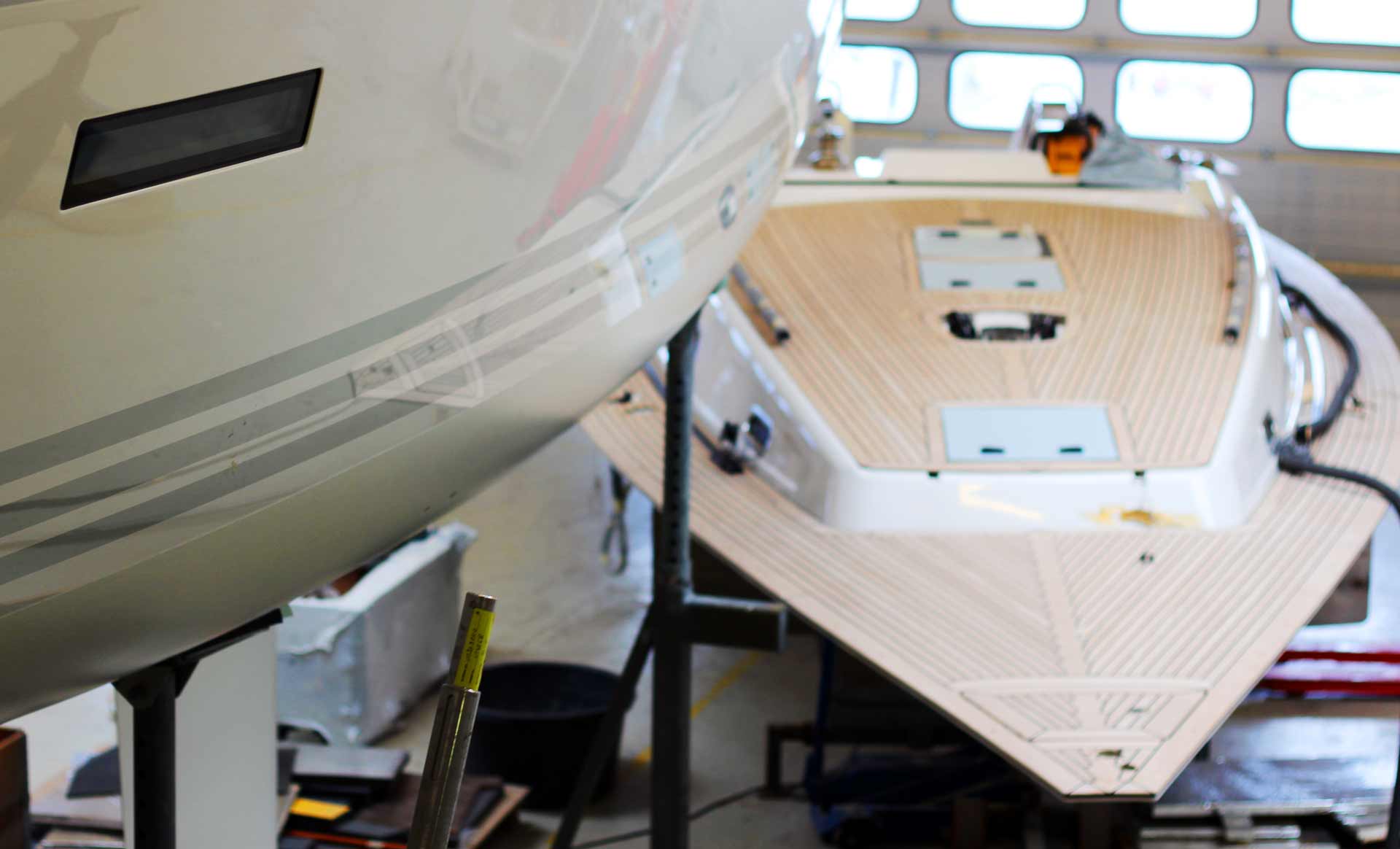 We stand on the upper platform looking down onto the hulls. Xp´s and Xc´s are lying next to each other, workers are roaming about like diligent bees. "We do everything to have the best possible product here", Flemming says and points towards a still empty hull at the start of the outfitting process: "Let´s go downstairs to this boat, I want to show you the steel frame. Why? Because there is one thing we´ve never experienced with an X-Yacht and we are doing everything we can to never have it happen: A yacht losing her keel."
"An X-Yacht should be the stiffest of them all."
As we enter the hull – a 40 feet boat – I can clearly see the thick frame. It´s made of galvanized steel. A solid thick main frame right in the middle of the hull directly above the keel forming the later bilge. The steel seems to have 2 centimeters in thickness with a lot of bracing adding to rigidity. Three massive arms will derive from the mainframe to either side of the boat. There the arms are bolted with massive screws to the GRP-hull, bearing huge stringers in this section.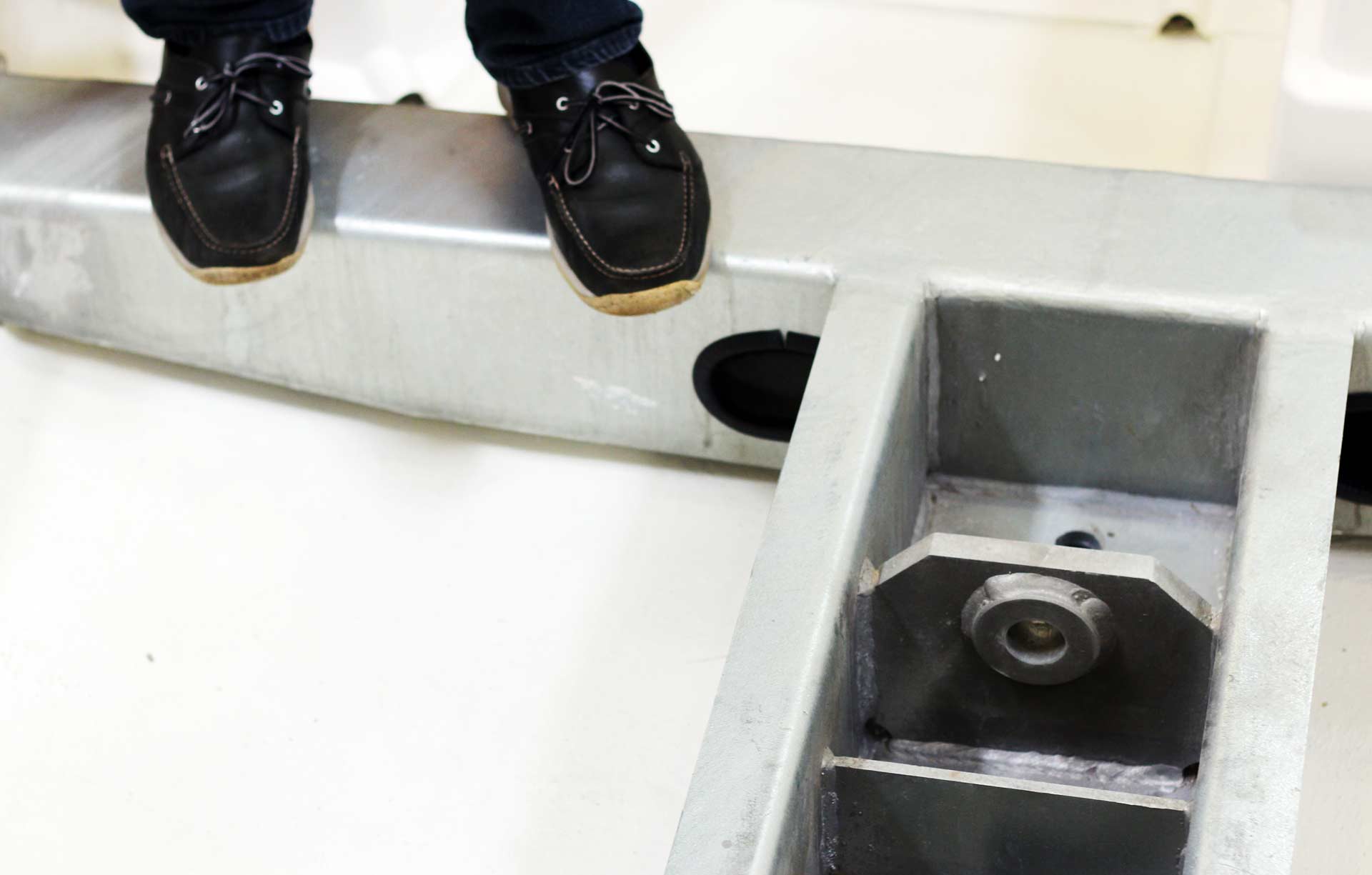 "Looks awesome, doesn´t it? With our Xp-models this cage will be made of carbon", Flemming explaings, "which will reduce weight significantly. As this model is a cruiser we opted for steel." I can imagine that hitting a reef or a stone with the keel would produce huge forces which could result in cracks of the carbon cage. "This is what I meant we added safety to the cruising models. Running aground can happen when cruising, happen more often that running aground whilst racing, so we opted for steel here." Nevertheless, I can imagine 2 centimeters of carbon indeed is very rigid as well.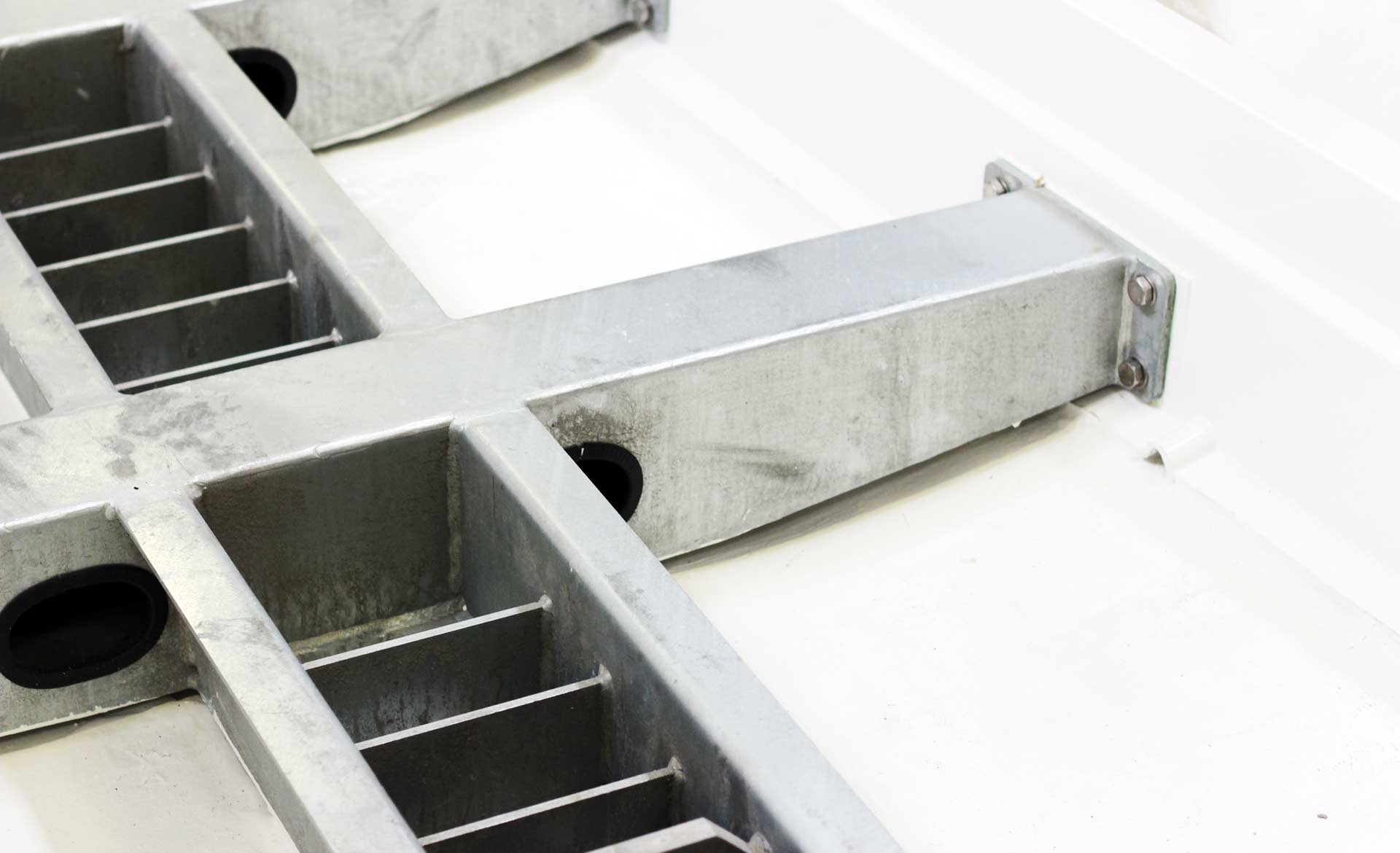 "The keel is then directly bolted to the frame here", says Flemming as we are standing right on top of the steel frame. "The bore holes for keel bolts can be seen clearly. So you can imagine this adds significantly to stiffness, rather more than just having your keel bolted to the relatively soft GRP-ground construction of a hull and just having it secured with some counter plates made of steel (as it is the case with my King´s Cruiser 33, which can be seen here)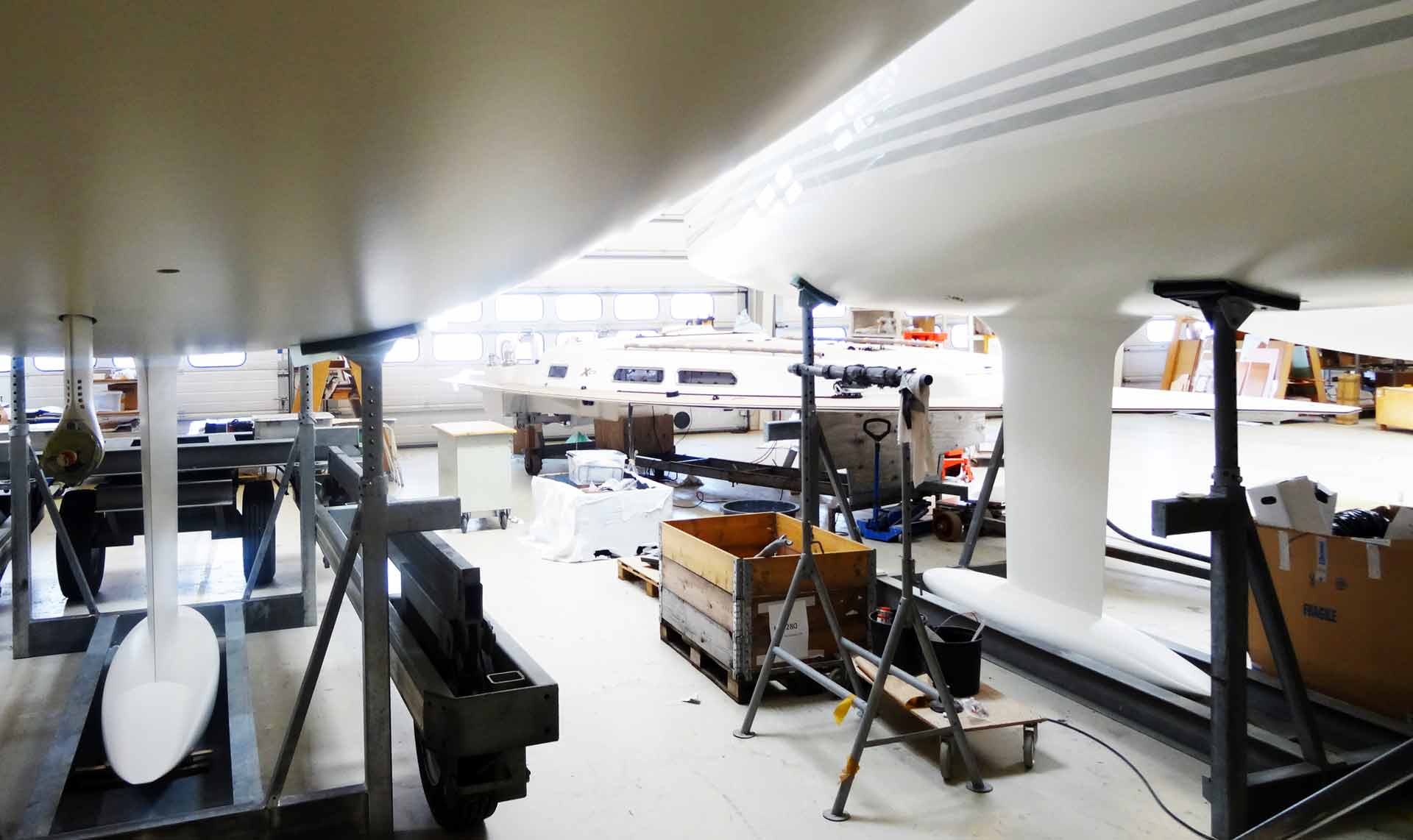 "You see, a keel is the ultimate part of a sailing yacht as it provides for the center of gravity thus producing the stability needed. That's why we do invest a lot when producing our keels", adds Flemming as we take a look onto different keels later: With X-Yachts an owner can of course opt for the three classic variants of keels: The shoal keel with it´s L-form, the T-keel with it´s lead bulb and fine sharp shaft and the deep performance keel, another derivate from the T-Keel. "We do produce the keels in a very costly way", Flemming explains: "First the keel is assembled, bulb to the shaft, then it´s encapsulated with a baking form, GRP and epoxy is added. Afterwards we do take it out and sanding it smoothly to a perfect form. And when I say perfect, I mean perfect!" (Besides, here´s an article on keel-designs and their influence on the stability of a sailing yacht)
Last but not least I take a look onto the chain plates as I am currently working at the very same item by myself with the refit program of my King´s Cruiser 33 (read article here). With X-Yachts the chain plates are made of Nirosta steel of course and fitted from the outside of the hull through the freeboard to be tightly bolted to a steel-cage laminated and baked into the hull as well. It´s so sad I cannot incorporate these stiffness-providing measures to my own boat …
"The X4 is our new Approach to the ultimate Dream Yacht"
I haven´t dare to hope for it but I took my chance and asked Flemming if it would be possible to take a sneaky look onto the all new upcoming yacht X4. He replied: "Sure, no prob. Follow me." Oh, yeah wow. We drove 600 meters from the main area to another, even bigger, facility and entered the hall. The all familiar odor of glass reinforced fiber was again impregnating the air and as we entered the hall there it was: Right next to a big Xc 45 ready to have her underwater hull painted – the hull of the X4. "There it is.", Flemming said, "Hull number 001. This is our new baby, the fine X4."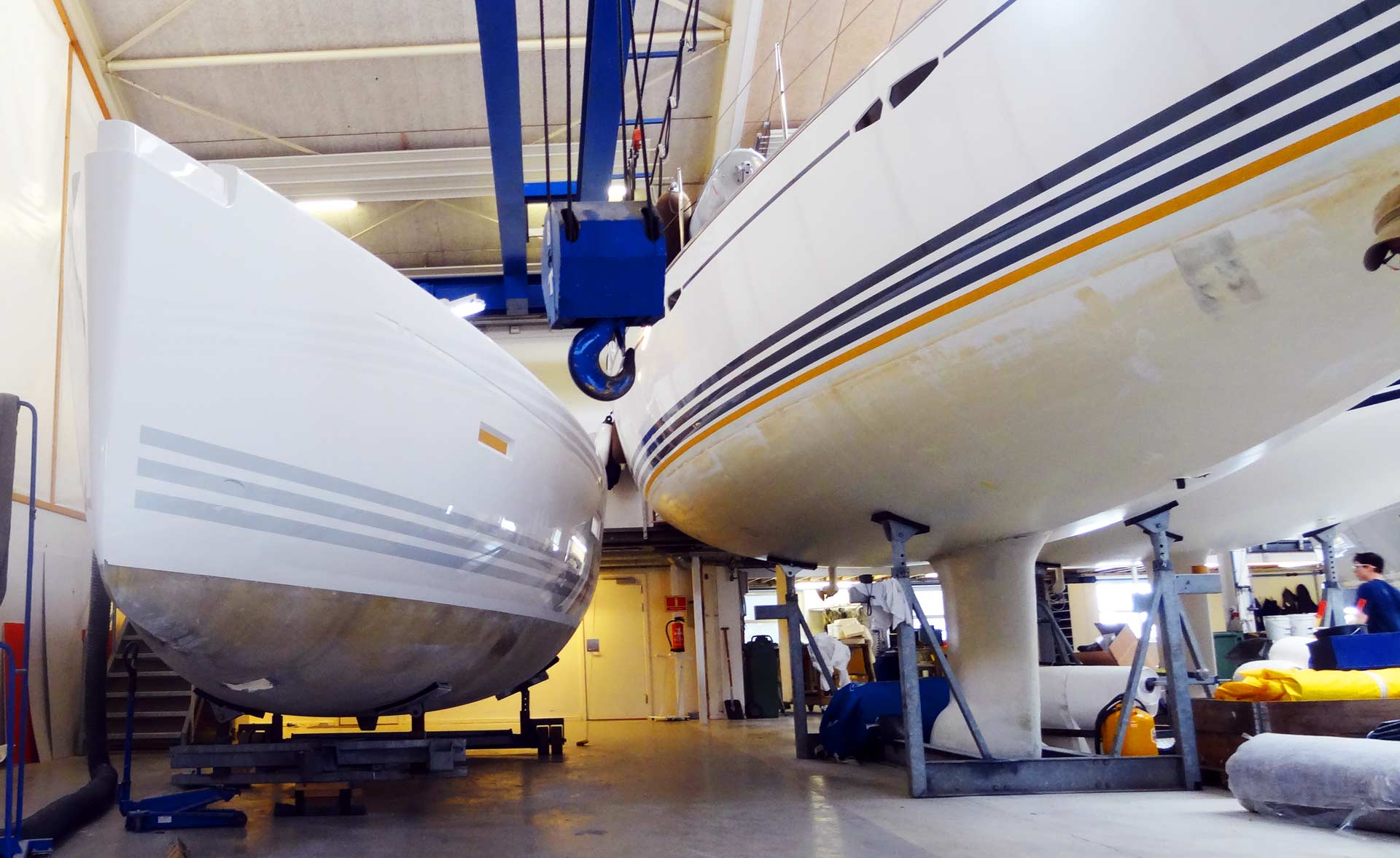 We took a look from above and I could clearly observe the unfinished interior of the boat: This was the 3 cabin version with two large aft cabins and the big fore cabin, two heads, but as Flemming promised, there will be two more options to have the X4 customized with one head or even one big aft cabin. "With the X-line we try to add something new to our product range," Flemming explains: "You have the Xc-boats for cruising, Xp-boats for sportive sailing and the smaller Xr range for racers. And with the X-line it´s a new approach. You see, our cruisers are timeless beauties. But we´ve had the feeling that a lot of owners want something more modern, more contemporary." And this is how the X-line was born: High performance plus modern straight design.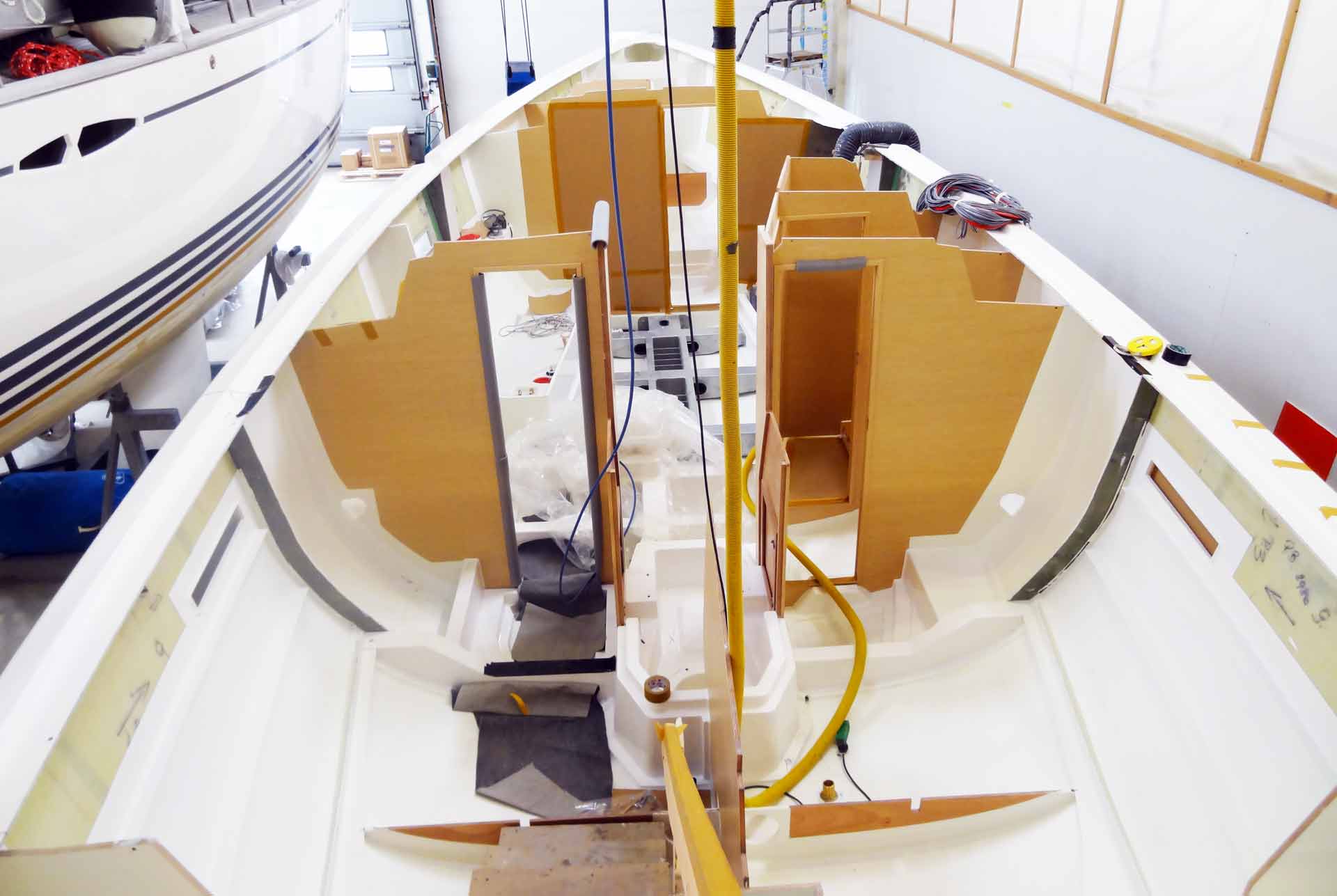 The boat has a length of exactly 41 feet or 12.50 meters. A maximum beam of 3.95 meters and thus offering a spacious interior. "The owner´s cabin in the fore is huge", says Flemming pointing towards to bow. It´s something like a master bedroom, light filled and roomy." Looking to the aft cabins I notice the huge bathroom on the starboard side: The entry door to the cabin gives way to the lavatory on the left hand side, a huge drying locker for wet clothing and on the right hand side into the double berthed cabin. The woodworks air friendy and lighty colors and everything appears made with an emphasis on modernity and quality. "It will be a fantastic ship", says Flemming, seemingly proud.
Proceeding into the saloon I again notice the sturdy steel frame bolted to the big stringers at each side of the hull. Flemming points towards the left and right parts of the bottom of the hull: "Here both fresh water and Diesel tanks will be mounted. As a matter of fact, it proves that putting heavy parts – such as tanks – to the lowermost part of the ship adds to her sailing properties and stability." These tanks will be situated not only deep down in the ship´s hull but also near the center – the X4 will be a well-balanced boat.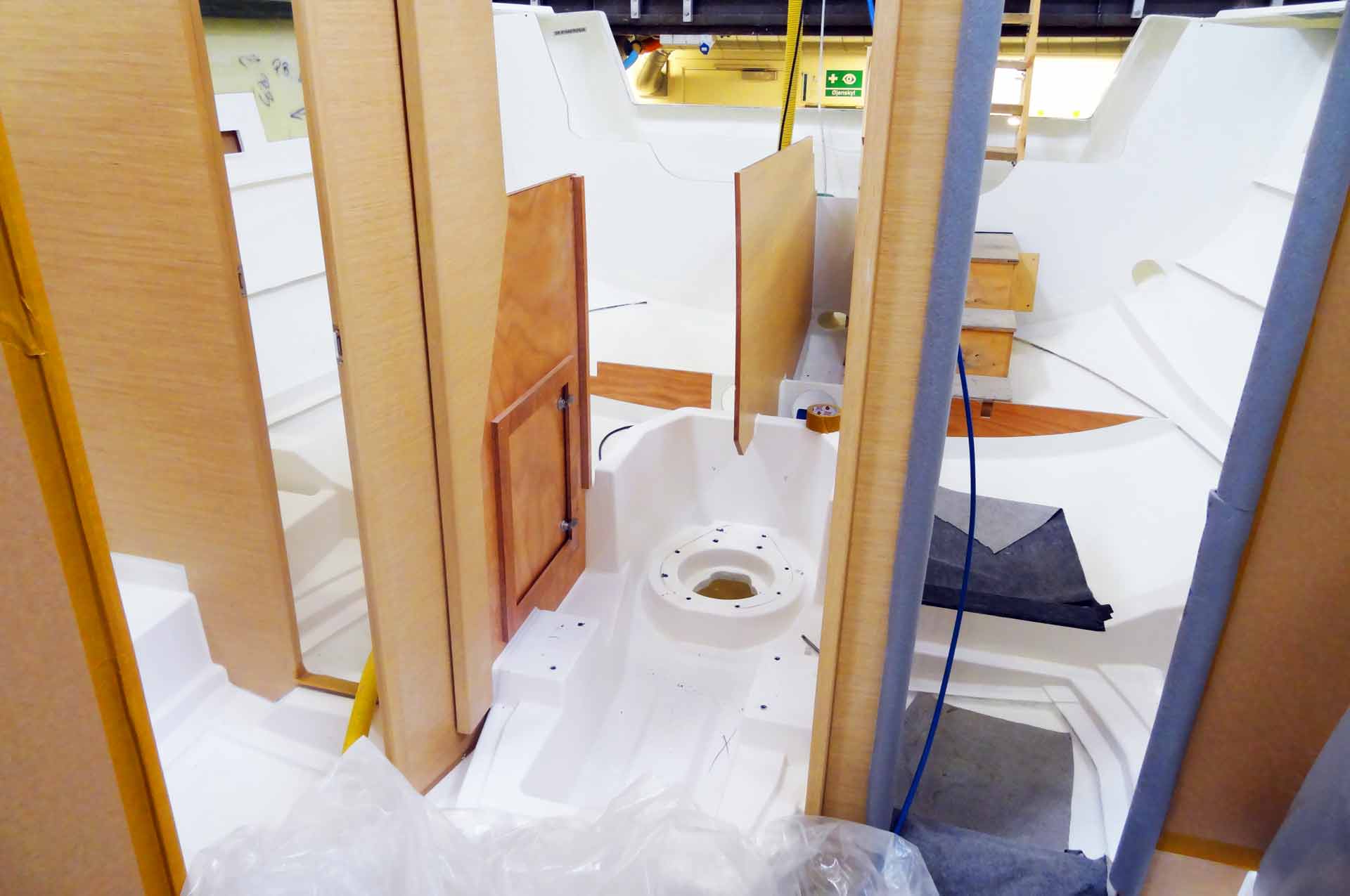 Looking abaft I can see the then empty engine room with the massive footing and outlet of the saildrive, left and right of which the two big aft-cabins are clearly visible. Each cabin will have its own small stateroom with a drying locker. "With the X4 a crew of 6 people will find it very luxurious to travel around, though we do have two more berths in the saloon." But if travelling with 8 people would be such a good idea … this is a decision of its own.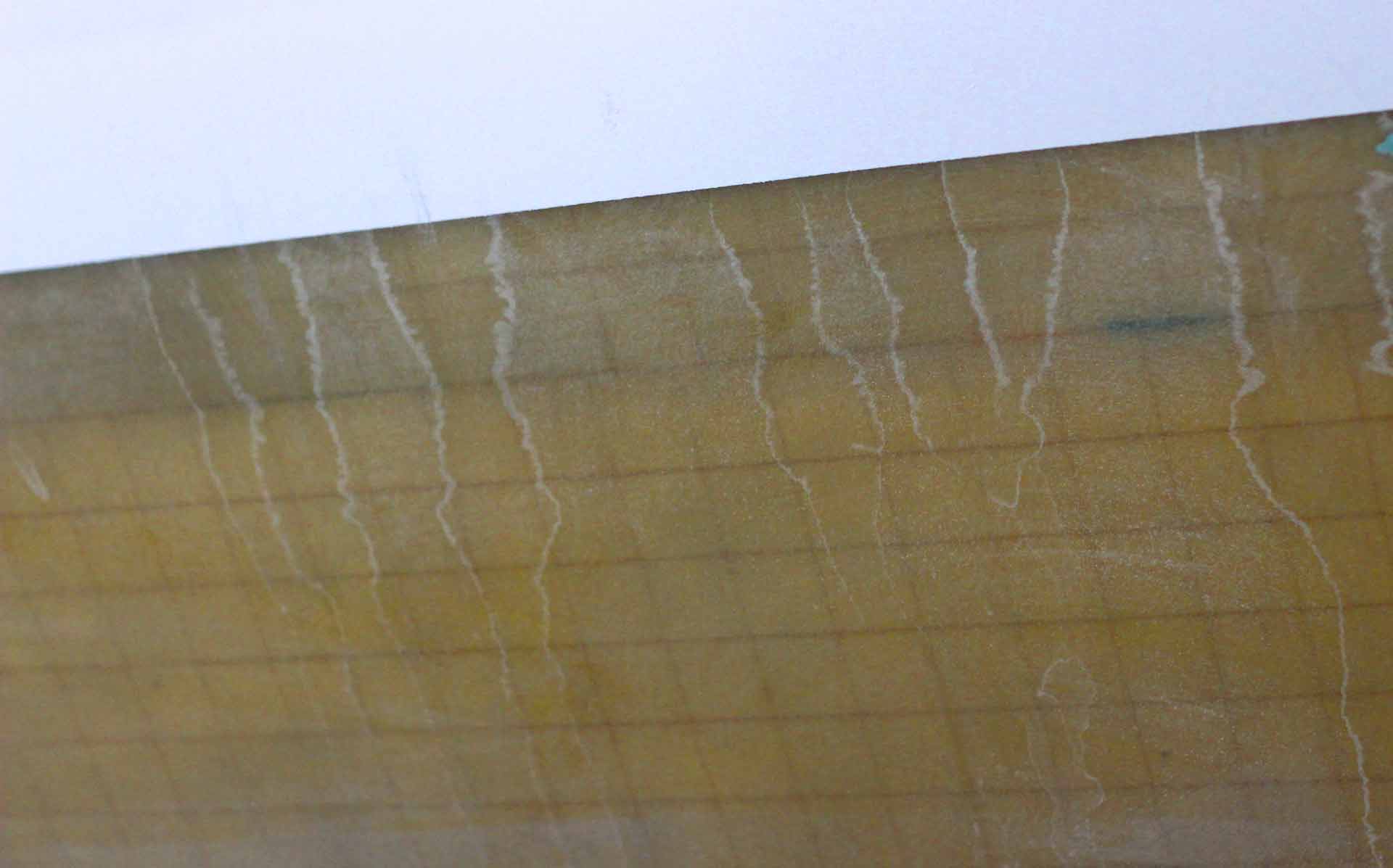 We proceed to the outside of the hull where I can observe the still uncovered GRP/epoxy material. "You can clearly see the knife-cut M-foam here.", says Flemming: "As I could see it with other brands where the foam is cut by saw, this leaves big sections between the foam-squares. These kerfs have to be filled with epoxy which in our view is a waste of precious material on the one hand and doesn´t add to stiffness very much on the other hand." Knocking on the hull produces a full sound but to be honest, I have to trust Flemming regarding this point as knocking on the thick hand laminated GRP hull of my 40 year old King´s Cruiser will produce a similar sound.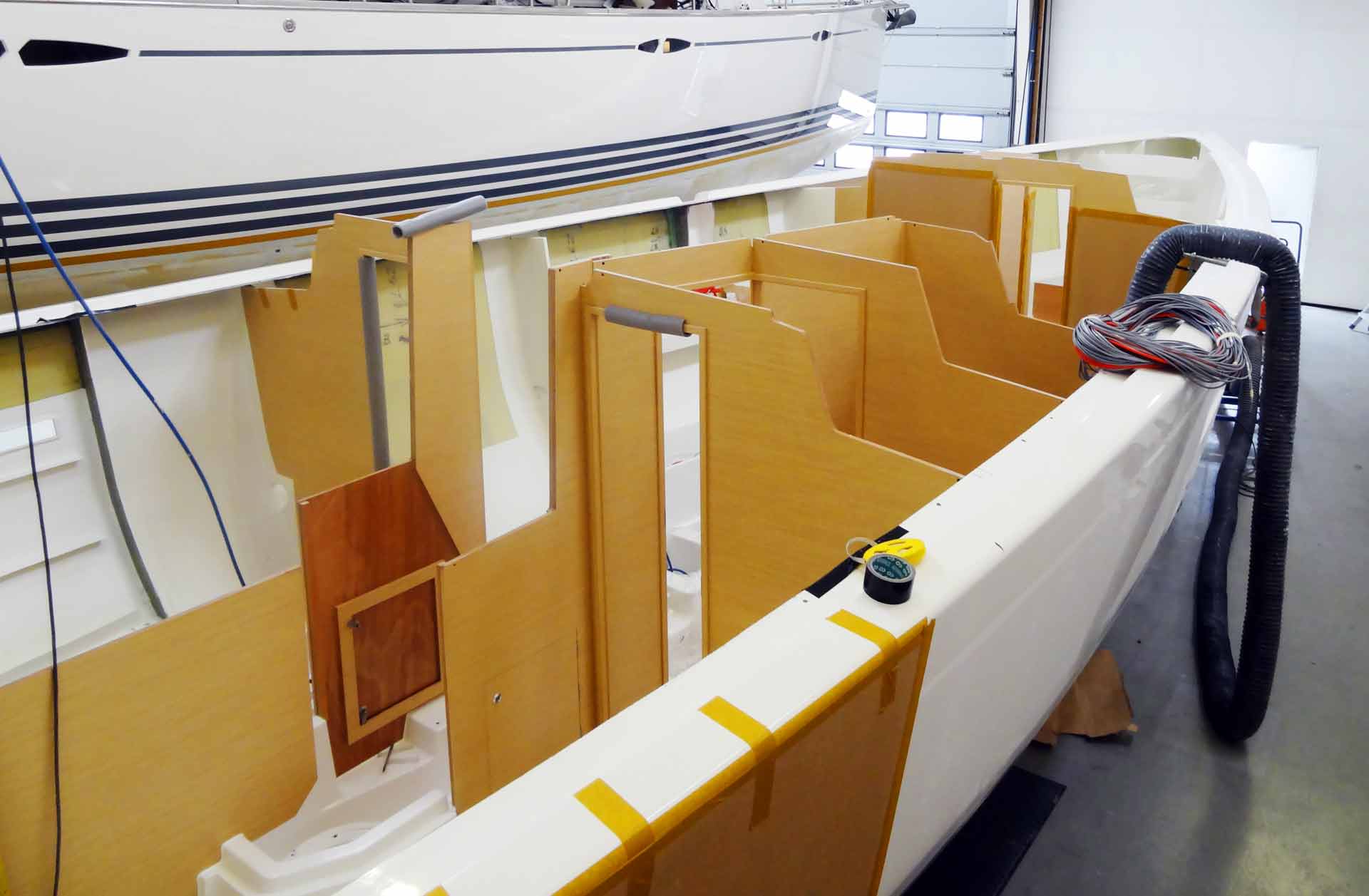 The X4 will see water within the coming weeks as she is scheduled to go on sea trials soon. "We want to have the first yachts of this new type delivered in Summer 2016", says Flemming: "And there´s a lot of work still ahead." I can see it: The hull misses her keel, engines and electrics have to be installed and there´s a rig to be to be mounted still. We leave the unfinished X4 001 and I have the impression that this is going to be a very beautiful boat. Additionally I do like the 40-feet-class as this size offers in my eyes the best compromise between "big enough to offer some space" and "small enough not to cost too much". In any case, an X4 is way out of reach for me here.
"The X6: Our new Flagship."
Speaking of out-of-reach: Proceeding through the hall back to Flemming´s bureau we pass two more hulls. Big ships. Grey color, again, three stripes of X-Yachts at the waterline: "Impressive!", I say. Flemming points towards the hulls: "This is the X6, our new flagship." This battleship will have a length over all of 63 feet, being 5.4 meters in width at her widest point. This is truly a big ship and a redefinition of building a yacht for X-Yachts.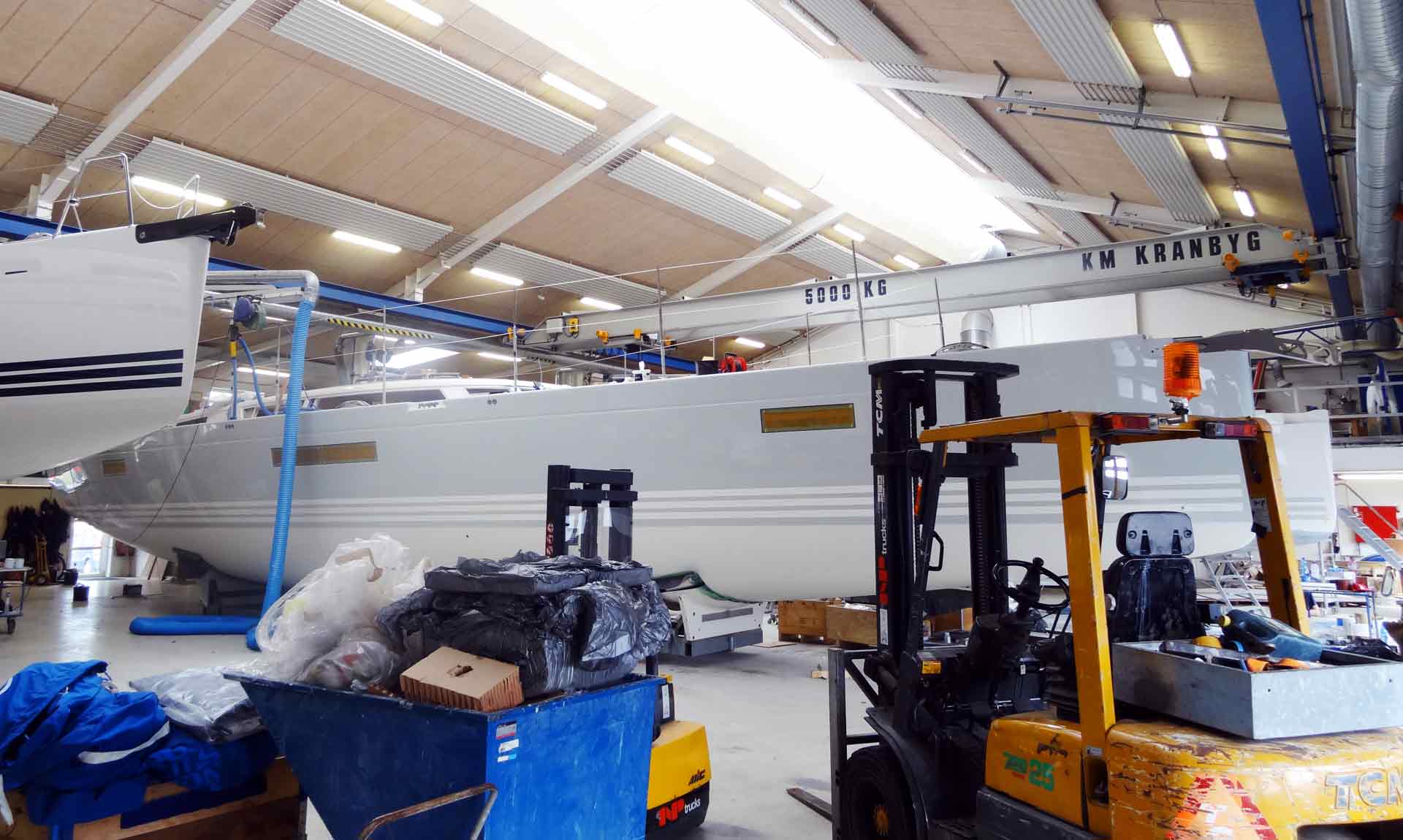 Taking a look into her hull again I am astounded of the vast variety of huge cabins: The X6 will offer three to four cabins and a whole new experience of luxury. As I stand in the unfinished saloon with its some 360 degrees view. Clearly, this yacht is a nice sailing toy for somebody who already has everything. But putting luxury aside, I am looking forward to see the X6 in the water under full canvas.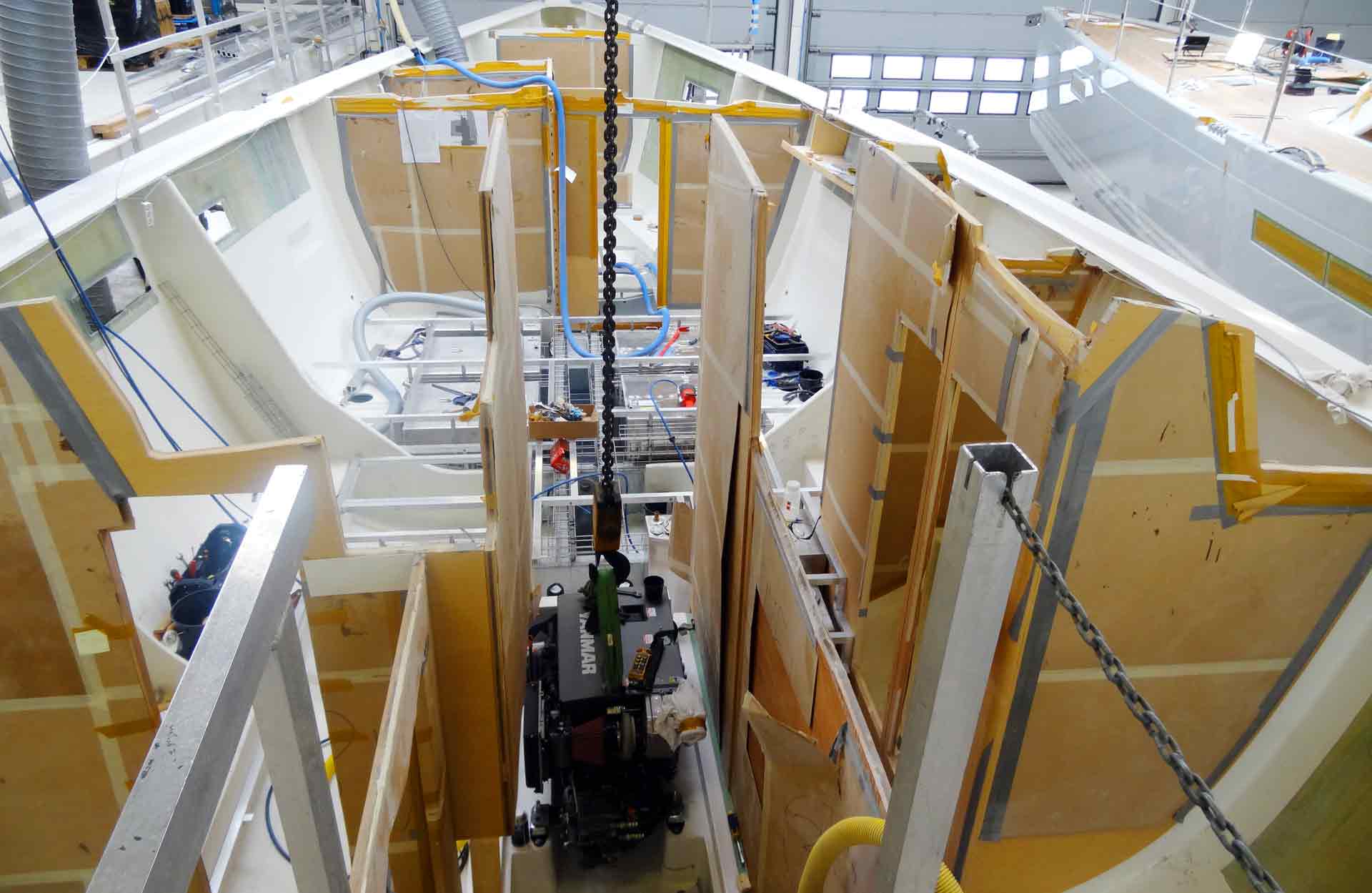 X-Yachts is reacting to a market of growing sizes and richer people wanting bigger boats as anybody can view when taking a look onto the 62 feet X6 sailing yacht. I am still glad that despite these megalomaniac projects they are still building yachts of convenient sizes such as the 35 to 44 feet range. And as we walk through all the hulls I´ve had the pleasure to visit today we come alongside my all-time favorite: The Xp 44.
A perfect Day in Haderslev
As we proceed into the office of Flemming I thank him for taking his time and showing me around, answering all my questions and letting me take pictures of every corner I wanted to have a look at: "You see, we have no secrets. Building yachts is no rocket science", he says and laughs: "Building good yachts on the other hand needs dedication and a strong will. We don´t want to make a product that suits everyone. I often hear the complaints of high prices and stuff. But I must say – looking at this Xp 44 – what do you want? Do you want high quality, a stiff hull and superior sailing performance? Than you ought to be willing to pay the price for it." Flemming describes the ongoing discussion about pricings with buying a car: You can´t go for a Porsche but willing to pay for a Fiat.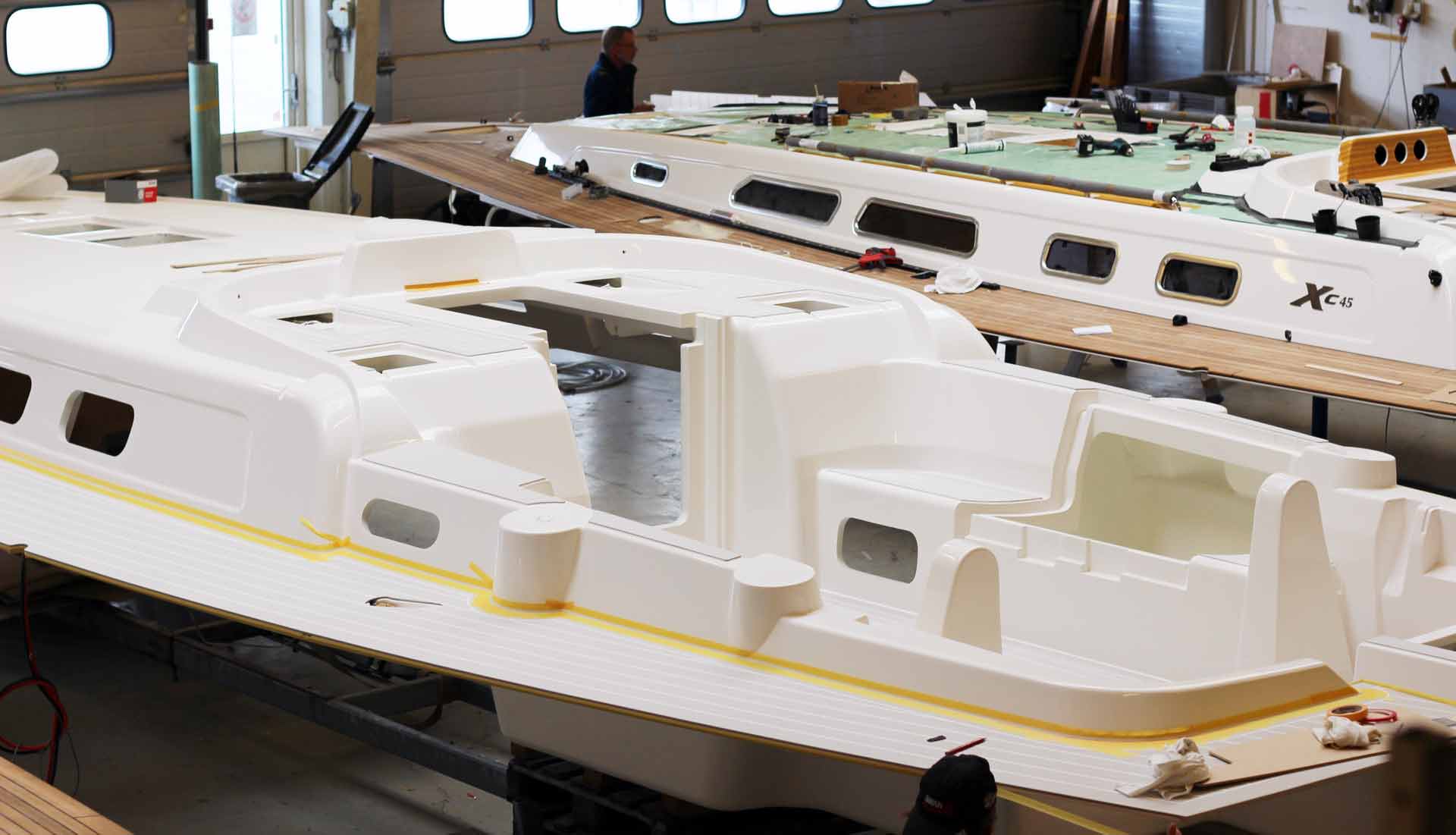 "I know that other brands sell their yachts for half of our price. I know that." He is referring to the big brands like Bavaria, Beneteau or Hanse: "But you know what? They put out a hull within three days. It´s not good. This is my firm belief. These hulls are soft compared to ours. Of course, they offer a lot of space but they won´t perform well." He also refers to the built in equipment: With X-Yachts the stable, lighter and yet better performing rod rigging is a standard commodity, just as Anderson Winches of Veijle not too far away from Haderslev, a well known brand with which X-Yachts has a long standing tradition of outfitting the boats are working together for new developments. "An X-Yacht features an holistic approach to sailing – to superior sailing", Flemming concludes our wonderful forenoon.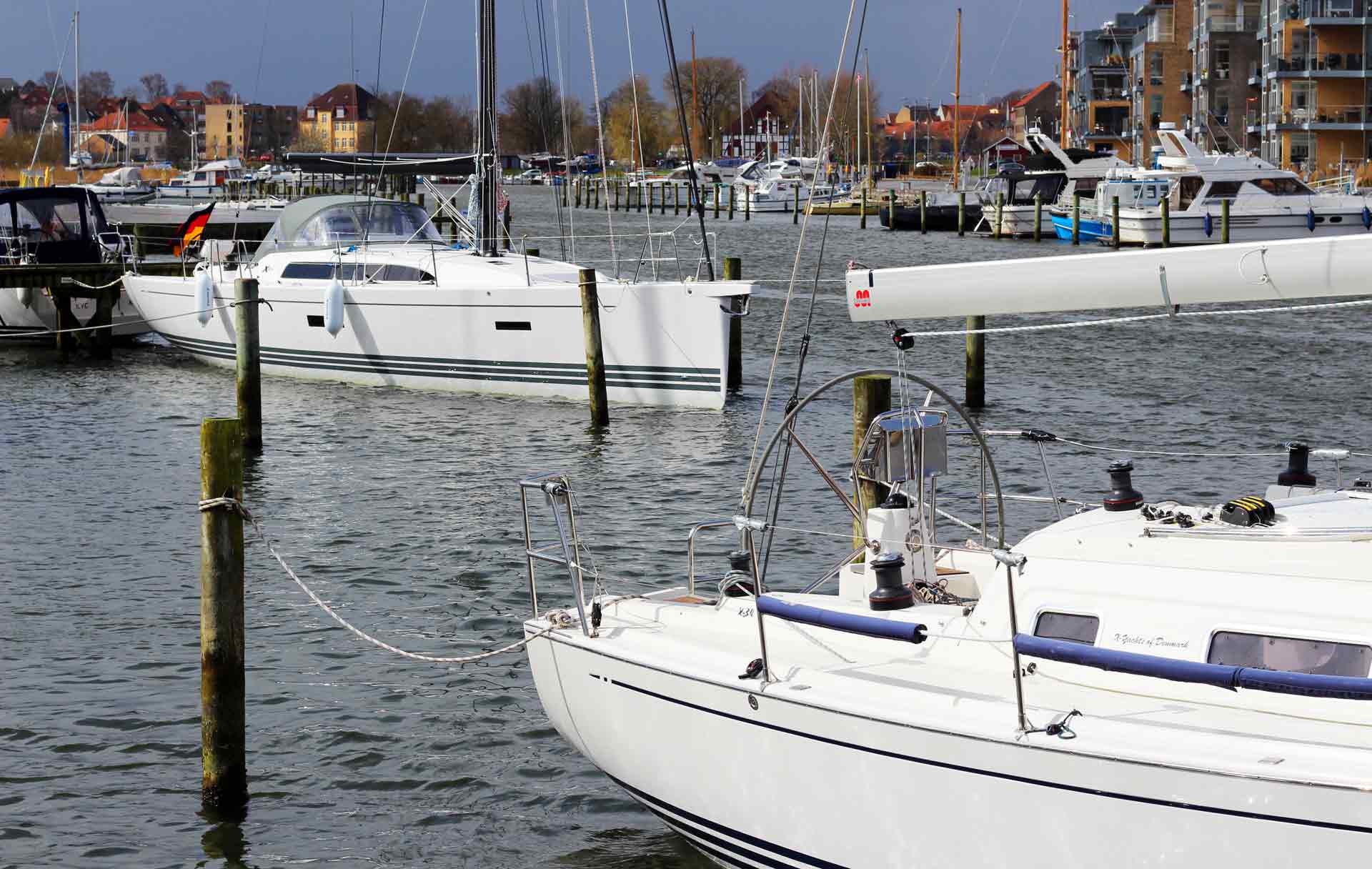 As I am saying goodbye to Flemming I cannot really leave the compound. Too much do I feel drawn to these wonderful boats: I really like X-Yachts for their understating design yet their clean, very distinct lines. The white hulls, black carbon masts, low freeboards promise the hell of a ride. As I am strolling the company´s own small marina where the boats are finally outfitted for the handover to their new owners, it´s again the Xp 44 I am admiring most.
With a sigh I leave take with me the memories of a perfect day here at Haderslev, the hospitality and openness of Flemming and thus being filled with enthusiasm and joy, even though I presumably am never going to own one, it´s still a pleasure to dream …
I look forward to the coming season and hopefully a chance to see the X4 floating – if not so, then at the latest during the upcoming Hanseboot-fair here in Hamburg, where I had last year admired X-Yachts as well.
Thanks Flemming Ancher for taking me around & Greetings to Haderslev.