I´ve had the pleasure to moor at Cuxhaven Marina for two days and spend one night as we´ve had our great 3-day-cruise with the fast Pogo 40 racing yacht ending here. Cuxhaven is the first – or last – chance to have a perfect berth when leaving mighty River Elbe into the North Sea or upon arriving to a trip upriver to the City of Hamburg.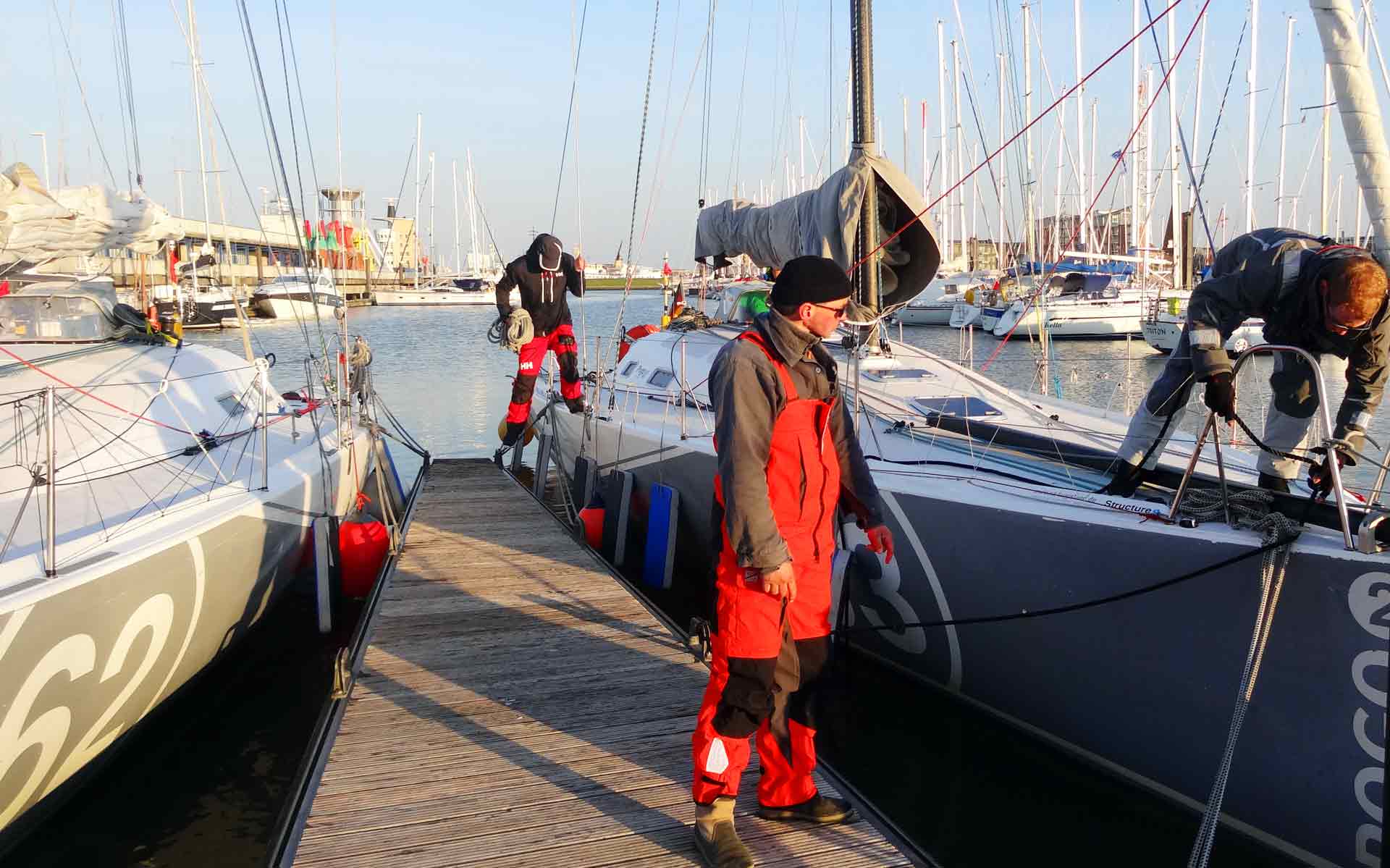 Elbe is a big tidal water with currents of up to 4 knots – making it virtually impossible to run against the tide. Mooring in Cuxhaven is a convenient way of avoiding wasting precious Diesel fuel and the necessity to tack or gybe indefinitely when trying to sail against the current. Knowing that, this marina traditionally has a lot of guest berths to offer and chances to catch a free mooring at pier side are good.
How to sail to Cuxhaven SVC Marina
Upon entering Elbe River you will catch first sight of Cuxhaven on starboard side. The city has some 50.000 inhabitants and is thus a smaller town compared to Hamburg, second largest city of Germany with some 1.8 million. Hamburg is 50 further miles upriver – a leg which could be made when riding on the flood wave with going full throttle (as you may read here).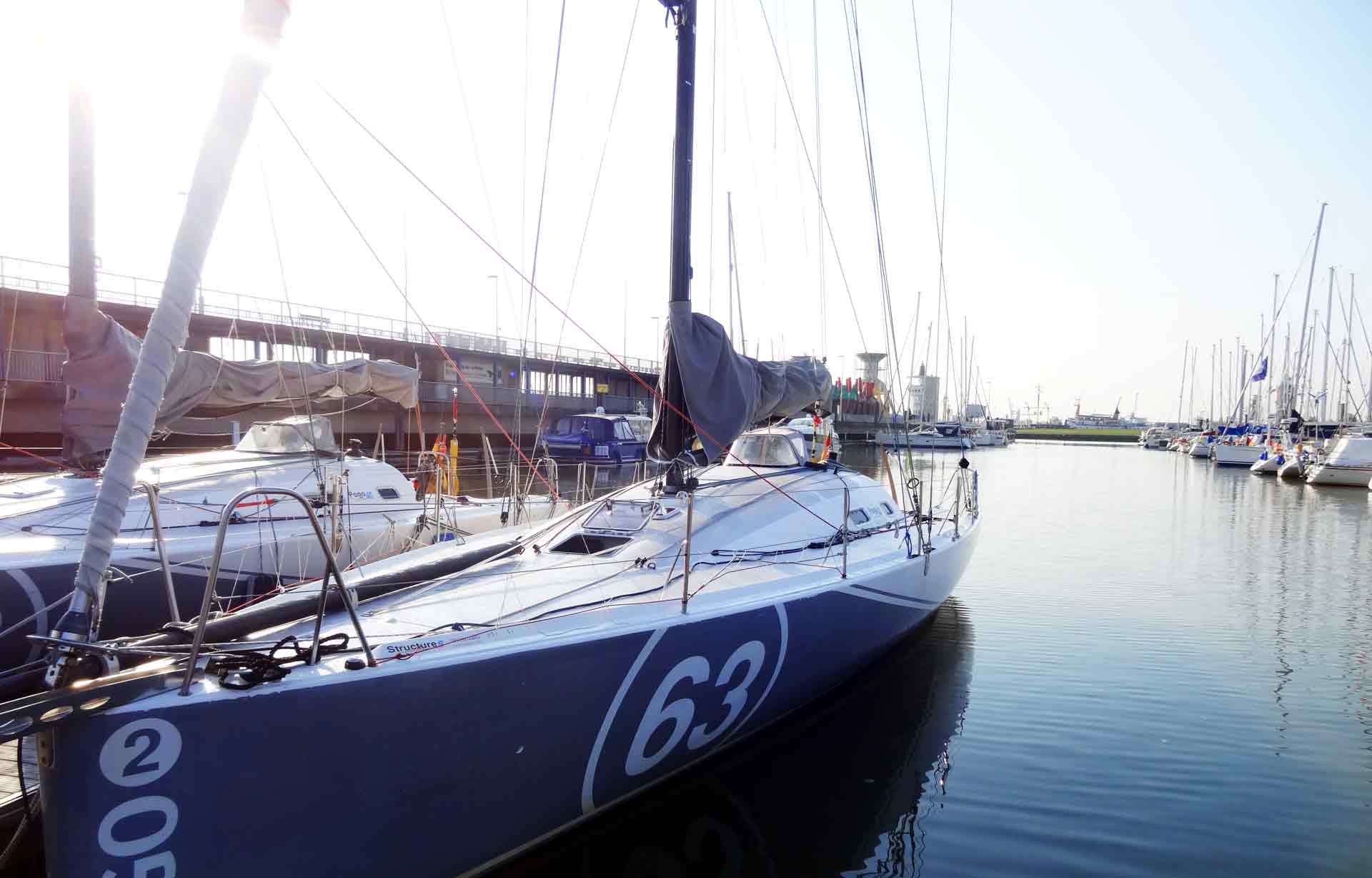 Entering the marina is a no brainer as long as you time your arrival exactly when tide is changing. If not – and this applies to all Elbe and Weser-ports – you should be aware of the strong currents making it necessary to aiming right and being especially cautious upon entering the harbor-area. Good seamanship has it to have a signaling horn at hand because there´s poor sight on possible opposing traffic when entering or leaving the marina: There´s very little space for dangerous maneuvers.
Mooring in Cuxhaven SVC Marina
Once inside the 250 to 150 meters compound you´ll notice an emergency anchorage which must be kept unoccupied at all times as it is strictly reserved for vessels in distress. When arriving and not having an assigned berth yet it´s customary to seek a free berth along the pier – visible by a small green plate – or to go alongside the pier at the right hand side, directly at the flood-wall. Land your boat and have it secured, proceed to the harbor master and ask for a free berth though it is advised to have this contact be made prior arrival via radio, cell phone or internet connection.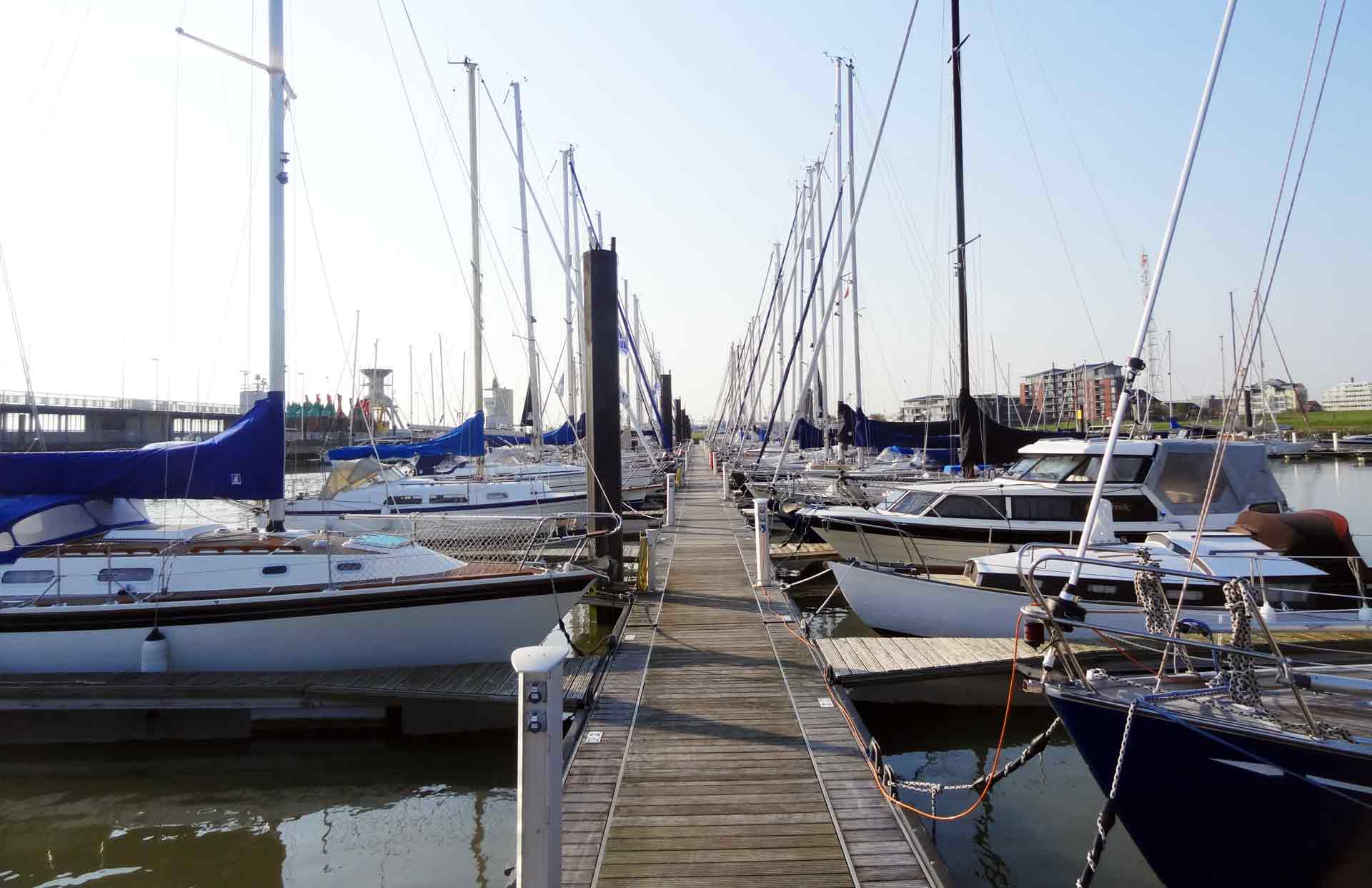 The stays are in perfect shape and seem to have been refurbished or newly installed just a few years ago. Mooring a yacht will be done by having the ropes running through steel-bows rather than traditionally landing on ordinary dog irons. Fresh water and electric energy is taken over from terminals which are mounted in sufficient quantity and within comfortable reach from each and every berth. Be reminded that Elbe is a tidal water so expect some movements of the floating piers and your ship as well – to absorb the swell rubber-made springs for your mooring lines of good use here.
Demurrage in Cuxhaven SVC Harbor
As we have been arriving in a 40 feet yacht, we´ve had to pay 20 € which isn´t overpriced I would say – I consider one Euro per meter length as reasonable if facilities and services of the marina are worth it. And it definitely is here. But in this price electricity and fresh water is included.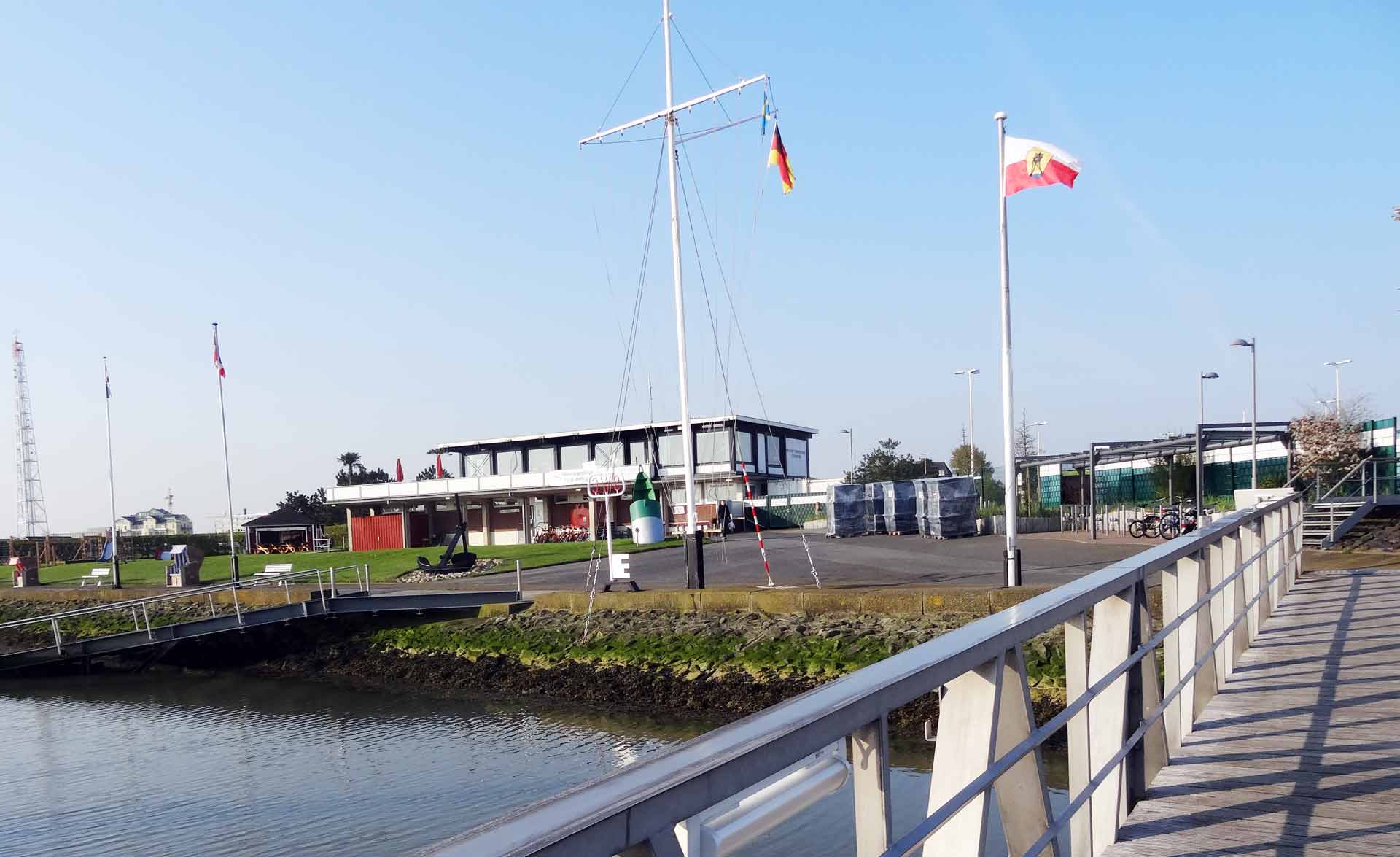 For the facilitation of bathroom facilities you might buy a pre-paid card at the harbor master. This card opens doors to the bathroom-area (using the toilets is free, of course) and will start showers, washing machines and dryers. 4 minutes of showering is 1 Euro. A fair price. When leaving Cuxhaven Marina you´ll of course get back unused credit.
Bathroom Facilities
Having some private minutes and relax whilst having a dump is a must for me, especially after a long trip in a confined space with many people such as the yacht. So the lavatory is of utter interest. Here Cuxhaven is precious. The toilets are clean, seem almost brand new and sitting there and doing private stuff though in a public space does feel comfortable and a kind of intimate as well. This is a definite plus and I was really pleased seeing the whole area maintained this perfect.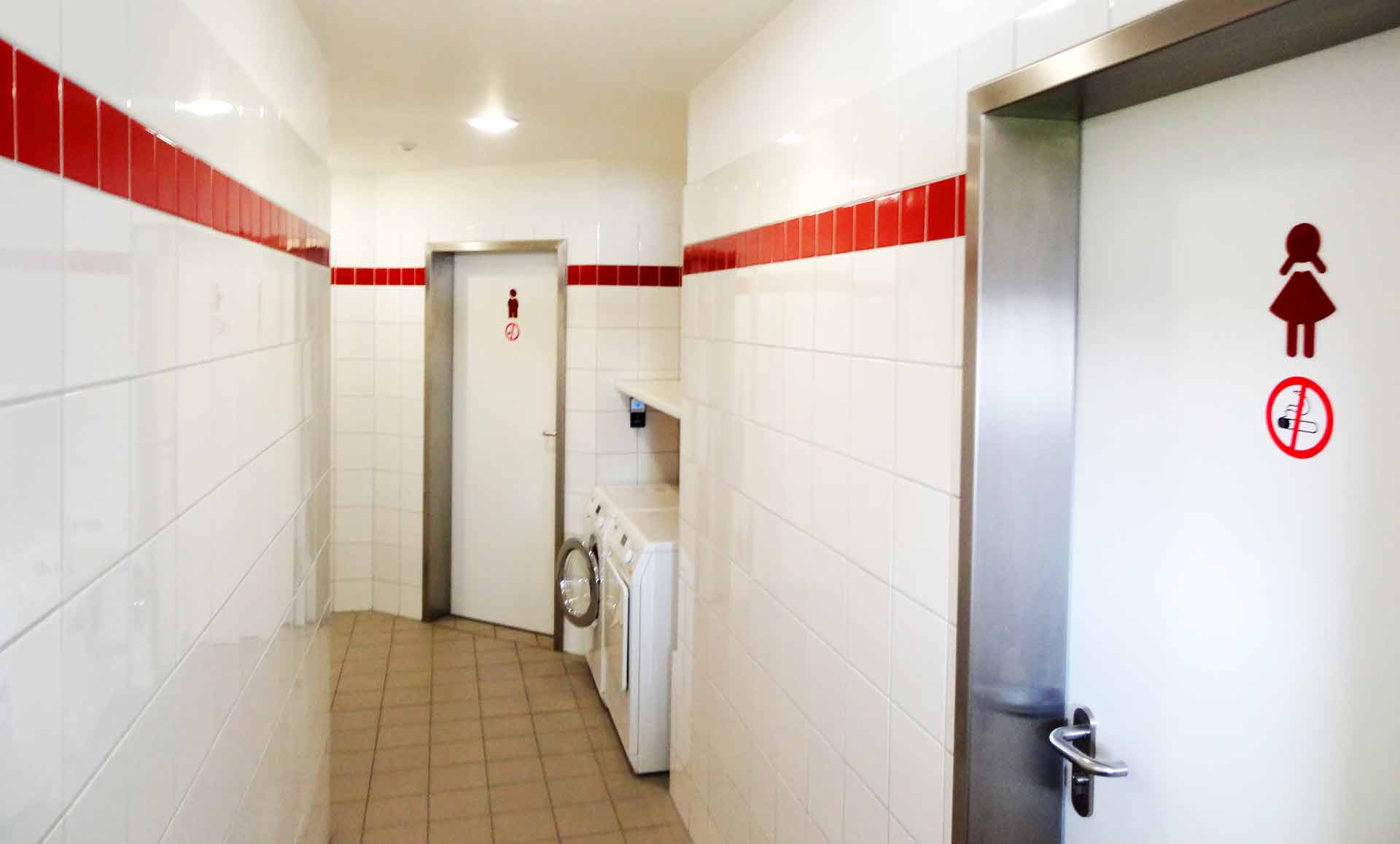 Same goes for the showers. Tough it´s a bit annoying having to re-start the water falling every 5 seconds or so it does makes sense from an environmental point of view because one cannot have a hot shower forever dreaming away under a hot and steaming waterfall. The shower cabins are roomy, there´s plenty of space to get clothing changed without getting bloody elbows. Another great plus.
Eating and Resting One´s Oars
The Cuxhaven SVC Marina is owned by and home to the sailors of the local Seglervereinigung Cuxhaven e.V. Sailing Club. So everything done here is done with heart and soul – the marina is not primarily a business venture but a club home and sincere project of real skippers. This might explain the perfect condition of all facilities here as real sailors know what real sailors need rather than having a business man just fulfilling a business plan. Best seen in the two story club home which also houses a restaurant in the upper floor. I´ve forgotten to take pictures here but believe me, having a seat at one of the tables at the wide window front not only offers a marvelous view over the whole area but the interior breathes sailing in every inch of the walls. You simply find yourself welcome and at home here.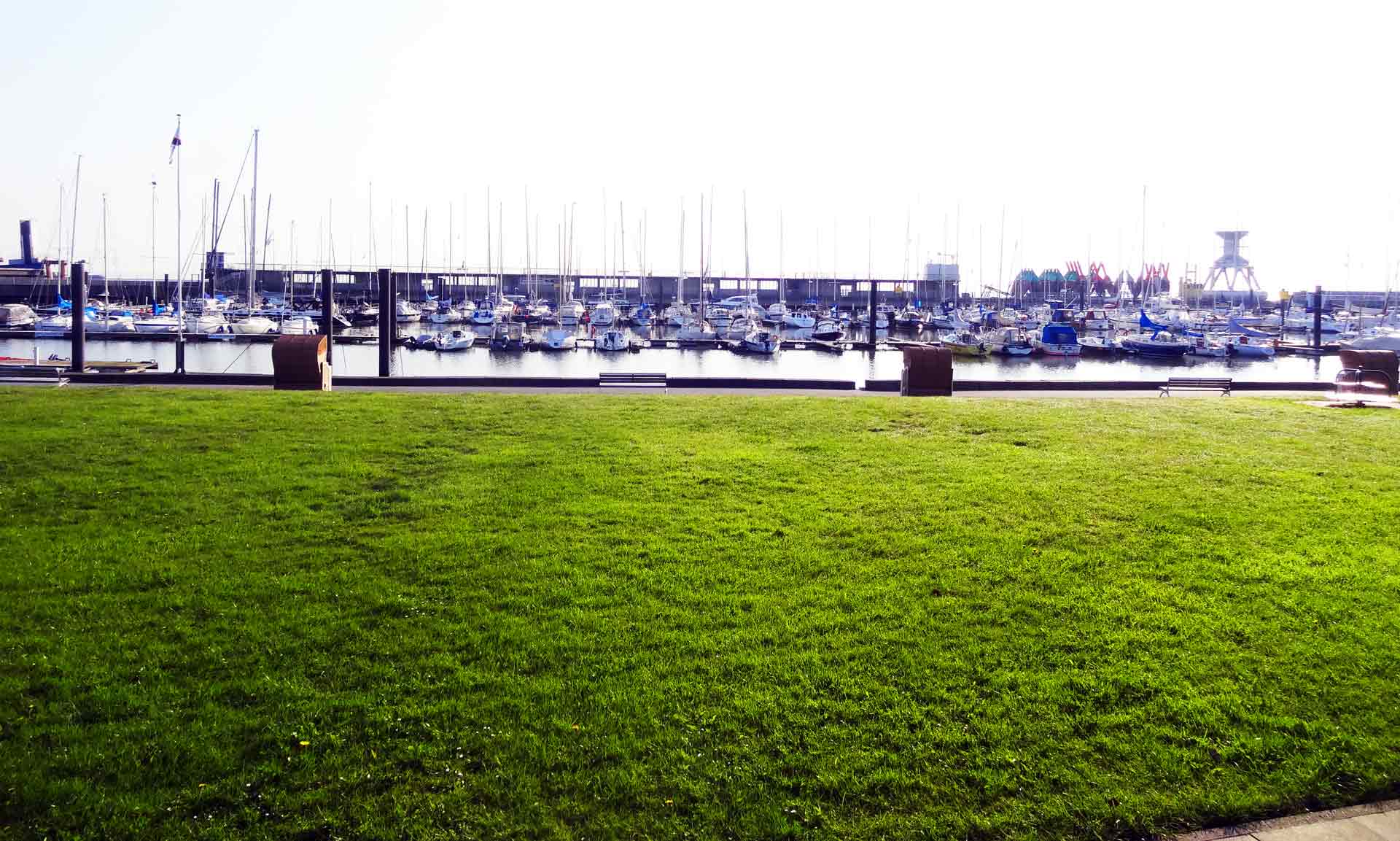 You can have full meals here at the club restaurant – though one might not expect haute cuisine. It´s plenty and affordable as tastes all fine, down-home, simple dishes from fried fish, Schnitzel and fries to Curry Bratwurst or rissole. A variety of beers is also offered along with plenty of local brands of Schnaps. You can leave the marina area and go into town but don´t expect Cuxhaven to be a town worth a visit: Compared to Bremen, Hamburg or even Bremerhaven this city simply cannot compare. Though I guess most of the mooring guests here at the marina will stay just for one day to hop on the next tidal wave to either ride upriver to Hamburg, reach for Brunsbüttel to enter Kiel Canal or to leave Elbe estuary for the North Sea.
Cuxhaven SVC Marina: My Overall Assessment
Landing at Cuxhaven SVC Marina is a pleasure. You´ll find everything you need here, facilities are in best shape and hospitality factor is high due to the nice people running this place. Prices are fair and one doesn´t really have to leave the area unless one has to go shopping to replenish food – which can be a long way to the next supermarket. I really enjoyed being here and will definitely return to Cuxhaven Marina to have a rest until the next tidal wave.
All in all: 9 of 10 points
 Link to the Marina Website here