Some 76.000 people came and visited the Hanseboot fair last year – less than in previous times, but given the current economic crisis (or let´s call it "difficulties") the exhibitors have been fairly satisfied with 2014. I was keen on seeing how this year – despite a not very much more positive outlook – the fair would present itself. Through there aren´t any numbers available yet, my first impression after having visited the Hanseboot twice on the first day and during a normal workday: There are a lot of people strolling around here.
And I can sum it up: I´ve had a lot of fun.
Hanseboot Hamburg 2015 – a week of maritime dreaming.
What can you expect to see? Well, it´s the whole line-up of all maritime stuff imaginable. From Equipment and parts such as safety-equipment, of which I´ve had the opportunity to live-test a life-vest (which can be read here) to ropes, parts, winches, lighting and all kind of fittings for your boat; from yacht care-products (wood, GRP, leather, screws, engines etc.) to boat refit-products – which was of special interest in my eyes, since I am in in the midst of refurbishing my own yacht (which can be read here)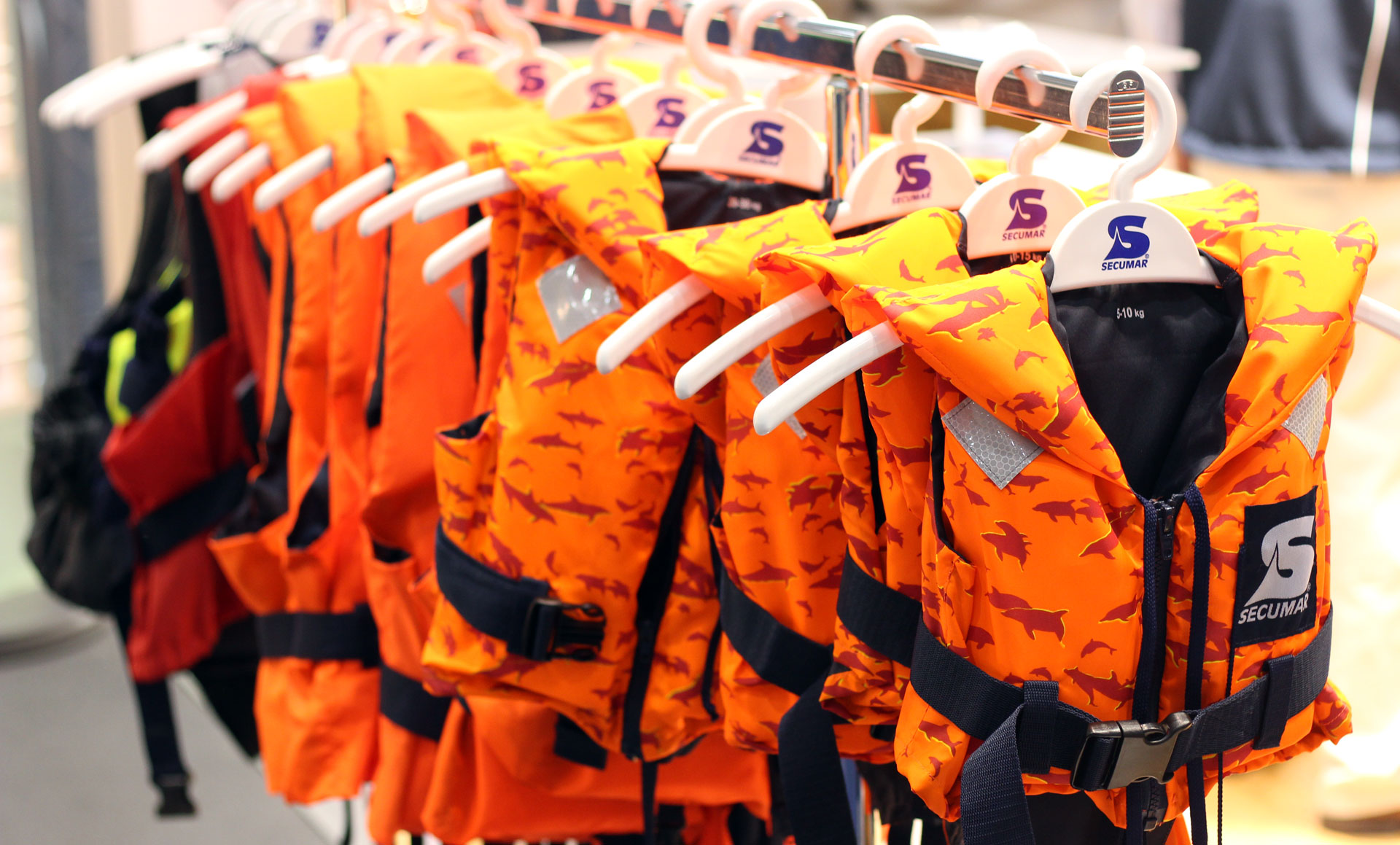 All kinds if not a hundred smaller firms and brands had two or three of the halls filled with smaller booths, reminding me of an Istanbul´s suk but I guess that´s common with every fair. I found it particularly interesting to take a closer look at the stands where products for refitting were shown off. I visited about three different brands offering Teak-deck imitation, keeping in mind that the prices even for synthetic (and more durable) deck-plating starts off at some 280 Euros per squaremeter, making that milestone a major one of my project in financial terms.
The bigger corporations were interesting as well. Volvo Penta and Yanmar had their latest engines at display, reminding me of my MD2010 – cleaning and overhauling the whole engine-compartment of my own yacht is an upcoming feature I am not particularly keen on. Further on, all the different sailmakers occupied one half of a hall alone where I could let go my mind and imagine myself under full sail set on the Baltic, course set to Gotland … lucky enough, "my" own sailmaker, the brand Co-Segel of Kappeln/Schlei was a bright spot bringing a smile to my lips.
Sad to see and an abrupt downer was the display of a real refugee-boat. The huge rubber-dinghy of some 20 meters length has been rescued off the Libyan coast with 120 people on board. A grim picture, seeing that life raft, still left over clothing on board, next to the shiny glamourous world of yachting. For some moments I held on, thinking of how lucky we are and of the nothingness of my "problems" concerning their.
Yachts, yachts, yachts …
It´s a huge contrast, but passing the life-raft onto the next hall, the fantastic world of sailing yachts opened up before my eyes. Here I spent hours in roaming about, strolling between the shiny new hulls, inspecting rudders, saildrives and the different forms of keels.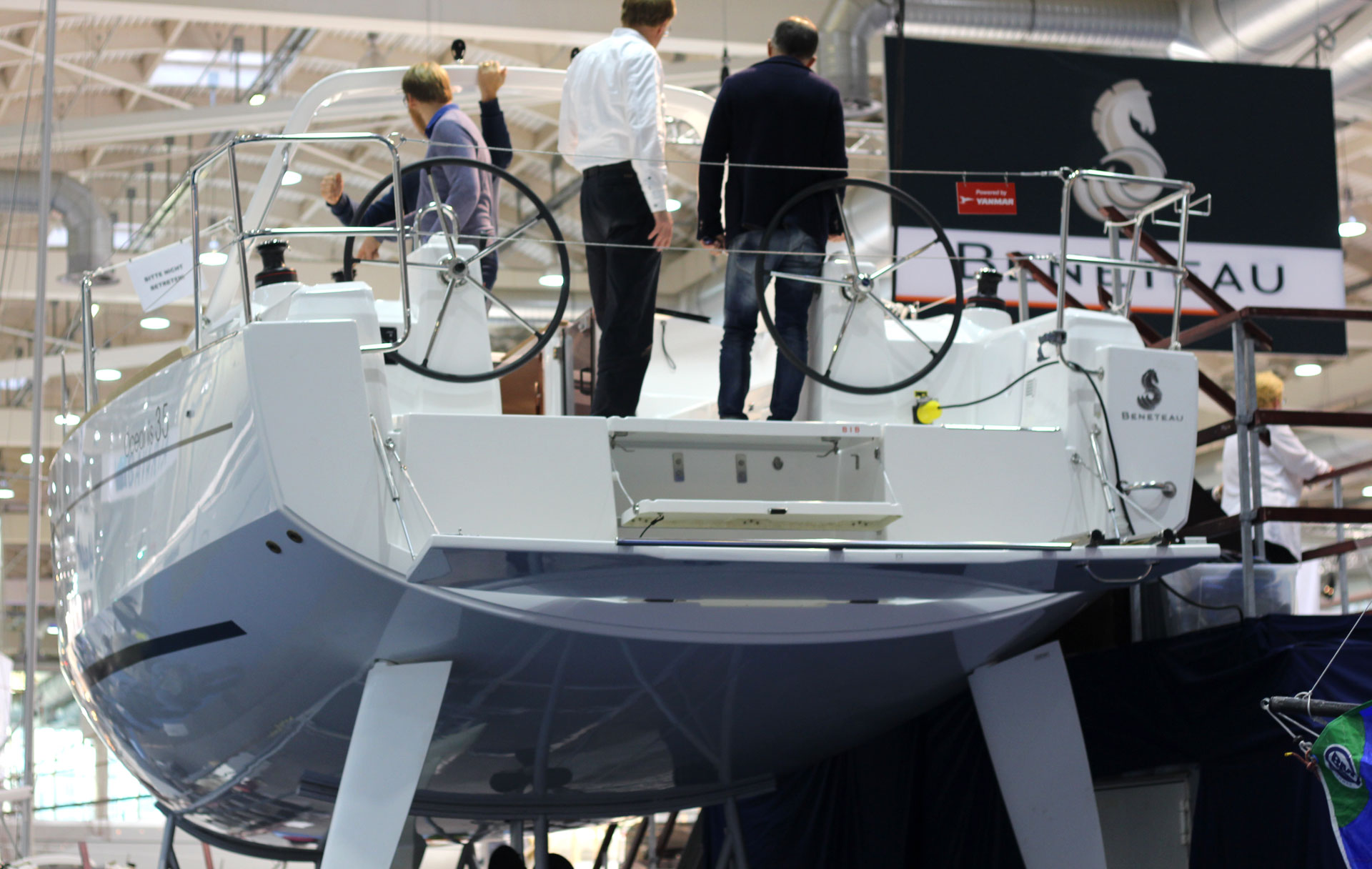 More than two handfuls of big European brands in yachting presented their ships and I was sure to find "my" perfect boat here as well. As expected, the big German shipyards like Dehler, Hanse and Bavaria had the biggest stands with up to five ships at display. But I was astonished seeing other brands – though with less boats – attending the fair as well. A good chance to have the boats directly side by side to spot the outward and interior differences. A task that takes time, explaining why I returned to the fair two times.
Focus point of this year´s Hanseboot, like last year, has been the motor-boat. They told me, that´s the section with significant growth all over the industry, but I ignored this hall since I´m a sail-guy. Although motor-boat sales are growing, the sailing-boat hall was nearly as crowded and people from all ages and classes seemed to enjoy the looks at the ships.
Little big boat: World premiere of the Bente 24
When talking of trends, some people I spoke to stated that there was another big trend noticeable since one or two years: Sailors seem to buy increasingly smaller boats. Vessels of 18 to 29 feet seem to be on the frontline of sales. But why is that? "Well, if you just want to leave the harbour spontaneously for a quick afternoon´s sailing ride, it´s easier and far more convenient to have a small boat like this Varianta 18," said one of the guys: "Bringing this little kicker to sea, sailing it short-handed and having a lot of fun is much more easier than casting off with a 37 or 44 feet boat." Sounds logical. Small boats? There´s one project in this category having made a lot of upstirr recently – the Bente 24 daysailer.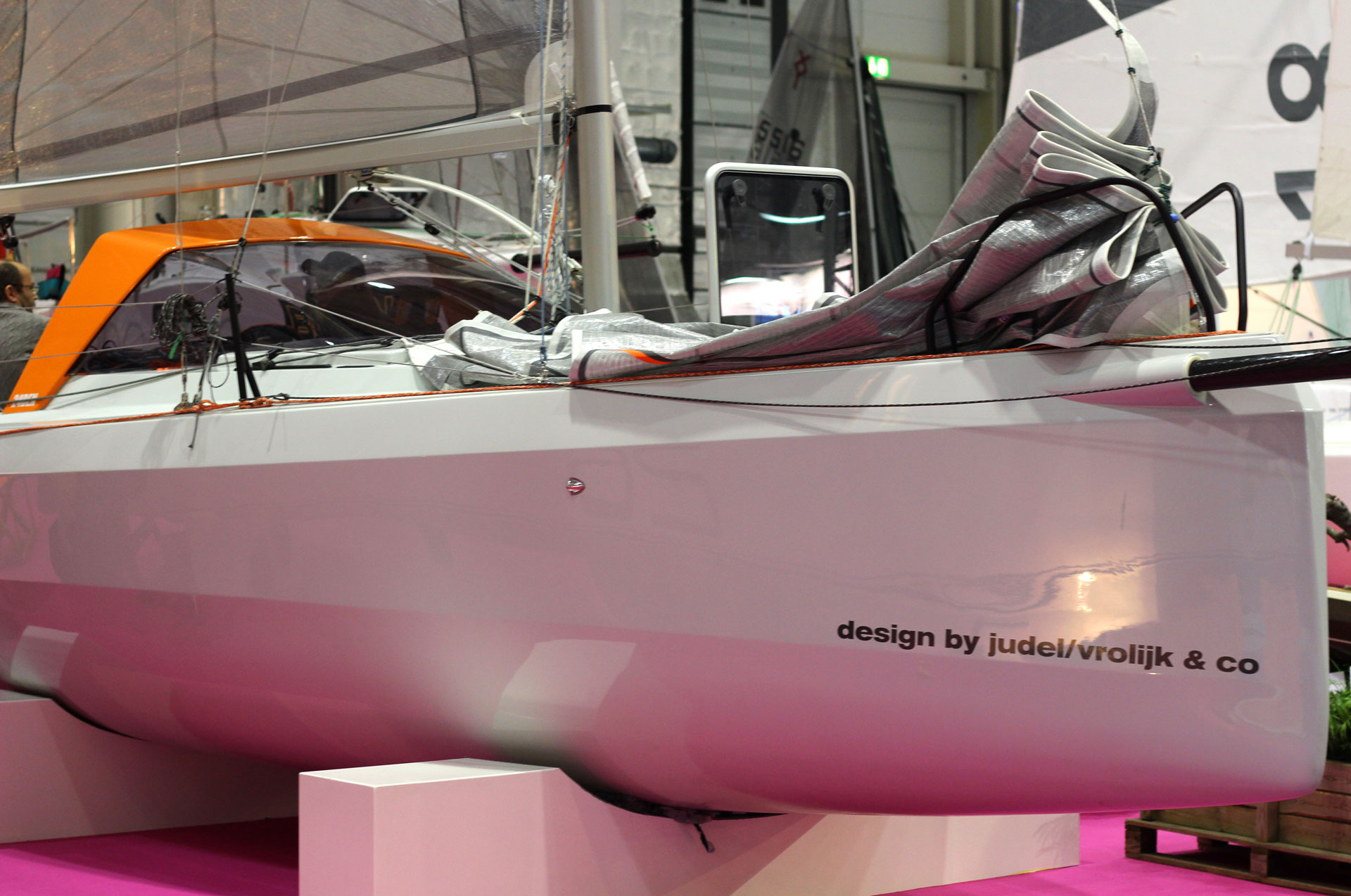 This grey-orange hull in the "small sailing vessels"-corner seemed to raise particular interest with the people: The all-new Bente 24. Her makers, the University of Applied Sciences Hannover and two guys – one of which is the author of the famous book "Digger Hamburg" – a Baltic sailing adventure on an 18 feet-small cruiser – wanted to make a simple, stylish, modern and affordable daysailer with no frills attached. This is why I like this project. The all world-famous design bureau Judel & Vrolijk joined and after about one and a half years the prototype has been tested and the ship is ready for orders.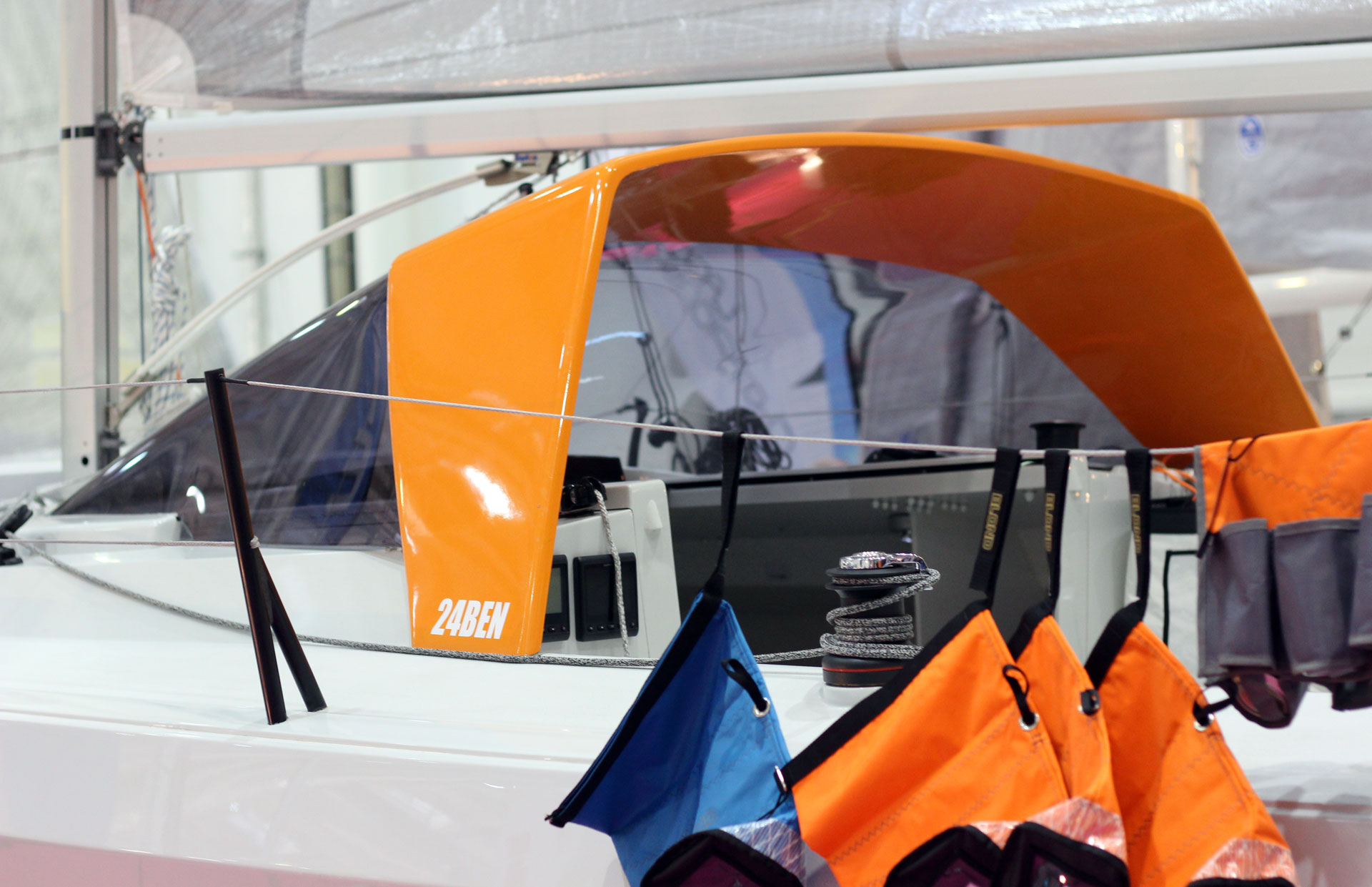 Although I really admire her concept and the story behind her, I must admit, it´s not my kind of appearance. I´m fond of classic lines and though I have nothing against the usage of high-tech material like carbon-fibre or synthetic stuff, the overall plastic look of the boat is something that needs getting used to. Strolling around the boat I noticed the relaxed people of the Bente 24-project, drinking Flensburger Pils beer and loosely chatting with visitors. Something that really impressed me and underlined the unpretentious, very sympathetic style of the whole project: Seeing all the other stands later, their personnel had tuxedos and uniforms and clean sparkling water at hand …
Old bull Dehler Yachts
Dehler was highly visible, using the most light-effects (instead of Bavaria, where most of the flags were (not) waving in the wind) and having booked the most central stand of them all. They did have four boats to be looked at, a complete range from the smallest to a world-premiere: The all-new Dehler 41.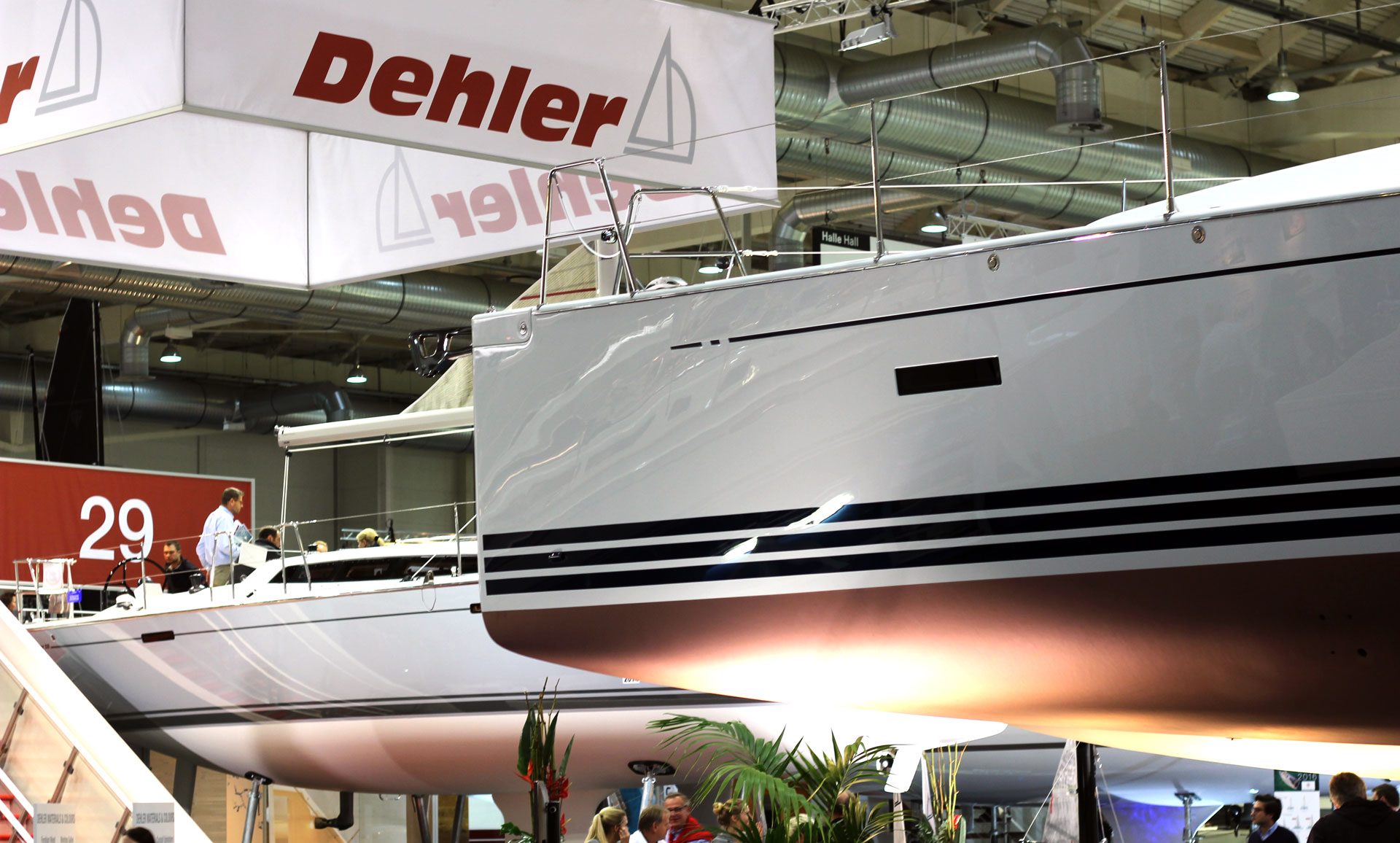 Leaving my Chucks outside I sneaked into the saloon for if was especially interested in seeing as much interiors as I can, regretting the fact that most of the brands didn´t like to have them photographed (which was okay at my second meeting when there was much less traffic around). The 41 feet cruiser was not the biggest Dehler to gaze at here at Hanseboot. But to say it frankly, it was the most beautiful one. The interior being spacious as expected, I particularly likeed the choice of colours: Darker wood met creamy leather cushion, rounded edges and functional solutions met an otherwise overall levelheaded interior design.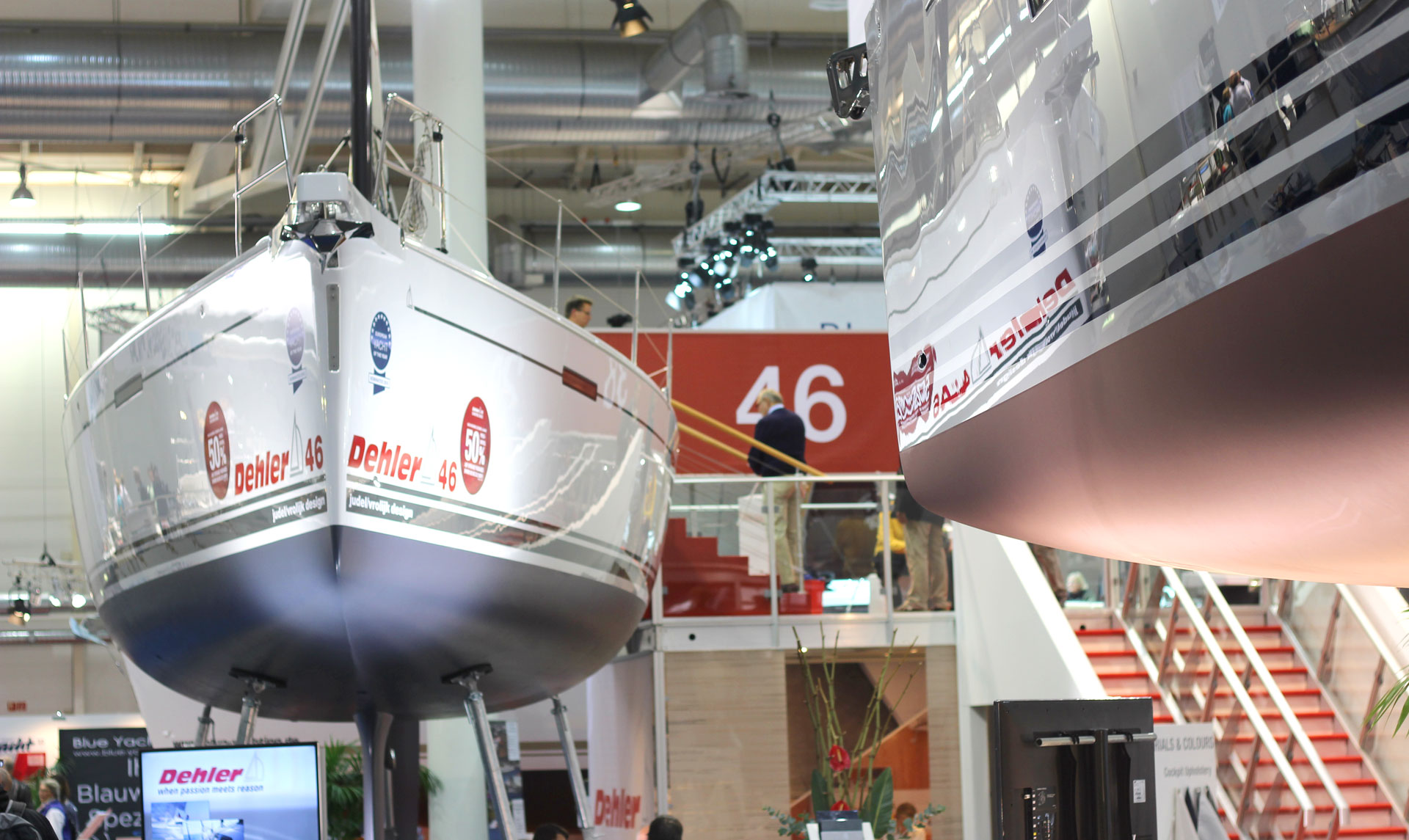 The other Dehlers haven´t made me clapping instantly though. Although I felt they had made the best possible out of the space available, I couldn´t get warm with the interior. Too sober. Too common sense and something was missing. Which of course was not limited to the shiny Dehler yachts alone …
The big hit: Hanse Yachts 315 and the Bavaria-stand.
Another long awaited premiere: The Hanse 315. A beginner´s boat, some 9.10 meters hull length the promise was nothing less than being "the one for all colours of life", as Hanse ads stating it. People seemed to be pulled by the boat (rather than by the much bigger sister ships) – which could have its explanation in the fickle coloured foiling covering the Hanse´s freeboard.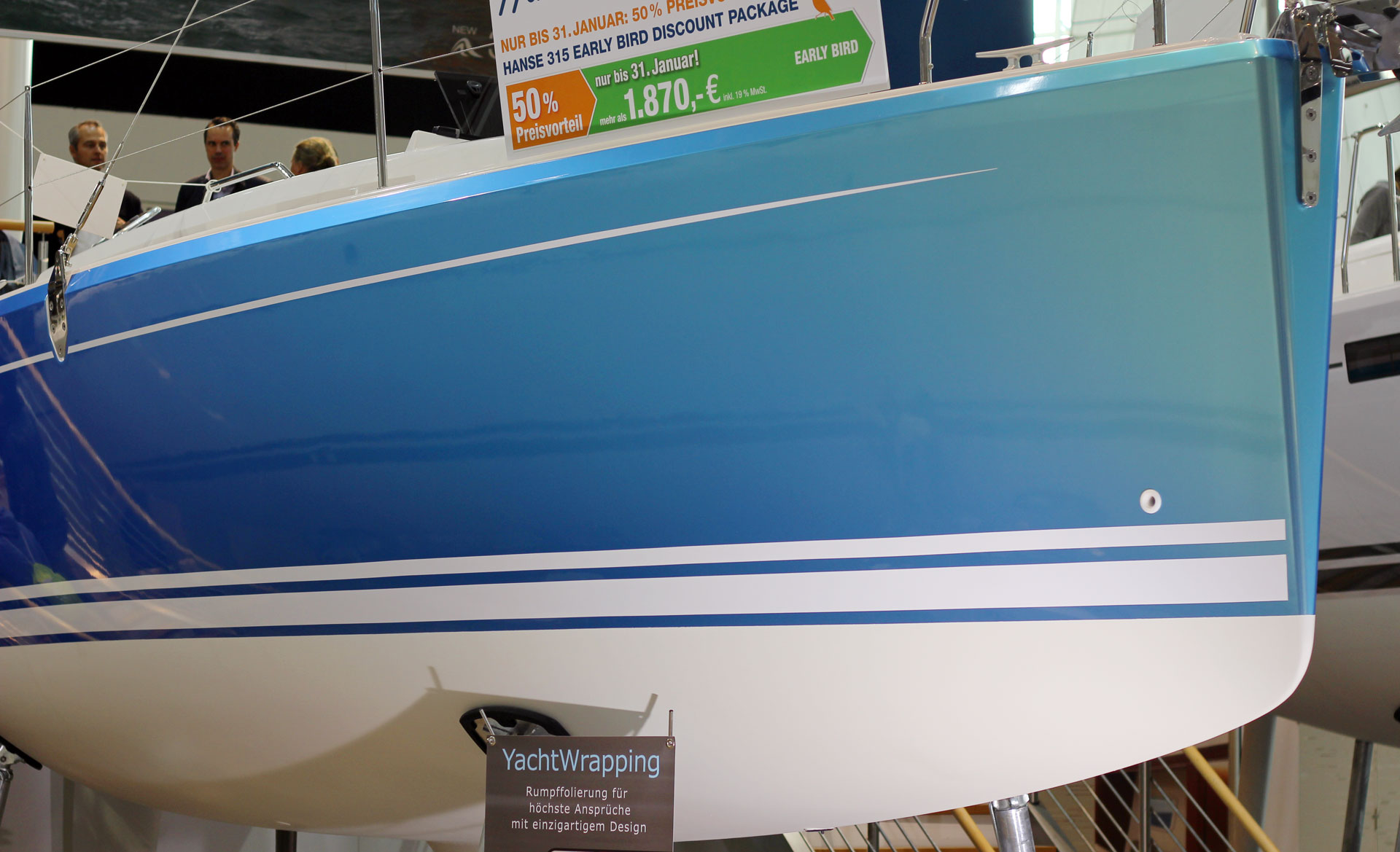 The changeable blue-tones impressed me for a minute, the interior layout was even more impressive. Although some 1.50 meters in shorter length but having 20 centimeters more beam the cabin was incredibly spacious. Which I find interesting: I was able to buy my King´s Cruiser (33 feet) because her pre-owner had found his modern day-made Jeanneau – despite being "only" 31 feet long – a lot more comfortable. Especially the wide aft-sections of today´s boats make possible roomy cabins in the after sections – a place where my classic cruiser can only offer a single squeezed in quarter berth.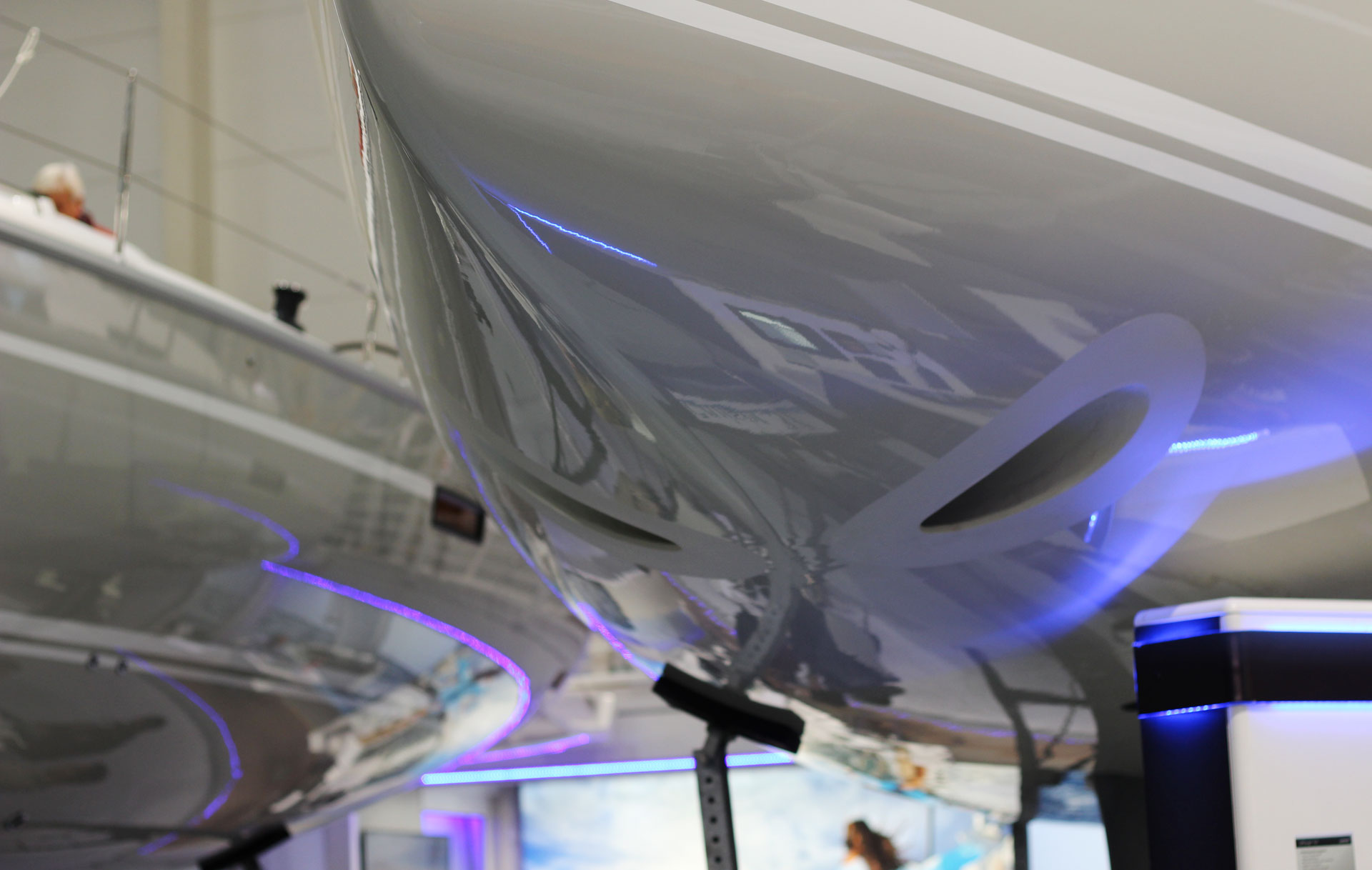 On the other hand, the interior – too – was more disappointing to me. Not only with Hanse 315, but with her bigger sisters, the 38 and 46 feet cruisers as well. As one of the visitors pointed out: "Is that a ship or an upper class wine shop?" I couldn´t spot any difference to the Dehlers and later to the Bavarias or Jeanneaus. Colours representing all shades of mud, there was virtually no application of the classic wood Teak with Dehlers, Bavarias and Hanses.
The same could be told about the Bavaria line-up of which I cannot say anything special. I found the boats nice but also there had been no outstanding details not the great leap as I remember. A bit disappointing too, since Bavaria was the very first brand name I can remember being a small boy after 1989 seeing the "big" ships for the first time with my own eyes.
One hull made me gazing at right from the first moment I stepped into the hall: The Xp44 by X-Yachts.
X-Yachts of Denmark: Big love/big dream
The notorious Danish manufacturer of particularly fast yachts had four of their boats at display. I don´t know if it was the perspective or detail specifically it was that made me stand next to the 44 feet hull for minutes but as a matter of fact, the X catched my attention at great length.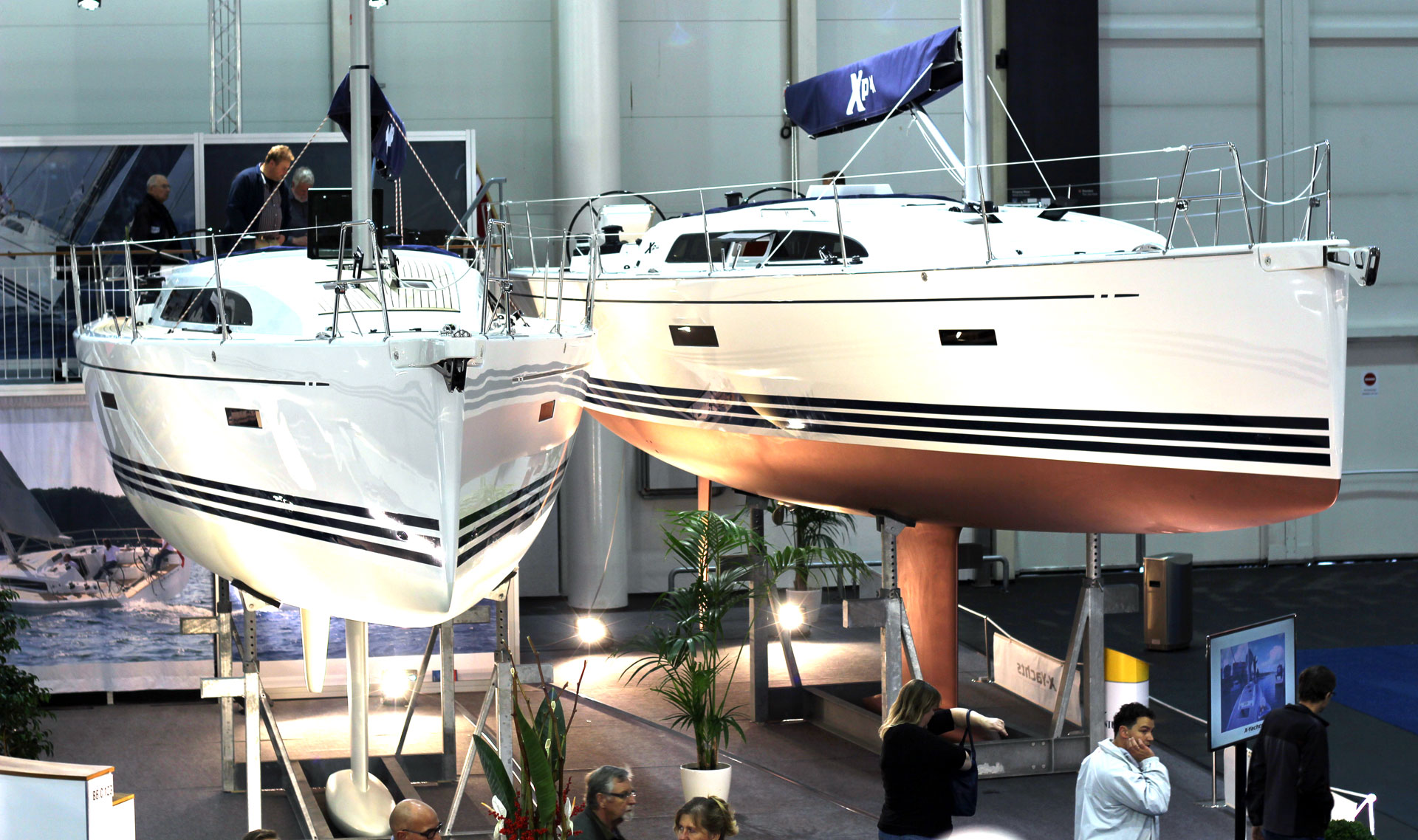 Even if it was affordable, the 44 feet-vessel is far too big for a family of 3 or four persons, but I took the chance and went onboard. The boat is huge. Her sheer space can be felt best when in the forecastle cabin, that simply is a palace. There is more than one meter of free space, two large cabinets to both sides, until the berth begins. Here inside Hugh Hefner would easily be able to celebrate one of his renowned parties. Sleeping here must be pure pleasure since above the heads are two big hatches, offering a splendid view to a night sky full of stars down in the Pacific.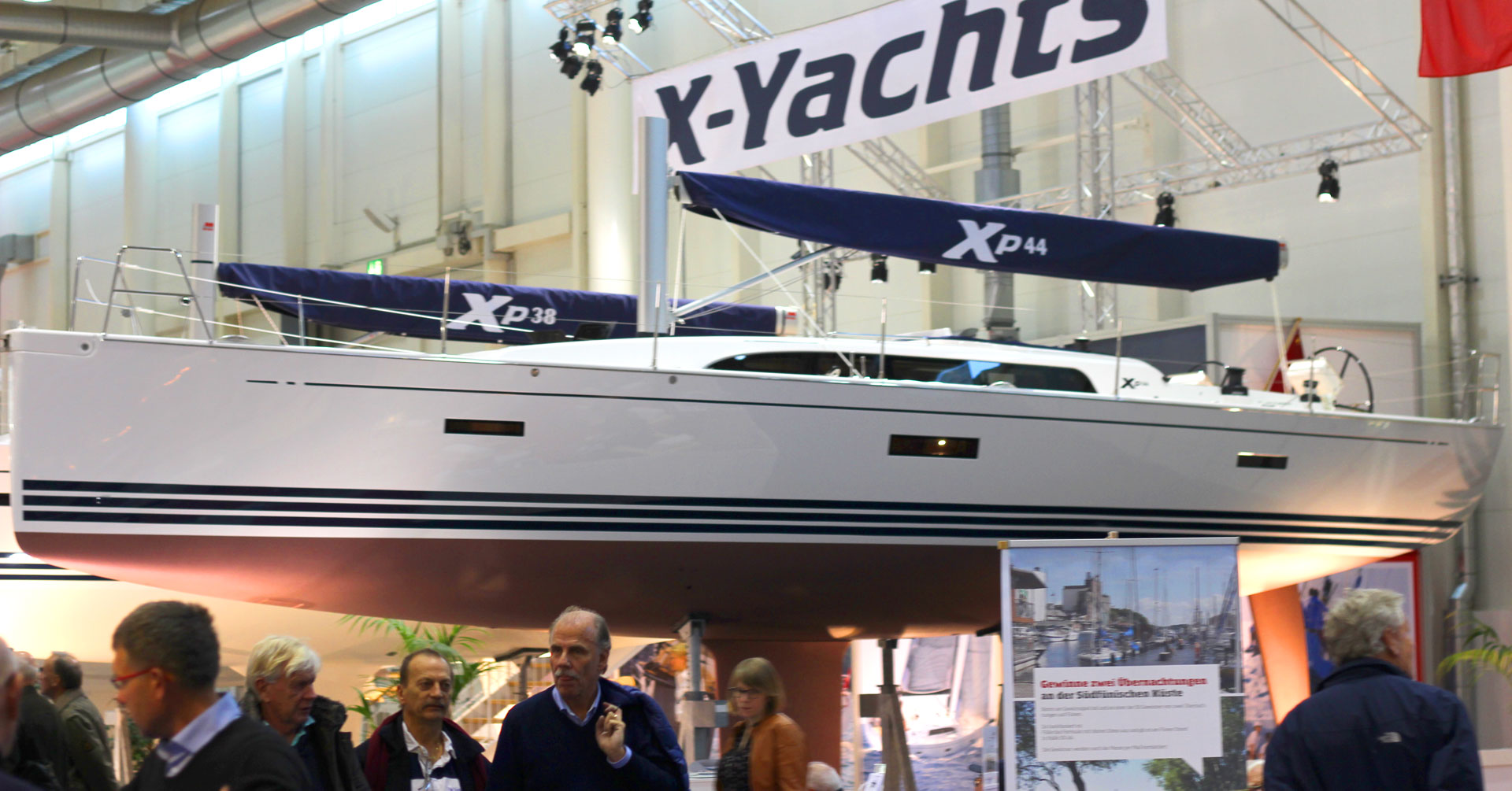 Speaking of the Pacific, the "p" in the X stands for "Performance", but still I couldn´t distinguish major differences from an interior-standpoint to a clearly fun-intended luxurious boat like the Dehler 46 in contrast. Reading more into the P-Series I learned that sailing-plan, rigging and some minor details to the C-Series (Cruising) characterize these boats. Then I went onto my favorite of them all: The Xp38.
38 feet, that´s overall 11.38 meters, 3.70 meters beam. Huge though even when directly compared to her bigger sister. I really loved the sleek hull, promising formidable sailing qualities and a spacious interior as well. Going below deck, I was astonished how much light there can be derived from only that few, slender portholes. I liked the clean look, very modern as well but lacking this awful "plastic"-character which I disliked on the Dehler and the Hanse yachts.
The Xp38 – unlike her cruiser-like sister ship Xc38 – has a carbon-fiber keel-base which makes the structure very strong but light. And expensive, of course. I switched from the "P" to "C"-boat to compare both yachts. The C-Version is some 10 centimeters wider, a feature you cannot see when under deck. The layout of the cabin is essentially the same, with the cruiser-version offering two more portholes in the freeboard, letting in more light and creating a more "open" feeling inside. The Performance-version looks more modern when both exterior appearances are compared.
Of course, the Xc38 is meant for cruising so she has bigger bunkers for both freshwater and Diesel but the big differences maybe only felt when under sail. Anyway, I fell in love with the X-Yacht products and couldn´t leave the vessels with ease. I remember one of my classmates when doing my Yachtmaster-class (which may be read here) who owns an X-Yachts by himself. He was full of good word about the ships, their unrivaled sailing performance and service by the corporates itself. I can imagine that …
That´s how I like it: A yacht by Comfortina.
Comfortina yachts came up every now and then when I was actively searching for a used yacht by myself some months ago. Despite the fact that they have been – even in used status – far too expensive for me, I´ve read only good things about those German made boats and I was really keen on seeing one of them in real life. And what can I say? This is a real ship!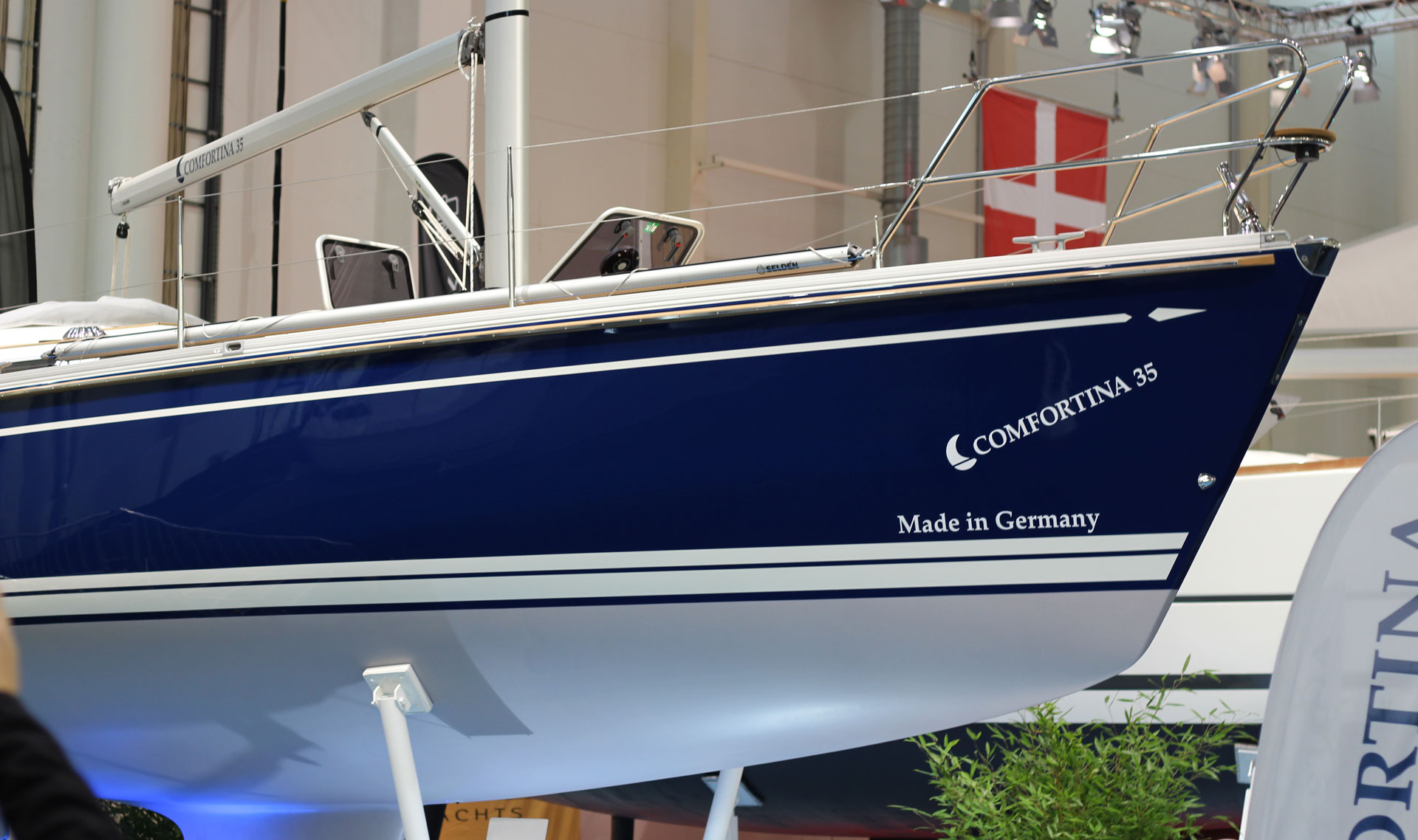 I wasn´t able to shoot any pics from the inside, but believe me, a Comfortina is what you´d expect to see down under deck when on board a ship. Not that IKEA-like industrial design modern kitchen look as seen in nearly all yachts here, but wood, more classic lines and … well, how to express that? Well, a ship. A ship with which I could imagine myself going round the world for many years, rather than enivisioning me and my family mooring somewhere at a French Riviera´s marina having a cold Hugo on the aft-deck. That´s a ship I believe can take me circumnavigate. From all interior I´ve seen, that was the one that came close to my ideal layout.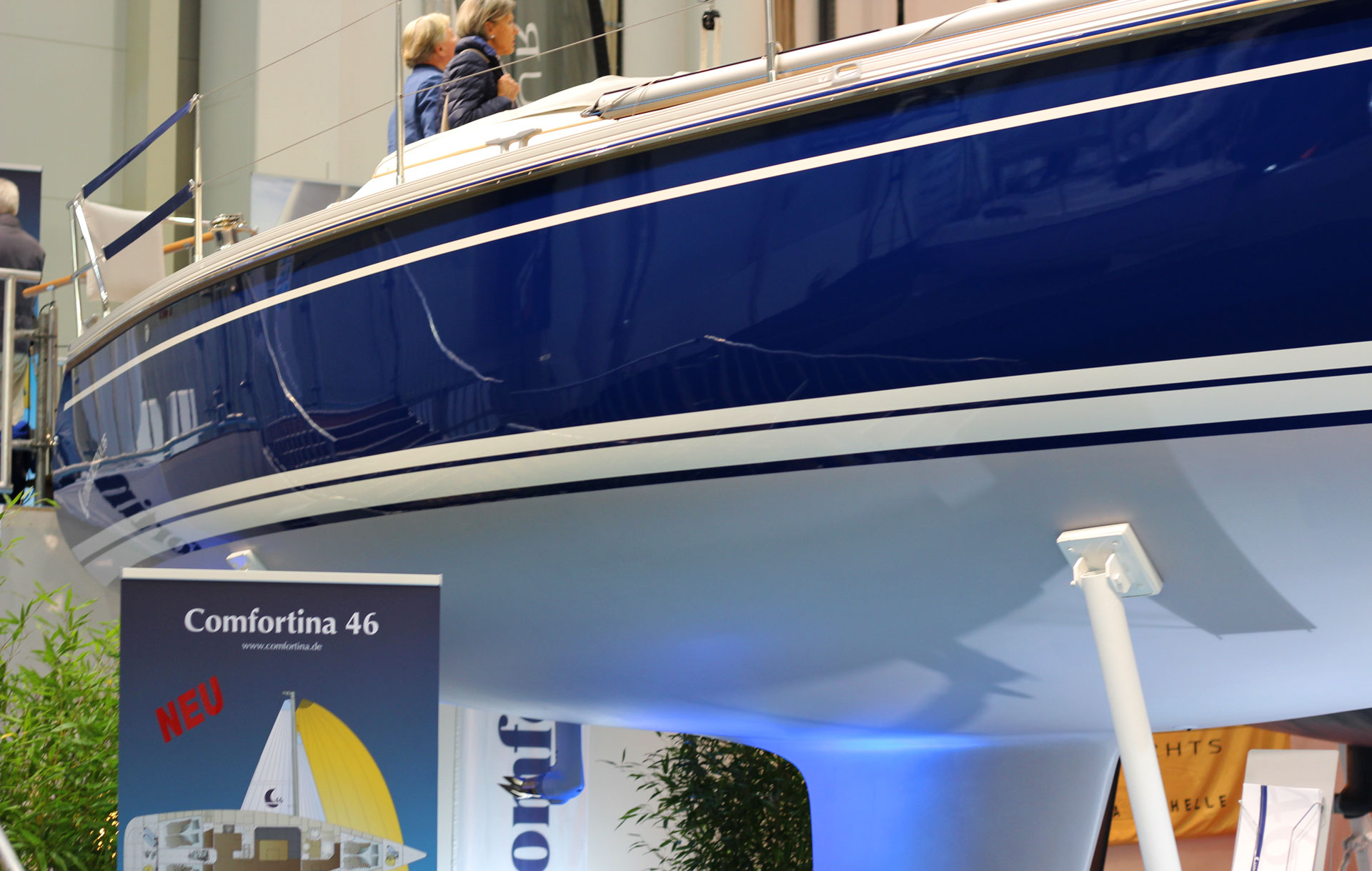 The 35 feet-version to be seen at the Hanseboot offered both a comfortable homestyle environment, maritime flavor, all kind of practical solutions and classic material, patterns and colours. Being varnished in blue, the hull´s statement was clearly different from that of the X-Yacht (Speed) or the Hanse (indulgence). Here we have her: A real ship. Fullstop.
Yacht interior design: Seeking inspiration for my own ship.
Having started working on my own yacht interior I was especially keen on experiencing today´s layouts, compartmentation, utilization of space, different materials, lighting and colours for inspiration. So visiting boats starting at 100.000 Euros going up as high as 540.000 € should offer plenty of different perspectives and prospects of how to do it by myself. I thought. But I was disappointed.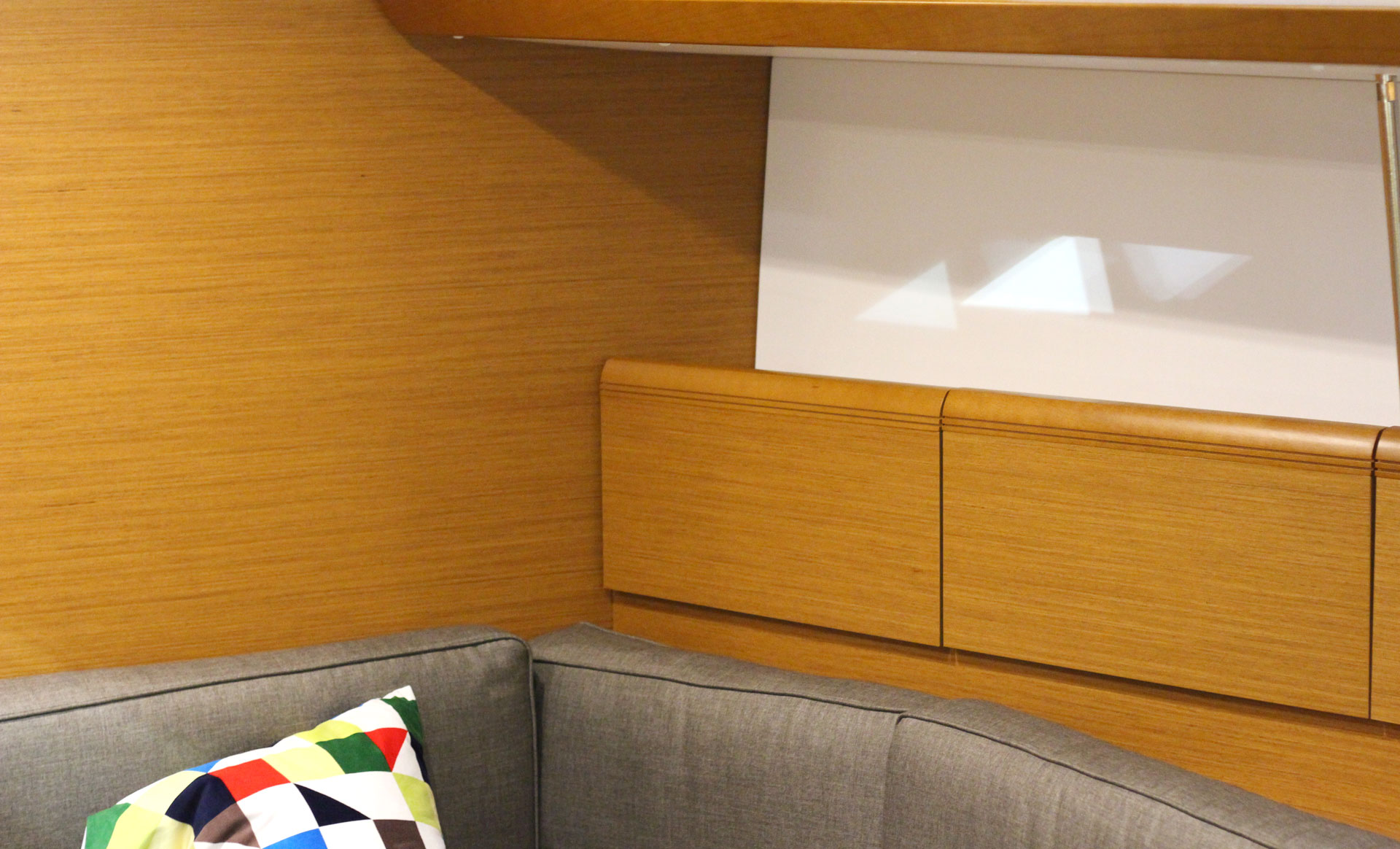 Most of the manufacturers in my eyes failed to draw a clear handwriting. Seeing my pictures taken onboard the boats I cannot distinguish any of the different brands anymore since … well, since they all really look the same! I noticed a strong trend towards lighter colours, both in the materials and varnishes and in the wooden panels as well. Virtually none of the "modern" brands had Teak down below, all of them used horizontal lines, clean patterns, even the old fashioned deckboards plating disappeared on so many boats, replaced by a clean look of simple wooden plates on the floor.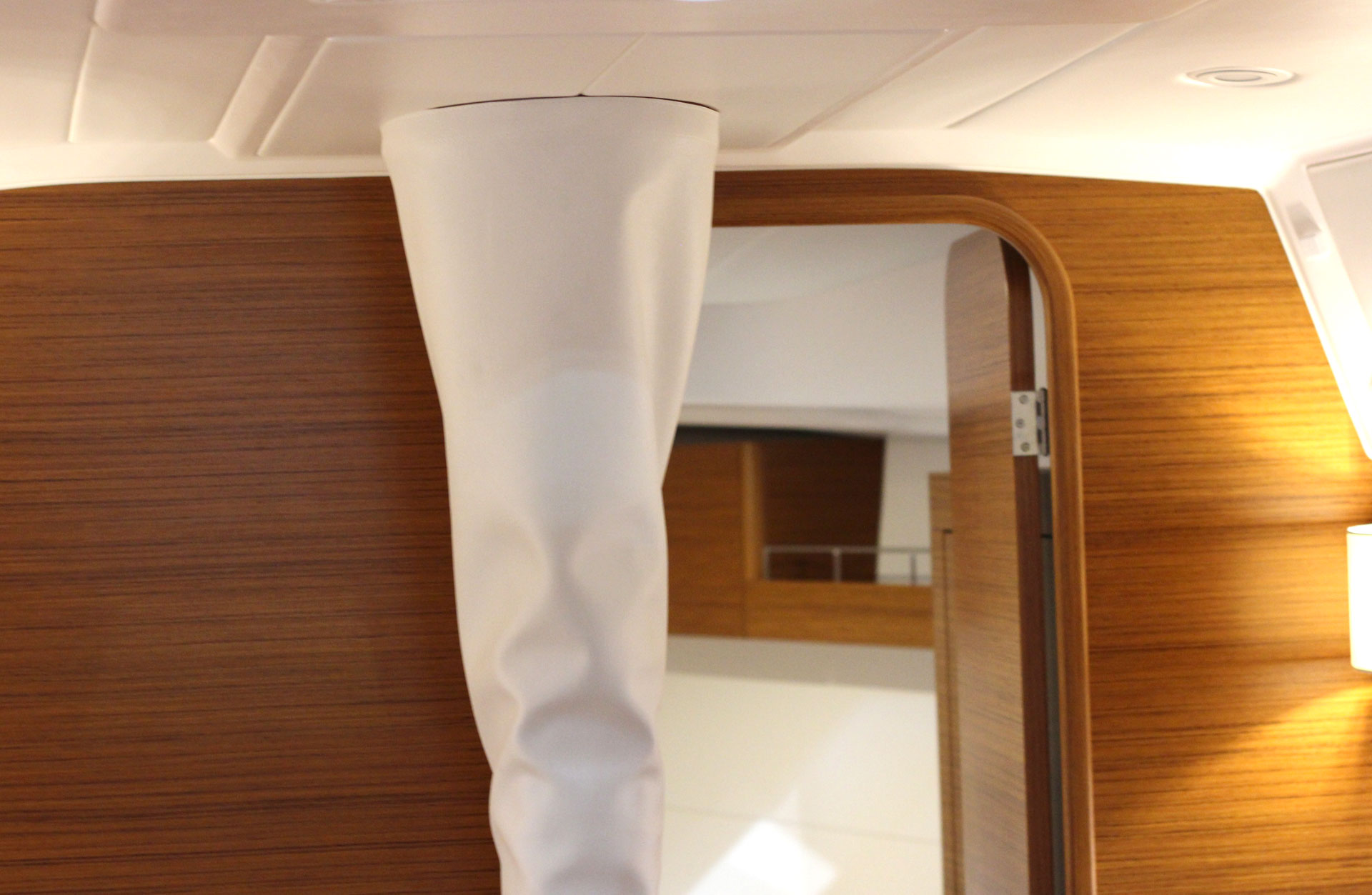 Noticeable the trend towards extravagance. None of the yachts without a fridge (with ice-making capabilities), wine-cellar somewhere and pantries somewhat rivalling my own flat´s kitchen. Seems like these boats are made for mooring, not for sailing primarily, I can easily visualize the targeted buyers of these products.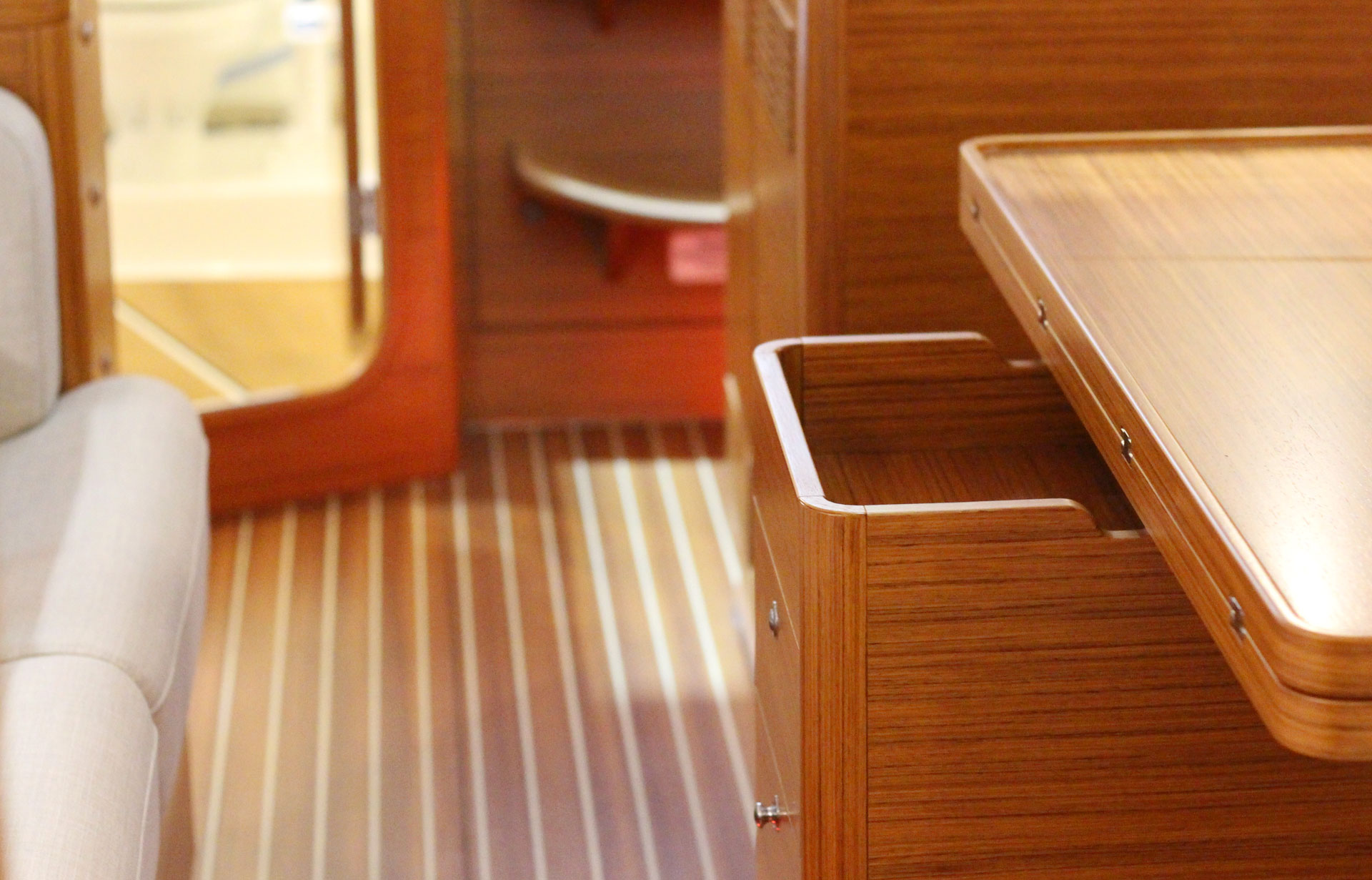 As I am right now taking off the ceiling and "wallpaper" leather-coverings in my own yacht I looked very closely to the solutions on those modern yachts. Most of them had leather-covered panels mounted to the hull. Some – like X-Yachts – very practical with Velcro-fasteners, some had them drilled old-school with screws to (presumably) a wooden base-construction underneath and some had them fixed seamless with a spacy technology I wasn´t able to fathom. Others, sadly enough, didn't had cover panels at all but a bare varnished GRP surface (which could turn out to be the better solution over time).
Colours. Disappointing. To put it frankly, I felt like browsing a kitchen-catalogue. Colours of the season seem to be all kinds of mud-tones, ranging from light grey to brownish tones, all shades of white and … that´s simply it. There was not a single yacht offering blue. Or anything beyond white-grey-pearl-cream. Boring. I know, when ordering these boats every owner can live himself out with every colour available, but hell, this is a fair. And everything looks grey? I´m a marketing guy. My first advice to any of the brands for the next time if asked would be that: Come and surprise your audience! Astonish people with fresh colours, unexpected combinations, real modernity and – I beg – at least something individual that can be kept in the minds?!
As boring as most of the colours, the same with denim and cushion. Although I saw one or two real nice features of how to make a simple saloon-seating a highlight. Like on my beloved Xp38 – I really fell in love with the elaborate forms of the seating-cushions, a complex stitching and both offering a comfy seating with stable position even in rough seas.
But all in all my expectations for inspiration haven´t been met. I must admit. Maybe this boring uniform-look is on purpose? Maybe the manufacturers earn the real money with upgrading standard layouts and mass configurations to meet the individual tastes of their clients? At least Dehler had a quite detailed exhibition of their available leathers, fabrics, wooden and plastic parts that partially put a spot on what would be possible with their yachts when outfitted with a certain taste for ships.
Speaking of taste, there was a corner of the sailing boat hall I looked forward to stroll around especially …
Hallberg Rassy 40: With a touch of decadence.
Hallberg-Rassy is the S-Class of yachting. It´s not the Maybach nor is it a Volvo, it´s simply the S-Class. Having read so much about this Swedish brand, having seen them mooring in the marinas, flying their golden HR-Logo proudly on their blue freebord trim-strip, these boats cause almost every skipper to raise his eyebrows. Be it because of admiration or out of greed. Hallberg-Rassy is the unquestioned circumnavigator´s ship, a cruiser made for long stretches of sailing and a statement of luxury as well. I was very keen on boarding the HR 40.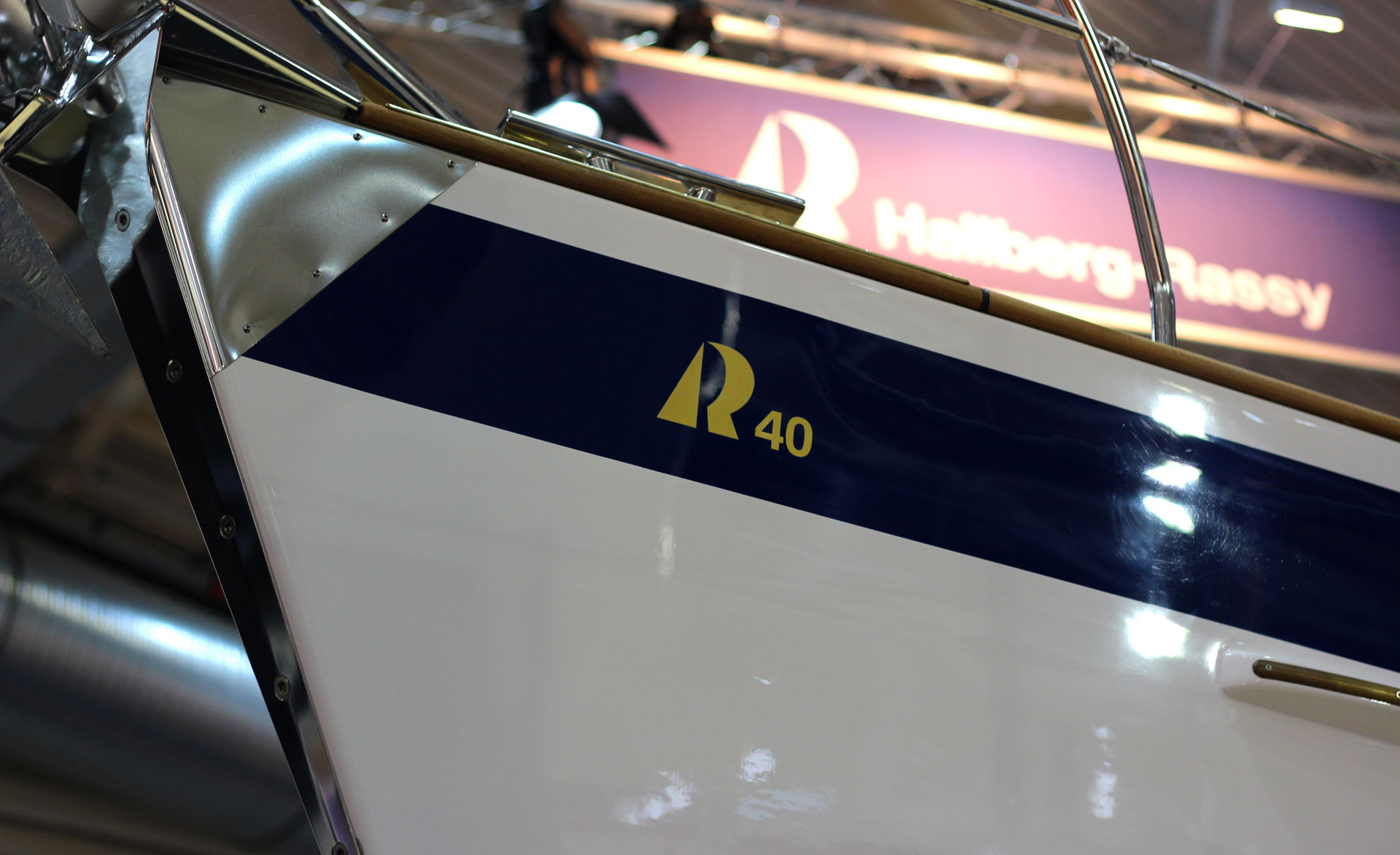 Well, she is a beauty indeed. Her teakdeck crafted perfectly, all fittings done with perfection, chrome polished to imitate the shining of the sun. Very sympathetic: The tiller-steering as a reminiscence of "true" sailing with direct feedback from the rudder – unusual for a boat this big. I had to wait for minutes until I was allowed to go under deck. Still a bit overcrowded, I felt an instant dislike, I must admit, when going down: The clean, unpretentious lines, the understating style of the whole exterior appearance was completely contradicted below deck. It seemed as if they tried to let go of everything here.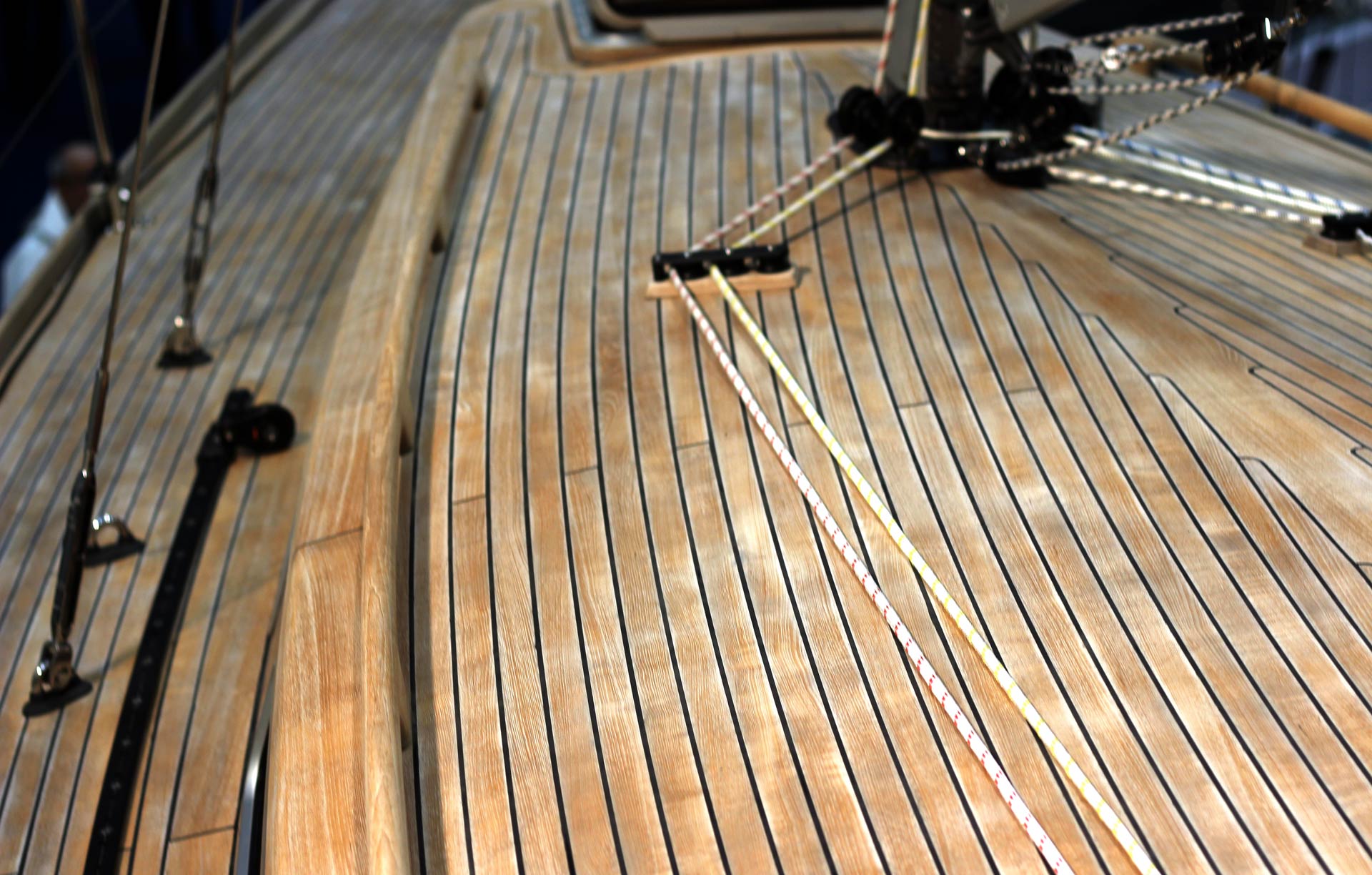 Massive wooden cupboards and closets, a lot of ornamentation all around created an overload of luxury to my eyes. I was always very fond of Hallberg-Rassy´s twin easychair-configuration, featured as well in this HR 40, but this environment was too much for me, creating the same feeling I´ve had when first visiting Trump Tower in New York City. Too much gold. That simple.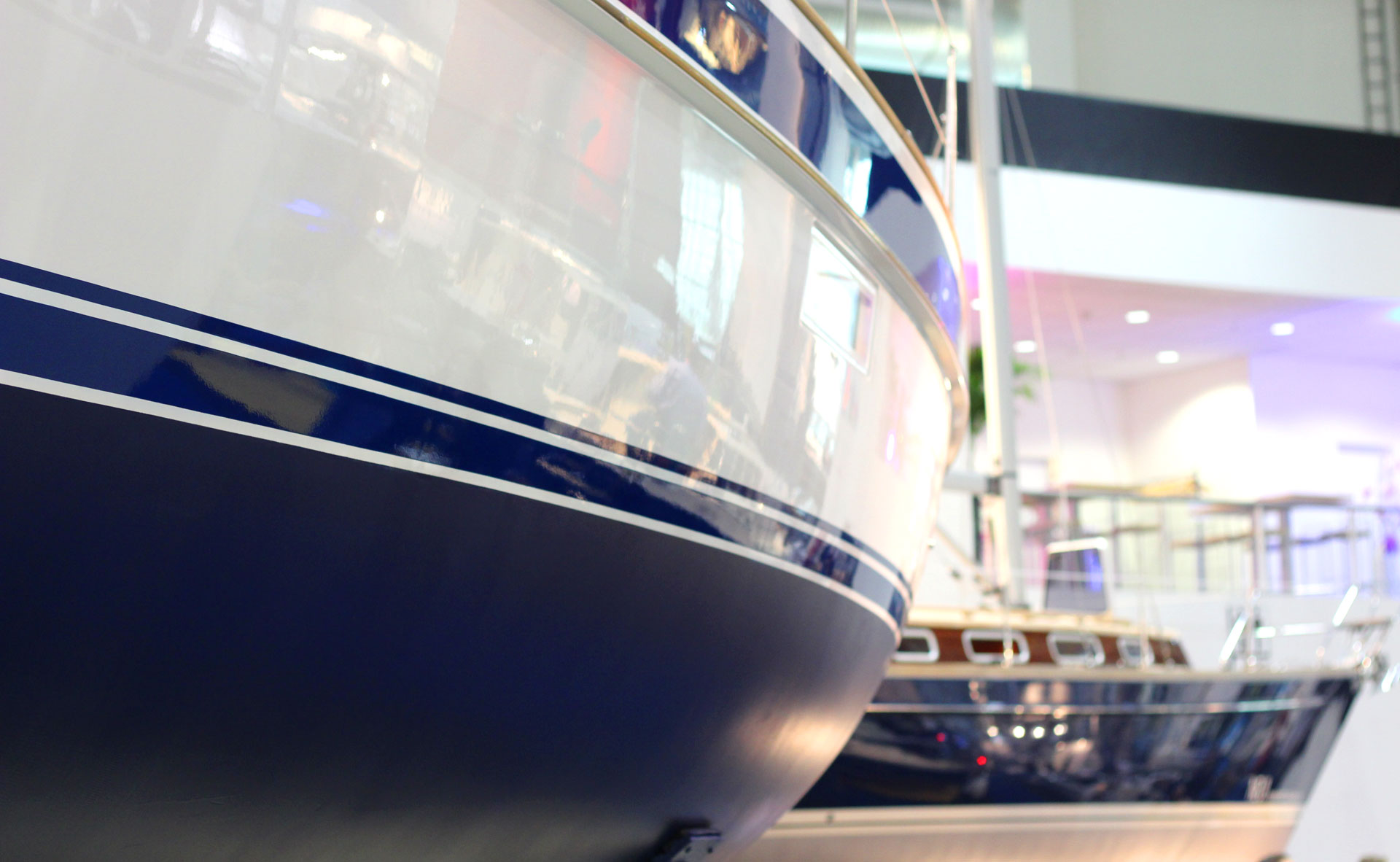 But anyway, looking closely at this boat, I could spot interesting features as well. The Hallberg-Rassy was the only yacht seen on the Hanseboot with a rising wood. Even if it was only a half skeg, I was astounded to notice this old fashioned style on a 2015 hull. Very Star Trek on the other hand the bow-thruster. The heavy unit is fully retractable into the hull so it won´t create unwanted disturbances when underway, hiding the precious lateral screws from encrustation. Interesting.
Traditional and unmatched: Henningsen & Steckmest.
Only one ship length away another true classic was propped. Having her origin at the Schlei, where I found my own King´s Cruiser as well (read full article here), the German manufacturer Henningsen & Steckmest presented one of their marvels. Other than Hallberg-Rassy these boats are not assembly line products. They are the Maybachs indeed.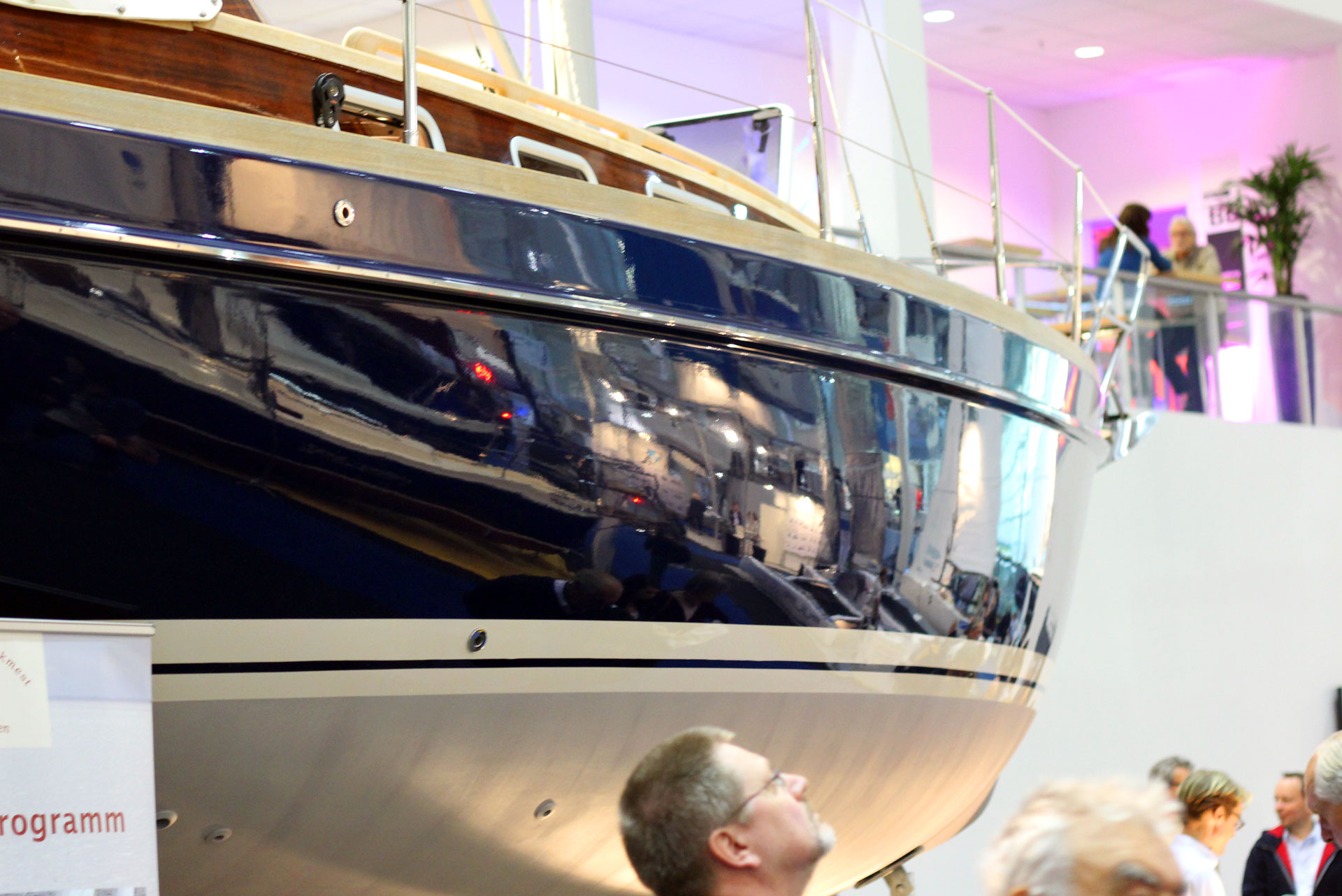 Distinguishable at her audience, made up of +60 year old well suited fair visitors, the Henningsen & Steckmest yacht was shining like a marvel. Even her noble azure varnish seemed to outrun HR 40´s blue, making her golden brand look just brazen. Not being a GRP-boat just like every other yacht, the Scalar-type boats are made of high-grade wooden material and by exclusively by hand.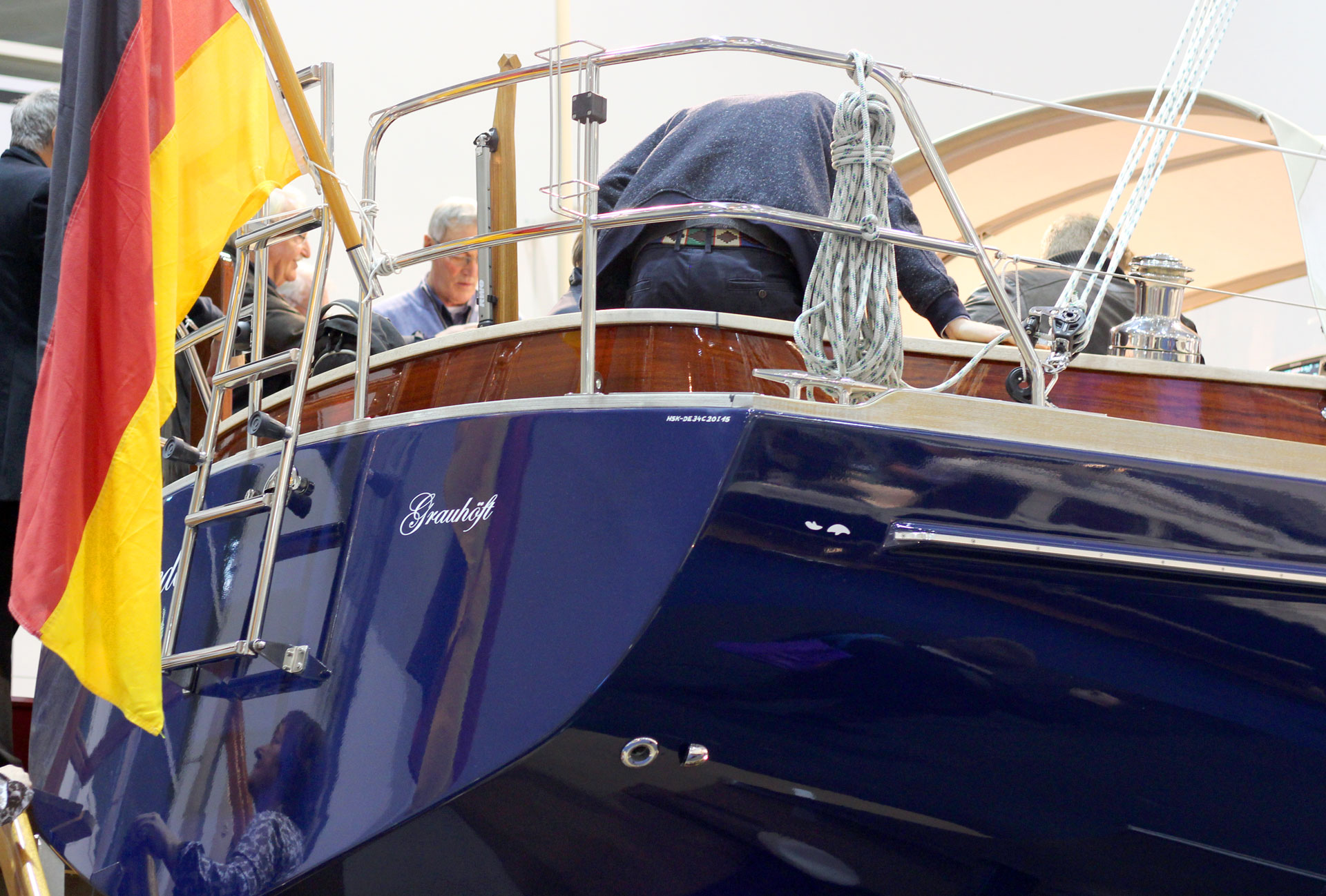 Well, not my style either since the interior was way too much caught in the good old days of sailing for my personal taste, but it was sheer pleasure to see a ship being made with old techniques and craftsmanship finding her fans and buyers.
Speaking of dreams: Italia Yachts 13.98 from Venice.
Was it a space ship? A yacht? And if so, would this hull be able to sprint with never before seen speeds? The best comes at the end and finally the Italia Yachts 13.98 just simply blew me away. I couldn´t let got my eyes from her more than sleek, clean, clipper-like hull. The lines promise both speed and ultimate fun. That simply is a boat I would die for. Being built in Choggia, right vis-à-vis of Venice in Italy, this yacht is just sparkling pure sailing from every single of her 42 feet. Man how I love the lines of this boat!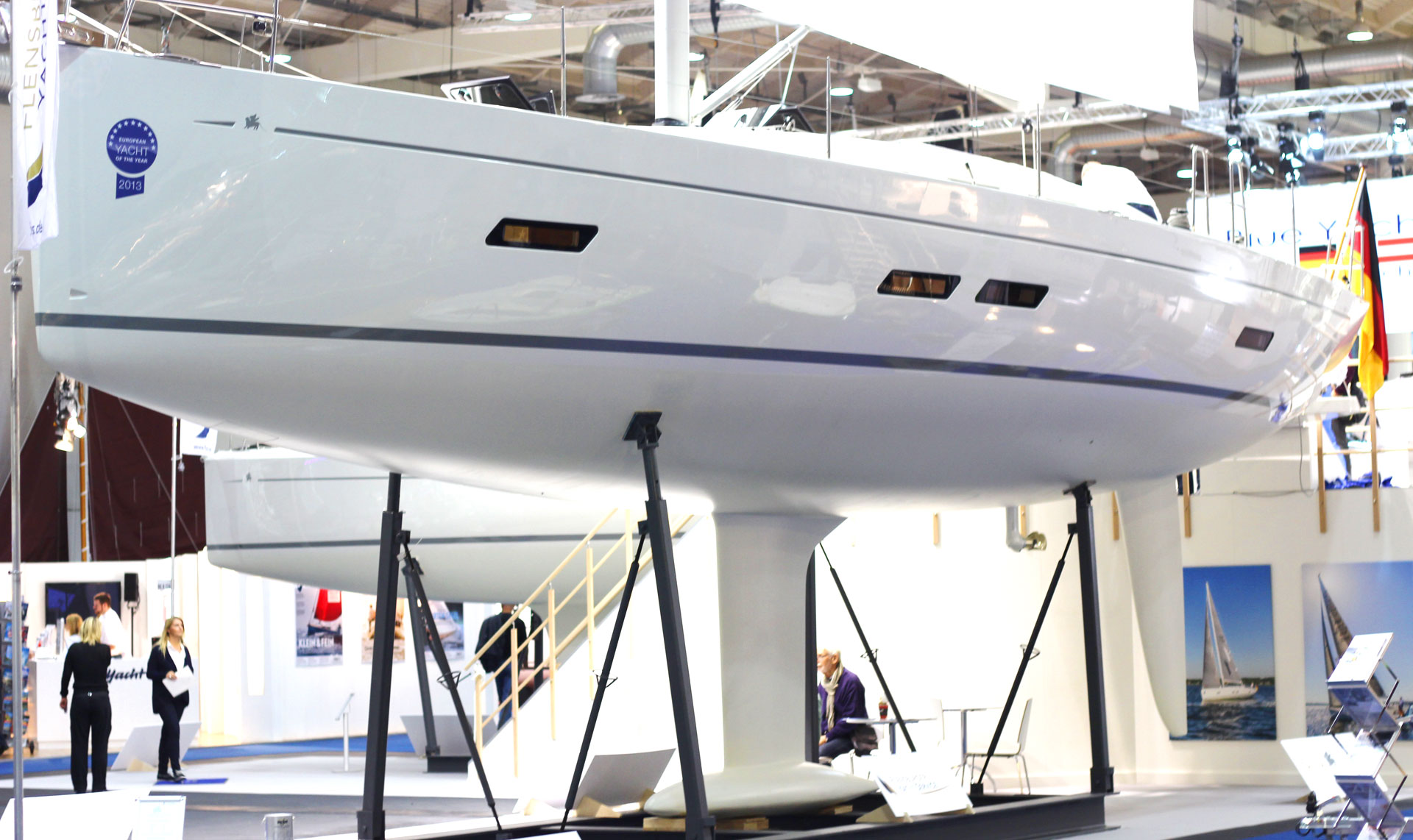 The inside is pure elegance as well. Normally, when I go down below deck, I mostly find my favored place to sleep, to sit or to stand at an instant. Here it´s different. The inside layout of the ship is that nice I just couldn´t find my favorite place. When I went to see her second time, I spent a lot of time sitting in her spacious saloon trying to figure out where I would like to have "my" standard place. I could find one – which is a good sign. She is so roomy, so full of gracile beauty and Italian charm.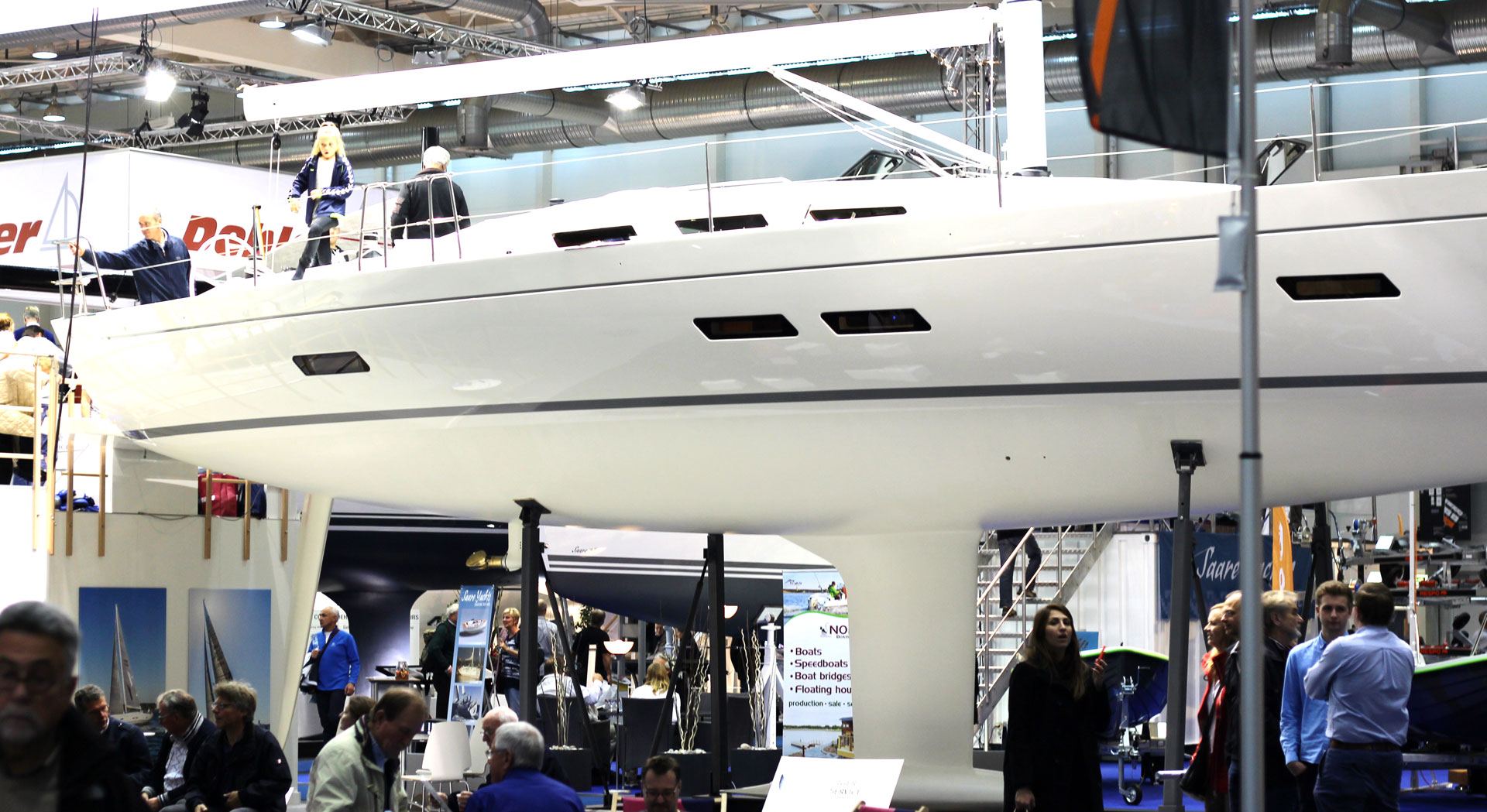 The forecastle was as big as my flat´s sleeping room, offering more stowage than our Pax-closet, her bathroom just simply inviting. And although they didn´t really come up with something new for the insight design, it was the small details, the feeling of the cushion´s denim, the surface of the wood that made this ship very special. Special just as the price tag. The boat comes at 530.000 Euros.
Well, Warp-speed has it´s price, I guess.
A résumé: What I take home with me.
Well, that wasn´t it all. I will return to the Hanseboot this weekend to have my SRC-class there. Being on site again, I will surely use the pauses and times after the class to sneak into the sailing boat-hall to return to the dream boats, to have a look at this and that detail and to encounter some chatter with other aficionados of maritime stuff. What have I learned? Certainly, that modern day yachts – most of them – are mass products. I´ve noticed many small little bits and bobs on almost every boat I´ve visited, no matter which brand produced her. 120.000 Euros and more? Still not handmade for me (except the Henningsen boats of course).
I´ve further learned that there aren´t too much differences between the boats of today and – let´s say a King´s Cruiser of 1975 I call my own. Of course, having a wider aft section modern boats offer far more space there, but taking the saloons, I still find my SY OLIVIA very, very spacious and she can easily live up to a ten times more expensive Dehler or Hanse. It´s the style and design of the interior layouts that astonished me most. Uniform, kitchen-like IKEA-styles. Barely maritime, almost zero classic "ship"-like designs. You can take the saloons, mount them onto a Fiat base and there you go on your new motorhome. There´s virtually no difference.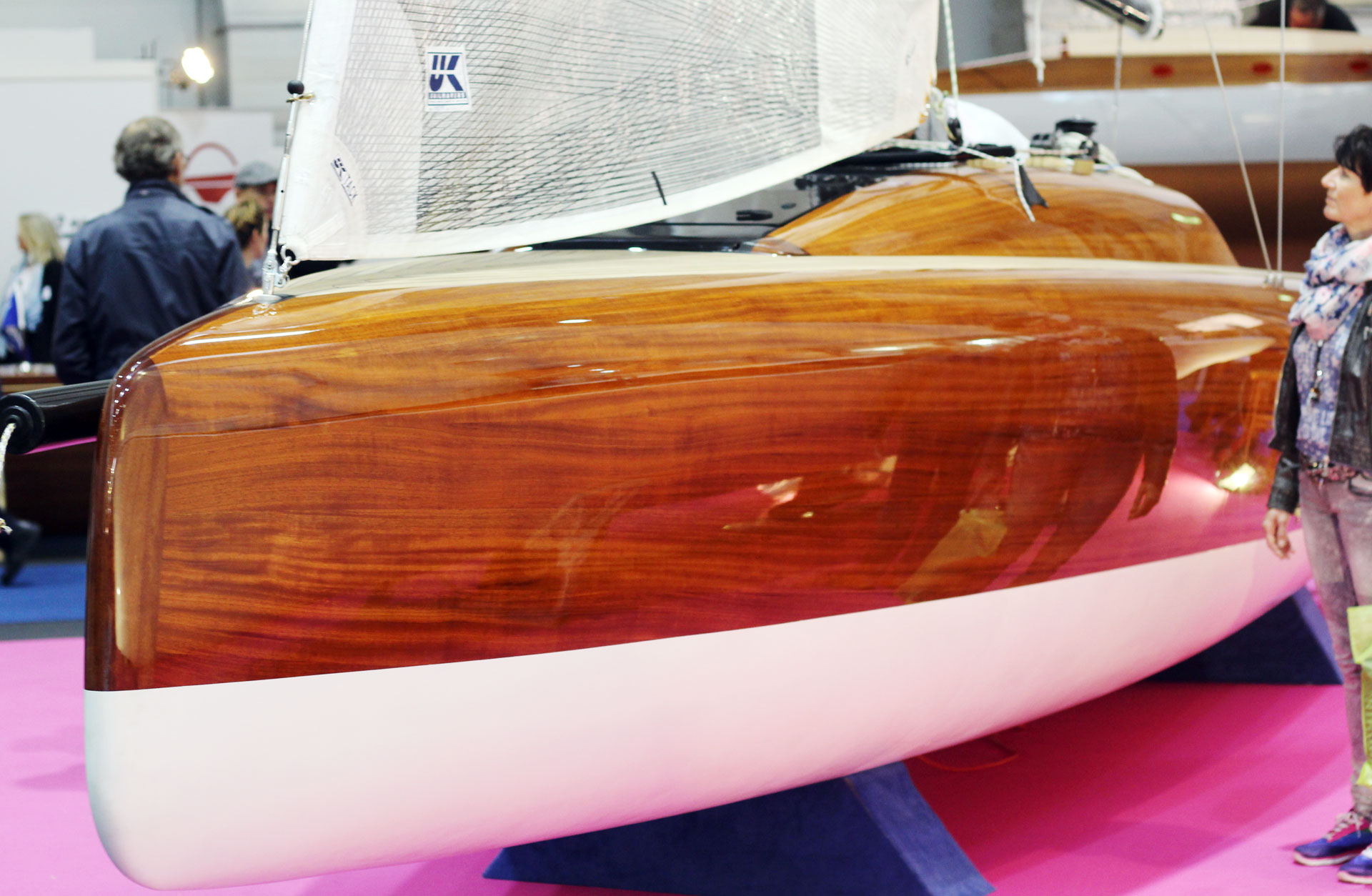 So, going back to work on my ship, I am now looking forward more optimistically and confident in succeeding with my project, to turn my 40 year old lady into a comfy, cosy modern ship, and inviting, maritime beauty with a lot of stories in her old thick sturdy GRP-hull and a lot more miles to sail before her stern as well.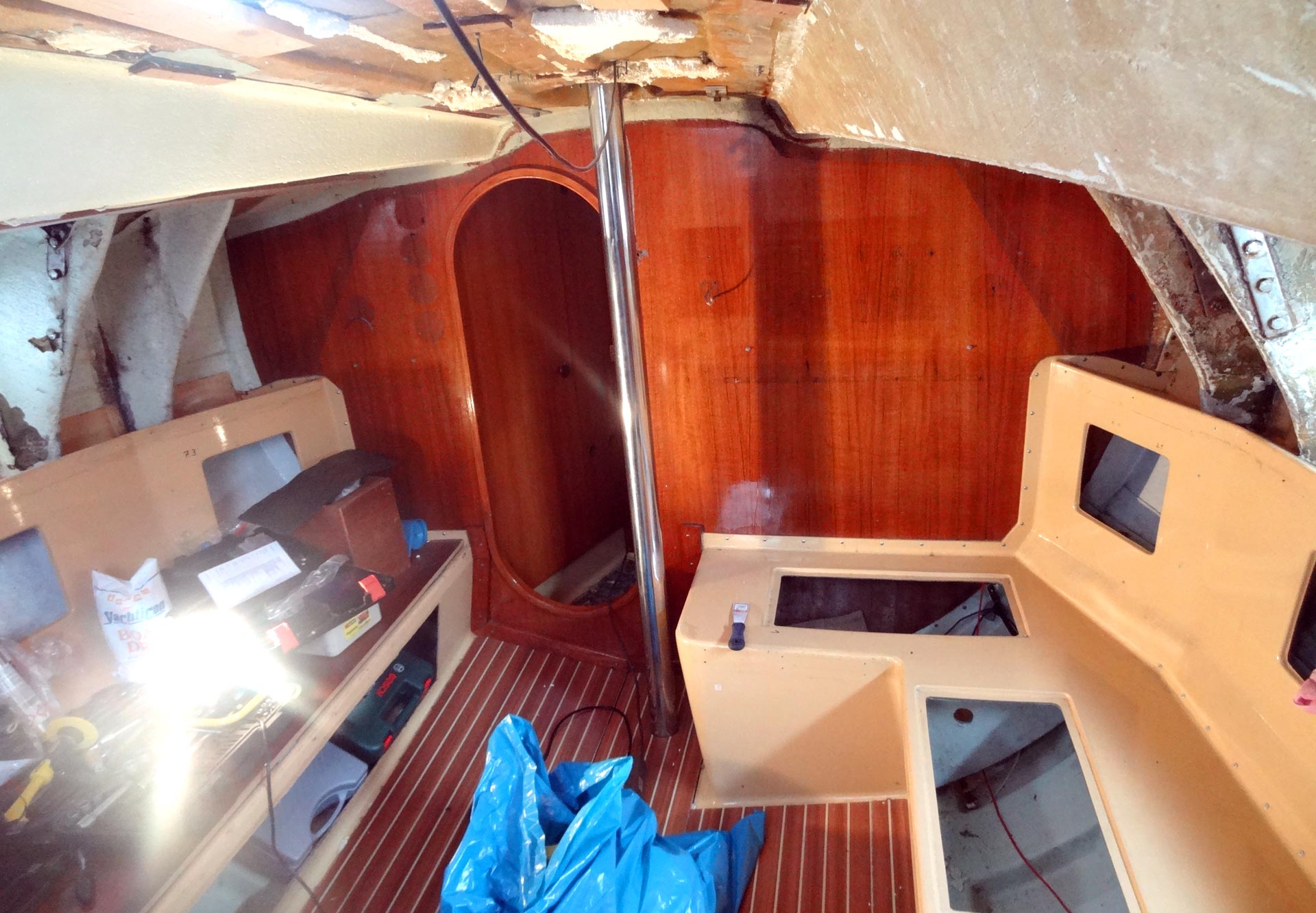 There is only one thing I really regret about the Hanseboot: For not having been able to visit the Ancora Boatshow in Neustadt, some 100 km at the Baltic Sea. This partner event is the biggest in-water boat show of Germany where all (and more) of the yachts could be inspected in the water with offers to test-sail them.
So, maybe next year then?
All in all, the Hanseboot was worth it all. A nice big show, a bit crowded during the weekends, more relaxed during the week. Hamburg is always a destination worth a trip – whilst Hanseboot for lovers of ships and maritime stuff more than ever.