Last weekend I spent an evening at the famous Baltic Ancora Marina in Neustadt/Northern Germany. My steps automatically guided me towards the big new hall. Brand new built after the old one went down after a raging fire there was a huge celebration going on and all businesses connected to the Ancora Marina showed off their services. While most of the boats have been motor vessels a good one fourth of the hall was occupied by three sailing boats which hit my eyes immediately: Hallberg-Rassy.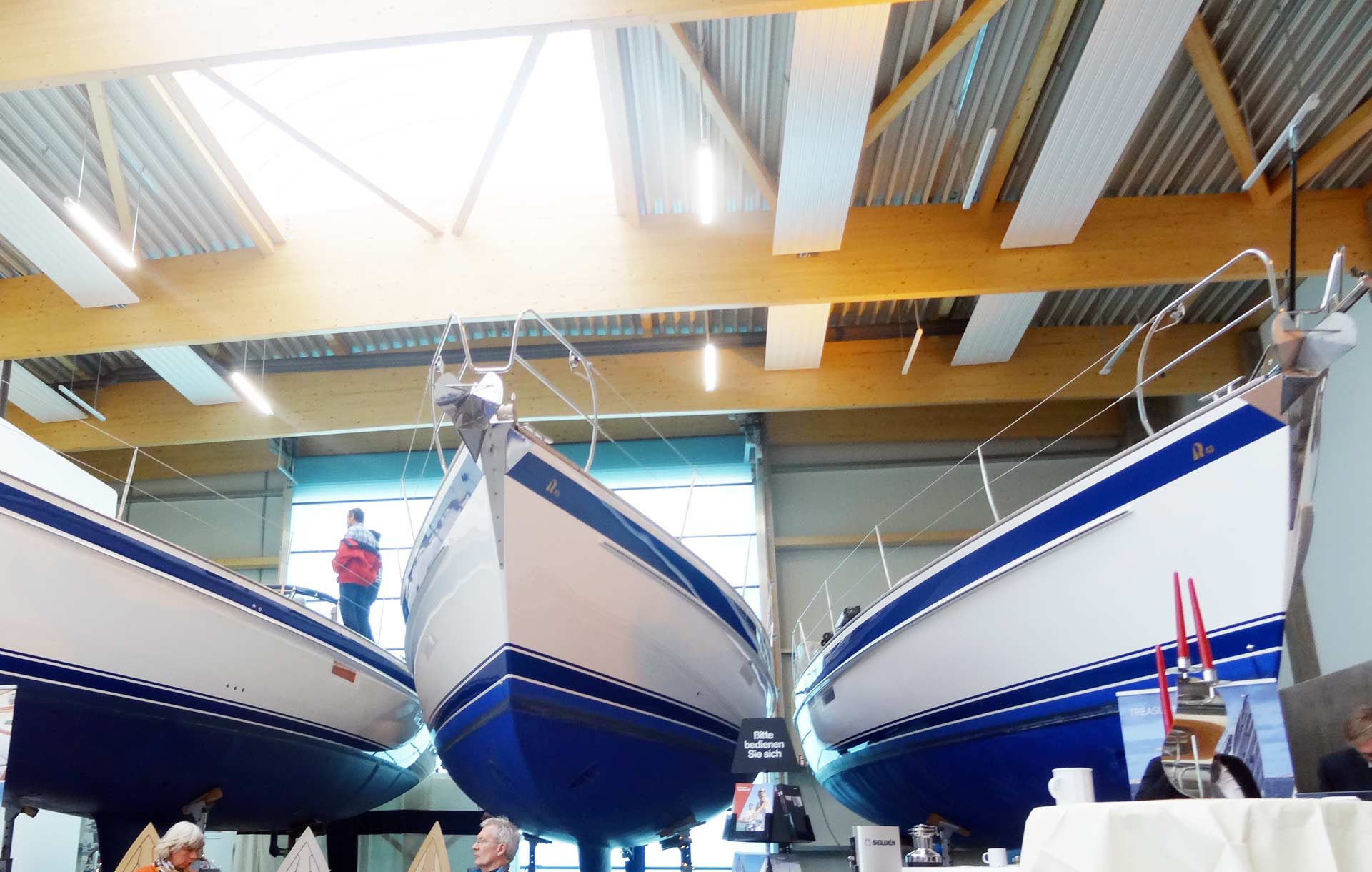 No wonder: Hallberg-Rassy of Germany has it´s Headquarter here in Neustadt represented by Horst von Hörsten and his team. Just minutes later I´ve had my feet covered and roamed about inside these dream yachts. I felt instantly comfortable and at home whilst having mixed feeling in the face of the pure luxury at display.
Hallberg-Rassy: A legend of cruising.
When you talk to people about sailing yachts, even if they are not connected to that topic and bare no knowledge on sailing and maritime stuff, there´s a good chance that they know one thing, this one name: Hallberg-Rassy. There is virtually no other brand of sailing yacht-makers worldwide that can enjoy such a great high profile and brand value. Hallberg-Rassy boats are looked at when mooring at pierside and I cannot remember having seen a single of these ships which was not in an adorable condition. Noblesse oblige.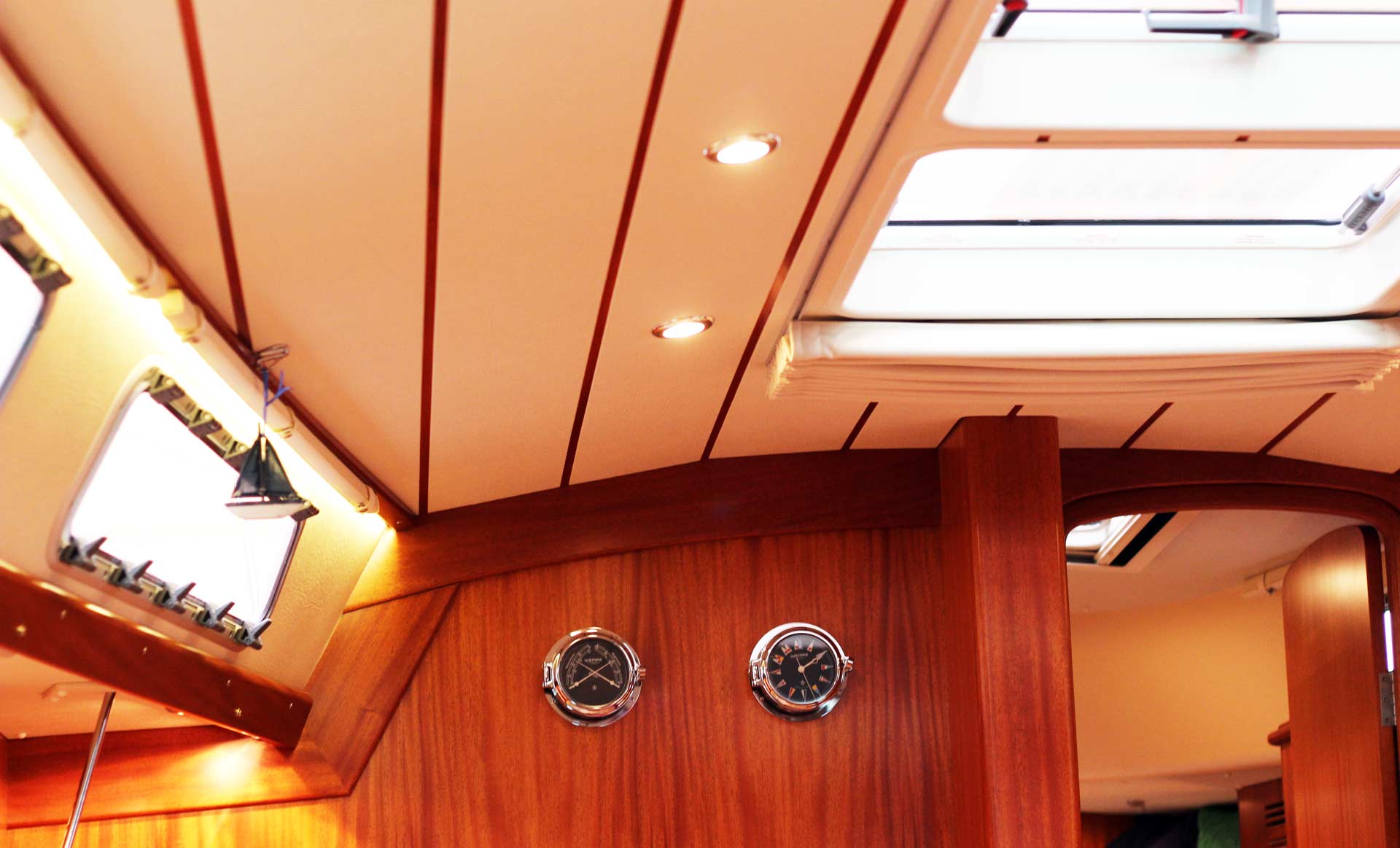 Here at Ancora Marina they´ve had three boats at display, two of them open for the public and interested people. The 41 feet long classic HR412 was the first ship I went onboard, followed by the more glamorous HR43 with her center cockpit-configuration. This is the same boat that was used by a Swedish family that went circumnavigating the world with their two children, one of the books I was virtually eating away in a handful of nights. Fascinating to imagine the familie´s adventures while being in the very same rooms.
Hallberg-Rassy 412 – a classic sailing yacht.
I started inspecting the HR412 because she resembles my own ship in her basic configuration: Saloon, forecastle cabin, pantry with a navigation-table vis-à-vis and a quarter cabin (whereas I do only have a quarter berth). I would call her the classic cruiser.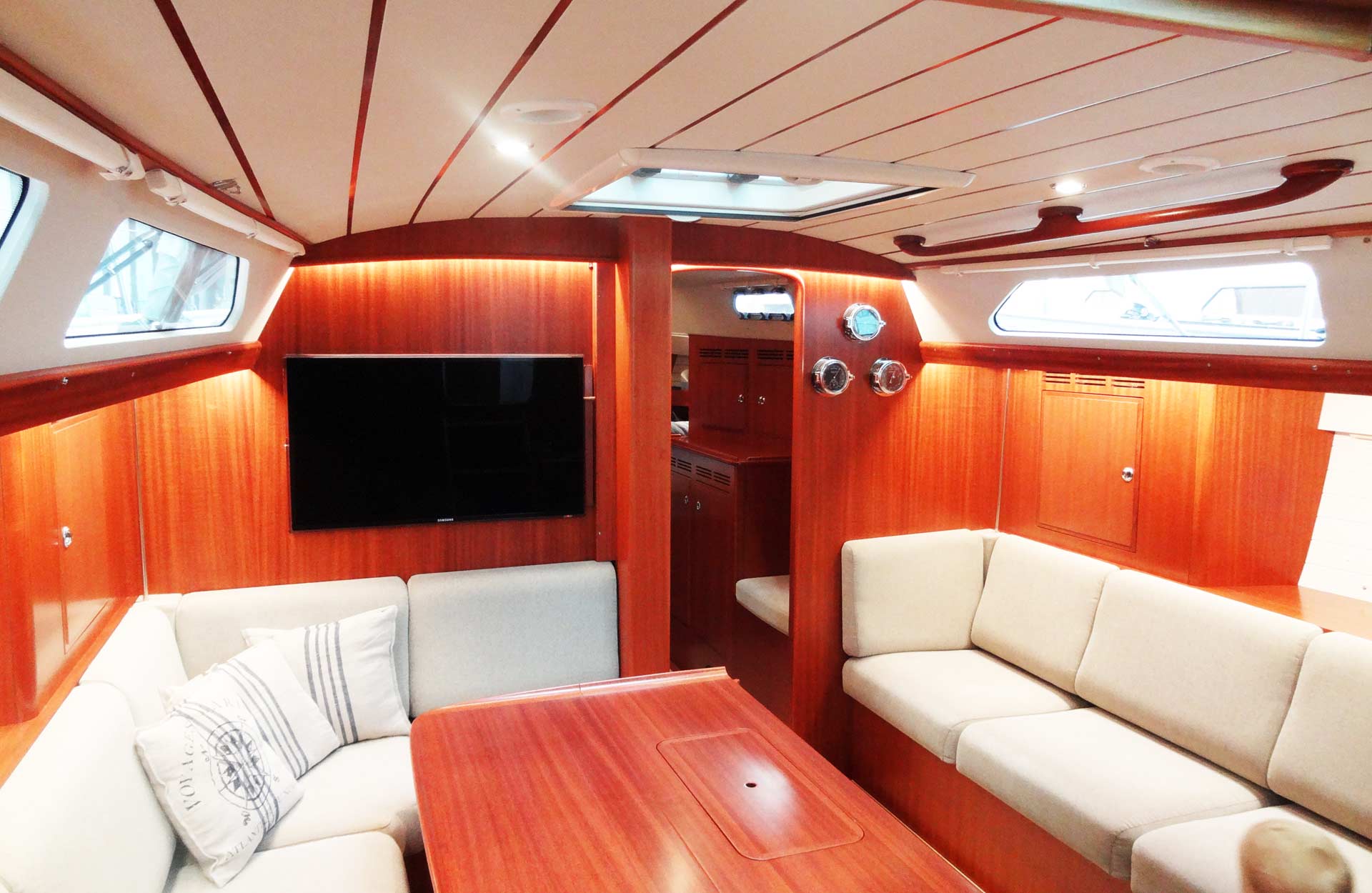 41 feet, that´s quite a big ship though. Being under deck I quickly notice the spacious room, more than enough head-space above my own (I am 1.86 meters) and all entryways are wide enough even for a more passengers. I do compare this ship to the Hallberg-Rassy 40 I had the pleasure to inspect on the Hanseboot-fair this year (you may read the full article here) and I am instantly pleased with the 412 being less showy. I truly like the plain interior, no curlicue and no senseless showmanship of luxury (despite the large TFT at the bulkhead – who needs such stuff?).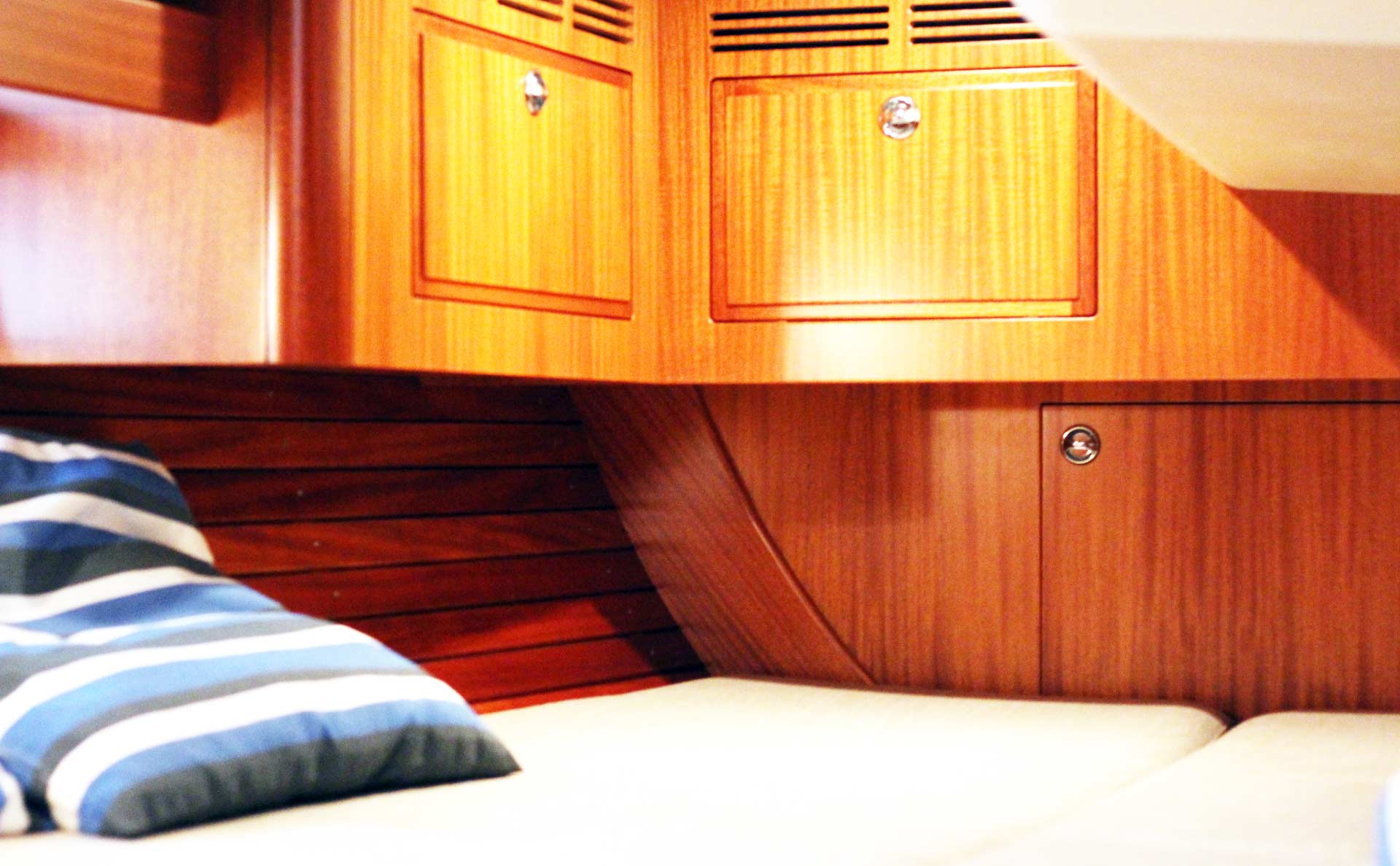 The forecastle cabin is just exactly my taste: Frugal elegant woodworks utilizing high-grade material, just a large berthing area, one big cabinet and a lot of stowage facilities. The large porthole to the deck reminds me of my own King´s Cruiser 33. Envisioning myself laying down here, hatch open, clear night sky and a warm summer breeze, arm in arm with a beautiful woman … what can be more perfect than this? Same with the quarter cabins: So much stowage, perfectly crafted and cosy sleeping opportunities after a long watch out in the fresh air. What a dream?
Deluxe yachting.
After some 20 minutes of contemplative relaxation, trying out every seat in every corner and imagining myself on a Blue Water cruise off Madeira, course set to pick up the trade-winds for crossing the Atlantic (here is an article on how you can cross the Atlantic on a 6.50 meter racer) it was time to change the 412 for the HR43. 43 feet – that´s a huge boat! I am always stunned how much bigger just one single foot more can be in total! The Hallberg-Rassy 43 is a battleship …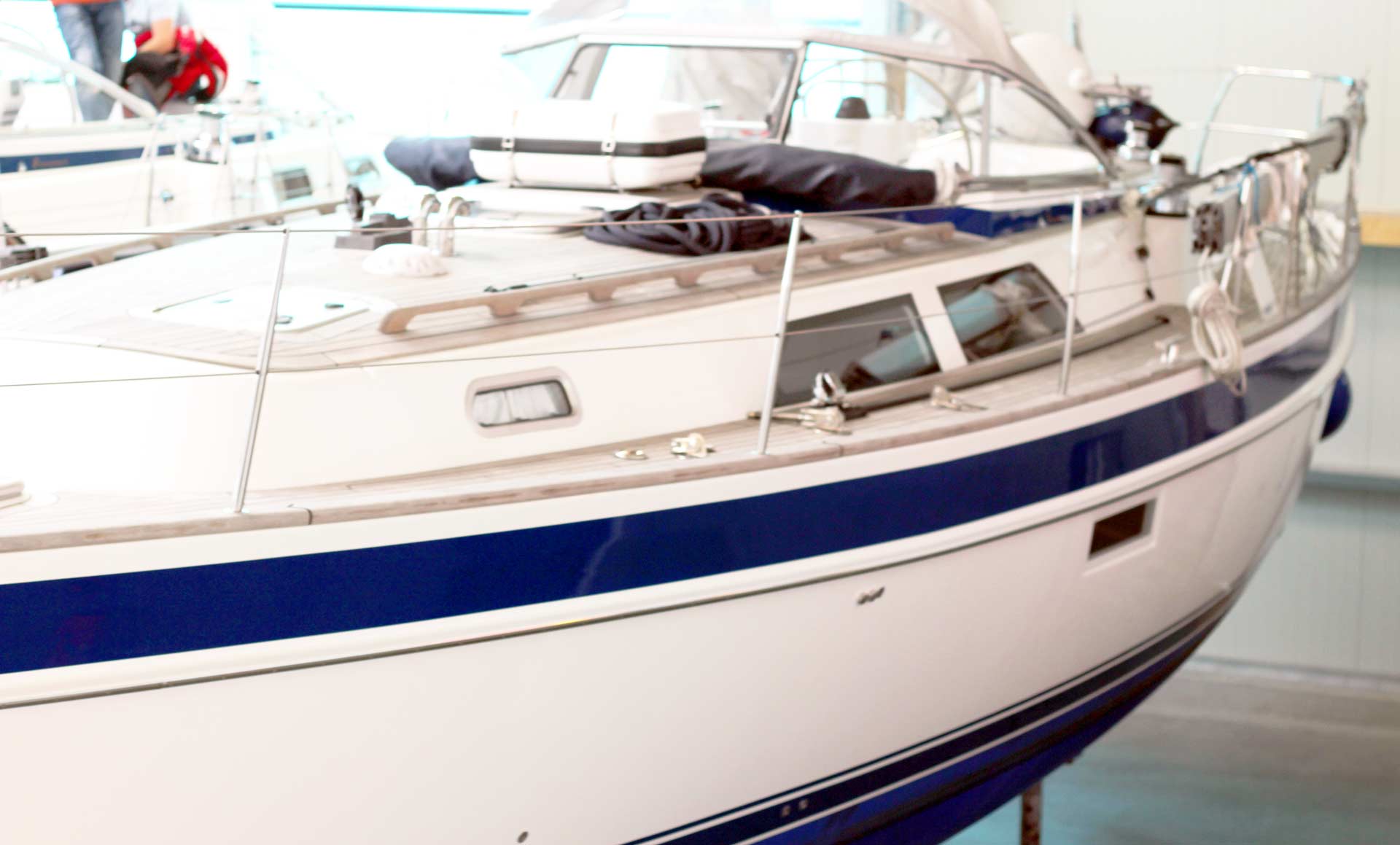 The patterns of the surfaces, every corner, every screw and every detail on this boat does state just one single thing: Perfection. The deck plating is made from finest scrubbed teak. The seams are perfectly done, there is just not a single tiny detail where one might spot a glitch. No tolerances are allowed, it seems, whereas I do remember having seen brand new boats on the Hanseboot-fair with millimeter wide gaps between saloon-panels. Same with winches and other equipment: The best is just enough. Sailing this boat just cannot come with any downsides, this is just unimaginable.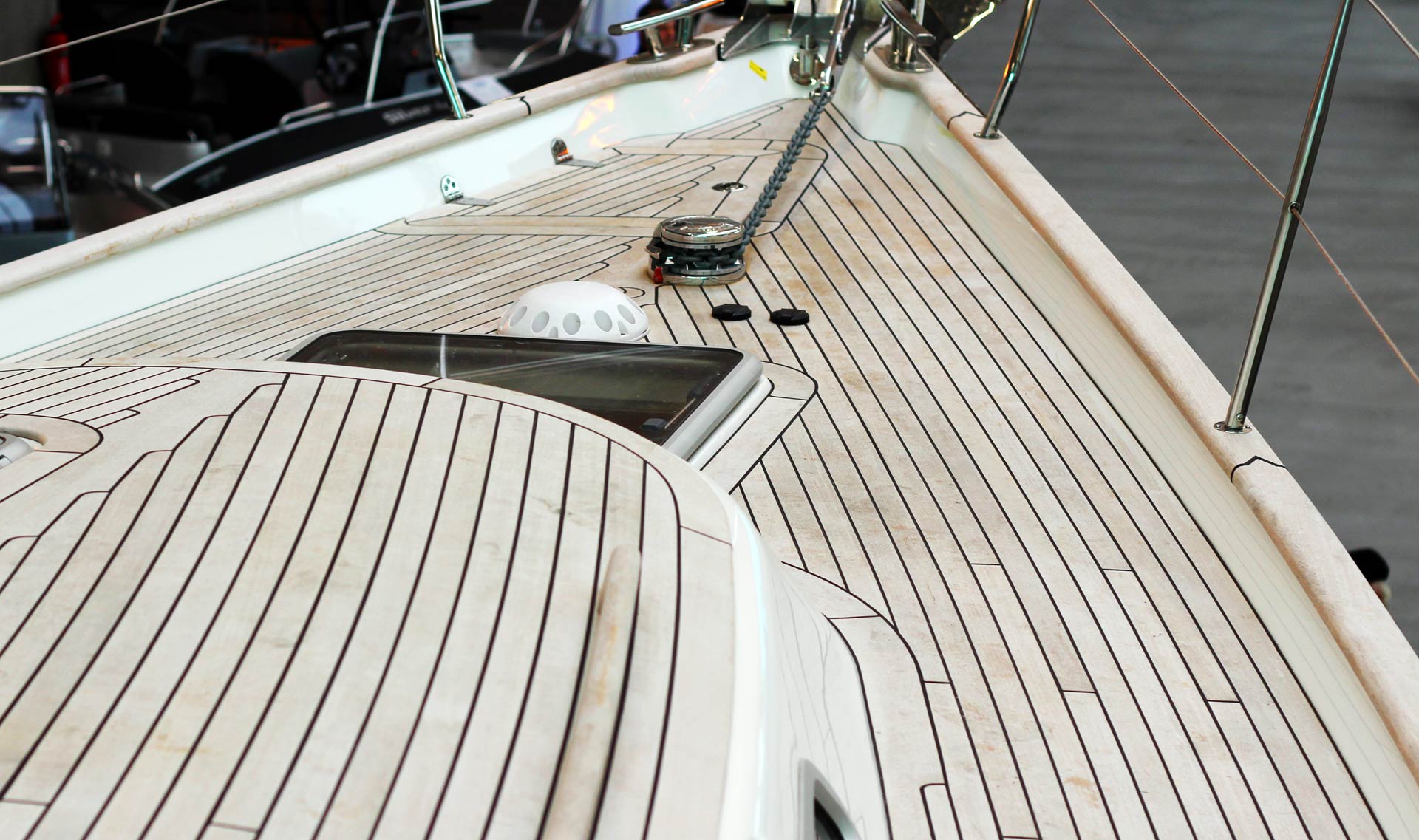 Well, no wonder. The basic package of a Hallberg-Rassy 43 MK III comes in with a price tag of not less than 575.000 Euros. That´s a hefty price given the fact that most clients will want to add further specials which can quickly sum up to dizzy heights. I can remember searching for a used yacht by myself – the time when I found my own King´s Cruiser 33 (you may read the full article here) – when I was browsing the various offers of used Hallberg-Rassy yachts. Even the smaller models of 31 to 35 foot with 20, 30 or more years ranged from 50.000 Euros upwards. The target group for this kind of boat and the brand in particular is narrowly set: Upper class sailors. Nevertheless, a fine boat up-to-date and on the edge.
HR43 with center cockpit – the circumnavigator´s choice.
I enter the boat via the center cockpit, one of the proprietary labels of a "true" Hallberg-Rassy. I cannot remember reading one single blog or book of a Hallberg-Rassy skipper who was not piloting his ship from this unique center position. Many sailors swear by sailing a yacht with a center cockpit-configuration for various reasons. First of all they claim it´s just an awesome look. Well, beauty is in the eye of the beholder.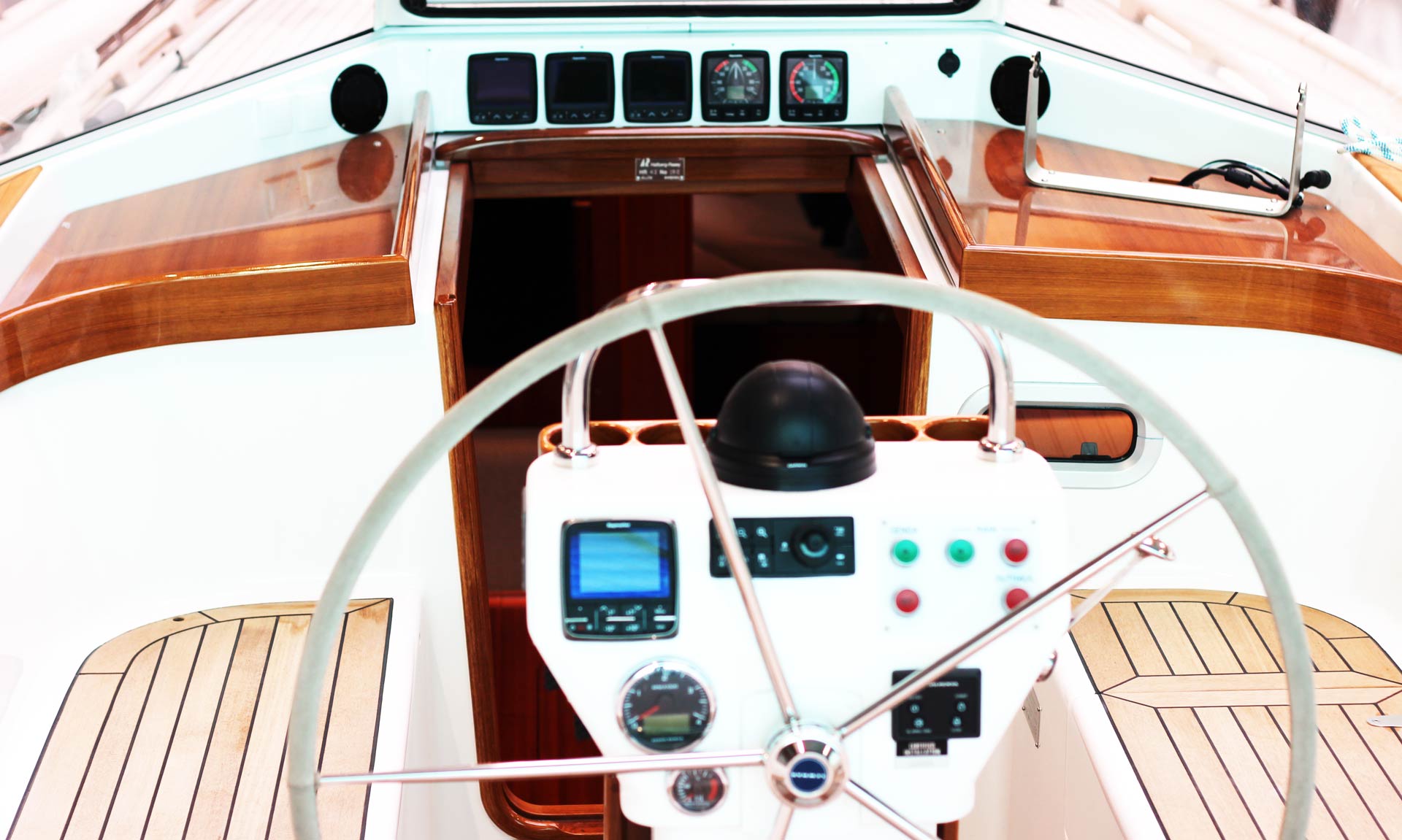 Unquestionably the center cockpit is the safer choice over the classic aft-cockpit: A high freeboard and thus a longer "way" for the skipper to go overboard seems to be a good insurance against MOB (by the way: Here´s my Man over Board-training, read the full article). Another point here is a big one too: Seasickness. Situated more to the middle-axis of the ship, the movements of the passengers while rolling are a lot less of. People can stay fit longer, they claim. Down under deck the saloon is just a jewel for any ship-loving eye.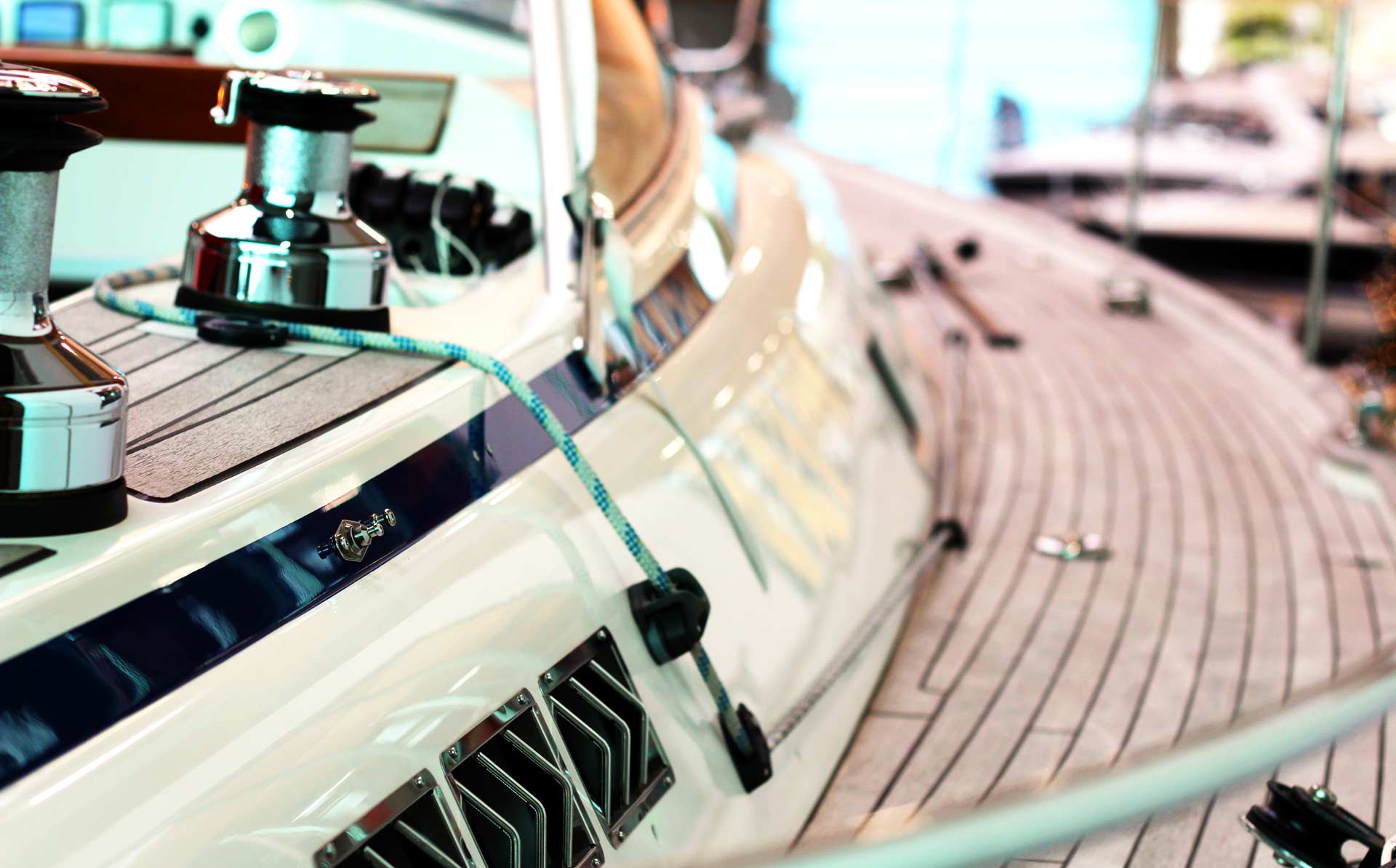 Seeking inspiration for my own refit-project of SY OLIVIA I am particularly interested in how the ceiling construction is made in modern yachts. I really admire Luffe yachts, but up to now didn´t got the chance to see one by myself (but working on it), but this HR43 comes very near to my ideal of a perfect ceiling. White panels with plain wooden strips, covered with artificial leather create a modern yet pretentious and lordy look. I roam about very long to catch every detail of HR43´s ceiling. But the best part is the aft cabin. Oh dear, my jaw drops open wide as I proceed aft …
Quarter cabin in a HR43: Floating palace.
To reach the aft cabin one must go down a virtually never ending entryway. While I work my way further aft I wonder where to hell do they carve out this much space? I mean, the entryway seems to have no end, it´s wide and roomy and while I walk there´s a maintenance-hatch to the engine-compartment open.
I go down on my knees to take a look. And I correct myself: It´s not a compartment, it´s a full grown engine room! Bathing in light, clean and tidy, there is so much space down there that maintaining the Volvo-Penta, changing an oil-filter or V-belt must be highlight for every skipper. No comparison whatsoever to my cramped, dirty, oily and worn out engine-compartment leaving just a couple of centimeters to each side of the engine. I envy HR43 skippers, occupants of a swimming 5-Star-Hotel for sure.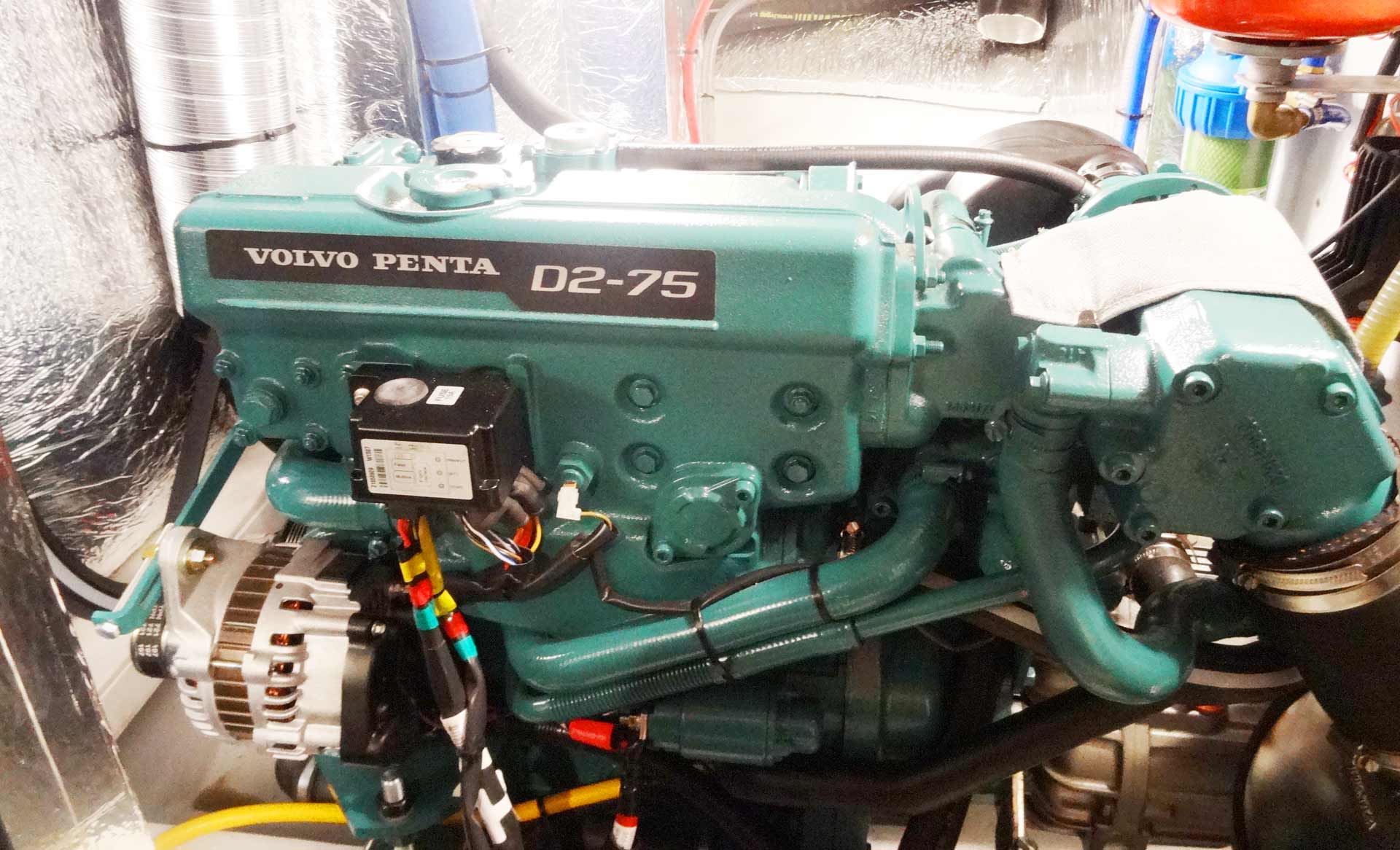 I make my way further aft to the cabin. Finally reaching this room, I can´t hold my breath. Really. It´s pure lush decadence, believe me! This must be the dream of every boat loving man out there: The berth – or shall I call it "combined bed and playground"? – offers enough space for not less than 4 persons to find a god night´s sleep! Well, if you can find sleep here … Portholes above my head let in enough light to flood the room, not less than three big windows right around the stern of the ship are promising spectacular views on the water expanse and the wake of the ship.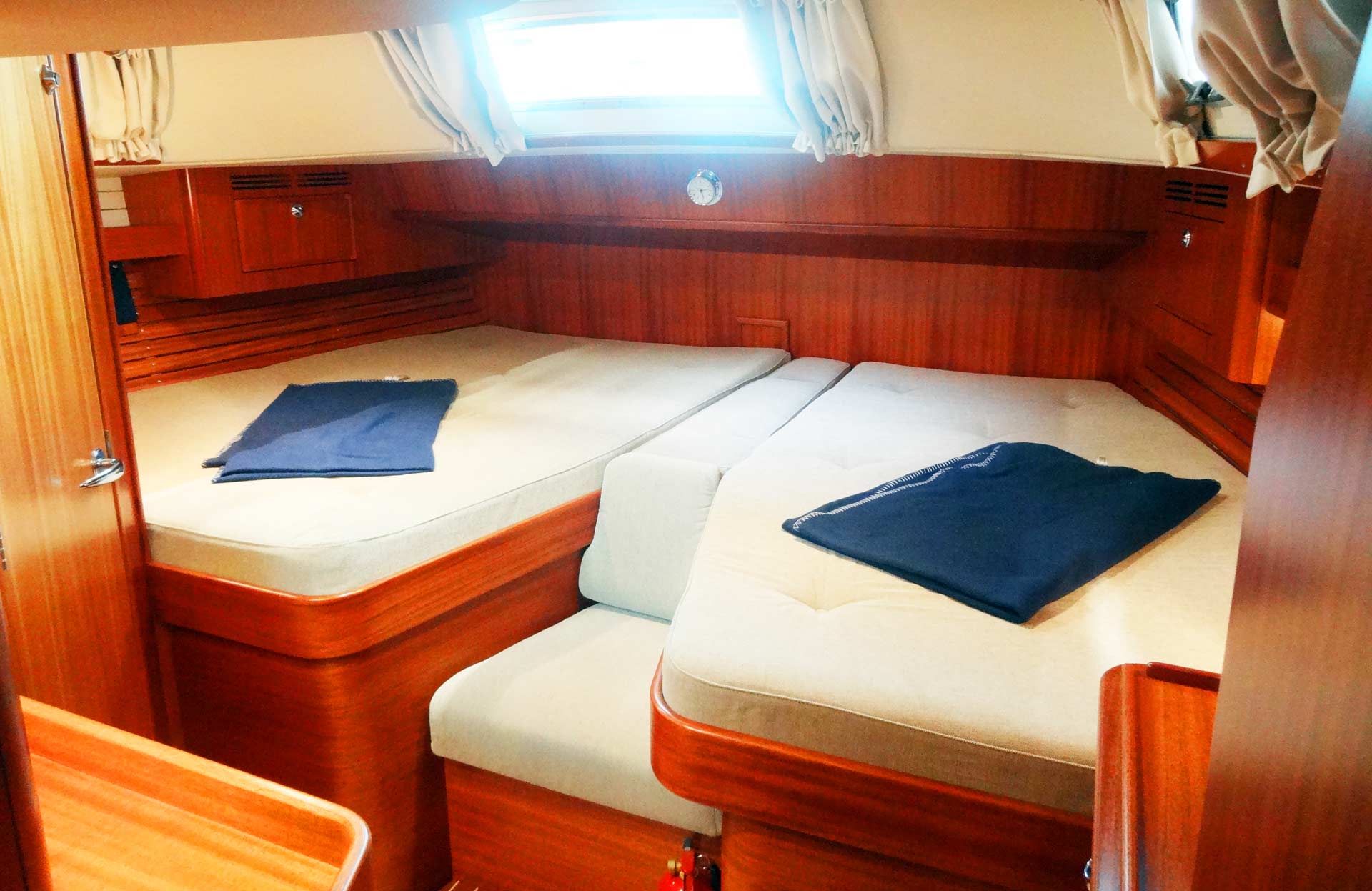 To the starboard-side another spacious bathroom with shower and every extra will definitely turn every seasick passenger´s or crewmember´s convalescence into a holiday making him not wanting to leave this paradise of a cabin. To be honest: I have never set my foot into a more luxurious and mind blowing berth like this. I instantly understand why circumnavigating families and skippers on long haul-routes prefer the center cockpit-configuration: It is just awesome!
Is the perfect sailing yacht a Hallberg-Rassy?
Well, I haven´t sailed on one of these boats yet and even if so I do not have the experience to render a judgement on this question. I´ve read and heard of people who have the competence that a Hallberg-Rassy has no superior sailing qualities and should be a rather ordinary yacht. That might explain why you rarely find HRs in the Top 10 of regattas whilst X-Yachts or Luffes seem to be the faster ships. On the other side: Speed is of inferior priority for the circumnavigator, he does not want to round the world as fast as he can but maybe as comfortable and nice. And I would judge: With a Hallberg-Rassy you will definitely do!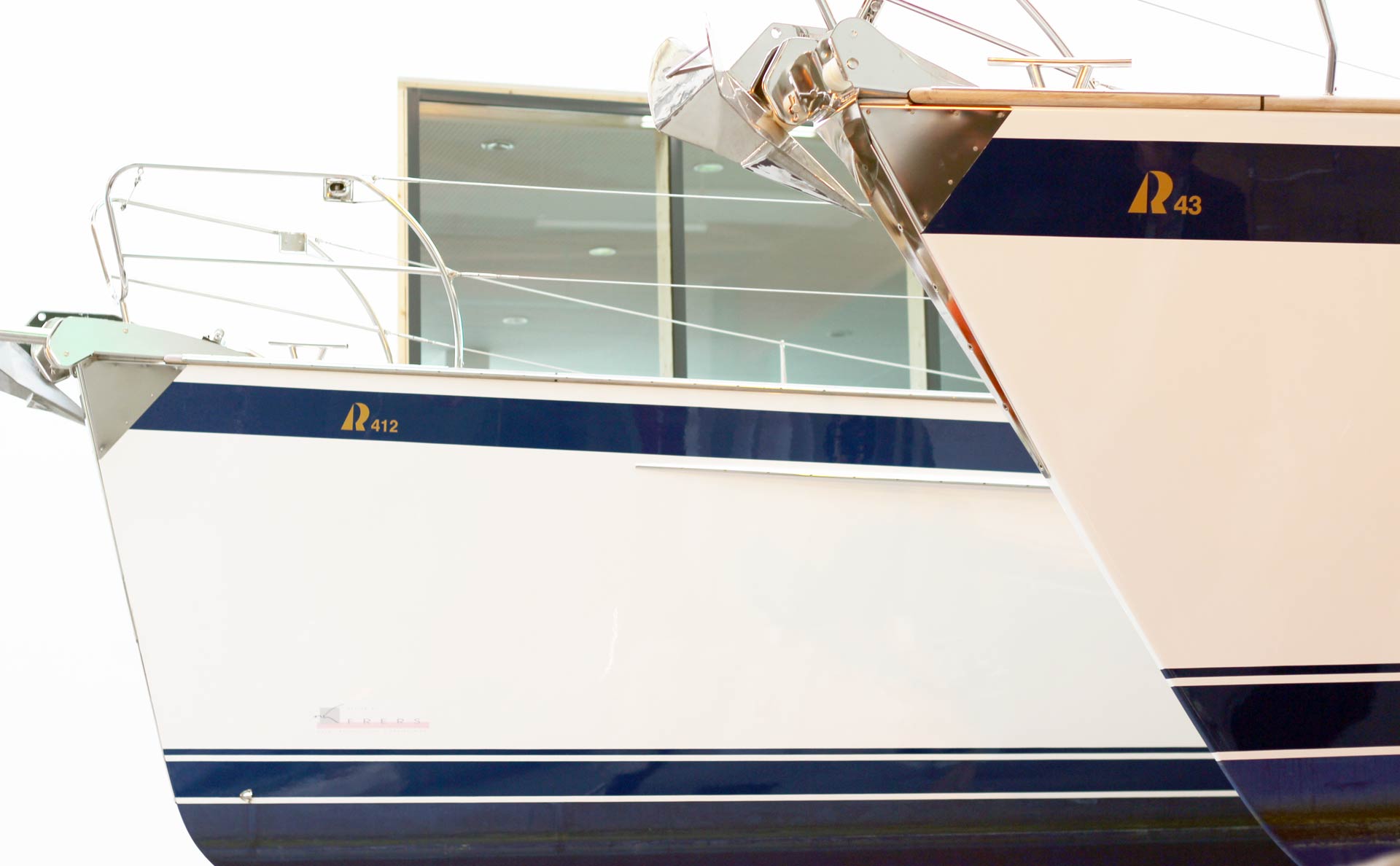 After more than one hour I give way to other visitors and leave the two gorgeous ships. What I really admire is the superior quality of craftsmanship you can detect in every detail of the boat. The woodworks are of no comparison, seating and cushion just perfect and berthing of the highest quality. I sigh in admiration: A Hallberg-Rassy like this will presumably always remain a dream of mine – but maybe I can transfer some of HRs solution onto my own boat.
Thanks to Horst von Hörsten of Hallberg-Rassy Germany for allowing me to roam about in every corner of his ships.