The last weekend was a near perfect one, wasn´t it? With temperatures well around 20 degrees Celsius, a slight fresh breeze and a mostly cloudy sky prohibiting too much direct sunshine it felt just convenient to load my family into our small car and have a one hour´s drive to the town of Neustadt in Holstein at the Baltic shores where the annual Ancora Boat Show took place.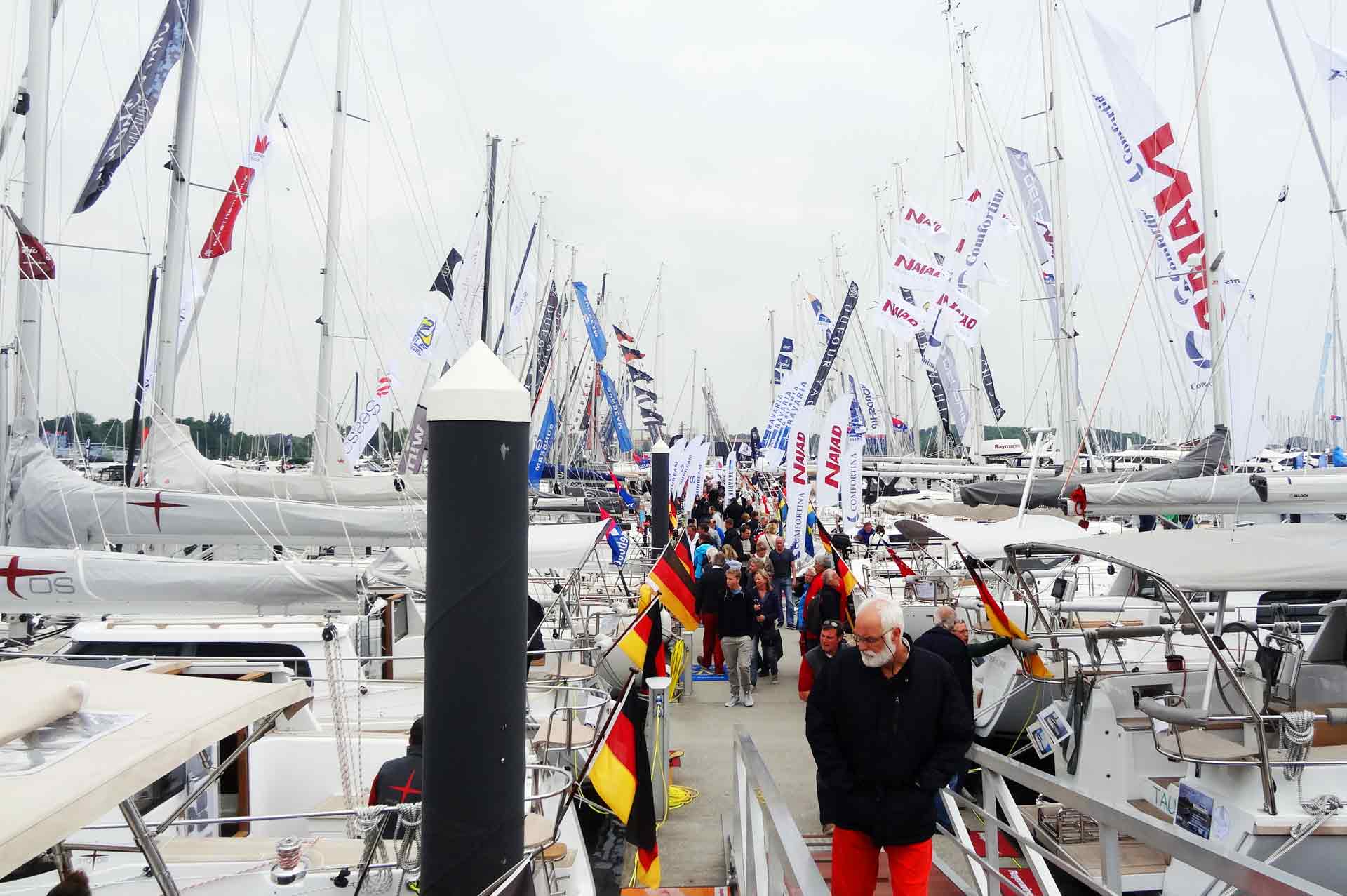 The Ancora Boat Show is a spin-off of famous Hamburg-based Hanseboot fair – the small sister of the Boot fair in Düsseldorf – which I was roaming last year with enthusiasm (read full article here). Upon arrival at the famous Neustadt Ancora Marina I was puzzled by the masses of visitors: Apparently parking space was desperately needed. Exciting to see such an event with this enormous feedback of visitors – at the third day in a row.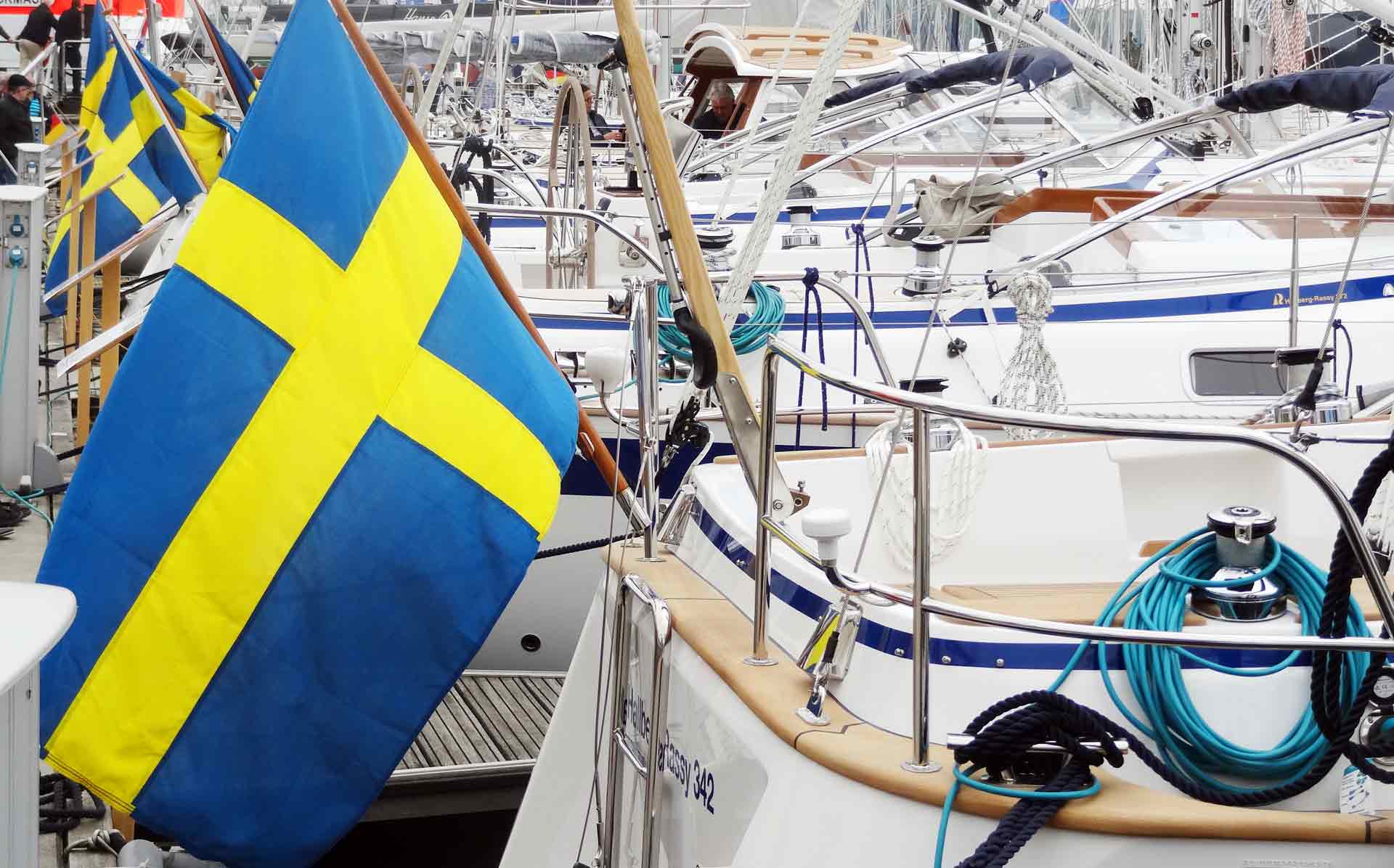 So I struggled to blaze a trail through the hundreds of people to get a glance at the various sailing yachts exhibited here. Ancora Boat Show´s specialty is the style of exhibiting the boats: They´re in the water. If lucky – and by appointment – no few of them can be trialed under sails in the nearby waters of the Baltic Sea. Well, I didn´t had any appointments at all but to climb on deck and have this feeling of a slight swell when onboard was a beloved and familiar one.
As expected, one could witness a crowd besieging the whole fleet of Hallberg-Rassy yachts, no wonder: Based at Ancora Marina is the German authorized dealer of this brand, a home match. Alongside one was to visit Najad, Bavaria, Hanse and Moody or Comfortina. Other brand such as Danish trimaran maker Dragonfly or various motorboat brands had their boats mooring at the jetty as well. But most of all I was excited to getting a chance to take more time to visit my favorite sailing yachts of this year´s Ancora Boat Show: The Faurby 363E and the Dehler 42.
Sleek and tempting: Faurby 363E
As you may have read in my interview with Magnus Rassy of Hallberg-Rassy and Niels Jeppesen of X-Yachts (read it here) I was particularly interested in some sort of a Scandinavian approach to sailing and building yachts. This interesting piece has been complemented by a visit to two yards: Luffe Yachts of Kolding (which can be read here) and X-Yachts of Haderslev (which can be read here). That makes two of the – in my mind – three relevant Danish yacht makers. One was still missing: Faurby Yachts of Lunderskov.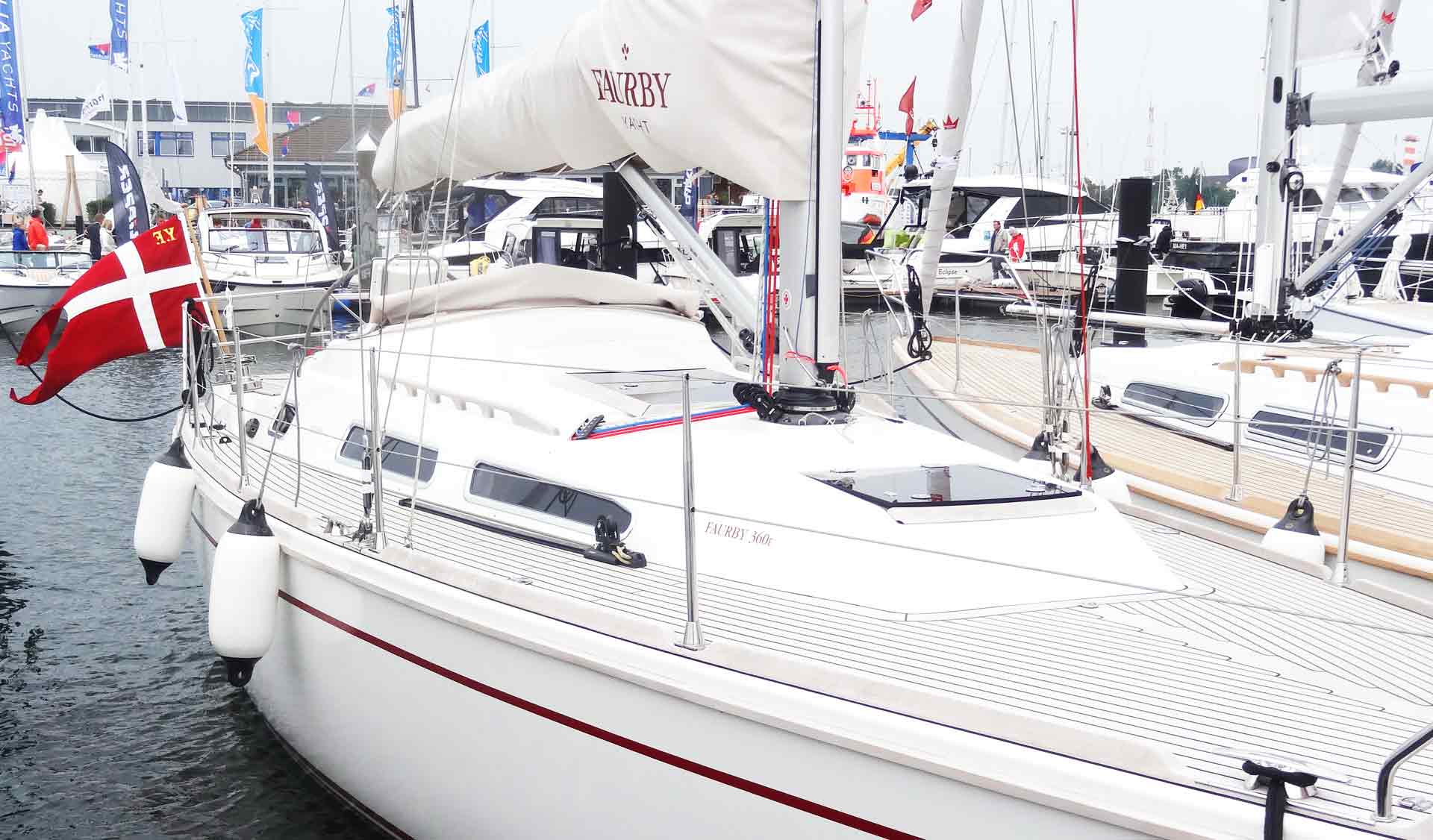 Seeing the Faurby 363E moored at the jetty was a true highlight: I do admire the sleek lines of Scandinavian built yachts, a refreshing counter-trend to current mass produced yachts with broad beams, huge and commodious interior fittings sacrificing sailing characteristics. The Faurby is no exception: A slender stern – whilst offering two aft cabins – and a classic, sharp slanting bow is randomly seen amongst "modern" designs nowadays.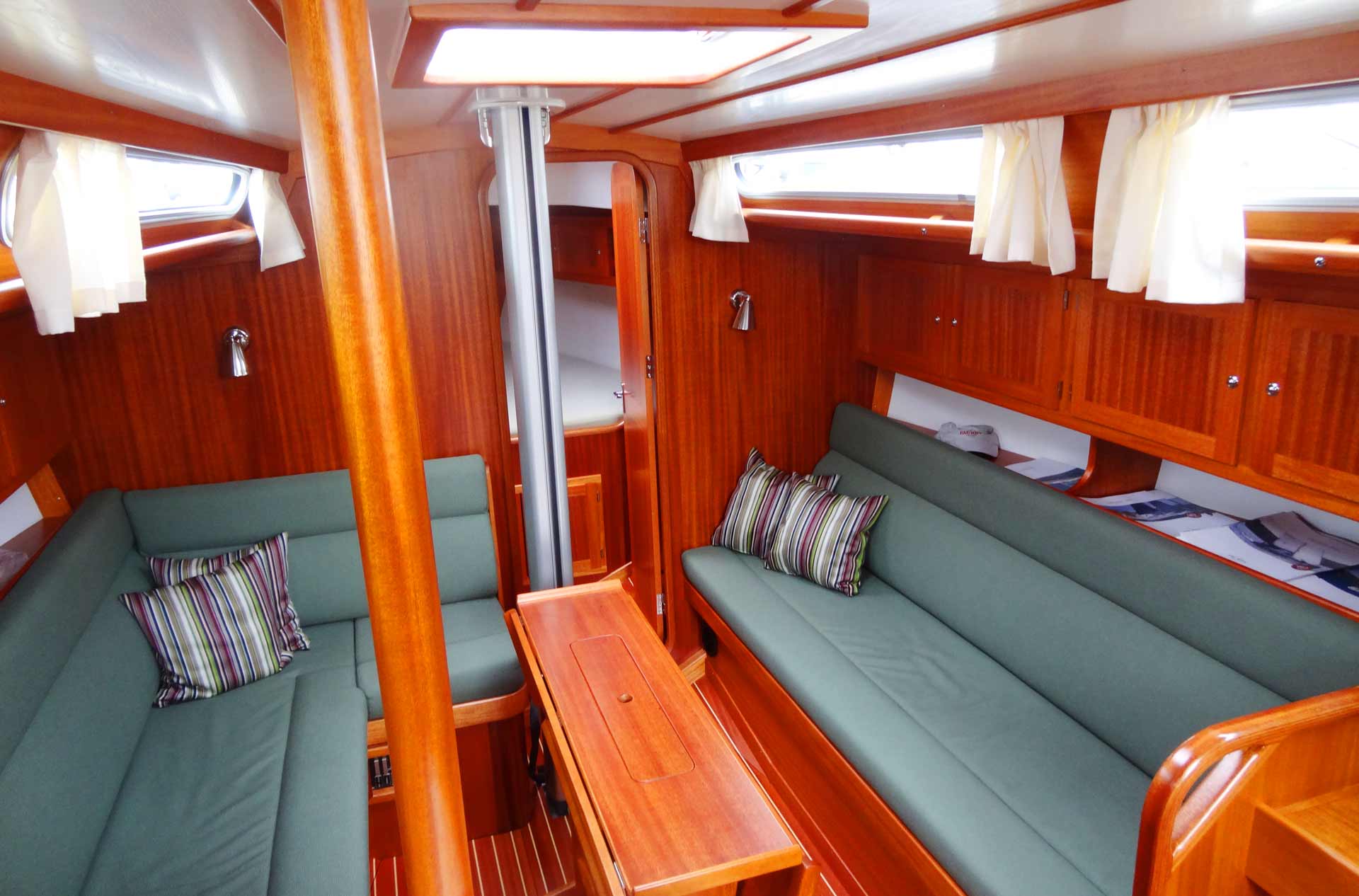 Faurby was founded back in 1976 and is following quite it´s own philosophy of building yachts. Each and every yacht – just as it is the case with Luffe – is built only by order. After done so, the owner in being can virtually design his very own interior: Whilst principle layout of the boat cannot be changed, there are virtually no limitations to act out ones feelings and have a completely customized yacht. Common to all is the utilization of high grade material and a zero tolerance policy in terms of production margins of faults.
Faury Yacht: High Grade Interior Fittings
Jumping down the companionway into the saloon I felt at home instantly: This is what a sailing cruiser should look like, if you ask me. Faurby incorporates not just "some" wooden veneers – the whole internal fitting is completely done in finest wood. Cupboars for example will be mounted on massive wooden frames. Not a single surface of GRP is exposed to one´s sight. If you wouldn´t know it, one could not get a hint of being aboard a plastic boat.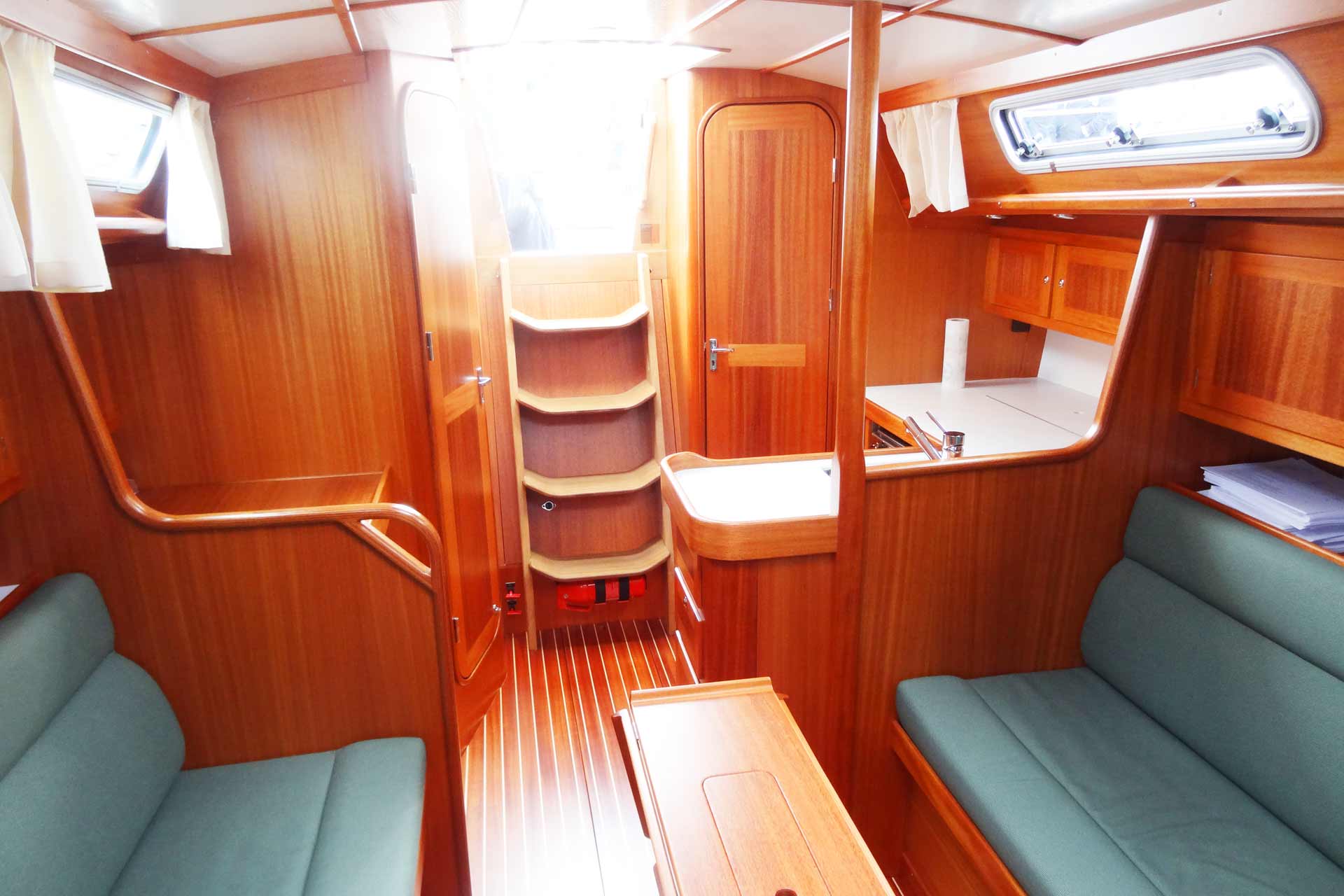 The Faurby 363E has a length of 11.25 meters overall and a maximum width of just 3.30 meters. That´s a ratio of just 3.4 – slim lines compared to, let´s say, a Hanse 385 with a length/width-ratio of 2,9. She will go fast, will love cutting through the waves and going clause hauled upwind in a strong breeze. With just 5.5 tons of net weight this cruiser is slightly heavier than a Luffe of the same size, though Faurby does emphasize that a Luffe would be slightly sportier boat whereas the focus with Faurby yachts is on travelling in style. And that´s what I´ve found below deck.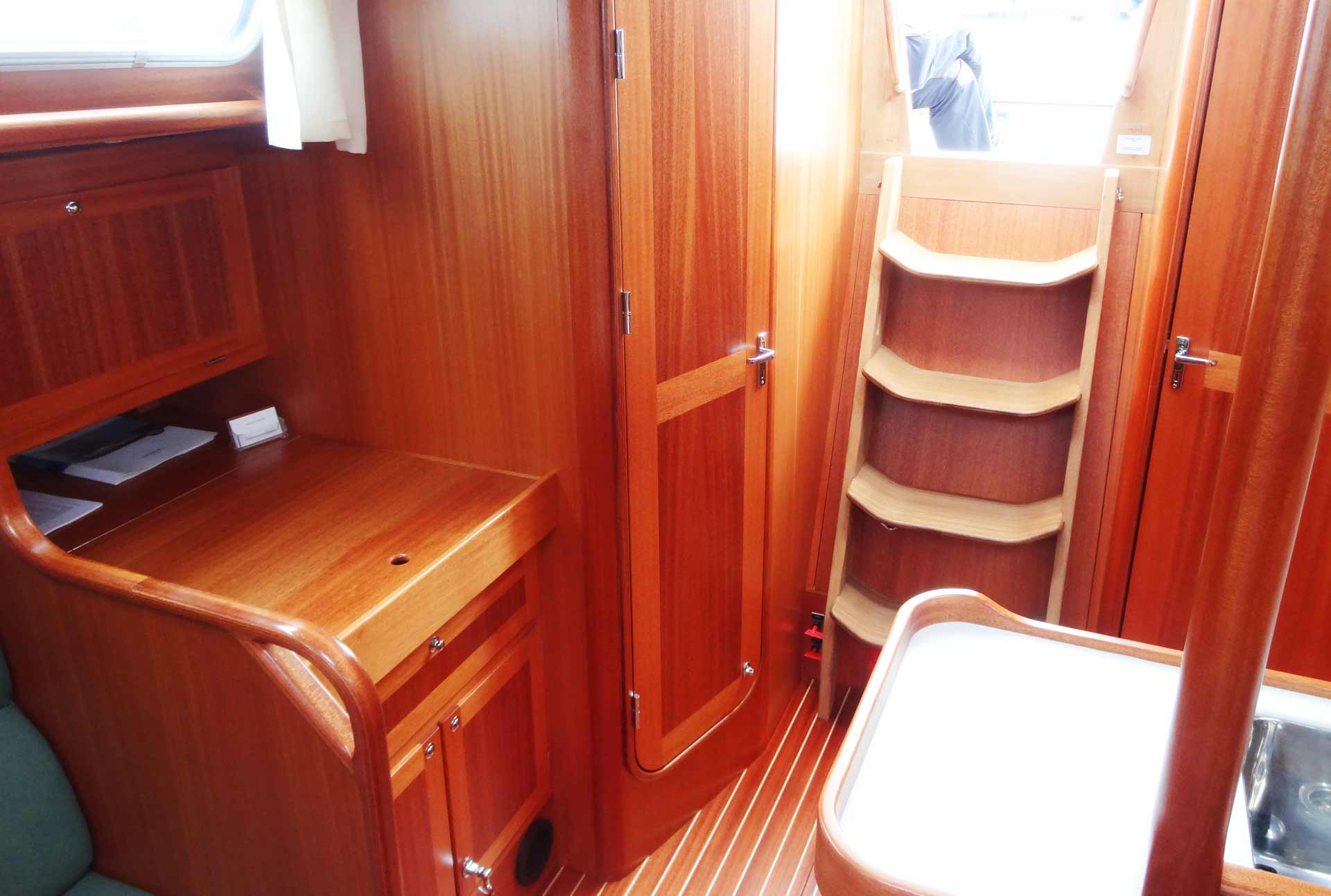 Coming down the stairs the main cabin is designed the classic way all along: The saloon offers two large settees and a central folding table under a variety of large enough portholes and large cupboards. No frills here – just straight couches, able to be transformed into additional berths. But apparently everything is made with an emphasis on lowest possible clearance. Aft on port side a small L-galley offers enough space to cook thoroughly. What was astonishing is Faurby´s solution for the navigation station. No seating at all. Interesting. (Here´s an article on how I am planning to redo my own navigation station in the Kings Cruiser 33)
So much Inspiration for my Kings Cruiser 33 Refit
When inspecting the surfaces, looking behind veneers and trying to open and close cupboards I particularly liked the massive execution of work done here. An owner should take much pleasure in here for many, many years to come. Even looking behind the nice facings I liked the high grade of material used and the quality of the work done. Besides, the Faurby delivers so much inspiration for my refit project of my King´s Cruiser 33.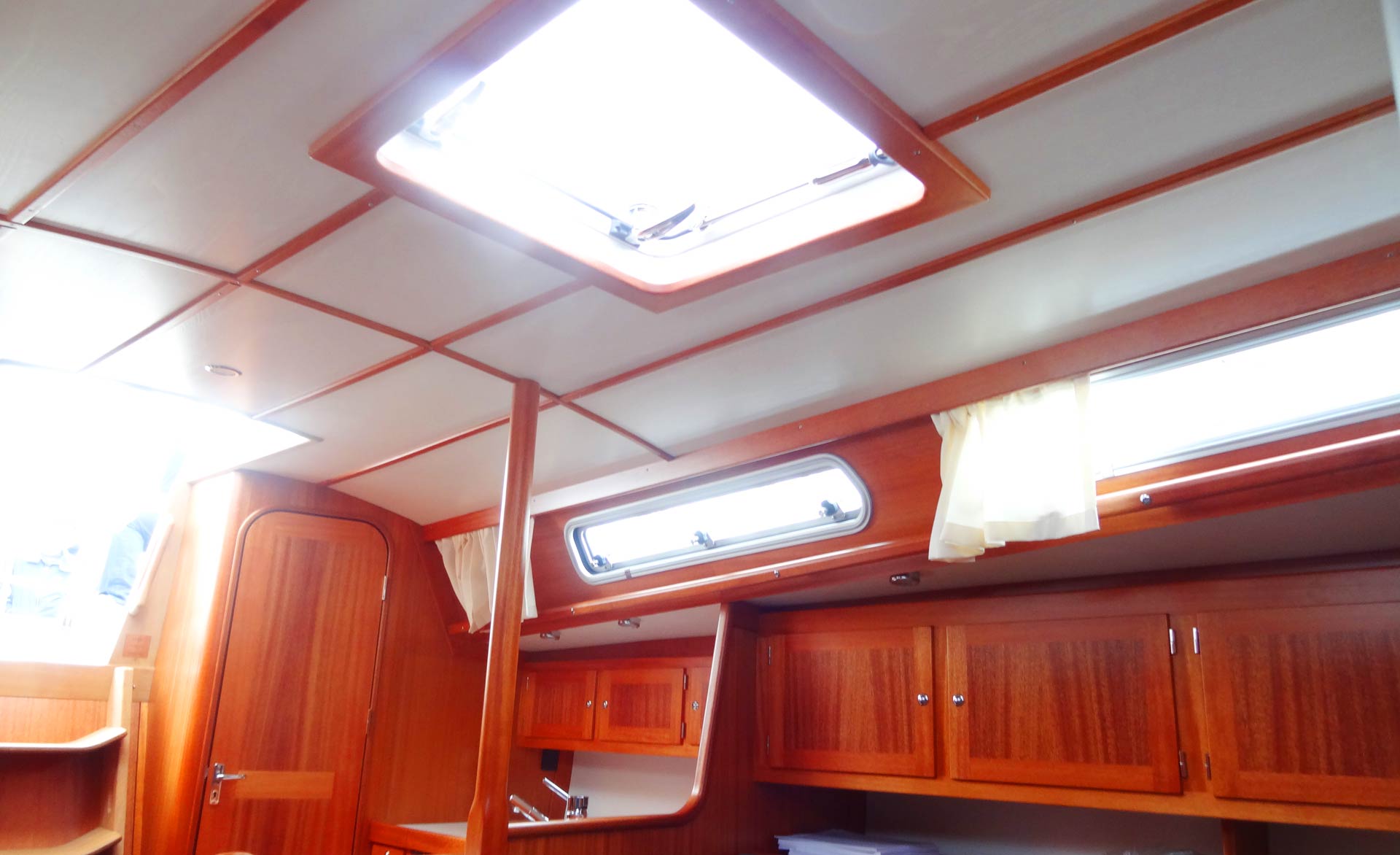 Looking up to the ceiling liners I instantly loved the white panels – in this case made of plywood covered with a white inlay depicting a wooden surface with wooden skirting. This solution is definitely an alternative for my own yacht´s cabin ceilings and I am saving pictures made aboard the Faurby into my laptop´s folder called "inspiration_for_refit". Thanks Faurby.
Another detail is the nicely done roomy fore cabin, which I also admired for some minutes. Since this boat is a smaller yacht compared to +40 feet models considered a commodity nowadays, this cabin does make use of the available space in the best way. Coming to rest here in the bow should be recreative at least. Originally I intended to have the side panels of this cabin covered with wooden skirting all over the place (read full article here), I am now thinking of maybe adding 256 centimeters of cushioned panel to each side of the berths for padding against swell and a massive wooden cover instead of different wooden strips for covering the anchor chest.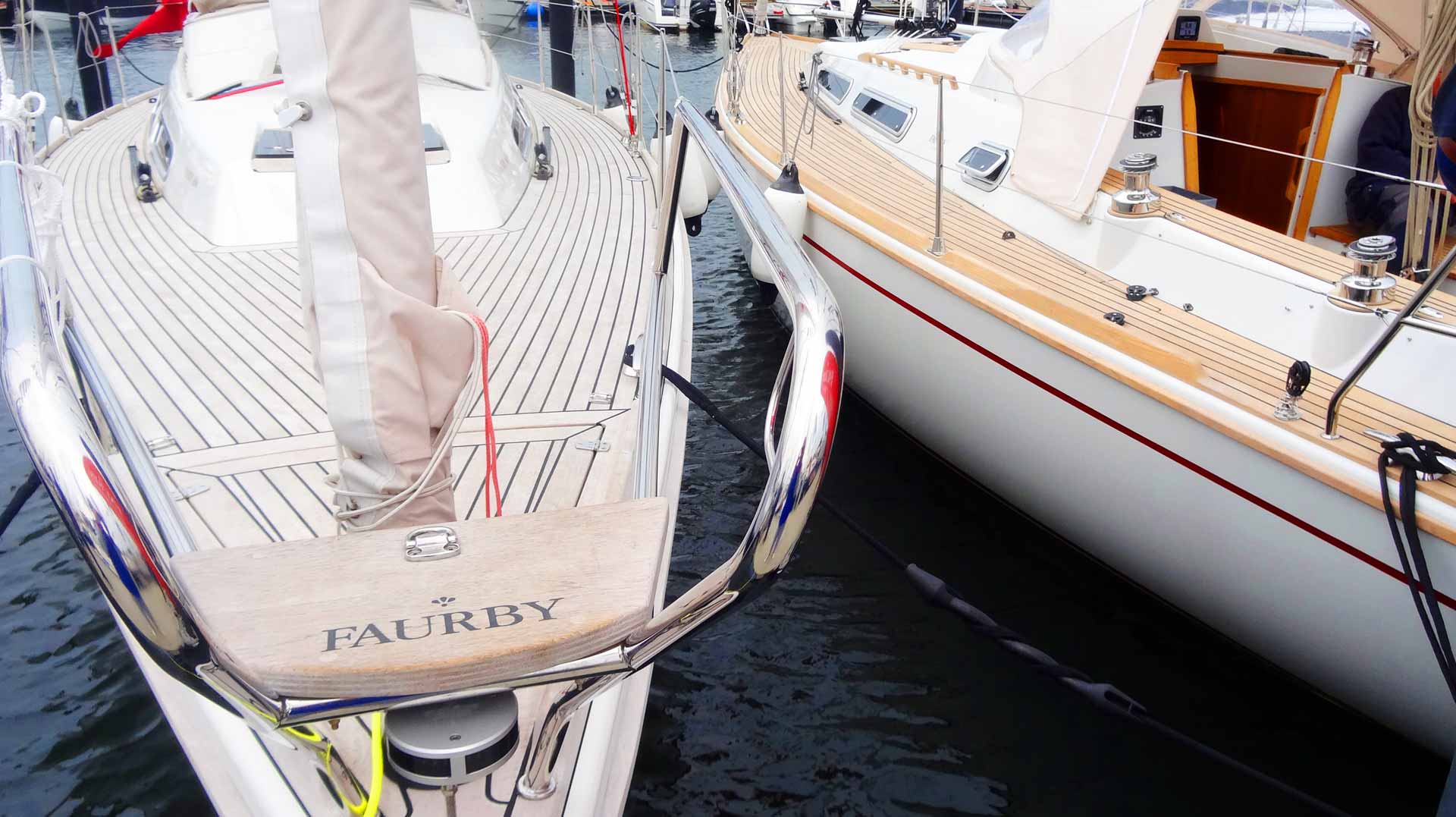 I leave this wonderful boat with an impression of having found a yacht that would fit my desire to have a sportive boat and a classy looking yacht in one to 100 per cent. Faurby – as well as X-Yacht and Luffe – is definitely a brand worth noticing and I hope to getting a chance to have a visit at the yard sometime in the future or – better – to do have a couple of miles at the helm under sails in one of these marvelous yachts.
A fine Cruiser/Racer: The new Dehler 42
Not far from the sleek, elegant Faurby another #dreamyacht of mine had her berth: The Dehler 42. This boat is freshly launched in 2016 and had to meet high aspirations of the sailing community since the cruiser/racer market especially in the attractive +40 ft. range is highly competitive. I was also keen on checking building quality – as far as I could judge it. Berthed stern at the jetty I first noticed the big bathing platform which made it very easy to board the ship. The wide open cockpit with its twin rudder wheels may be appealing to the more racing-oriented crew, the folding table in the midst of it to the cruising society as well.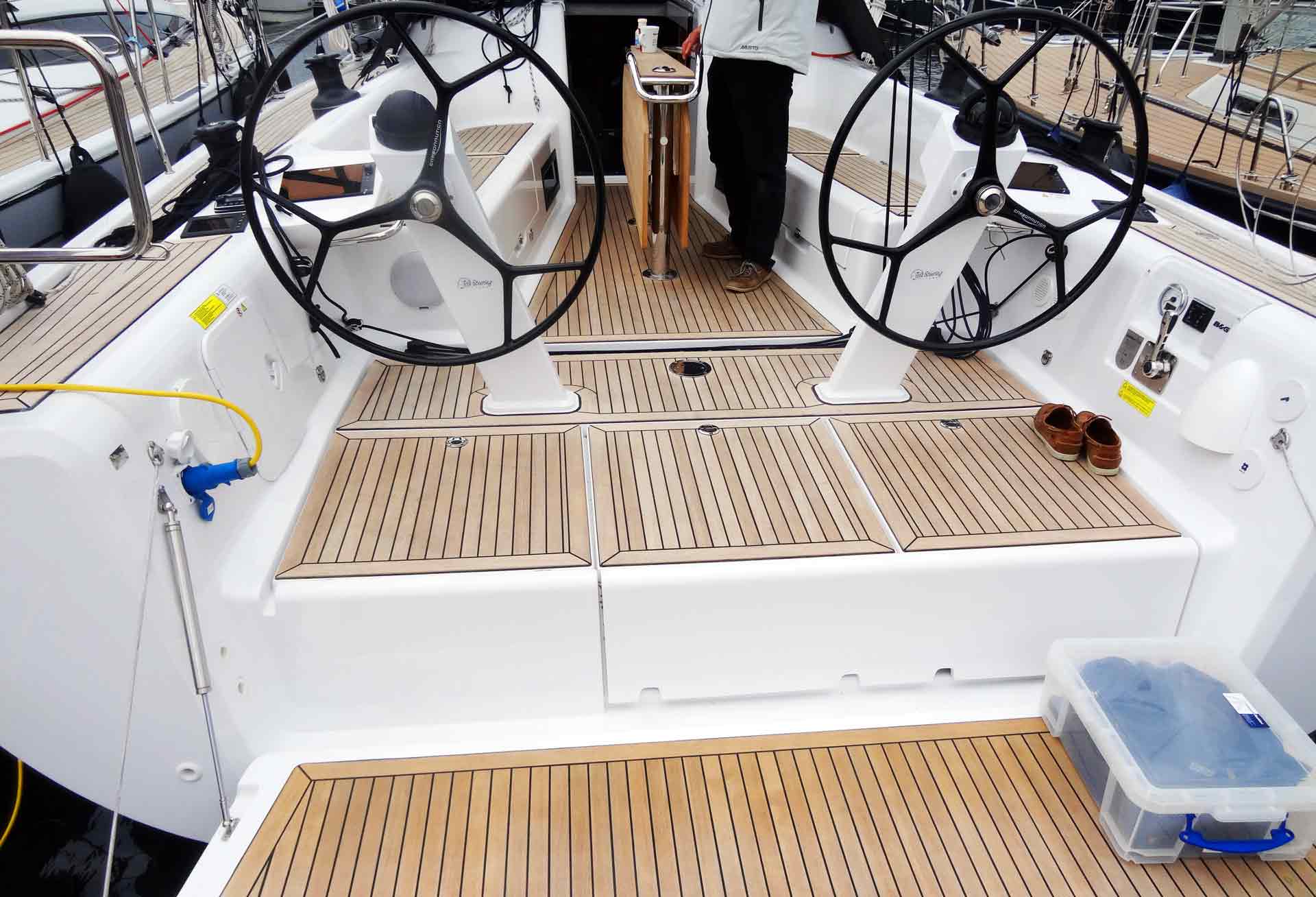 Strolling forward to the bow I admired the beautiful wooden Teak decking although one may order synthetic Teak decking as well (here´s an article on PVC-decking). What I particularly like is the covered ducting of the running rigging. Coming down from the mast all halyards run into the cockpit but no rope will disturb the beautiful view over this neat and clean deck. The Dehler 42 is outfitted with a stepped mast that will go through the cabin ceiling which is a plus for stability – though the mast inside the cabin is covered by a heavy leather sleeve it would be interesting to evaluate the sealing after some years of intensive sailing with that boat.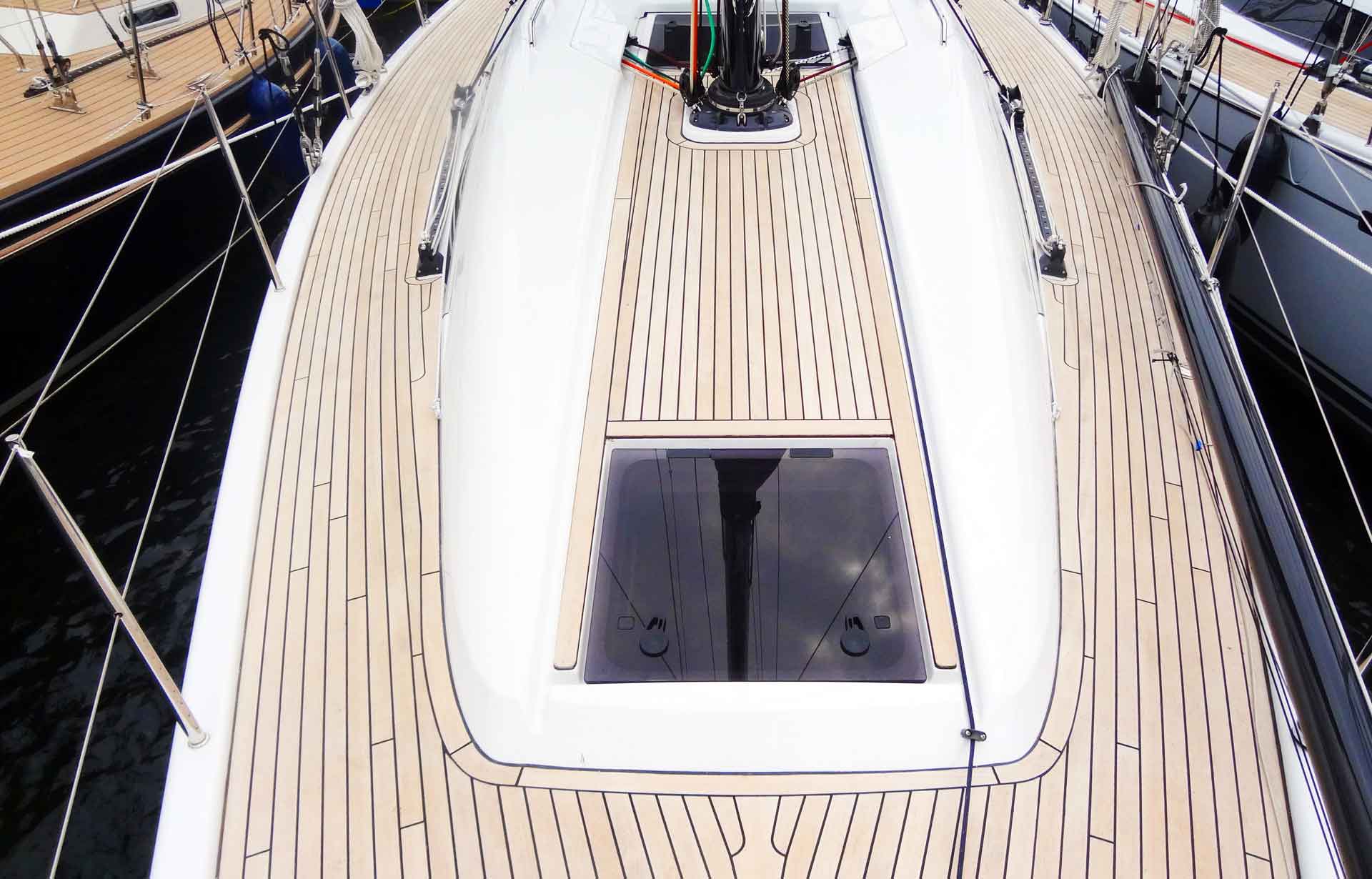 Although I knew this yacht already from the Hanseboot I was keen on having another look at the interior composition of this new Dehler and was lucky to find the cabin free of other visitors, allowing myself to take a seat here and there to contemplate the boat´s interior from various angles, envisioning myself on that ship on a longer cruise. Would it suit me well?
Well. Yeah. Kind of.
Aeroplane or Sailing Yacht?
First of all, a Dehler is – design-wise, what an X-Yacht isn´t that much: Very modern. When coming down the companionway my instant though – again – was, is that an airplane or a sailing yacht? Everything inside this ship seems to have been designed with an emphasis on exactly not creating a ship-like atmosphere. It´s very, very modern. Although the partitioning of the interior is classical, the rest isn´t.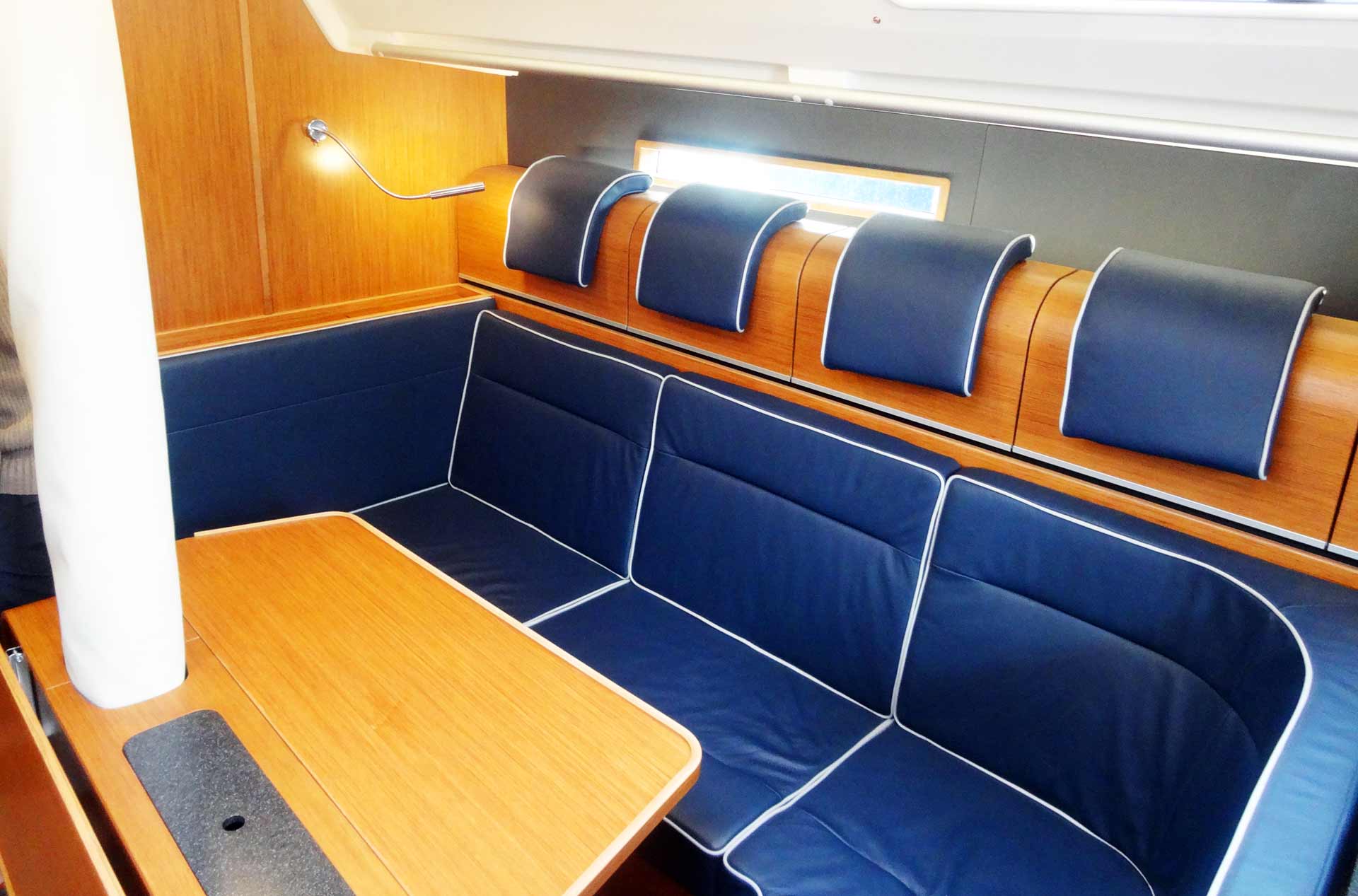 I would say this impression is induced primarily by the style of the cushion and especially by those headrests-kind-of cushions which are at the same kind the folding panels for stowage. I can´t help but this reminds me of an airplane. A very luxurious one. And that´s a second impression: This modern style cruiser implies luxury – it´s not a resemblance or, let´s say, a paying tribute to the Golden Ages of Sail, no, it´s the trial to create a whole new standard of how one goes to sea.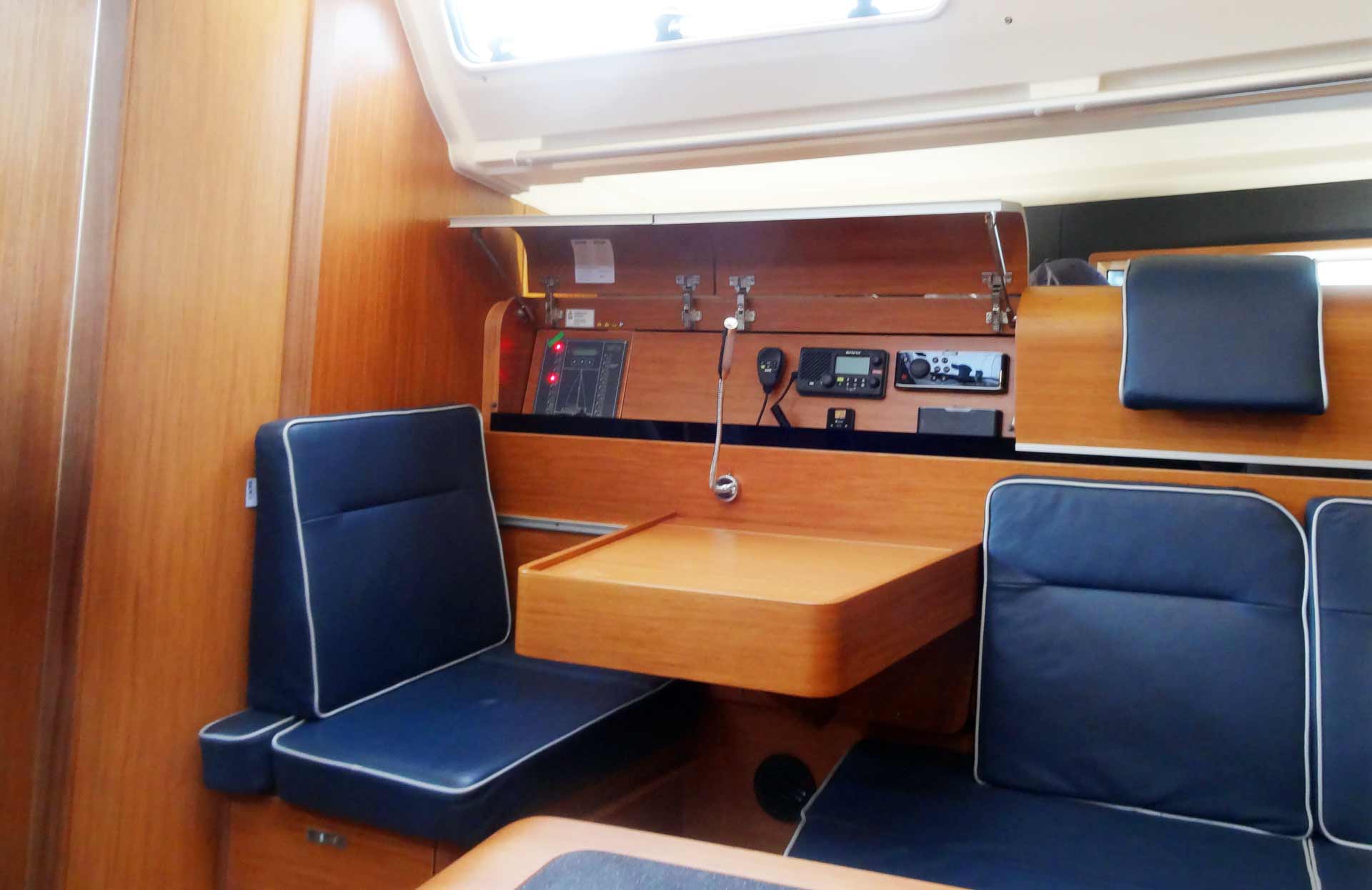 Everything is very, very cozy. I loved to check out every possible seating position here but I can say that neither one has downsides: Every single seating position offers a good view, enough light and legroom. The Dehler 42 is a bit beamier than the Faurby but I didn´t had the impression to reside in a particular spacious boat. I would assume, she is a true performer when it comes to her sailing qualities and a sleek hull is definitely a plus here. Oh, and the Dehler has a proper navigation station.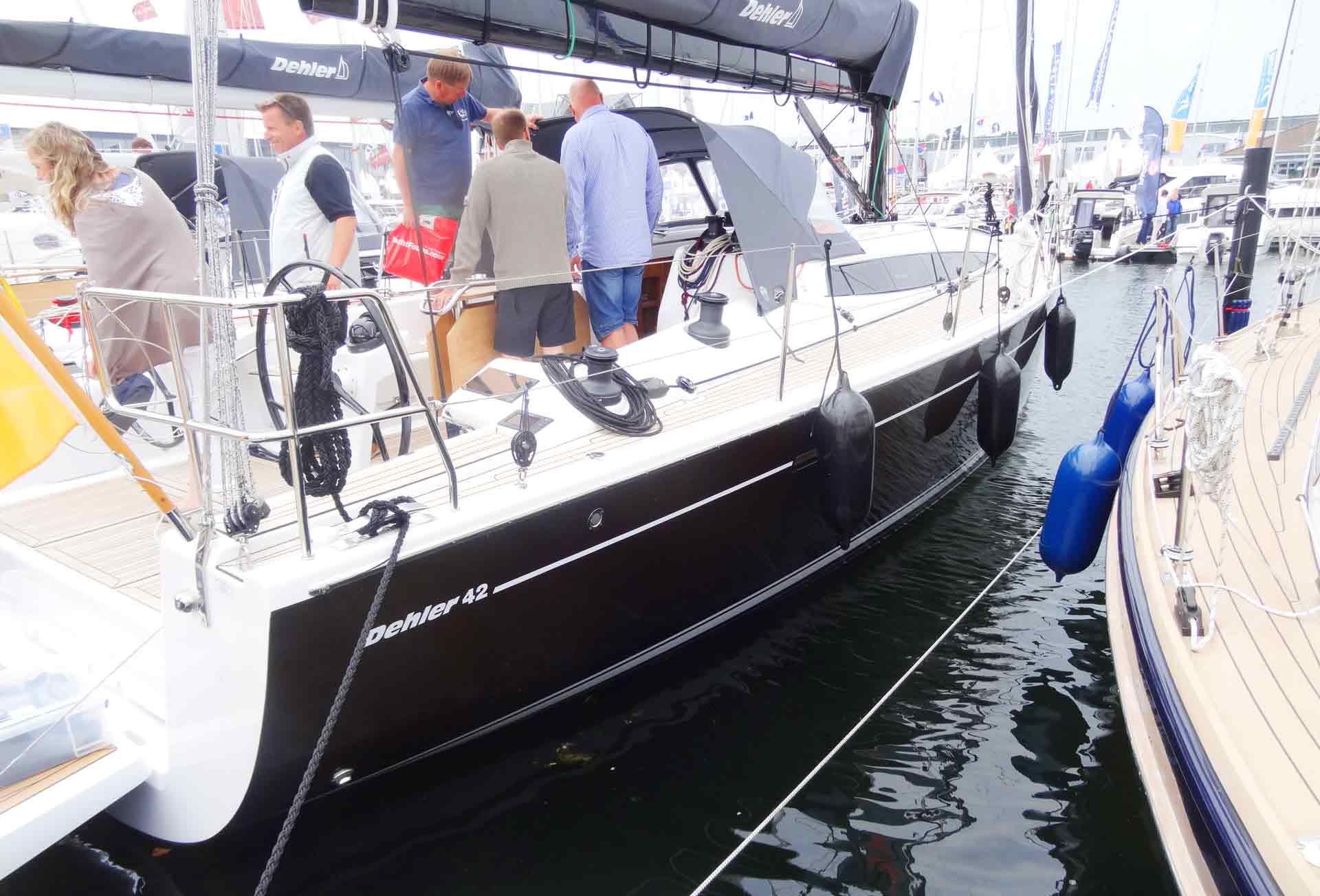 Situated on the port side a large enough chart table provides for a good working platform to do the log book. Electronic devices and the main electric panel are mounted here too and there´s enough free room for additional stuff to be installed. So it´s no wonder that, when I finally left the boat, a new wave of interested visitors stormed the deck of this beautiful boat. What applies for the Faurby is evident for the Dehler as well: I´d love to get the chance to sail one of these.
Ancora Boat Show: Worth a Visit
I was satisfied when I drove back to Hamburg after an exciting day at the Ancora Marina in Neustadt. Along with some 17.000 other visitors (where´s the recession?) I think this boat show is a beautiful chance to getting to see one´s favorite boats in their element. It´s smaller and less crowded than an ordinary fair and I got the impression that the sales persons and yard people I spoke to have been more relaxed. Is it because the boat show isn´t stuffed into cramped fair-halls? I don´t know.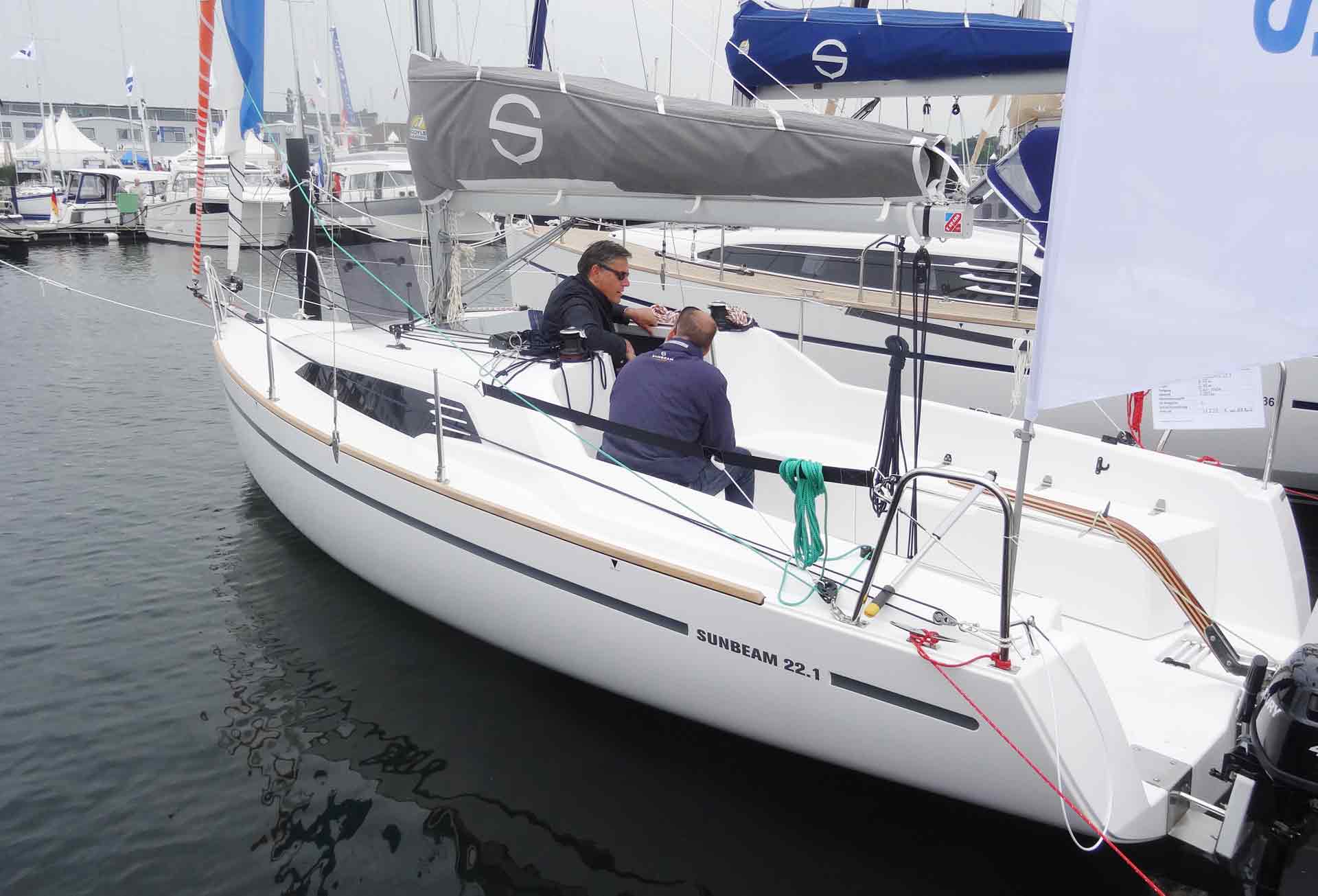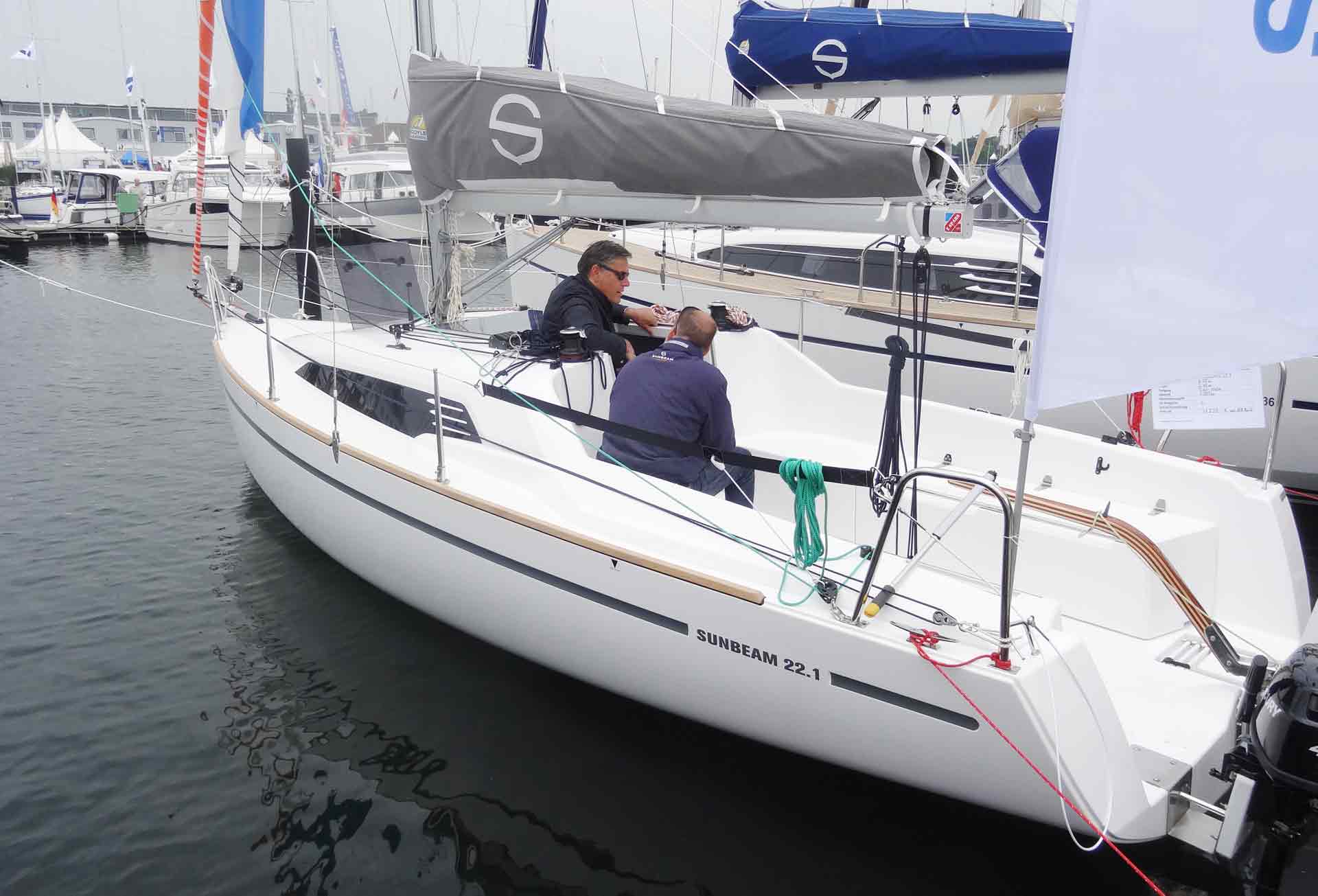 Along with the Dehler 42 and the Faurby 363E it was the all-new Schöchl Sunbeam 22.1 that I really liked. A 22 ft. daysailer which nevertheless apparently offers enough space for a 4-person crew and may be a perfect choice for large lakes or coastal sailing. In the end – as always – I lamented when arriving back home for not having taken some more time to have a look at this boat or at that boat in particular: There have been simply too much of them.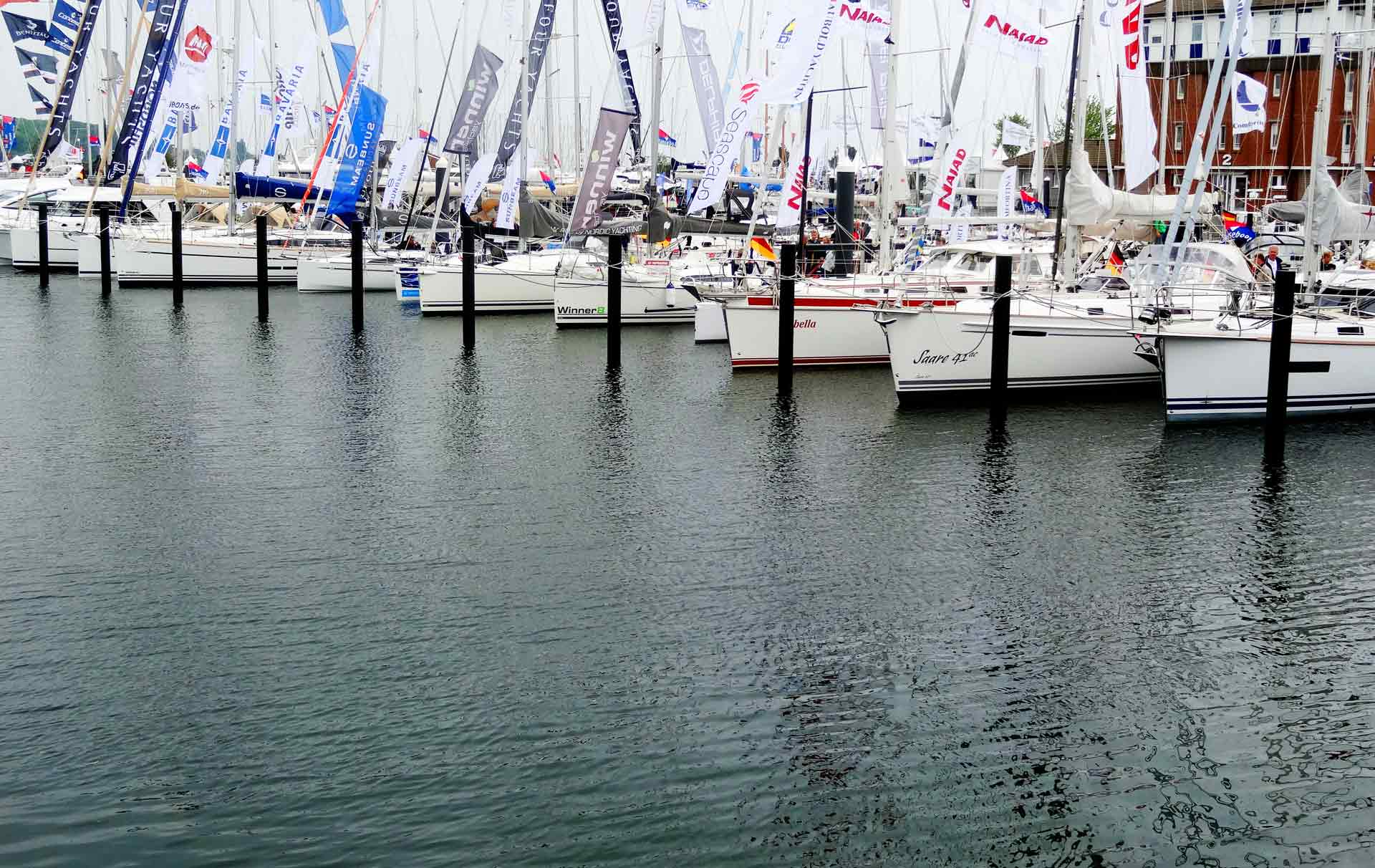 Nevertheless I take home some new inspiration for the interior-fitting of my King´s Cruiser 33 refit project, the urgent drive to make an appointment to have a look at the Faurby yard in Denmark for my next holiday and I am excited to an even greater extent to cast off and set sails again as fast as possible. Which will be done during the next week: 7 days of sailing an 44 ft. X-Yacht as part of my yachtmaster education.