On this page you may find all information about my latest project, the new build of the Peter Norlin classic, the OMEGA 42 sailboat. I started to think about this boat back on 2018 when I first visited a small Northern German shipyard, Müritz Bootsservice, where the original hull mould by Swedish yard Vindö is located and the guys reissue the legendary sailboat. Here´s a great 6-page review and sailing test by German yachting magazine "SEGELN" – Klick here
With the Omega 42 I return to the classy sailing style that my first boat, the King´s Cruiser 33 OLIVIA, was already giving off so nicely. After I decided not to go for the First 36, this boat, I am sure, will best connect my demand for a family cruiser and my drive to sail quickly.
The Omega 42 was designed in 1979 by legendary Swedish designer Peter Norlin. At the height of the IOR-boats, he made a boat free from all rules. The Omega 42 at her time was resumed to be one of the quickest serial production boats available at that time. Norlin gave her a large ballast-displacement-ratio, a tall rigging and low draft: Perfect for "catching the wind" up high between the thousands of islands of the Swedish Archipelago.
From 1979 to 1998 some 160 units have been built in total. Mine will be hull #2 by of the Omega 42 evo-boats shipyard Mueritz Bootsservice, hull #162 in total.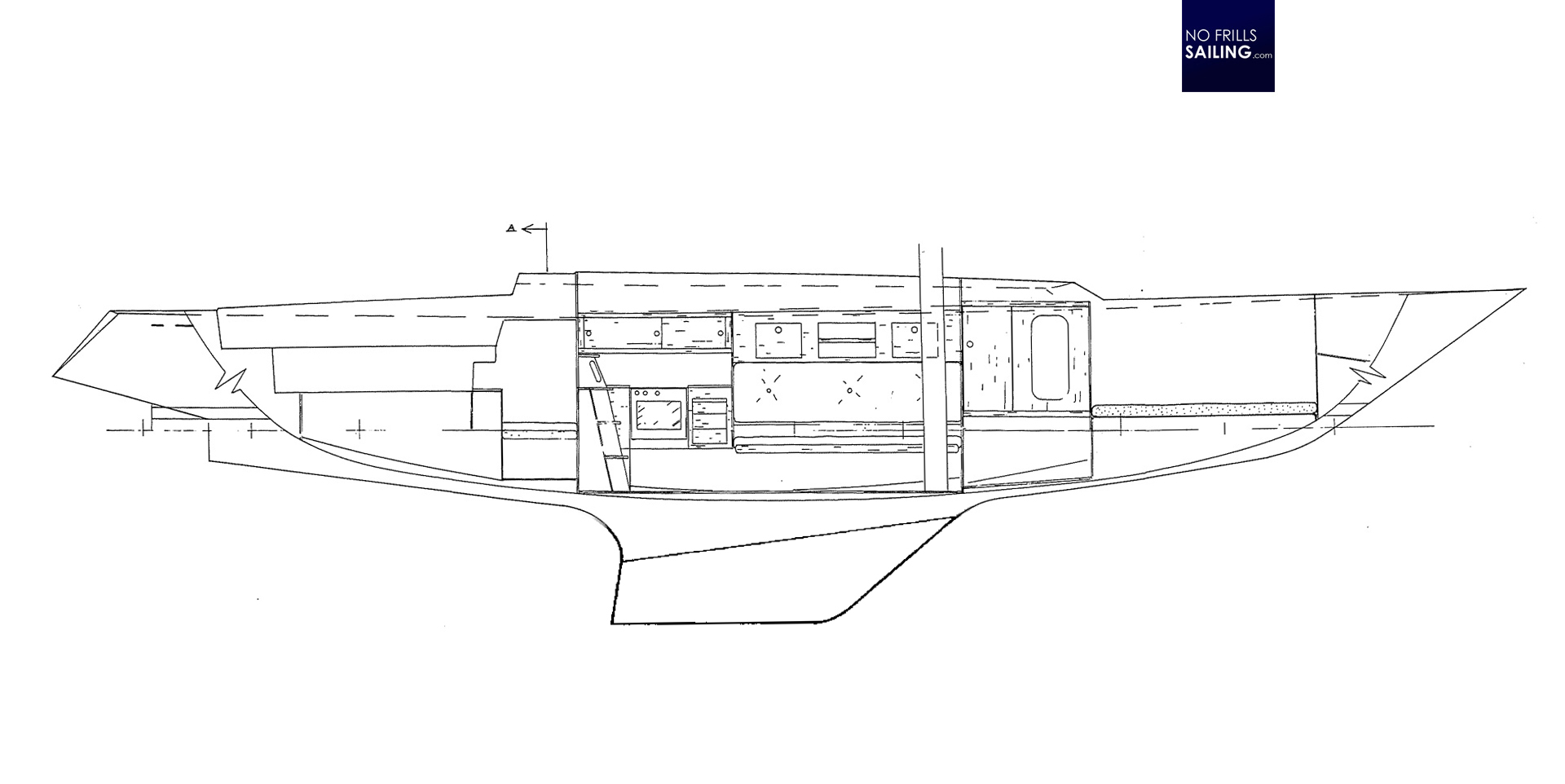 The reasons for me to go for the Omega 42 in the end are multiple and very personal. As for every decision for a boat (or against another one), this comes mostly from the heart and the belly. Rational thinking is widely disenganged when it comes to boats, but I will try to map out the main drivers in my decision to not buy a modern sailboat but to invest in reviving an "old" classic ship:
Beauty: The Omega 42 is well known to be one of the most beautiful yachts ever designed. There are classics and there are immortals. It is like with cars: There are many, many nice classic cars but there are much less immortals. Like the Mercedes 300 SL or the Jaguar E-Type. The Omega 42 is among those, a boat that needs no explanation. There are very few boats as beautifully designed as this marvel.
Size: As I am sailing with my family, my boys and friends, I am seeking a boat size that can fit this demands. After 2 years of sailing the First 27 SE with my family, I want to go for a "real" cruiser: A proper bathroom, a proper galley, proper berths and so on. 42 feet is a pretty huge length, but with only 3.10 meters width (and far less in the back and bow) the interior volume is more comparable to a35-footer. I find this is sufficient for my demands, but far more than micro-cruising.
Individuality: The Omega 42 will be built as a one-off in a semi-custom process. In this, I can decide what to go for and which things I don´t want to have on board. There is no chance whatsoever to have this freedom of choices in a serial production boat. My aim is a "no frills"-yacht as easy as possible.
How much the Omega 42 is enchanting people, you can read in this 8-page article from German sailing magazine "SEGELN", in which this boat also made it to the front page cover: Klick here for PDF
The original Omega 42 as conceived by Peter Norlin was a boat of the Seventies. Her interior layout was quickly outdated, mostly the arrangement of the head in the front and as such an MK 2-version was released. This boat came with a proper bathroom at starboard side right next to the entryway moving the WC aft. The German-built Omega 42, let´s call it the Omega 42 evo, adheres to this layout.
In this, some more, mostly hidden, improvements, had been made: The hull is laminated with foam core and will thus be lighter as the original boat, a newly designed rigging by Seldén with 2 spreaders eliminates the old weak spot of the construction.
Omega 42 evo: The boat´s data
Gathering the data of Norlin´s masterpiece, you should be aware that these are the original data of the boat. Especially rigging and weight of the Omega 42 evo made in Germany will deviate to a certain point and as soon as my boat is finished or the data are available I will put in the corrected numbers:
Length over all (Loa)                      41.99 ft. / 12.80 metres
Beam                                                 10.17 ft / 3.10 metres
Draft                                                  5.48 / 1.67 metres
P (max hoist mainsail)                  50.85 / 15.50 metres
This boat has a construction displacement of 7.4 tons, although most of serial boats floated around 8 tons. The Omega 42 evo will have some 7.5 tons again. Her a very stable weight/ballast ratio of nearly 51 % makes for an exceptionally a strong righting moment and allows her to carry her maximum sails area of some 73 square meters even in a stronger breeze. The ballast weight is 3.750 kilograms in a lead fin keel that is very low drafted, allowing this big boats to sail comfortably even in shallow waters.
Sailplan. The Omega 42 has been conceived from the start as a single-handed sailing capable yacht. In this, Norlin envisioned the boat with a self-tacking jib and a full-battened pin-head mainsail. Some later configurations added an overlapping Genoa to have more power in low-wind situations. I am not sure as of now wether I go for the original sailplan or fit a Genoa right away.
As the original boat featured a Spinnaker, there is no bow sprit intended and it would kill the design to fit one. Nevertheless, I need a solution to sail Code 0 and Gennaker on the Omega 42 in lighter wind conditions, which is a premise to have the self-tacking jib. We will see. For now, here are the sails-data of the original Omega 42 boat:
Mainsail                             417 sq.ft. / 39 sq.metres
Jib                                        364 sq.ft. / 34 sq.meters
That makes it to a combined total max. upwind sail area of 781 sq.ft. / 73 sq.metres
SA/D ratio                          19.5
Yardstick Handicap          94
As classy as she is, I will most likely opt against laminate sails for the Omega 42 evo. First talks with Quantum sails have been very fruitful and I think I will decide to choose Dacron as the prime sail cloth, but go for a very elaborate tri-radial cut with an emphasize on form. I am sure this is the best way to pay homage to the Norlin-classic.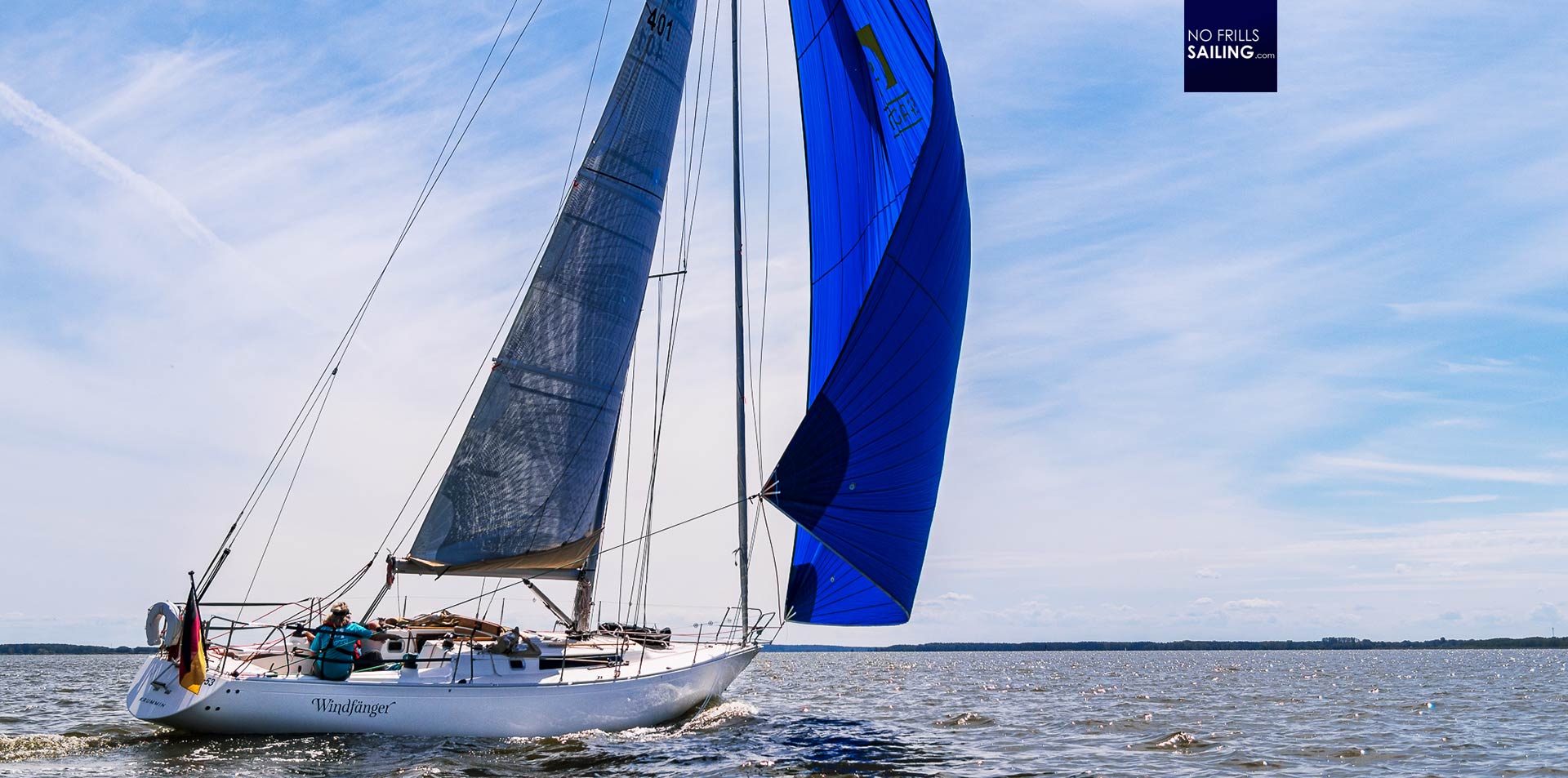 Engine. For the engine part many, many of you guys will surely think of fitting a "green" electric engine or alternative technology. I must say that I am for the most part done with electric propulsion on sailboats. At first, after 2 years sailing an all-electric boat I can say that this technology from my personal point of view is not safe and reliable enough to go offshore. Blue screen, error-codes and simply no chance to being repaired. Evereything is encapsulated and all is digital. The range of the batteries is more than limited.
In this I will surely fit the good old reliable and stable Diesel. For the Omega, Diesel engines from 25 to 24 horsepower have been fitted over the decades. I will opt for the Volvo-Penta D1-30 powerhouse to be mounted into my boat. Reliable technology, high quality and a great after sales network all around the world.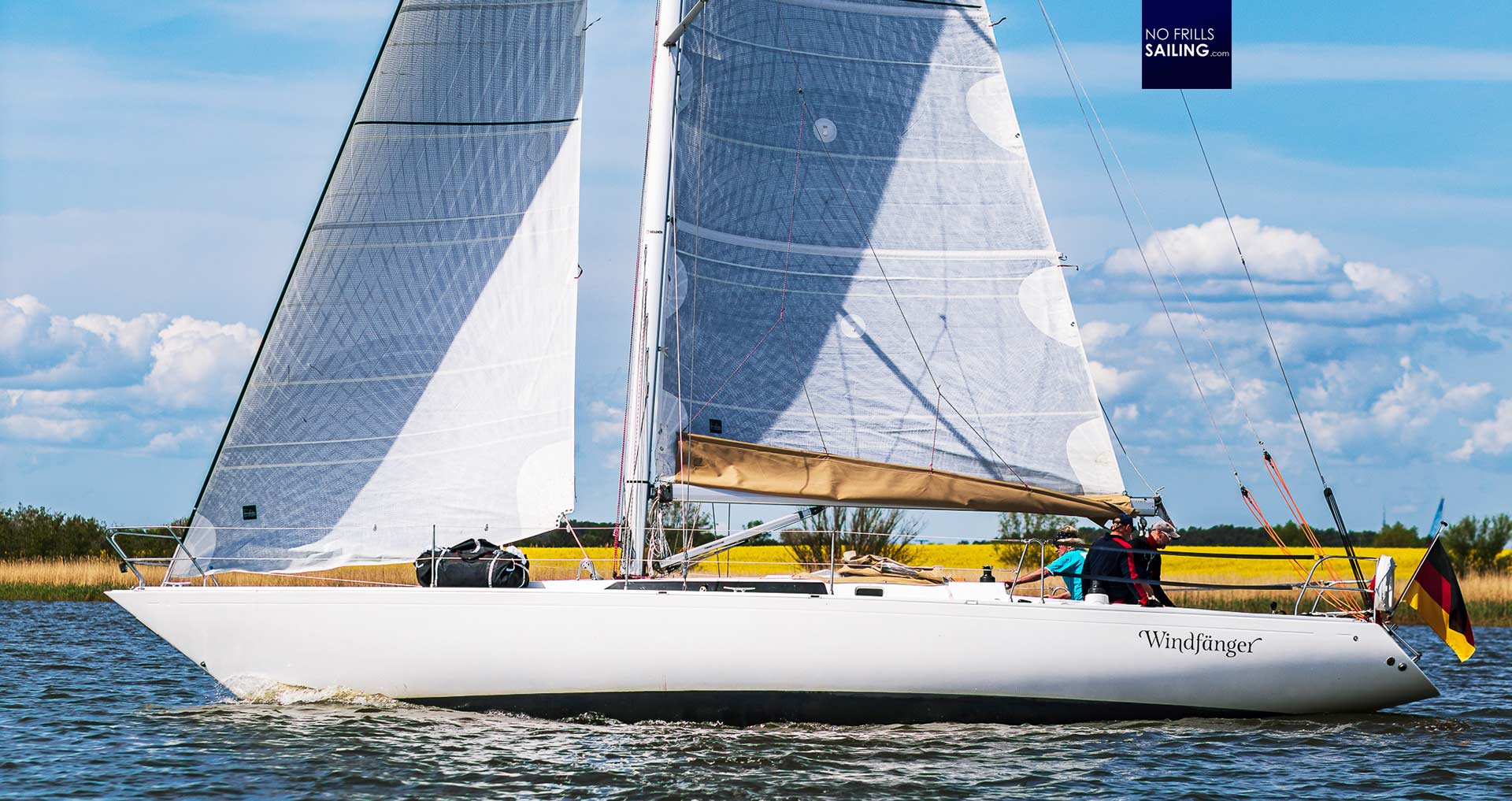 Building Quality & Construction: The hulls #001 and #002 (my boat) had been laminated by a Swedish boatbuilding manufacture in Dingle back in 2017. The hulls got transported by truck to Mueritz Bootsservice in Germany where they had been finished. Mueritz Bootsservice owns the mould for hull, deck and some GRP parts (floor of the bathroom for example) and starting with hull #003 those will be made in Germany. Mueritz Bootsservice owns the muld: Out of this single mould each and every Omega 42 was "born".
The hull is laminated thoroughly in hand lay-up with synthatic rigid-foam core. The construction, thickness and layup of the garments is 1:1 Peter Norlin´s  concept. An exemption is the base of the keel-stepped mast which turned out to be a bit weak for the completely new constructed Seldén rigging. A more rigid and safe base has been conceived and retrofitted to hull #001, in #002 it is installed from the start.
The boat does not need an inner and outer hull as the monolithic design and layup combinded with a few stringers and the bulkheads give more than enough stiffness to the construction.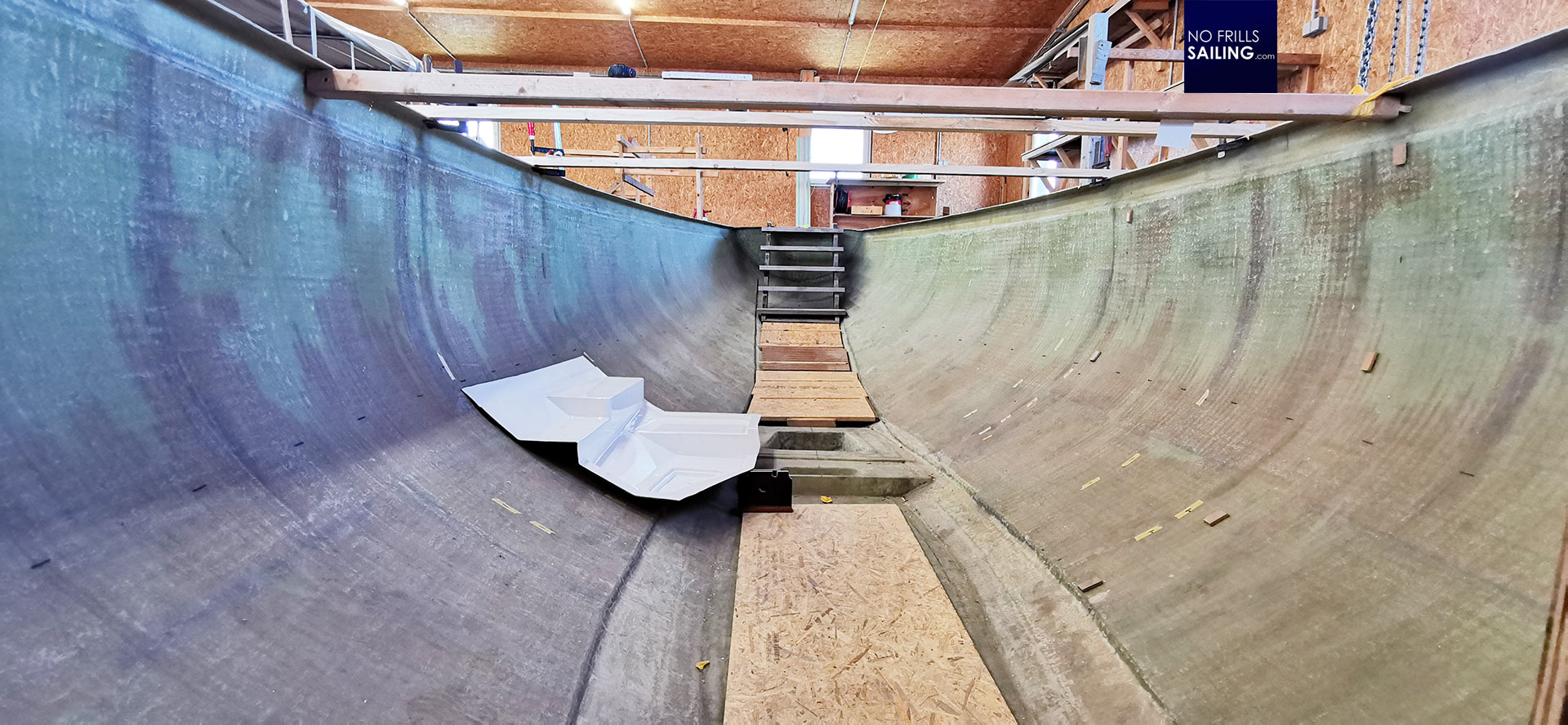 In the course of the project during its progress, I will complete this dedicated site, especially the sections on:
Interior Appearance and furniture
Interior Comfort
Head & WC
Stowage
and last, but not least:
the budget needed for a new build Omega 42, the very last article once the boat floats at last.
In this, the Omega 42 evo is a project in motion and a work-in-progress. I invite you to ask me for details which are of interest for you and I hope to being able to make a full documentation of the whole building process of the boat from A to Z. You may also browse the articles labelled with the hashtag #buildingreport to follow the construction process of the yacht.
The main steps of the Omega 42 evo project
These are the main steps of the project and you may click on the links to see the correspondng articles:
the concept of the boat, interior plan, fittings and general equipment list – read more
mast and rigging concept by Seldén – read more
hull being put on assembly racks in the shipyard – read more
choosing an engine – read more about my Volvo-Penta– and installing the engine
bulkheads, principal installations for propulsion, water et cetera
hatches and windows
interior fittings, woodworks
steering, rudders and autopilot-solution
winches and other fittings
electronics and navigational equipment by Garmin– read about the principal concept here
sails with my partner Quantum
making, transport and fitting of the huge lead keel
rolling out, mast stepping and first watering
All articles about my journey to the Omega 42 may be browsed by bookmark the hashtag #omega42 to keep yourself updated with the latest articles referring to this project.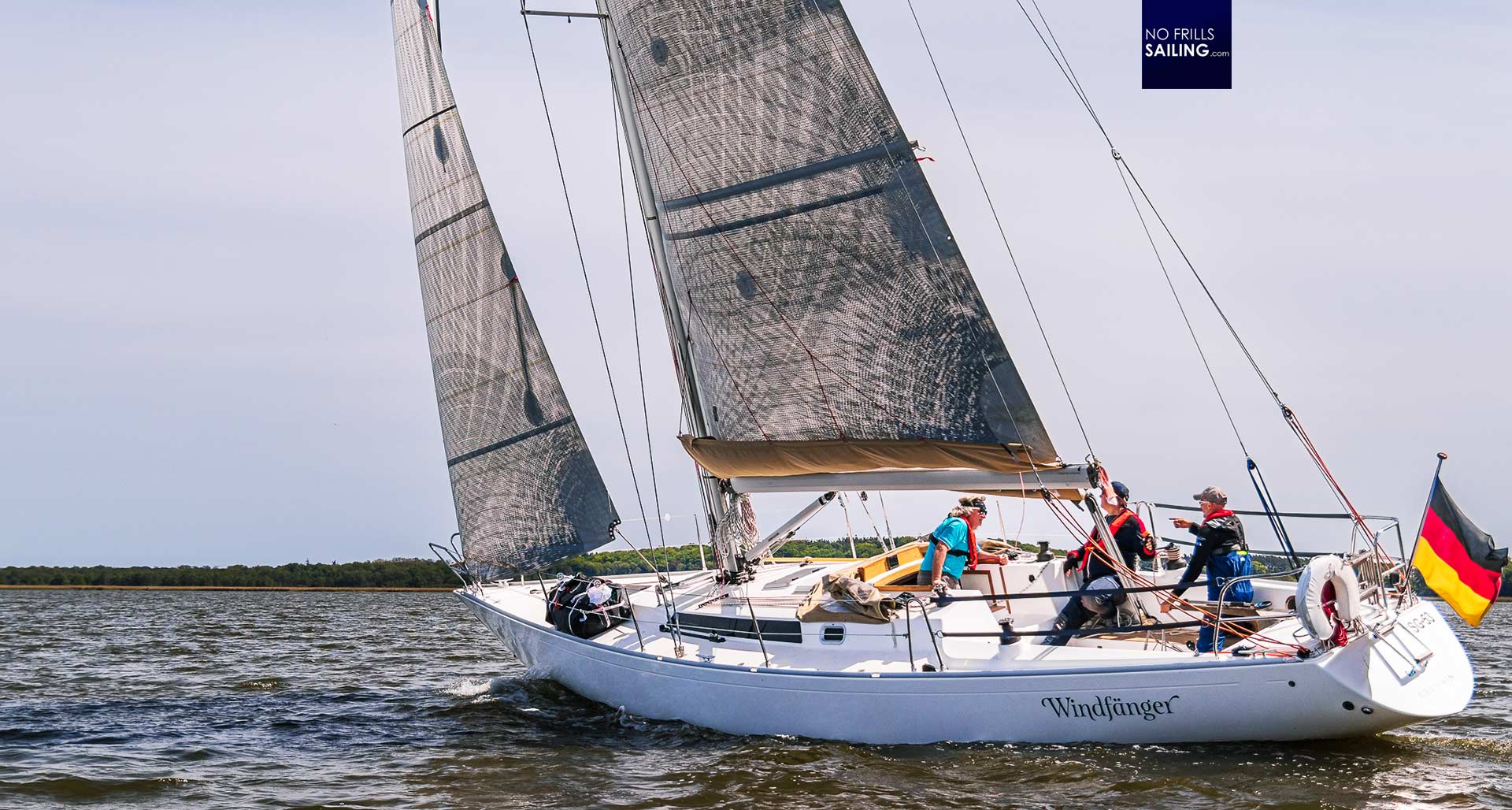 You are interested in a price quote for your own new build Omega 42 sailing yacht? Contact me for more information and a first consultation about your Omega 42 project.