Earlier today I visited the shipyard building my new boat at Germany´s largest lake: On the occasion of the delivery of the Diesel engine and the official start of the building process of the Omega 42. It is always a pleasure to set foot into a workshop, the smell of fresh epoxy, the odors from Mahogany or Teak. Tools, materials and of course, boats in various states of production, maintenance or repair. And there she was, my own new boat: Resting graciously on her building racks, next to her another Omega 42 from the Eighties. What a triumphant view!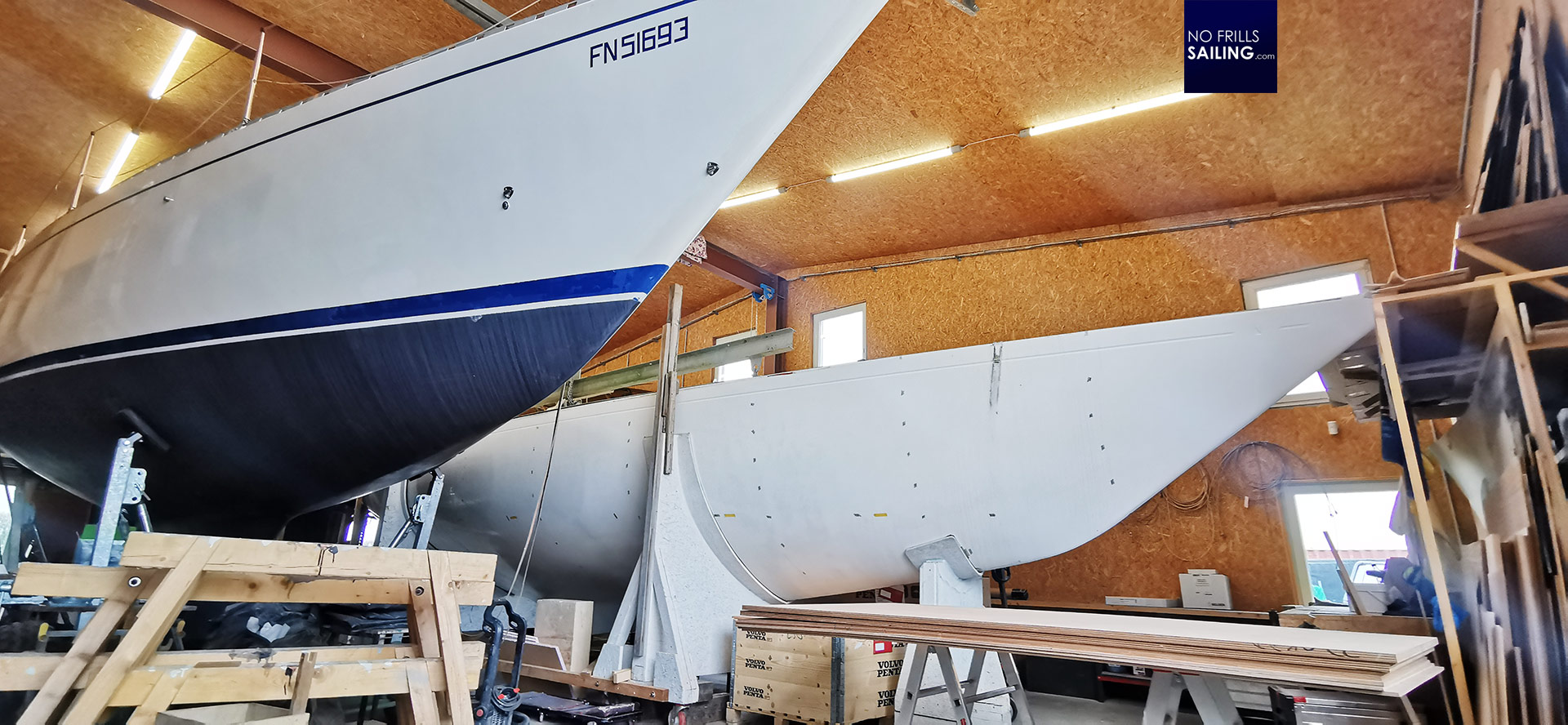 Since building commenced and the hull had been taken from her outside storage into the workshop, the crew of Mueritz Bootsservice cleaned the hull, scrubbing away the stains of five years outside storage as well as drying the hull´s inside and cleaning it scrupulously. Me and my kids received a heartly welcome by Heiner Francke, founder and owner of the shipyard and himself the man who started the Omega 42-project some years ago: "Feel free to roam about, Lars", he told me and invited me to spend some time with my boat.
Volvo Penta D1 30: New Powerhouse
But first things first: Since my last article on the question of which Diesel engine I should opt for – namely Yanmar or Volvo-Penta – I received many comments, emails and notifications. First of all, thanks for all of your contributions, I very much appreciate your guidance! Some of you told me to go for Yanmar, as this machine would be lighter and much smoother when running. Some said, I´d rather opt to get a Volvo Penta, citing a worldwide net of professional maintenance partners but also kind of "warning", as spare parts would be somewhat expensive. Other just noted: "Be happy to get an engine at all", pointing to the availability and supply chain crisis.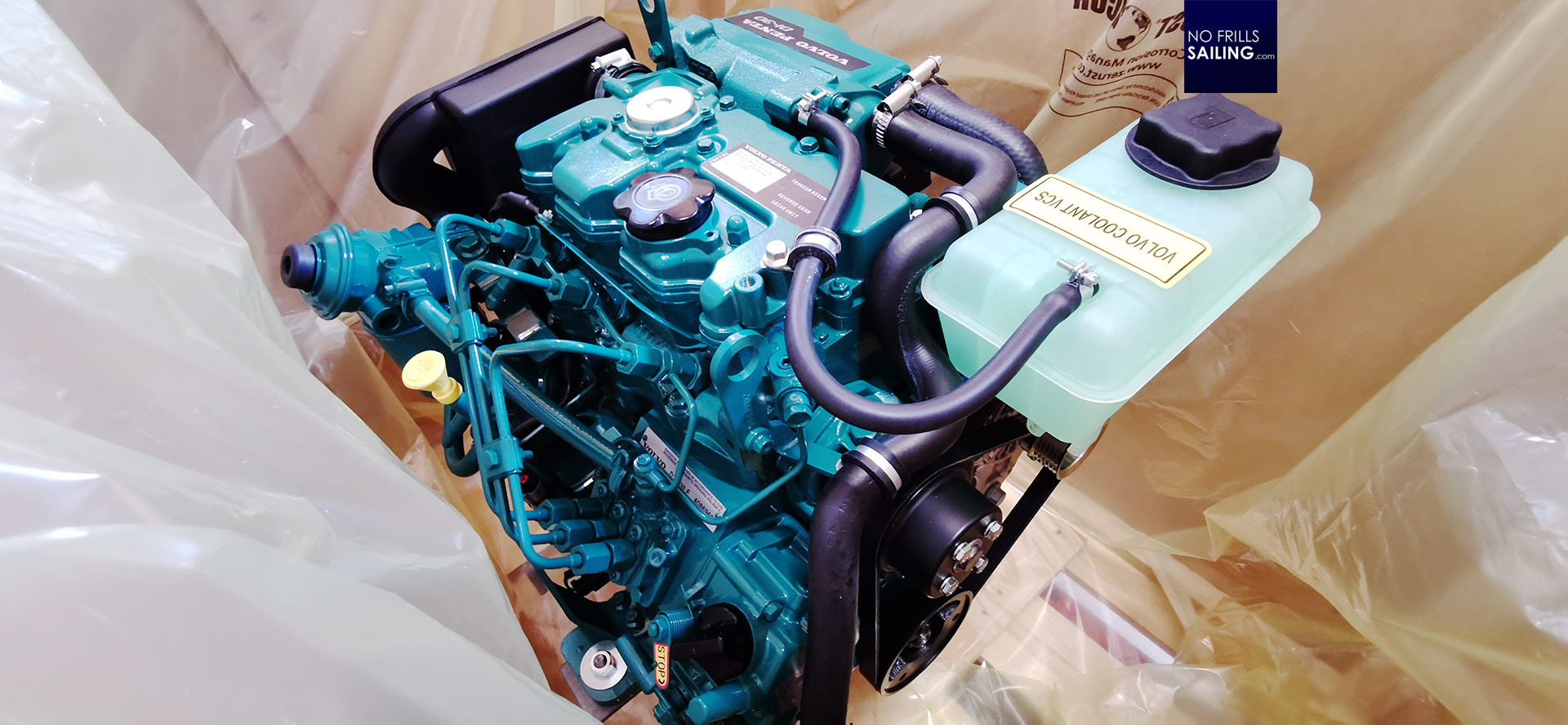 I unboxed my new engine, a Volvo Penta D1 30, and admired the beautiful powerhouse. Why Volvo Penta in the end? After talking to the general importer of both brands for Germany and receiving offers for both Yanmar and Volvo Penta, I went for the latter because of three main reasons. First, and above all, the price. Volvo Penta´s price in the end was around 3.000 Euros lower than that of the Japanese engine. You can imagine that a custom boat building project like this does take in a huge amount of money. If I can save 3.000 Euros here, 2.000 Euros there every now and then, that´s quite a sum in the end.
Secondly, since I never had any problems with both brands (we are selling boats and yachts with Volvo Penta and Yanmar engines at the same time) I know from my professional job that both brand offer a great service network and spare parts. I consider this engine an auxiliary piece of equipment as the Omega 42 is made to sail, not to motor. And last, not least, I kind of have an emotional connection with Volvo Penta since my first boat ever, the King´s Cruiser 33 had a Volvo machine which even after 20 years of use fired up absolutely reliably. So, here we are: Engine and saildrive ready to be fitted!
Interesting Detail: The Engine base mount
One interesting piece though was the engine base mount. A large GRP part that I had to order at Volvo Penta along with the engine parts itself. This base mount is manufactured by Volvo as well to ensure that the Diesel engines are placed exactly the right way in the right angle. This part takes on both the engine as well as the saildrive-fin.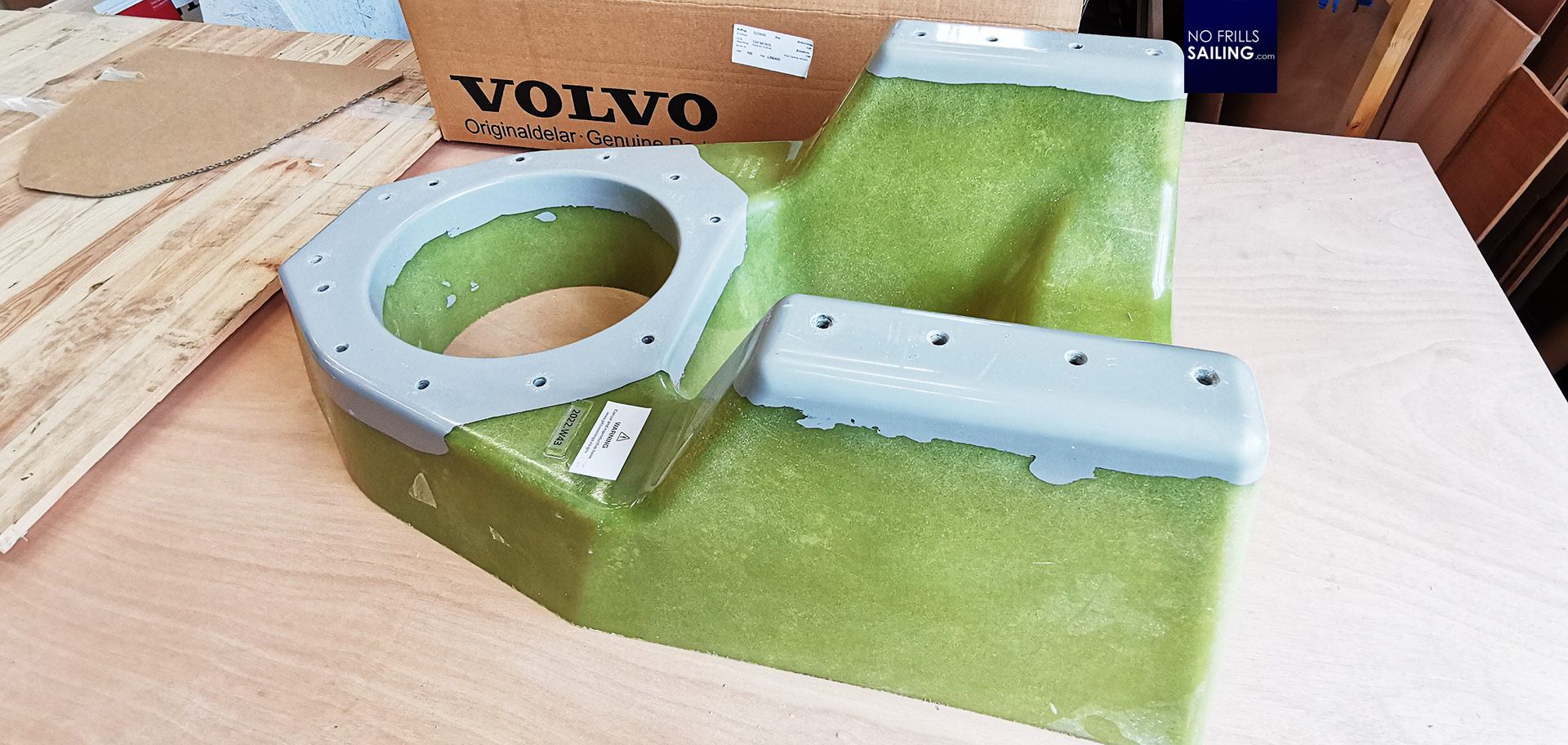 My kids said it looked like a toilet, which it kind of really resembles. But I can perfectly imagine that such a part must be made specifically to not only take on the weight but also the torque of the running engine as well as the vibrations. Everyone having witnessed the power of even such a comparatively small Diesel engine should agree that there is a tremendous amount of power.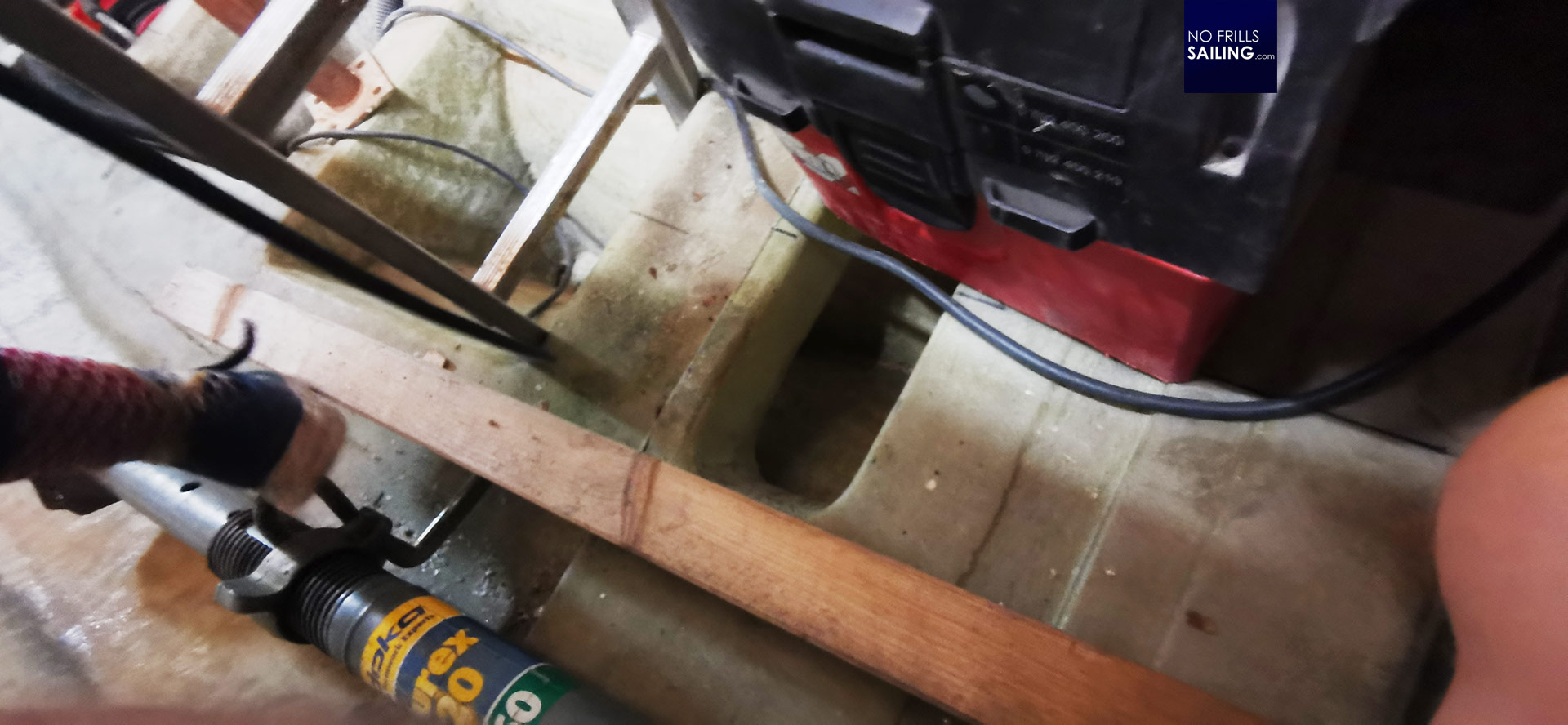 Of course this base mount cannot be fitted to the boat like it is now. A boat´s hull is seldom flat at the bottom. Mostly concave curved, the boatbuilders of the shipyards will have to custom fit this GRP part by taking away material and shape it to become a form-locked integral part of the structure. Surely an exciting job. I wanted to see where the engine will go and what lies ahead of the shipyard´s crew, so I climbed inside the hull. Thankfully a ladder had been prepared as well as some light.
What happens next?
The Omega 42 is a huge boat: Some 13 meters in length, 42 feet, is an impressive size for sure! But standing inside this completely empty hull was quite an amazing feeling. Almost like a dancing hall, my kids ran around and started to imagine where things could be fitted, my youngest defining his cabin and "most beloved place" in the ship.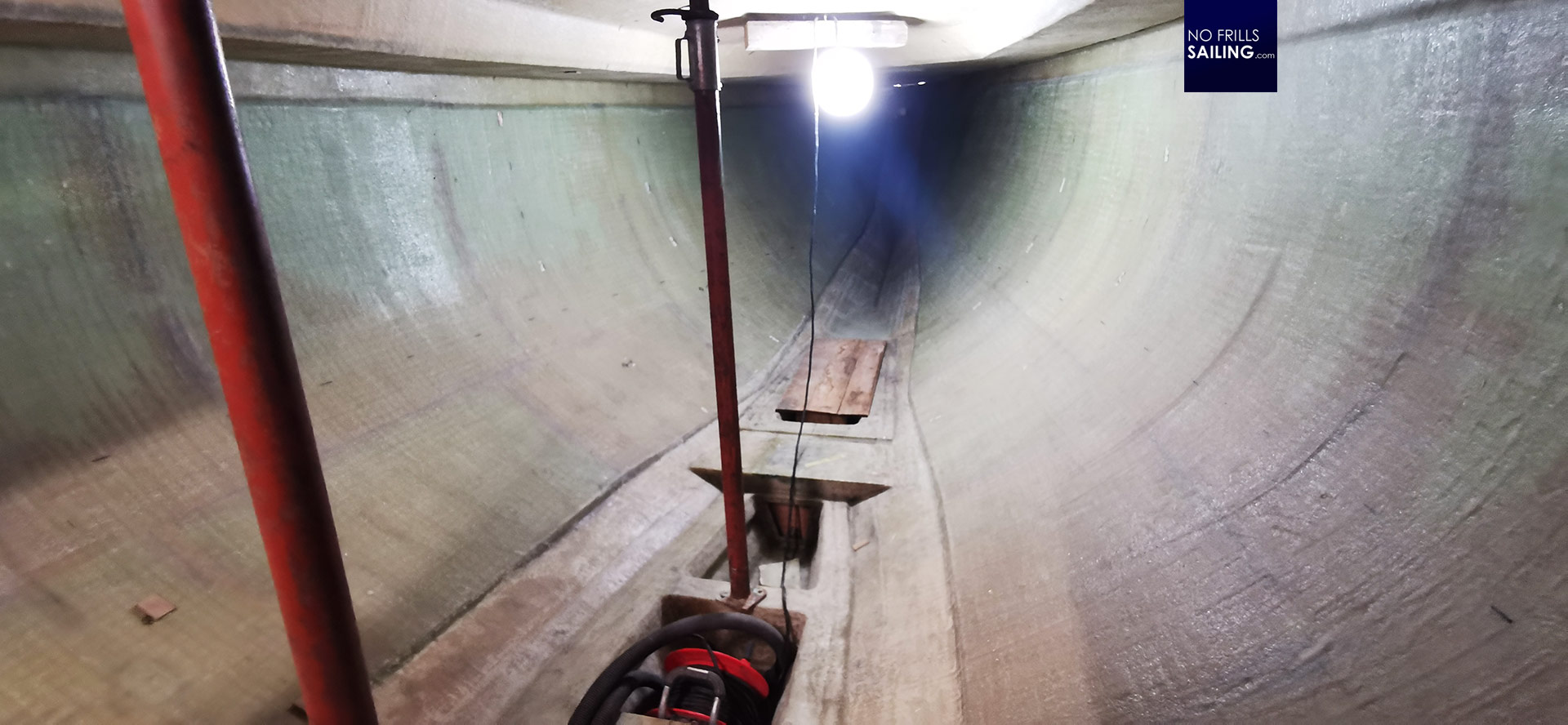 Looking forward the slim, but nevertheless somewhat beamy, hull revealed her attractive lines, drawn by Peter Norlin some 45 years ago. I also found it interesting to see that the hull had been made utilizing latest vacuum infusion technology and Divinycell PVC sandwich material to make her light and stiff. It´s a monolithic hull, no need for stringers or an inner GRP-frame like it is done with production boats for example.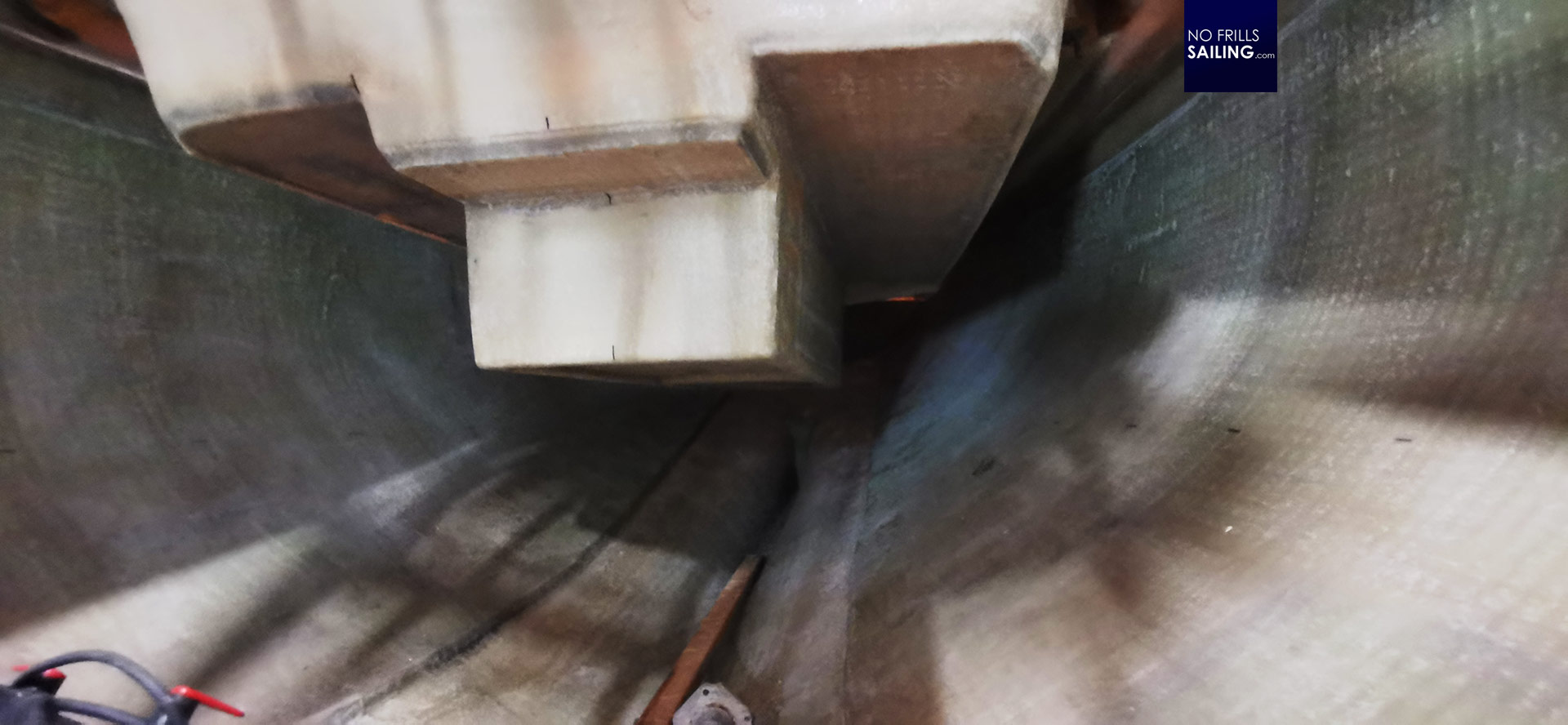 Looking abaft, the huge area underneath the cockpit revealed large volume. I will write about the internal layout of my Omega 42 in an upcoming article in more detail, but this shot perfectly shows the multiple variants of how to utilize this stern volume. In my boat, there will be a large aft-pilot berth/cabin to port side and a huge internal locker/stowage to starboard side. In the middle, of course, the engine and Diesel tank.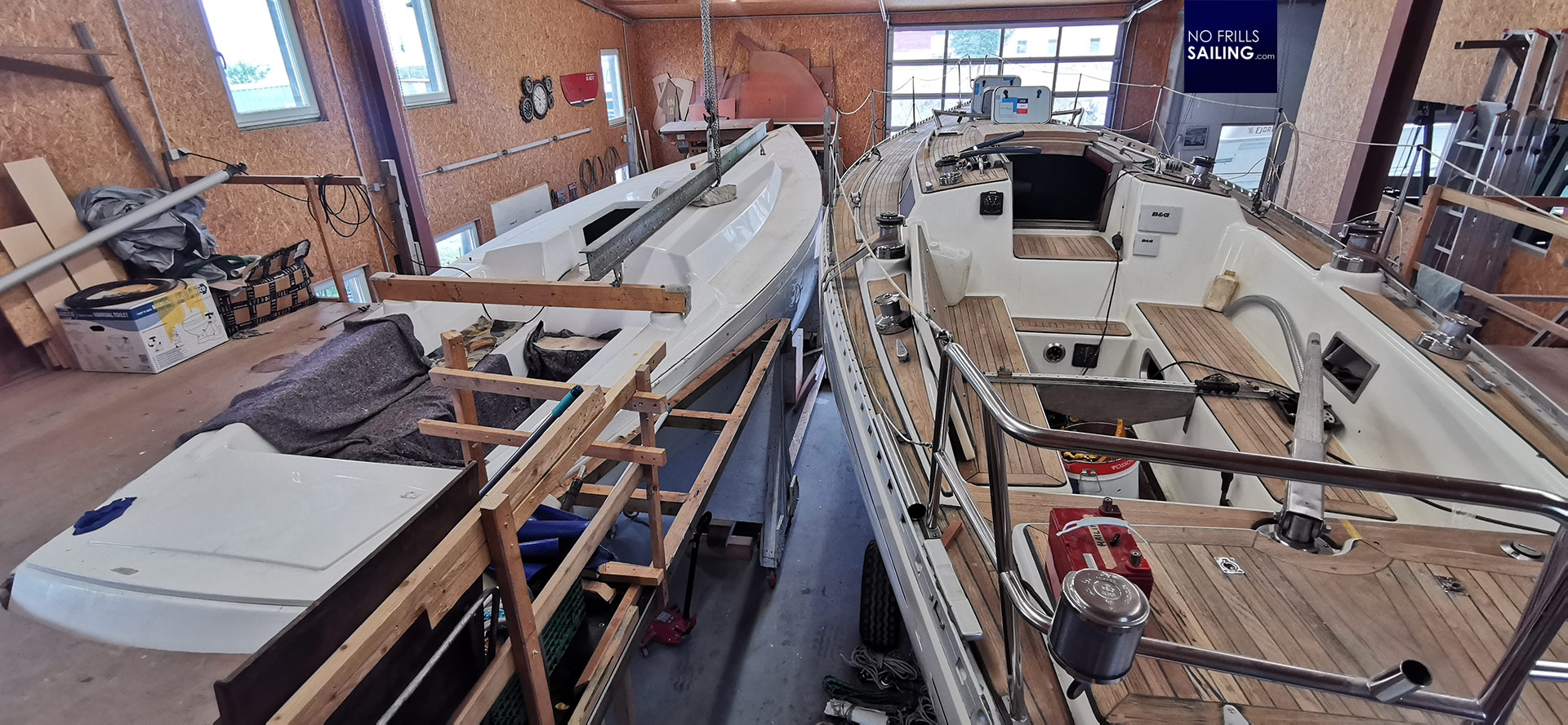 After already having made Heiner´s Saturday a workday and taking a multitude of pictures, we finally climbed back out to the cockpit and said Goodbye to our new boat. Although not yet as beautiful and formidable as her sister ship right next to her, I can already feel that she is something very special. Instilling excitement into my kids to create pleasant anticipation for her arrival in the water within the next year, this was a cool visit and great occasion to see the boat.
The question of the propeller
As we go down from the working level below both boats, my boys ask me about those weird looking propellers. I explain how a folding prop for a sailboat works and why it folds away when not used. This reminded me that I had ordered the engine without a propeller as I hadn´t made a choice of which product to choose in the end. Note to myself: I need a solution here.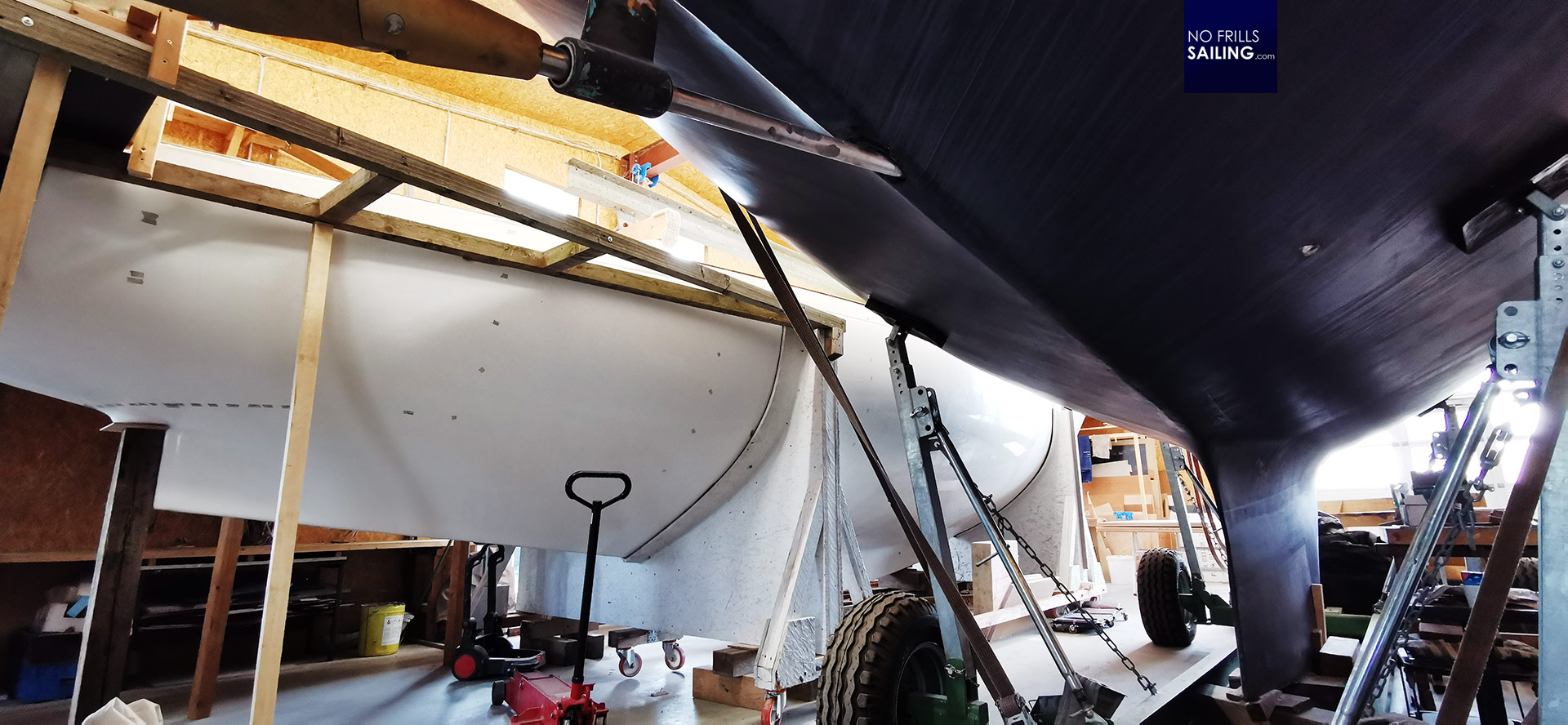 Not too fast, of course, as the crew of Mueritz Bootsservice will take literal weeks or months until they really need to have a screw to mount. The next milestones in the building process will be the fitting of the bulkheads (one very crucial part, I will certainly write about this in length!) before any other work can start. We drive back home, uplifted and excited, my kids in the back of the car start a hot debate on how we should name the new boat.
You may find interesting to read too:
All Omega 42-related articles by clicking on the hashtag #omega42
Which engine to go for, Yanmar or Volvo?
Electric propulsion in sailboats: First 44