It has been a little while since I´ve visited the shipyard building my Omega 42 sailing yacht. I´ve witnessed the commencing of the building process a few weeks ago when they brought in the hull from its outside storage to the building shed as well as a few days later when the strong Diesel-powerhouse of the boat had arrived. The gays still had another classic Omega 42 on the lot next to my boat for a refit.
This was a good occasion for me to see a boat that was made back then in the eighties. The classic layout, the classic material and building quality, the colors, the cushions. It was also a good occasion to speak with the shipyard about the direction we want to go with my boat and the principal interior layout of the ship.
A classic from the outside … a no-go inside?
Some 160 boats had been built of the Omega 42-type over the course of some 20 years. Heiner and Stefan, who started the project, had done a great deal of research. They went to Sweden multiple times, visited two dozen Omega 42 yachts in all over Europe, spoke to owners and the Swedish Omega 42 Club as well. Heiner use to say: "There is no Omega 42 like the other." So it is hard to talk about the one interior layout.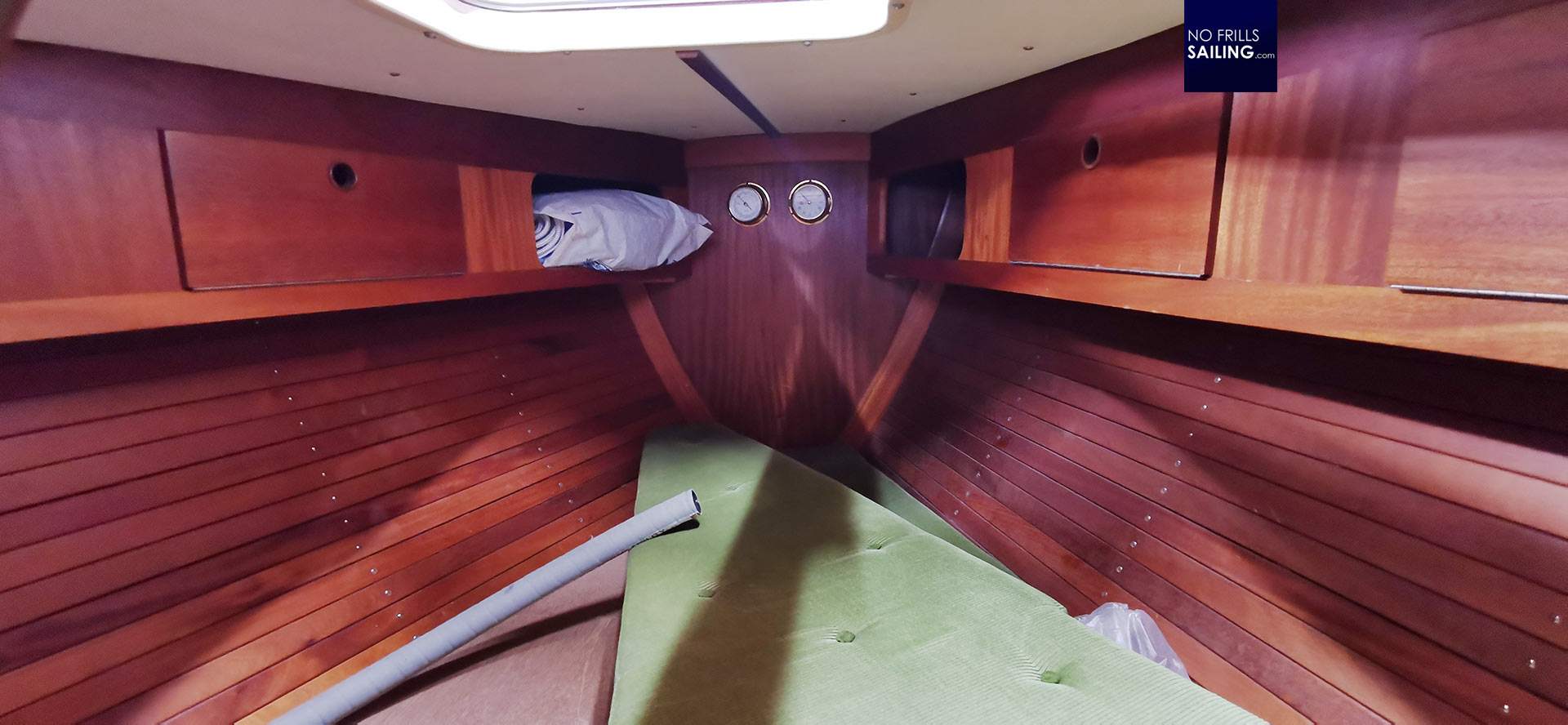 When I roamed the classic boat in the shipyard, I immediately felt like a time-traveler set back 40 years. The boat´s look and feel was absolutely similar to my first one, the King´s Cruiser 33: Lots of wooden furniture, a heavy, massive material quality. A fitting made to last. In this, it looked amazingly fresh in terms of material: Seldom any wear and tear, well maintained. But … dark. Dated.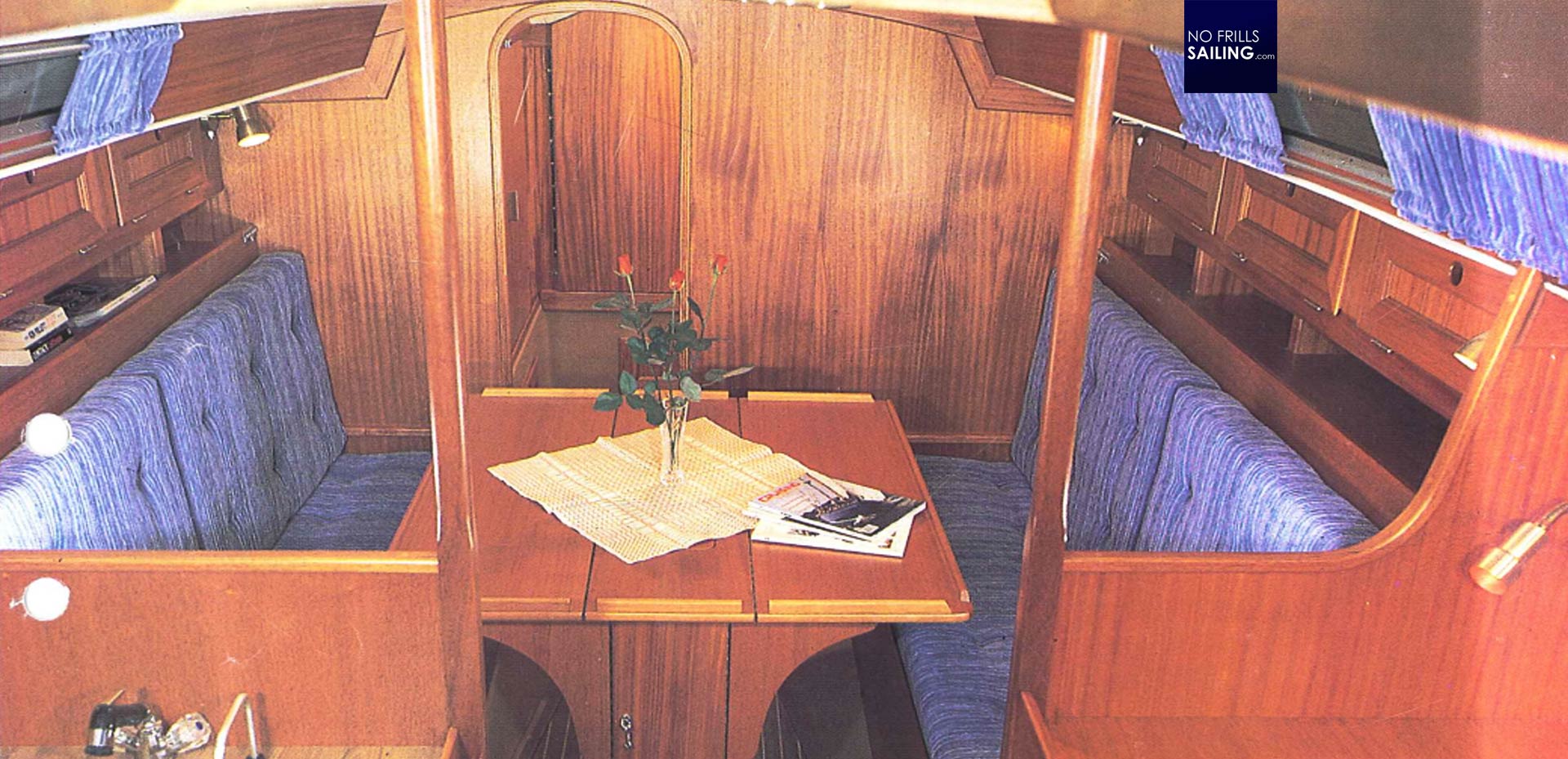 Even the excitingly nostalgic pictures from the Omega 42 brochures you can download from the internet show a design that hardly fits the modern eye. This is a style of interior that even classic brands like Nordship or Arcona won´t be able to sell today. But it´s not just the design and the colors, it´s also the principal architecture, the layout.
Peter Norlin´s design in the course of time
Over her active production life, the Omega 42 did undergo some changes, regarding her interior. The initial plan by Peter Norlin showed a closed off V-berth in the fore cabin with an open toilet. This is totally unacceptable nowadays and with the Mark 2-version some years later the shipyard corrected this. The fore cabin received a closed off bathroom, but still, in the bow section of the boat.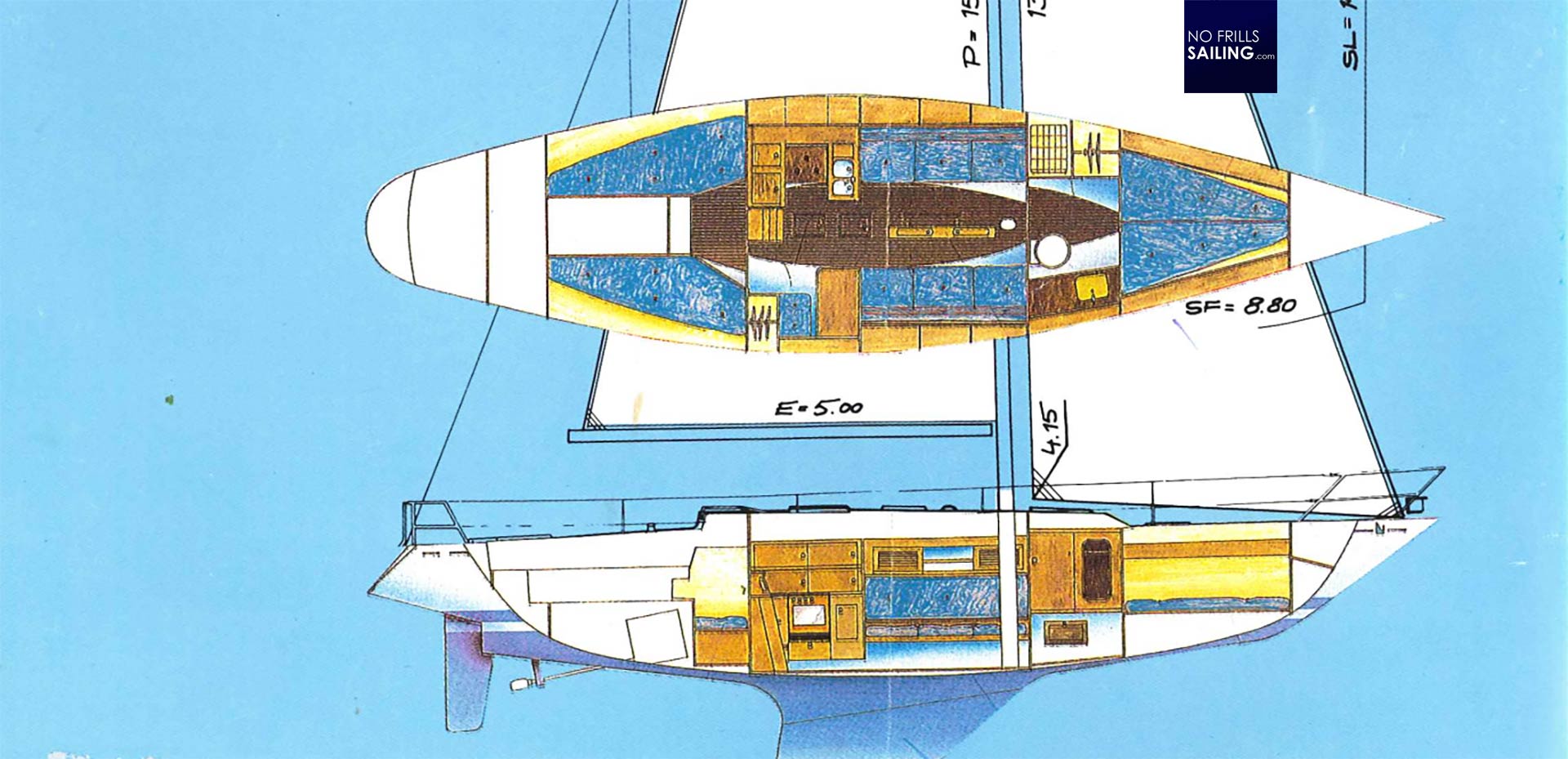 The aft section was also interesting, as it offered a both open and closed double-cabin with single berths to either side of the cockpit/engine housing. The large classic chart table and navigation station may have been a must back then, nowadays with hardly any paper charts and any routing-plans made without laptop or tablet computers, there is no need for such a large dedicated space. Although I personally love these, especially on Oysters, I can see what gain it brings to get rid of those.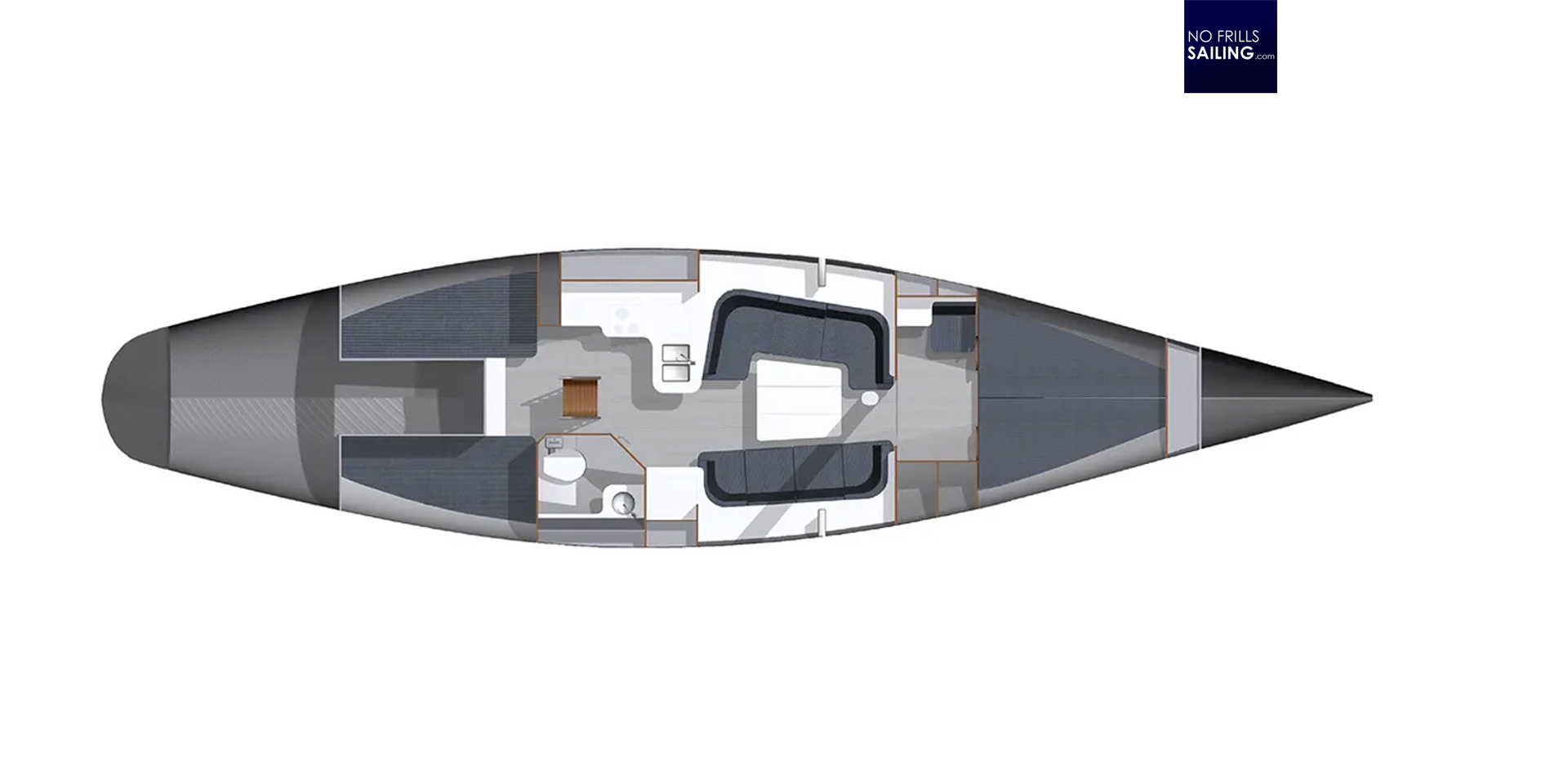 There is a guy called Bjorn Bertoft who in early 2001 redesigned the interior of the Omega 42 and had his boat, CHARISMA, fitted like shown above. Bjorn moved the head aft, got rid of said nav station to use the freed up space for the large bathroom. He also envisioned a very light and bright saloon, nicely swung lines and a very Scandinavian-style furniture design. I really like his boat and you should visit his website. It lihts up your heart seeing that Peter Norlin himself sailed CHARISMA and obviously approved Bertoft´s work.
So much space!
Now, what do we want to do with my boat? I mean, standing in the bare empty hull, looking forward, the boat reveals it´s huge internal volume. She is a damn skinny boat, fur sure, but seeing all that space is humbling: This is more than enough volume for a boat! She is very long and has some large overhang, both (and overall!) in the bow and in the stern, but yet even without this space that will not be usable for internal volume she is a big boat.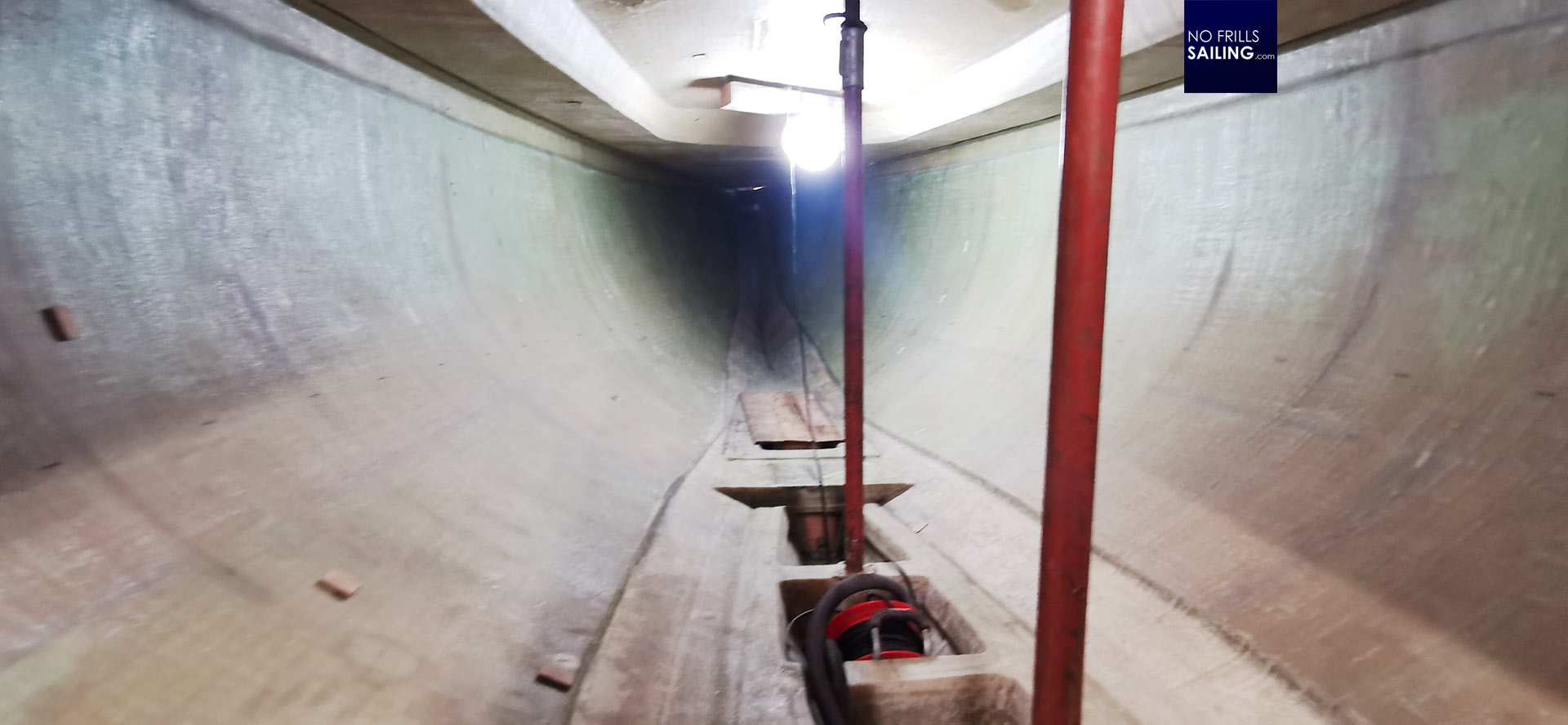 In principle my Omega 42 will be built according to the general plan of Peter Norlin. First of all, this has structural reasons: The positions of the bulkheads and transversal stringers are fixed and must not be changed. In this, the fore cabin with her V-berths is a must. Similarly to Stefan´s WINDFAENGER my boat will receive some lockers and storage, a little dressing seat adjoining to the berths (where once the toilet was projected).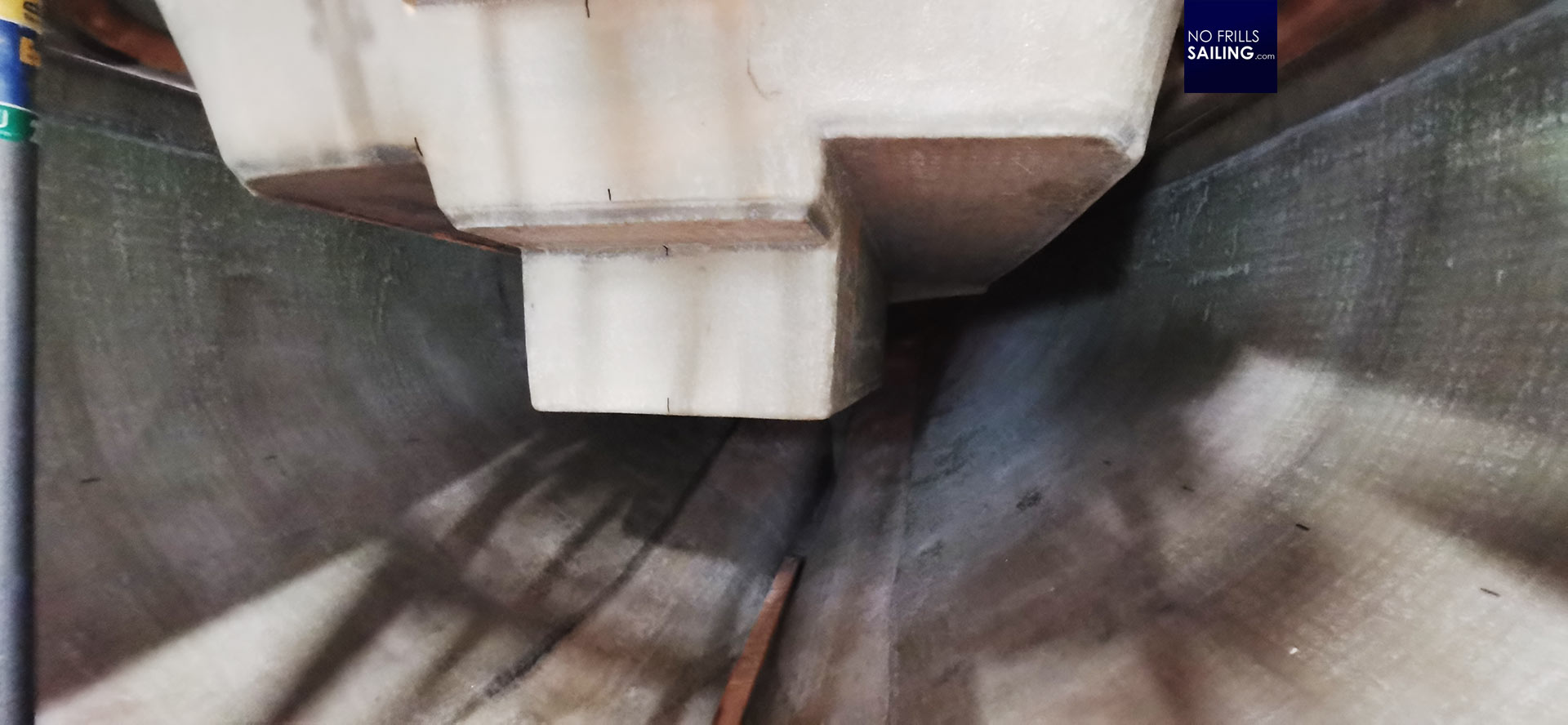 Also, in the back, I decided to go for an open pilot berth to starboard side with a small locker. No door (neither to the fore cabin), instead heavy curtains will seal off the cabins and ensure privacy. As I will be sailing either with my kids or my partner mainly, there is no need for doors. Of course, by the way, the bathroom will have a proper door. Which brings us to … the head.
This is it: My Omega 42 interior layout
Looking at the plan of my Omega 42 she bears resemblance to Bertoft´s idea and pretty much is a copy WINDFAENGER: The bathroom will be to starboard side, a small L-shaped galley to port side (where she belongs). I won´t have Propane-gas powered stove but a small Jetboil for easy and fast hot beverages, a shore-power driven induction 2-flame stove for real cooking, no oven whatsoever. But this is something for later.
XXXXXXXBILD 08 plan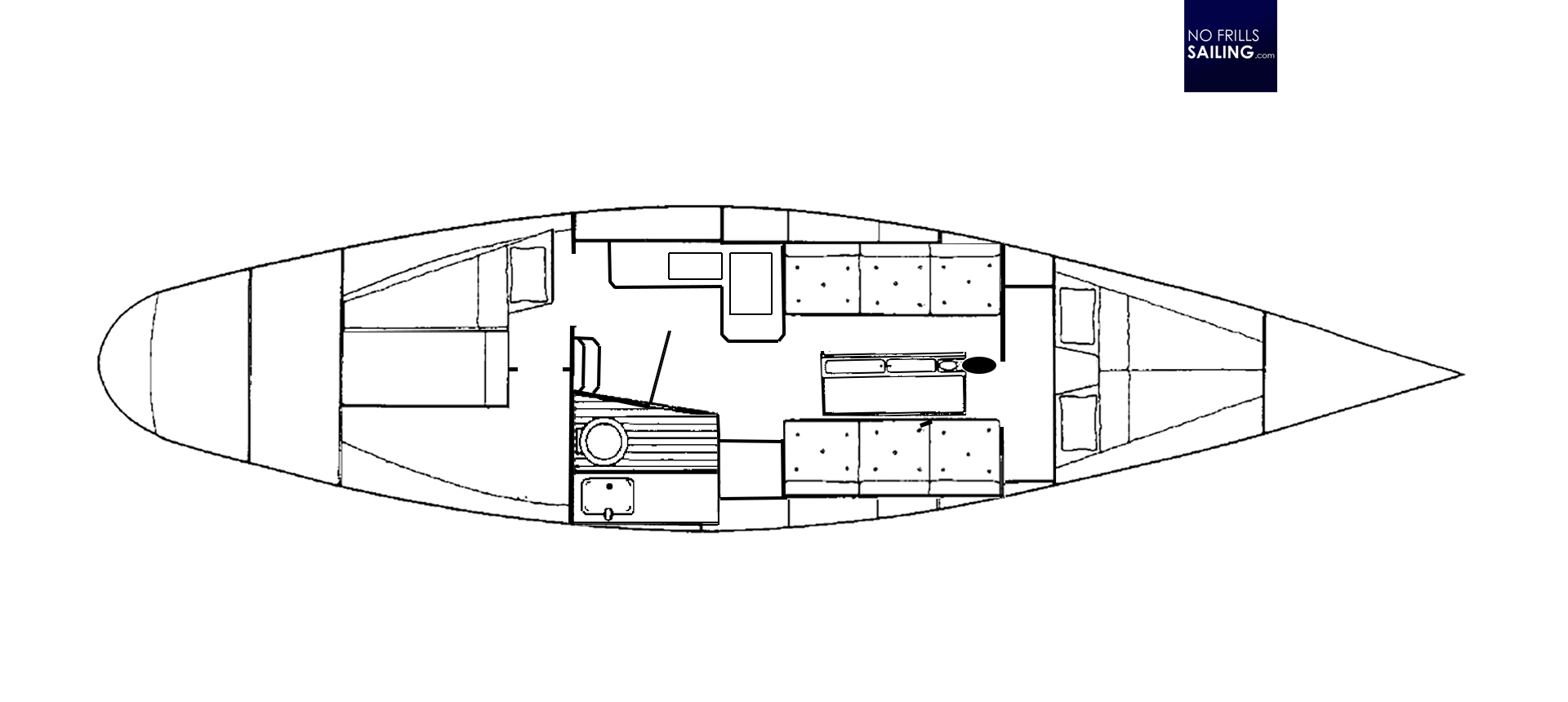 In the plan you may also see that the aft pilot berth will be sealed off from the starboard side storage by another curtain. This area will be dedicated to spare sails, spare parts, fenders and all sorts of stuff, neatly stowed away here. Another secondary locker will be at the rear end of the boat. I find this is a pretty classy but also modern layout, a nice interpretation and mixture of both worlds. Heiner will come up with some nice solutions for lockers and cupboards, combining classy looks with modern equipment. What I like most about this idea is that without any doors the boat will for the most part retain the breathtaking "skinny, long, endless" looks from stern to bow.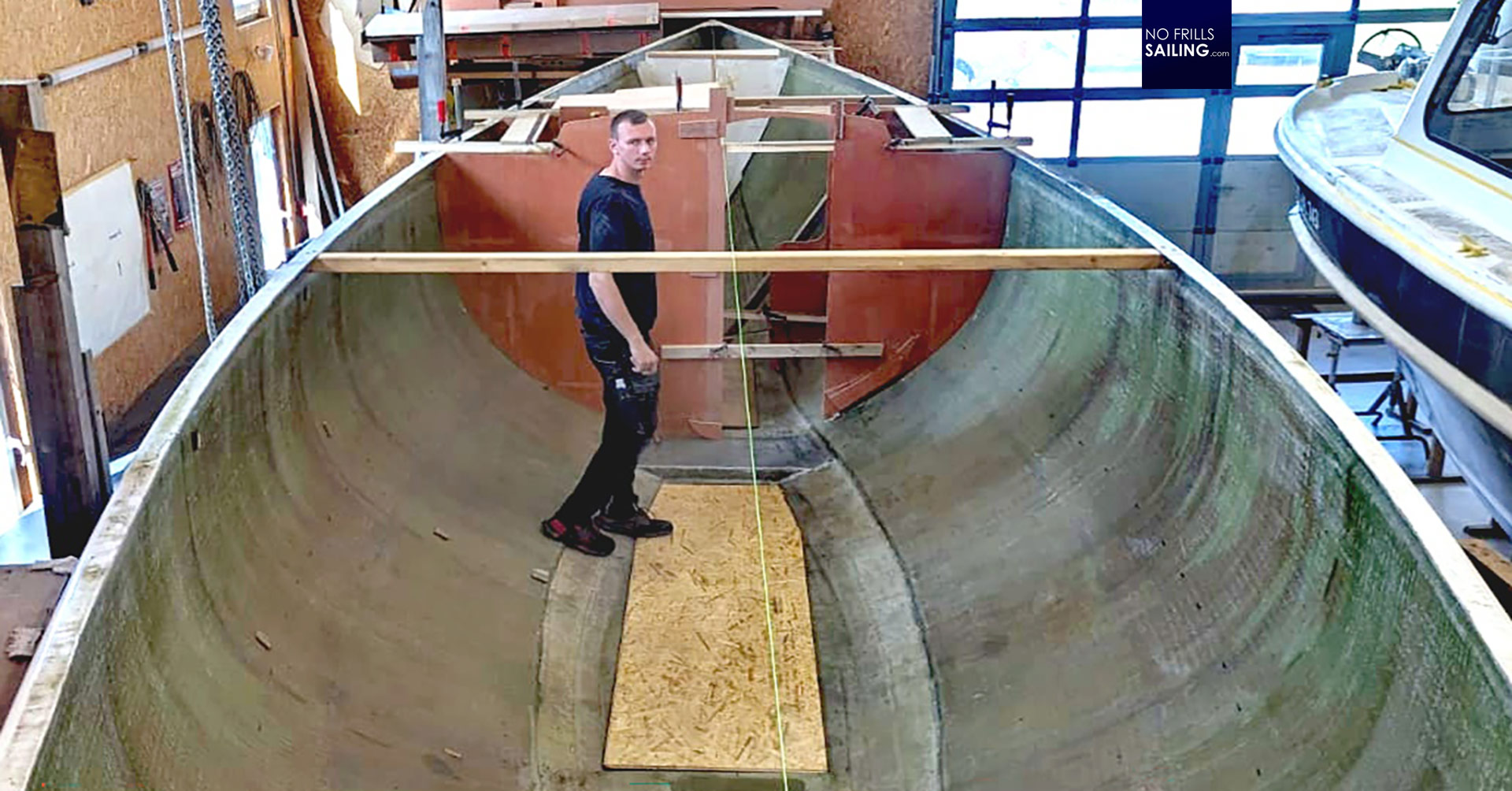 Yesterday a new picture reaches me via whatsapp (sorry for the quality though!): With kind regards from Heiner, a shot over the long not-so empty hull. The first bulkheads have been customized and put in place, collision bulkhead and anchor chain locker as well as the bulkhead separating the fore cabin from the saloon are fitted. Well, I guess another week or so and I will drive to the shipyard myself to see how it´s all going. What an exciting journey this is indeed!
You might as well find these articles interesting:
Every Omega 42-connected article here
Blowing your mind away: The Neo 570 spaceship!
Still my most beloved interior layout: Alubat Cigale!