"This boat is not from this world", my initial thoughts when I first walked by the Neo 570 C performance racer displayed during Boot Duesseldorf. As with so many boats during this show, I found that the very place of the stand was a bit "hidden", just like it was the case with Hans Genthe´s Aeolos P30. Although the Neo 570 C is a very big boat – 60 feet or 17.50 meters – is quite a chunk. But behind the two big Nautor Swan yachts the Italian beauty was kind of a hidden gem at the show.
Nonetheless, walking around in the halls of Boot Duesseldorf and exploring the farther away dark corners of the halls is worth it: Welcome at Neo Yachts, the Italian carbon experts offering fast cutting edge performance cruisers from 35 to 60 feet. This was yacht I was absolutely keen to visit and I was happy being welcomes so heartly by the company people apparent on the stand who three times offered me a free roaming of the big boat. Now, let´s get onboard this fascinating spaceship!
Rebel blockade runner
Standing besides the hull is impressive: Neo Yachts had the boat, who´s nicely chosen name was CARBONITA, presented without keel. Even though the boat sports a lifting keel, minimum draft would have been 2.80 meters (even more impressive a full draft of 4.20 with 52% ballast in the keel!), I guess it was easier to show just the hull.
The boat seems to consist only of a bow. The stretched form is so elongated and elegant, that you almost cannot spot any yacht-like features. The boat resembles more a slim modern version of a Space Shuttle or the Rebel blockade runner from "Star Wars", than a sailing boat. The superstructure is minimal, almost no coachroof at all.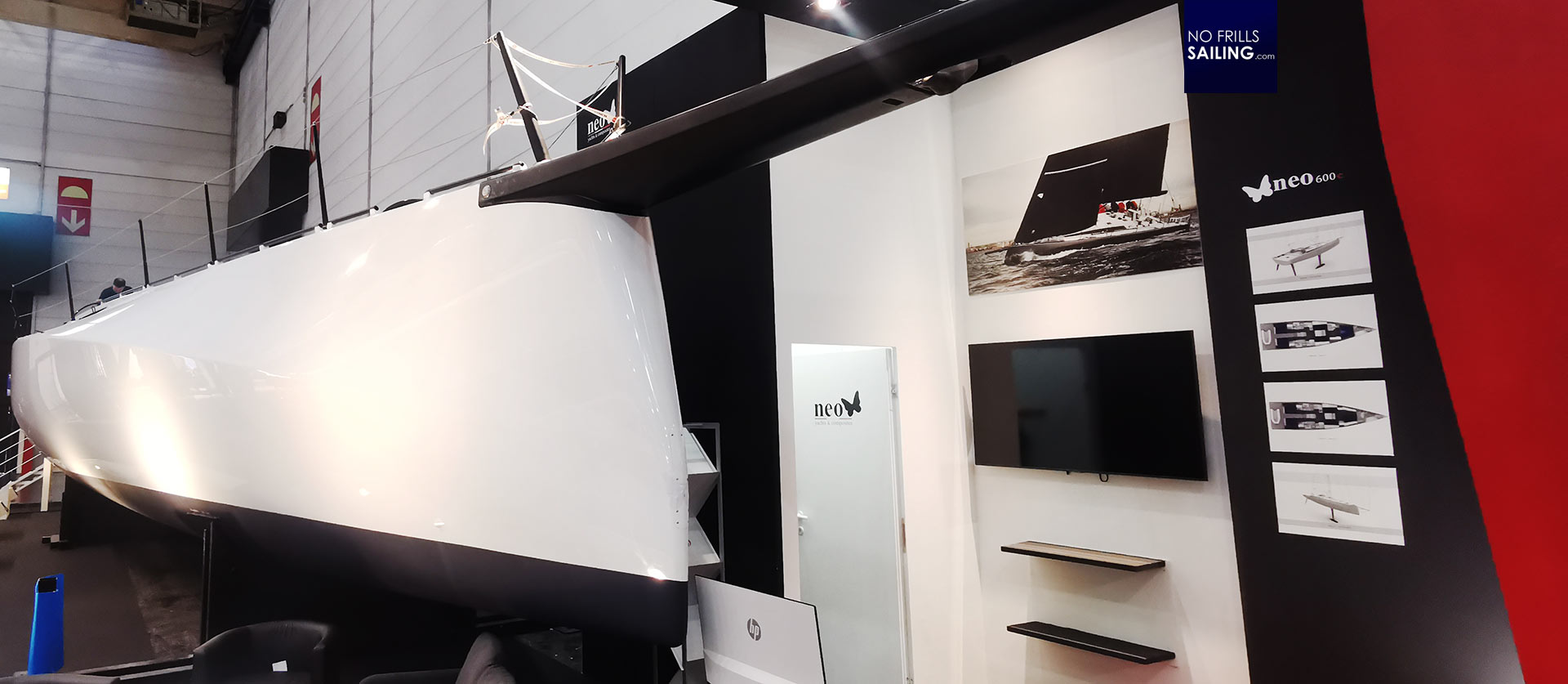 I was especially fascinated by the bow section. It is kind of voluminous to guarantee some buoyancy and uplift and minimize the chance of undercutting but at the same time it appears sharply sculptured for a fine entry into the waves. The stem is negative and crowned by an extra long bow sprit to fly Gennakers and Code-sails. Absolutely impressive! What I found remarkable – just as one can observe this in some contemporary performance designs, is the absence of clear hard chines. Is this a trend?
Full cruising-capable TP 52-like performance cruiser
Speaking to the yard boss and the designer from Karkeek, they told me that the idea was to come up with a sailing boat that sports the performance and sailing characteristics of a TP 52-class racer but with a full cruising-capable interior and fitting. This was initially thought to be impossible in 60 feet as the team told the guys they would "certainly need 70 feet or more". Well, here we are: Neo 570 C is the result of thorough high class research and consequent weight saving.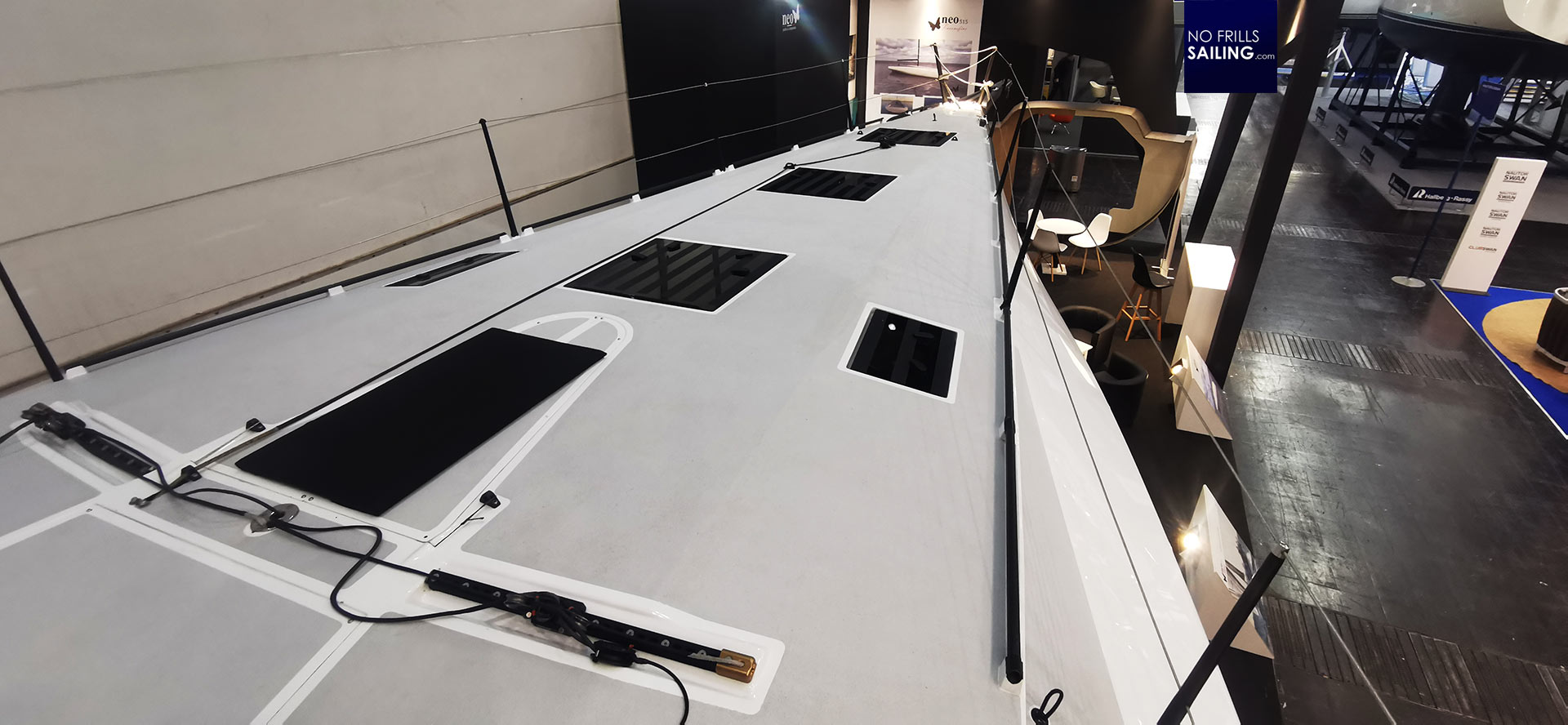 The yacht is a complete carbon-made monocoque weighing in some 11.7 tons. For comparison, the all-new Beneteau Oceanis 60 weighs 21.5 tons, roughly double the amount of the Neo 570 C. And the new Oceanis-flagship is considered a major leap for the yard as it shaves off more than 6 tons from her predecessor, the Oceanis Yacht 62! This absolute lightweight property combined with a deep lead-bulbed keel sporting more than half of the ships´s weight (plus 450 liters of water ballast) is a slight indicator for the immense sailing potentials of the boat.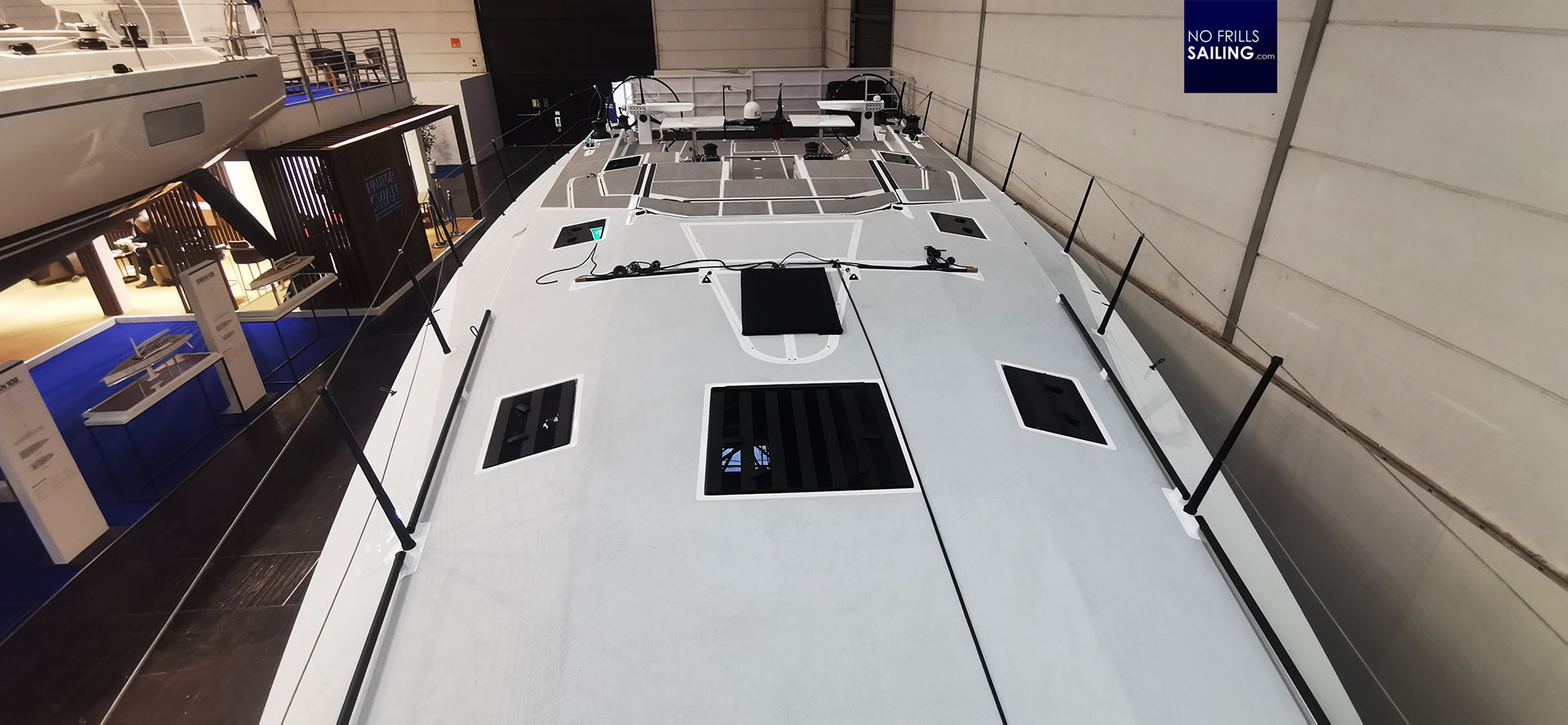 Let´s hoist the sails then, you might think. Again, the numbers are staggering: The Neo 570 C can bring 184 square meters of upwind sail area to the wind which is already 20 square meters more than the said Oceanis Yacht 60 (which is considered a very sporty luxury cruiser among her class), downind sail area is even more impressive, because the crew can bring up to 410 square meters to a full blow, sporting a 300 square meters asymmetrical spinnaker. Just wow! And as such, in her the first season of sailing the boat already surpassed the hopes of the designers, for example with a spontaneous third place in the offshore classic Palermo-Monte Carlo race.
Prepreg carbon technology – lightweight construction
The boat should not just be lighter and thus quicker than all the others, but also stiffer. To achieve this, Neo Composites bring the most modern and recent construction techniques to the front: Carbon prepreg technology by Gurit, one of the few big names in the game. Prepreg means "pre impregnated" and essentially is a convenient and easy way to work with carbon fiber mats. These mats – in selected fiber strengths and uni- or multi-directional layups, which are already handled with a slow-drying catalyzed resin (for the Neo Epoxy-resin).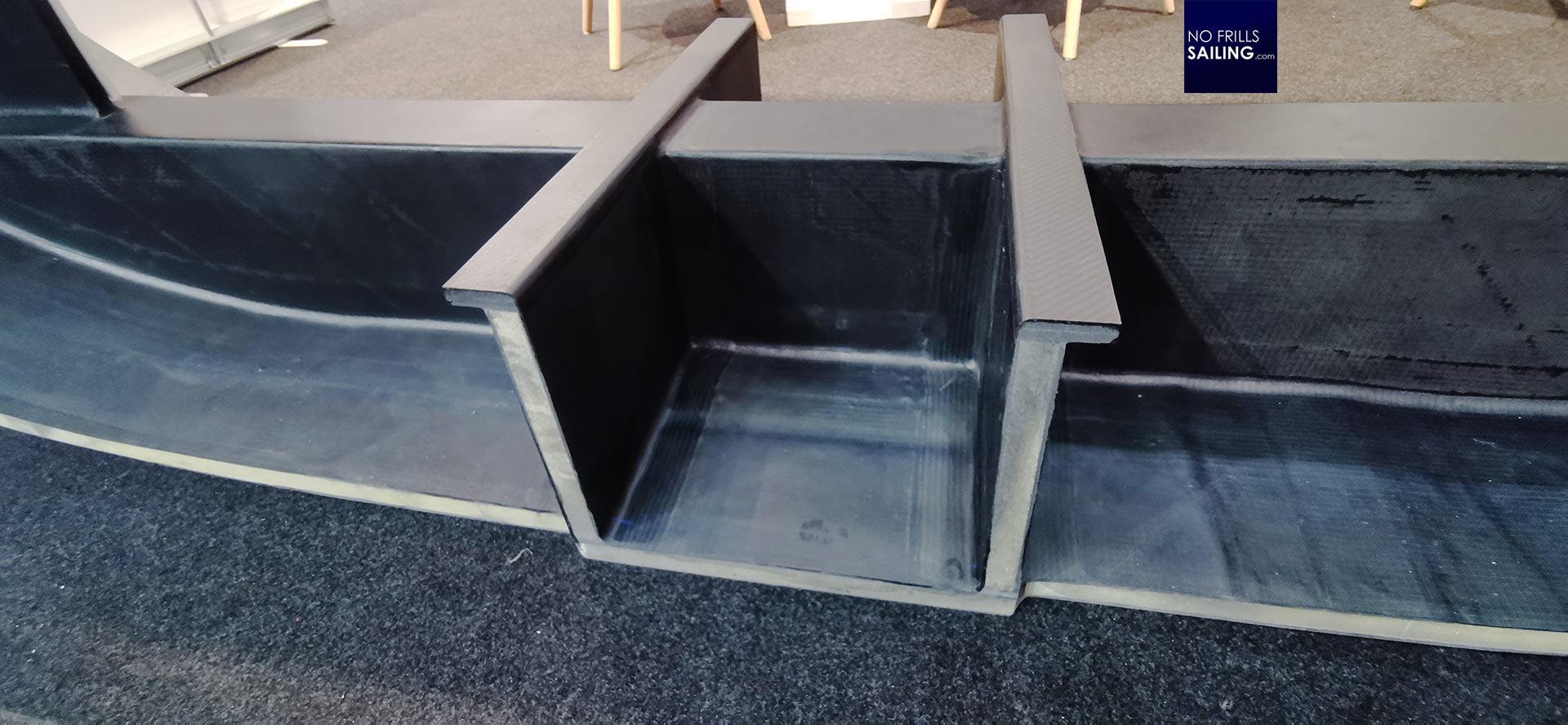 These are given into a female mould and the whole layup can be corrected for days. Some prepregs need vacuum pressure to completely stiffen and dry out, some need higher temperatures (of up to 70 degrees Celsius) to achieve full stiffness. Putting the hulls or workpieces into an autoclave (which it is the case in classic carbon fiber handling) is not needed anymore. The Neo 570 C applies the full range of specialized Gurit prepreg technology, achieving this remarkable weight saving effort and the extraordinary stiffness.
Inside a spaceship
The real "wow-effect" comes upon boarding the boat and walking under deck. The carbon monocoque does not seem to need bulkheads, at least for most part of the whole length of the boat. Forward of the entryway ladder the boat is one single huge room: The impression is truly breathtaking!
With a width of 5.30 meters the dimensions are awe-inspiring. Only three colors are apparent: White glossy painted carbon surface, black shiny worktops and details and a nicely warm cream-toned fabric or leather color. That´s it. Racy, stylish and very Italian I shall say. Again, I suddenly felt aboard a Star Wars ship rather than realizing myself aboard a sailboat. Even the details are impreesive.
Around the mast stand the designers have put a large monococque fitting that – facing aft – houses the main workstation for the skipper/navigator. All switched, on board computer, weather routing and auxiliary machinery are situated here. A full fledged rugged computer and a big screen make for a nice workplace. The display is big enough to be seen from the cockpit, communication with the crew on deck to this central station should be great.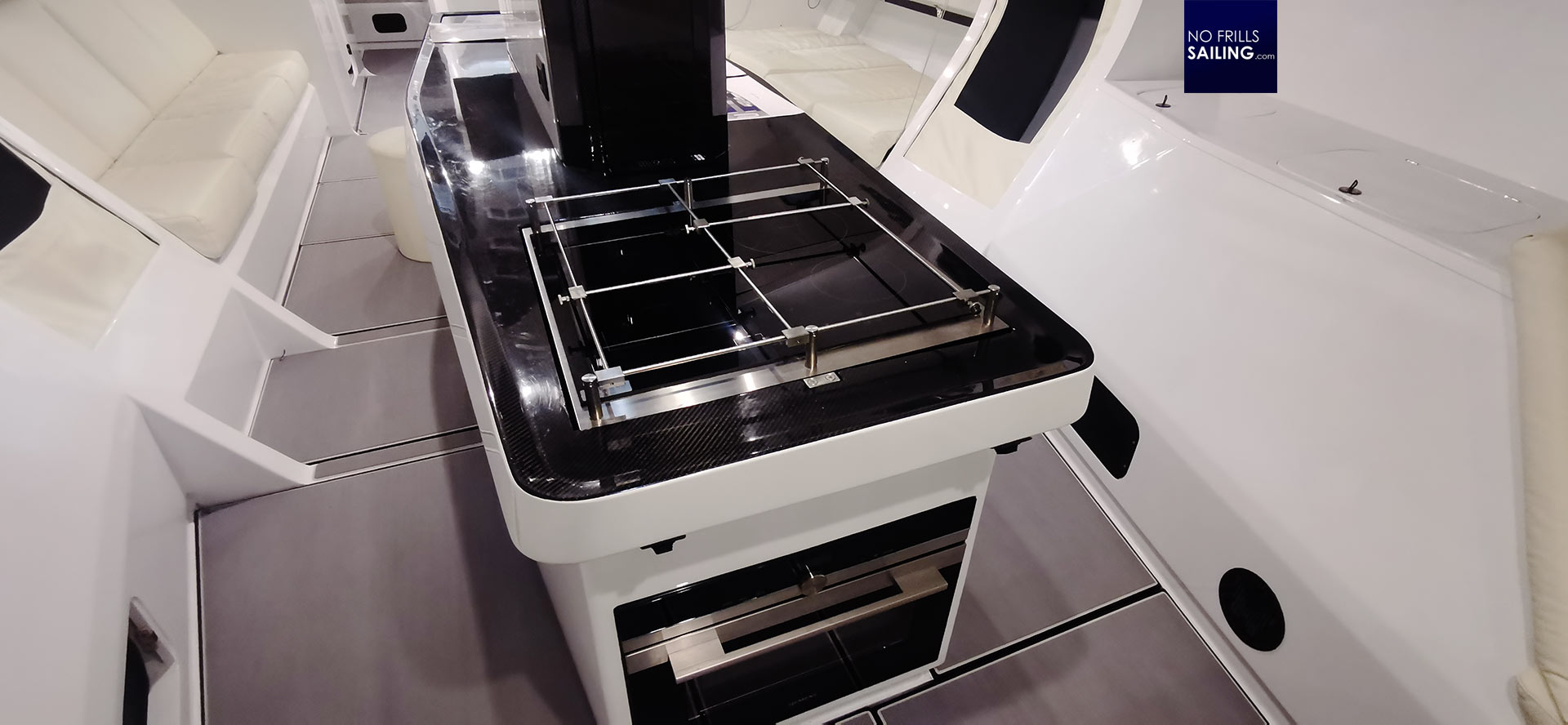 A bit more forward of the mast stand but incorporated into the same piece of carbon, is a central dinette. This galley features an induction cooktop and an electric oven. Flanked to both sides are worktops, stowage for crockery and stuff and a longitudinal sink. As stylish as this system seems to be, I guess cooking here in rough seas or when sailing healed is not easy (if not impossible), but I´d say that this boat is made to win races, not to be able to prepare a three-course menu each day in every sea state.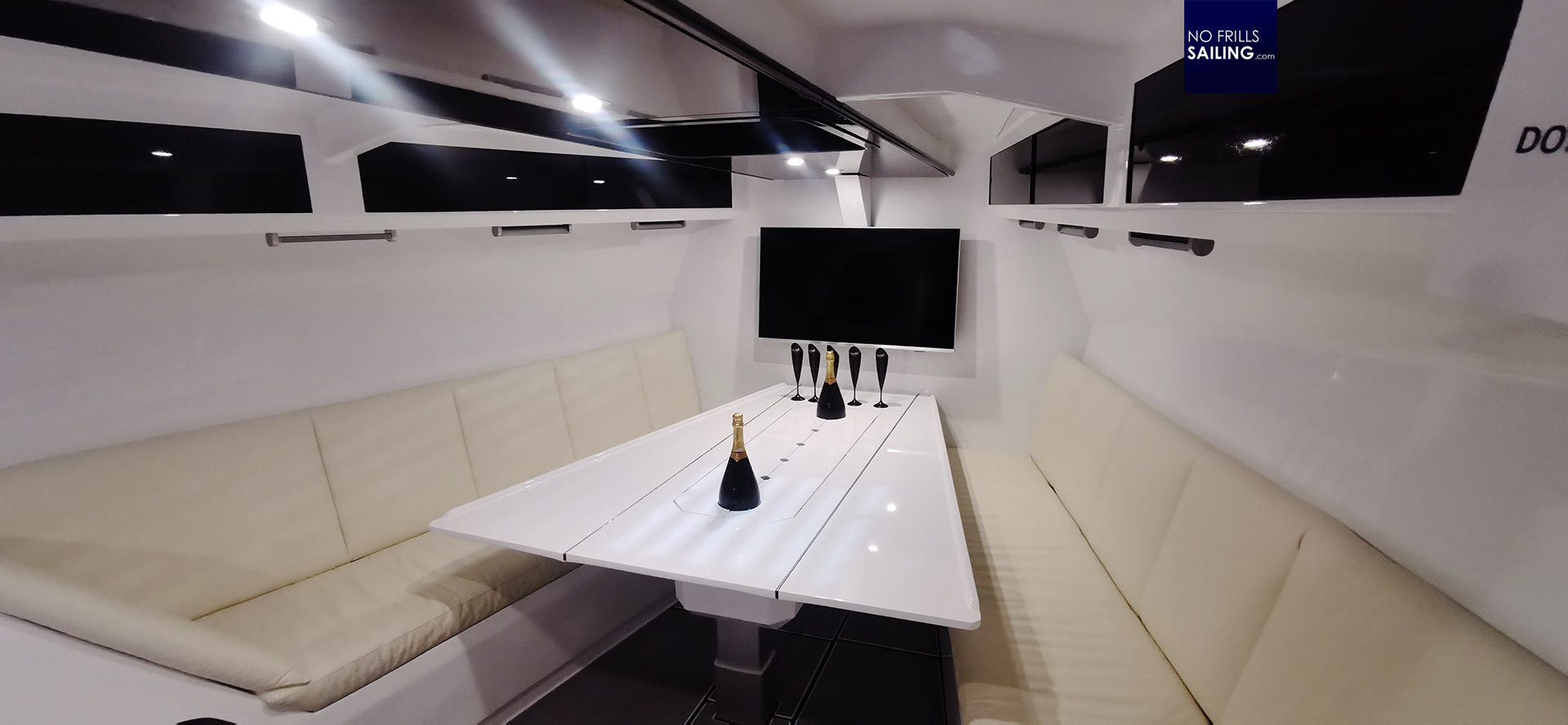 The Neo 570 C does not have a forward cabin (at least in the version shown at Duesseldorf), but a nicely shaped seating area around a folding dinner table. Of course, an owner can have the boat with a huge owner´s cabin or, if used solely for competition, without any amenities but just pipe-berth and extra light (speaking: empty) interiors.
Cabins and amenities aboard Neo 570 C
Speaking of lightweight: Even the bathrooms of the Neo 570 C are meant to shave off essential kilograms of the scale. The WC is moulded of carbon fibre as every little detail on board is made to save weight. In the boat which was on display in Duesseldorf, two large bathrooms had been fitted together with two aft cabins.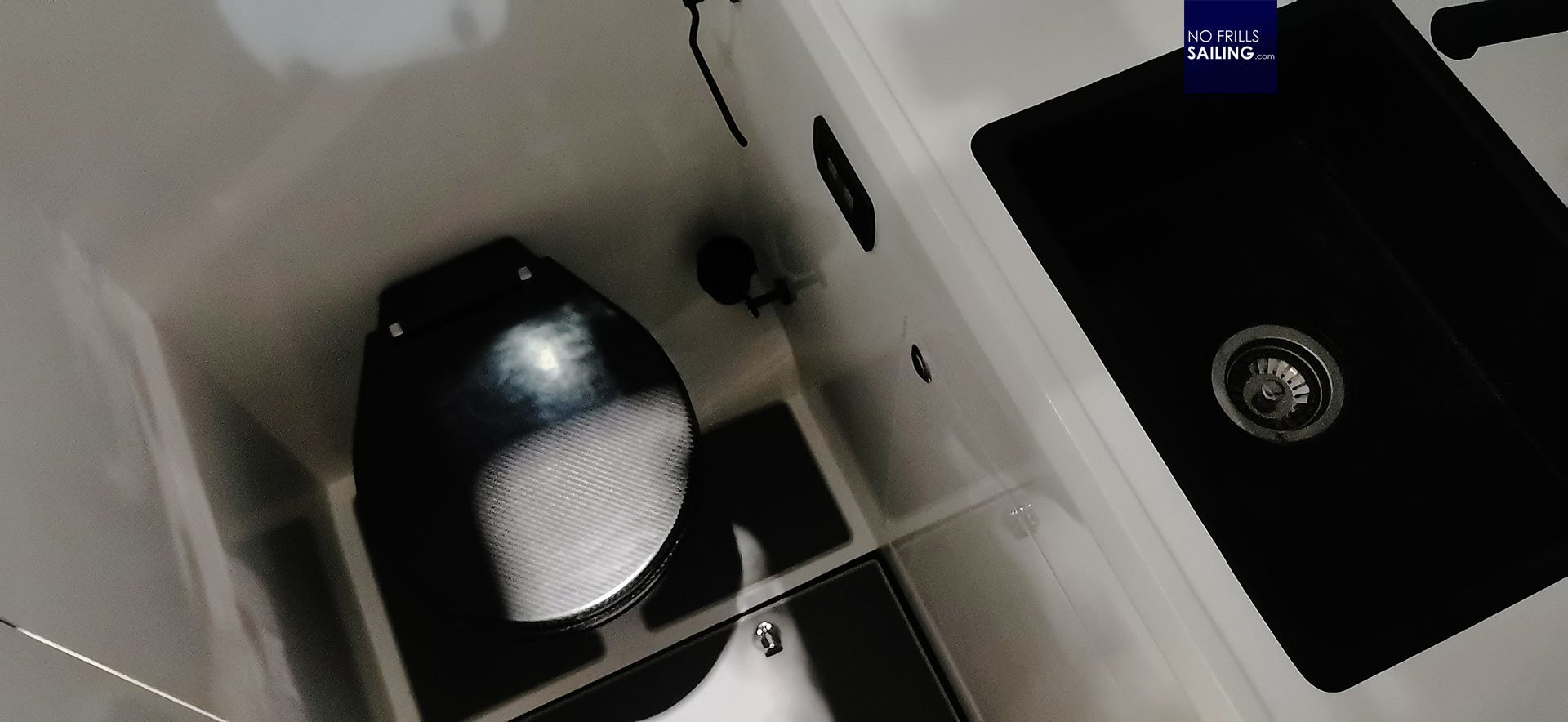 These cabins offer a double berth, just like all cabins aboard any other boat too. Folding down at the walls of the ship are two more pipe-berths which double the capacity of berths available back here from 2 adults to 4. Also, in the saloon, two more pipe-berths can fold down as well. In this, if fully crewed, the Neo 570 C can take on as many as 10 persons – a crew needed to race this boat thoroughly in shifts.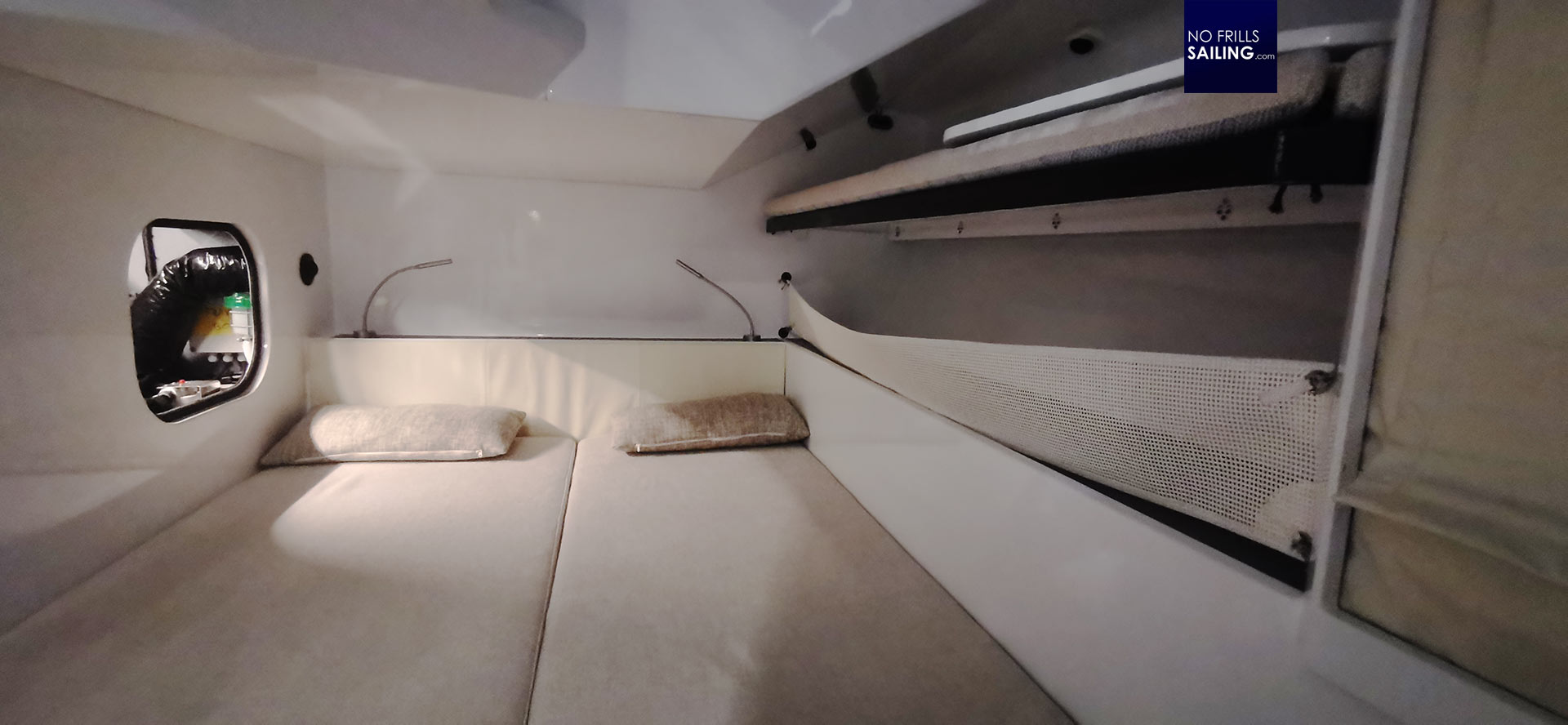 As with everything, comfort is relative: I found the appearance very nicely done, craftmanship-wise, but of course, this boat is not meant to attract a family, a wife or classic owners doing the trip of their lifetime. Somewhat "cold", extravagant, cool and distant, this boat conveys an atmosphere of something very special. Being allowed to take a berth here is an honor and a short, but intense, pleasure.
It is hard to imagine myself sailing aboard one of these. The boat is very big, the performance and capabilities of a yacht like this surely demand for a highly specialized crew. It is more like a work-place for professionals than a cozy yacht. It is hard to imagine the Neo 570 C going around the world, anchoring at some remote place or welcome kids to enjoy sailing. She is a sailing monster, a blockade runner.
High performance sailing – winning races
A boat with those properties and telling details, like fully carbon standing rigging, indeed is a toy for potent freaks who seek the thrills of long distance races, marker buoy infights and time-to-distance shootouts. Climbing on deck and walking around in the cockpit makes you clearly understand just by looking at the winch positions that this boat is made for crewed racing. And nothing else but crewed racing. Even though the comforts offered are meant to be utilized in a cruising environment, I found it hard to envision this boat in something other than a Mediterranean race.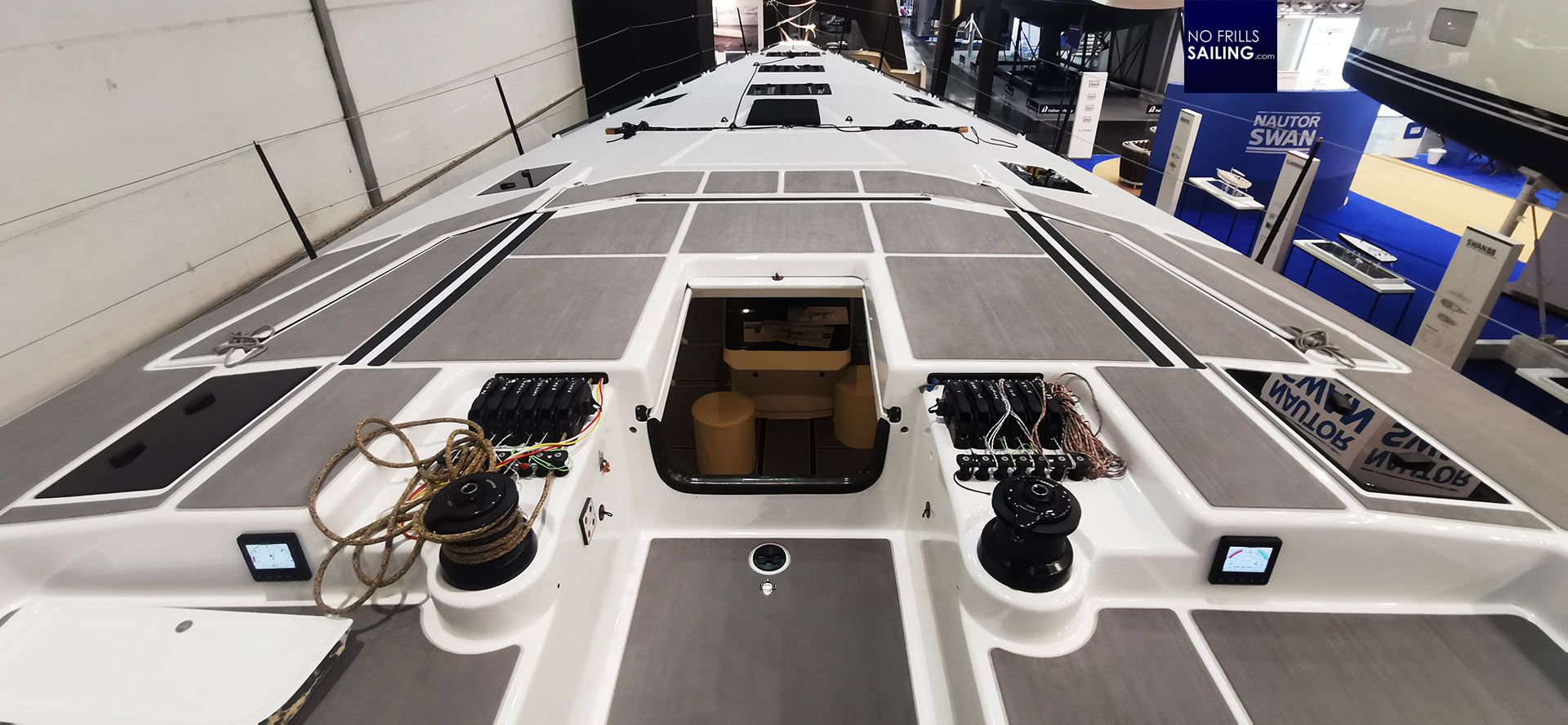 Well, this is the flagship of Neo Composites and they indeed have smaller boats in their portfolio. It should be highly interesting to see their Neo 430 boat, which indeed is a more "accessible" size we can more relate to, or the even smaller Neo 350, both of which are as well racing-bred sailboats for high performance.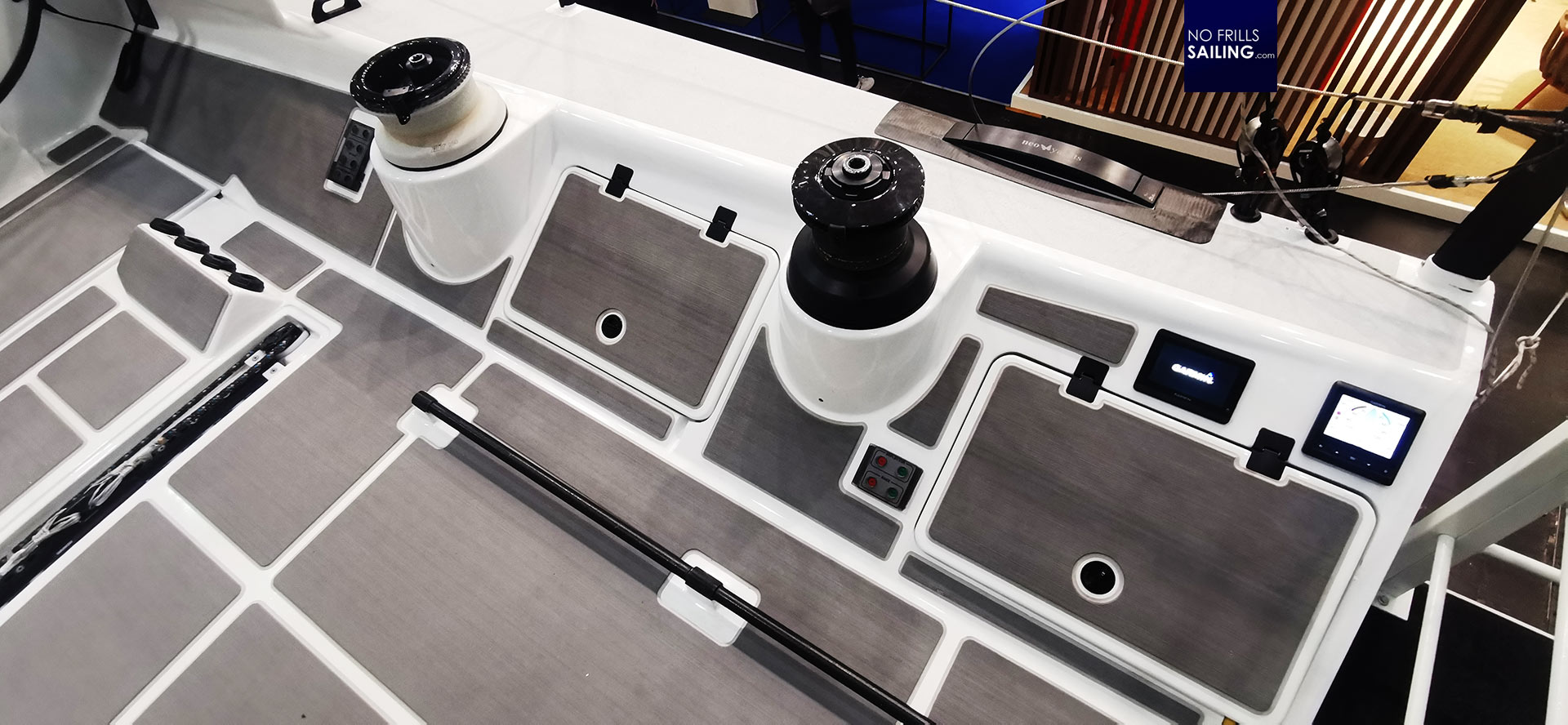 I leave the yacht very much inspired: Just like my feelings when I see an IMOCA 60 or Class 40 all-out racer, I am fascinated and uplifted. These thoroughbred yachts are both intimidating and encouraging. I surely would love to take a ride in one of these, of course, but those boats are made for a yachting world that is beyond my grasp. I return to the 570 C during the boat show two times, looking for details and checking impressions. Let´s see if CARBONITA can win some of the prestigious Med-races she was initially conceived for.
You might as well be interested in these articles:
Carbon racing yacht Aeolos P30, full walkthrough
Carbon fibers simply don´t like slamming
Mark Mills on the Vismara SUPERNIKKA