Talking to head of Berckemeyer Yacht Design, Martin Menzner, is always a pleasure – not just because of the fact that he is a very relaxed, unpretentious and open guy, he boasts a great sense of humor and carries his heart on his lips: You may have read the previous article on inverted bow in current cruiser-design. During this conversation he kind of drifted away from the bow-discussion: "It´s comparable to another thing in contemporary yacht design: Chines …", he said and started a lovely, not so seriously meant rant on hard chines – I held my breath and diligently took notes, scenting another story. And here we are: What about hard chines in yacht design?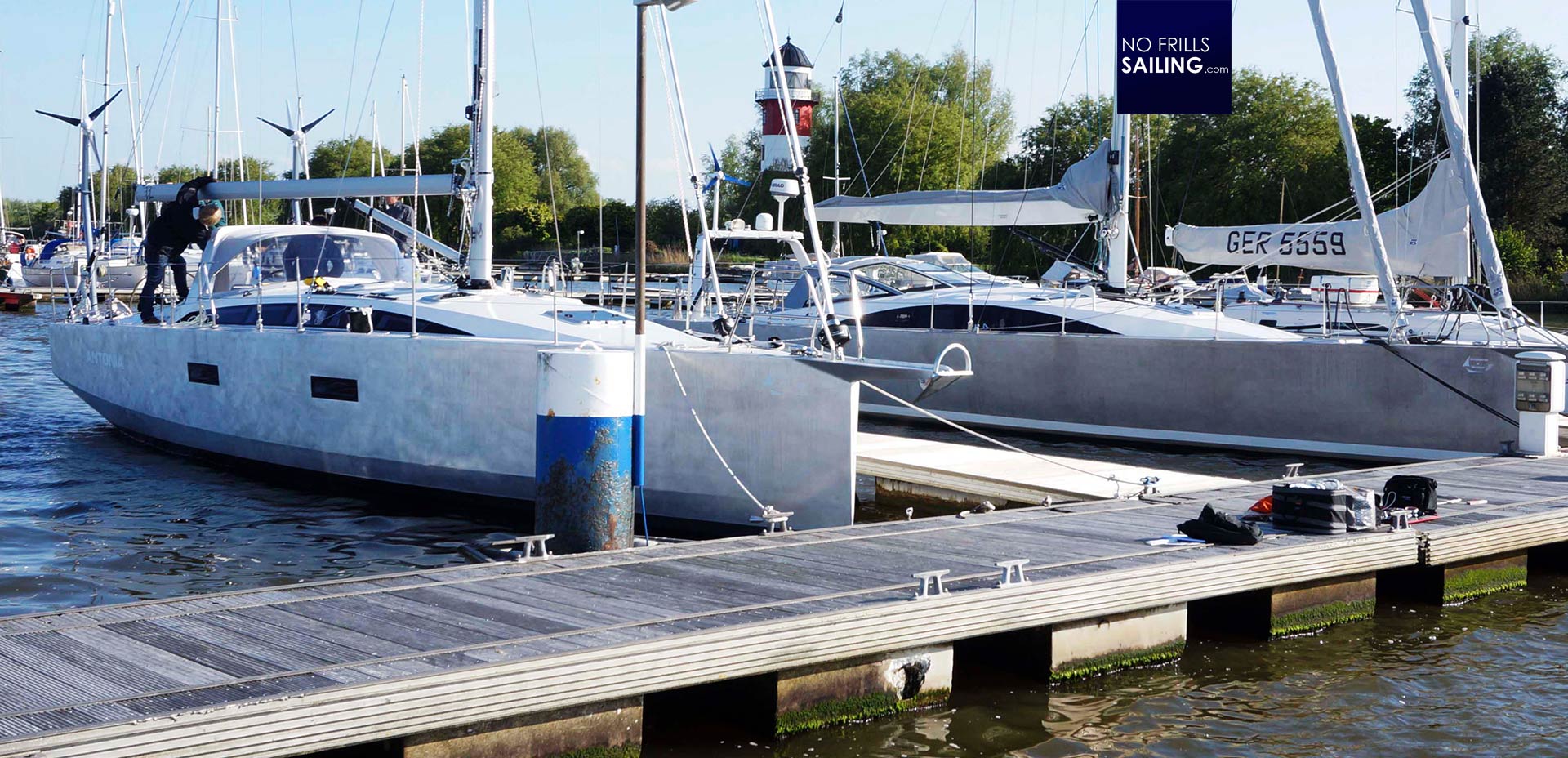 Well, looking at Martin Menzner´s own brand, the adorable aluminium-made Berckemeyer yacht, he himself delivers gorgeous, fast and worldwide renown sailing yachts – most of them with distinctive hard chines in the stern section, just a very few without. As Martin Menzner is not just a yacht designer but a keen sailor (and as a multi-times German Open and Kiel Week-winner on his J80 on PIKE) as well who knows how a boat should be performing.
The Origins of Hard Chines in Racing
"Hard chines, or let´s say, wide aft sections in boat design derive from the planning power boats or, if you look at sailboats, small jolly boats just as the 49er or 14/18-footers.", he starts: "These boats are made to displace as less as possible and remind more of a surf-board. Their most characteristic feature: They quickly get into surf-mode, meaning to plane." Martin explains that the equation to get a boat into planning-mode is making it as light as possible and add a wide stern section with as less wetted surface as possible. "This effect can be scaled up to big racing boats. So, adding a wide stern and hard chines quickly became the formula for fast planing raceboats."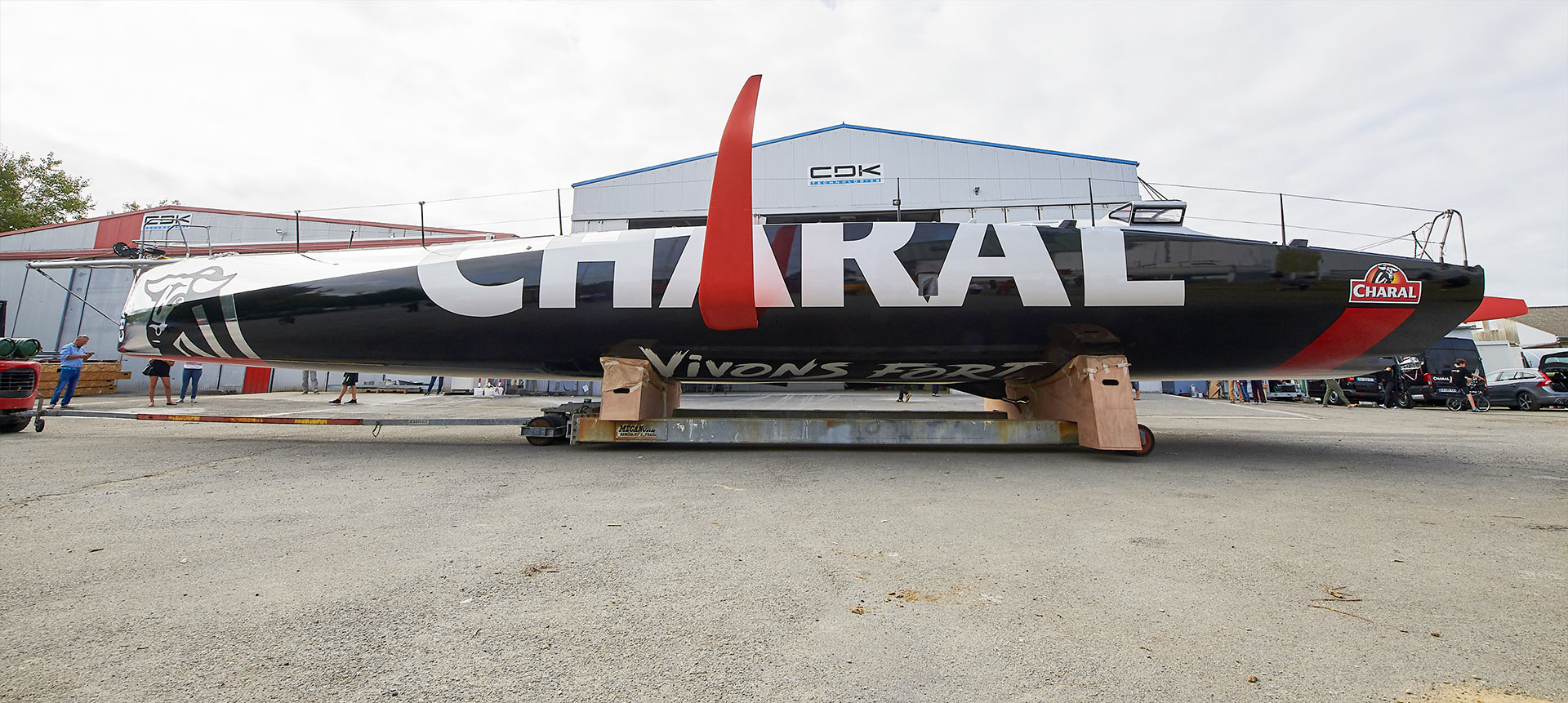 But it´s not just the wide stern section: "You want to prevent the boat from sucking itself to the water surface. So, adding a flat and wide stern was combined with the hard chine – this combination of design features made the boats entering plane-mode quickly, especially on reaching points of sail and at the same time prevented the fast hull to suck itself to the surface hence slowing down." So far, so good: I have experienced the thrill of sailing on a fast, planing boat several times aboard a Pogo 40 – a truly addictive kind of sailing. The later conceived Pogo 12.50 featured a hard chine hull and is still one of my favourite fast cruisers.
Hard Chines in Cruising Boat Design
Hard chines and wide sterns entered cruising yacht design some years ago. Big production brands adapted to the design features and now hulls which carry max width up to the end, flat underwater hulls with least wetted surface as possible, double rudders and – you name it – hard chines are a commodity on cruising boats, just as the new Jeanneau 410 or all new Beneteau Oceanis-designs, like the 51.1, 46.1 and even their smallest, the Oceanis 30.1: "I would say, it´s just about aesthetics", say Martin. Now we are talking business …
"Just as I explained when we talked about inverted bows lately, I would say that hard chines on cruising boats are first and foremost a question of pleasing the eyes of the owners. It´s about transferring images seen in the exciting lines of a racing yacht to a cruising boat. Promising speed and performance." He adds: "To be precisely: It reduces the high freeboard optically. As hulls become flatter and flatter by at the same time increased demand for head room, it´s a nice trick to kind of reduce freeboard-height when looking at the boats."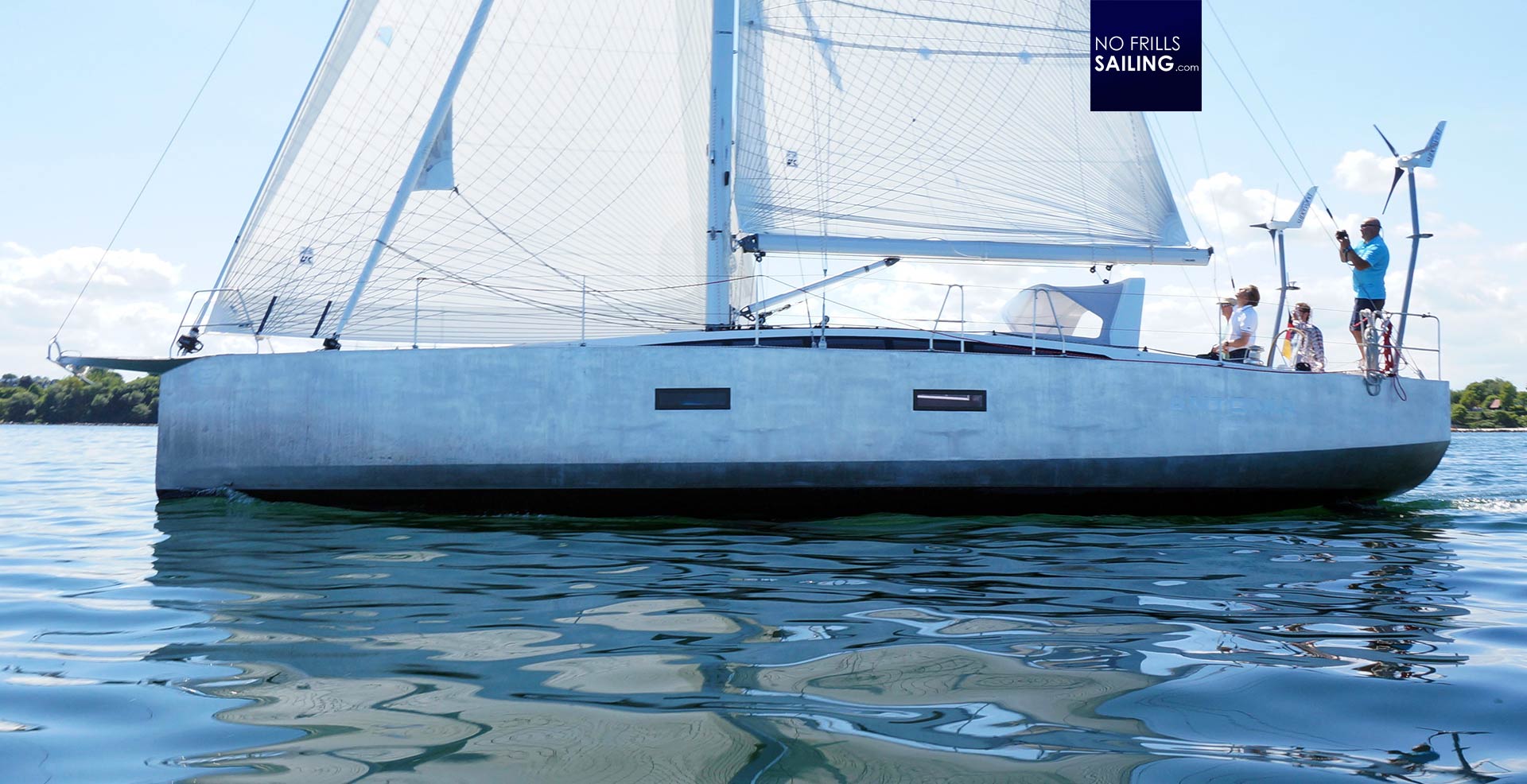 It really works for his own designs, the Berckemeyer Yacht, as well as for other boats. So in a way, the hard chine in the aft section is much more than just a visual reference to planing raceboats and a trend in yacht design but has a visual impact in the appearance of cruiser. "That´s just the beginning", says Martin: "There is indeed more to the chine, even in cruiser-design."
Advantages of Hard Chines in Cruising Yachts
He shows me the Berckemeyer BM 45 AUDACIA with a classic round frame, which was up for sale recently but quickly found a new happy owner. She is one of the few "classic" hull-shaped designs by Martin as her previous owner insisted on a semicircular frame. Her stern section looks awesome, very beautiful and perfectly crafted. "And here is – especially valid for aluminium boats – the critical point." Crafting a perfectly rounded hull shape means much, much more effort for the boat builders. That is why a Cigale or Allures aluminium yacht´s hull is more expensive than the relatively easily built hard-chined hulls of an Ovni. "At least for metal boats that´s a big thing", implies Martin: "Not so much for GRP-boats since laminating process is the same, but the big production companies do benefit from a hard chined stern in another way."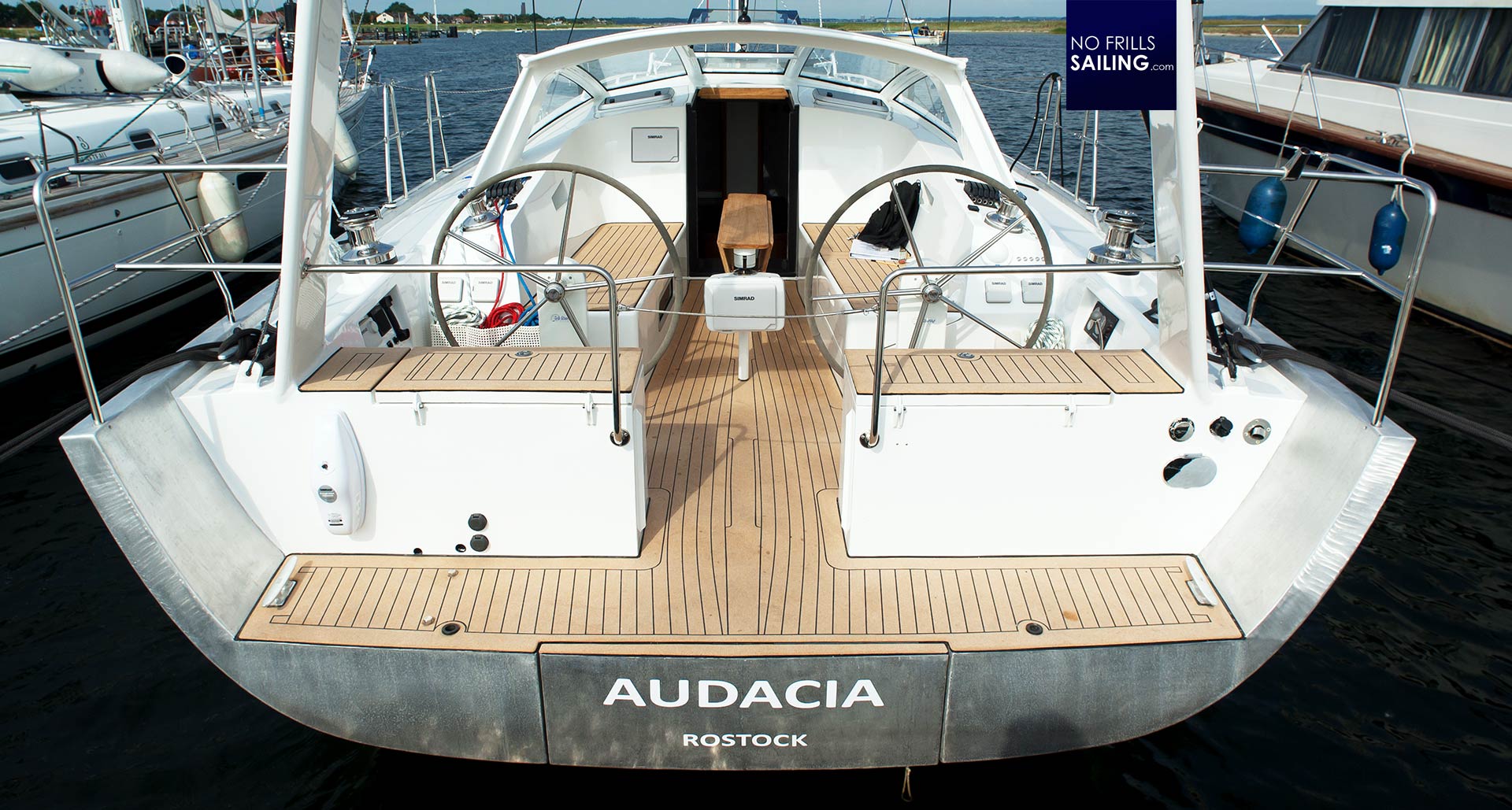 "Of course there is a noticeable increase of volume created in the aft cabins in a hard chined hull than it is achieved in a classic boat. Even when the maximum width is carried all the way back, you can clearly see the immense effect in internal volume here in aft cabins. So in a way, the big production boat companies can not only create a visually attractive product here but can also at the same time offer more comfort and volume in their boats."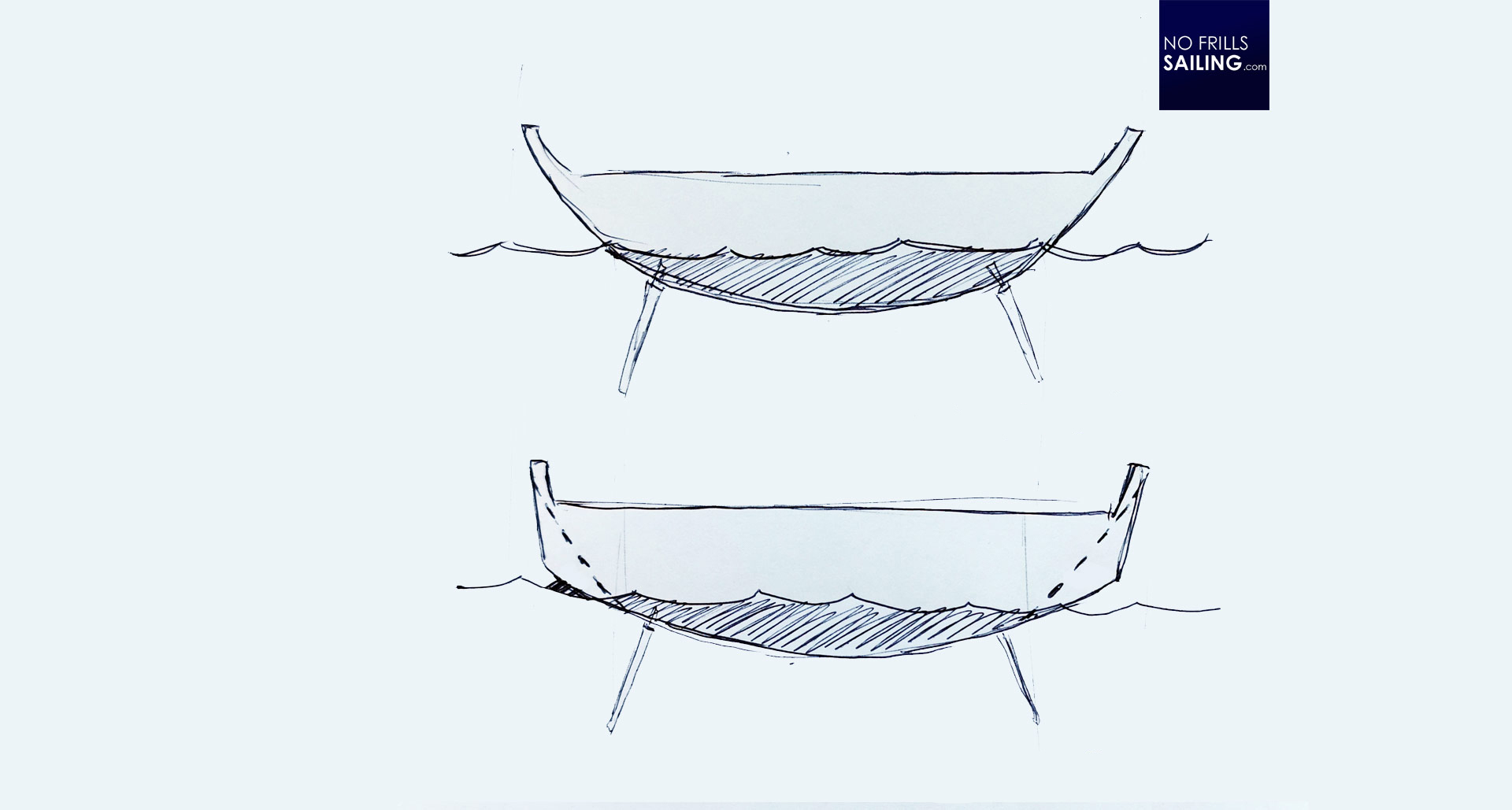 Surely with a hull design like this has an immediate effect on sailing characteristics: The hard chine, when sailing on a reaching point of sail, adds significantly to stabilize the boat as well as the leeward chine will work as a surplus stabilization when sailing with heeling upwind. The boats need less ballast which makes it lighter. On the other hand, boats as wide as these new generation cruisers must be fitted with a double rudder configuration.
Which way to go?
So is the current trend towards wide sterned hard chine yachts in cruiser-design the right way? For Martin Menzner the pros clearly outweigh the cons. More volume, more stability and better looks is definitely worth the price of having a doubled steering-mechanism installed. For aluminium yachts every chine reduces building costs and makes these boats a bit more competitive. "It´s definitely reasonable", Martin agrees. On the other hand, BM 45 AUDACIA is an absolutely staggering design, timeless and beautiful.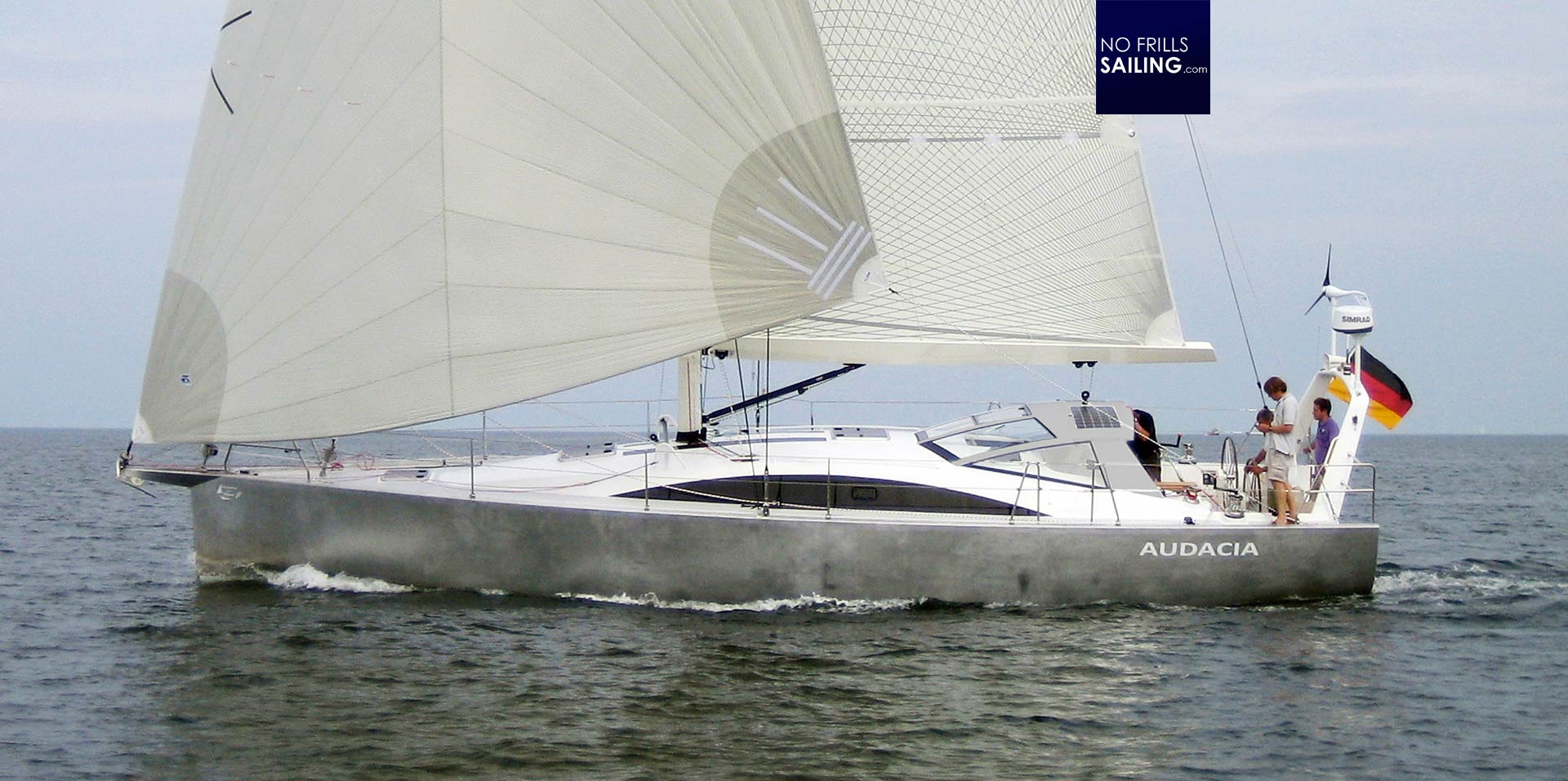 Seeing Beneteau adding forward chines 2018 with their new Oceanis 51.1 now makes absolute sense: Derived from top-notch racing yachts, proven by smaller companies like JPK or Pogo now the big names in the business have adapted and further developed this concept to fit the needs of their clients and markets.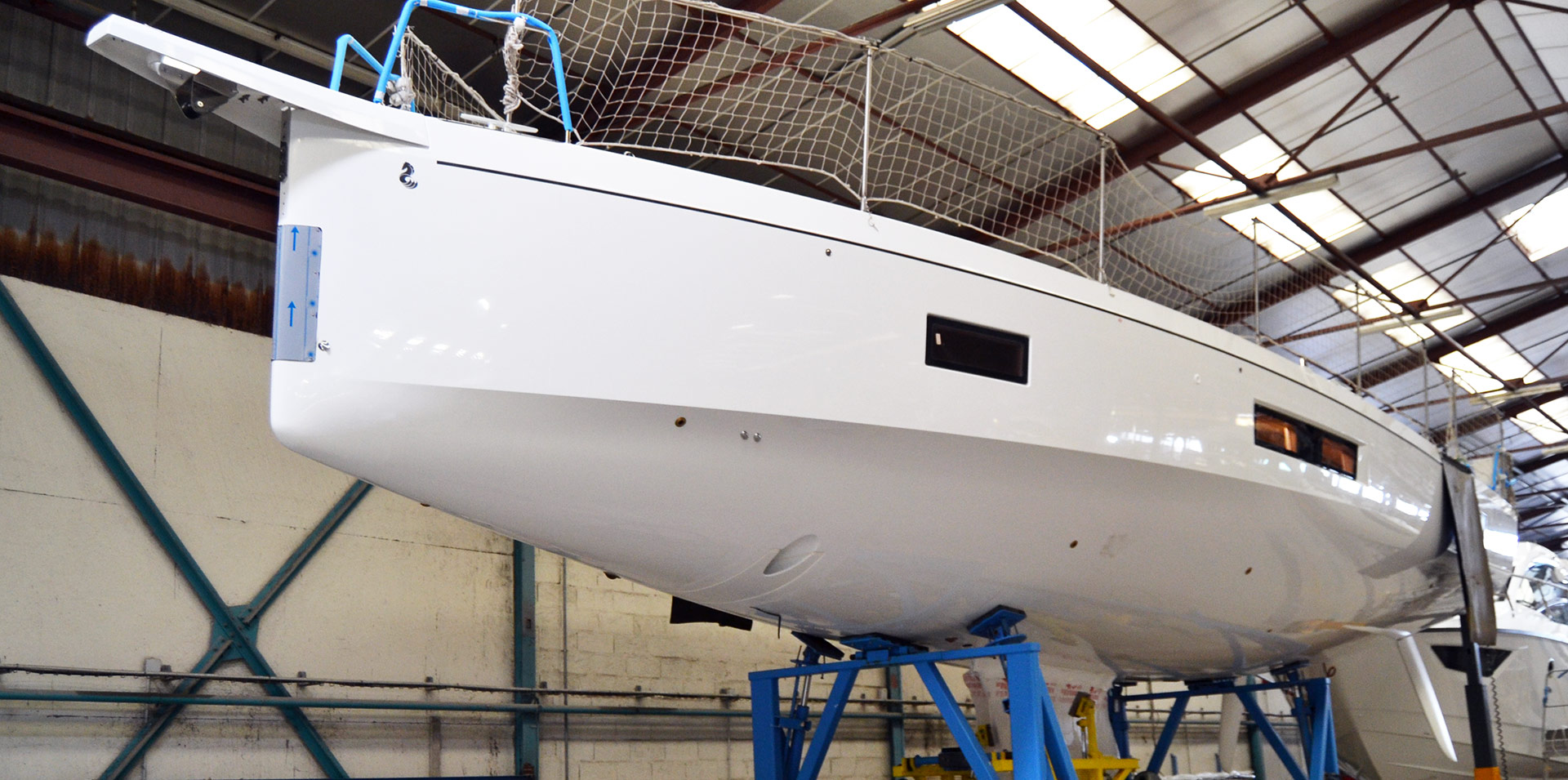 I found it highly interesting again to getting into Martin´s perspective for his BM Yacht-designs, boats which are bought by a very small and special clientele versus comparing this attitude with the views of the world´s market leaders in sailing pleasure craft. Which boat you choose is up to you but saying it with Martin´s words: "This is what yachts will be looking like even in 10 years because this is what people – the market – want right now and are seeing in sports sailing."
Thanks Martin for another interesting conversation.
You may also like to read these interviews with yacht designers:
Martin Menzner on the perfect regatta-start
Javier Soto Acebal on Solaris yachts
Matteo Polli on appendages iterations