You all may already know about my passion for aluminium boats in general and for the stylish, modern yet elegant and timeless lines of the Berckemeyer Yachts in particular. Some months ago I visited the Benjamins Yard in Emden (read my article here) where the CEO and Berckemeyer yachts designer Martin Menzner showed me with pride their latest built: A BM49 Pilot House. As a matter of fact during the day the owner of this marvellous yacht also arrived and I shook hands for the first time with Matthias Schernikau. This is how I met him for the first time.
Now, a bit later, after I met with Martin Menzner in his absolutely likable understating house near the city of Kiel for an interview of yacht racing he told me that Martin Schernikau´s BM49 was has been finished in terms of raw metal stuff and that the boat had been delivered to Mr. Schernikau´s property where it is going to get the internal fittings. Some E-Mails and a phone conversation later Matthias was enthused to invite me to his company compound: I wanted to know about the upcoming steps for the BM49 sailing yacht. When I arrived, I was simply stunned …
The sharp sexy lines of a performance cruiser
Matthias Schernikau is the founder and CEO of a medium sized enterprise. He is developing and building elevators and elevator systems. Entering the company´s ground, I was instantly awed by the sheer size. Not just the size, but also the cleanliness of the huge workshop halls, the light suffused wooden accentuated workplaces. Everything was huge here, very impressive. I was speechless. Matthias, with his welcoming, very open kind was instantaneously conquering my heart as openly showed me around. And then, there, almost hidden behind huge high rise stacks on a massive metal stand, I saw her. Almost majestically floating in the sky, high above my head – the adorably sharp shaped hull of the BM49.
"I´ll go and grab a lift", said Matthias and went off to get one of these self-moving electric powered basket lifts. I stayed under the boat. Alone. The hull was shining in a silverish blaze as the sun was setting outside and her orange and red-turning light was flooding the huge workshop halls through the big panoramic windows. I was standing under her bow and admired the sharp lines of the stem. Almost hearing the sound of water floating by. Fast. Very fast. I just love the shape of BM-yacht´s bowsprits. So simple. Yet so stylish. No frills …
The wide stern section with the massive propeller shaft. The screw will be turning here safely housed by the shelter of the shaft housing. Two balanced rudder blades, thick and also massive – I remember when Heiner Uffen, boss of the yard, was showing me the single pieces of these very blades. Just like a huge puzzle. Now apparently this puzzle has been finished and here we are: The two blade which will hold the boat´s weight with ease when Matthias decides to fall dry with his fine boat somewhere.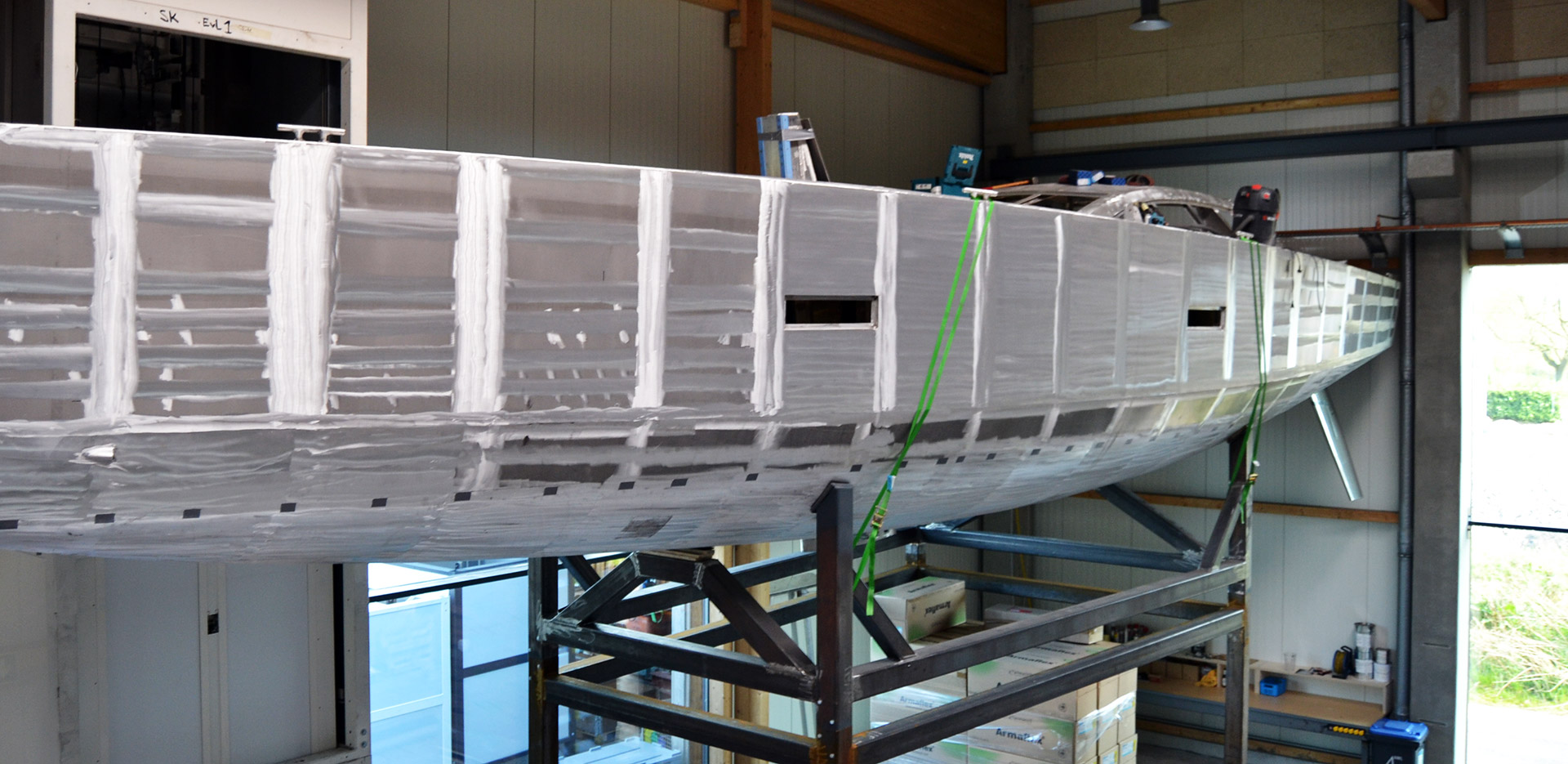 "Jump on in!", he invited me and rips me from my daydream as he finally arrived with the lift. I enter the basket and we both are lifted up meter by meter. Leaving solid ground, the lift is shaking almost like a floating hull. Looking to the boat directly before my eyes infused a nice feeling of being on the water. As we reach the level of her waterline, I admire the shape of the boat: A nice, rounded submerged body – not too V-shaped like a heavy displacement cruiser – but not too aggressively flat for hard planing. This hull should make a nice compromise between seakind motion and fast sailing.
Matthias´ plans with his BM49
I ask Matthias to bring us high up above the boat before we set foot on her deck. He agrees and so the lift pushes us as far above as it could, my head almost touching the ceiling. What a rich view on this beauty! I stand there and cannot take the bright smile out of my face: What a great boat this is! So elegant, so slim, so well-proportioned. I ask Matthias, what his next steps for the boat would be: "Well, you saw that model of the hull in both my and Mr. Uffen´s office in Emden?" I nod and remember the gadget: "I was putting a picture of it to eBay classifieds and announced that I was looking for a skilled boatbuilder to make the interior fittings." I raise my eyebrows. On eBay, really? Yes! He nods and laughs: "I´ve got four very good applications. And hired one of them finally."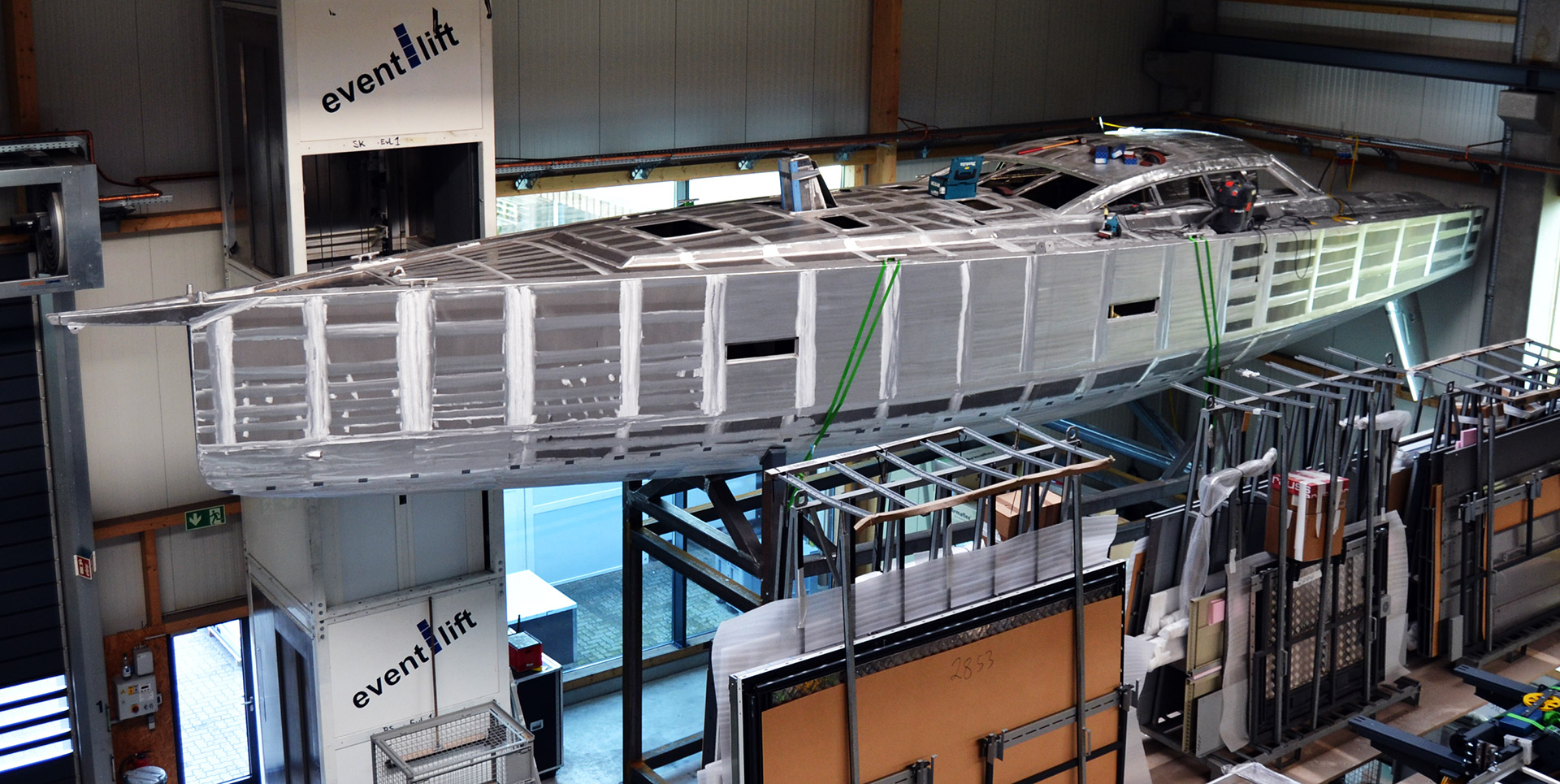 As the mighty arm of the lift swings us directly above the foredeck of the BM49 yacht, Matthias explains: "First step is sanding. As you may see, the boat has been treated only roughly. The fine works is now the first job. We´ve already begun doing so." If he wants to paint the boat, I ask. "No, not at all! Paint on an aluminium boat is worthless. It will come off more sooner than later. I will add non slip in parts of the deck, a nice cork flooring in the cockpit – which I find looks terrific – and – maybe by adhesive strong foil – an orange coat for the deck house here. That´s all." No frills, eher we go again.
I ask him about the internal layout of the boat, which he tells me he want to show me later in detail when we board the boat, but explains: "That´s quite easy: There´s an owner´s cabin in the front – classic way – a head to port side. Starboard side is a small berth just like the old school quarter berths adjoined by a longitudinal galley to the aft." Then, he said, there will be the salon of course and two aft cabins: "Port side will be the single berthed guest cabin, starboard side will be left raw. As a storage-room and a small workshop. "But the most ingenious thing of this boat is the pilot house, of course!", he says and lowers the lift so that we can set our feet onto the deck of the Berckemeyer yacht.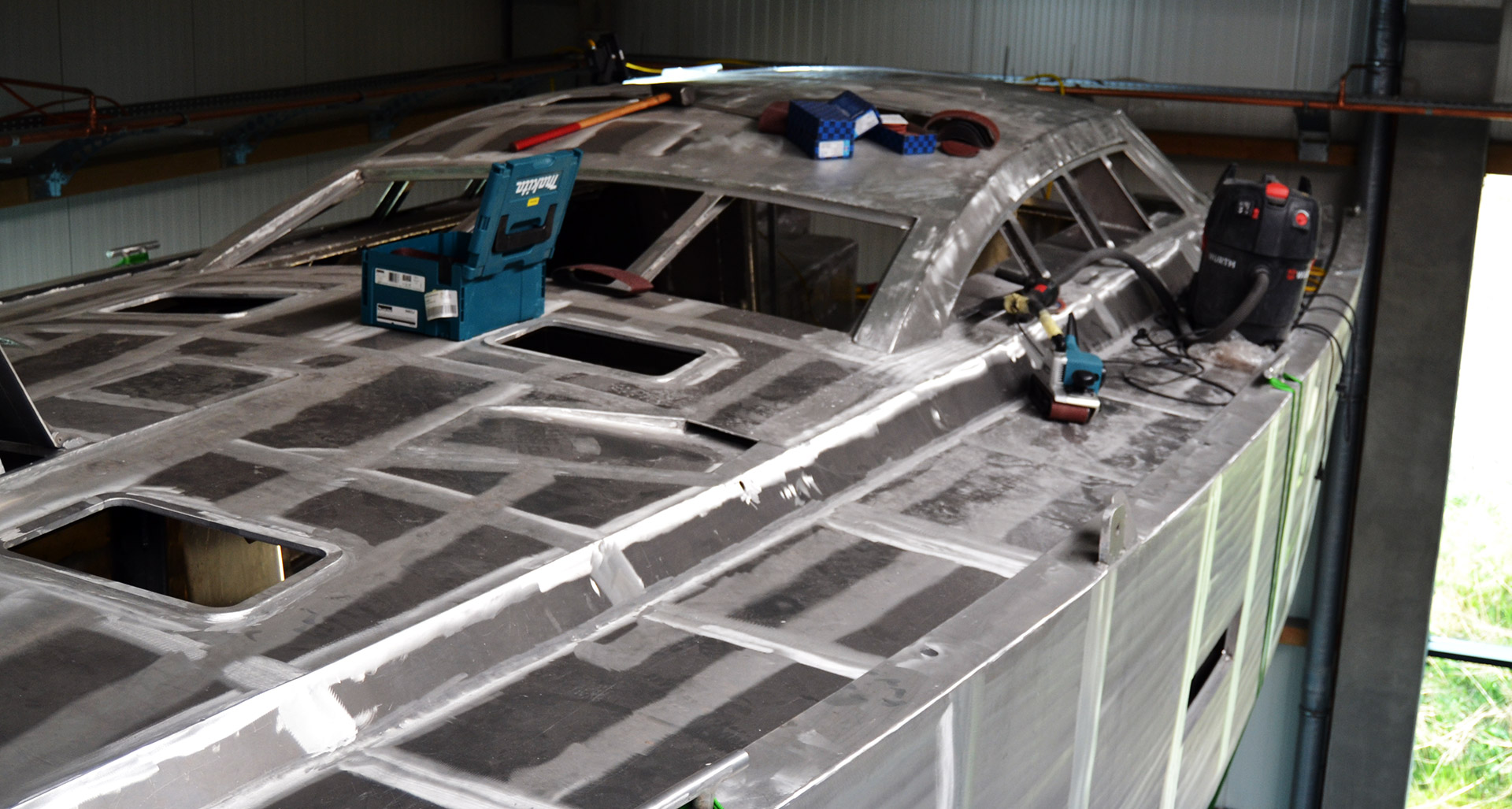 "I´ll show you from the inside", Matthias insists and welcomes me aboard. Looking at the deck house superstructure I am delighted to see the huge front widows, the wide, open windows to either sides of the salon house: "There will be lots of natural light in the salon!", Matthias is amazed and it's a pleasure to see his sheer pleasant anticipation when he is looking onto this arguably huge project. As I roam the wide deck and count the number of the hatches, I stop at the drop keel.
Variable draft – Berckemeyer Yacht drop keel system
The coolest aspect of having a "go anywhere" boat is, of course, being able to go anywhere indeed. With the possibility of a variable keel boundaries to a yacht are virtually limitless. The BM49 will be able to reduce her draft from staggering 3.30 metres to a very, very shallow 1.30 metres: "I can enter very shallow areas for safe anchorage", Matthias says. And you can go upriver exploring, discovering places no fixed keel yacht can ever go. Amazing.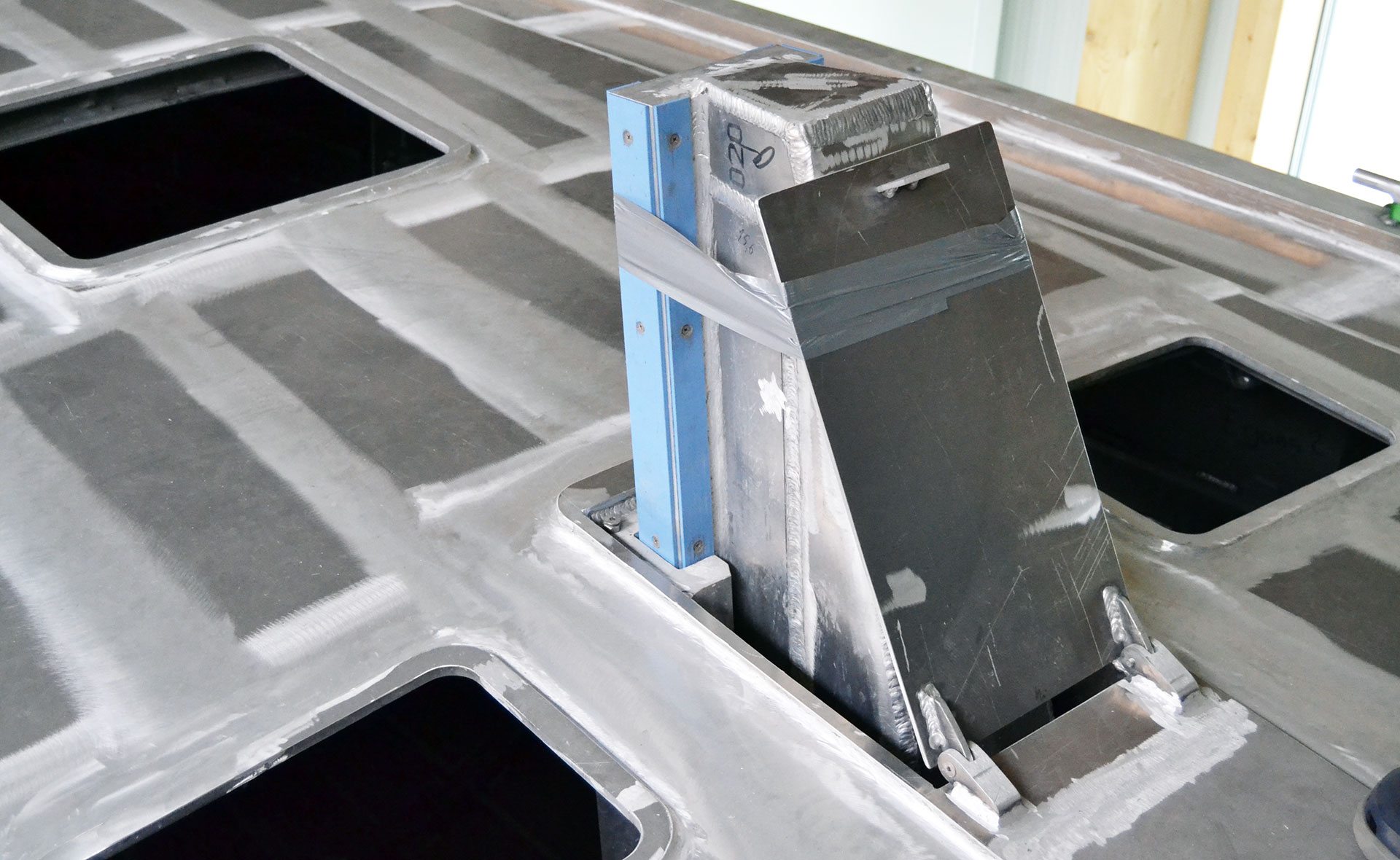 "Thanks to Martin Menzner´s brilliant construction here", says Martin and points to the keel. The drop keel is operated by a string hydraulic system. The keel fin – also massively done in aluminium – is sliding within a really solid and thickly carved bearing track. The keel is penetrating the roof and will stick out some 50 centimetres when in shallow mode like we see it here now. "By this we gain half of a metre longer lever for the lead bulb down below, which significantly increases the stability and stiffness of the boat.", Matthias explains.
When the keel is down and the yacht is in sailing mode, a flap will come down and cover the keel house. "Look at the fat bearings here!", Matthias points to the details. "You will also see from the inside that this keel is laid out and made so solid that I would say this whole construction is even more durable than a fixed keel!." I remember hearing a story of another Berckemeyer yacht, a BM43, hitting the rocky breakwater somewhere in foul weather in Sweden, being pushed over the wall rocks very violently: Apart from scratches in the hull and a bent rudder shaft the only damage was a slightly upward bent nose of the lead bulb. No damage whatsoever to the boat. Steel is real, as they say …
A true no-frills-sailing-yacht
Matthias climbs into the cockpit: "That´s going to be an easy boat. I want to sail this single handed. So, you know, everything that has a cable attached – will break sometimes. So I try to keep my boat as simple as possible. There won´t be any stuff aboard I won´t necessarily need." Beginning right here in the cockpit, I don´t notice any mounting posts for steering wheels: "No wheels, no!", he insists, "this yacht will receive a nice tiller steering. Martin Menzner was promising that he would design a boat that I could command by having two fingers at the helm. And I believe him – he knows quite well what he is doing!"
Matthias is a pragmatic: "Wheels need cables and quadrants and chains and mechanics and stuff. It will need attention and maintenance. It can break. It will wear down. You know what really sucks? When a wheeled steering has slackness. You cannot steer precisely. It will simply kill all the fun of sailing." Besides, it´s dangerous. "I love the direct feeling of a tiller. The potential of reacting very quickly to shifting patterns, to do it fast and quickly. You know, when you are on a long trip, you will have automatic steering anyway, no matter if wheels or a tiller are installed. But when it really grabs you and you want to catch this Dehler 46 and you have this adrenalin rush – then steering with tiller bring you most of the joy!" He is glowing. And I know what Matthias is speaking about, thinking back of my experience with the tiller on the Pogo 40.
So in the cockpit there will be the tiller, two seating benches with a considerable amount of seating space being safely secured under the massive dodger. The whole of the cockpit´s crawl space is down below deck level is empty space: "Of course there´s a locker for fenders and stuff, but I´ll keep it nice and light to have the boat as leightweight as possible." On the coamings – which by the way are very, very high to ensure maximum shelter from overcoming seas – there are three thick mounting bases for the winches. Three to either side. That´s serious business.
An hour ago, when I was arriving and Matthias showed me around in his company, we also went into is office. The company is running quite nicely and it took me weeks to arrange a date with him due to his tightly filled calendar. But standing in the office I got the impression of being in a shop for sailing props: A nice three bladed ship´s screw, blocks and clamps, a bilge pump and the six winches. Of course the finest stuff by Anderson/Denmark. "All winches are good old mechanically driven, except the halyard winch for the main.", Matthias smiles and looks at me: I agree, nobody wants to hoist an 80 square feet mainsail by bare hand …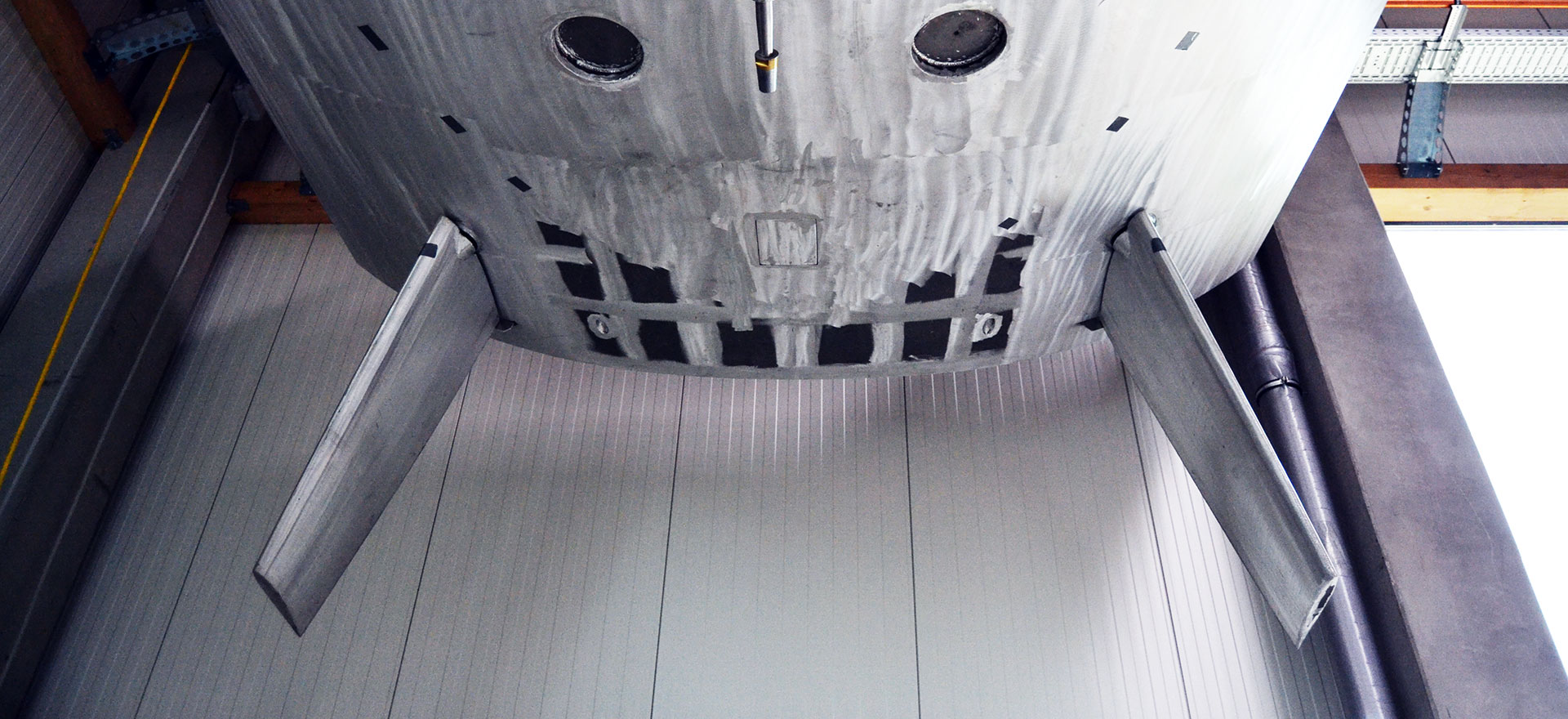 Matthias´ only concession to modern day electronics are two retractable thrusters by Max Power. One in the bow and one aft. "My girlfriend isn´t too deep into sailing and, as I said, I want to sail the boat alone. Being able to manoeuvre her safely in harbours is a matter or course, so adding a stern thruster here was definitely in my wish list from the beginning."
Aluminium yacht: Rock solid!
We enter the boat and I notice two distinct features which remind me what really fascinates me with aluminium boats. First there is the clamps. Before I reached the majestic Island of Madeira on a brand new Dufour 460 which I was delivering to her new owners on the Canary Islands one year ago (read about it here, here and here) sailing in reaching and running conditions of the trade winds I was fitting a makeshift lazy guy to the boom to the midship clamp of the boat. After five days of nice calm sailing, the clamp was slacking loose. This just won´t happen with the BM49.
Looking at how the clamps on this boat are fixed to the hull, one must admit that this rock solid construction is just exhaling confidence in every single inch of the boat: Look at these thick clamp fittings and the centimetre of a weldseam! "When we were putting this boat to its rack up here", Matthias says, "I hat the whole hull being hung up at the crane – we pulled her up at her chain plates. Can you imagine this? The whole weight of the hull, that´s some 6 tons or so, on the chain plates!" I doubt that one can do this with a construction boat …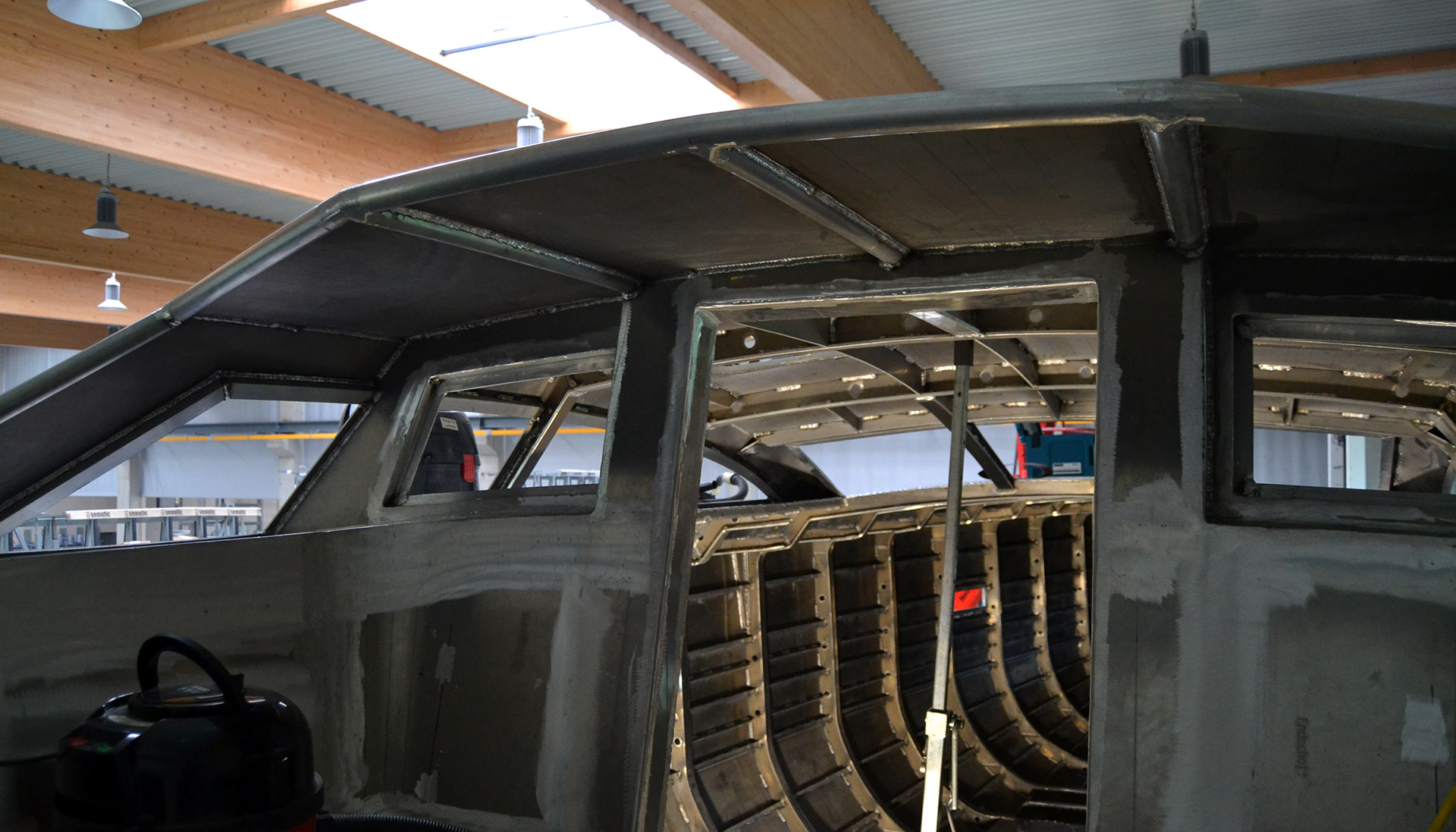 The other detail is the dodger. "You know, I am really thankful to Martin Menzner to persuade me to go for this pilot house configuration! You see these two seatings here stationed directly under the dodger? No spray, no waves, no wind will come here! That's perfect for a watch." Best is that one can see through the windows of the deck house almost perfectly over the whole horizon. "Best thing about it: I don´t need a sprayhood. I think it´s a sprayhood that defaces a yacht´s lines. But not mine!"
Envisioning the interior of the BM49 sailing yacht
As we enter the hull it is of course completely empty – except for the room dominating housing for the drop keel. Matthias stand in the flare of the floodlight and is talking enthusiastically about his vision for the boat´s internal fittings. Because, as empty as it may seem now, it won´t remain this way: "Where we are now there will be the pilot house. That´s a cool thing. Essentially this is two benches with cushion facing each other. There will be a secondary chart plotter up here and that´s all." The pilot house is for standing watches when it´s really nasty outside and for a nice hot tea when Matthias reaches the Higher Lattitudes.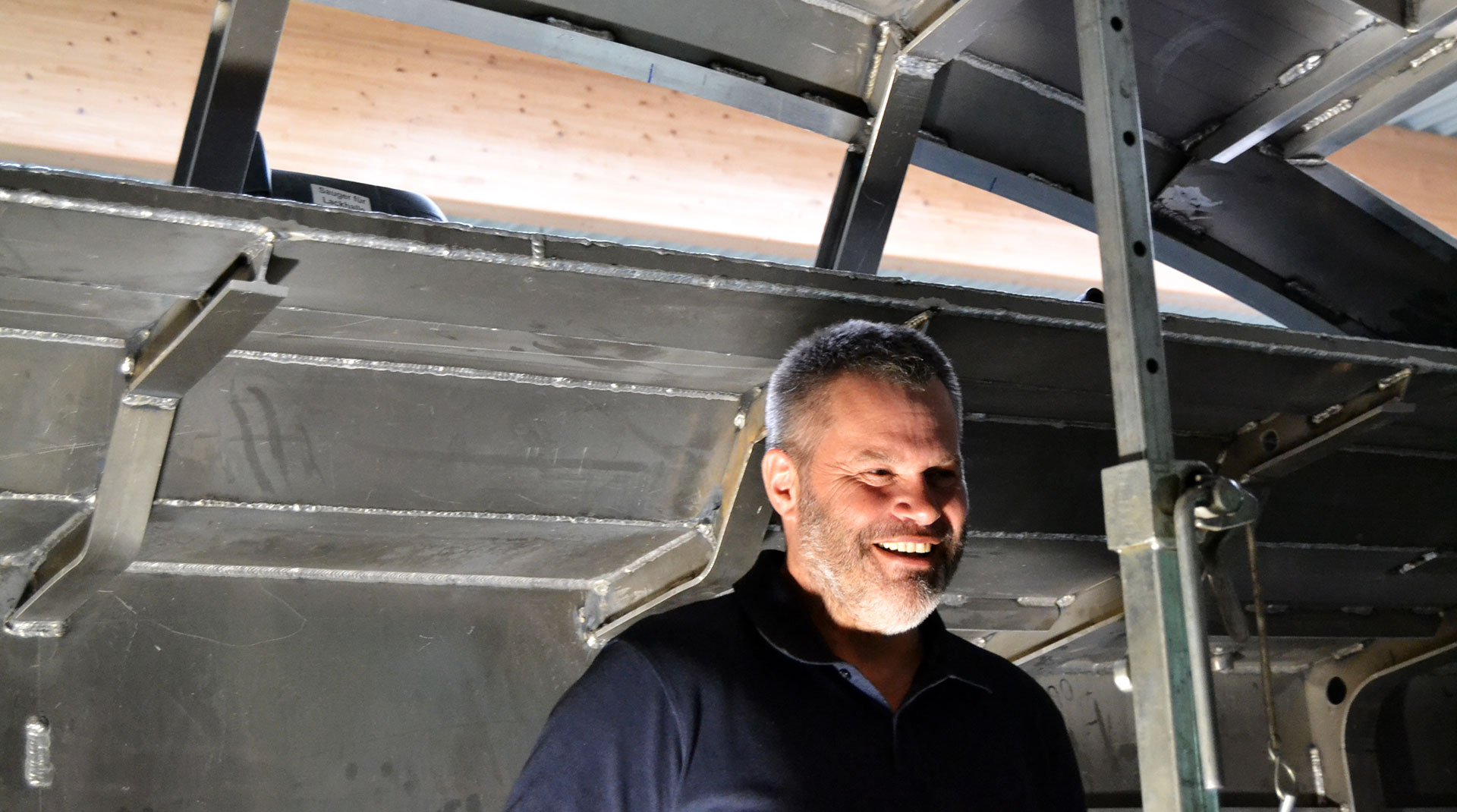 The floor of the pilot house will also be the ceiling of the two aft cabins – guest and workshop – to either side of the entryway which will also cover the engine. By the way, here´s the no frills concept of Matthias and Martin Menzner coming through again: Where an ordinary production boat will be fitted with a 75 hp engine minimum, on the BM49 there´s just a 50 hp installed. Smaller, lighter. "I want to sail, basically. The engine is for port manoeuvres …" Smaller engine means smaller prop means lesser drag. Nice.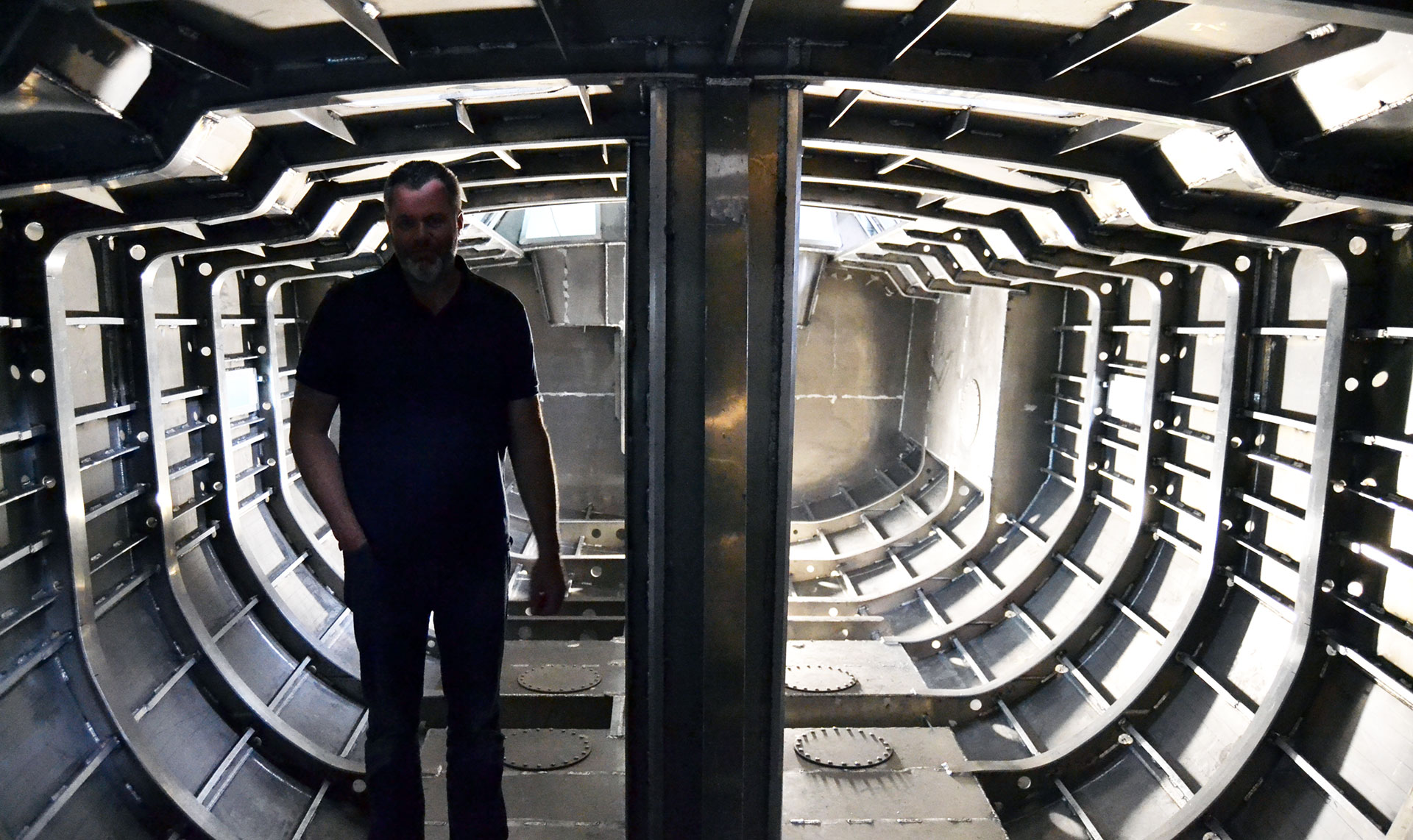 Matthias stands on the port side Diesel fuel tank and explains the layout: "Here´s the forward bulkhead separating the owner´s heads and cabin from the starboard side walkway and galley. In the salon there will be an L-shaped sofa with a two-seater settee around a dining table. That´s it. "You see, basically, because of the fact that everything aft of the rear bulkhead is free, unused floating volume, this 49 feet boat offers the same internal volume like a 40 or 44 feet boat. That´s also because for a near 50-footer this yacht is very slim." It´s amazing hearing Matthias saying this: In times when owners seek to get the most volume out of their hulls, he seems happy and even proud having achieved to shrink the internal space of his boat. Maybe because he is gaining sailing performance?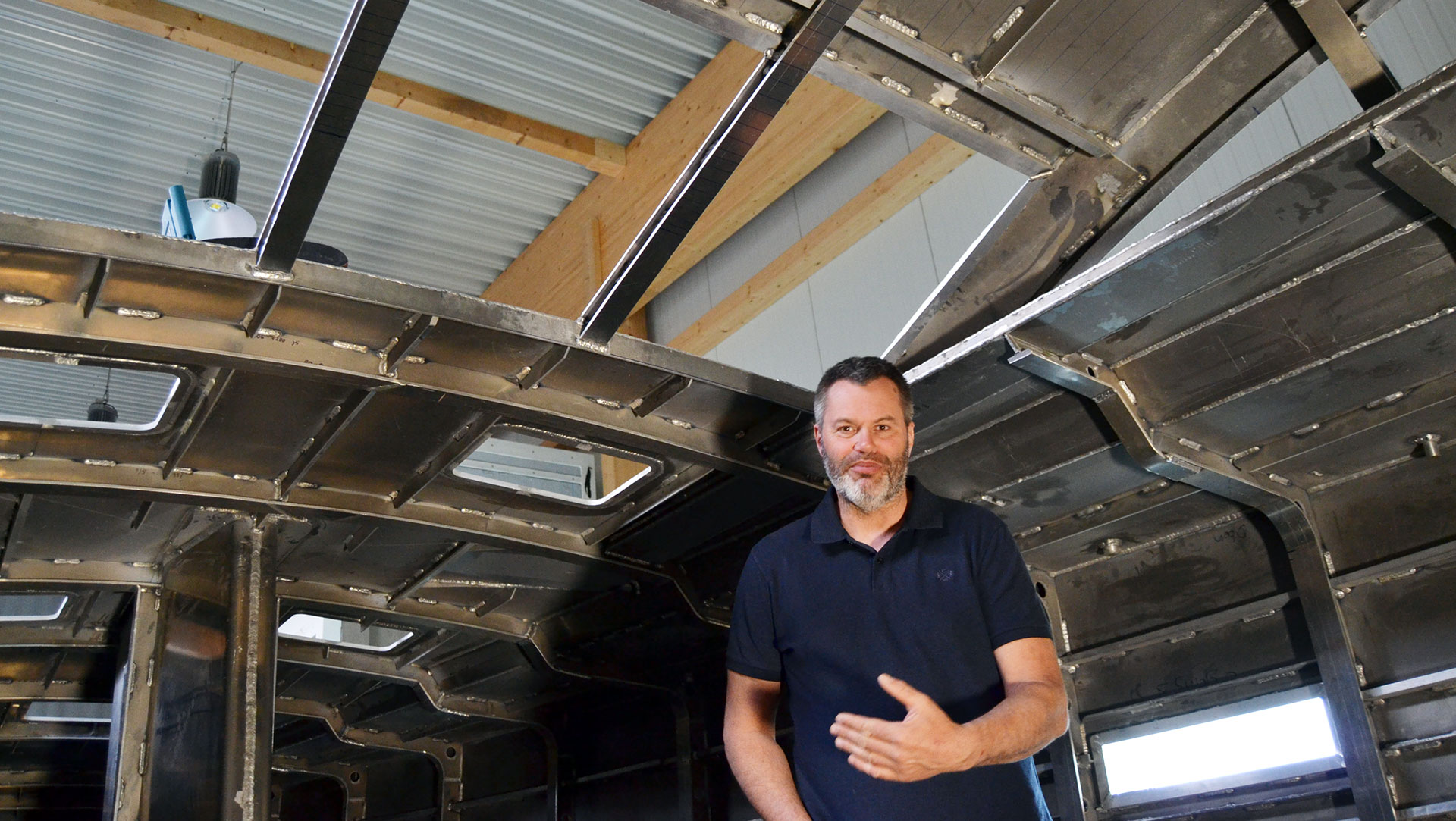 Although the portholes in the ship´s sides aren´t too many and the existing aren´t too big, the salon will be light suffused anyway. That´s because of the gorgeous front windows which reminded me instantly of the Oyster I was roaming in Cannes last year (read it here). I love these front facing windows and if I could choose a yacht, I definitely would go for a boat offering this amenity. It will be just a gorgeous sight to the surrounding nature and the Ocean when underway through these!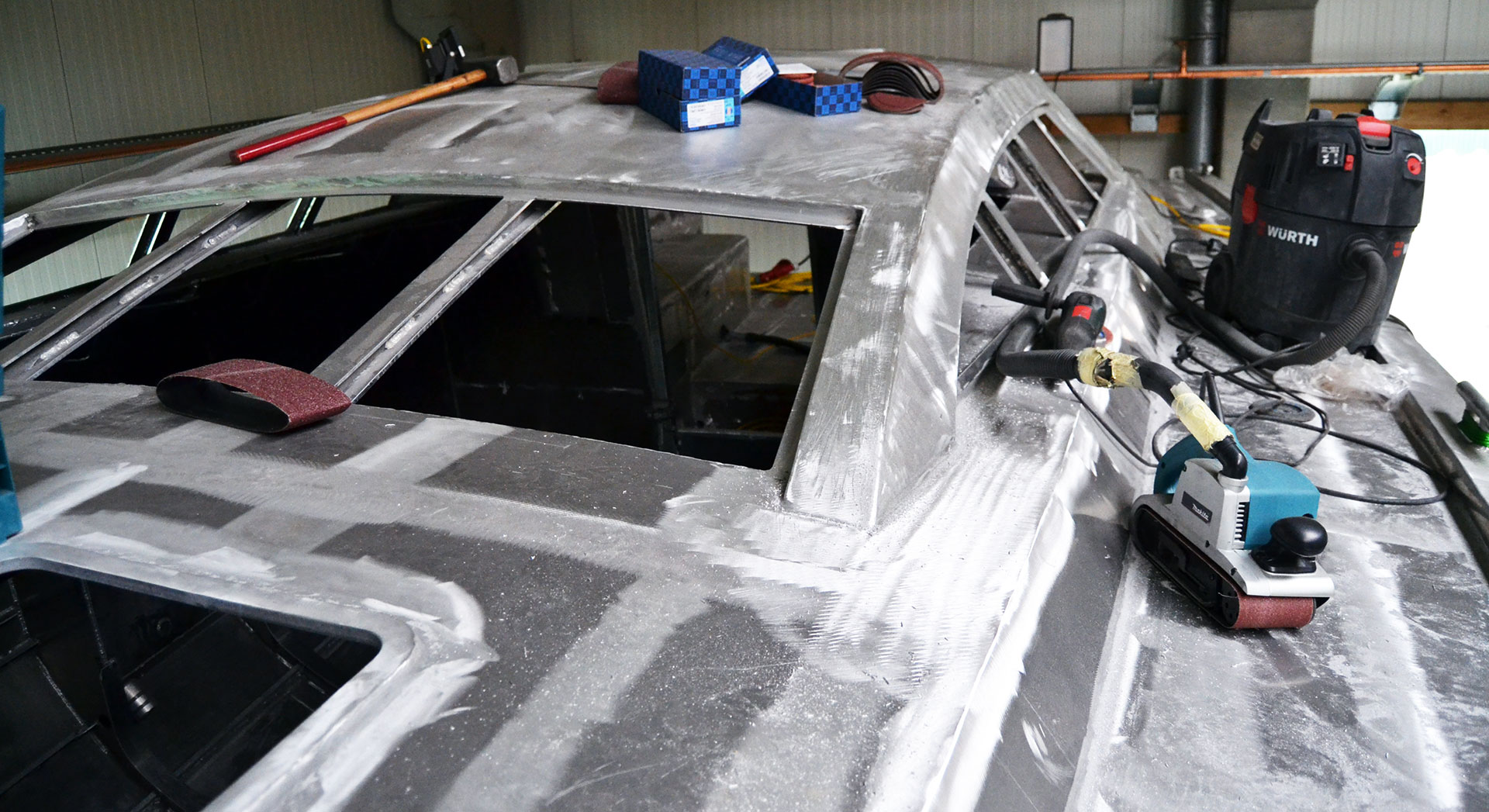 Matthias is going to fit plexiglass windows to the deck house but he doesn´t know yet if blank or coloured. That´s the same question I once had with my own boat and I decided to go for darker coloured windows because I hate curtains and definitely didn´t want to install shades. But Matthias says: "Sun and sight protection is a point. But you see, I want to go in the ice. This means sailing in High Lattitudes where maybe there isn´t so much sunlight and you need to catch every light possible." That´s a point here. "May I´ll go for an adhesive foil which I can remove when I want." Yepp, that´s clever.
When will she hit water?
After two hours and a long, fascinating talk about the Berckemeyer BM49 yacht and the plans of Matthias, we re-enter the basket and Matthias brings us down to Earth again. As we pass the sharp bow I touch her the last time and take the promise from him to call me when the boat has entered a new stage of the project: I am very interested to see how the boat will be insulated, how the first decks are installed and the bulkheads will be fitted. I want to see the rough finished layout with the pilot house and first raw furniture. Matthias agrees instantly.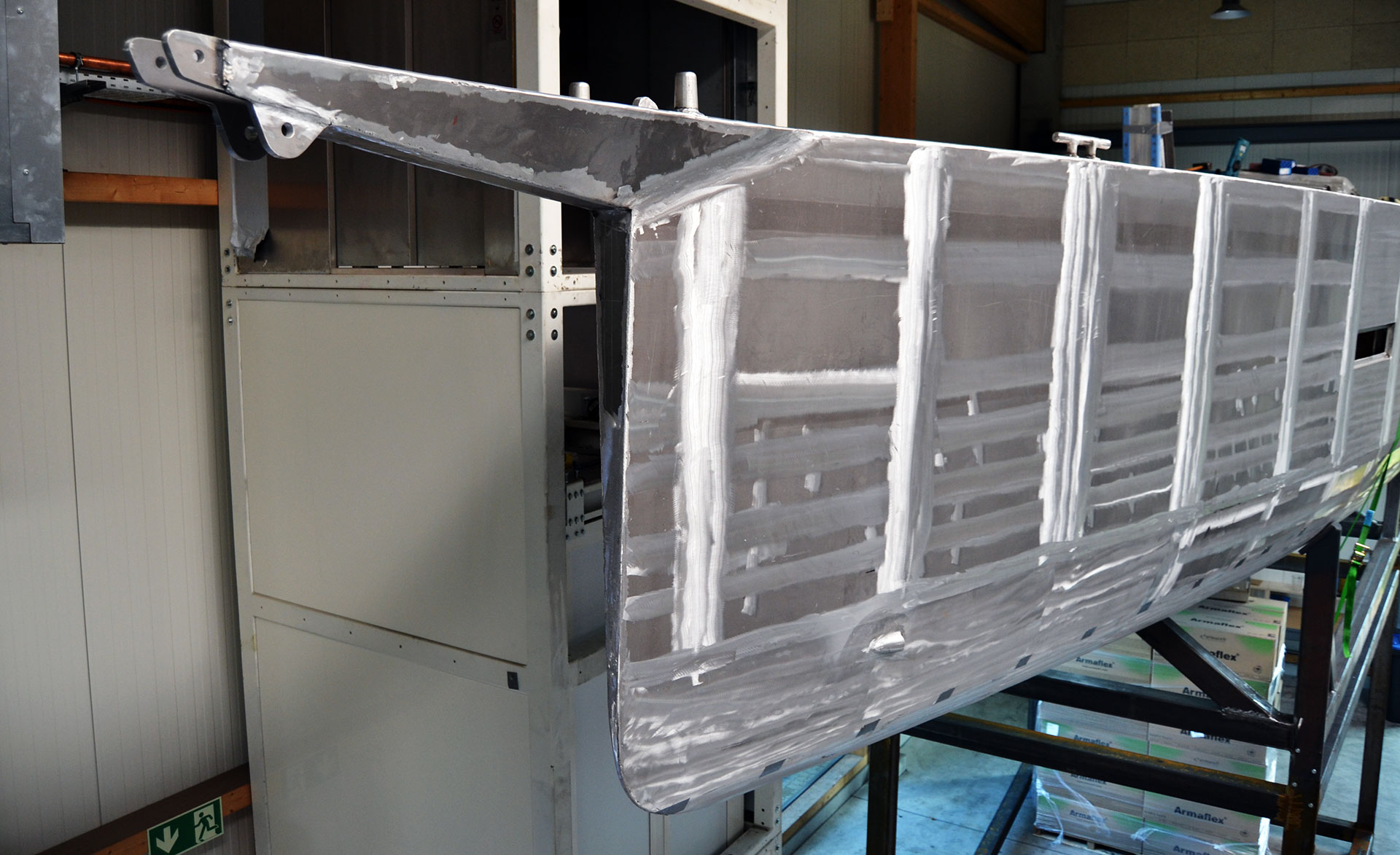 He also tells me that he recently has ordered a tailor-made carbon mast at Axxon, which will also be an interesting story although I fear I cannot afford to fly over to Romania to Axxon´s production site. But maybe a dash to the BM49´s sailmaker will compensate for this. When Matthias is planning to finish this work? "Well, I think next season she will be in the water." Late in the season, but surely something around 2019. And you guess what? I believe that they will achieve this goal: Matthias is a skilled metalworker, has all tools at hand in his own company. And he is determined. He will make it, I am sure.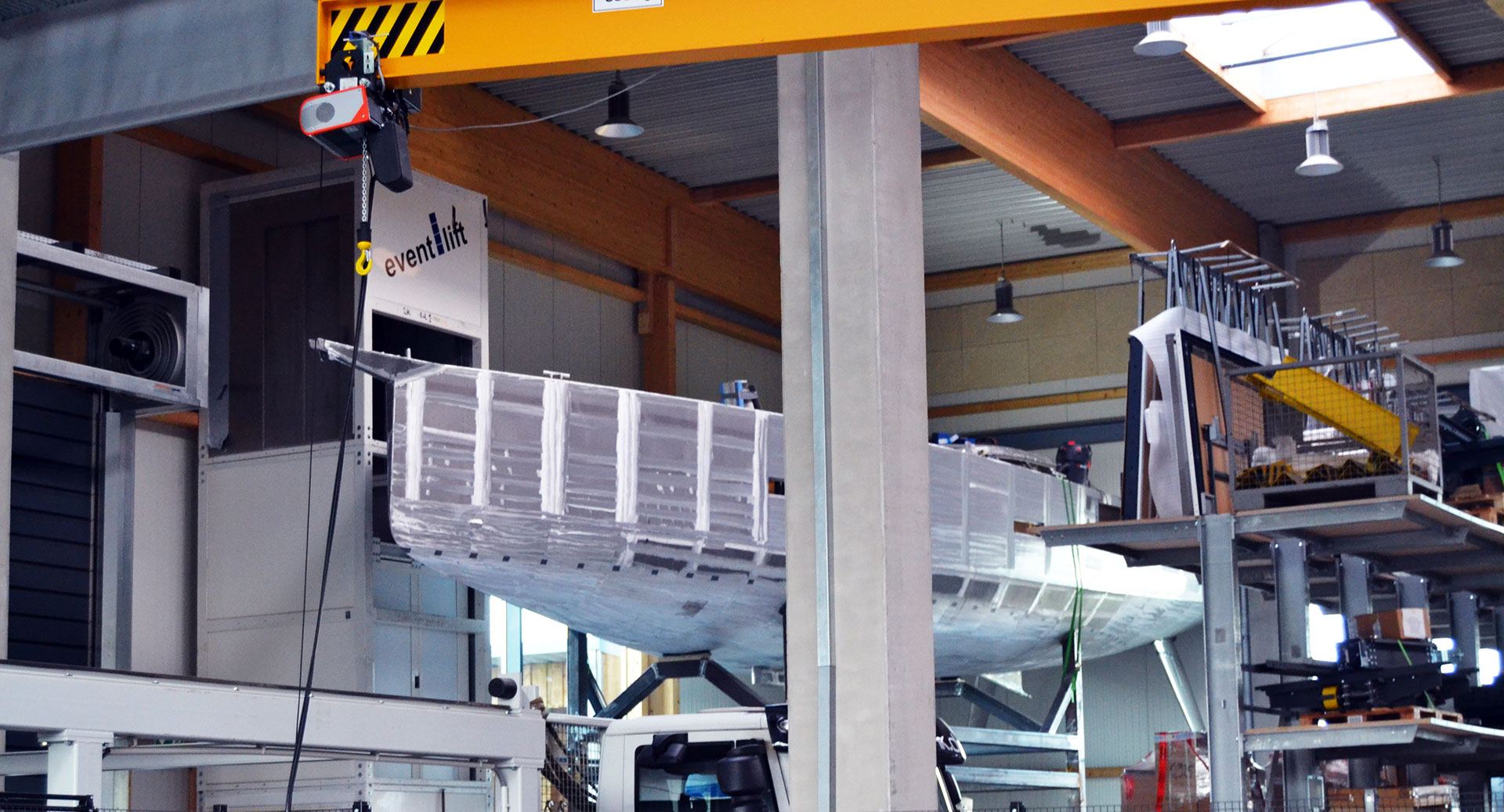 As I leave the elevator factory I am turning my head multiple times to look back – what a beautiful sight she is, what a nice boat indeed! I am looking forward to meeting Matthias again, maybe in another three months time, to see his marvellous Berckemeyer yacht coming one or two steps closer to being finished. What a great day this has been indeed!
Read more about aluminium yachts here:
The Berckemeyer BM36 performance cruiser – a complete walkthrough
Aluminium boat building at the Benjamins Yard in Emden: The Berckemeyer BM49 is made
Talking with Marc Lombard and Christian Picard of Alubat about the new Cigale 16