Back in the days when I used to race bikes, there was a saying: "Only steel is real". In a world where you placed your spandex-covered body on a 700 grams carbon-made high tech frame and cycled 300 kilometers a day through the alps to ride down like a crazy man the steep winding roads at 90 kilometers per hour there has been a kind of discussion going on just like in yachting: Which is the best material? Carbon is the natural choice: Stiff, strong and light. But there was a faction still swearing on hand made steel frames – just like we have among the sailors. For that steel in yacht building may be called Aluminium alloy.
You know that I admire aluminium made boats, like you may have read in the article about the Alubat CIGALE 14 (read it here). When I was strolling our marina some days ago I saw this tempting shine of the silverfish metal glimmering through between the GRP-hulls and went to the jetty and saw this beauty mooring: A just delivered brand new Berckemeyer 36 aluminium yacht. Knocking at the boat I was greeted by the owners who were so kind to instantly allow me entering the boat and willingly showed their acquisition with pride and enthusiasm, which I very much appreciated. Here is what I learned of this BM36 dream yacht.
Meet the BM 36 Aluminium Sailing Yacht
It´s hull #1 built by Yachtwerft Benjamins in Emden/Germany. Benjamins is one of the very few yards able to make sailing yachts from aluminium and therefore renown in the world. Berckemeyer is the company owning the principal plans and employing the naval architects responsible for the yachts. This BM 36 was built this year and just delivered to their owners, the nice couple. The wonderful boat measures 11 meters over all flat, has a maximum beam of 3.80 meters and a draft (fixed T-keel with lead bulb) of 2.20 meters. The boat displaces 6.5 tons and is listed as a performance cruiser.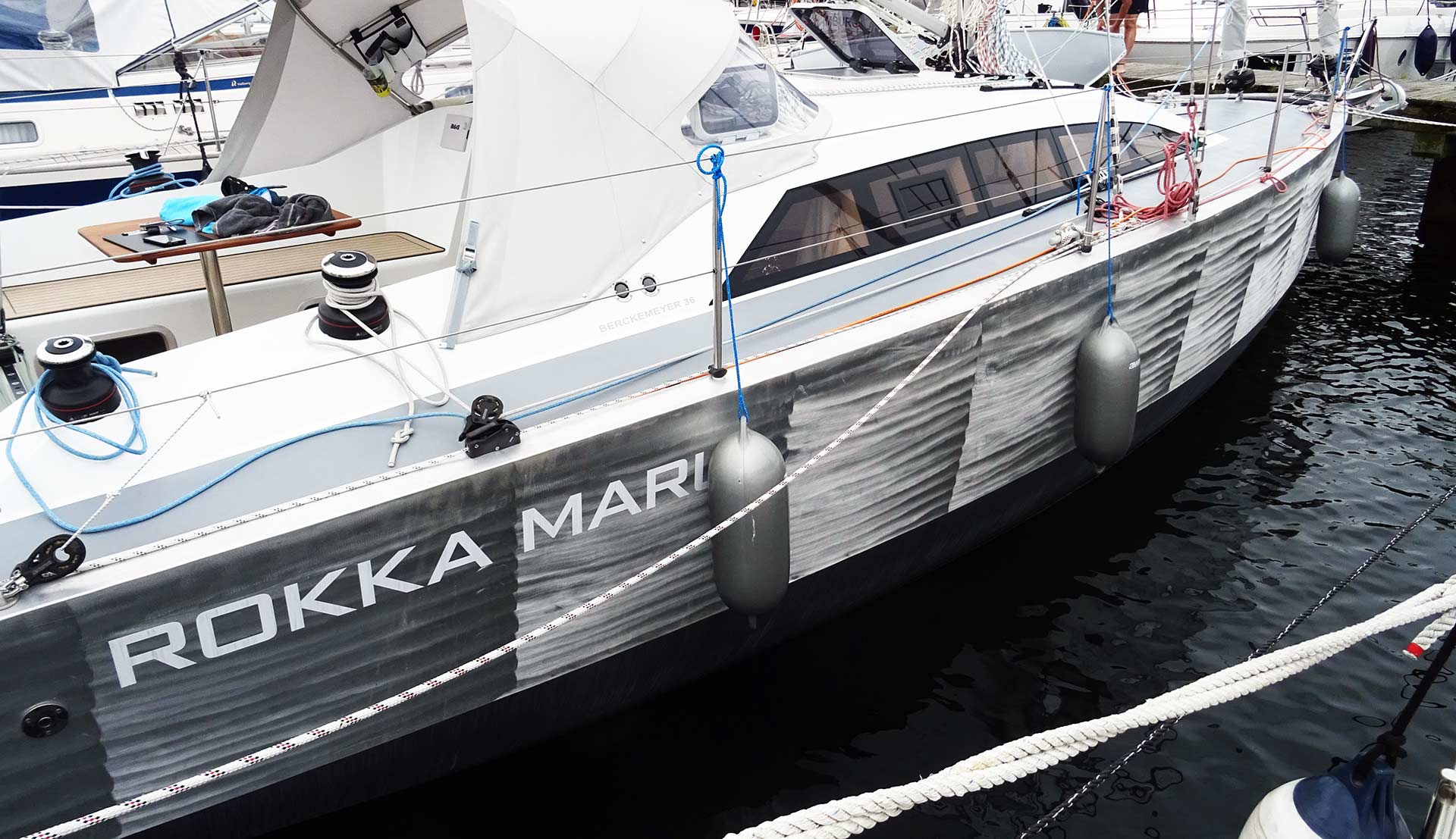 They christened her ROKKA MARU, which translates like "ray – the god of the sea" as the Japanese word "maru" means "the circle closes" or "coming back". It´s currently one of the most beautiful yachts in our marina and I visited them three times just to get a feeling for this boat. Aluminium is rarely seen and thus something special in a world of glass reinforced fibers. But why is that so? Well, first of all the price: A yacht made of aluminium is way more expensive than a classic GR-boat from a large production company. Unless you are a "serious" sailor wanting to do "serious" seafaring with your boat, there seems to be no need to go for the alloy – though the metal has indeed some unbeatable pros.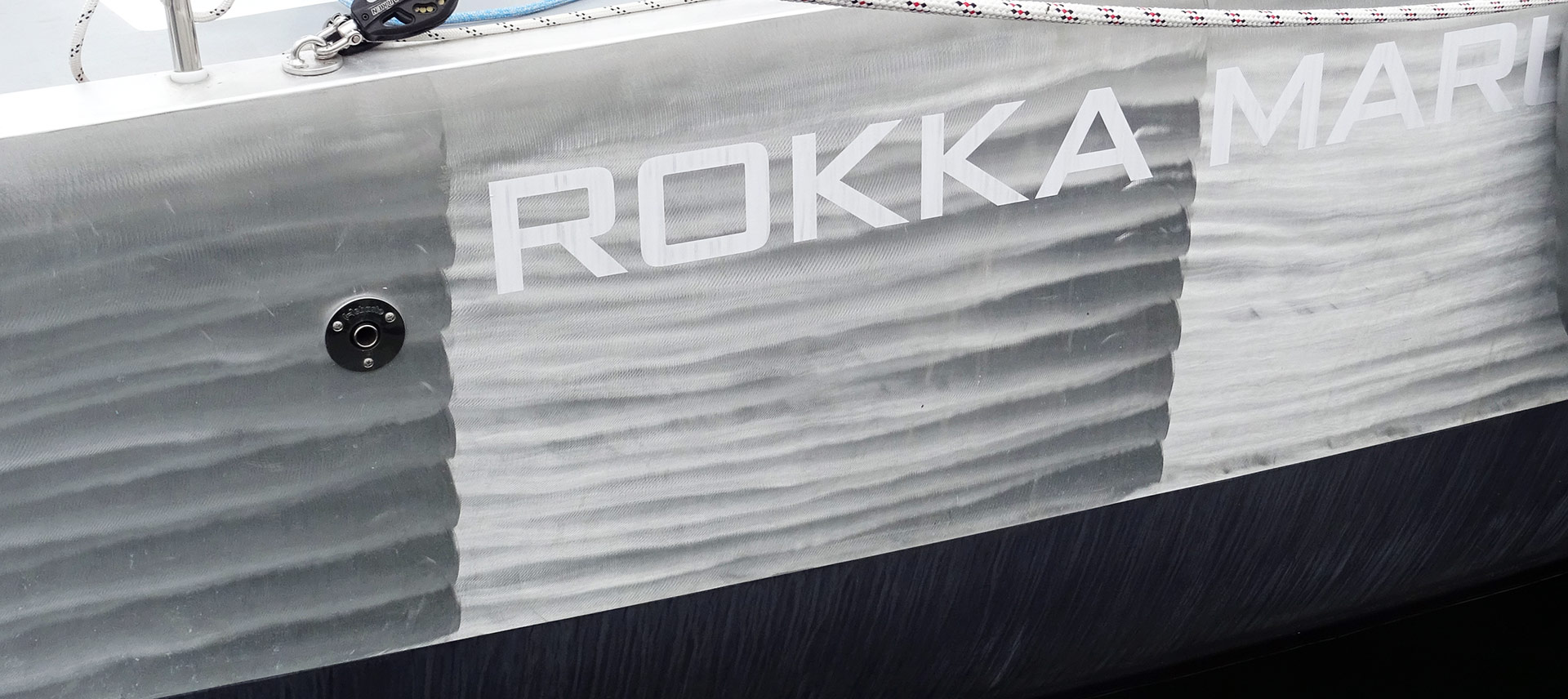 The strength-to-weight-ratio of aluminium is unsurpassed by any other material in ship building. From a certain size of the hull onward there is no better material to achieve a strong and stiff hull that comes in in the least possible weight. The durability of aluminium – given that there´s no galvanic corrosion (later more on this) – is more than a lifetime. That´s the reason why aluminium-yachts retain a high reselling value even after long, long years at sea. Then there is the property of aluminium not to break off in large chunks when gotten hit by floating objects. Collisions with growlers or containers for example may result in huge gaping holes of broken chunks of GRP in classic yachts – aluminium will bend inwards, produce a small hole but not a common structural failure. It´s definitely the material of choice if you go to extreme Southern or Northern areas.
Of course, building an aluminium yacht is completely different from making a GRP hull. The structural integrity of an aluminium-hull (as with every "real" ship) comes from the keel supporting the ribs, bulkheads and the stringers. The ship´s sides are aluminium plates welded onto the skeleton but the hull itself does just make up for the watertightness, not for the stiffness. With GRP that´s exactly the opposite: Stiffness and rigidity comes from the molded hull and the inner shell mocking ribs. As I said it: An aluminium yacht is a real ship. For sure. As the owner puts it this way: "The decision we´ve made was to decide for a yacht to spend the rest of our lives on. I wanted something real. Not a large production cruiser for spending some weeks of the year during holidays, but a boat made for owners. You see: With a Hallberg-Rassy for example we may have got a yacht that would have been one meter or so larger, but we opted for aluminium as we wanted something real." There it is again …
Steel is real: Aluminium for Yachts
Berckemeyer Yachts currently offers generally two types of yachts in their portfolio: The fast sailing high performance Clipper-yachts and the exploration adventurous vessels with pilot houses. All yachts are built with rounded bilges (generally no stump hard chines here) together with other high-profile techniques like joinery, electric installation services and all other factions needed to make a great yacht. Aluminium is the choice when it comes to make a light yet stiff and fast yacht capable of taking on the perils of the Sea. As I once put it when I was greeting the owners: "Your boat must go ´round the Horn!" Yet the best part of it: I really can go round the Horn!
Aluminium is a fantastic material. Of course, it needs a lot of energy to produce this alloy hence making the raw material very expensive compared to steel or Epoxy. On the other hand, working with aluminium is comparatively easy: Welding temperatures of aluminium is around 665 degrees Celsius which is approximately half of steel. It can be welded more easily with cheaper equipment. Cutting aluminium plates can be done without special tools compared to steel. When I took a look into the bilge area of the BM36 I noticed the thickness of the aluminium-plates and the weldseams which was really reassuring.
ROKKA MARU´s keel is a fixed performance keel. The aluminium fin runs down as deep as approximately 2 metres. Then there is an Epoxy-made adapter flange separating both aluminium fin and lead bulb from each other, held by (also insulated) stainless steel bolts. Which brings us to the peculiarities of aluminium yachts (and the source of manifold legends): Galvanic corrosion. There is no material in the world without specific downsides. That goes of course for aluminium as well. In short: As the properties of metals differ from each other, bringing together two metals will always result in low electric currents. As electrons and ions flow from anode to cathode (hence from the noble to the less noble metal) an electro-chemical reaction is triggered. As aluminium is a less noble metal through this galvanic reaction over time the metal will be stripped and in consequence destroyed. There are a lot of misconception about galvanic reactions and sailing yachts.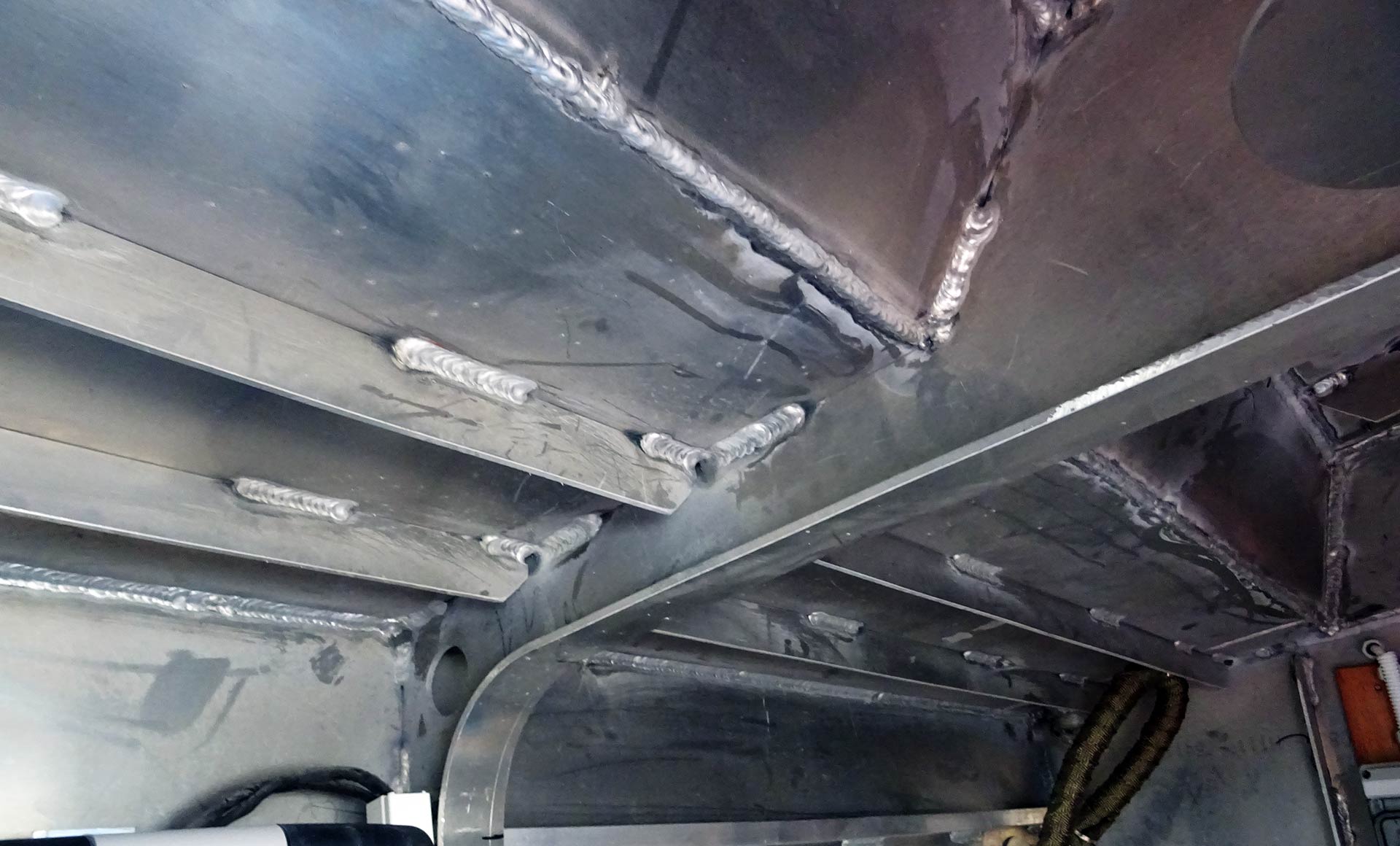 First of all: In yacht building the boatbuilders will avoid mixing up different metals where they can. This means that if possible all the screws needed to pin something to the hulls structure are also made from aluminium alloy. All other metals like wires are thickly insulated and won´t come into contact with the bare hull. Where there is no chance for aluminium screws – like with the reeling – special plastic shells will ensure insulation. A thick layer of PTFE-spray (kind of Teflon) is also used to ensure thorough insulation. Of course – loose change shouldn´t fall into the bilge. But to check this, a special two-circuit leakage current detector is installed and will alarm the owners if there´s a current flowing somewhere.
Oh, did I mention that aluminium won´t corrode over time in water? That said id explains why aluminium yachts do not need any paint on the hull. Besides, painting an alloy hull needs special (and expensive) paint as the unique properties of this metal won´t allow traditional yacht paints. I personally love the brushed metal effects of those yachts. When I talked with the owners about contact corrosion they waved aside this issue and assured me that this is greatly exaggerated among the people: With GRP-yachts and the unique properties of this material there are also certain things you must avoid, like water entering the laminate as this will soften the structure and is the cause for osmosis. Every material needs special handling: The same goes for GRP, aluminium, steel and wood.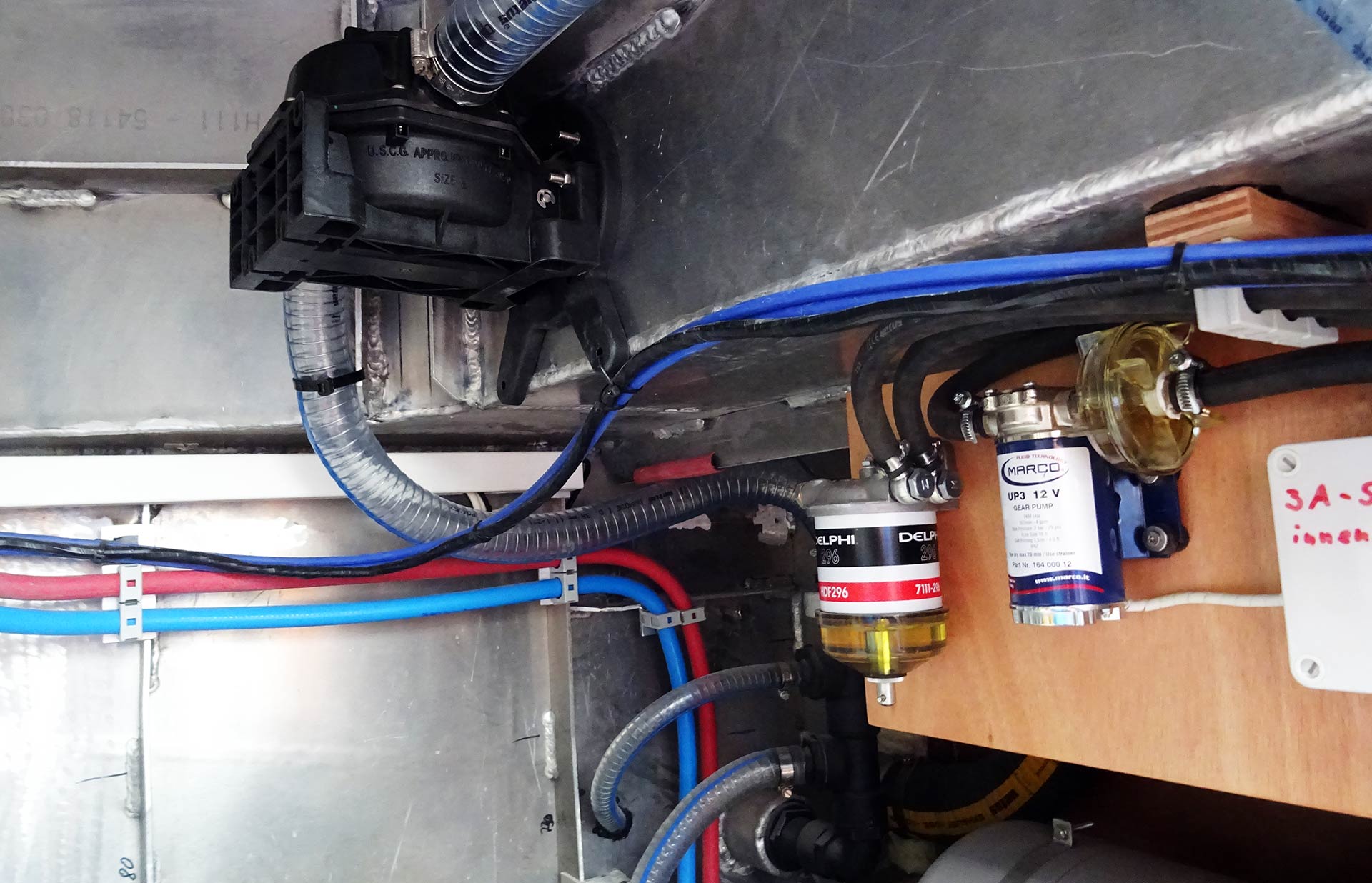 Entering the engine room next to the Yanmar-Diesel was an eye-opener. "This is a real ship!", I instantly had a crush on this yacht. Feeling like "Johann, the ghost" of the movie DAS BOOT I admired the nice welding works done here. The engine room is huge (don´t forget we are on a 11 metre yacht!) and there´s plenty of space left to store stuff and even for future installations to come. All the wiring is done accurately and the skipper will reach for the maintenance-related issues with ease. A boat that has been constructed with sailing and the sailors in mind, I thought to myself. All too often on modern day GRP cruisers the emphasis is more on large cabins and standing heights than on maintenance.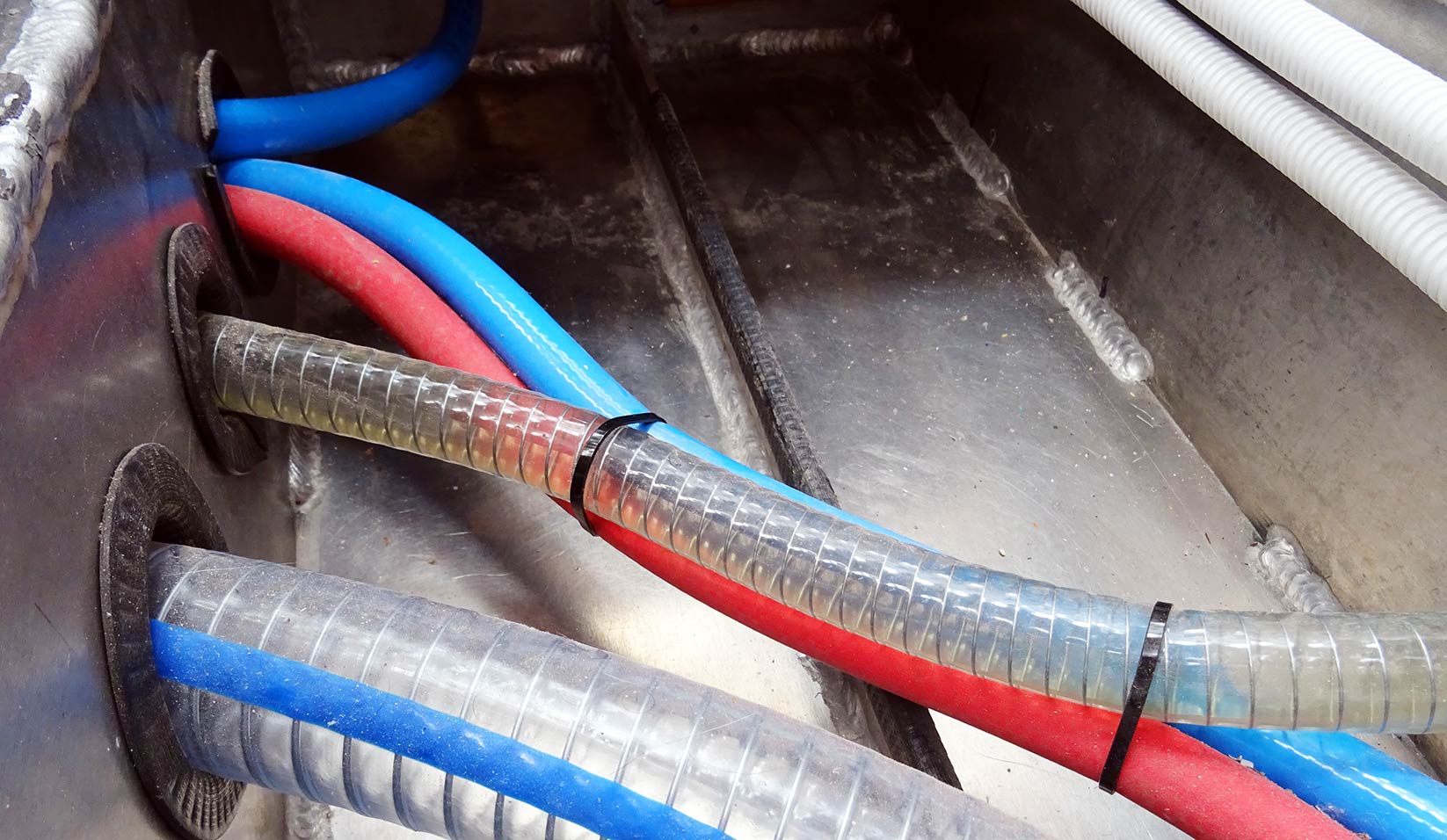 When the owners ordered their BM36 they didn´t just bought a boat off the rack. The team of Berckemeyer Yachts was lending a naval architect to the couple who was going through the plans with them and adjusting details to their very own ideas. Not just things regarding the design, material and colors, but also the sail plan, steering, roping and fittings in general. That´s also a difference to common large production boats: With an aluminium yacht you get the chance to really customize the boat to your individual needs more than just choosing between veneer and cushion colors. Well, this all comes with a price tag of course: Not mentioning the price itself, the owners assured me that their boat is in the range of a 39 to 40 ft Hallberg-Rassy.
"But you know what?", the owner tells me: "I am planning to spend a lot of my remaining life span here aboard. We want to leave German waters after I quit my working life and go out for long haul sailing trips, maybe the real Great Loop around the world. Except from the long time spand spent on board, I want a boat that´s as reliable as it can be. All that together, I am convinced, is only achieved by a semi one-off built in aluminium." And I can perfectly see what he means. In 4 years, he says, they will leave Germany for longer. And for sure, they do have a fine ship that can take on the challenges of the sea without fear.
What´s so special about Aluminium Yachts?
As I roam the boat looking for details, I must admit, I didn´t see any on the first trial. The boat appears "normal". But then there it comes: The plastic housings for the reeling poles for example. The aluminium screws, the general insulation. Even knocking at the hull produces a distinct bang of metal, not the stump sound of plastic. The more time I spend aboard the more I get sure that this yacht will remain in Poseidon´s kingdom for a very, very long time. This is a boat for a lifetime – or more.
"The engine is a specially rigged Diesel engine for aluminium yachts", the owner explains. The engine is built in a way that it doesn´t have a ground so that there is no flow of electrons and ions between hull and engine anymore which would be a great danger for the hull itself. "The engine therefor is a bit more expensive than ordinary Diesels", the owner explains, but I had understand anyhow that money shouldn´t be of concern when you make your dream yacht.
I am asking if they got briefed on handling the boat especially by the yard when they handed ove the yacht in terms of maintenance and how to behave on an aluminium yacht. Shaking their heads, they explain that there really aren´t so many special things about this yacht to care for: "Just keeping the boat clean, don´t bring too many thing aboard which are made from other metal than aluminium, regularly check the surface leakage detector", they tell me. As if they want to calm my enthusiasm down: That´s just a normal boat, mate …
The Yacht´s Exterior
But she isn´t. If it was for me, I´d award to her the title of the currently best looking boat of the marina. Her modern hull shape, the brushed aluminium surface and her clean, sleek appearance make her very special and the yacht connoisseur should honour that. Looking at her stern I notice her nice raising sheerline and of course the large steering wheel. Let´s see what the cockpit is like on the Berckemeyer BM 36.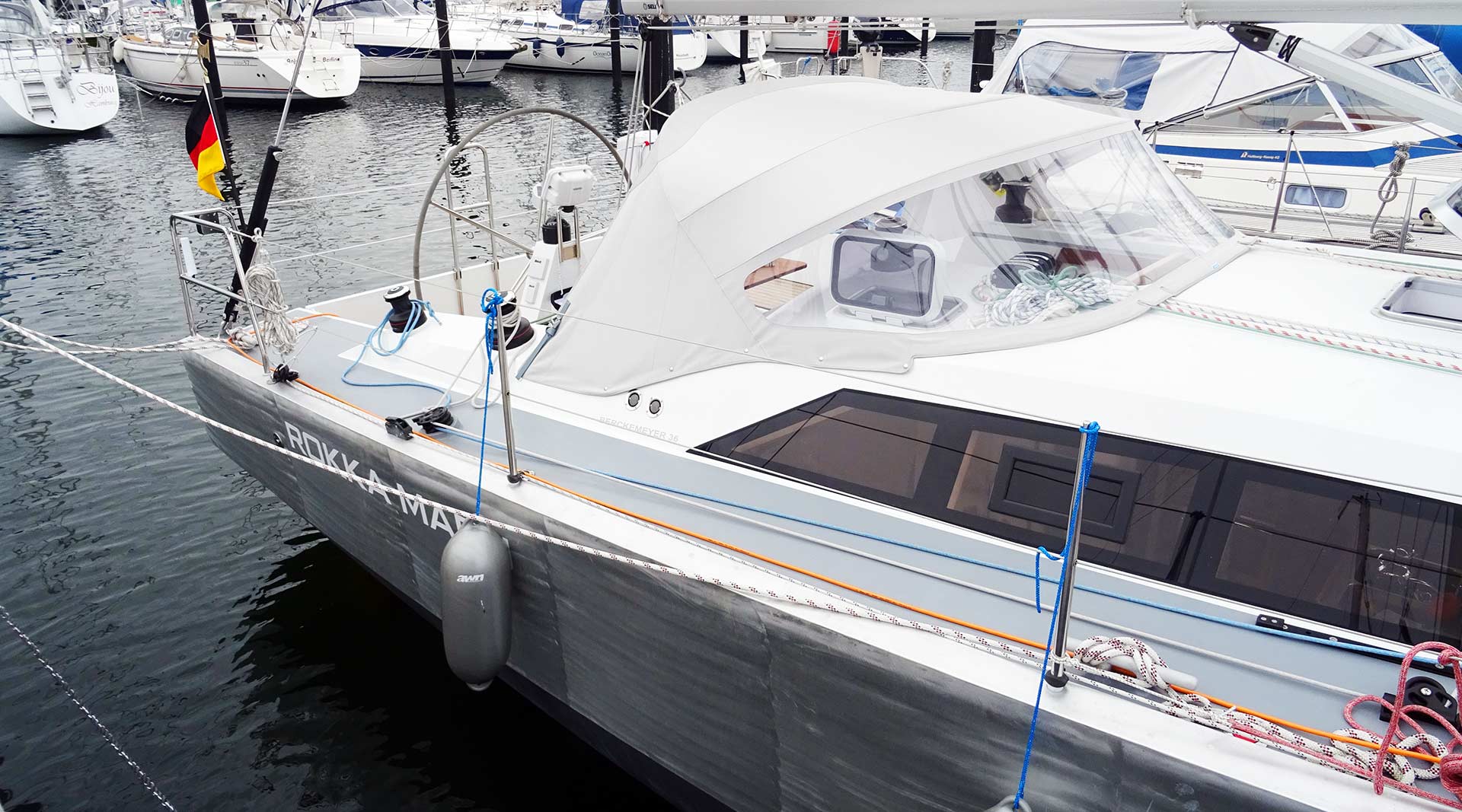 "I opted for steering wheel", the owner confesses: "But I know think it maybe would have been better to have tiller steering here." Of course, there are many things about tiller steering – especially for smaller sized yachts of up to 40 feet – which make it superior to wheel steering, naming the direct response from the rudder blades, as the owner tells me. On the other hand, a steering wheel has it´s pros too. There is more than enough space in the cockpit itself, I like the wide benches to sit on and of course the neatly done large sprayhood with the large single windshield. The faux Teak is something, I must admit, I would have done with real wood, but that´s a minor detail.
The boat is rigged with North Sails too carry a total upwind sail area of 72 square meters of canvas with jib and main sail. Already installed and ready to be hoisted is a large Genoa and the jib on a cutter stay. "We didn´t sailed her all too much yet", the owner admits as the boat is coming from the yard brand new. "Currently we are now calibrating the instruments and getting familiar with our new yacht." Within the coming days they are to depart on a 3-week-trip over the Baltic Sea: "Maybe to Bornholm, as you did and maybe a bit further, to Aland or Gotland?"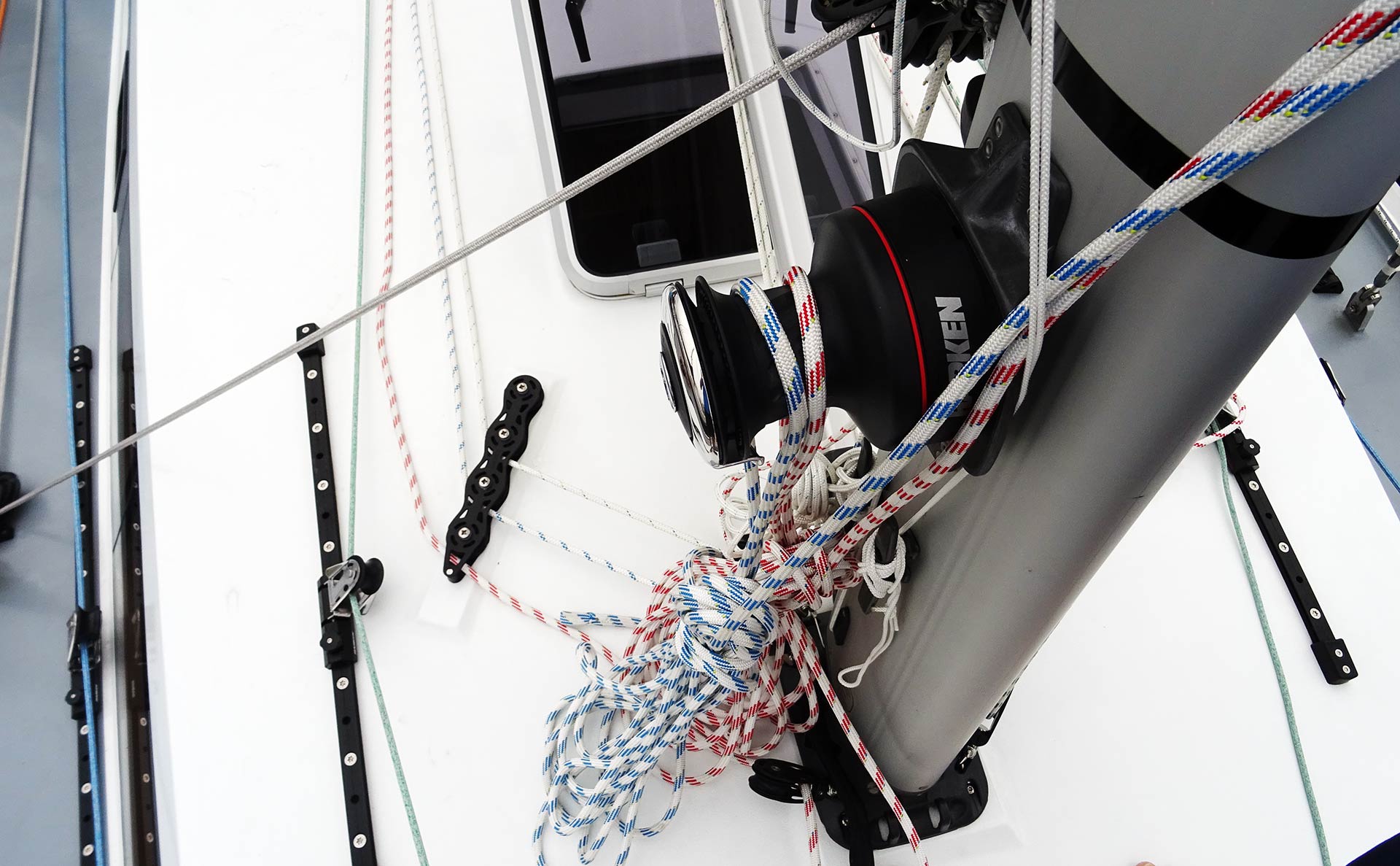 The Selden mast (of course made of aluminium) is a classy modern thing with in-mast running rigging routed to the cockpit. But I´ve noticed a detail I wouldn´t have expected to see here: A winch bolted to the mast. "That´s a winch for the fore stays and for hurling up the furling-systems of the fore sails", the owner explains.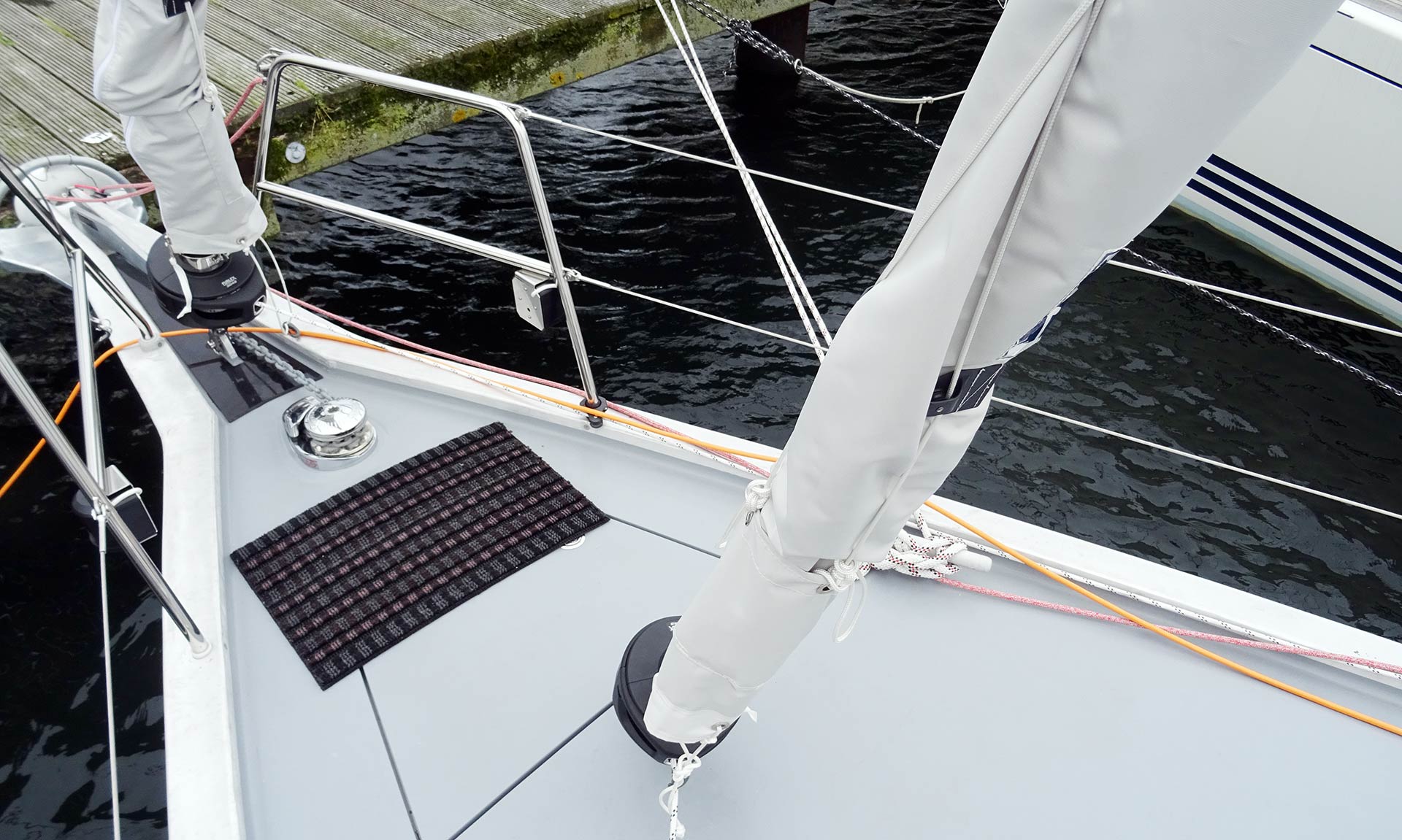 Aluminium as the principal material for making sailing yachts needs to have a certain minimal thickness in order to guarantee an optimum of rigidity and strength. That's why it makes no sense to build yachts of smaller sizes with aluminium: They are to be too heavy as the thickness of the aluminium plates and skeleton cannot be downsized up to a certain point. I guess, the BM 36 is the smallest possible aluminium yacht here. On the other hand, from some 14 metres of length over all, aluminium yachts will be lighter than GRP-yachts. The modern BM 36 weighs in at 6.5 tons.
Interior Fittings of the Berckemeyer 36
Let´s go down into the boat to check the interior fittings. Which is a bit odd because upon ordering such a boat the owner is free (within a certain boundary of course) do decide about the interior design so that it is virtually impossible to judge a kind of general interior design here. As with this BM 36, the owner couple went for a clean, white and chary appearance. A no frills interior design I would say.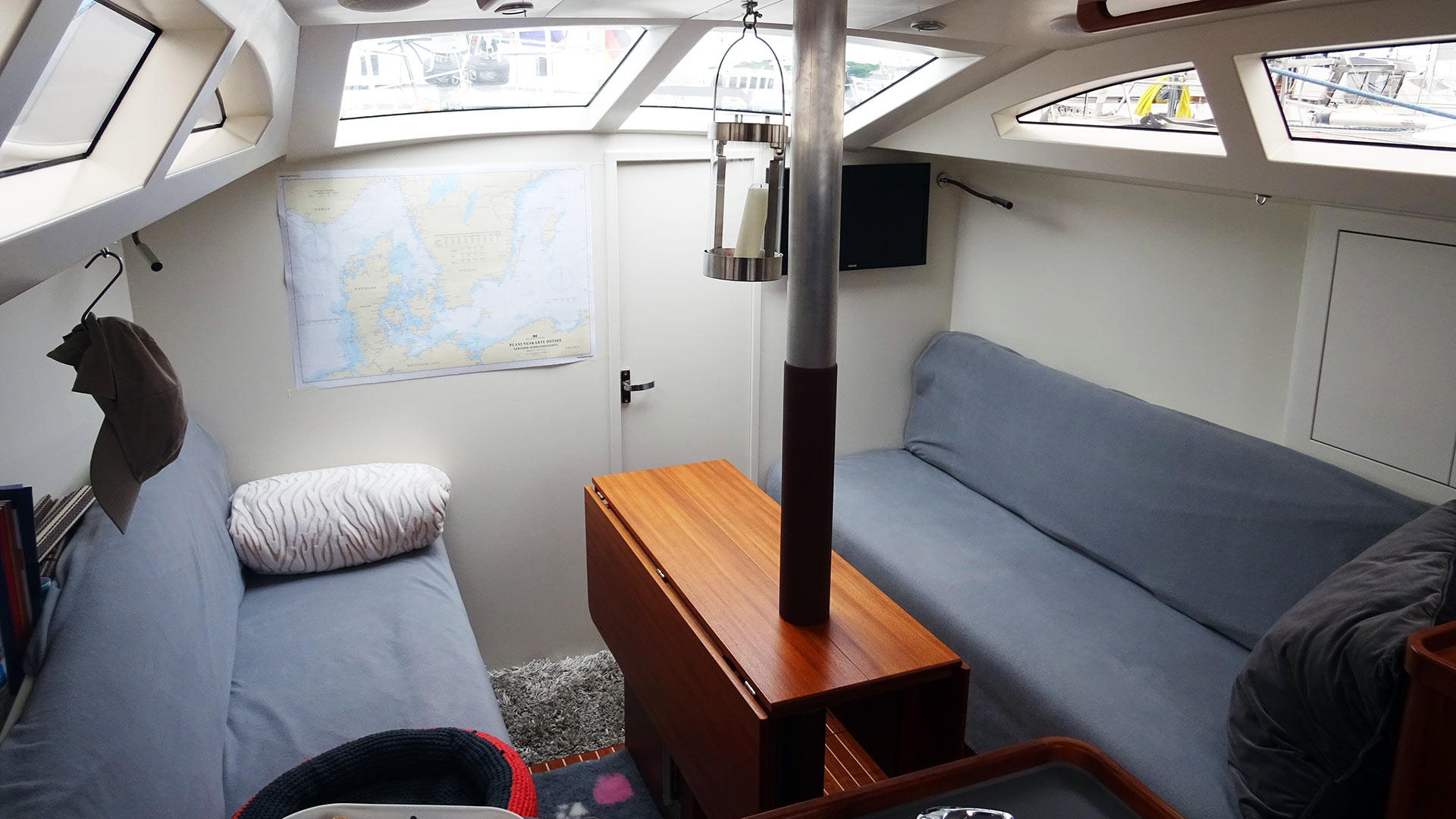 What I instantly loved about the saloon of this yacht are the big skylight windows in the fore part of the saloon: A large portion of light will be induced by these openings into the saloon. Imagining laying down on one of the 3-seater sofas, the boat is sailing gently, the sun is up and you look up to the sails in full bloom … a dream!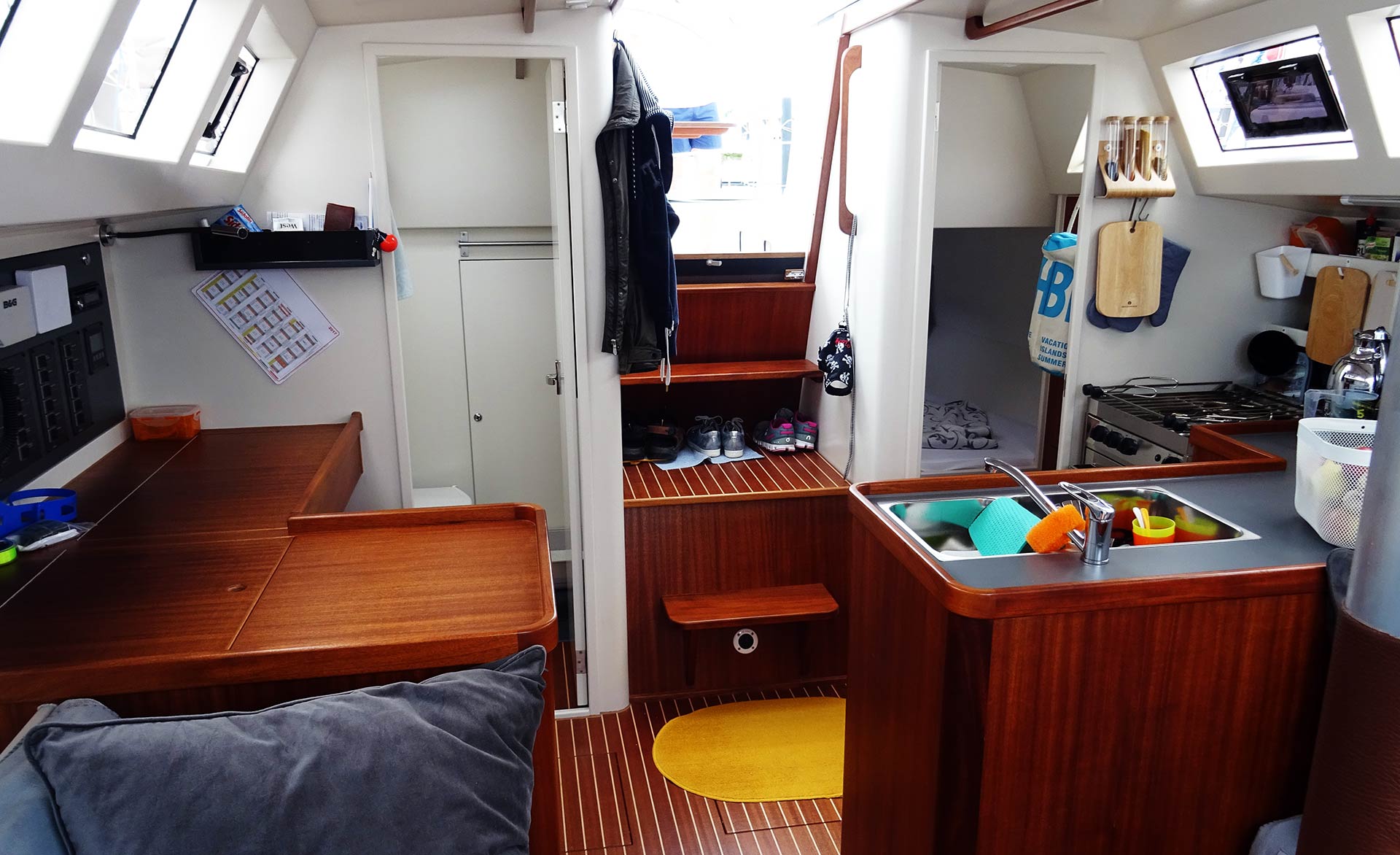 The layout of the saloon is pretty conservative as to say, the classy arrangement of two facing settees with a large folding dining table. The table, by the way, as all of the joinery in this boat, are done with great emphasis on quality. Massive wood, no plywood or veneered stuff here – another advantage of a yard-made one-off like this Berckemeyer-yacht. The boat features an L-shaped galley, a navigation station and 2 cabins with berths.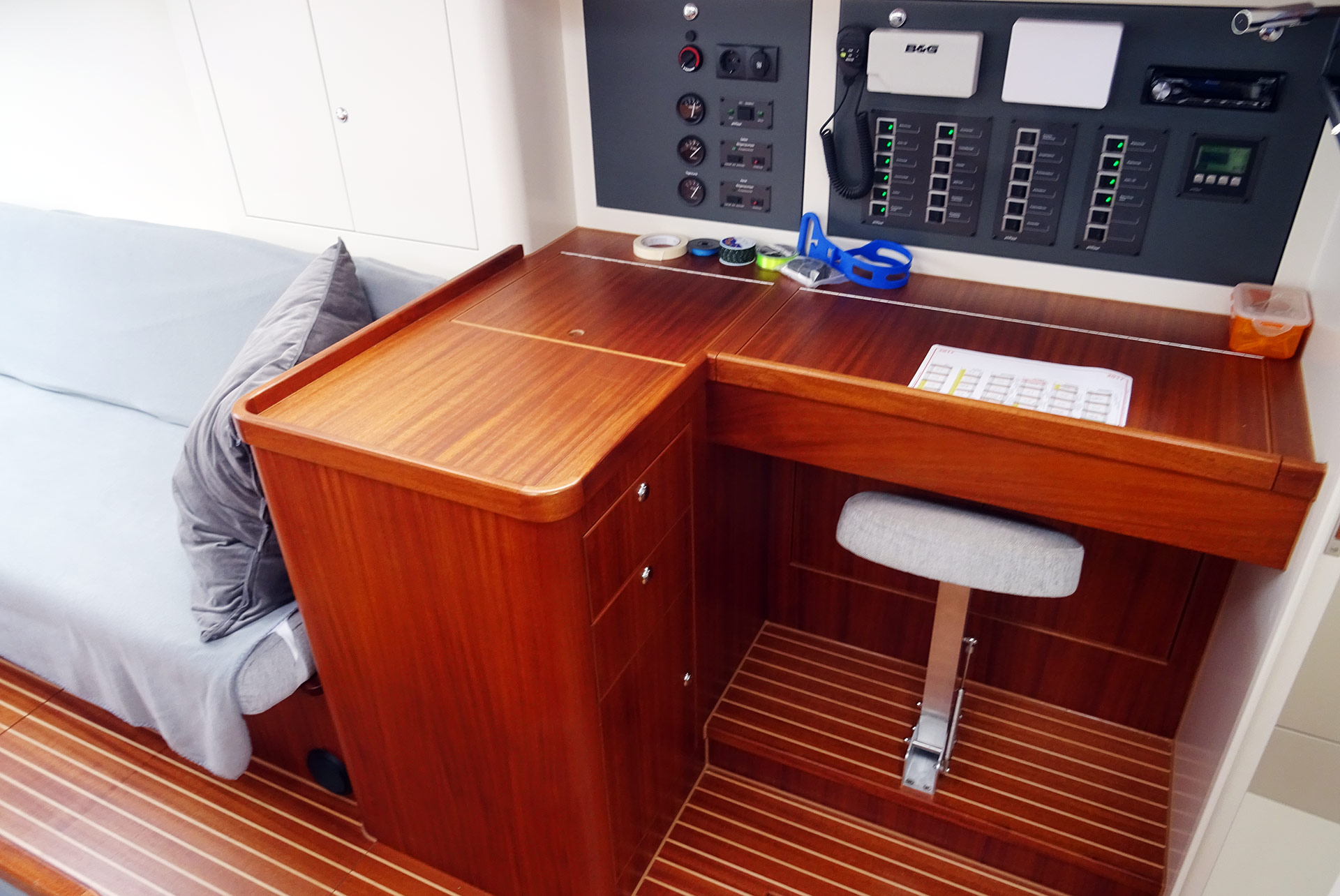 Talking of the navigation station, which is something I hold dear and would put a great effort into when choosing for an own boat, is done passing with flying colors on the Berckemeyer BM 36. When other production boat companies would just skip the nav station on boats this size in favour of larger space for the saloon "lounge" atmosphere, the one done here is what a sailor would be wishing for indeed: The chart table is big, very big, there´s more than enough space to do the chart works, log entry and passage planning for sure! Role model!
I love the switch panels from Philipi: "Just the best for your boat!", I admired the electric installation done here: Clean, neat and convenient. Somebody made a real good job in wiring up this boat and thinking it through in the first place. Again, no comparison to the production boats where the upfront might be looking fine, but behind the sheeting pure chaos in hastily inserted wiring reigns …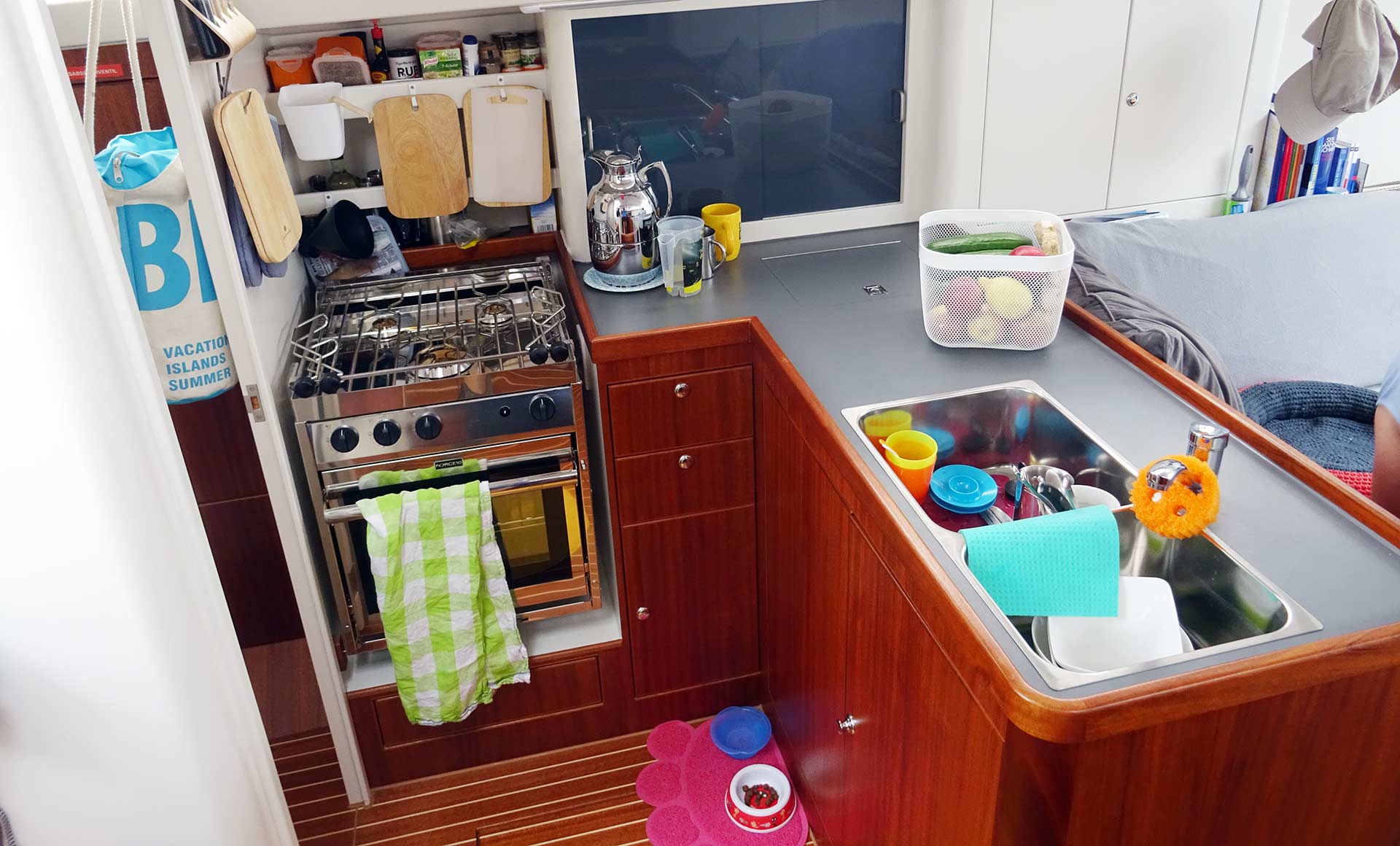 As for the galley, everything you would need has been installed. Don´t forget, we are aboard a 36 feet yacht so I didn´t expect to find too much of space. But judging the galley from standing here and imagining having to prepare a meal for the crew, it´s just perfect: It´s as narrow as you´d need it to clamp yourself in in rough weather and spacious enough to store the goods and tools needed.
Let´s take a look to the owner´s cabin in the front. I would say two people can lay down and find a good night´s sleep in here if they do not move too much. Compared to modern day cruisers the berths might be considered too small here. Also, there are no portlights in the ship´s side and no island bed and no fancy stuff installed anyway. But you know what? I was telling the owners the following: "From my point of view, you need a sailing yacht. Period. If you´d like to have large beds with all that stuff attached, get yourself a luxurious camper. I don´t get this craze about master bedrooms on yachts: You are sleeping. You´re unconscious anyway!" So I´m perfectly fine with "smaller" cabins in favour of larger saloons.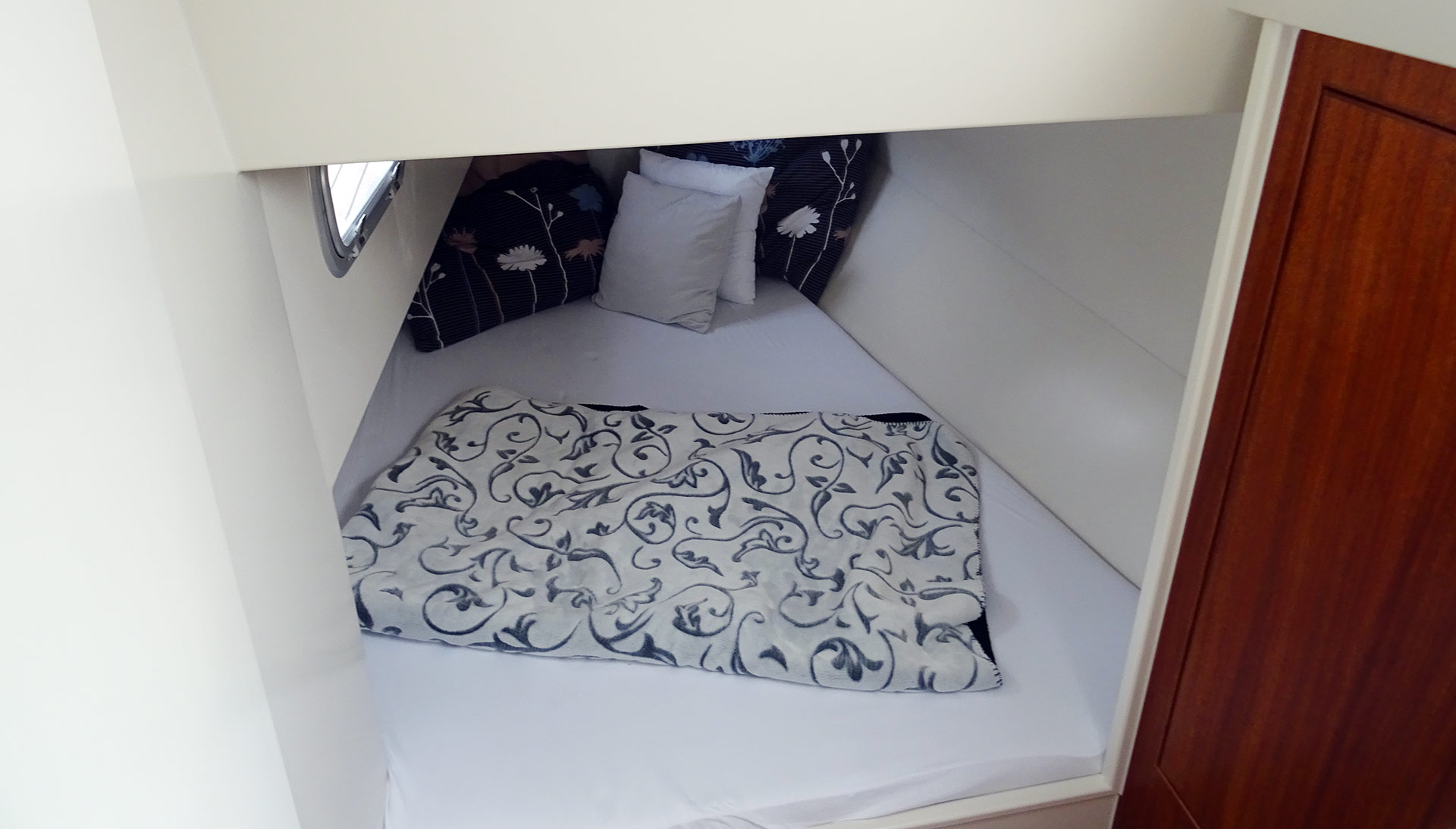 Same goes for the aft cabin: No fancy stuff either, just a berth, mattrasses and a closet for stuff. That´s it. Why wasting precious space for things you just need once a day for a small period of time here? It´s no point in wasting room. Bunks should be long enough for taller people (which they are on the BM 36) and should bear a minimum of width to get yourself flipped from time to time without having to breathe too much of your mate´s air. I´m fine with the cabins here. Perfectly fine.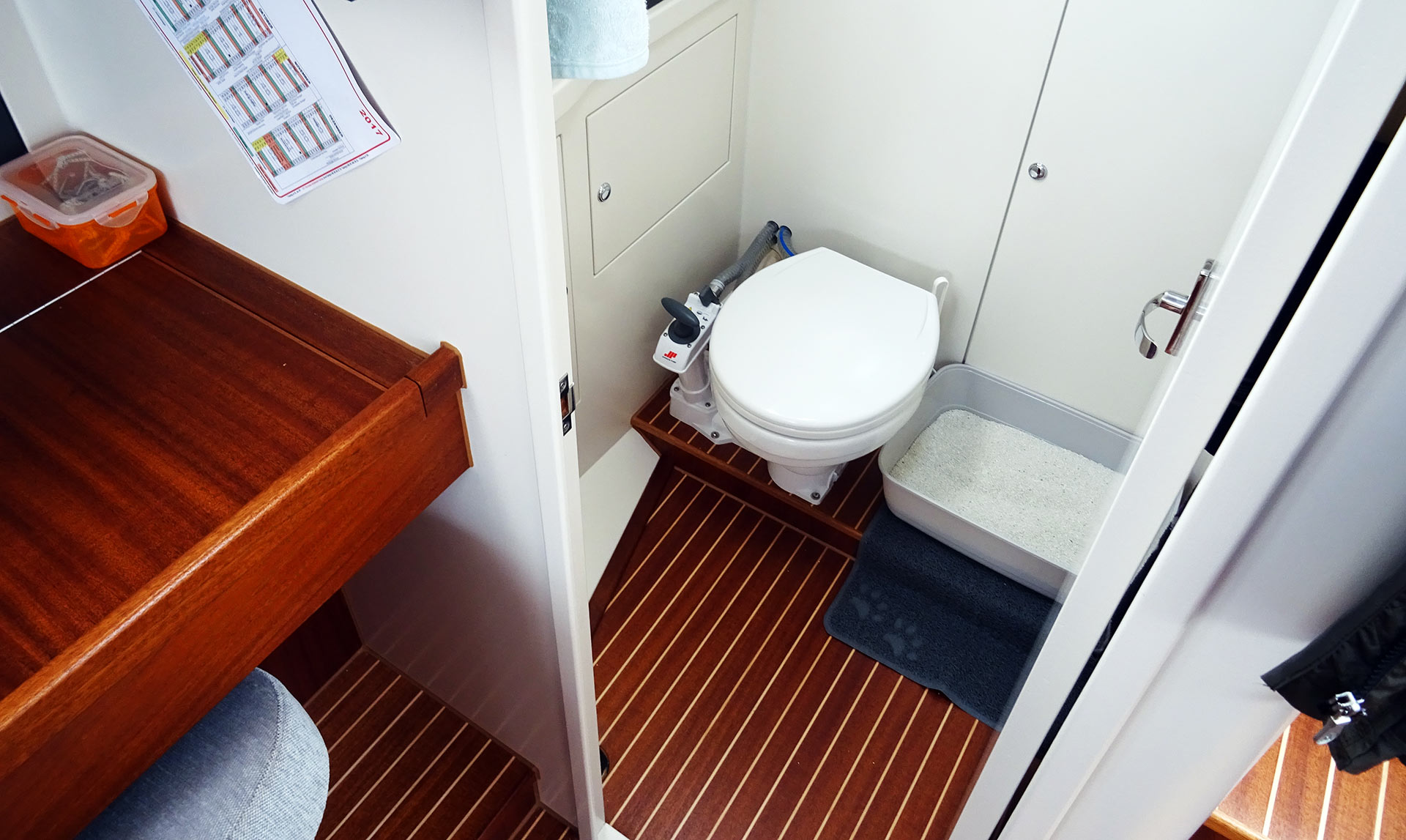 It´s an owner´s yacht so it features two cabins and a large aft locker. The locker is accessible via a large lid cover from the outside. This is where the nice comfortable width of the seating is of another advantage: Even bigger people would be able to crawl into the locker from here. There´s also an access door from the head. It´s not just a locker: It´s a sufficient cabin. You will be able to stow away a load full of things here, from spare sails to spare parts and even water- or moistureproof provisions. The head is plain and simple, which I liked most: An ordinary pumping WC, a tap and a shower. No frills here again, perfect!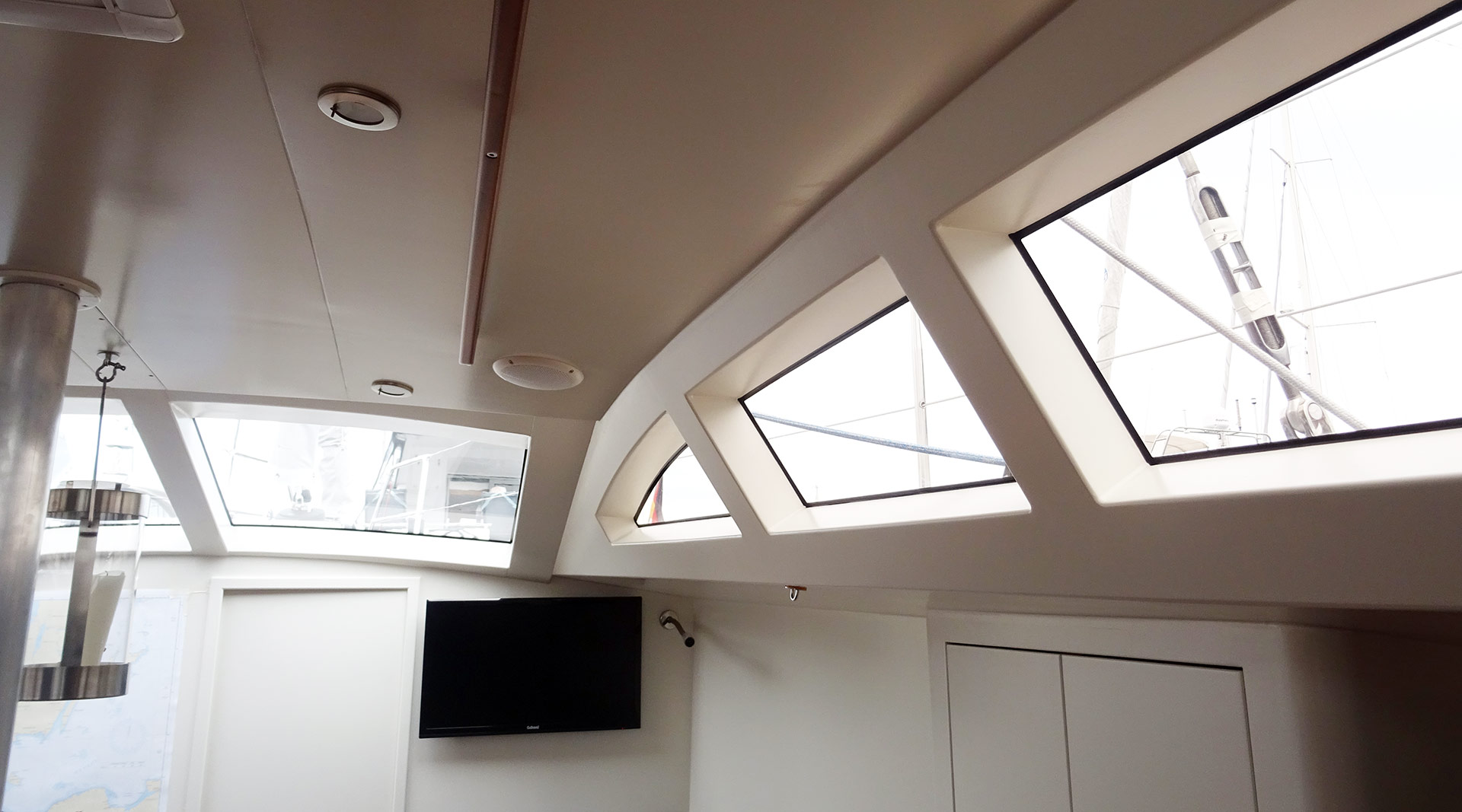 Coming to the saloon from inspecting the head, I again was astounded by the light suffused atmosphere and the rich colors of the saloon again. Almost deck saloon-yacht-like because of the large front skylights and the side windows. Where on GRP-boats only smaller portholes are allowed to break through the cabin roof and for reasons of structural stability only a few of them are made, on an aluminium yacht it´s the same as with a house: You can virtually open up the whole side of the superstructure as you´d only need a few columns to insure stability. That´s such a great, open and bright atmosphere here.
What a great Yacht!
So that has been some wonderful two hours aboard ROKKA MARU, this fantastic aluminium yacht and her two very pleasant owners. What I found most impressive about this boat was her sheer size: As a "small" 36 feet mid-size sailing yacht, this vessel boats a lot of space both inside and on the outside as I´ve found her gangboard to the fore deck sufficiently wide enough. She is also a very bright boat with lots of natural light in the saloon which will certainly a big plus on long haul trips (and in bad weather). Her hull is of modern lines and – as the owners themselves – I am asking myself about the very sailing qualities of this yacht.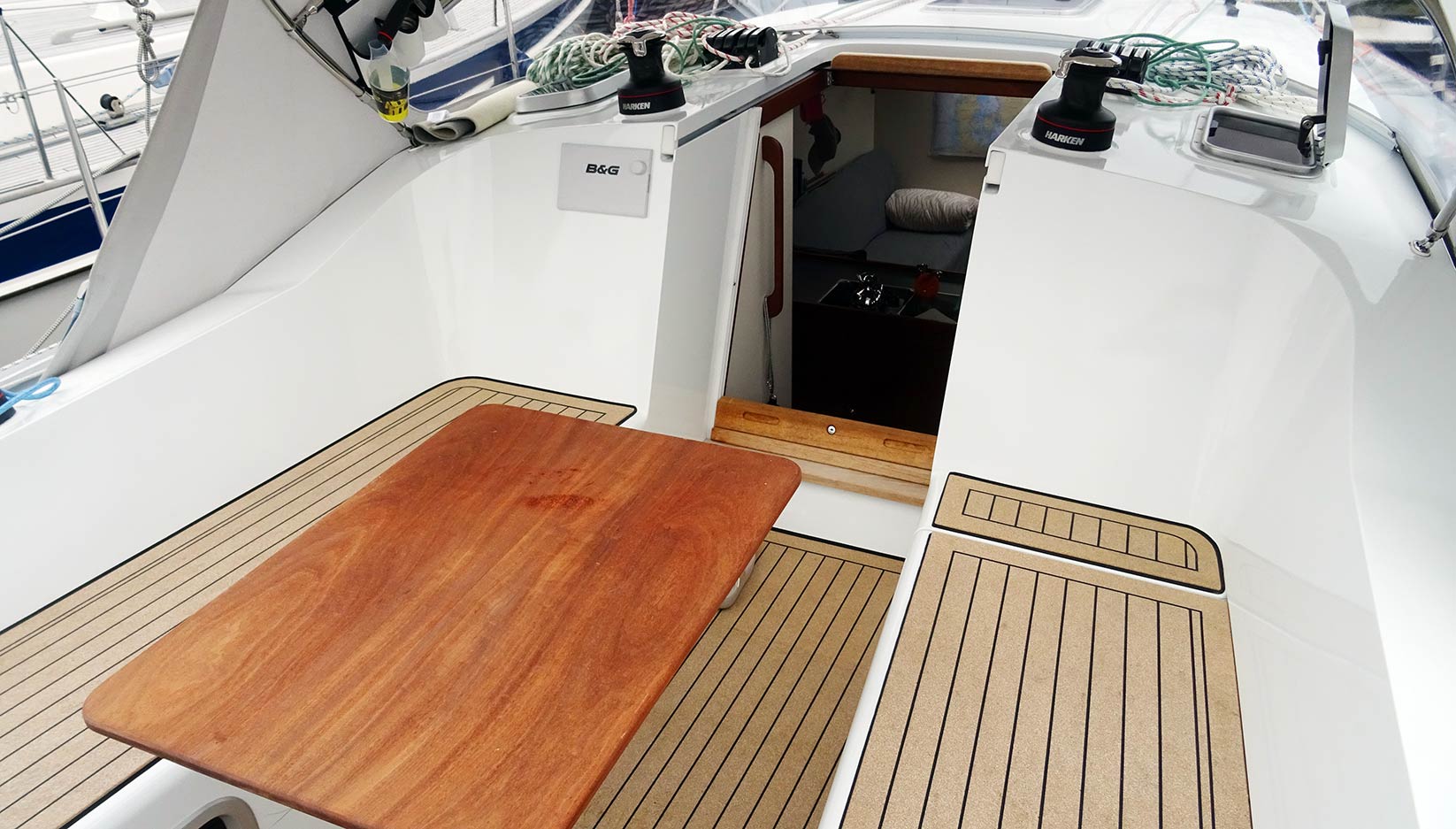 I am lucky: The owners didn´t hesitate to invite me to accompany them on a short trip ´round the block when circumstances are right and I am in for the sailing any time they call me, I burn to see ROKKA MARU under canvas! It must be an elevating feeling for the owners to finally having hoisted all sails and get her running after such a long time developing this project and watching her being build. As for sailing comfort, I am sure there´s more than enough space either behind the wheel and in the cockpit once the large Teak table is removed and securely stowed away.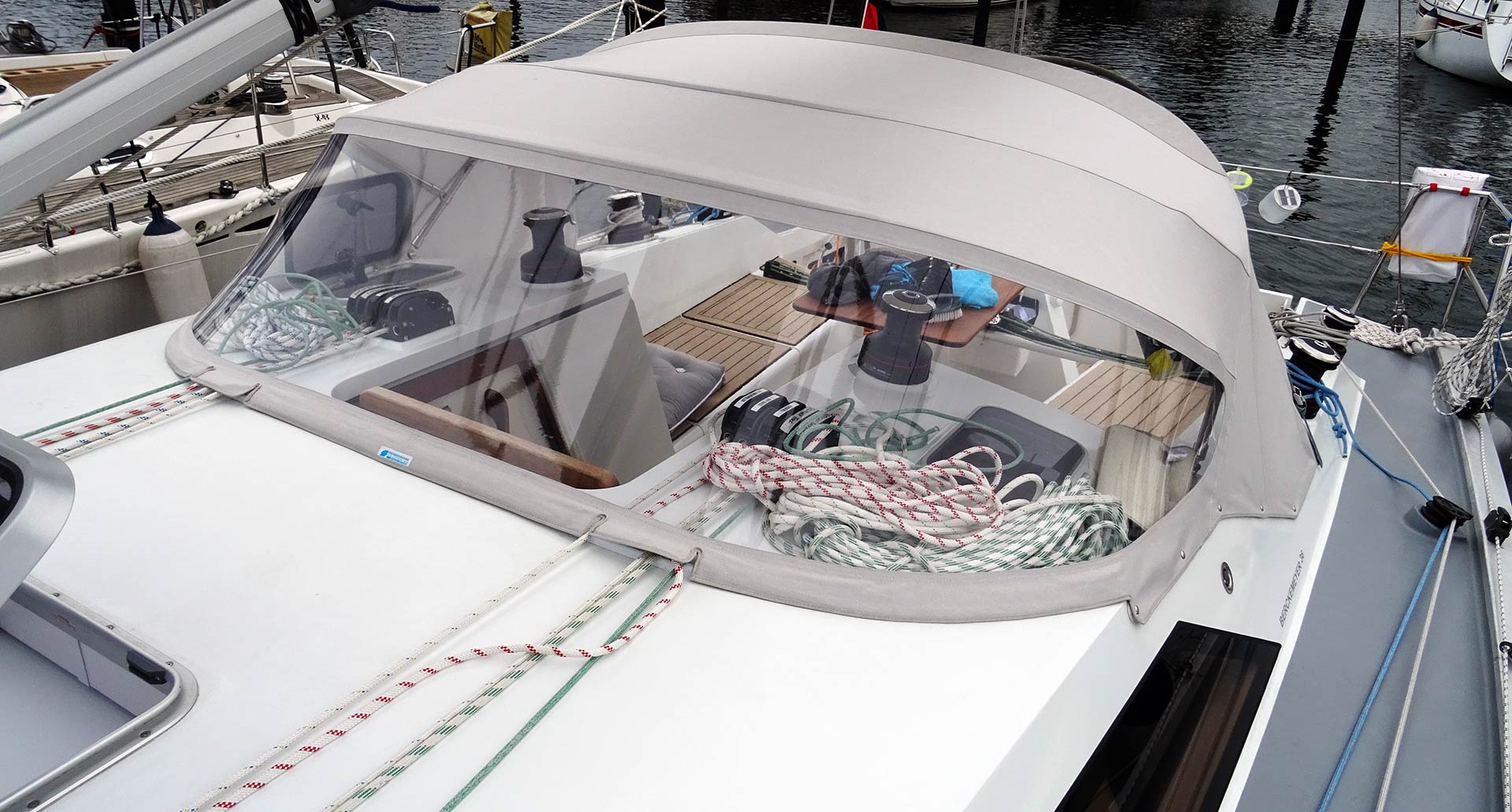 I love the apparent high quality of the whole built: The structural aluminium framing with its thick stringers and clean welding seams, the neat production quality of the whole hull, creates trust in the boat´s capabilities and strength. The spruceness of all the fittings, the wiring and auxiliary installations is above average and should be praised too. This boats wants to be sailed, as the owner puts it: "She is pulling at the mooring all the time. She wants to be outside …" And this is what what they are doing right now: Preparing the boat to be thoroughly tested on a long cruise on the Baltic Sea. I envy them so much: Having accomplished to build their very own dream yacht, getting their working lives sorted to leave for the Big Loop in the foreseeable future. A dream, truly.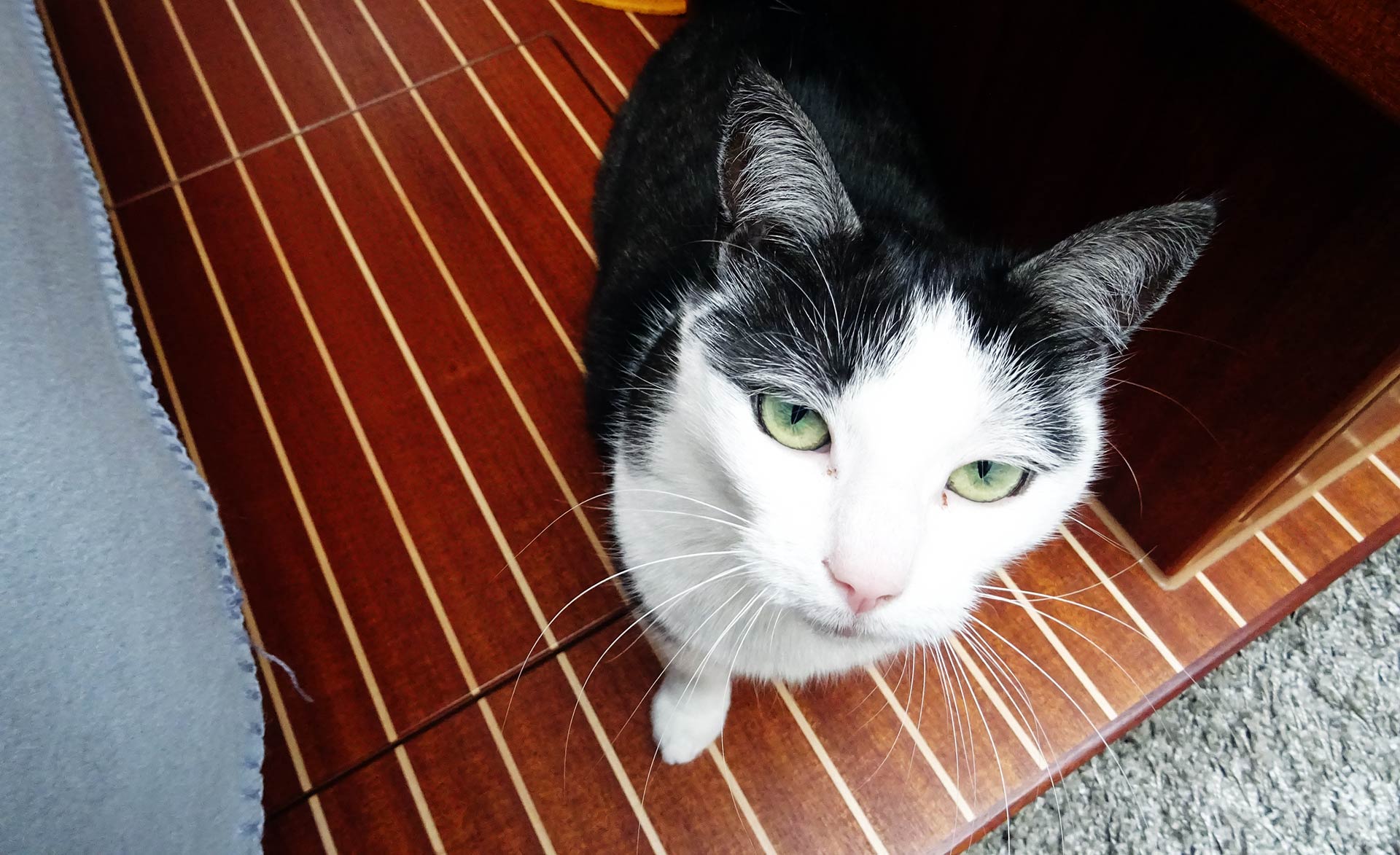 Thanks to the owners for letting me roaming their yacht for a couple of times, firing questions and snooping behind every cover and floorboard. I wish ROKKA MARU and their nice owners so, so, so many wonderful miles – be safe & have fair winds! Thank you so much.
Other interesting articles on that topic:
The Aluminium Dream Yacht: Alubat CIGALE 14
Is there a French Sailing Philosophy?

At X-Yachts of Denmark