Every one of us has his or her dream yacht. It´s a boat we long for – thus knowing that we´d never ever will be able to pull the sheets on this one. I am not talking of the carbon-fibre high-tech-racers worth a couple of million Dollars, but I am talking about the dream yachts which could be ours. But … but … well, we all know. The very yacht that is stimulating my brain whilst REM-phases in the night is a very special boat. I love her for her fine lines and her delicate features of which in this form there is no yacht second to her offering these amenities: I am talking about the French Aluminium-yacht built by famous yard Alubat: The Cigale 14. Alubat is known for their great Aluminium explorers of the Ovni-series, yachts which are roaming the Oceans worldwide which are known for their rigidity, stability and highest quality of the built. The Ovni-series features a lifting keel, a lot of volume and is the dream yacht of sailors who want to really see the world in rugged and remote areas. Less is talked about Alubat´s second line of ships: The Cigale-series. Cigale, meaning Cikada, is a line of boats truly fascinating me because the concept of the Cigales is exactly the very concept I fancy when it comes to sailing – fast transit.
Alubat Cigale – fast ocean cruising in open style
The Cigale 14 is the smallest of a range of four boats. There is also the Cigale 16 an 18 available and the business is speaking of making a large 21 meters Cigale as well. As I was talking to the new owner of Alubat, he told me that the mother of all Cigales, the "small" 14 meter yacht will not be produced anymore though I could imagine if somebody approaches the yard to have one build they won´t refuse. The Cigale 14 has been drawn by no other than naval architect legend Jean-Marie Finot. That was back in 1997. As the legend goes, Jean-Marie was just making a yacht for himself: The yard sold a handful of the boats right away from the drawing board thus turning Jean-Marie´s special project into a product.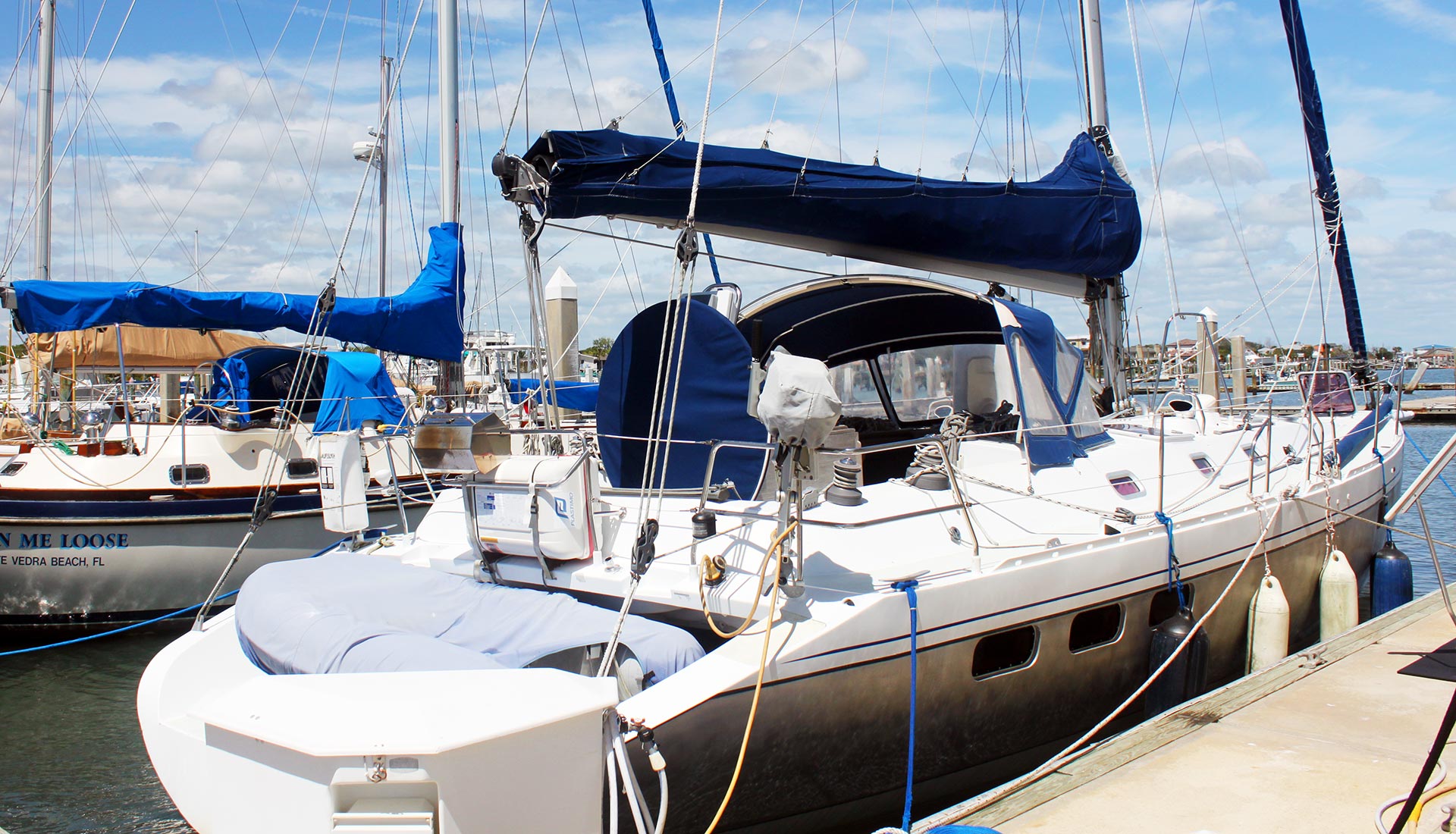 The Cigale 14 is a very unique boat: Back in 1997 her hull design was revolutionary because Finot (today very actively involved for example in the design of Pogo racing yachts and cruisers with his design bureau Finot-Conq) incorporated design features which were to be found in the Maxi Open racing yachts. The Cigale is a so-called ULDB-boat: Ultra Light Displacement Boat. Meaning that speed and performance had been the key features whilst designing the yacht. Each Cigale has a water-ballast-system (also found in the Pogo 40s) to add ballast when sailing in harsh conditions. She is very stable yet with 8 tons a fairly light boat. Remember: We are talking about a 1997-made boat, a 20 years old concept! The most delicate feature of this yacht – and the reason why I desperately fell in love with the Cigale 14 – is her internal layout. No other yacht before her and after her would bear such a configuration. Upon entering the saloon via ladder, one would be standing in the midst of the completely open aft section of the yacht: There are no aft cabins whatsoever. The whole stern is open. A large dining table with a huge U-settee is as inviting as one can imagine. Portholes all around the stern section of the hull will guarantee almost a 280 degree view of the surrounding. That is pure genius!
More than half of the hull in the stern area of the Cigale 14 is a saloon. Facing forward to port side a large galley with all amenities you wish for, another large command post with proper chart table and nav station vis-à-vis to starboard side. Cabins are to be found in the forward section with two bigger owner´s cabins and another bunk-berth-cabin. Looking at the layout drawing I am just as excited as one could be to imagine a long haul trip on a Cigale 14. With such a revolutionary cabin configuration things like communication, crew motivation and enjoying the whole trip must be just perfect as I consider the large, large saloon in the back of the boat an ingenious idea. Comparatively few of them Cigale 14s have been built: I´ve found only 4 of them in used boat offers and I was lucky being able to talking to Andy Lee, broker for St. Barts Yachts, who currently has a Cigale 14 for sale and having quite some experience in Cigale-sailing by himself, who was so kind to relay some questions to the current owners of SY ARIANE, a 2007 custom-built Cigale 14.
Acquiring an Alubat Cigale 14
Lars Reisberg | NO FRILLS SAILING.com: "First of all thanks so much for sharing your Cigale-experience with us. Let´s start with how this fine yacht came over to the US: When and why did you acquire the CIGALE 14?"
SY ARIANE: "It was back in early 2002 when I was reading a story of Jimmy Cornell's high latitude adventures on his Aluminum boat. It was an Alubat Ovni. The book featured a brief write-up in a side box, on the Cigale-line. After quite a bit of research into Aluminium-versus-fiberglass boats generally and Cigales specifically, I contracted with Alubat to build the boat in November 2002. We had had a PDQ 36 cat since 1996 and I wanted to skip it for a fast cruiser-racer mono hull. Construction of the boat started in February 2004 and she was finally completed in July the same year. We put her on a Dockwise transport barge in Cherbourg, France and a week later she arrived in Newport."
NFS.com: "Was the Cigale 14 your first choice and which boats had also been considered worth buying?"
SY ARIANE: "All in all, the Cigale 14 was the best fit in my opinion. Back in those years with the Euro exchange rate at 1.06 Dollar at the time, this European yacht was also attractively priced versus US-boats of similar specs. She had been first choice indeed. If I had selected a US-boat, it likely would have been a J145. For your interest – her name is ARIANE, which is like the European rocket booster used in space launches …"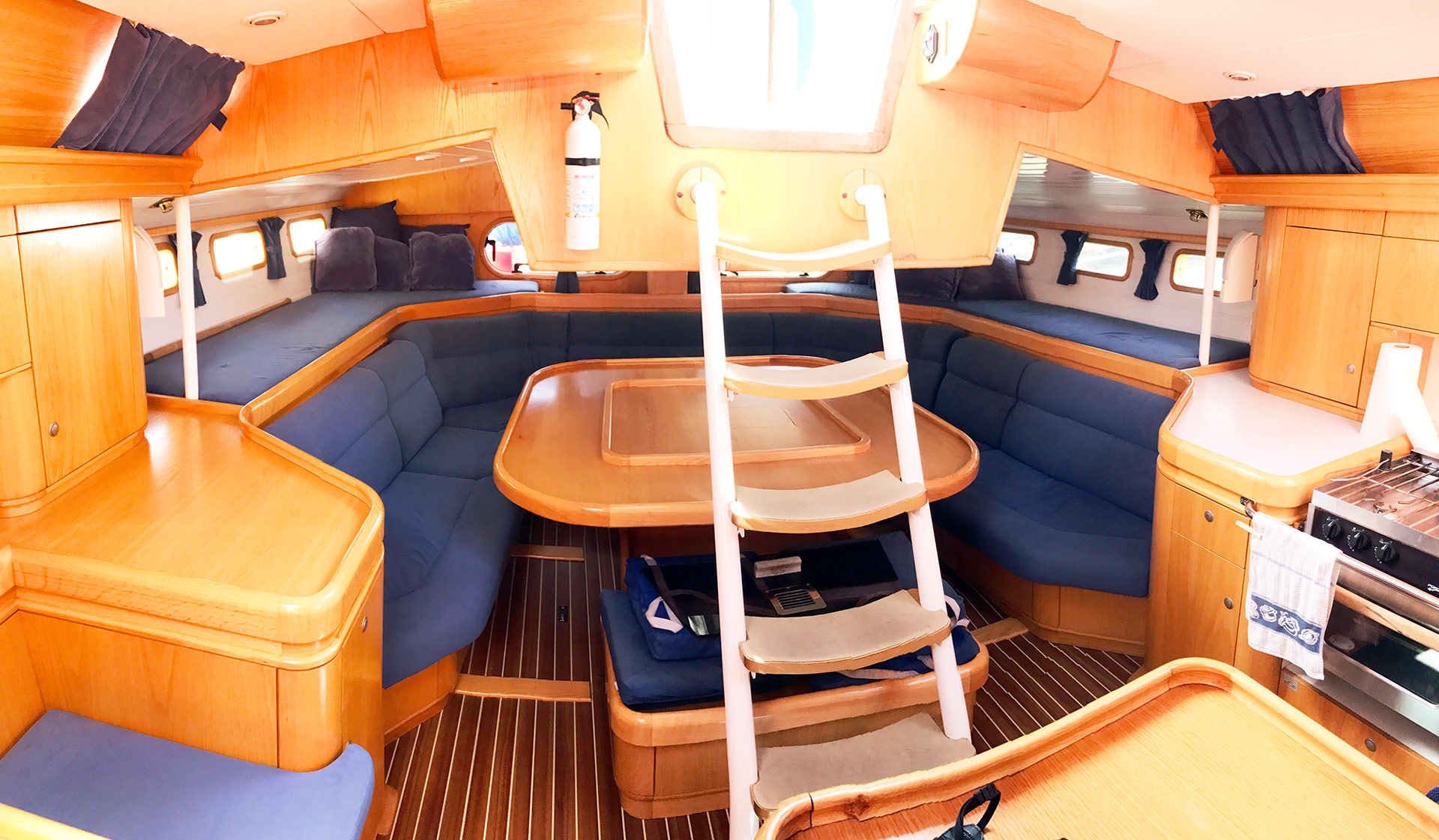 NFS.com: "What have been the – let´s say top 5 – major aspects in favour of the CIGALE 14 which made you go for this boat?"
SY ARIANE: "As I said, we wanted a cruiser-racer boat. And that´s what she was: She is an ULDB which means she´s incredibly fast and nimble. She is made of Aluminum which will make her extremely stiff and strong. Also, she is rigged to be sailed short-handed and in any wind and sea condition, which was a major asset and not common back in those days. Additionally, she is very, very comfortable to live on.  The Cigale 14, last but not least, is completely unique from her bare aluminum hull to her sugar scoop transom to her vast living & dining saloon below. The best fit, as I mentioned."
On the unusual internal layout of the Cigale 14
NFS.com: "The configuration of the Cigale 14 – switching classic aft-cabins and saloon – is the most visible feature of this yacht: Tell me about your impressions and experiences with that kind of layout."
SY ARIANE: "First of all, this layout is absolutely fabulous! The port lights and hatches surround the saloon for an exclusive view. The seating around the dining table is very comfortable. Halogen lighting is great at night. The port and starboard cabins forward of amidships each have double berths now after I reconfigured the boat from the standard layout. Also, construction-wise, this "reverse" layout allows the somewhat heavy engine to sit more amidships compared to classic cruisers thus reducing hobby horsing with its sail drive directly behind the keel for protection. I would call this smart on both counts."
NFS.com: "So the Cigale 14 is a performance-driven cruiser with emphasis on comfort and cruising. Did you have children aboard? Tell me about her cruising-capabilities and the performance of the boat as a leisure craft."
SY ARIANE: "Yes, we´ve had children aboard of course. Our two girls were 5 and 7 at the time when ARIANE arrived. We would regularly sail from the Narragansett to Block Island, the Vineyard or Nantucket for the weekend because we could get there quickly and comfortably. In July 2006, we did our first long distance trip, 17 days to Maine and back in every kind of weather. The following summer, we ran down Long Island Sound and back for two weeks. Almost every summer, we spent some 20 to 30 nights aboard with all the creature comforts of home. The boat is designed for fast cruising in comfort. There is tons of room below and the open transom is ideal for storing the rib, water toys and swimming from. She is a perfect family cruiser – yet to be sailed fast."
On sailing characteristics of the Cigale 14
NFS.com: "Would you like to tell me more about her sailing characteristics? What´s about her speed, roping, preferred points of sail? What´s the main character of the boat?"
SY ARIANE: "First of all, she´s a damn fast boat! As she weighs only 16.000 pounds and I equipped her with an oversized Bergstrom mast with 1.250 square feet of upwind sail area. I added a second roller furler flying a 95% Solent staysail as the 130% genoa was too much going to windward below 60 degrees apparent over 15 kts. Also, the staysail sheets go to the inner tracks allowing an even tighter tacking angle of about 25 degrees and the sail is easier to tack. Upwind speed of 8 knots in 12 to 15 knots of wind is the norm and she breaks 9 knots easily on gusts. Keep in mind that the apparent wind is 20 – 25 knots going hard to windward in 12 – 15 knots true."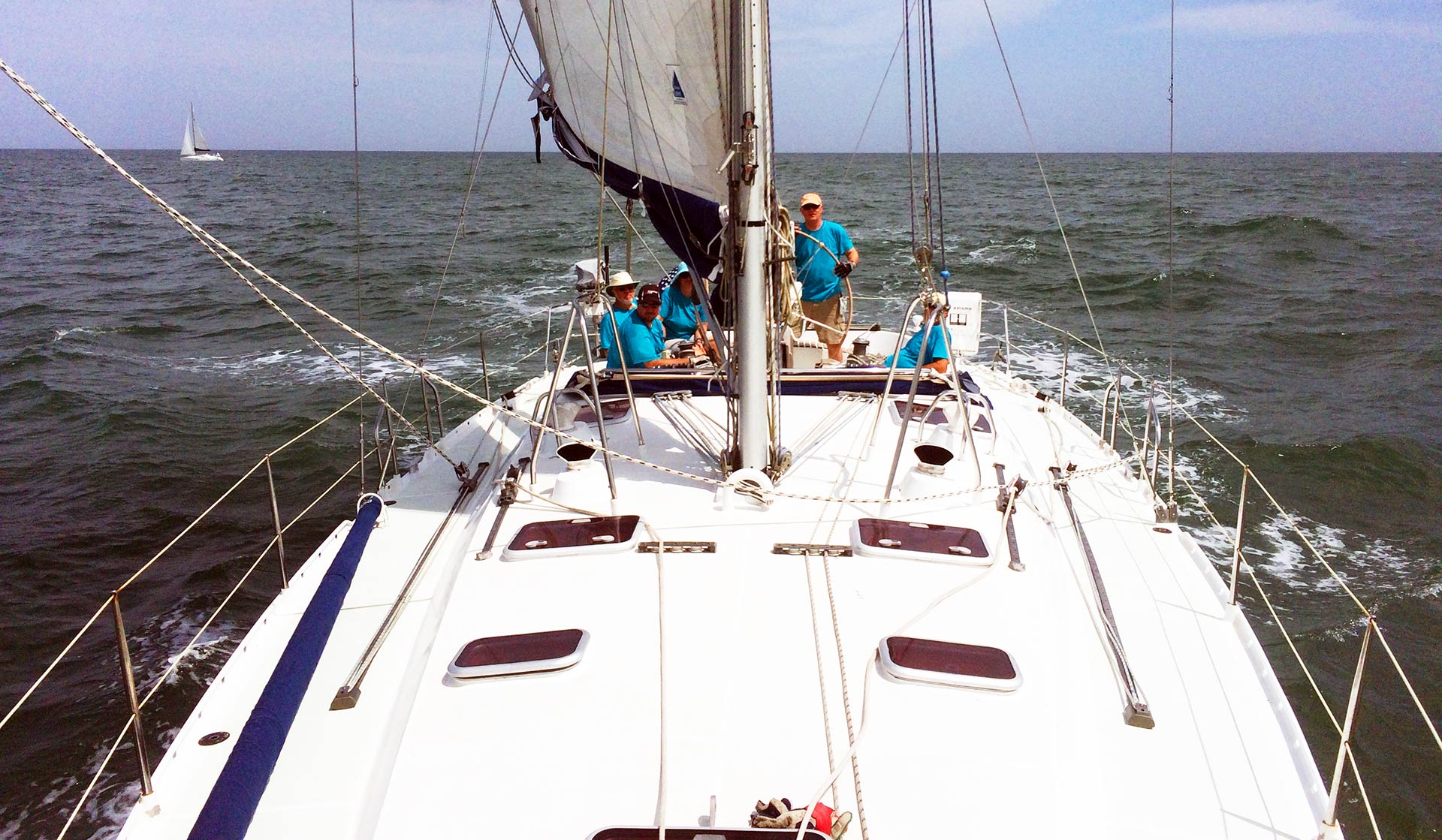 SY ARIANE: "That would also be the limit before putting a reef in the heavily roached main. The first reef takes off 25% of the sail area. The boat flattens out and goes just as fast with better agility as the wind picks up. Going to windward in over 25 knots apparent, the boat gets to the limit of her rudder without a reef in the main. In 12 – 15 knots true and sailing off wind at 80 – 100 degrees apparent with the 1.300 square feet Code Zero, her speed goes up to 10 knots with bursts over 11 knots. Abaft of 100 degrees flying the 2.000 square feet asymmetric in greater than 20 knots true, she feels like a planning hull, routinely running 11 – 12 knots. Which is high speed for a cruiser, I would say. Like many Finot-designed boats, she does not like sailing dead downwind and this is her slowest and least comfortable point of sail. We would usually tack downwind staying above 160 degrees apparent."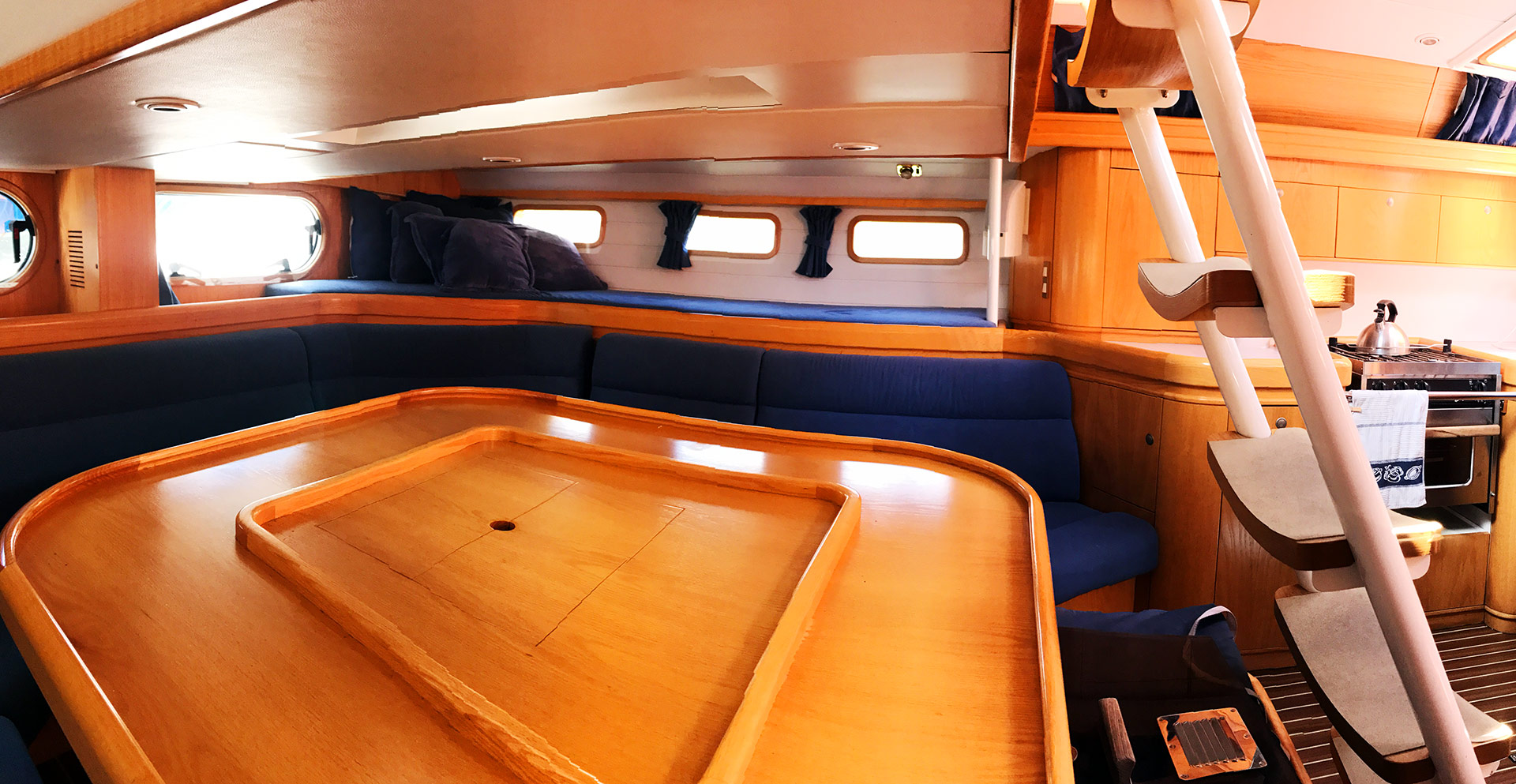 SY ARIANE: "Best of all: We have routinely blown by bigger mono hulls and even big cats. Concerning her roping and layout of lines: All lines for halyards, sheets, running back stays and reefing lead back to the cockpit into Spinlock clutches. The six winches are all over sized versus standard issue to handle the greater sail loads. The staysail and genoa are on roller furlers. The Code Zero is on a continuous line furler. The main has three single line reef points. Sail handling is easy and safe. To sum it up: She is incredibly agile because of her light weight and stiffness. When the sail area is balanced for the wind speed, there is no weather helm and she responds instantly. She will accelerate immediately to a 5 knota-gust."
Sailing Yachts by Alubat
NFS.com: "What´s about the quality of craftsmanship of Alubat in terms of hull and Aluminium construction and interior fittings?"
SY ARIANE: "The Aluminium construction is excellent. This is the builder's strongest feature. I have had absolutely no issues with the hull. Hurricane "Matthew" sank half the boats in the marina in St. Augustine but only managed to leave minor cosmetic damage to the stem of our Cigale where the boat bashed against the dock for twelve hours. You see, annual maintenance is relatively low versus fiberglass and gel coat boats."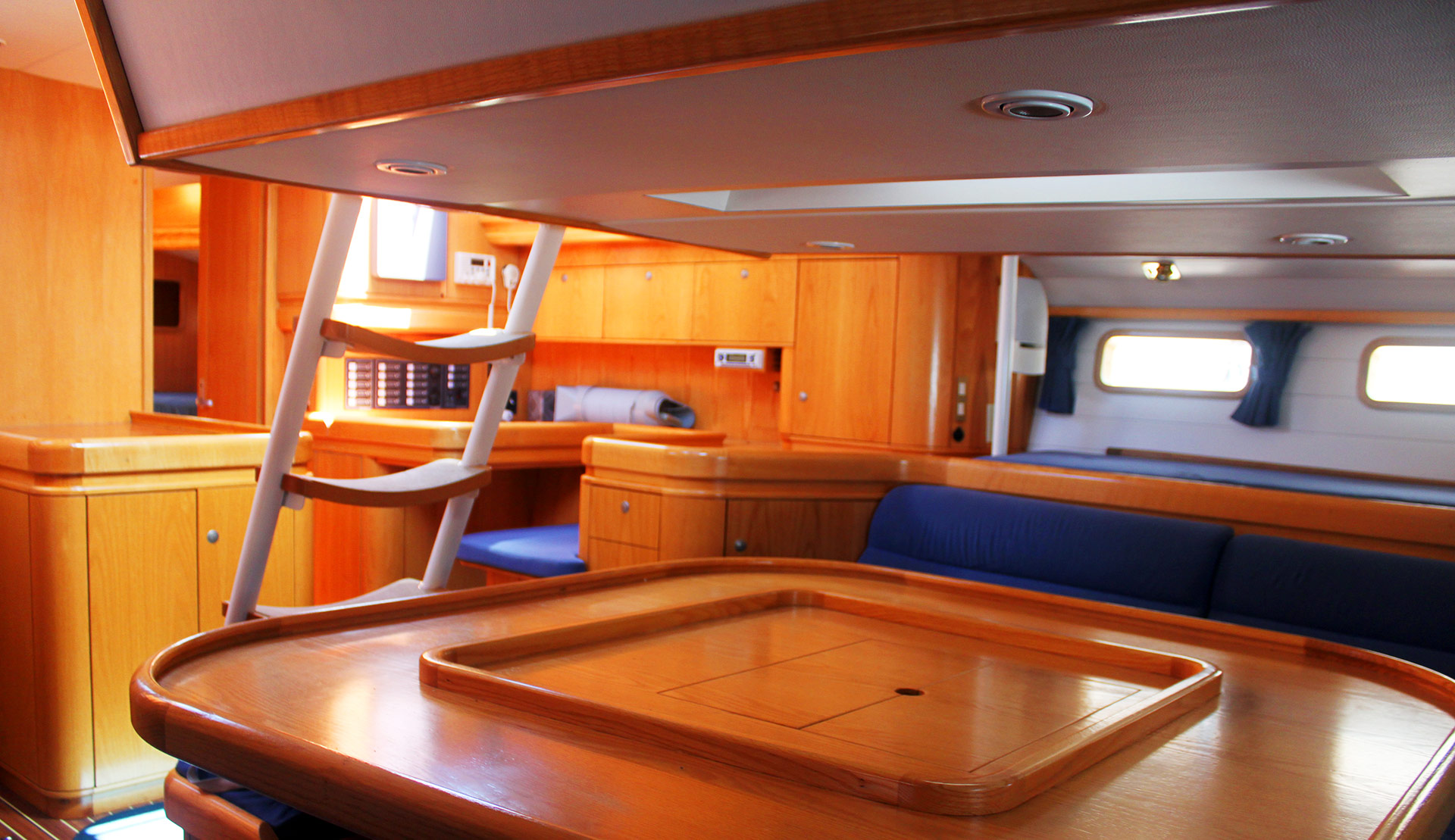 SY ARIANE: "On the other hand, interior fittings are only average in my view. I upgraded a number of door hinges, latches and other hardware to better quality. The joinery work is good and Alubat customized the cabinetry to my specs. Mechanical engineering is solid but some of the basic equipment could be better. In the course of normal maintenance, I upgraded the two burner stove to a three burner Force 10, installed a stronger and bigger compressor for the fridge and added a small freezer unit. I also upgraded the head and pump out system. It seems as though the French are not big on holding tanks and pump outs."
NFS.com: "What would you say, is the CIGALE 14 still a "modern" boat or a product for a small niche-customer range?"
SY ARIANE: "The Cigale 14 is certainly a modern boat but has and still will only appeal to a niche customer who wants to be fully engaged sailing a powerful racer-cruiser. Also, Aluminium is more expensive to build than production molded glass boats. Many boats of this size feature twin wheels or heads in every cabin or Plasma TVs – all nice touches but the boats themselves are pretty basic in speed and handling. The Cigale is a special boat for special people."
On sailing the Alubat Cigale 14
NFS.com: "Tell me one or two anecdotes of you sailing with the CIGALE 14 which represent most her character as a sailing yacht, please"
SY ARIANE: "Well. There are four 1950/60's America's Cup twelve meter boats in Newport that regularly race each other with professional crews of ten or more. While they are all scurrying about on every tack or hanging over the windward rail, we would regularly blow by them with just a crew of two and two young kids. Another nice thing was this one: On one of our return runs from Block Island back to the Narragansett with 20 – 25 knots on the stern quarter and flying our full main and Code Zero, we chased down and passed a Catana 50 flying a full spinnaker, which was huge. And last but not least, with the large aft saloon and superbly equipped galley, we hosted many dinners with cruisers we met in our travels. We can accommodate 8 to10 people easily around the table below or 6 to 8 at the table in the cockpit above, which was always perfect for socializing."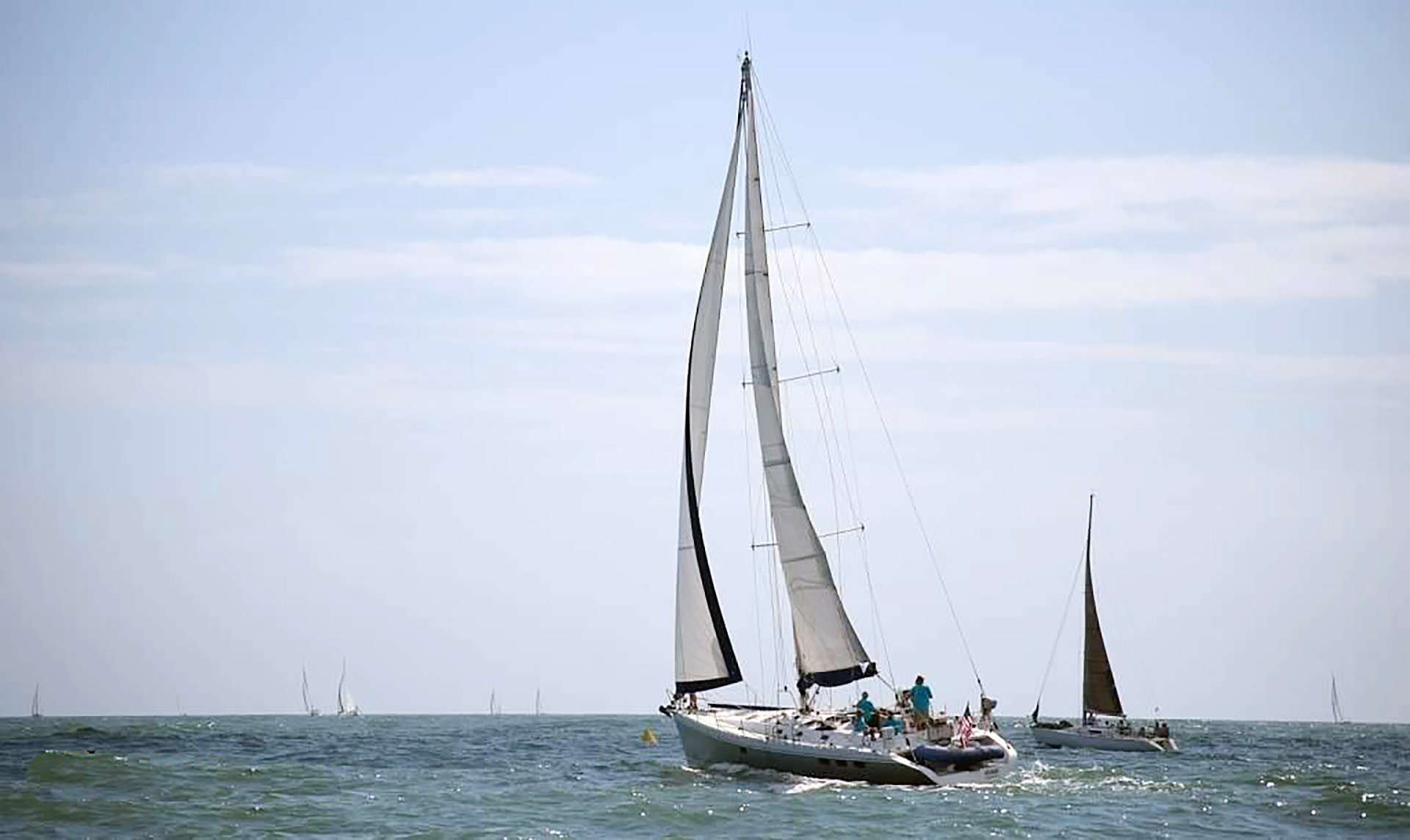 NFS.com: "In the end, what do you love most about the boat? And vice versa: What are her downsides?"
SY ARIANE: "Her best features are certainly her power, her speed and the uniqueness of the Cigale 14. Ours is the only one in the US, virtually unknown in the sailing community here and often the eye catcher going into any harbour. The downside is being the only Cigale in the US. Being built by a small French firm that has not had any interest in expanding outside of Europe has meant having to solve maintenance and parts issues without any OEM support. I have had a really good yard to look after her. New England Boatworks in Portsmouth, RI is a builder of Vendee and Volvo Open class boats and they know their stuff."
Thanks so much to the crew of SY ARIANE answering my questions and thanks to Captain Andy Lee who was relaying my inquiry. If you are as US-based reader and interested in SY ARIANE, don´t hesitate to contact Andy Lee.
All pictures © by Andy Lee
Other interesting on that topic:
Niels Jeppesen of X-Yachts and Magnu Rassy talking Scandinavian Sailing Philosophy
Dreamyacht: The Pogo 12.50
Designing a boat: Four naval architects reveal how they work