What a pity and what at bliss at the same time: After one full day on the Danish island of Bornholm it was time to leave again. One week isn´t such a long time although it may have sounded otherwise at first when we were casting off and had said: "Seven full days of sailing!" Nope, that's way too short, especially concerning our comparatively long voyage from Laboe/Kiel to here.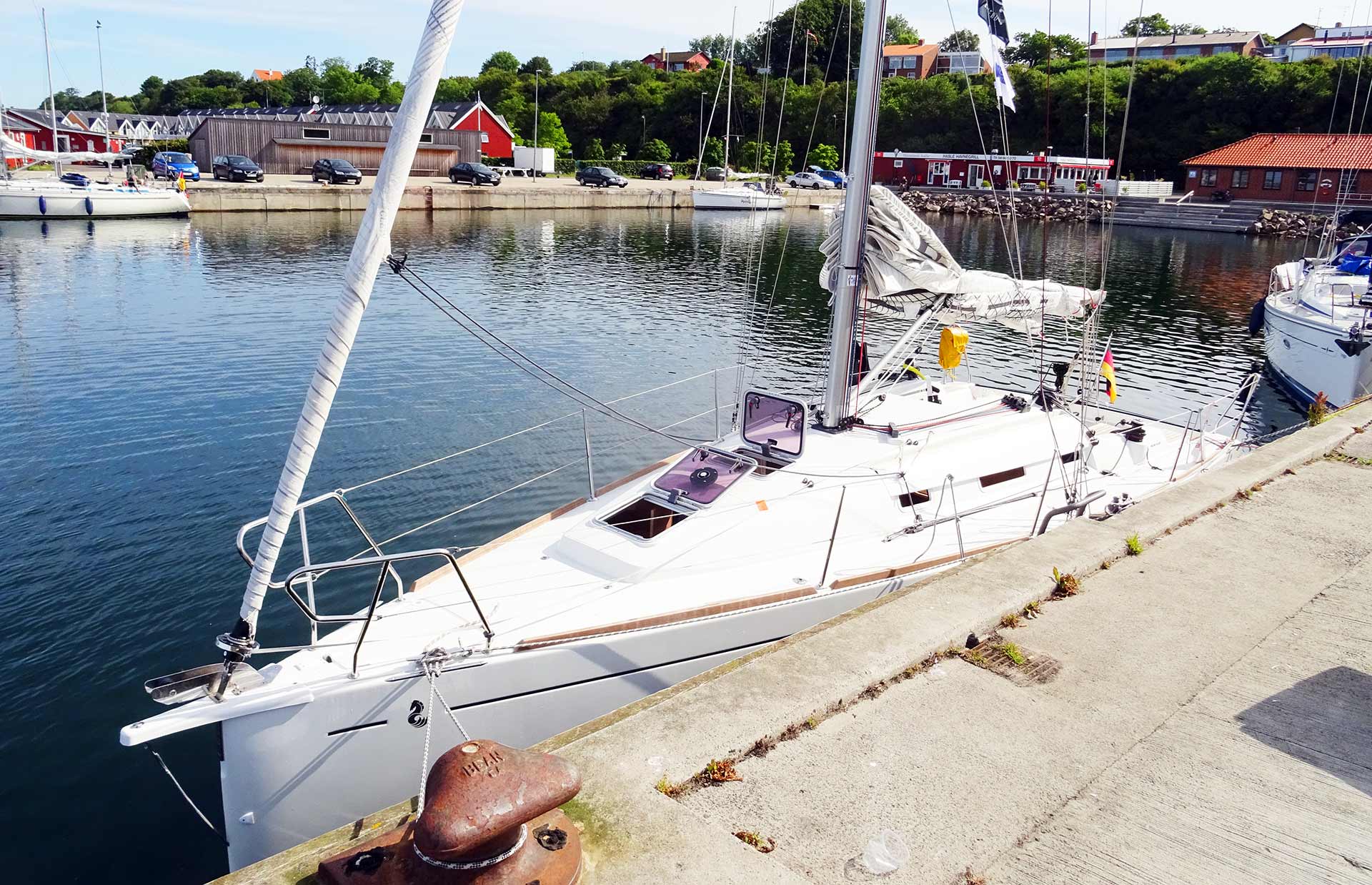 I had relocated and moored safely the Beneteau First 30 to a more comfortable berth alongside one mole while the other two had still been asleep and was wandering about in Hasle harbour after getting up very soon again. That´s still bothering me: I cannot manage to sleep long, even when there are no appointments to keep. I just regularly get up at 6.30 the least – I do not need an alarm to be set off. I guess that´s one symptom of growing old …
Preparing to casting off
We had been on Bornholm the third day now and it was time to set sails again and head home. Having our boat for just seven days, that´s a fairly short time for a trip of this distance and since we´ve decided not to sail all the way to Bornholm in one huge leg that was the price we´ve had to pay. So today was the day of leaving again.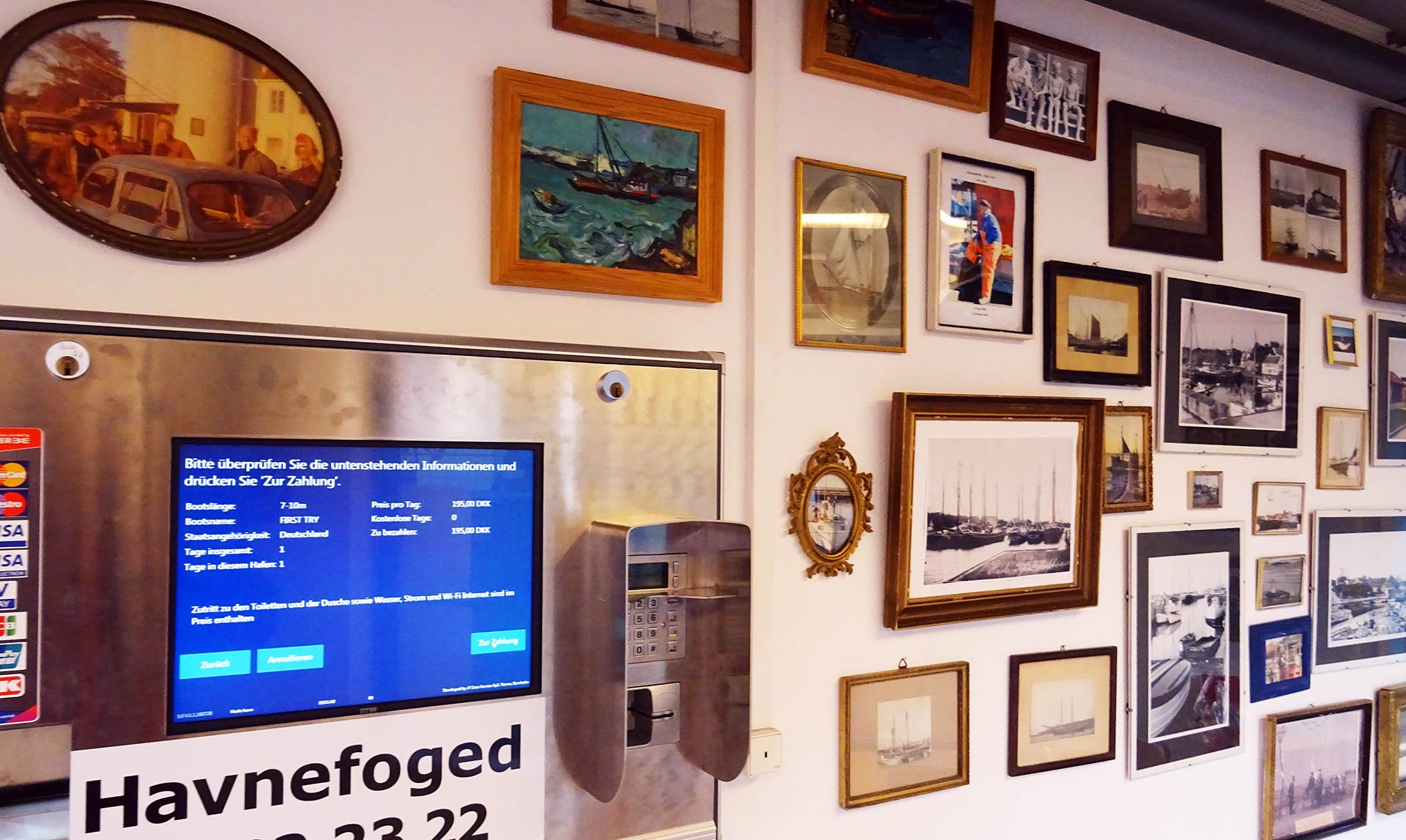 Not too soon of course: I estimated that we´d had to leave around noon which would give Lena and Jens the chance to have another long sleep again – at least we are on vacation and sleeping as long as one wishes is a part of this tradition. On the other hand the forecast I was getting in the harbormaster´s office wasn´t promising wind up until noon so there simply was no need to hurry today.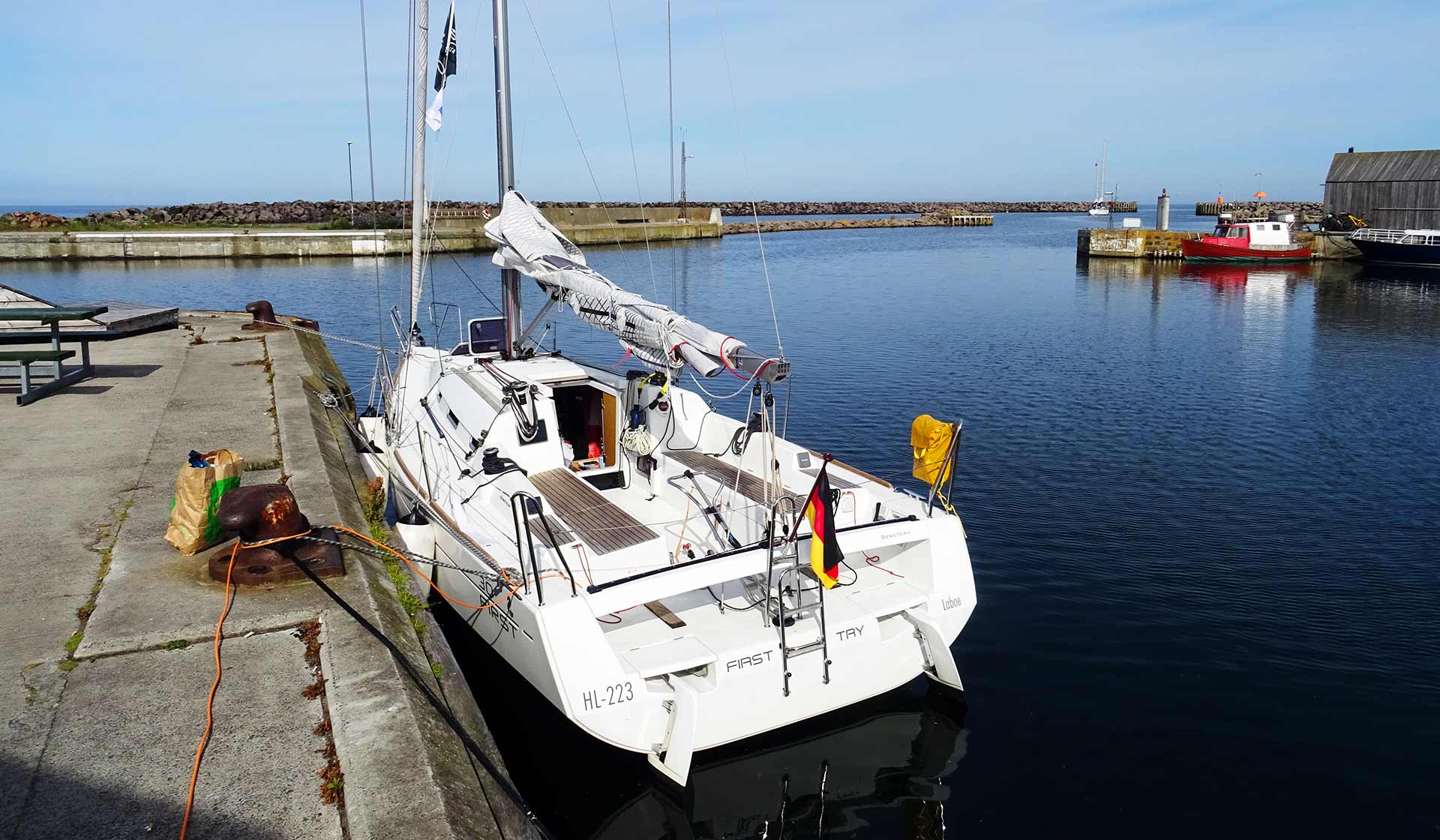 As I was getting up again early and preparing some breakfast there was a brilliant clear blue sky and the sun shining like nothing. I would have loved to round this island to see one or two more marinas of Bornholm as well as to explore the island much more intense than just do one single small bike tour, but that´s something I´ll have to do next time I arrive here. For it, I´ve got an idea.
The right Time for the Gennaker?
As the forecast was promising the wind was due to shift to North during the day at a steady Beaufort 2 which is a very light wind. That´s exactly the conditions we would need to finally unfold the Gennaker sail our Beneteau 30 was carrying in her large port locker. Since my last encounter with this kind of light wind sails on the Pogo 40 (read it here) I was fascinated by the power and the speed this sail can generate in light puffs. So I decided to have the Genny prepared.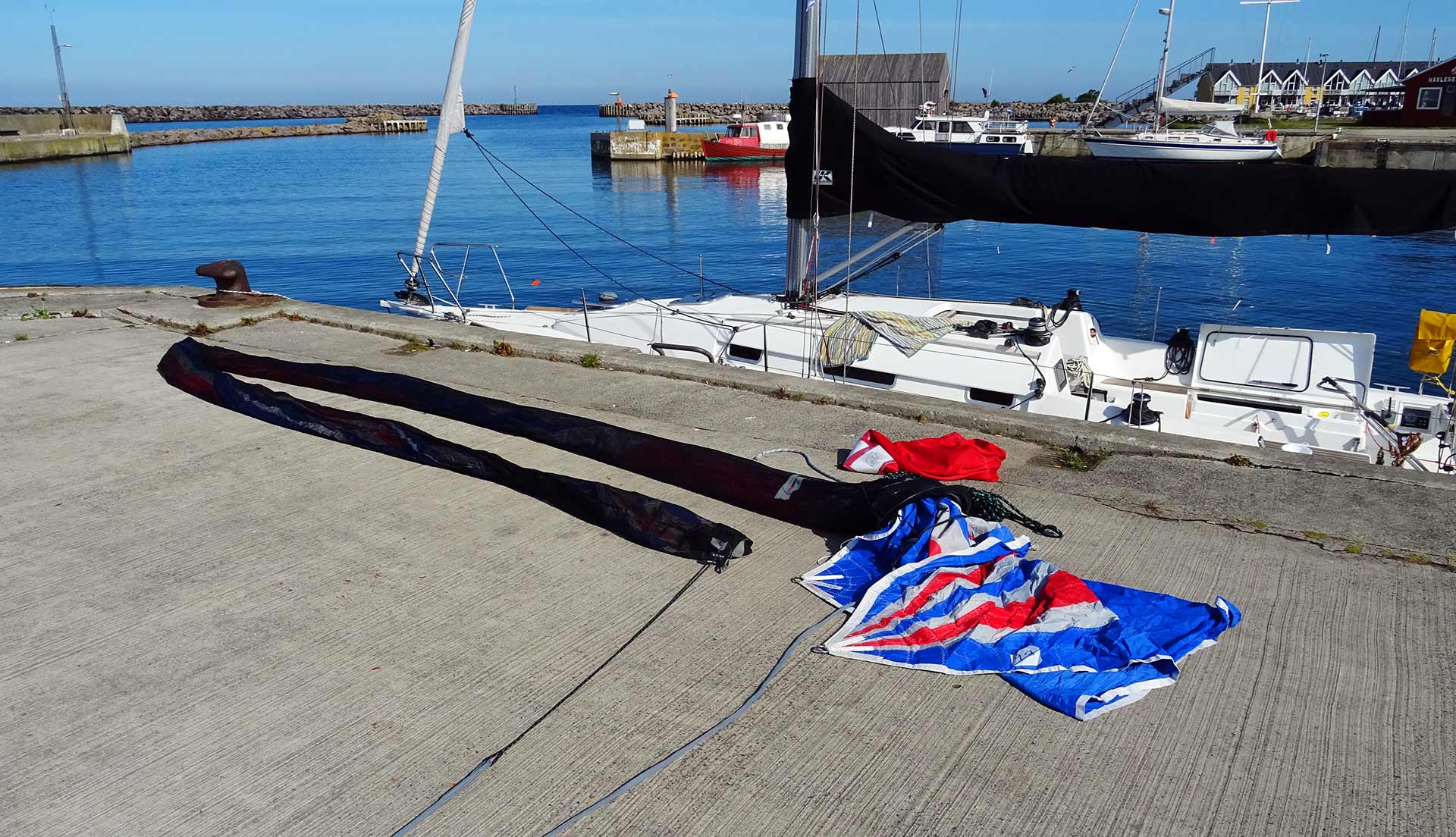 I took it out of the sailing bag. It was a brand new sail as the charter company told me. Better have it controlled. I learned that upon hoisting a sail like this everything must be in ordern. You shouldn´t begin to clear the sail when it was attached to the halyards and the boat was underway – but have it done on dry land when still everything is calm. So I did. Unfolding the whole tube cover on the mole, tying the sheets to the clew and the hose to the halyard.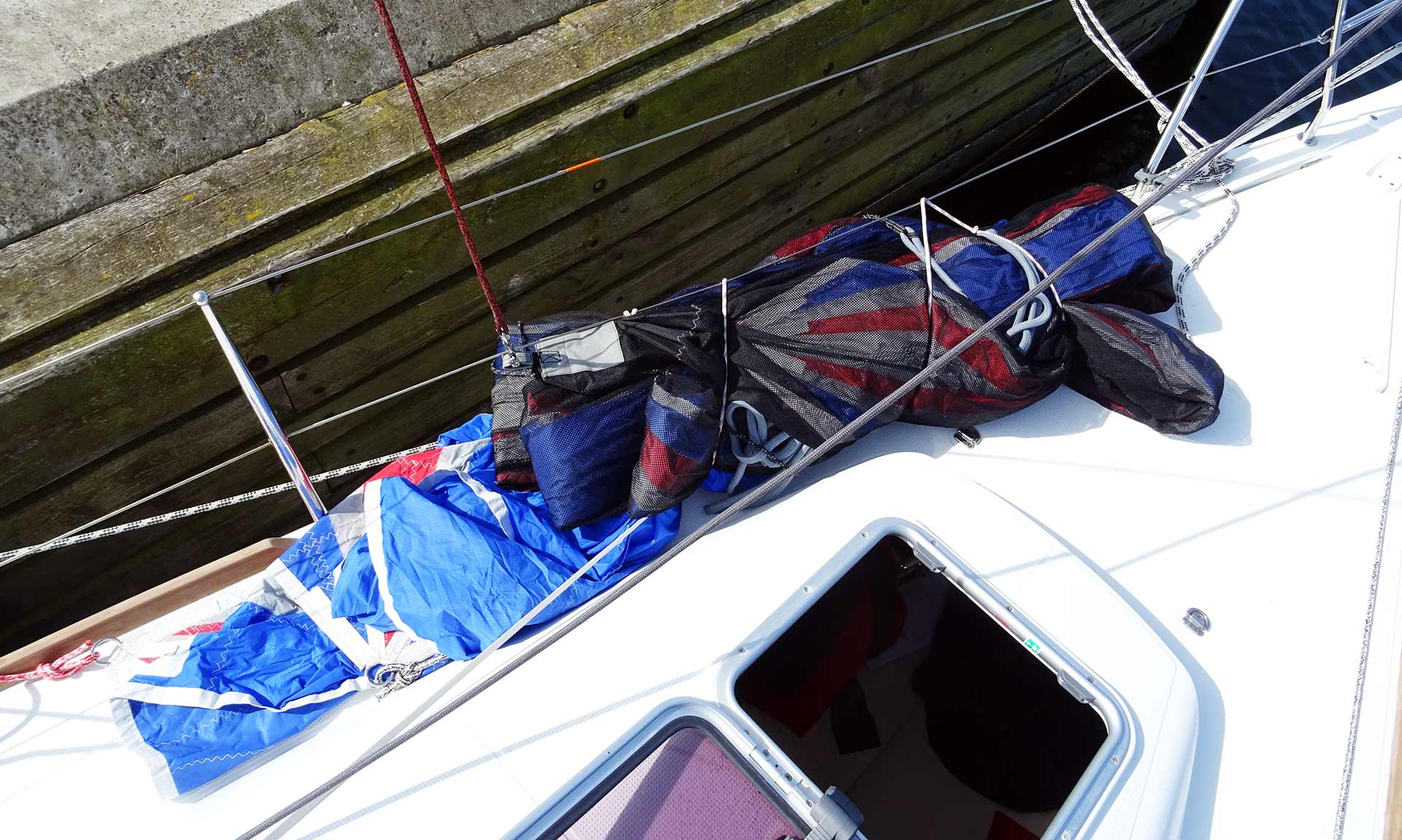 Then I folded the Gennaker in a way that it would be easy to hoist the sail even in swell and that nothing would interloping or producing a hustle when we chose to get this sail up and running. Leashing it to the reeling with a strong belt was customary since on the trip before we took over the FIRST TRY the Gennaker was lost underway when a wave was simply ripping the Genny off the ship drowning the sail together with the bag during a stormy night. Everything was clear.
Waiting time
Well, not quite. It was still around 10 a.m. and thus pretty early for my long-sleeping crew and so I was wondering what might encourage them to raise their bodies from the bunks. Of course, the smell of freshly brewed hot coffee, fried onions and scrambled eggs and the clanking of a cook in a galley making for a breakfast will move up even the deepest sleeper from the La-la-land of dreams. This time it worked as nicely as always.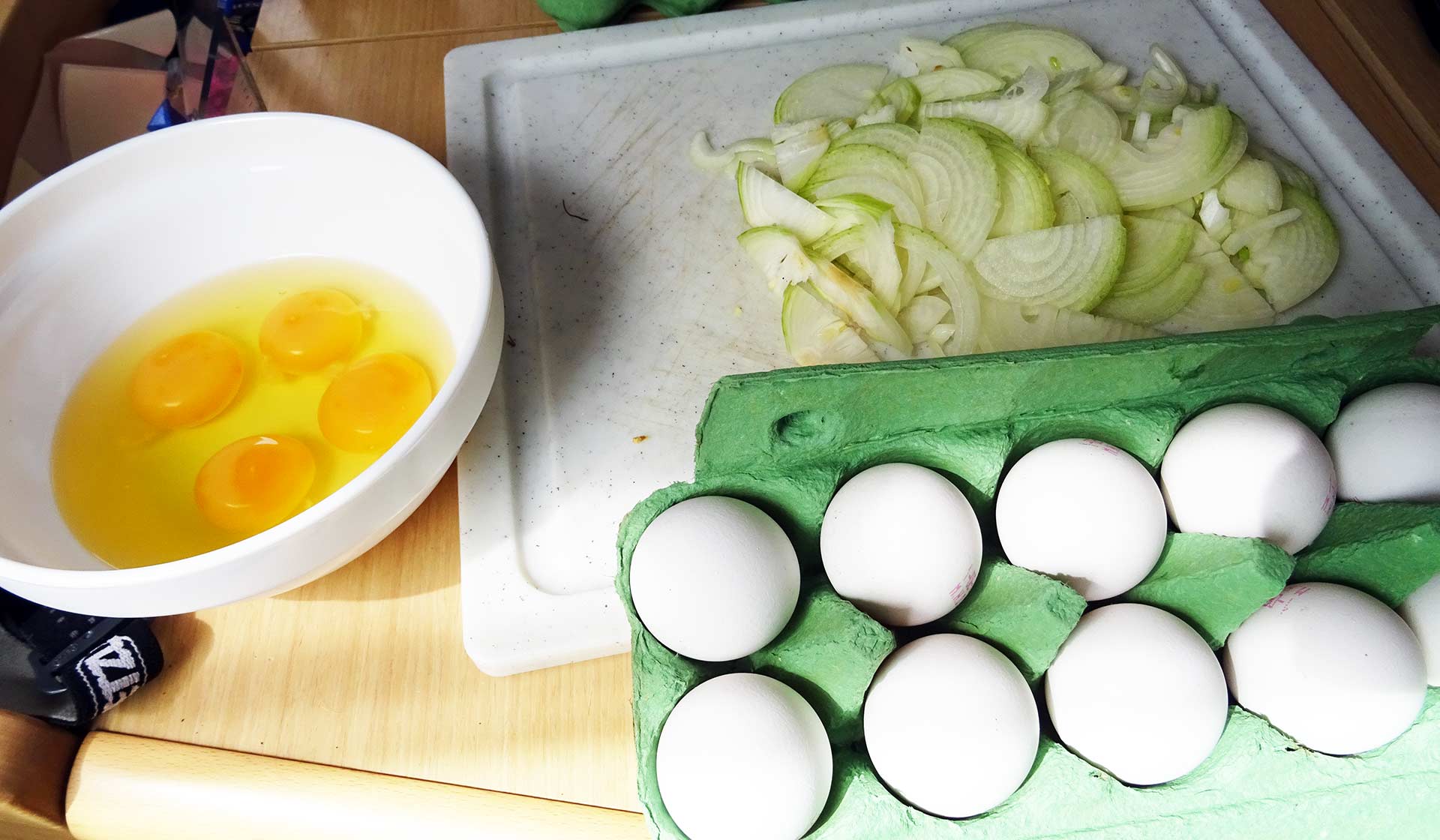 "Good morning, skipper!", Jens was greeting me and tried to smile, still half asleep as he punched his head through the cabin door. "Morning!", I smiled back and offered him a cup of coffee which he thankfully embraced. I took the chance to inspect his arm – as you may have read, Jens had this galley-accident two days ago when he was trying to make coffee in heavy swell and was spilling boiling hot water all over his right underarm.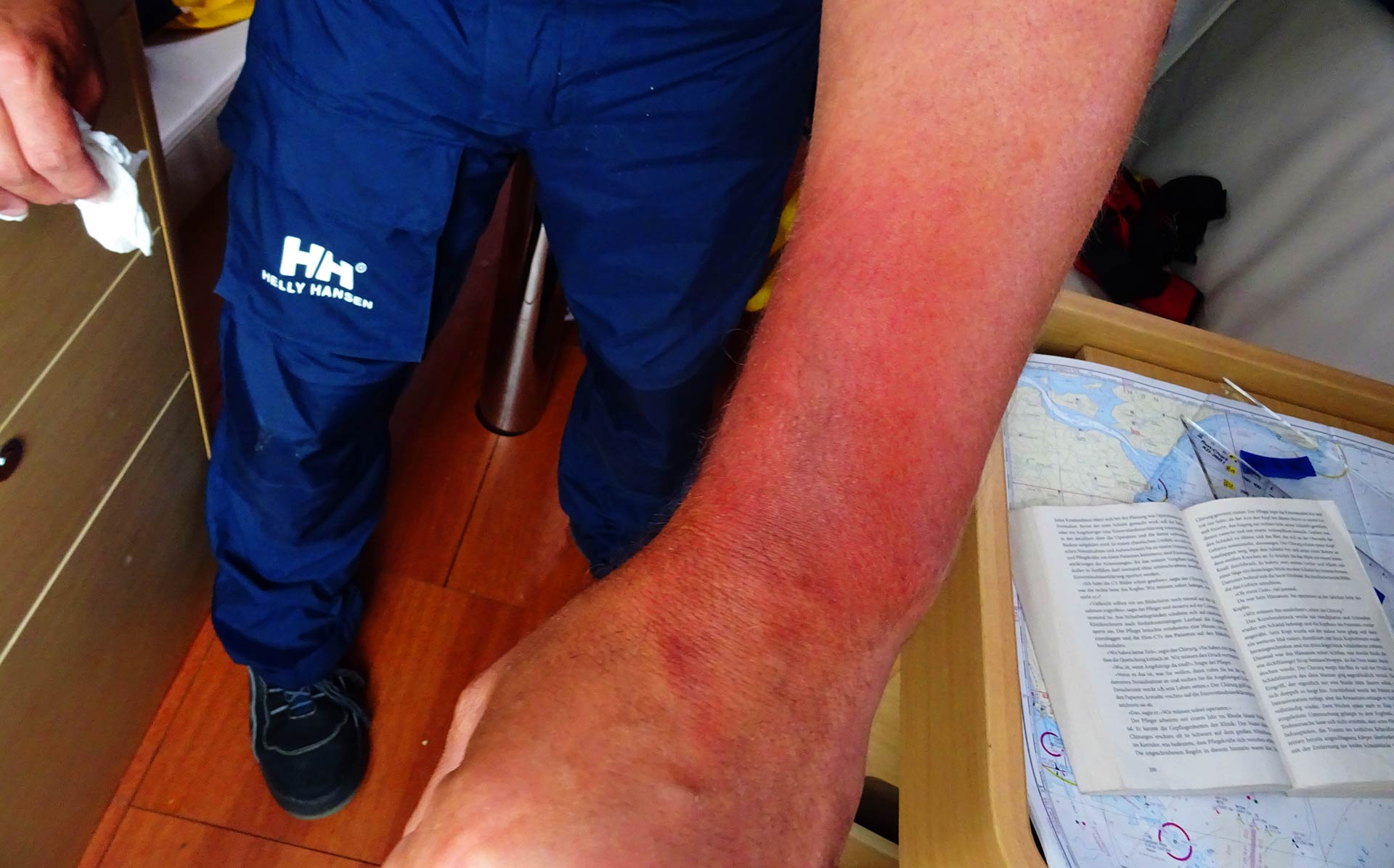 "This doesn´t look very good", Lena said. She was our ship´s doctor as she was the only person with a thorough paramedical training. She was also carrying a large bag with a sorts of medicine, dressing material and other medical supplies with her – including burn ointment and loads of gauze bandages which she was applying and renewing on Jen´s bad burn regularly. "This will start to peel off in a couple of days. We´ll have to keep the wound clean and disinfected", she announced. Then another accident happened.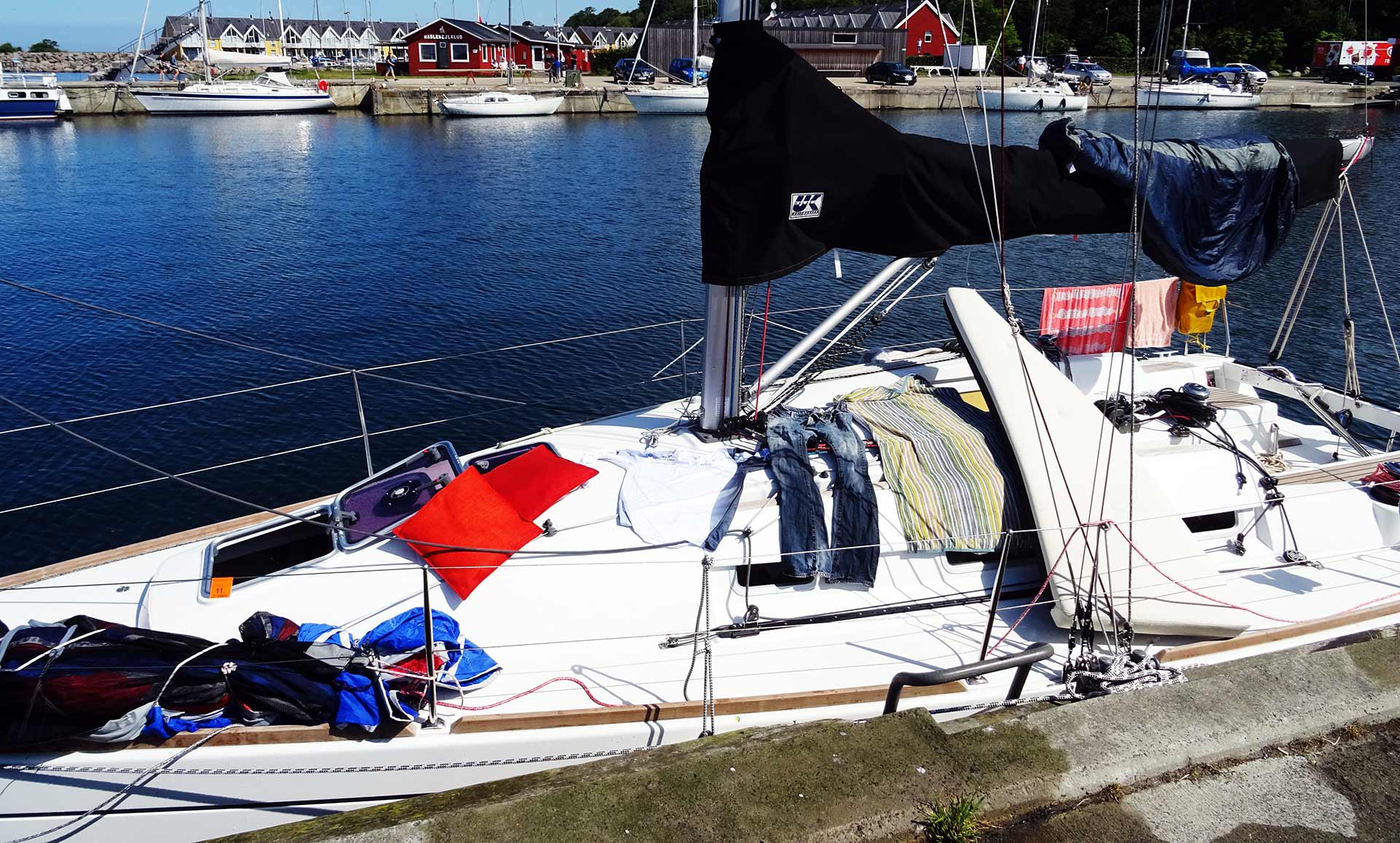 Murphy´s Law was striking again. As it was a kind of tradition on FIRST TRY, Lena was responsible for filling of the fresh water tank which on the Beneteau First 30 is in the bottom of my fore cabin. She was poking the hose to the tank tube, going all the way back to the hose and starting the waterflow. Not knowing that Danish fresh water apparently comes with higher pressure than in Germany, the hose was propelled out of the tube, flying though the air spilling the boat and finally landing … in … my cabin because the deck hatch was open. For seconds the hose was flooding my bunk, my clothing, my charts, my laptop – just everything. I don´t know if I remember correctly, but decision between laughing and crying was tough on this one.
Finally: Underway again!
Anyway, the sun got everything dry again in time and we readied the boat for casting off as timed at exactly noon. Steaming out of Hasle harbour quite a nice swell was welcoming our small yacht and a stiff breeze (3-4 Beaufort) was blowing. It was a bit bothering that it was coming directly from West, other than predicted but I assumed the wind would easy over time and shift die North as said in the forecast.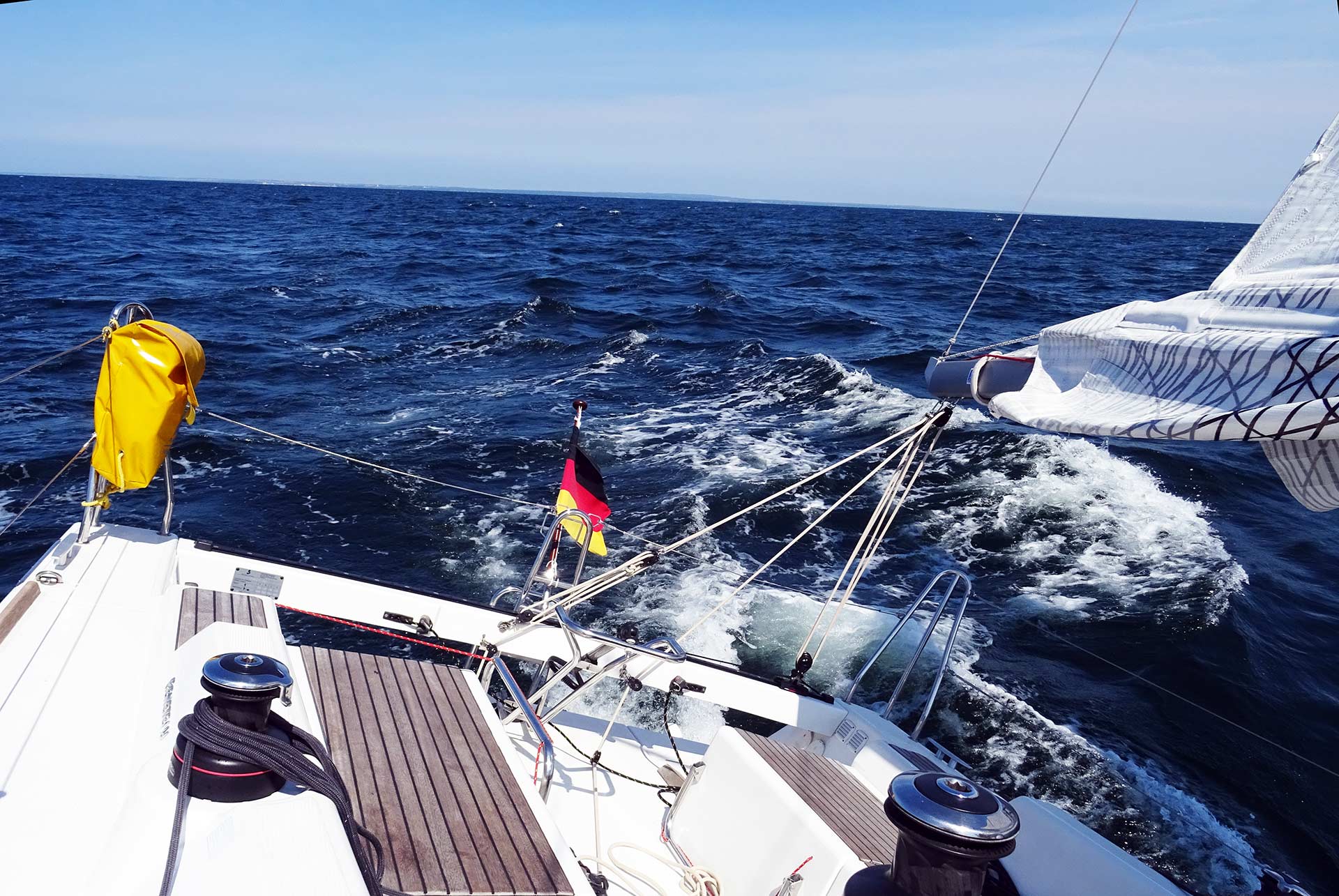 When we had the sails up we put in the first reef in the main sail because a Force 4 was too much for the small yacht as we´ve had experienced before. Sailing heeled is fun for sure, but too much of it is just a waste and unnecessary strain to the rigging. Jens wanted to "really sail" and as this has been his watch anyway he placed himself at the helm and refrained of activating crew member #4, the auto pilot. "That´s so much fun!", he announced, holding a course of some 200 degrees.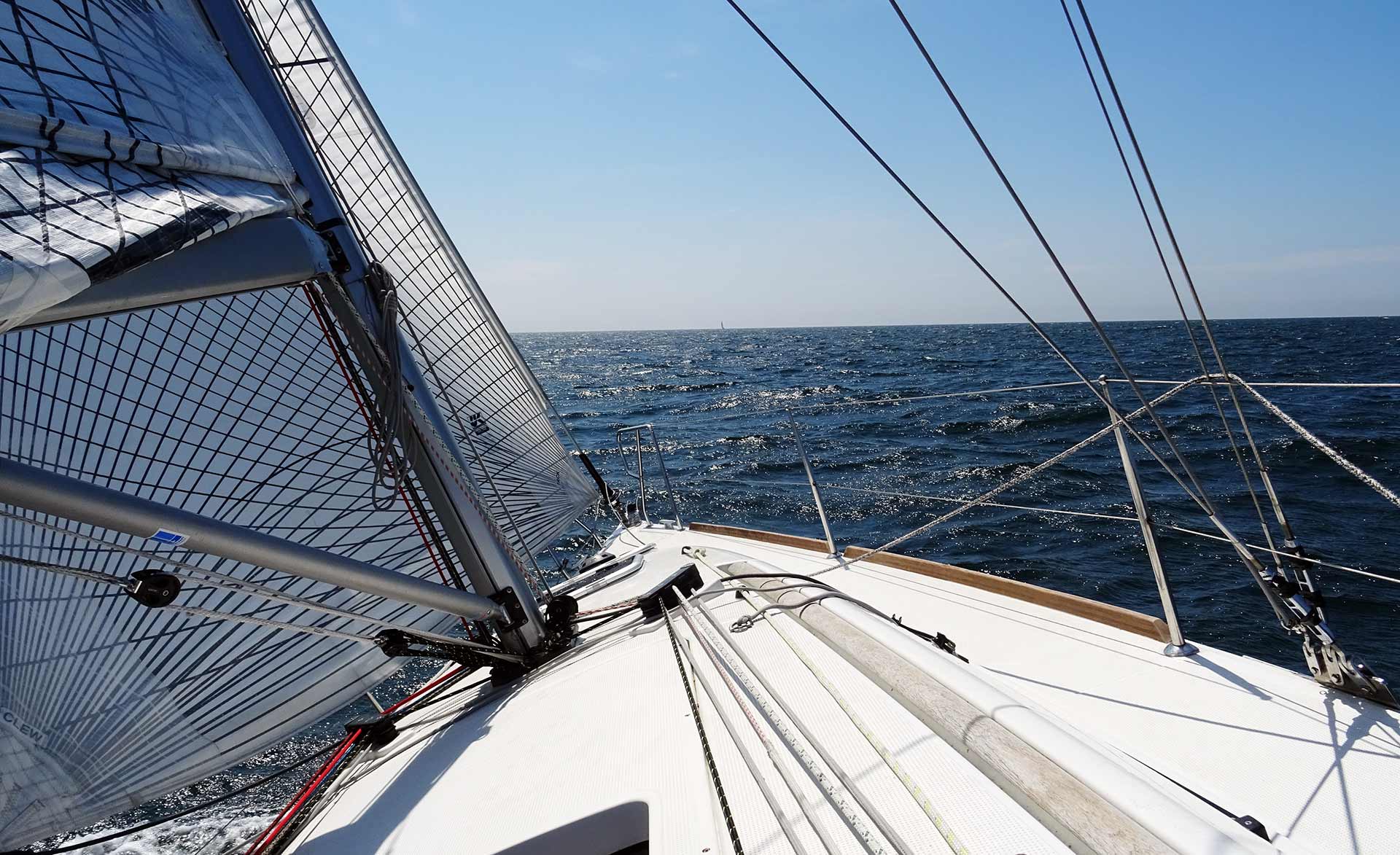 The boat was sprinting with ease and that was no wonder as we sailed her on a yacht´s most favourite point of sail: Half wind from aside on a beam reach. 7.5 knots in average for a yacht of just 9.15 metres in length is a good speed I would say. The yacht was jumping forward with every wave the hull was climbing to.
"How is she on the rudder?", I was screaming through the wind to Jens. He offered me the tiller steering to have proving it by myself. Although we had some 15 to 25 degrees of steady heeling and a stiff breeze blowing I couldn´t tell any difficulties in holding course. The boat was exceptionally good on the helm and I felt practically no pressure whatsoever on the tiller.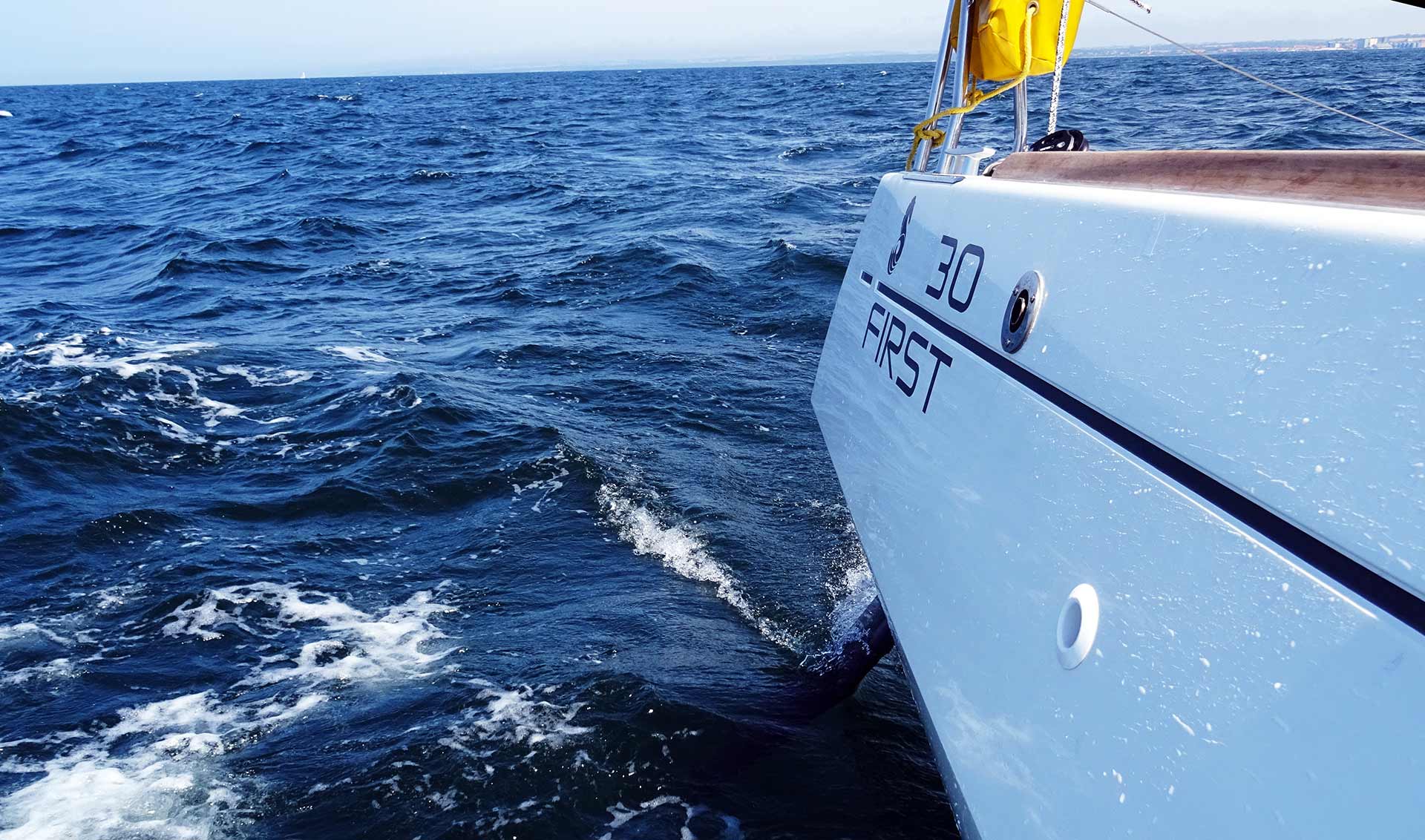 Of course she had the tendency for weather helming – as with every yacht – but I could not judge this to being especially distinct. Even the very, very short snag rudder blade (due to the heeling angle our second blade was out of the water at this time) could unfold enough pressure to apply course corrections with ease and I wouldn´t have to move the tiller too hard to get this done. The steering of a Beneteau First 30 is brilliant from my point of view and this is a judgement I would later renew and get verified in various other circumstances yet to come.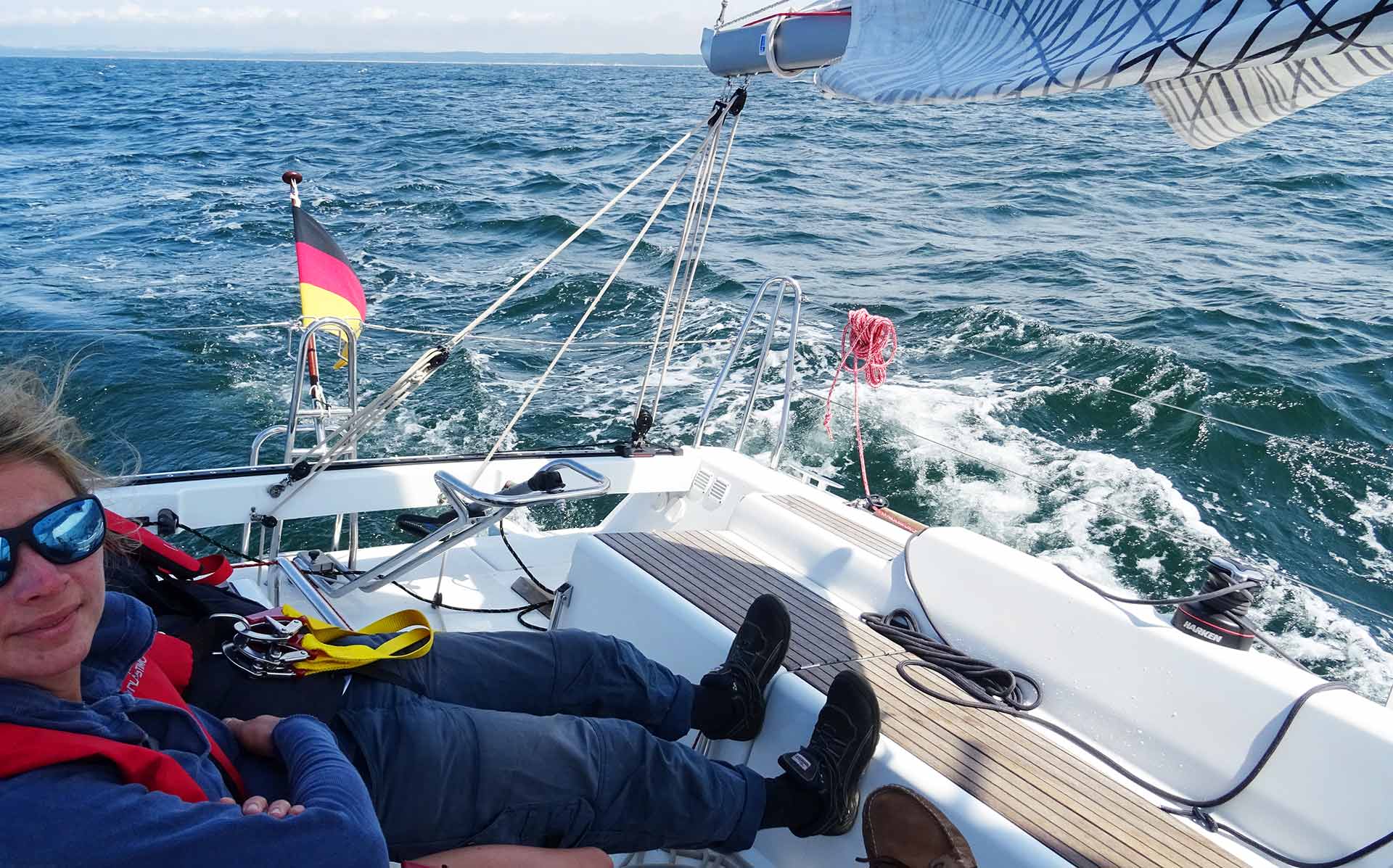 On the other hand, something was feeling … odd … about her sailing qualities when it comes to the rigging and sails. Prior casting off I was talking to some First 30 owners and read blogs about this yacht and all asserted the boat her own character when it comes to sailing. Some said that her bow was constructed too narrow, some said her jib was overpowering, some criticized the boats rigging of being unbalanced. Unbiased as I was, I was open for the boat´s performance but yet, even in those perfect and least demanding conditions something just didn´t felt … balanced.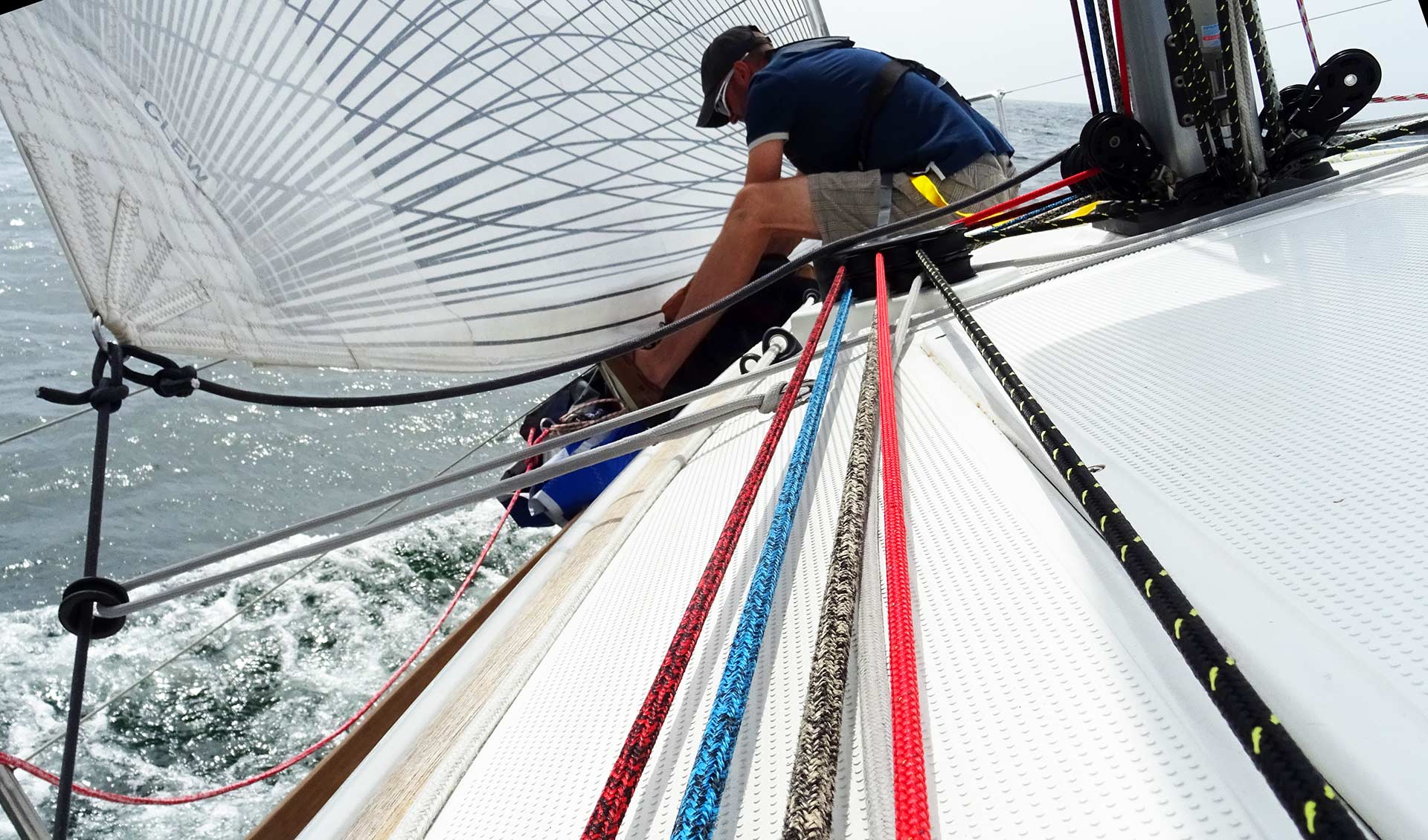 "I don´t feel like it would be possible to trim the sails of this yacht in a way that she would be sailing along without rudder corrections", I supposed and talked to Jens. And this is exactly what I would describe her sailing abilities: I am far from being a professional or even skilled sailor but that´s an assumption that really describes my feelings: Something about a First 30´s rigging isn´t balanced. Speaking of balance: As the wind did not shift to North as predicted and the day was nearing afternoon, waves got higher and I saw the Gennaker being washed over more regularly – I decided to take it in again. No Genny-sailing here.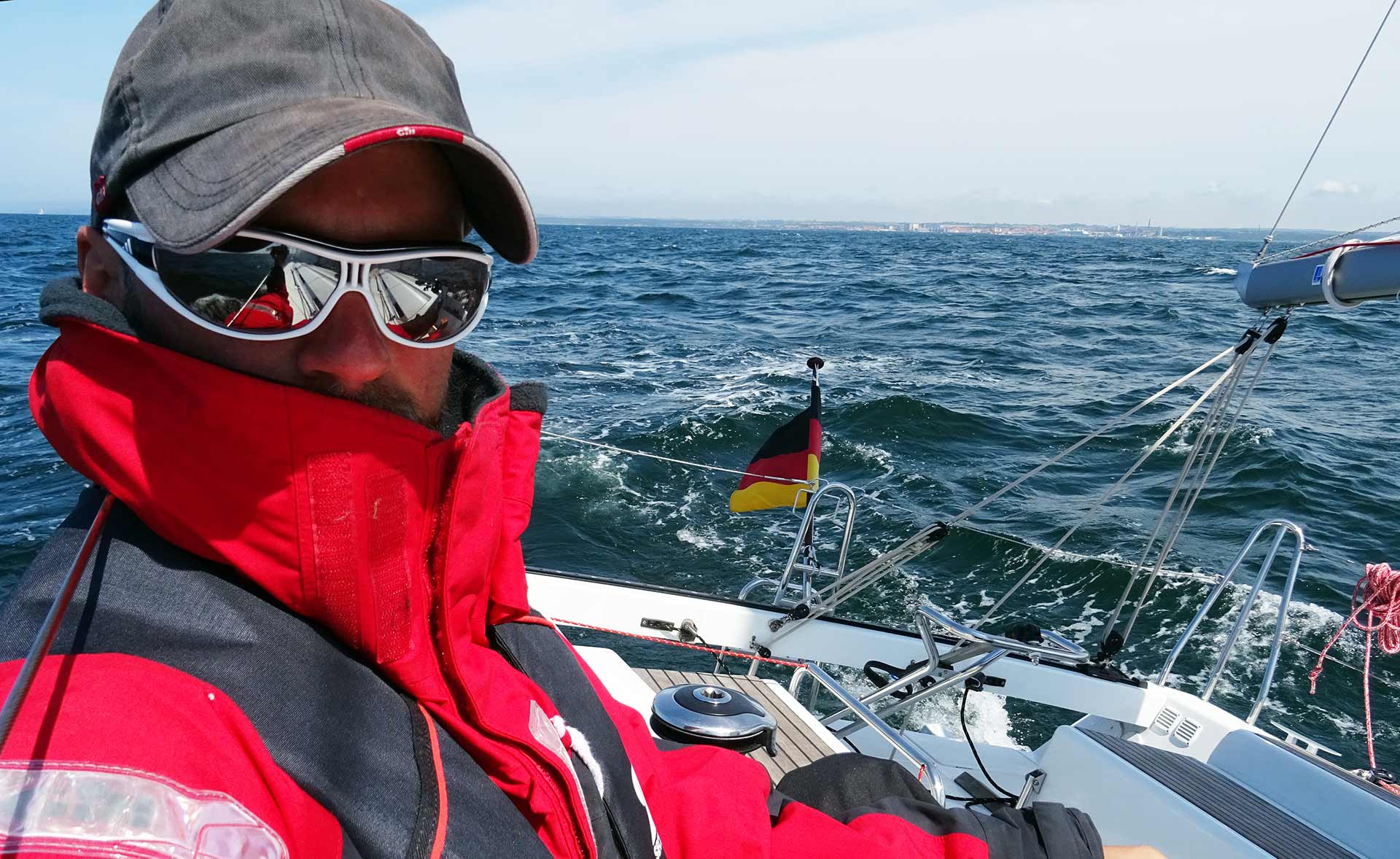 We corrected our course from 200 degrees more West – heading to the German island of Ruegen – which meant going more upwind. It got colder instantly and it was time to dress properly. Going upwind also meant more heeling (and more fun of course) but also much more movement in the boat. And believe me: Waves of some 75 centimetres height do feel like rounding the Horn here in a 9.15 metres yacht …
Perfect Sun: Celestial Navigation Practice
Sailing is a very exciting thing for me. There are always things you have to do even if you´re not steering, then it´s stashing up the lines, getting the sails trimmed, controlling stuff, counting stuff, chartwork, provisions, radio … there´s tons of different things to do. As a skipper, it´s also important to know where you are and where you are going next – navigation.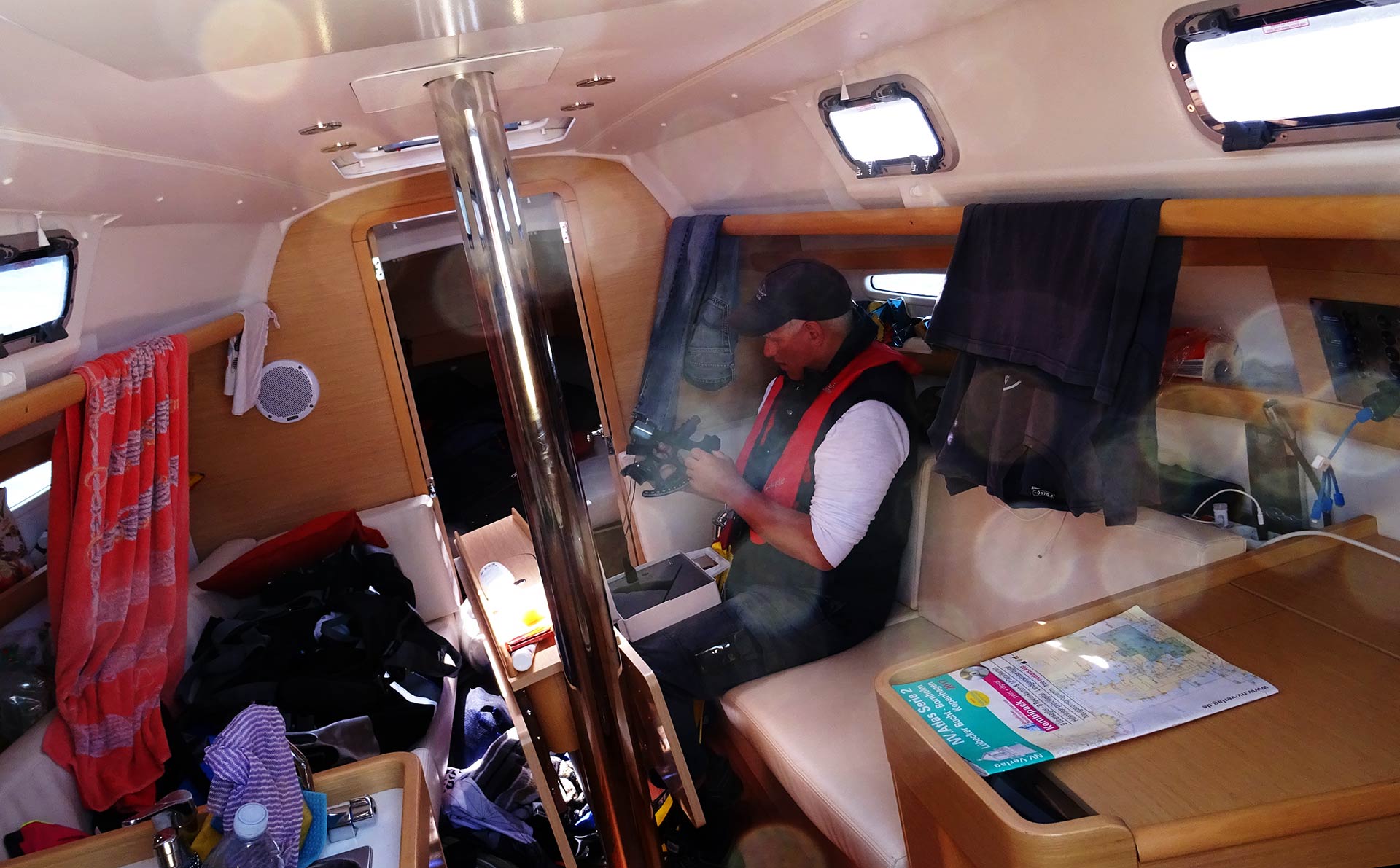 Of course we´ve had present day technology aboard FIRST TRY and this is namely a chart plotter with an electronic chart fed by a GPS antenna receiving real time positions by orbiting satellites with a precision and speed not the best navigator could ever reproduce. With a push of a button the VHF was displaying the current position and this is what I did when I was charting our way every two hours. But there is no excitement about doing so.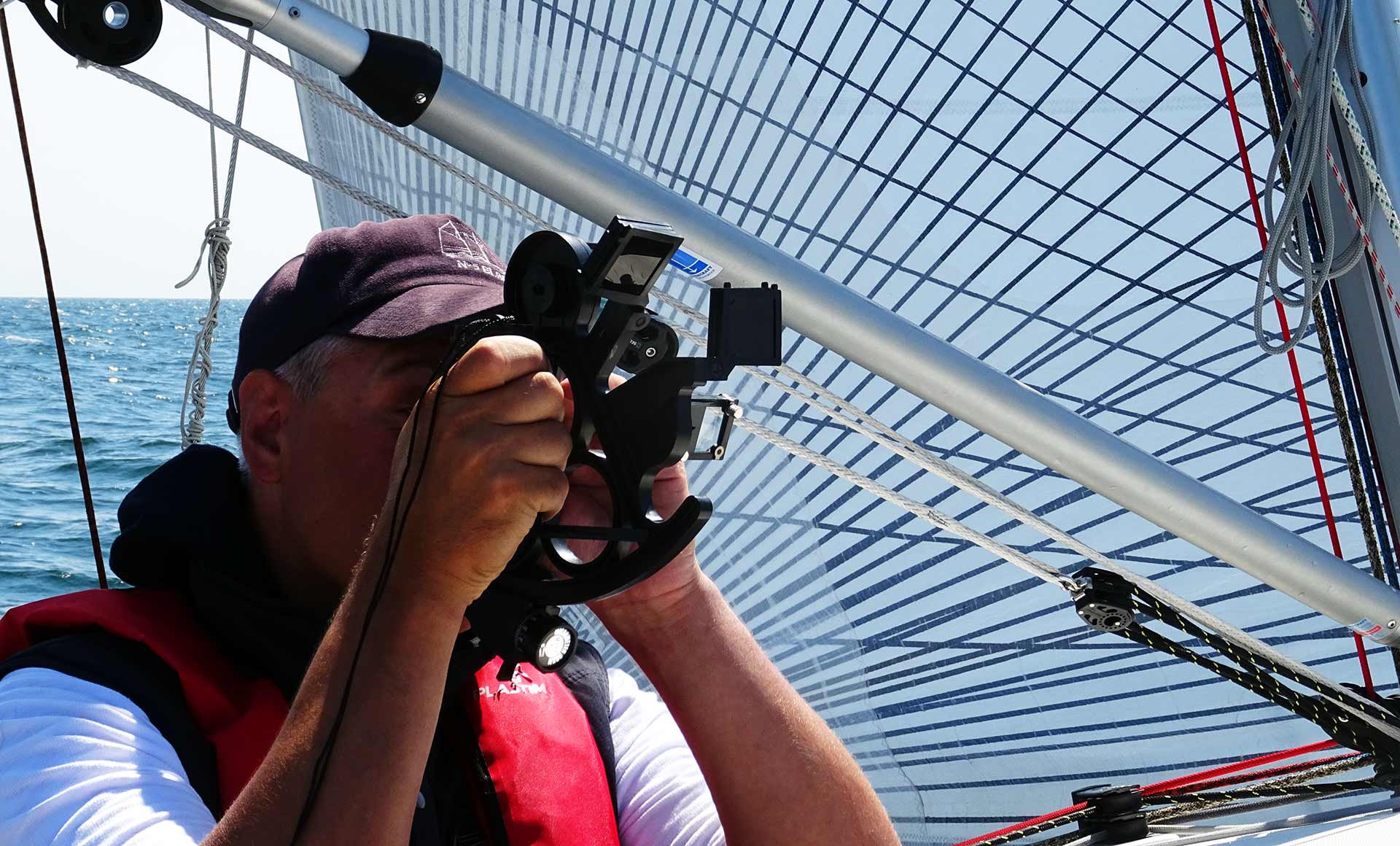 As I am fascinated with everything historical about shipping it´s the story of the chronometer and navigation in general which is drawing my attention. The story behind the invention of such things as the sextant is compelling and I was keen on learning how to do it the old school way. Jens was willing tio share his knowledge and so I brought the sextant to the boat.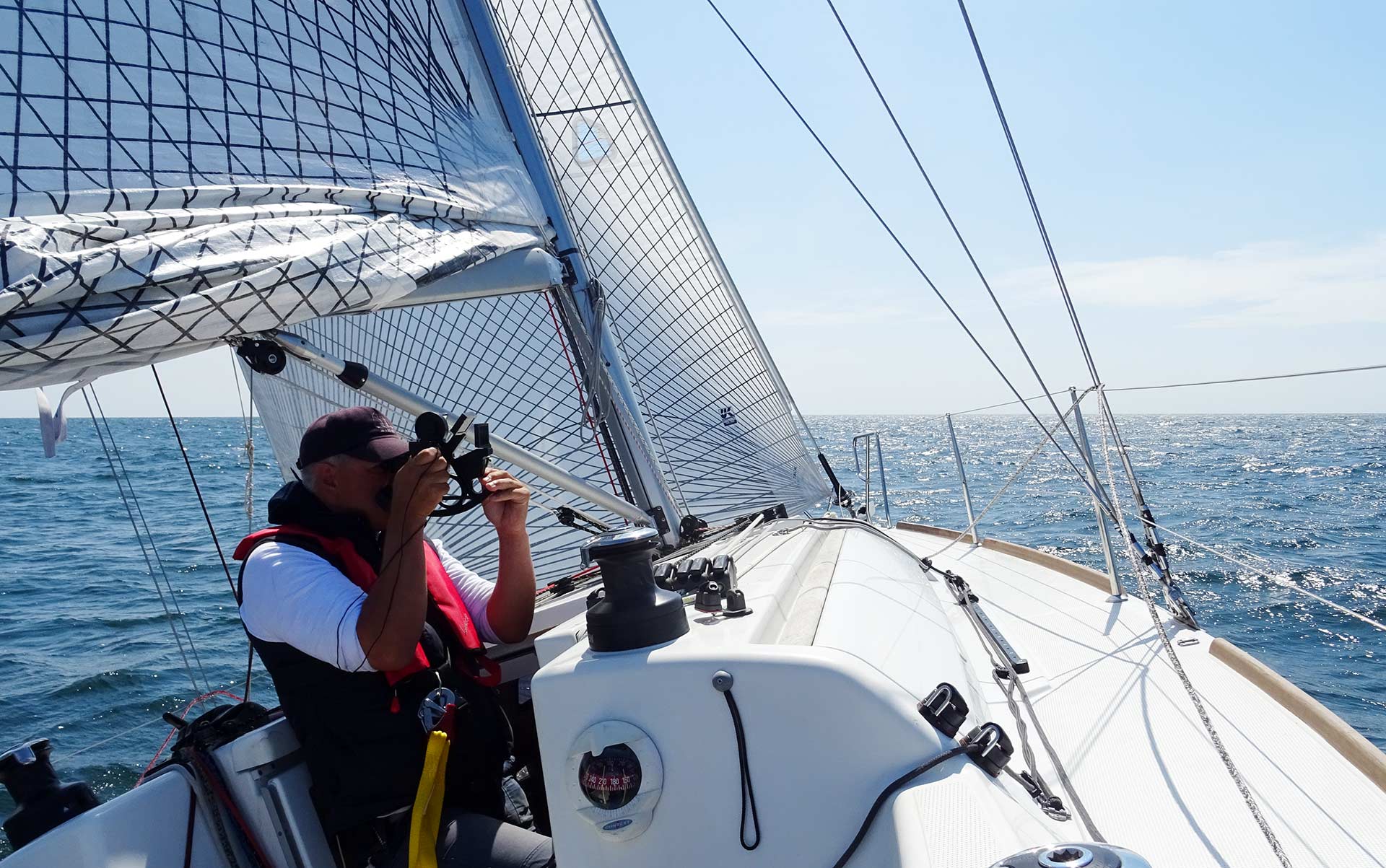 Jens, as a trained skipper of the classic gaff rigged sailing ship ELBE 5 is also trained in celestial navigation. He was bringing the Astronomical Almanac, the HO-tables, a programmable calculator and of course a form to put in all the data to calculate local hour angle and so forth. Well, we planned to do so, but Rasmus didn´t want us to go through it: When there was a clear sky with the opportunity to shoot the sun onto a clear horizon – like now – the swell and rocking of the boat was so hard that a neat exact measurement with the sextant was simply impossible. When the swell was down on the other hand – sky got blocked, sun behind the clouds, no measurement neither. Bad luck here …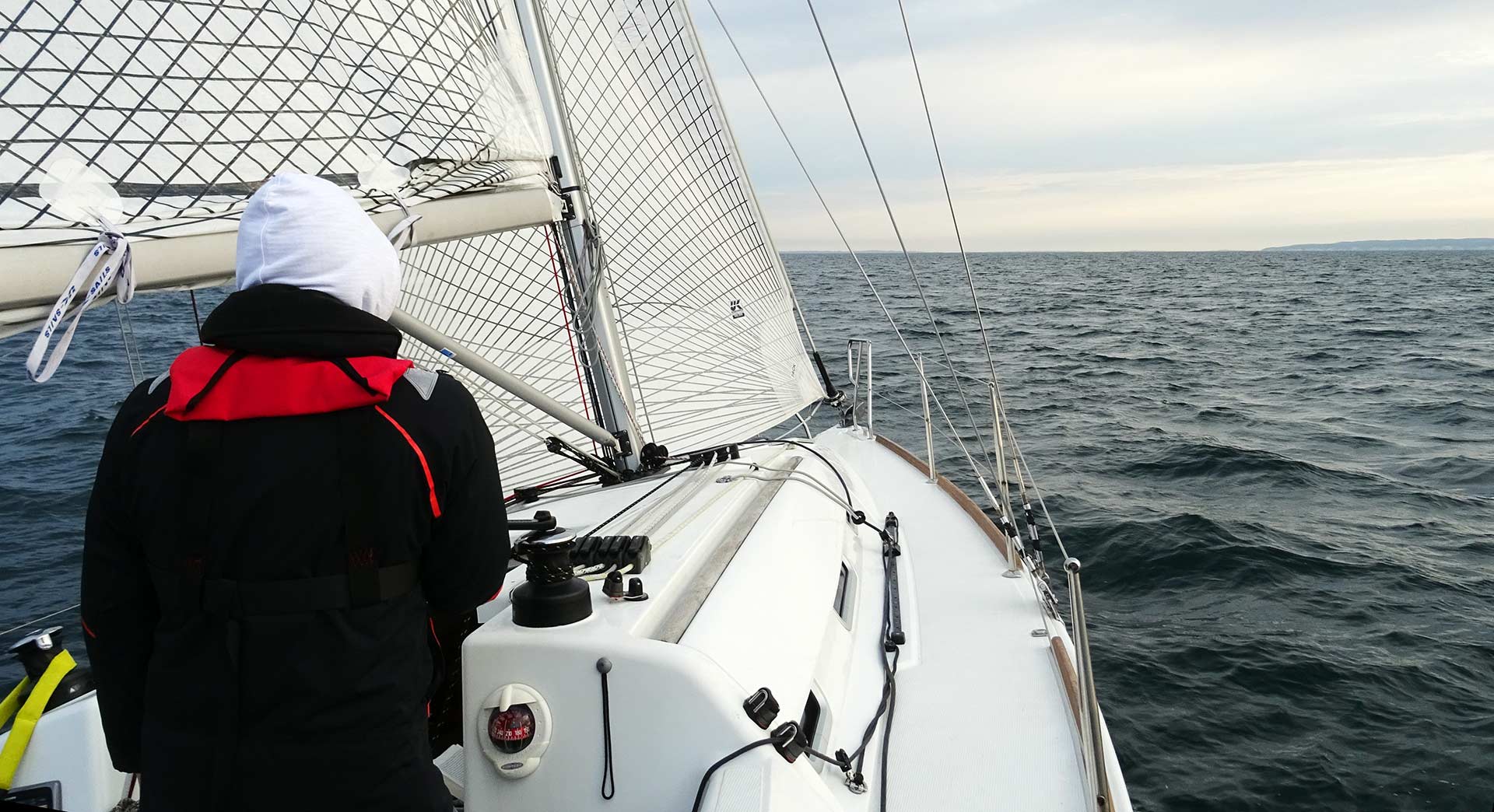 We agreed to take on our class in celestial navigation another time and stashed the instrument back to the locker. Weather worsened in terms of temperatures and where the sun was heating up our bodies right after casting off from Bornholm during the previous hours, I now was lucky to have put on some extra shells of warm clothing. The boat was sprinting down south although wind was easing a bit and we shook off the reef from the sails. Then it all went too quick …
Skipper´s Decisions
Wind died down completely within one hour flat. "What´s going on here?", I was asking my mates, not grasping what kind of weather this is. I´ve never experienced such an unpredictable weather pattern and the fact that even the downloaded GRIB-files from the ZyGRIB-server didn´t predict these shifts. Is it typical Baltic Sea weather with quickly changing characteristics or something special about the current general weather situation.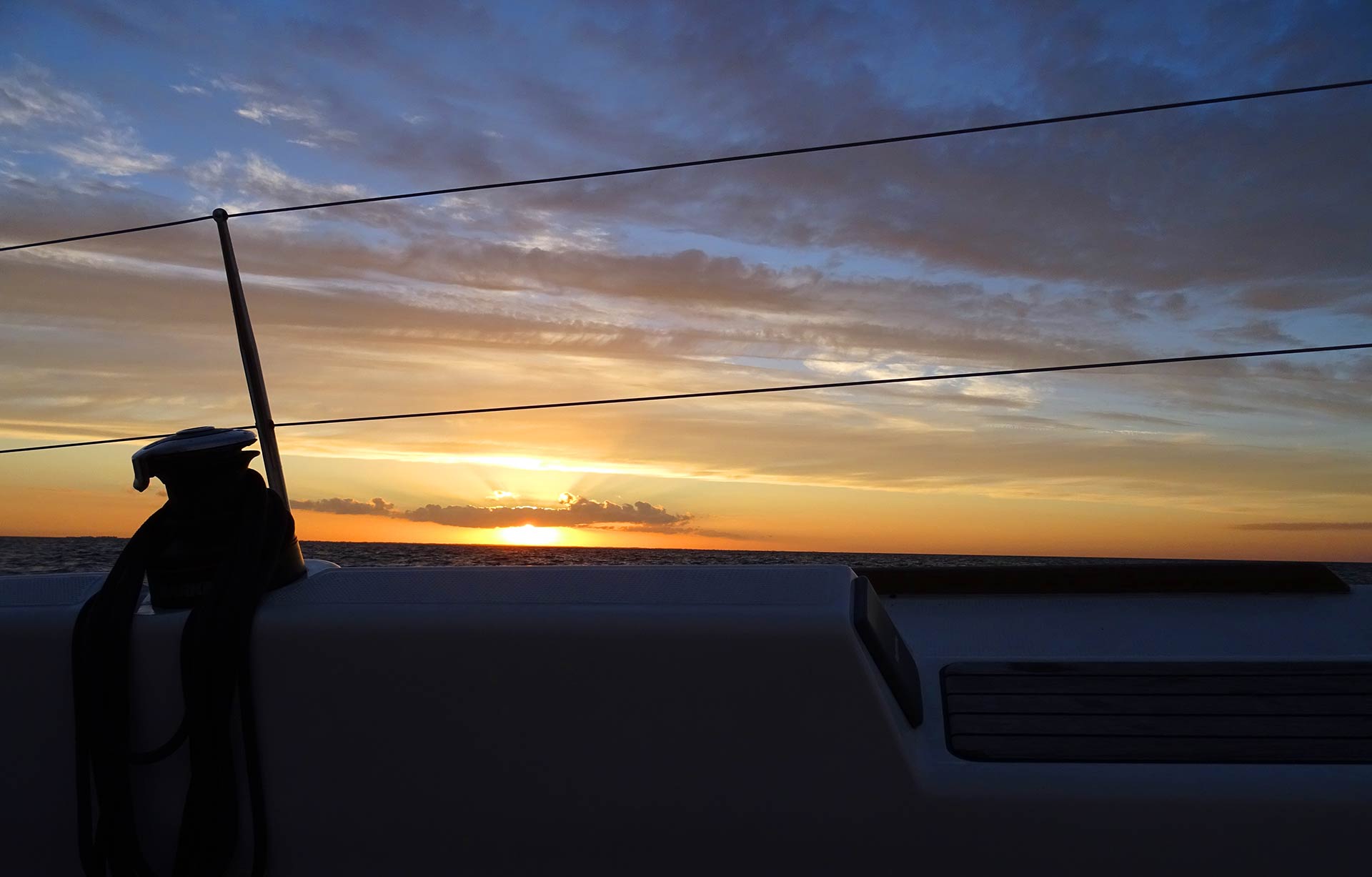 As the sun went down and I was doing the logbook, I checked the facts: 24.75 miles sailed from 12 o´clock until now, 16.10. That´s an average of some 6 miles which I considered a good mileage considering the small boat. Surely, a regatta-crew with more knowledge of this yacht could go faster, but this was a good performance considering the fact that wind was easing in the end and the boat had to go upwind for 2 or 3 hours. Now, as the sun was going down, we started the engine again. Pondering silence was infesting the crew, Lena went to her bunk, I remained at the chart table. Calculating.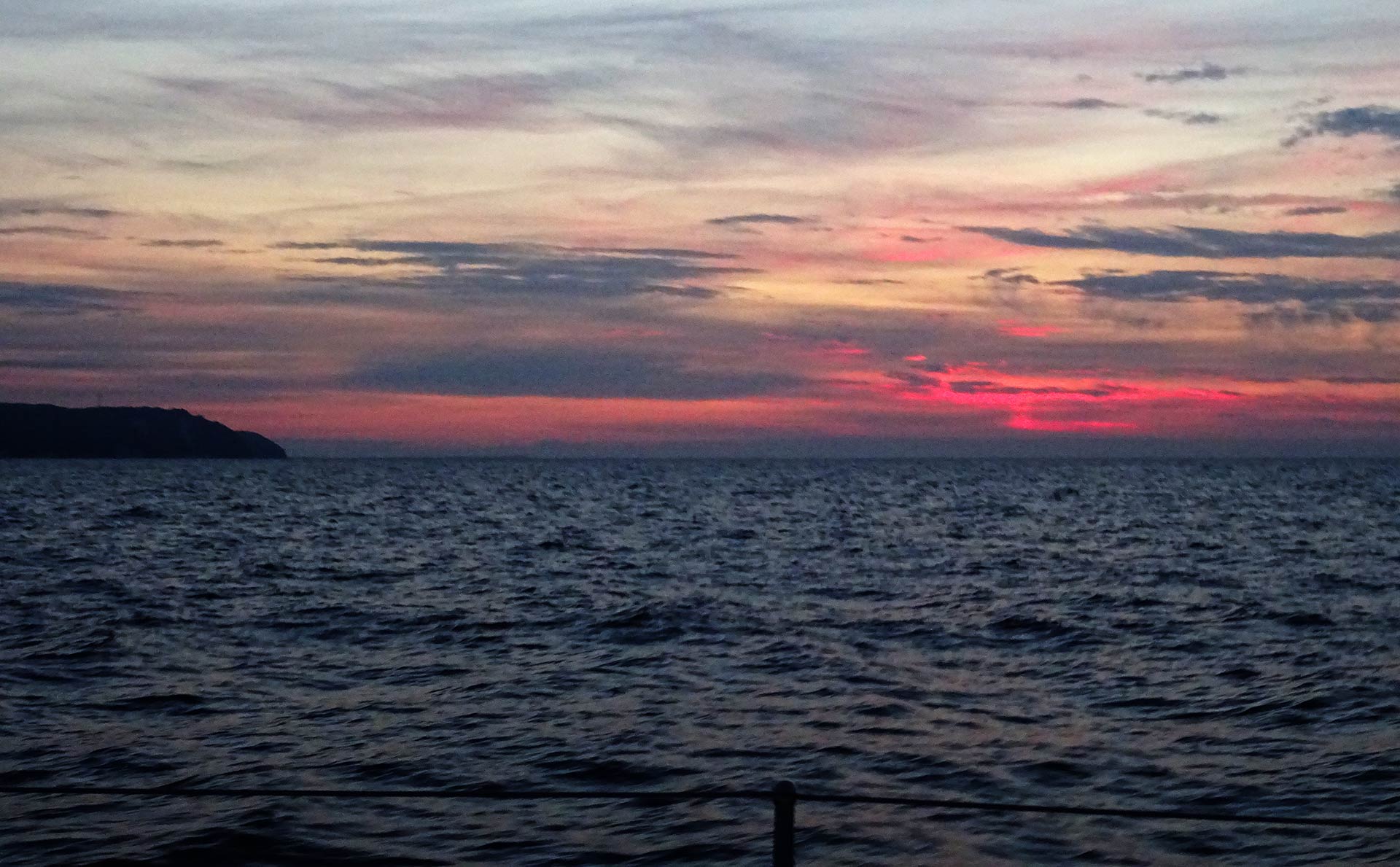 The fuel tank of a Beneteau First 30 can hold 30 litres of Diesel. As we have calculated after having to use the engine for 105 miles up to that point we knew that the small Yanmar would consume around 2 litres per hour when running at 2.000 turns with a speed of some 5 miles depending on wind and waves. That´s a range of 15 hours or some 75 miles. I took the dividers and drew up an imaginary circle on the map, ranging 75 miles. "Jens, come down please!", I called. Decisions had to be made.
Originally I wanted to reach Gedser harbour again as this is around half way to Kiel/Laboe. "See it?", I was showing Jens the situation: From our current position as we had sailed down South with utilizing the wind we would have to go up North-East again for Gedser and the distance was right at the edge of the range of our boat: "That´s some 70 miles to Gedser, I see", he nodded. Within reach. But without any margin of safety. As we didn´t knew if wind was to set in again and we´ve had no other harbour to reach I decided against going do Gedser. We chose a German harbour instead – slightly off course but equipped with a Diesel filling station: Sassnitz on the Island of Ruegen.
At 18.00 with course due West I was still hoping for wind to return: By having the chance of sailing at least 20 or so miles West we would have been able to bring Gedser back into a safely reachable distance, but nothing happened. So we decided to change course once again, round Ruegen´s Cape Arcona to head for the commercial ferry harbour of Sassnitz. Reaching the port at 23.30 after 7 hours of running on Diesel we were simply exhausted and happy to turning off the engine.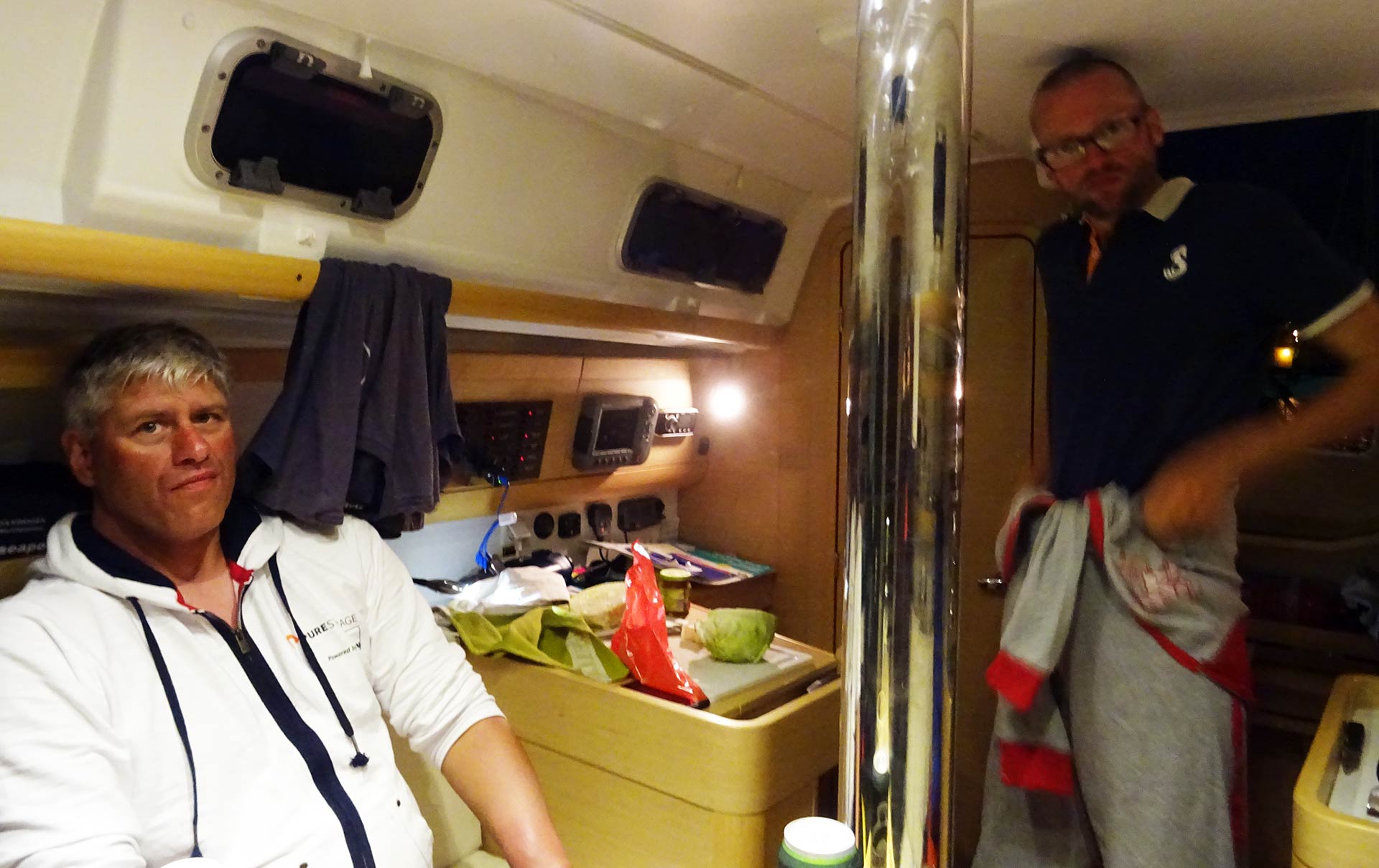 Something bad had happened along this day as well: During the happier sailing times earlier this morning as the waves had gone high, we´ve had some pretty rough riding and the hull was pounding hard in the water. Apparently this was too much for the saloon dining table as we´ve heard one time a big rumble: When we looked down the companionway we saw the table being broken at one of the legs lying down in the saloon. For late night dinner, I jury-rigged it but it was clear that this would be a major repair upon arrival. A quick dinner with rice and vegetable was produced, then we all went to the bunks hoping to find a good night´s sleep.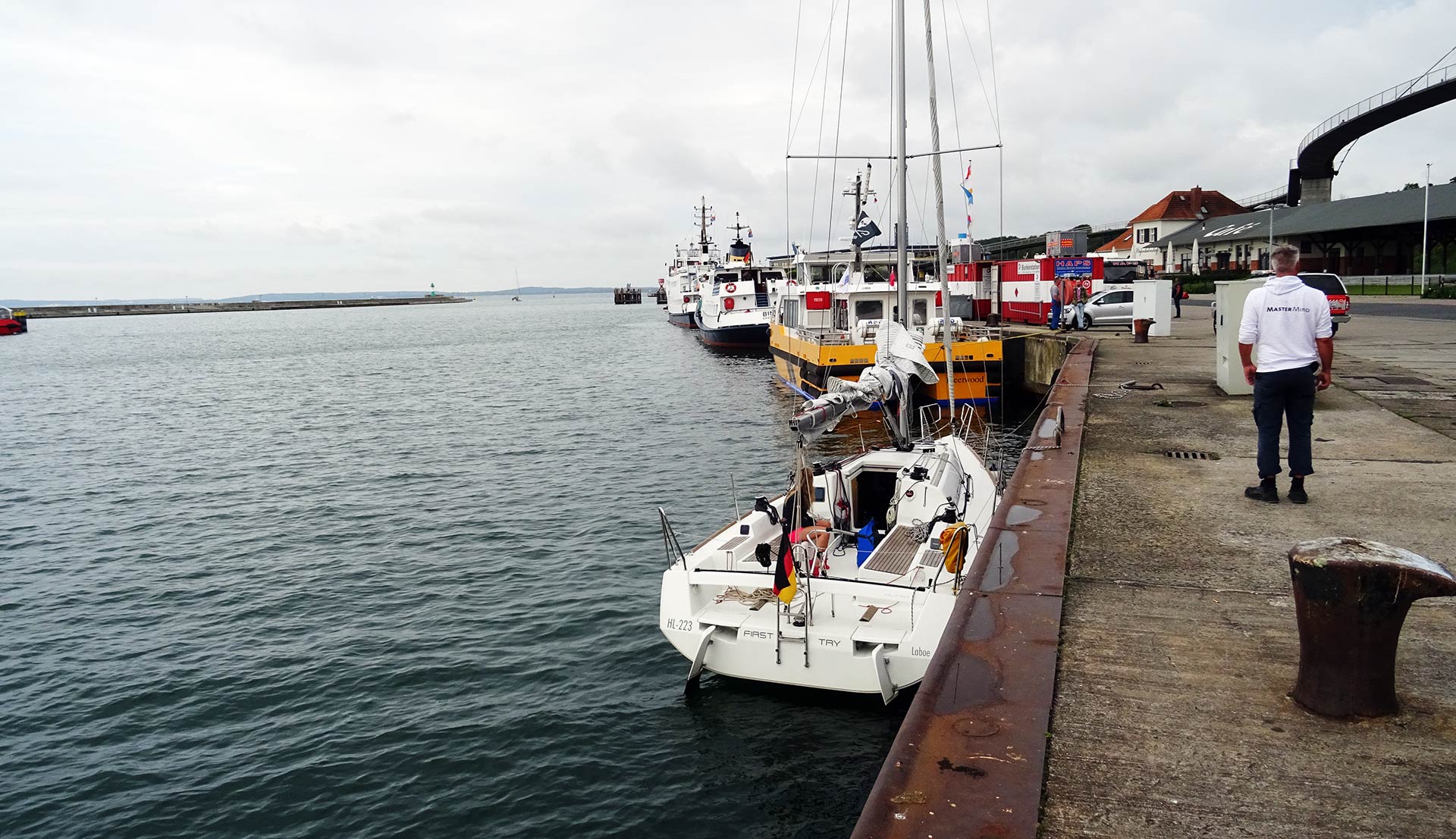 Which we did. Awaking first, as ever, I prepared fresh coffee and a large bowl of scrambled eggs with fried onions. Together with dark bread and butter that´s a thorough seafarer´s breakfast. Casting off from our far-away jetty to the refuelling station we were the first boat of this day to get some fresh Diesel. Filling up the tank and the 10 litre-canister the boat was ready again. The fact that we now had an unplanned stop meant that we´d had to speed up: There was no margin of giving back the boat to the charter company.
This is Sailing too. Tormentant Boredom.
Weather promised nothing good. I must admit, the coming hours, nearly the whole day ahead, had been the most depressing and boring times I ever spent on a boat. The mood was down amongst the crew as we casted off from Sassnitz. Looking up in the sky all the thick grey clouds had been a harbinger of a grey, dull day.
It was no use of hoisting the sails in any case. Putting the engine to a fuel-saving run at 2.000 rpm with some 5 knots, I agreed to take the first shift. Jens and Lena nodded and went down to their bunks to continue their good night´s sleep from early this morning. There simply wasn´t anything to do: The sea was flat as a mirror. Water dull as lead. Drizzling rain set in. Wonderful.
I cheered up myself. At least I tried. As we were passing the so called "Kaiserstuhl", the iconic chalk rock cliff Ruegen is most famous for, I remembered being here taking a good hour´s walk with my then pregnant wife some 4 years ago. I smiled: This was the last time I was here standing there, some 80 metres above sea level wandering through the thick green lush forest and peeking out to the sea watching the yachts go by. Now I am on a yacht trying to imagine what it would be like to take a walk over there. Crazy world …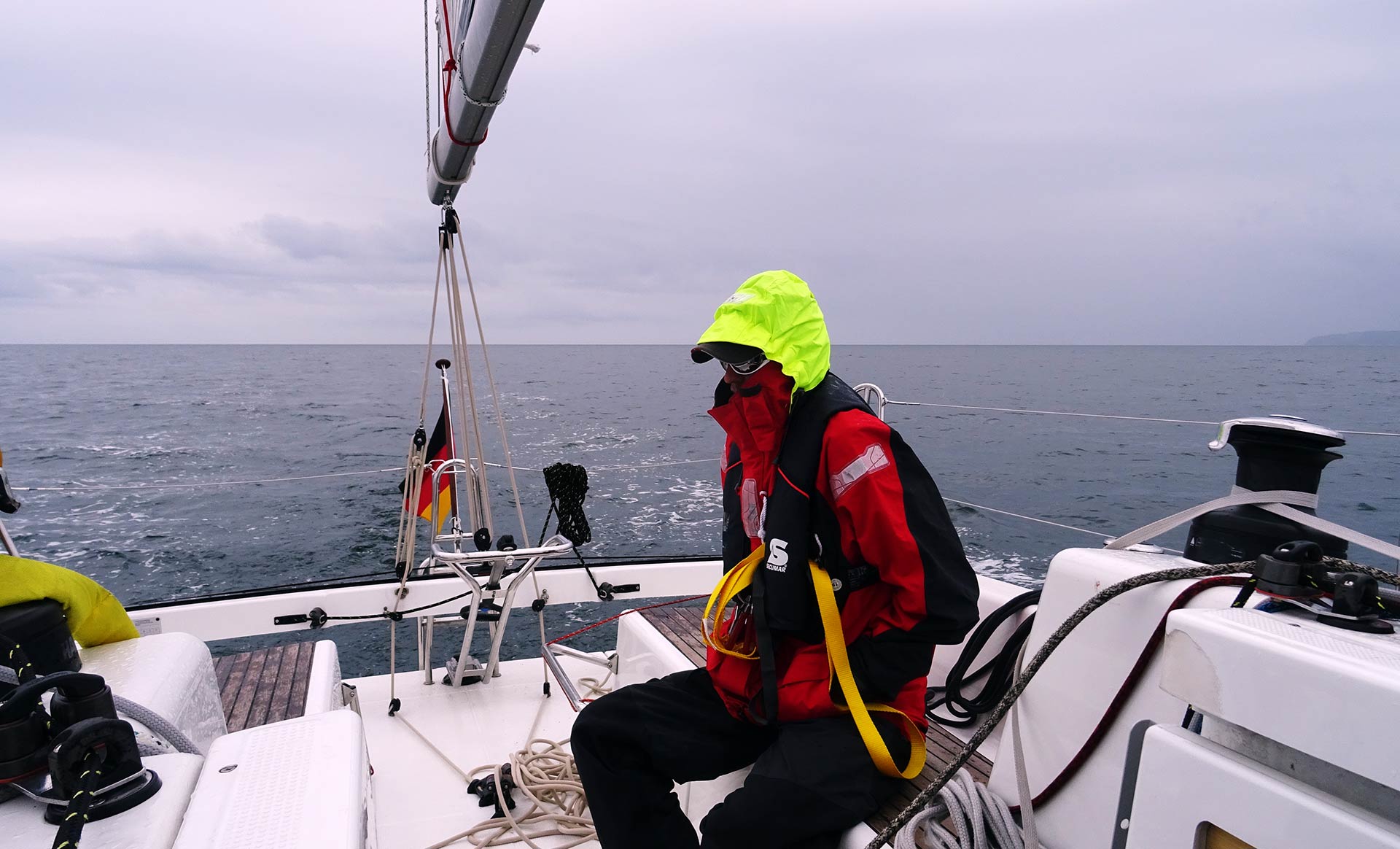 The drizzle developed into full rain. Temperatures dropped further. It´s the perfect situation to have oneself congratulated in having spent this fortune on good foul weather gear that holds your body dry and warm: It simply wasn´t uncomfortable to be out here in the rain – it was just bothering me that I was on a sailing boat not being allowed to sail. To beat time, I developed a routine for my shift.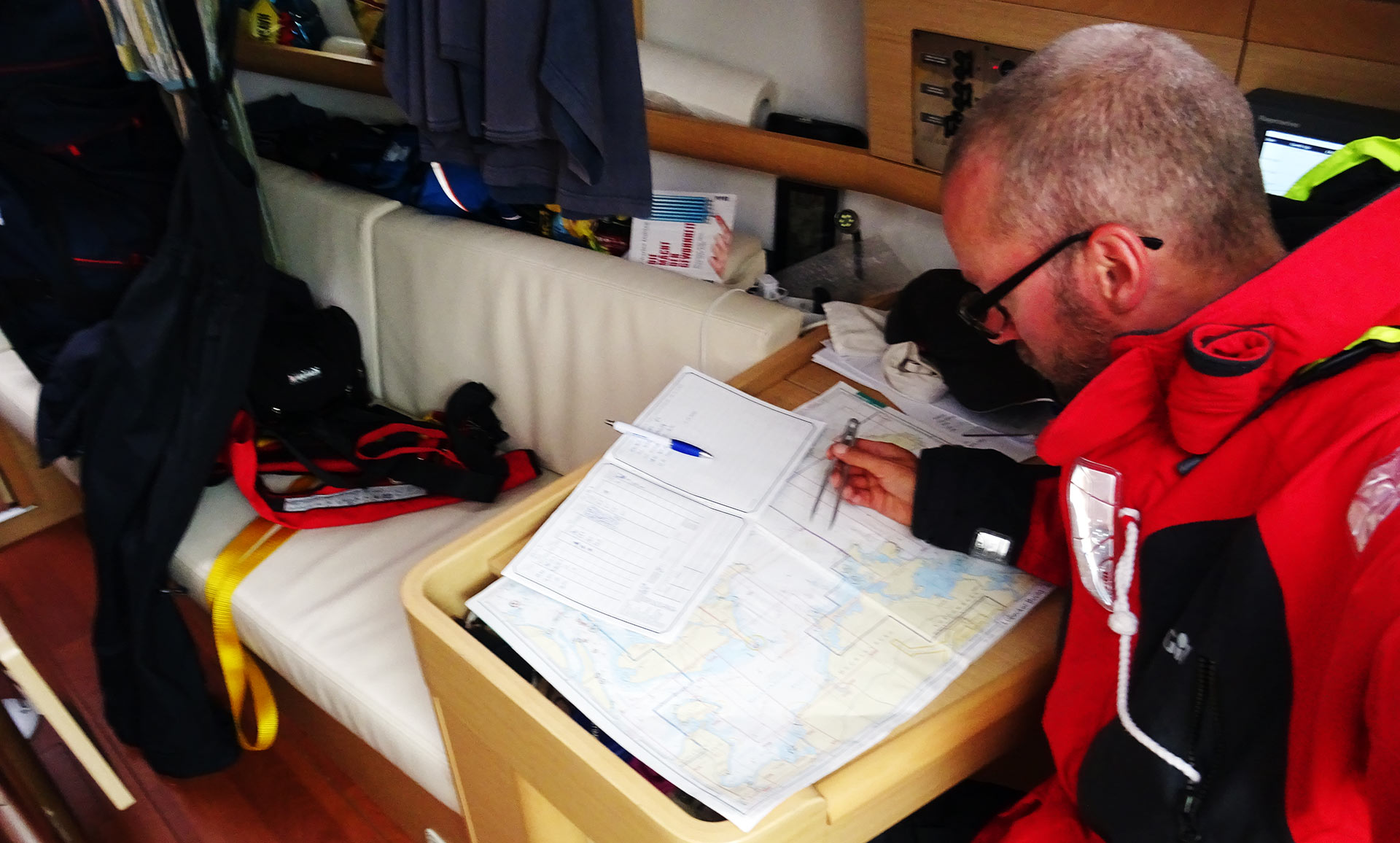 Most of the time – as there was simply not a single other vessel out here – I was sitting below deck at the chart table. Stretching my legs and closing my eyes for a couple of minutes I tried to calm down and relax as much as I could. Checking our position by quickly transferring it from VHF to the chart. Then, every 15 minutes or so, I went to the cockpit.
As the downpour from the rain got even worse, I just poked my head out of the entryway standing on the (still jury rigged) companionway, taking a thorough 360 degree sight for possible other vessels and another, more elaborate check of the area ahead of the boat checking for vessels, obstacles or floating stuff – sometimes with the help of the binoculars – and then got down again to the chart table. Another 15 minutes of closing my eyes.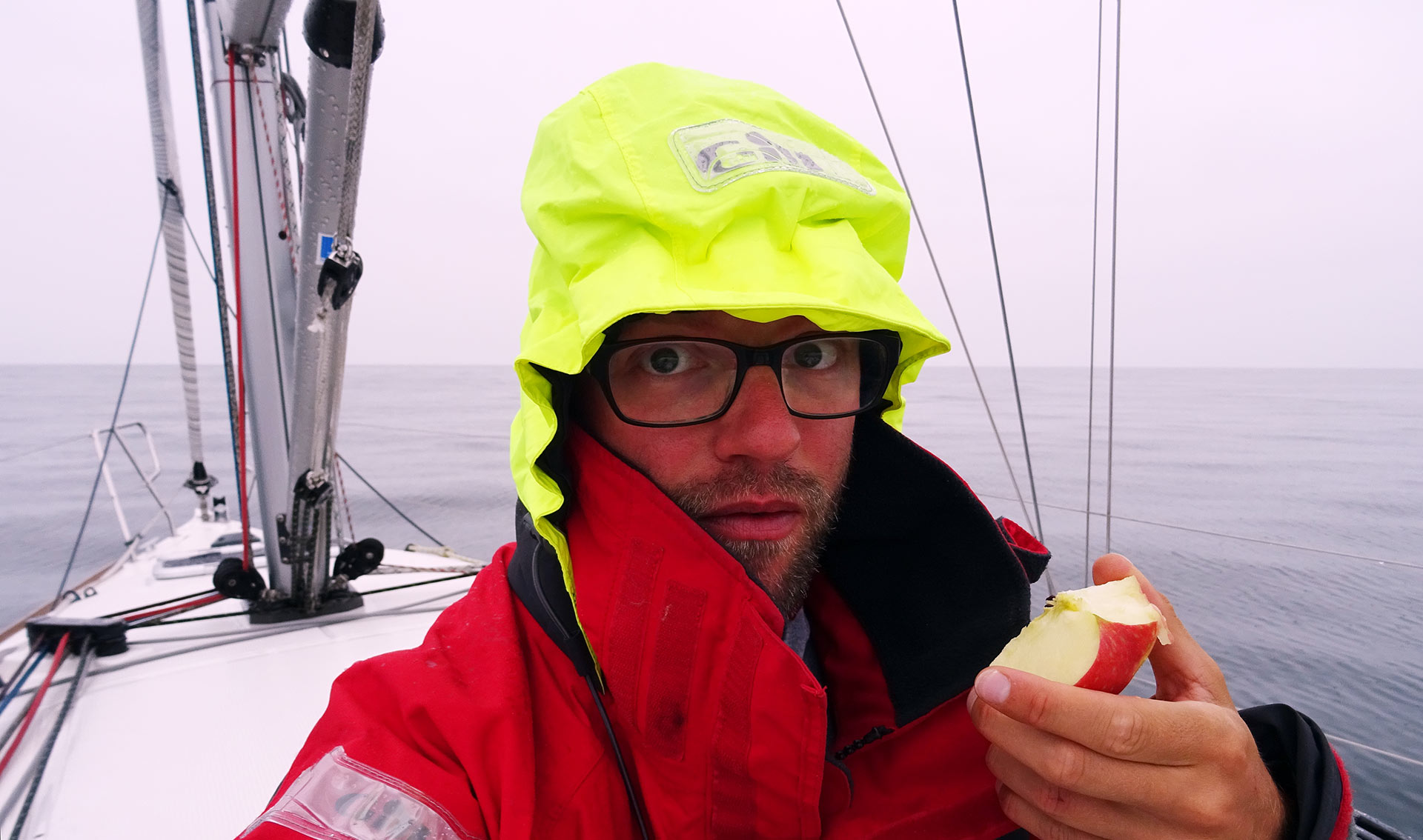 Sometimes it was so boring, that I needed to "walk" around a bit which I did in the spacious cockpit, chewing an apple (what a sweet treat!) and humming a song or two against the boredom. Today, I was sure, was the most depressing day of them all. We are in July, in the midst of summer, and there´s no sun, no warmth, no wind, no fun. This whole day was just as grey as grey could get. Awful!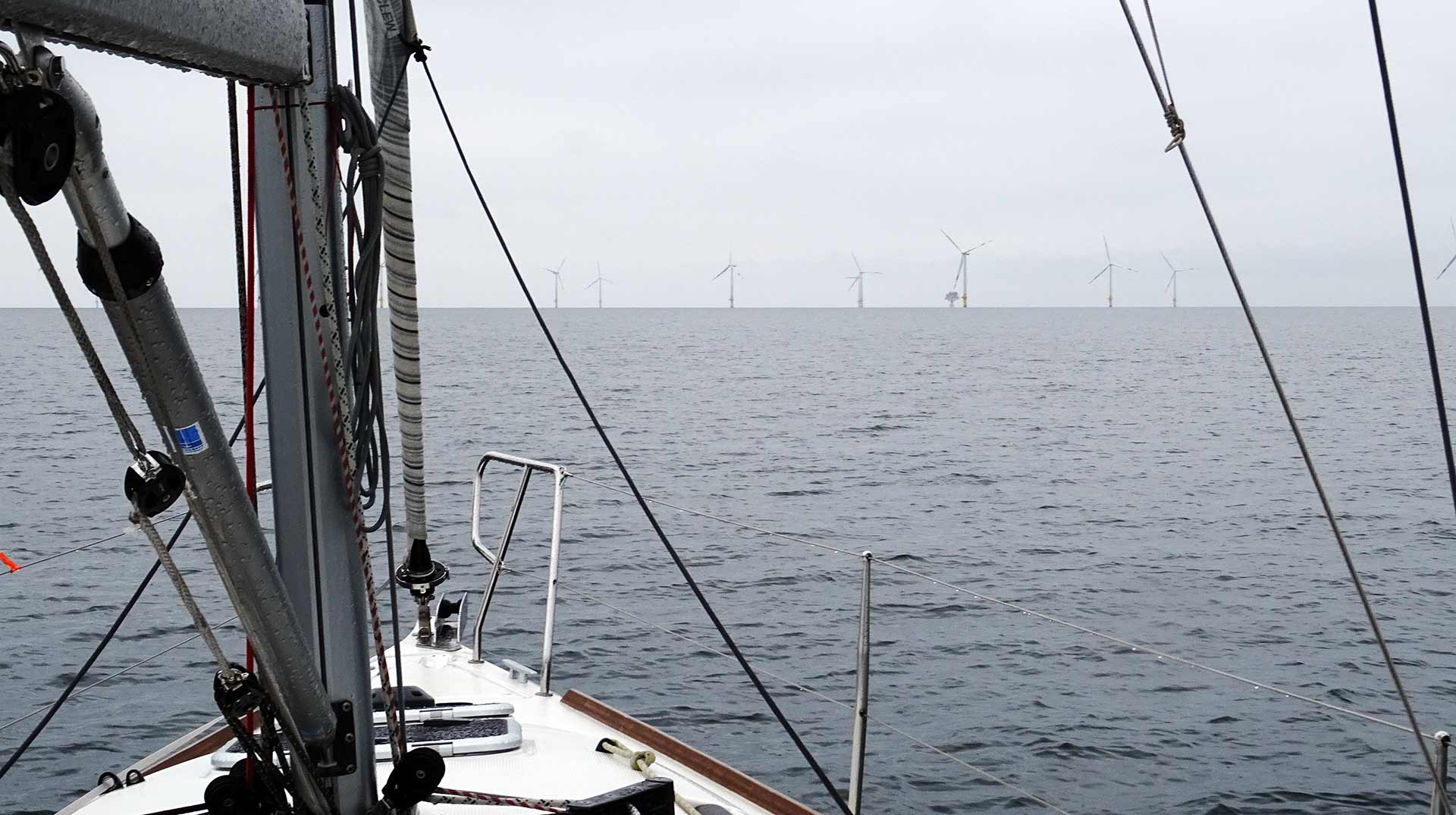 When Lena got up to report for her shift, I handed over the boat to her just one mile away from another offshore wind park. "Don´t we want go around it?", she was asking. "No, the chart says it´s permitted to go right through it and I want to save every damn mile and avoid any detour today.", I decided. So she got the fun of steering the yacht right through these giants.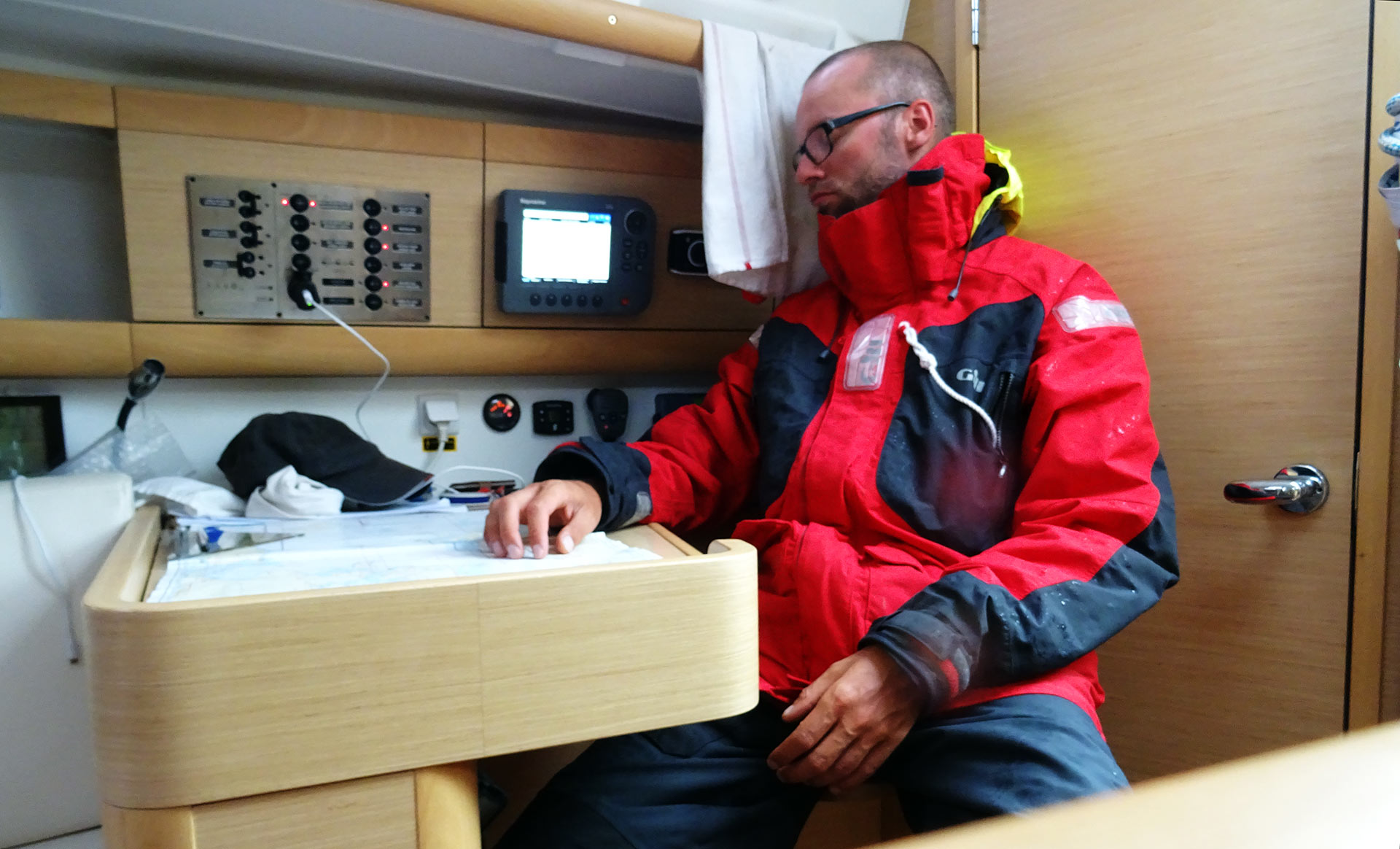 I remained clothed and at the chart table as I originally wanted to be up to watch these giant wind mills passing by (I love the sound they are making, but anyway, today as there was no wind at all no sound would be emitted of course) but when I was falling seriously at sleep whilst sitting at the chart table I decided to put myself to the bunk as well and skipped the pleasure of watching the huge windmills.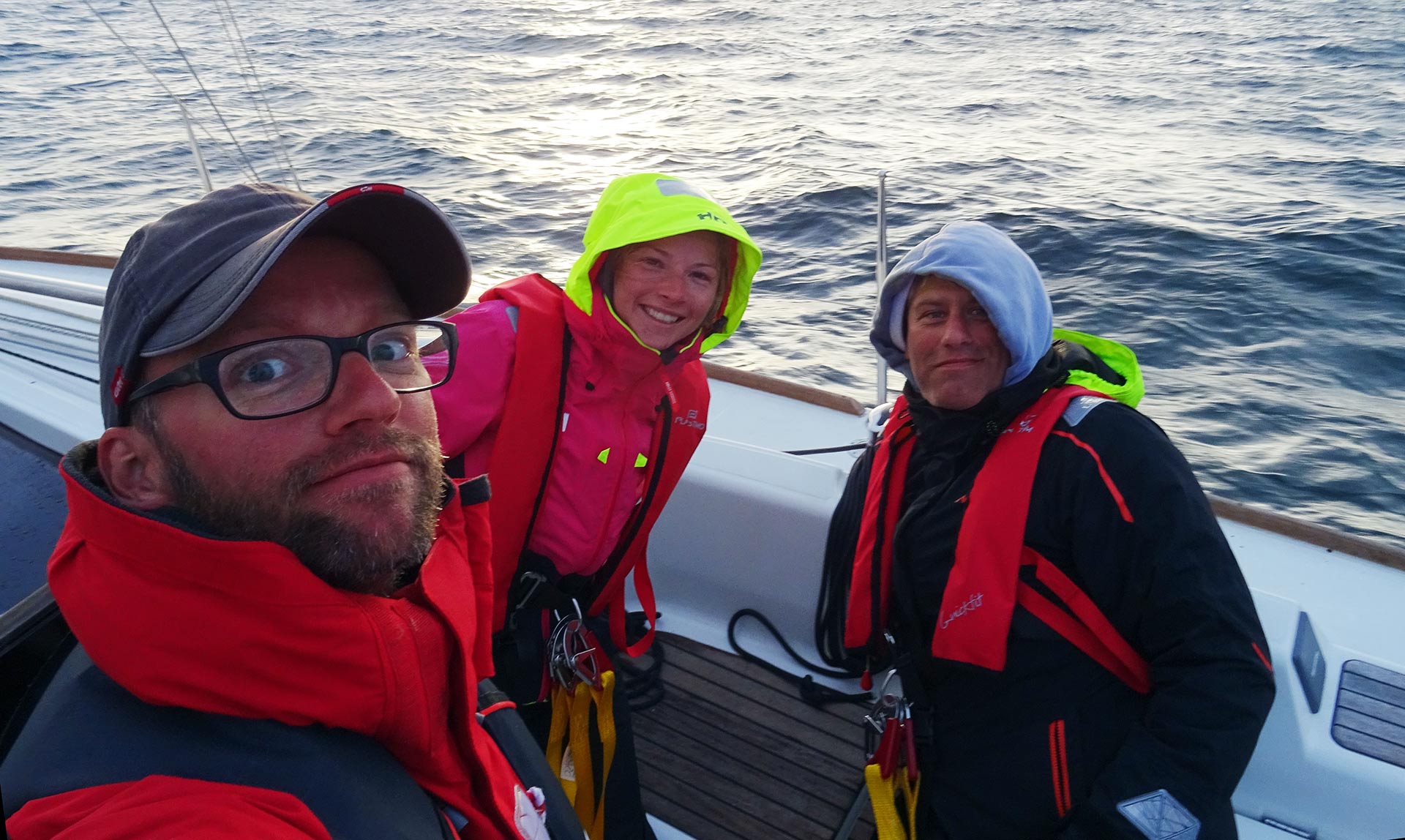 When I got up and back into the cockpit again it was Jens´ shift already and I was woken up by the clank of blocks on the deck: Are they bringing up the sails again? Yeah, they did! Engine was killed and the boat laid aside, we were sailing again! What a joy! I jumped into the clothing and though I was still well into my off-duty and would have slept for another hour, I joined them two in the cockpit to see our yacht sailing again. What a pleasure!
Hoisting Sails again!
At least, this day´s end promised to make up for all the boredom. It was going to make up for it threefold and we didn´t knew it yet. At first we just had been lucky to being able to be underway driven by the power of the wind again and that made us very happy of course. I went down below and checked our position: We had been rounding Ruegen completely and passed the windpark, Gedser was still some 30 miles away but we´ve had stiff breeze – let´s rock and roll!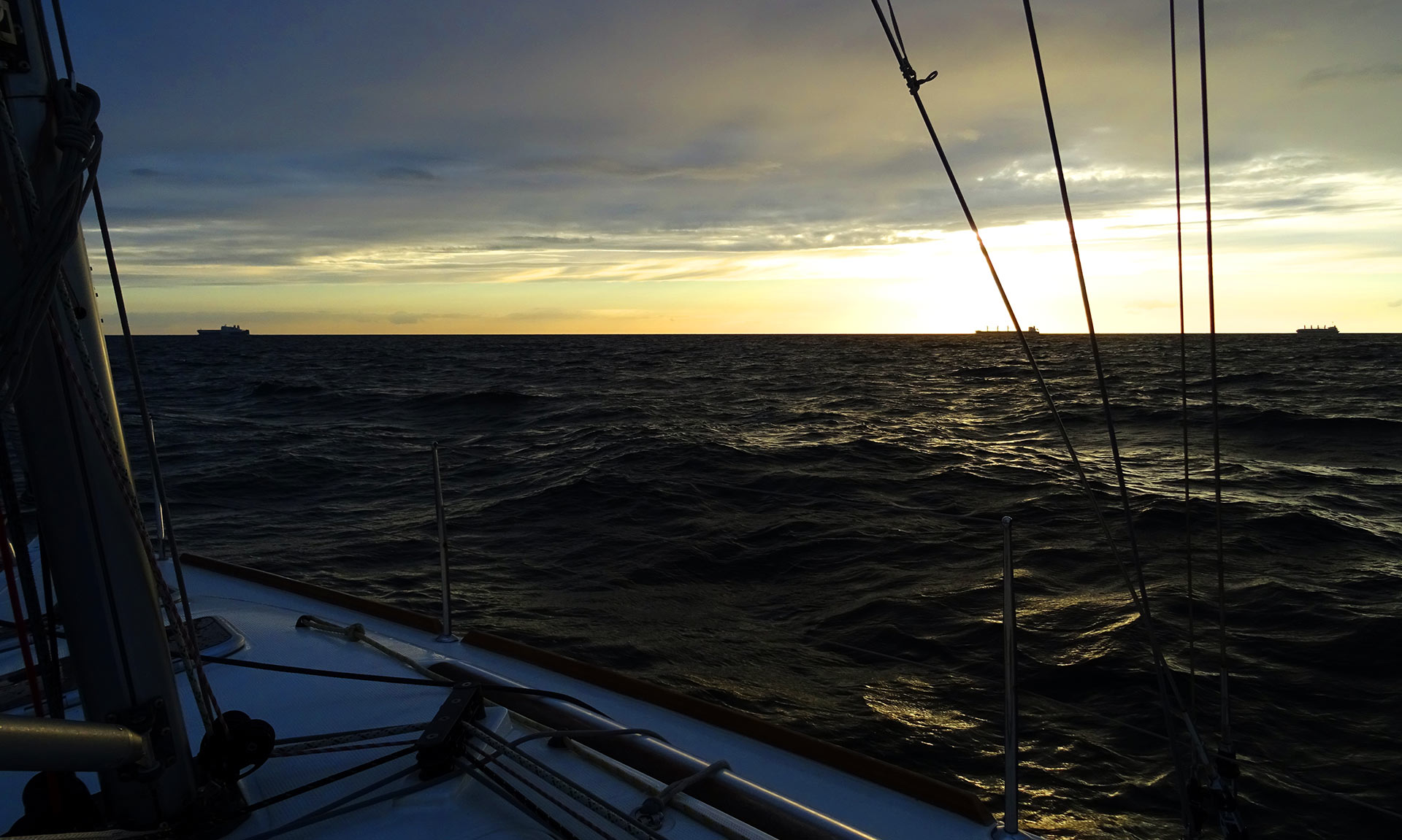 Wind was blowing directly from due West and going upwind, as we already knew, was not the real specialty of the Beneteau First 30. Nevertheless, we were putting here as high up to the wind as we could to stay upwind and not lose any height. "The TSS is just ahead", I pointed to the horizon and just as if I had ordered it, a number of large commercial freighters lined up like on a rope of pearls: "That´s going to be fun!"
Crossing a traffic separation scheme as a small sailing yacht should be avoided at any time, we knew that of course. But you cannot always avoid it like crossing streets on dry land. So, if you have to – it is said in the books – you should cross it rectangular to the traffic lanes on the shortest possible distance. As I said, this is in theory and how we´ve learned it during sailing school certification. But reality is different.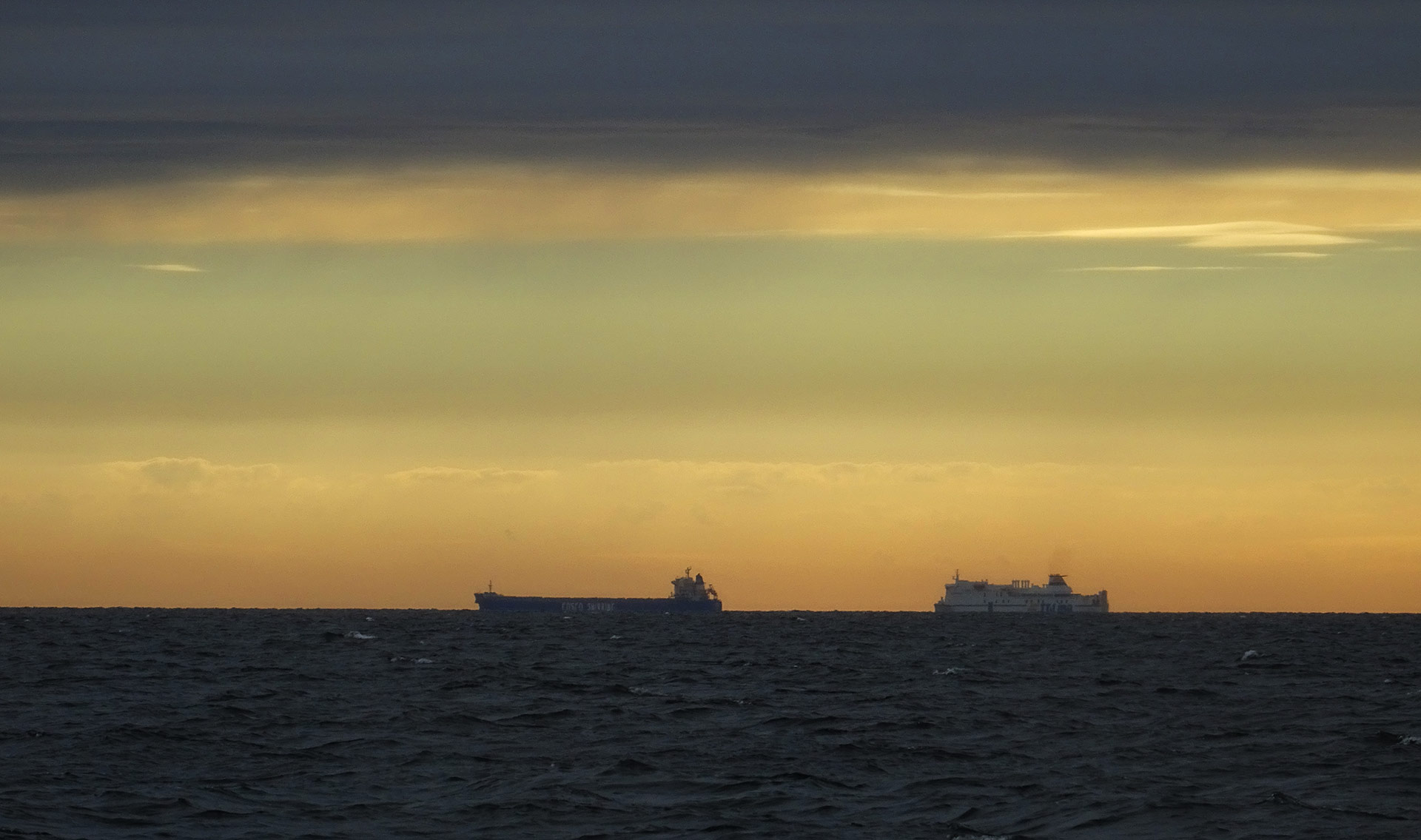 The situation analysis was as followed: Wind further stiffening from due West. After putting in the second reef and also reefing the Genoa, the boat was still heeling quite a lot, waves did build up and movements got increasingly violent. Sun was going down and it would be completely dark within the coming two hours. There were 7 ships approaching from the West, steaming against swell and wind, a single tanker from East in the opposite direction. As we were making steady fast progress with some 6 knots we would have crossed the lane of the tanker in Eastern direction with sufficient distance just before him. What was disturbing was the situation right ahead: Standing bearing on 7 large commercial ships.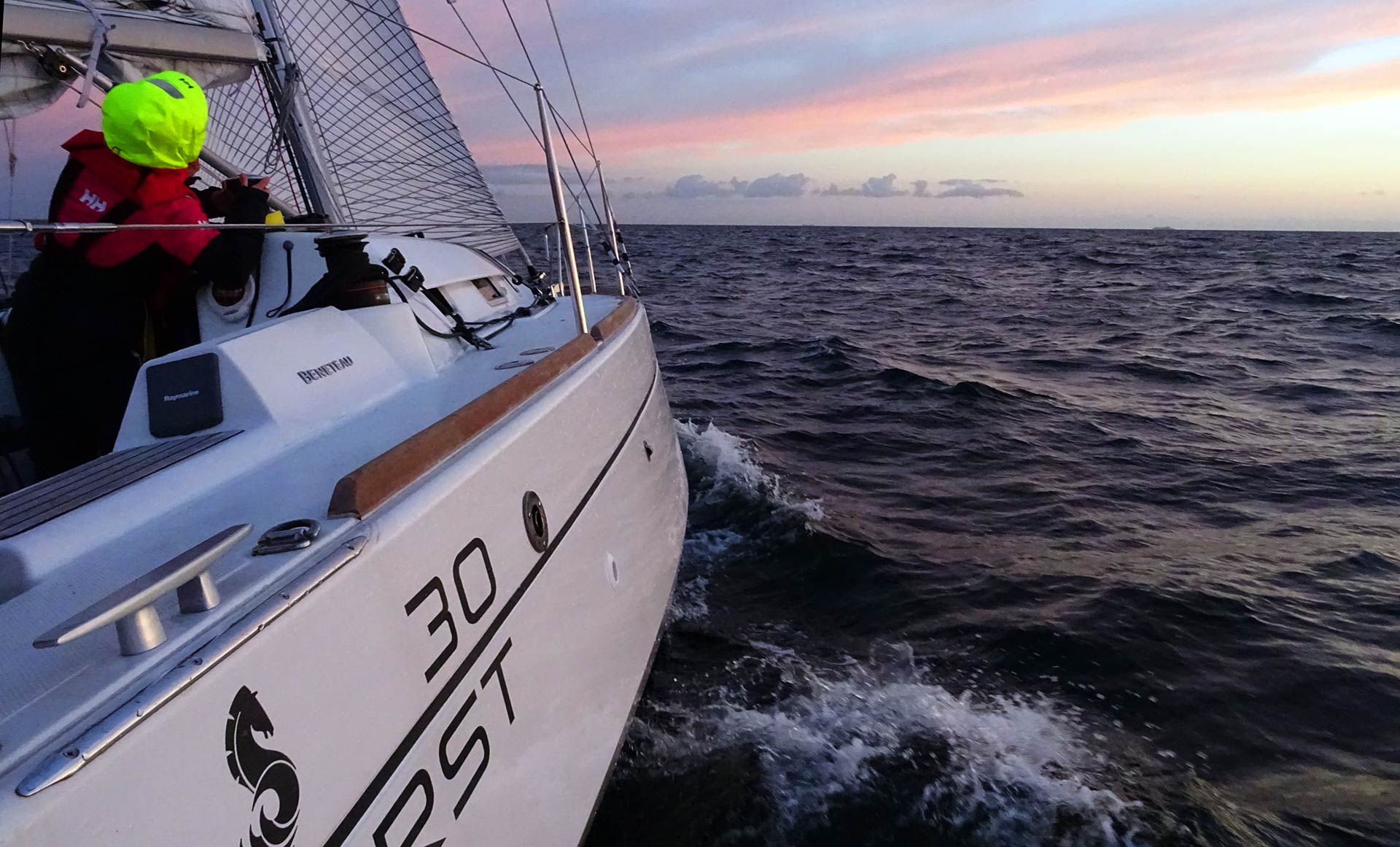 Normally, we would have had to take down sails, firing up the engine and gone rectangularly through the TSS-lane. In doing so, we would have had to either pass between the ships very fast and narrowly without any margin of error or just doing circles outside the TSS lane to wait for the traffic to pass. I decided to do something else: "Ready to tack!" Not starting the engine, we tacked before the traffic and sailed for 10 minutes right contrarious to the TSS-direction. The ships passed in a considerable distance very quickly. When we´ve had the last ship right abeam, we tacked again to the old course and went through the separation scheme after the big boys. What a nice maneuver.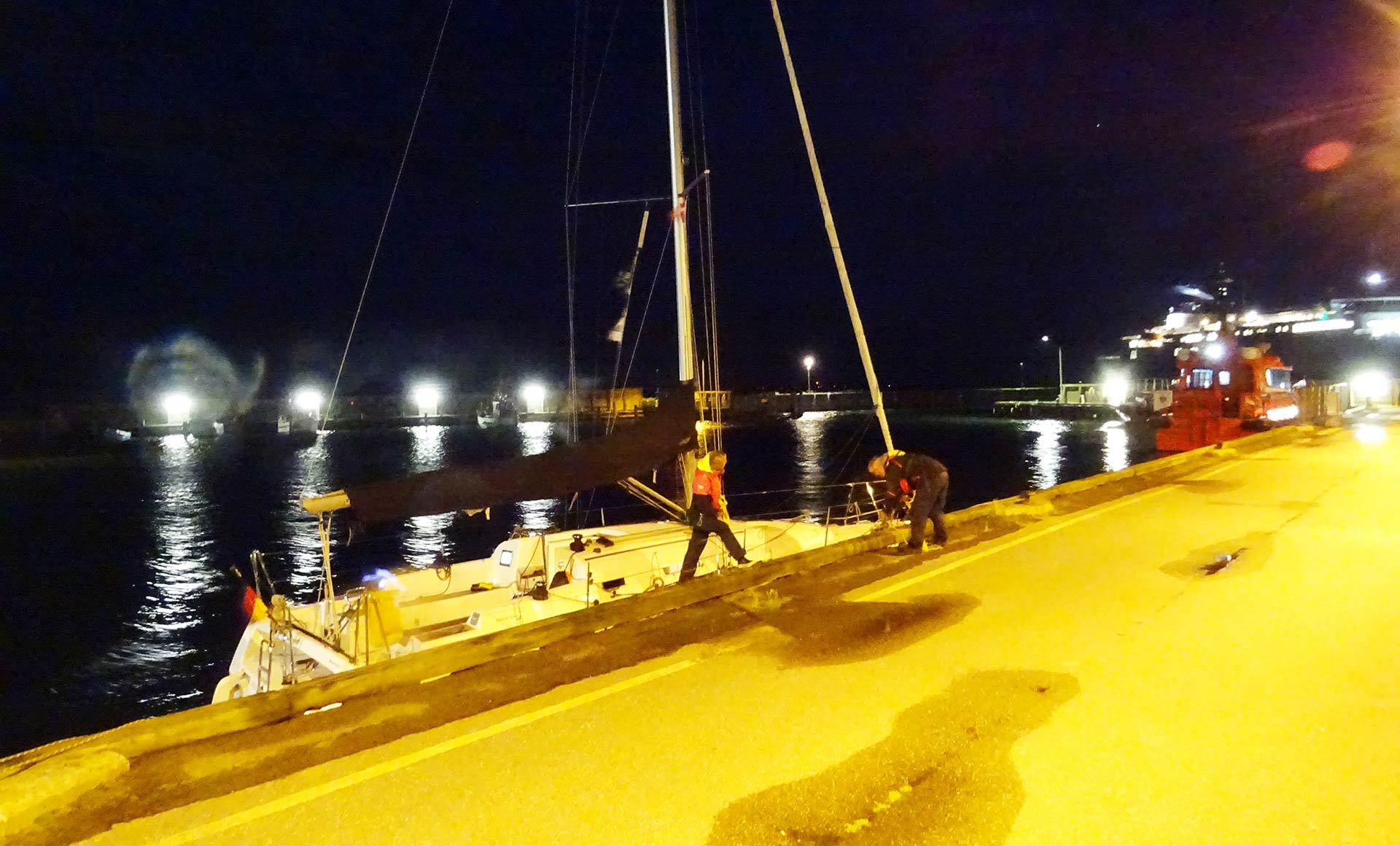 "Gedser Marina is too dangerous now!", I informed my crew mates. I was here some weeks before and found the fairway to the marina was – apart from the fact that the buoys are not illuminated – to be very, very narrow. "There´s a very neat fairway, depths go as shallow as 0.5 metres right next to the fairway and there´s said to be a strong current when winds blow that strong – no way!", I decided. Gedser has a small commercial fishing harbor that can be used by yachts in times of foul weather: "This is where we ought to land the boat!"
And so we did.
A different perspective of Gedser Harbor
We were able to tie up the yacht as late as 12 p.m. in the midst of a Force 6 gust. Wind was blowing like hell and bringing the yacht up the fairway to Gedser (with engine power) was a nightmare I must admit. As slowly as 3 knots over ground due to the pressure of the wind and the high seas – it took two full hours after taking down sails for the boat to finally enter the harbor. Landing as well was a messed up too – I think due to the fact that we were exhausted and tired. After bringing the boat (against the wind) alongside the mole, Jens jumped to land with both lines but failed to tie up the aft line. Holding the boat with the bow tied up, the stern drifted away. It took us 10 minutes to hold her steady in the wind, tie two ropes together on the aft-clamp, throw the lines to Jens ashore so that he could pull the stern back to the mole. We went to the bunks straight ahead without dinner …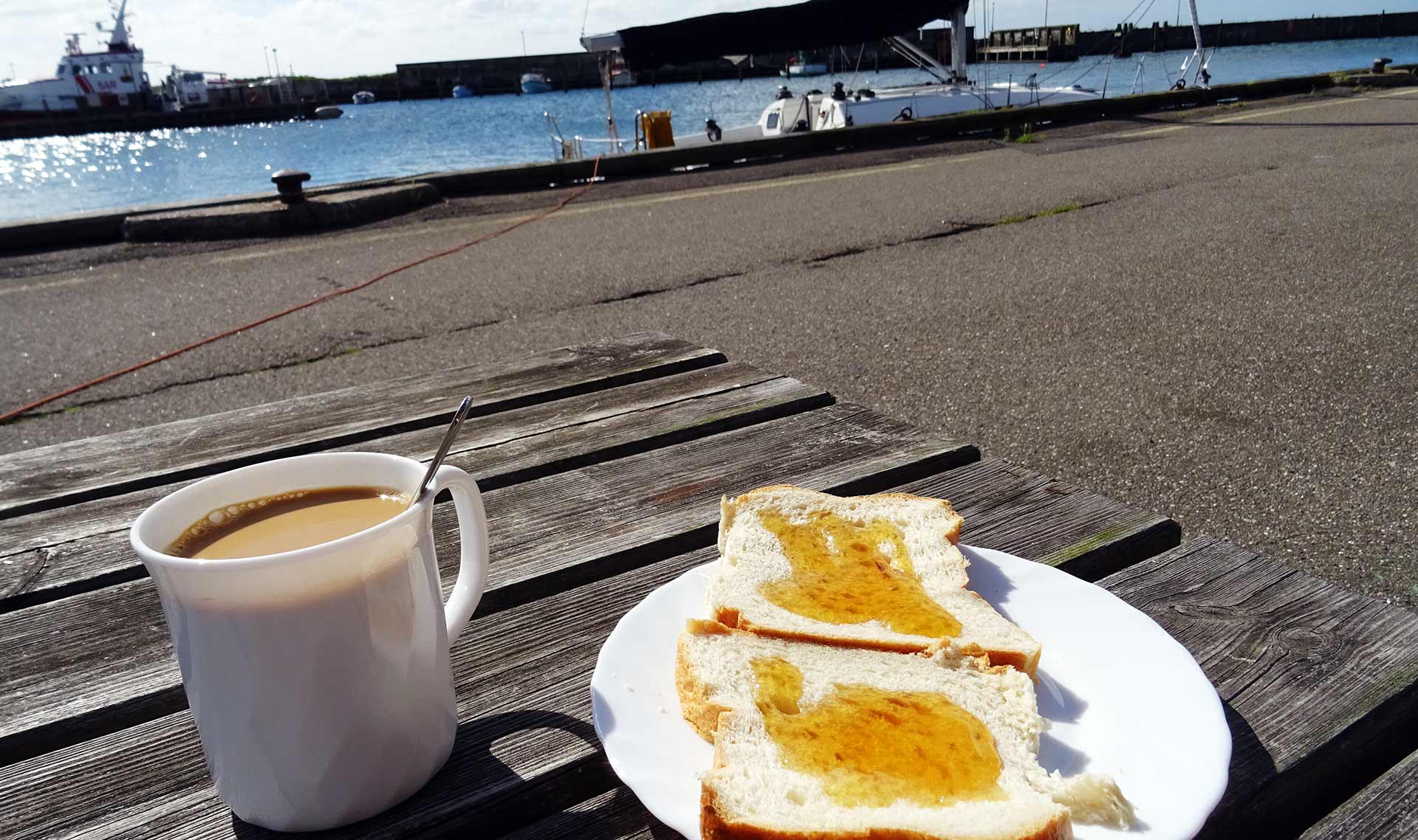 Same procedure as in every harbour: The two were still sleeping deep in their bunks, I was waken up the the harbourmaster collecting demurrage. 20 Euros, that was slightly less expensive than in Klintholm but still quite a price for a yacht that small. Nevertheless: WiFi-connection was brilliant and as we had been the only yacht mooring in the fishing harbor I did have the bathroom for myself and spent a full hour in treating myself with a long hot shower. Breakfast in the sun: Sweet hot coffee and fresh white bread with honey. Delicious! Yesterday we´ve sailed 30 miles and steamed 50 miles. Jeez, those last 6 miles into Gedser had been the most thrilling of my (well, considerably short) sailing career!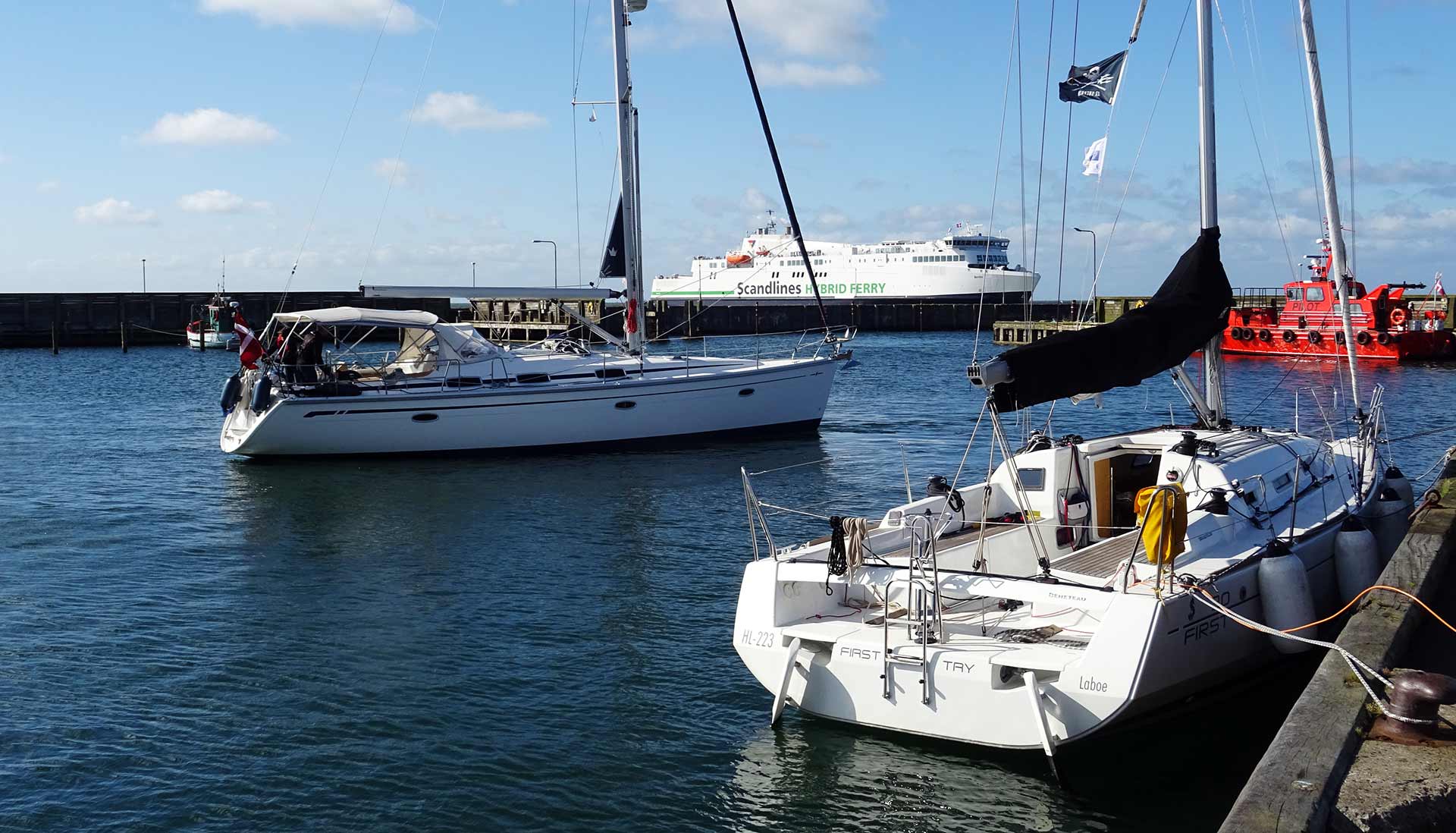 Well, we had not been the only pleasure craft in the commercial harbor, as a Bavaria Yacht was leaving shortly after I got up. Rules say that a skipper should always go to the marina next to the fishing harbor. But as I said, negotiating the way there is tricky as the fairway is very narrow, no lights at all. When swell sets in there´s also a strong current and it quickly gets very shallow. Nothing for a pitch black night with 30 knot-winds …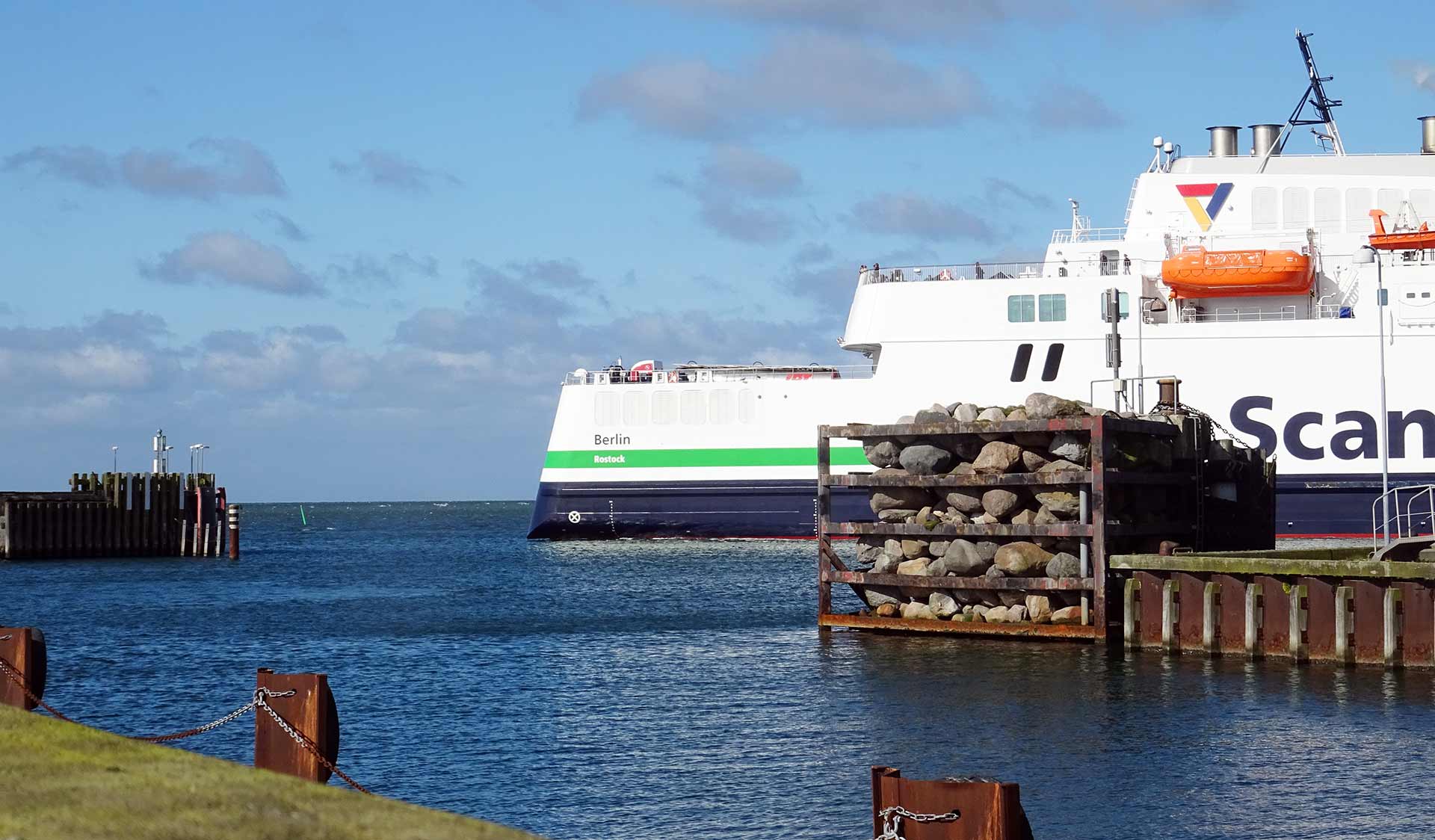 But the fishing harbor has it´s perils too. First and above all there is the Rostock-Gedser-Ferry. There are two of them steaming regularly. I don´t know the frequency, but it´s pretty frequent. The fairway to the harbor is just as wide as the ferry so if it happens that you and the ferry together want to pass, it´s challenging. Upon leaving Gedser, the ferry will make a 180 degree turn just outside Gedser with again no margin left for other traffic. You are lucky to arrive when there´s no ferry around. And you should time your departure in a way that no ferry would arrive nor – even worse – leave Gedser.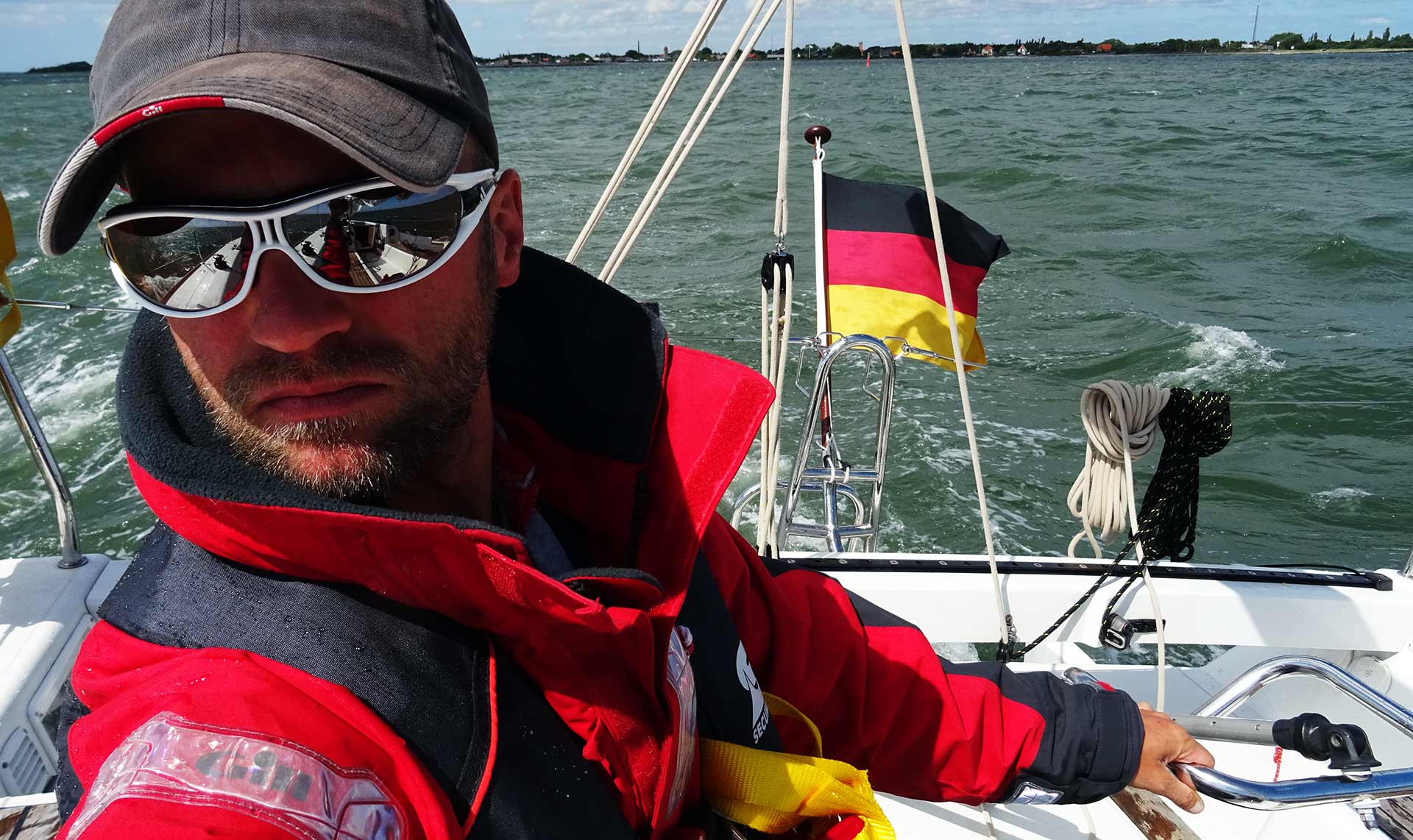 And this is exactly what we did. After cleaning the boat and preparing a hot lunch for the crew I decided we should be leaving Gedser again at 15.00. The remaining distance was around 70 miles (by sailing around the Island of Fehmarn) and I estimated our ETA in Kiel at around 5.00 a.m. the next day which would be perfect. As the wind was still blowing pretty hard, we were looking forward to another exciting day of sailing performance.
Beneteau First shows what she can
She sprinted on the moment we pulled out her sails: Jumping t0 7.5 knots flat in the second reef and with quite a nice reef in the Genoa, I was impressed how vivid and speedy the First came to live. There was quite a nice heeling and we were pushing her hard to get her as close upwind as we could and it was the hell of a fun from the beginning on.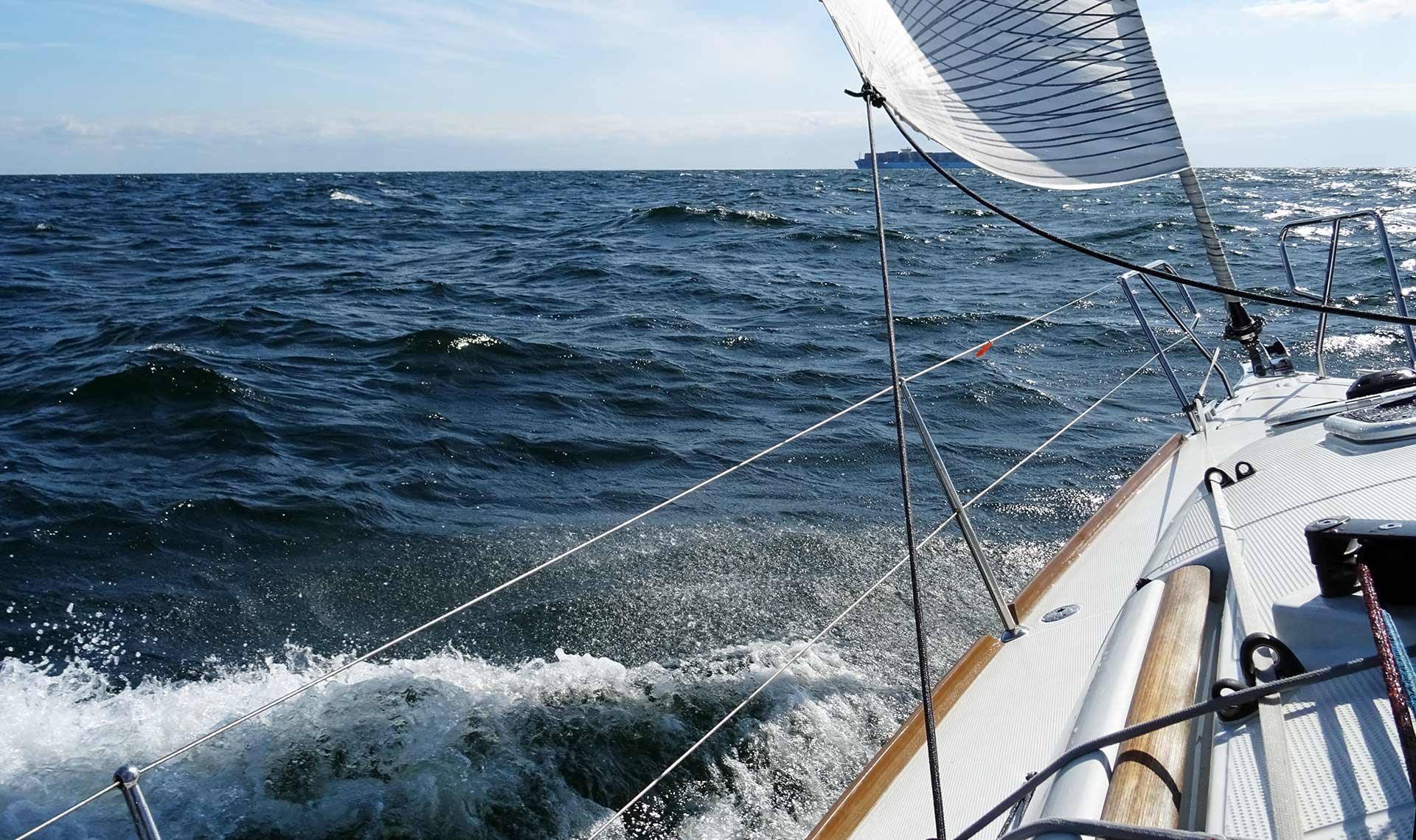 Over night as the wind did not ease a bit there has been building up quite high waves which is very unusual for the Baltic Sea. Jens took his off duty serious and went down, Lena an I stayed up. Although my watch ended all too soon, I remained on station partially because it was such great fun to see the boat making her way through the waves and secondly I just did not want to let her alone up here in case heavy gusts would fall in on us or anything else might happen. I just felt more comfortable to have two people up on guard in these conditions.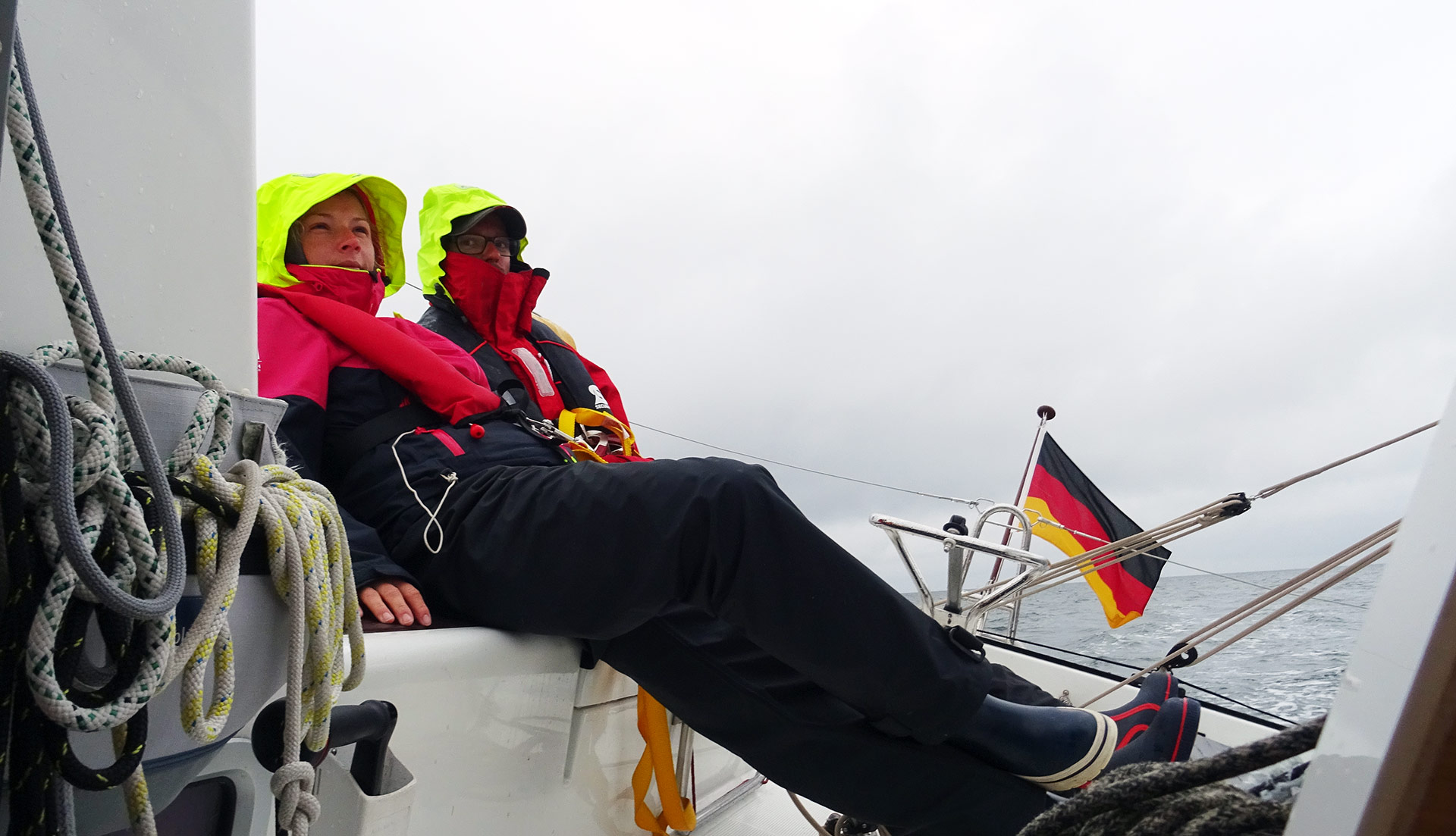 But it wasn´t dangerous at all – we´ve made fast progress and I was amazed to see how easily the self steering automatic was holding our course. Even when I switched it off to have myself placed at the helm I didn´t found too much pressure on the rudder and this was a gain in confidence in the boat.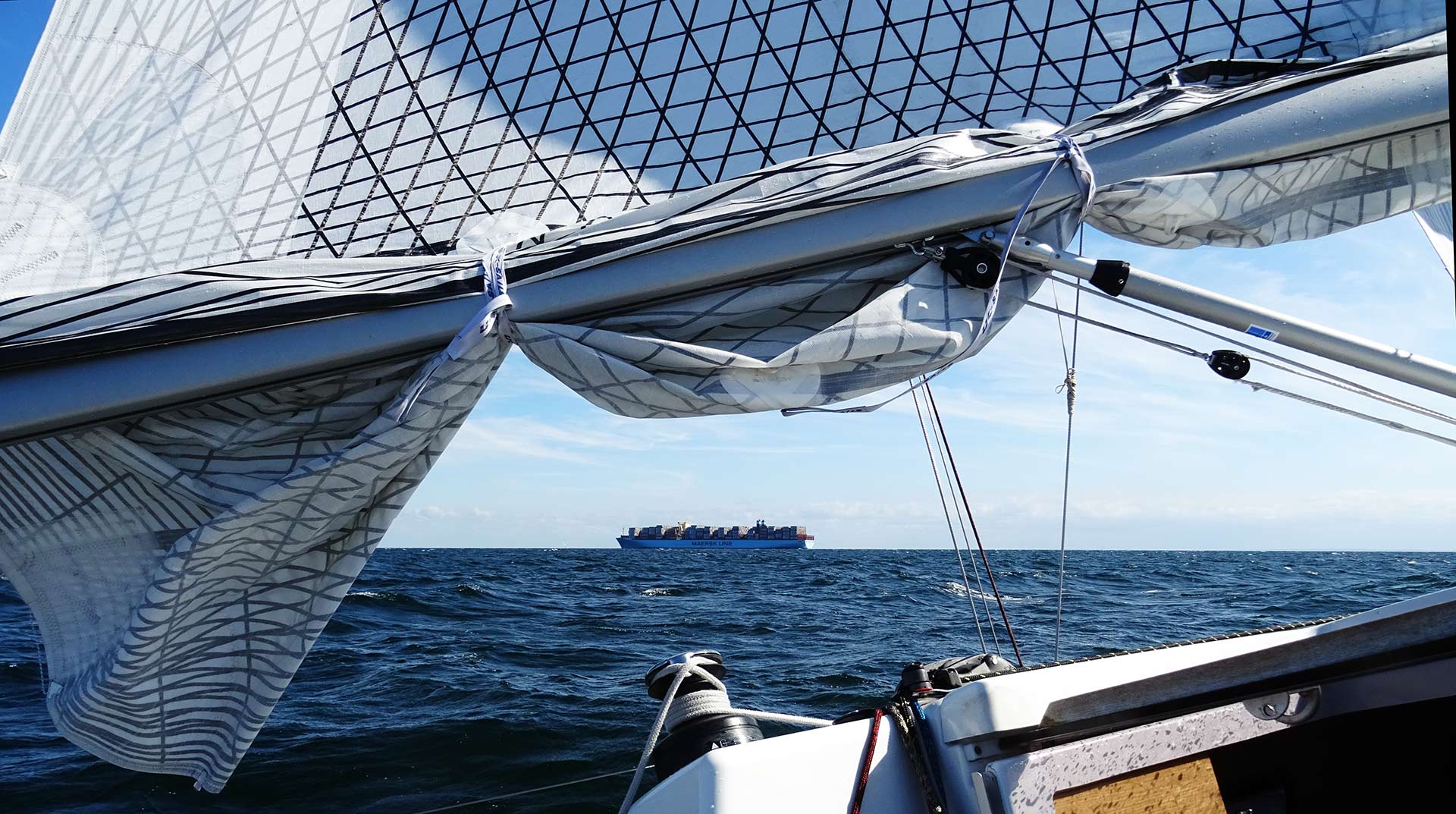 Such a great fun it was, forgotten the boredom of yesterday´s flat tiring hours which virtually didn´t go by when we had nothing to do but to steam down the flat calm sea in hope of wind. Today Rasmus was making up for it and he was shaking down quite a blaze on us. We had to adjust course twice to avoid too much stress for crossing commercial traffic but that wasn´t taking the fun out of it. Another thing did.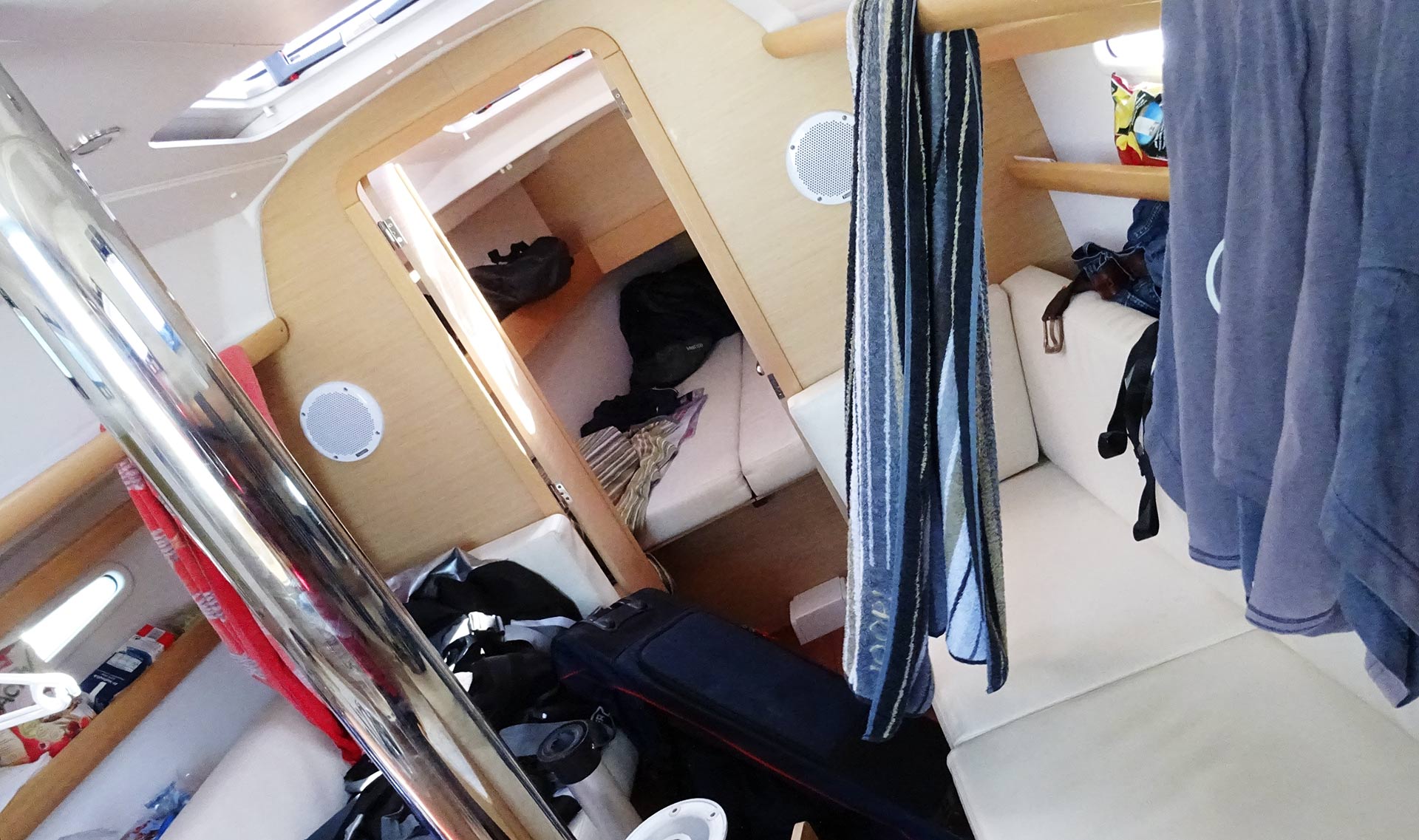 After sprinting down due South-West for a couple of times I transferred our current position to the chart once more and – yepp, there it was: "Ready to tack!", I announced up to the cockpit. We would have to change course to head up North-West again as sailing any further South wouldn´t bring uns nearer to our destination from now on. As we did, the maneuver was happening as smooth and quickly as no school book could name it, we found that – although having the same wind (but now blowing from the opposite side of the ship) – we were barely making 3 knots over ground.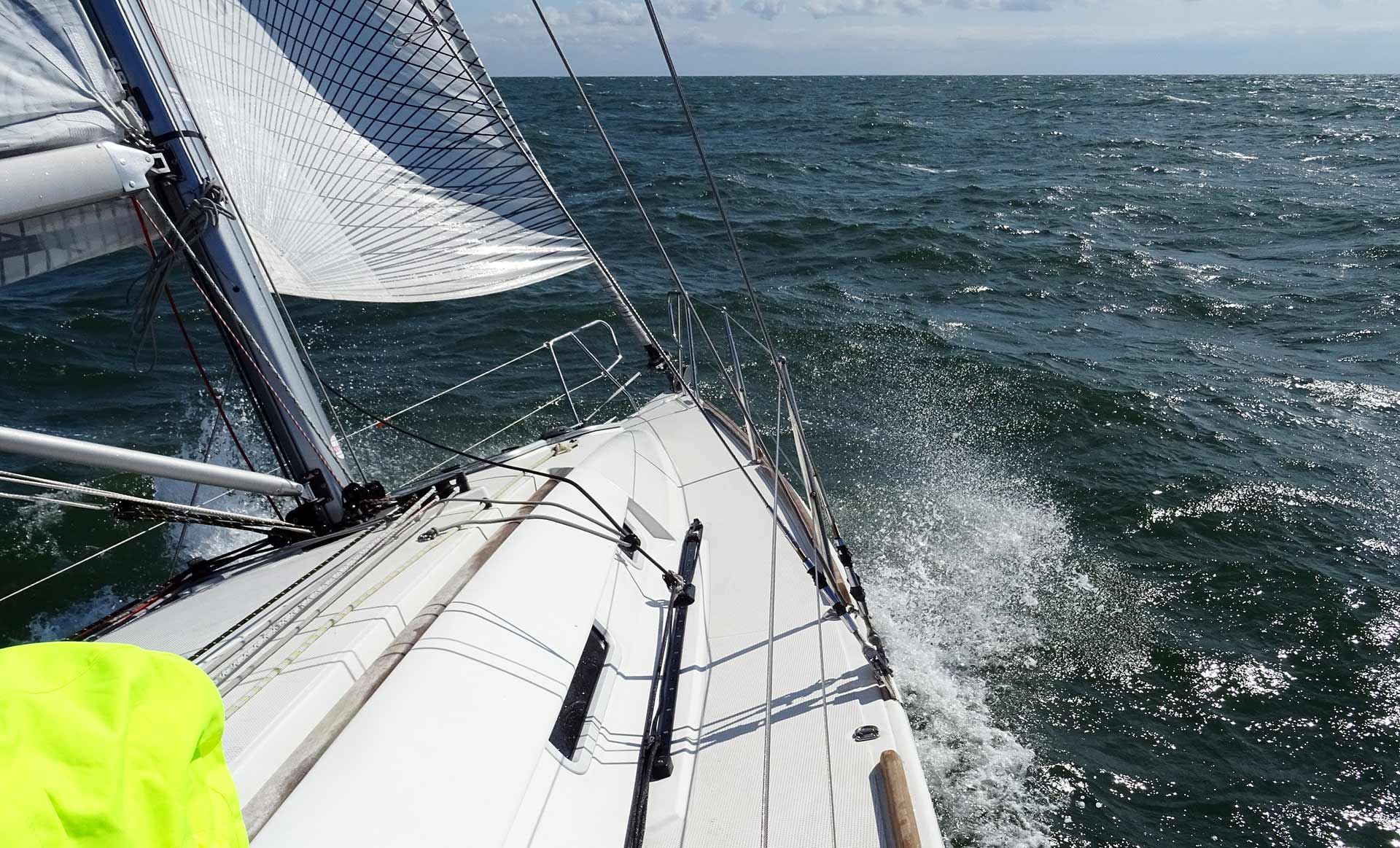 "What the hell is going on here?", I was asking, more to myself than Lena. We controlled everything twice, the trim, the sails, the course. I was even looking abaft if we´d caught something trailing behind that was slowing us down. But simply, the boat wasn´t making any progress. Could it be for the leeway? But that would have meant that there was a current taking us down South. But there wasn´t – at least not if we believed in the forecast.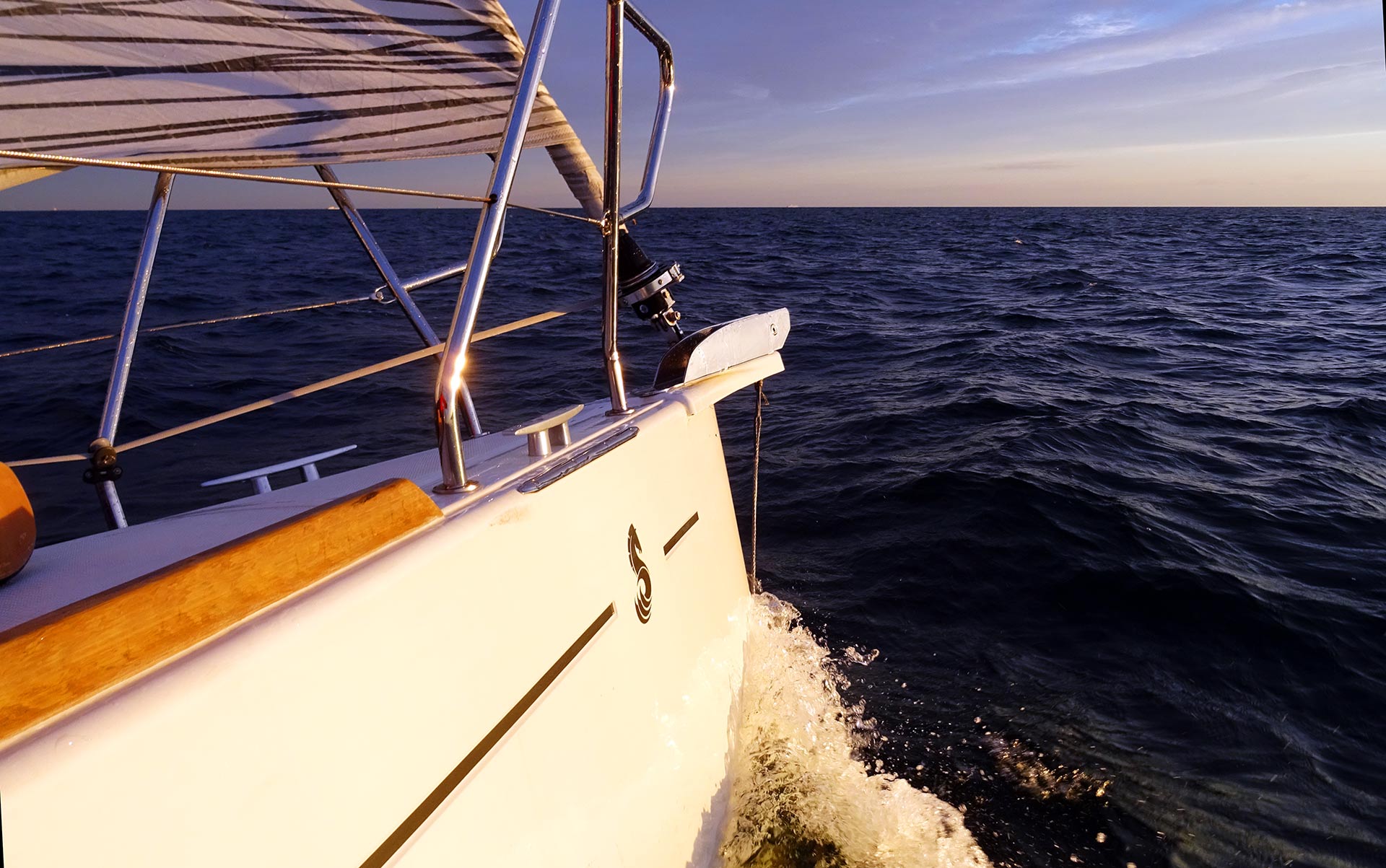 Jens came on to the cockpit after another hour or so very slow progress. As I was getting really tired for I had been up on watch for 7 hours now, Lena´s watch was drawing to an end too, I was handing command of the boat over to him. He tacked back on the old course – for as he had a different route in mind than I had – and we took on speed again. I was too tired to ask, so I enjoyed the speedy ride again, took some nice pictures of the sunset and went down to my bunk to maybe catch some sleep.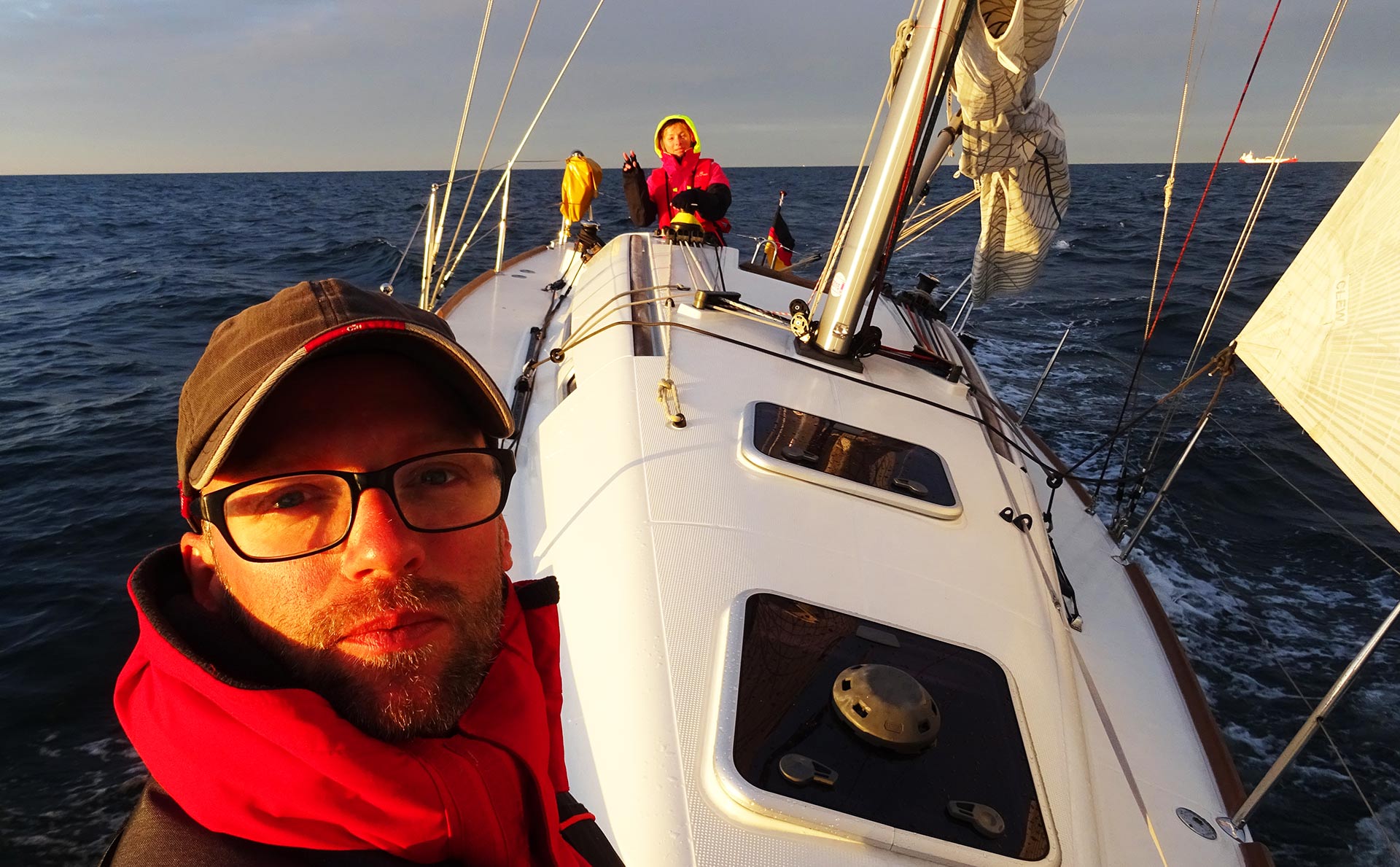 I couldn´t, so I prepared myself a coffee, ate a bread with thumb thick cut cheese and went up again: "So what are we going to do?", I was asking. Jens suggested to not go all the way round the Island of Fehmarn as planned: "This is too far and we´d have to tack our way up. That´s triple, at least twice the distance compared to going straight. We´ve already lost a lot of time by going down that far South." I agreed: There was only one thing left to do.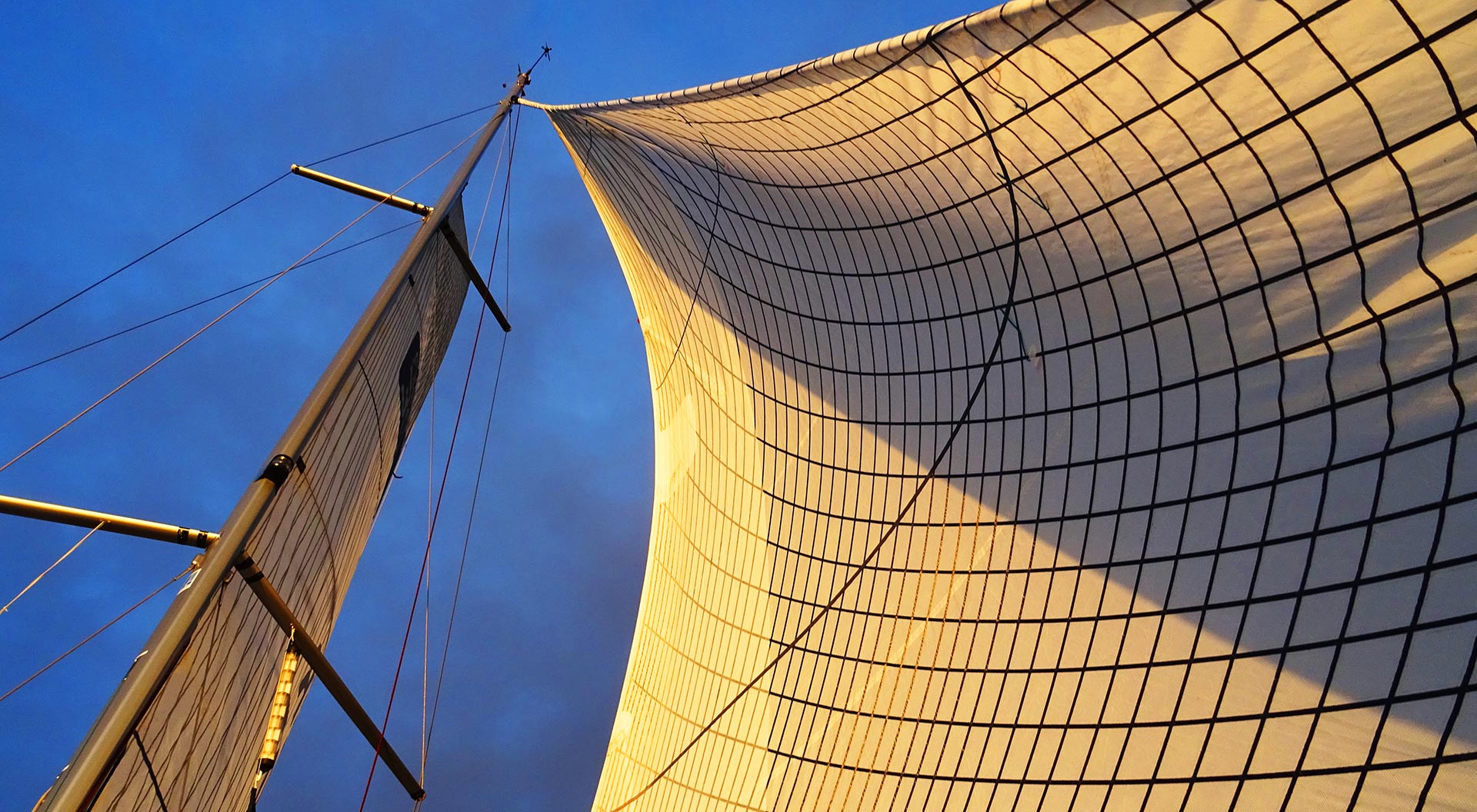 "We will remain on this course for as long as we can and sail deeper into Lübeck Bay area.", I nodded: "Then we´d take down the sails and bring on the engine." By passing the Fehmarn-Sound between the island and Germany we would save a lot of miles and at least 7 hours (maybe 14 hours) of sailing the Northern route. "This will be tough", Jens announced and I would find out pretty soon that he wasn´t referring to boredom.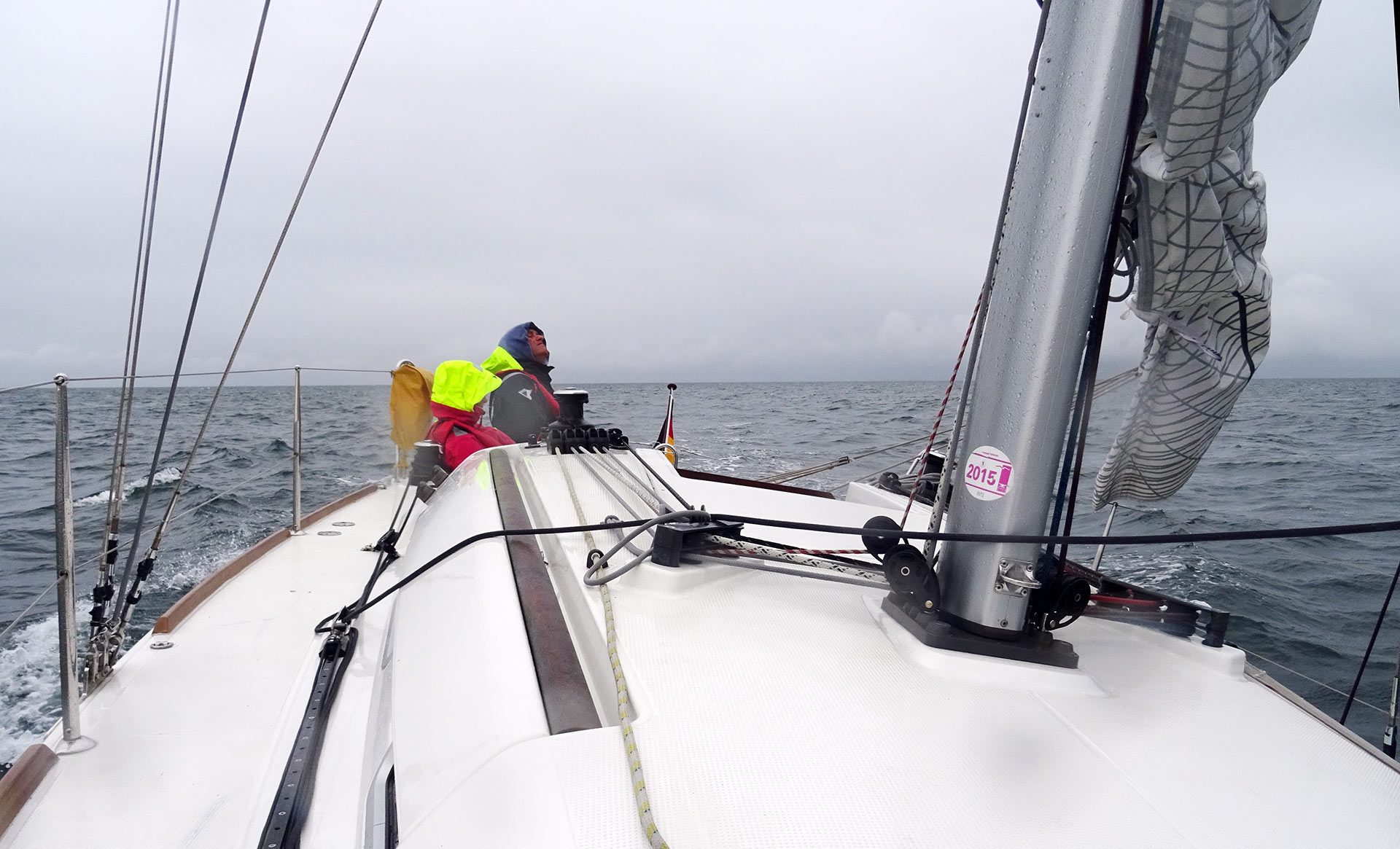 I got overpowered finally by tiredness and went down again, took a small cat wash in the WC and tugged myself to the front cabin, laid down in full clothing and closed my eyes. I even did not take off my shoes nor the live jacket. As we were still sailing, I guess I faded out pretty soon, for not all too long, but I catched some minutes of deep sleep at last.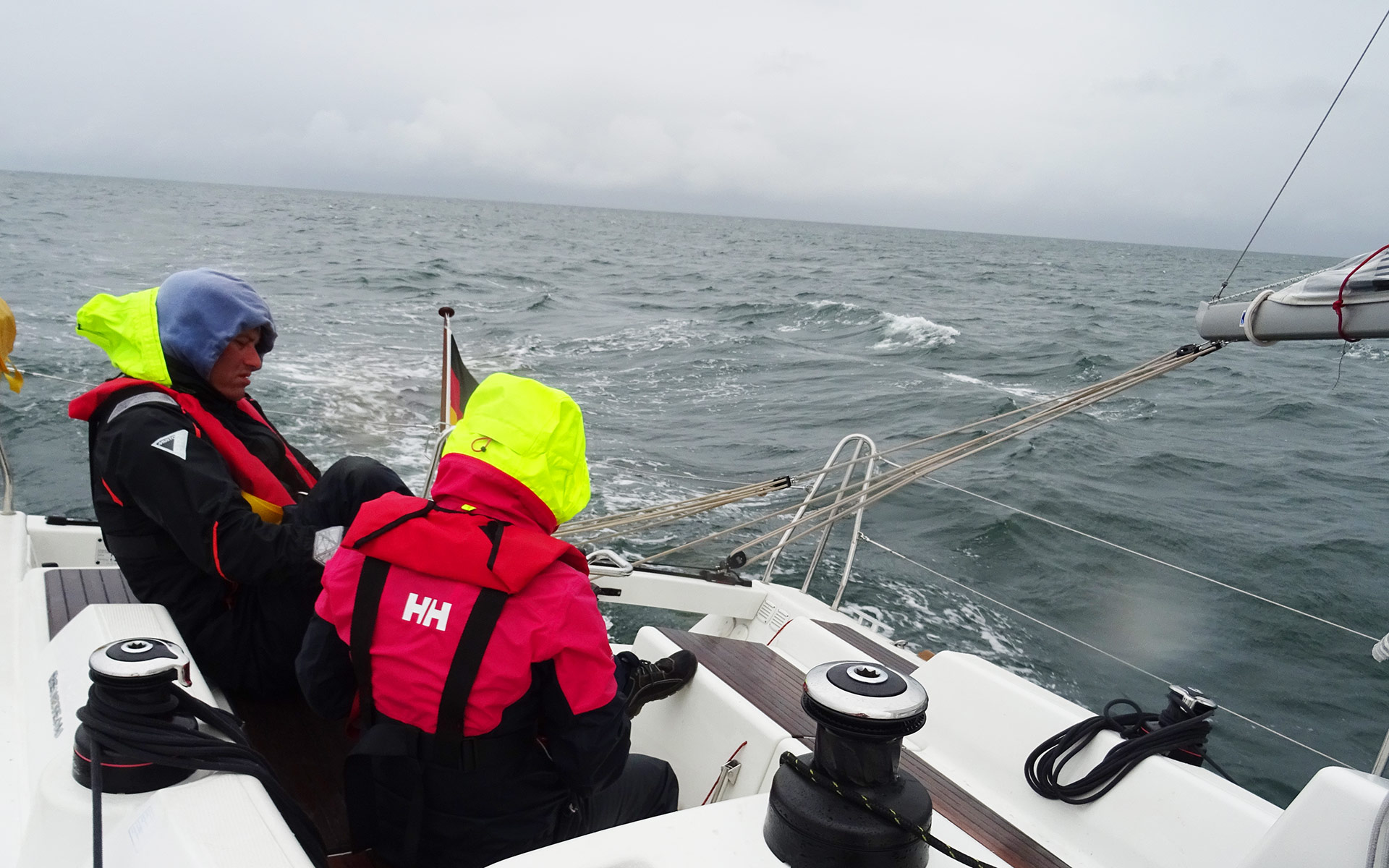 When I woke up again and poked my head out of the entryway, the nice warm weather was gone again and the wind turned chilly cold, a nasty icy rain set in. Lena and Jens still on their watch, they had been shaking out the reefs from the sails but the boat did not seem to sail very fast again. "Take in the Genoa!", Jens announced. Then we hauled in the main but let it hoisted and started the engine.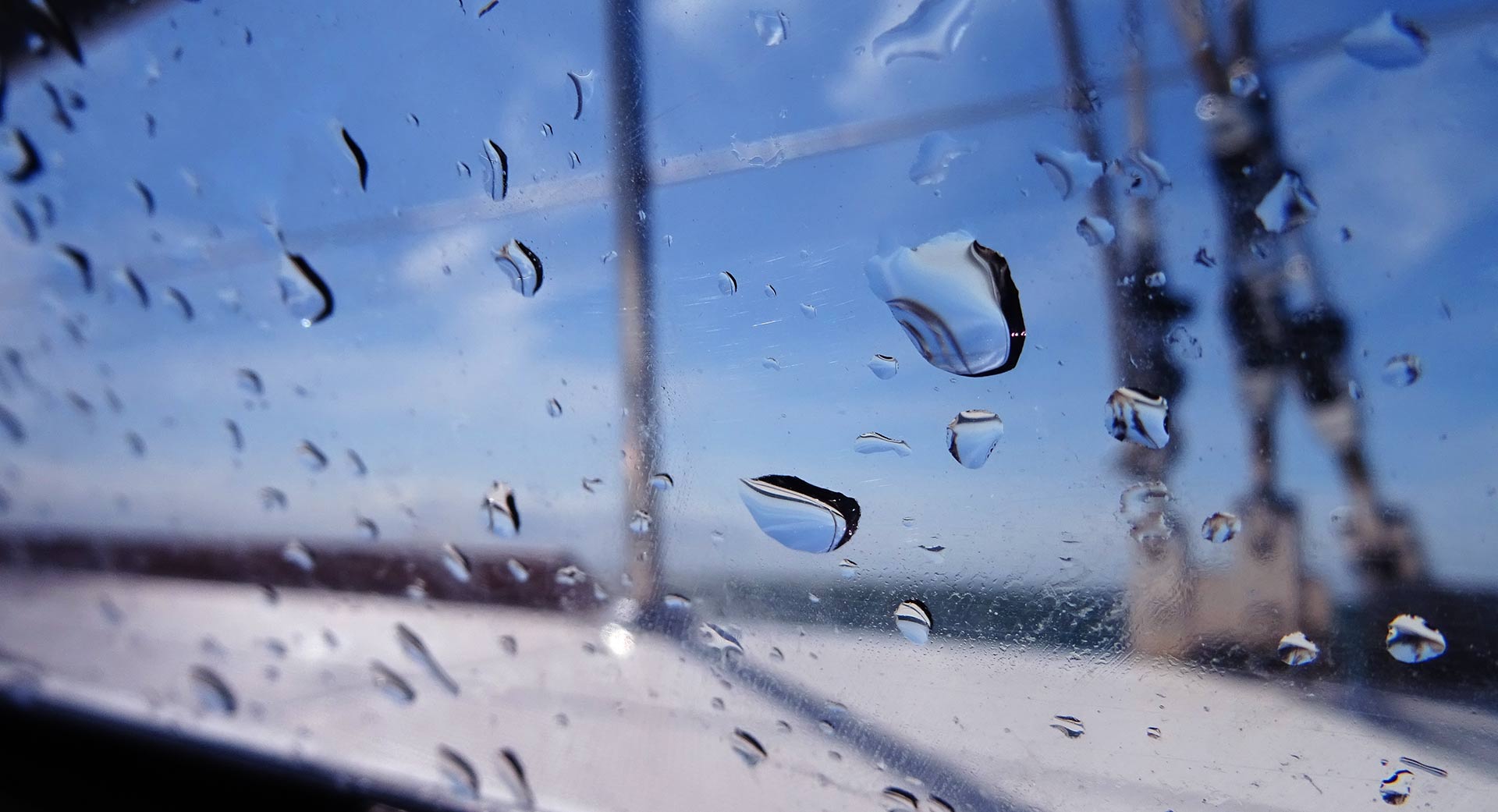 "New course 270 degrees. Let´s get home!" This is how we skipped sailing because the remaining wind blew exactly from due West. As we found out, the turning angle of the Beneteau First 30 must be far greater than 90 degrees, by estimation some 110 degrees. So tacking our way all up agains the strong leeway at this angle would mean to maybe sail a lot but to make no progress at all.
Steaming home
Suddenly, after half an hour we decided to skip sailing, the sky turned clean again, sun came out and wind eased furthermore. There had been some ships coming, but just a few, and the excitement of the last hours of quick sailing calmed down. It was possible again to have a nice chat without screaming against wind and waves and if it wasn´t for the boat to go straight into the steep short waves with a big clank it would have been pretty as well.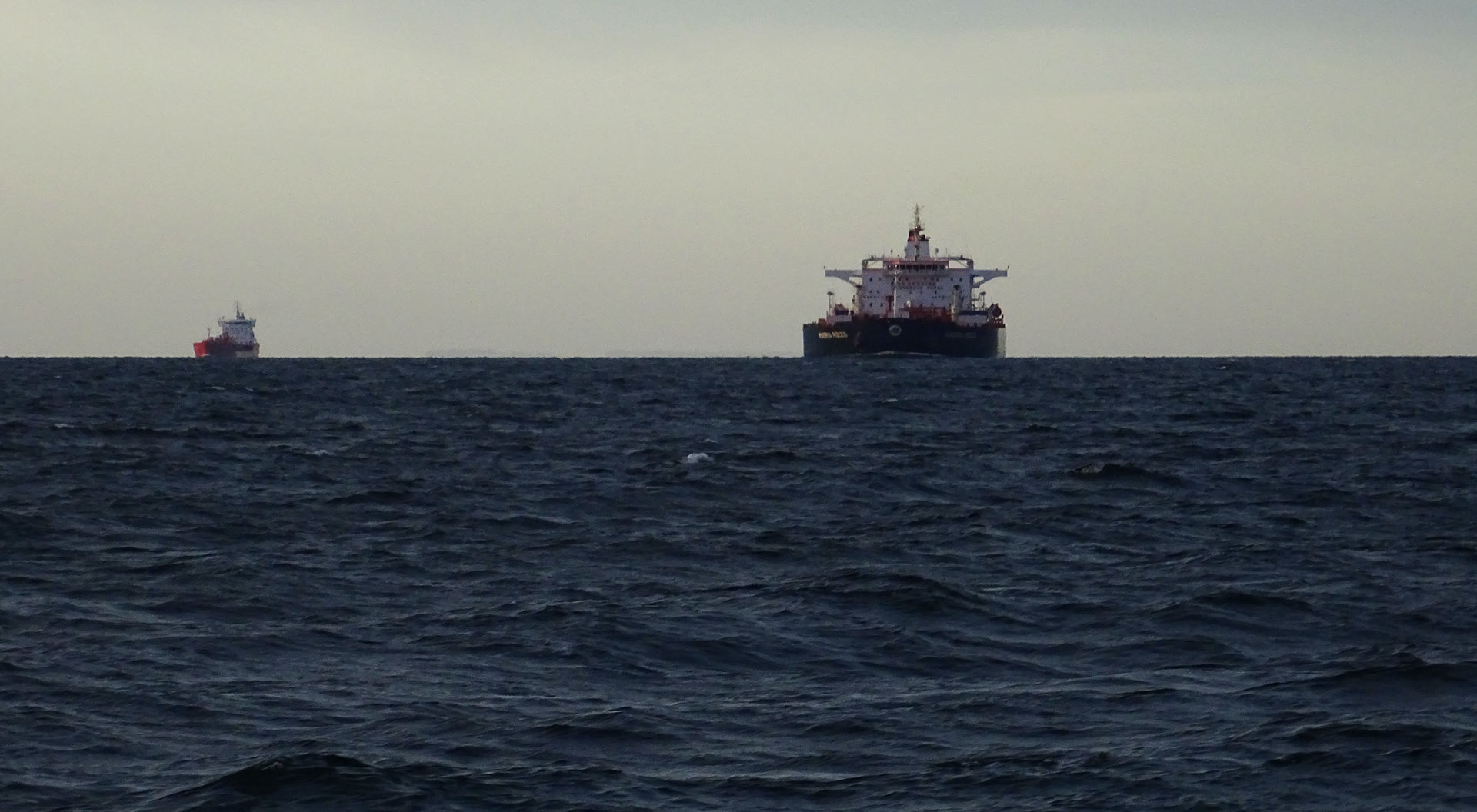 Lena and Jens sat together and cuddled in the sunset, I went down to lend them some privacy and not to spoil the romance of the moment. Besides, it was time again for doing the logbook and having our position charted. After a while Lena went down and checked out to her bunk. After eating an apple I did the same as there had been two hours off watch left for me.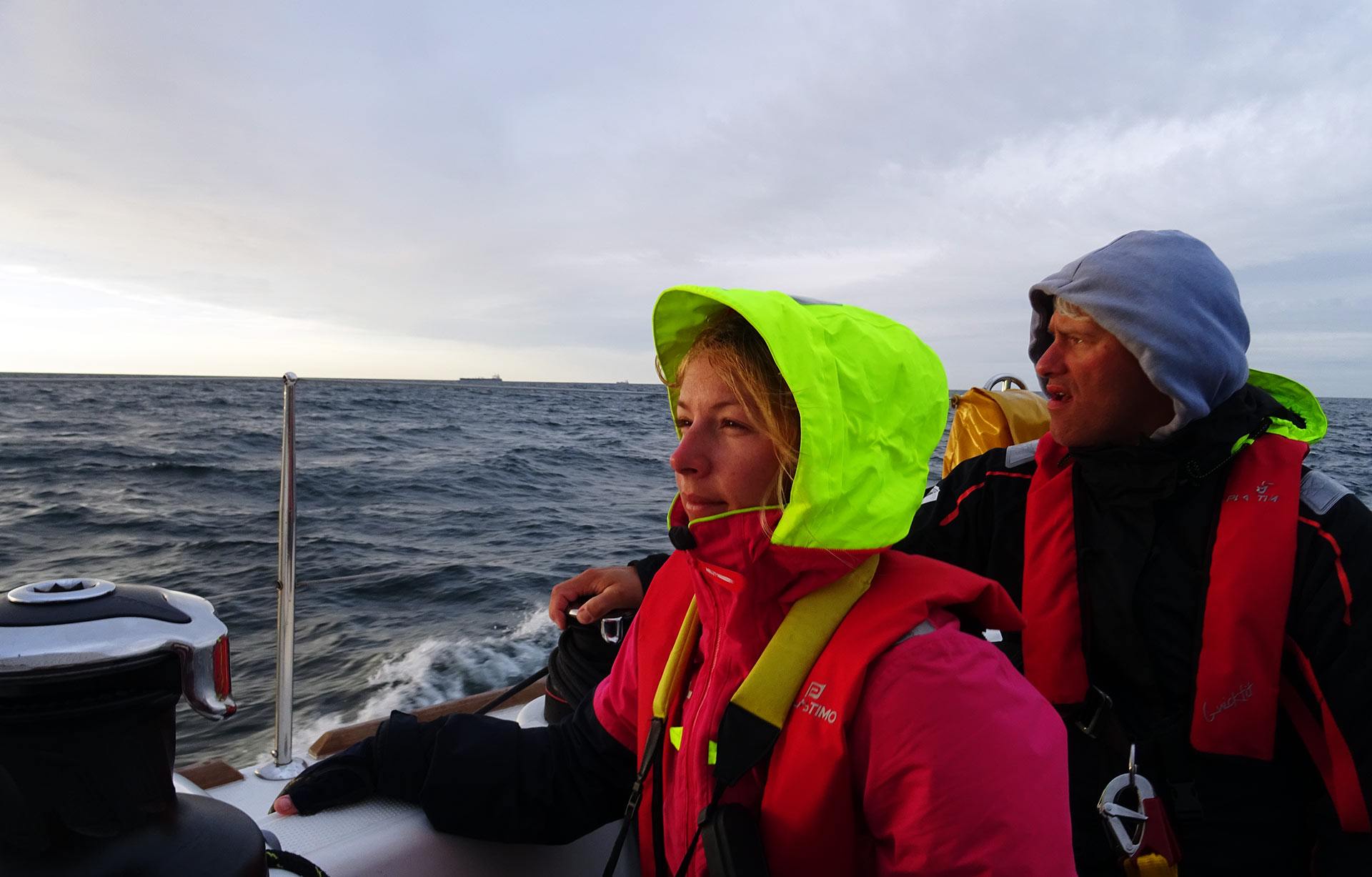 Trying to sleep now was impossible. The waves went up as high as two metres with bigger waves every now and then. The engine was running at 2.500 rpm as an exception from my 2.000 rpm-rule because if we wouldn´t have pushed the yacht we wouldn´t have made any progress against this swell. Remember: 19 horsepower in a 9 metre-yacht. That´s not very big compared to 2 metre waves … The boat was shaking very violently and with every time the bow was coming down after a wave raised the hull, there was a huge ear—piercing clank as if the whole thing would be breaking apart at any time.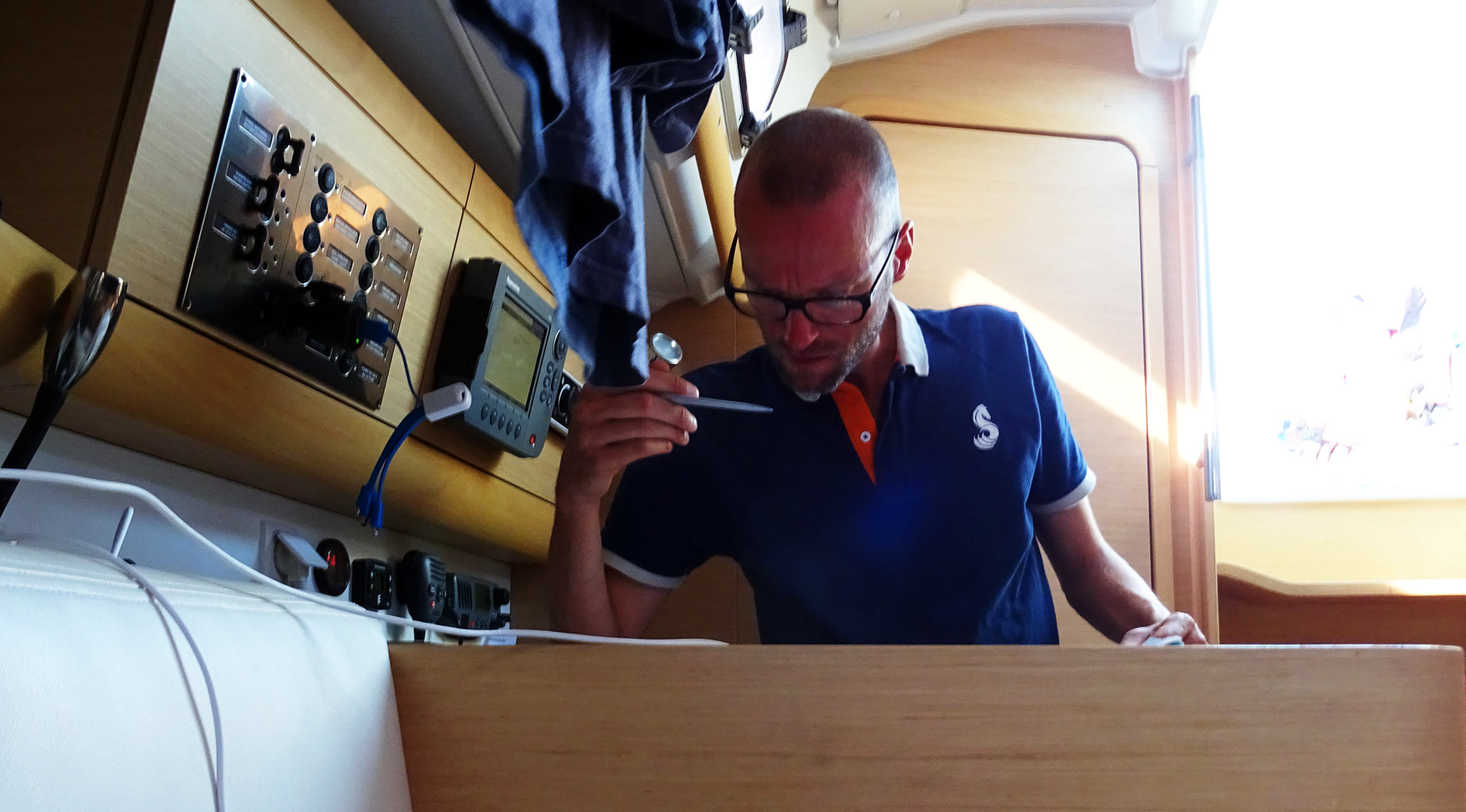 Under these circumstances not just sleeping was a hard thing to do: Pinpointing our position on the chart had something of a Darts game, taking a pee remined me of some test pilot movies where they have to sit in these narrow centrifuge-chambers and preparing some slices of cheese for a snack had serious suicidal tendencies. Upwave? Horror!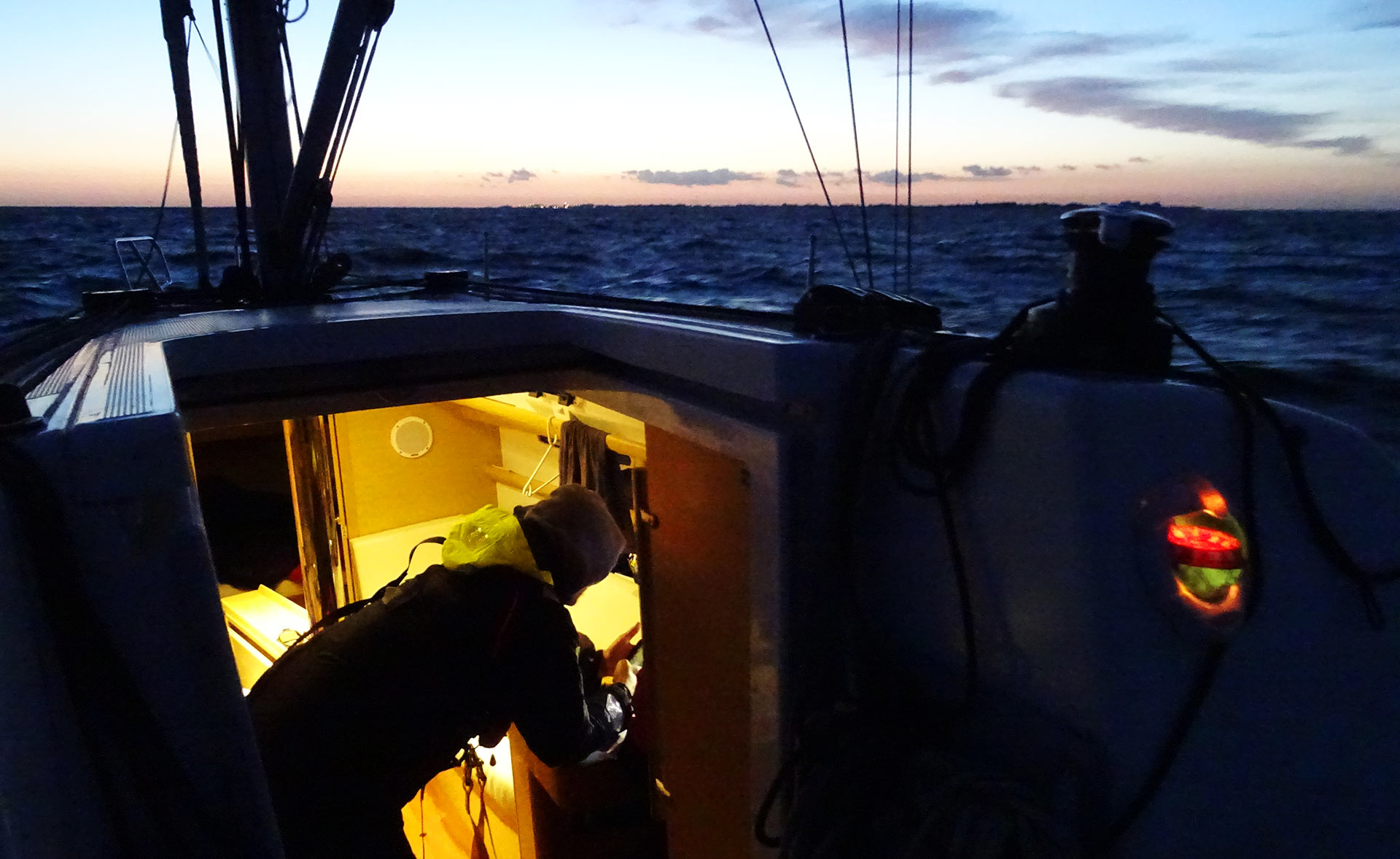 At exactly 0 a.m. we finally had the Island of Fehmarn in sight. To the right hand side I could already notice the lights of the villages. Fehmarn is Germany´s most sunniest spot – from a statistical standpoint – and a nice place to spend some days off in the beautiful nature. Germans though tend to cross Fehmarn and jump over by ferry to Denmark. But you always tend to prefer what you have not always at your disposal. This time I was happy to see Fehmarn. It meant home.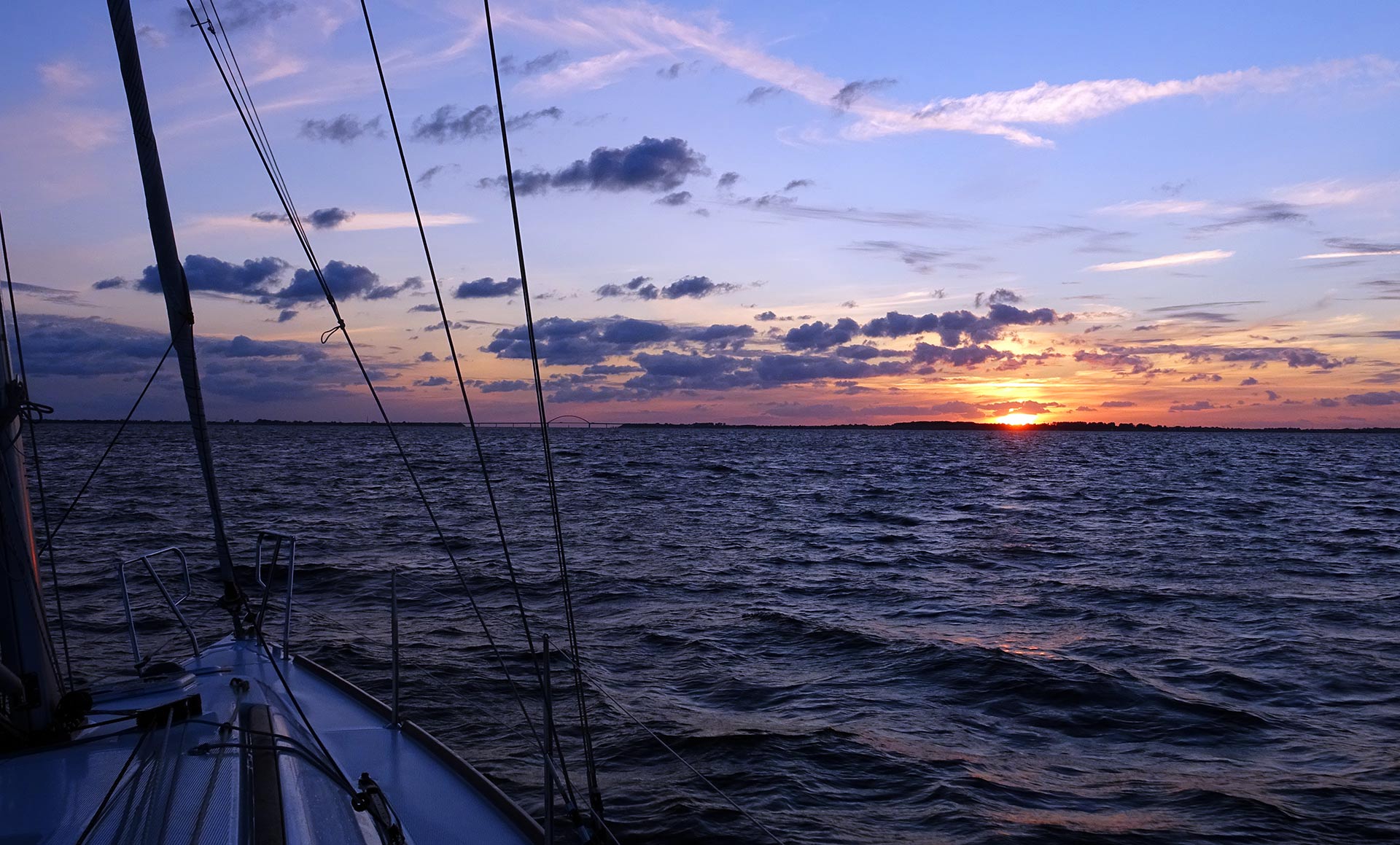 When we´ve got nearer I noticed the Fehmarn sound. A narrow fairway between the Island and continental Germany. A huge bridge is connecting them two. A bridge, I was crossing numerous times up until now and now was the first time to have it crossed by means of boat. Looking to Fehmarn I got a bit of a heartache as it was here I got married almost 3 years ago. Now I was alone on watch but was happy to see Jens return from his off-duty: "Helping you get through the sound.", he said.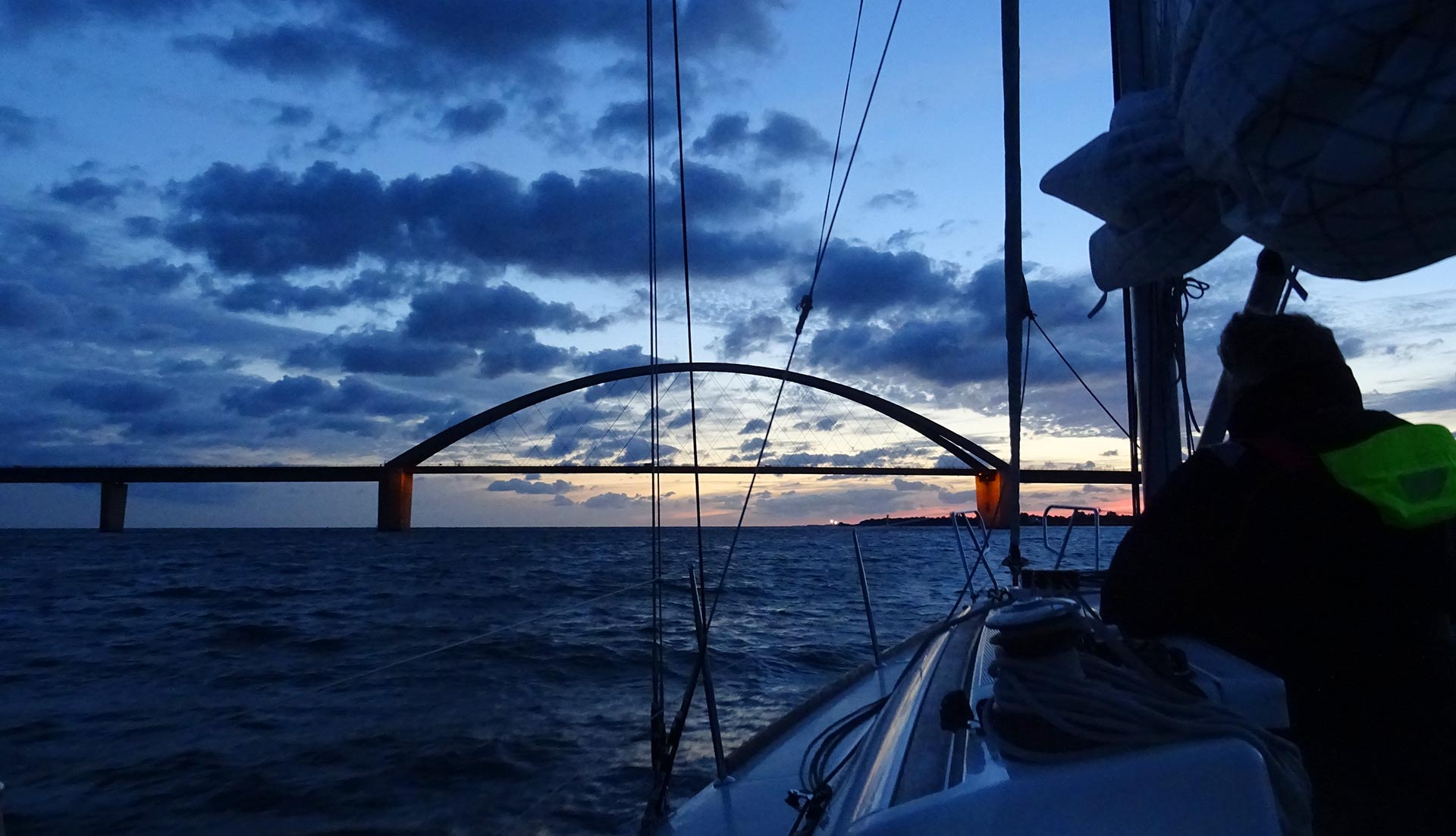 Finding the fairway was no problem although the buoys do not light up here. As the sun was going down we passed under the bridge with loads of clearance, nevertheless it was a heart stopping moment to watch our mast pass the bridge. Being in the lee of the shores all the time I almost forgot that there hadn´t been any waves for the past 1 or two hours, but as we went pass the bridge to enter the Western side of the sound the waves returned with full force.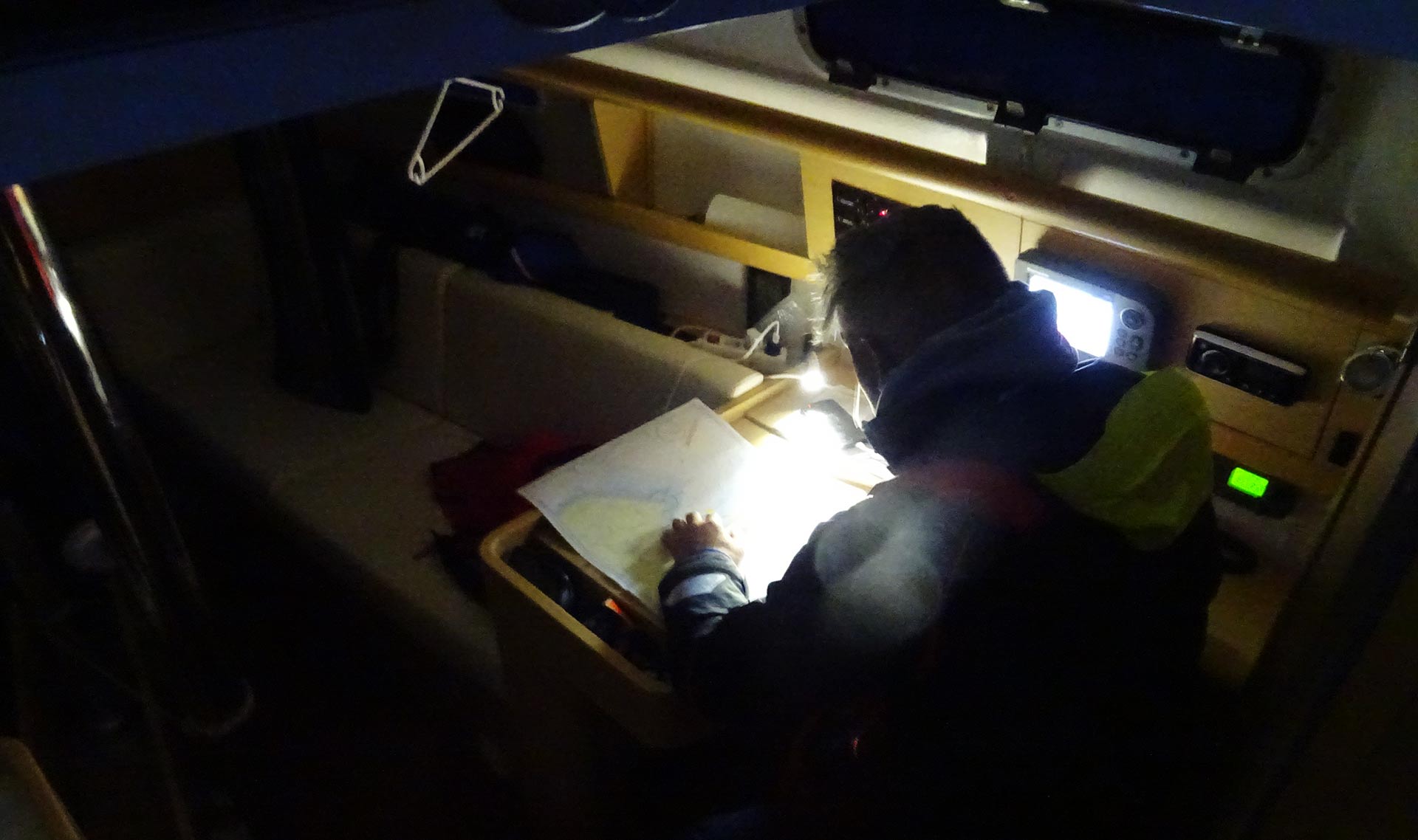 I remained on duty until 2 o´clock when finally Lena came to relief. As usual, I did have the customary horror story for her by handing over the boat, this time I was scaring her with the military safety zone: "See those orange lights blinking?" She nodded. "That´s the military safety zone some 2 miles ahead." In fact, there is a huge shooting ground for Navy vessels. "I don´t know if blinking orange means ´do not enter´ but … I guess not." I smiled and went down. Lena went straight through. I guess she knew exactly what she was doing.
Before she came up I did hoist the sails for a last trial. There was still quite a stiff breeze and it was such a waste of precious wind if we wouldn´t even try to sail at least a few miles. But the Beneteau First 30 really is no upwind-loving boat and there was no use of sailing, so I finally took down all the sails, packed the main under the tarp (boring watch otherwise but kind of adventurous to do this in darkness and within 2 metre-waves). I fell into the bunk after Lena took over and slept.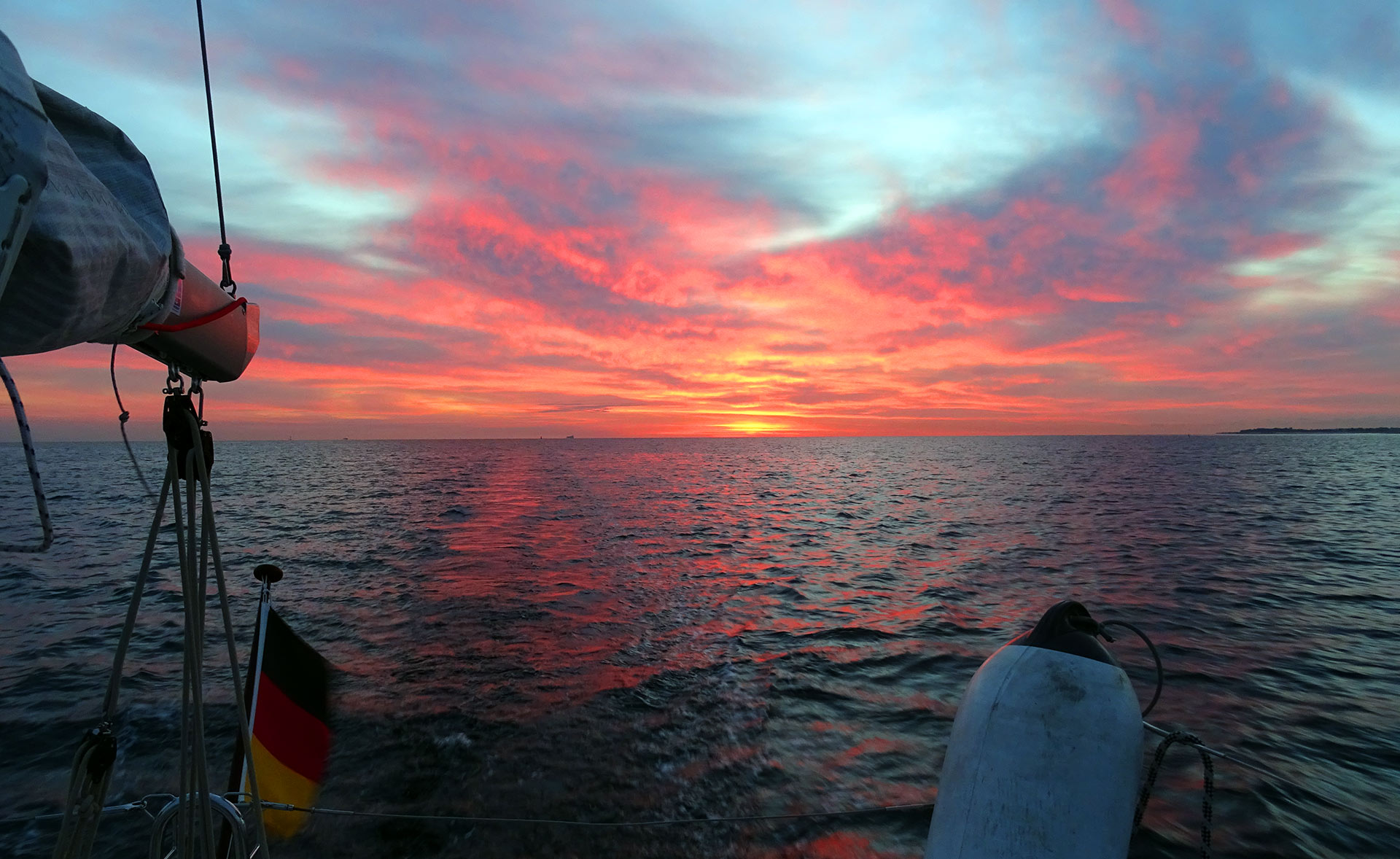 Up again at 4 o´clock, Jens was steering. He gave me a quick roundup on the situation and then everything happened so quickly that I do have problems to remember exactly. As he went down, it was pitch black. I saw a dim of light on the horizon just ahead. A glimpse on the chart and I was certain: This must be Kiel! Then, just 1 hour later, the sun was coming up again, filling the horizon first with a faint blue-violet color and then, just like an explosion, turning everything shiny bloody red. It was breathtaking – but just a few minutes. Then daylight broke and I suddenly noticed the all-familiar shoreline of Kiel.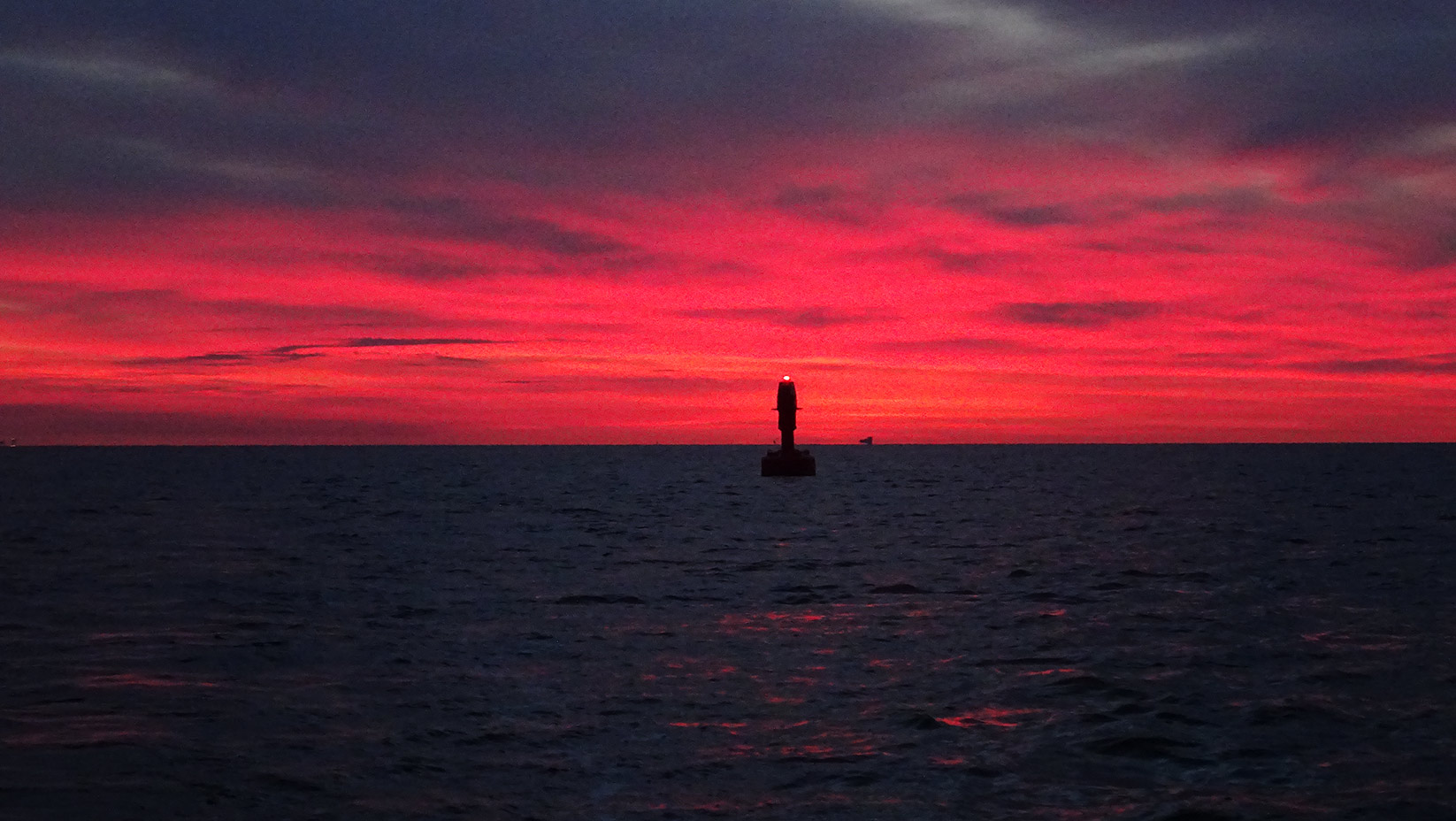 I was steaming down the Kiel Förde just the way we did on the Pogo 40 last year after rounding Danish island of Fyn for one week and just as I did in my own yacht, SY OLIVIA, when I was bringing her down to Hamburg, almost 2 years ago. Coming home is always special and even being so tired I was touched deeply.
I waited with waking up my mates literally minutes before landing. Having such a great auto-pilot I was able to prepare all the lines and the fenders for them. We moored next to the Diesel station at 4.30, waited some 30 minutes and had been the very first to get their tank filled by the manager this day. After going through the harbor we landed the boat at 5.15 a.m. and upon filing the last log entry I noticed that this has been exactly my ETA when we left Gedser yesterday. I was happy – butr very exhausted.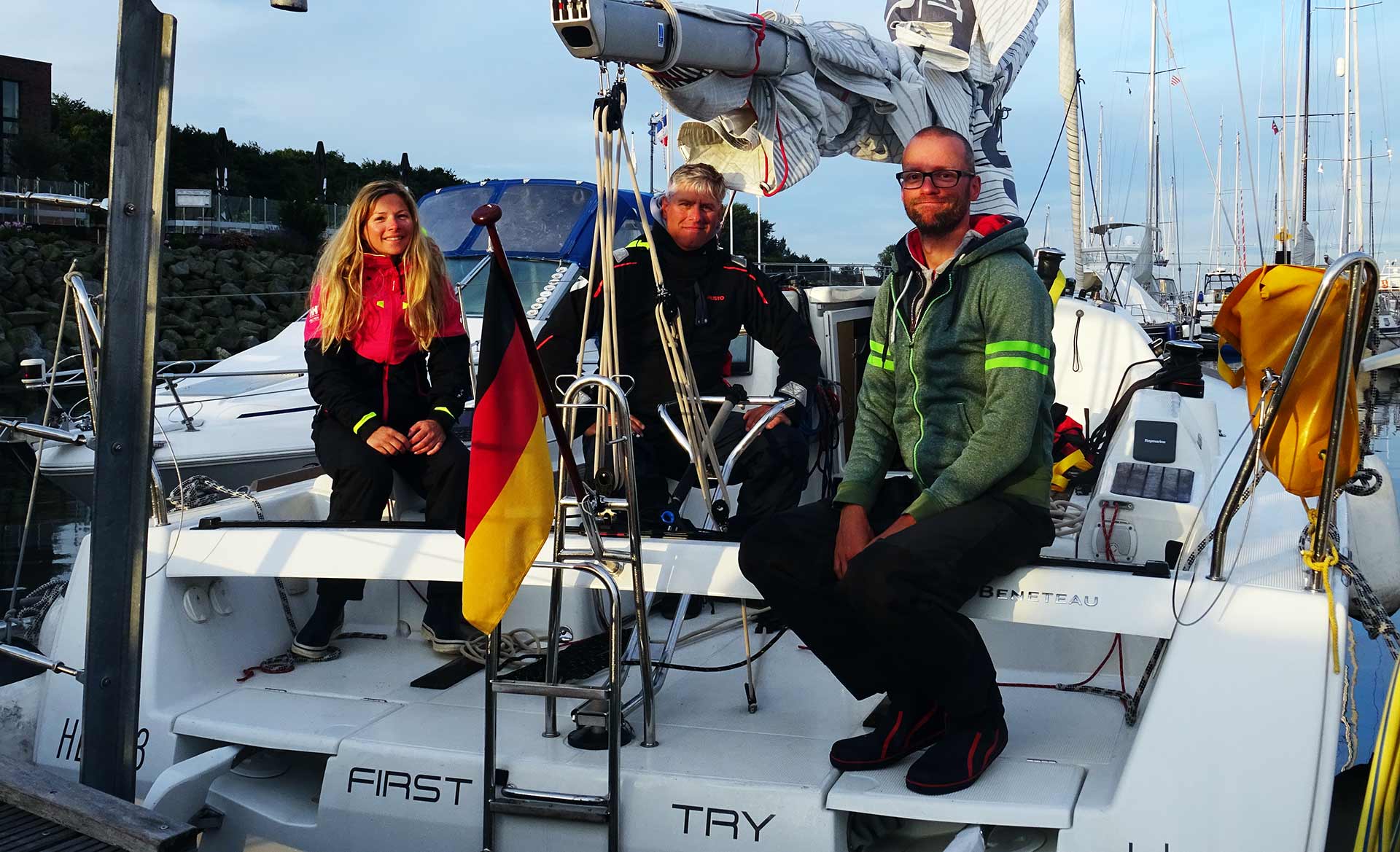 As we had packed our stuff and stored in our cars, cleaned the boat and phoned the charter company, we sat down at FIRST TRY´s transom to shoot the welcome-home-picture. I think, you may see the 411 miles in our faces, the countless hours of watches, the joking, the yelling, the laughing, the boredom, the rain, the sun and the wind. It had been a great week. A crazy week: Sailing to Bornholm and back in this tiny yacht in just 7 days. We felt like returning from round the Horn. Thanks to our smart little Beneteau, this was most fun and again a great opportunity for me to enlarge my sailing knowledge, sharpen my judgement as a skipper and train my sailing skills. In short: A perfect quick Baltic sailing trip.
You´ll like to charter the Beneteau First 30 FIRST TRY for your own Baltic Sea adventure? Click this website and maybe you´ll get some extra reward by referring to www.NO-FRILLS-SAILING.com here
Other interesting articles on this topic:
First leg of the Beneteau First 30 sailing trip to Bornholm
Learning to sail a larger yacht on an X-Yacht 442 
A Day at Luffe Yachts of Denmark