The Boot Boatshow Dusseldorf is indeed the world´s leading fair when it comes to marine sports, yachting and boating. I really don´t know how many people came nor how many exhibitors showed their products and services, but it have been 10 exciting days for me attending the show. Over the coming weeks I will release some 10 articles gathered on the Boot 2017 Dusseldorf from boat reviews over interviews, spotlights on details and my impressions from the show. This article should provide a short overview on what was moving me most in Dusseldorf this year.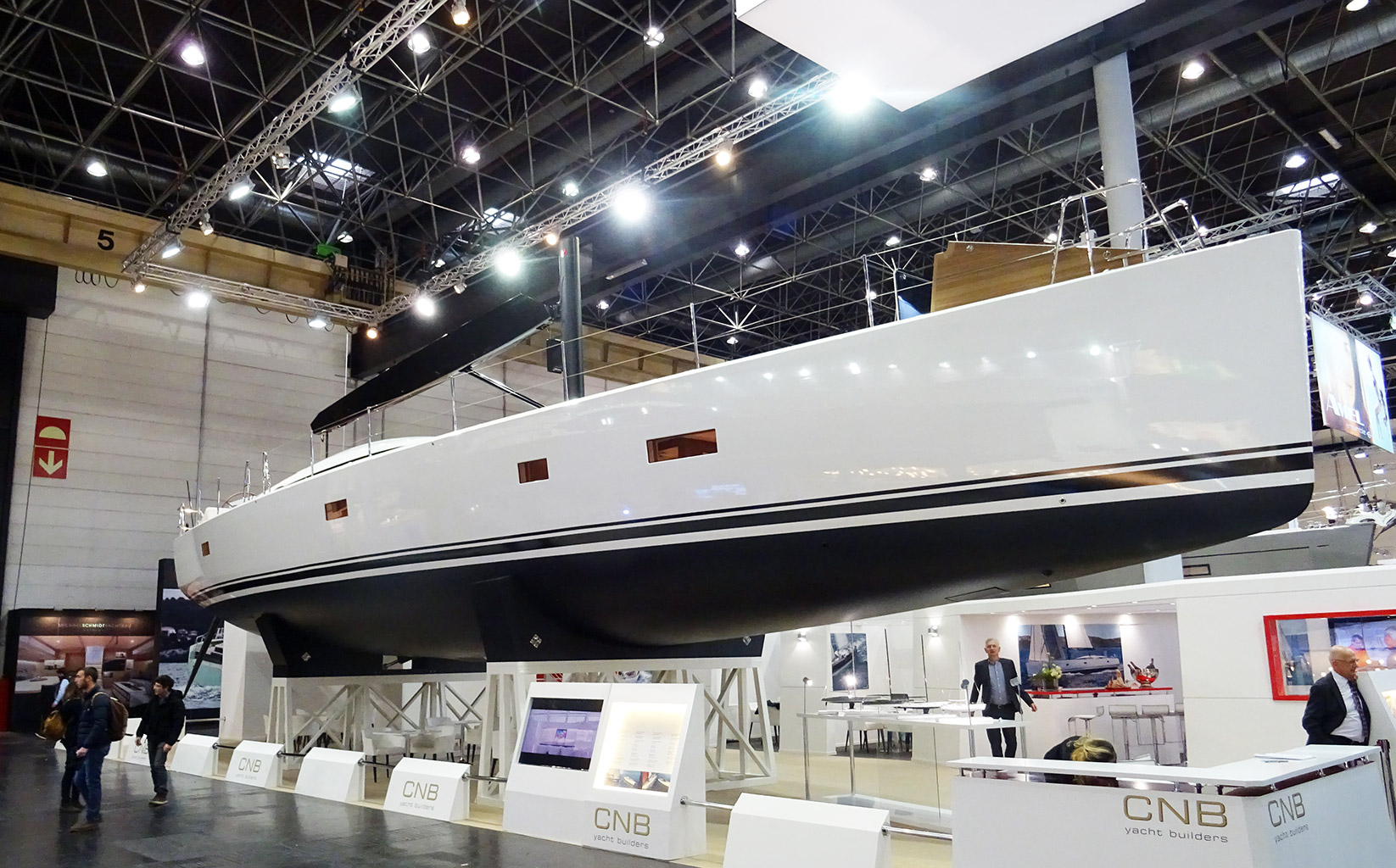 Boats and yachts, that´s an undeniable fact, are very much on top of the pyramid of needs. Which makes it very exciting for me to work in this business on the one hand: Everyone roaming about here has pretty much almost all achieved in his or hers life and is now looking to improve it furthermore. People are living their dreams. The best about it: Each in his class of boats. Even an owner of a "small" 30-footer in his life has everything done right, pretty much the same situation as the multi-millionaire who is looking for a 60-footer. Speaking of huge boats: I noticed that this year again the boats seem to have been grown in size furthermore. Is 60 the new 40? There was no major yard at boatshow Dusseldorf not showing at least a boat in the 60 foot-range. Which is one of the upcoming articles in queue.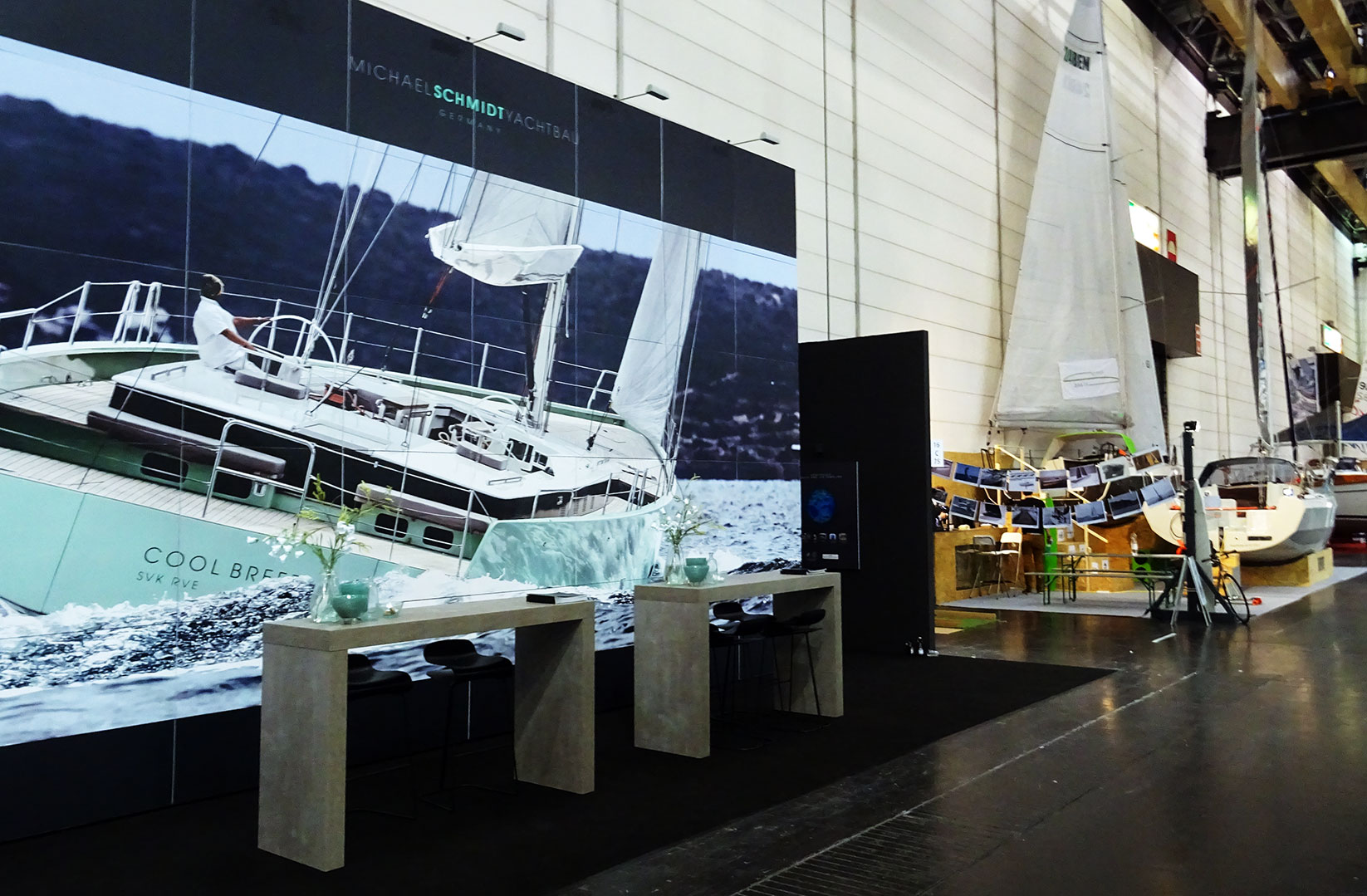 Boatshow Dusseldorf is also a place of contrasts. When I walked through the halls to the place where I worked, I came across a pair of stands which couldn´t portray this better than Michael Schmidt Yachtbau with his ultra-exclusive BRENTA 80 concept of 5 Million Euros and the BENTE 24 right next to him. On the one side the carefree life where the most serious decision is between the interior fitting of precious wood and on the other side a makeshift stand of raw chipboard with Hamburg beer served for a 24 feet daysailer. This is what I love about sailing: Everybody can get happy in his own world – next to each other.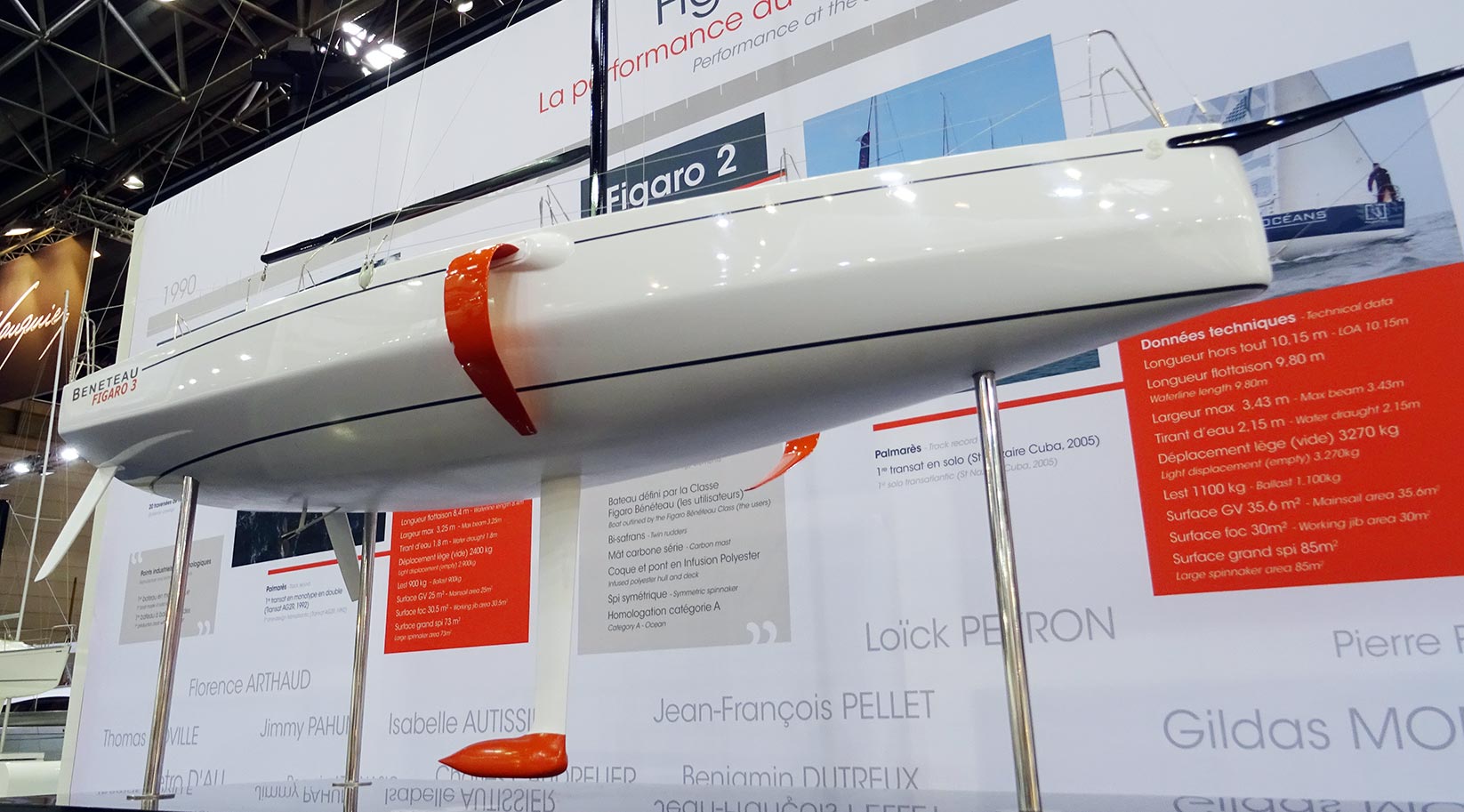 But of course, there have been small sailing boats too: I have seen a small jolly-boat with foils, which was quite interesting. Roaming to Beneteau in search for the all-new FIGARO III also with foils as standard equipment brought me to a model of the boat as the first production yacht will hit the water in 2018. Nevertheless, I got in contact with the FIGARO-project management and I am working on a follow up-article on this interesting project. Read my article on FIGARO II with Marc Lombard here and an interview about "La Solitaire" here.
A World Premiere: Bavaria C-57
Bavaria is a giant and one of the big production boat companies. So to gather trends in the business it´s always a good idea to have a look at their stand. Although "only" number 2 in the world, Bavaria did had the biggest stand of them all with virtually all yachts at display. One was particularly interesting for me, the all new C-57 sailing yacht, announced as a new standard in luxury sailing. Well, let´s take a look.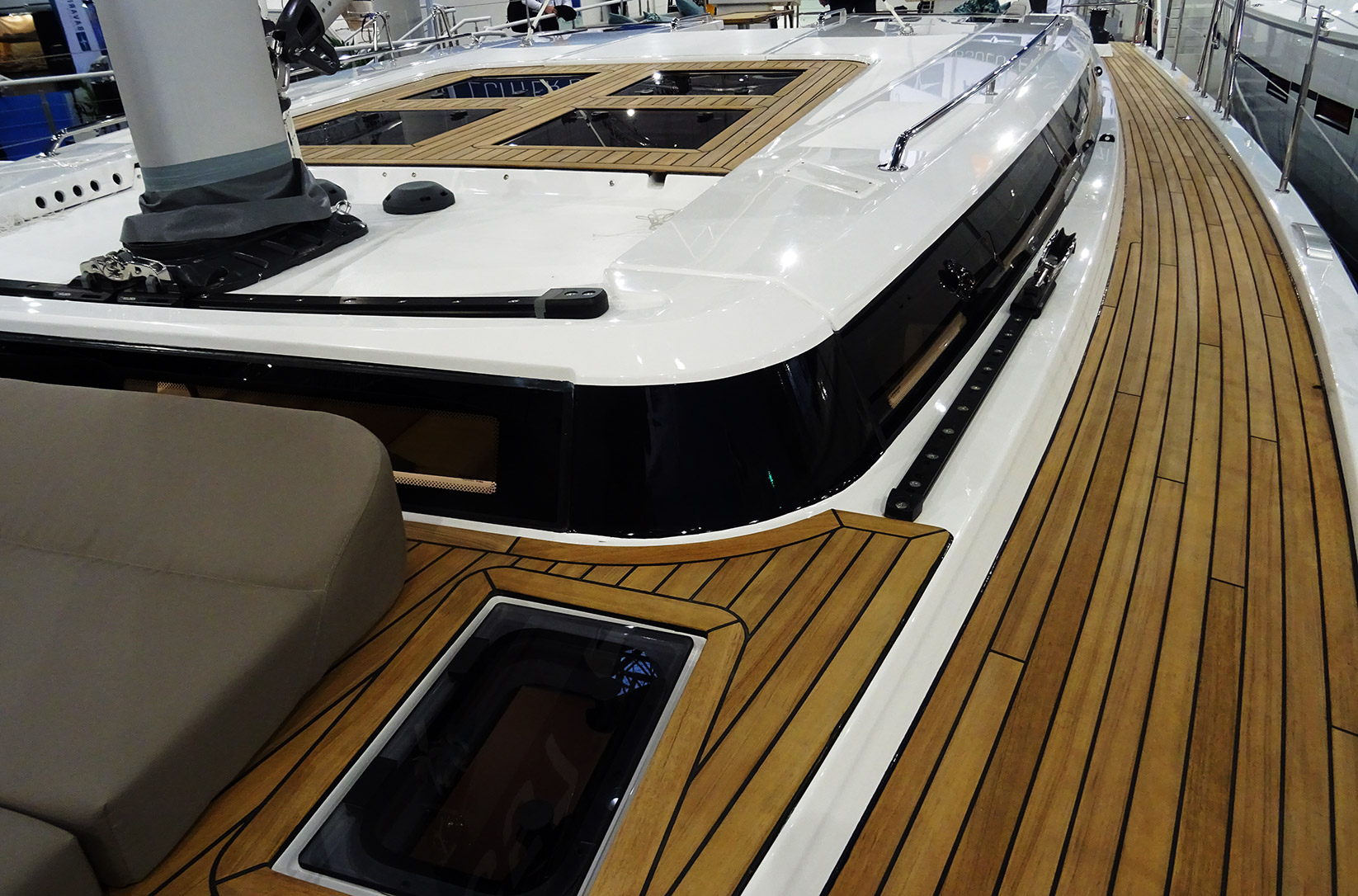 I must say I do not really like Bavaria as they are making volume-oriented boats. I can imagine that market-driven factors (from the charter business) are defining the style, interior appearance, quality and sailing characteristics, Bavaria does not have a good reputation among "real" sailors, yet the success of the company and the huge quantity of sold boats does make their strategy equitable.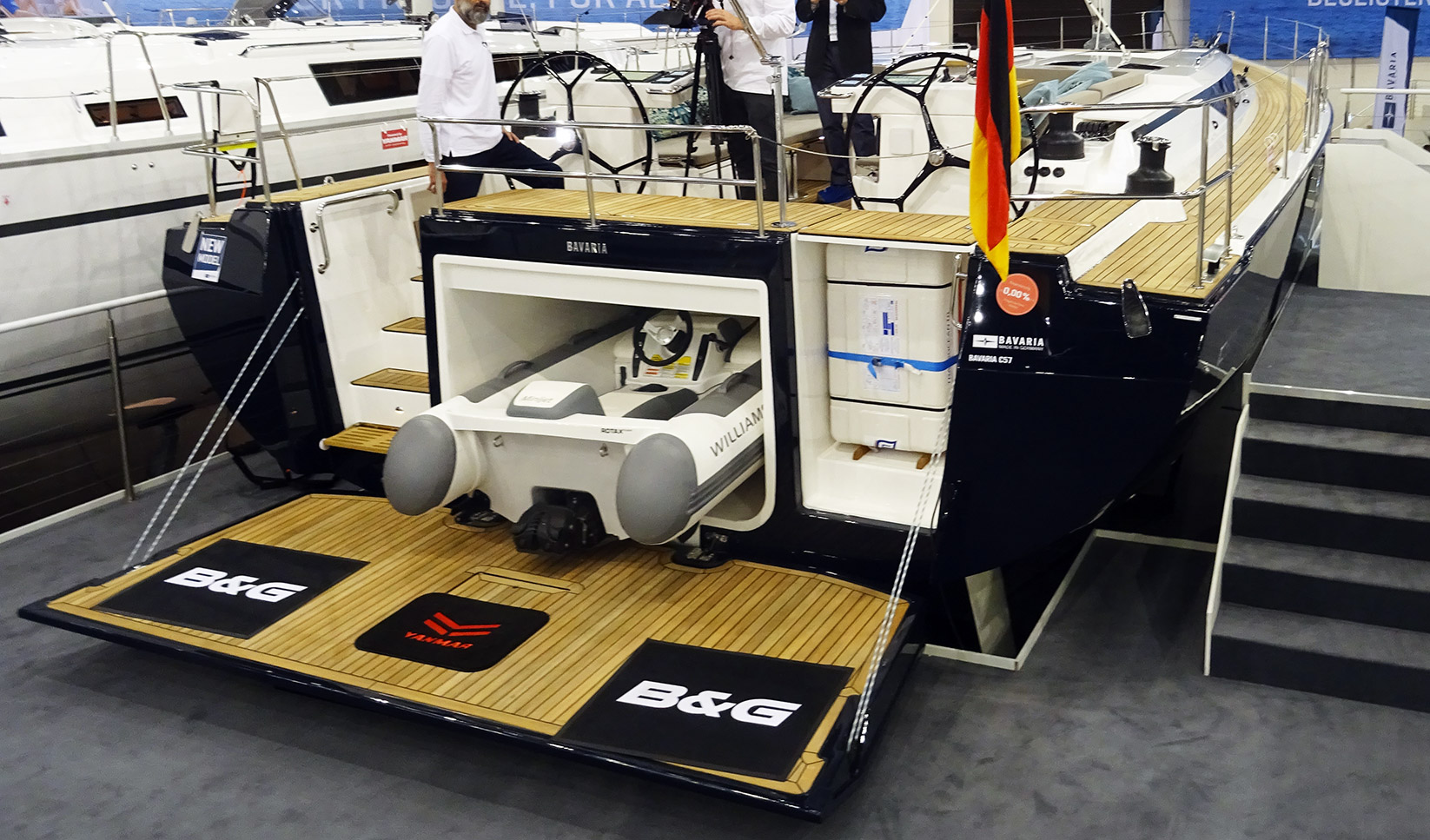 Admittedly, apart from the voluptuous hull, I did seem to like the appearance of the boat: The deckhouse created a modern sleek line, the inside space was tempting though for my taste too much plush. The boat will surely attract buyers. From the judgement of my fellow colleagues, what was the most interesting and innovative part of the Bavaria C-57 was her large dinghy-garage and the huge bathing platform. I am providing a more detailed look on this new boat in the coming weeks.
Another World Premiere: The Dufour Exclusive 63
I like Dufour since I was visiting their smallest boat, the Grand Large 310 some weeks ago. Now I got the chance to roam about in their biggest one. Although must admit that all these big boats are fascinating in one way, but also repelling in another. Honestly, they are way out of reach for ordinary workers like me. Though, as they are representing the pinnacle of a company´s development one could see them as role models for a later scaling down-process of inventions and innovations put into them. The same with French La Rochelle based yard Dufour as they have unveiled their latest model: The Dufour Exclusive 63.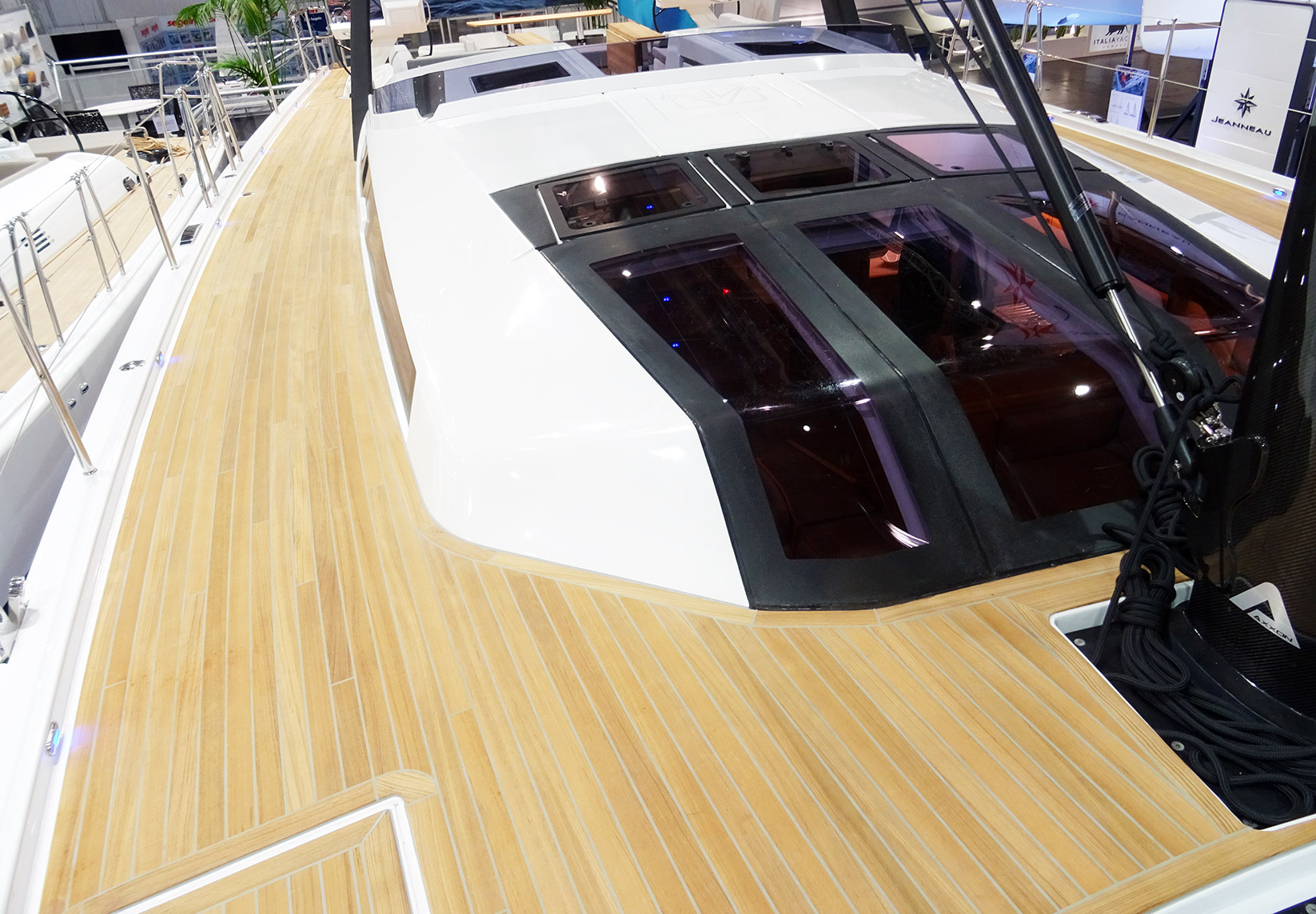 Designer Umberto Felci – please look forward to reading my interview with him on his approach to designing a sailing yacht in the upcoming weeks – achieved a quite nice looking boat. Undeniably a breed of his stable, the Dufour Exclusive 63 bears a racing yacht-like look rather than the intimidating German Panzer-appearance like the Hanse 675 for example. A sleek hull, complete flush deck with no visible roping, a nice sheerline and a very flat superstructure makes it a true beauty.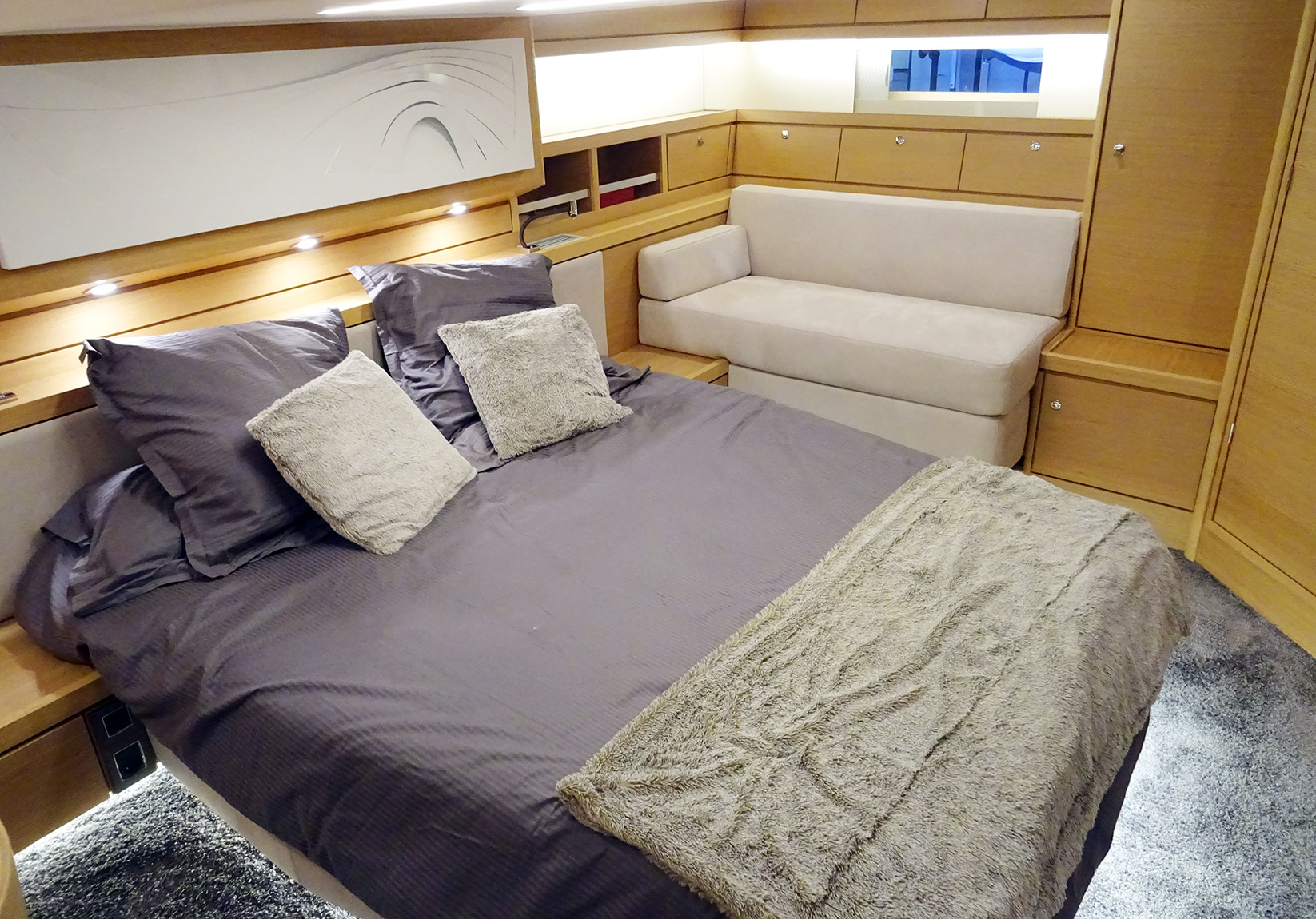 As I was roaming her cabins and saloon, I noticed that Felci in a way more radical than his colleagues designed this yacht to act as a true "home" for a proper family rather than building a ship. For example, stowage in the saloon resembles a bookshelf know from one´s living room. The huge aft cabin – biggest in size in her class – could easily be a small loft in New York´s Manhattan. Is this the way I personally would like to go sailing? Definitely no. But still a fascinating piece of boatbuilding indeed.
What was a bit more appealing to me was the Dufour Grand Large 460, the top-seller of the company last year and from what I am hearing a true performer. She offers more than enough space, yet has a unique layout of the saloon with a transverse galley at the main bulkhead rather than the more conservative port-side or right-next-to-the-entryway galleys. I loved the 460 and I am really looking forward to sailing one if these from Lisbon via Madeira to the Canary Islands in mid-March this year.
A Tour with Magnus Rassy
Hallberg-Rassy is THE definition of long haul travel by boat and I do not know a single sailor who is not fond of the classy lines of those Swedish made blue water cruisers. I was lucky to meet Magnus Rassy in person on the stand and found it particularly interesting that he remembered my little experiment with designing Captain´s chairs for my own small boat (read this article here). Magnus took some time to show me around in the all-new Hallberg-Rassy 44 which will be one of the upcoming detailed articles too.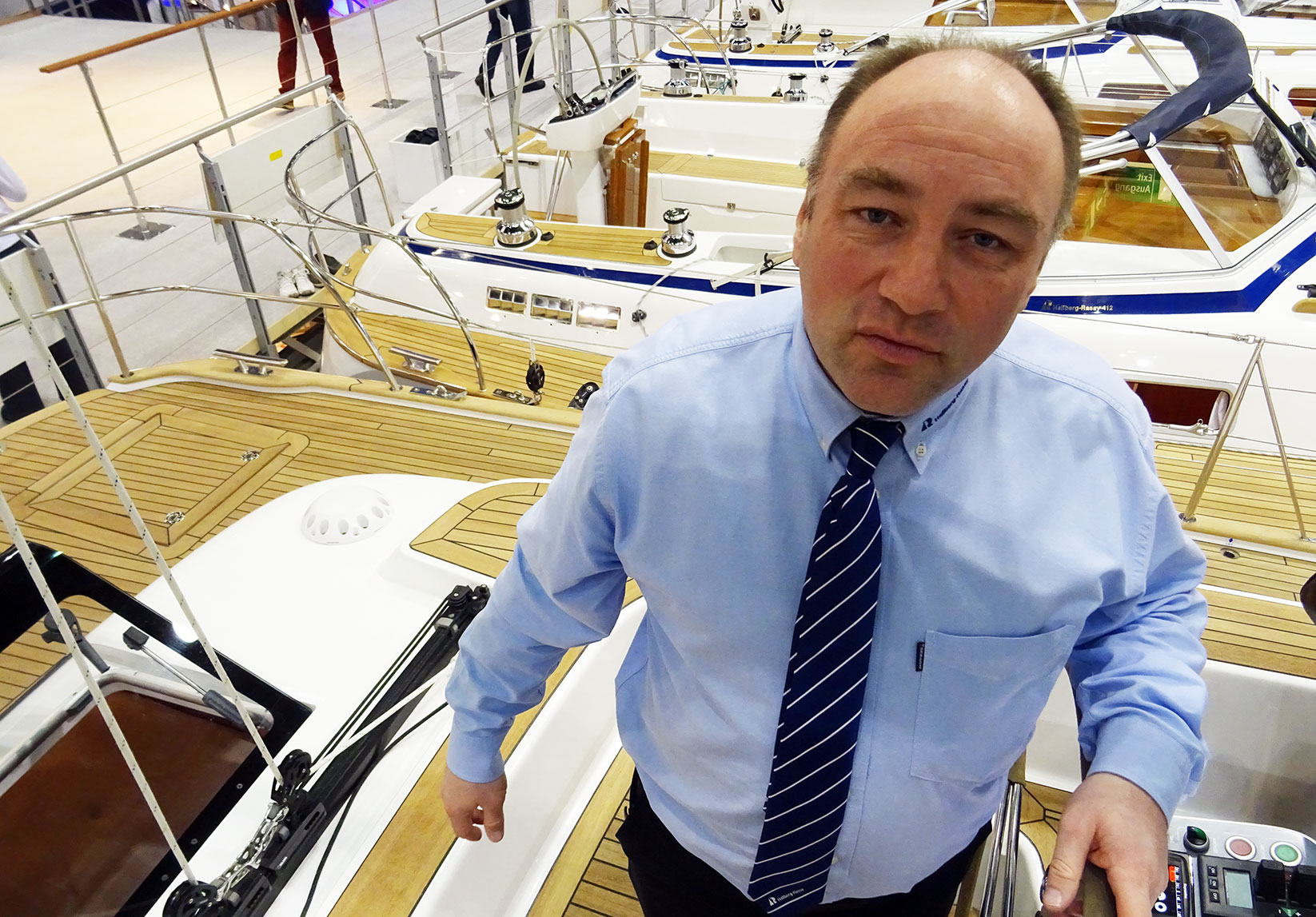 I loved the boat from the outset by looking at her first drawings and renderings: She is a very wide boat, bearing twin rudders and offering a huge amount of space to play with inside. Her hull has been designed in the best of tradition of German Frers to be an easy to sail, sturdy yet performing blue water cruiser: Deep keel, a classic bow for seakind motions on long cruises and the signature of Hallberg-Rassy, a safe middle-cockpit.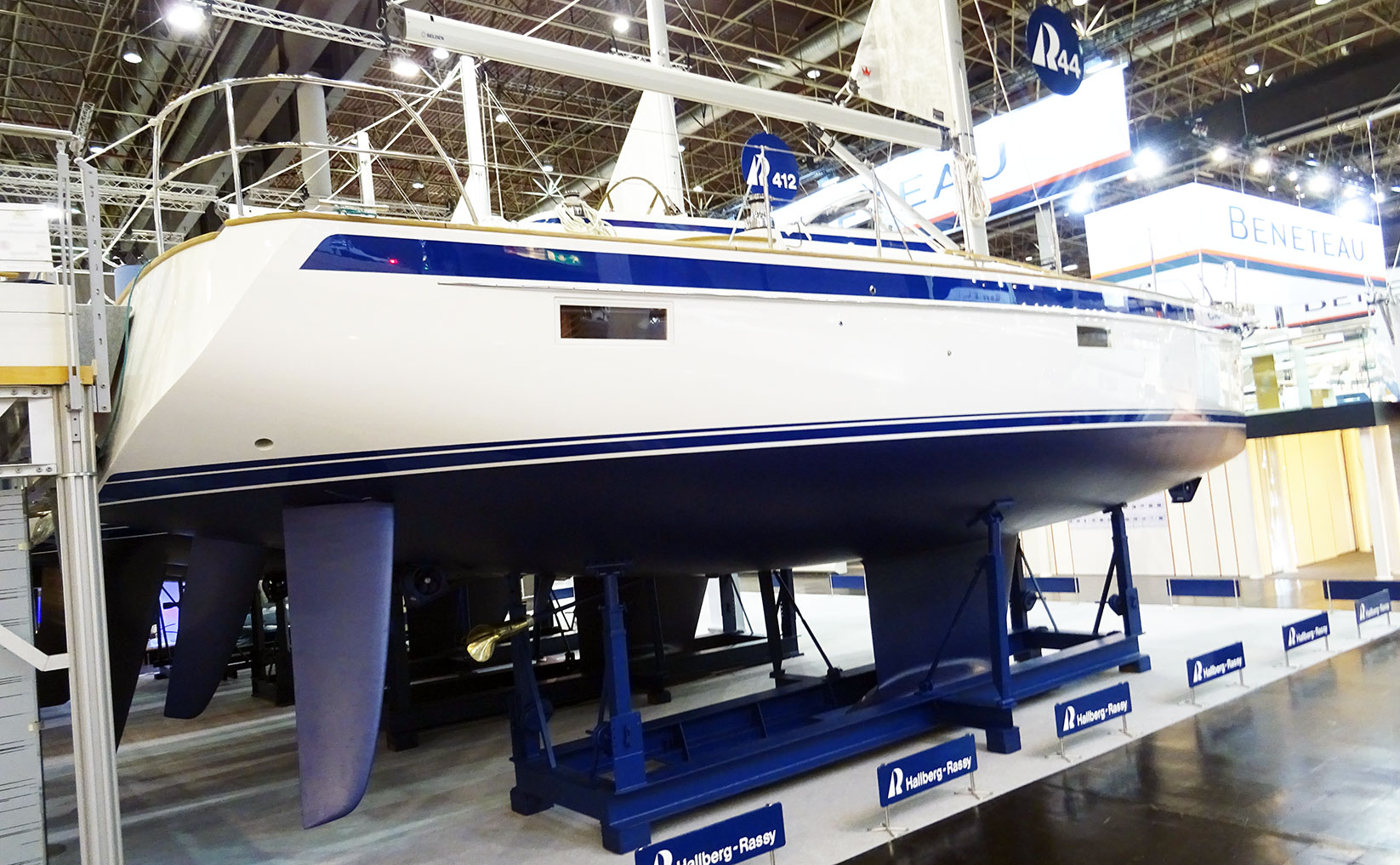 Hallberg-Rassy takes pride in the interior fitting of their boats to meet the highest expectations of blue water cruising sailors: Everything has been made with precision, no spots nor glitches can be found. Massive wooden joinery meets a practical seaworthy concept. These are true ships for true sailors, as I was noticing months ago when I was taking a proper look at a Hallberg-Rassy 412 and 43. So please be excited to read of Magnus Rassy´s tour with me through the HR 44 in the coming weeks.
The most tempting Boat of the Show: Italia Yachts 15.98
Italians know how to do it. That´s a fact. Upon taking a first look of the then-all new 13.98 at the Hanseboot boatshow in Hamburg two years ago I almost instantly fell in love with Italia Yachts. The 13.98 is still my favourite boat in the line of now 4 models of the Choggia-based company but still I was keen of seeing the new Italia Yachts 15.98 as she is the new flagship of the yard. And what a flagship she is!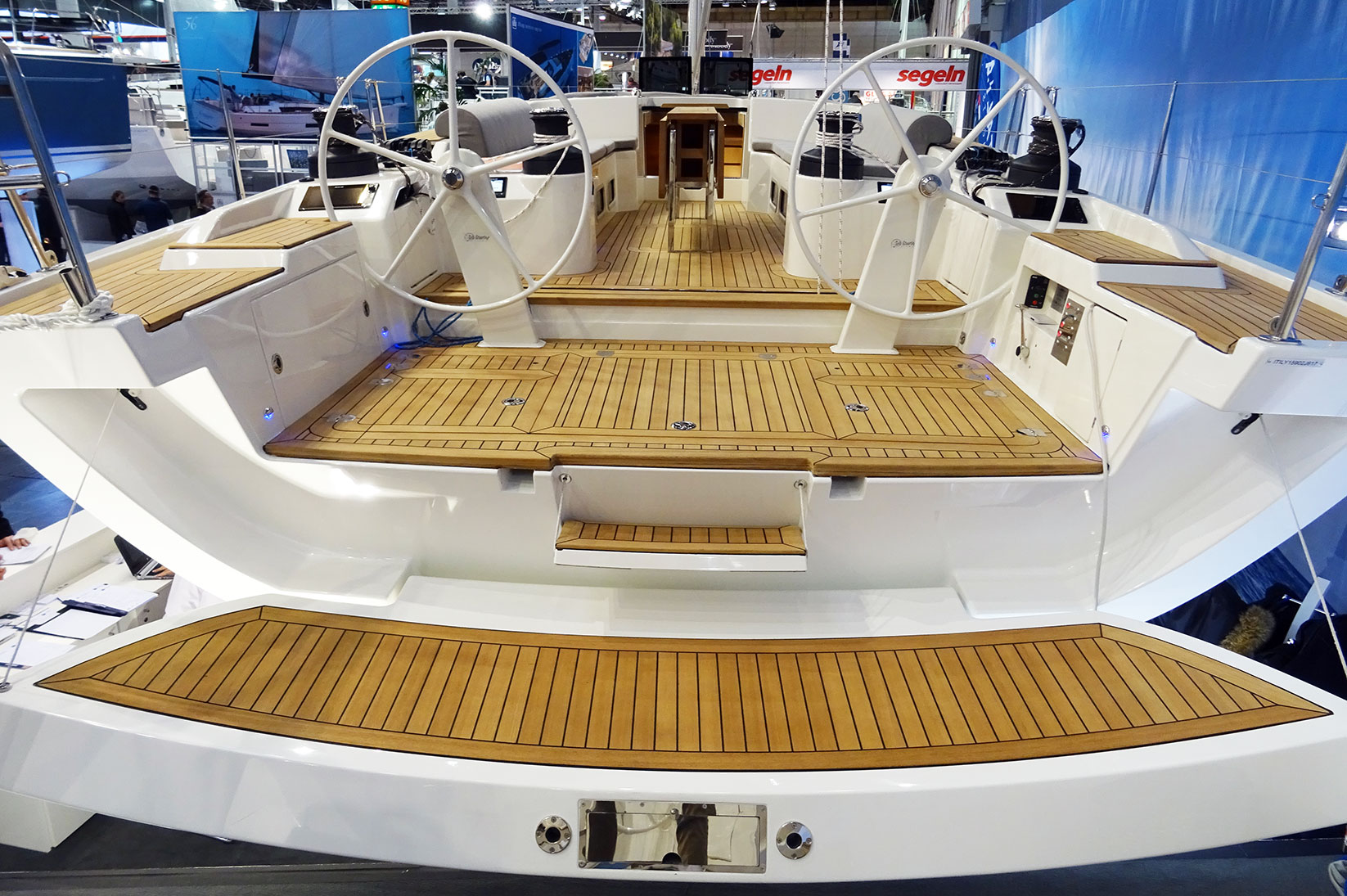 Her lines are grand, dynamic and appealing to one´s eyes. A wide stern made for fast sailing, sleek bow, slight sheerline and dynamic carved out portholes make her appear as a true performance boat – yet her interior, the joinery and fittings put her in the upper class of sailing yachts to act as a true luxurious cruiser. Italia Yachts makes fine boats for racing on Monday and to go on a world circumvention on Sunday, as Franco Corazza, owner of Italia Yachts, told me in an interview.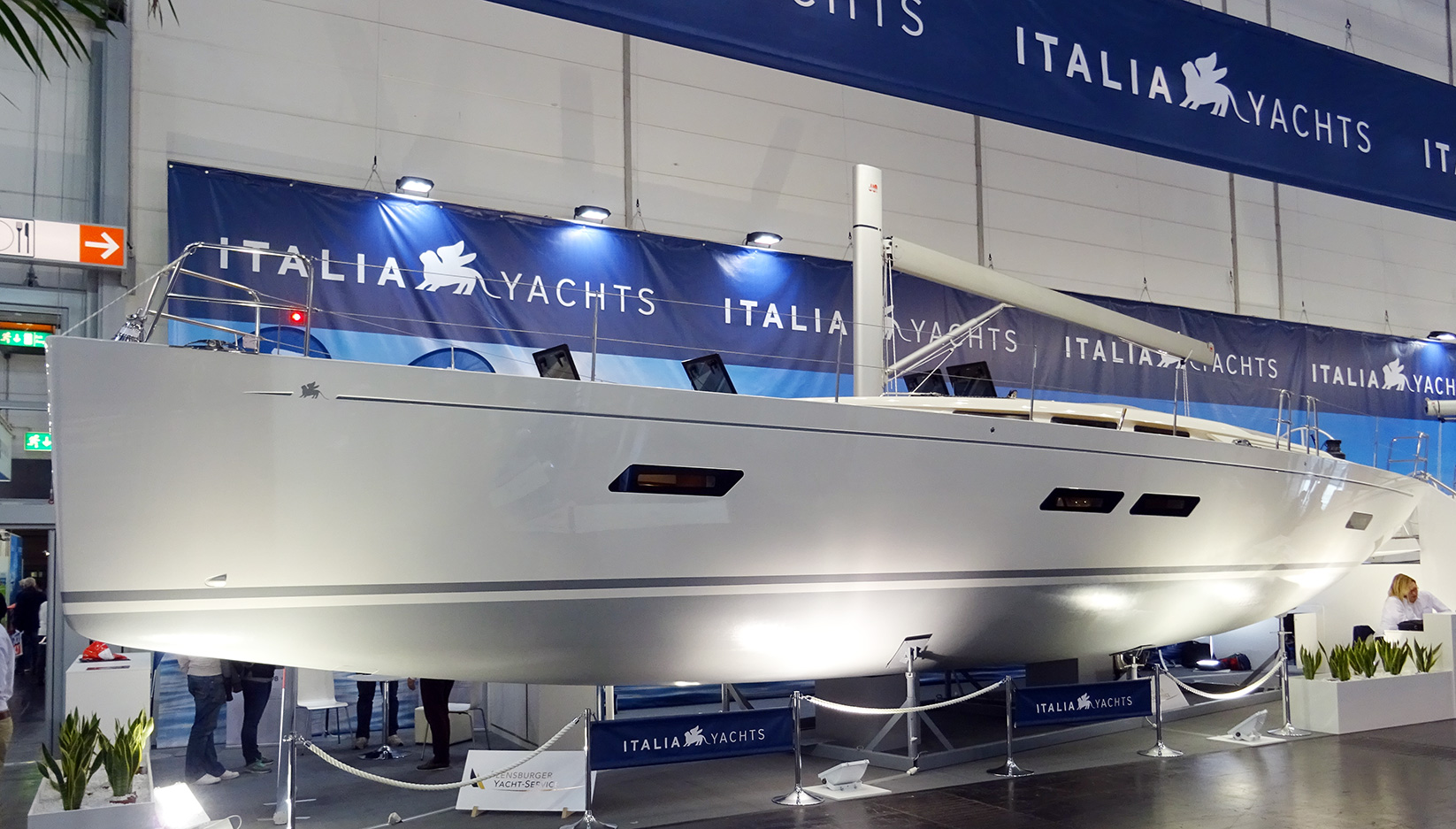 The new boat will meet all expectations and furthermore will exceed them in a way that one can only remain standing there, dreaming of those beauties under full canvas. I hope to being able to someday visit Italia Yachts yards in Choggia near Venice and maybe get to steer one of these personally. Please also look forward to reading my intensive interview with Franco Corazza and young yacht designer Matteo Polli in the coming weeks.
Wasted Opportunities and a vast Disappointment
Although I was attending Dusseldorf boatshow for the full 9-day duration, there have been quite some boats I didn´t came to see in detail, which I do regret very much. First of all J-Boat, of which I was keen on taking a more detailed look at the J-Boats 112 which was exhibited. Know to be fast sailing yachts and true racers, I was only able to admire their harmonic outward appearance. Maybe – no, hopefully – next year!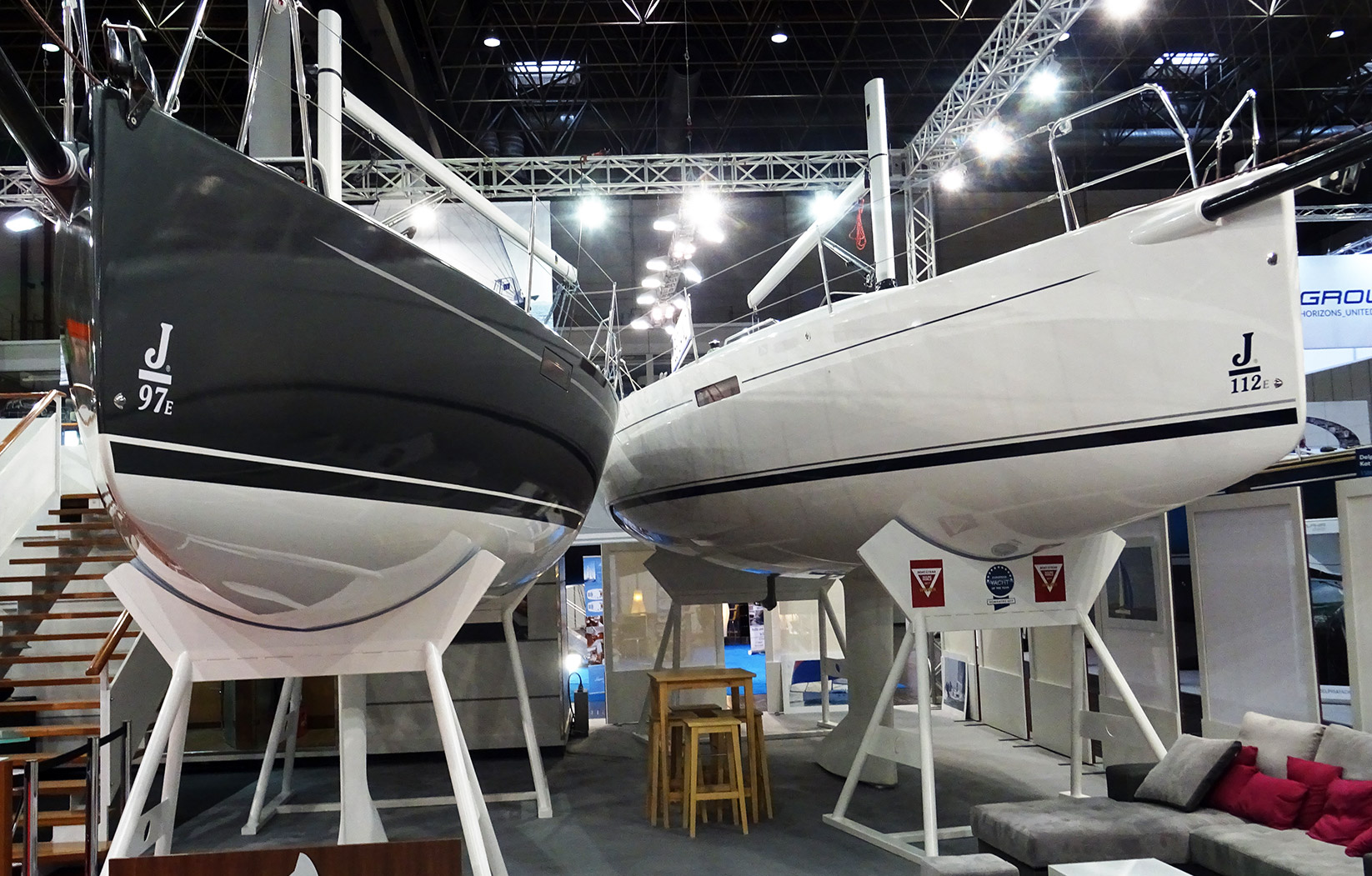 I was also not able to visit the aluminium made +50 foot Garcia Explorer yacht which would have been very interested, all along with a two-masted Oyster, the CNB and the Euphoria yachts due to the long queues in at their front desks to get permission to come aboard. I did manage to visit the huge Hanse 675, but taking pics was prohibited which was a disappointment too. She is a hotel. A proper hotel. Her modern interior is cleverly thought through, nicely done and really redefining luxurious travel. Though from the outside this boat still doesn´t meet any of my personal tastes when it comes to ship design. Another big disappointment was Solaris Yachts.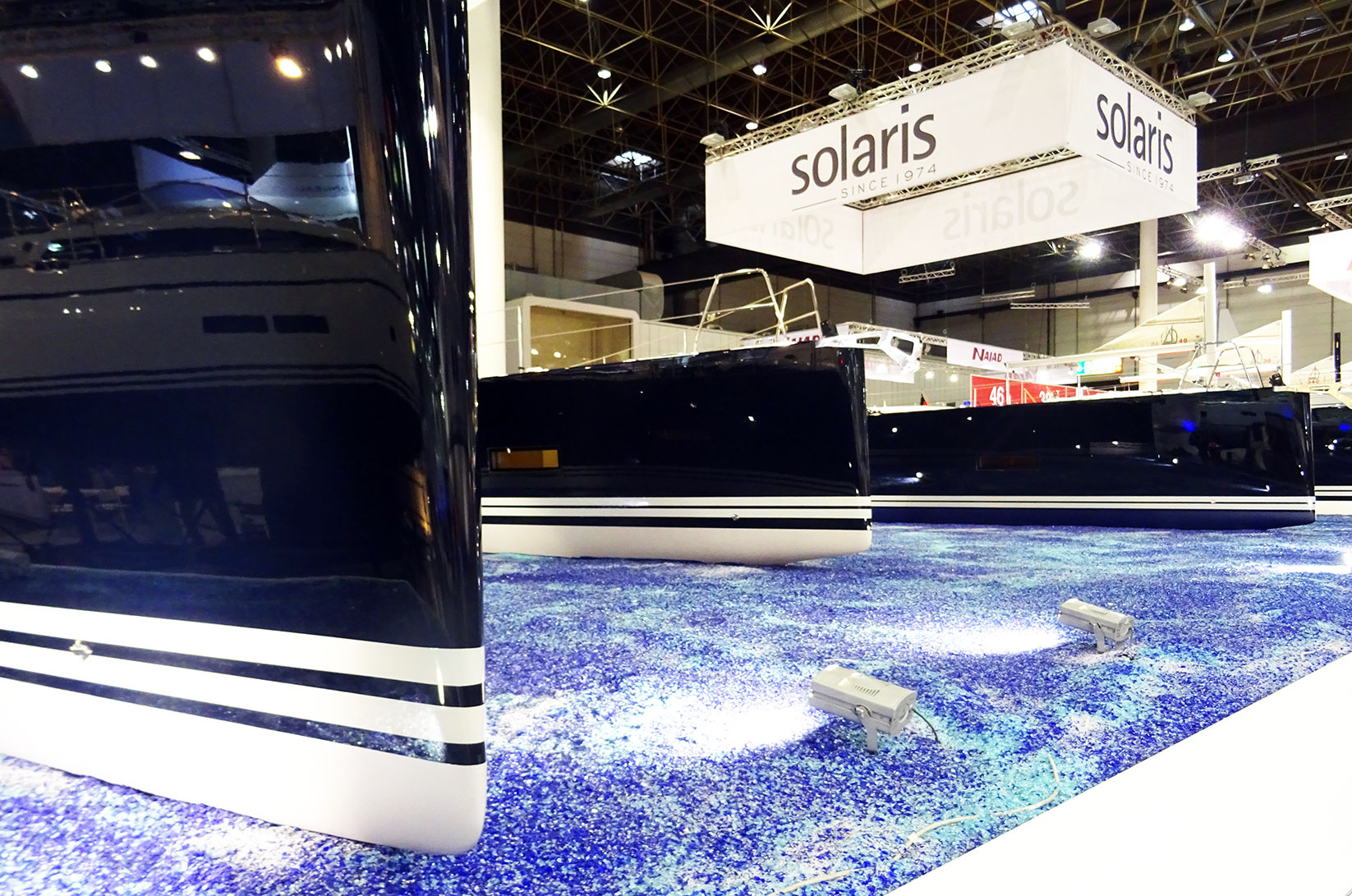 They did have – in my mind – the most beautiful, tempting and appealing stand of the whole fair. The boats had been inn display "floating" on an "ocean" of blue glass shivers, creating a damn sexy effect. All along with their damn sexy hulls and another premiere of the Solaris 55 this was one of the top priorities on my list to visit. Yet I have been repelled right at the entrance to the stand by their staff in a very rude manner: Nope, that´s not the way to be treated so no kind word on Solaris Yachts here and no follow-up article, which I do really regret.
News from X-Yachts
X-Yachts is a sublime brand and known for their fast sailing and neatly done boats for sure. So to get an overview of what´s going to happen in the performance cruiser-market, it´s always clever to take a look at their stand for sure. And I was happy to meet Flemming Ancher of the yard again, remembering his 4 hour tour with me through the yard last summer in Haderslev Denmark (read it here). And indeed, there had been quite some nice news of the Danes to be seen.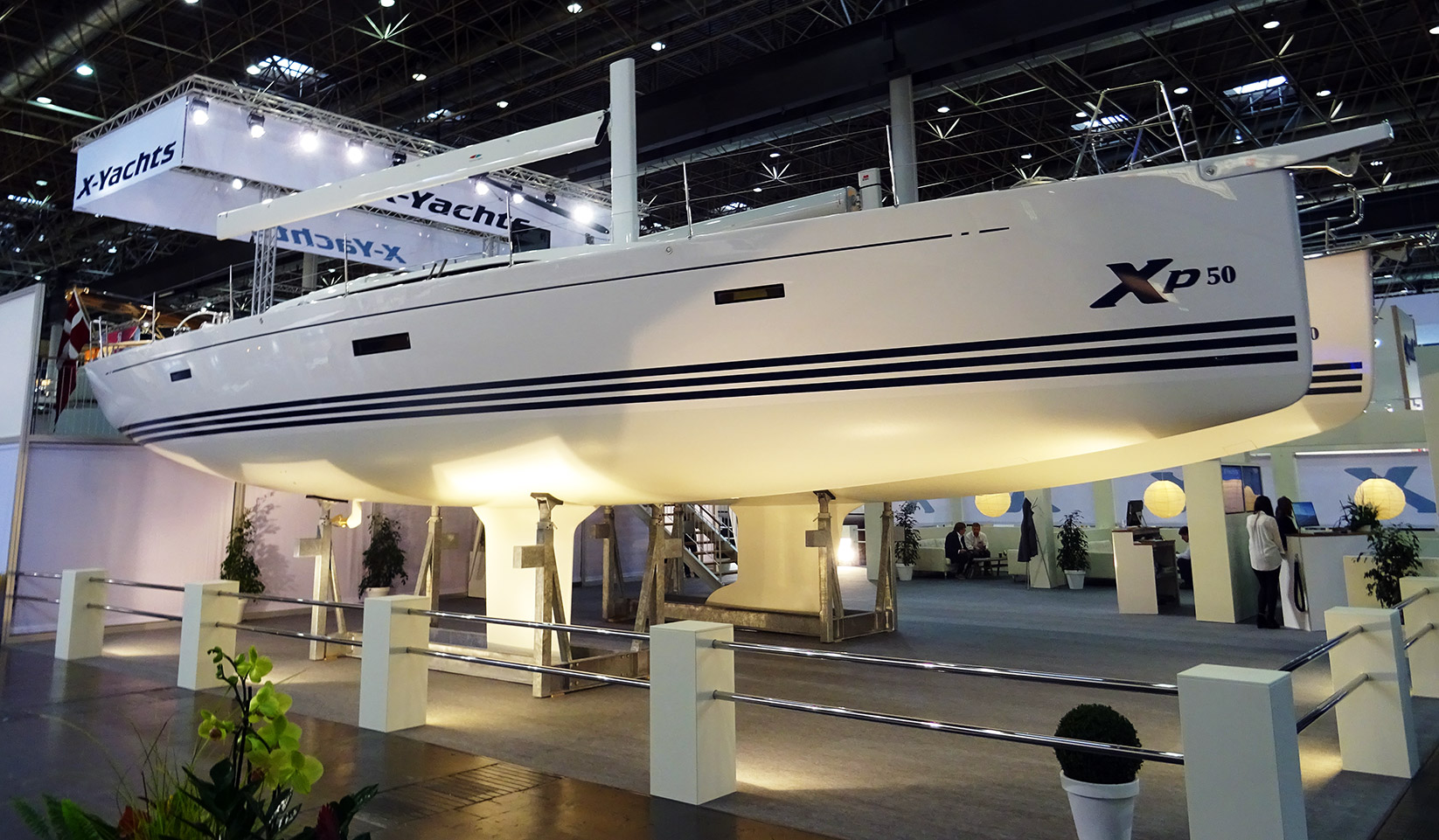 At first they widened their range of the XP-line, the performance oriented cruisers to fit the new flagship, the XP-50. Although 55 feet is a pretty big length, the boat appears as sleek as ever as the hull meets true Scandinavian sailing style: Sleek and long makes high speeds. It will be interesting to read about the performance of the XP-50 and to see whether this boat will also exceed expectations as the then-new XP-44 has been.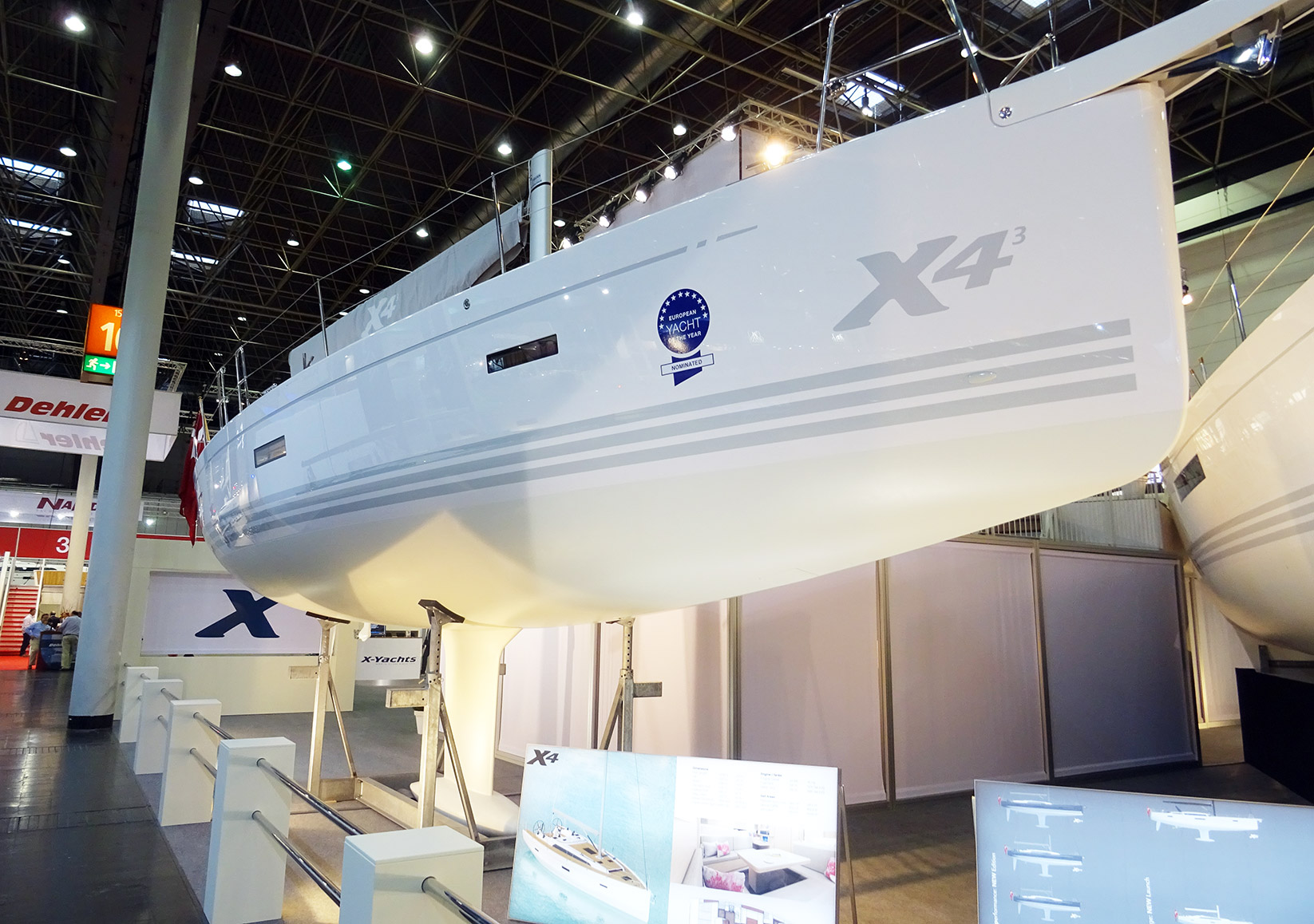 X-Yachts are very nice sailing boats, of this I was able to get reassured during my Coastal Yachtmaster cruise (read it here) on board an older X-442. I met an old friend of mine at X-Yachts stand too, the X-4 which is my personal favourite in the range still: 40 foot is still a manageable size and this boat really comes up with everything a true X is all about.
Star of the Show: Club Swan 50
Yepp. She is the Star of the Show for sure and normally you won´t have to talk about this boat much. The Club Swan 50 was top priority to see for me at the Dusseldorf Boatshow and I was lucky to be granted to visit her multiple times. I could just post pictures of this boat and wouldn´t have to write much about it, but this boat is so unbelievable sexy that you can also look forward to read a more detailed article with a load of inside-shots of this boat in the coming weeks too.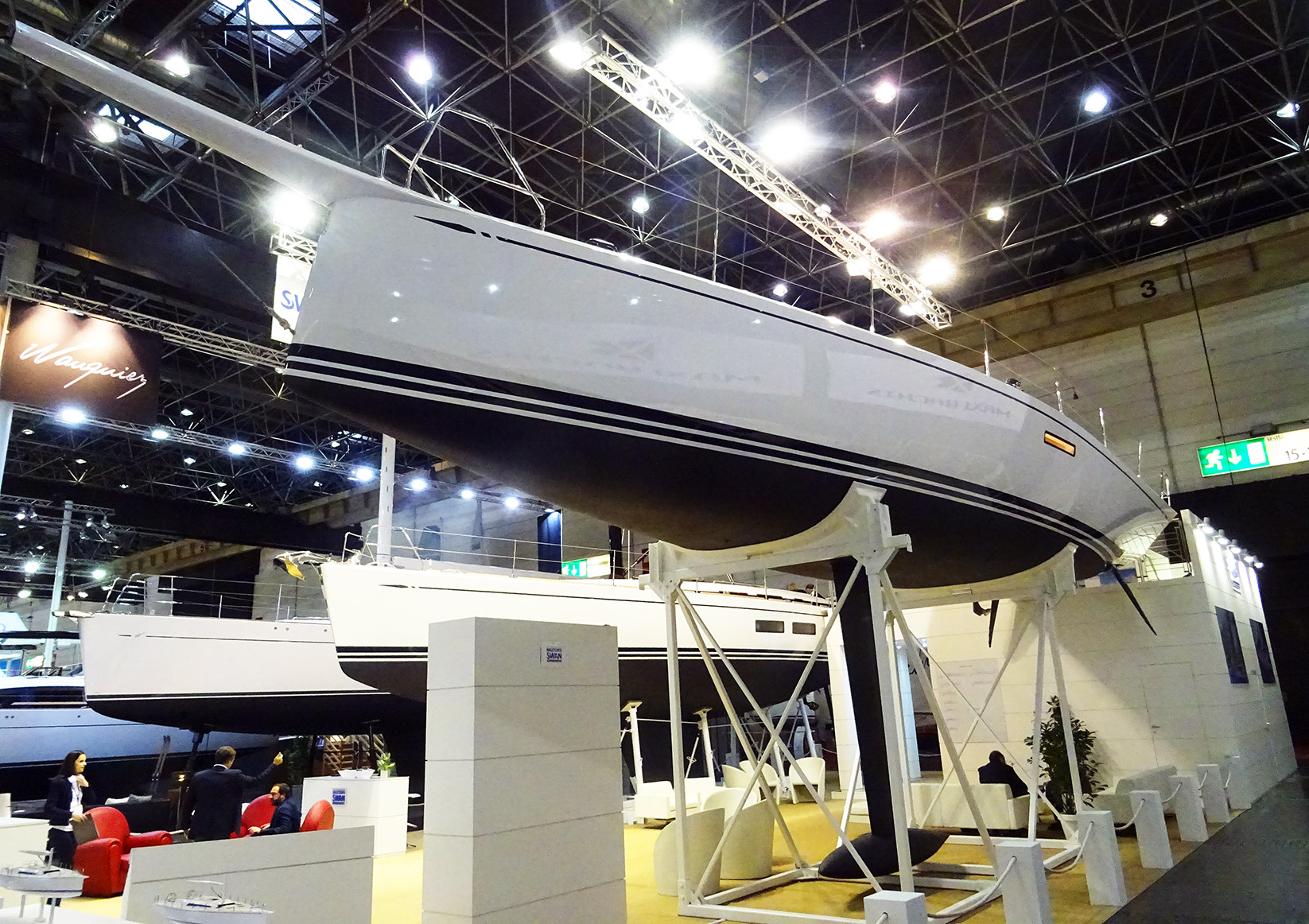 Her hull was floating well above all other boats at display which was due to her 3.50 meters draught. Like a princess or an alien insect she was enthroning the fair and marking her territory. Naval architect Juan Kouyoumdjian, who´s name is as unusual as his design, did really define a new chapter in yacht design. This boat is full of features big and small that it really deserves another article.
Coming in the morning hours before public opening of the show, I spent a lot of time in her wide cockpit, imagining myself at her steer (would I be able to hold on to her demands?), admiring her beautifully crafted decking and everything about her made to sail fast – yet in a new dimension of style. What a true beauty!
The Fast and the Small: Pogo 36 and RM 9.70
Speaking of fast – next to the big brands of yacht building and their big boats another hall with the smaller companies and smaller boats did also attract me well. First of all I was interested to get a proper look onto the all-new Pogo 36 fast cruiser, which I also did for multiple times over the week. I´ve never sailed on one of their "cruising" boats rather than a few trips on the legendary Pogo 40 (which you might read here and here) but I know that they are damn fast.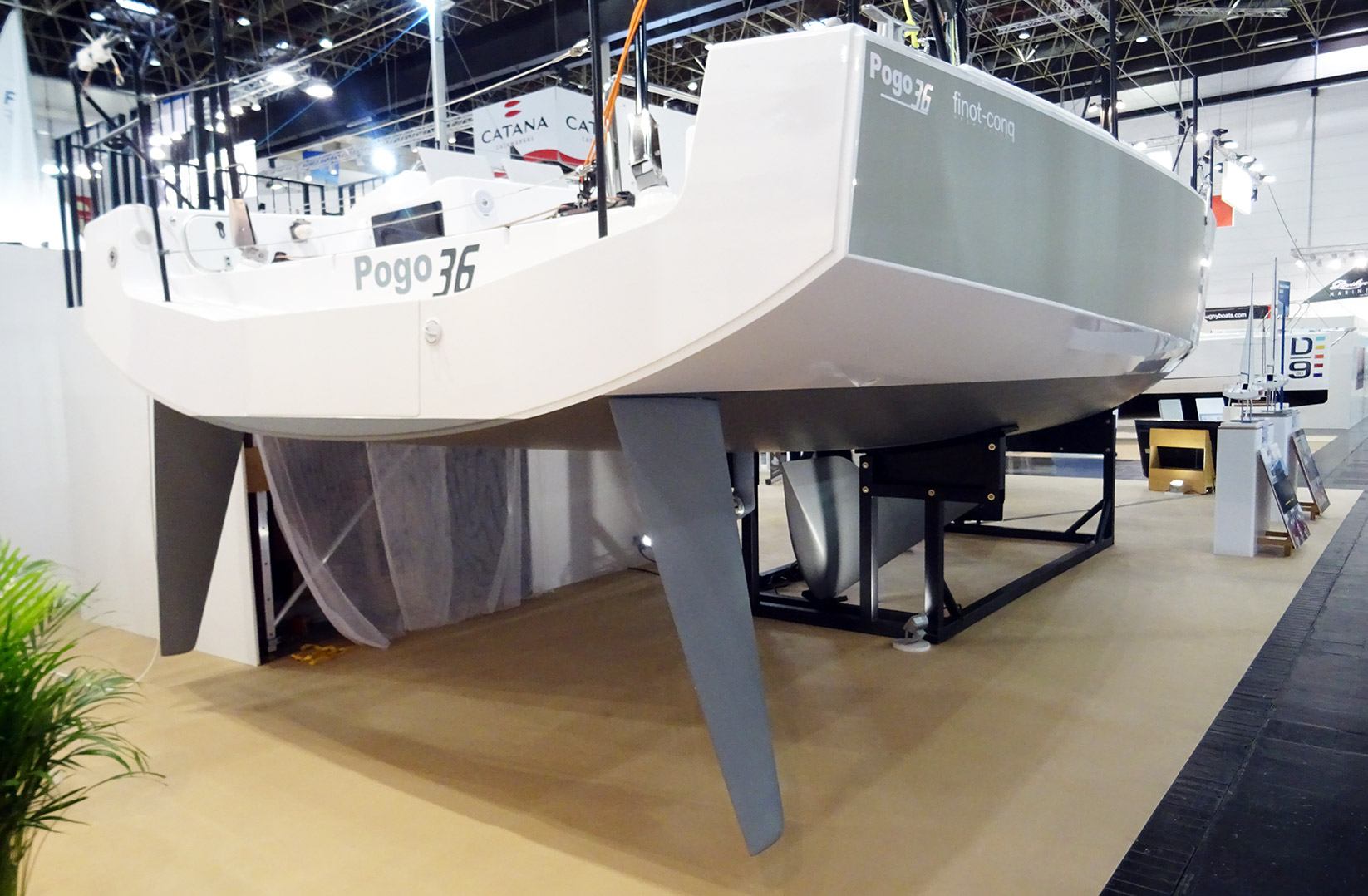 Charly Fernbach of Pogo Structures gave me a thorough tour of the boat speaking about all of her features – another article you shouldn´t miss on www.NO-FRILLS-SAILING.com. Another man I was very excited to meet in person was naval architect and designer-legend Marc Lombard whom I had interviewed multiple times so far (by email and phone, read it here) and I was able to meet in person during the show at last. We did meet at the stand of small French company RM sitting under the 2017 Boat of the Year – the RM 9.70 talking about his design-approach to RM. You got it: Another one not to miss during the coming weeks.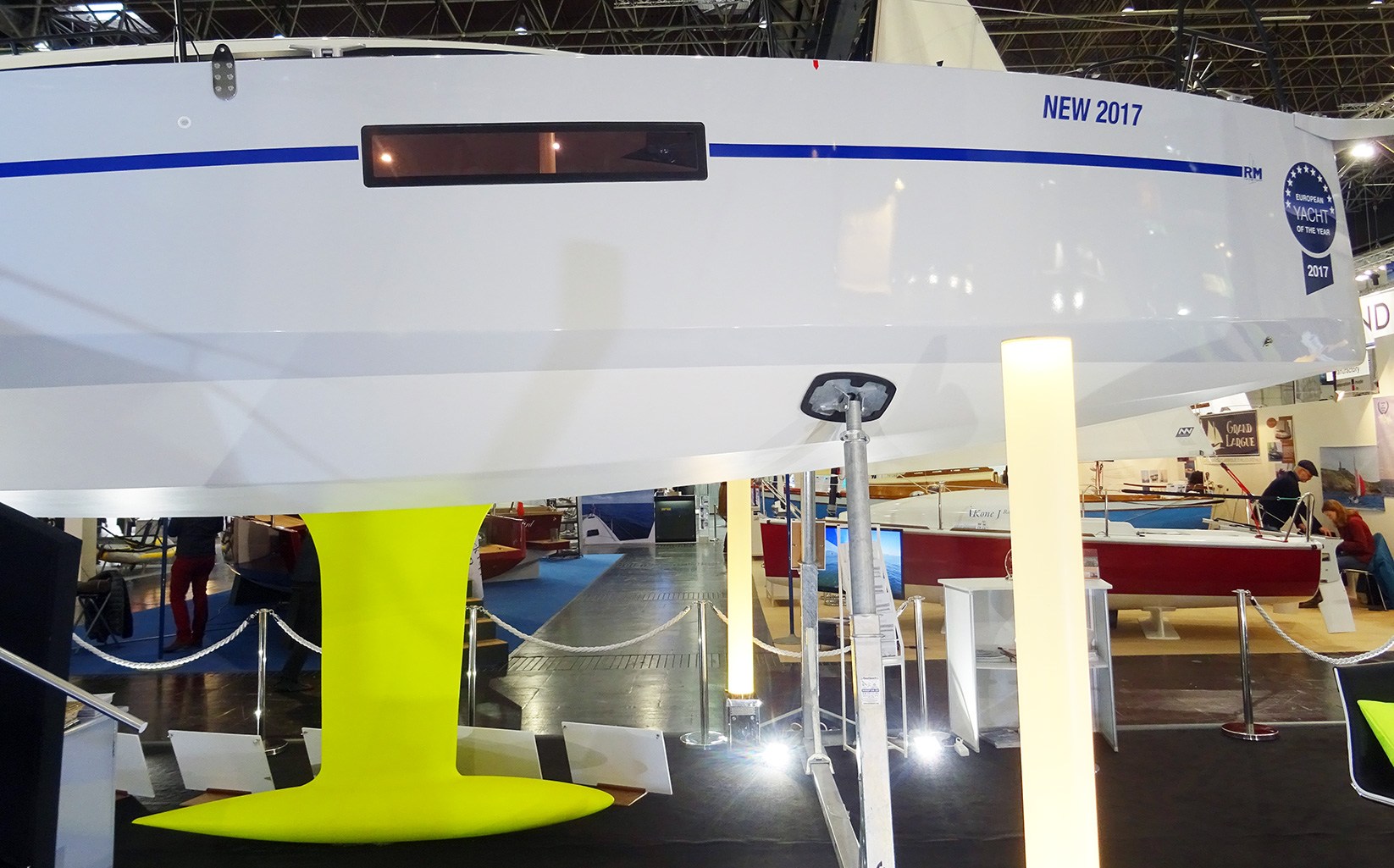 At RM I was particularly interested in the company´s dedication to work with plywood rather than to laminate GRP-hulls like all the others. You may have read my interview with Alex Lang and his Class Mini 650 plywood build in the past months, this was most interesting to get to know the "professional" technique of making modern, sturdy plywood hulls.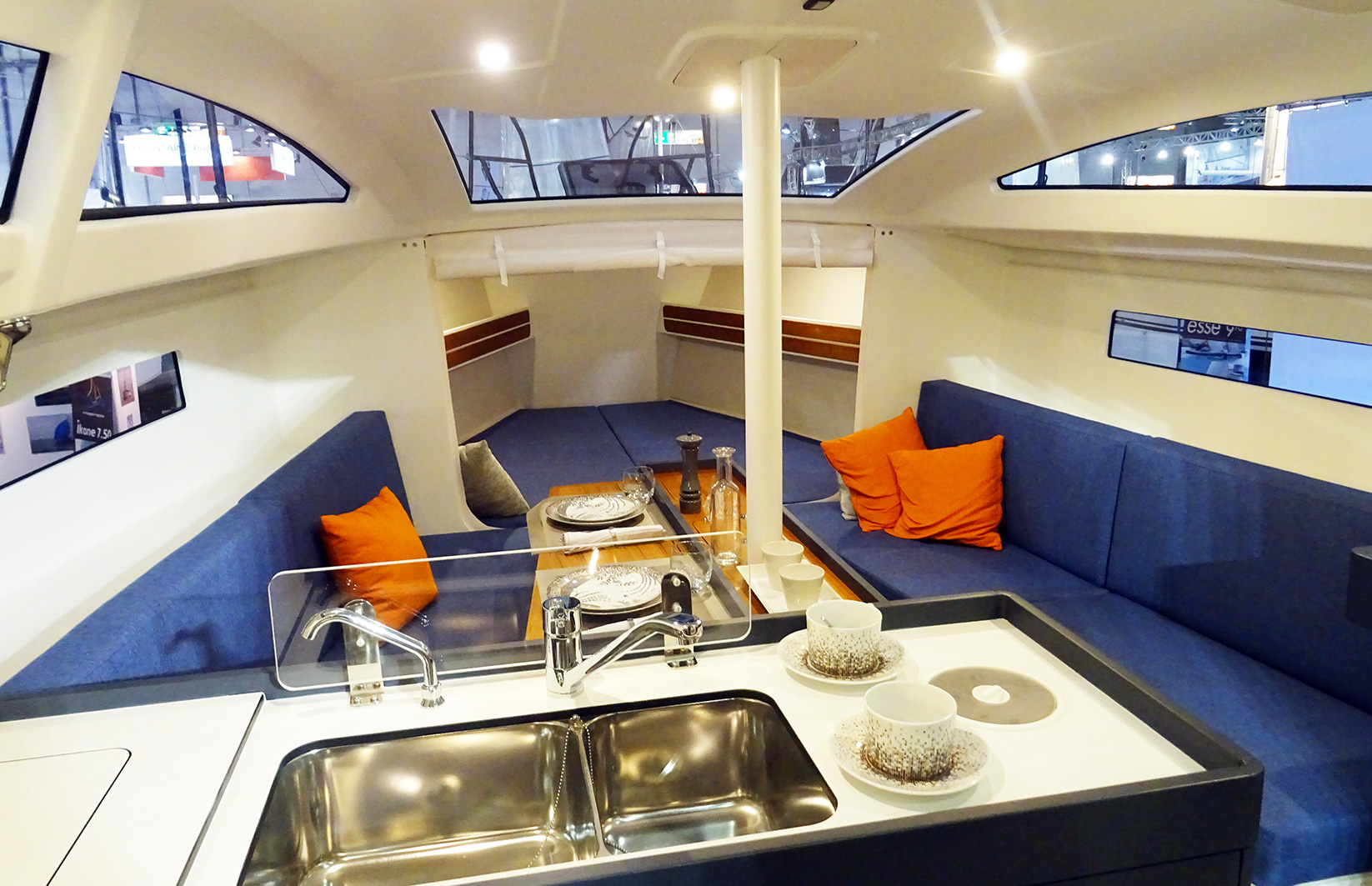 Roaming inside the RM 9.70 I was again stunned by the amount of space offered by the wide hulls made for planning. A volume created by this short 9.70 meters long boat could easily meet the volumes of much bigger, 40 foot boats. Fresh and sexy, as Marc Lombard was telling, this is what the RM appeared to me and I was instantly fascinated by this little fast boat.
Most touching Boat: Pelle Petterson and his Maxi 1200
In the end, I did also have a personal touching moment too. Right at one side of the exhibition hall on a very small stand, dwarfed by the big brands and laying almost in the shadow of a big production company´s stand was Maxi Yachts with their Maxi 1200. I almost missed the stand – but in the end, it was here where I was struck and touched the most.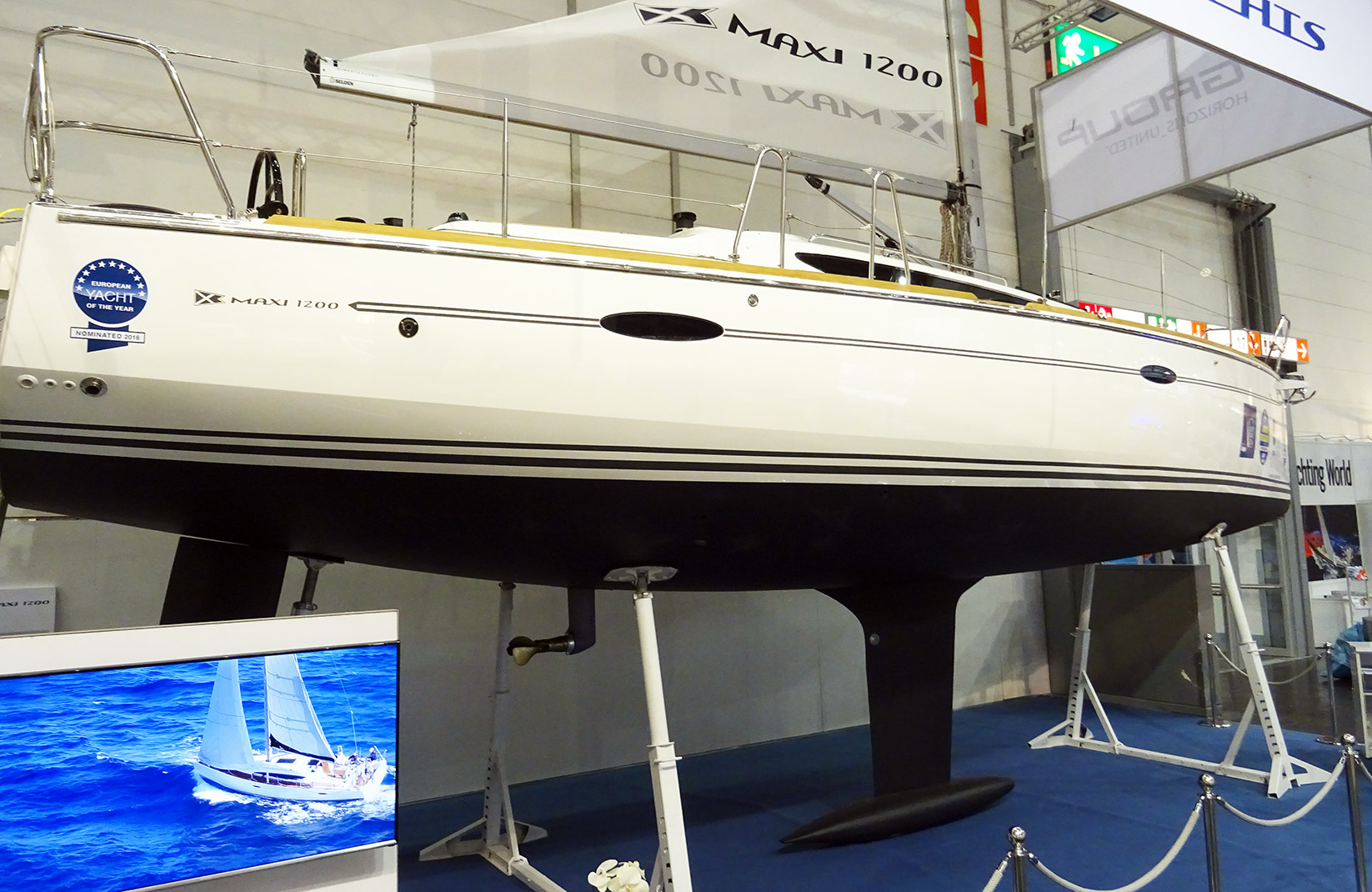 Maxi Yachts are drawn by the Scandinavian master of naval architecture, Pelle Petterson. Apart from the fact that Pelle once virtually brought industrial design to a variety of companies in Sweden and other Northern Countries, he is the designer of my own sailing yacht, the Finnish made Fiskars King´s Cruiser 33. This boat was made over 40 years ago – Pelle is still around making boats. So it was a very emotional moment for me entering the Maxi 1200.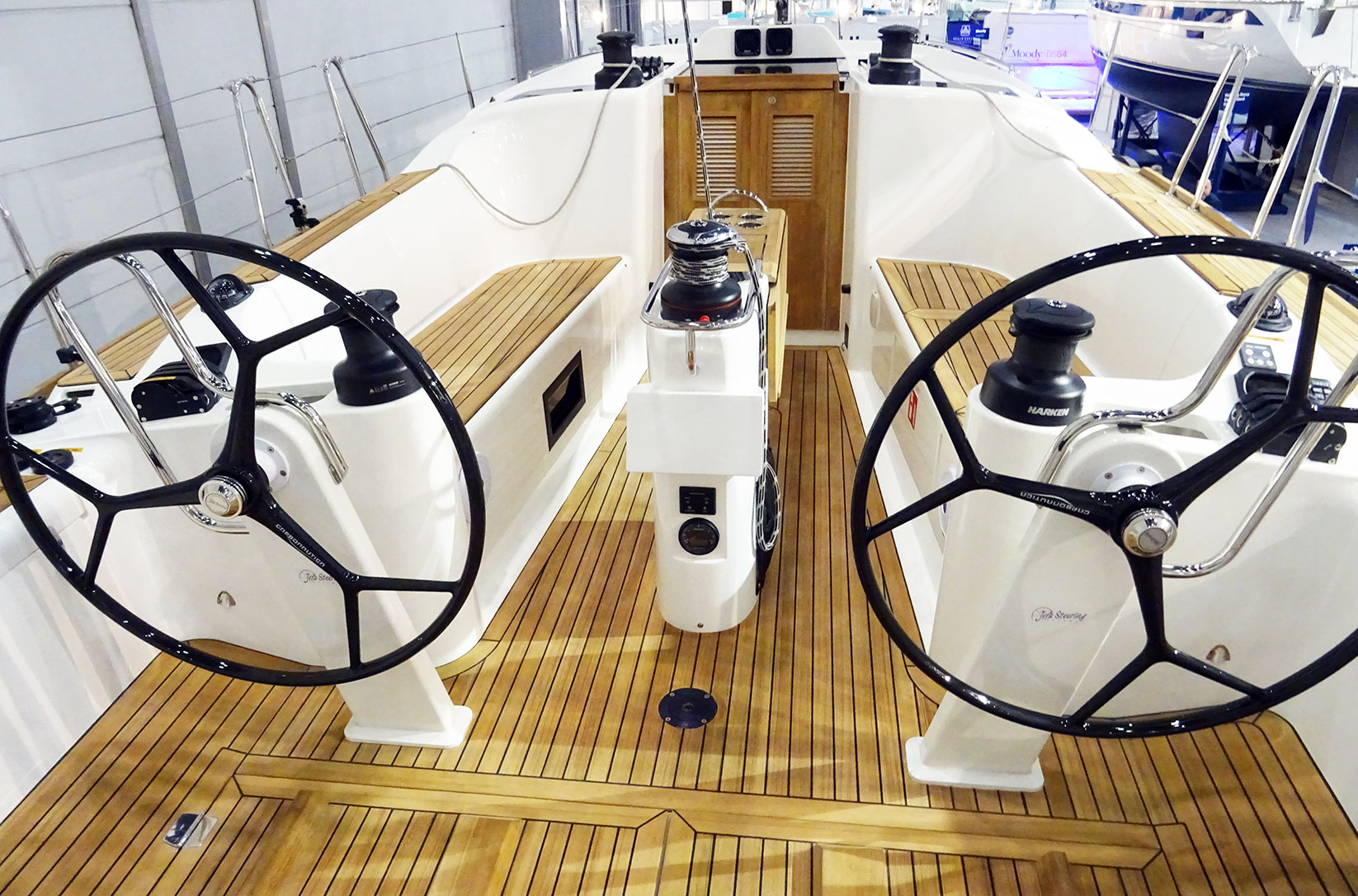 And guess what? I instantly recognized Pelle´s style. First of all, the hull appears to be both seaworthy and fast on the one hand, but on the other hand – especially the cockpit – has been thought through to be safe and assuring to the crew. I recognized the high, kind of tight and therefore safe, cockpit space made for sailing, not for bathing. Looking at the cockpit layout and the placing of the winches, I suddenly realized what a "good layout" really means. The interior had so many references to my own boat, that I really almost had tears in my eyes. Please, also look forward to a very nice upcoming article on this wonderful Maxi 1200!
That was Boatshow Dusseldorf 2017
So that was it, the Dusseldorf Boatshow 2017. So many boats, so many great yachts and interesting people I´ve met. And that´s only a small portion of this world leading fair. So many halls unvisited by me: Equipment, charts, clothing and everything a sailor can dream of is presented here.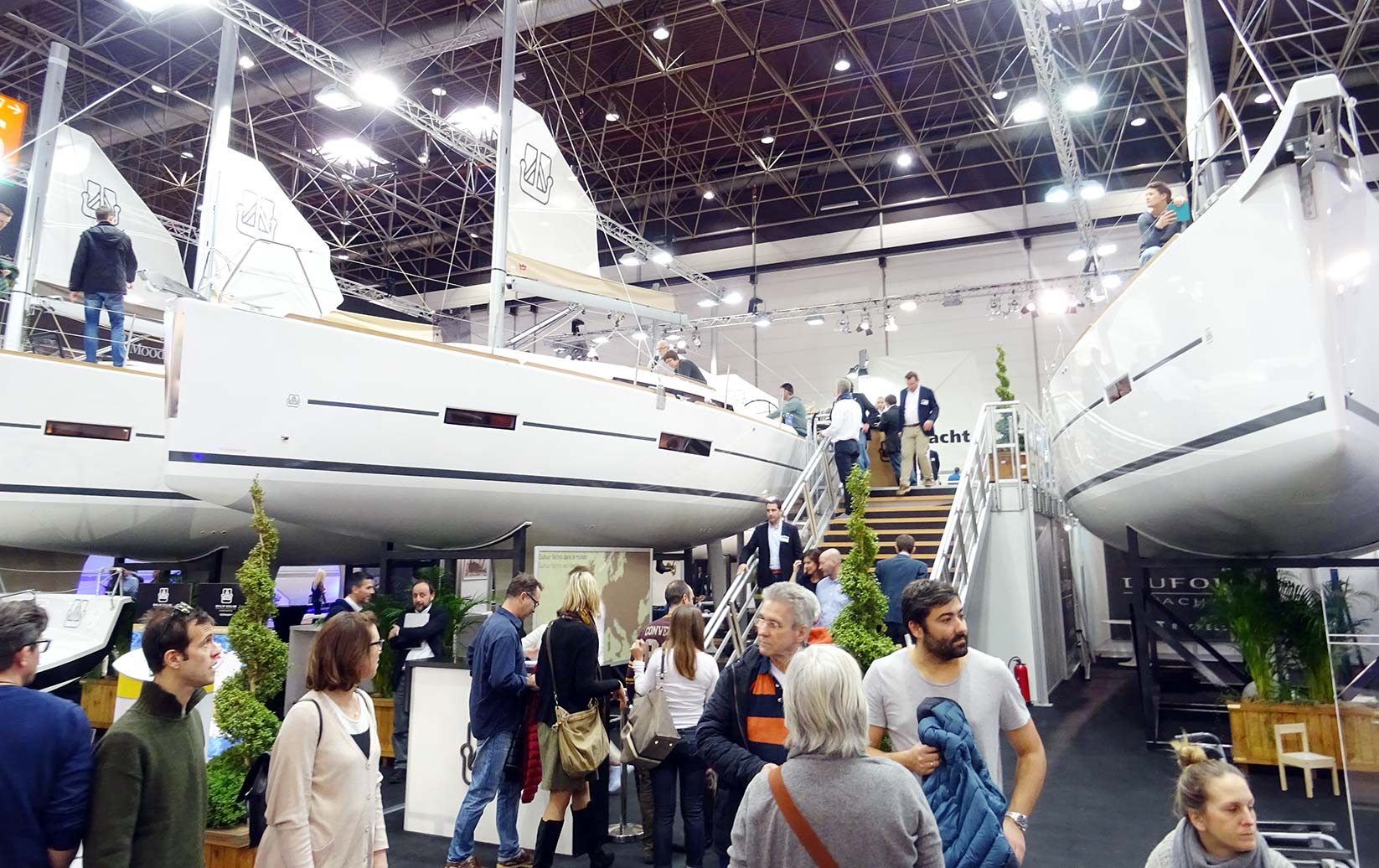 I brought home with me so many impressions, hundreds of photographs, dozens of papers with written notes of interesting interviews and in short: A lot of work for exciting articles here on NO FRILLS SAILING.com sailing magazine in the coming weeks. Please check this tag #boatshowdusseldorf regularly to not miss a single of the upcoming articles.
Other interesting articles on that topic:
Roaming the Hanseboot 2015 and 2016
At the Cannes Yachting Festival 2016
Dufour Exclusive 56: Travel in Style