I was amazed and puzzled when I heard of "La Solitaire" for the first time some weeks ago. How come?, you might think: The Solitaire is one of the most prestigious races of France and should be spoken of with the same highest awe as one would do when talking of the 24 Hours of Le Mans or La Grande Boucle, the Tour de France. But I must admit: I´ve never heard of the Solitaire before.
La Solitaire is simply cult. It´s a 3 to 4 stage single handed-regatta that covers legs out in the Atlantic Ocean between France, Great Britain and Ireland. It was first raced back in 1970 and has since then gained cult status in France as well as amongst sailors in the UK. But what makes the Solitaire so attractive? I am glad to have naval architect and yachting legend Marc Lombard talking La Solitaire and above all, the legendary Figaro II one design racing yacht.
"Solitaire and Figaro is first playground, sailing school and a very hard race."
NO FRILLS SAILING.com: Monsieur Lombard, first of all thanks again for answering my questions. (Here´s our first interview on French Sailing Philosophy). What struck me most about hearing from La Solitaire was that it has that immense prestige. What is this all about?"
Marc Lombard: "Well, you see, Figaro-racing and La Solitaire is first of all a very simple thing, but also very complex in the same time. Simple because there is only one type of boat you can race in: The Figaro II …"
NFS.com: "… she is one of your creations …"
Marc: "Indeed! So, everyone participating has to have one of these boats. Same chances: Beneteau Figaro II. If you asking why Figaro-racing is so popular in France, well, we have a large number of professional sailors here. Sailing is a huge thing in France. Sailing in Figaro is the best school and the first playground for youngsters to practice serious offshore racing single- and double-handed. Besides, when La Solitaire takes place, all great professional sailors keep on returning to the starting lines to participate in the race. That´s a great thing: Newcomers racing against the giants of professional sailing."
NFS.com: "That sounds exciting to me … like being in the starting grid in a Kart-race and having Louis Hamilton next to myself."
Marc: "Exactly. Second thing is that Figaro-Racing has a very low entry level. You just need to have small or medium sized budgets, many racers haven´t got any sponsors at all. It´s so attractive. That´s a great thing. Our professional racing people that's why often start their careers in Figaro-boats. And they return to Figaro-racing to practice hard between their big events. Maybe that will explain why this is so huge here in France."
"That´s the way you win a Design Challenge." 
NFS.com: "Marc, you did construct the Figaro II boat which is the backbone of the Solitaire. Having done some research I found out a lot of interesting things about your design. How did it come that you have been appointed the principal designer of this boat?"
Marc: "In 2001 and 2002 we have been involved a lot in professional ocean racing with our Orma 60 Class-boats and the famous Imoca 60 racing yachts. Before we have done the Figaro II there has been the Figaro I boat used by the Solitaire-racers. And there was a natural link during these years that came from our involvement with a number of professional racers. So it was natural that after it was time for a new Figaro-boat we have been approached by the board of competitors and the Figaro-people – Beneteau – to compete for the next generation Figaro II."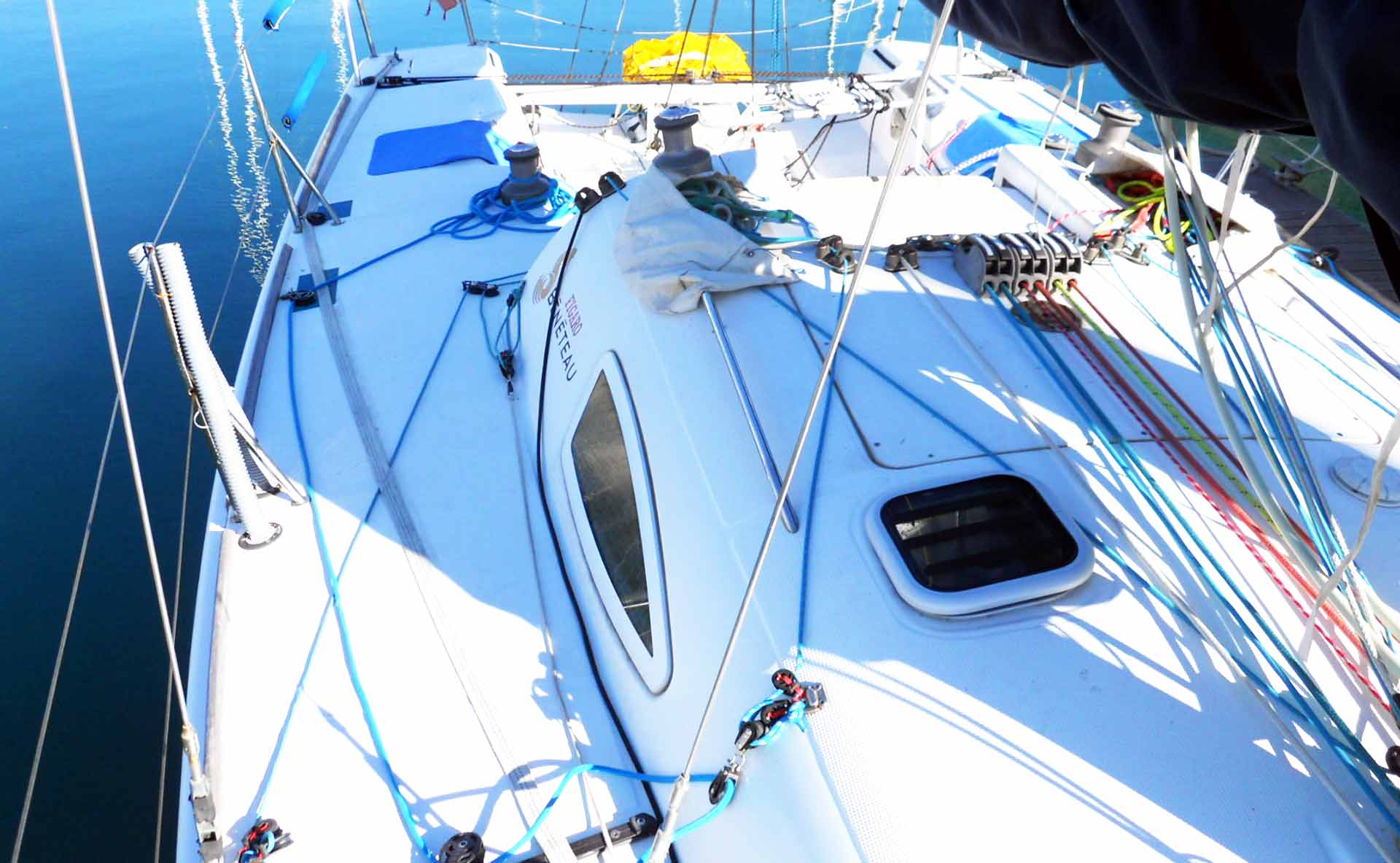 NFS.com: "This is how you won the contract?"
Marc: "No, it was the beginning of it all. Winning the contract was much more exciting. Beneteau at this time had strong relations with our great competitor, Finot-Conq. But they did ask us as well and, I guess, we proposed a far more innovative design at this moment to replace old Figaro I. We had a lot of workshops with Figaro-people, listened to their wishes and came up with what is now the Figaro II, a boat with an – for Beneteau at this time – innovative infusion GRP hull. That was back in 2002! And we won in the first place. That´s the way you win a design challenge I guess."
NFS.com: "Is there anything in a Figaro II that comes from her predecessor?"
Marc: "It´s more the program of the race that was influencing us the most. Two or three days of racing offshore single handed, a boat that can be handled by amateurs too and then we´ve had the double handed Transat-races (read a full interview with Lizzy Foreman on her MiniTransat 2015 here). It had to be extremely reliable, seaworthy and stable … and fast! Everything was already in Figaro I, but on an older standard. So we just improved the whole concept very carefully with a main focus on directional stability and speed above all."
"Reliability was a special whish of Madame Roux, President of Beneteau Group."
NFS.com: "What have been the key points when constructing the Figaro II?"
Marc: "That´s pretty simple: We had to find the balance between the task of meeting the tight selling price of 100.000 Euros ex VAT and at the same time the obligation to offer the best technology and innovation we could afford in that budget. You know, for an A category CE-boat at this time the minimum weight possible was three tons. This also meant we´ve had to go for a relatively high draught, had the minimum weight and a certain stability requirement with full ballast and a minimum length of 10 meters to fit the A category. We also wanted lateral ballast, because a canting keel was at that time far out of target budget – yet high stability was needed for single- or double-handed sailing."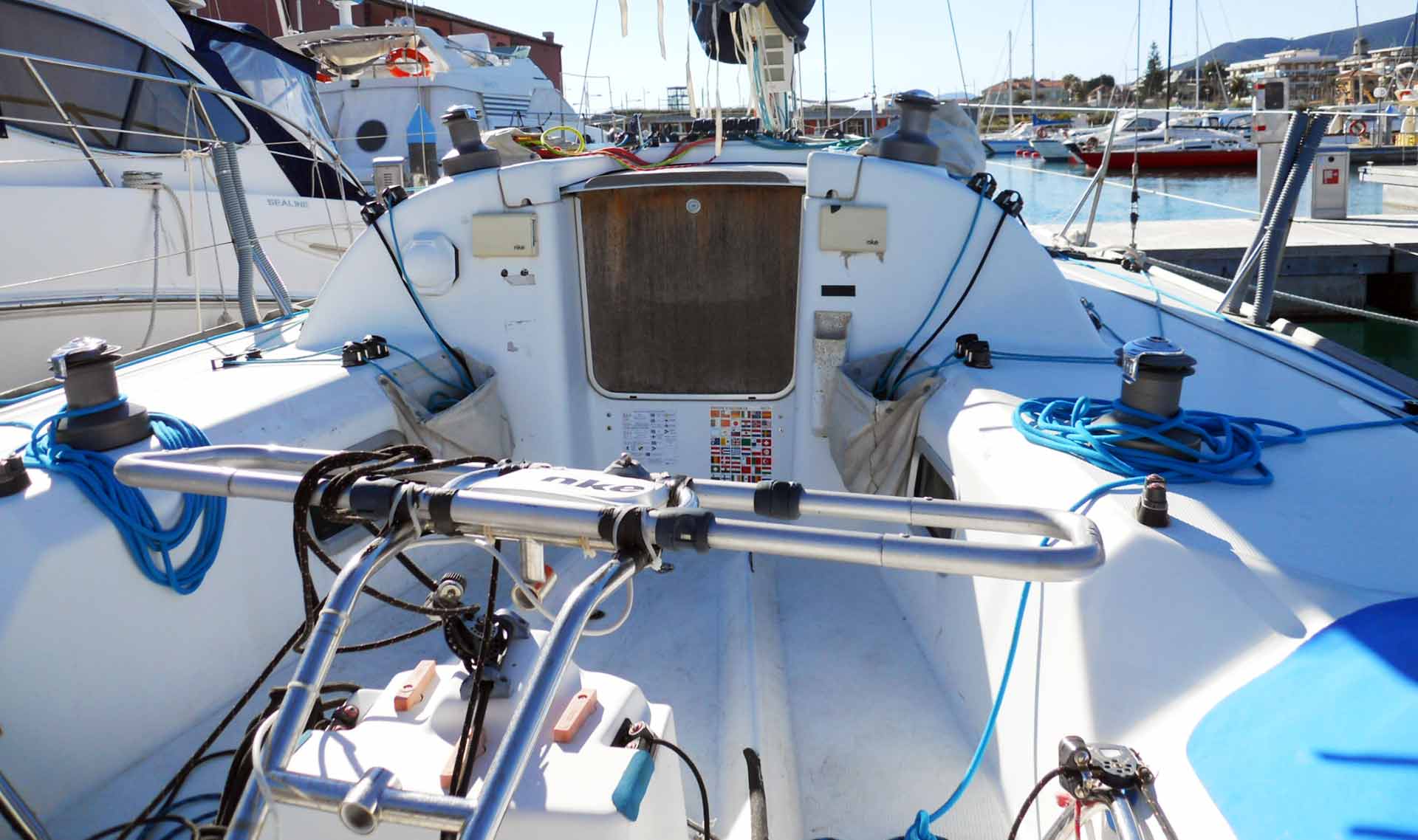 Marc: "For that same reason we have not been able to convince the people at Beneteau to go for a bowsprit with high roach main, asymmetrical spinnaker. In the end, we nevertheless kept innovation factor high: The Figaro II features a double rudder for large directional stability and controllability single-handed, it´s still a very light construction. We can add stability with the ballast system and have a carbon mast for speed – to sum it up, it´s a strong one design-rule for having a boat for a good, exciting competition."
NFS.com: "Response by the sailing scene is overwhelming, Figaro-racing did boom. The Figaro II is some kind of a legendary boat. What about now, some 10 years since you´ve launched the Figaro II, what are from today´s perspective the most interesting sailing characteristics of this racing yacht?"
Marc: "Well, again, like I said before, the large stability-factor and her speed. Plus, as we see now, her incredible reliability. Which by the way was a special whish from Madame Roux, President of Beneteau Group. I am glad we delivered. But honestly I am also astonished how incredible reliable the Figaro II really is! We did very well with her directional stability and her performance. It´s a simple boat and complicated in the same way …"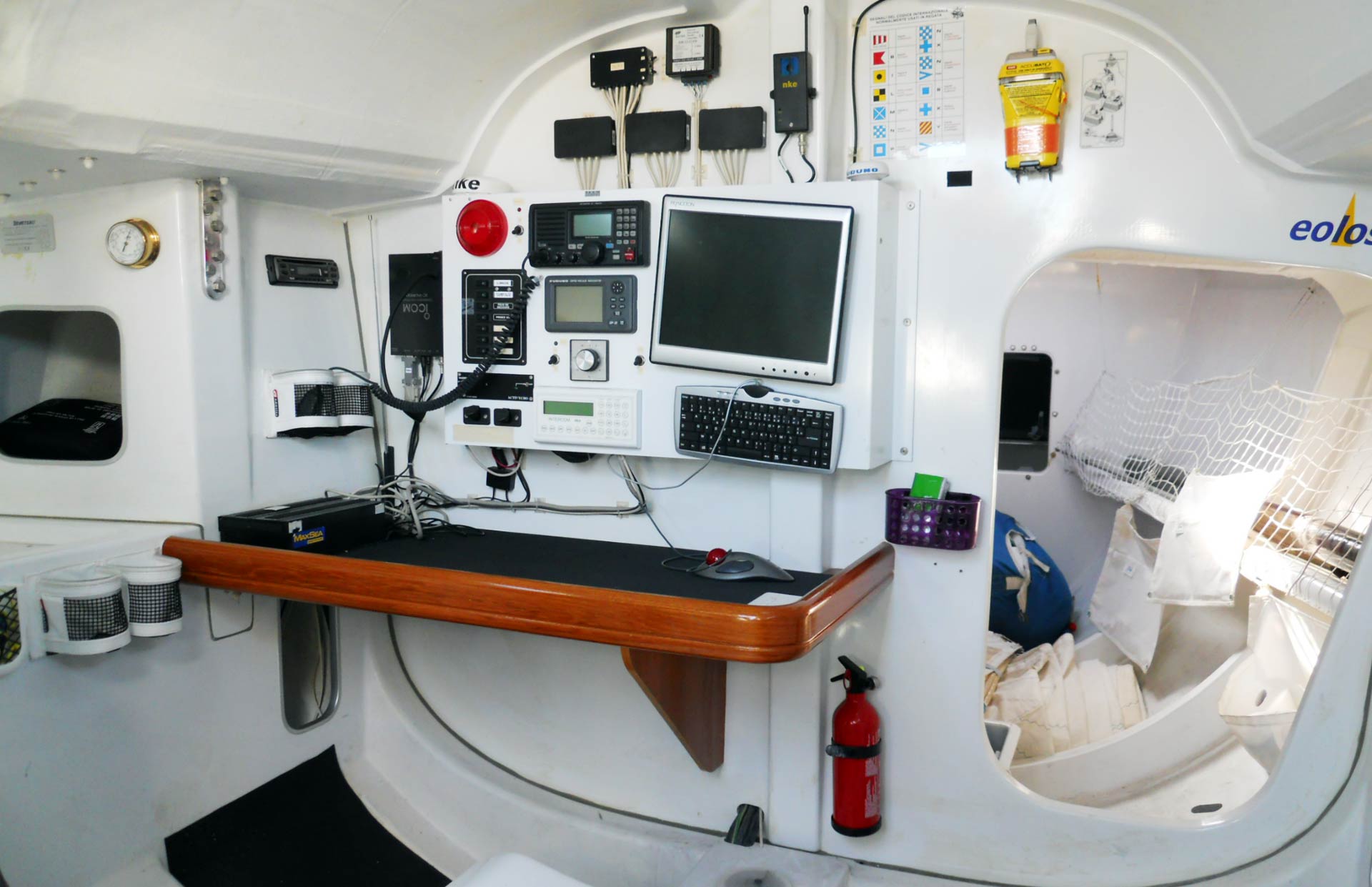 NFS.com: "… which means?"
Marc: "She is not so easy to sail upwind, which adds an interesting spice to the level of competition. I mean, she is "technical fast sailing upwind" and skippers have to develop their own approaches in order to cope with her demands. Like rake and rudder adjustment for example. Figaro people have all their own tricks."
"She came out almost straight from the drawing board."
NFS.com: "How long did the construction process take and which steps did you have to take in order to design the Figaro II in terms of how many drafts or models did you have to produce?"
Marc: "Design and construction took almost a year. At the beginning we´ve had some discussions and workshops with sailors on the Figaro I. As you can imagine, there were a load of different ideas and proposals so we submitted votes regularly between the different options. In the end it was relatively easy to decide what was reasonable within the budget and what was not. In the second step designing of the boat started. It came out almost straight directly from the drawing board except the lateral ballast which we moved a bit aft forward the first trials."
Marc: "If you ask me on my opinion from today´s point of view … well, to be honest, I don´t know if it was really right as today we would sail with more mast rake and larger stability that aft ballast offers. But back in those times we decided together with the official representatives to have the ballast moved forward for one meter. Again, we also had to improve keel accuracy of the profiles of the Beneteau Group – but it came all very fast and it was set and done after hull number 1."
 "Prospects for La Solitaire are dark, from my point of view."
NFS.com: "Marc, some weeks ago the new generation Figaro III has been announced. It is not your design. What would a Figaro III look like if you would have been appointed as principal designer again?"
Marc: "Oh my. It would definitely not look like what they´ve chosen! I strongly wouldn´t go for a hydrofoil boat although I am working on developing them for 30 years now – I did the first lifting foils back in the 80ies, had lifting curved C-foils on the Orma in 2000, by the way. I just believe that the chosen configuration of Figaro III is not the best because above all it is very expensive, has just low reliability and safety when it comes to floating objects in the water – don´t forget Solitaire is not an open ocean race, it´s near the shores with all that fishing going on and all kinds of floating stuff around our coasts. Again, it will be very difficult to sail in a safe and stable manner, Figaro is single-handed racing. Generally speaking, I would say foils are a thing for reaching legs offshore or to play inside the bay, it´s not something for a "training school" boat. But maybe that´s part of the current generation: Fast, flash and fluo!"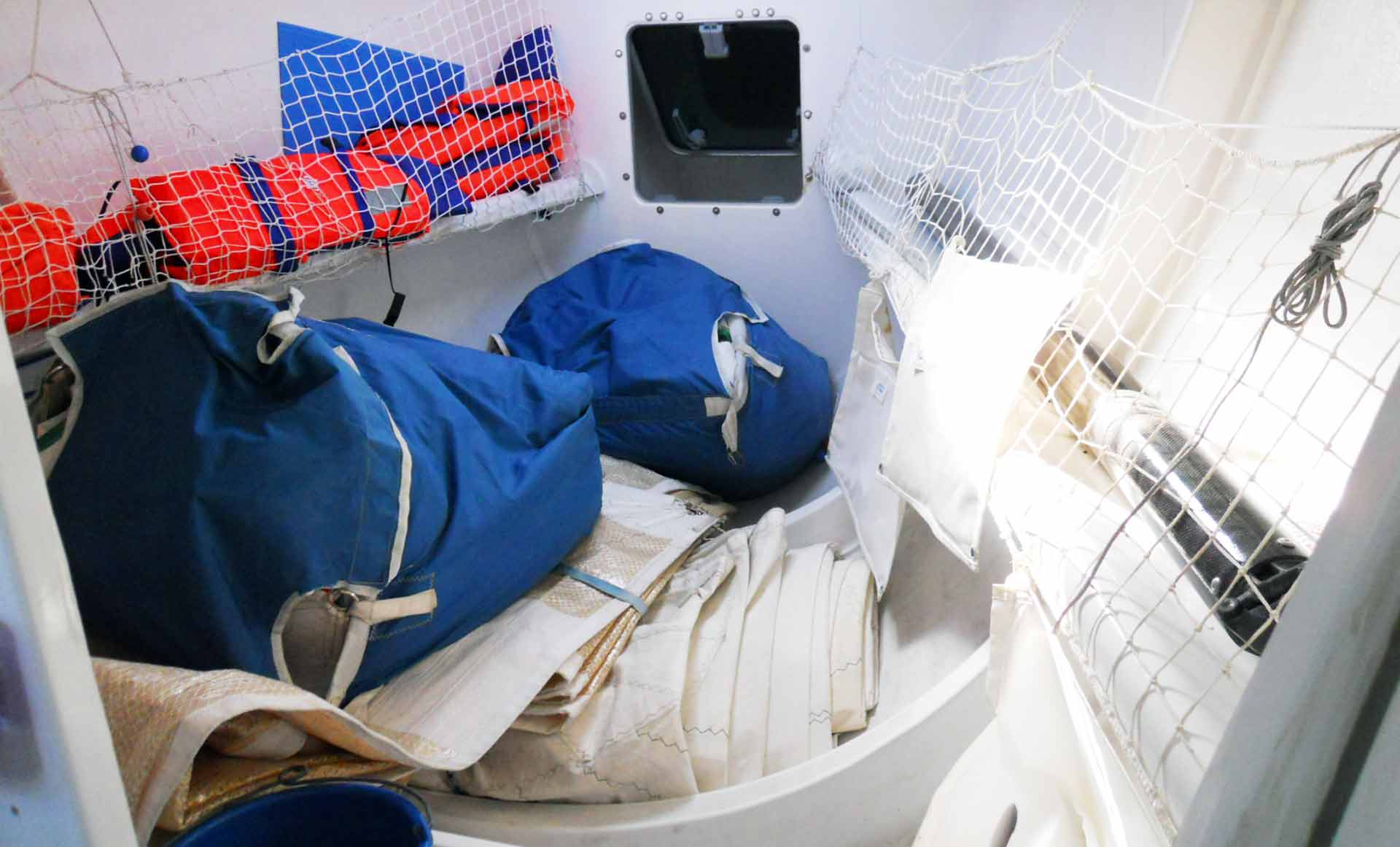 NFS.com: "What would the Figaro III drawn by Marc Lombard look like instead?"
Marc: "My choice would have been to go for a canting keel and to have a rotating bowsprit with asymmetrical spinnaker. It´s nowadays perfectly possible to have this on a moderate price basis plus good reliability. Looking at the rig, it would be more powerful, probably with a high roach main and with a no backstay configuration. But, I fear, problems will occur unless they change design: Rules for A category CE-boats haven´t changes so they won´t be able to make a much smaller boat as Figaro II. It´s even more strict today as it was back in 2003. So I don´t know if all the Figaro people have realized that this is a major influence on budget. And if investment in the new boat will be too high, less and less people will come to the class. And all of a sudden only super rich people will remain. And that´s when this whole thing will die like Formula 40, Formula 28, Orma or Mod70 …"
"She is a damn fast good boat!"
NFS.com: "Is the Figaro II still a project Marc Lombard takes pride in and thinks back onto with pride in remembrance?"
Marc: "Oh yes definitely! We are very proud of our work as I think this boat was just perfect for the program and La Solitaire. In many, many ways the Figaro II is still a very competitive and fantastic yacht. Today the question would be that this boat is not IRC compatible and so I think this yacht will become a boat for sailing schools. And it can also be used as a fast cruiser with some work applied to her interior fittings."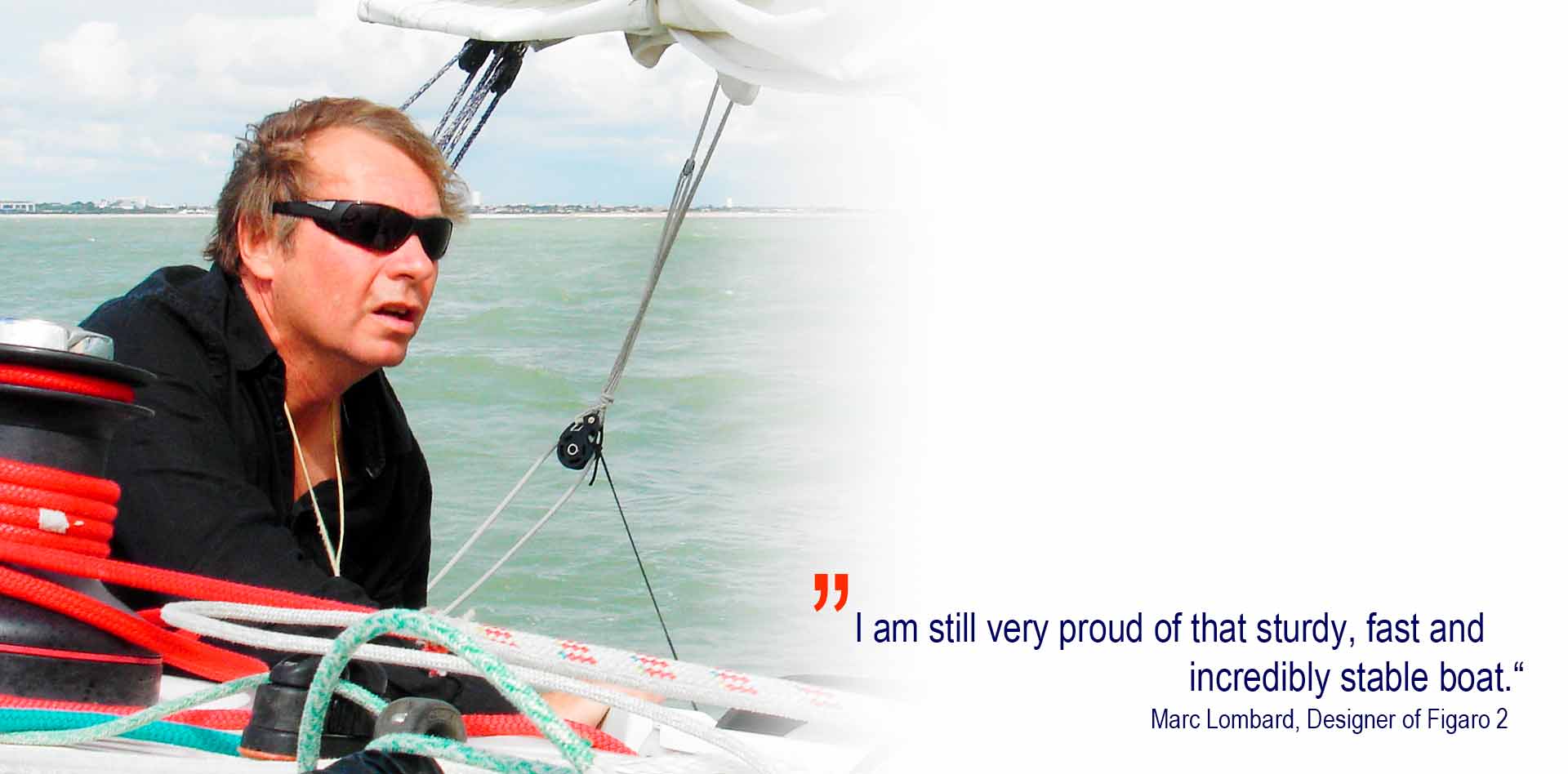 NFS.com: "Marc, thanks again for answering my questions and letting us take part in the rich history of this fantastic little strong fast boat!"
In an upcoming article on Figaro-sailing and La Solitaire I will dig deeper into sailing this fantastic little boat by having an interview with active pro- and amateur-skippers, personally participating in La Solitaire and other regattas, like the Transat. Keep in touch and don´t miss the interesting second part of this series.
The 47st edition of La Solitaire with hopefully a lot of Figaro II boats will start soon – here´s the official website 
Marc Lombard and Charly Fernbach (Pogo Structures) are talking French Sailing Philosophy here
Browse also to the official website of Marc Lombard Naval Design to check out his latest yacht-designs here
Pictures of the Figaro 2 racing yacht with kind permission of Nautigamma Yacht Brokers. The yacht shown here is currently up for sale. If you are interested in seeing or buying this yacht in Sanremo, check this ad.