I love boat shows for there´s no other chance to see so many sailing yachts, new boats, inventions and accessories on one spot. Besides, meeting all the sailing aficionados is made easy when roaming the halls. I loved seeing all the highpriced superyachts in Cannes (read my article here) and enjoyed the incredible contrast to Lake Konstanz´ boat show some 3 weeks later (read it here).  Hamburg hosts an annual boat show, called the Hanseboot, and not just because I can reach this fair within 15 minutes from home, I went to see the industry´s news almost every second day of the fair´s one week duration. But. I must admit. I was disappointed. A bit.
Tilting Proportions
The whole calamity, as one might call it, could clearly be seen upon taking a look onto the exhibitioner´s list: The boat show missed big market leaders like Bavaria Yachts (which was a riddle to everyone) as well as the grand names in sailing: X-Yacht and Hallberg-Rassy did not send a single boat to the show. What a pity: X-Yachts is always eye candy. Also, smaller brands like Northern Germany´s noble manufacturer Henningsen & Steckmest with their classy Scalar yacht couldn´t be seen at all.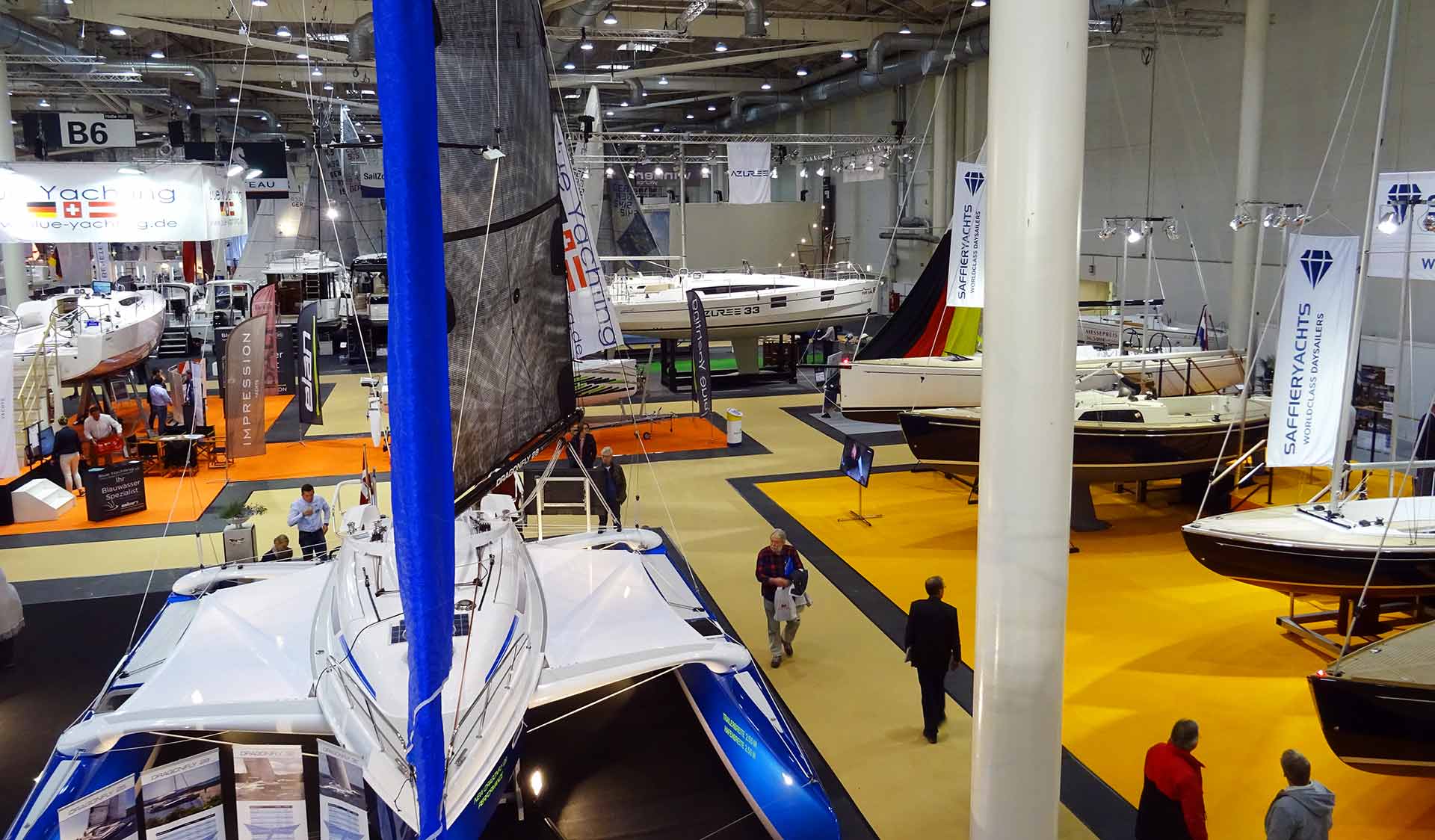 Since the show has it´s final weekend these days, there are no official numbers available concerning visitors, but as far as I can say, I couldn´t make out a difference in last year´s Hanseboot. During the weekend the halls were crowded with people, naturally, these masses dropped to fewer during the week. Nevertheless, it hurt to see a lot of motor-boats lined up in the sailing boat´s exhibition hall. Nevertheless, I spotted some very interesting sailboats and I have been allowed to stroll around and roam inside the boats as well. A boat show is a great occasion to see all the various brands and their products together on one particular spot to have a direct comparison between individual approaches and solutions.
Sailing Boats to be seen at the Hanseboot
Upon entering the exhibition hall the first and clearly one of the biggest stands was that of the Hanse Group. The Northern German brand is one of the biggest yacht manufacturers worldwide so taking a look at their boats is always interesting in terms of getting an overview on how are they interpreting the current demands of the market. But, unfortunately, there wasn´t anything new to be seen in the first place here: The common volume-oriented reasonably priced cruising boats as we know them.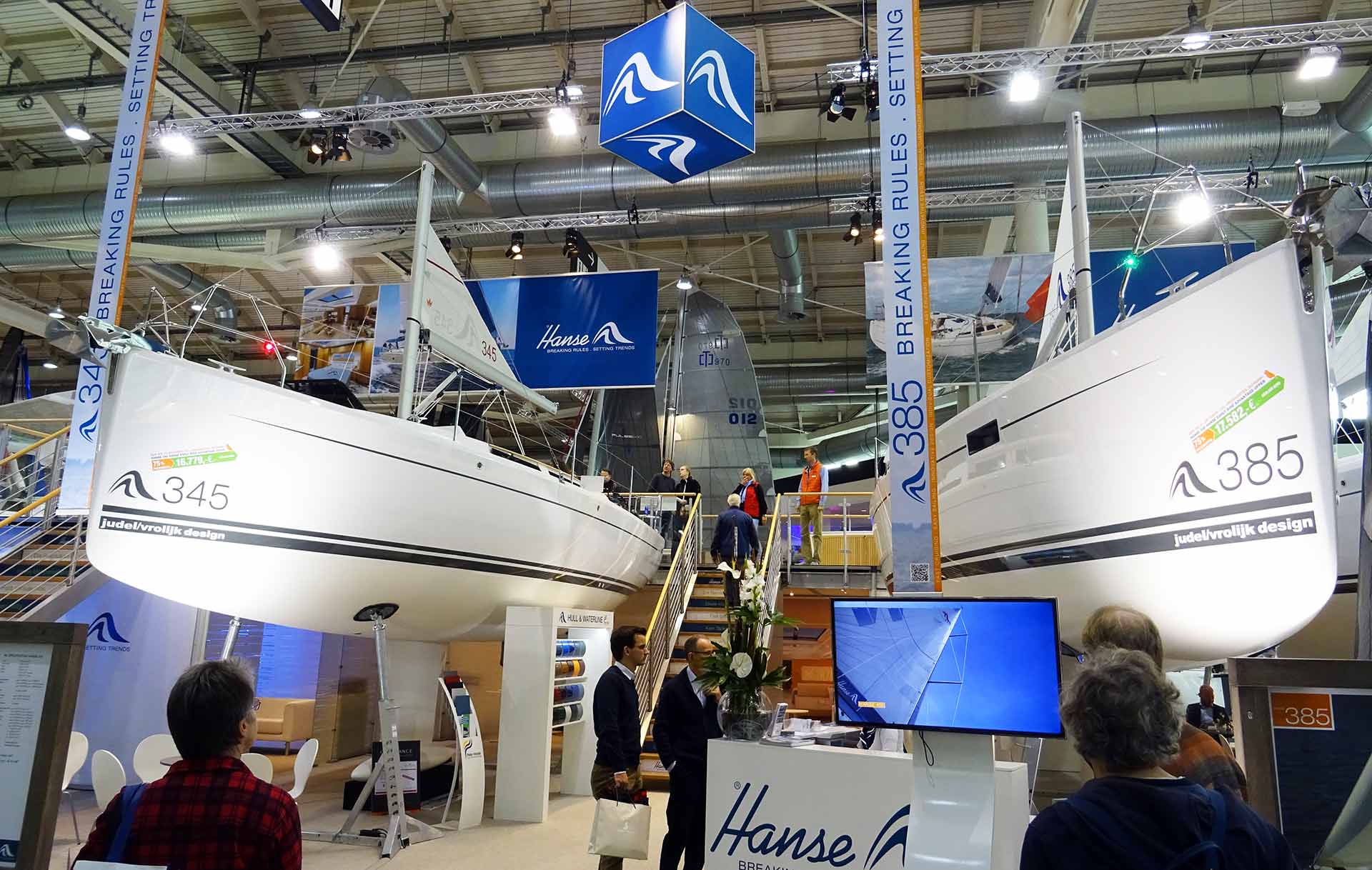 The one and only innovation at Hanse was the "e-motion" drive: An electric folding prop directly laminated into the rudder blade shown on a 30 ft Hanse. If you want to have my personal opinion: Who the hell need something like this? On a 10 meter boat? Maneuvering a +45 ft boat may call for a kind of auxiliary system for mooring and casting off. But … well, I think this whole magic gadgets trend on the boats reflect another misery in sailing: Less and less people are actually sailors. They are part-time charter skippers, once a year. Less training rises demand for more technical assistance. That´s not "no frills."
Luxurious Bluewater Cruiser: Saare 46
The most beautiful classic boat of this year´s Hanseboot was – in my eyes – the Saare 46 which was shown to the public for the first time ever. Her classy lines remind of Hallberg-Rassy with a well protected center cockpit. But Saare is definitely not a me too product and so the yacht seeks to set her very own distinct standards. Upon entering the large, but somehow safely narrow cockpit I instantly noticed the huge sump underneath the massive neat Teak made gratings: Being pooped with hundreds of liters of water won´t cause too much of a trouble.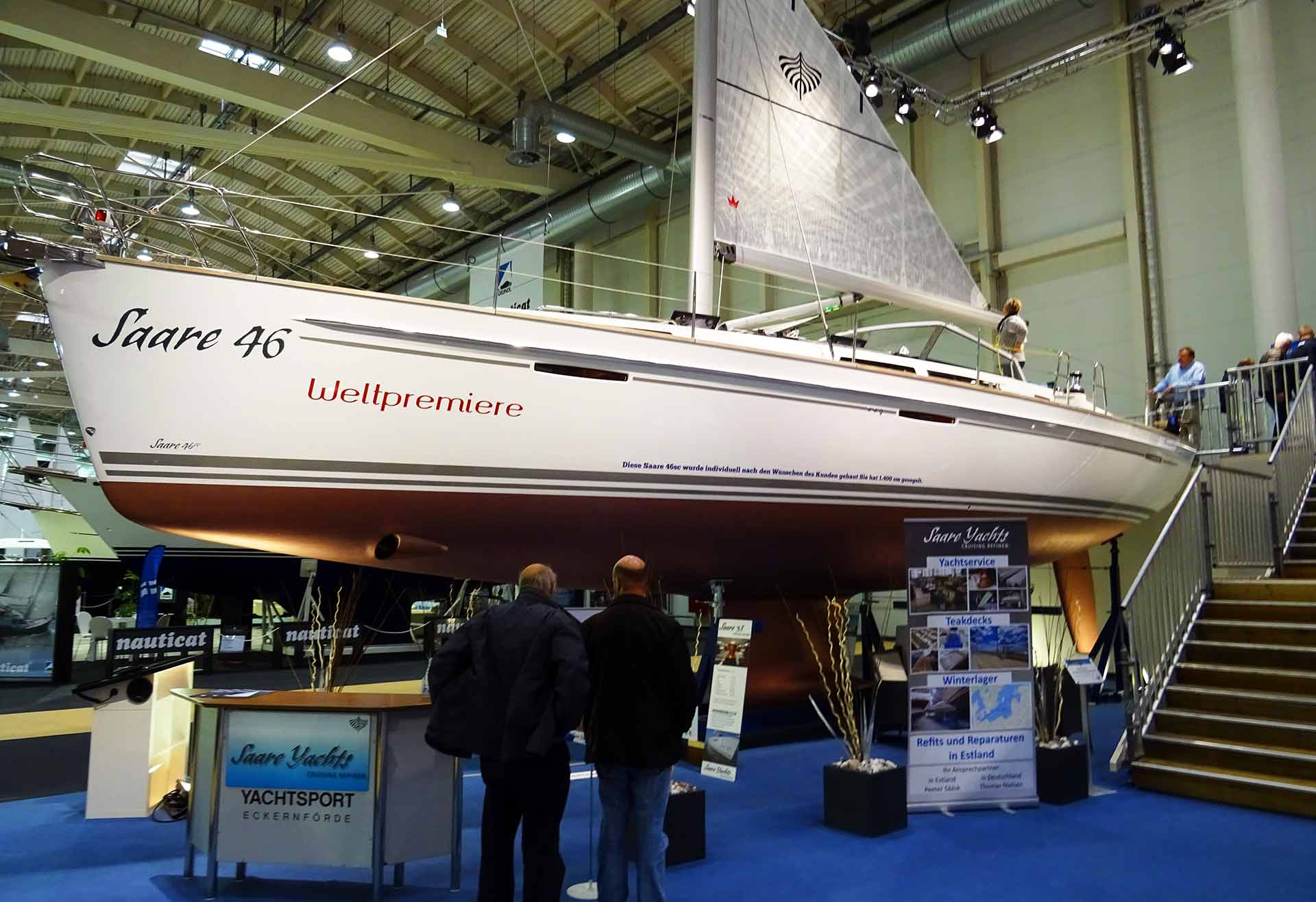 The boat is clearly made for owners: With a price of more than 600.000 Euros for the shown boat that´s far beyond ordinary cruiser-owners and so it was no wonder that her interior fittings have been done with a choice of the finest material. Mohagony joinery, mostly done with massive spending of material, made to last a lifetime, was exciting to see. That´s a quality you don´t get to see in most of the production boats (where of course reasonable pricing matters a lot more).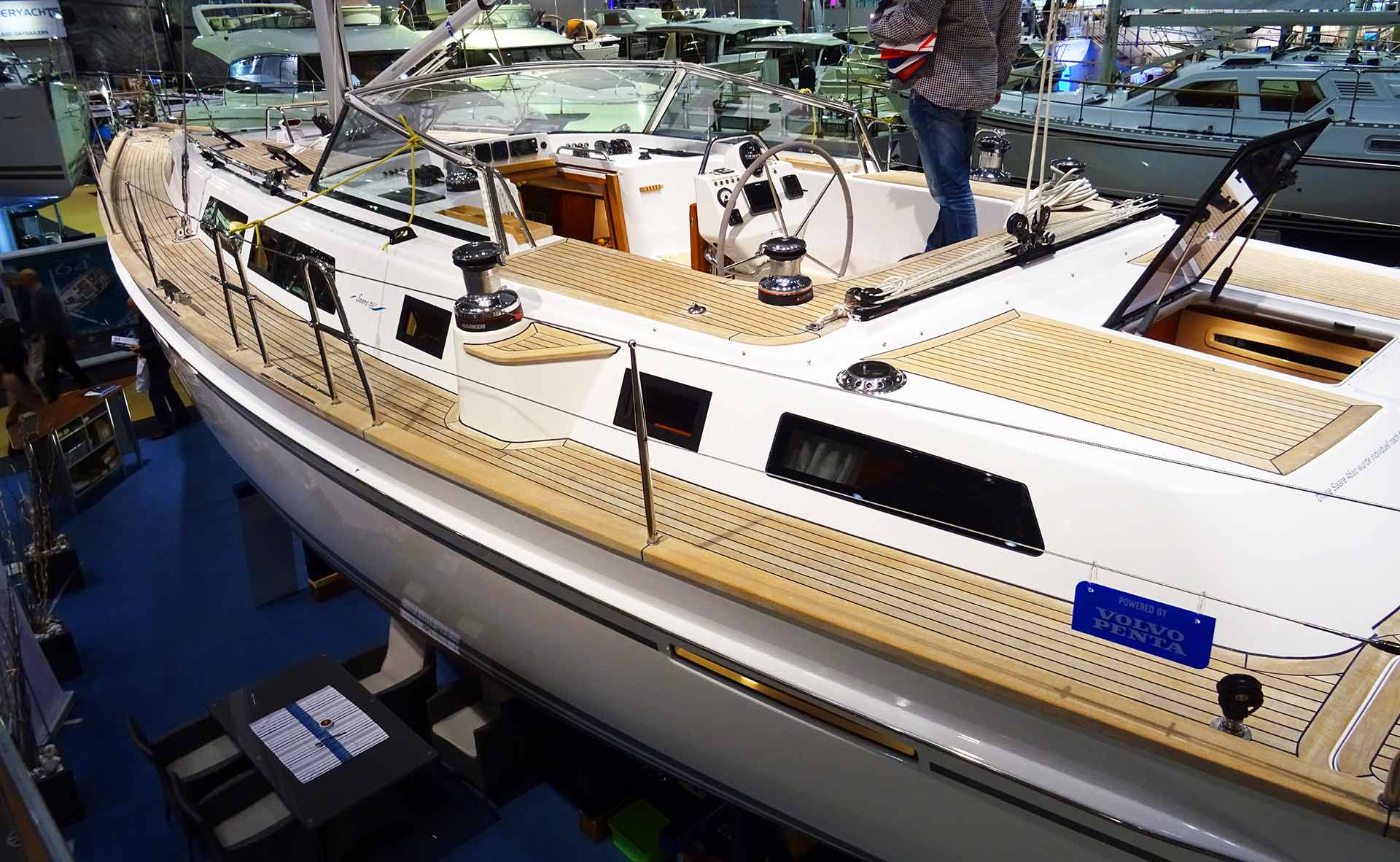 Being a center cockpit boat, owner´s cabin in the aft was pure treat to one´s eyes. Oversized large bed, enough seats to get dressed or ready for the night, endless possibilities for stowage all over the boat. The owner of this particular boat found enough space to design a small "adventure" cabin with two bunks for his grandchildren – very neat! I love the classy saloon, the extraordinary galley and the overall shiplike look of that cruiser. Well, despite the money, the boat comes with another price tag: 14 tons is hefty. Anyway, I guess, no performance oriented sailor would choose a Saare.
Small and fast: Azuree 33
Such a sailor could fall in love with this boat: The Azuree 33. I was keen on seeing her interior since you all know that I fell in love with Class 40 boats and speedy sailing that comes with it. Of course, the Azuree is far from being as potent as a Pogo 40 or an Akilaria but with a wide stern, double rudder configuration and low weight she´s made to go fast.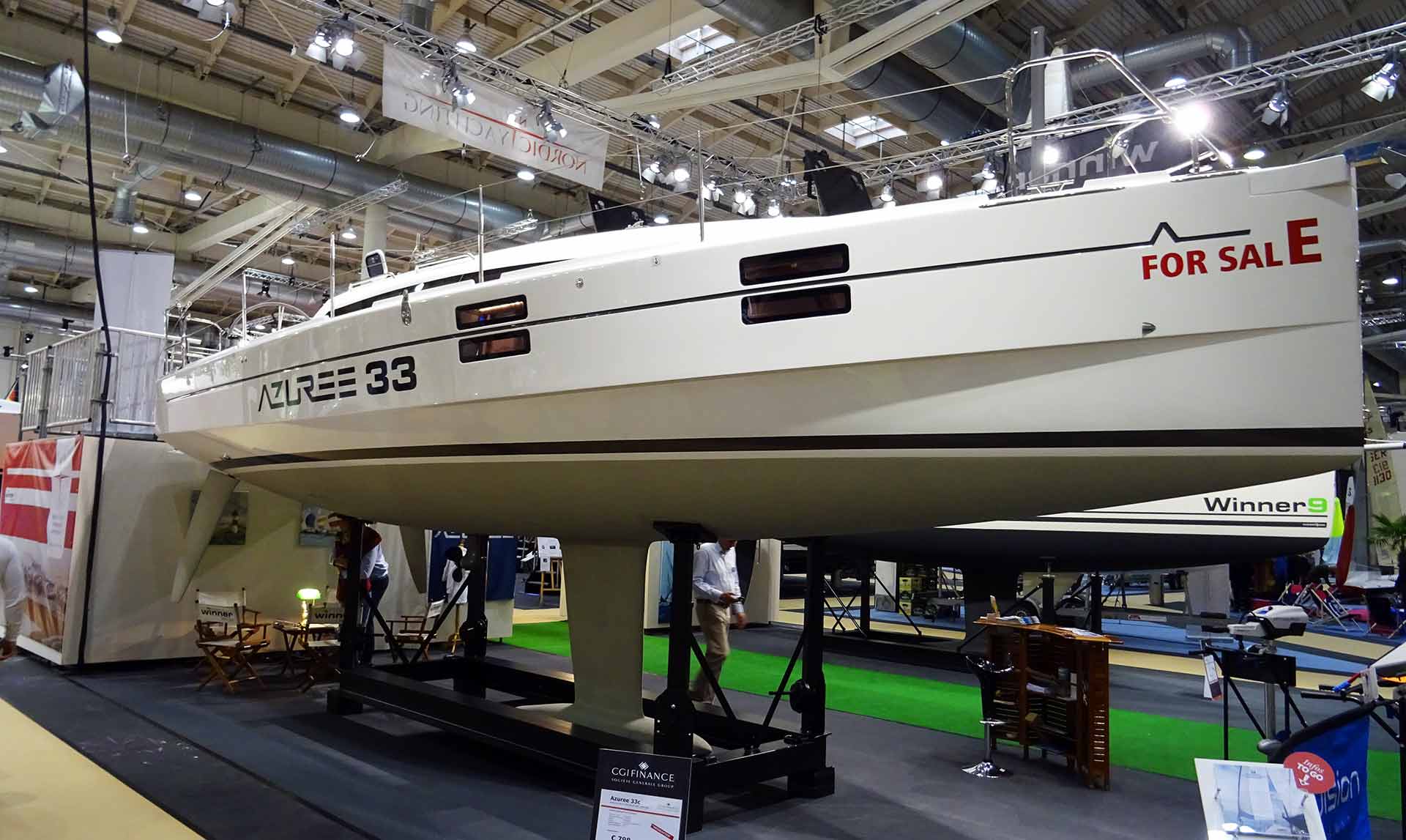 Despite this fact, she has exactly the size of a boat I would consider perfect suited for myself. 33 feet overall length is not only from the sailing standpoint a very interesting size: Mooring cost, maintenance and winterizing a 33 feet boat wouldn´t but too much strain on one´s financial capabilities. Hoping to get an appointment for actually sailing this boat, I was keen on checking her interior.
Which was modern, very angled as expected, but had an interesting configuration for the forward cabin. The bulkhead is almost completely removable creating a wide, open saloon and increasing the impression of space double-fold. There are two more options regarding the forward bulkhead: Standard rigging with a solid bulkhead and door and more closed bulkhead with a drape. Overall impression was: A boat made for people who like a fast sailing transit but put an emphasis on comfort as well.
My old Love: Italia Yachts
Italia Yachts. Sigh. That´s a dream yacht as well. Her bigger sister, the 13.95, was my most beloved boat of last year´s Hanseboot boat show. I simply fell in love with her sleek hull shape, strongly reminding me of X-Yachts, her negative transom which is rarely seen today on sailing yachts and the breathtaking interior design. The 10.95 is with her 34 feet well within "my" range of favourable yachts (unfortunately well outside my financial strength) so I was pleased to inspect her interior.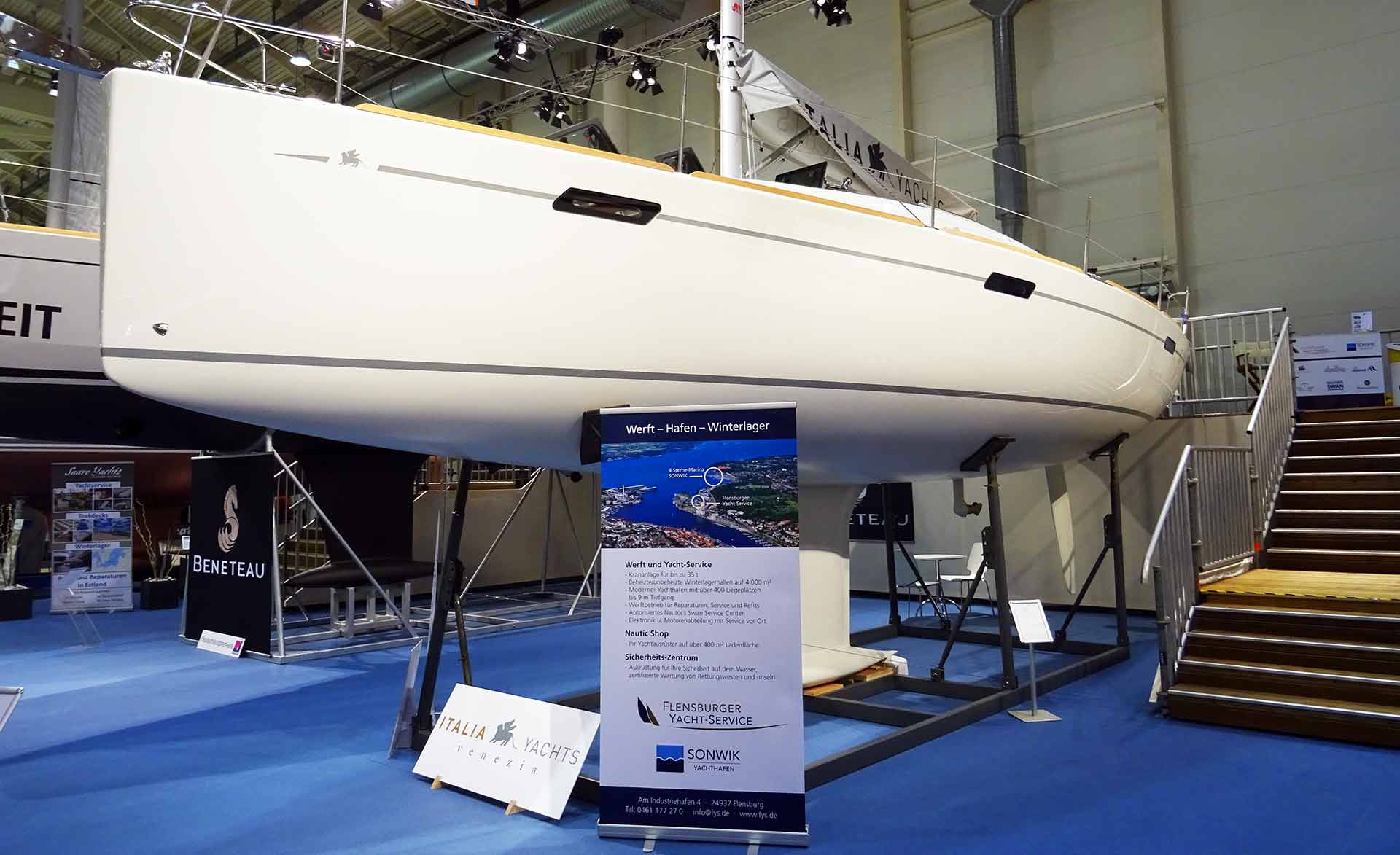 Italian people clearly know how what´s making life liveable. The tasteful classic internal layout is complemented by a selection of high class materials, unusual wooden patterns and the most enchanting fabrics. Sailing one of these must be a dream, both below deck and of course at her helm.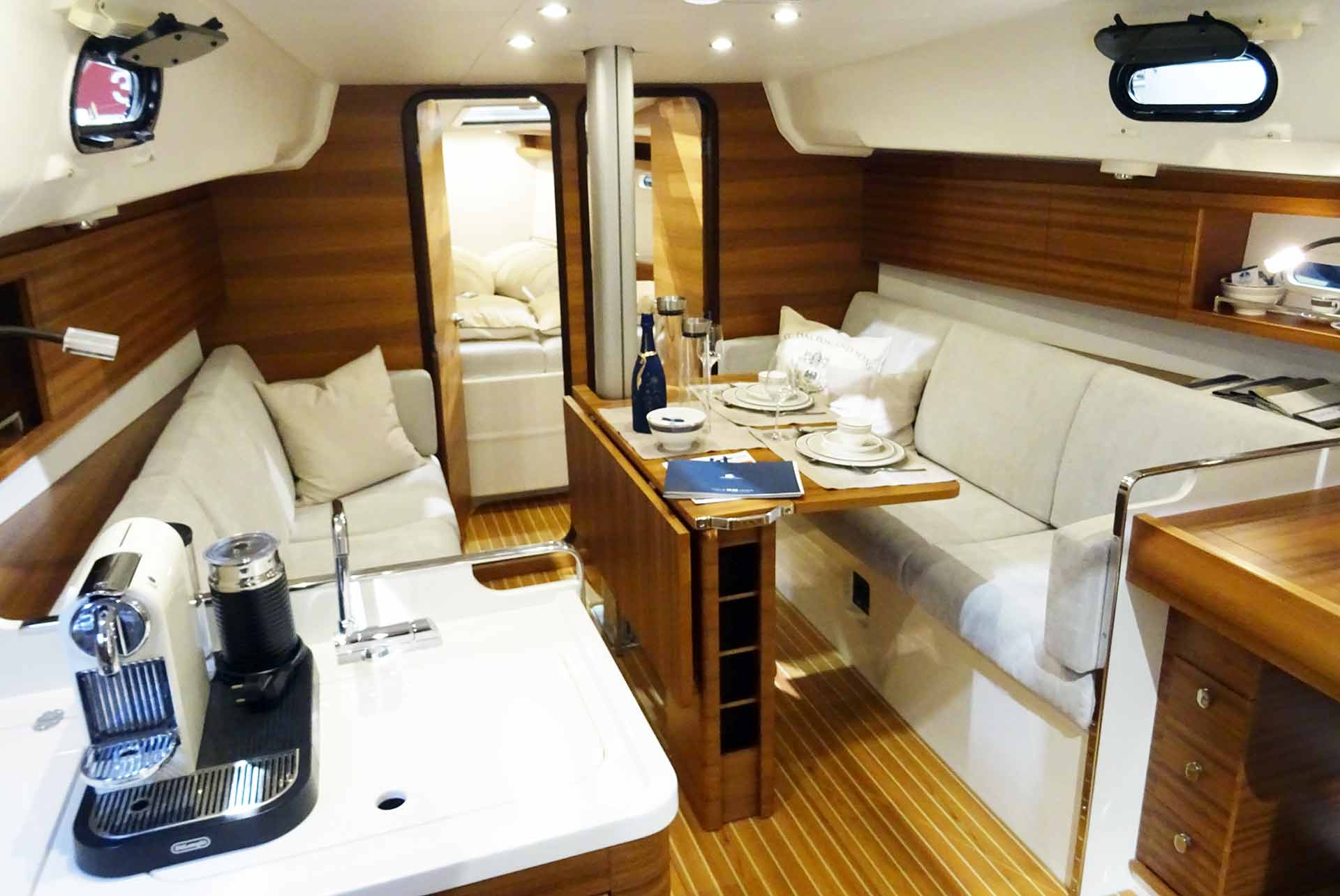 Italia Yachts are known as performance-cruisers and clearly the sleek hull shape, large sail area and distinct lines won´t cast any doubts on the sailing abilities of an Italia Yacht. Built in Choggia, vis-à-vis from Venice the output of that yard isn´t too high, letting enough time for the personnel to be spent on high quality craftsmanship. Speaking of the favourite boat of the boat show …
Boat of the Show: Dehler 46 Cruiser-Racer
In my eyes this was clearly the flagship of German performance brand Dehler. The Dehler 46 marks the top end of the range of which the Dehler 34 was the latest, I had the chance to see that boat some weeks ago at the Interboot boat show. 46 feet is an impressive size and the dark blue painted hull with her white underwater section posed perfect at Dehler´s stand.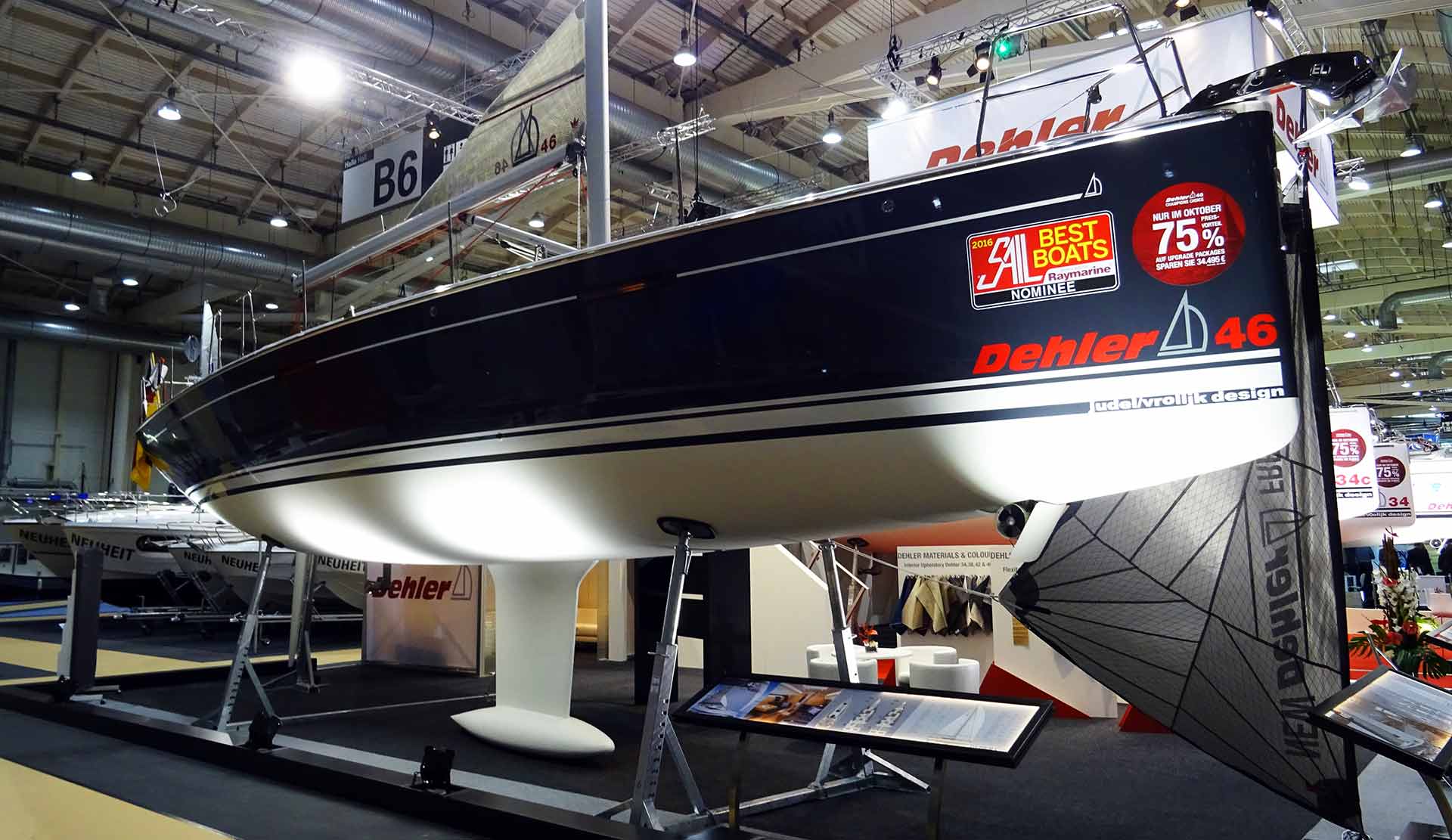 Dehlers are the performance boats in the Hanse Group range and one clearly sees the difference between the ordinary Hanse and a Dehler at first glance: Sleek hull, aggressive bow and racy stern section. Low flush deck with cat eye windows are mere design facts, the steeped carbon mast with rod rigging, large sail area and her comparatively low weight are the hard ones.
Her interior is simply awesome. Modern, yet timeless, I am sure that this design won´t be outdated in a 15 year-period to come. There´s more than enough space under deck, her galley offers room for an ambitious ship´s cook as well as her cockpit layout for the racing crew willing to take the lead in a regatta. Mighty winches, a huge traveller and the large rudder leave an impression that this boat is a serious contender for offshore races.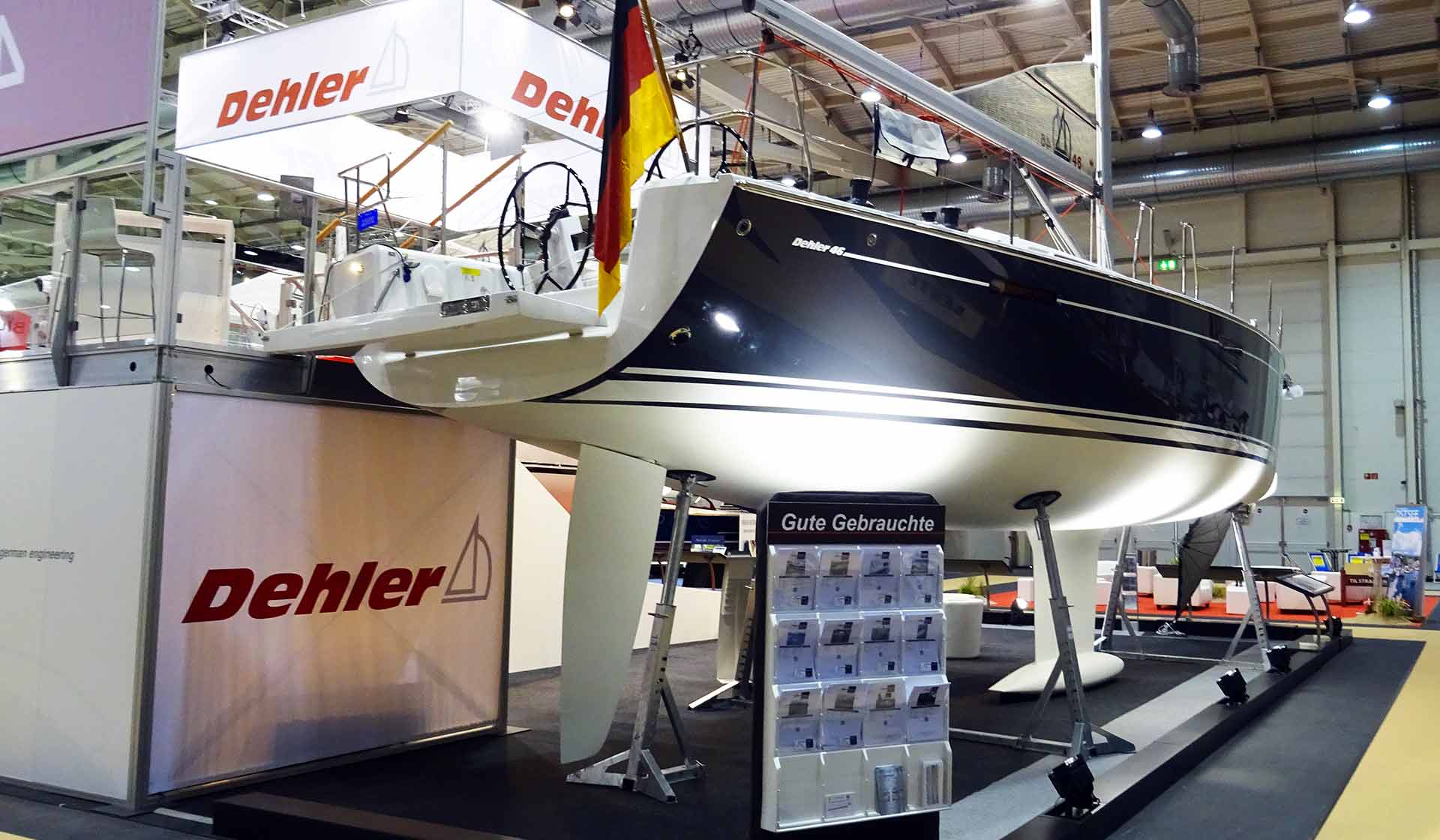 The only odd thing about the Dehler 46 was her very, very long rudder. It may be performing well, but this part is nearly as long as her keel is deep. That could pose a serious risk when going stern-ahead (whilst mooring for example) since touching ground with anything else than the keel can mean disaster to the boat. If it really is I will surely find out in spring next year as I was talking tio her owner – I will visit the boat for a follow up.
Innovative Ideas to revive the Patient
So, what´s up Hanseboot? Is it really the dawn of sailing or just a consequence of a changing society and the impact of the economic crisis? There is a crisis, no doubt about that. Bread and butter 35-40 feet sales are dropping with a rising number of sales for the big boats. Also, less and less young people discover sailing as "their" sole hobby. There are more and more charter clients, sailing only a few weeks per year. Brands have to adopt to this situation, re-invent themselves or just simply find new recipes to cope with it. Like Dufour Yachts did.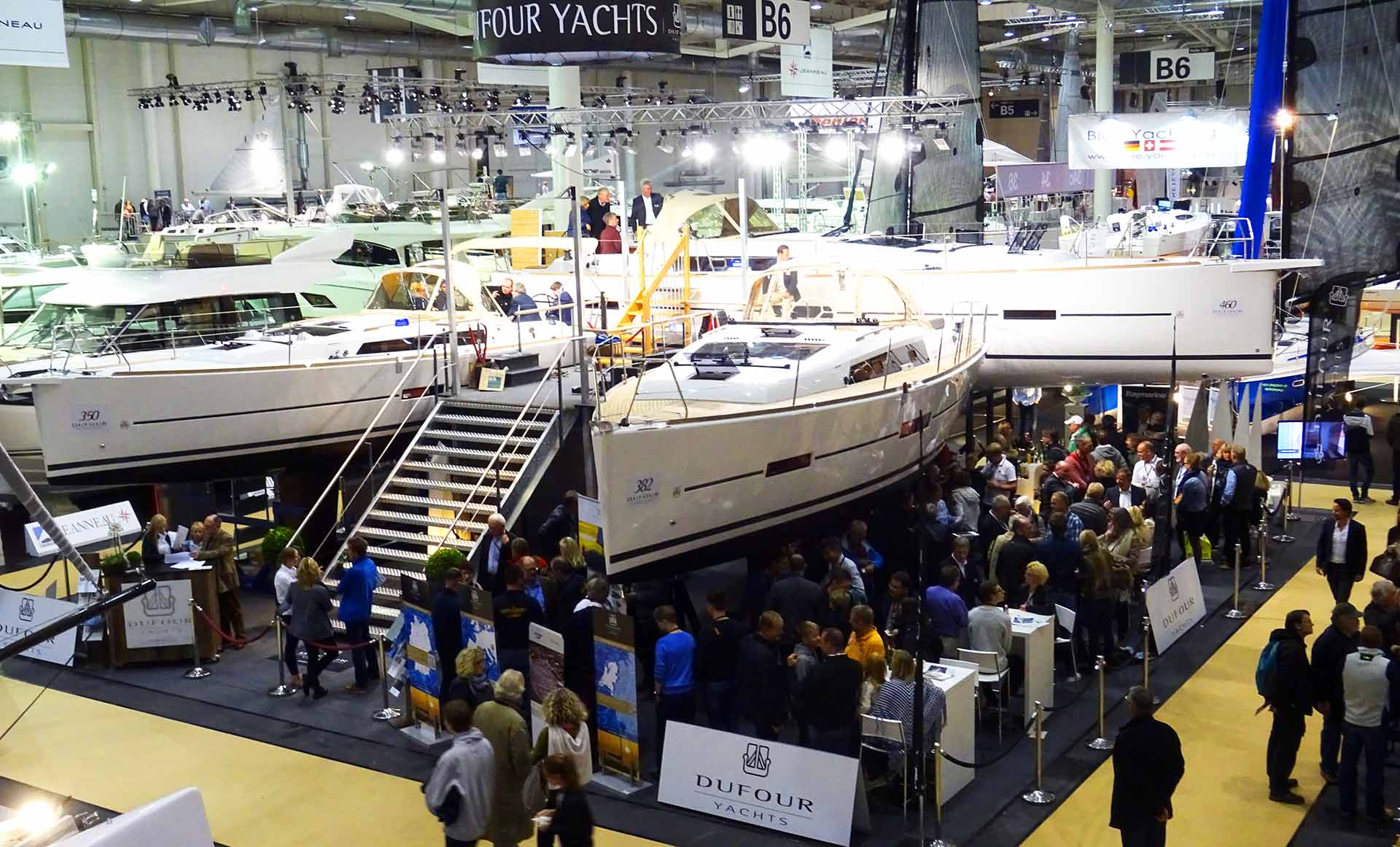 Instead of just putting their boats to a stand and waiting that people come and see, they are actively seeking contact to their potential clients. On one day they sealed off their stand and had party. Music, drinks and French Crepes (for free) was drawing visitors like flies. A nice, lush ambience, casual meeting of sales personnel with interested people and the whole happening created a very sexy atmosphere – whilst all around the stands remained deserted. That´s how you do it.
Interesting Articles:
Last year´s Hanseboot was full of interesting sailboats
Dreamyachts indeed: Hallberg-Rassy 415 and 43
Talking to Magnus Rassy, Nils Jeppesen and Nicolai Sehestad about Scandinavian Sailing Philosophy