There are boats which are born legend before they even hit the waters. Such a legacy was hurrying on ahead of the launch of Nautor´s latest development and I was very keen on taking a look onto this fine sailing yacht at Boatshow Dusseldorf. I was lucky: Our stand was situated just 100 meters next to Nautor and the friendly staff was so kind to allow me entrance to the beauty for multiple times. Here´s what I´ve noticed about Clubswan 50.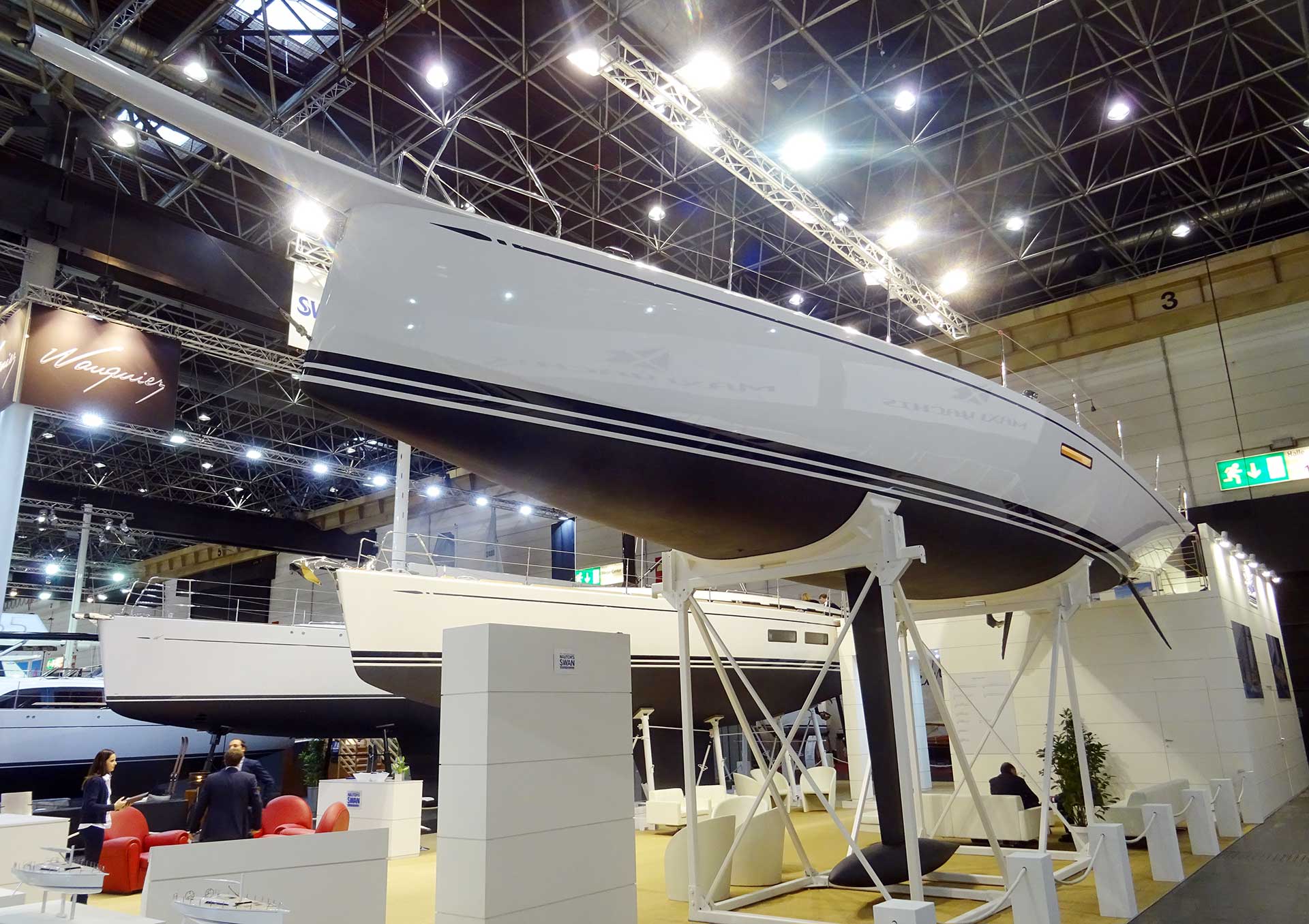 At first: Nautor´s Swan is know for their craftsmanship of beautifully designed offshore sailing yachts in the upper price segment. Swan yachts are reckoned as the pinnacle of exclusive production boats with superior sailing qualities and best material. Clubswan 50 is no exception from that. I found it funny that the very boat all the world was talking about was still the smallest in their current range of yachts from 50 foot to 115 foot.
A sleek and fast Hull: Clubswan 50
Drawn by a naval architect named Juan Kouyoumdjian. Don´t be fooled by the odd sound of his name. The Spaniard with his design bureau in Valencia has last been making noise in the sailing circus by the wonderful performance of RAMBLER 88. His vision for the new clubracer of Nautor´s Swan won approval by the yard. And a true beauty she is!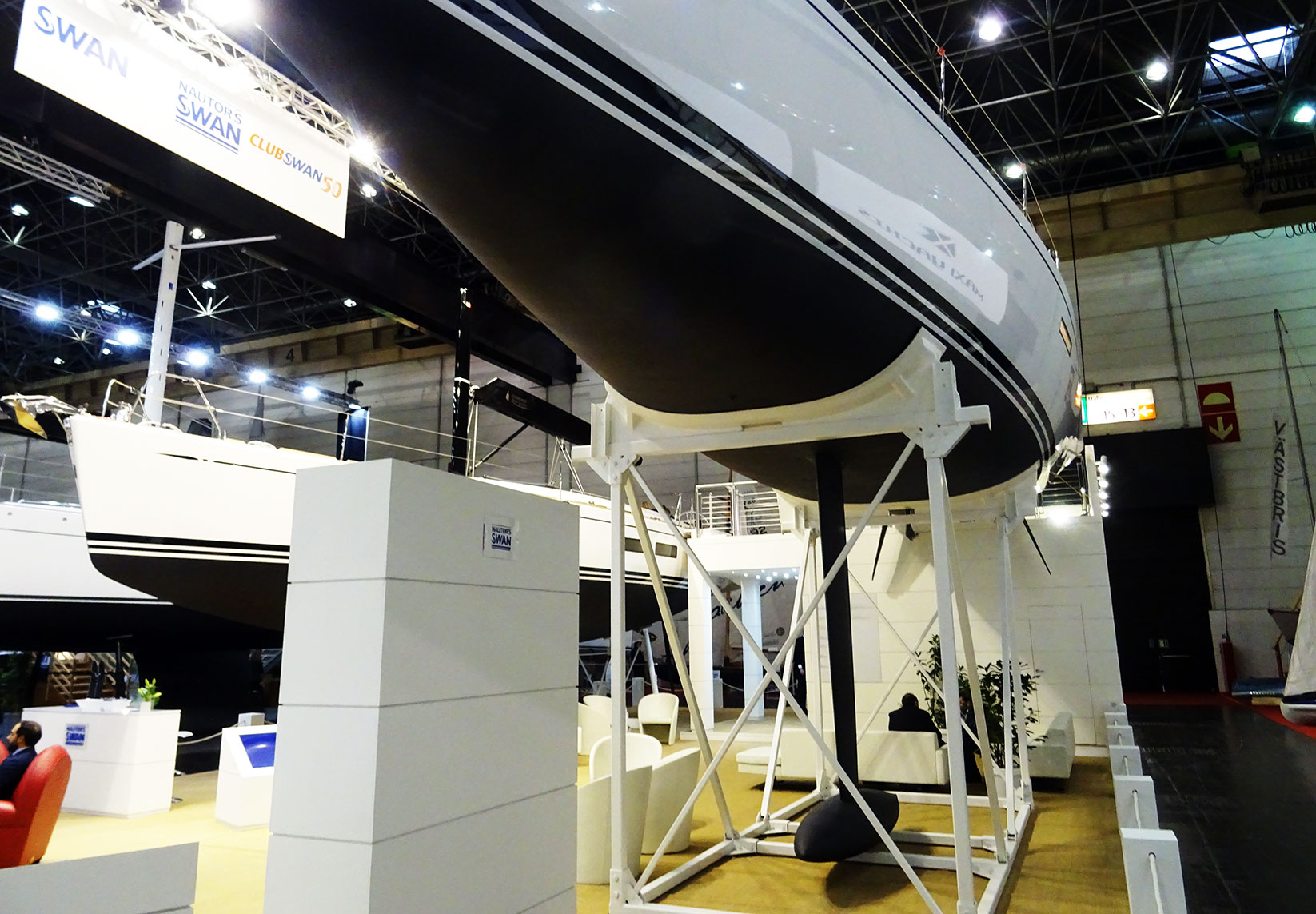 The pure numbers of this racing boat are convincing: With 15.24 meters length overall (ex bowsprit) and a waterline of exactly 14 meters, the boat bears a width of 4.20 making thus creating a hull capable of going fast in the water. She has a draught of 3.50 meters which made the boat enthroning over all of the other yachts at Dusseldorf boatshow – a staggering view! Especially her aggressive dreadnaught bow.
The Swan 50 weighs just 8.500 kilograms due to her composite hull made solely of carbon fibre. Deck, mast, boom, rudders and bowsprit will also be made of carbon. That´s even more than 350 kilograms lighter than the weight of the already light X-Yachts X-4 which is a 40-footer! Staggering!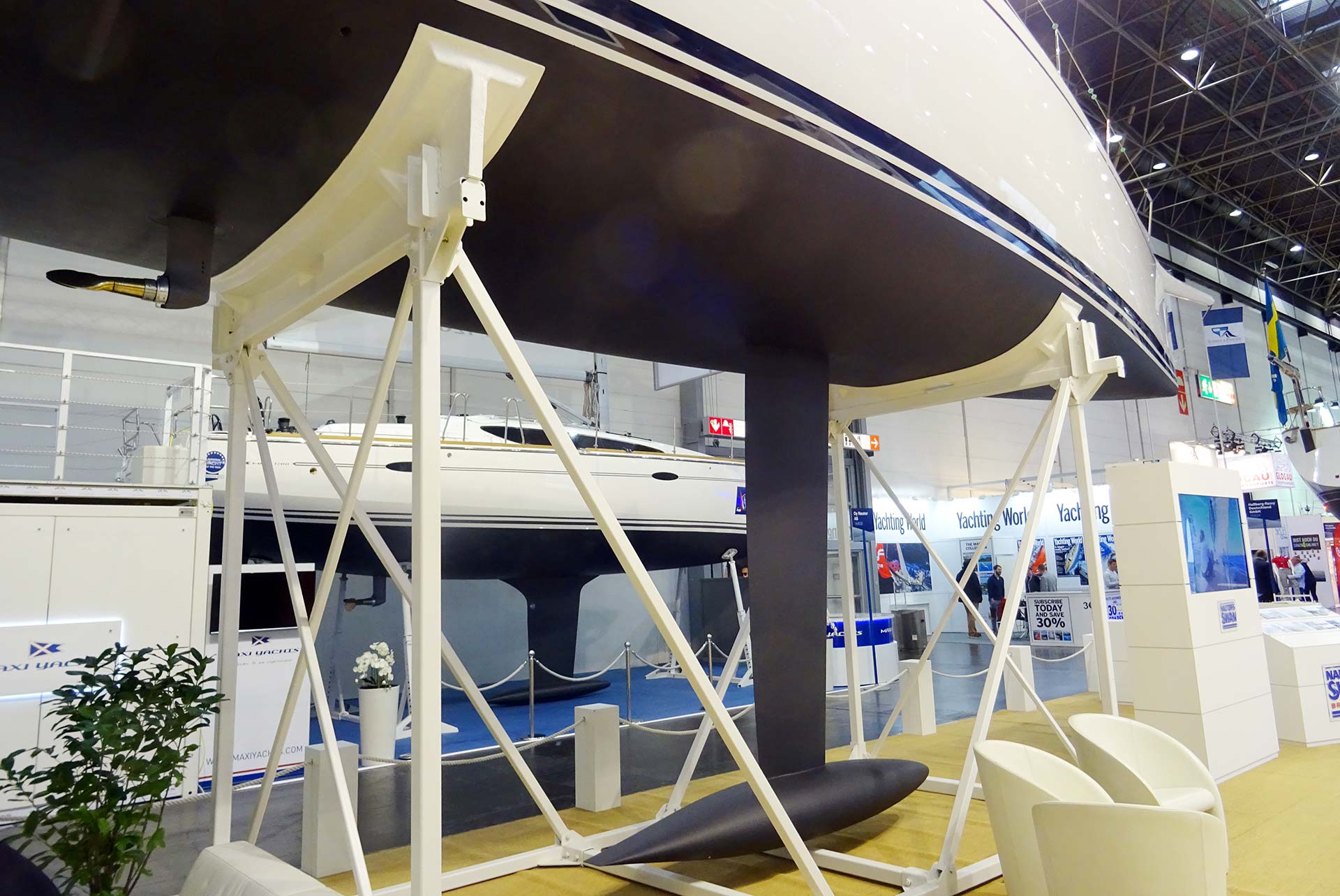 There is a sleek keel with a full lead keel that comes in with a massy 3.400 kilogram weight. Together with the long lever this mass will keep the boat in a nice upright position even where other boats would heel under pressure too much: A true racer, as I said.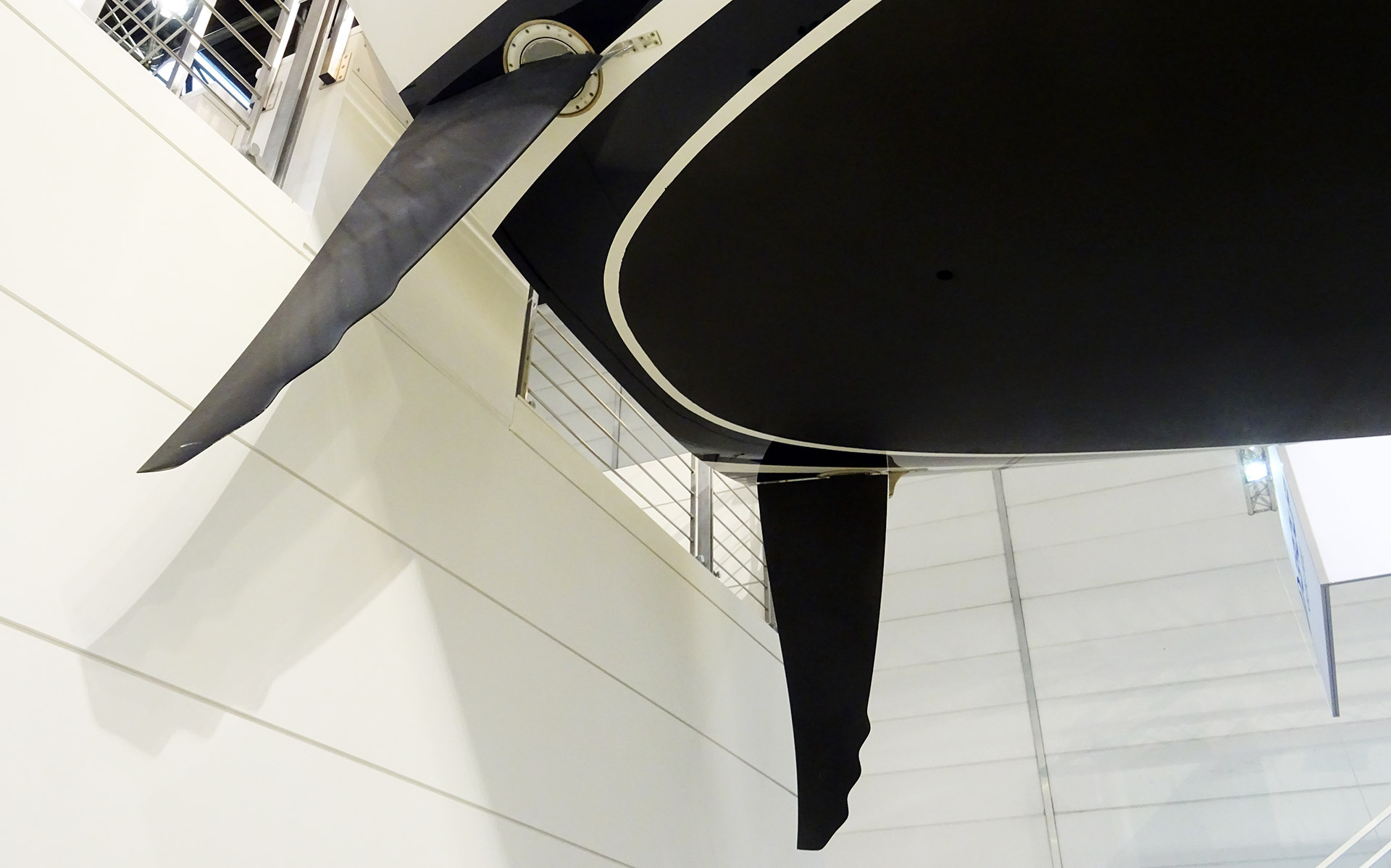 Another nice detail has been the rudder blades. They are very sleek and thin, made to reduce wetted surface – getting best grip when the boat runs fast for sure. On the leading edges of the rudders have been fitted with so called tubercled trailing edges to minimize drag and the creation of vortices. That´s for the outward appearance of the boat. I must say, I was amazed by the positive sheer in the deck, the blade steel keel and her overall aggressive look. Sexy beast.
Swan 50 – a true Racer?
So, the Swan 50 is a true racer then? She is. Nautor´s Swan has launched a new class together with the boat and it should be an interesting thing to follow the development of this racing series. So far, Jochen Schuemann is chairman of the class trying to promote the series and of course the boat itself.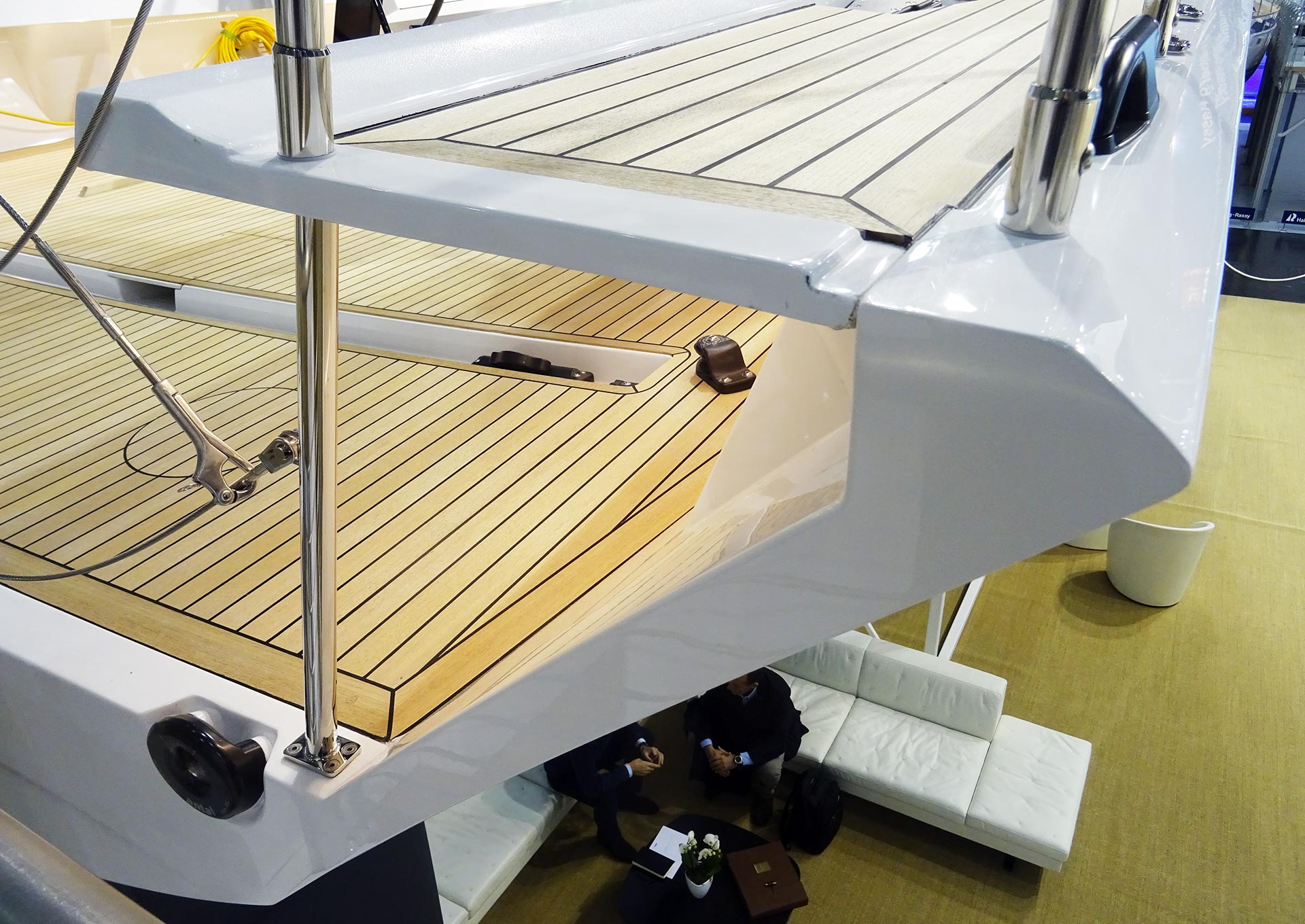 Judging from the boat´s construction, it should be appealing to race-oriented sailors and crews. The open transom reminds of one-off racers, creating a fresh and speedy looking aft section of the boat. And probably saving a few kilograms weight. Also, the cockpit is flat and roomy, allowing a bridge crew to act fast and efficient. It´s an easy thing to imagine three or more people flying around on the beautifully crafted Teak deck to get the tacking done neatly, the floor covered with roping, the Captain yelling orders in the headwind …
A mighty mainsheet traveller has been mounted in the cockpit, of course flush countersunk and nicely worked into the flooring. It must be a pleasure to fine tune the main with this, almost 4 meters wide traveller allowing to creep upwind just a tiny bit more and better tuned than other would be able to.
Clubswan 50 – a thorough Cruiser?
On the other hand, this boat wouldn´t be a proper Swan if she wasn´t able to be the perfect host for a (fast) leisure cruise with some luxury offered. Nautor of Finland did it´s best to ensure that both owner, guests and crew can enjoy every second aboard even when not sailing.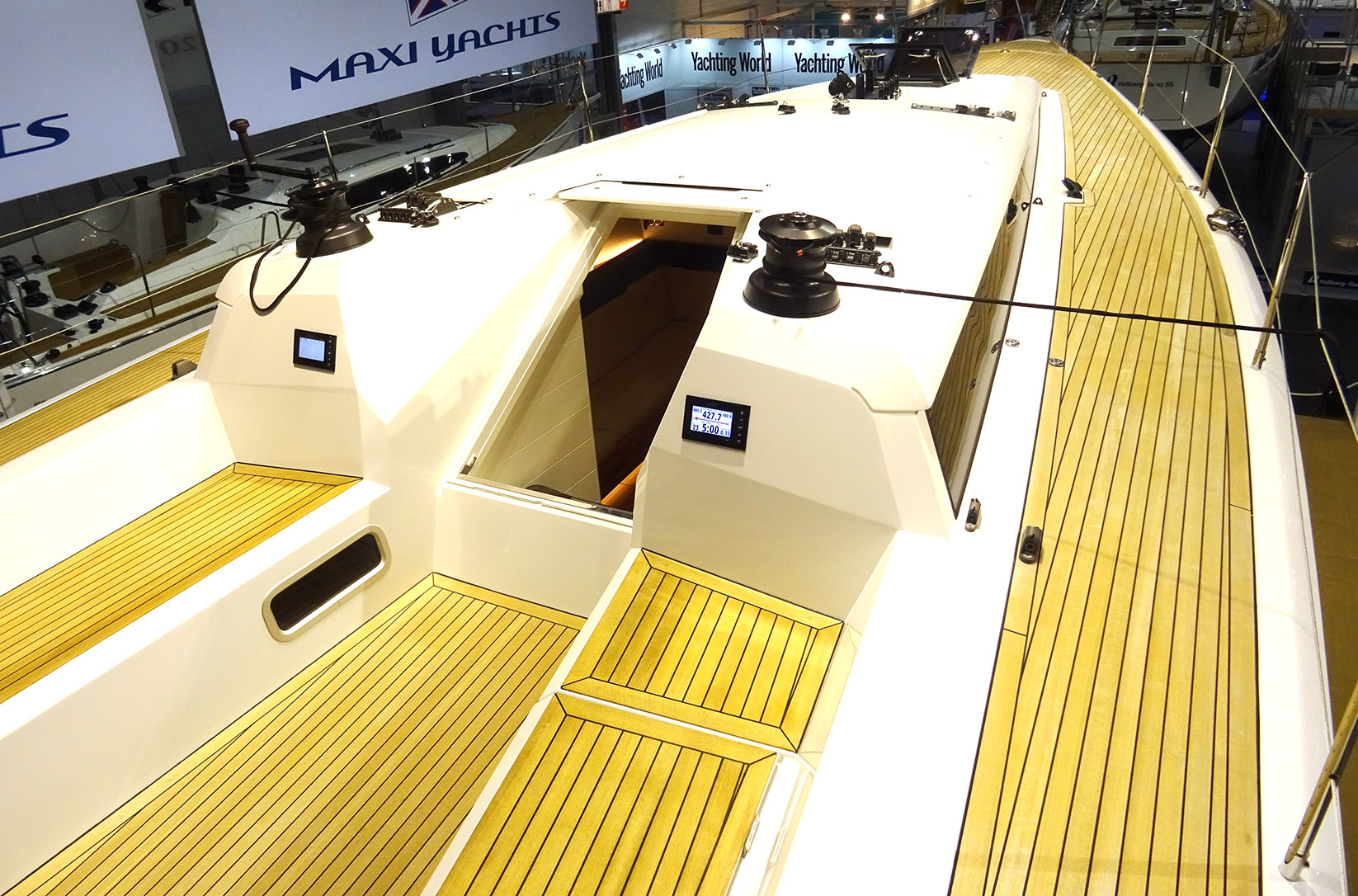 It begins with one´s eyes. The decking made in precious Teak has been mounted perfectly longitudinal to the ship´s axis. The Teak panels are not following the outward lines. This creates a very modern, again, very fast look. The boat appears even wider as she is and it´s definitely a bull´s eye designwise.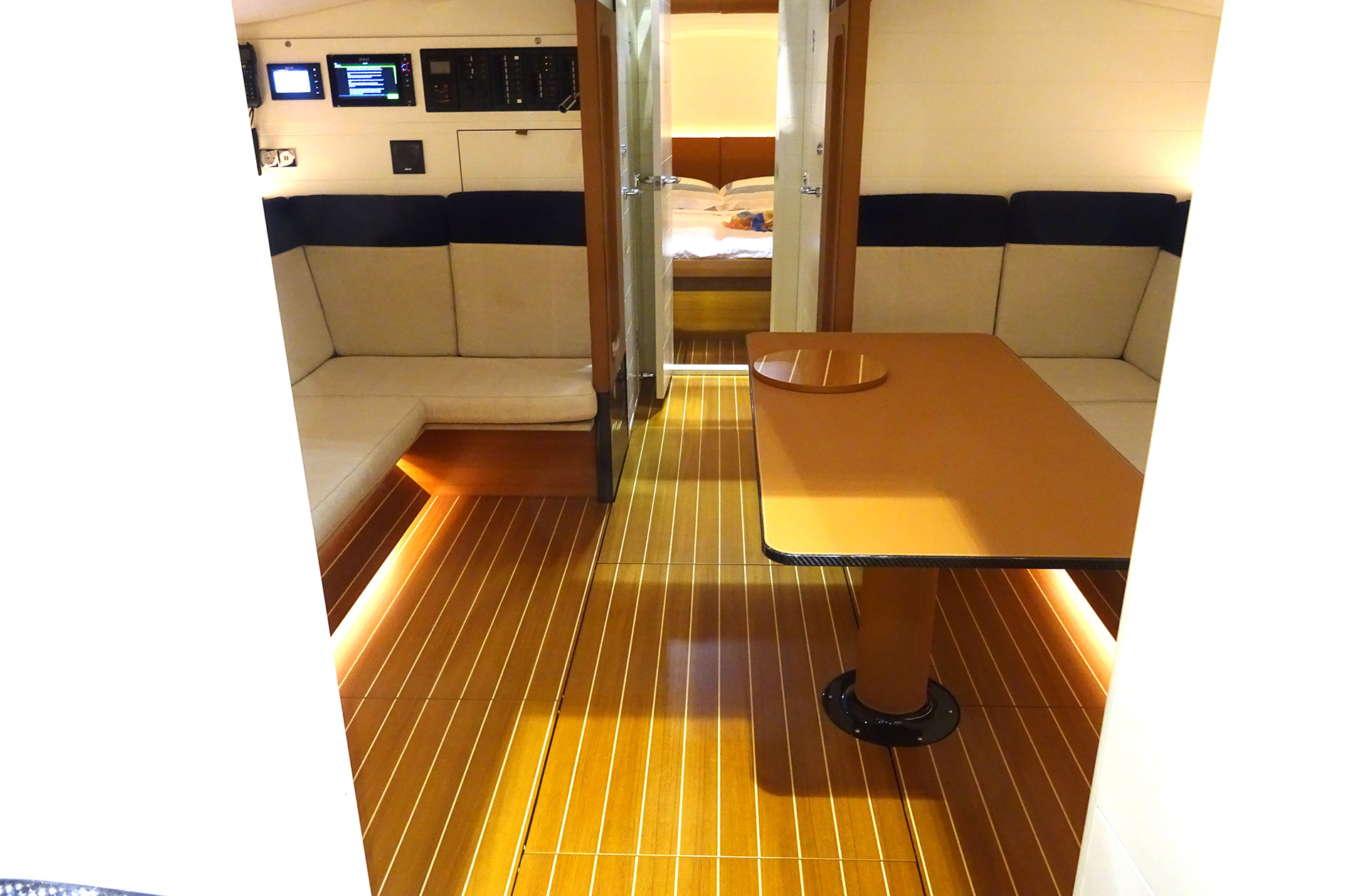 But the Clubswan 50 will unfold her true beauty upon coming down the entryway. Again, the guest is greated with wide space. The boat´s interior lets room for people, there will always be space to walk by even when there´s a cocktail party going on. I loved the colours, resembling white and blue (the flag of Finland and Swan´s signature colors) in combination with warm tones in brown.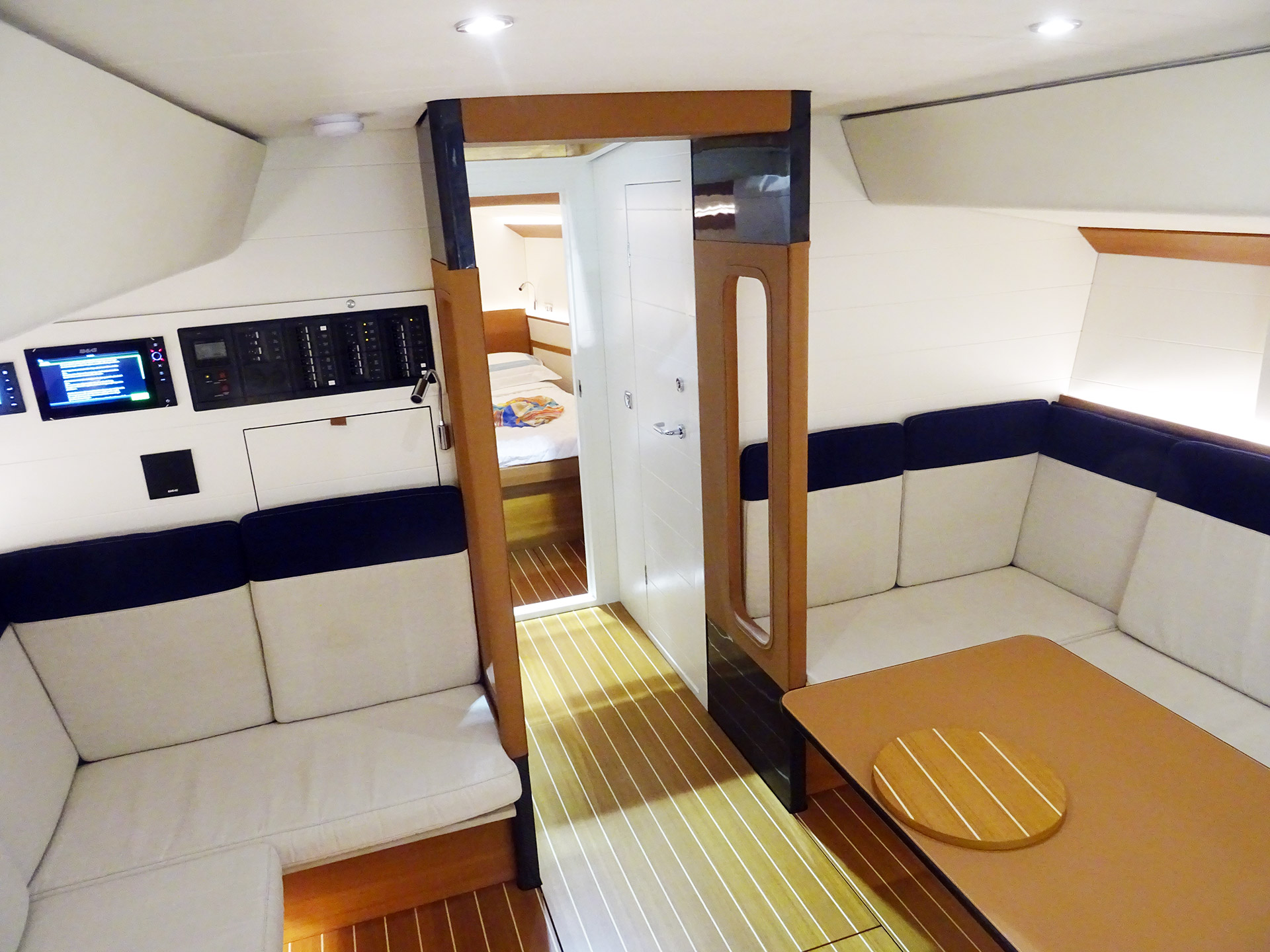 A particularly interesting feature was the base mounting of the mast – made of full carbon – which is also acting as a defining design element in the saloon, resembling a modern arch. This fantastic piece of engineering is partially covered in fine leather boosting significantly the character of the saloon. Indeed, she is a luxurious cruiser too!
Interior Yacht Design re-defined on the Clubswan 50
Speaking of her interior design features (please also read my review of Interboot boatshow with a view on different interior yacht design approaches here and here), one must also speak about some decisions Juan made by choosing materials here.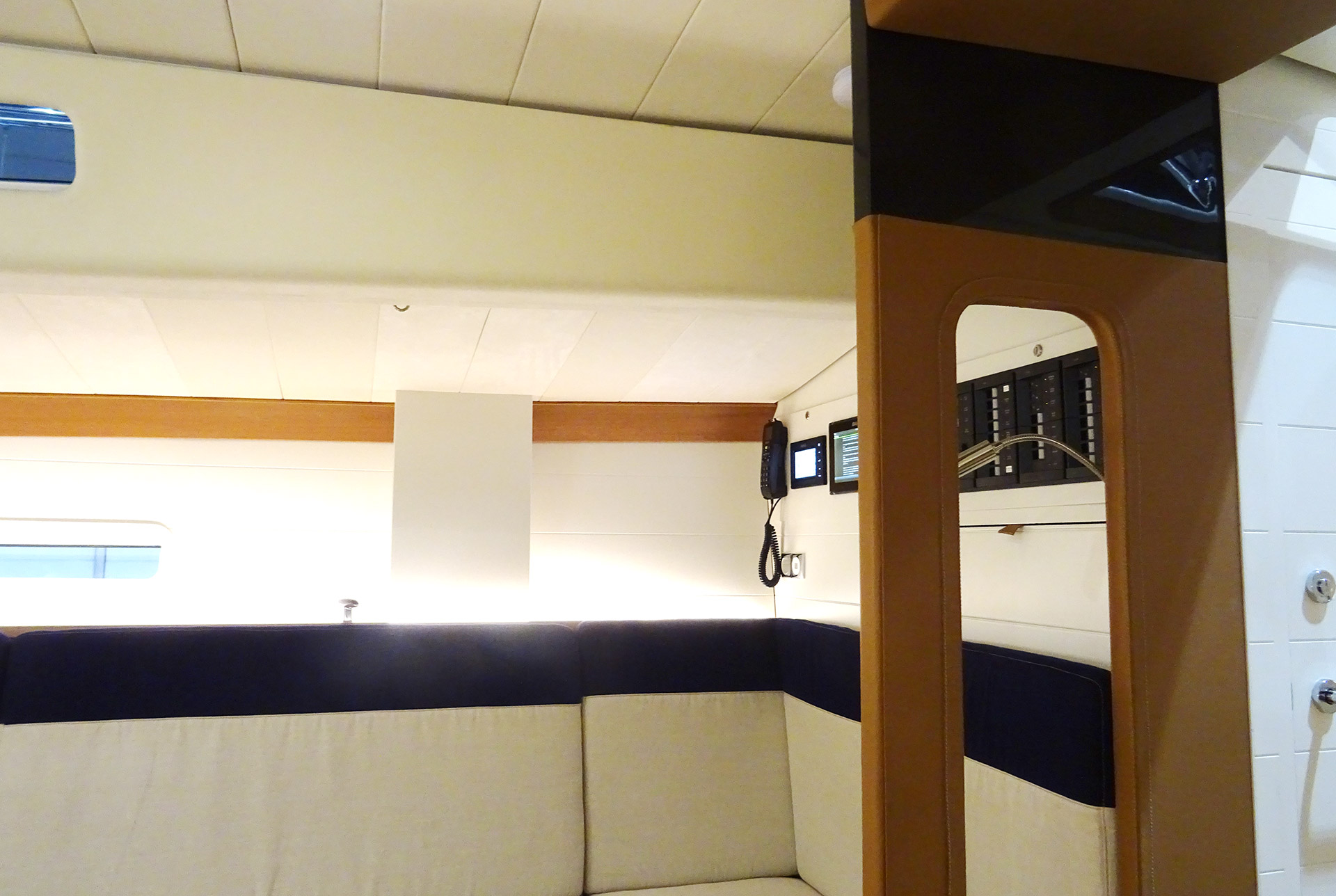 White dominates the boat, which is kind of countering the "shiplike" wooden appearance of most boats nowadays, even if different, mostly light coloured timber is chosen. The Clubswan´s saloon panels are covered in white leather. When all lights are switched on, one almost feels in sailor´s heaven. Blue and brown form a nice complementary set of colour which is surprisingly harmonious.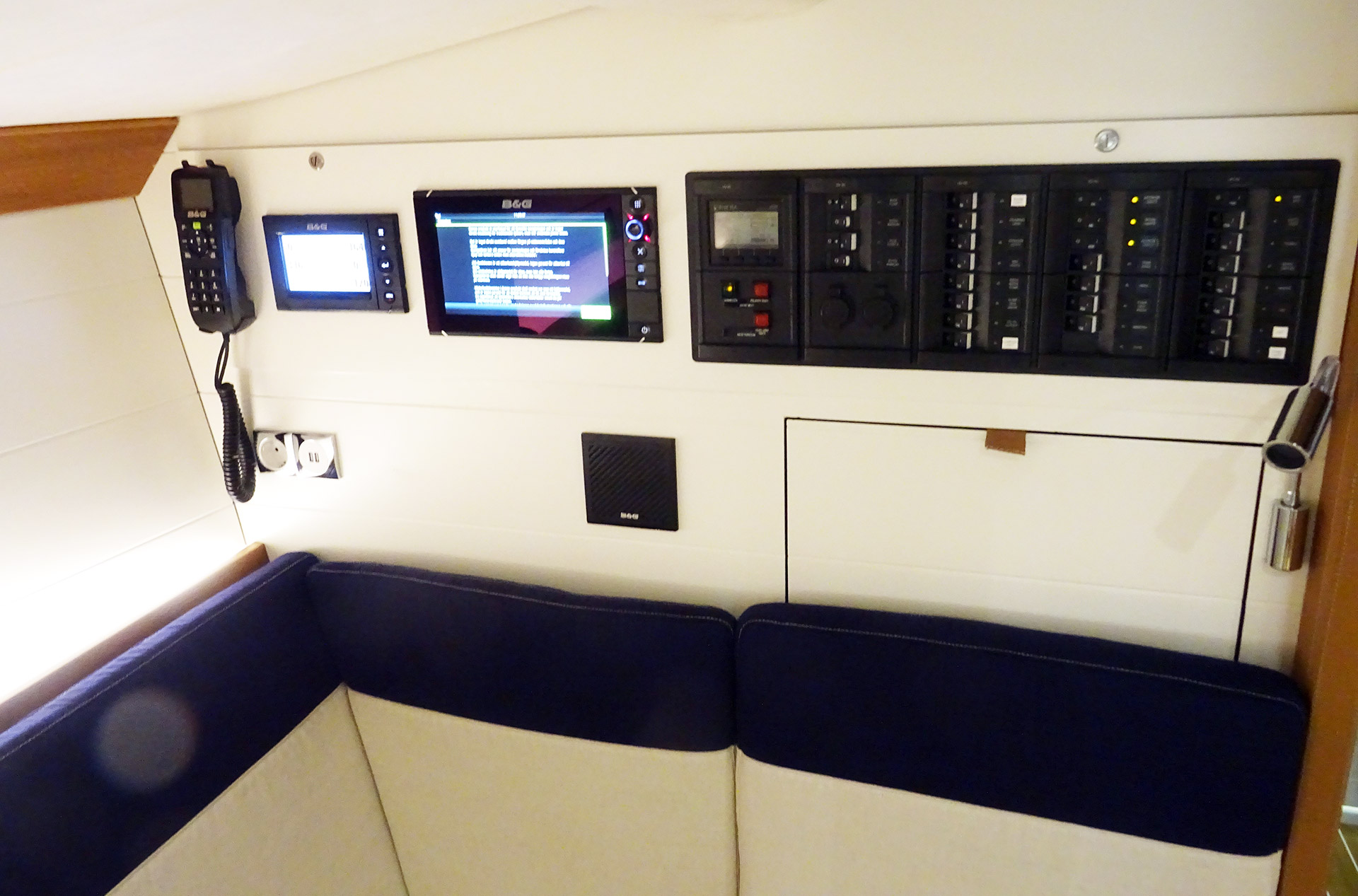 I love the navigation station. As I am opting for the old fashioned chart table for my own boat (read it here), on the Clubswan 50 everything is a bit different. Nav-Station is situated at the portside front of the main bulkhead. Electronic gear is flush mounted in the wall, such as a small pull-out chart table – certainly made for a Laptop computer.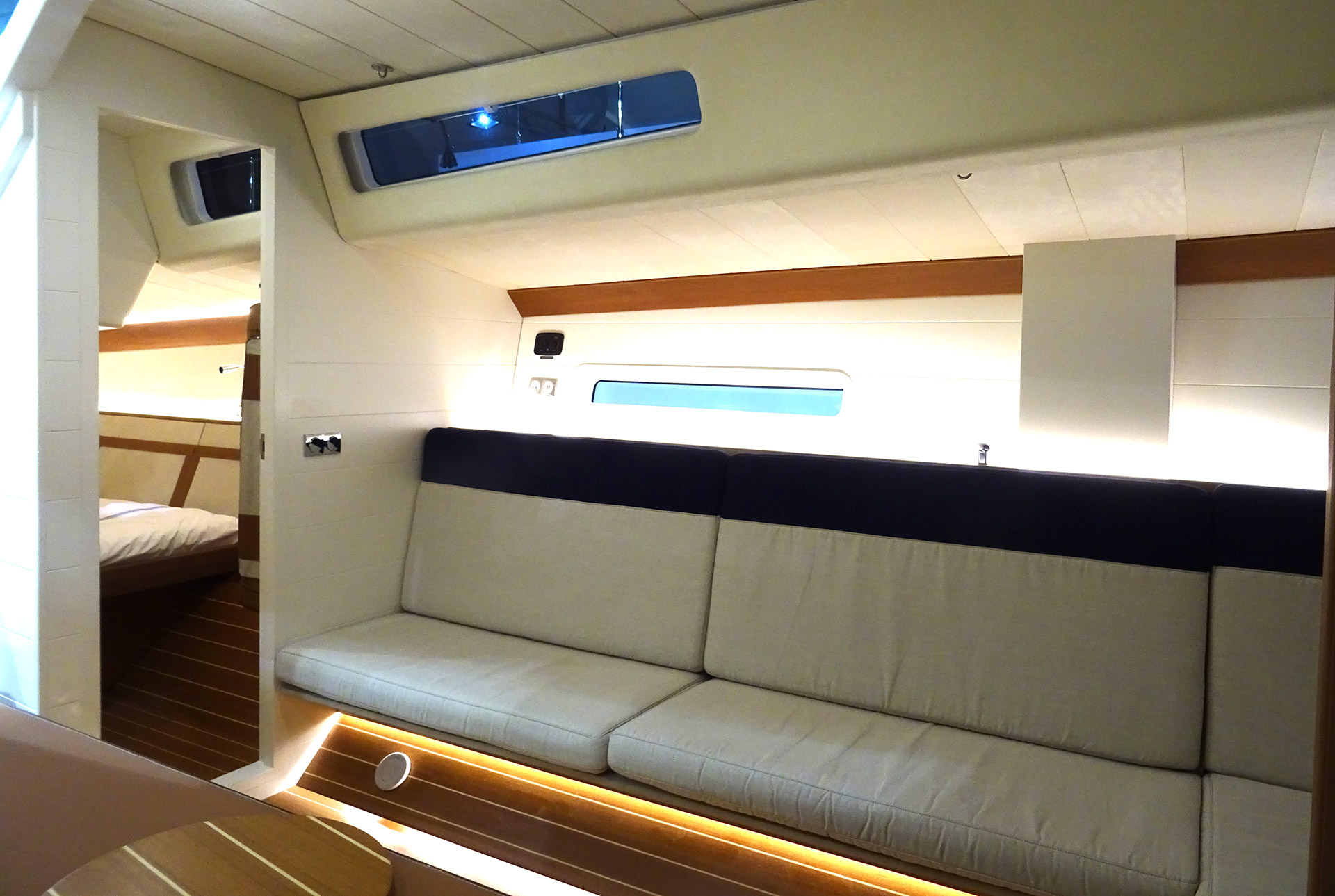 One large U-settee and one simple settee with a large dining table make up the saloon. Which is surprising as well: Whereas other yards try to impress owners with multifunctional stuff, three dimensional folding tables and all kinds of super-cozy cushion, the Clubswan just offers (very cozy!) settees and a fixed table. That´s what I would call a statement.
Clubracing in Style: Cabins on the Clubswan 50
Sailing – especially in regatta mode – is hard work for both body and brain. So it´s essential to have cabins which offer enough room for people to find a good night´s sleep. Can a thoroughbred racer like the Clubswan 50 live up to a legacy of the virtually unlimited comfort and style of her sister ships? I would say yes, she can.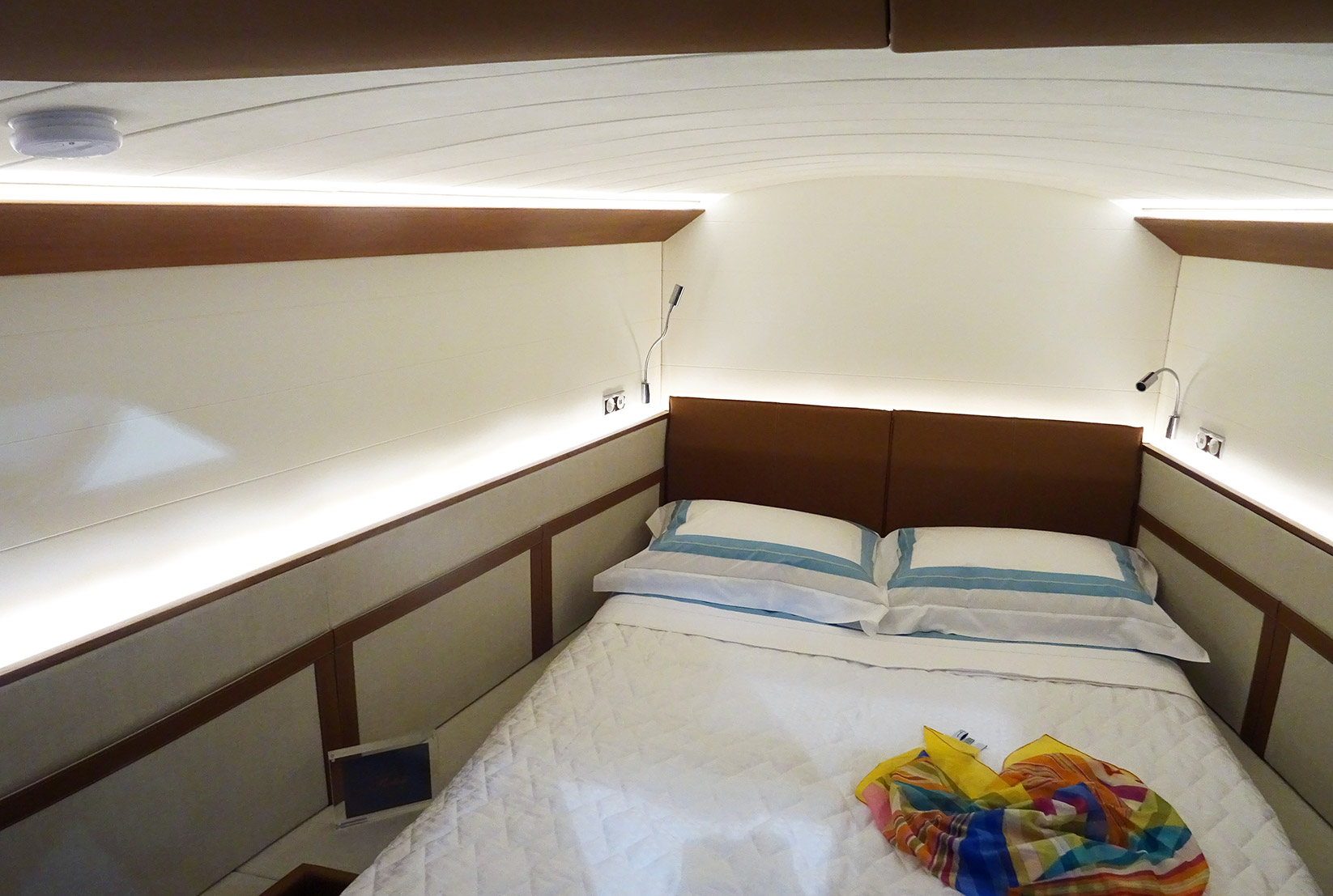 The owner´s cabin has a large island bed big enough for two people to sleep. The cabin itself follows the rather chary design approach of the saloon and more so spurring the concept of omitting: White and brown will dominate, precious material but no showing off. One could call it "cold", I would call it "refreshingly nice".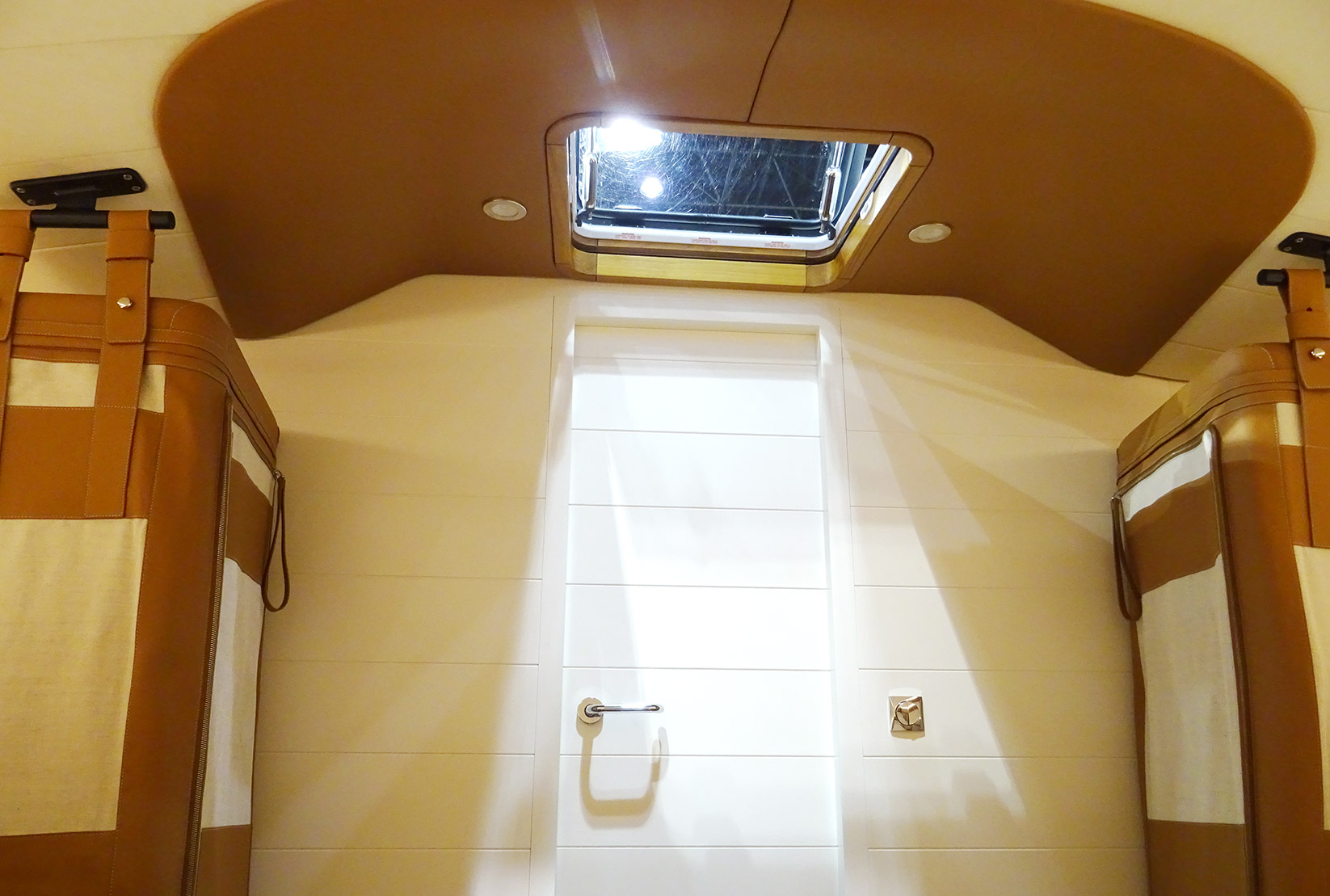 You have read about my struggle to find a nice design for the roofing of my own King´s Cruiser 33? Here the boatbuilders have come up with one of the best solutions for a yacht´s roofing I´ve ever seen. It is so different from all the others, yet stylish and very classy on the other hand. I particularly loved the rounded brown leather covered panel around the skylight hatch.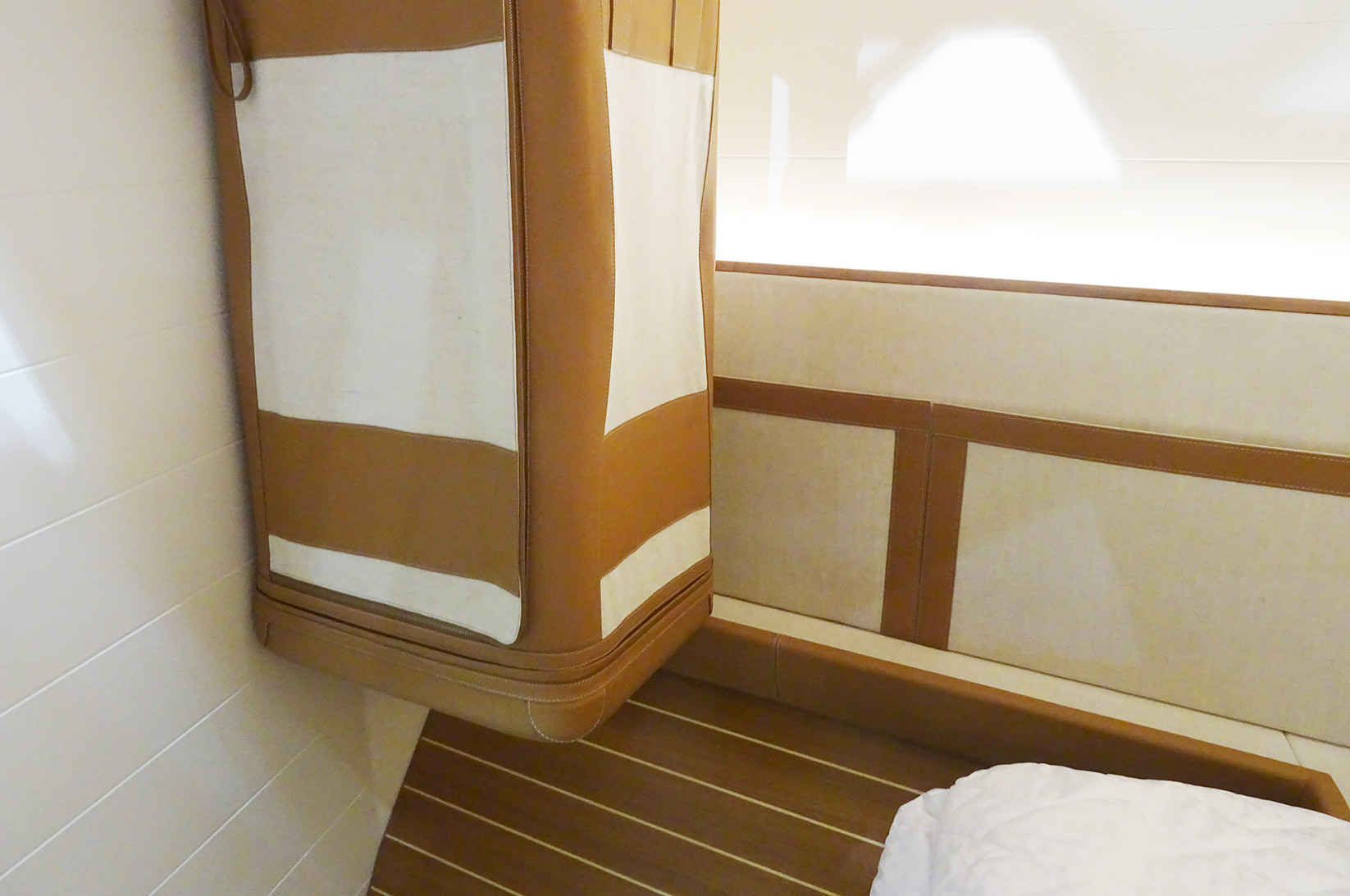 Stowage? Cabinets? That would be too ordinary for such an extraordinary yacht for sure. (And too heavy maybe?) In all this high tech material overdose of this full-carbon boat, I loved to see that they have made a kind of suitcase or bag which is suspended from the roof and the bulkhead. The suitcase is made of a sturdy fabric and partially the same brown leather that is used in the rest of the boat. It wouldn´t be surprising is these suitcases can be taken off the boat home. What a clever idea!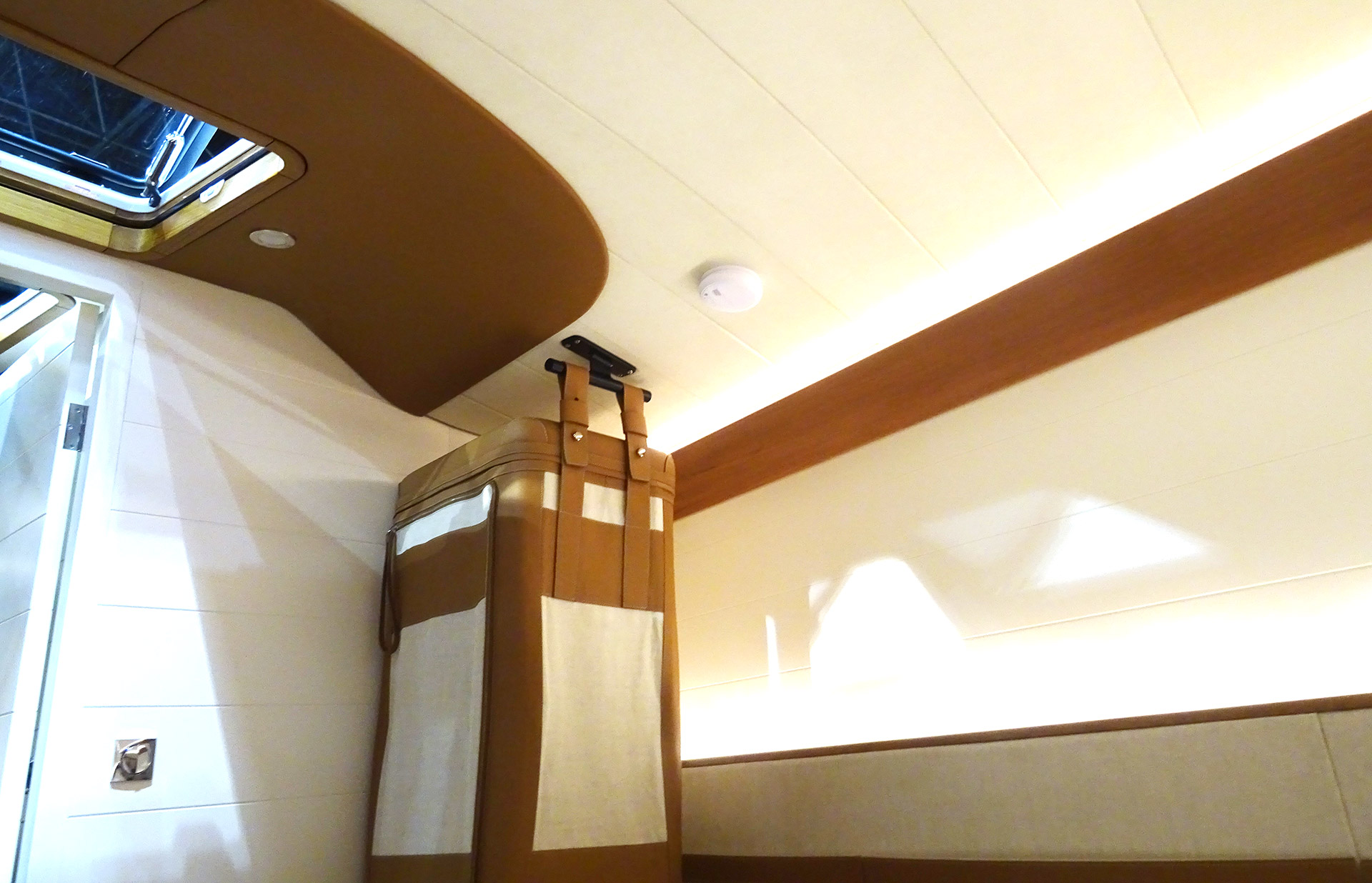 Again and again I had to stare at the fine work of the boatbuilders and who did the perfect panel works in the boat. There is virtually no variation in clearance in any of the panels noticeable, no dangle and no wobble. This boat is indeed a perfect example of true craftsmanship.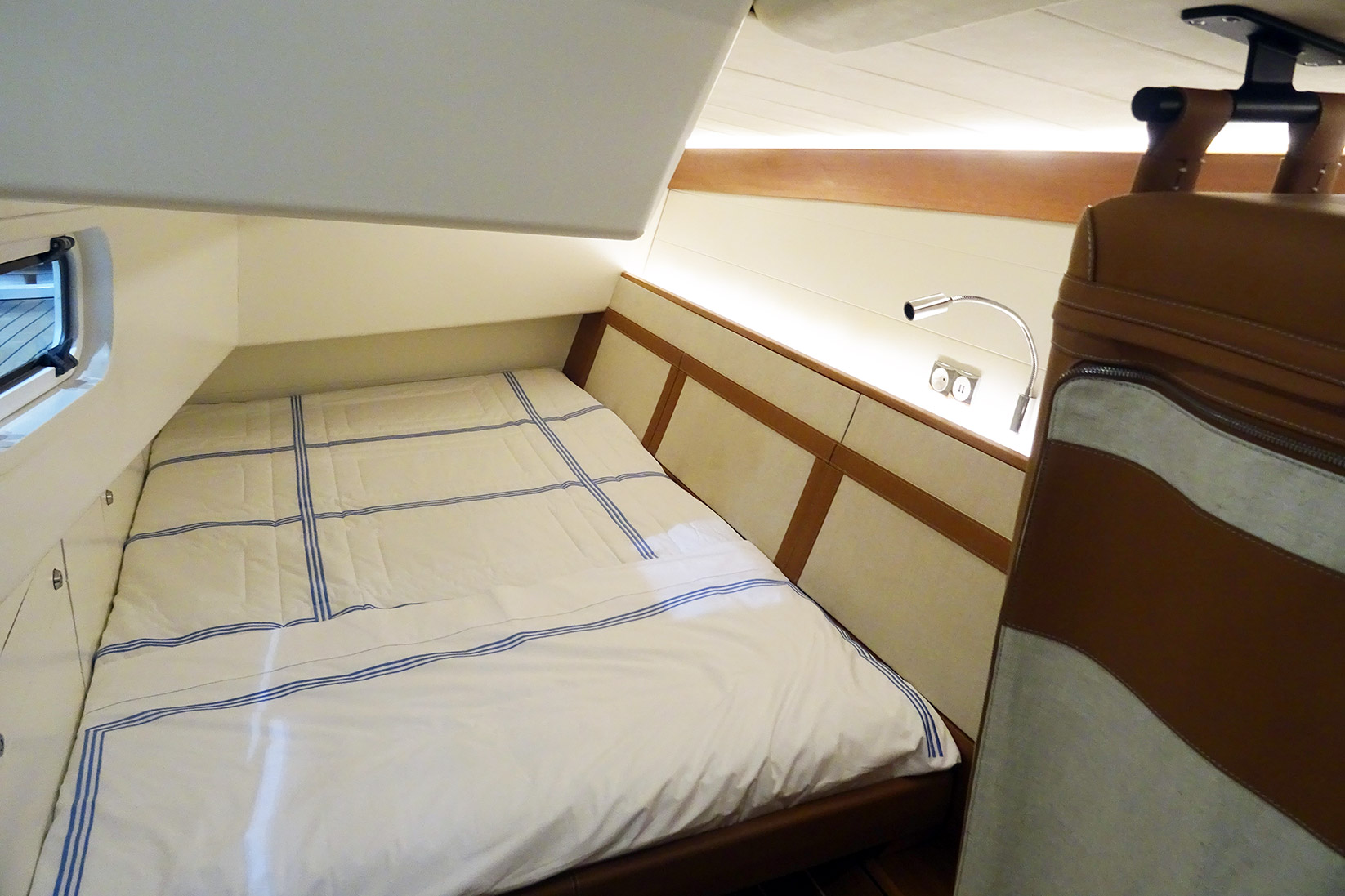 The Clubswan 50 also features two identical aft cabins – again classy and spacious, again offering enough space and the same clever stowage system with the suspended leather suitcases like the fore cabin does. All in all, it must be a treat to be honoured to ride as a crewmember on board of one of these Clubswan yachts: Both in terms of her sailing performance and her stylish luxurious interior.
The Star of every Fleet
I visited the Clubswan 50 three or four times and shot nearly 200 pictures of her. She is a fascinating boat. Yet I know, she is so damn special that only a few will ever hit the water. The Clubswan 50 will be nevertheless not just the star of boatshows but – and she already proved that fact – also the star of races and events in the water all around the world.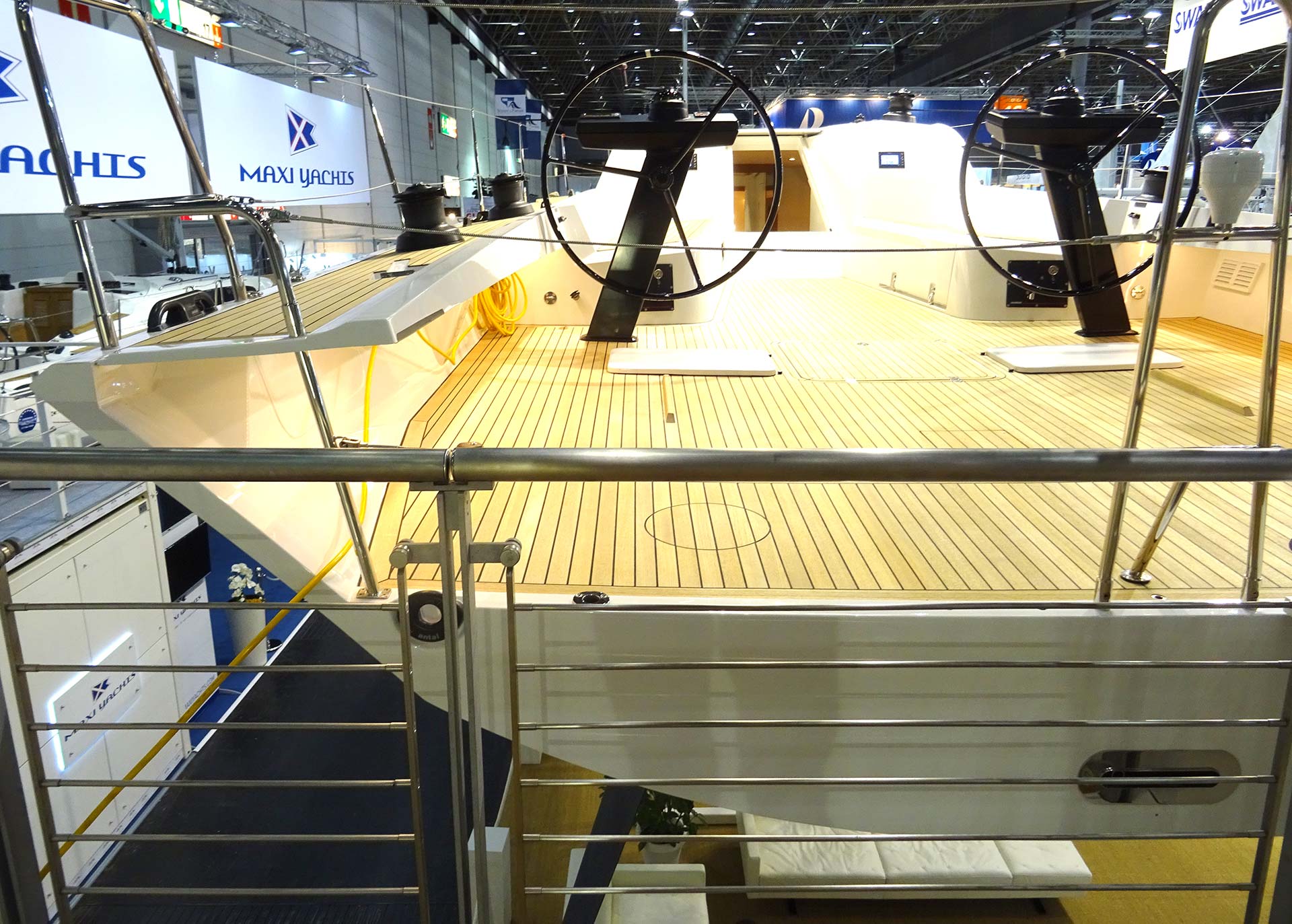 With a price of around 1.000.000 Euros this boat comes with a price tag. But I think she is worth it. It will be interesting to watch if Schuemann and his crew will make it happen that a real thriving vivid class of racing Clubswans will emerge over the course of the coming years. So far, she is but a solid dream.
Find all articles on the Dusseldorf Boatshow 2017 by clicking the hashtag #boatshowdusseldorf
Other articles on dreamyachts:
Meet the Hallberg-Rassy 412 and 43
So big that small: The Dufour Grand Large 310
A day at Luffe Yachts