As you may have read in Part 1 of the previous article (read it here) I did roam the Interboot Friedrichshafen boat show to have a closer look at nine different boats. In this case, I was very much interested in the design concepts of the very ships and the different approaches to creating a shiplike, cozy atmosphere, the utilization of available space, floor plan and cabin layouts, the design of the galleys and the navigation stations.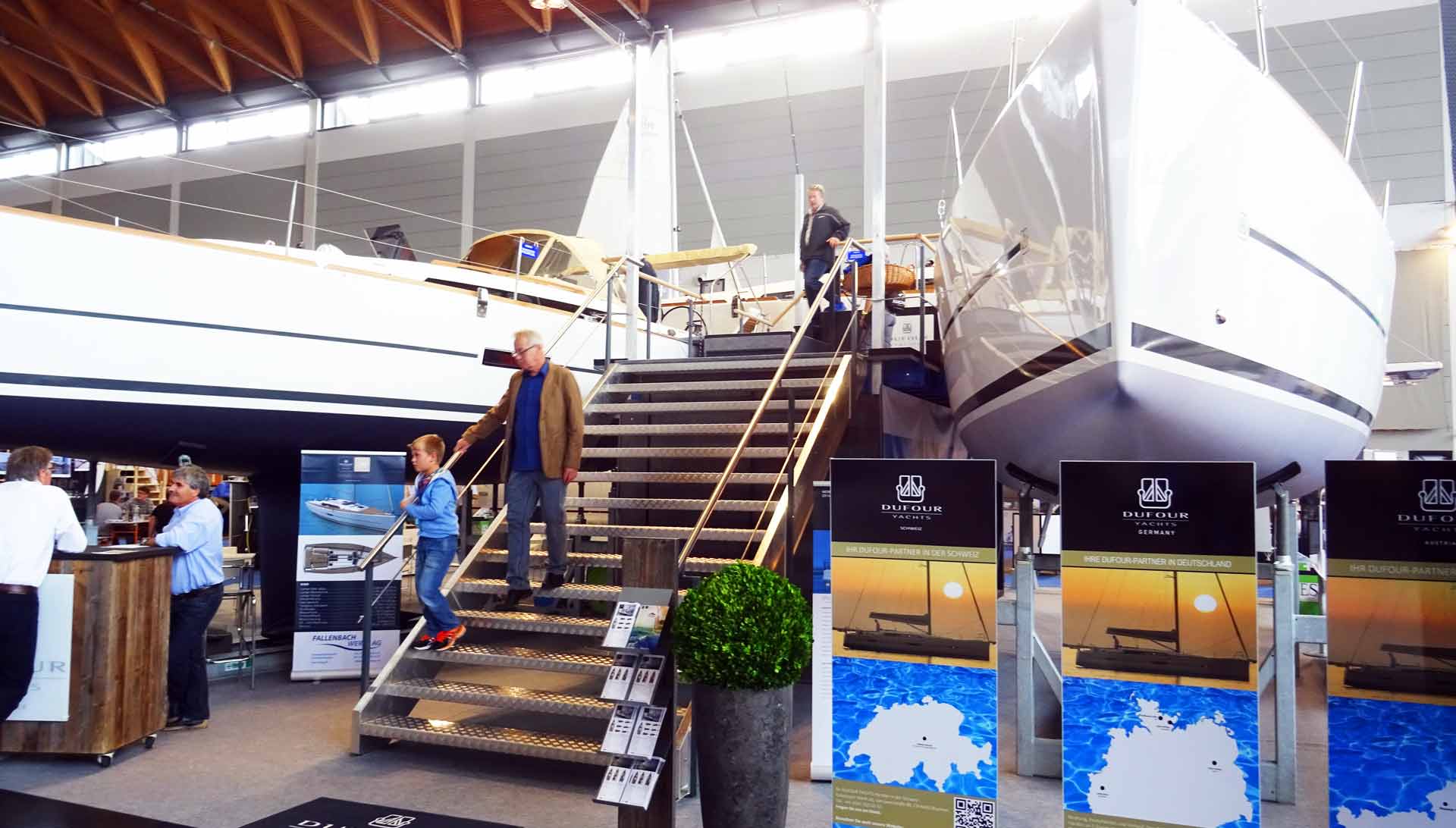 Again, I found it interesting to see that for example the use of high-grade material (massive wood instead of veneered plywood) or the quality of craftsmanship will depend on the anticipated value of the brand itself. I was puzzled to see it that evident. Boats made by brands merely known for building low-cost affordable boats or boats primarily made for the charter market won´t live up to the highest expectations in a way another boat made by a brand which will produce boats for owners, not for charter-firms. Let´s have a look on five more boats.
Classic Daysailer Made in Austria: Schöchl Sunbeam 30.2
"Made in Austria?", you might ask. Well, yeah, Austria has a Yacht manufacturer. And indeed it is a brand well known for seaworthy, high quality boats. Naturally, as their maker is originated in a country with no shoreline at all, most of the boats are made for daysailing: Of the nine available models offered by Schöchl, six of them are in the "inshore" range of 22 to 36 feet.
But again, three models range from 40 to 53 feet and are meant for serious offshore sailing. The Sunbeam 53 is a thorough offshore oceangoing boat and one of the yachts I´d like to have a closer look at in the future. For now here at Lake Konstanz they´ve had three of their smaller models displayed at the stand of which I chose to take a look at the 30 feet version in more detail. By the way, a Schöchl Sunbeam is easily recognizable by her three "wings" on one of the smaller cabin portholes as seen on the picture.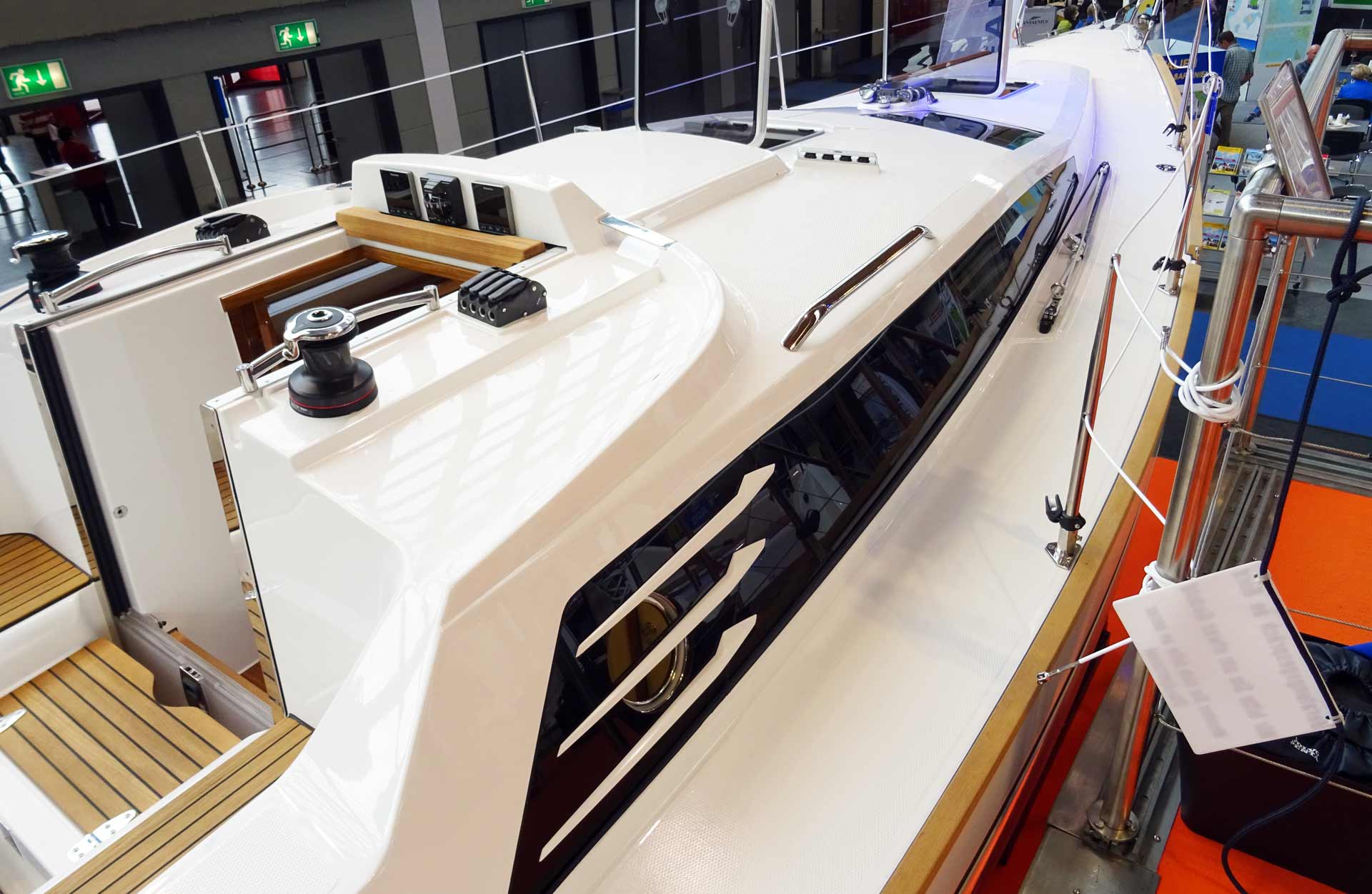 To start with her design: Sunbeams are ships. There´s a great emphasis on creating a ship-like atmosphere, in contrast to most of the other yacht brands which are trying to offer "maritime chillout zones", a Schöchl does want to be a ship. That in mind it´s no wonder that the visitor is greeted with classic decking, lots of wooden fittings and indeed a no-frills atmosphere down below deck. "I am aboard a ship!", that´s the inevitable conclusion and I instantly liked the Sunbeam for making that statement.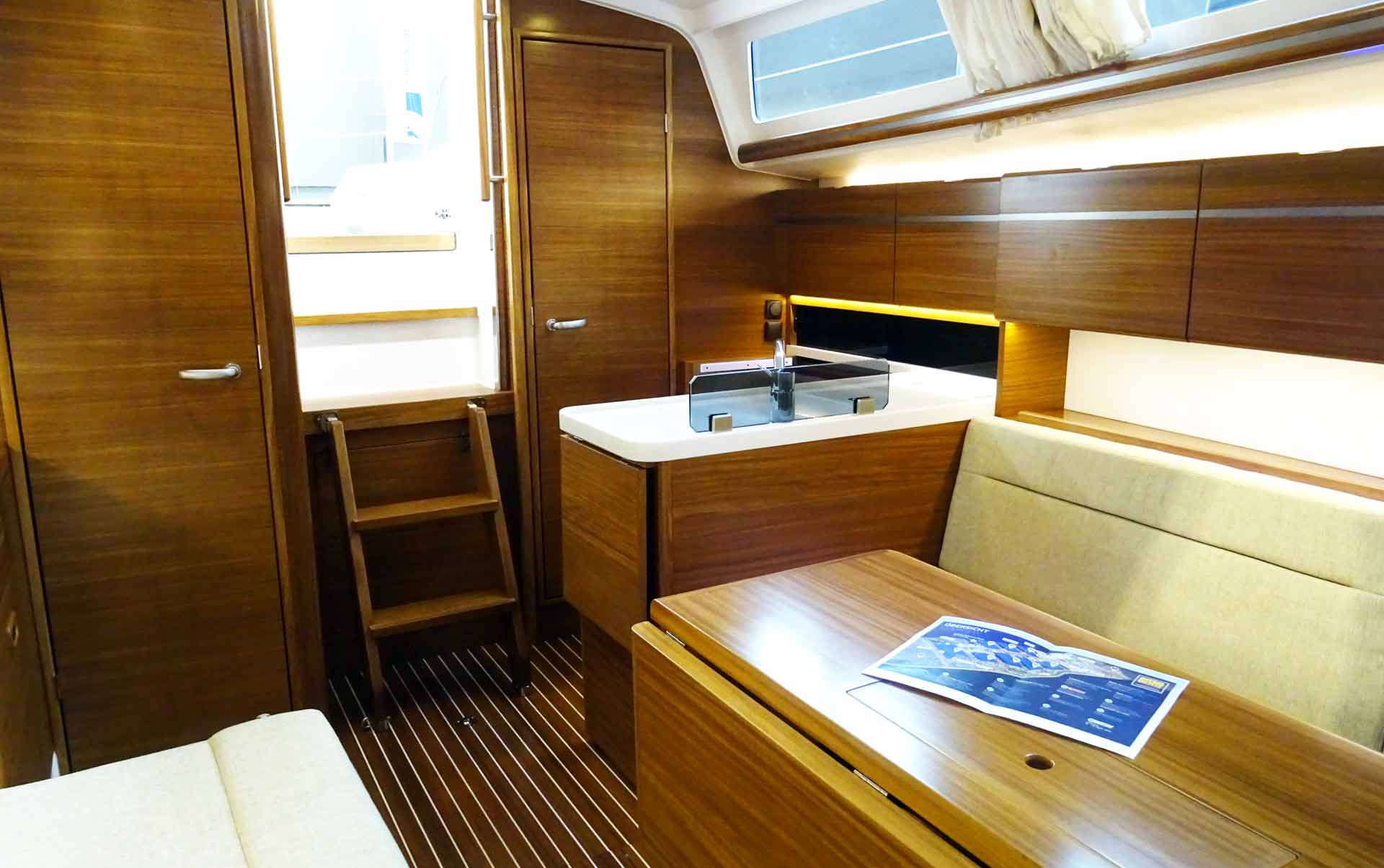 It´s a strong contrast to the ballroom-sized Dufour arriving in a 30 feet boat, but again, Schöchl manages to create a nice surrounding. Saloon floor plan is classic: Two facing large settees which can be used as berths too, a folding dining table and that´s basically it. Lots of stowage overhead and under the sofas. Fullstop. Colors are matching, used materials as well as the fabric of the cushion appear to be of high quality and able to keep their appearance quite some time during use of the boat.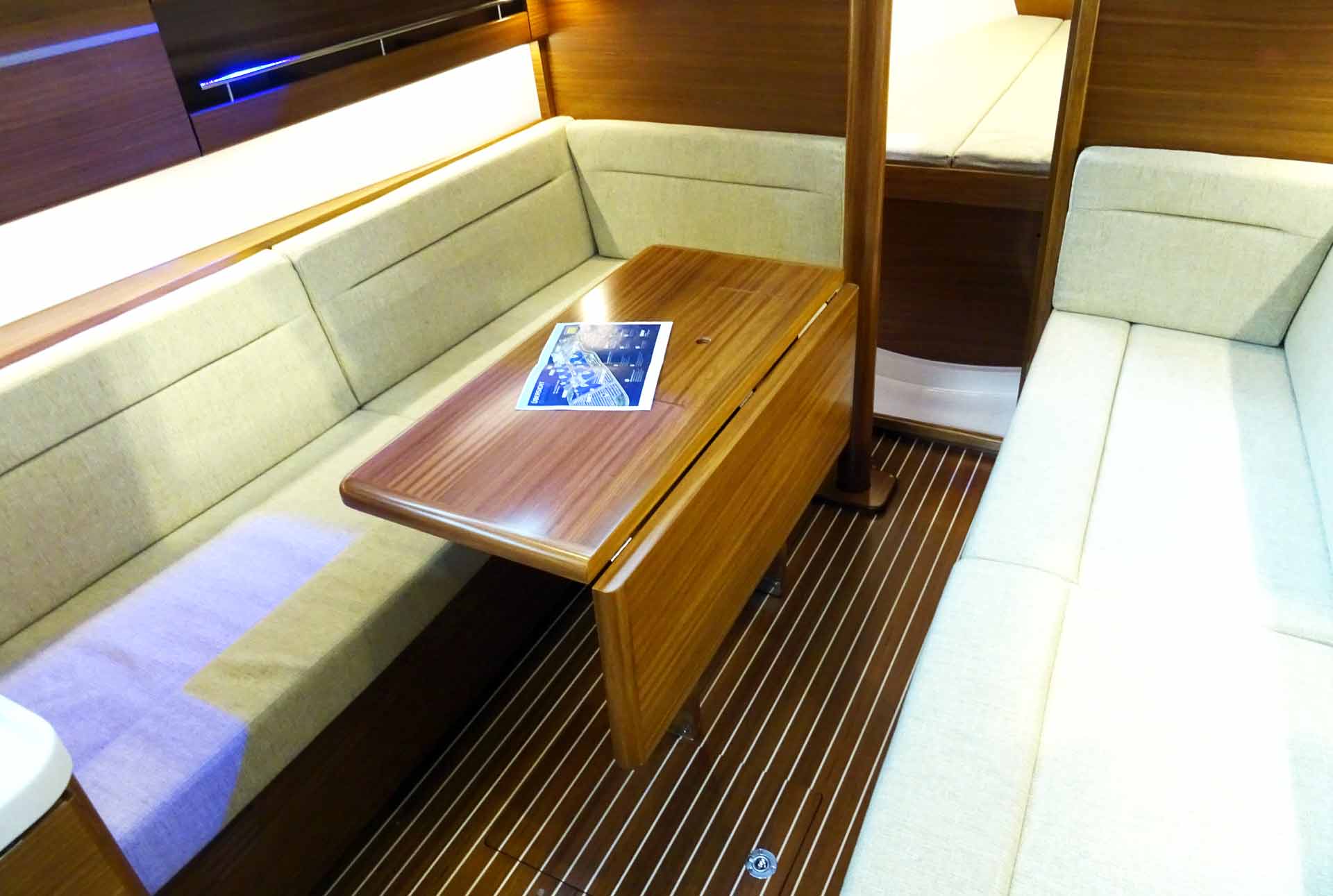 The galley is – considering the size of the boat – more than enough. Although in this version only a stove without oven would fit into the worktop, but I guess less people are doing their bakery during daysailing activities. There´s a small sink and a fridge, big enough for short weekend-trips having the same size as the fridge in my own sailing yacht at home.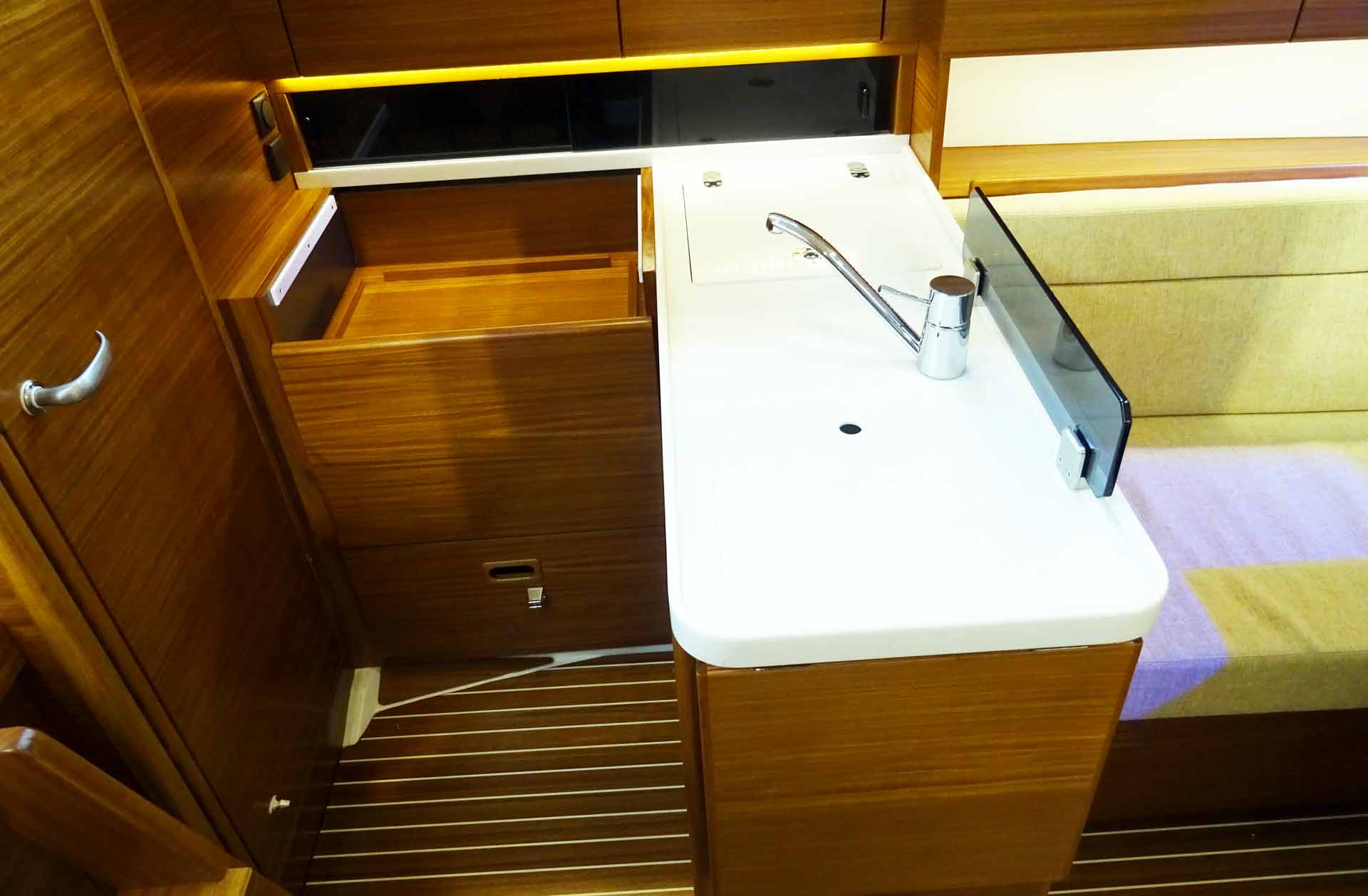 I particularly liked to huge skylights which will certainly let in more than enough light into the saloon, creating a airy and light atmosphere. That´s again something Beneteau failed to achieve in the 51, though there have been lots of hatches, I didn´t get the same lofty feeling in their boat as I got it here in this sailing dwarf.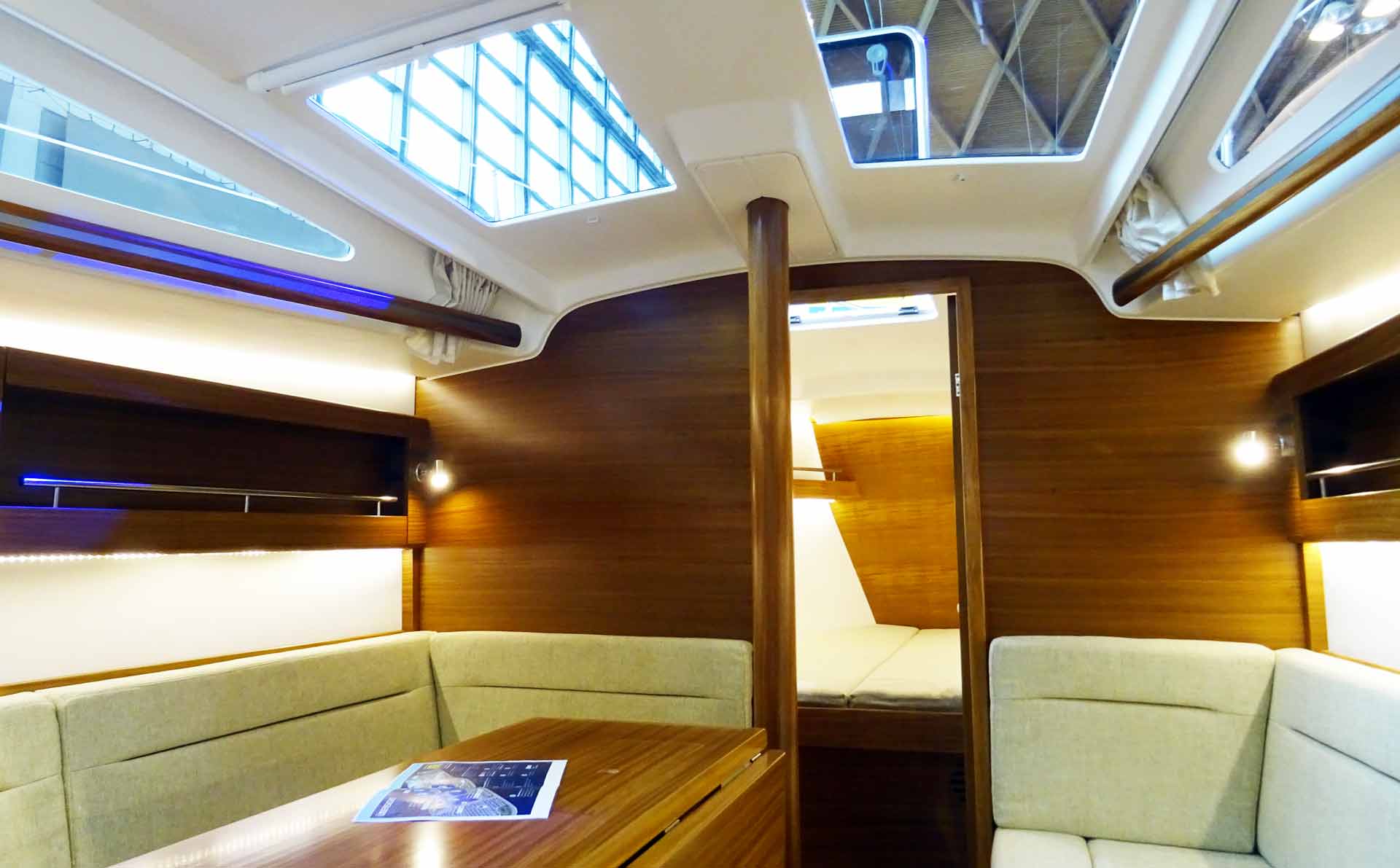 The aft cabin of the Sunbeam 30.2 is basically a huge reclining area. I would fit there, being 1.86 meters tall, but I guess two people should be seriously in love with each other – or desperately seeking a deep sleep – because one has to snuggle tight to fit two persons into that cabin. But again: This is just a 30 feet boat, so the cabin size is perfectly okay.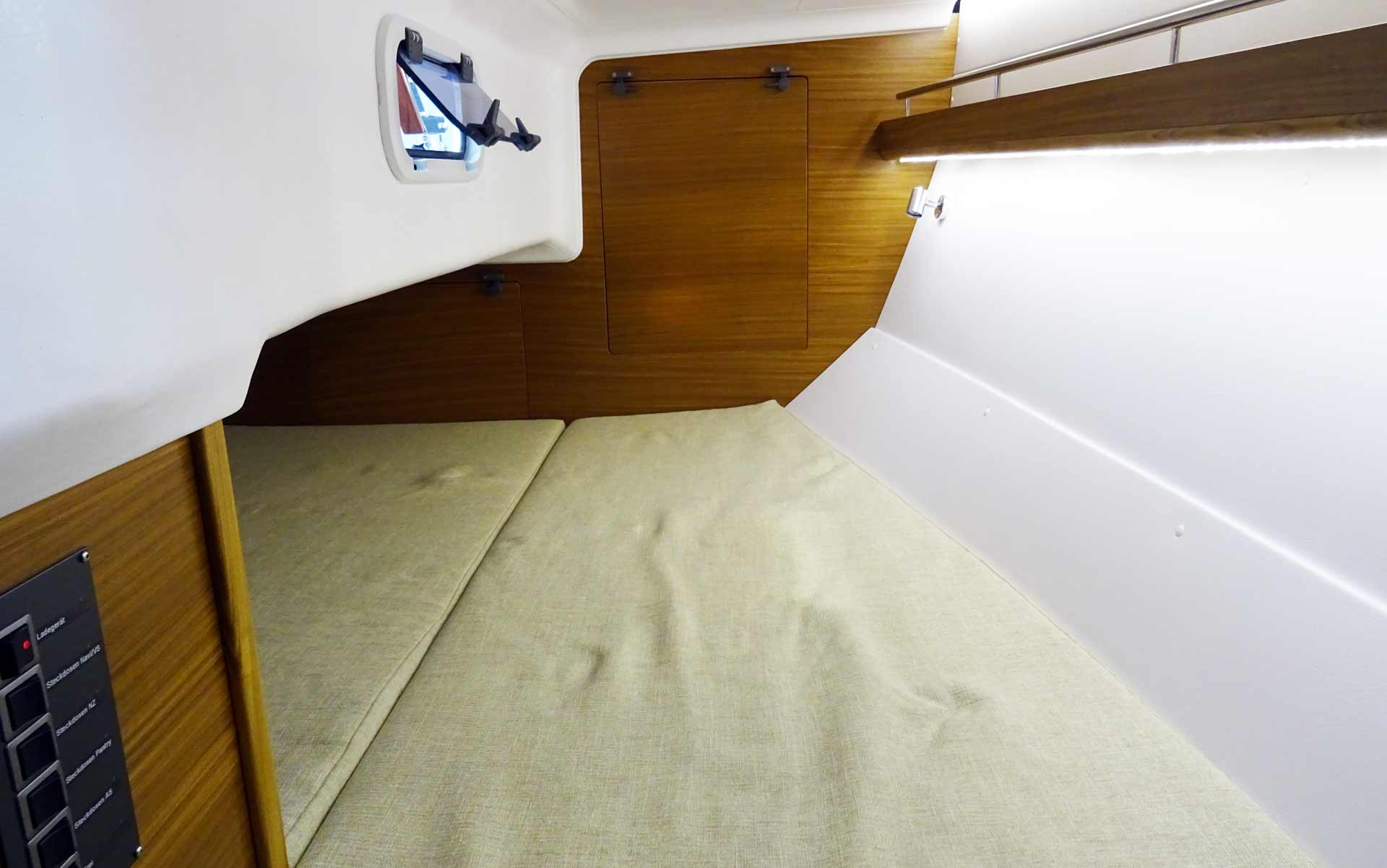 The owner´s cabin in the fore peak made quite a nice impression on me though it was obviously not the biggest room one could expect to get in a 30 feet boat. Both cabins were mediating a feeling of coziness and a sort of "being at home", which was nice. I could perfectly envision myself in one of these boats anchoring on one of the big lakes, pitch black night with a bottle of good wine, fried fish in a pan and watching out for shooting stars.
All in all I liked the Sunbeam 30.2 – though it definitely is too small for my taste, it might be the perfect boat for inshore and daysailing. As I stated earlier, I´d love to take a look at the larger Schöchl-boats such as the 42 and 53 feet versions as they appear to be serious oceangoing yachts.
Plastique Fantastique: Jeanneau 419 and 519
To be honest, I did not have the highest expectations upon taking a look at the Sun Odyssees. That might be bias, might be prejudice and yes, it might be wrong. But looking at the hulls alone doesn´t really appealed to my eyes. The boats appear to be bulky. No exciting features in their lines, no signature details, no fun to look at to be honest. Don´t get me wrong – no offense here to all the Jeanneau owners. And no offense to the company as well: They aren´t market leaders together with Beneteau for no reason. But personally, I didn´t had too much expectations here.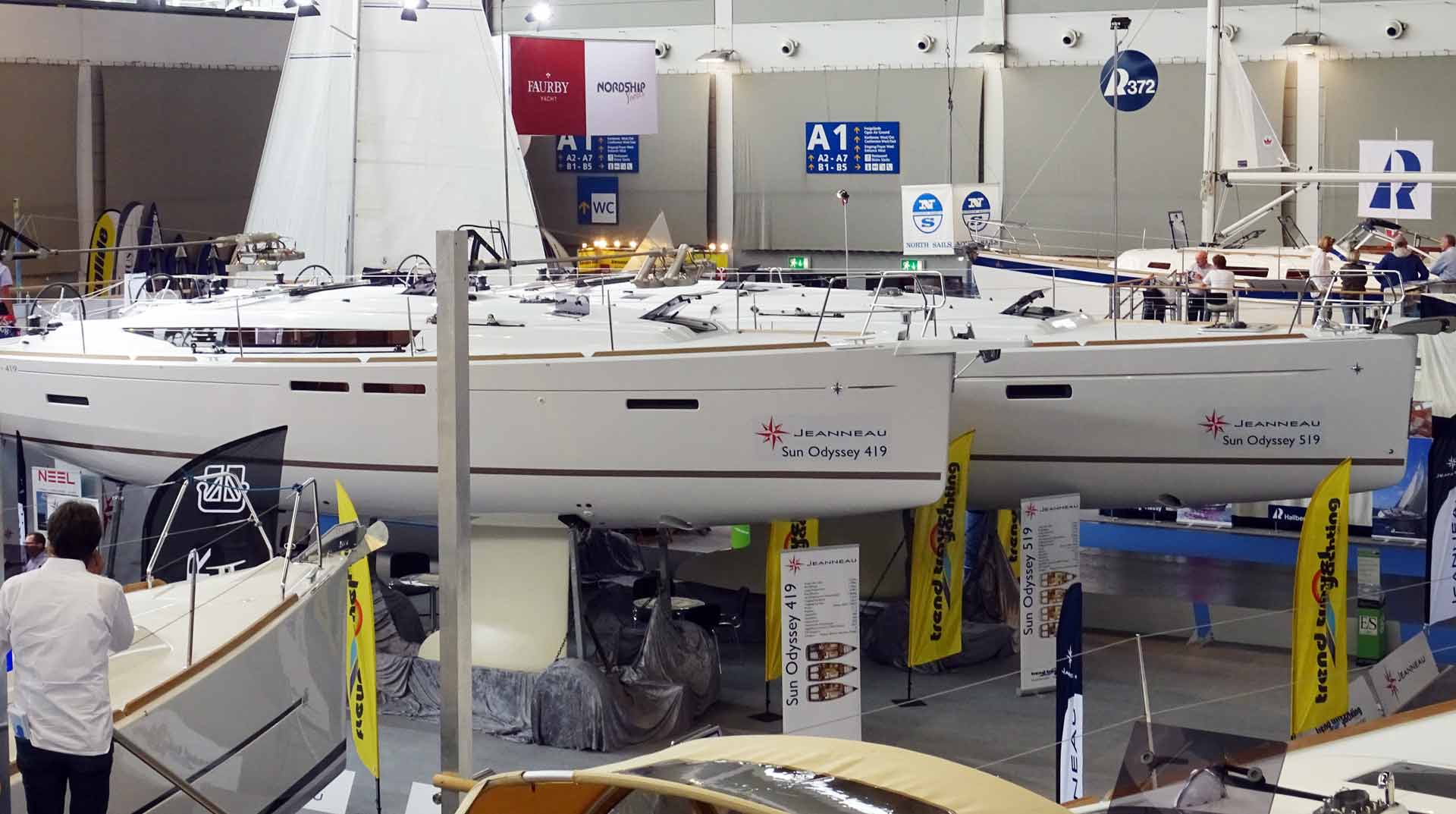 Both of them yachts did feature a nice sheer line, some wooden applications and a modern style of the outside porthole-panels, making them appear cat-like, sort of being fast. I also was wondering about the balance of the ships themselves as – from judging with my bare eyes and far from being a professional yacht designer – I did had the impression that the keels of the two yachts have been situated far too much to the front, creating an awkward look. But put this aside, I stepped on to the stand and was keen on seeing what those boats looked like from the inside.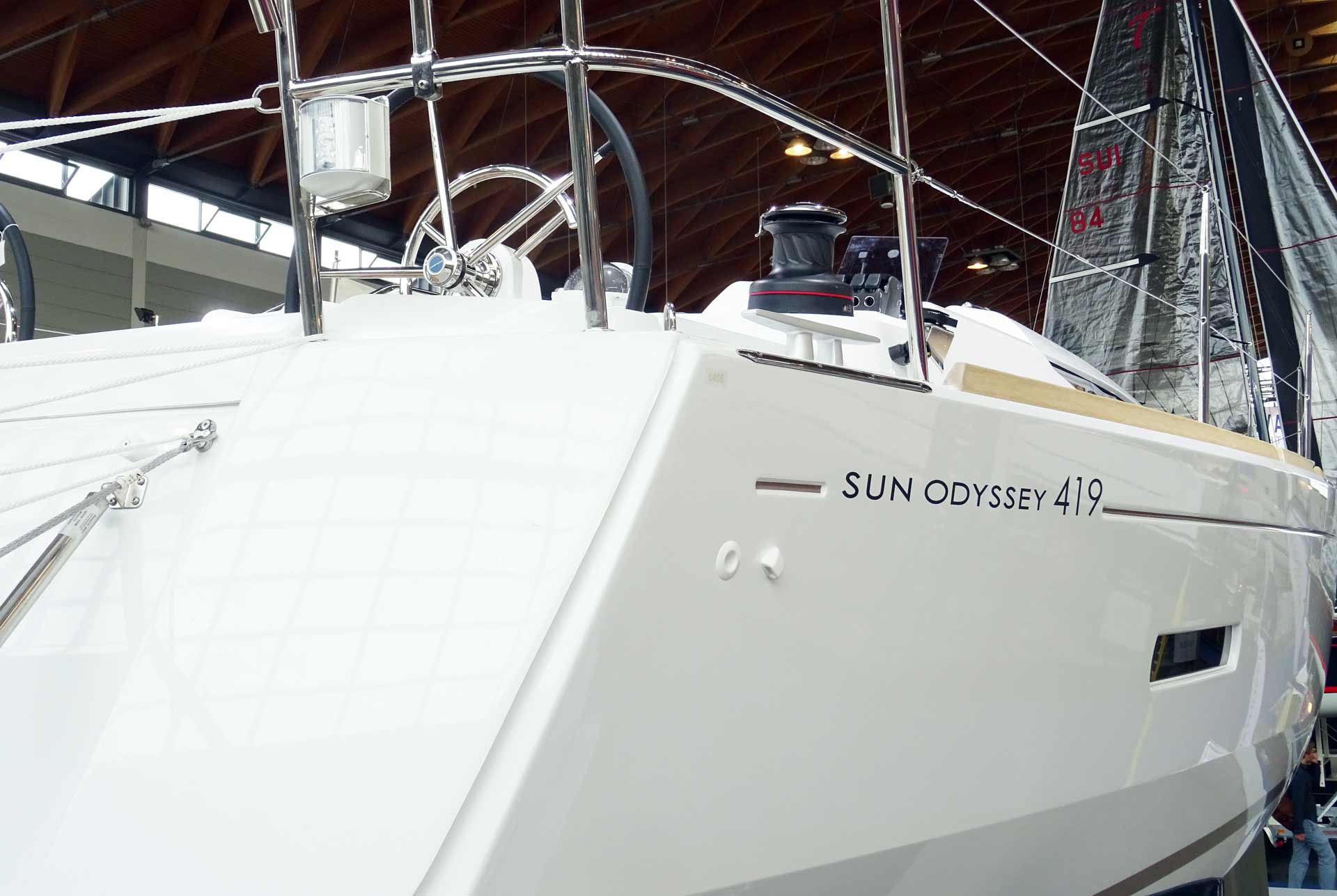 And what can I say? The cockpit of the Jeanneau 419 did make some impression on me, indeed. Those neat tiny details such as partially adjustable stands for the helmsman to gather a safe foothold even when the boat is heeled, the massive handle bars in front of both steering wheels and the fact that the wheel-columns have been molded to the rear seating of the cockpit which must attribute to a better stability of the wheel-column are some features I gave Jeanneau full credit. So, from seeing her cockpit I can say that sailing this vessel should be quite some fun.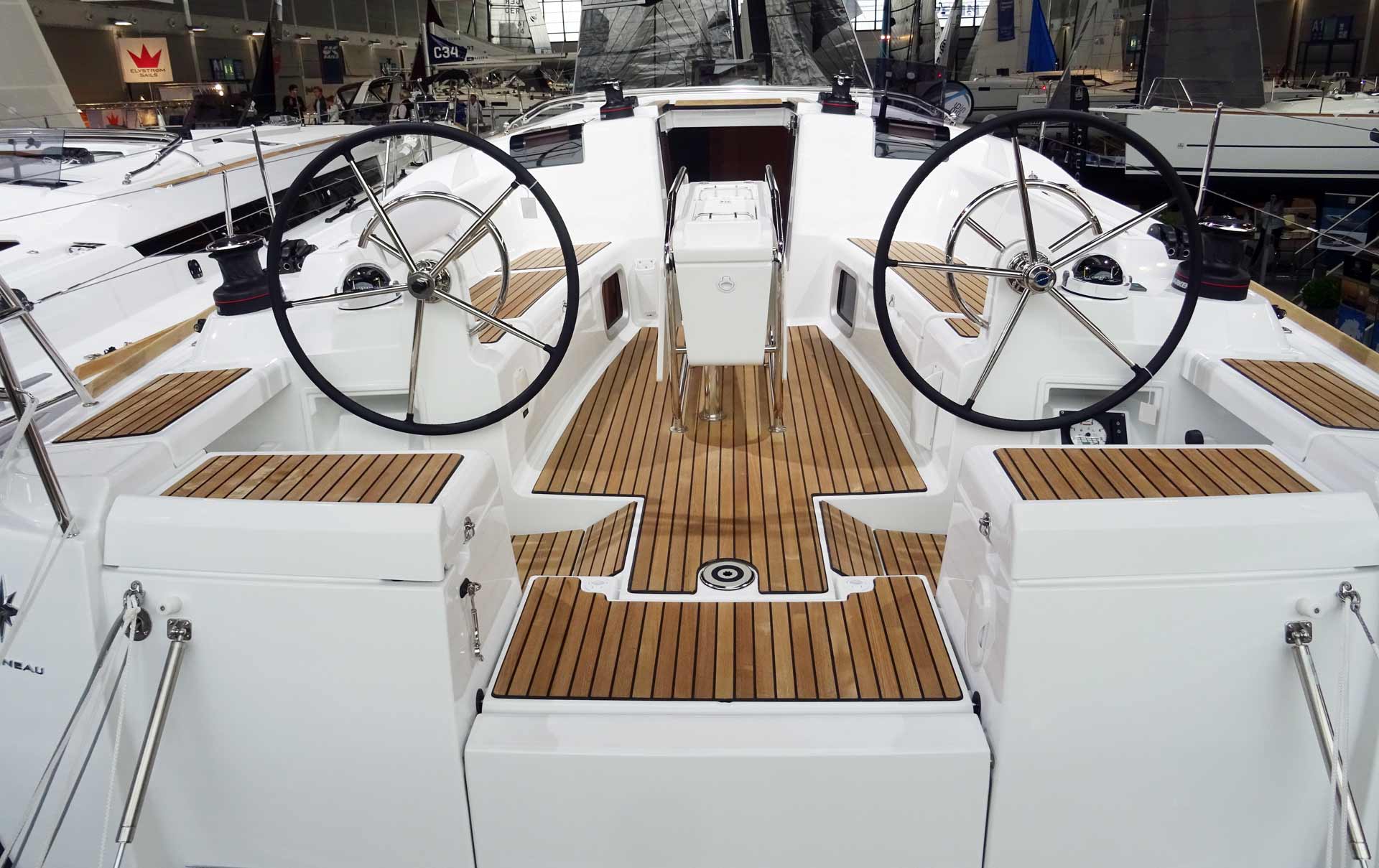 The saloon of the Jeanneau 419 apears to be friendly, light-suffused and welcoming. A cozy large U-settee to the starboard side, faced by a 2-chair combination incorporating the navigation-station vis-à-vis. I likes the colors of the saloon, all made to cheer up one´s mood. Modern but understating, not too much of luxurious things on display here.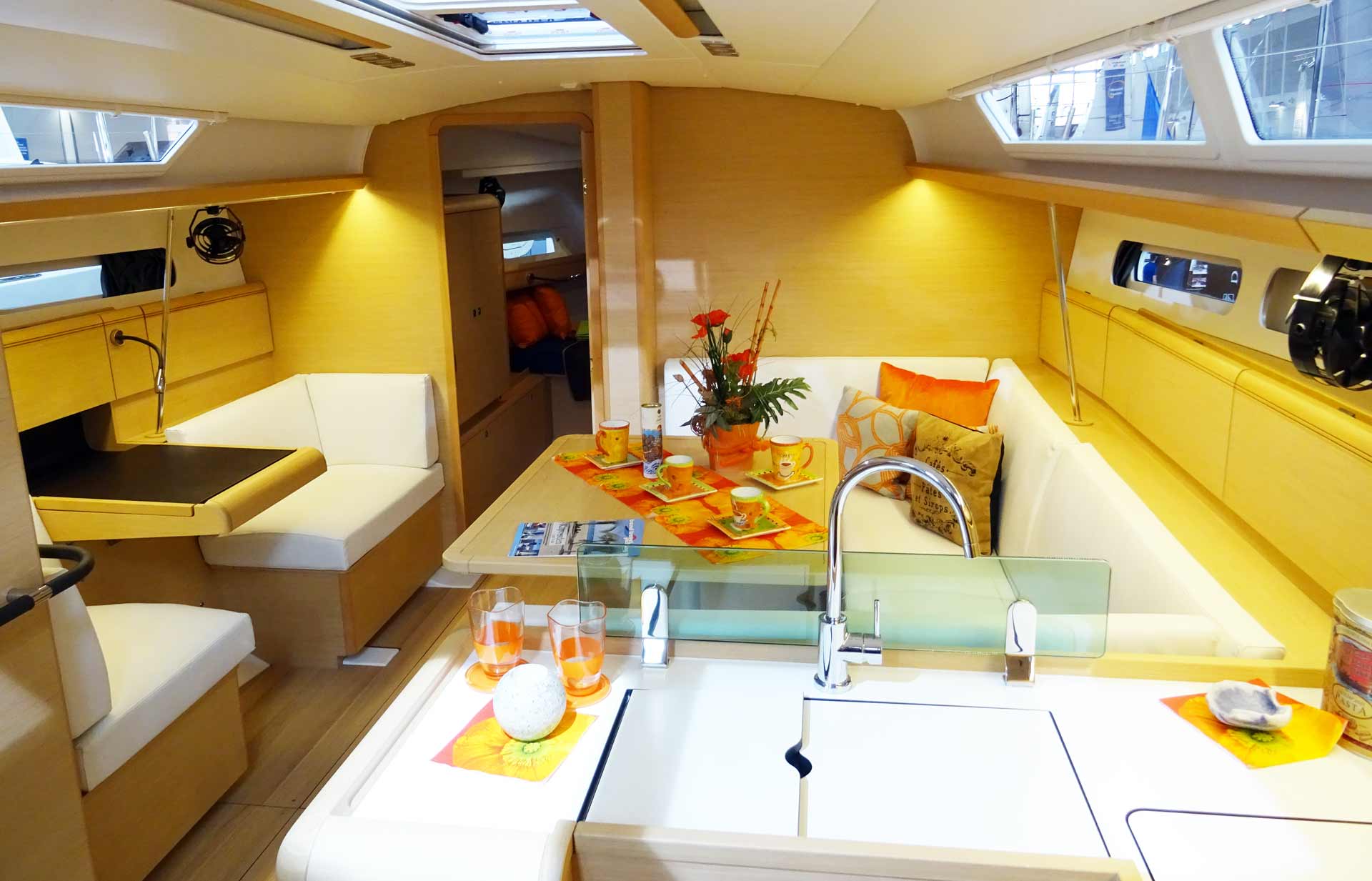 Same for the Jeanneau 519, slightly bigger, and with a different configuration: The main settee is again U-shaped but placed on the port side of the boat, faced by a cushioned stool and behind it, covering all the length of the saloon to starboard, a large pantry. The 519 had her chart table in the back of one of the settee-seats, though there wouldn´t be any backrests for the occupier.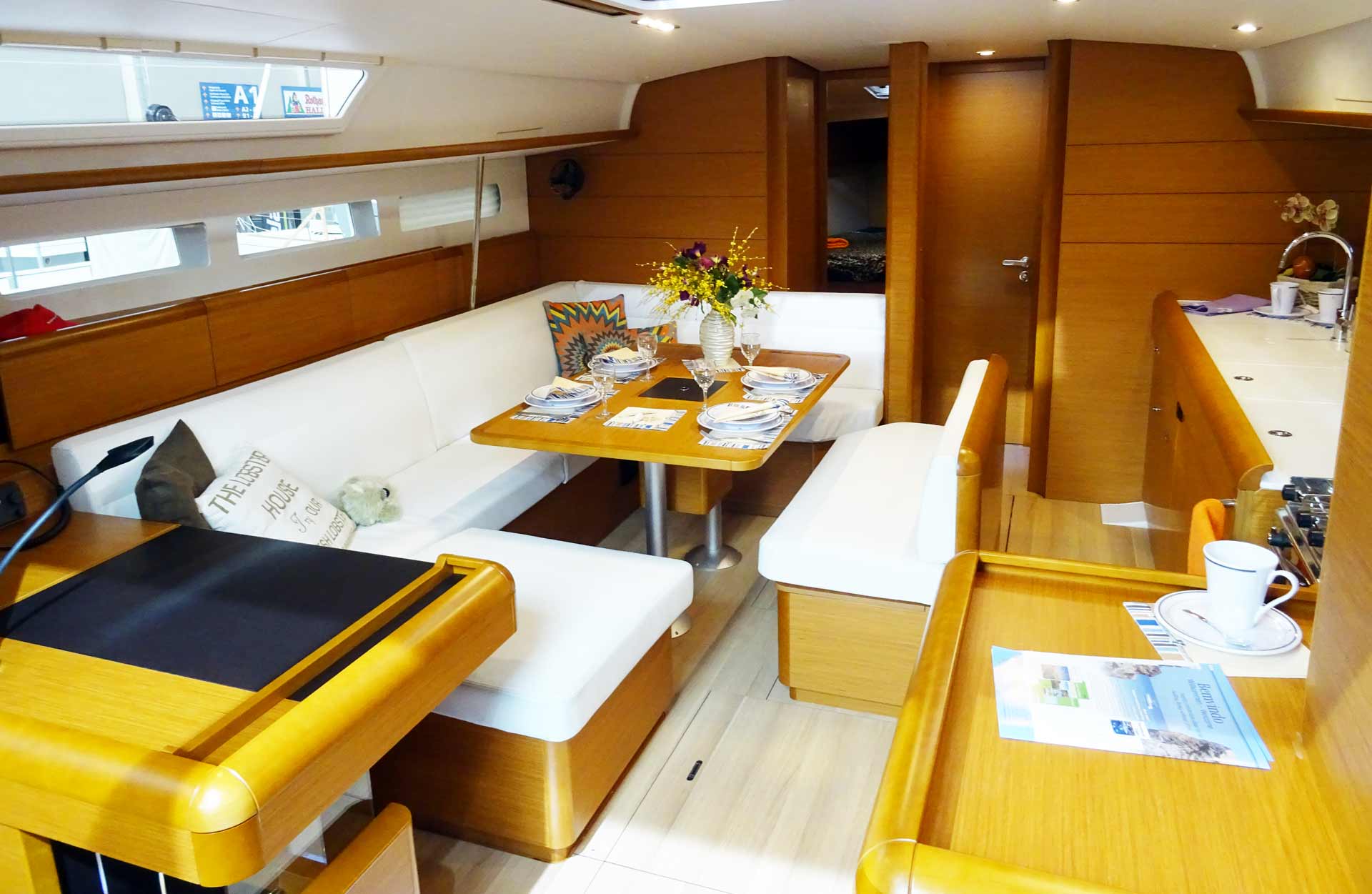 Speaking of the chart table on the Jeanneau 519: The navigator must also sit here and do his work whilst facing backwards. The table is rectraclable – I wonder if there is some extra cushion available for the chart table worktop to create a huge reclining area on the settee if done so. Nevertheless, this configuration isn´t the best in my eyes: The navigator does not have a back rest. So does have a dinner guest sitting here to reach for the dining table has neither.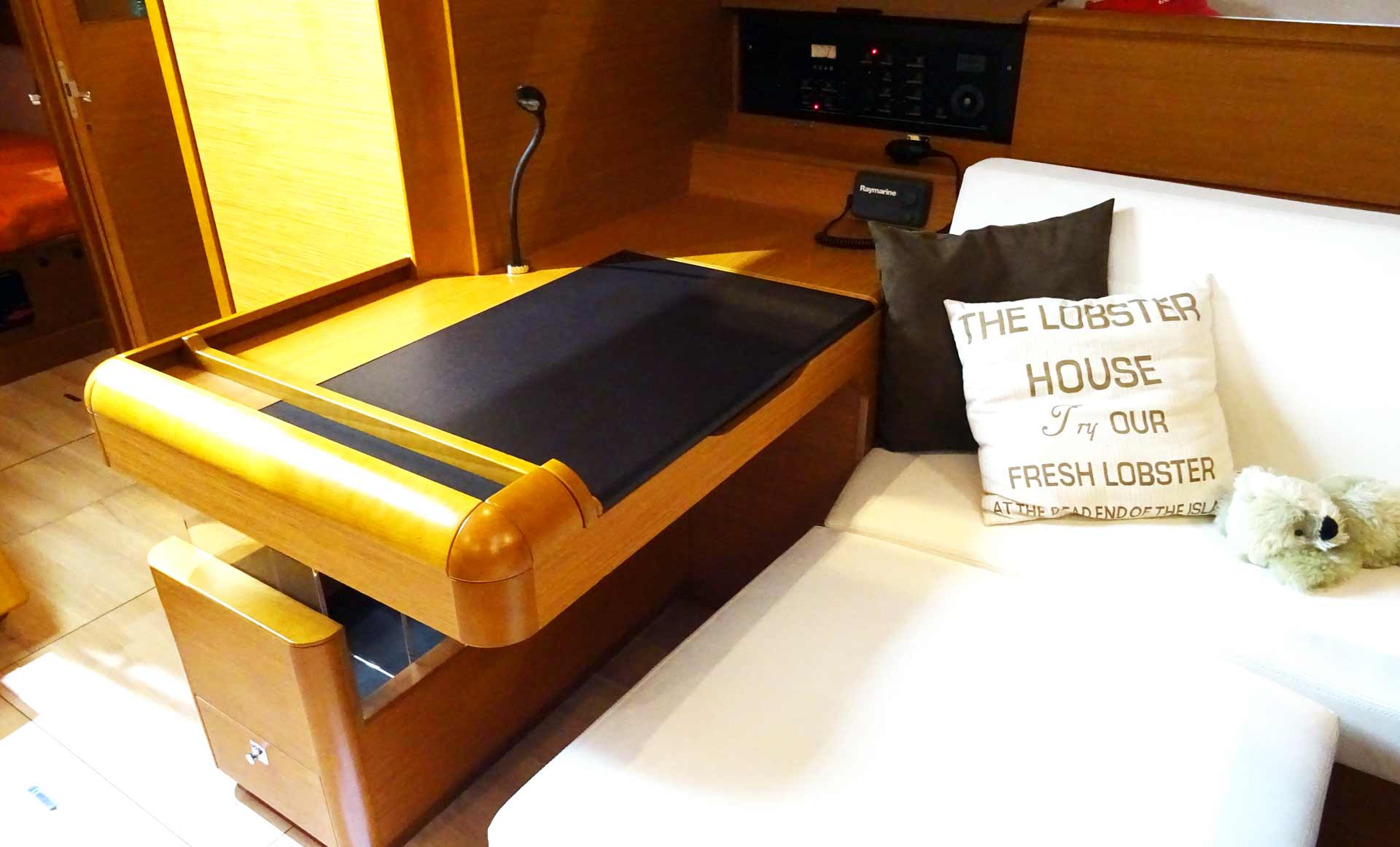 But that is nothing compared to the smaller sister, the 419. Here the chart table is placed between to chairs. Well, that means a navigator could sit either facing forward or facing backward. Or two persons can sit here facing each other (and having a game of chess in the meantime). So far, so good. But why didn´t Jeanneau make the chart table be retractable or foldable? As it is done on many boats, above all in this +40 feet-range? This would have meant to give the owners the freedom to turn the port side into another sea-berth or a bigger settee. Well …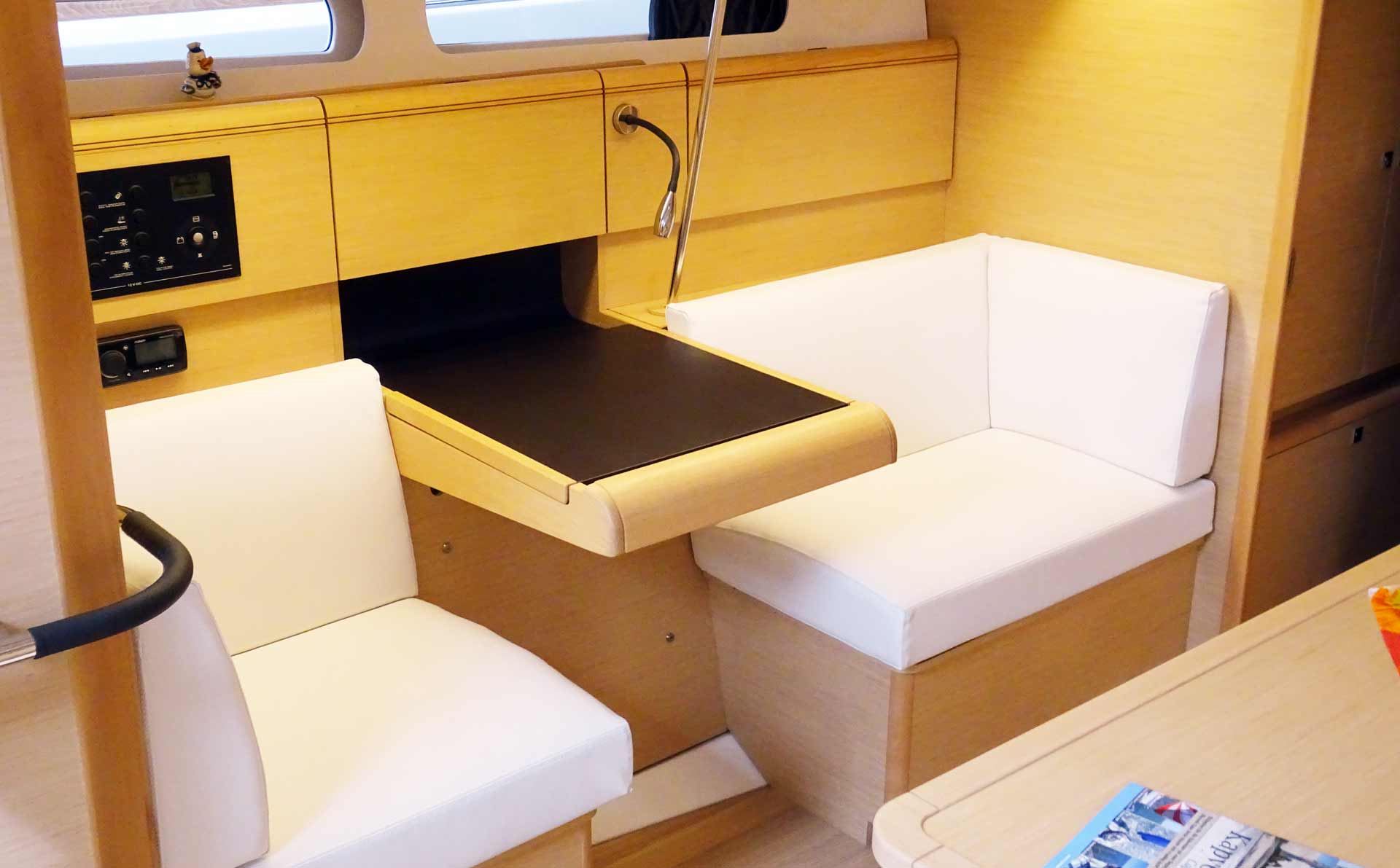 Now for the galleys. Though I personally does not like the L-galleys as it is in the 519 configuration, I must admit it has its advantages: There´s lots of space for stowage and provisions, preparing a meal here should be a pleasure even when two or more cooks are engaged for there´s plenty of room available.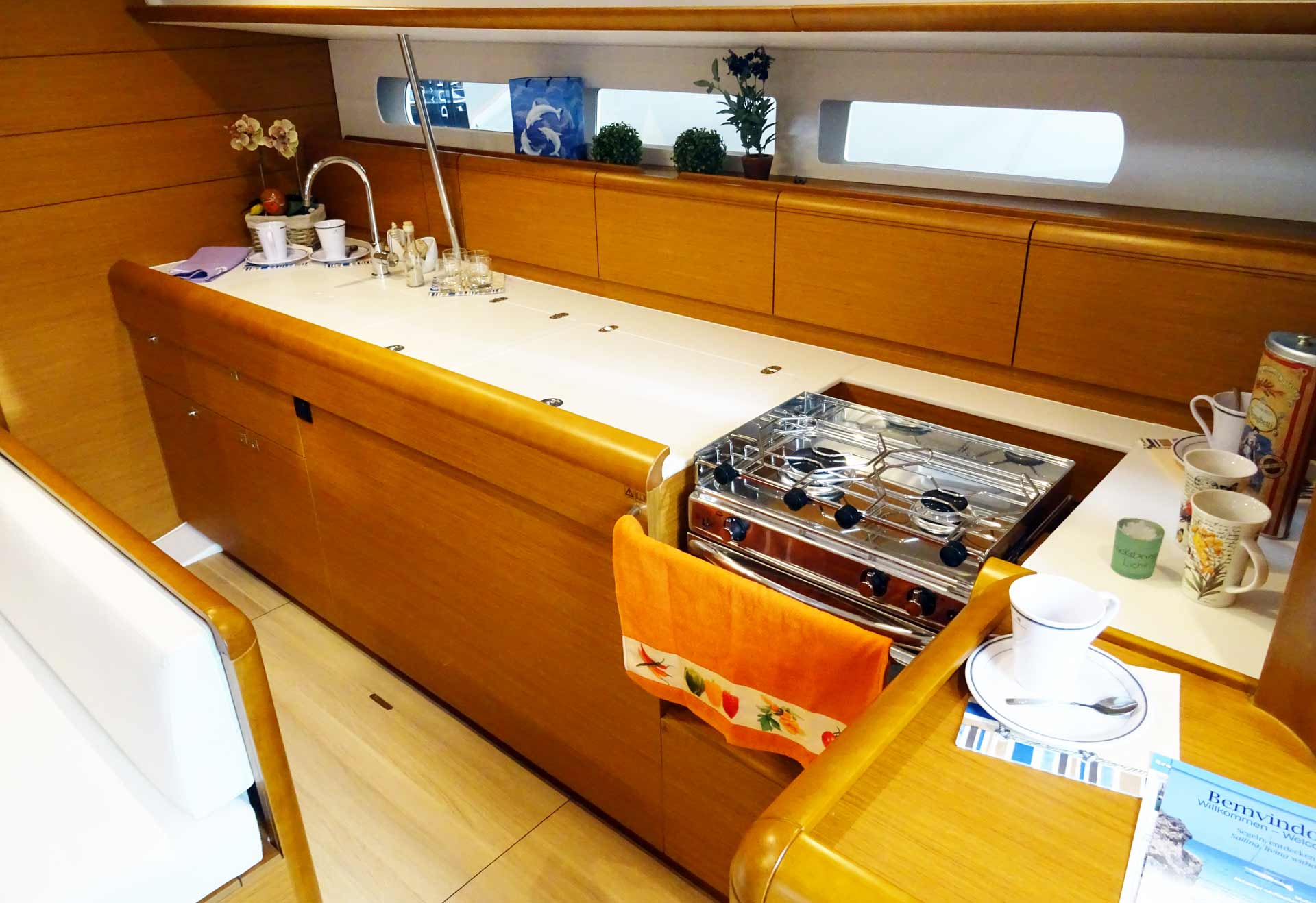 Suddenly, the hell breaks loose and hordes of visitors storm the boats so that I never had the chance to get some got shots of the cabins nor of the heads, but I can assure there is enough space to find a good night´s sleep. All in all, I didn´t fell in love with the Jeanneaus, but I liked them way more than the Beneteau, especially for their stylish but chary interior design. There were some details I couldn´t approve, but I could live with. Nice boats.
Now on to something completely different: Dragonfly 25
I am not the wildest fan of multihulls but I know that these trimarans are capable of quite astonishing sailing speeds and other stunts. When I was interviewing the chief physician of a child hospital for an article on basic life support in case of MOB he was telling me of his own private yacht: A Dragonfly 25. He said she´s "fast as hell". I could check that obviously on the Interboot, but I was keen on seeing how the internal space was utilized of this multihull … would it be like Kevin Costern´s trimaran in "Waterworld"? Hopefully not …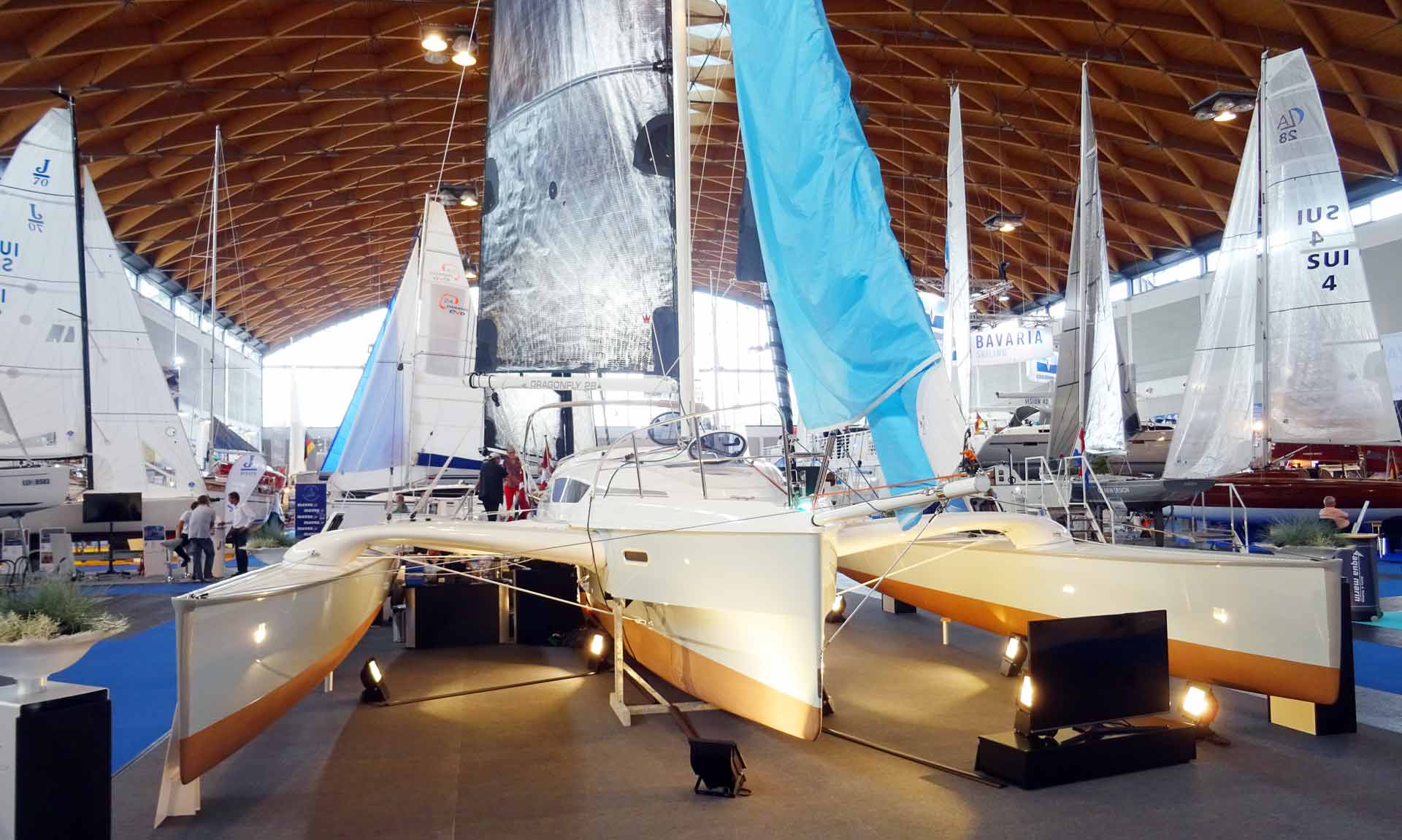 Everthing is slim on the Dragonfly, so is the cockpit and such is the saloon as well. Pretty cramped and everything is so far above in some way. There is a large table in the middle, housing the retractable keel with two settees, offering enough space for 6 persons to sit down and have dinner. To port side a small galley – very small galley – reminds me of basic camping utilities, to starboard side next to the steep companionway is situated a small sink. No real navigation station.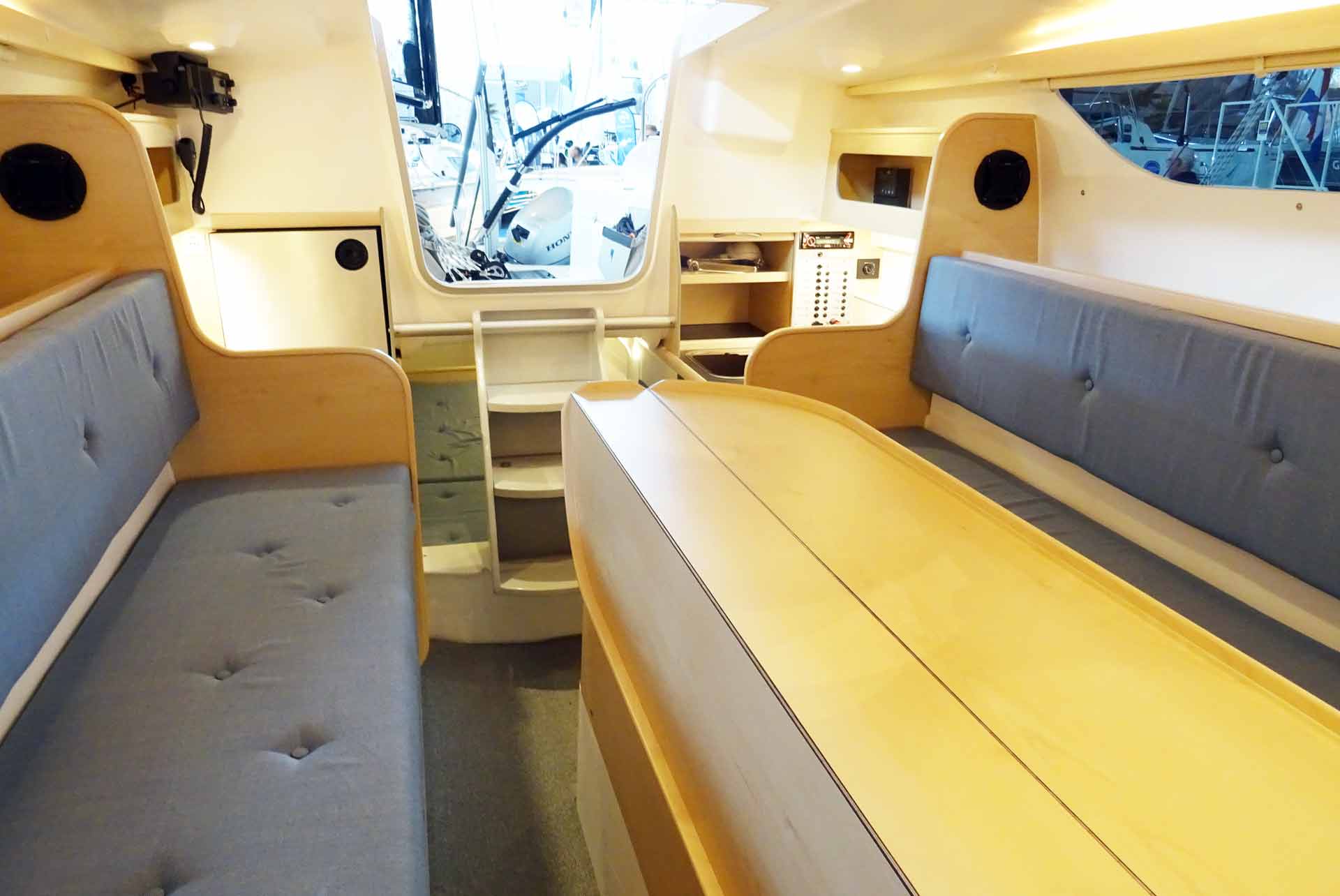 The fore peak is more than adequate, at least when it comes to the length of the berths even tall sailors wouldn´t find any problems here. The berth seems wide enough to grant nice nights for two persons as well, which isn´t customary an every boat. But there was something awkward to the boat …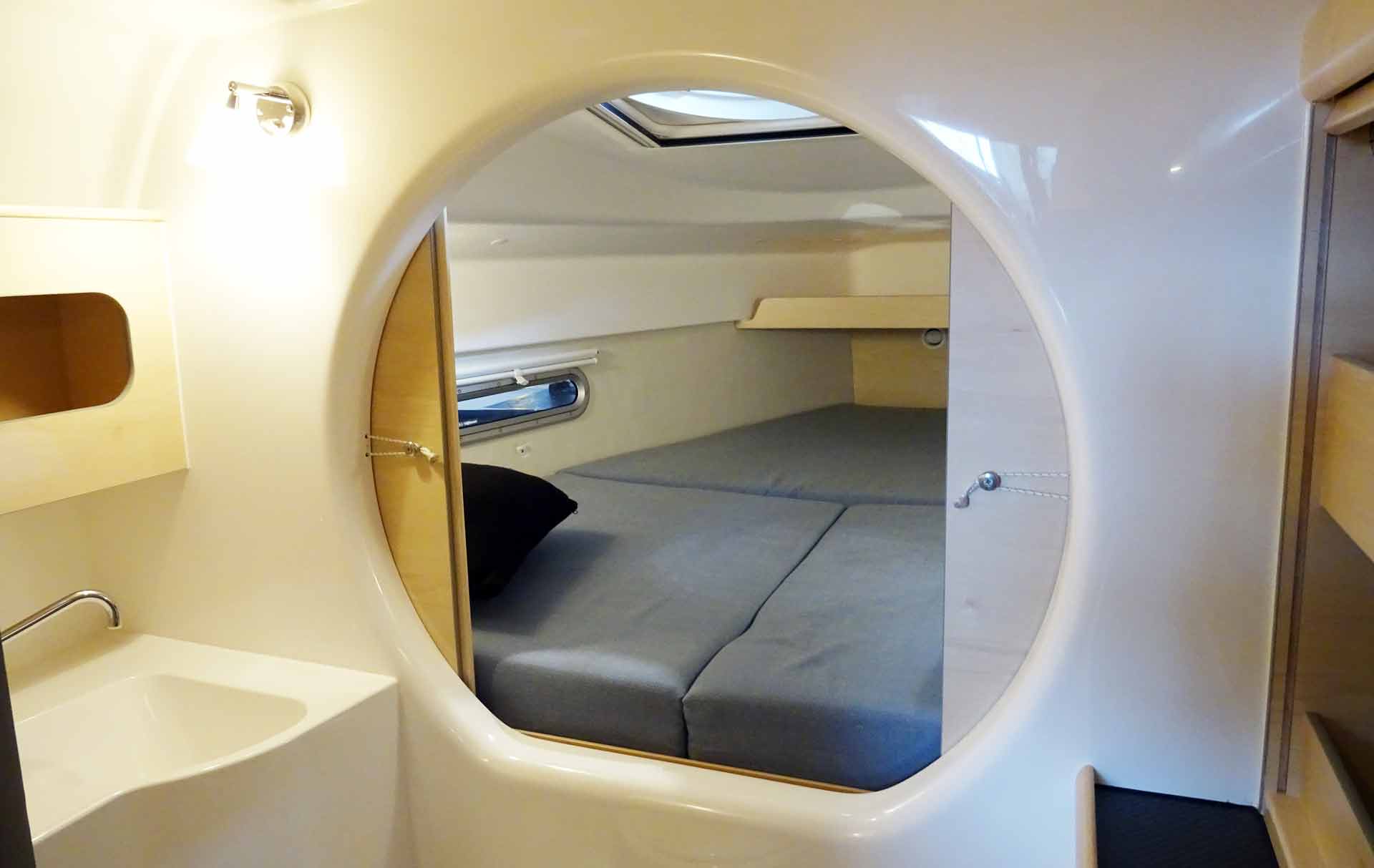 Namely the head. Because there is none. Not a real head separated from the rest of the boat. And her crew. A pumping toilet and a small sink is put between fore cabin and saloon, separated by sliding plywood doors. Nevertheless, that is definitely something I personally couldn´t accept but I guess due to the extreme sleek design that´s everything the designers could do in order to accommodate the head. Note the small cupboard for a roll of toilet tissue in front of the toilet. Nice detail …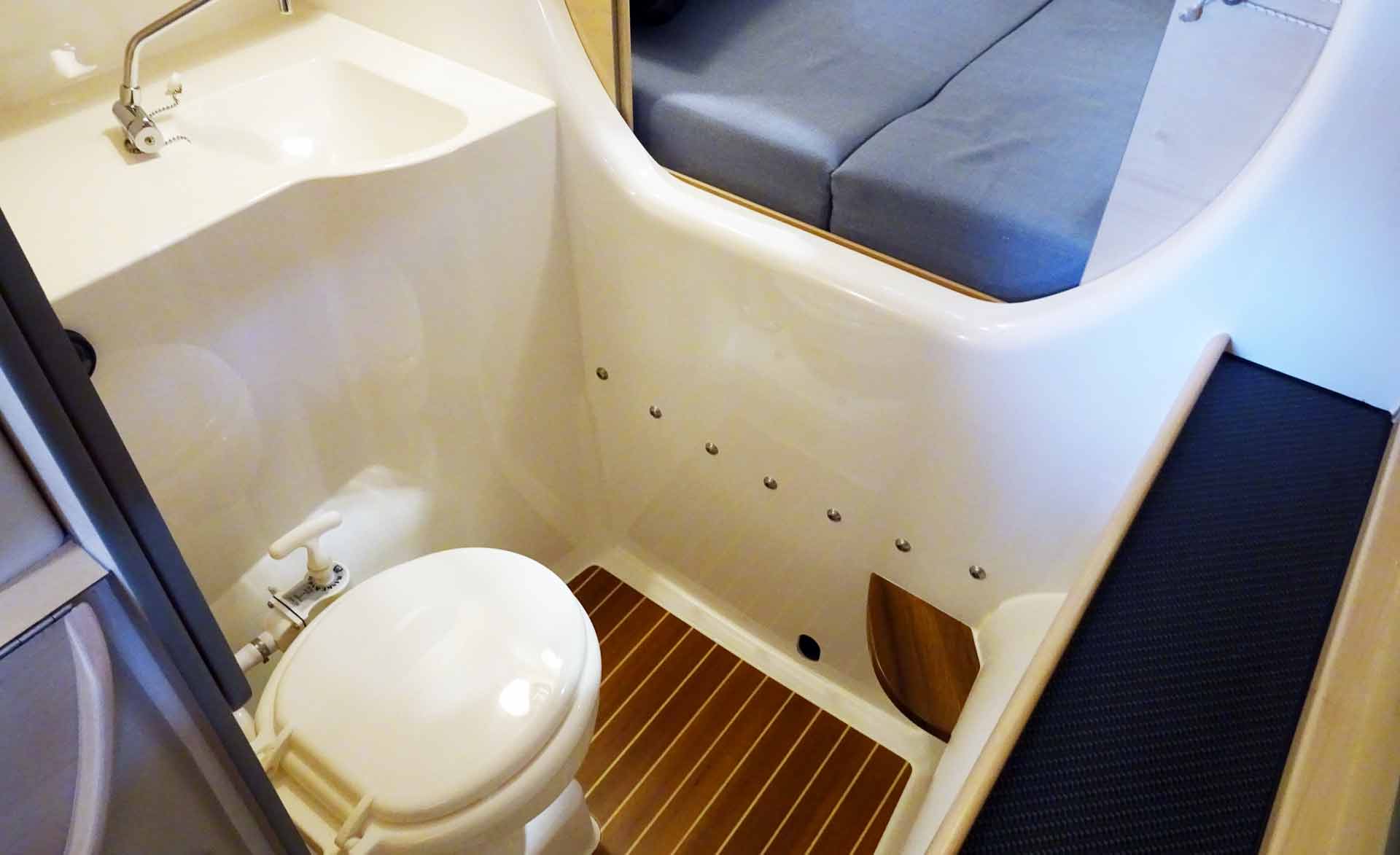 If the companionway is folded up or put aside, two more persons can climb down into the rear cabin. Again, the size of the berths seems appropriate, though I could imagine a quick dash to the marina´s bathrooms can be quite an act on this boat. Nevertheless, that´s all academic since I would assume that most of Dragonfly´s owners are sportive sailors who want fun and speed, not the cozy feeling of being at home whilst moored at the jetty.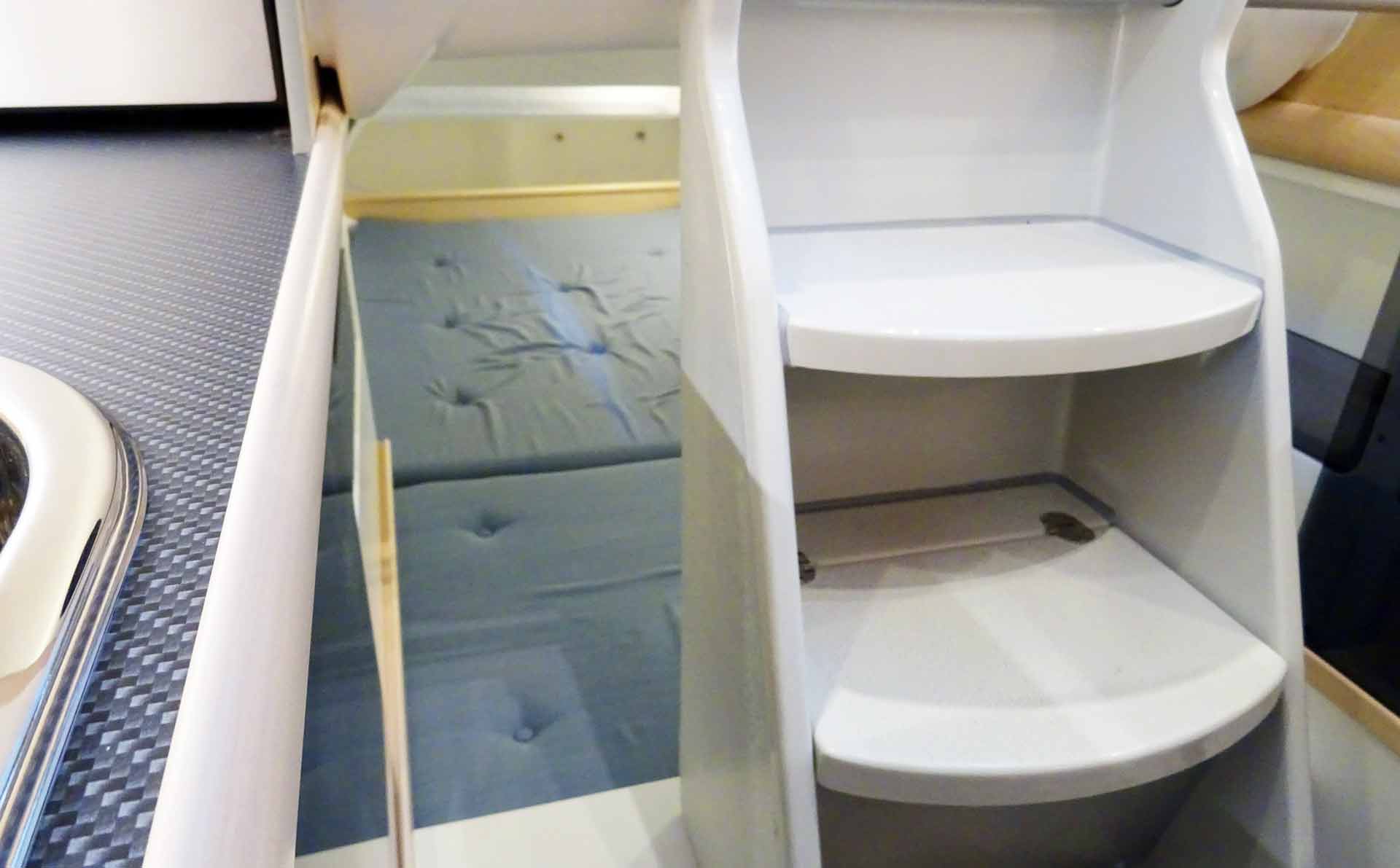 Both of the floats to either side of the boat do not offer any accommodation at all, but some stowage. When retracted the whole Dragonfly has a maximum width of 2.30 meters, when folded and sailing that will grow to 5.80 meters. The folding mechanism is a set of lines which could be operated by hand and put on one of the winches. It takes less than a minute to fold and unfold one of the floats.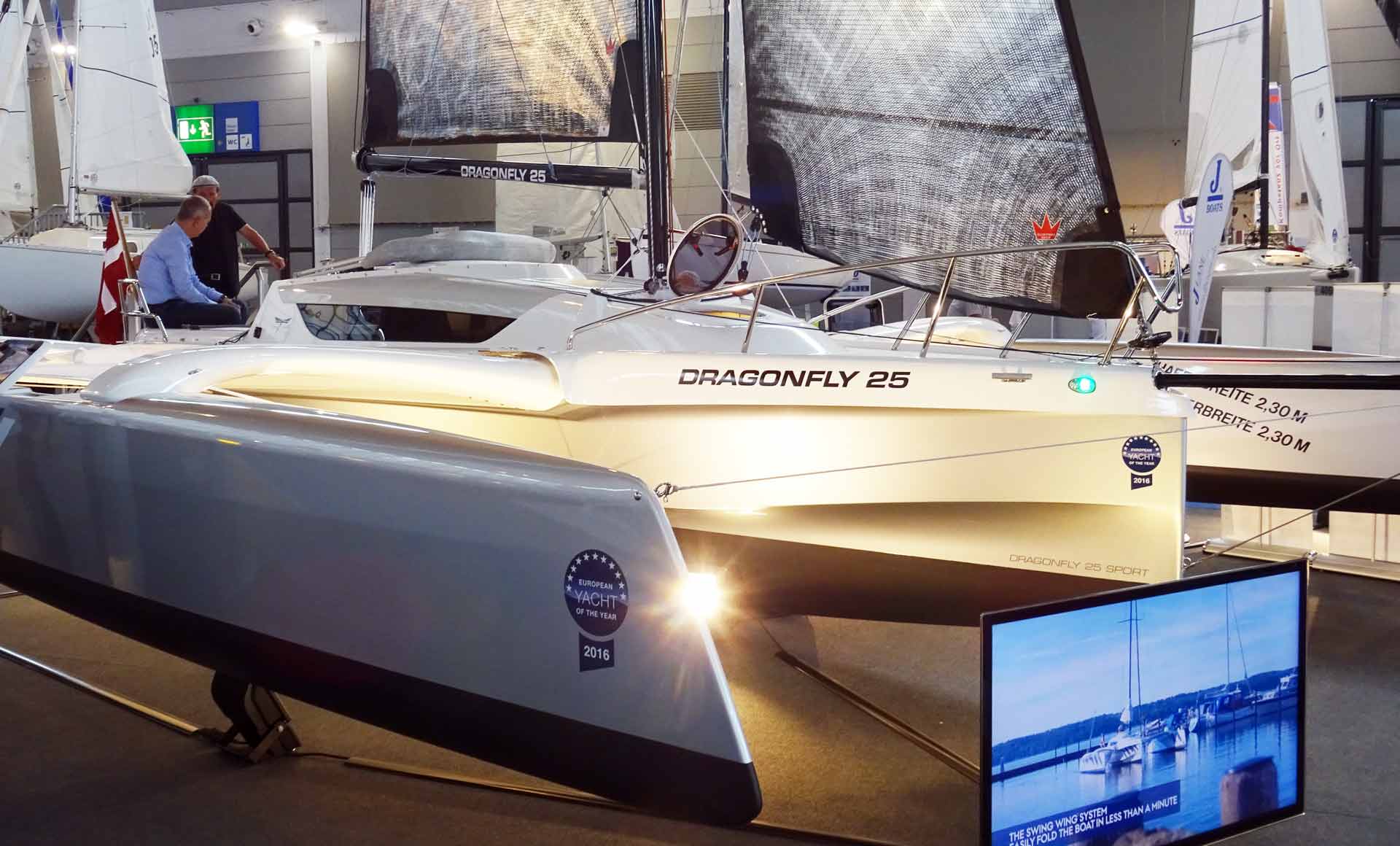 I really like the looks of the Dragonfly 25 and quite some friends of mine have assured me that she is a fast sailing boat as well. I guess, the times of Donald Crowhurst´s TEIGNMOUTH ELECTRON are long gone and this is a both fast and safe mate to roam the seas, though design-wise it hasn't been a revelation, to be honest.
Nothing to add: Hallberg-Rassy 372
Well, what can I say? Hallberg-Rassy is the brand for owners all around the world when it comes to traveling in a luxurious and stylish way. It´s the classic boat for a round-the-world trip and I don´t know one sailor who wouldn´t admit his admiration for those Swedish marvels. As you may have read, I did visit the Hallberg-Rassy 412 aft-cockpit sportive tourer and the HR43 classic middle-cockpit variant recently (read it here). I was keen on visiting the smaller 37 feet version here at the Interboot.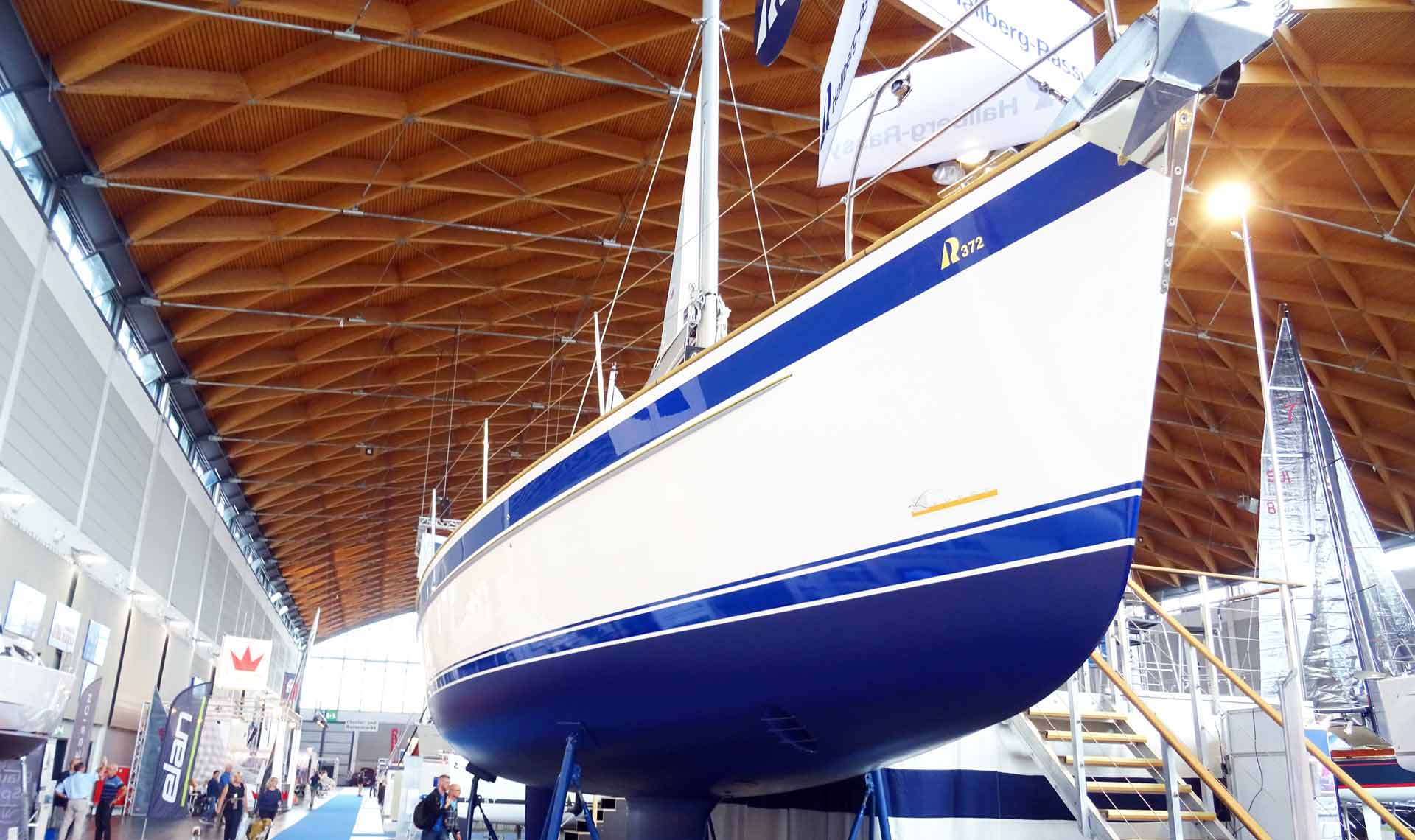 She´s a middle-cockpit sailing yacht as well as all the other Hallbergs (except the 412 of course) and my opinion is that MKs just don´t look right when shorter than, let´s say, 43, 44 feet. I can understand that people want to have a "safe" cockpit and love the idea of having those fancy big aft master-cabins but from the outward appearance that just looks odd. That´s my personal opinion. That´s no difference to the 372 at display in Friedrichshafen, but anyway, I way more interesting in her interior looks and so I quickly entered her saloon. Which was welcoming and very, very classic as I would have expected it.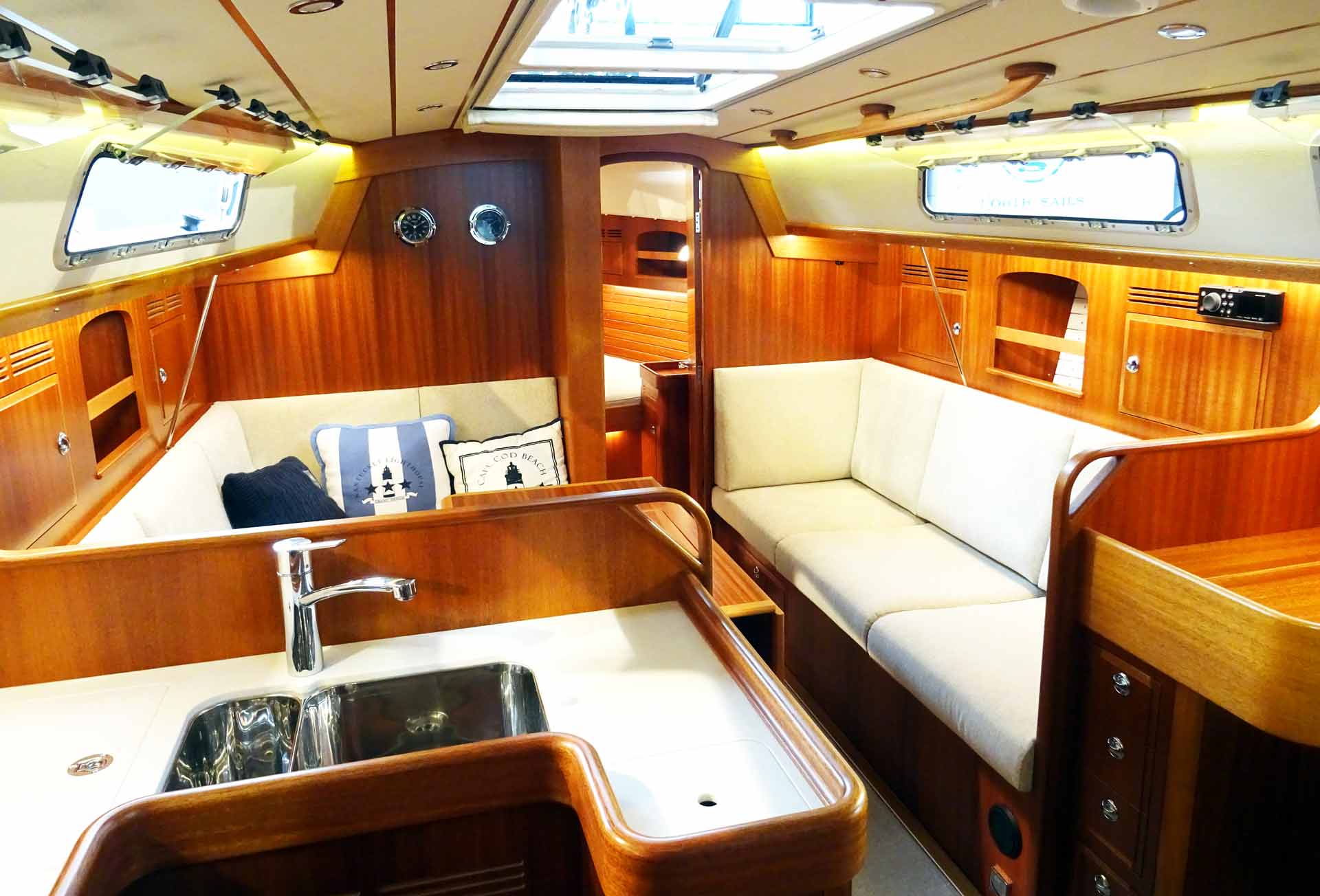 There´s not a single spot left where bare Topcoat could be seen, everything is covered with finest wooden panels, most of the joinery is made of massive teak. The Hallberg-Rassy 372 features a fairly ordinary floor plan when it comes to the saloon: A galley on starboard side, vis-à-vis a proper navigation station (later more on that), a large head and one aft cabin. The socializing area of the HR 372 is comprised of a large U-settee around a partially folding dining table with a settee facing it. Stowage all around, lockers and cupboards and two open shelves, which make the impression on being guest on a Clipper ship back in those good ol´ days.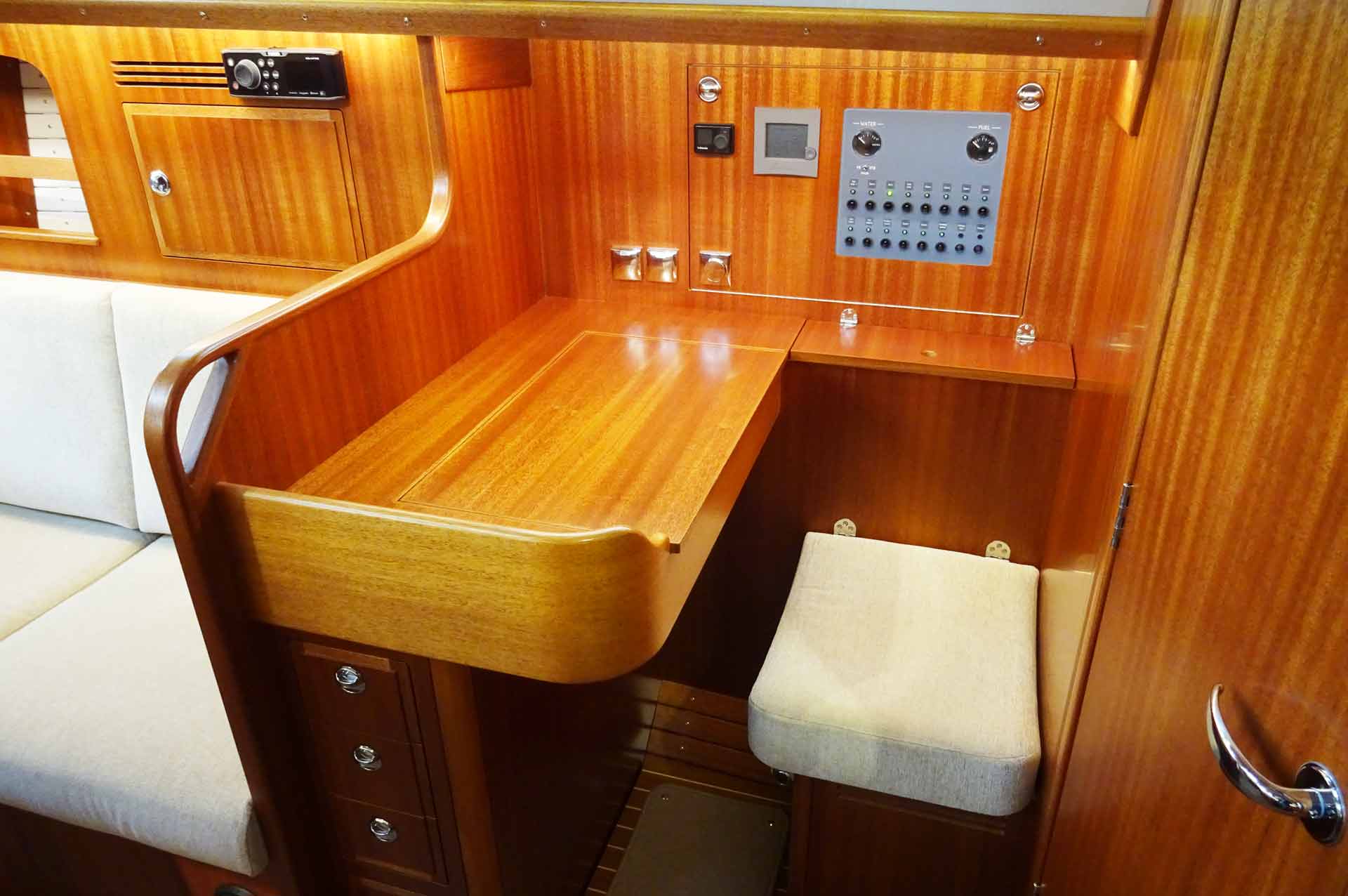 I just loved the navigation station which in my eyes is the one and only real proper solution of all boats I´ve seen on this fair. The station is clearly separated from the rest of the ship, not integrated as it is the case with most of the other boats. The chart table is big enough to allow longer sessions of chart work and keeping the log. The main panel allows the installation of various surplus instruments (which will be tough with some other boats I´ve seen) and there´s plenty of stowage for skipper´s stuff. Chapeau – that´s a real ship!
Also in the galley: One look and there´s the perception that people who know what cooking on the high seas is all about. Everything is within reach, no head banging, many places to have things stowed and the shape of the galley is made in a way that the ship´s cook could wedge him- or herself when the boat is battering in rough seas. I loved the galley.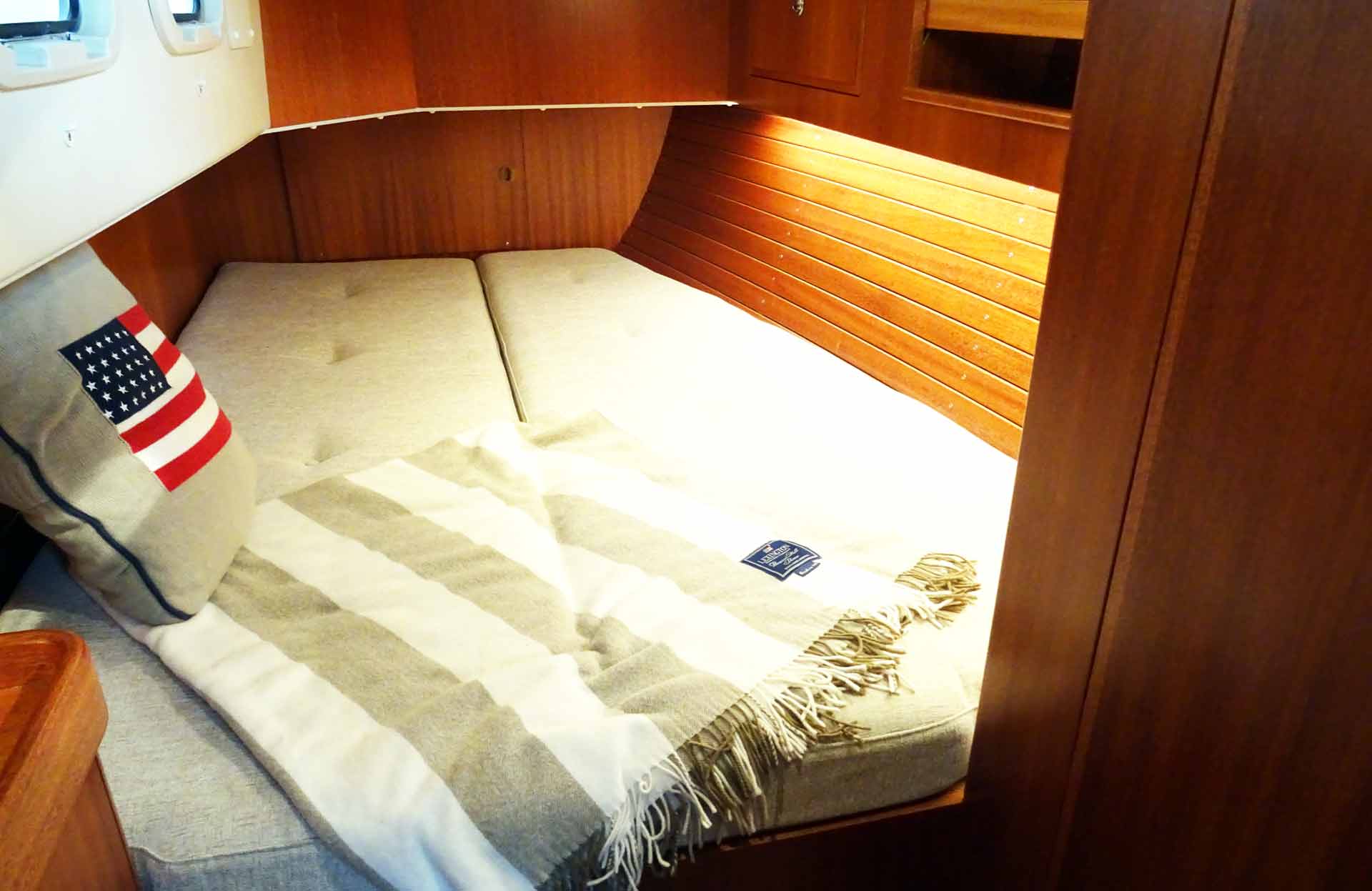 Aft cabin was pure eye candy. Real made ceiling at the walls, not those prefab one-piece panels. Nicely done furniture as well, again, most of the plastic-surfaces are covered with wooden stuff. There are two large cabinets and lots some shelves for the smaller things – what a difference to the Elan S4 where it has been the opposite: Lots of useless shelves, no cabinet.
Switching to the owner´s cabin is always a feast when being in a Hallberg-Rassy. Even the small boat size of just 10.24 meters (waterline length) was no obstacle for the designers to fit in a huge master cabin that won´t let any wishes unfulfilled: Starting with the berths (let´s call it bed, because it is a proper bed indeed), there´s so much of space, no doubt any sailor will find a perfect sleep in here. Two large and two smaller cabinets to both sides of the door, much additional stowage available underneath the bed as well: No problem taking this small vessel to a longer trip along the coasts of this world.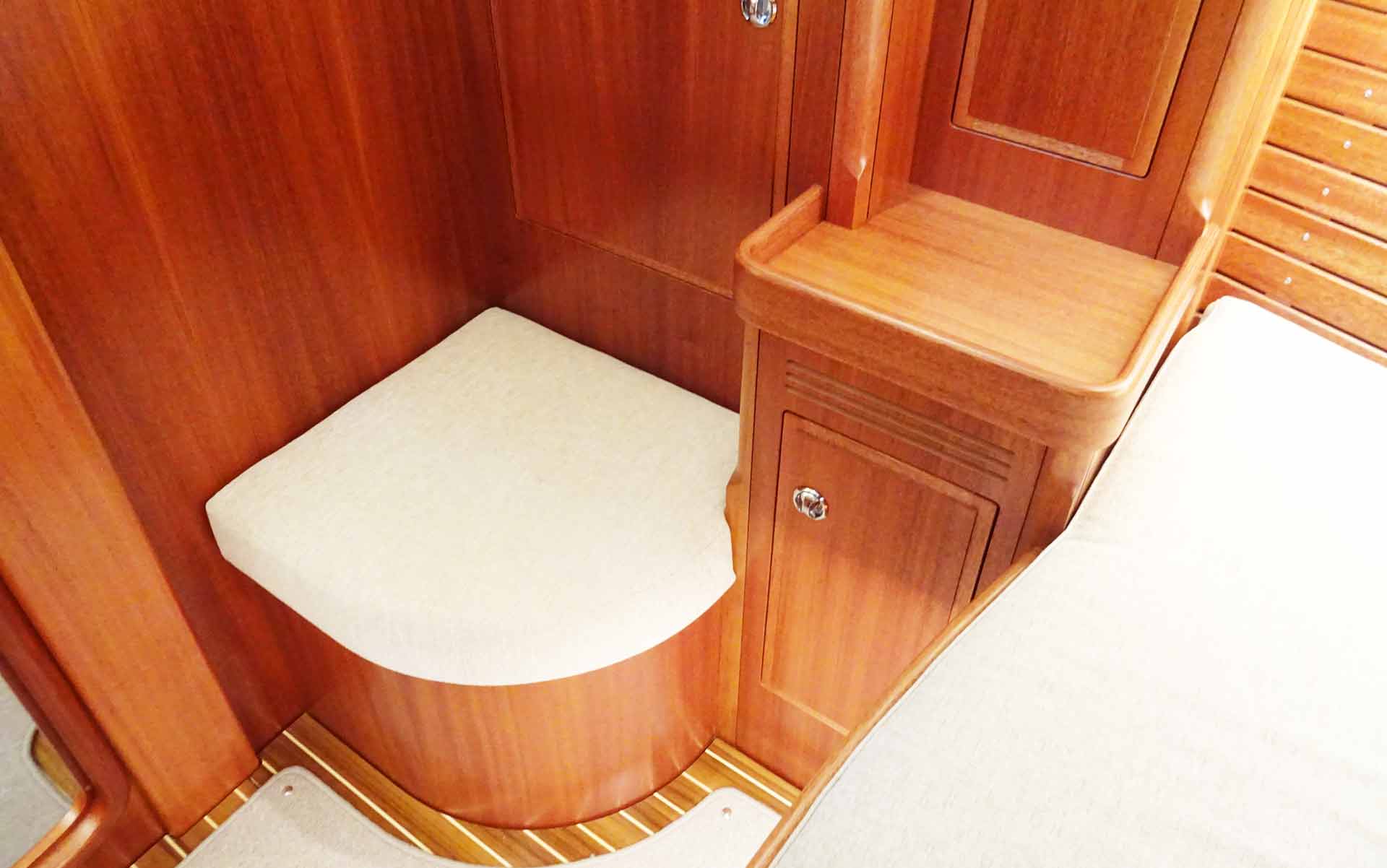 What a nice detail: There´s a cushioned stool where one could sit down and get dressed. I am perfectly familiar with the hustle when two persons get up at the same time and there´s a fight for the best place, namely the edge of the bed to sit down and get dressed. Now, that´s over with the Hallberg-Rassy 372. No more edge-fights.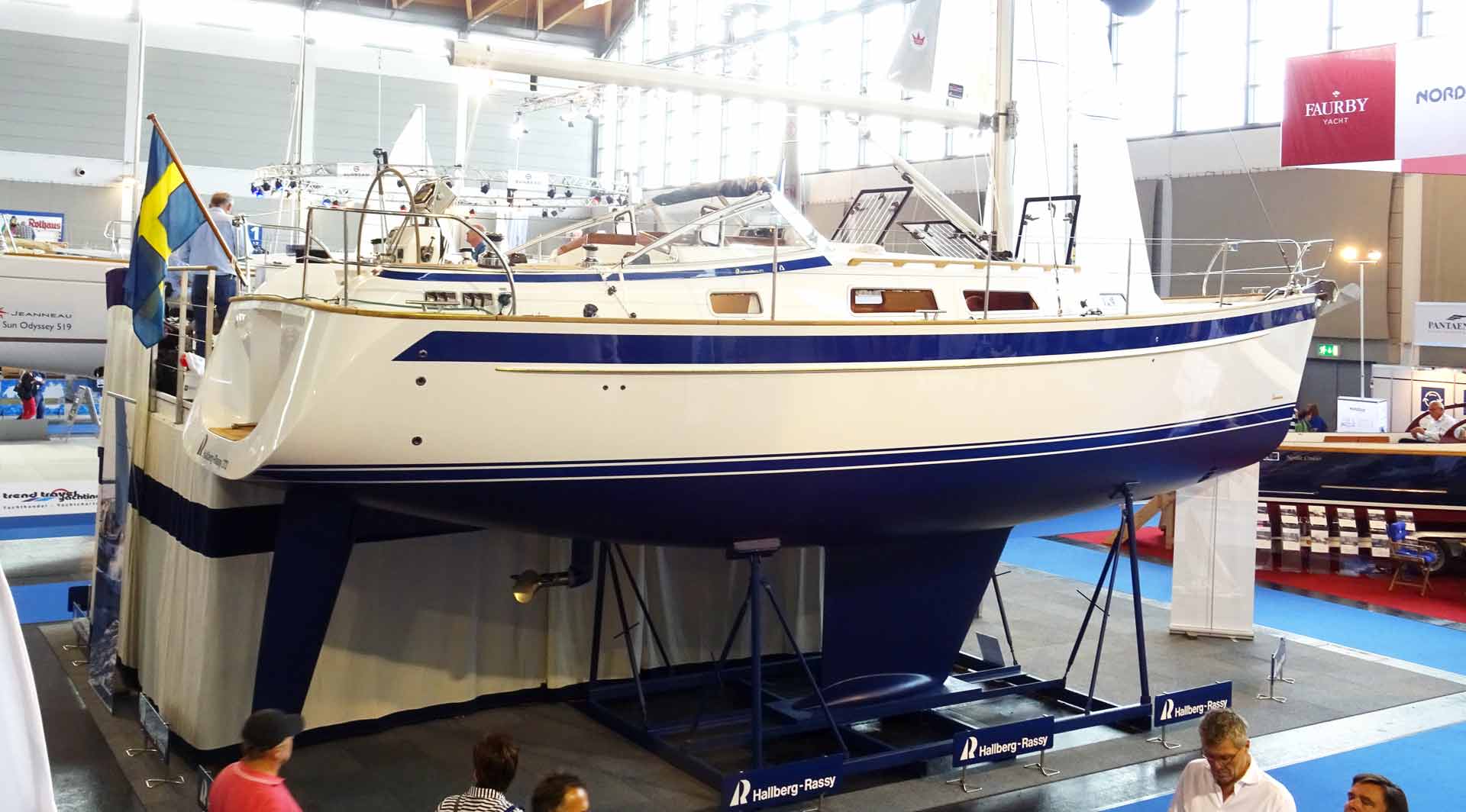 All in all the Hallberg-Rassy was indeed living up to the brand´s features and was mediating a perfect picture of sailing. No wonder these boats spark so many people around the world and the longing of so many sailors. It´s a real ship made for real sailors who love their boats, love the seas and love sailing.
Daysailing Dwarf: Biga 270
Last of the boats I´ve visited was the Biga 270. Never heard of Biga Yachts? Well, me too. Bicker Yachtbau is a very small German brand situated south of Münster. As there is no ocean anywhere near the yard except the small river Lippe, it´s no wonder that Bicker produces only small boats ranging from 24 to 33 feet. I chose this boat as the last to feature in my article because I wanted to conclude with a small handicraft business rather than with a large production brand. The Biga 270 is the right size for an inshore or coastal area daysailer – and reminded me of the Hallberg-Rassy in terms of the production quality.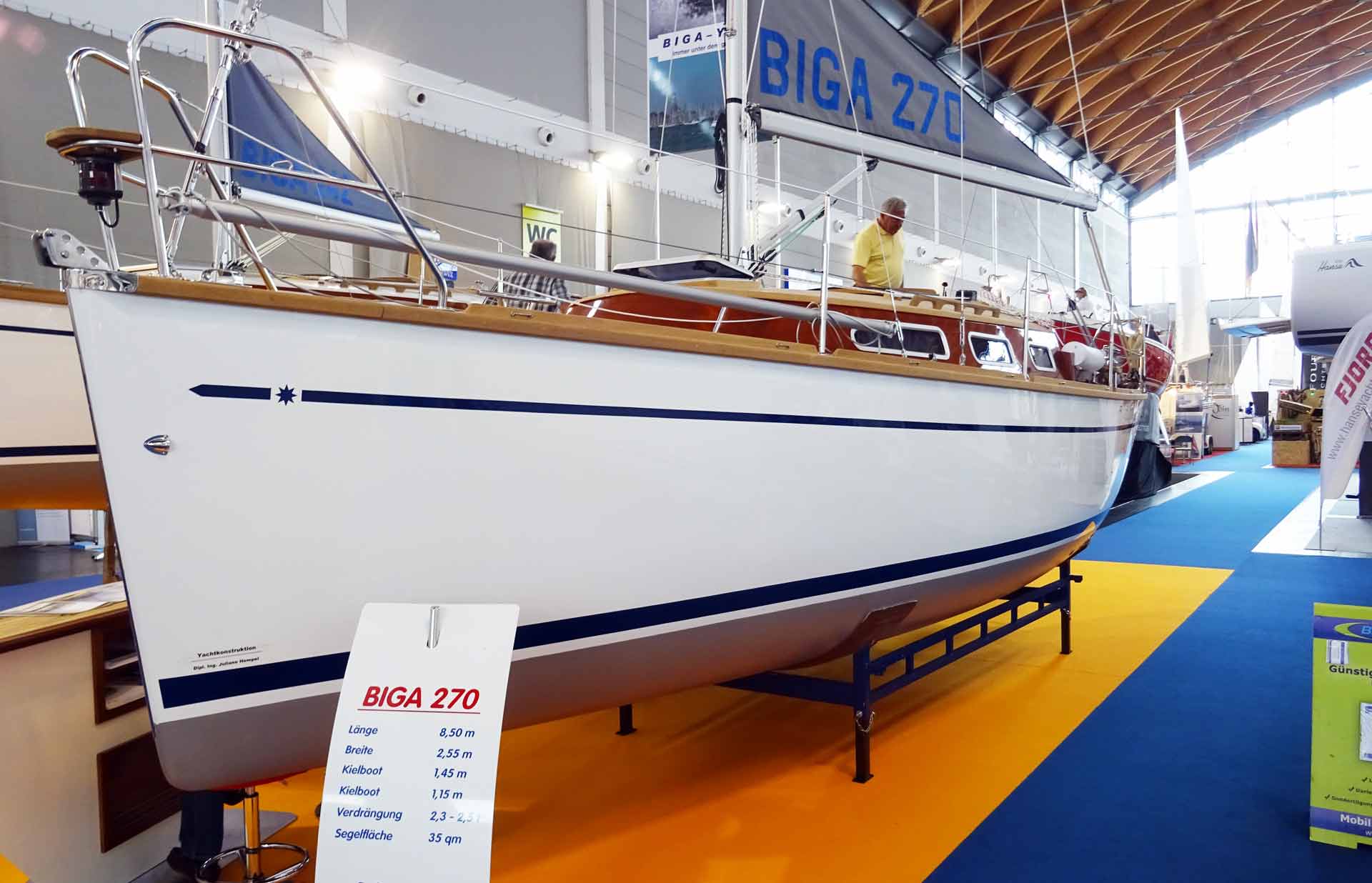 27 feet is really short. One wouldn´t expect this boat to feature large separated cabins nor dance-hall like saloons. But again, it´s interesting to see how the designers came up to utilize best the available space to create a certain atmosphere. The Biga is made of GRP but appears to be a "classic" boat. The superstructure is completely made of massive wood, all the deck and the cockpit covered with fine Teak flooring. Let´s go down below deck.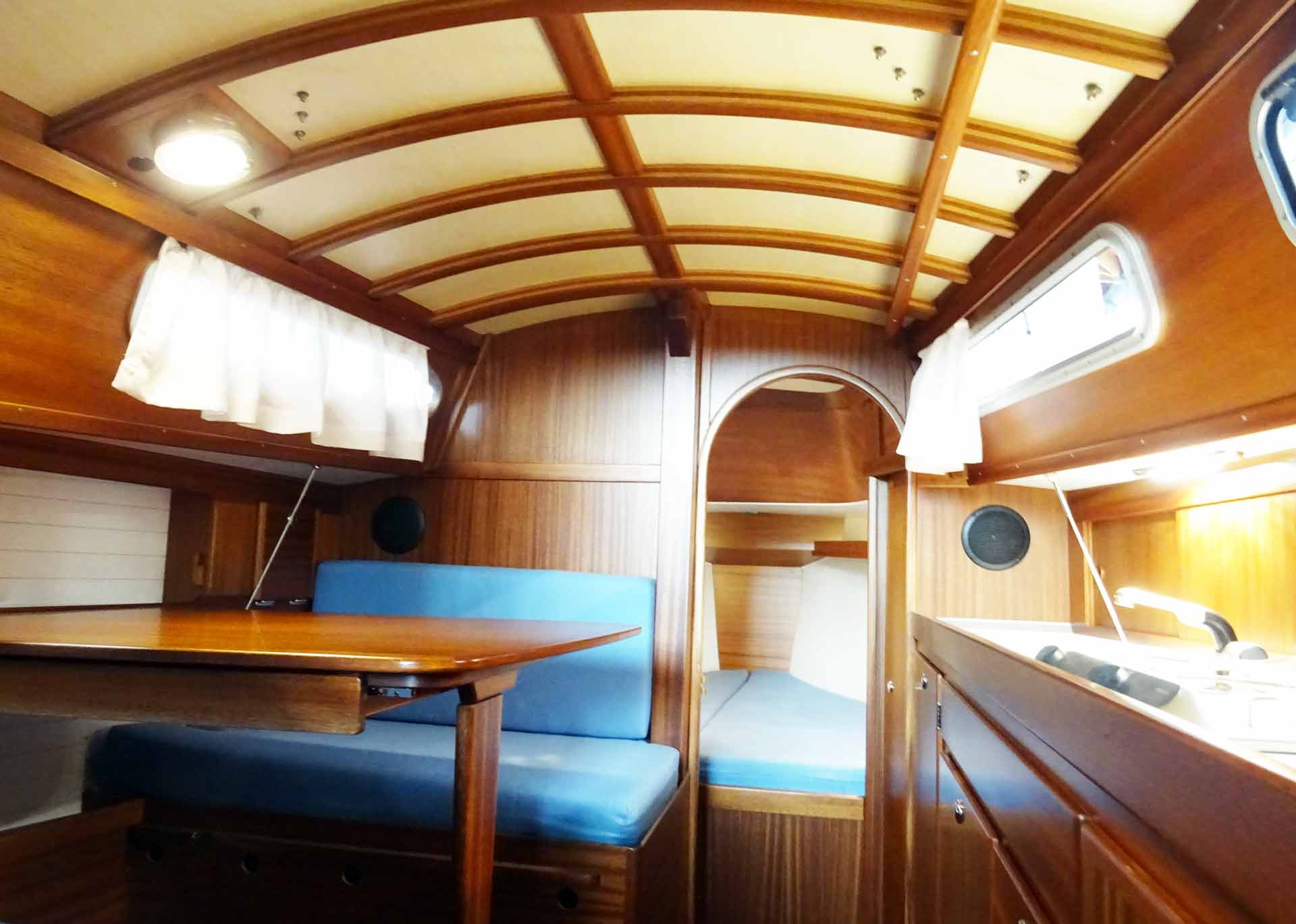 The saloon is classy. There´s a galley all along the starboard side with a sink and a stove, some stowage underneath the worktop and to the ship´s side. Everything is done by wooden panels and veneers, table and seating in massive joinery. The main seating area – I wouldn´t call it saloon – is elevated, featuring two narrow settees facing each other with a table in the middle. I particularly liked the ceiling for its no-frills approach. Maybe an inspiration for the refit of my own King´s Cruiser 33. The boat is just 2.55 meters wide so the whole configuration is a bit cramped. Again, we are aboard a 27 feet-boat, so that´s perfectly fine.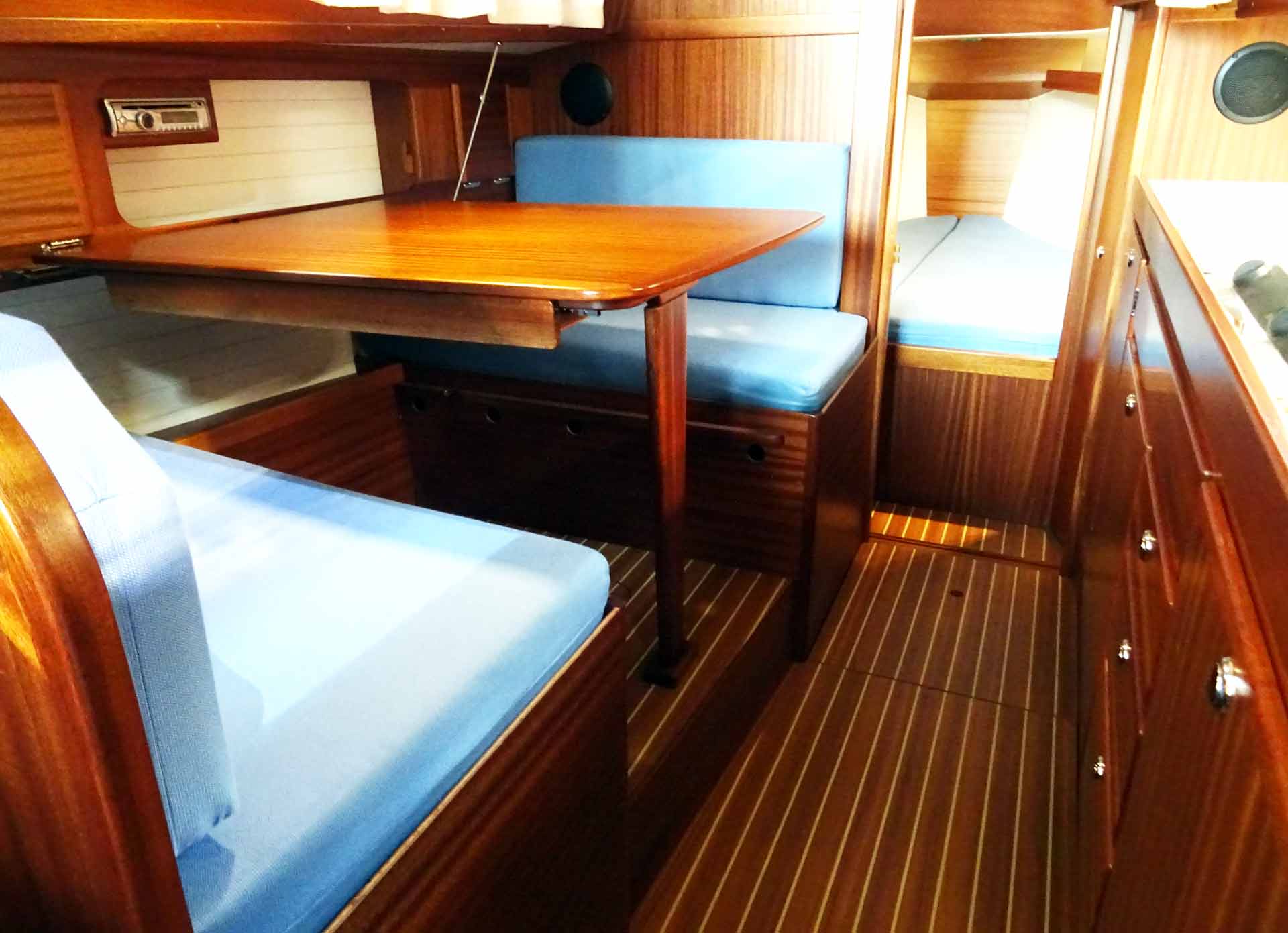 Looking aft, there´s a classic quarter berth on starboard side and one end of the galley can be turned into some kind of navigator´s station. Notice that even surfaces behind panels are covered with white wooden ceiling. Very neat.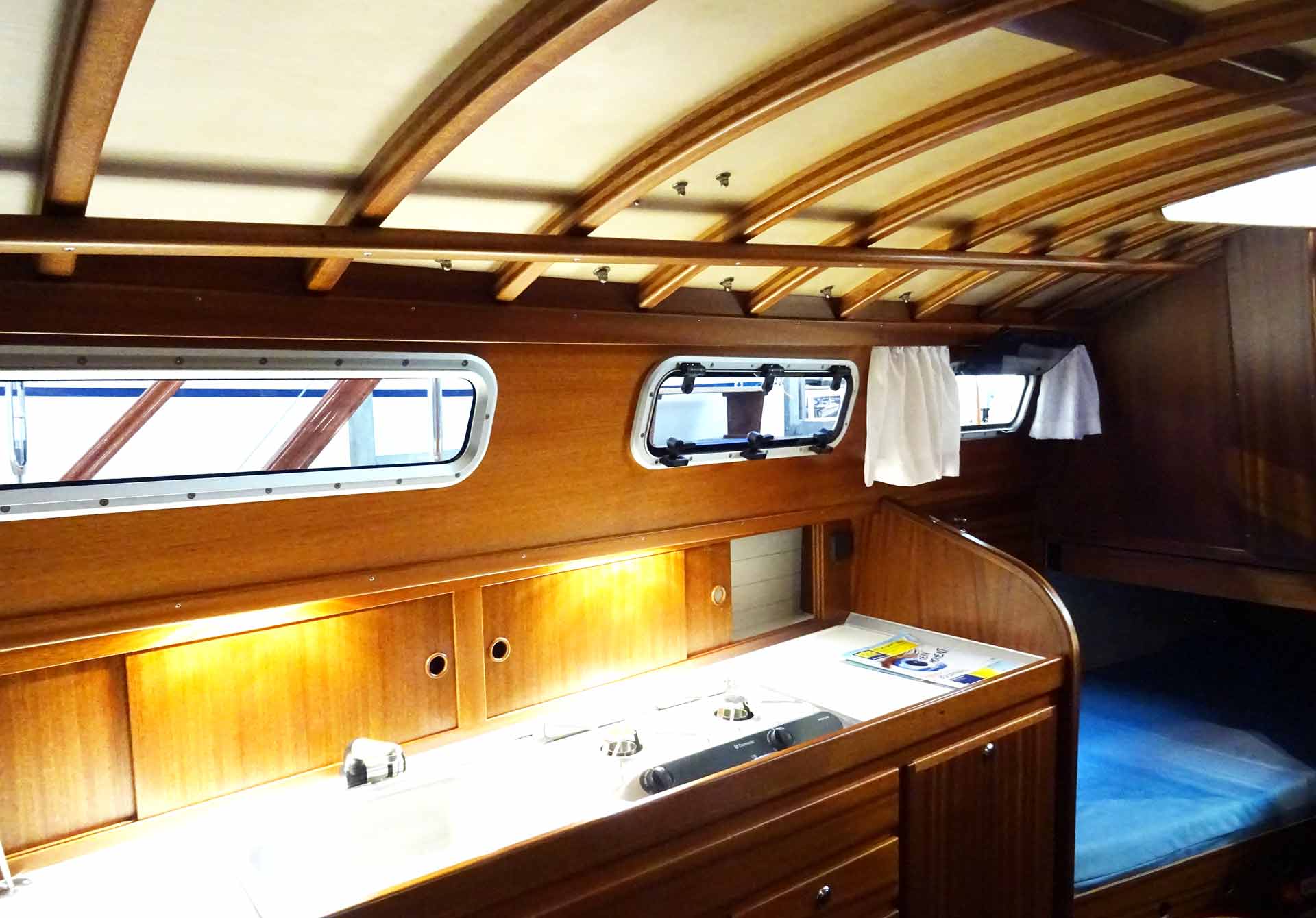 All in all isn´t that quite a boat to spend a nice weekend with sailing inshore, on larger rivers or close to the shoreline? So after two days at the Interboot in Friedrichshafen I again leave Lake Konstanz with a lot of pictures taken, impressions – good and less good – of lots of boats and having spoken to boat people from the yards, owners and enthusiastic sailors. Some of the boats I´ve seen did really open up new perspectives on how the yards and designers manage to utilize available space to create astonishing interiors, such as done in the Dufour Grand Large 460 or the Dehler 34 (read in the previous article here).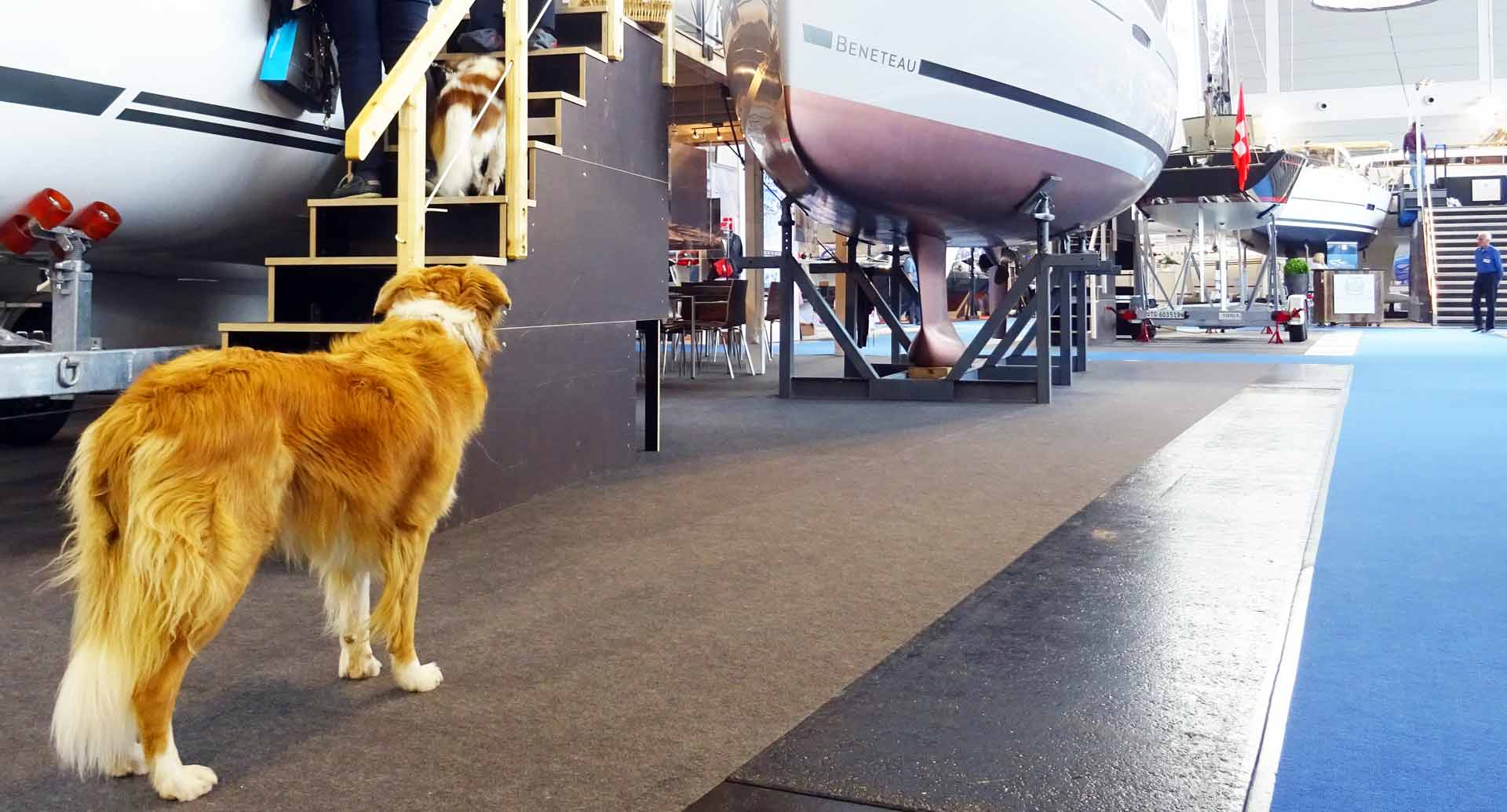 Others have been a bit disappointing upon seeing how much marketing, high glossy brochures and videos differ from the personal impression one gets by having a live look personally. But with boats, that´s basically the same as it is with couture, food or women: Everyone has his own preferences and taste. And as the saying goes: "There´s always a lid for any pan."
Looking forward to the upcoming Hanseboot boat show end of October here in Hamburg: I hope to get to see more bigger boats as the Interboot´s exhibits were mostly smaller size yachts fitting the needs to Lake Konstanz-sailors. See you in Hamburg.
Read Part 1 of Yacht Interior Design Concepts here.
Last year´s Hanseboot boat show: Inspiring X-Yacht and Italia Yachts
An article how I designed a completely new Chart Table for my own Yacht