Ships are pure magic, don´t you agree? It seems they are directly connected to human emotion. Upon seeing a ship, few people can resist the sudden feeling of wanderlust, the longing for adventure and a flood of stories, pictures and memories. It doesn´t matter if this ship is an old rusty harbor tug or a fancy sleek carbon-made IMOCA racing yacht. Ships did enable us humans to conquer this planet. I guess this fascination for hulls, sails and sailors is not only part of our history, but maybe physically detectable in our genetic heritage.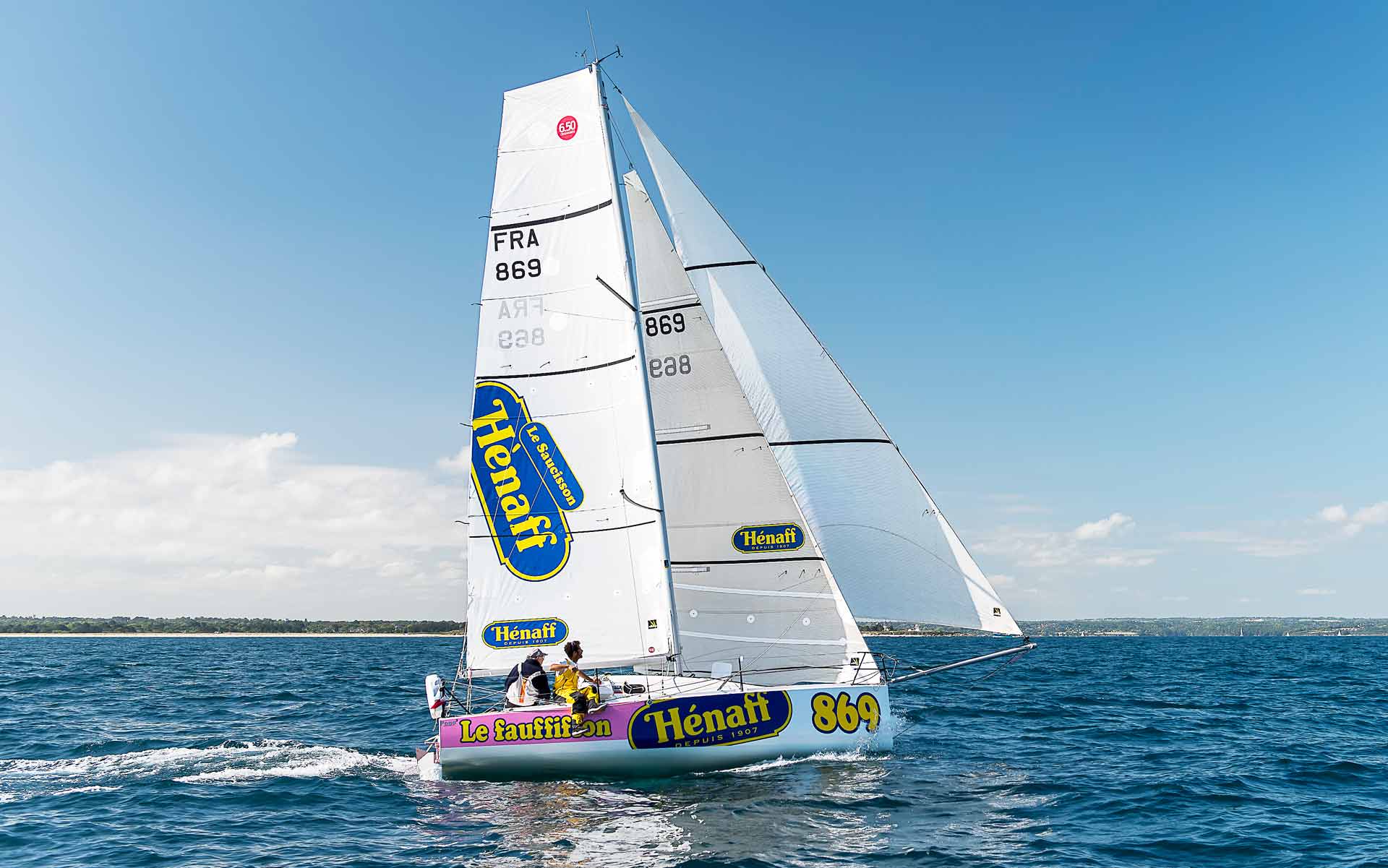 One of the boats I find particularly interesting is the Classe Mini 650. These compact pocket racers are roughing up the sailing community since their first appearance at the Transat Race in 2001. Sturdy, powerful and very seaworthy boats they are. Class Mini 650 boats have since then defined a new class of racing yachts and opened up a whole new approach to single handed offshore ocean racing with a low entry level budget-wise and a fast (very fast!) sailing-style. Mini 650 boats and their class box rule have inspired spin-offs such as the famous Class 40 racing yachts (here´s an article on my first experiences with a Pogo 40 Class 40 racing yacht).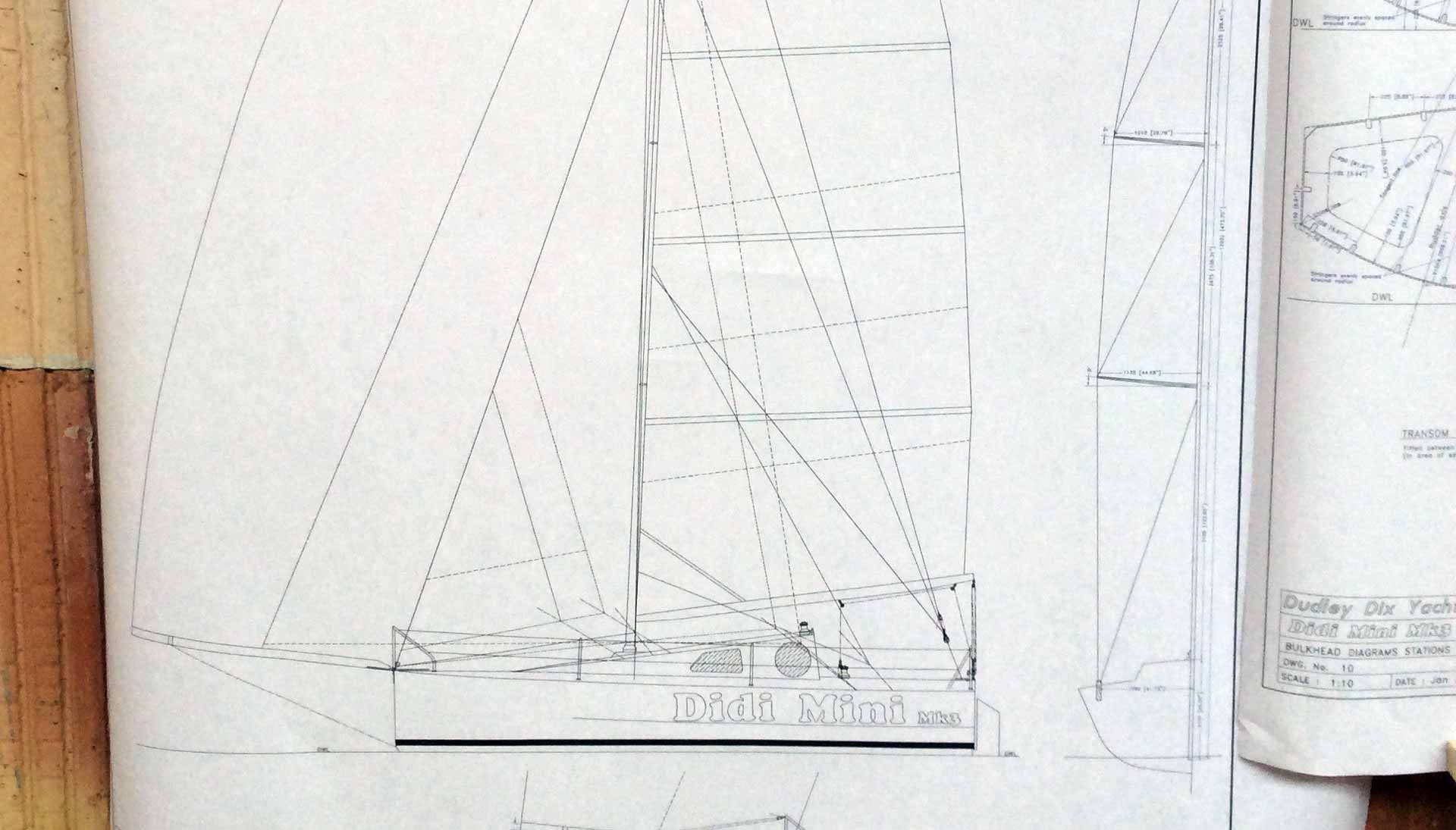 A brand new Pogo 3 will come in at some 54.000 Euros incl. VAT which really isn´t such a big deal for a CE-category B offshore racer. But it seems that there are alternatives: Getting a used boat is obviously one. Or maybe … what about building a Classe Mini 650 by yourself? I am lucky having found Alex Lang from Berlin who is undertaking this venture in building his own Class Mini 650. From Plywood.
"I am totally in Love with Chines and Fat Sterns."
NO FRILLS SAILING.com: "Alex, glad to meet you. Such a fascinating project, building an oceangoing ship from your own hands. What brought you to this project?"
Alexander Lang: "Well, I was first playing around with the idea to buy a boat. I was fascinated by the Pogo 30 which I had the pleasure to test sail. But I wasn´t able to raise the budget of more than 100.000 Euros. And I still cannot afford today. Buying a used boat second hand was out of question for me since I wanted a new one. No old boats for me: I am totally in love with modern designs like chines, wide stern sections, square top sails and all that stuff …"
NFS.com: "… and here the Mini 650 comes onto the stage …?"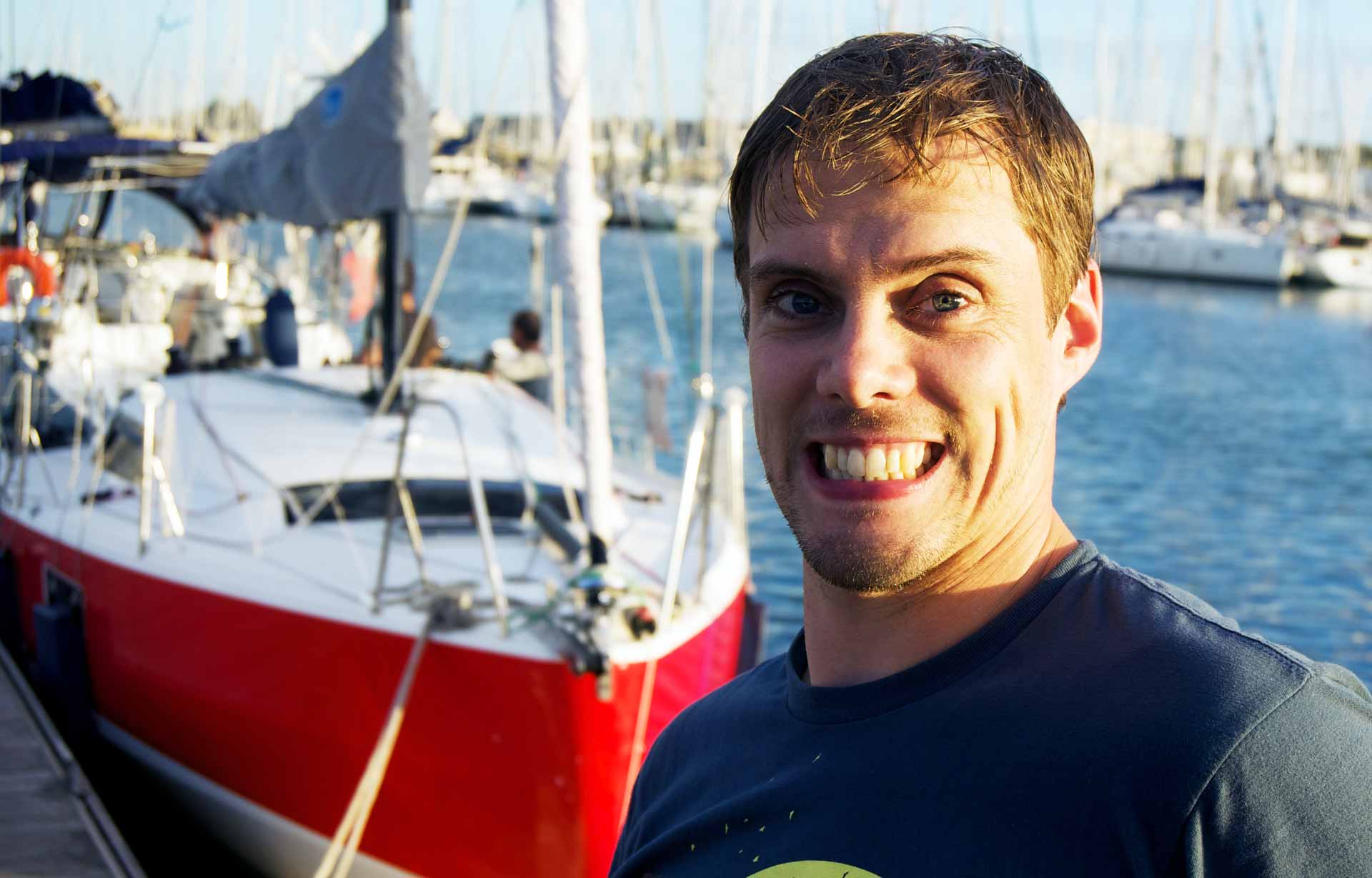 Alex: "Exactly. It was by chance that I was stumbling upon the website of Jacques Riguidel who was building his SOLAIRE 34 from plywood at this time. He was regularly posting a lot of fascinating pictures on the build on his Facebok-site. I instantly caught fire and got more and more obsessed by the idea of building one by myself too. You see – I am earning my money by sitting in front of computer-screens."
NFS.com: "Did you have any skills in manual work? And what is your sailing background?"
Alex: "Manual skills? Well, I do have some now (he laughs). I am 34 years old now and in real life working as an IT-specialist and programmer in my own software company in Berlin. I started sailing at the age of 9 in an Optimist and had my first ever appearance at a yacht race at the age of 10. When I finished last. Sailing on the 4 meter OK jolly-boats and 420 dinghys I switched to cruising on a 5 meter Ixylon. Later on, in 2001, I was able to charter my first 28 feet yacht for a trip on the Baltic Sea without any legal certificates – I was glad everything turned out okay. I then got all necessary certifications afterwards and I am now chartering a yacht anywhere in Europe once a year. I love sailing fast French yachts like Pogo or RM-yachts, which are actually made from wood. My biggest adventure so far has been an Atlantic crossing as part of a yacht crew in 2010."
"Dudley Dix Yacht Design is where I finally obtained the Classe Mini 650 Plans."
NFS.com: "You are currently building a Classe Mini 650 from plywood. Where did you obtain the construction plans?"
Alex: "I was searching online for designs and quickly found the website of Dudley Dix Yacht Design. They do have a Classe Mini 650 in their portfolio and are offering their DIDI MINI which is a Class 650 indeed. After some further research I finally opted to buying a kit."
NFS.com: "With no manual skills at all?"
Alex: "At the start I really didn´t have any skills, yes. So I began to read a lot of books on boatbuilding and working with wood in particular. I enrolled at an introductory course in boatbuilding here in Berlin. The next step was a 3-day carpenter´s course and as a final test if you want I built a small dinghy from a pre-cut construction kit made of plywood and epoxy. I was quite confident to being prepared and had a good feeling for the project."
NFS.com: "Judging from the pictures you did built a kind of yard first?"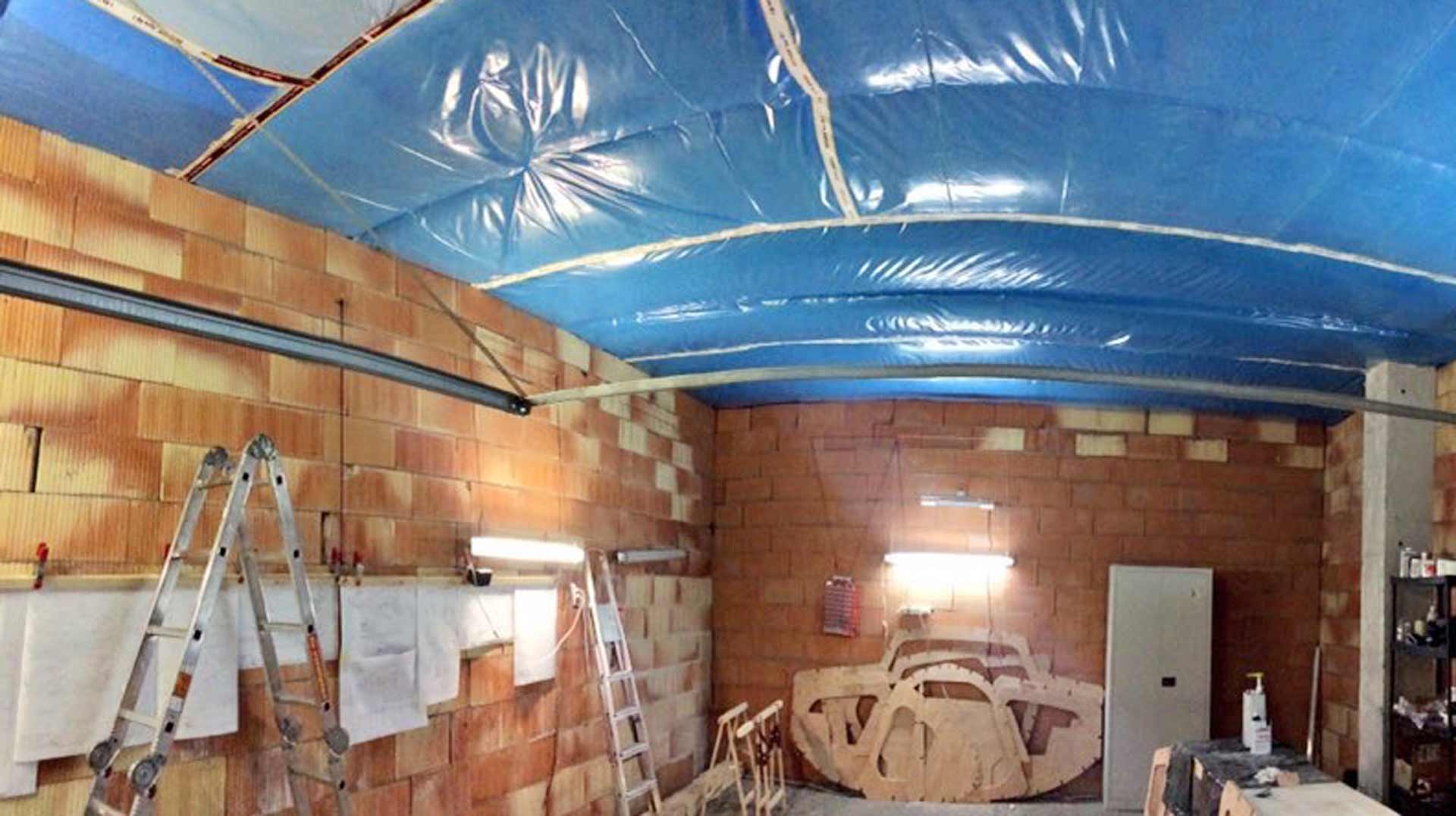 Alex: "Yes, I needed a building space big enough to house the yacht, yet affordable. It´s quite a tough task to find a hall or a workshop here in Berlin that is not destined to be pulled for new fancy luxury real estate nowadays. But I finally found a spot and rented a part of a hall. Here I added a kind of cailing to some brick walls to create a separate room for my build. And here we go: I do have my own yard."
"Boatbuilding is not quite like IKEA."
NFS.com: "You are now in the midst of finishing the boat´s hull. What is most challenging in boatbuilding and working with plywood from your perspective?"
Alex: "Well, I would say there is nothing really challenging about it skill-wise. But it is a very time-consuming process indeed. Sometimes I can only manage to glue a handful of parts together and that´s it. It requires a lot of patience. Most complicated from my point of view would be the logistical part."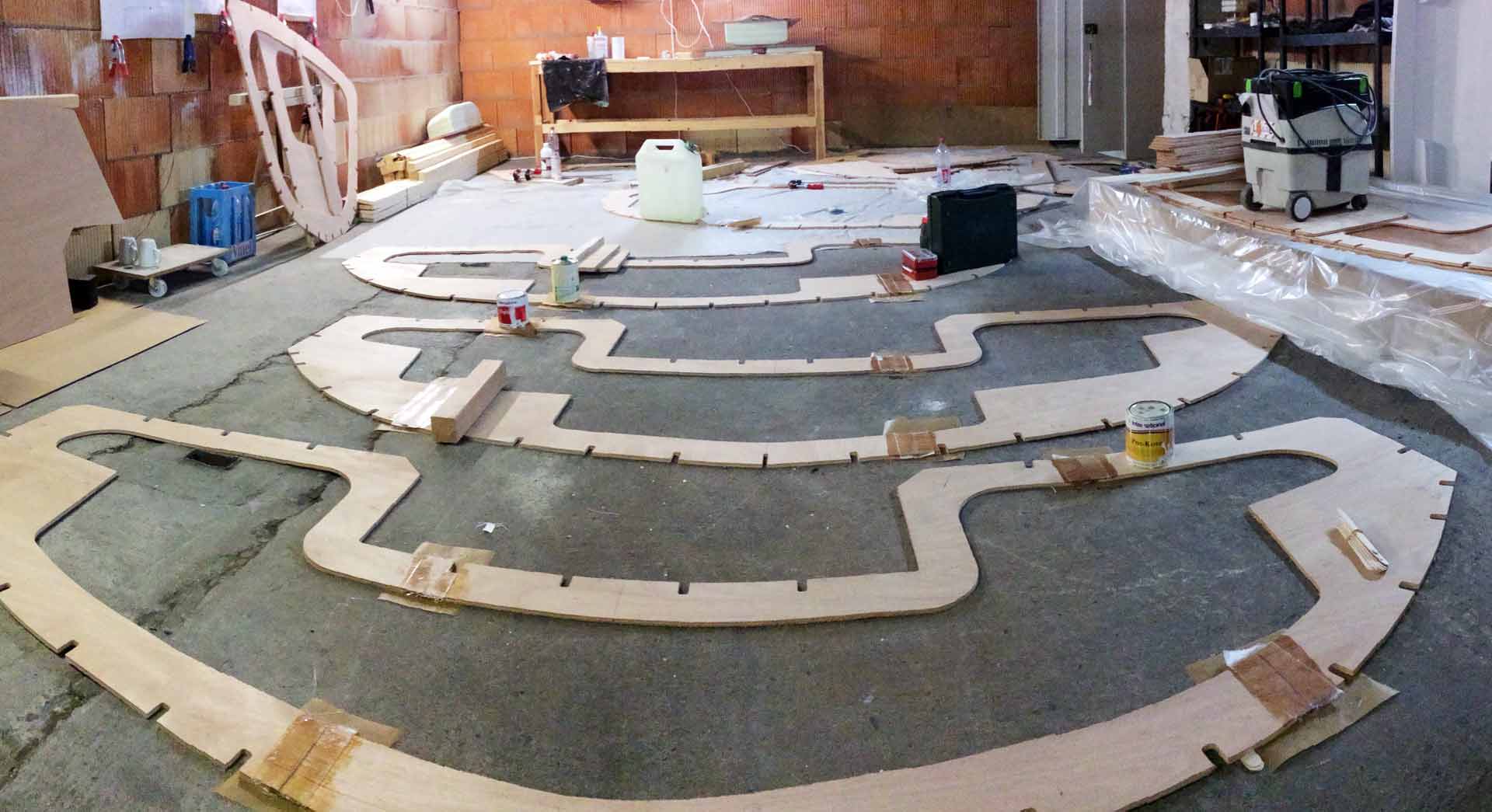 NFS.com: "How are you organizing the building process and integrate the project into your normal life?"
Alex: "I reduced my working time at my job to 80 per cent by taking a free day every Friday. So that enables me to work a full day per week on the boat. Sometimes I would work a full 3 day weekend, but that doesn´t happen very often."
NFS.com: "So besides the fact that you spend too little time with your baby – which is a problem with every refit- or building-project I would say – it´s easier than expected?"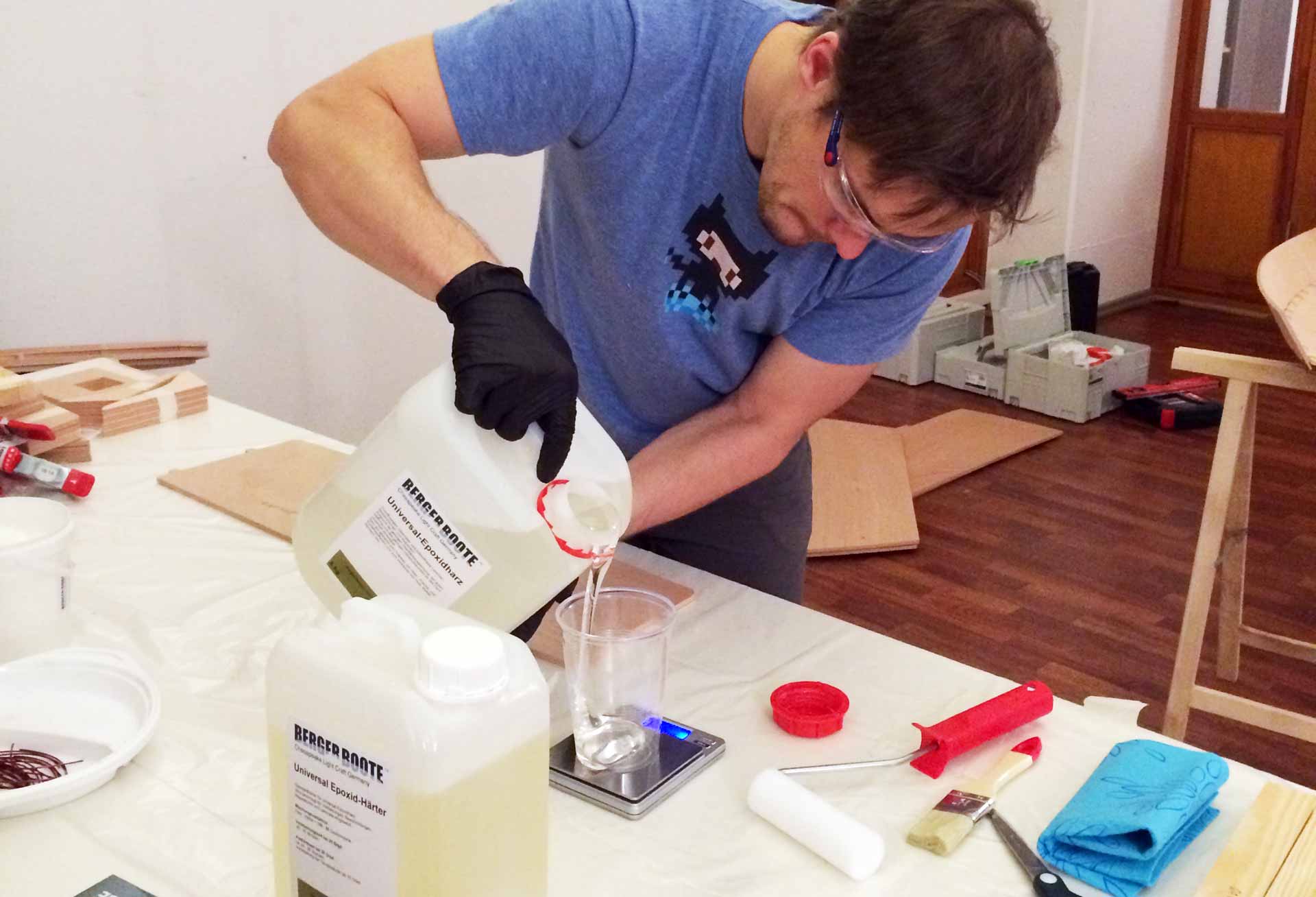 Alex: "Oh yes it is. The plans from Dudley Dix are very detailed and I have no problems with interpreting them. Along with the plans I bought a construction set from a Greek company containing all the essential parts of the build pre-cut. Since the plans by Dudley Dix already do refer to a plywood-boat I won´t have to perform calculations for material thickness for example or GRP-to-wood formulae. But it´s definitely not like assembling a Billy by IKEA on the other hand. When I am unsure of a certain detail I do an online research or simply ask people who have already finished in building this Mini 650 kit. In other cases it´s just trial and error. And sometimes using my brain will be helpful too …"
"I am fascinated by the Details of the Class Mini Build."
NFS.com: "So tell me more about the Mini 650 kit."
Alex: "Well, apart from the detailed plans it contains some 50 pieces of pre-cut plywood parts. That´s essentially the bulkheads and plywood for the decking and partially stuff for the hull. Some strengthening parts for the keel. The rest I have to fabricate by myself."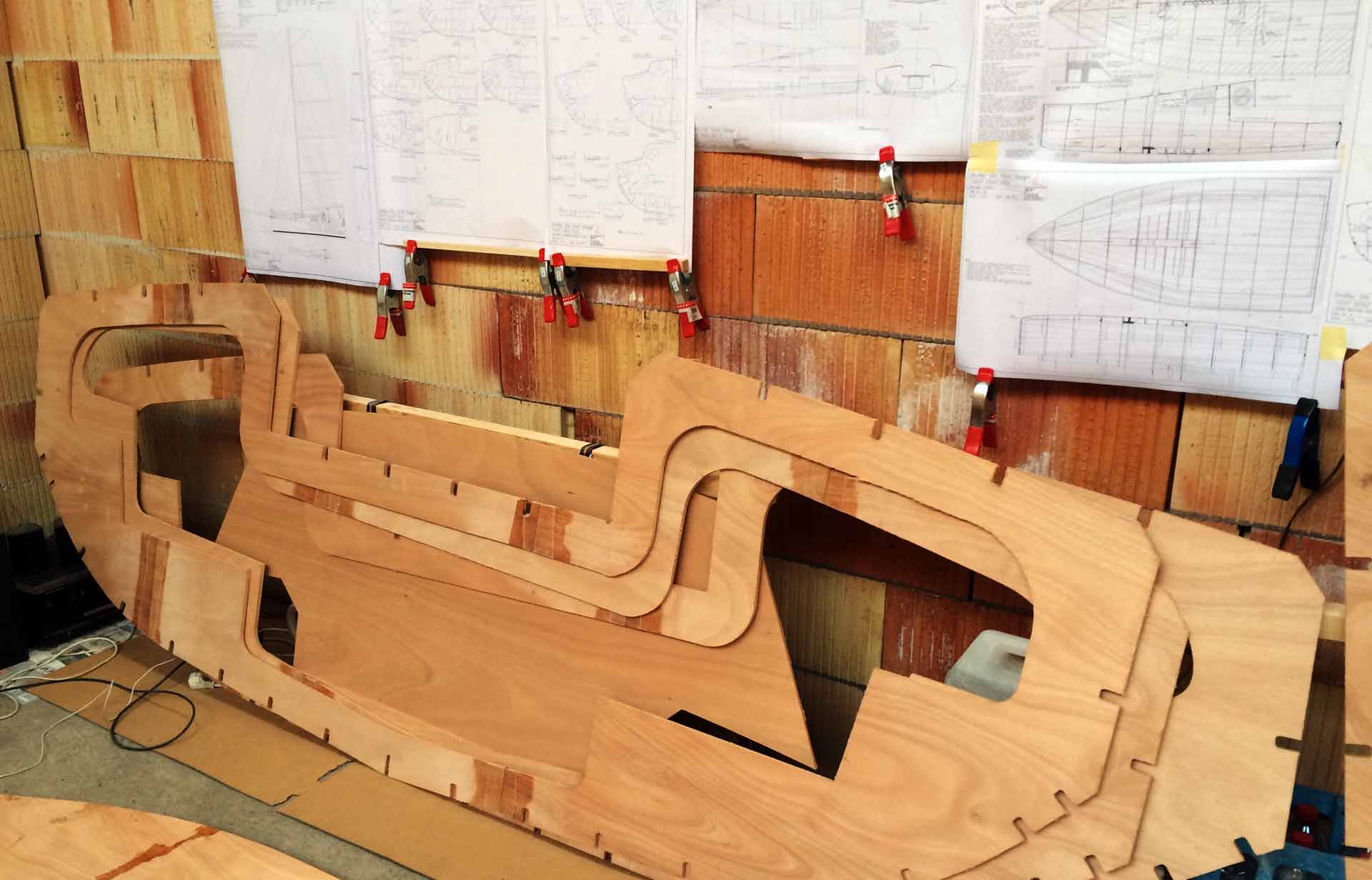 NFS.com: "Most of the connections of the different parts are done …"
Alex: "… with a special glue. I do use 100% West System Epoxy. It´s fascinating that this boat will contain no screws or bolts whatsoever. The whole structural integrity is ensured by strong joints and the adhesive properties of the epoxy-glue."
NFS.com: "What are the main milestones in the Mini 650 building process anyway?"
Alex: "I essentially started by fabricating the building stocks. This is used to bolt the bulkheads onto just to hold them in their exact position. The bolts are later taken off again. The next big milestone – and a very long period I am working on right now at the moment – is the application of the longitudinal bracings and stringers. These are glued onto the bulkheads and secured by special fillets. When I am finished with that work it will be the planking sheets coming onto the skeleton to form the body shell."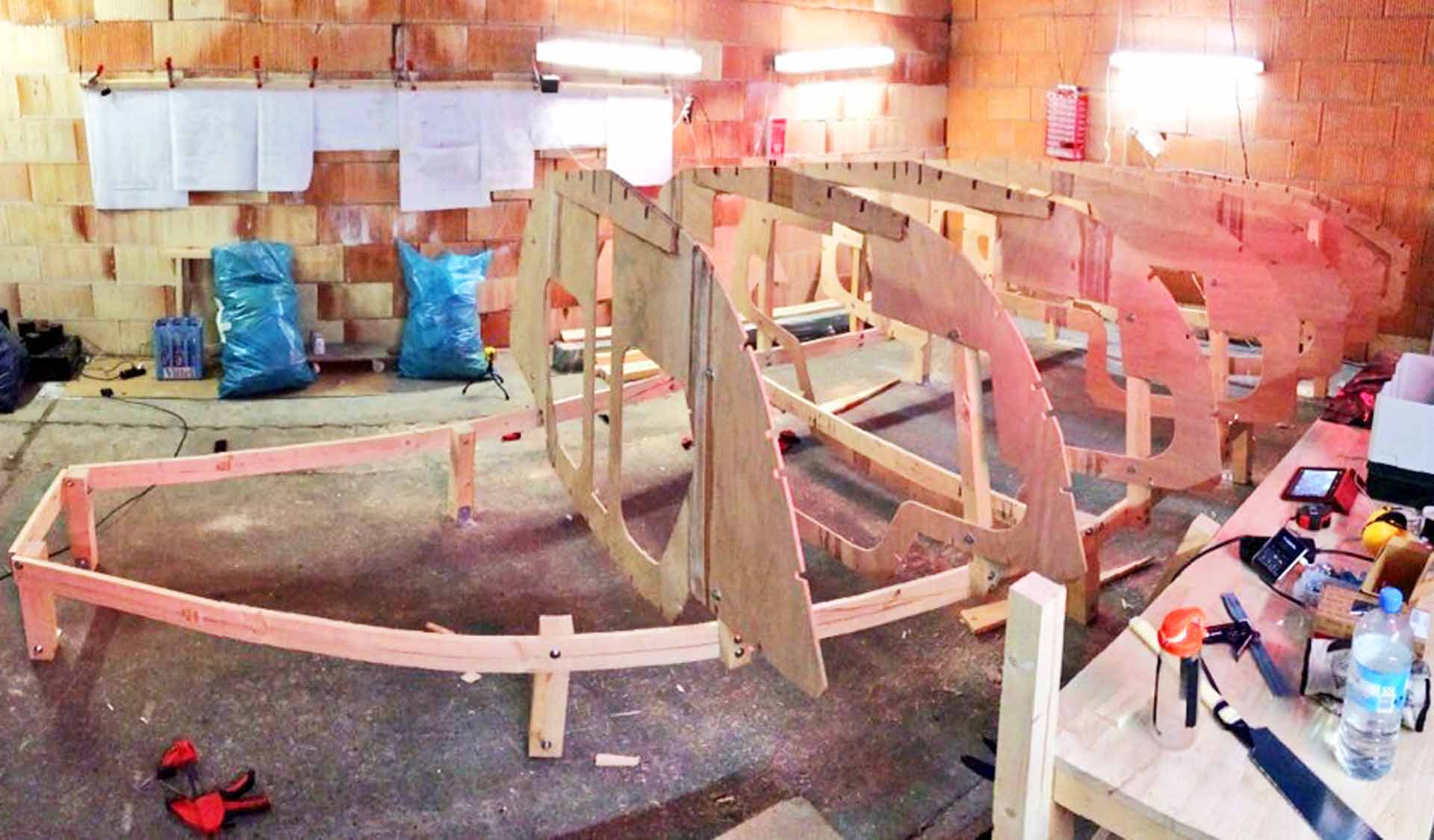 NFS.com: "Then the hull will be finished?"
Alex: "Oh no, not yet. There´s a whole lot to do afterwards. The biggest thing will be the flipping of the hull. Right now I am building the yacht upside down. Before flipping the hull will be laminated with a layer of glass-reinforced fiber. This is not a measure of structural integrity but to further harden the ship and securing a waterproof outer sheeting. Then it´s of course the interior fitting of the cabin, decking and ceiling and for the last milestone it´s the equipment and fittings I will bring onboard like winches and cleats, rudder, rig and electric stuff."
NFS.com: "Rigging and sails?"
Alex: "I hope I can afford buying a light and stiff carbon-mast. If not, aluminum will certainly do. As for the rigging, I am thinking of applying Colligo Dux standard rigging made of Dyneema. I don´t know yet where to get the sails from, but I´ll certainly have an idea when it comes to finishing the boat."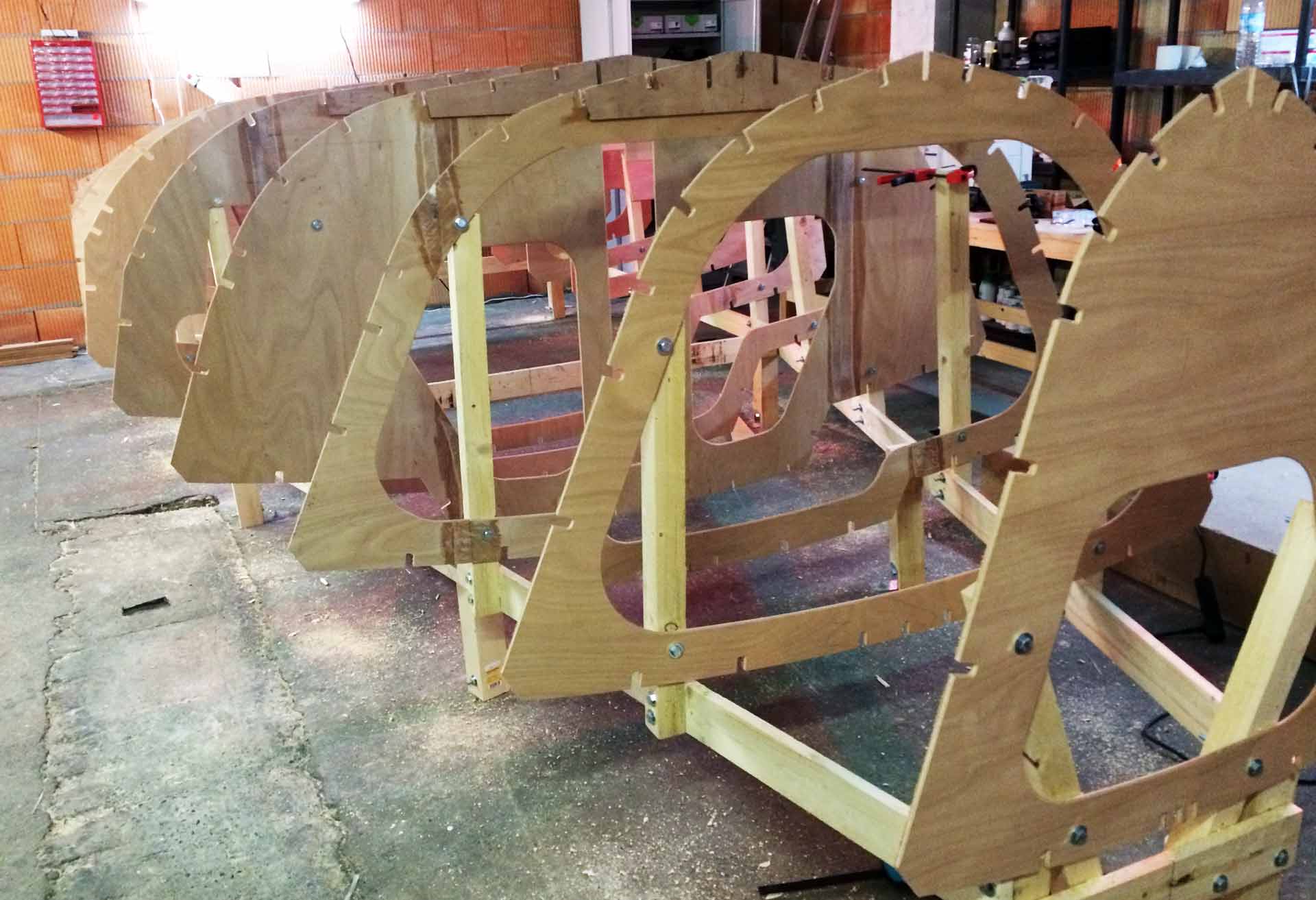 NFS.com: "What about the keel?"
Alex: "That will be the very last part of the project."
NFS.com: "I do like all the fresh and colorful designs of the Mini 650s. Do you have a certain vision of the hull-design of your Classe Mini?"
Alex: "Well, that´s something I don´t particularly think about too much at this stage. I know some talented designers who I am going to approach for a proper design. But for the first part I will have her painted in a neutral, classic color. Design will be added by using foil technique."
"Sailing should be Zero Emission."
NFS.com: "When I stumbled upon your project I found one particular detail interesting: You want to build a zero-emission-yacht. Can you explain what this means?"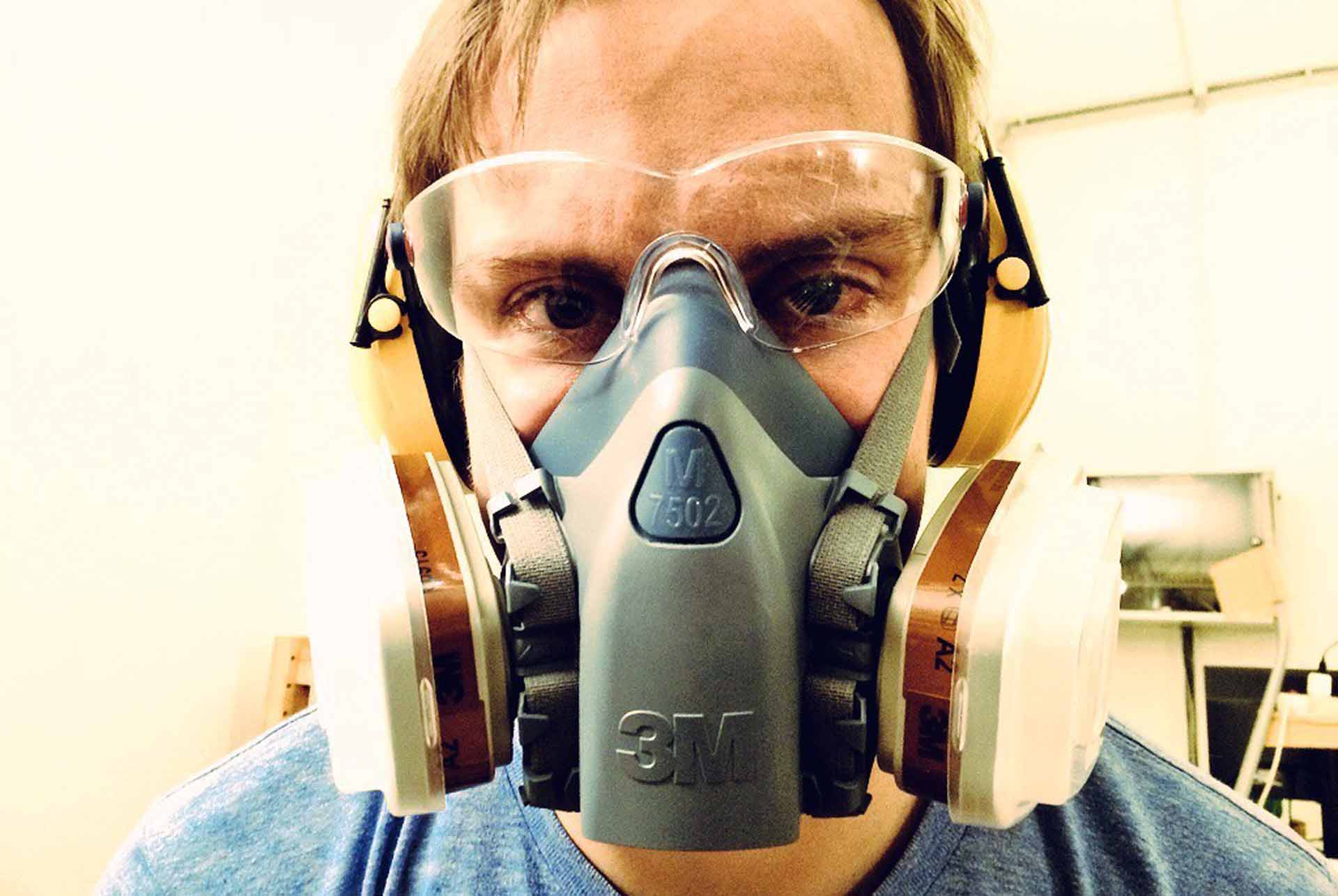 Alex: "It´s basically two things. First, during the building process I try to facilitate only ecofriendly materials. That´s for example using flax instead of glass-reinforced fibers. There´s also epoxy-resin – partially – based on natural ingredients rather than crude oil. But I am honest: I am very cautious with that since first aim is to achieve a sturdy construction. I won´t do any experiments here."
Alex: "Second thing is sailing. A Diesel engine is a no-go for my boat. I want to have the whole energy-supply provided by solar panels, propulsion will be ensured by having an electric engine for maneuvering. Maybe I can also install a hydro-generator but I fear that won´t be an easy task with such a small boat. Anyway, I am trying to use resources with discernment and be as sustainable as possible."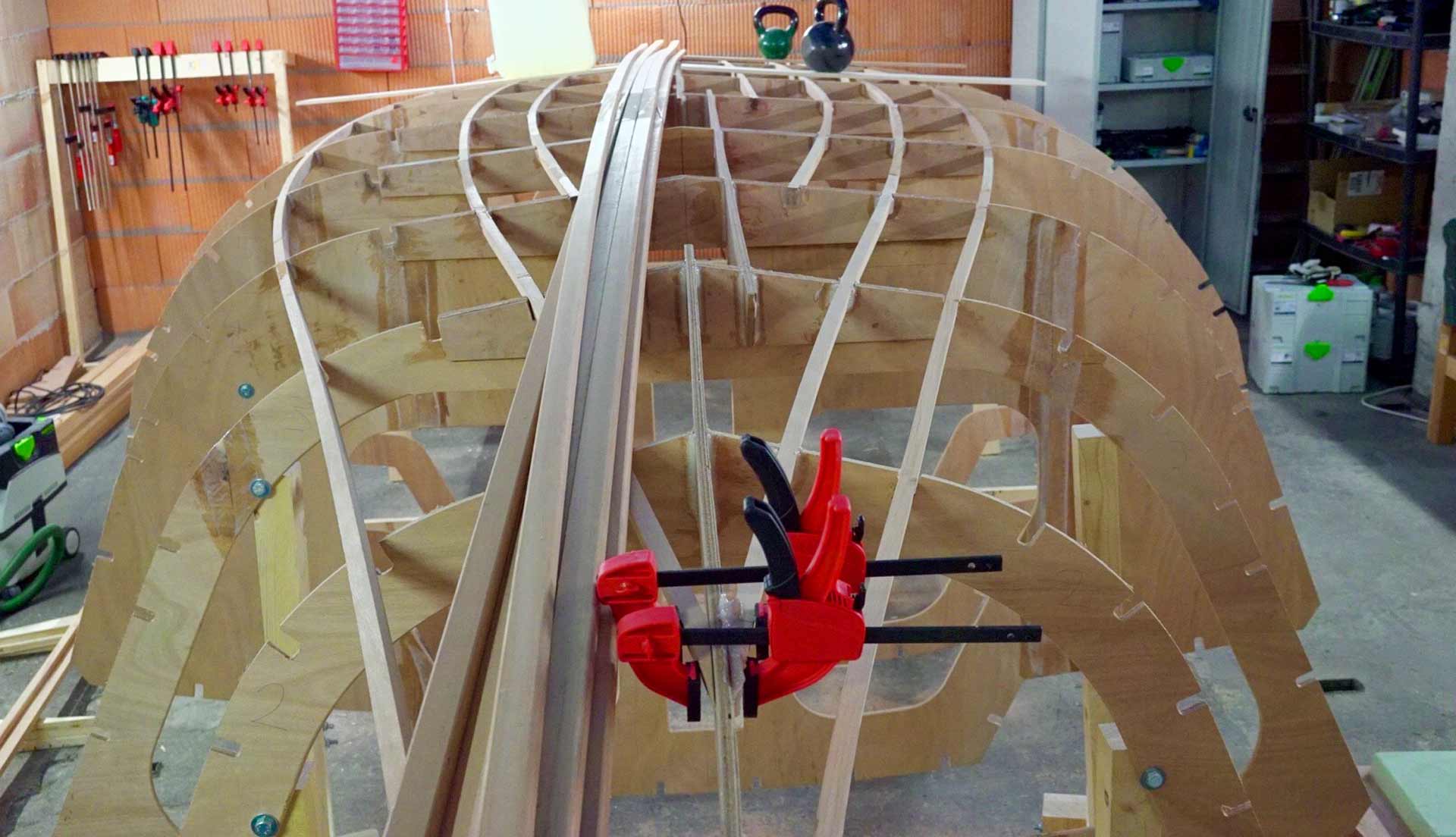 NFS.com: "Speaking of the future, when are you planning to have the boat in the water?"
Alex: "I am now planning to have her under sails in spring 2018. That´s this and the coming full year of building and fitting of the ship."
NFS.com: "A brand new Pogo 3 will have a 54.000 Euro price-tag, what´s about the budget of your project?"
Alex: "Up to now I do have some 150 net working hours and roughly 17.000 Euros spent on the ship. That´s including the training sessions, the test-trial with the small dinghy and all the tools required. I pay 300 Euros monthly rent for the building hall and to be honest, I am constantly re-writing the overall budget due to the process. But I guess in the end there will be something around 40.000 Euros spent."
 "Mini Transat? Well, probably … No."
NFS.com: "Where will you be sailing your brand new Mini 650?"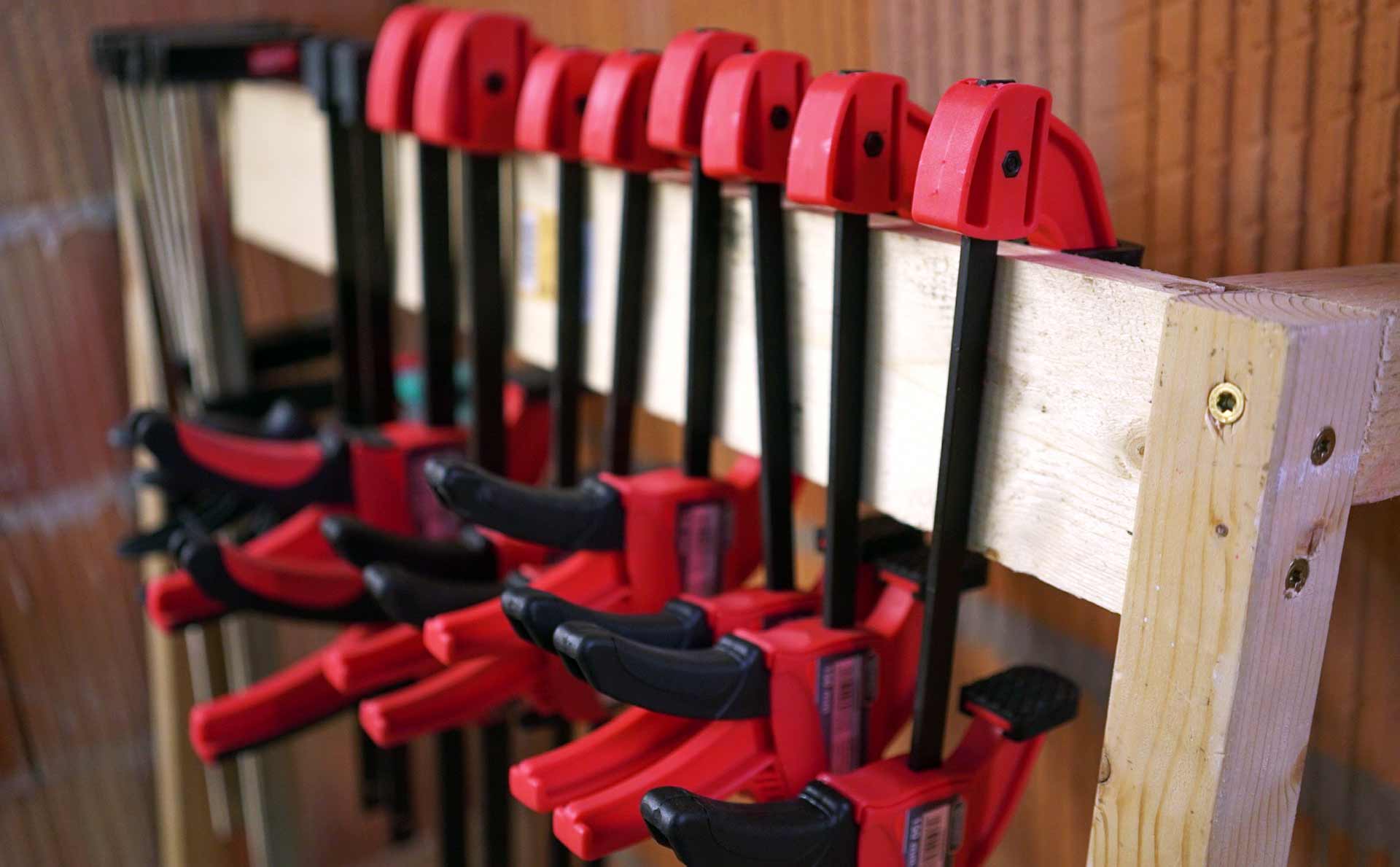 Alex: "She will probably have her berth somewhere at the Baltic Sea. Certainly a marina I can reach fast from Berlin. I think this sailing area will do best for obtaining my first sailing experiences with the Classe Mini 650 boat and getting to know her intimately."
NFS.com: "After trialing the boat, which projects do you envision?"
Alex: "Well, for longer cruises this boat is definitely too small-sized. But I think it´s perfectly possible to have longer weekend-cruises and maybe some trans-baltic legs to Sweden or Finland. I definitely want to attend some races with her – as my aim is to participate in the Silver Rudder race around the Danish Island of Fyn."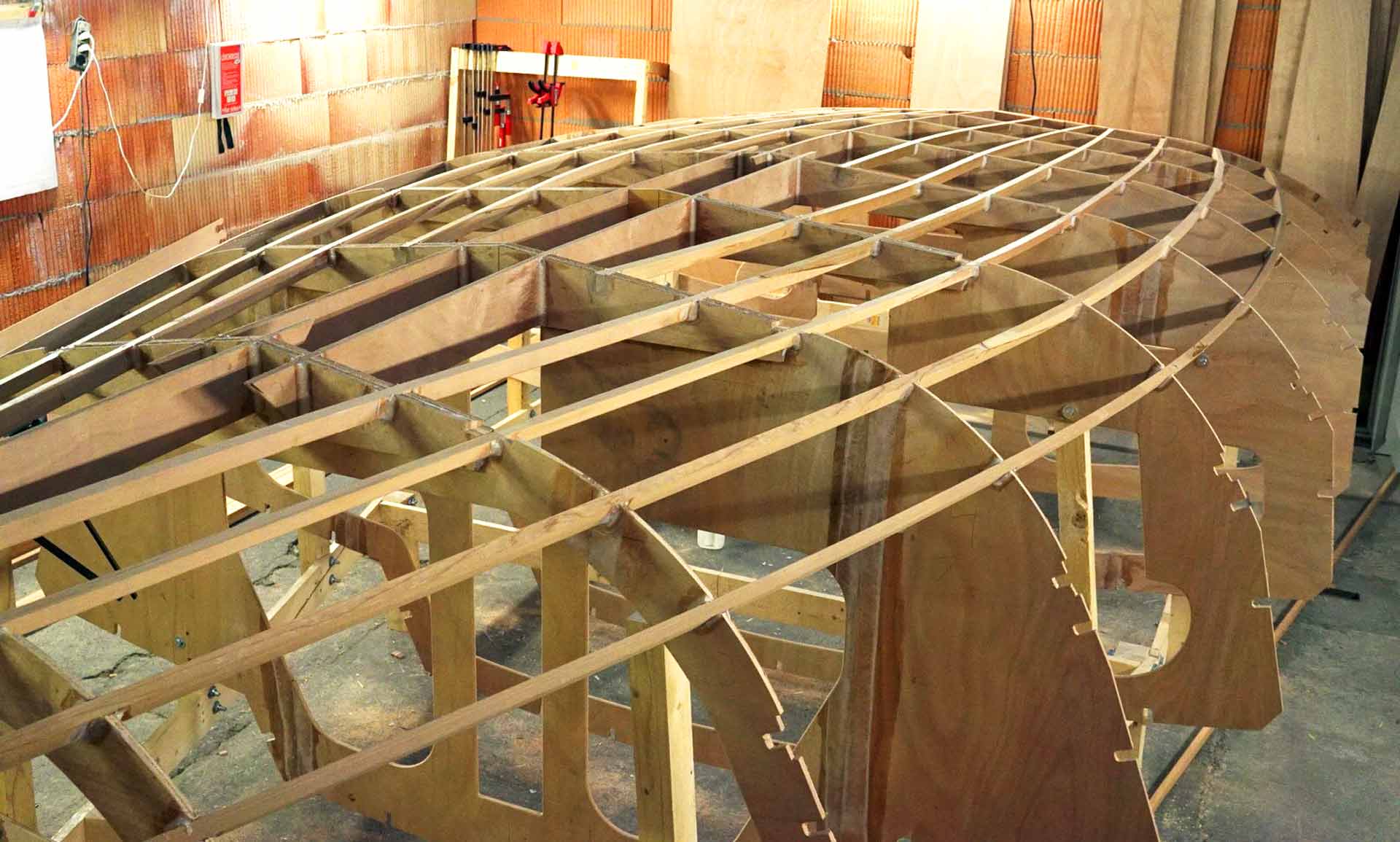 NFS.com: "And what about the MiniTransat?"
Alex: "As tempting as it may sound, but I have no such plans at all in this stage. But … never say never."
Alex, thanks so much for talking about your fascinating project and letting us take a closer look onto the Mini 650 building process. All the best for you and the boat – and I hope to get a chance to talking to you sometime in the future when you little strong boat is further up in the build, which I am able to follow on your facebook-Site.
Here´s an interview with Pro-Sailor Lizzy Foreman on her MiniTransat Race 2015 
Two great articles on the bigger brothers of the Mini650 – sailing a Class 40 Pogo to Helgoland and taking her back very fast with Gennaker
Pictures with kind permission by Alexander Lang / Pogo 3 by Pogo Structures