As I was mentioning in my article on the Cannes Yachting Festival (read it here) I found a particularly interesting sailing yacht mooring at the famous Cote d´Azur marina which caught my attention a lot. It´s a luxury sailing yacht, no doubt about that, but in my eyes a new class: The Dufour 56 Exclusive takes the term "luxury" to a whole new level, if you ask me. Why?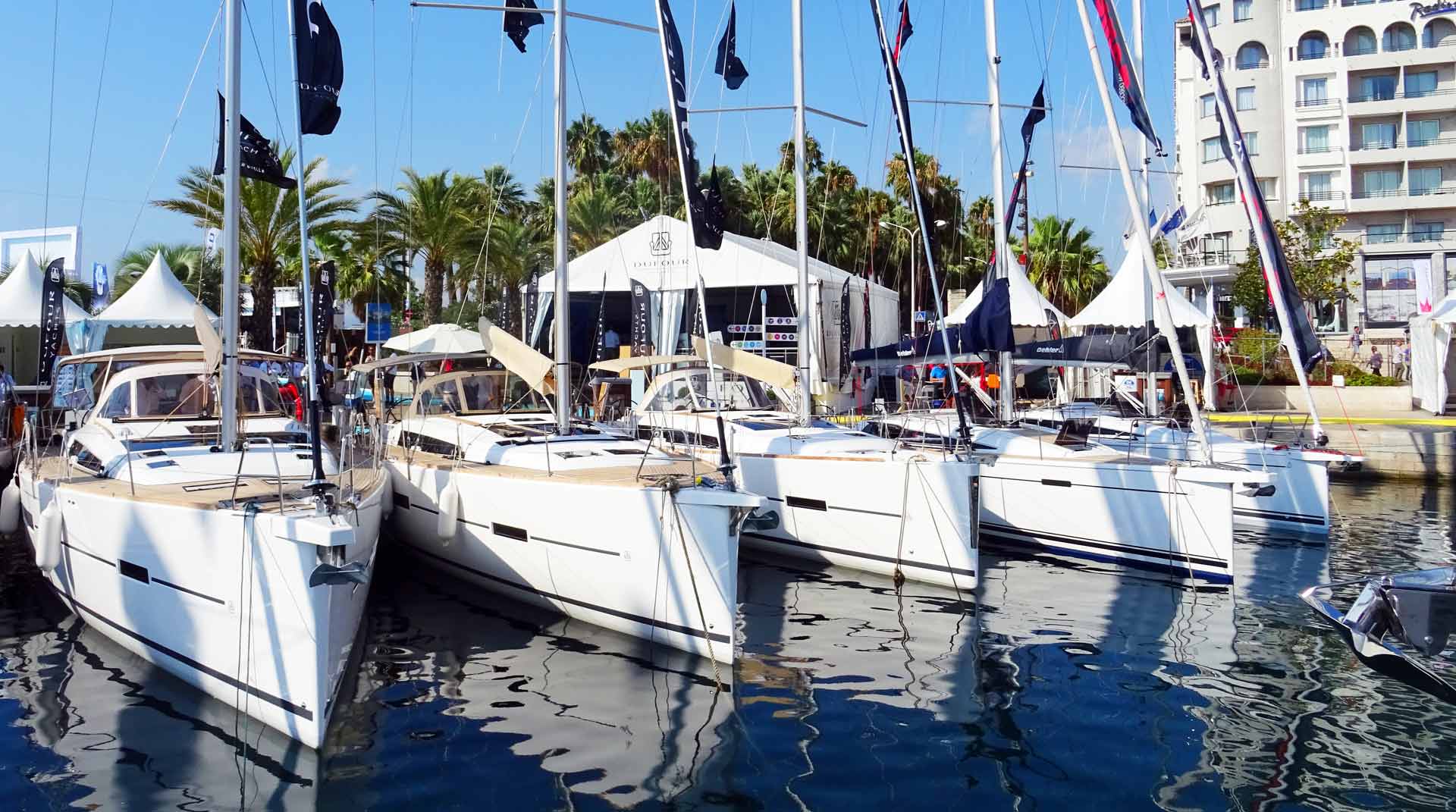 Because she is an "ordinary" production boat. And at the same time, she will be offering space, amenities and a quality of craftsmanship we up to know only knew from the well known high-class brands and excessively expensive one-off boats. Make no mistake, the new Dufour 56 Exclusive is an expensive boat too, but a load less financially intensive than others. Let´s take a look around inside this cruiser.
Just a Detail? New Teak Supplier.
When talking to Dufour staff, I was puzzled. Because one of the very first things they mentioned was the Teak. "Take a look at the quality of the Teak decking", they encouraged me. "It´s a whole new supplier and we´ve managed to acquire exquisite timber for the decking." Also, the caulking and application of the Teak panels would be of a far superior standard.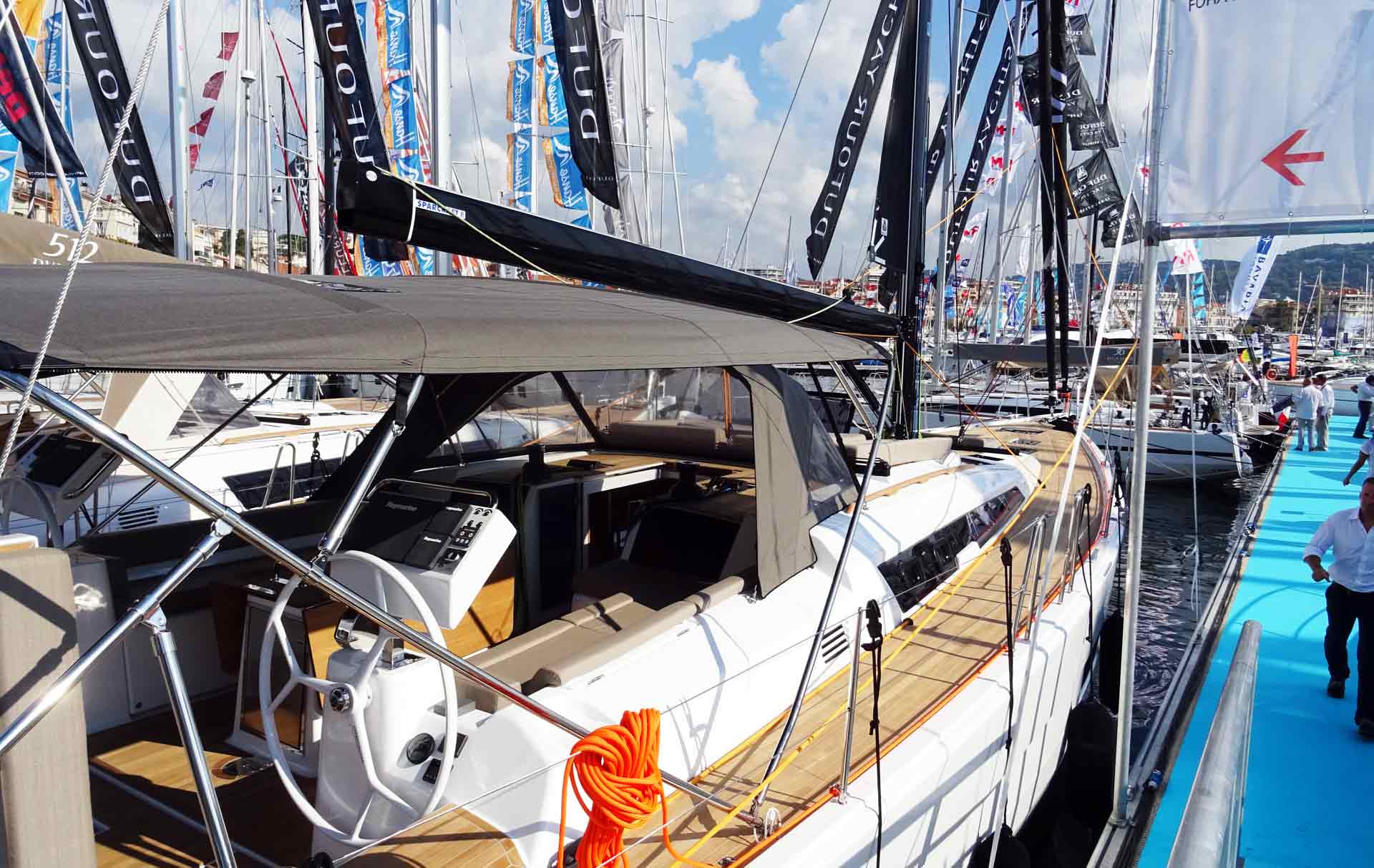 It´s a very nicely done decking, for sure. I am honest: I couldn´t spot any differences to the other Dufour deckings as I found all of them neatly done and in perfect shape. As I am working a lot with Teak on my own refit project right now by myself, I have a faint conception of what it should mean to do a complete decking for a yacht like this. No tolerance, no clearance allowed.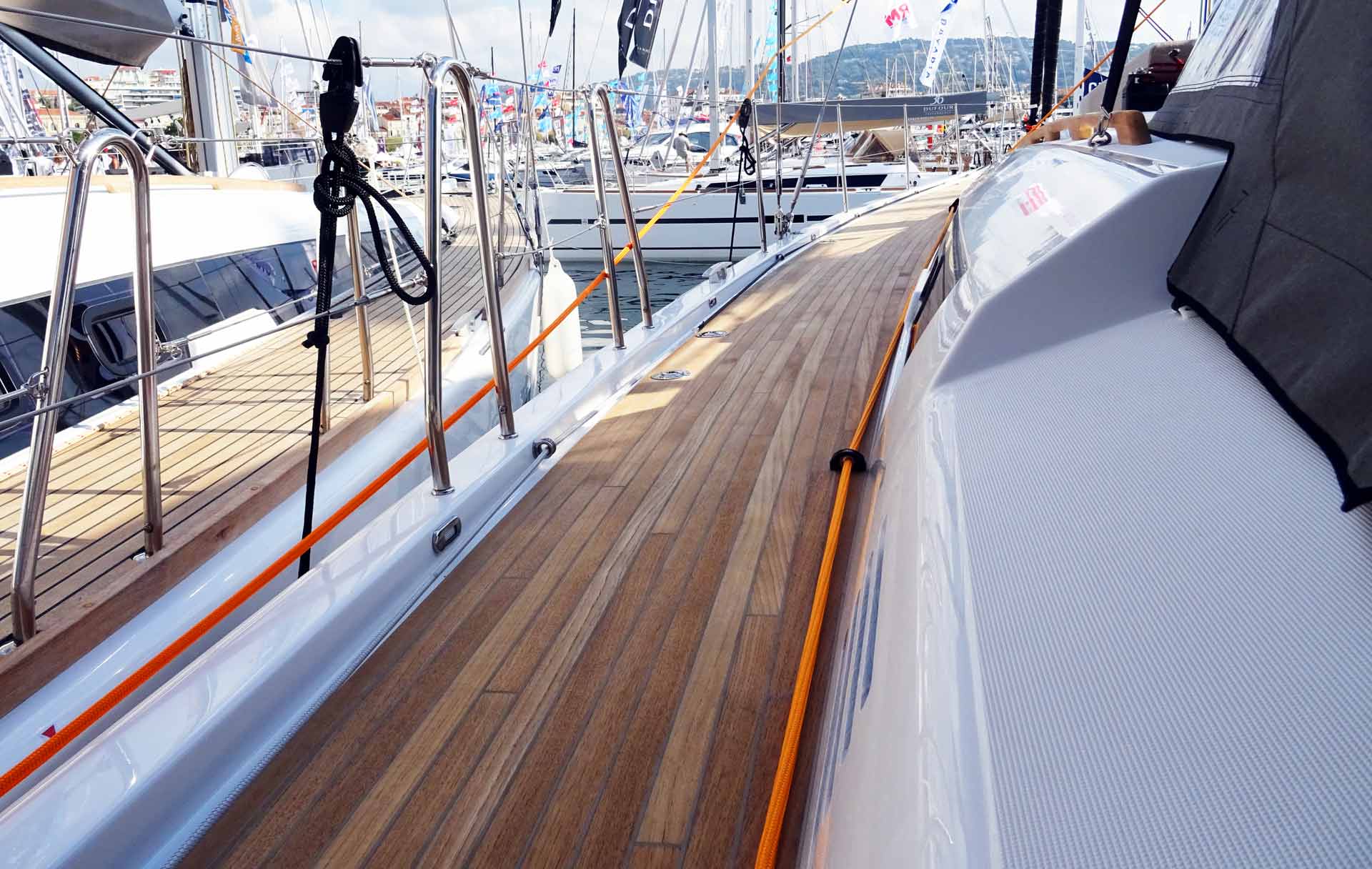 I loved the grey caulking on the very boat as it was adding a certain special look to the decking. All the others feature classic black caulking. Nice idea. I again found that the flush deck was wide enough to roam about and to work on. Also the sealant works have been done quite nicely as the seams are almost always a source of disappointments on yachts these days.
Easy Sailing. Easy Going.
Of course, sailing abilities are of secondary importance regarding this type of boat, although Dufour is known for building seagoing, fast and capable sailing yachts. On the 56 Exclusive one of the first things you notice is that the fore deck has been further integrated into a yacht´s utilizable spots to be. Mostly restricted for the crew when working at the sails, passengers have been generally restricted to the cockpit (which is huge on the 56 of course).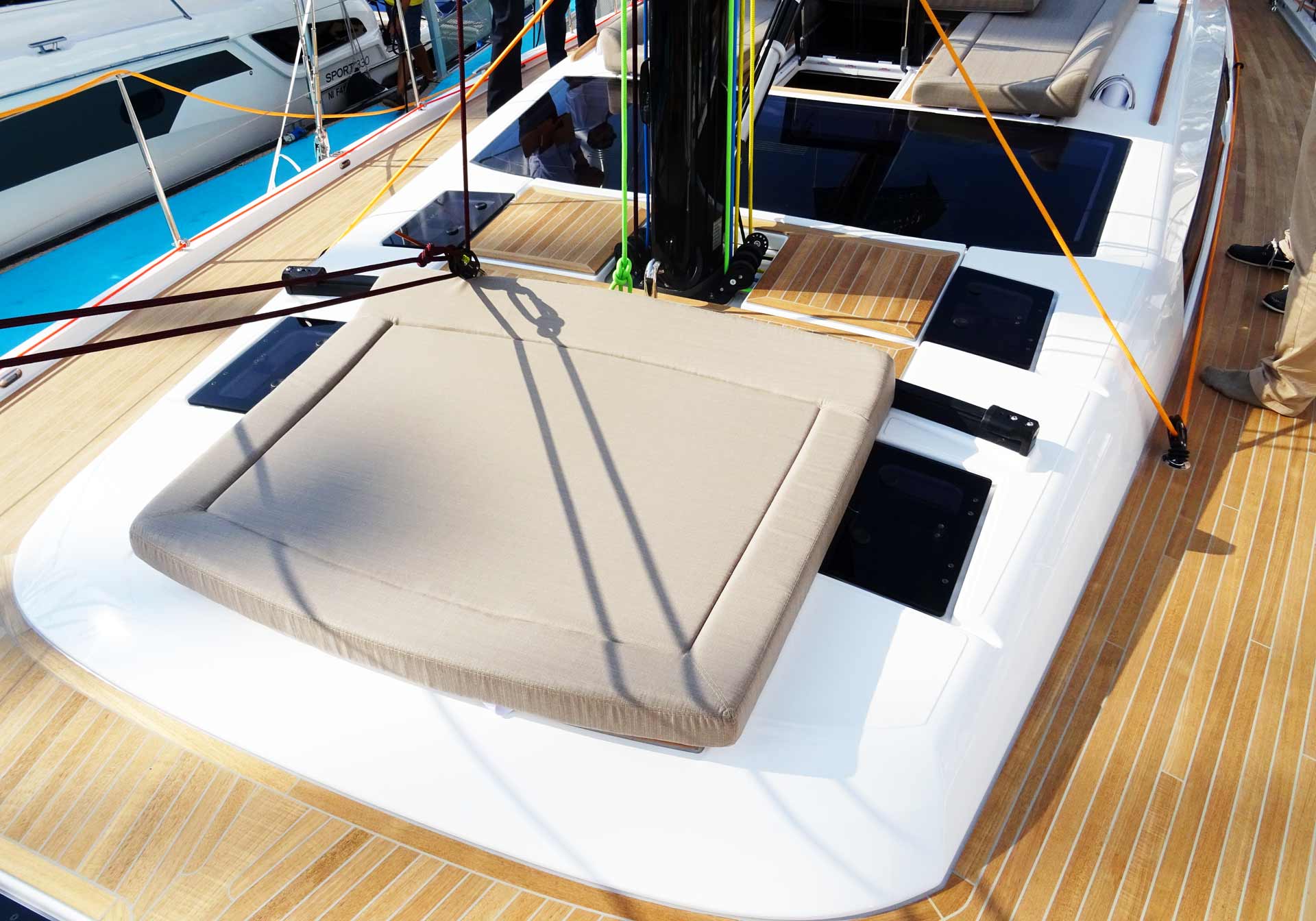 The new 56 Exclusive features an all new concept of making the fore deck accessible: For example by providing the owners with a huge mattress to be placed on the superstructure. Two more recreational seats for sunbathing even further to the bow are available too: The girls will love it! But spending nice lush hours in the sun whilst mooring in the Med isn´t the only thing. Dufour is now increasingly marketing a new tool for skippers: The Jet Thruster.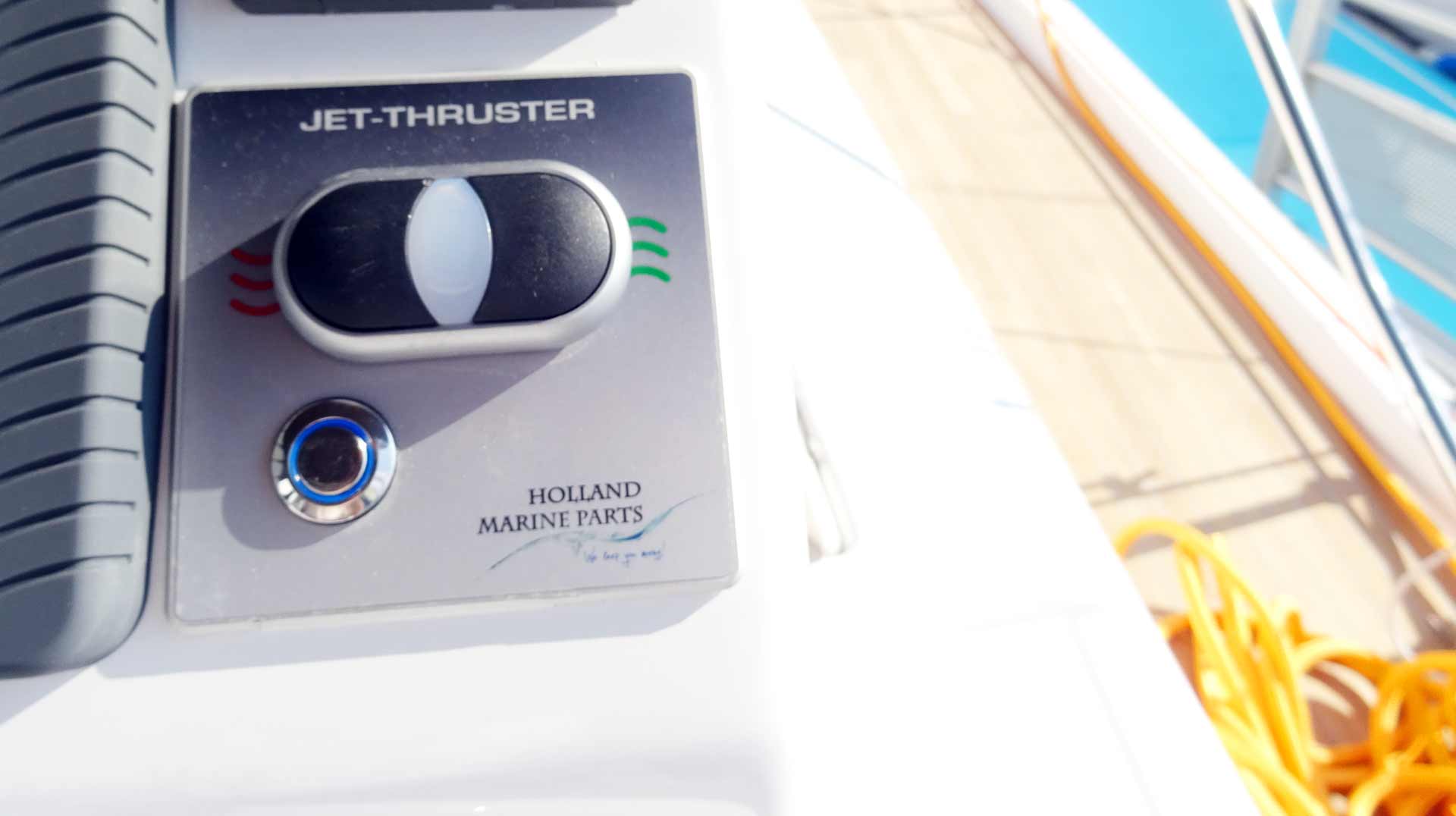 Jet Thruster is a Dutch company manufacturing a whole new bow thruster system: It works with a compressed flow of water that pushes the boat´s bow in either direction. What makes the Jet Thruster so interesting is the fact that there is a much smaller cut out for the installation in the boat´s hull needed. No moving parts like a screw (and with it no suction of marina-stuff), it bears 25 per cent less weight and has 10 per cent more power than ordinary systems, as the company declares. I will observe the installation of a Jet Thruster system in the coming weeks.
The Saloon of the new Dufour 56
Below deck the boat is what it´s supposed to be: Just awesome. I love the Dufour 460 (as you may read here) which is already a huge, very space-effective boat, but the 56 Exclusive is something completely different. A booster. Upon descending the staircase through the wide entryway, one is greeted by a huge, light suffused room. There´s carpet on the flooring, like we are used to see in Hallberg-Rassy, but I am sure the saloon looks even more compelling without.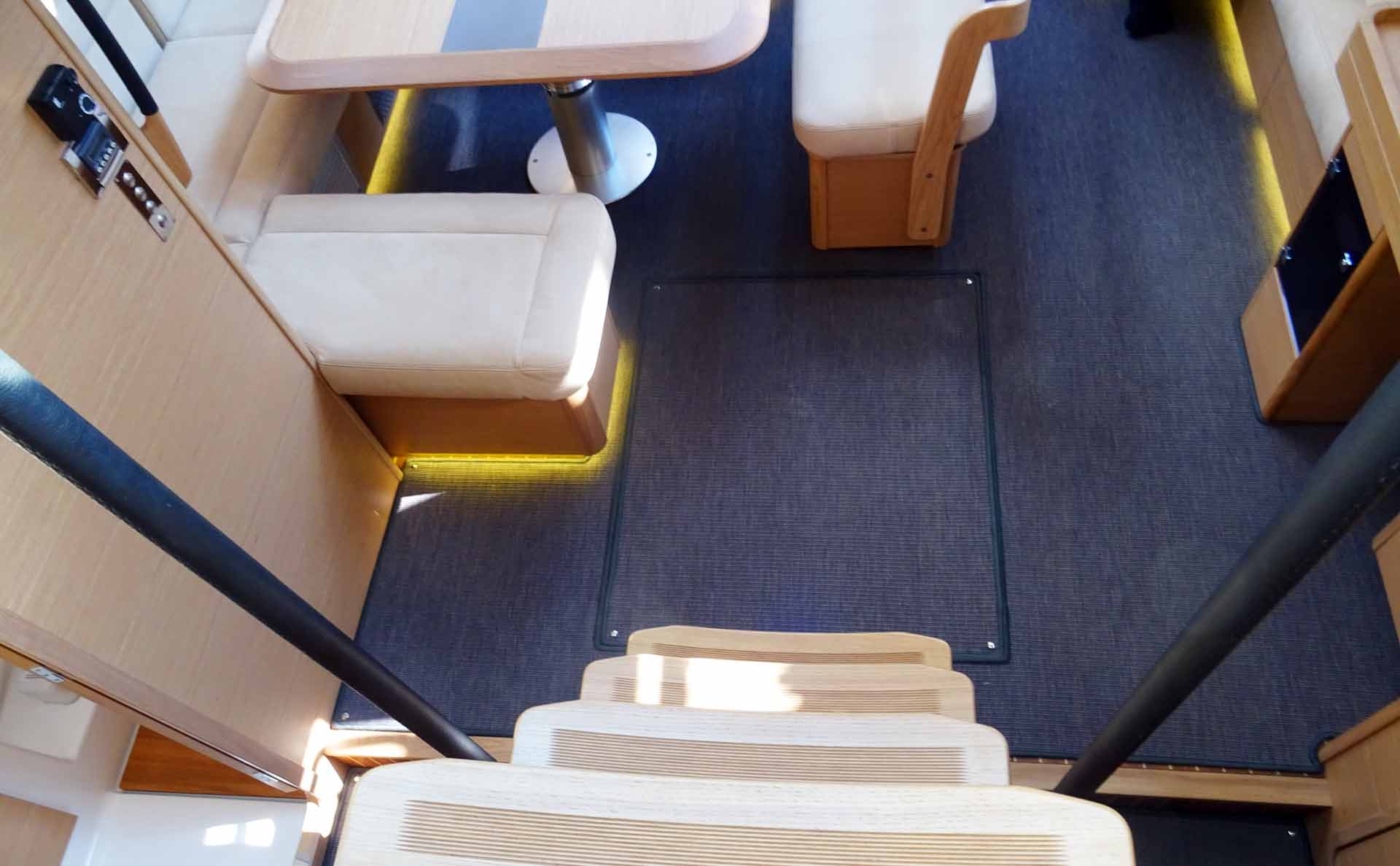 When I first heard of Dufour yachts offering Oak furniture for the interior fittings I was very reluctand, being reminded of my parent´s old school Oak wall units. But this is different: The massive Oak fittings produce a warm thus light and modern look. The horizontal grain, which is not typical for marine fittings, will visually increase the overall roomy feeling.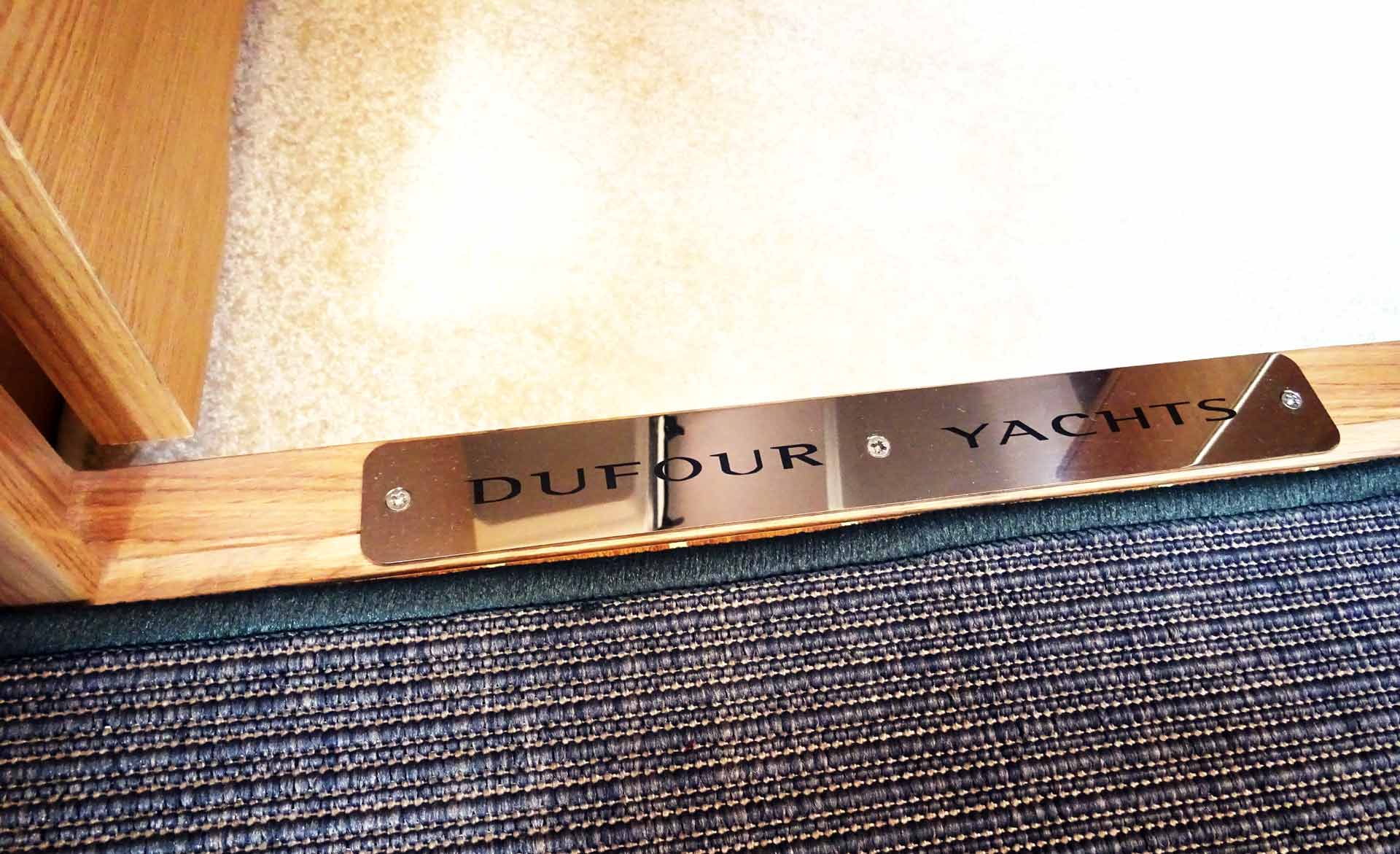 A very large settee composition is on the port side of the saloon. A large L-settee with a very big single seater in front of the large dining table form a privy yet open space. Further to the front of the boat the backrest of the settee also works as a spacer to the galley – I could imagine some owners fitting extendable TFTs in this very spot.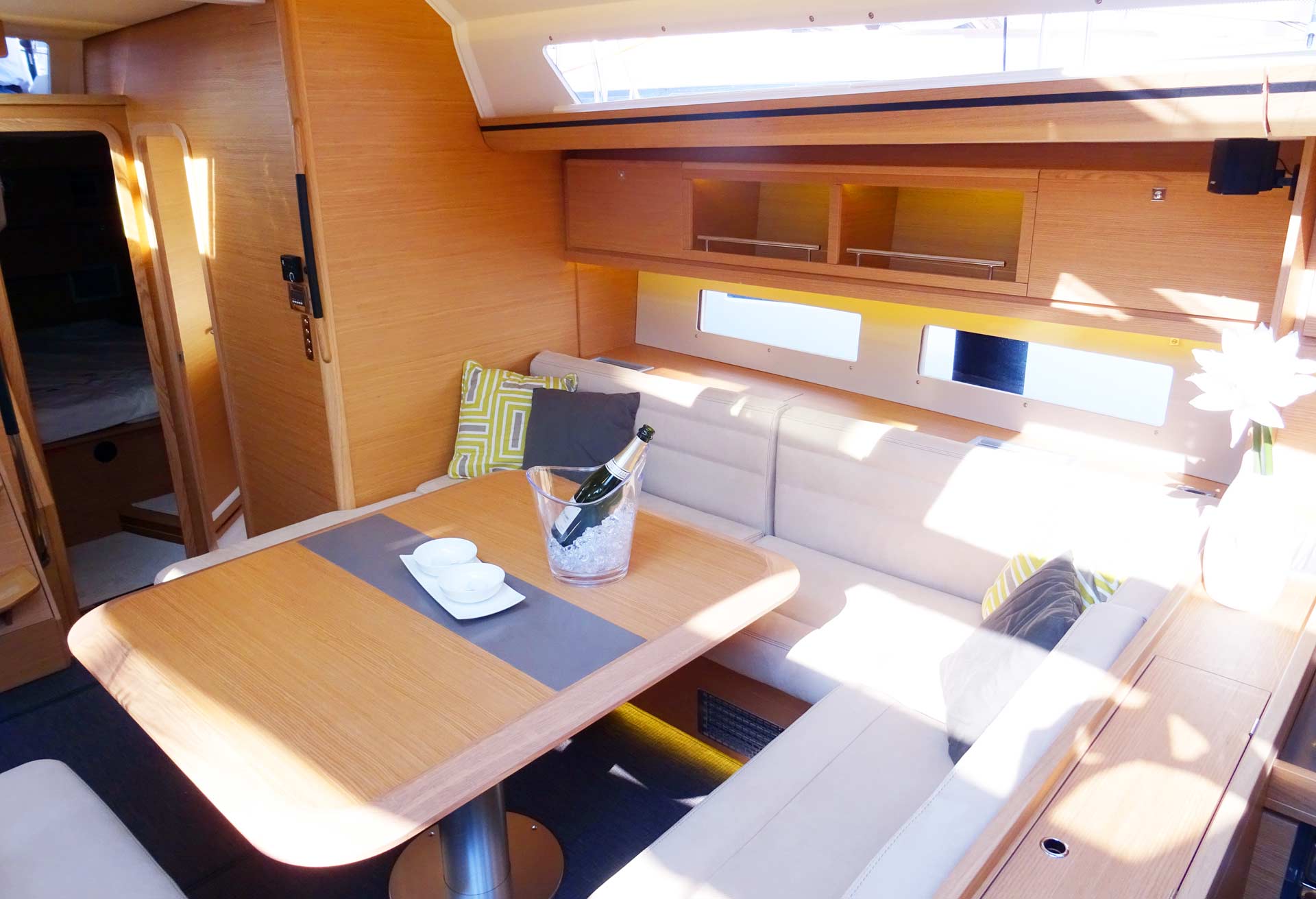 Vis-à-vis the dining group on starboard side Dufour has splashed out on a well sized navigation station, which is a great deal to me since most cruisers astonishingly lack enough space for the sailor´s chart work. On the 56 Exclusive that´s not a compromise anymore, there´s more than enough space to store charts, laptop and other stuff.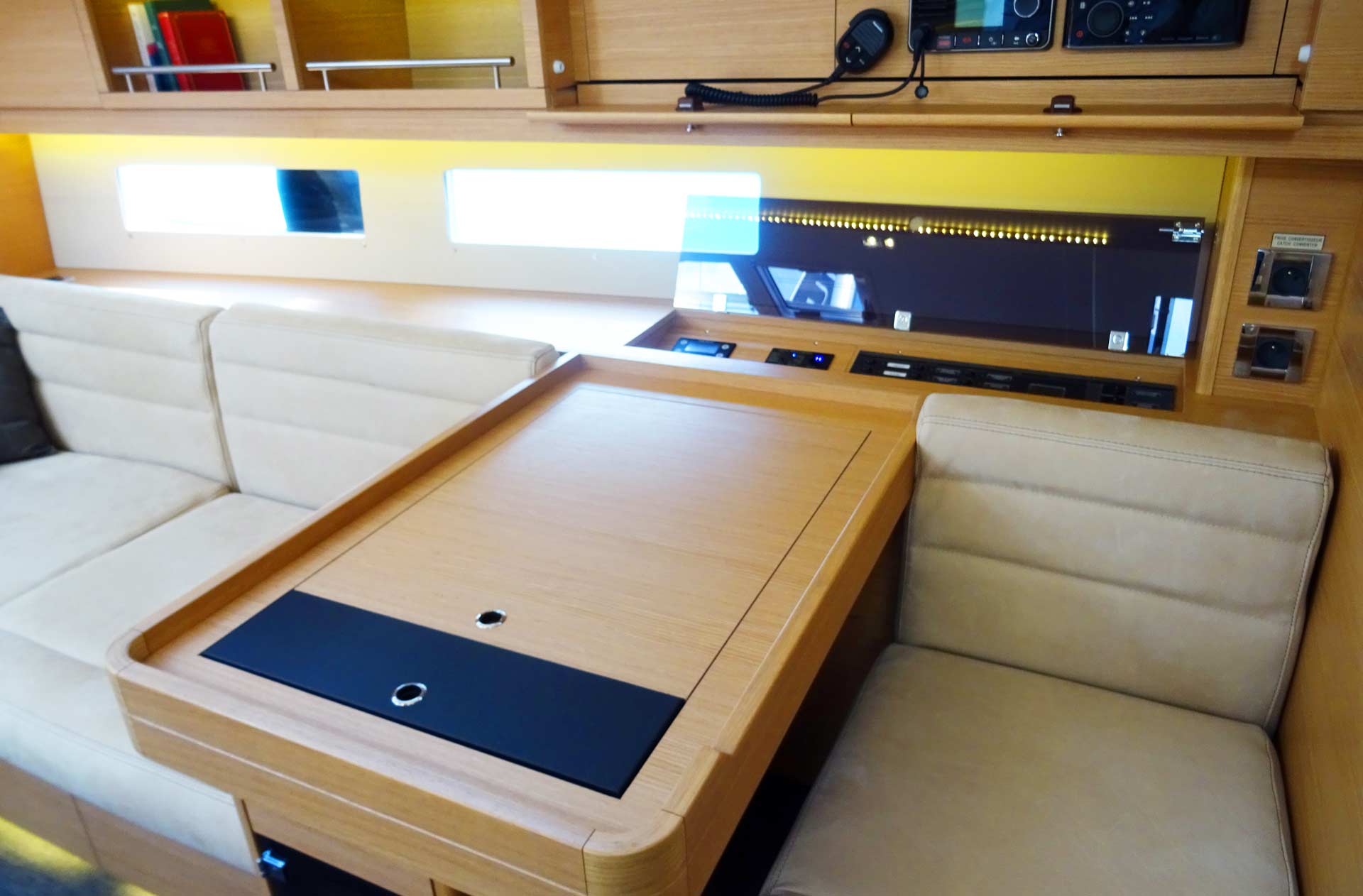 All in all this yacht offers a tremendous amount of space. Which is no wonder because with more than 17 meters length over all and some 5.05 meters width there definitely is plenty of – but what the interior designers with Dufour have been able to squeeze out even more space. That´s a fact I did observe by directly comparing the latest Jeanneau and Beneteau boats at the Interboot boat show some weeks ago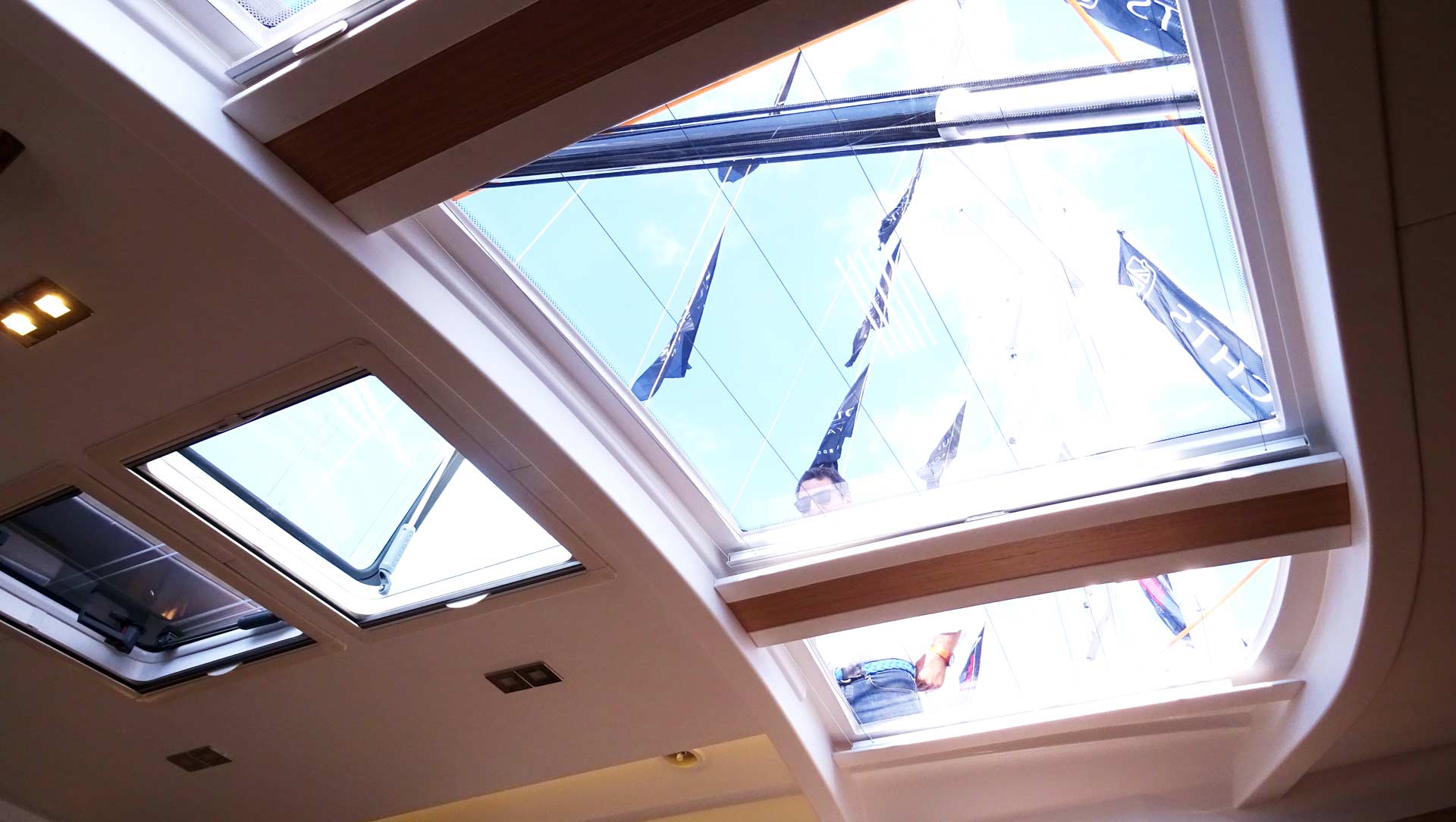 What I love most on Dufour Grandlarge sailing yachts are the skylights. They do magic things with an ordinary saloon, adding light and a very free feeling to this otherwise closed, most dark room below deck. I was astonished when I first saw it on the smalles Dufour, the 310, and on this biggest of them all, the 56 Exclusive, they work equally fine. Couldn´t imagine how great a look up to the mast with full canvas and a colourful Gennaker must be!
Re-Defining the Galley-Concept
In some respects the Grandlarge 460 was a kind of harbinger for the 56 Exclusive because she also features a transverse galley to the forward bulkhead, which in my eyes is a great thing. I didn´t see such a configuration for a yacht´s galley on another yacht up until now and I wish I could have such a wonderful place in my boat too.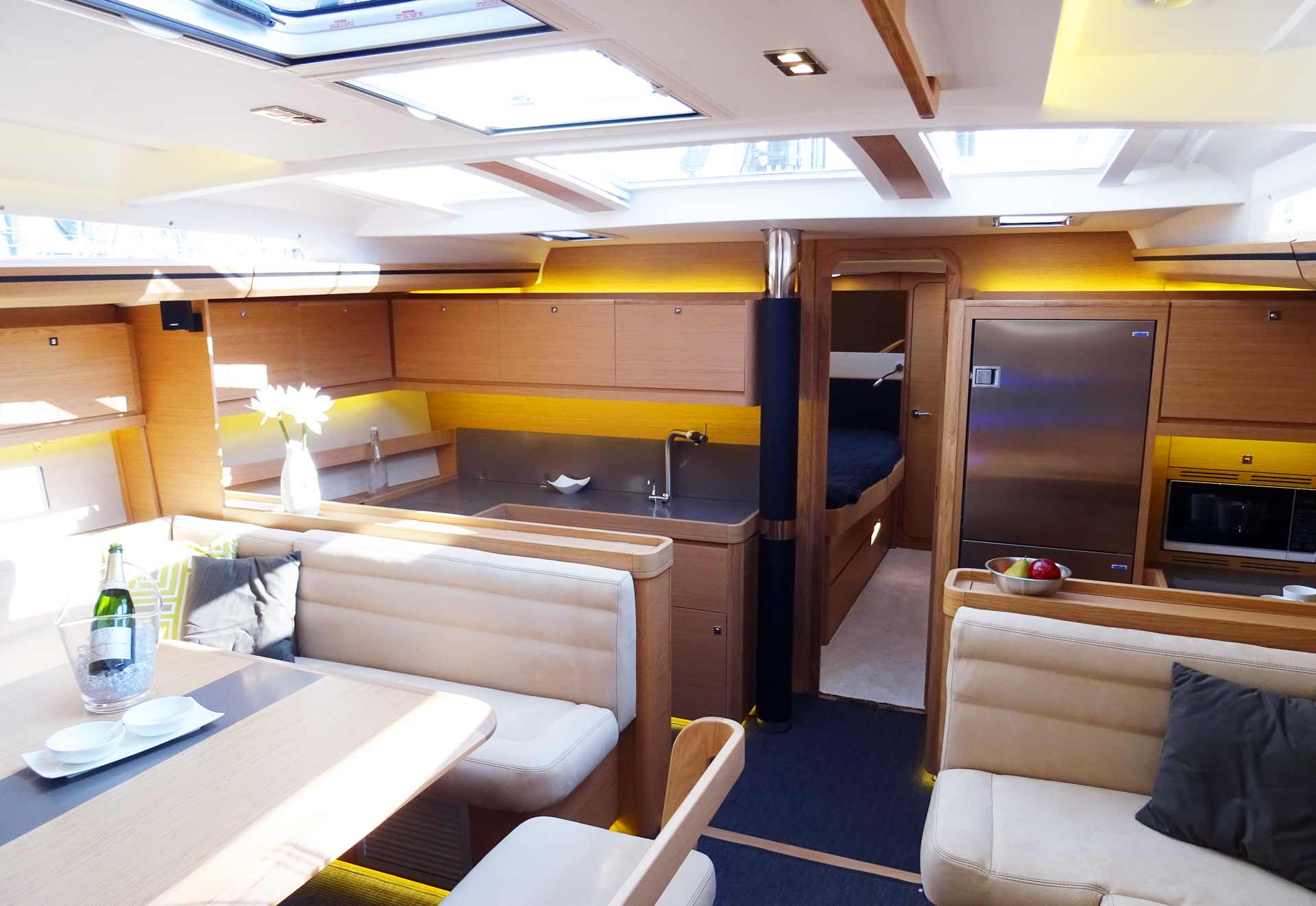 To port side the galley features all installations and fittings needed, like a stove, sink, stowage, trash bin and a huge work top. Overhead a lot of additional stowage for plates and stuff amounts to a more than appropriate galley. But that´s not enough.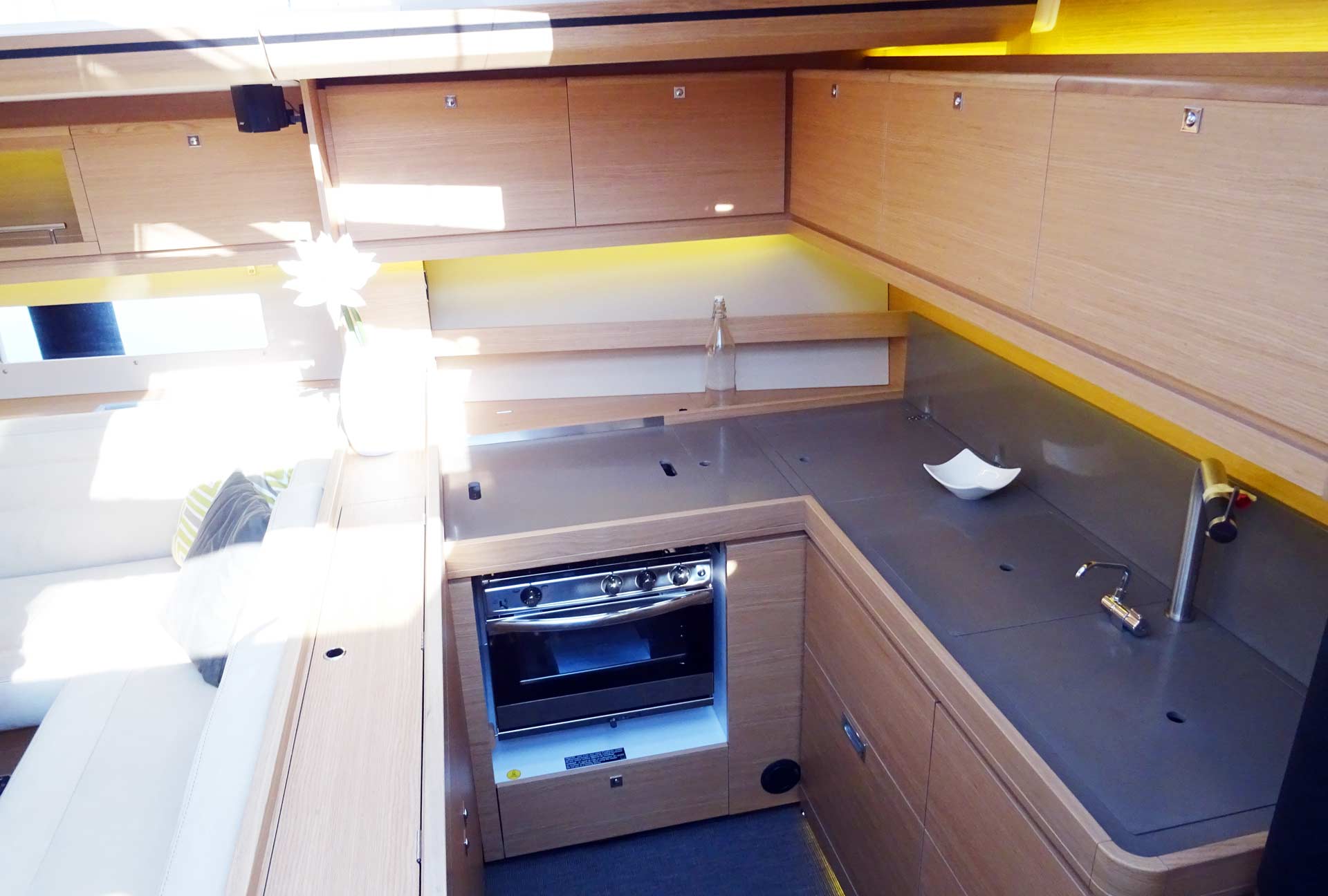 On the opposite side of the galley on starboard there´s another section, also segregated from the saloon by massive furniture. Here the crew finds huge fridges and a freezer, the notorious Nespresso-shelf (first thing to get rid of after buying one, replacing it by the good old fashioned Bialetti) and even more stowage. This galley composition is both huge, functional and modern, yet offers also classic safety features as the ship´s cook will be able to wedge himself in heavy weather.
Cabins and Berth Sizes on the Dufour 56 Exclusive
No doubt, on an 56 feet yacht there is more than enough room for crew, skipper and passengers. The boat is offered with 4 general layouts, all of which feature a 3 cabin configuration. The biggest is the owner´s cabin, of course. A large bed can either be placed along the longitudinal axis of the boat of to port side, as it was the case in the very ship I saw.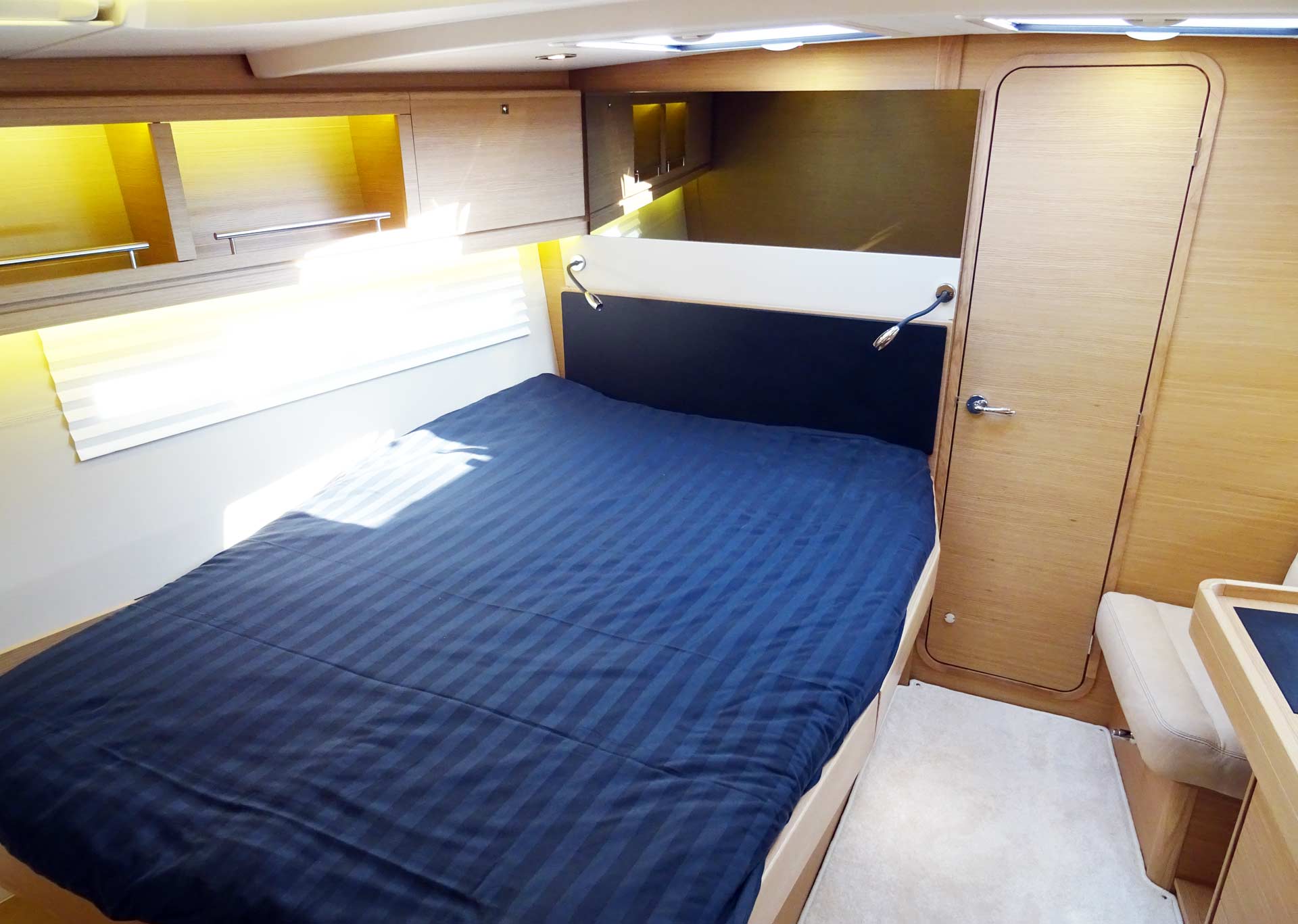 The boat could be fitted with a multitude of showers, heads and leaves no wish unnoticed when it comes to a suitable configuration for the yacht´s owners. Taking myself to the heads one is greeted by big enough, again light suffused interiors, big showers and a nice atmosphere. Long gone seem the days of cramped dark heads (as it is the case with my own King´s Cruiser 33).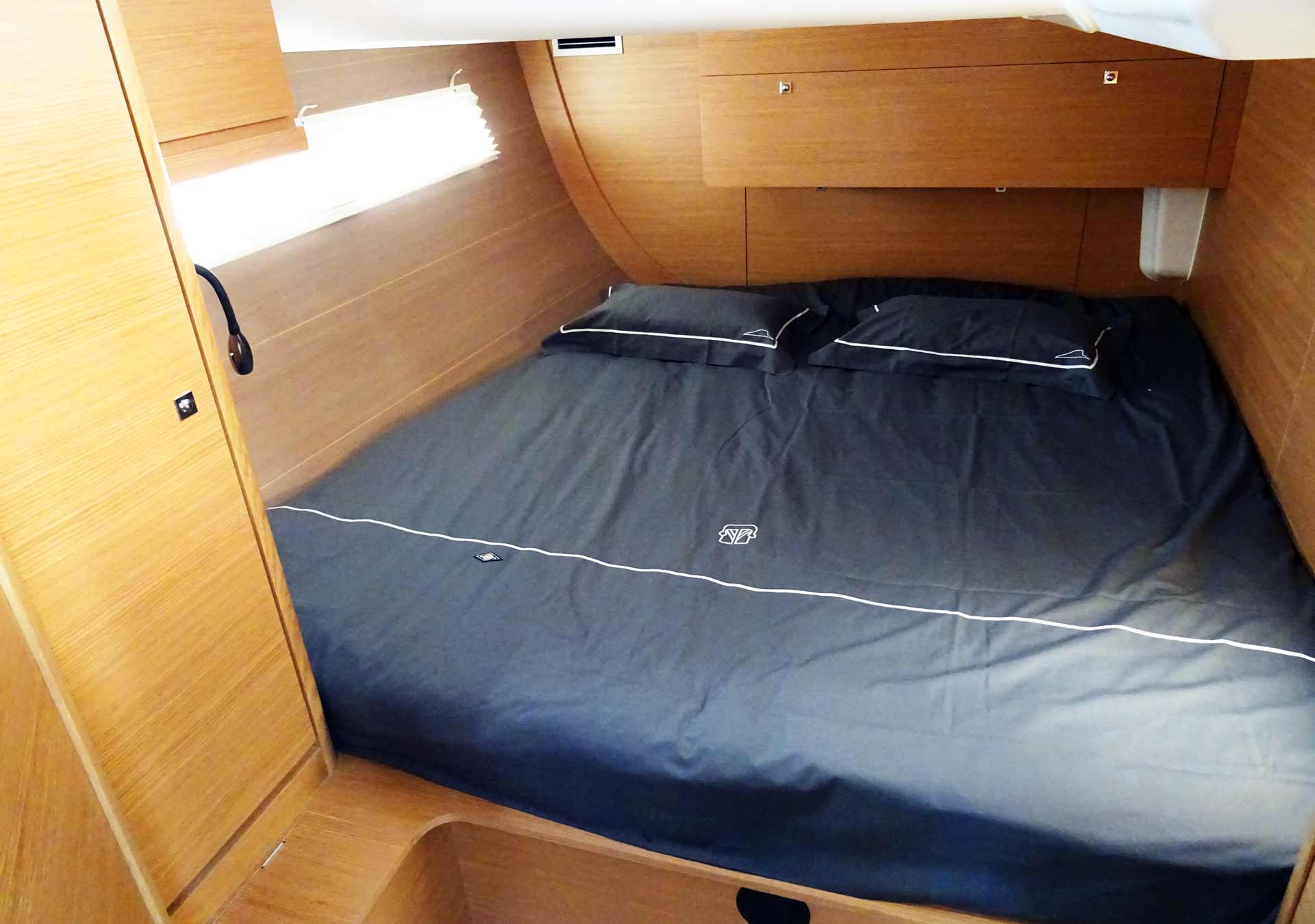 Going transatlantic or even round the world in one of these as part of the crew must be a treat. There is nicely done ceiling in either cabin, enough stowage and locker space for foul weather gear and personal belongings. I don´t know what to choose: Standing watch in the large cockpit at one of the two steering wheels, spend time in the galley preparing a meal for the crew or just taking a nap back in those cozy berths?
Definitely not a No Frills-Boat
This magazine is called NO FRILLS SAILING and this is what a Dufour 56 Exclusive is definitely not. She is a damn big boat bristling with electronic and electric gear and gadgets. I wonder I the French yard delivers an iPhone app all along the boat from which the owner could manipulate the dozen of lights: There is direct in indirect lighting virtually everywhere.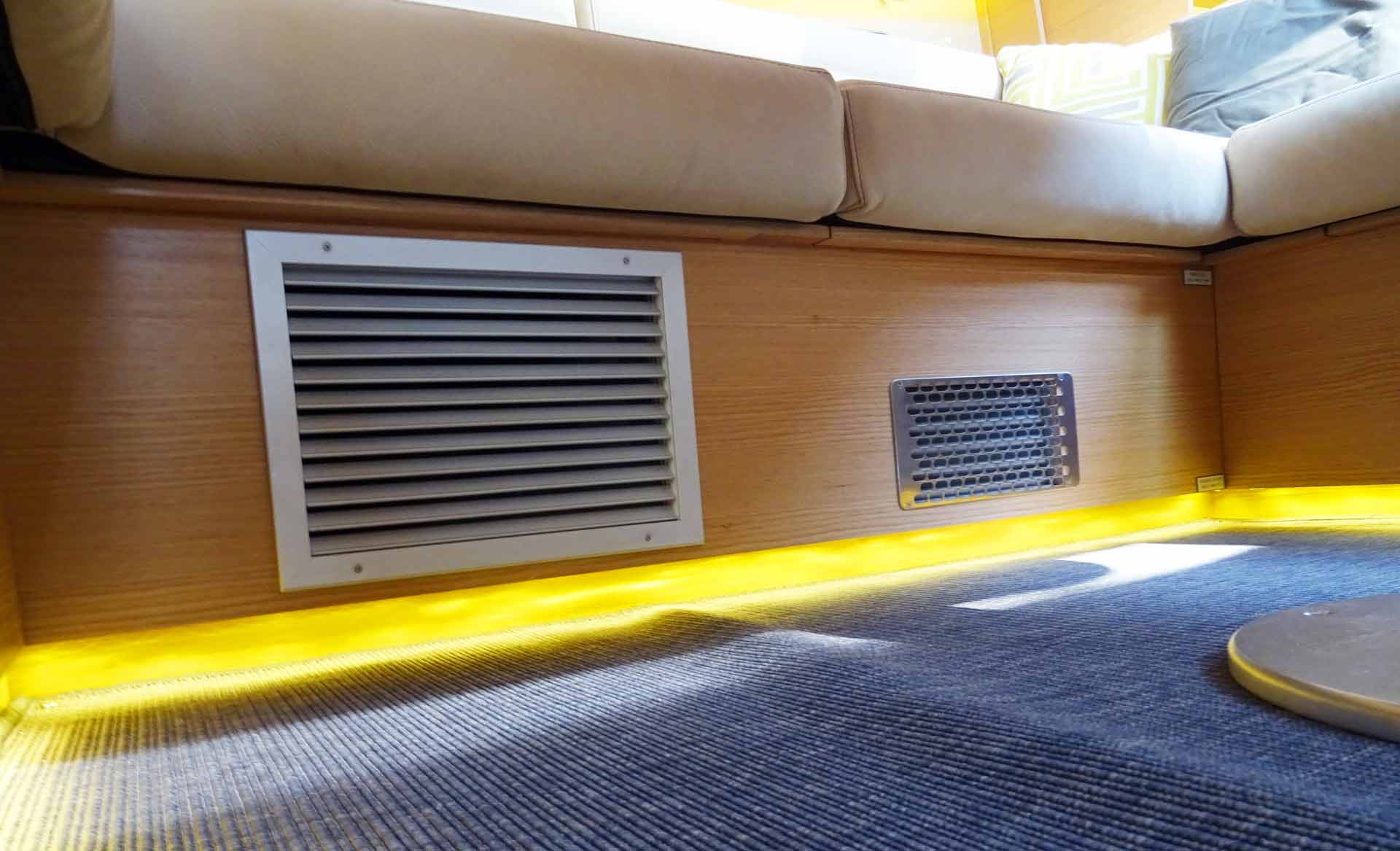 "Please save your personal lighting concept.", could be one of those features. And with a swipe on the phone the LEDs will create lighting matching my mood. Stuff like air condition (here in Cannes running all the time) and the big freezer/fridges must consume an awful lot of energy. I wonder if there´s a power generator down there deep in the hull …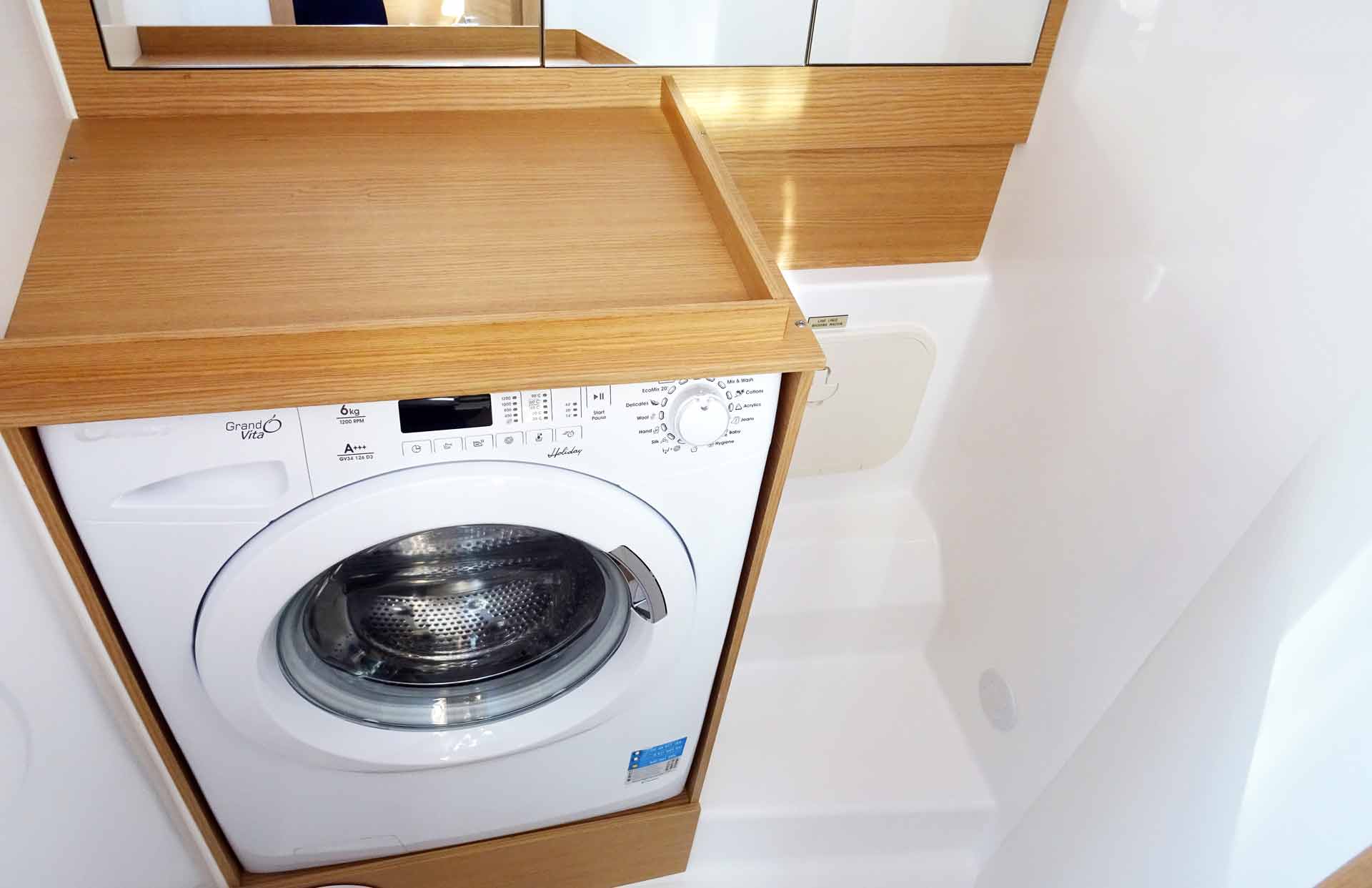 A washing machine is considered compulsory on yachts this size, was there a dryer too? I am fascinated by all the practical solution in this boat. Not because that´s the kind of sailing boat I would like to have by myself, but because it´s fascinating to see how designers and engineers react to the demand of the people. A washing machine. Jesus!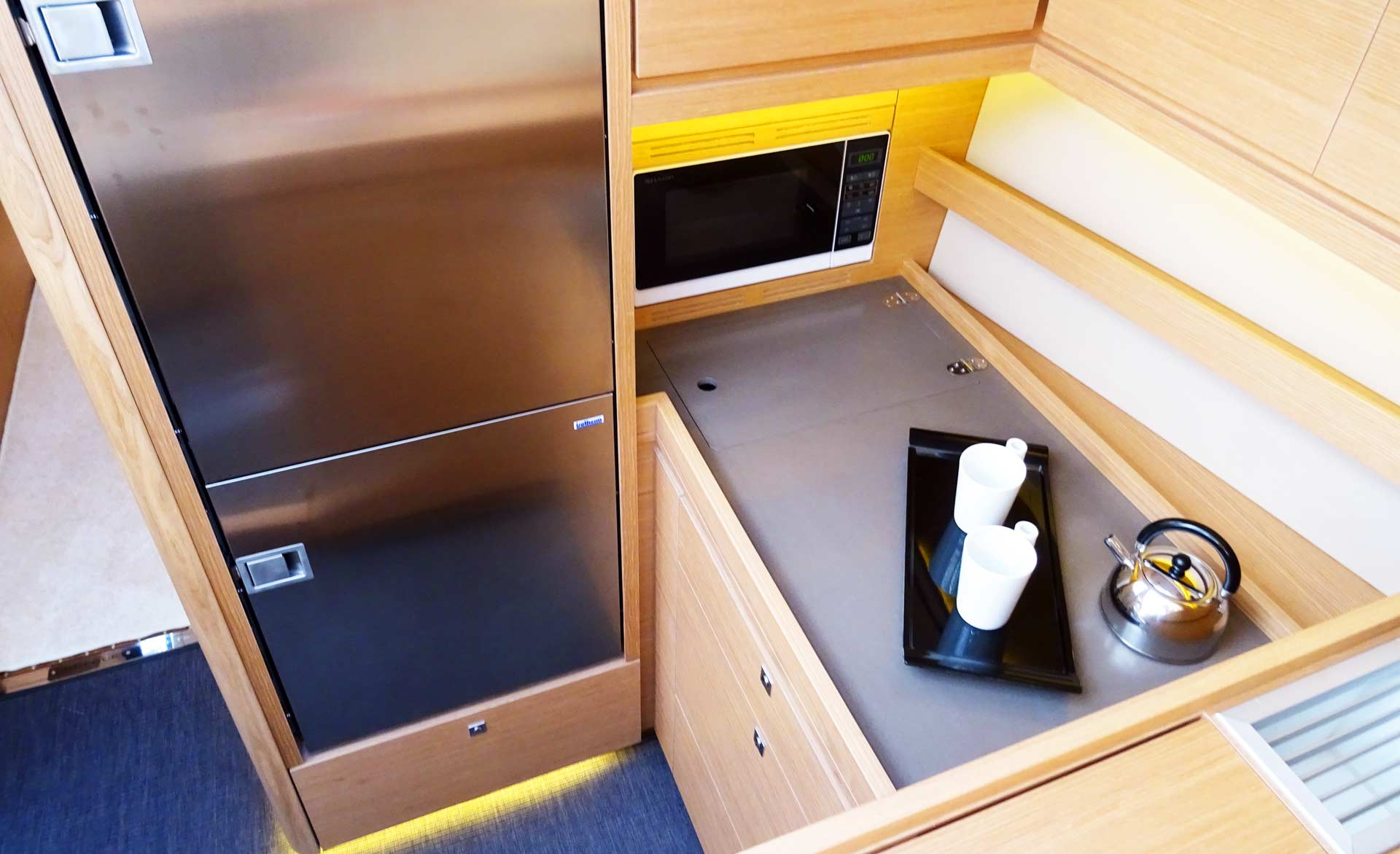 Well, there are some things I disliked as well. Most of all: Don´t put angled joinery on a boat! That´s definitely a no-go. To my surprise I notice here and there rectangular shapes. Apart from the fact that this is a potential source for injuries in bad weather and swell, squared corners are prone to wear and tear over time. On a boat up in the high class like this Dufour 56 I wouldn´t had expected to see this.
New Standard in Luxury Production Sailing Yachts?
But that´s peanuts, one could argue. This sailing palace is a marvel. I love her hull design, modern yet resembling the well known lines of Felci Yachts for Dufour. They added the distinct stripe in the hull which makes it appear even faster. Apropos fast: Looking at the Polar this boat promises to go as fast as 10.5 knots in a 20 knots wind reaching at 130 degrees. Would love to sail her by myself!
It will be interesting to see her impact on the market especially in comparison to the big, big boats built by Hanse and Beneteau/Jeanneau. Of them, the Dufour 56 Exclusive is in my eyes not only the most beautiful but also the most adorable sailing boat.
I am especially looking forward to the upcoming boot boat show in Düsseldorf in January 2017 where I will get to see the 56 again and – drums please! – the all new 63 Exclusive will be launched.
Interesting Articles on that Topic:
Visiting the Hallberg-Rassy 415 and 43
A no frills-sailing boat as well: The Pogo 40S racing yacht
Top notch performance cruisers: A day at X-Yachts in Denmark