This was one of the yachts I was particularly keen on taking a look at during Cannes Yachting Festival 2017 – not just because of my job but more because of the big talk that was going on prior launching of the all-new Beneteau OCEANIS 51.1 by the market leader. Since Gianguido Girotti took over Product Management of Beneteau early this year a massive re-design effort has been going on and there is virtually no yacht of both sailing and motor yachts that won´t be affected. The new OCEANIS 51.1 is the latest launch of the French yard and there is one detail I found particularly interesting: The hull design with chines.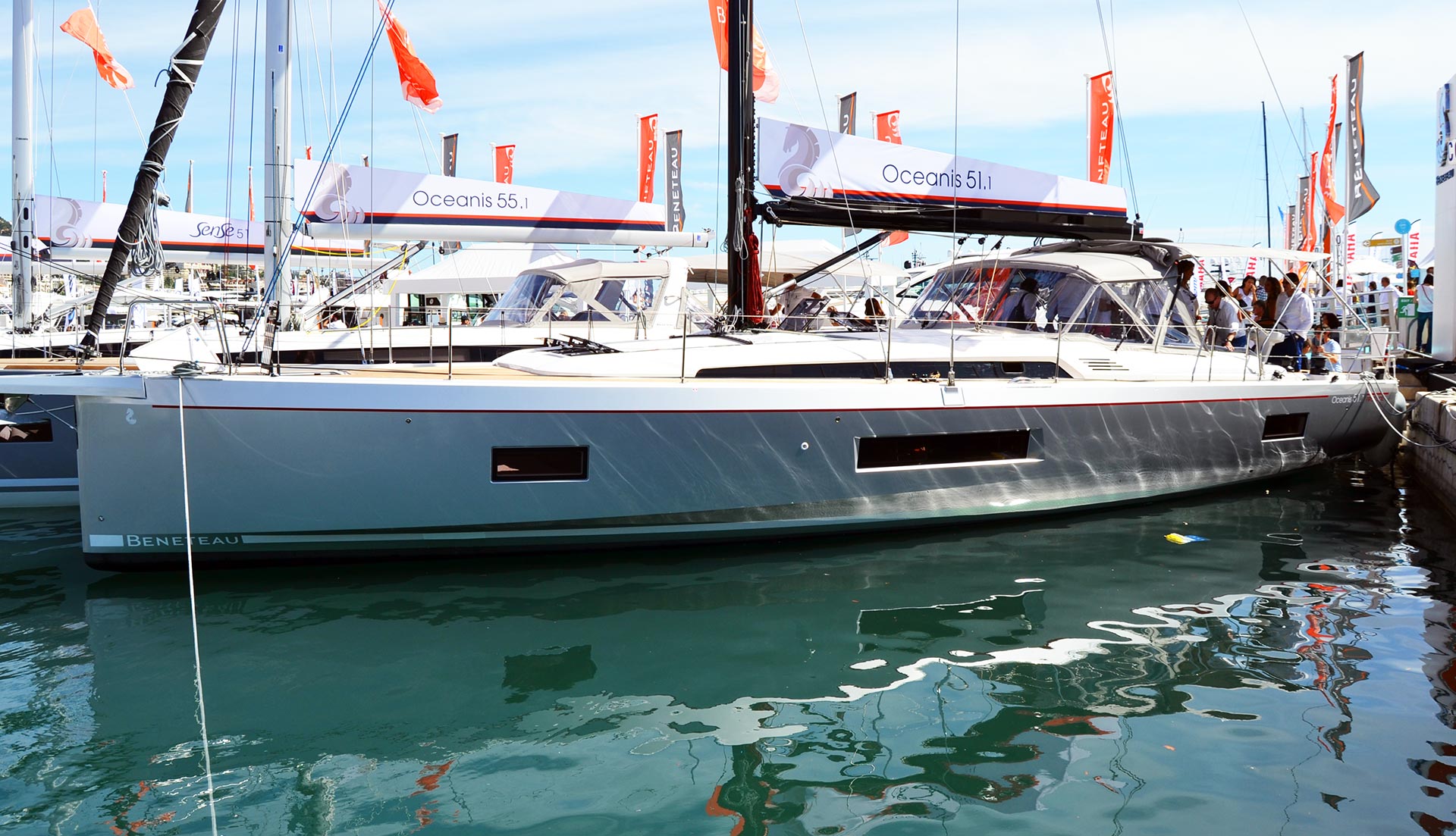 Well, chines are around in yacht design since decades now and there are numerous designs out there but as far as I know there is no yacht at all that bears the OCEANIS´s chine-configuration: Take a look at her bow and you might notice that the chines are setting in right behind the stem and go along all the freeboard to the stern. I was lucky to grad Damien Jacob, Product Manager at Beneteau and one principal figure in the OCEANIS 51.1 design team who was cheerfully answering my questions about this unusual chines-design.
Talking to Damien Jacob of BENETEAU
Lars Reisberg | NO FRILLS SAILING.com: "Damien, first of all thanks for taking your time to answer my questions. As we are standing here in front of the freshly launched OCEANIS 51.1 people all over the place are talking about these chines. What was the general intentions of Beneteau to fit the new yacht with those massive chines?"
Damien Jacob | Beneteau: "Well, first of all the whole project team sat together and was brainstorming. You see, at Beneteau we have a design team, the "racing division" responsible for example for the new FIGARO 3 as well, and these designers proposed the idea of pronounced chines. This idea is an old one of course, but we wanted to do something fresh, like seen on the RAMBLER 88 for example. As Beneteau always tries to do appealing boats, this design looked very interesting and tempting."
NFS.com: "So it was a decision driven by aesthetical reasons first?"
Damien: "At first yes. See, the OCEANIS – the most successful cruiser in the world now in her fourth generation – has always been offering lots of comfort. So by adding these chines we achieved again an increase in internal volume which can be seen best in the owner´s cabin in the forepeak. At the same time we didn´t want to make any compromise on her sailing characteristics – you see, there have been no less than 30 different hull design variants before we finally got to this design."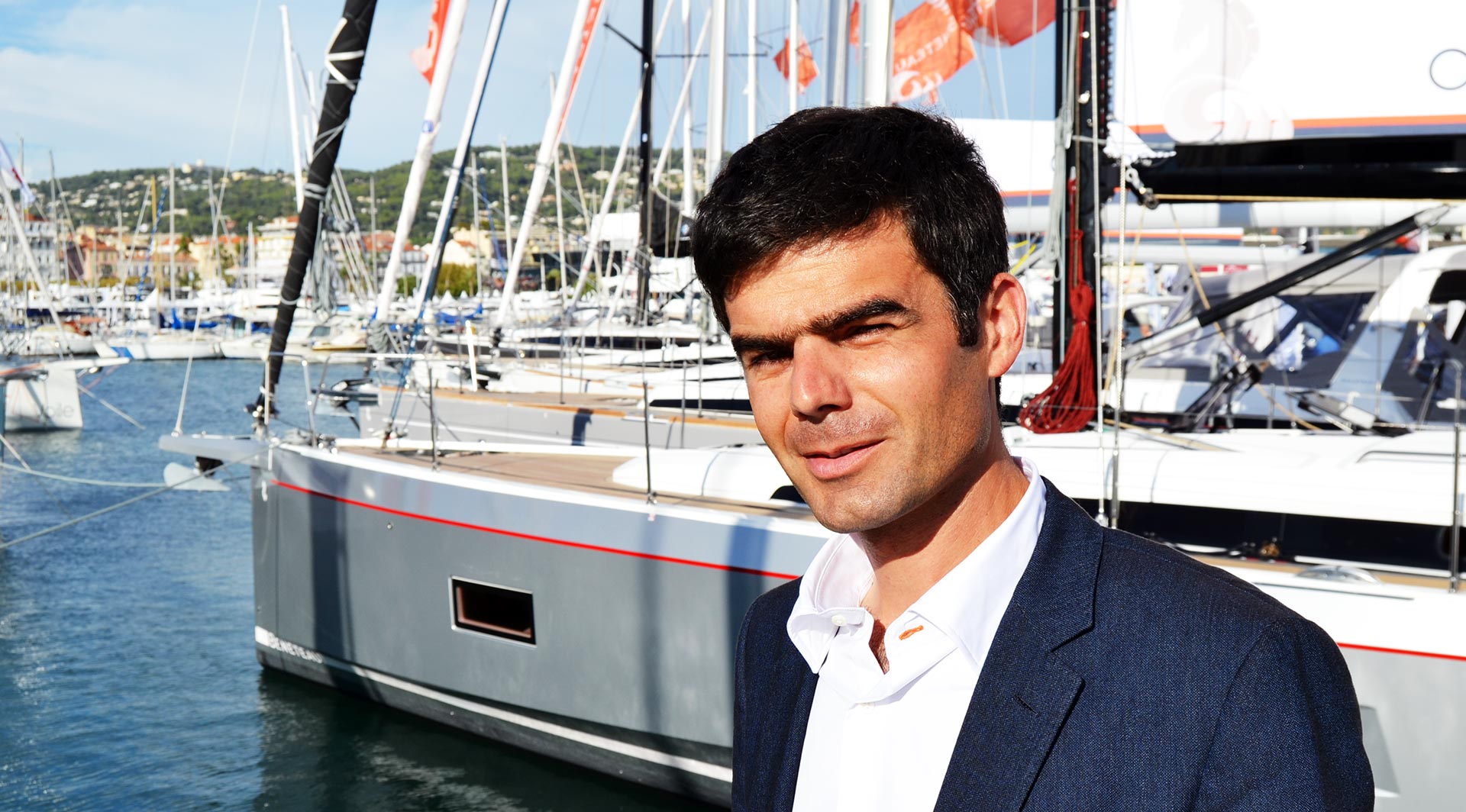 NFS.com: "30 iterations is a lot!"
Damien: "Yes, it is. If you place the chines too low the boat won´t sail good. If you place them too high there won´t be any increase of volume. In the end I think we found the best possible design and achieved an incredible increase of 40 centimetres in width at both sides. That´s an enormous plus in volume!"
NFS.com: "The L-keel standard version of the OCEANIS 51.1 has a weight of some 3.400 kilograms. With a ship´s complete weight 13.000 kilograms that´s a ballast-weight-ratio of slightly less than 24 per cent. On my King´s Cruiser 33 I do have a ratio of some 50 per cent. What´s the modern interpretation of stability in this matter?"
Damien: "I would say you cannot compare these two yachts. The modern hull shape is a very different one than the round-chined older IOR-yachts you are talking about. Modern yachts are much, much wider and therefore create a lot of stability by their form. That means you do not need too much weight in the keel bulb. The equation sums up to a simple "more form stability – less weight in the keel = same righting moment" nowadays. That´s why we need significantly less ballast than your yacht does. Besides, as an officially CE-certified yacht there is no need at all to worry about the ballast-ratio."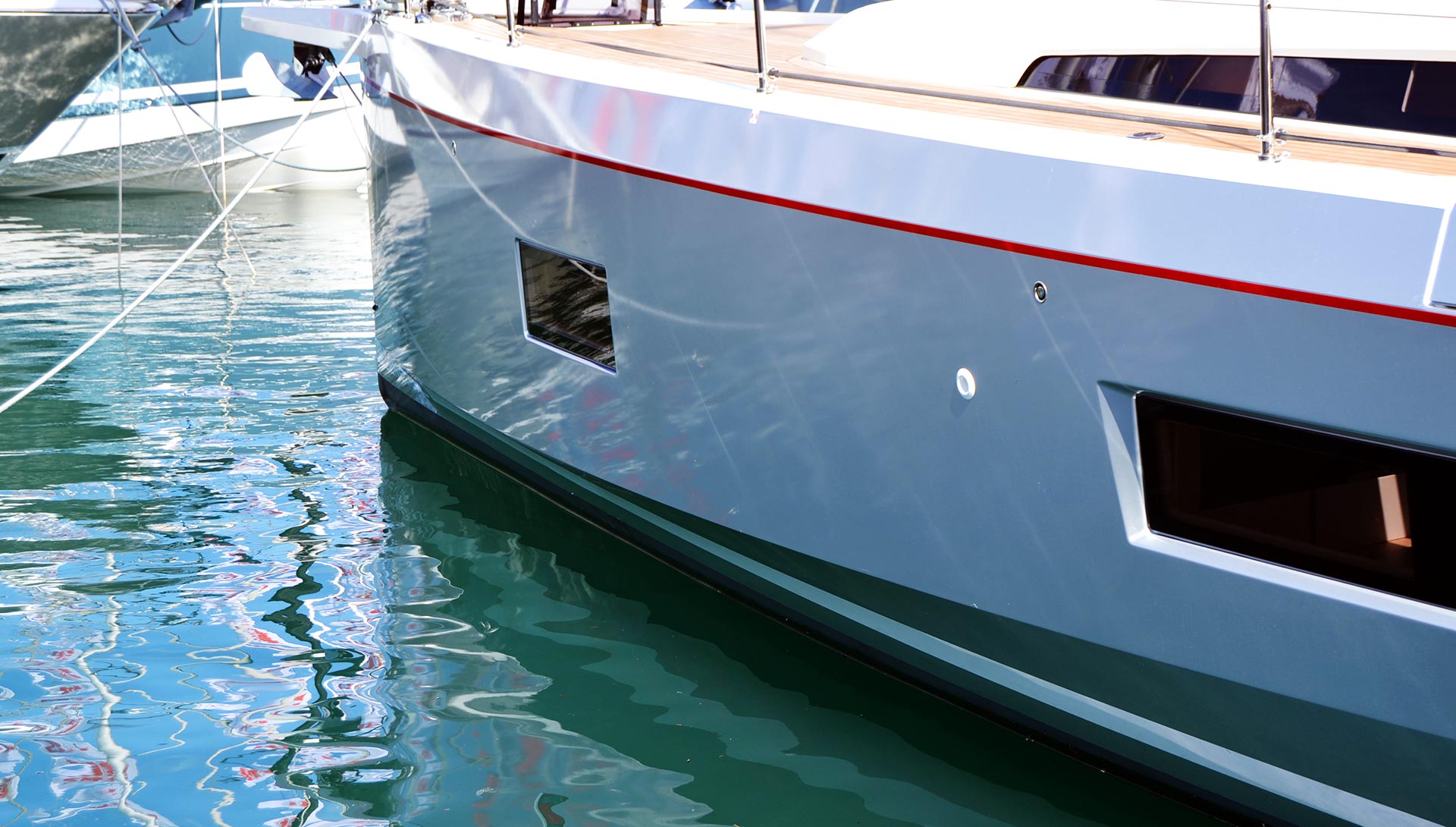 NFS.com: "We´ve talked about interior volume a lot, but I am more interested in her sailing abilities: What can you tell me about the OCEANIS 51.1´s speed under sails?"
Damien: "She is an exceptionally good sailing boat fur sure! Of course, still a cruiser with an emphasis on comfort and easy handling. Nowadays people avoid going upwind. This is a fact – they try to sail the smoothest points of sail, that said, we try to optimize the yachts for beam and broad reach. And believe me, on 90 degrees TWA this yacht is just flying, even in heavy winds! But she will also achieve a decent speed going upwind – lately we had her in 12 to 14 knots TWS and did nice 7.5 knots close hauled, which is a superb result. When easing just a few degrees, say 5 to 8 to leeward, she jumped to 8.5 knots. I think she has a nice potential to go fast for sure!"
 "There have been 30 design iterations for the new OCEANIS 51.1 hull."
NFS.com: "So we can expect the new OCEANIS 51.1 to take up the cruising legacy of the CLIPPERS as fast, reliable and specious boats for the long travel?"
Damien: "I have no doubt about that! At Beneteau we always try to be at the forefront of naval architecture. I am sure the new OCEANIS line, starting with the 51.1 but also with her larger sister 55.1 and all the upcoming boats will be as exceptional and successful as her predecessors. She is, from my point of view, a perfect cruising boat."
Thank you Damien!
When I was later roaming the boat to see by myself where they´ve made it to gain such a huge volume (and honestly, this boat really offers space beyond comparison!) I took a look into the chain locker where I could see first hand what the secret of this yacht was …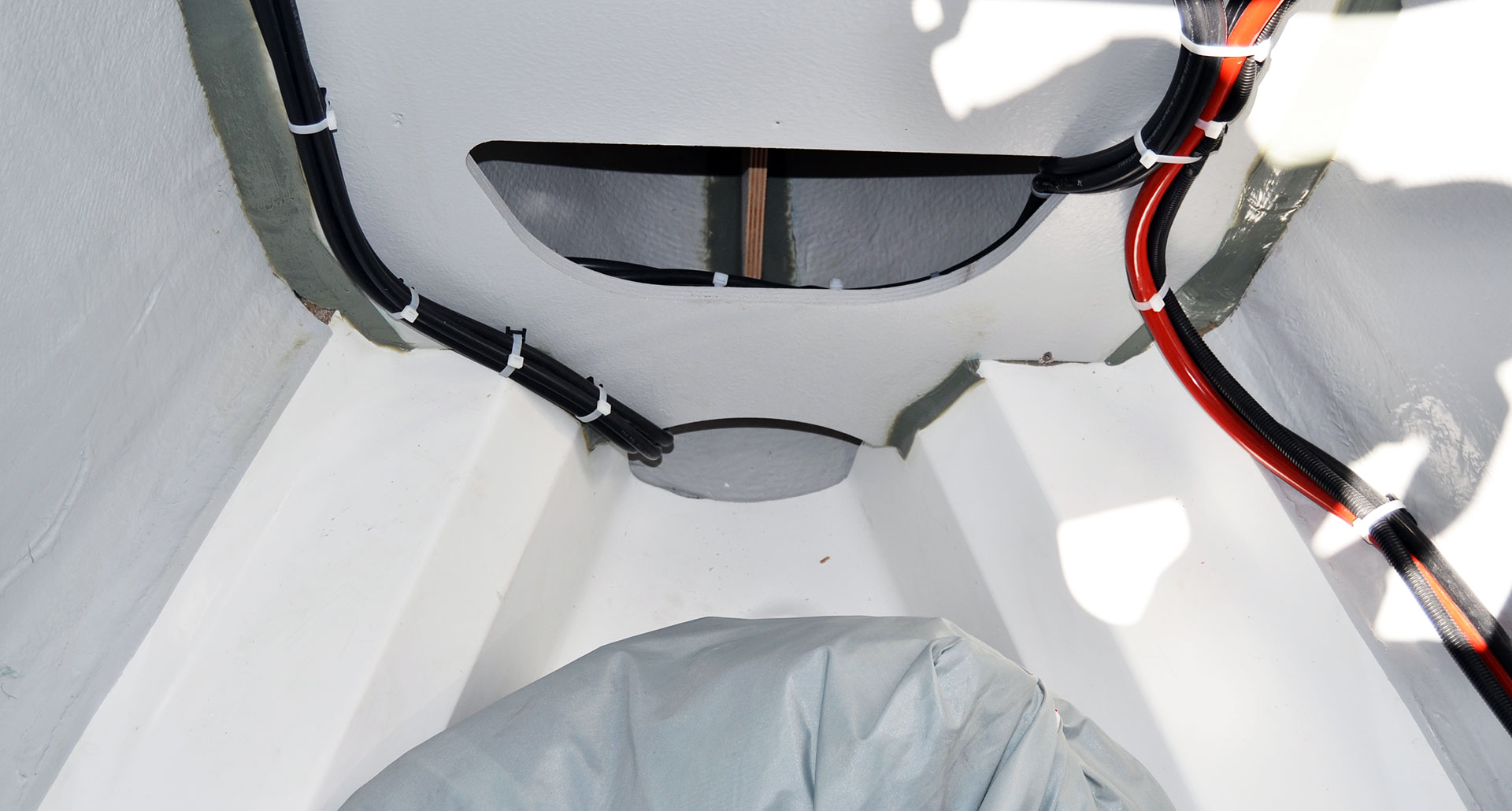 The hull itself when it comes to wetted surface is rounded and slightly V-shaped. Just some centimetres above the waterline the chines set in. Here in the anchor and chain locker one can directly see the result: Large voluminous parts of the hull are "created" with some 40 centimetres to either side of the boat. I can also imagine that in a breeze, when this boat starts heeling, these large chines will provide for smooth directional stability – I´d love to sail her one time! Now let´s see if Damien´s promise of big internal volume was honest.
Confirmation: Checking the Owner´s Cabin Size
By checking the size of the cabins I need data to compare it with. So I went into the Beneteau SENSE 51 which is marketed as a luxurious and spacious cruising boat. I also heard one of the Beneteau Dealers at the Boat Show advertising this yacht as being the "monohull between the multihulls" for her large sized saloons and cabins. So I went aboard and got straight into the front cabin. It was reasonably sized for sure.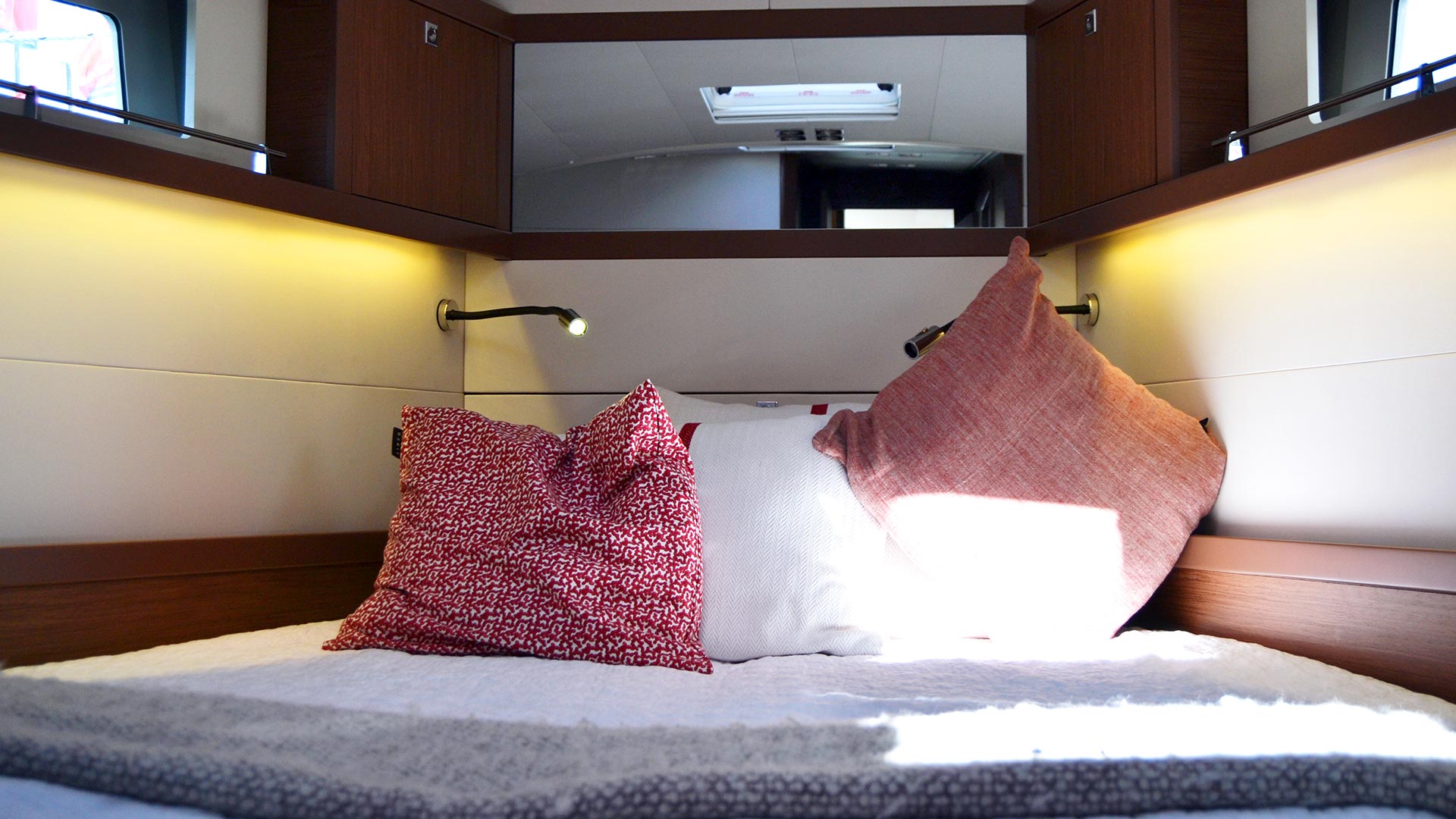 A large island bed, plenty of stowage and nice portholes for lots of natural light. I personally wouldn´t have fitted her with such dark timber but that´s a question of taste. For a 51 feet yacht, the SENSE´s front cabin seemed pretty sufficient. Then I changed the boat and aimed for the new OCEANIS 51.1 – and guess what, by direct comparison the difference couldn´t have been much bigger. With one word – the fron cabin of the OCEANIS 51.1 is just awe inspiringly huge! I would dare to state that the width of the cabin right at the bulkhead appeared to be doubled!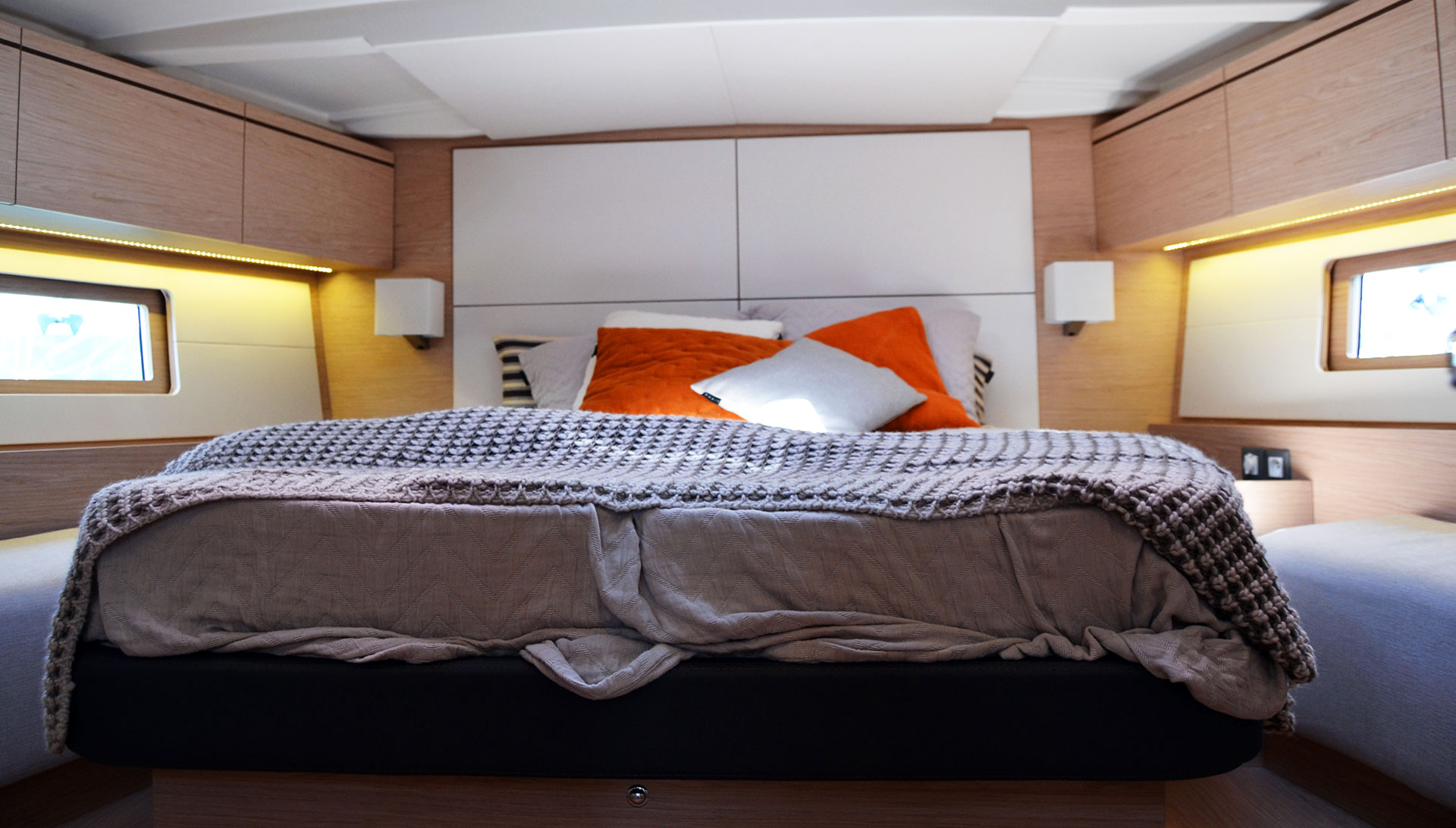 So this is the outcome of adding chines starting right at the stem going back all the way to the stern. The OCEANIS 51.1 offers a grade of internal volume I honestly haven´t seen on other yachts this size so far. By talking to journalists who sailed the boat I´ve got an overall confirmation of Damien Jacobs statements about the sailing abilities of the new Beneteau. In the end, this yacht finally really is something new at the show and judging by the crowds of people constantly forming newer and longer queues to get inside Beneteau seemed to really have landed a big punch.
You might also be interested in these articles:
Talking a Scandinavian Approach to Sailing with Magnus Rassy and Niels Jeppesen
Yacht Interior Design as seen at the BOOT in Düsseldorf – Part 1 and Part 2
Desgning a new fore cabin for my King´s Cruiser 33