It´s some three years since Beneteau introduced the new Oceanis Yacht 62 and has since then stirred up the +60 feet-class. This boat was and still is polarizing with its unconventional, modern and one-of-a-kind design on the one hand and despite this, the yacht has set a new benchmark for production brand flagships with an extraordinarily low entry price of 730.000 Euros ex VAT. One of my followers once commented: "She is certainly one of the most interesting production boats around 60 feet currently on the market." And she has indeed stirred up the market: The boat has been built more than 40 times since the launch in 2016.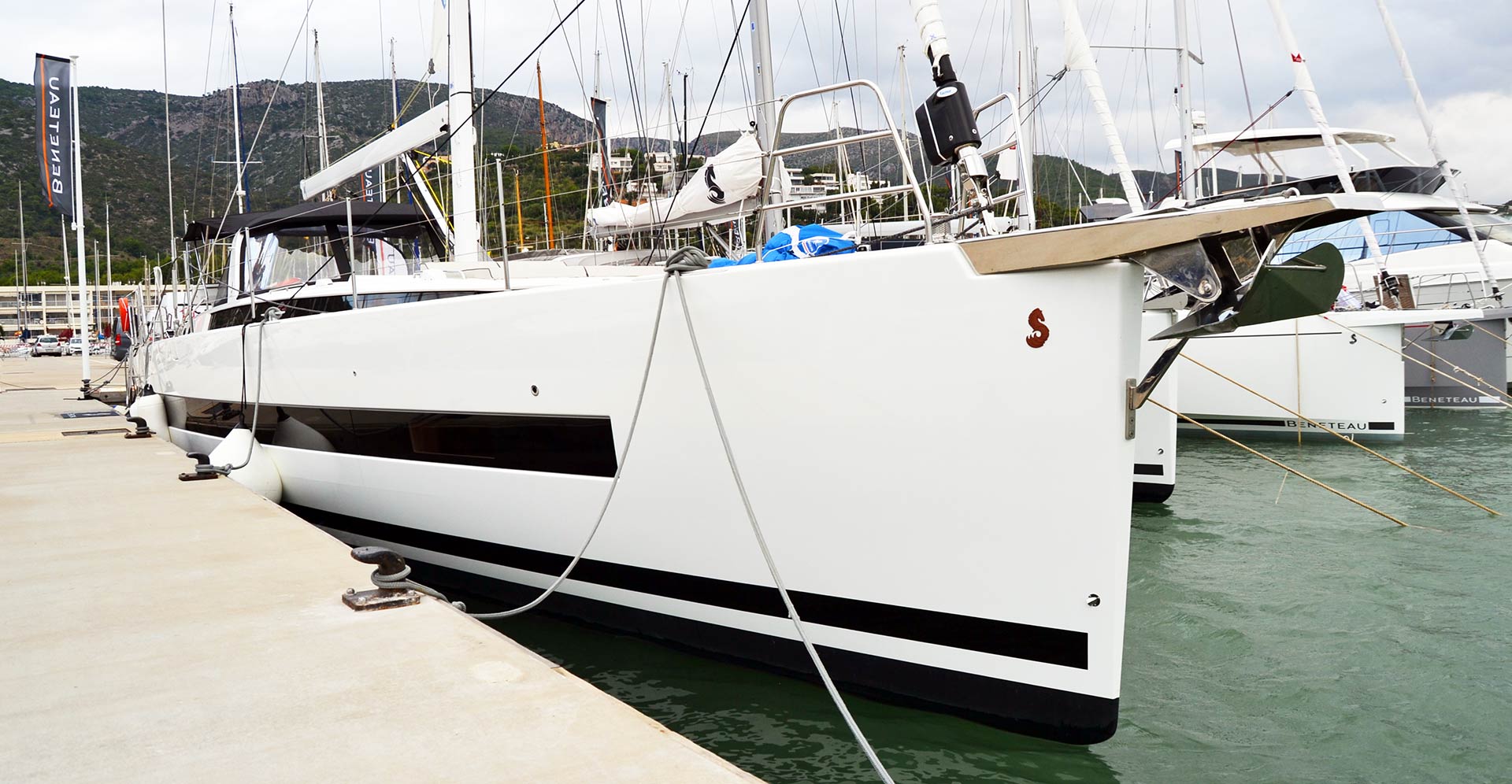 Last week during my visit in Spain to the new Beneteau Sae Trial Base at Port Ginesta I did not just had the chance to test-sail the new Oceanis 46.1 (read the full article here) but as well to have a couple of hours under canvas on this elegant yacht. At last, I might add, because it is almost exactly two years since I´ve paid my first visit to the boat when she was mooring at Ile des Embiez and I sneaked aboard to make a full walkthrough article in her fine interiors.
The Flagship of Beneteau: Oceanis Yacht 62
The Oceanis Yacht 62 is a pretty impressive hulk: As she is mooring along the pontoon in Ginesta I am awed by her sheer size. In sheer numbers that´s 19.16 metres length over all, 5.33 metres max beam and a max draft of 2.98 metres. The height of her mast above water line is 27 metres. Walking towards her I instantly notice the large bathing platform, which folds down and opens up a proper dinghy garage where a well-sized JetTender would fit in with ease.
Speaking of Garages: Back the year talking to Clemence Bercault who is in charge of the Oceanis boats up until 46 feet, he told me that Beneteau is very strict with tender garage. They would only do one in boats larger than 50 feet because, as they say, if done on smaller boats, both the size of the garage will suffer as well cost valuable space inside of the aft cabins. And this wouldn´t serve anyone: Smaller cabins and tiny dinghies is not what they want to sell. But back to the flagship.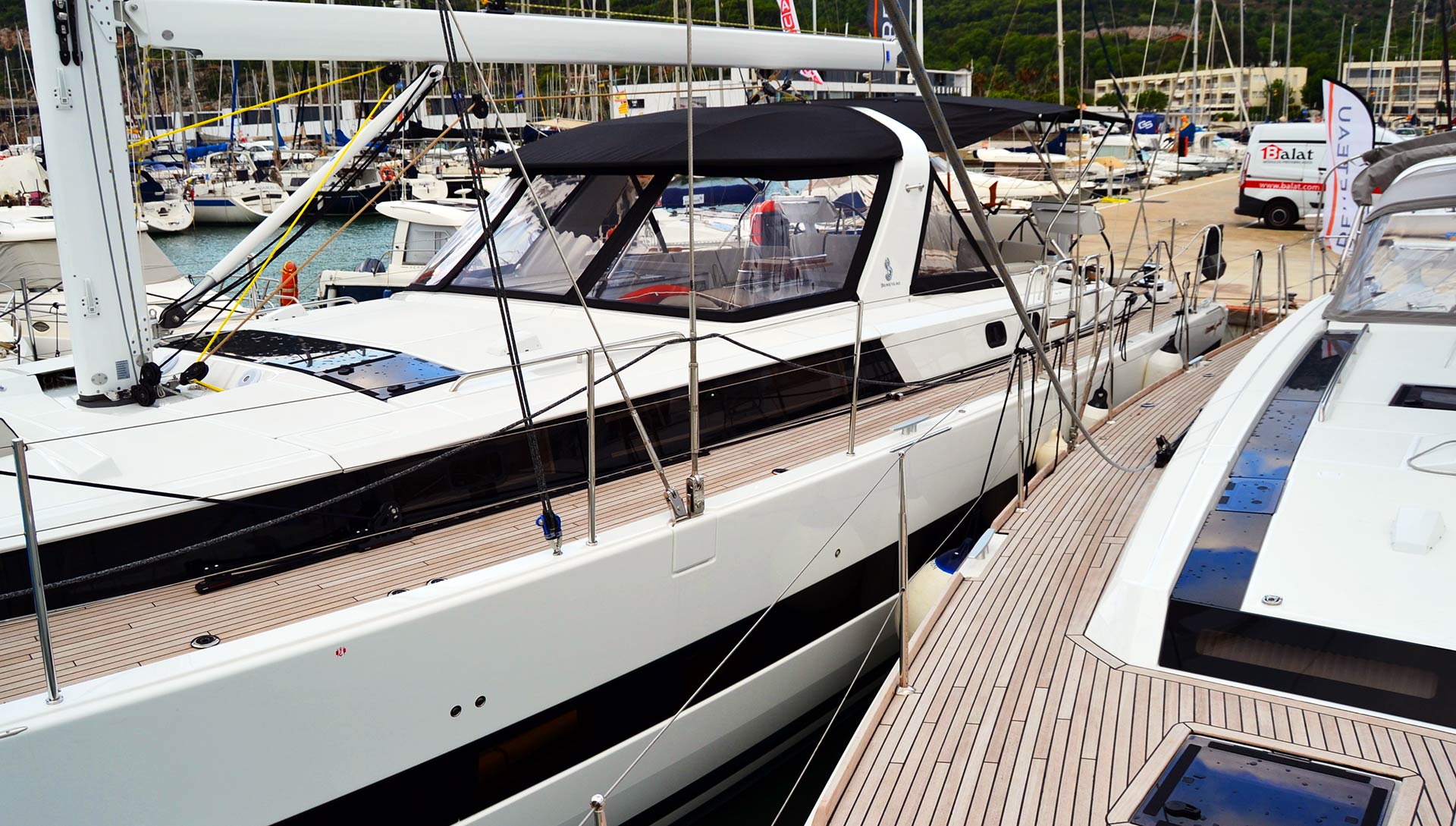 "My" version featured a plain white hull, Teak both on decks and in the cockpit and a very, very neat looking sprayhood and bimini. Of course, as it is the signature of Beneteau if you will, the flagship herself featured the mainsheet arch which in this yacht isn´t just huge but also very nicely designed – especially with no sprayhood and no bimini attached.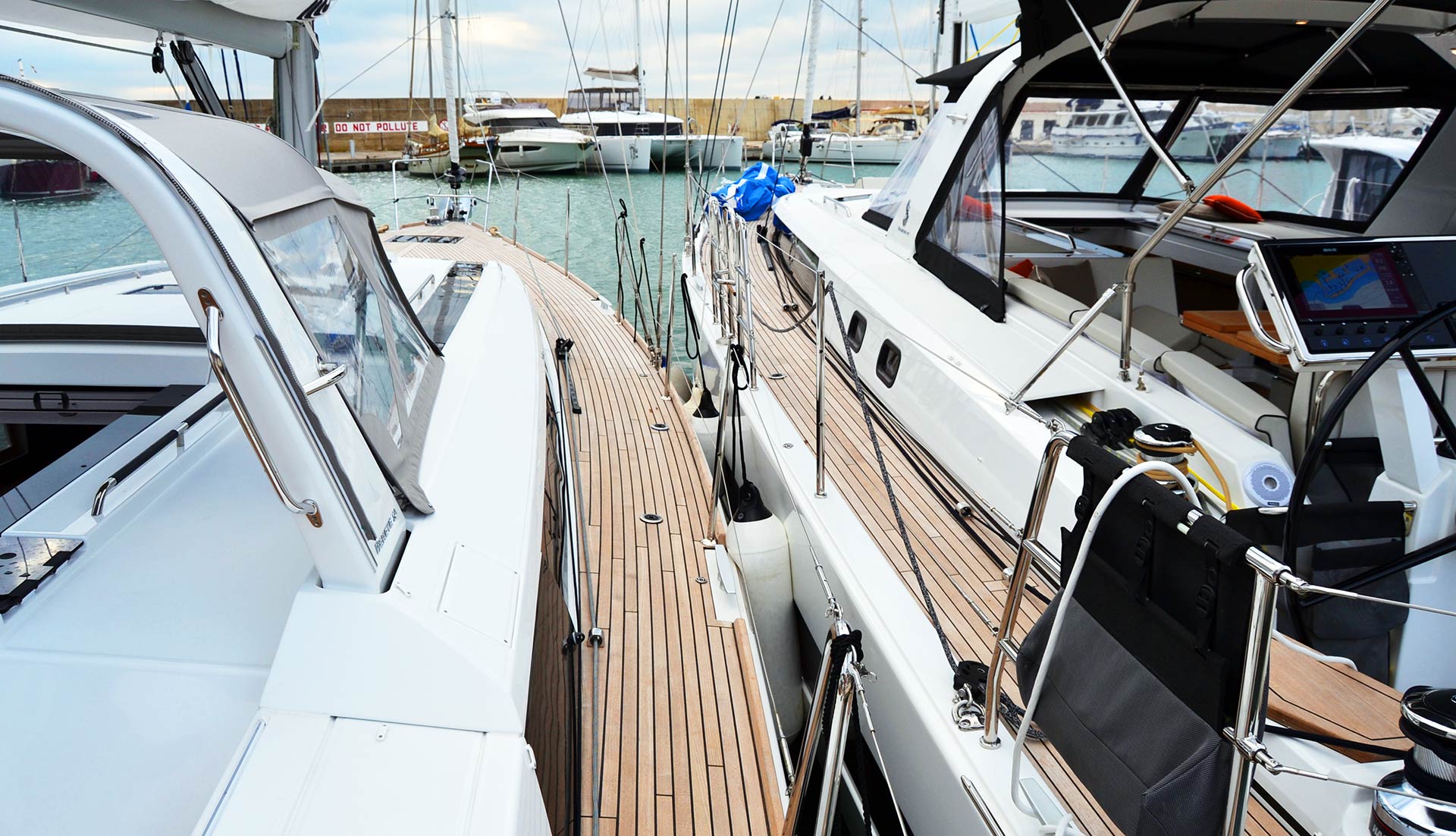 The Oceanis Yacht 62 is a cruiser compared to the Oceanis-family: Moored alongside the Oceanis 55.1 that herself is a proper blue water cruising yacht capable of easily circumventing the globe the 62 was making a pretty tough impression. I was very much excited to see how this boat sails, how she behaves in slow manoeuvring speeds and how she would perform as she would be the biggest boat I was sailing to this date. Let´s cast off then!
Sailing the Beneteau Oceanis Yacht 62
It was a no-brainer, I can tell you! The Oceanis Yacht 62 is equipped with a mighty powerful bow-thruster and a retractable stern thruster. Casting off was a matter of a minute and two buttons to be pushed. Gently coming off the jetty and being pushed by the 160 horse power Yanmar engine (which by the way wasn´t barely noticeable, well insulated!) the yacht was quickly steaming out of the harbour.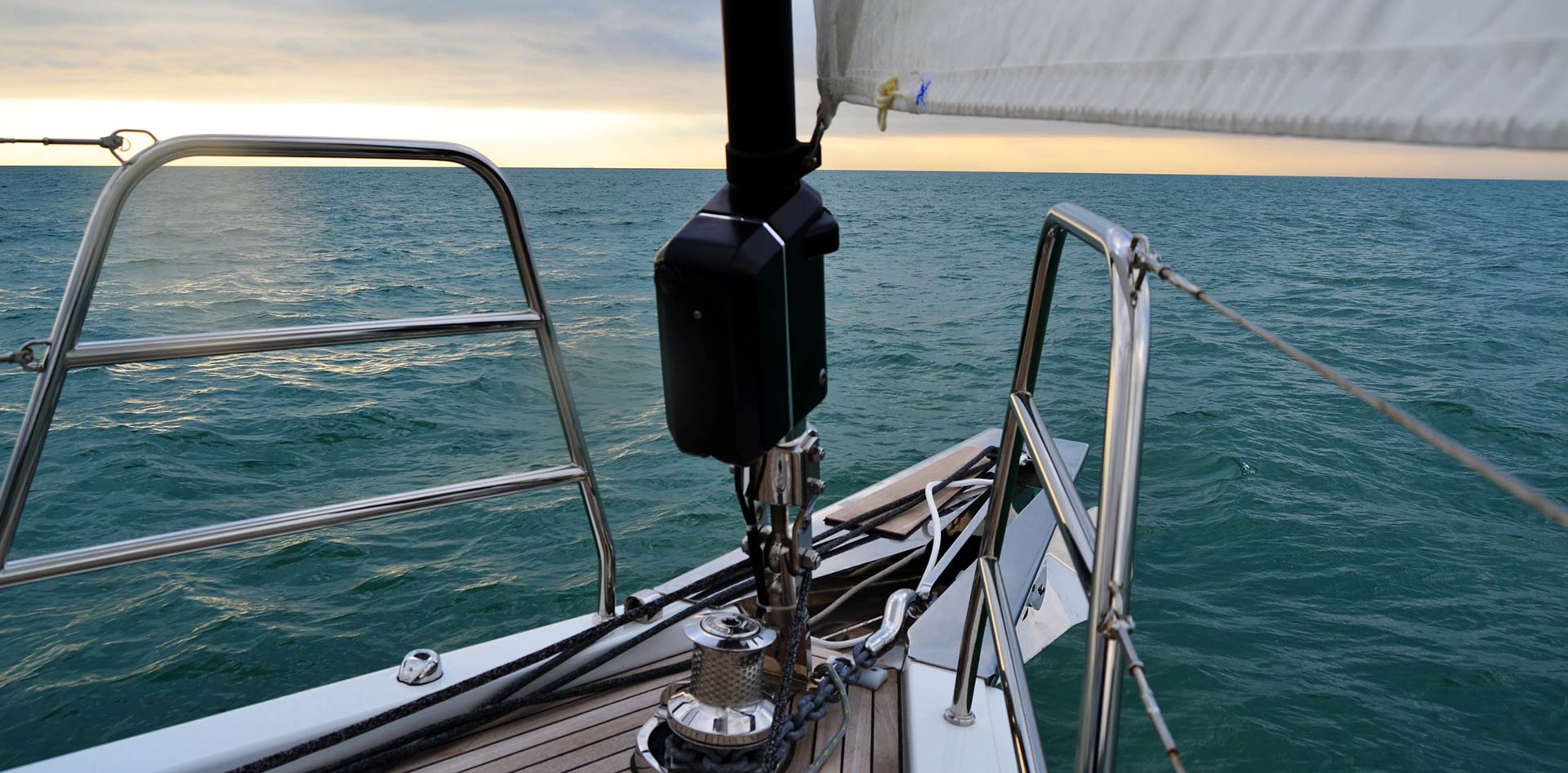 The mighty Genoa with some 88 square metres of canvas was coming out gently – the powerful electric furling system worked without any glitches. Same goes for the mighty halyard winches, of course electric too, that hoisted those nicely cut 95 square metres of the mainsail with similar ease. With both sails up we beared away and the boat heeled gently only a few degrees to leeward and increased her boat speed. Instantly. What I found especially enlightening was the gentle, very, very gentle motion of the boat in the large swell we´ve still had from the previous days with winds of up to 30 knots.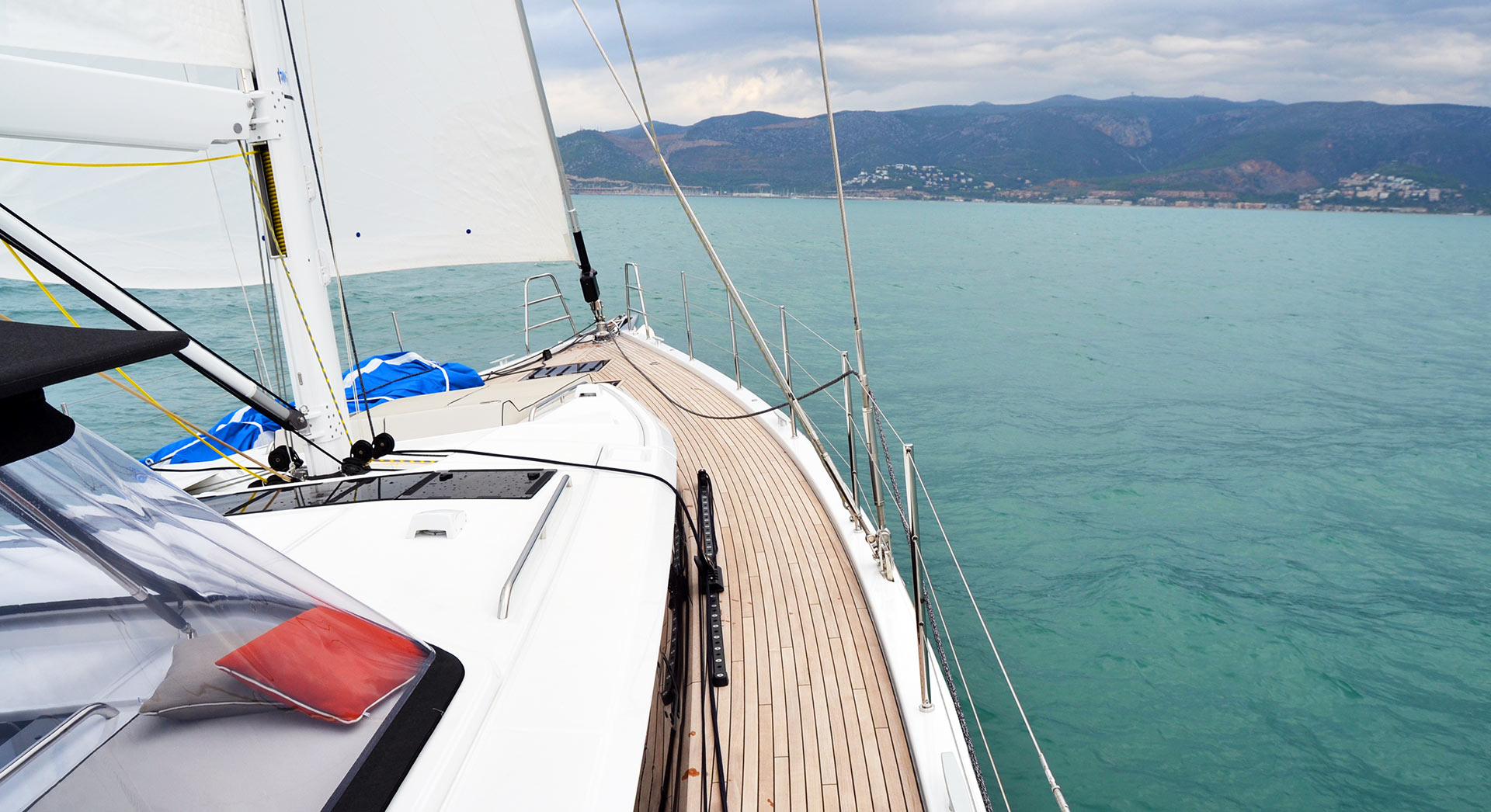 Trim of the sails is a no brainer as well: As every sheet has it´s own winch, the simple push of a button has the winches tightening or loosening the lines. That´s effortless sailing and many people would that find very impressive.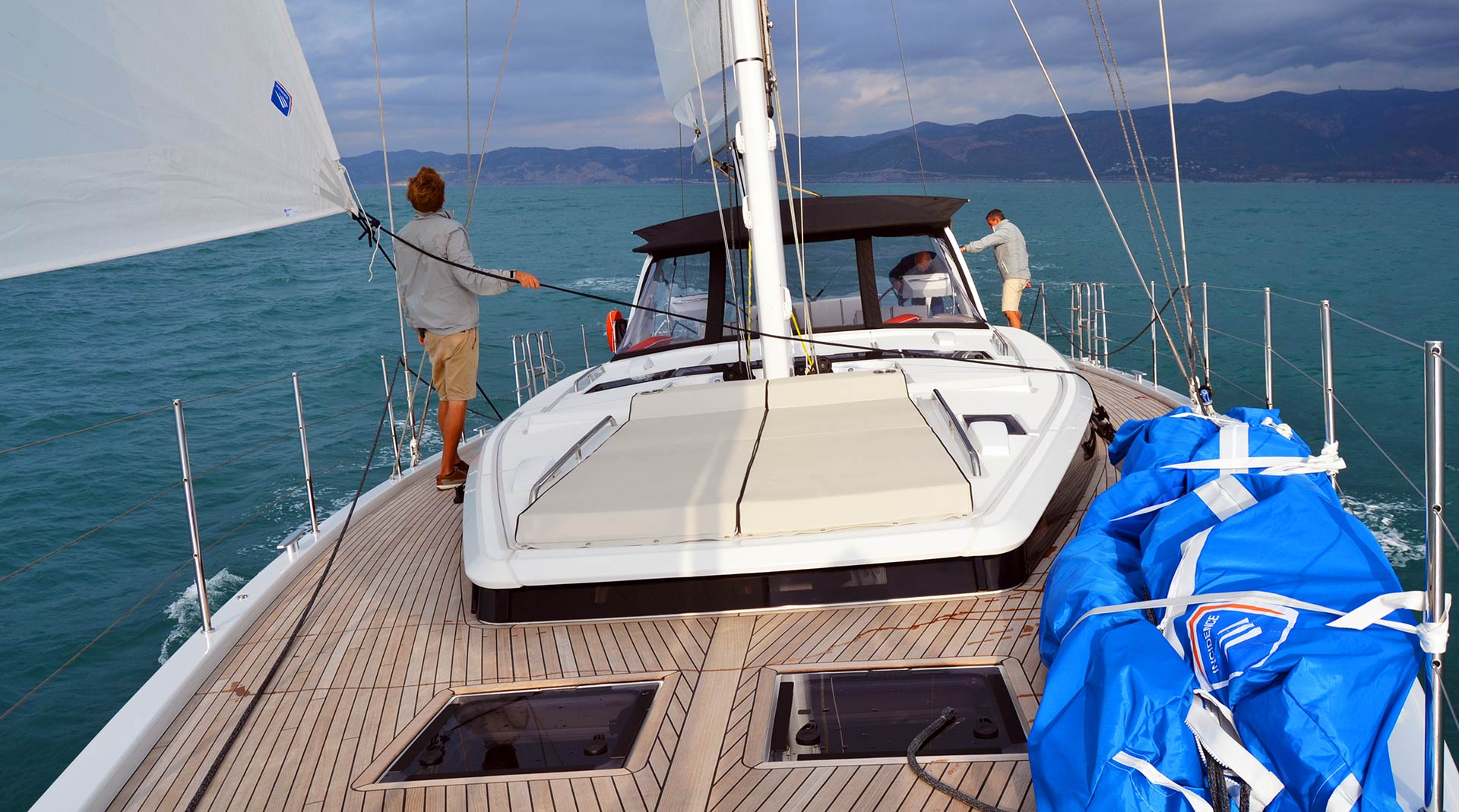 The Oceanis Yacht 62 is surely not a boat primarily conceived to be a circumnavigator. This yacht is made to ensure easy sailing for the skipper and the crew as well as a maximum level of comfort for the guests. There are so many places to catch a nice sunbath – before the mast, to either sides of the entryway of in the cockpit. Everything you can imagine is moved either by electric power or by hydraulics. This, surely, comes with a price tag.
The powerhouse of the Oceanis Yacht 62
Nevertheless, her sailing abilities really impressed me. We of course sailed the boat on either tack to check her performance on every single point of sail. So we began with having her close hauled in light wind conditions (certainly a Code 0 or a Gennaker would have been the better choice, but we sticked to the standard canvas) and worked our way through all points of sail. So, how did she perform?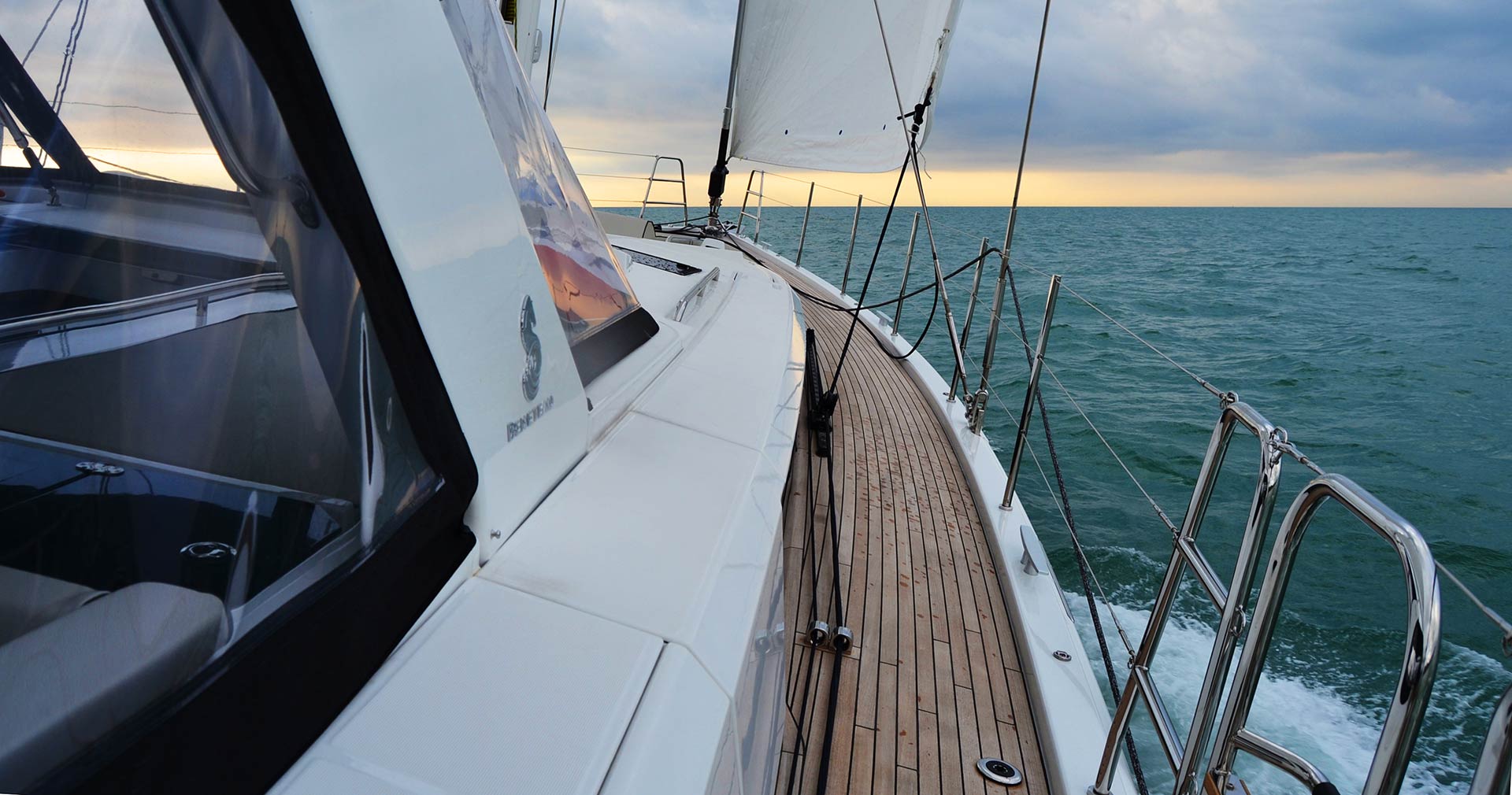 With a wind speed of 10 to 13 knots true we exceeded the 7 knots-mark every time just seconds after the sails had been trimmed to the new point of sail. That said, I took a note at apparent wind angle of 80 degrees, which could count as beam reach, and the boat did move as fast as 7.6 knots over ground. On another occasion, wind increased to 13 knots true, we had the sails sheeted a bit tighter to fit a near-close hauled point of sail and we had her making a nice 8.3 knots over ground.
That said, I tried the helming positions behind the large steering posts. Of course our boat was fitted with carbon-wheels. If I would have been the owner, for sure, the sprayhood would have been taken down, nevertheless, still having it up, I enjoyed a decent view through the plastic material. Yes, it´s a big son of a bitch, this boat and it takes some time to get accustomed to her size. But the ever so gentle motion is an instant reward for sure.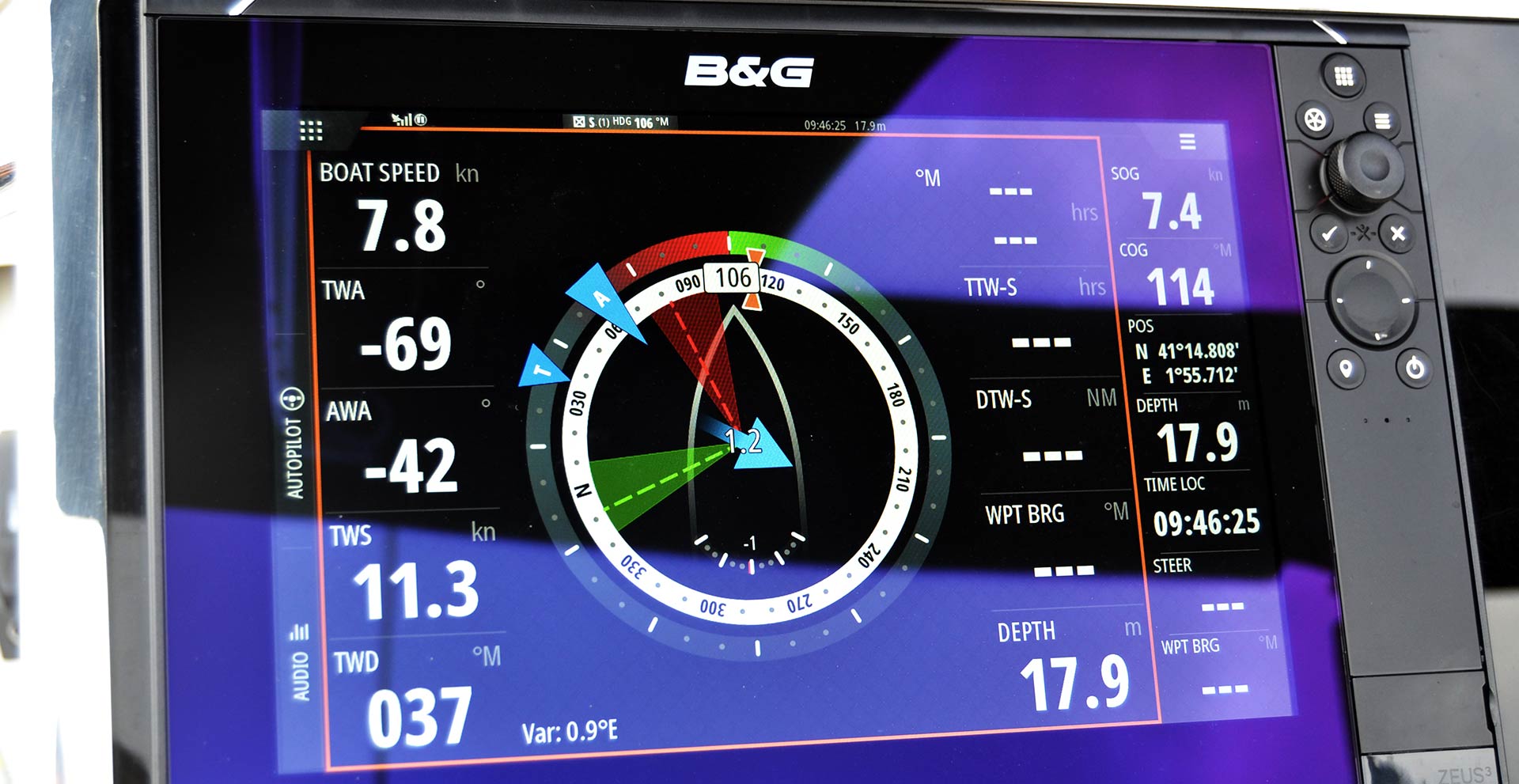 Both steering posts are equipped with latest Zeus-series B&G plotters, various controls for lights, bathing platform and bow-/stern thruster. Also, the electronic throttle is situated on the pedestal as well, making it obsolete to take a bow everytime you pull the lever. The mounting height of the instruments is exemplary, not too high, not too low.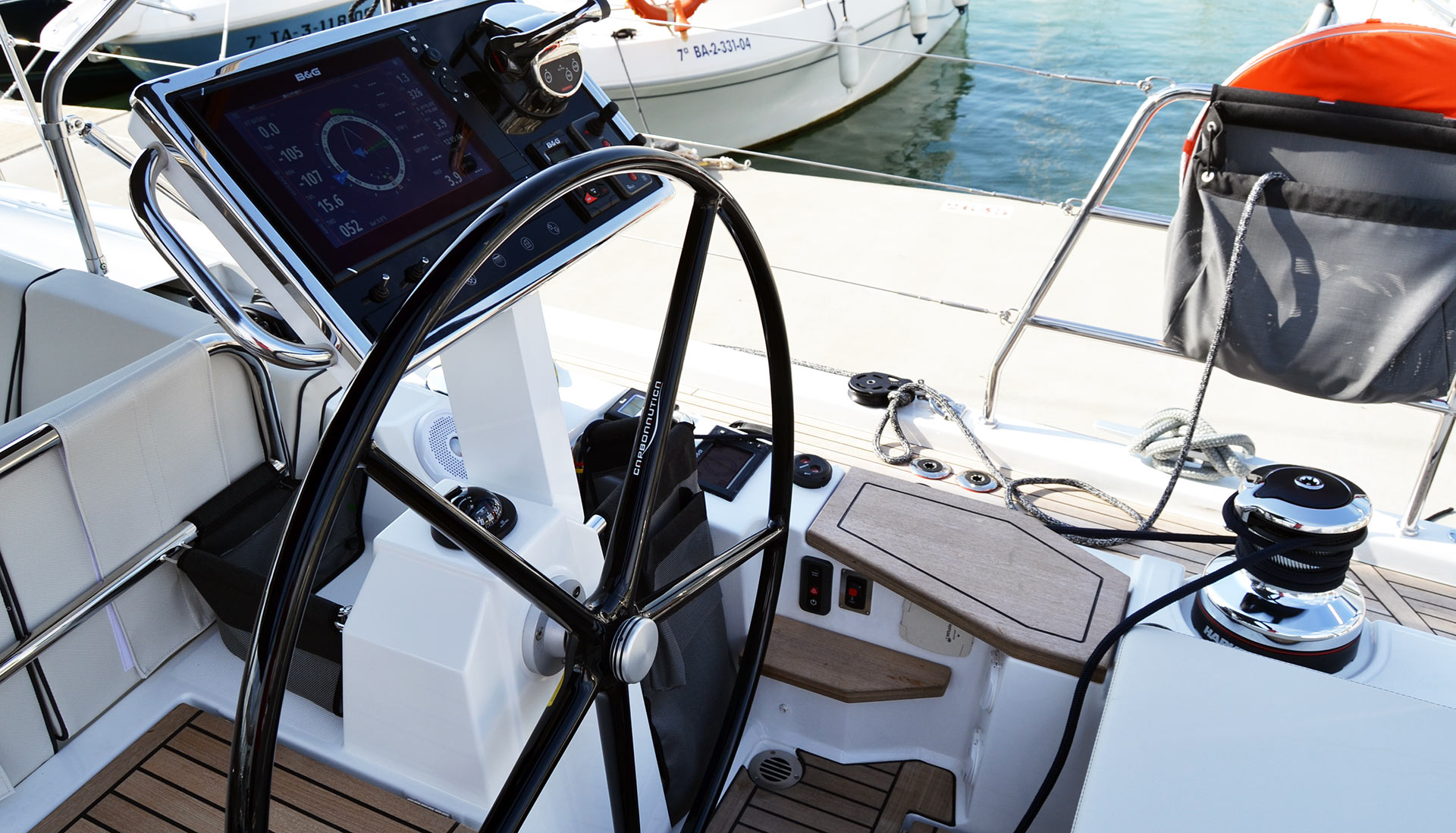 Well, sadly, not all control panels could be mounted here, so that still some of the indicators and switched find their place around the helm station on the coaming which I would say could be solved by increasing the size of the console. But that´s a minor thing.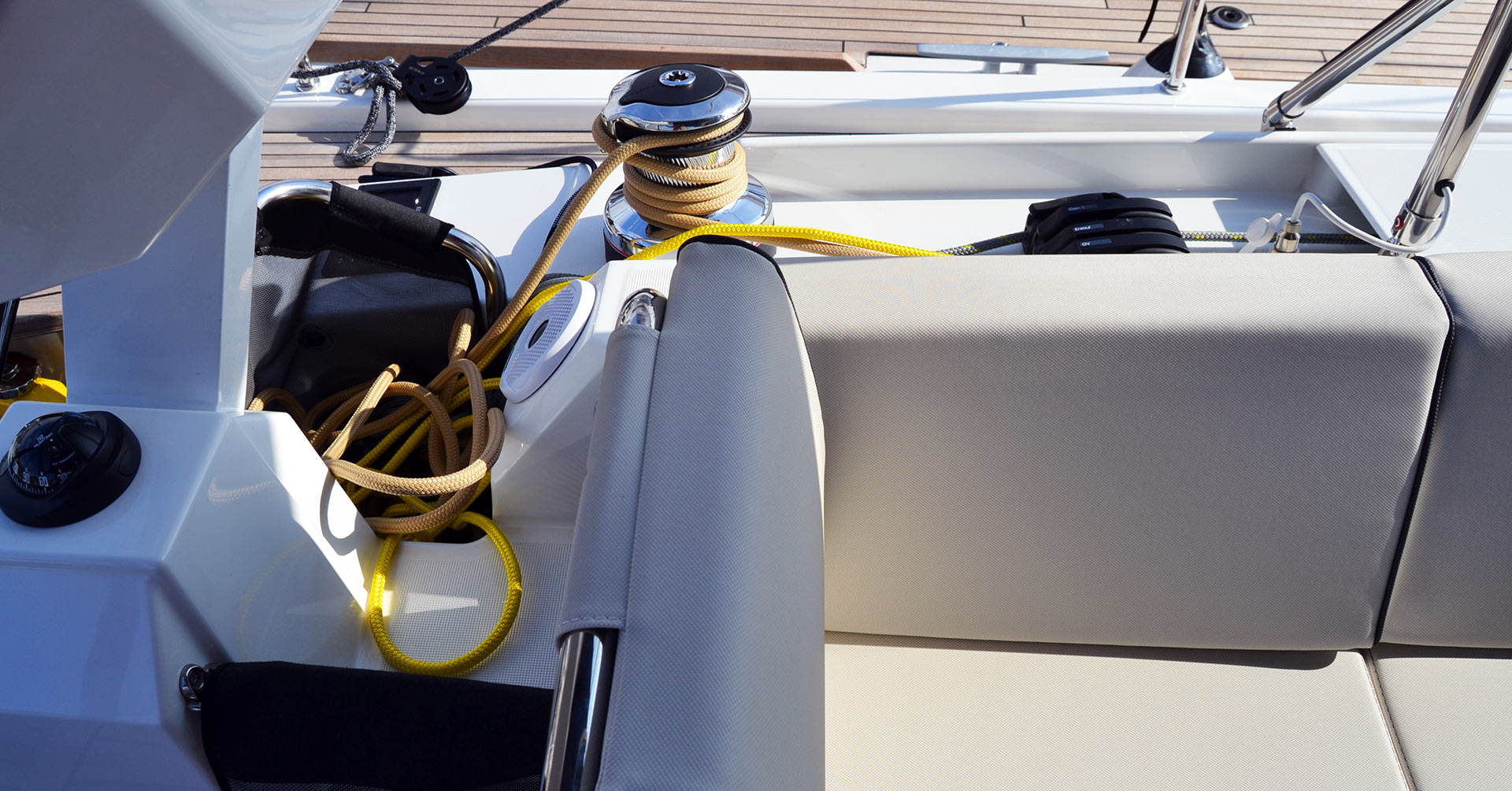 All lines – of course! – are diverted aft to massive jammers. The skipper or helmsman can operate every aspect of the ship´s running rigging from behind the wheel. I would say this configuration is now a must-have except for regatta-racing optimized yachts where you can afford to have a crew member manning a single winch. With the Oceanis Yacht 62´s layout this boat could be sailed by a couple without a doubt. Amazing, isn´t it?
Luxurious sailing in the Oceanis Yacht 62
As I mentioned, sailing abilities are secondary on the Oceanis Yacht 62 although the data gathered and derived from the feel I´ve got taking her rudder under my control, she is a bliss to sail. I remember last summer´s sailing trip in the Baltic Sea when an Oceanis Yacht 62 was sailing past us close hauled in heavy seas and winds of +22 knots true – according to AIS-data she was racing at 14 knots!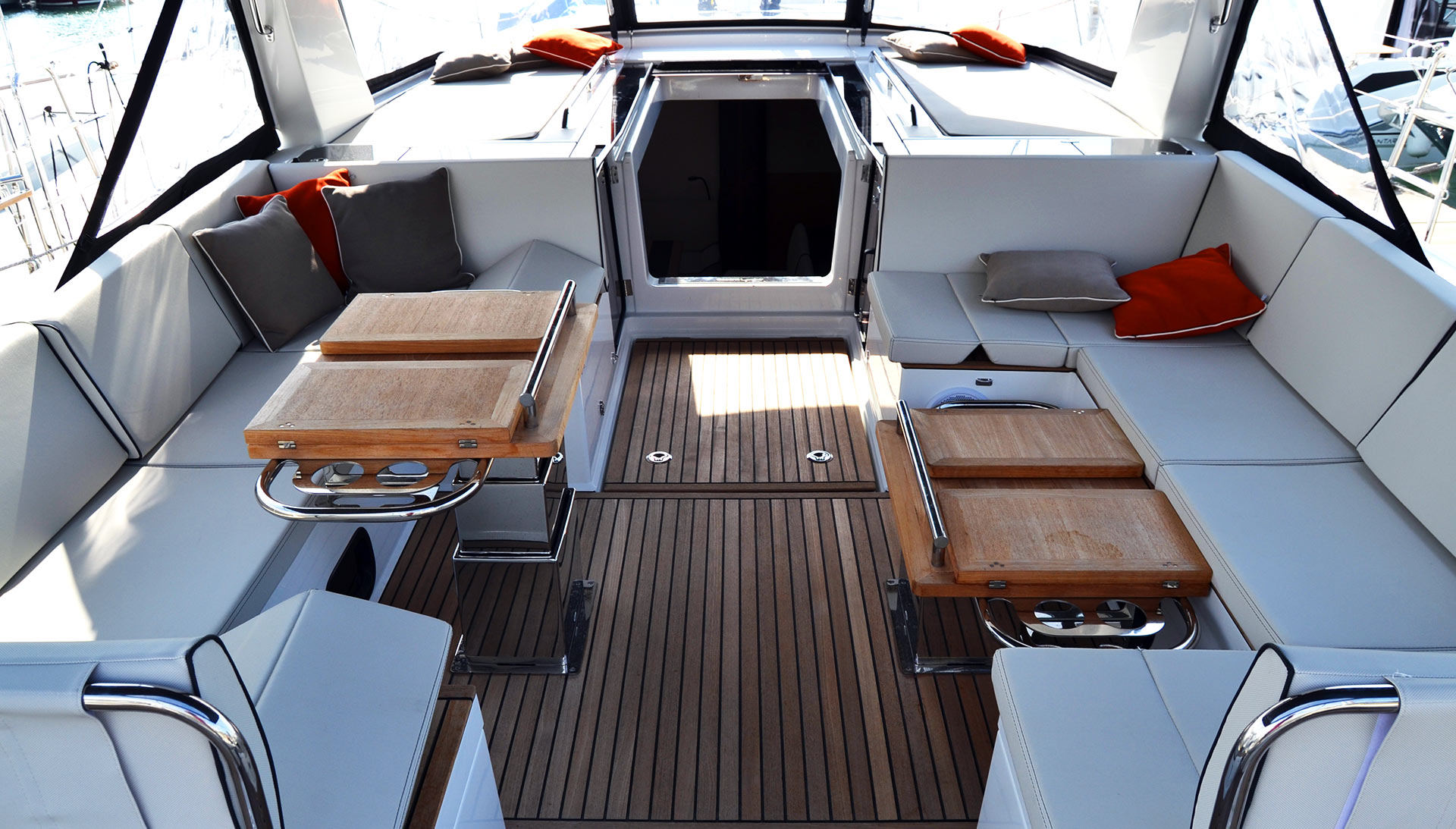 Primary focus is on luxury and this boat has plenty of it, for sure. Let´s take a look at her cockpit. It´s just huge! Look at the thickness of the cushion, look at the area utilized to provide for a unique sensation when being placed here. The mounting of two instead of just one cockpit table makes it possible to walk between them two at any time. Both can be combined to form a single huge dining table.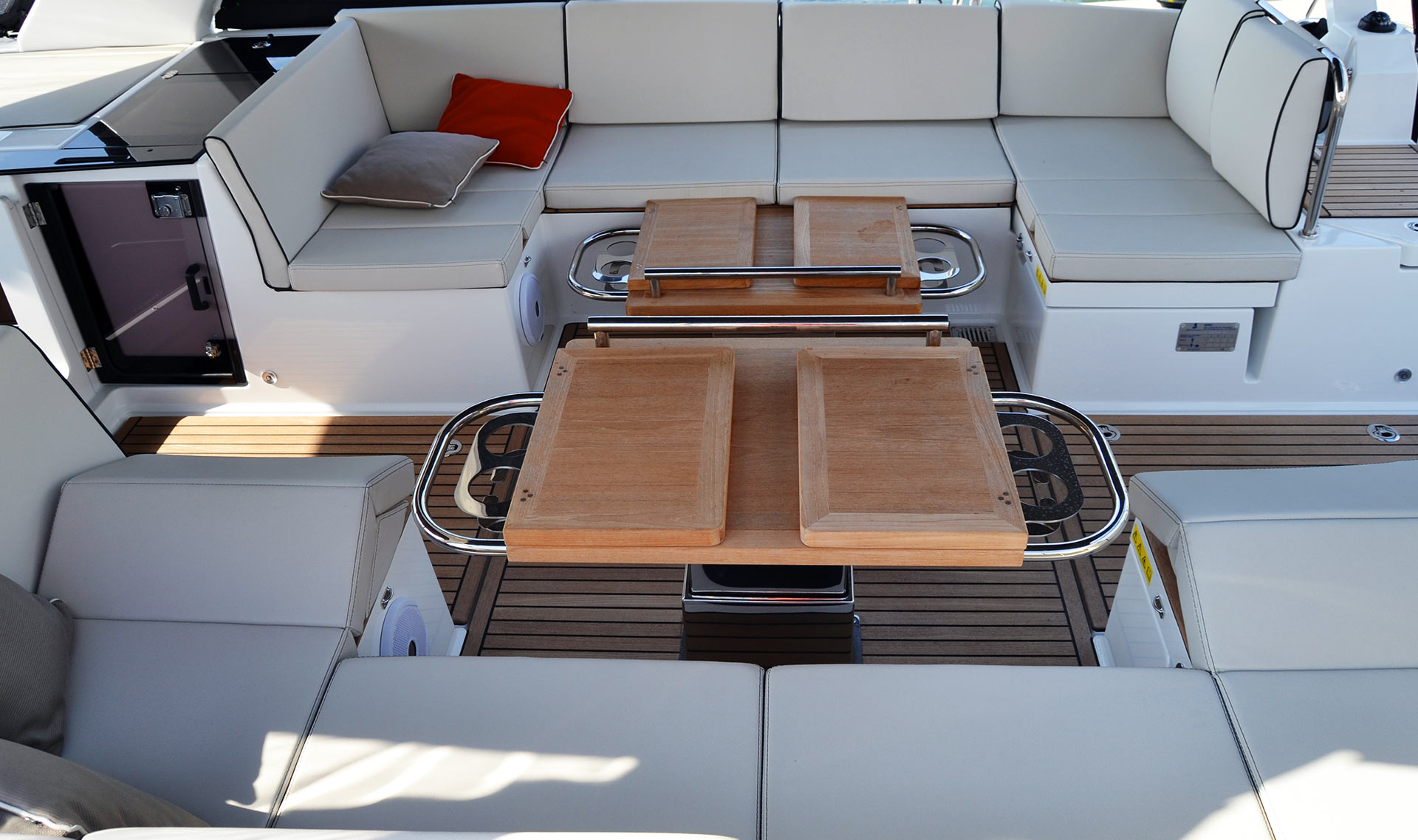 The tables are rock solid, electrically moved to being lowered up to a point where – folding out the table tops – adding another cushion will form a huge, bed-like lounging area. If both tables are utilized that way I could imagine wild parties and video-shoots taking place here …
Down in the boat the perceived volume is just staggering. I wouldn´t speak of "standing height" in this boat because the roof is so high up over our heads that it feels like being in a proper house instead of a boat. This particular boat has been fitted with coffee-like colours, all leather-, lacquered and veneered surfaces are done with care and with surprisingly superior craftsmanship – considering that this is still a production boat, not a semi- or custom one off!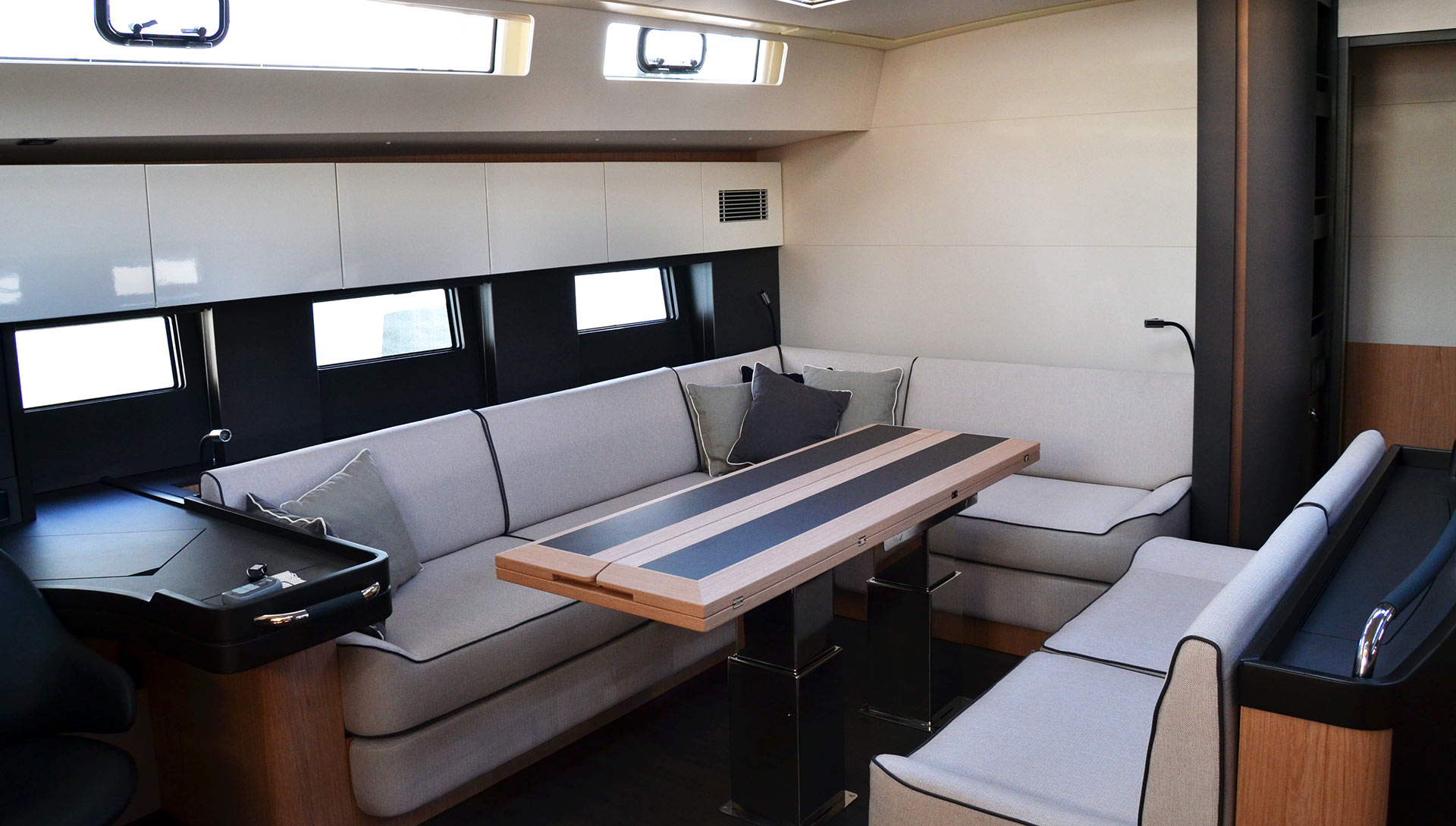 The dining area down in the salon is equally impressive. The extra large table can as well be transformed to double its size for hosting larger groups of guests. The cushion is of such a quality that, once sitting down and making oneself comfortable, getting up seems an unlikely undertaking. There is a Flat-Screen coming up behind the two-seater settee and a library incorporated in the mast stand.
I totally fell in love with the nav station which is just awesome! The swivel chair reminded me of Captain Kirk´s captains chair in the classic enterprise. The switch panel as well as the huge secondary plotter display are integrated nicely without dominating the salon. Very tasteful. Also, the leather-covered chart table (LINK) is a special thing, very, very nicely done!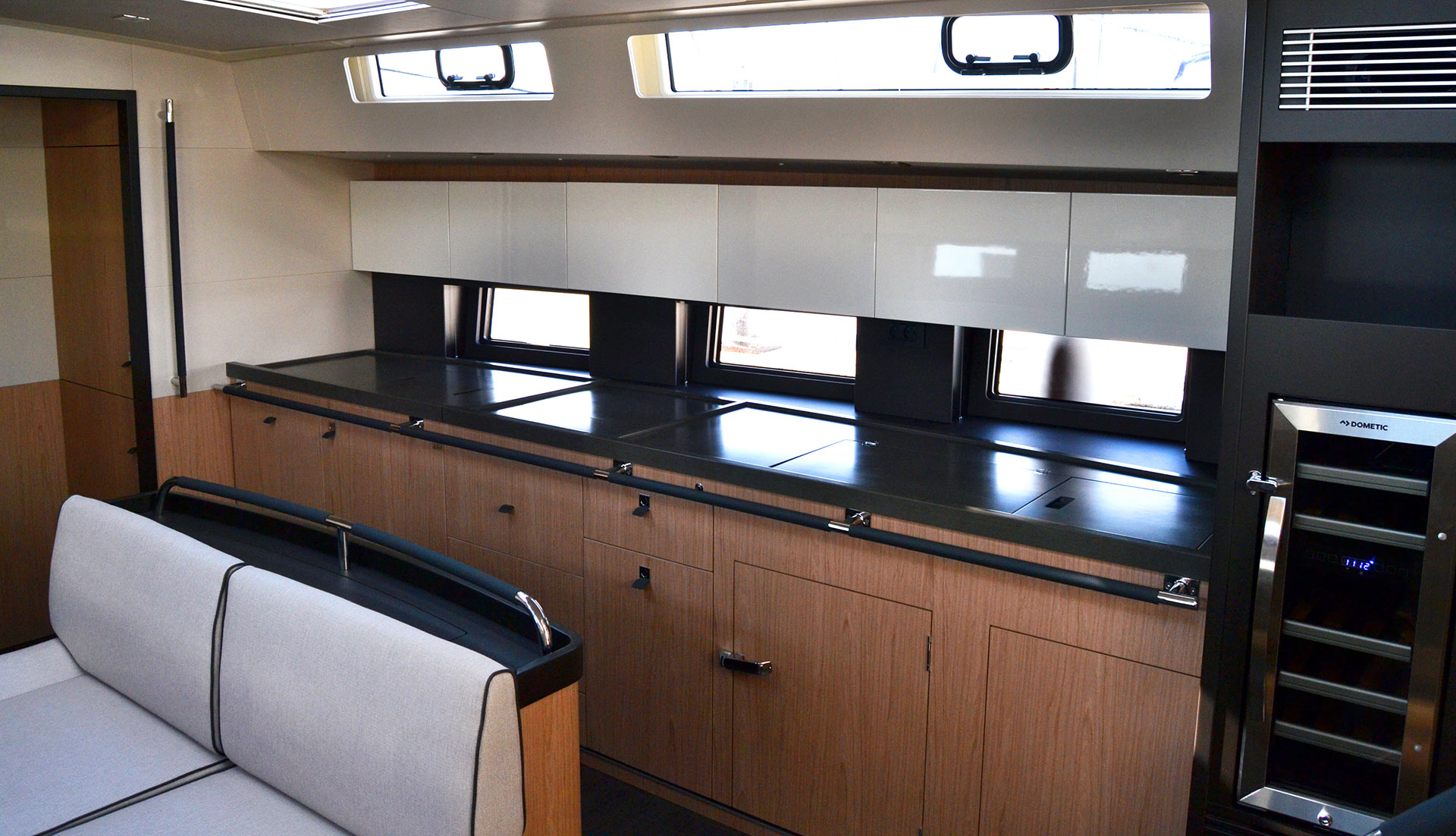 You know that I do not like very much longitudinal galleys. I am a bit fan of port-side located L-galleys but this is a configuration that is not available with the Oceanis Yacht 62. Instead, the whole starboard side of the salon is completely fitted with a huge … let´s call it kitchen! Because this is what it is. A large 3-flamed-stove, a work top that has the whole length of the salon and stowage so plenty of that I wonder how many bottles of Dom Perignon you could place here.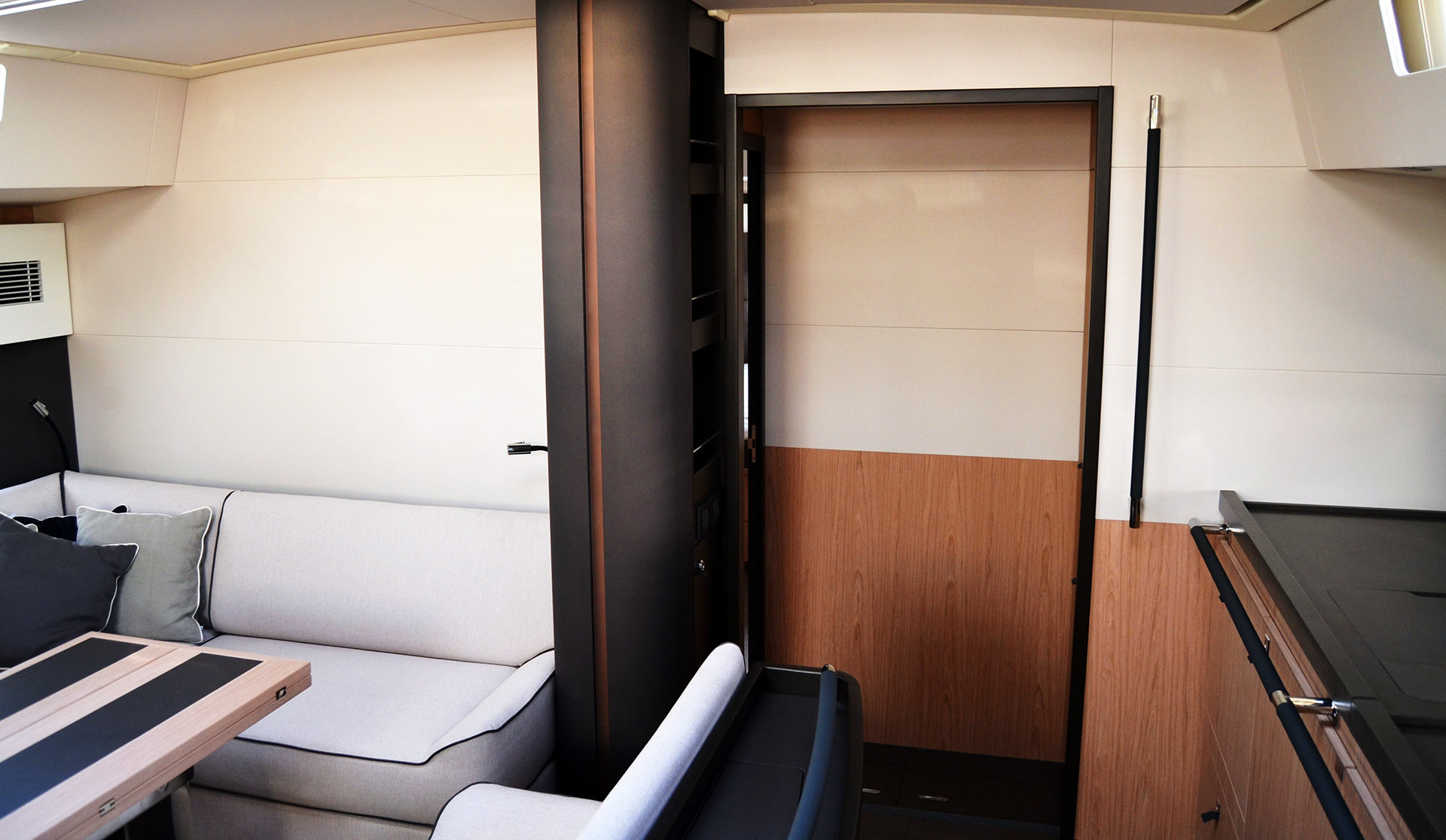 A pretty cool thing is a feature for the owners of the boat: The entrance to the forward cabin (or should I call it "cathedral"?) is recessed so that, even if the door is open, there is no chance to take a glance to the private rooms. That´s a nice thing. Notice the plenty of handrails for a safe grib, exemplary because this comes as standard equipment.
If you´d like to see more of the Oceanis Yacht 62´s interior fittings, please browse my previous article that deals more with her inner qualities: For now, as we are returning back to harbour after roughly two hours of sailing, I try to sum up my feelings about this boat.
The verdict: Pure bliss!
Yes, she is a very nice boat to be sailing with. I found her very gentle, forgiving and calm in every situation. Of course, with wind speeds not exceeding 14 knots the test was not very demanding, but there was still quite a swell on the Med and the most compelling learning of this sea trial for me personally was the unbelievable gentle motion of the boat. Even when we were steaming head up front into the waves it never got to that brutal rocking motion so familiar on other boats.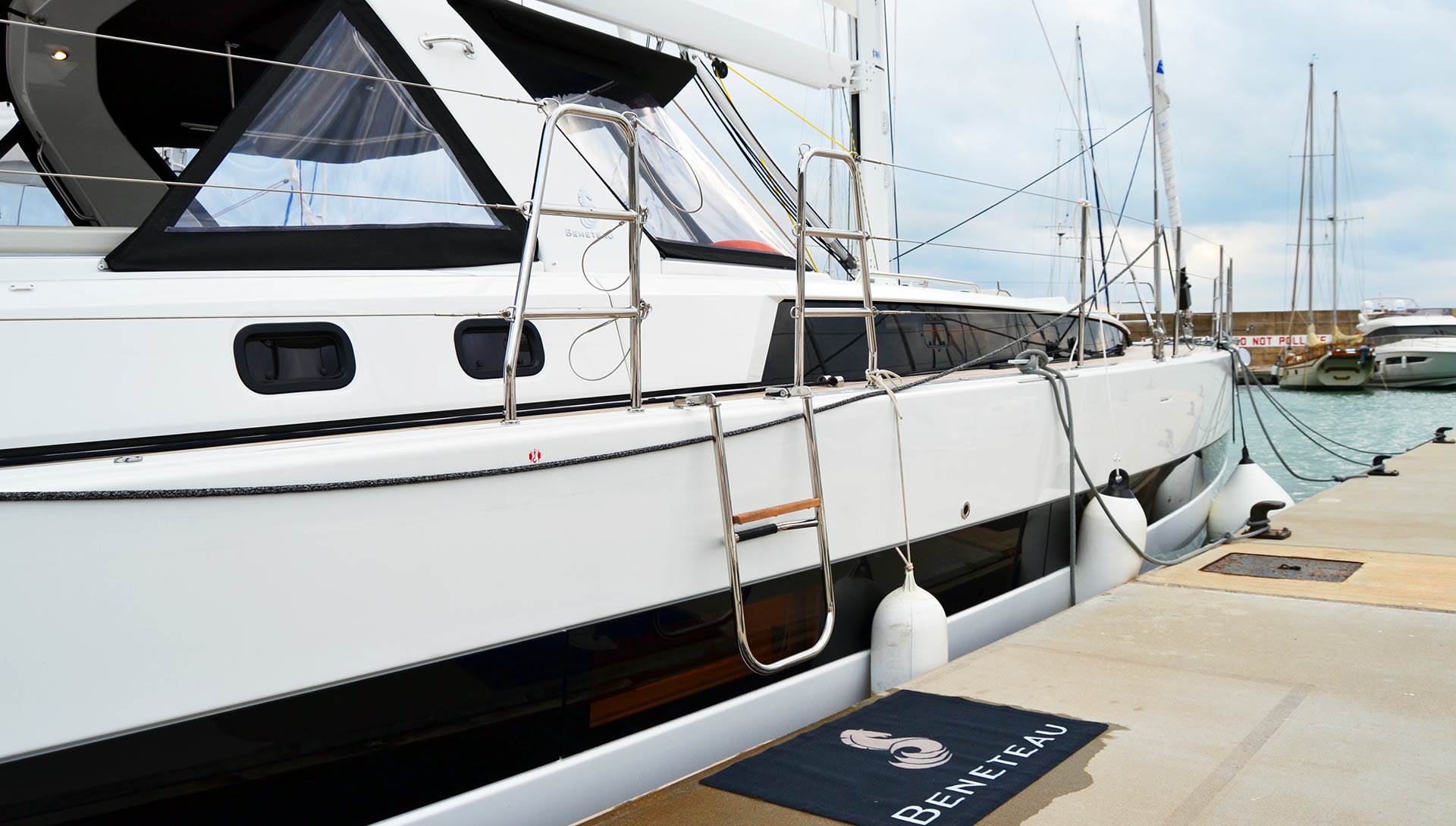 The Oceanis Yacht 62 is a rewarding boat. She is nice to her owners, nice to her guests. Everything on her is made to feel nice, to function with ease, to make every second worthwhile. A true luxurious cruiser, a nice feeling, a great platform for an unforgettable vacation. In this matter, the Oceanis Yacht 62 might not be a "true" Oceanis, because this series is a cruiser boat for true sailing, but she is certainly a top-yacht worth the title "flagship".
Read more about flagships here:
A tour with Magnus Rassy in the new Hallberg-Rassy 64
CNB 66 – a different approach to luxurious sailing
Oyster 745 – role model blue water yacht