It is always a pleasure to meet Magnus Rassy. It truly is. Not because he is a celebrity in some way but because he is not. It´s my fourth time meeting with Magnus Rassy and upon seeing me roaming the pier side all along the Croisette during Cannes Yachting Festival he recognizes me, waves, smiles and instantly invites me on the yacht displayed at this boat show. I am flattered and honored and of course I do agree. He awaits me with a bright smile and rubs his hands in pleasant anticipation (as do I, by the way). And this is what I like most about Magnus: He is as proud as one can be about his product. And his pride has got all the reason in world. This Hallberg-Rassy 64 may be the role model of a true blue water ocean yacht.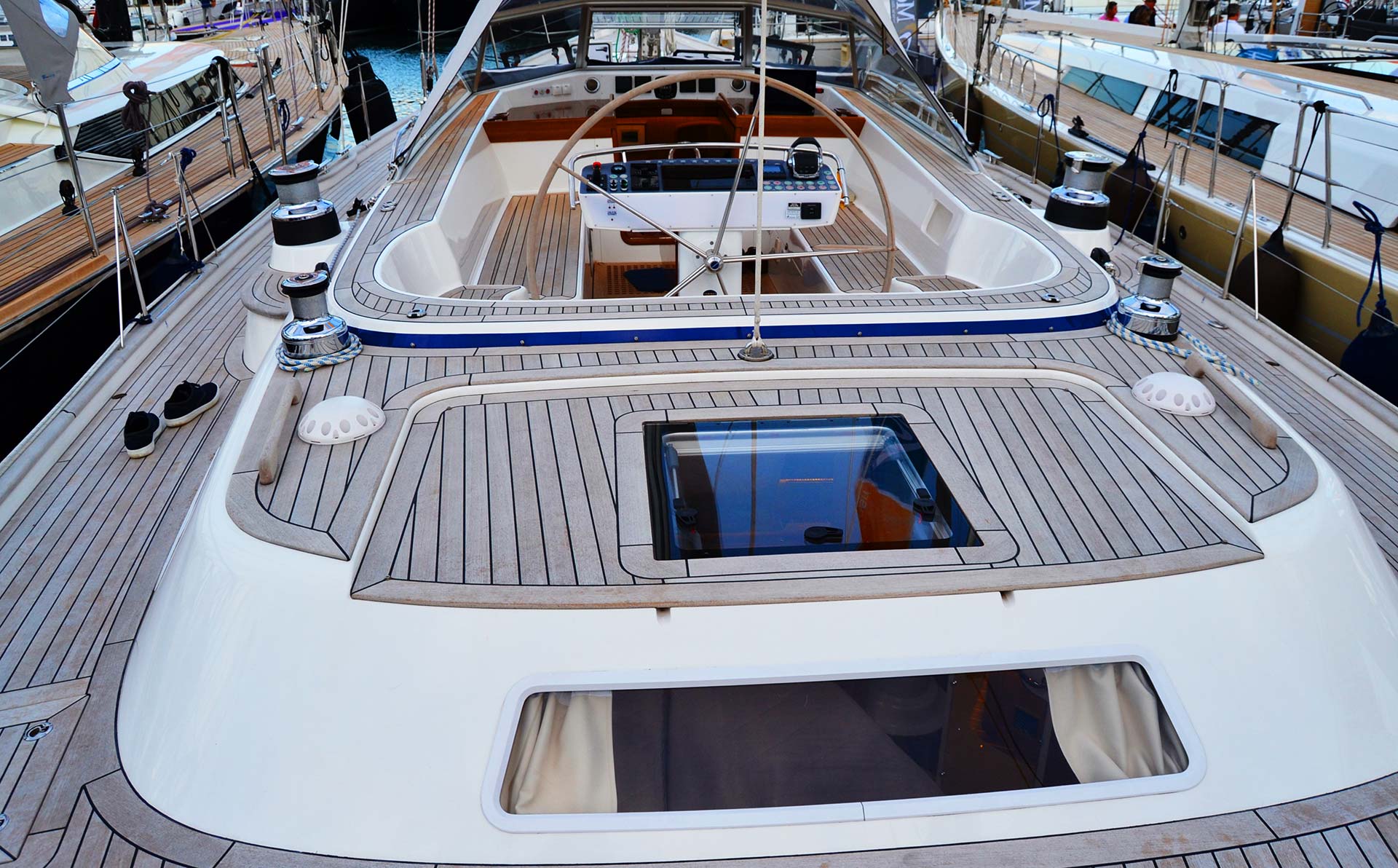 As I enter the yacht from stern side over the large transom I set foot onto the aft deck area and I first recognize that there are no lines visible at all. As I have visited the similar arranged center cockpit Oyster 575 a day before (read about it here) where a mainsheet traveller, two winches and the respective lines for operating both mainsheet and traveller-system have been mounted, the aft deck area of the Hallberg-Rassy 64 is completely free of lines, rails or anything. I notice a small but fascinating detail: The mainsheet is just one single line attached to a deck mount. Magnus explains that all the roping for the mainsheet is hidden inside the boom. "It comes from superyachts but we could convince Selden to make such a boom for us.", he says. Smiles. And invites me to the cockpit.
Push button sailing by Hallberg-Rassy
Center cockpit yachts traditionally offer smaller cockpit areas than classic aft-cockpit boats. That´s logical due to the fact that a center cockpit needs to let some space down below in the hallway going back to the cabins. But that´s not a problem on this Hallberg-Rassy 64: The cockpit here has a length of more than 3 meters and there´s loads of space to sit, relax, even lay down on the benches. Magnus takes the helmsman´s position behind a steering wheel and points to the console: "On this yacht, everything is controllable from here by just pushing a button. There´s all the winches, the vang, the boom, bow- and stern thrusters, Radar, a large plotter … just everything.", he says and points to each and every button. There´s even a large emergency stop which will cut off and shut down every electrical system in case.
"We have a trademark on push button sailing", Magnus says, a secured brand name of this concept to be able to sail a yacht by just standing behind this console and operating it completely with electric and hydraulic systems: "We secured the German term ´Knopfdrucksegeln´ as we couldn´t get a patent for the English term. Nevertheless, it shows how serious we pursue this goal of easy sailing. This massive 20 meter yacht can be sailed without any problem by a single person. No problem." I can imagine that upon casting off all you need is to get the lines onto the winches to prepare the sails being hoisted – and off you go. Magnus again points to the console: "There´s more to it", he says.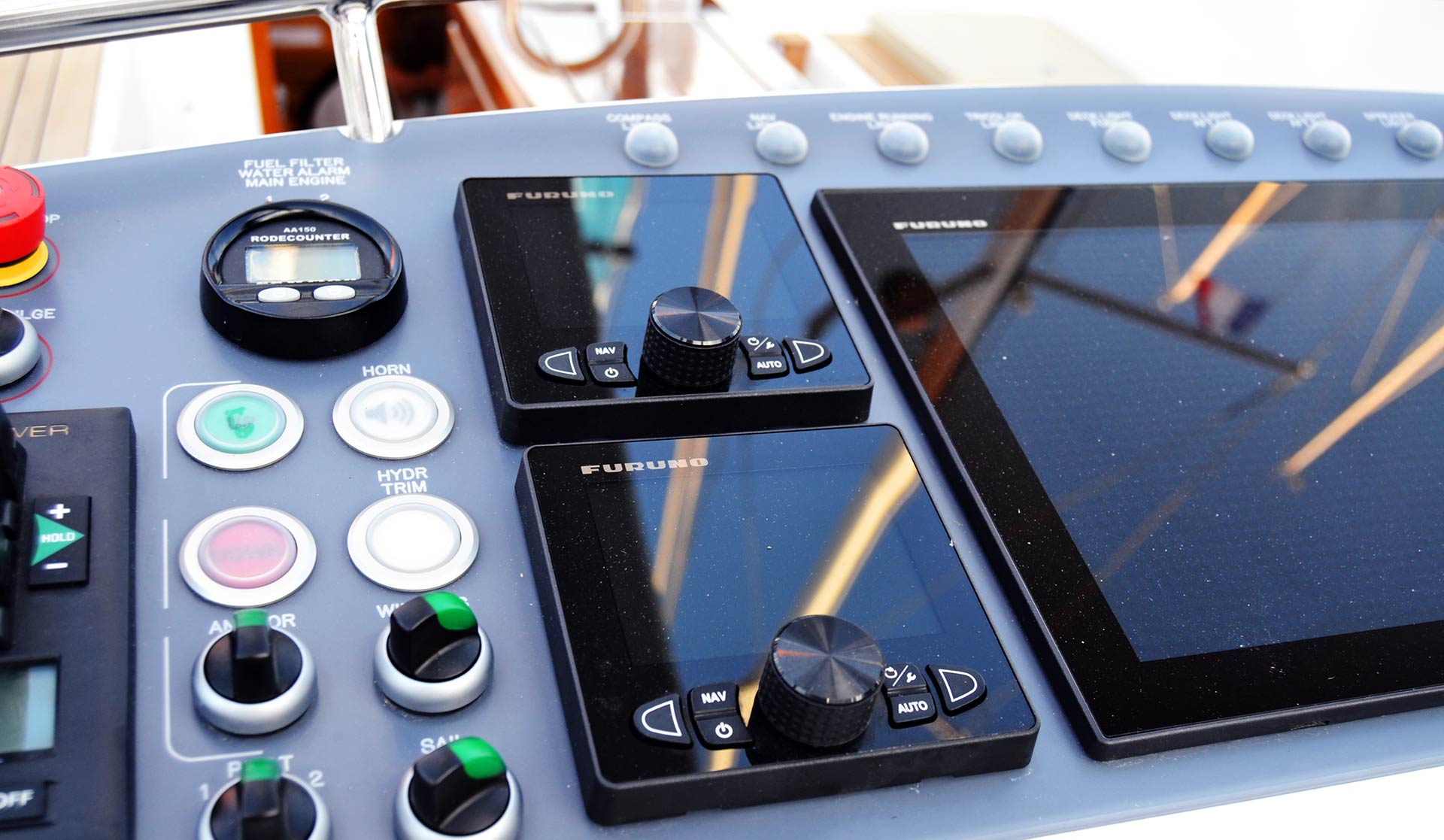 "As you may see, we have each and every system two times. You see?", he is very serious about this: "There´s two Radar transceivers, two satellite communication dishes … what we have done with this whole yacht is to ensure maximum safety and independence by having all major system in redundancy." He explains, that this philosophy extends to the whole yacht in a way that they have even installed two completely separated fresh water systems – from tanks to piping. This Hallberg-Rassy even has a proper second ship´s screw somewhere down in the engine room. "Maximum independence for the very, very long sailing voyage.", Magnus affirms.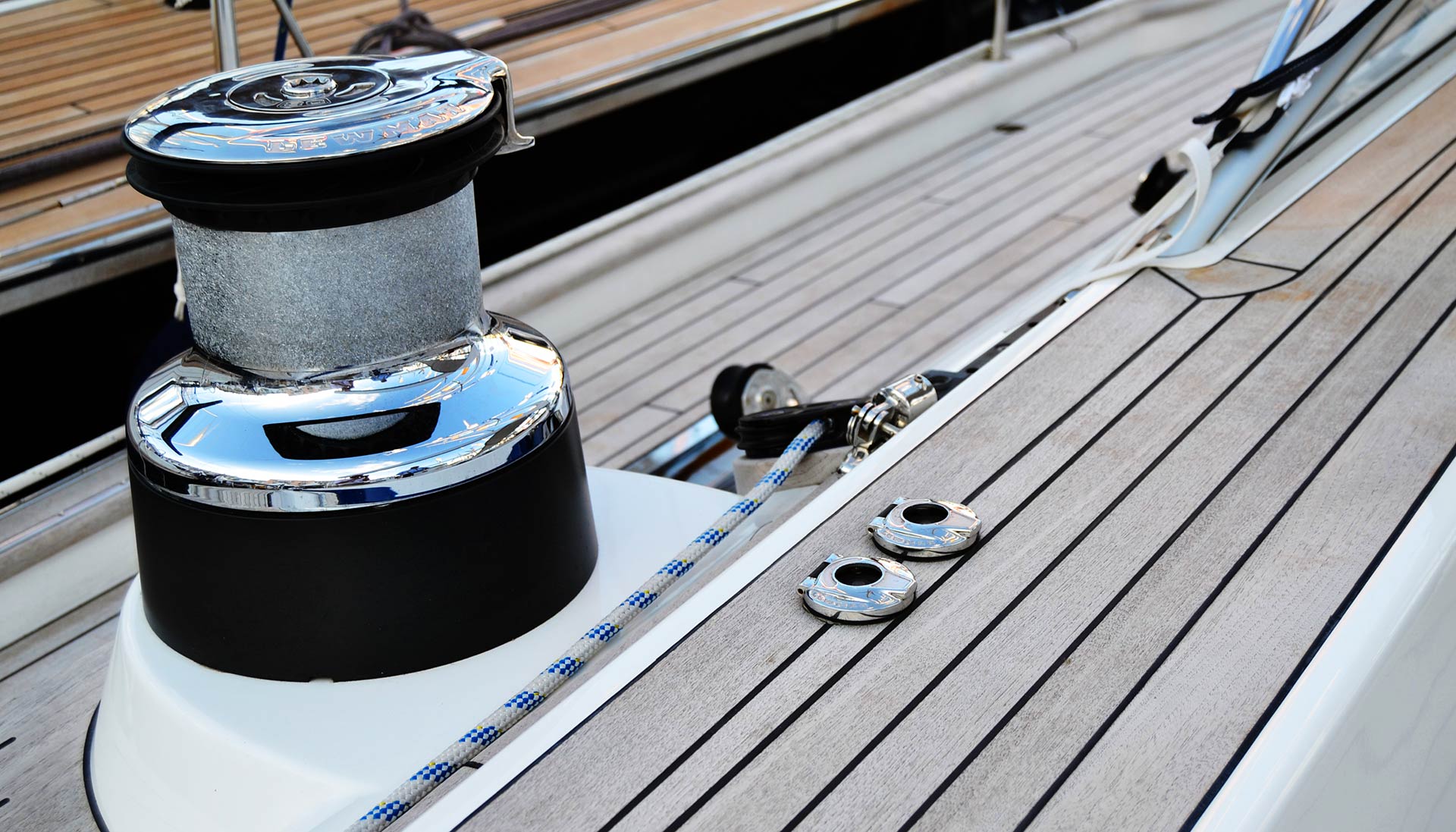 That of course extends also to the winches. They are naturally made of the best quality: Primary winches of size 80 are operated by the hydraulic system, the secondary size 55 winches are electric. Oversized of course to ensure maximum power and surplus margin to be sure the sails could be operated with ease in every weather condition. That this yacht is able to withstand any form of foul weather is something one can presume as this German Frers design is best known for elegant, yet sturdy and stable motion even in roughest conditions. Not just the mighty winches, everything here on deck make a very stable, rock hard impression. Yet it´s done in a very elegant, courtly way. Oversizing but understating.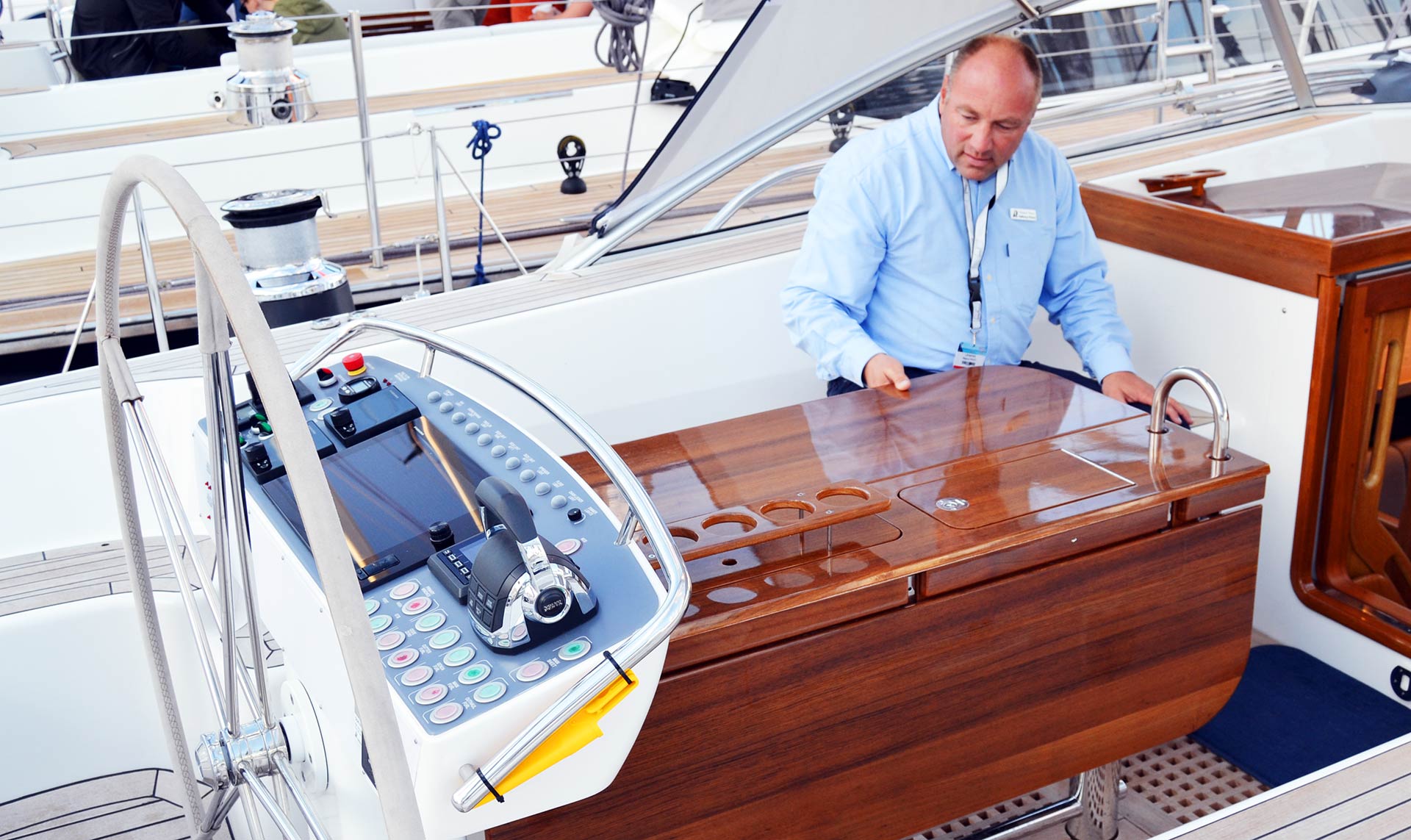 I like the notion of Magnus about this yacht, the whole concept of this yacht of being an oceangoing long haul boat capable of doing extremely long sea stretches in remotest areas, seems so contrarian to the current trend in large production boats to minimise, possibly save wherever possible. Whereas on some of the large production boat companies the winches tend to get smaller and smaller, the ship´s hulls get thinner and thinner and so do the veneers of the wooden fittings, on this yacht the opposite may be the motto: "We try to make this yacht as independent as possible," says Magnus, "so that the crew can rely almost entirely on the redundancy of all major ship´s systems."
Sticking to the roots: A true Hallberg-Rassy
Before we go down below we remain some minutes in the guest area of the cockpit. As with all Hallberg-Rassy yachts I know, the coamings are very high and ensure maximum safety even in rough seas with high waves. It´s not just safe, it´s also very comfortable to have a nice backrest. Magnus demonstrates the various features of the massive cockpit table which really is really huge, of course foldable and features some simple but pretty nice gadgets like the twistable cupholder. Then he points towards the windscreen of this boat.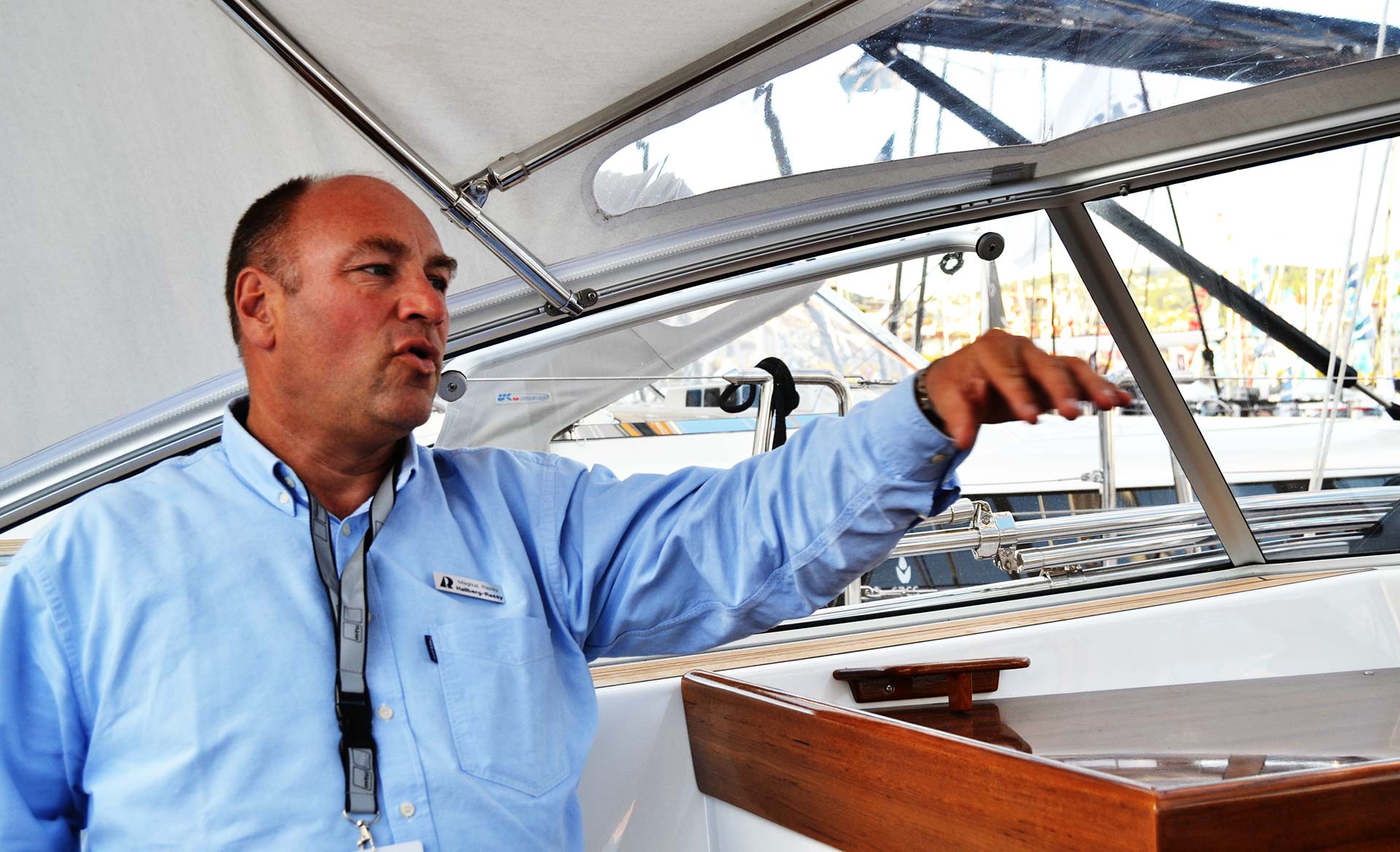 What makes a Hallberg-Rassy become a Hallberg-Rassy? Desginwise that´s pretty simple: The blue stripe, the distinct form of the hull and – of course – the solid windscreen providing a massive barrier against spray and waves when the Seas get angry. "It´s not just one of our trademarks", Magnus says, "but it´s also an interesting item." He tells me that it takes a lot of construction effort and testing to develop such a windshield: "We do everything by ourselves in the yard, all the metalworks, the bent shapes … it´s real solid quality." Just as if a marketing guy would have arranged, something strange happens next …
As we go down the wide entryway into the saloon of the yacht, a young couple is sitting in the edge of the large dining area. The apparently are flicking through a Hallberg-Rassy photo book of some sort. The man of them two looks up, acknowledges Magnus and me and signs his girlfriend (or young wive) to get up and leave. Magnus says: "No, no, please stay. That´s no problem. Take your time." But the young couple maneuvers itself through cushion and dining table, he grabs Magnus´ hand and shakes it: "Thank you so much! We deeply appreciate being here. It´s … it´s such a wonderful boat." Magnus nods and smiles. "But I´m afraid we cannot afford a new one.", says the young man. His wive insists: "We love Hallberg-Rassy so much …" And the Englishman again: "… so we are acquiring a small used Monsoon in the coming weeks. At least a small, used one …" Magnus reaction is marvellous, he shakes the hands of the couple: "That is wonderful and I love to hear that you like Hallberg-Rassy. I hope you will enjoy sailing with your yacht and have some wonderful times on it. I appreciate that very much!" The couple leaves. Smiling.
Long haul sailing by Hallberg-Rassy
As we sit down in the saloon, I look at Magnus and say: "Mustn´t that be the best thing in live?", referring to the young English couple: "If you produce something, each and every one loves?" And it´s true: This Hallberg-Rassy, as with every other boat of this brand I had set my feet onto, was in it´s sense a truly perfect boat. And I can´t imagine a single person in my circle of acqaintances, who does not at least acknowledges the high quality of these yachts. Magnus nods again as he takes the starboard side Cpatain´s chair: "Yes it is. But believe me, reaching this is a tough road to go."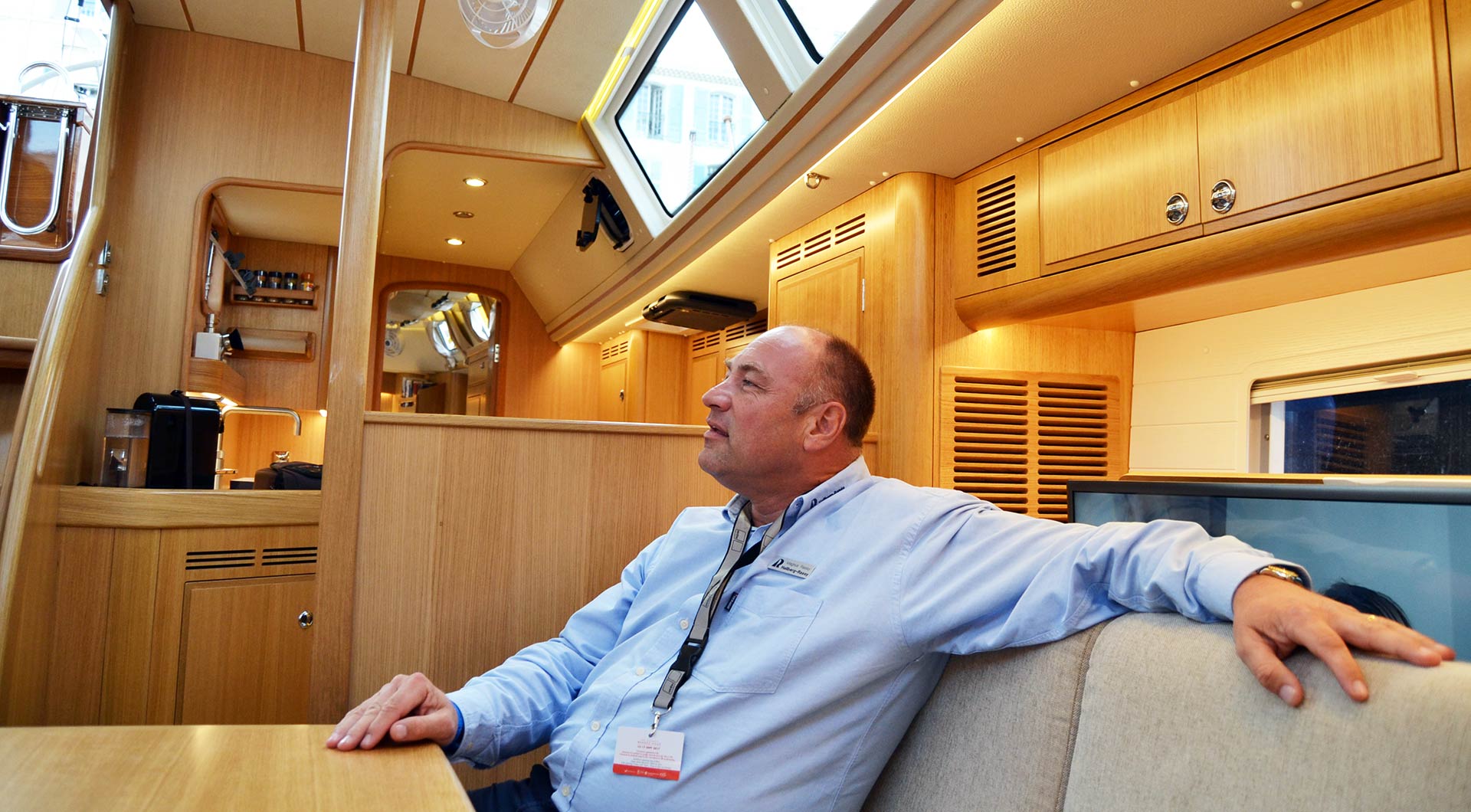 I notice a change in the interior styling of this Hallberg-Rassy 64: It´s a bright boat! "In this yacht we used Oak as principal material", Magnus confirms and that´s again another yacht manufacturer hopping on the train of the current Oak interior-trend. Owners tend to demand more and more ship´s interiors made of brighter timber and Oak seems the best material in this case. Other than on the Oyster, Hallberg-Rassy stayed true to it´s roots and didn´t just delivered another tarnish "brushed" Oak interior, but had it glossy painted to at least make this interior resemble the classy Mohagony style of the Hallberg-Rassy yachts I know. Nevertheless, I like Oak and the brighter styling really pays off.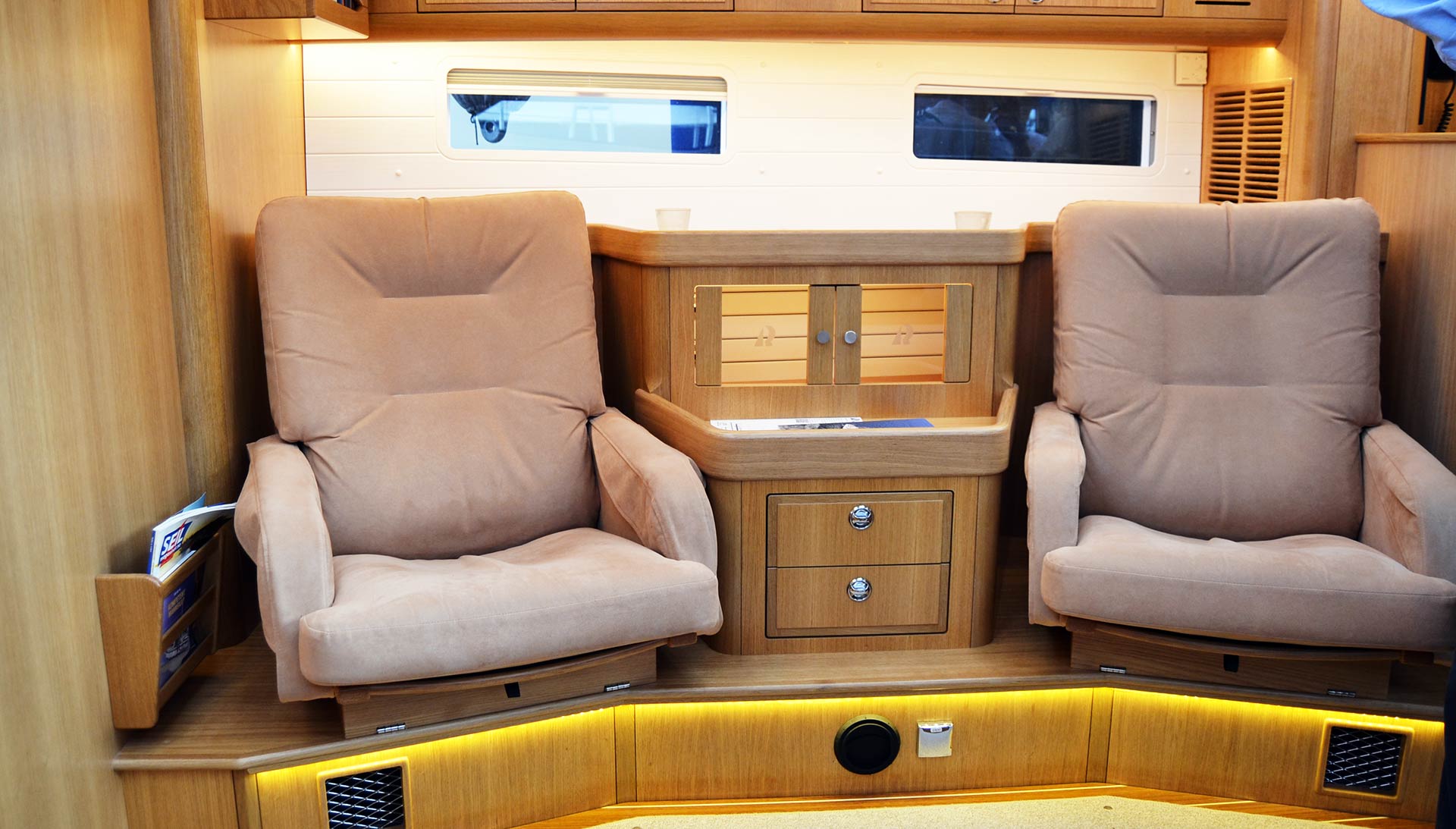 "Aahhh, the Captain´s chairs!", I am enthused. There once was a time when I was honestly thinking of trying to have this saloon configuration within my own King´s Cruiser too (read about this attempt here) but I refrained from doing so as a this doesn´t belong to my old boat. Nevertheless, I think this is a great saloon layout for a Hallberg-Rassy. Judging from taking the other Captain´s chair I must say, it´s not just one of the most comfy armchairs I´ve ever took a seat in, it´s also a perfect position for spending time in the saloon: Having a chat with guests, having a drink, reading a book or …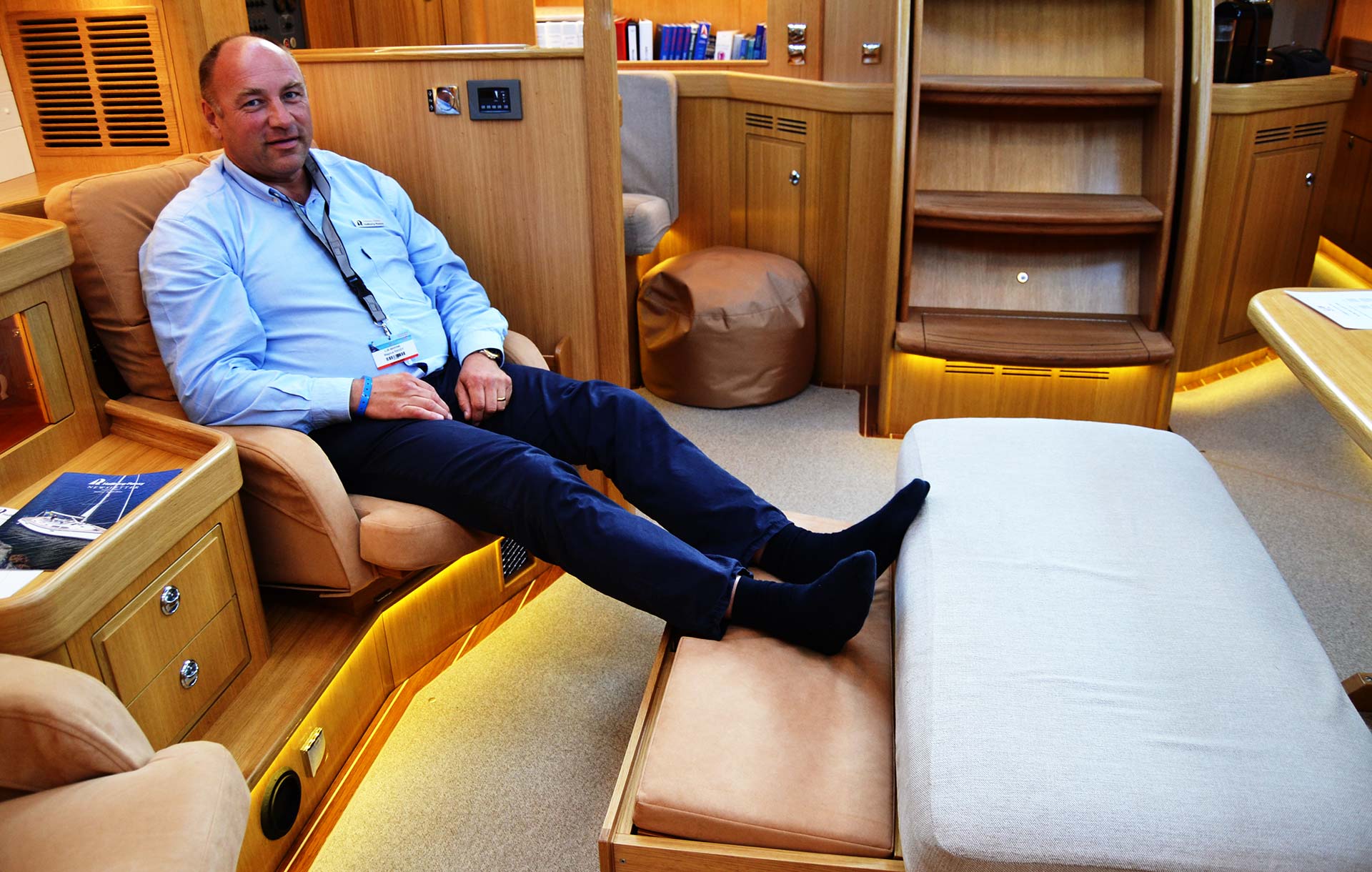 … as Magnus demonstrates, putting your legs up and relax. With a childish smile he extricates a leg-rest from the middle bench and says: "I´ve always wanted to have one of these in the boats …" Here is the true Magnus Rassy again, as he once told me when we were talking about the design process of a yacht (read this interview here) – he is not just the son of one of the founders of the yard, but he is an active sailor still persueing his personal goal of developing the finest yachts he could possibly do. It´s a personal matter for him. Even to include a leg-rest in a bench. The armchairs can be flapped to give way to a lot of stowage area underneath and after sitting a while and chatting here I decide that this would be indeed my favourite saloon layout more than having an ordinary sofa here.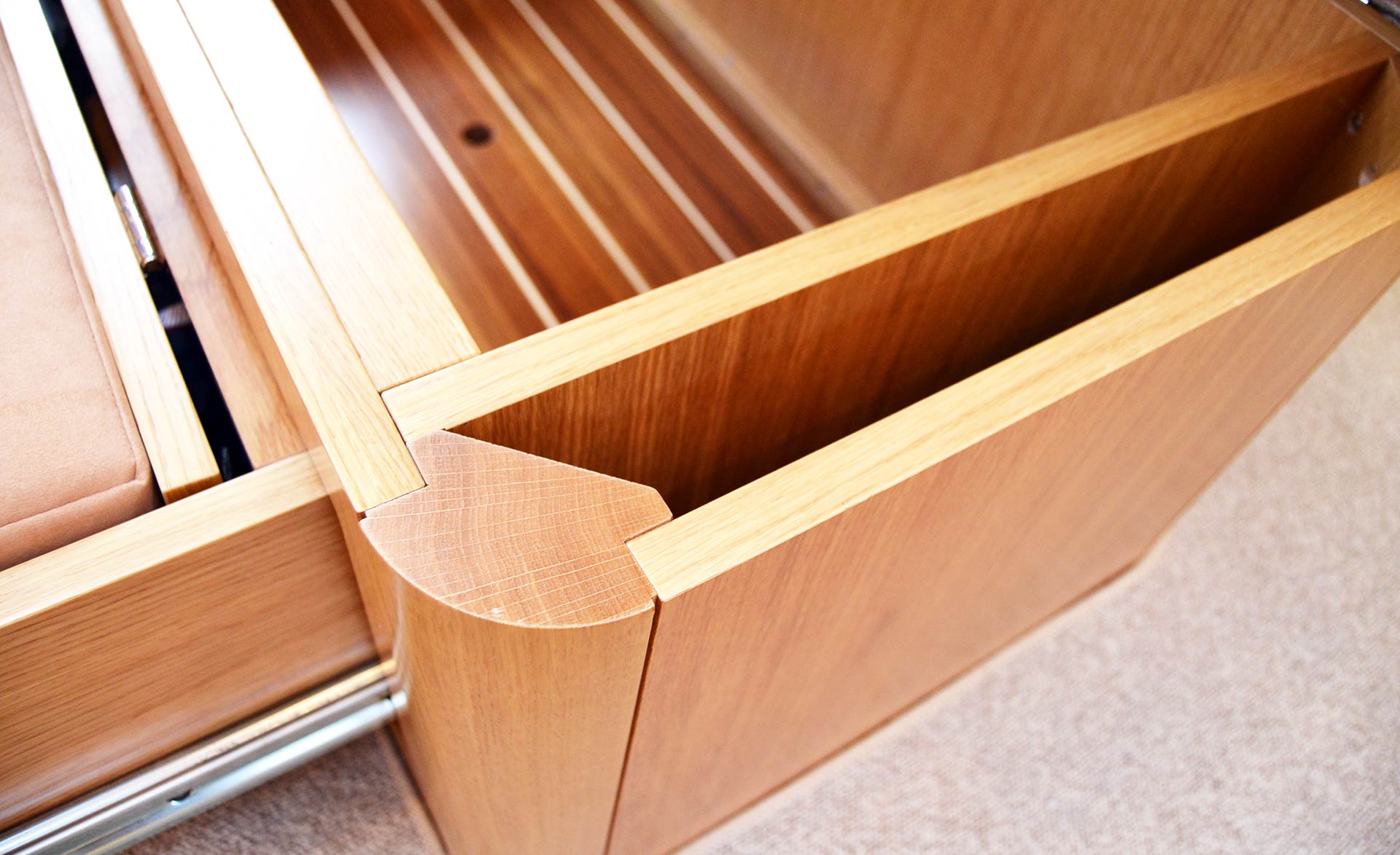 Magnus shows another detail: How the woodwork in the saloon is crafted. Thick, massive joinery. Very thick and very massive. This stuff is built to last. You can kick it, make a scratch or even a deeper nick in it by accident – no problem, this can be sanded away. No cheap thin veneers. Also a sign of Hallberg-Rassy: These are owner-boats. These are yachts made to be company for many, many years. I point to the heart of the saloon (in my point of view) – the nav station.
A dream: The chart table and nav station on the Hallberg-Rassy 64
An unmistakable safe sign that your yacht is initially made to appeal to a true sailor-owner and not to a charter company trying to rent away as much space as possible is a proper nav station with a proper chart table. Even in times when the trigger finger has almost entirely replaced the dividers it´s a must in my eyes to have a place aboard your yacht where you can do a thorough voyage planning, paper chart work, make your logbook entries or just sit down and feel like the true Captain of your yacht. I consider these alibi chart-teapoys even on large modern-day production yachts nowadays as totally insufficient. Cramped, working area too small, at the wrong place in the saloon. It´s a mess. Not with the Hallberg-Rassy.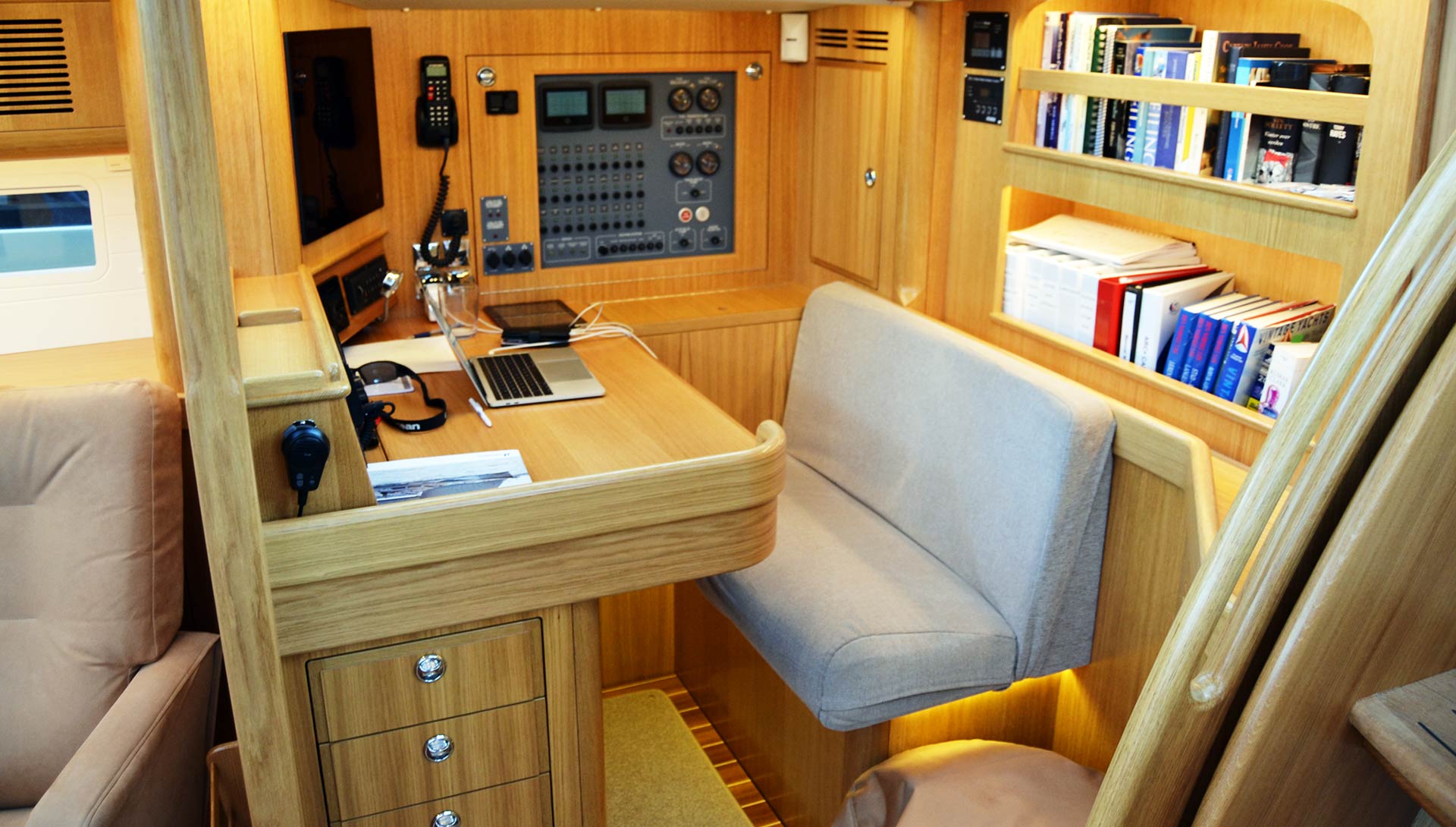 There´s a very large chart table with coamings to the side, underneath the worktop there´s enough space for charts and stuff. The seat is wide and cozy, even when heeled it offers a safe position. All electronic gadgets are within a comfortable reach, VHF, a huge chart plotter, radio and stuff. Behind the seat – and this is another pro of having a center cockpit yacht – is a bulkhead with a load full of stowage for books, charts and other stuff needed here. In addition, under the chart table a lot of drawers can be stuffed with additional things. This is truly a role model of a proper navigation station for sure. And look at this main switch panel!
Magnus explains the various knobs and switches and the opens the panel. It folds away held by strings. Behind it there´s free sight on the electric wiring. I am not an electrician but as even I can judge from my own awful experiences with electric wiring on a sailing yacht that this is very much exemplary: Not a single wire is knotty in some way. Every single wire is properly labelled. "See, here´s the redundancy-concept again. The main circuits have a double layout so that if one of the crucial circuits may break down you always have a redundant and totally physically separated circuit working at an instant." Imagine the amount of confidence a skipper of this boat may be boosting even in harsh conditions, knowing that this yacht can take a load full of punches!
Thinking of long haul cruising
So what would it be like to sail on this boat? Well, for me, this yacht is meant to go around the world the least. It is meant to sail by the rocks of Cape Horn, sail reefed through the Roaring Fourties and dodge the growlers off Antartica. This is a true blue water cruiser and for sure made for the very, very long cruise. It would be such a waste to have an owner mooring this proud oceangoing vessel to the next party-pier in Saint Tropez and downgrade this ship to function as party location. But what makes me so confident in envisioning the crew of this yacht going round the world in this boat for years?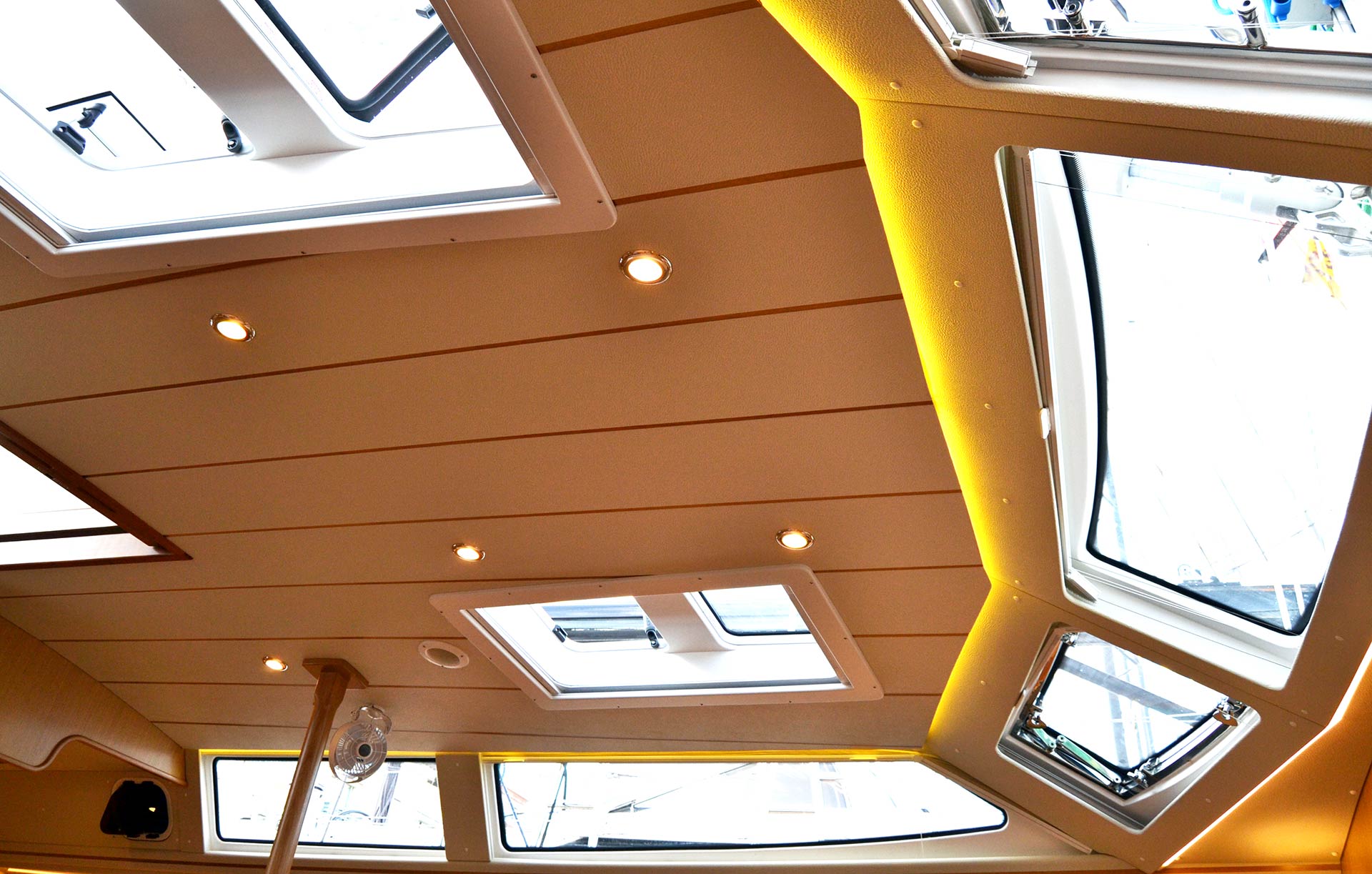 Well, it´s the sturdiness of course. But also the living quality provided by this yacht. Looking to the ceiling above I notice the large, almost deck saloon-like windows, offering lots of natural light. Just a 280 degrees round view of these large windows, they will create a very nice atmosphere down here in this light suffused saloon even when outside conditions may be depressing. I admire the spotless, seamless and perfectly crafted roofing panels as I know exactly how hard it is to fabricate such a roofing from the refit efforts in my own yacht (read it here). Magnus points to one of the windows which can be opened: "Look at this mechanism. It´s solid stainless steel. This frame cannot be bought on the market. You have to build it, construct it and make it … this is just a detail, but it shows the strive of our company to provide the best in every detail."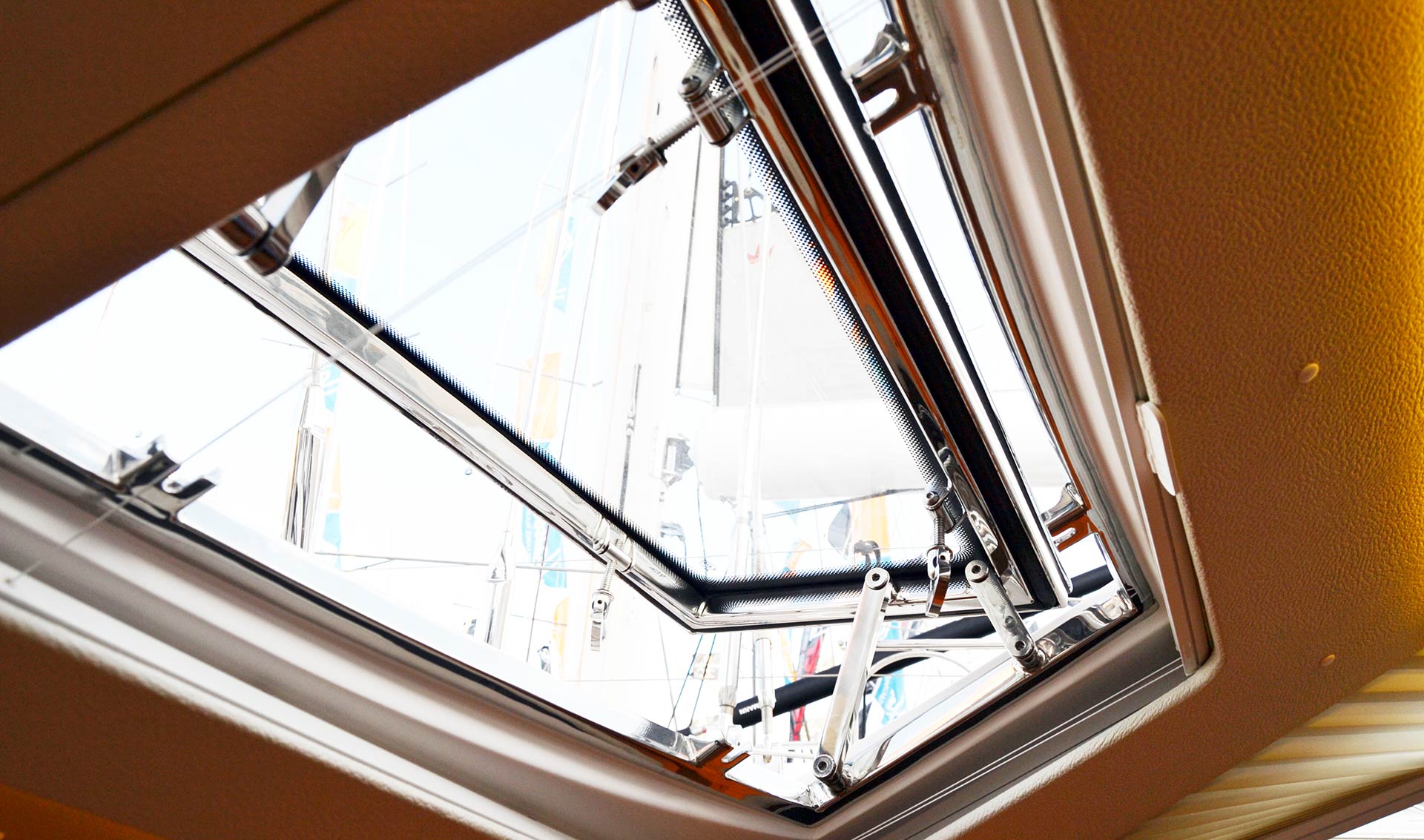 As it is traditionally the case with center cockpit yachts, the port side passage to the aft grand cabin is utilized to house the galley. Just like the Oyster, the Hallberg-Rassy offers a huge galley on the 64 as well. You will find massive working benches, fridges and freezers in all sizes, all modern kitchen aides like dishwashing machine, a proper oven, Ceran stove, sinks and lots of drawers and stowage for kitchen stuff and provisioning. The galley is open to the saloon so that the chef is not fully separated from life aboard but separated enough to work efficiently and not bother the ship´s guests too much with kitchen odours or sound.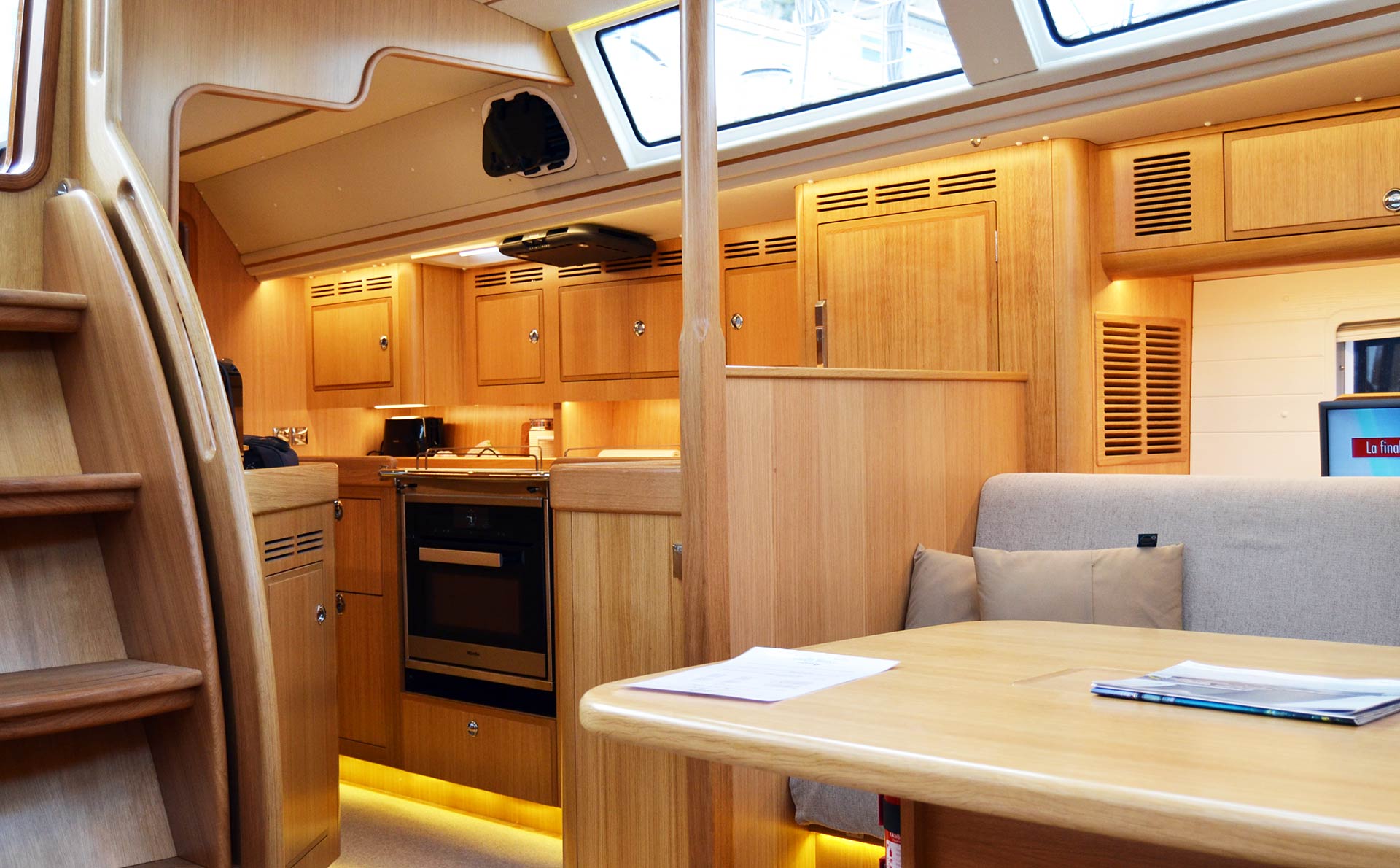 This galley must be a delight to work it. It´s large and the ship´s cook has all the freedom of movement here. At the same time there are plenty of handrails to provide safe grip whilst cooking in heeled sailing of in harsher conditions. What I love most is the fact that all of the boat´s joinery has been made especially for this yacht. You can see it by looking at the upper parts of the cupboards: They fit neatly and seamless into the very area, on large production company´s yachts joinery is made as a module fitting in small yachts as well as in larger yachts – clearly visible at the top of those woodworks.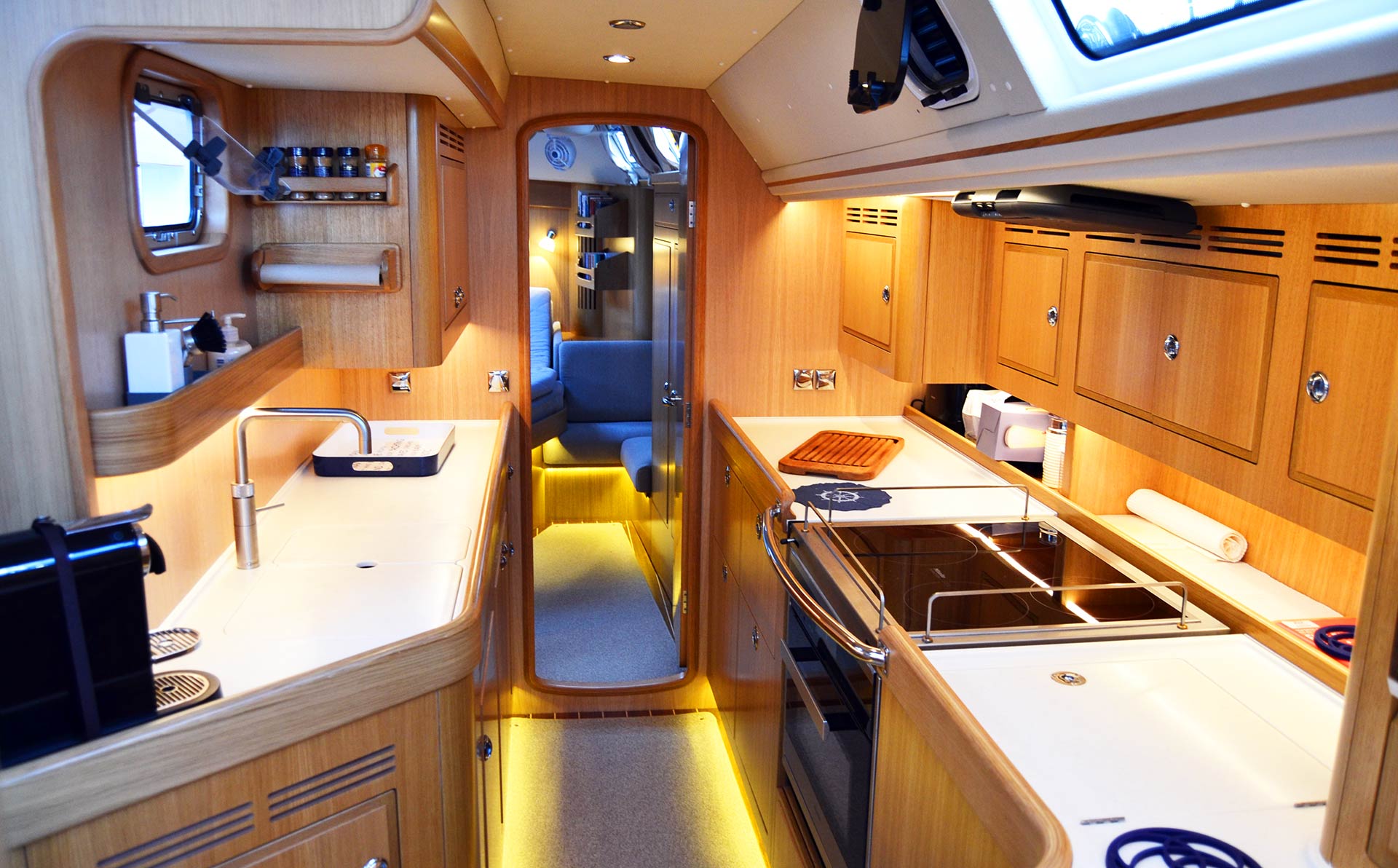 All drawers – like virtually each and every drawer, closet or cupboard on this yacht – bears large enough slits for proper ventilation. This may be just a tiny detail, but a very important one! I can perfectly resemble the somewhat moldy smell offered on other yachts upon opening a locker. That´s truly not very inviting if you have to take out the plates or cups for a dinner if this stuff is smelly. And remembering my "Veggie sailing"-trip (read about it here) with all those vegetarian ingredients stowed here and there, ventilation is crucial for keeping your eatery fresh.
No cabins. That´s lofts.
First of all, there are two reasons why I cannot provide nice pictures of the Hallberg-Rassy´s Master Cabin: For the start, even the object lenses of my professional camera couldn´t grasp the vast space provide in the stern section of this yacht. The master cabin is truly not a cabin, it has loft-size (and I am not exaggerating here!). It´s amazing how big this cabin really is. Second, this is was an already sold boat and I am a bit reluctant to show the owner´s private rooms. But I will point to some nice details here in this article for sure. If you like to see the cabins on pictures, just proceed to the Hallberg-Rassy website where there are some very nice pics provided.
Magnus points to the large island bed. You know, I am not very fond of island beds on boats as I consider it if not unsafe than a bit inapt to have a free standing bed that provides no hold whatsoever in a free moving and sometimes very violently moving environment. When I was mentioning this retention, Magnus points to the cabin´s ceiling. Thick stainless steel rings are mounted above the bed: "This is for installing studding sails which will provide for a safe sleep in violent rocking seas.", he explains. I am excited: This is truly the first and only new yacht I have seen in my life with standard mounts for studding sails. "Another nice thing is the mattresses utilized here", says Magnus: "They´re made of memory foam which makes it very, very pleasant to find a good night´s sleep in here." I bet it will!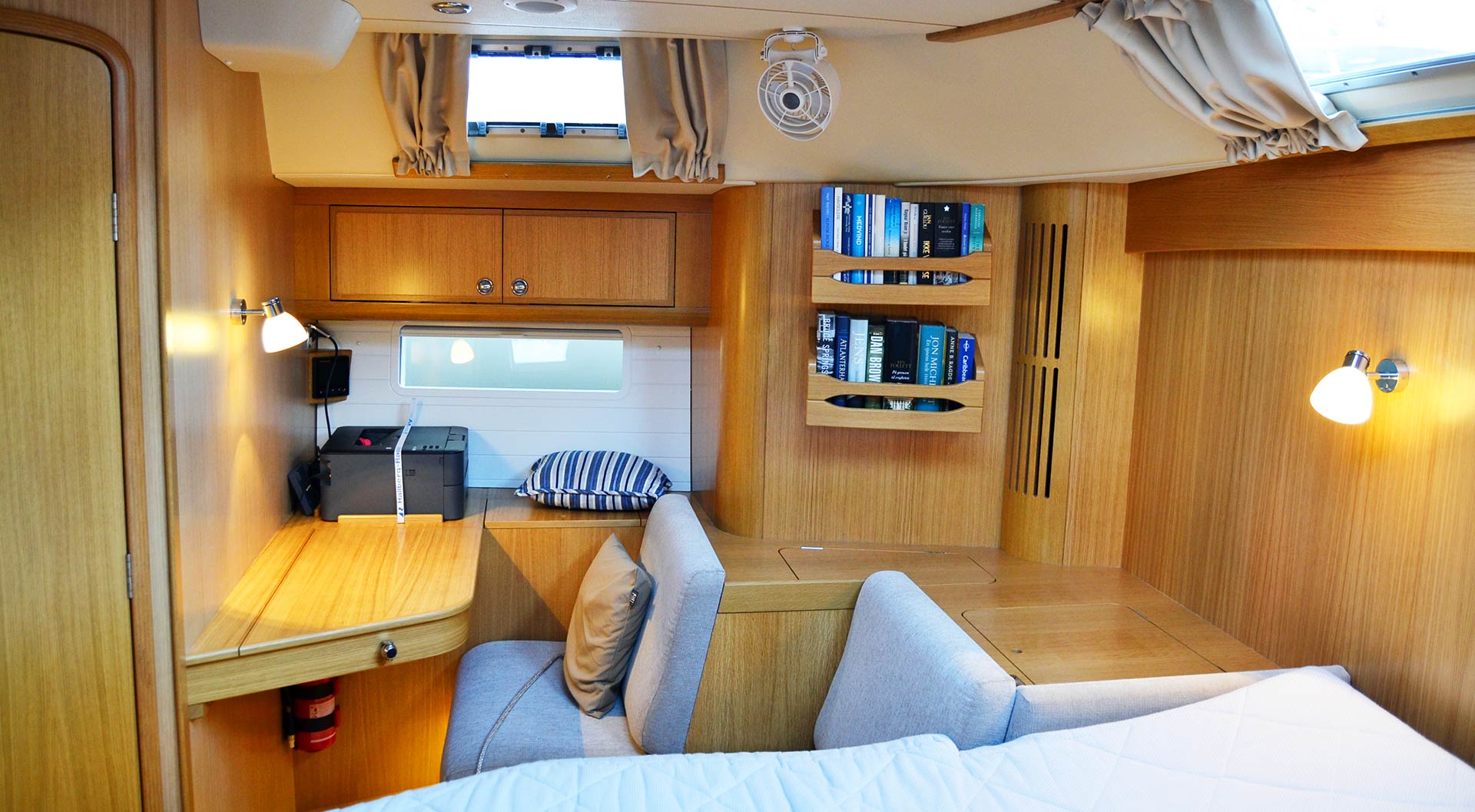 On starboard side of the master cabin a whole working place has been set up: A small worktop (which in itself is bigger than most of production yacht´s chart tables), a comfortable seat and stowage. A nice calm and intimate place to do some work off the lively saloon. We proceed again through the saloon and I take a look into the port side guest cabin which is a pure treat: It is very large and luxuriously equipped with a double bed and again lots of stowage. I love the classic ceiling of Teak batten mounted at the ship´s sides. Being a guest on this yacht must be like having booked a luxury suite.
I look very much forward to inspect the front cabin as I am right now in the midst of refitting the fore cabin of my own boat (read it here and here). On the Hallberg-Rassy it´s a classy design in wooden timber all over the place. A nice ceiling again at the ship´s hull, lots of cabinets and stowage and a large V-shaped island bed again offering lots of comfy space to sleep in. I like the indirect lighting as this is seen now on virtually every modern yacht and I am a bit sad about the fact that I didn´t happen to incorporate this trend into the lighting concept ow my own yacht.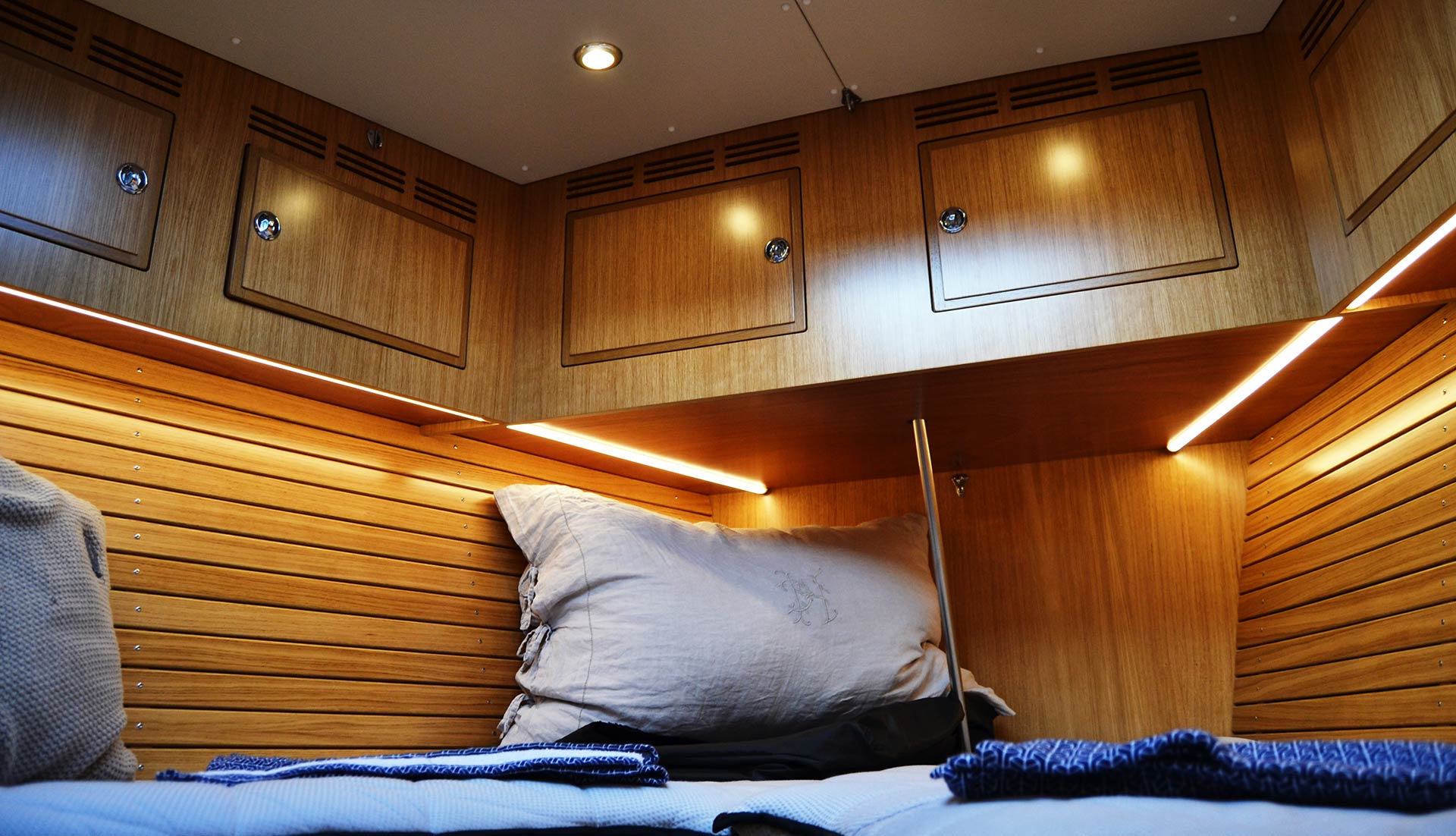 When it comes to interior design of yachts I fancy both modern, clean approaches with bright colours, new materials and sometimes a broach of traditional pattern. I also like the somewhat minimalistic approach to interior design of a Pogo racing yacht – as long as it is coherent with the boat´s character and harmonious. Such as the interior design of the Club Swan 50 (read it here) or the rather classic design of the Maxi 1200 (read it here). With a Hallberg-Rassy, there´s only one way – the classic, very much "ship-like" design, the use of traditional material, classic forms and styles. Rather different as well from the Oyster I might say, which is a similar "classy" boat but with a very different emphasis when it comes to her internals.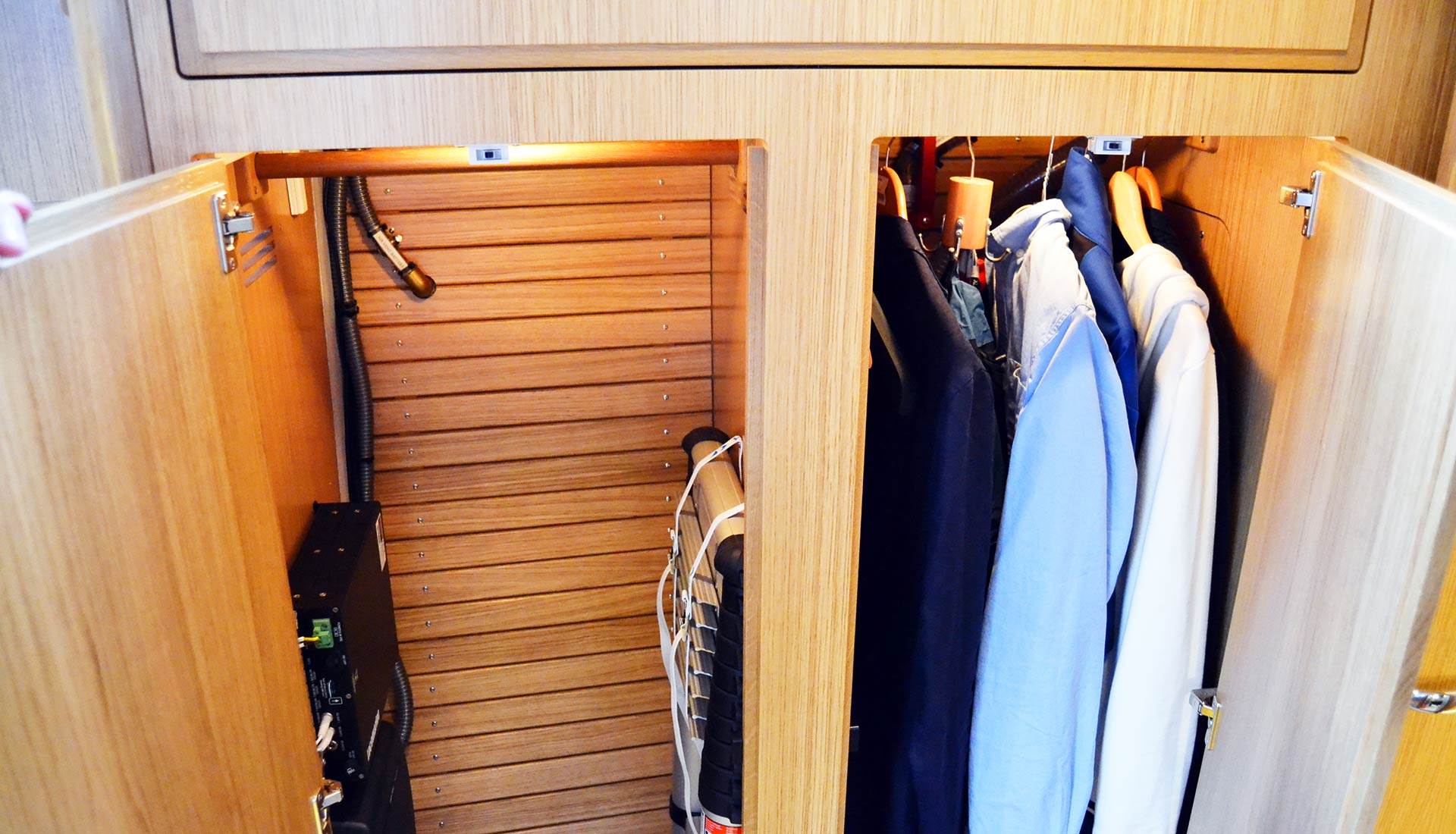 What all of these boats have in common is their unique quality. Not just providing a flat, like the setting of a theatrical play, a nice veneer to spend one, two or three weeks of holidays, but a real ship made of solid stuff. Even when looking behind things, this unique standard of quality shines bright: Every back board of every closet or cupboard is done with the same pretension as the shiny front: Looking into a closet I love to see the ship´s hull covered with a nicely done wooden ceiling.
Not a cruiser. A battleship.
Which brings me to the technical side of this yacht. Magnus opens what I though is just another locker, but which in fact is the main fuse access. It´s a one meter high closet full of switches and fuses for all electrical and hydraulic circuits of the whole boat. "What a nightmare this must be to install?!", I remember my own painful efforts in de- and re-wiring my small 33 foot cruiser. "It´s more than that. Our approach of redundancy can best seen here with the electric stuff. You see," Magnus tells me, "on the smaller Hallberg-Rassy boats the ratio of woodworks versus electric installation work is around 70 to 30. On this very yacht, this ratio is reversed, 30 to 70. This is a highly complex yacht!" He opens another door. It leads to the engine room. Clean, well lit. A fine place. A cathedral of engineering.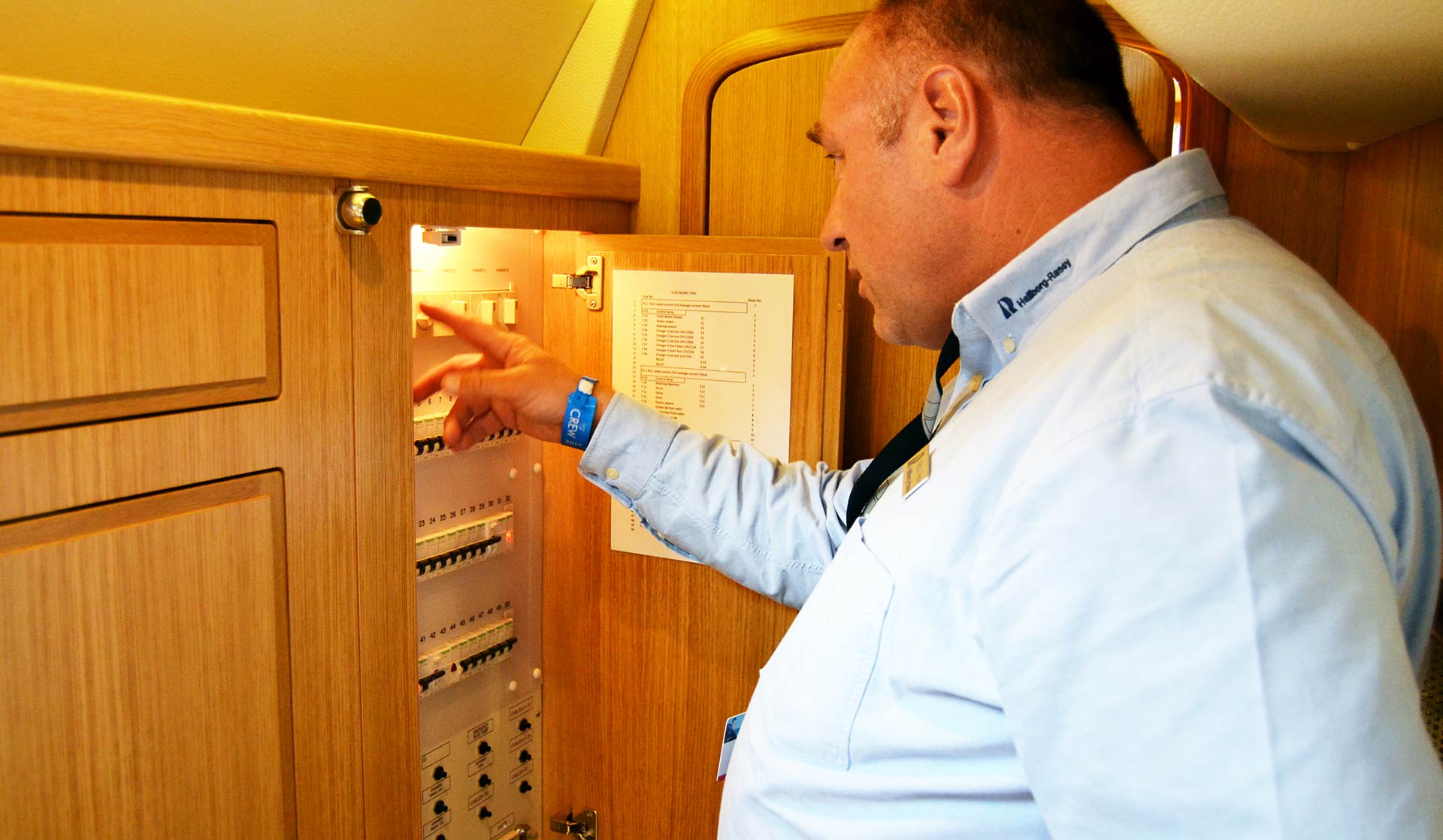 And this is truly amazing. I guess, I´ve never spend so much time during a yacht visit in an actual engine room – partially because most of the yachts I visit do not have such an amenity. With the Hallberg-Rassy, it´s a standard feature. The engine room offers almost standing height and measures several meters in length and depth. Heart of the room is the massive 300 horsepower Volvo-Penta which is connected to a shaft prop. "You know, when I talk about redundancy, I really mean it", says Magnus: "This yacht even has a second propeller on board. Just in case …" The engine is fed from several Diesel tanks all in all filled with no less than 1.800 litres (!) of fuel. The engine is a D6-300 with 5.5 litres of volume. "The bow thruster alone creates 20 horsepower of thrust. It´s huge!", says Magnus and points to the Cummins generator.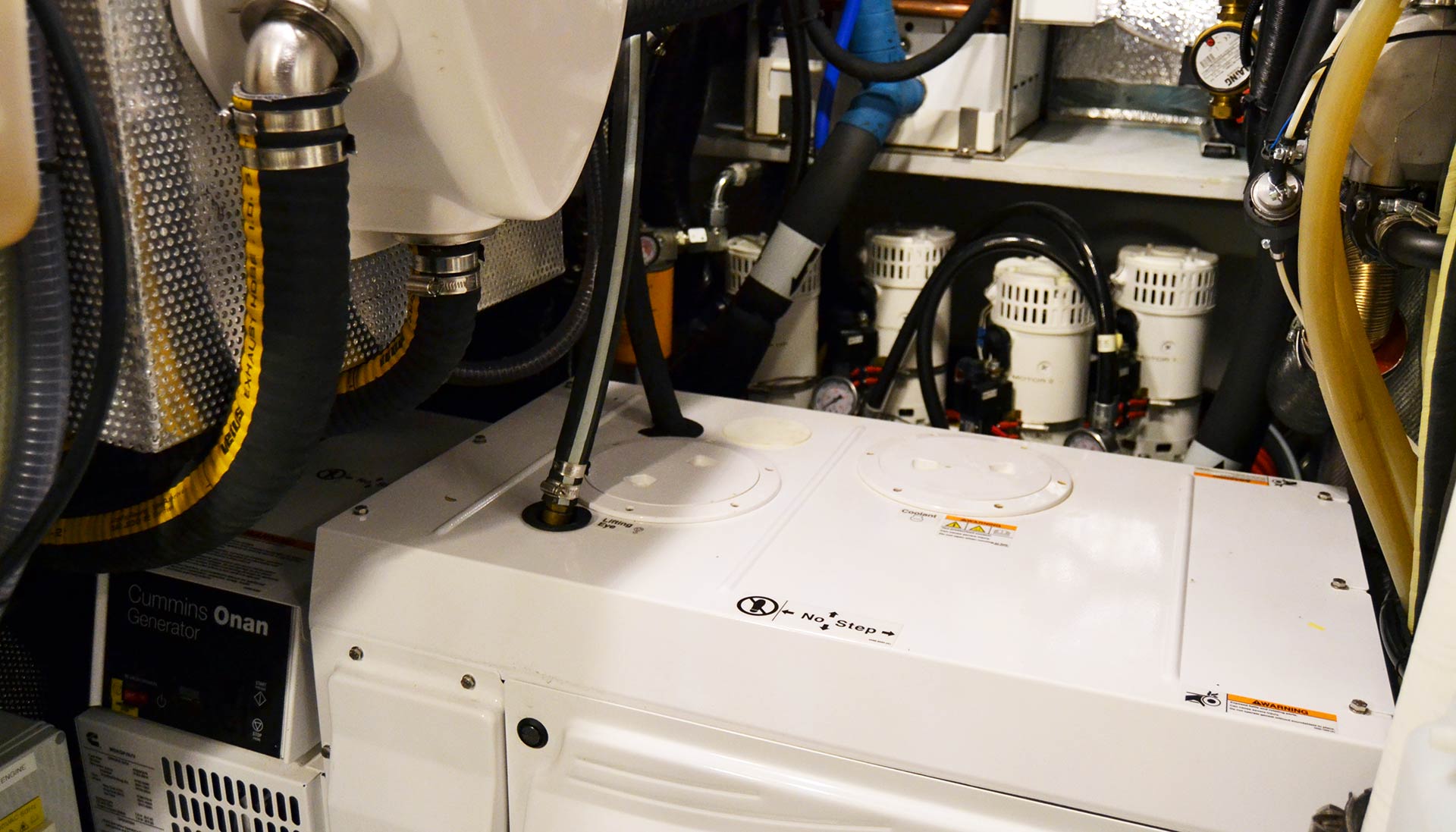 This is a massive machine. This generator is able to put out a massive 17.5 kiloWatt. That´s 17.500 Watt! "And this is just the primary generator", Magnus says and himself sits down on one of the engines. We both have enough space in here to relax our feet and stretch: "There is another secondary generator installed – you know: Redundancy – which creates another 3kW if needed. Behind the Cummins generator I spot four huge powerpacks for the hydraulic system of this yacht. "We have huge inverters here and charger for the battery system", says Magnus.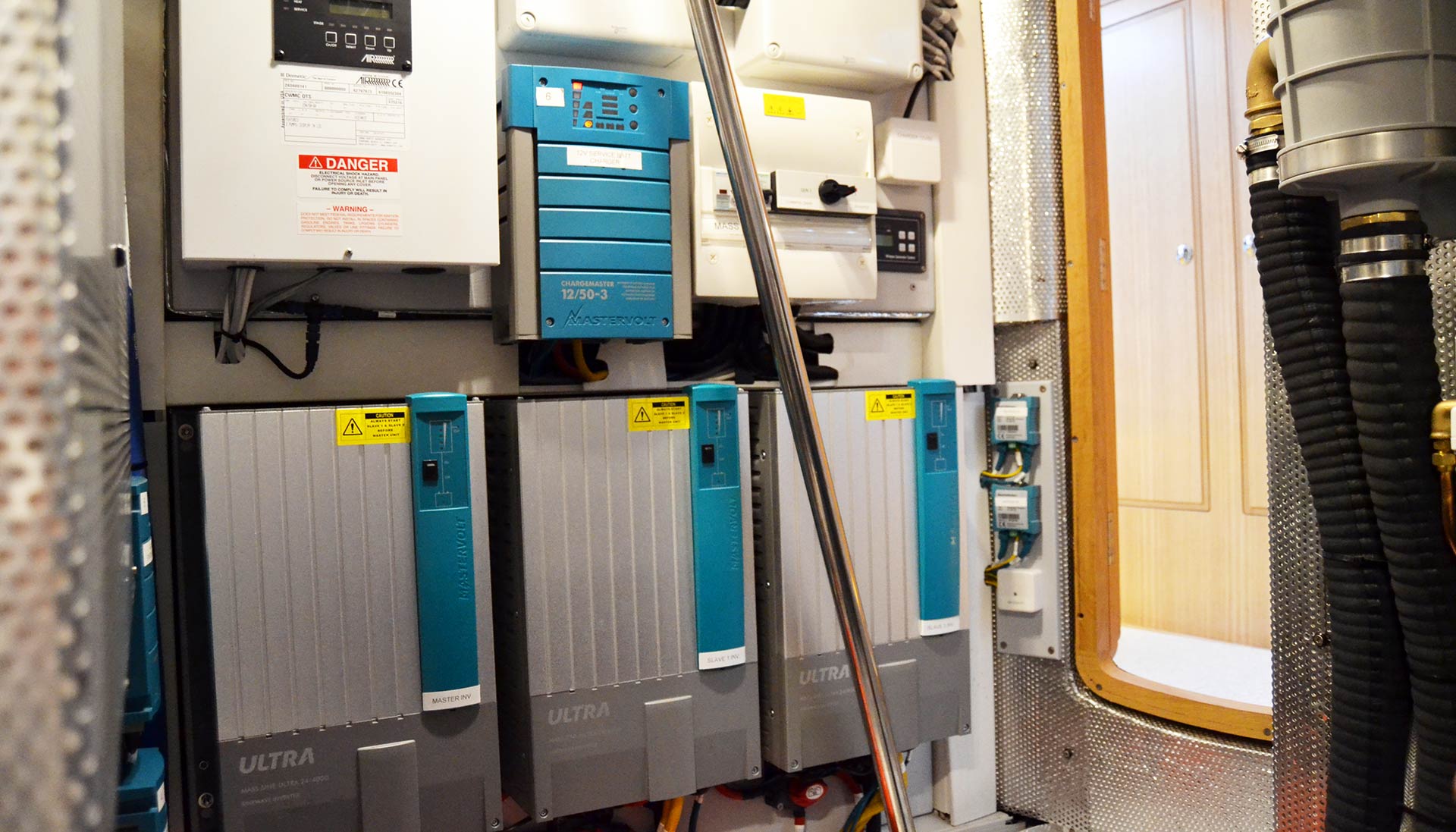 I can imagine that this boat with all its electric systems, the massive winches, bow and stern thruster and stuff needs a load of electric energy. "That is true. This yacht is equipped with Mastervolt Lithion Ion Ultra batteries delivering a total of 24 V 1.080 Ah for general service.", Magnus says. He is truly in his element "down" here in the engine room: "There is another 24 V 180 Ah battery exclusively for stern and bow thrusters each." And then, this is what I read in the papers, there is also a main engine start battery and – of course – another one to get the generators up running. Just. A-M-A-Z-I-N-G.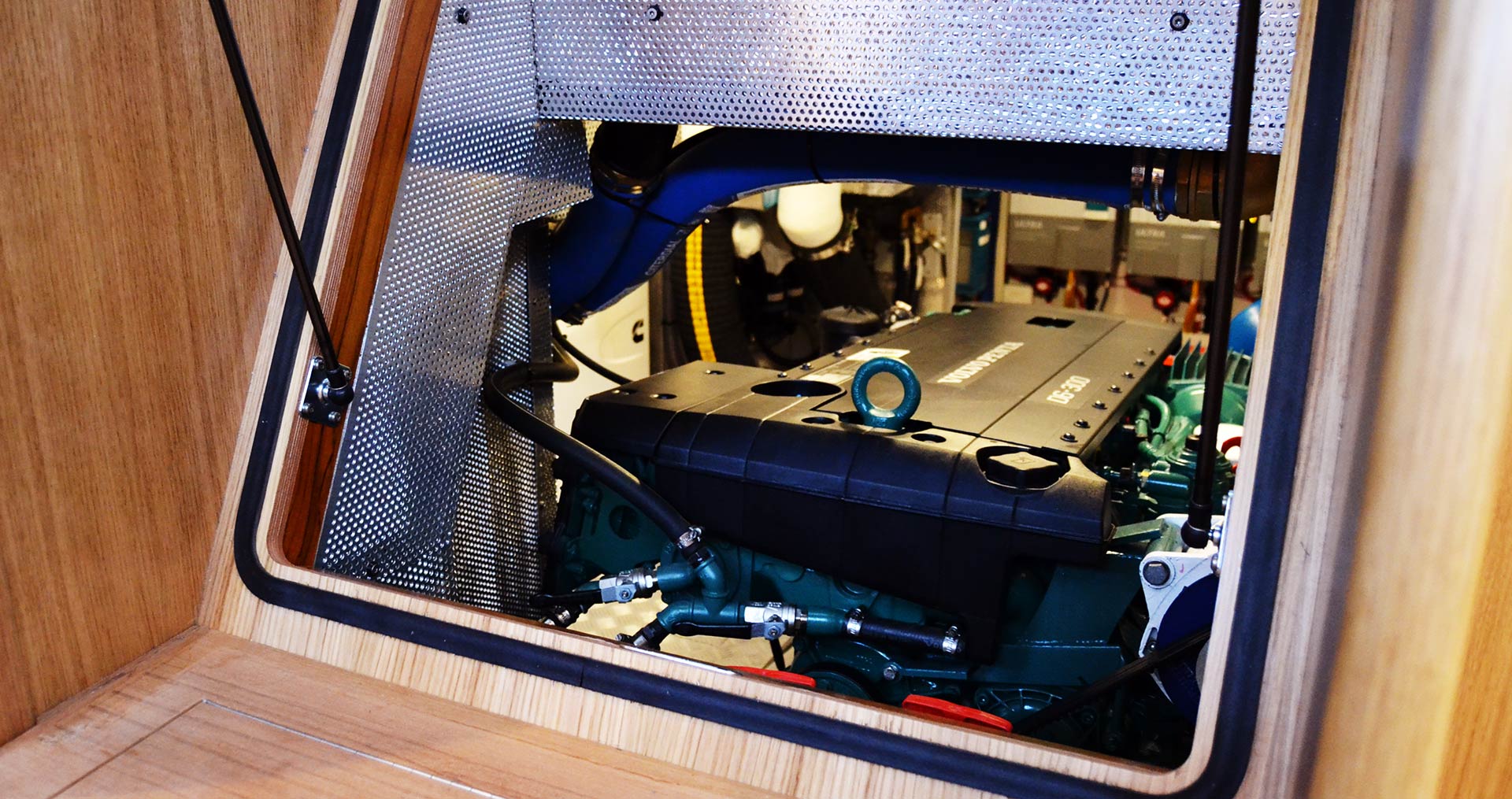 There is the possibility to reach every corner of the machinery both from inside the engine room as well as through access hatches and the classic engine entry by raising the downstairs entryway from the cockpit. I am so massively impressed by the sheer volume of this boat, by the massive amount of machinery and the sophistication which is behind every panel. This changed my whole perception of this boat from being "just" a sturdy, comfortable and big sailing yacht to this high-tech modern yacht equipped with every thinkable feature. This is truly not a "no frills" yacht in the sense I would fancy it: As simple as it can get. But in a way, no frills with Hallberg-Rassy simply means "no compromise".
What makes the Hallberg-Rassy legacy?
After this exciting 90 minutes of getting my exclusive tour of this Hallberg-Rassy 64 by Magnus we re-enter the nice Teak deck of this boat, sun is coming down and a day draws to an end. I´ve spent another day on this yacht and I think I again managed to get nearer the encryption of this Hallberg-Rassy-legacy that surrounds every single one of those boats. It´s the love to sea, the focus on tiny details, the no-compromise-attitude when it comes to material quality, that can explain the love of the owners to their boats and the admiration of people like me.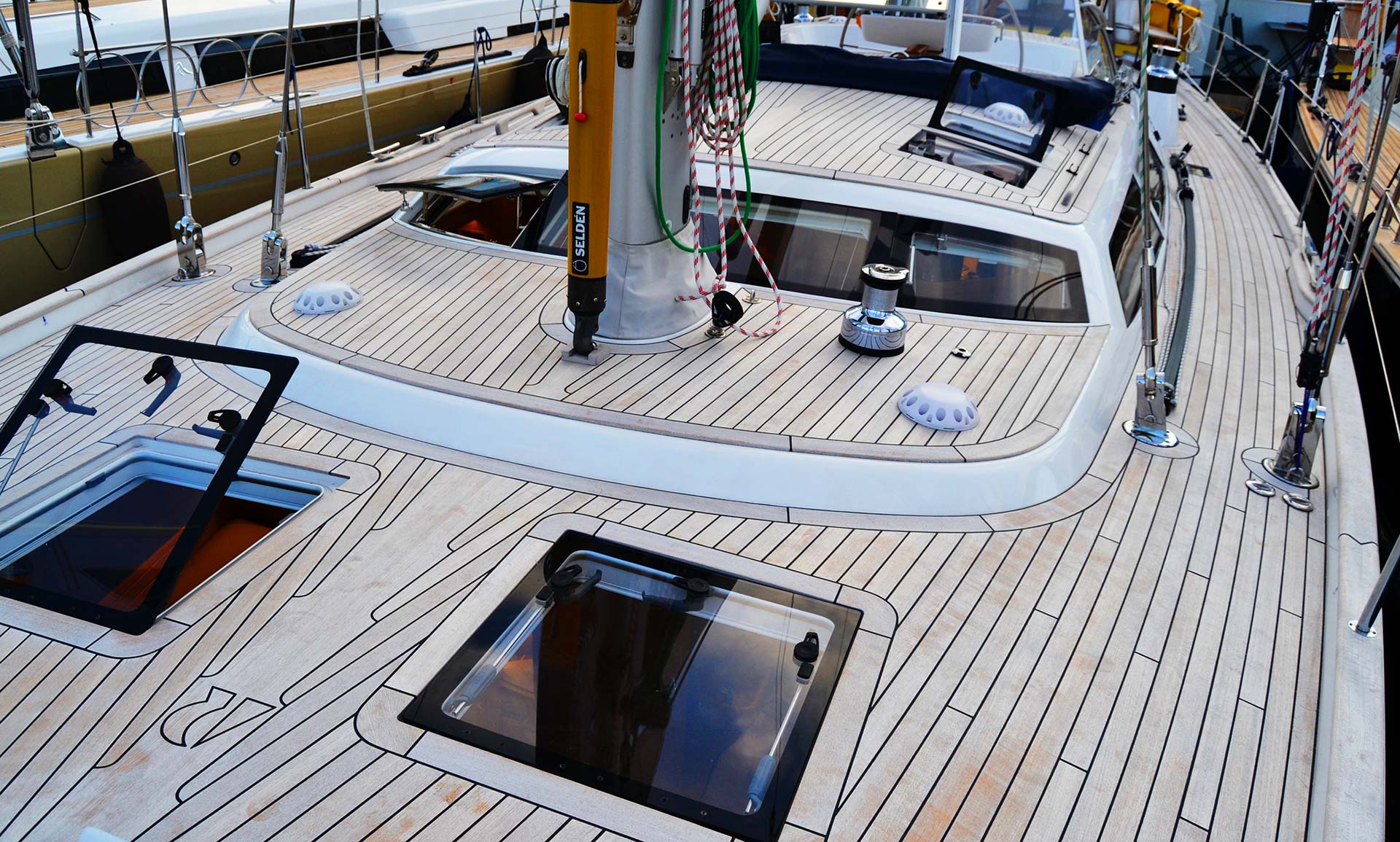 Not a single spot I´ve seen, not a single bad Pantera- or Sika seam, nor an unconcealed screw head, no allowance in panels or veneers. Even behind corners in faraway spots of the boat most time hidden by front covers you see the love for the detail and for the product. Yes, these yachts are very expensive. Very much more expensive than yachts by grand production companies. But the quality of the built is unparalleled in here. This boat won´t let you down. It just won´t. I cannot imagine a single situation at sea that could harm this boat. If I´d board one of these, I would surely have most confidence in the material.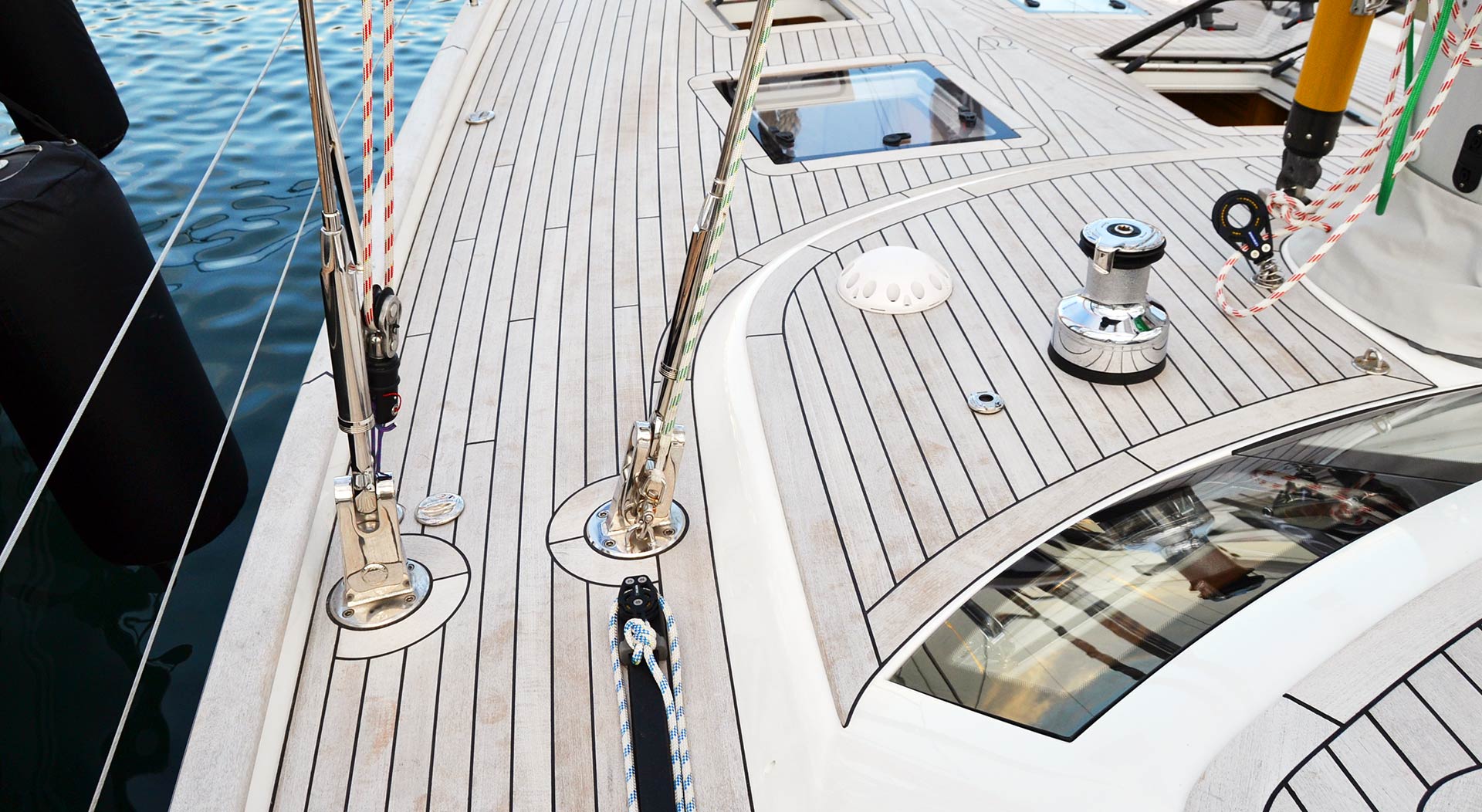 This is re-assured as I roam the gangboard and proceed to the bow. I pass the thick shrouds and touch the massive terminals that mount into the chain plates. This is such a stiff and sturdy construction – you can actually feel it. (Read here about the chain plates refit on my own yacht). And I decide, that if I´d somehow ever in my life happen to become a lucky owner of a Hallberg-Rassy, I swear to take this boat where it belongs: Out onto the wide open sea, to meet the waves, to greet the might of Poseidon and to finally do with this yacht what it was made for: To sail.
When I leave Magnus and this marvellous HR 64 we shake hands and I am virtually speechless. Yes, this 64 foot yacht is way too big, way too massive and completely out of sight for an ordinary man like me. But now that I met him on his product for the fourth time, I truly believe that his spirit, his love for the detail, his admiration of true seamanship is also incorporated in the smaller yachts of his yard. Just because he simply loves what he does and translates this to the company he runs and the product he´s making. I am happy for each and every Hallberg-Rassy owner as I know that they have made the right choice.
All articles on the Cannes Yachting Festival 2017 may be read by clicking on this hashtag #cannesyachtingfestival
You may also want to read:
What makes the perfect yacht for circumnavigation? Talking to Trans-Ocean.org CEO.
Scandinavian approach to sailing – talking to Niels Jeppesen of X-Yachts and Magnus Rassy
Designing a sailing yacht – Marc Lombard, Magnus Rassy, Umberto Felci and Franco Corazza of Italia Yachts