There are brands of which one could think that there is everything said. Mentioning Hallberg-Rassy in a chat with another sailor almost every time leads to a knowing nod and something like: "… yeah, but that´s Hallberg-Rassy, man!" You can either love or hate the yachts made by the Swedish company but one thing is for sure: A Hallberg-Rassy will always be … a Hallberg-Rassy. But if you start to dig deeper and maybe try to get into touch with the people, you will quickly learn that there is much more to these yachts that "just" the sublime image.
When I did my first interview with Magnus Rassy almost a year ago I was puzzled that it was … well, that it was possible to talk to him. He was very open, very kind and what I loved most, very passionate of what he was doing. Told stories from the past, when he was a little boy sucking up the atmosphere and the philosophy of the brand. It´s a pleasure to see this because it forms a bond between the tradition of a brand and the present times. It´s not just a name, a logo that is put on a hull, but this is real family business, real tradition and a real philosophy behind it. I respect that very much and I was delighted when he welcomed me aboard the new Hallberg-Rassy 44 to talk about the very design process at the company.
On the birth of a new project
We sit down in the center cockpit of the Hallberg-Rassy 44. Magnus grabs the steering wheel. I take a quick round view of the setting: The cockpit is not narrow in a deeper sense but it´s a clear alternative draft to the low, open and wide Mediterranean-style cockpits of most sailing cruisers. A single steering wheel – passing on the steering power by means of cardan shafts – and a control panel for push-button-sailing. Classy Teak veneers and, what I fancy most, a really massive grating. It´s safe in here. People won´t dance in this cockpit, but an HR isn´t made for wild Cote d´Azur Mannequin-parties anyway …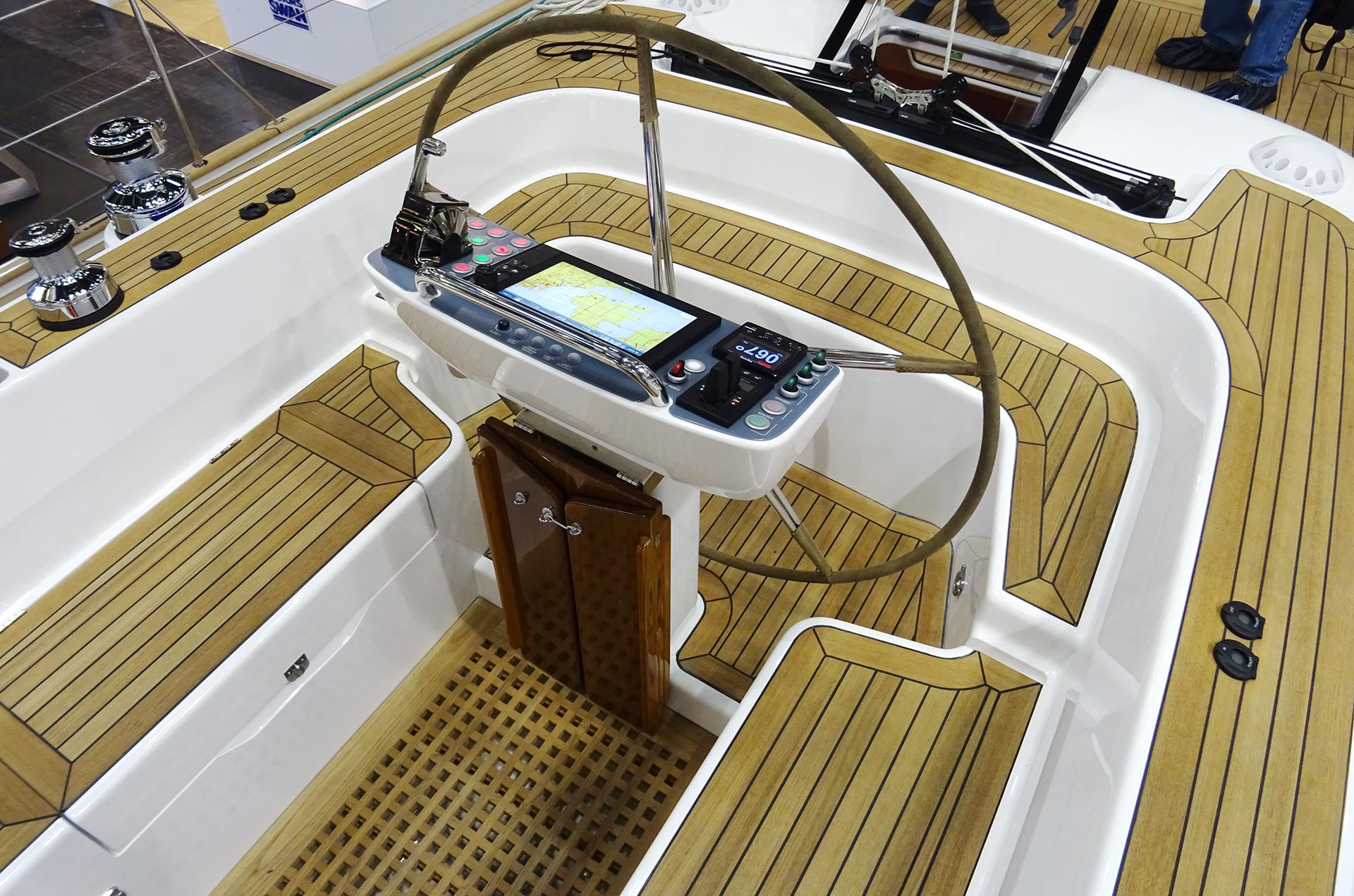 NO FRILLS SAILING.com | Lars Reisberg: "Magnus, in one of our first interviews you told me that you are personally making up the first sketches of a new Hallberg-Rassy sailing yacht. I´d like to dive much deeper into this process: How is a new sailing yacht from your yard born?"
Magnus Rassy: "It´s true: I am still drawing. But when it comes to launching a new project – like this HR 44 – the briefing is more important. This is basically made up of words, it´s a text in written form that I will set up for German Frers and his team. It encompasses all the features that I have in mind with the new boat."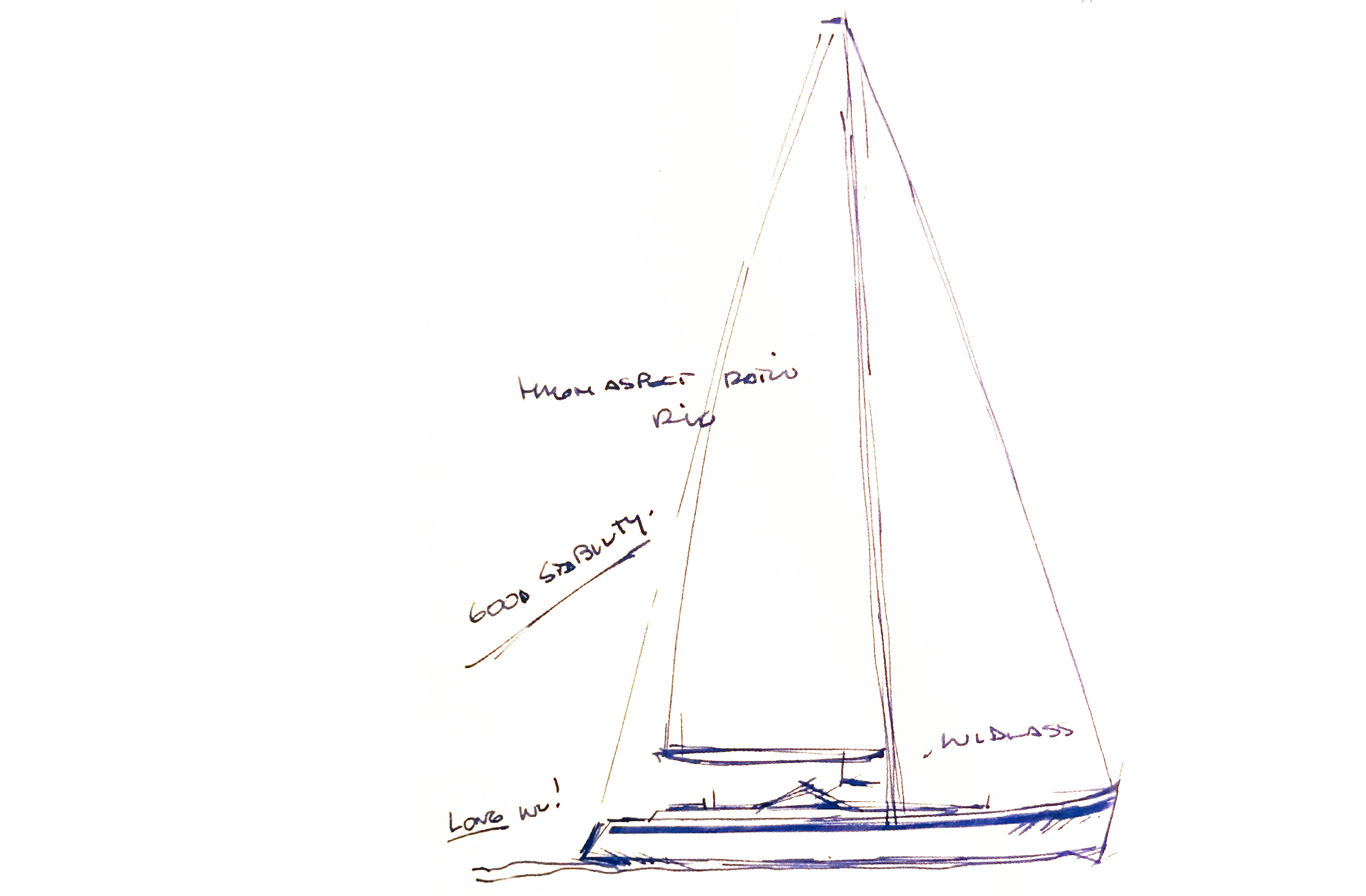 NFS.com: "German will do the drawing then?"
Magnus Rassy: "Yes of course. Mostly, he will deliver a first sketch. We are doing so to get a certain feeling for the new boat. To form her right character."
On his briefings to German Frers
NFS.com: "Looking at some of the large production boat companies I notice that – maybe – their boats are constructed primarily with inside volume in mind. Hallberg-Rassy yachts are as well known for their spacious interior settings. How are the boats constructed in the following process?"
Magnus Rassy: "You are referring to whether it´s an inside—to-outside process? Well, one needs to really think about the boat and why you are doing a project. There can be a lot of reasons for a yard to make a new yacht: Maybe it´s a replacement for an existing size, then length of a ship can be a limit for the designer. Sometimes there are – let´s call them "political" reasons – for example, if there´s already a 41 foot and 48 foot boat in the line, then you have to have your project fit in between. What I am trying to say is that there can be so many reasons for a yard to set up specifications for a new yacht that a designing process is often not a start from scratch.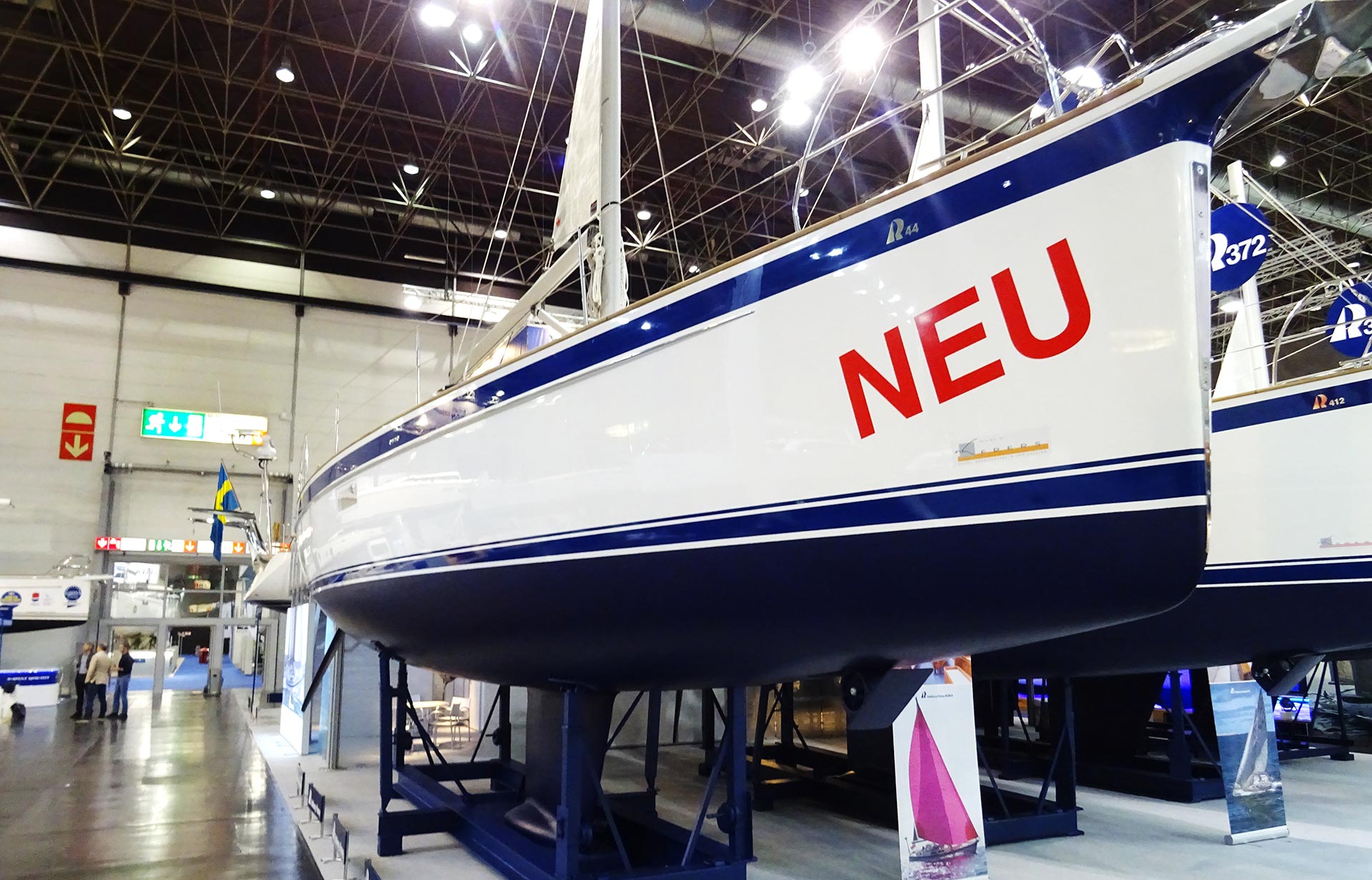 NFS.com: "Can you give an example?"
Magnus Rassy: "Yes. Take the twin rudders on this new Hallberg-Rassy 44 …"
On technical developments at Hallberg-Rassy
NFS.com: "… which have been advertised by the sailing magazines as THE new thing at Hallberg-Rassy and a "sign of modernity" in your company that is more famous for it´s classy and rather conservative designs …"
Magnus Rassy: "And that´s exactly what I mean. We did not introduce twin rudders to achieve a certain punch line in the press. It simply is the consequence of the construction process. The full transom of the HR 44 makes this boat exceptionally wide. So when heeling, a single rudder would be lifted – at least partially – out of the water and lose its efficiency. It is our philosophy that a Hallberg-Rassy must always be easy to control for the helmsman. The twin rudder configuration was the logical reaction to a certain demand here. What we do at Hallberg-Rassy is always determined by one thing: It has to make sense for the blue water sailor. He is whom we build our boats for. So we always ask ourselves: Does it make sense? Does it enhance performance? Does it maybe raise interior volume? This is how things work out."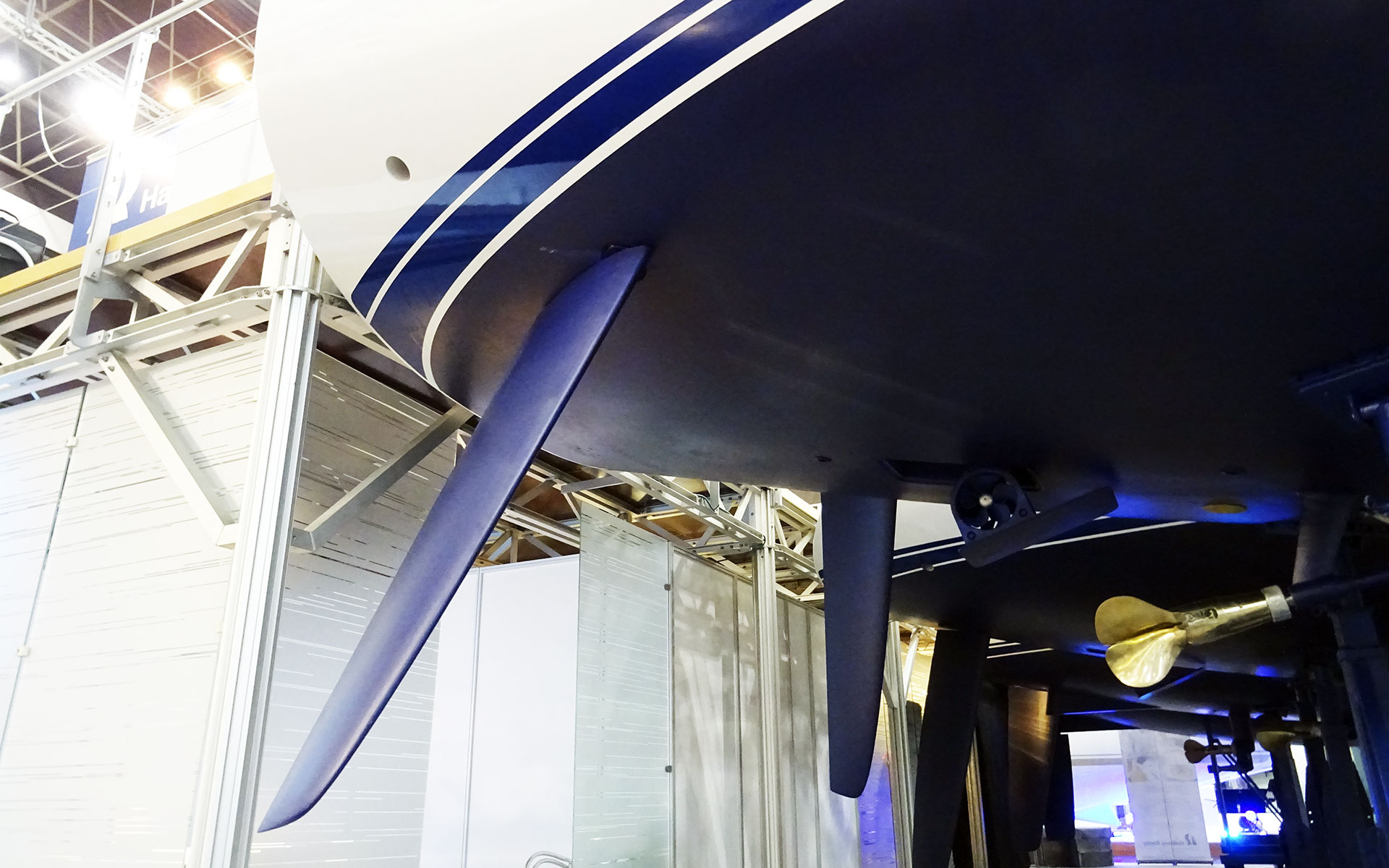 I will later climb into the boat to check out the interior – which is as always living up to highest demands for sure. There´s noble wooden fittings everywhere, even behind cabinet doors. The quality of the joinery is breathtakingly beautiful and the whole yacht is breathing this one message: "I am made for a real owner." This boat is made to last. Made to be loved. It´s definitely not a faceless charter-boat.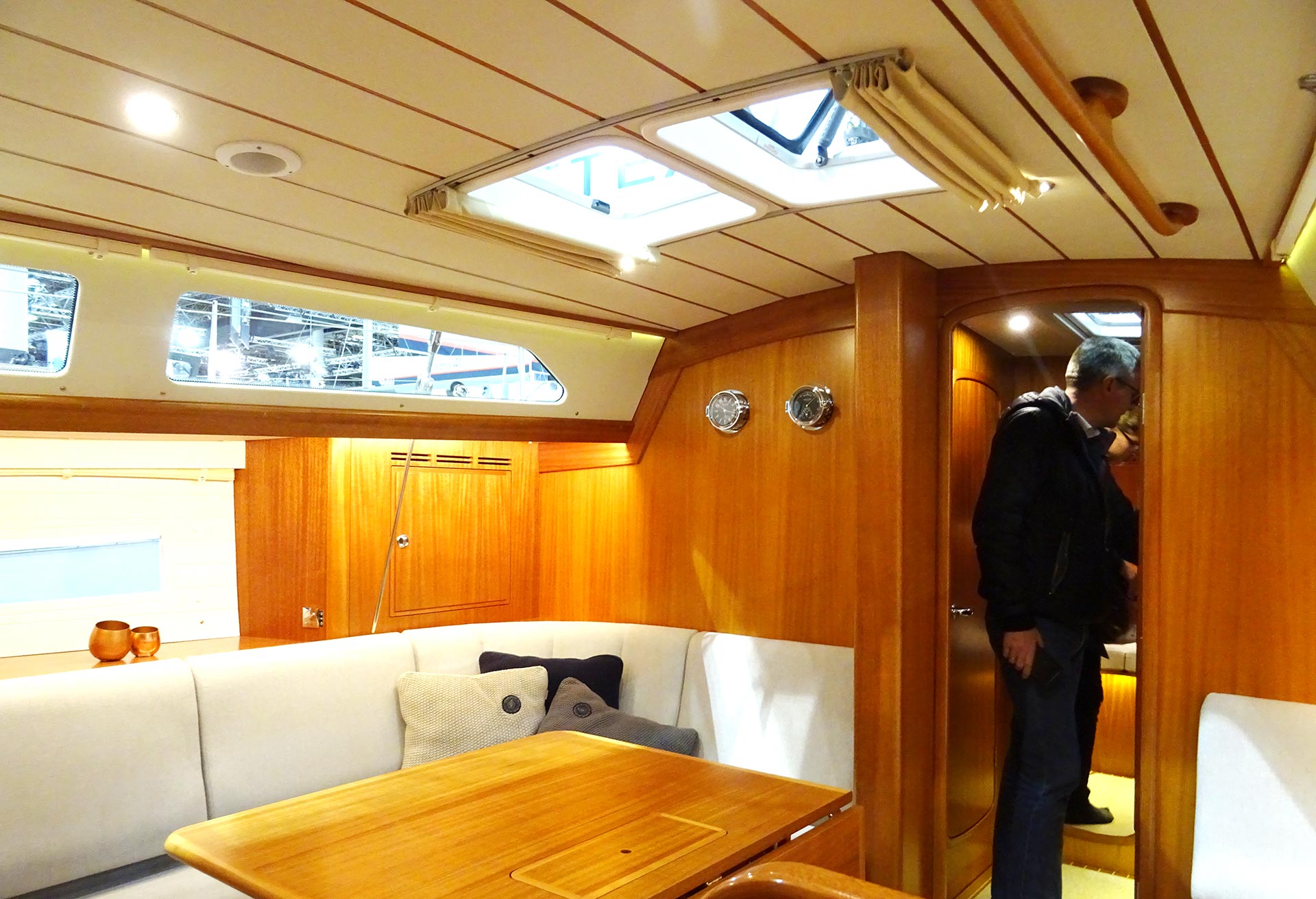 Although a 44 foot cruiser, I instantly notice that the boat hasn´t been made with a maximum interior volume in mind. Comparing the space of this yacht with, let´s say the Grand Soleil 46 or a Dufour 460 (which of course are slightly bigger) brings me to the conclusion that the HR 44 has other intentions. Keeping the spaces shut and narrow raises safety in foul weather: There´s always a handrail within reach, the whole saloon therefore appears rather cozy and embracing. A counter draft …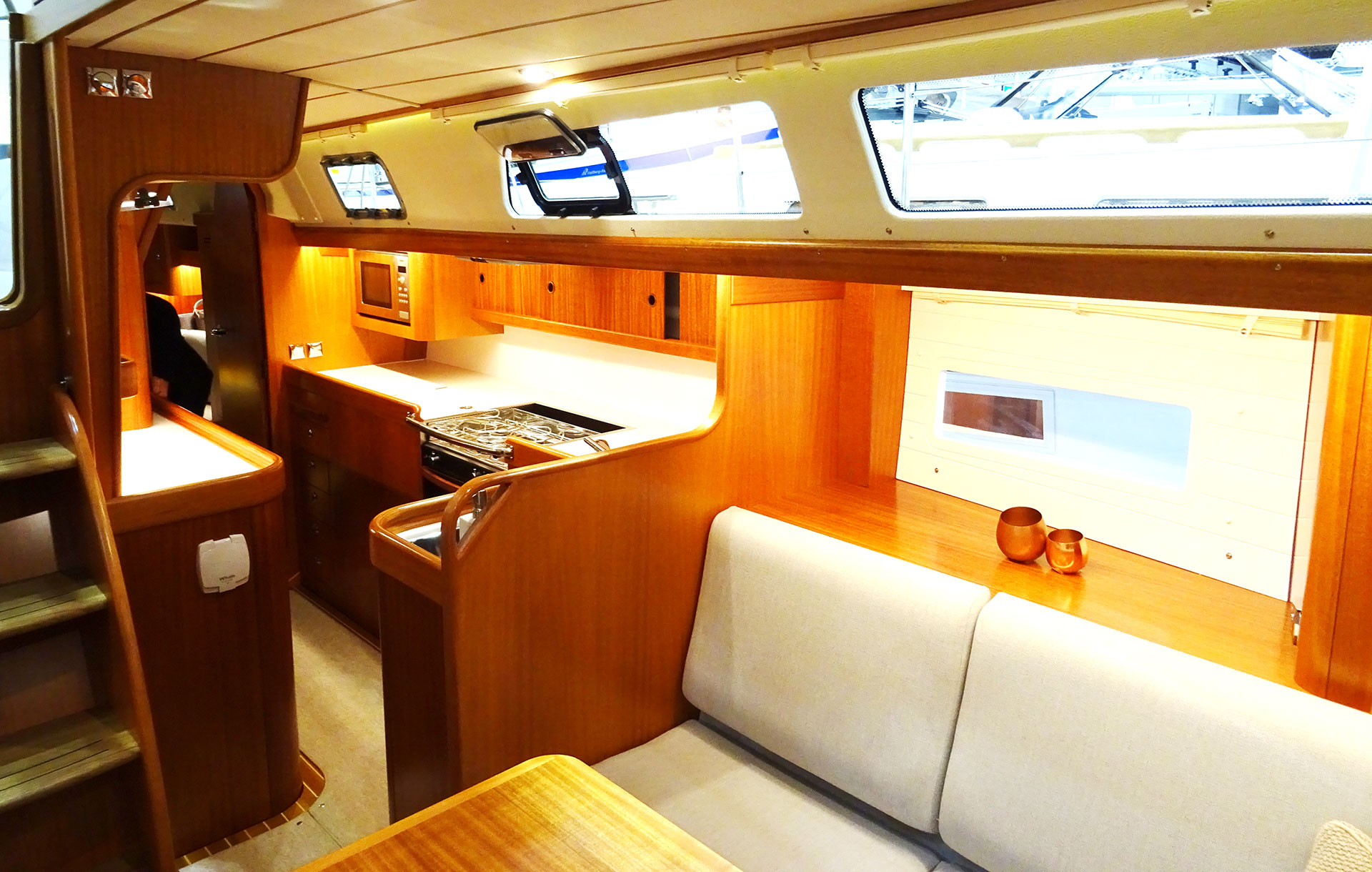 Well, "narrow" is a very improper word in connection with this yacht, as I will find out when I turned myself in to the galley which was on the port side entryway to the aft cabin. More than enough working space here. And again, this cozy, safe feeling of being aboard a real ship. I don´t have to mention the huge aft cabin which won´t leave any wishes unfulfilled.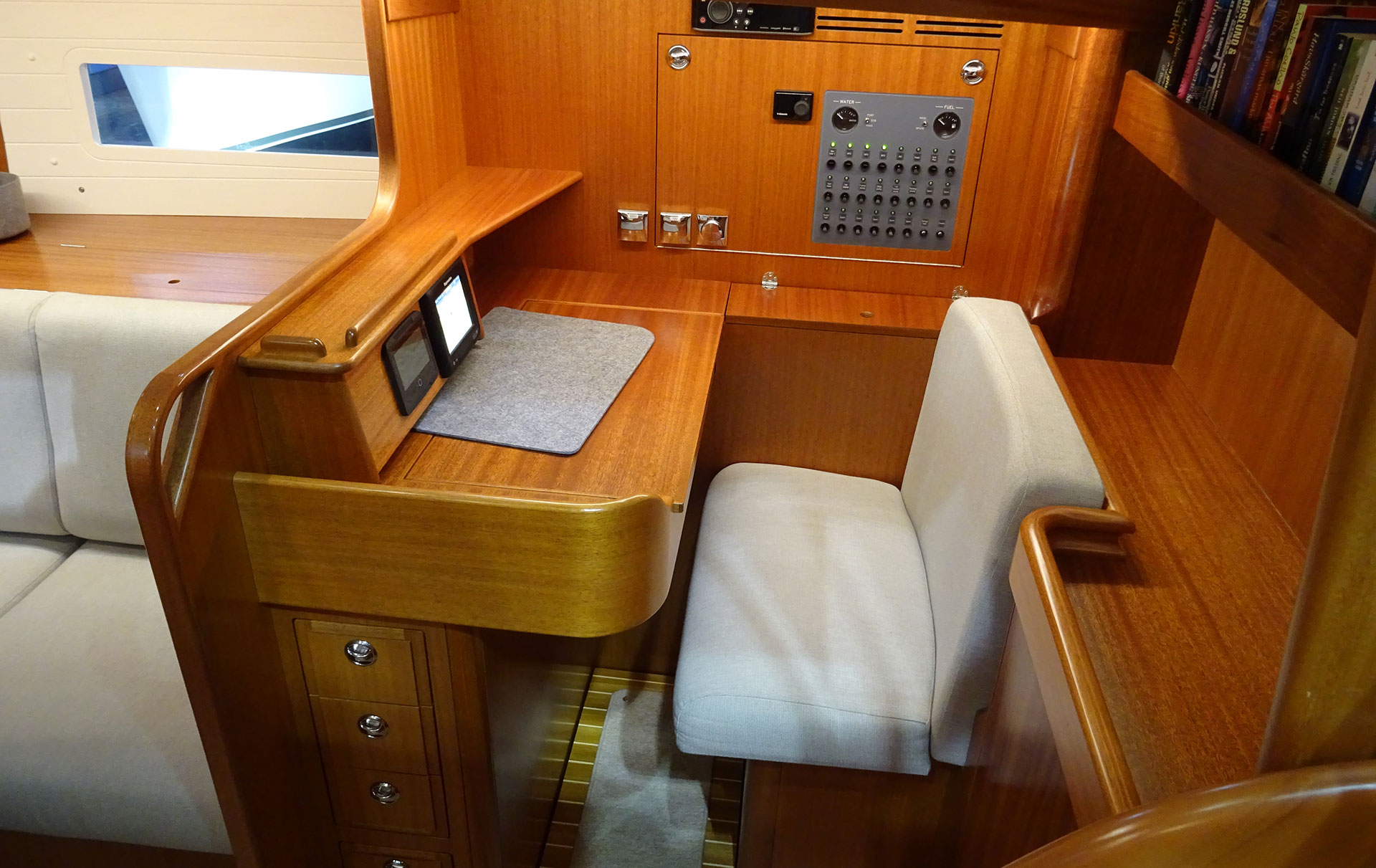 Upon returning I glanced at the nav-station. A proper nav-station with a real chart table, enough stowage for paper charts and rulers and stuff. Where would you get nowadays a nav-station like this? Hallberg-Rassy is the benchmark when it comes to production boats made for sailors. I simply loved this boat. When I roam different boats, I always try to imagine myself being aboard for a long, long cruise. Asking me this one question: Could I live here for months? Aboard HR 44 for sure!
On the new Hallberg-Rassy 44
NFS.com: "What are Magnus Rassy´s personal Top 5-features on this HR 44?"
Magnus Rassy: "I like this boat first of all because it keeps all of the good and proven values of a Hallberg-Rassy. It is a good combination of both sturdiness and soft motion in the sea. At the same time, this boat offers a very good performance in terms of her sailing abilities. Speaking of that, she is very easy to sail which – as I said – is a major asset of all Hallberg-Rassy yachts."
Magnus Rassy: "A detail is the further development of our center cockpit concept on this boat. Notice the deep sump under the gratings: A proper life Raft for a full complement of the crew will fit underneath – yet still, if a big wave should enter the cockpit, there is more than enough drainage space for the water under the gratings."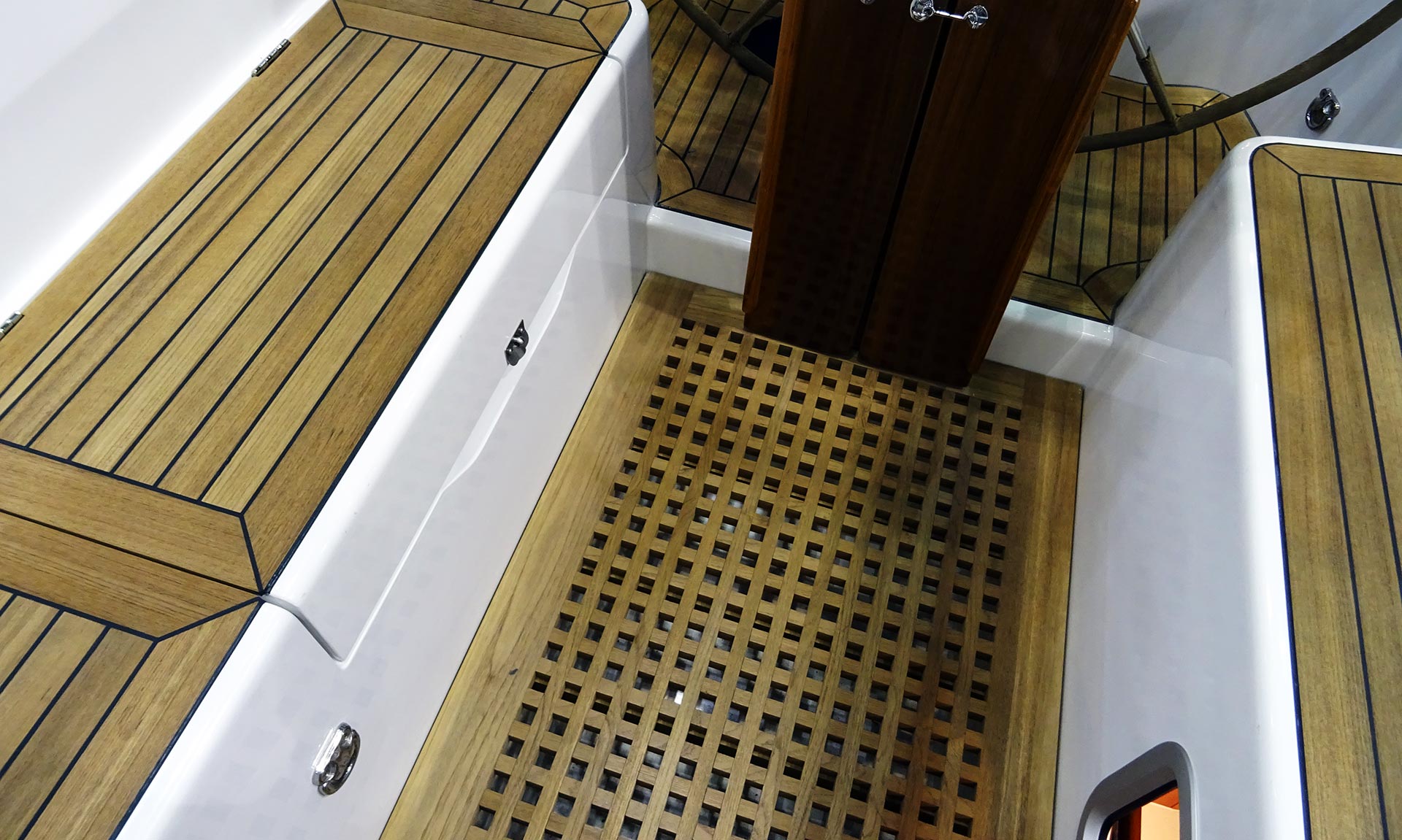 Magnus Rassy: "Another feature right here in the cockpit might be a small and barely noticeable one, but it´s important because it also makes sense for the skipper: See the seat for the helmsman in the rear of the cockpit? We have slightly raised it for some centimeters. But this slight increase will enable the helmsman to look over the heads of other people in the cockpit – very practical. Besides, it enhances interior space underneath in the aft cabin as well."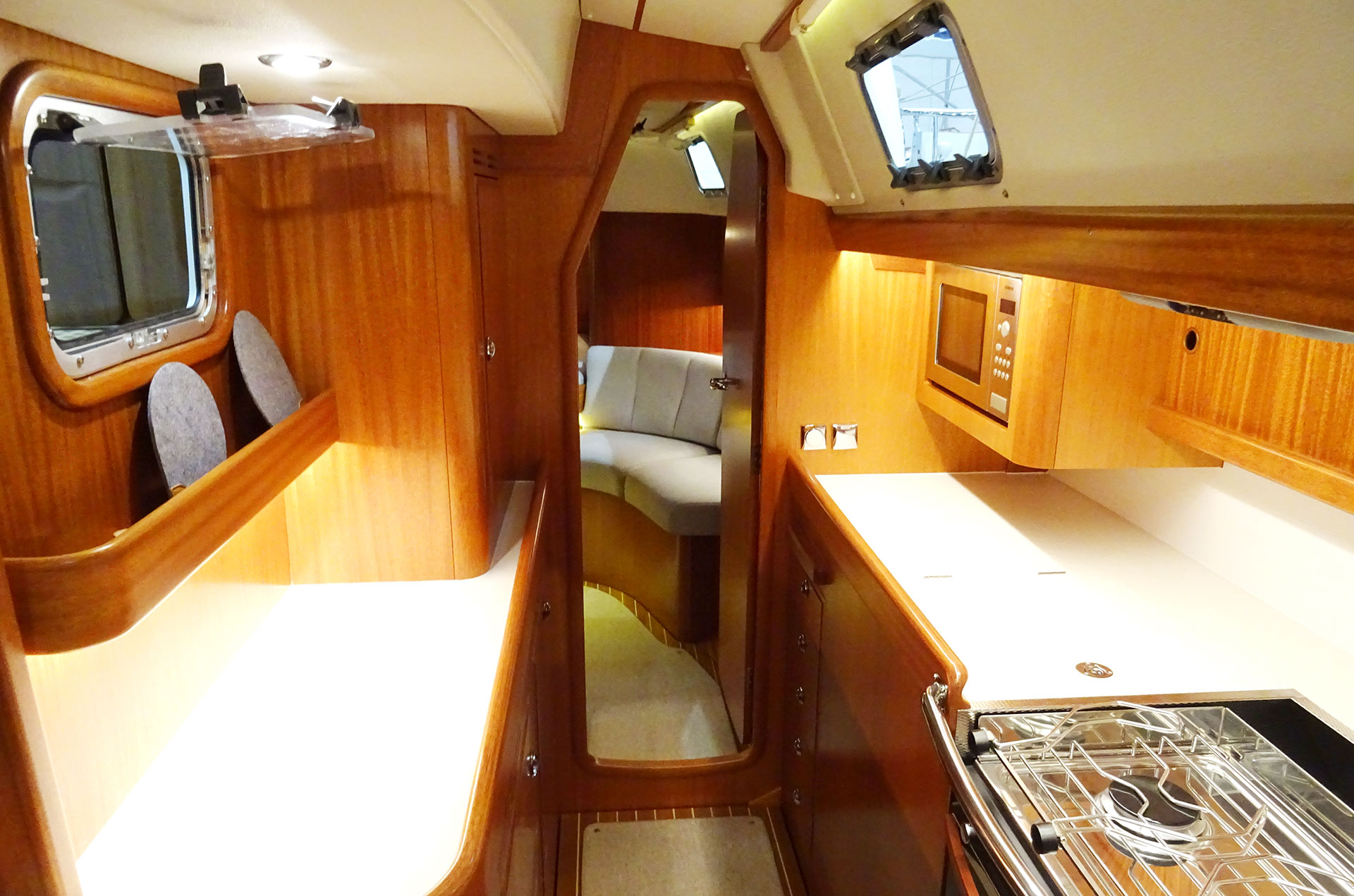 NFS.com: "Magnus, as always, it was a pleasure talking to you. Thanks so much again!"
What I liked most of this new Hallberg Rassy? It was its shiplike appearance. This classy look without any compromises. There is a lot of modernity inside for sure: Push button sailing, latest technology in terms of electric generators, HiFi, WiFi and all that stuff. But you know what: I can perfectly envision an Old Salt from the Clipper-era books in my shelf climbing aboard a Hallberg-Rassy and I bet he would instantly feel at home here. Because, these boats are no yachts, these boats are serious ships for serious sailors.
I´ve done interviews with Marc Lombard, Charly Fernbach and other designers as well at the Boot Boatshow Dusseldorf asking them all the same questions. You may browse these articles by cklicking on this #designingaboat hashtag.
Related articles:
Hallberg-Rassy Captains´ Chairs for my own sailing yacht?
Interview with the Sailing Conductors about their circumnavigation
Is there a Scandinavian Sailing Philosophy?