There it goes the saying: "It´s the boat that finds it´s owner, not the other way round." Al lot of sailors I was talking to were reciting this saying as an answer to the question why they´ve bought their respective yachts. "I felt it in my belly …" or "it was just it!" are among these answers too. Same with me: The King´s Cruiser 33 was the third boat I inspected and from the first moment I saw her it was clear that she was the one. During Dusseldorf Boatshow I had full 10 days time of roaming all kinds of sailing yacht. But it was this one I instantly fell in love with: The Maxi 1200.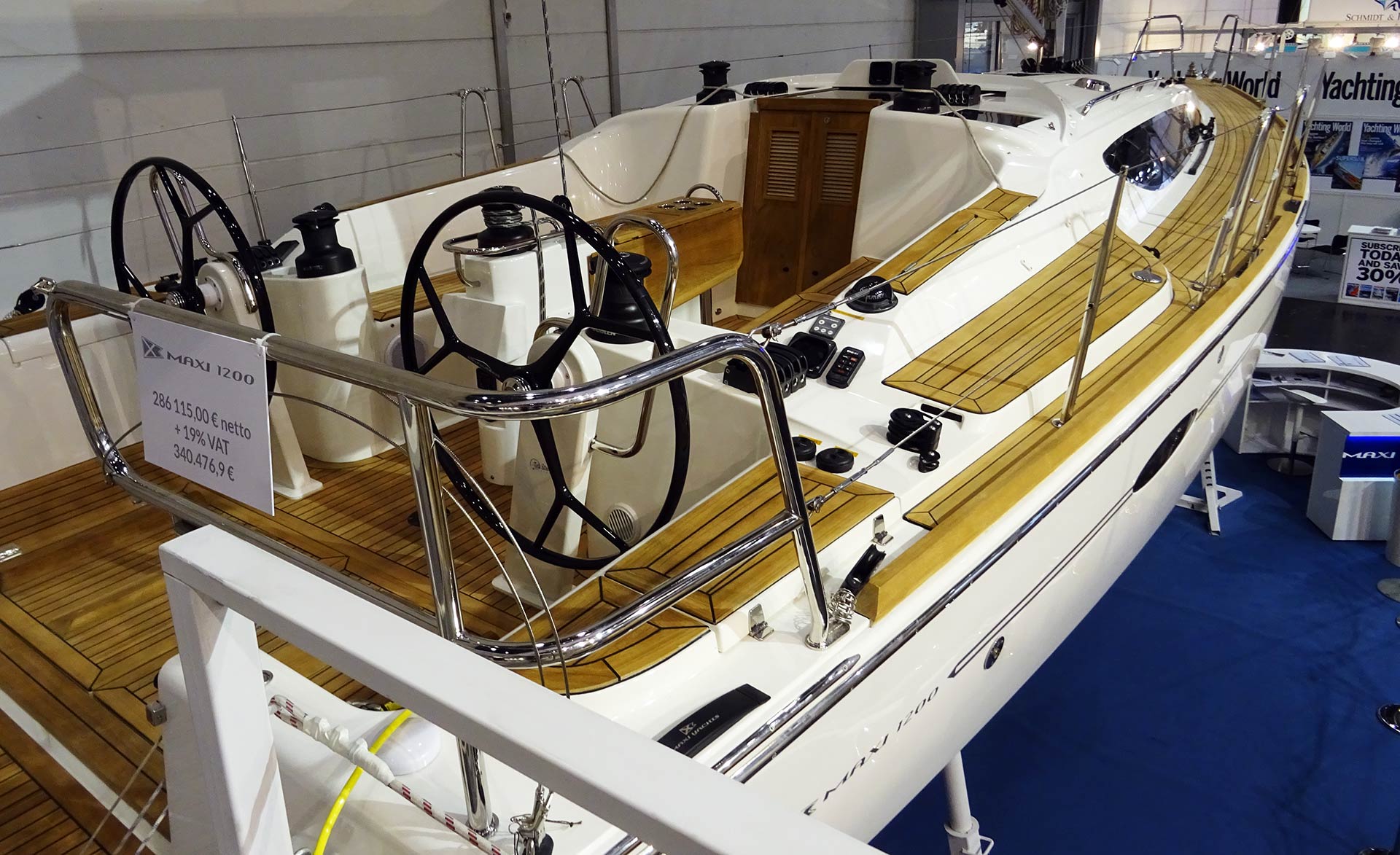 Maxi Yachts has a long standing tradition of making fast Scandinavian-style sailing yachts. Maxi now belongs to the Polish Delphia Group and is alive and kicking. A few boats in the line, but that doesn´t matter because this one yacht alone really touched my heart. Maxi Yachts, this name is inseparably connected with another huge name in naval architecture: Pelle Petterson. Yeah, it´s the very same Pelle who did the design of my King´s Cruiser 33 some 45 years ago!
This. Is. It: The perfect Cockpit Layout
At first I was just a bit curious what a modern Pelle-design would be looking like in present time. After all there is nearly half a century of experiences, changes in design aspects, the Fastnet 1979-turning point and new technologies between my King´s Cruiser and this Maxi 1200. In a way, this 12 meter long boat is the perfect demonstration material in this respect because we have the same designer and almost the same size of boats. As I said, at first, I was just curious. After I visited the boat for a couple of times and finally left the stand, I was completely in love with that boat. It really touched something inside of me.
Among a lot of other things, it was the Maxi 1200 where I really did understand what a "good cockpit layout" really means! No joke: Upon seeing the configuration and positioning myself behind the steering wheel I did have a flash of wit and suddenly understood what people mean when they are talking of "good" or "bad" cockpit layouts. Because in my eyes, the Maxi 1200 just has a perfect layout and cockpit configuration. First of all, the cockpit is both open and roomy but at the same time encapsuled with high coamings which makes it safe, especially when sailing with children. I was smiling because it reminded me of the Kings Cruiser´s cockpit as well.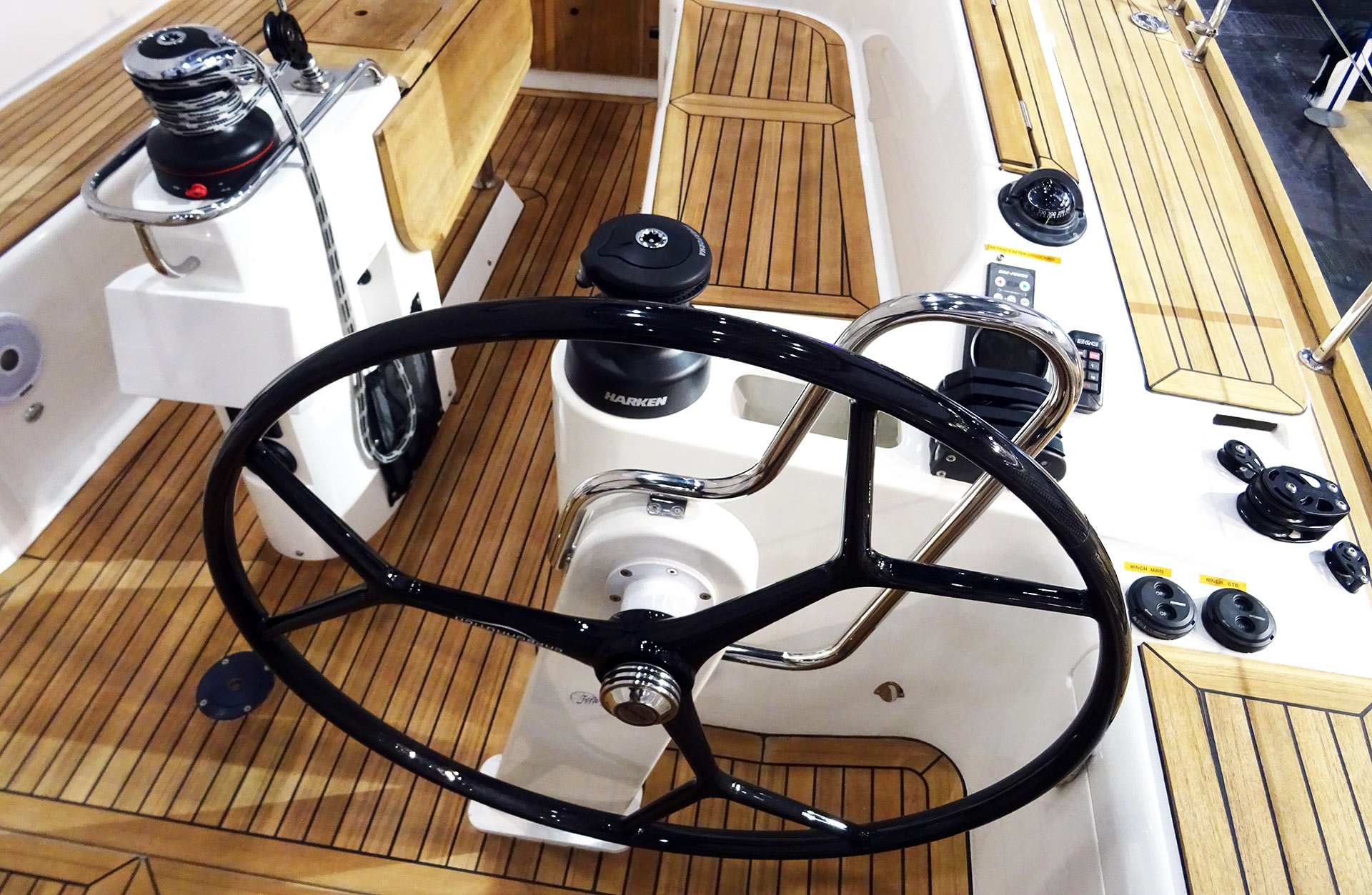 Secondly, everything is within range of the helmsman here. Standing behind the twin wheels you can on the one hand have a great sight over the whole boat as well as everything under control. Except for the secondary roping like reefing lines and halyards and stuff, all ropes are within reach from the helmsman. This makes the Maxi 1200 an ideal yacht for single-handed sailing. What I like most is the clever positioning of the mainsheet winch.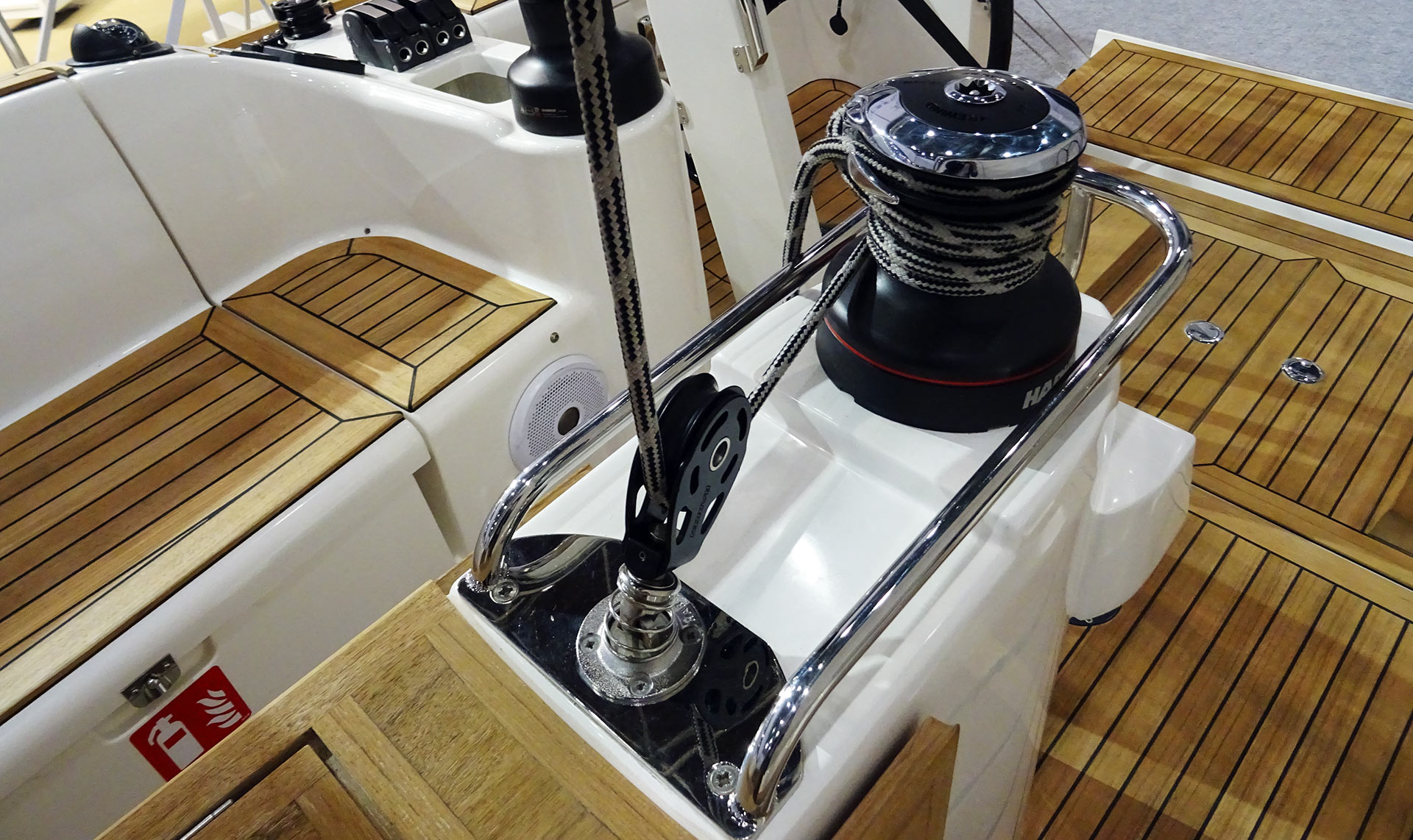 This mainsheet winch has been placed by Pelle on top of the foldable cockpit table after a small block will divert the mainsheet here. Railguards will provide for safe working conditions whilst turning the cranks. In fact, it takes a step or two from the wheel to reach the mainsheet winch and be able to trim the main sail properly. The only fly in the ointment: No mainsheet traveller configuration for fine trimming the main is available here.
Another ingenious move is the positioning of the Genoa winches and the roping here. Right before the wheels, lines will be diverted to either side of the boat, running through a 4-slot jammer block and into a rope locker. Smooth and tidy cockpit whilst underway. Again, just a step or two to trim the jib or do the tack all alone. I had to return to this yacht three or four times, always spending minutes sitting here and there and in my mind doing all the maneuvers. This cockpit just is it. Period.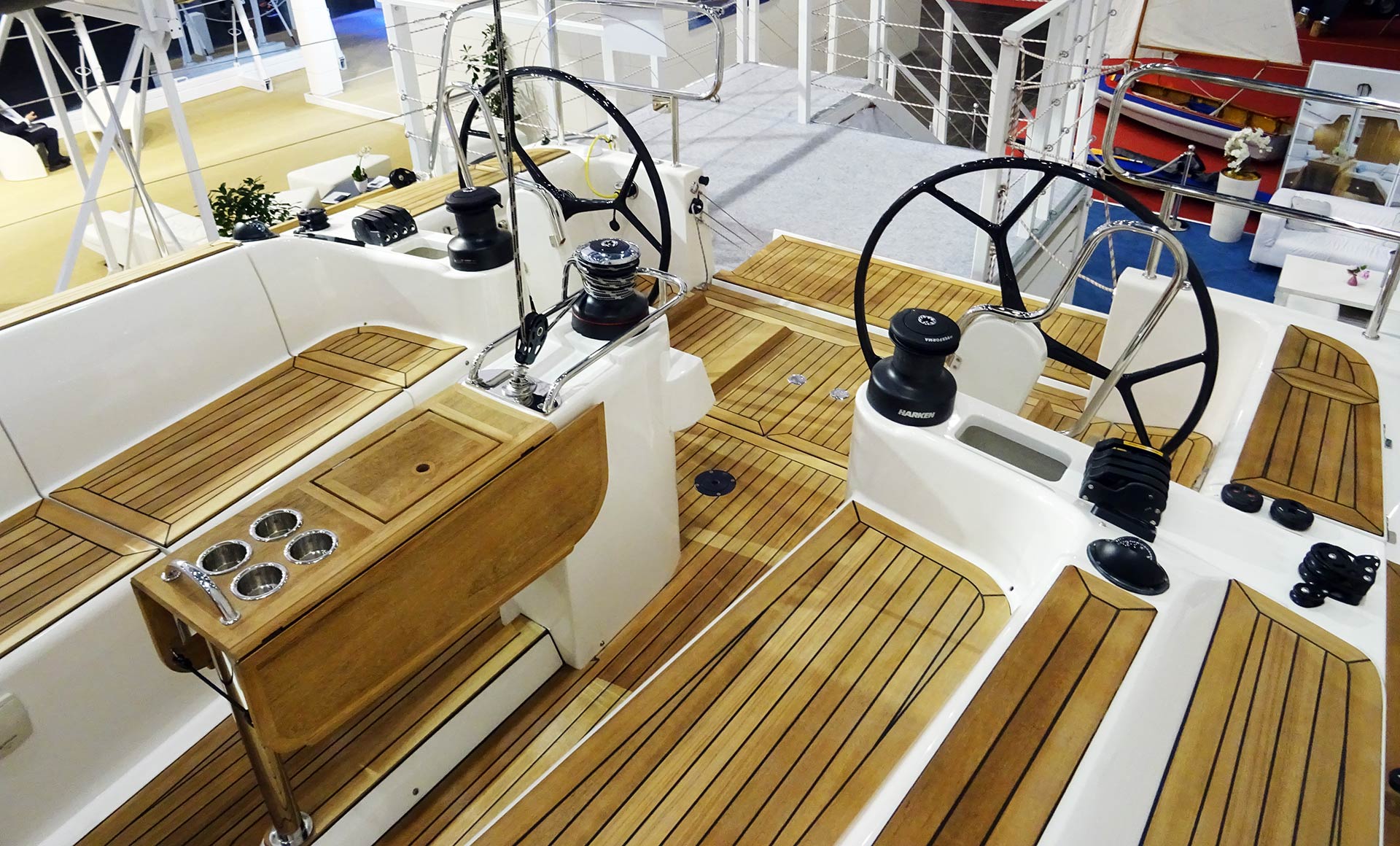 What I like most is the fact that by configurating the layout in this manner, Pelle achieved another remarkable point here: No lines whatsoever will be running around in the passenger´s area of the cockpit. The seats will be free of roping. No sitting of halyards anymore, no tripping hazard and no hassle in case of a sudden tack. With the Maxi 1200 configuration for the first time ever I found a yacht which I would put myself past doing a singlehanded trip with. This is a perfect cockpit layout in my eyes (except for the missing mainsheet traveller).
Maxi 1200 – a Dream Yacht fur sure
So, what else is there on the Maxi 1200? First, let´s walk around the hull. It´s a Scandinavian yacht, unmistakably. Sleek, fast hull from all angles. The Maxi 1200 has a hull length of 11.56 meters and a max beam of 3.75 m. That´s even more slender than my King´s Cruiser with a length of 10.24 meters and a max beam of 3.40. The deep T-bulb keel gives a max draft of 2.32 meters and the overall weight of the boat of just 7.300 kilograms of which some 2.500 kilograms is ballast makes it a truly racy performance-oriented configuration. This boat is going to be the hell of a fun!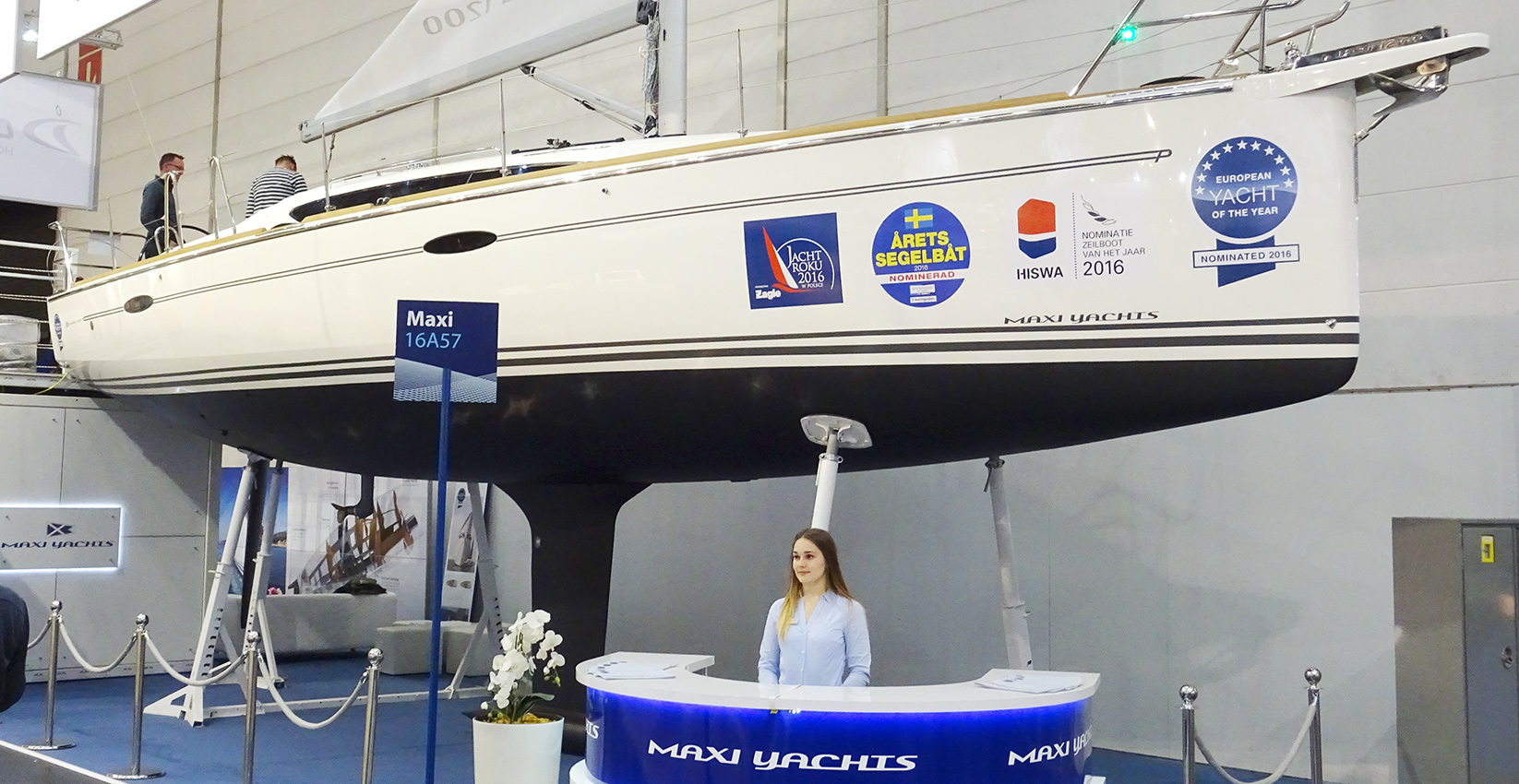 Her lines are those of a performance cruiser, underlined by a deep T-shaped keel with a large lead bulb. I guess it not only looks fast but will perform beautifully: Maxi yachts are known performers and this Maxi 1200 will be no exception. The single rudder configuration, on the other hand do stand out particularly just as if Pelle would like to tell us that this boat is one of the classy ones – no twin rudder needed.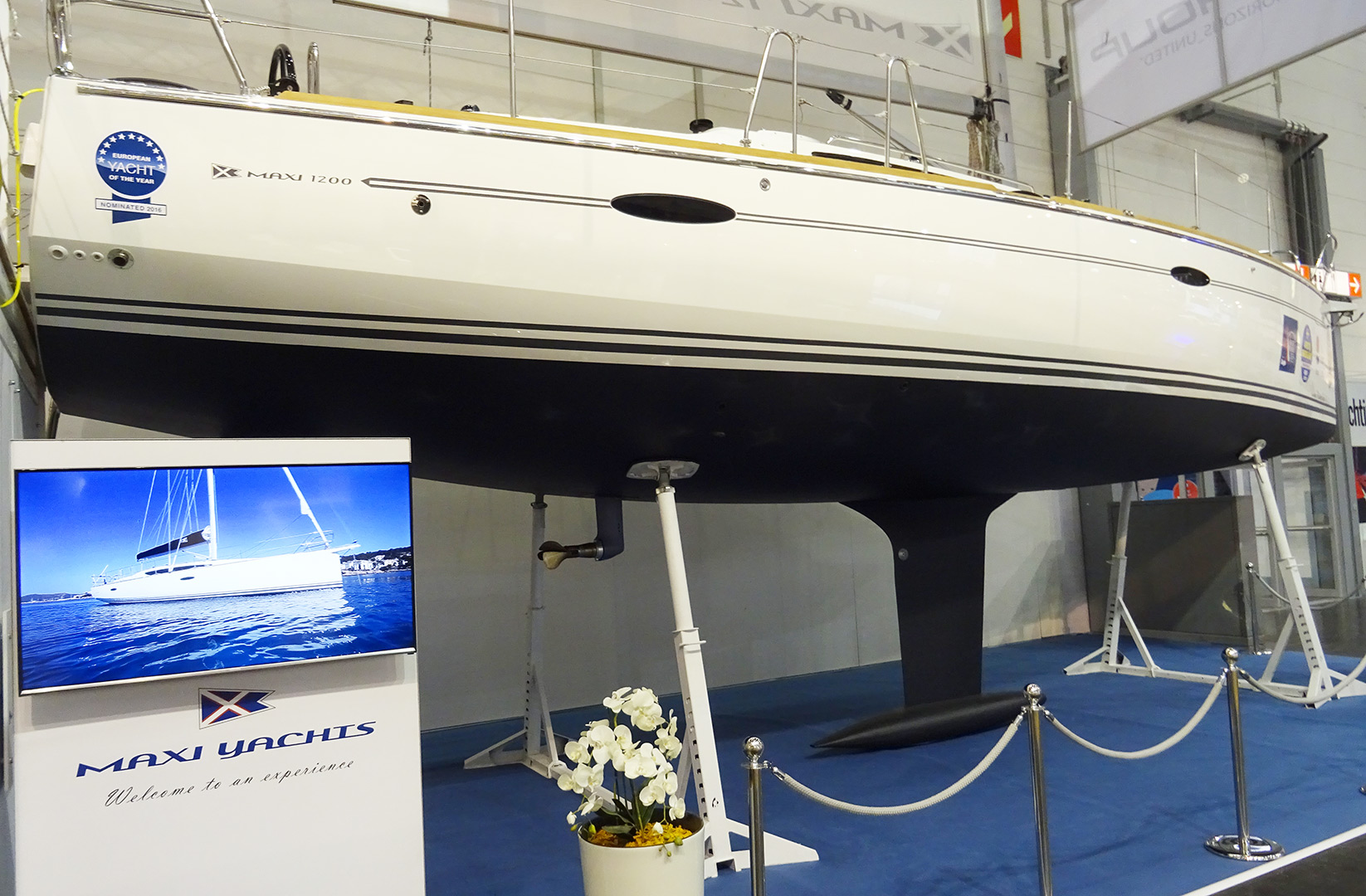 Taking a look at her stern and the transom, fine chines do stand out in stark contrast, just like the whole yachts seems like some kind of a bridge between the good old times of yachting and the modern way of making fast performance hulls. Just as the rest of the boat, especially the beautiful Teak decking, the whole yacht appears to be made with care and love for detail.
Interior Design of the Maxi 1200: Grandfather´s Genes
You know the story why I´ve finally bought the King´s Cruiser 33? It was my wife, upon entering the saloon, who took a look around, sat down on one of the settees, taking a deep breath like a gasp of relief, saying: "This is finally it!". She is cozy, hospitable and embracing. Pelle Petterson has had a deep sense for both practical solutions and an eye for details. I was excited to see what a present-day Petterson yacht would look like inside.
Ah, look at this entryway! Here we have it again: A bridge between classy and modern design. I just simply love these folding doors, massive wood with those nice ventilation details. As I will have to refurbish my own entrance situation as well, I will take this as a role model and try to copy the style. Simply love it. Now, come on down below …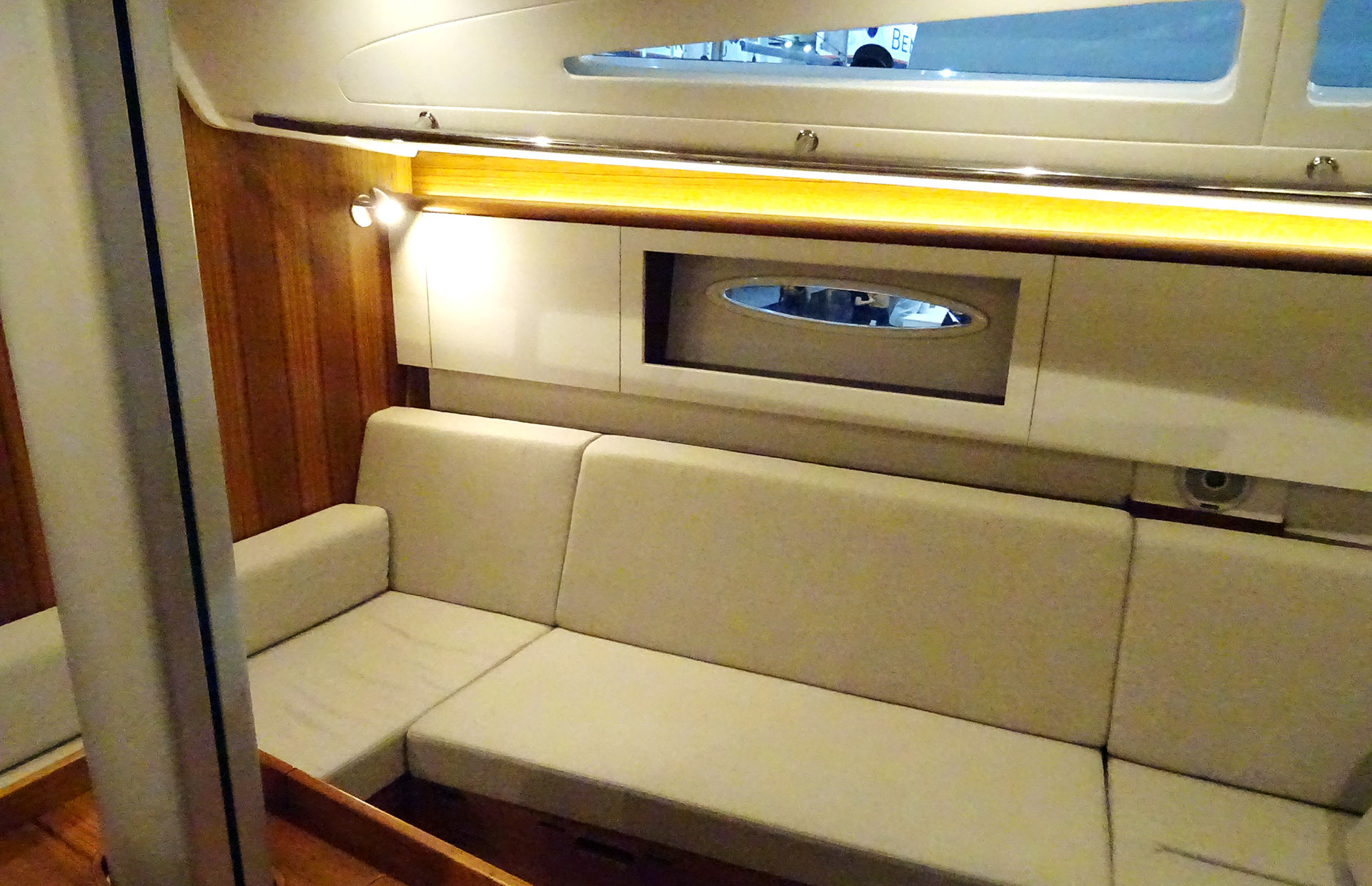 What a surprise! The saloon has almost the same measurements and configuration as the one in my KK33. Starboard side the main seating situation with a large L-settee, vis-à-vis a 3-seater. All of them situated around a large folding table which is built around the keel-stepped mast. I appreciate that Pelle Petterson apparently moved away from green cushion …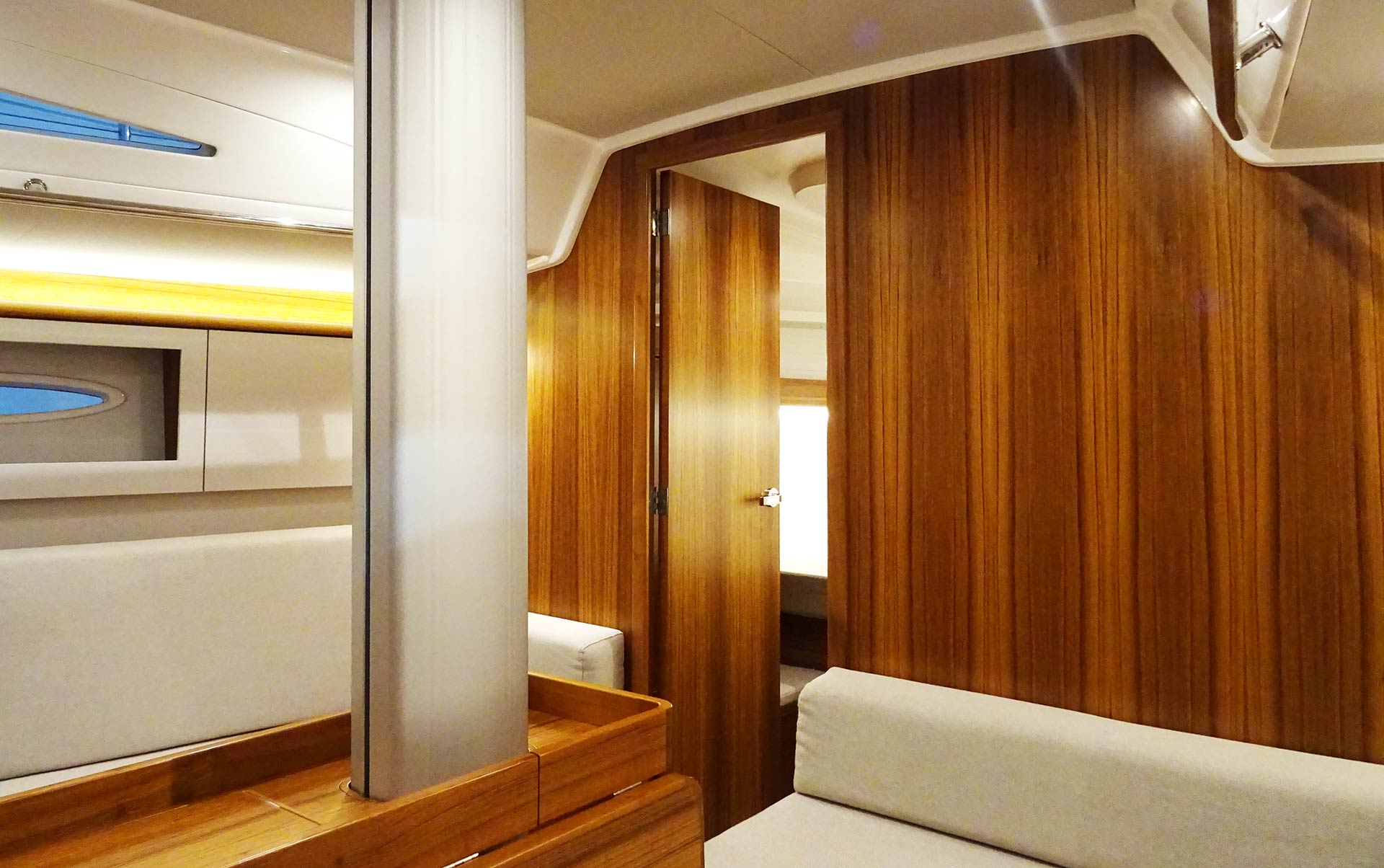 Ah, and look at this wooden bulkhead. It instantly reminded me of my SY OLIVIA. Lots of wooden surfaces in noble veneers. Combines with white roofing- and hull-panels and the modern fabric used for the cushion the whole saloon creates a both cozy yet welcoming and modern atmosphere. Of course there are new things incorporated too: A large head is situated at right the hand side next to the entryway and as a concession to modern times, no proper nav-station.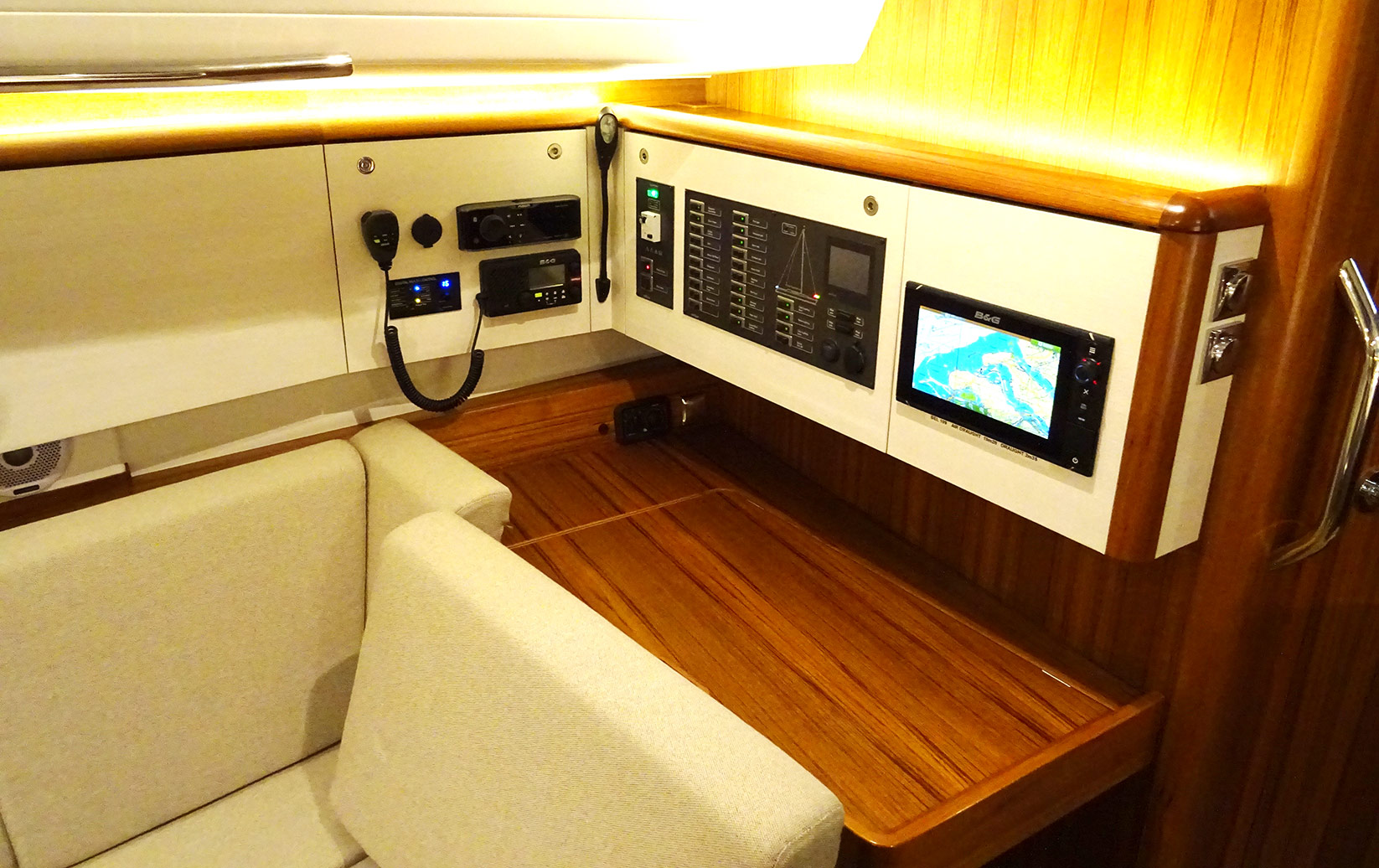 Which is a bit of a downer since I absolutely love the nav-station of my King´s Cruiser 33 and have nothing but a general disapproval for those smallish mini nav-stations in modern yachts. Even with old warhorse Pelle Petterson it appears that the good old times have finally come to an end in this respect. At least a small chart table with a (large!) switch- and gauge-panel has been installed here.
I absolutely love the details on the large folding dining table! Look at this craftsmanship! The details around the stepped mast are very nice. It´s both massive handcrafted quality combined with a simple yet functional construction. No bling-bling but a practical solution. I simply love it. The grandchild of the folding table in my own boat.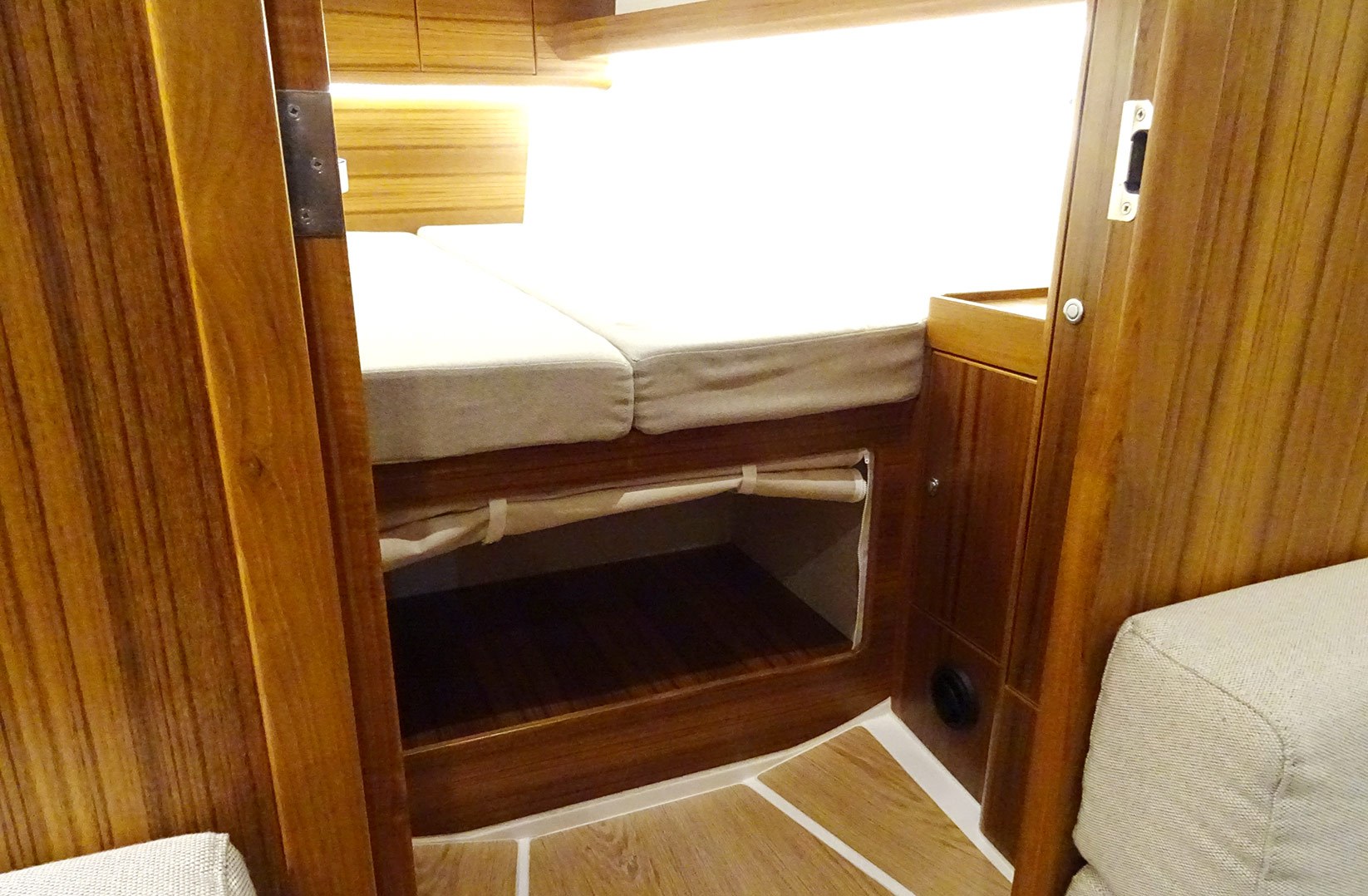 Another light bulb moment in the fore cabin: Here Pelle Petterson sticks to the old and proven concept of the large berths, no island beds or modern stuff, but a large reclining area. What made me smile was the stowage underneath the front end of the bed, which seems originally taken from my old boat as well. Nice.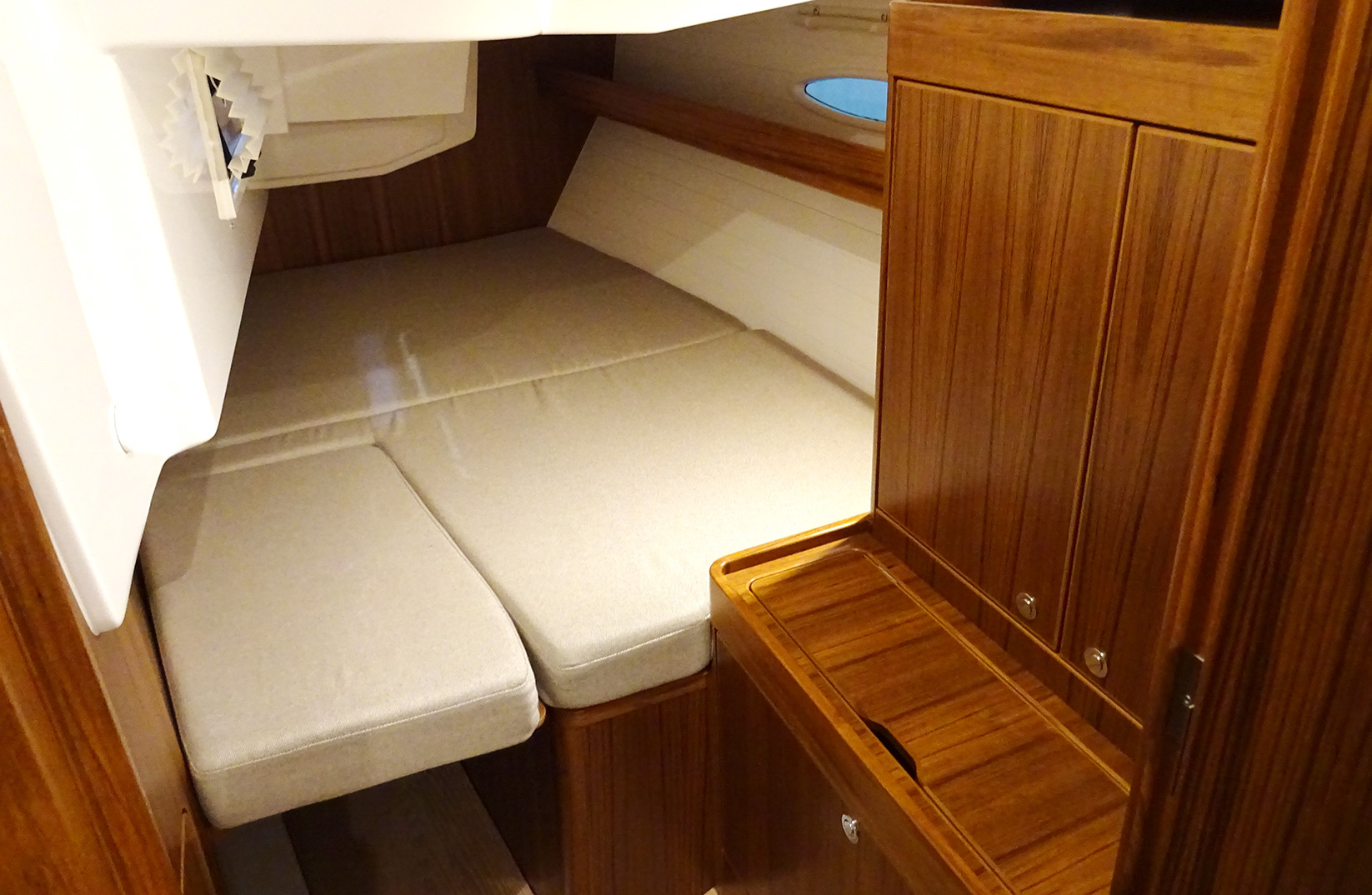 What´s new of course are the large aft cabins. After IOR-rule was abandoned finally the rear ends of the yachts have grown considerably in size. Also a pleasant side effect of the chines, there´s plenty of space in the hulls now to accommodate large aft cabins. Something I can only dream of (when I am laying down to get a rest in my snug narrow quarter berth. The aft cabins of the Maxi 1200 are well-sized and can also be turned to single-berth cabins or stowage.
Why Pelle Petterson still kicks ass
All in all it was a defining moment for me to visit the Maxi 1200. First of all I finally understood what a good cockpit layout really means. All lines and winches for underway trimming of the sails are within an arm length of the helmsman, making the Maxi 1200 an ideal single-hand boat. Secondly I´ve had so many enlightening grasps of the boat´s interior and exterior looks which could easily and straight be drawn back to my 45 year old King´s Cruiser. It´s almost like a family reunion.
Craftsmanship, design and the whole outfitting of this yacht is excellent. It´s a shame that Maxi Yacht doesn´t get too many of their boats into the water as the unit numbers produced by Delphia in Poland are low. Nevertheless, I think a dedicated (family-) sailor who is seeking a safe, comfortable yet performing yacht will have made an excellent choice by going for Pelle Petterson´s Maxi 1200.
Other interesting articles on that topic
The Origins of my King´s Cruiser 33
Grand Soleil 46 Long Cruiser review.
Dehler 42 and Faurby 36.3 at ancora boatshow.