It has been some months since I´ve visited the RM Yachts production site in an industrial outskirt of La Rochelle (read about my yard-visit here) and I can remember very vividly the occasion of a big hull fresh from the painting being towed through one of the production halls – Justine, my guide, reacted a bit nervous when I got aware of it and raised my camera. She asked not to publish any pictures of this new boat until a certain deadline (afterwards I did, see it here). As it happens, I was witnessing the birth of the brand new flagship of RM Yachts, the all-new RM 13.70.
Now this boat has been finished and undergone extensive sea trials and when I was roaming the jetties of Cannes Yachting Festival 2017 I was delighted to both meet Justine again and see the RM 13.70 afloat in the nice green waters of the Cote d´Azur. "Welcome aboard", Justine waved and proudly offered a private tour through the new boat: "This is the very boat you have seen in the yard." Let´s jump on board and see what a complete RM 13.70 looks like.
Focus on the Essence: Sailing is having fun
RM Yachts is a French brand putting an emphasis on the very essence of sailing. Just like Pogo Structures – but eventually not as racing-oriented – RM seeks to make easy to handle, fast and fun yachts capable of offering plenty of comfort even on long cruises. As RM´s naval architect Marc Lombard puts it in an interview: "We want to create very nice looking, sexy and fresh yachts. The yard is always open for new ideas: Take the inverted sheer and the chines of these boats. We have been the very first company to re- introduce them in a modern way of design, first on racing, then on production boats." (read full interview here)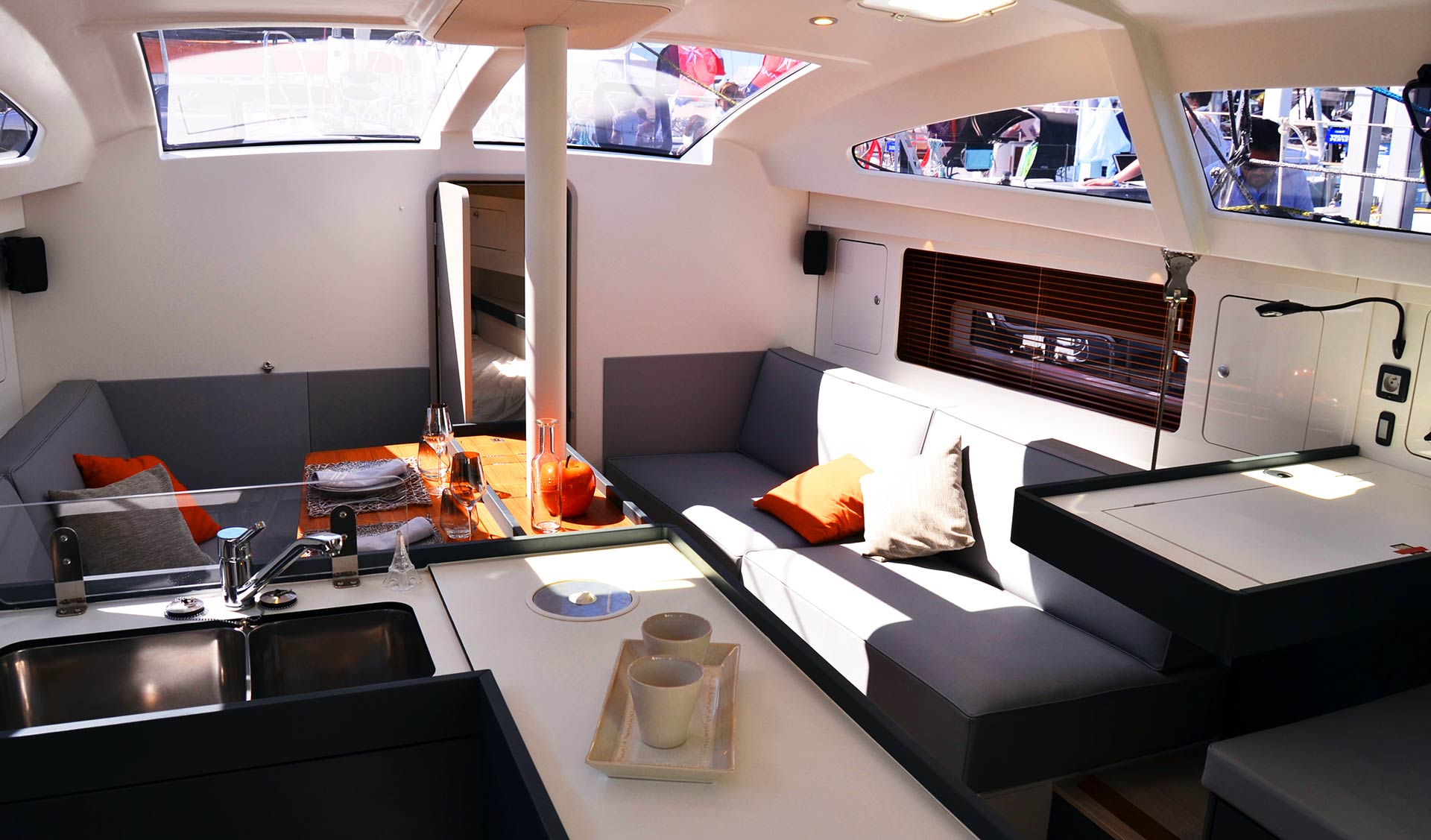 "Fresh and sexy" is what an RM indeed is. The design is very modern: Wide sterns capable of eventually planning, fresh colors and new fabrics. As I enter the saloon I am overwhelmed by the sheer amount of light that is coming through the large almost deck saloon-like windows. Especially the front windows are huge and remind me of a sportscar. It must be awesome to be underway, laying down below during off-watch and look through these onto a bright wind-filled sail! Wooden fittings or classic ceiling-style is rarely seen on this RM. All surfaces are lacquered in white, somehow cooling down the heat of this day in Cannes just by color.
Furniture and joinery makes a solid impression. Again, it is all painted in a matte blue color, something I´ve never seen on a yacht. I must say I like this approach as just by the choice of colors this RM yacht somehow forces me to re-think sailing. This may be the exact opposite alternative draft of what the Hallberg-Rassy 64 stands for, a yacht I visited a day before (read it here). This RM Yacht should appeal to young vivid people, a family with kids, seeking fun and adventure, seeking the sunny side of sailing and putting away the grave and serious thinks in life.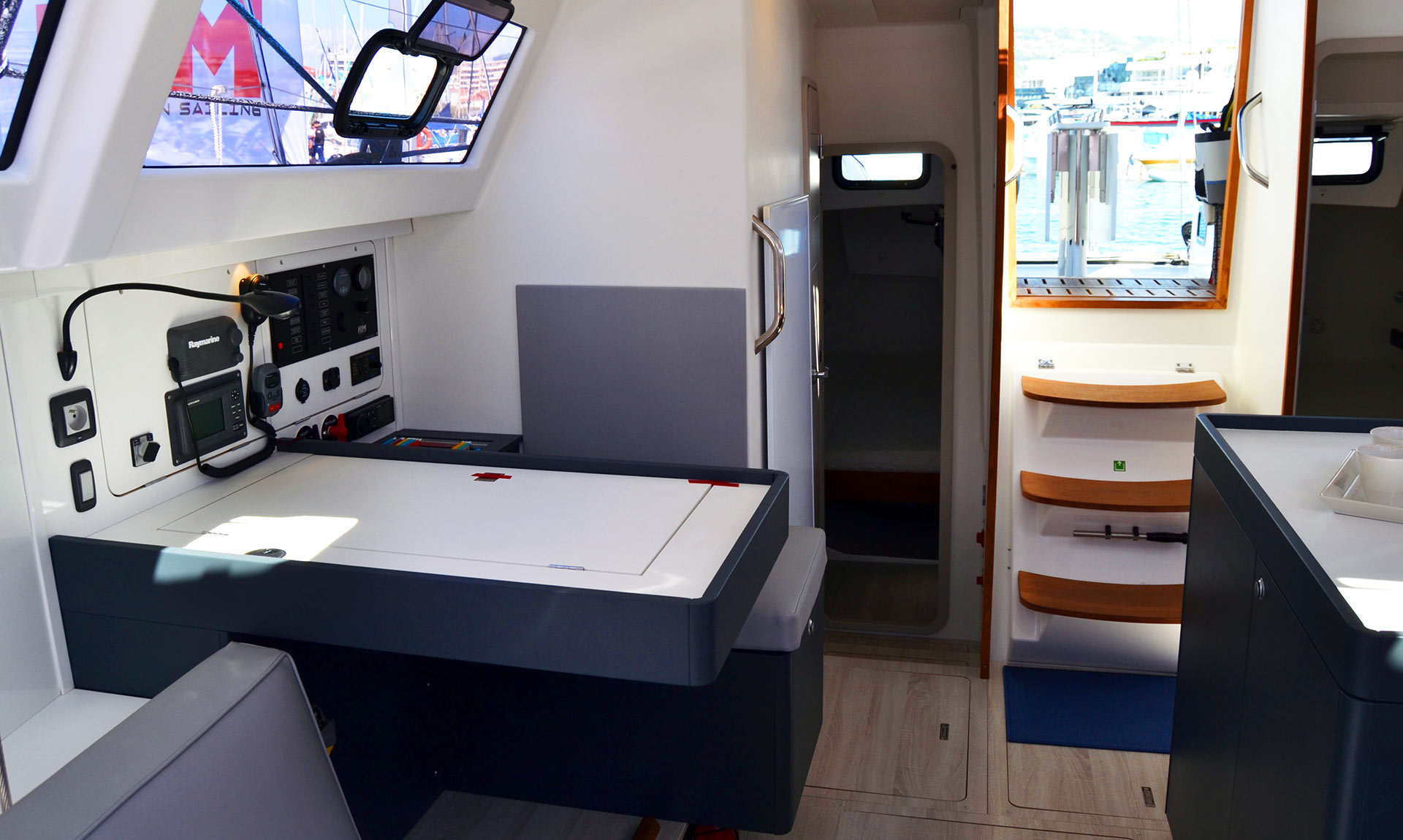 But the materials and fabrics, although no classic ones are used, do not appear "plastic like" nor cheap. This is all high quality and hand made joinery – as I was lucky to observe when I was given a tour through the yard. An RM Yacht is made of Epoxy and plywood and that makes her special. And expensive: And Epoxy/plywood-made hull is around 20 per cent more expensive than a traditionally GRP-moulded hull. So don´t be fooled, just because we don´t see any Teak nor Mahogany it doesn´t mean that there is no quality inside.
The concept of this cruiser is coherent. It´s a modern yacht with a very clean interior styling. With RM Yachts, a future owner is completely free when it comes to applying his or her taste and fondness of colors: Back in La Rochelle I´ve seen screaming-green hulls, dark black, shiny blue … everything is possible. An RM Yacht not just brings the fun of fast sailing to a cruiser, but may be the most individual of all current yacht brands when it comes to fit your personal taste and translate it into a very boat.
Cabin size on the RM 13.70
As I am right now in the midst of refitting my own Kings Cruiser 33 sailing yacht, I am every time very keen on seeing solutions for the various spots I am currently working on. For now, it is the fore cabin. In the RM 13.70 first of all the cabin is very roomy. That´s of course because the hull itself bears hard chines and a relatively wide stern which of course has its impact starting at the bow: The cabin size of the master cabin is therefore huge.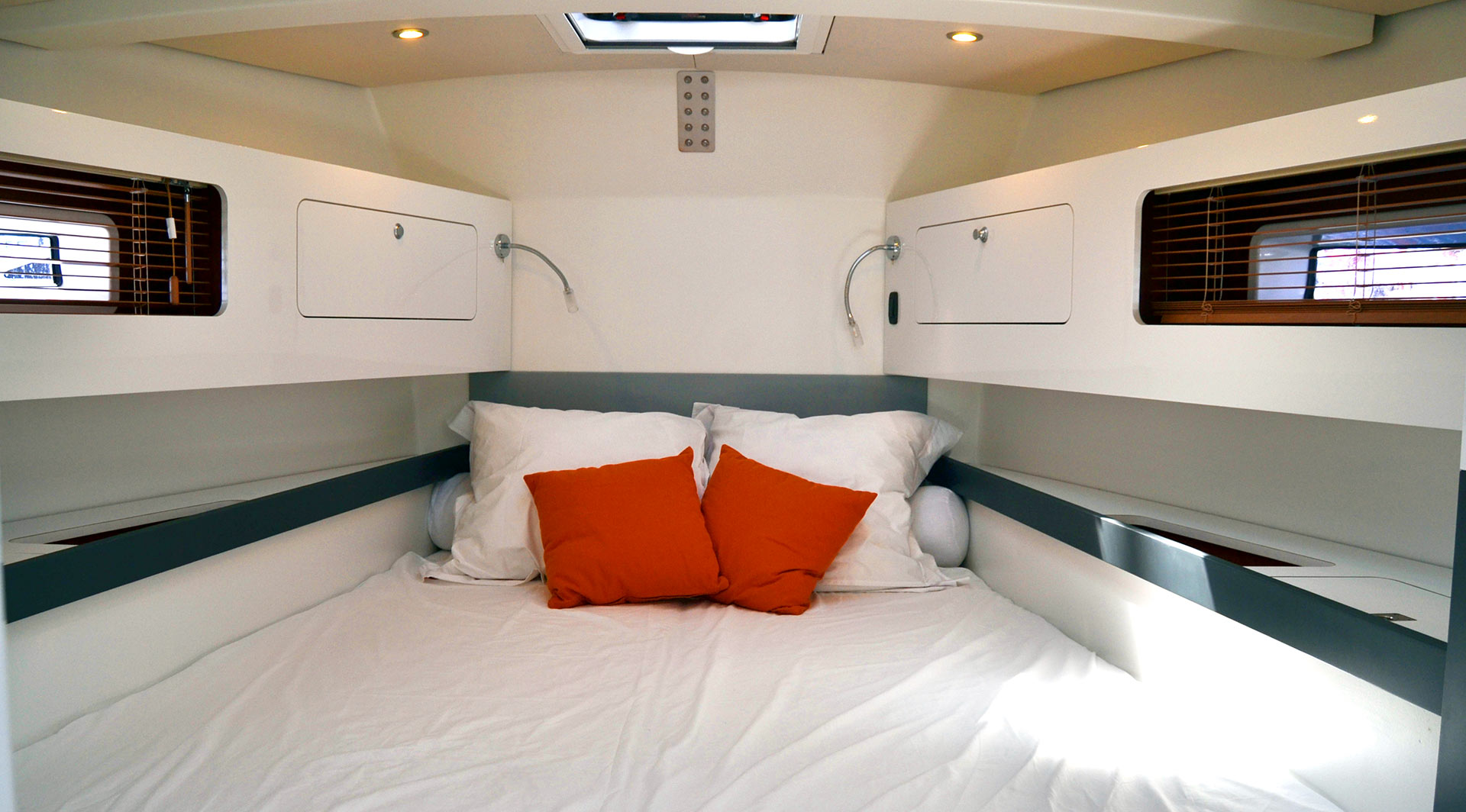 The bed is wide enough to offer plenty of space for two adults to find a very pleasant good night´s sleep. Stowage all around the bed for things needed when getting up or falling asleep, overhead stowage and large cabinets are customary. Again, the cabin is mostly kept in plain white lacquered wooden surfaces with blue painted accents. Even smallest colourful dots, like the two pillows, have a huge impact in the way this room appeals to me. Fantastic!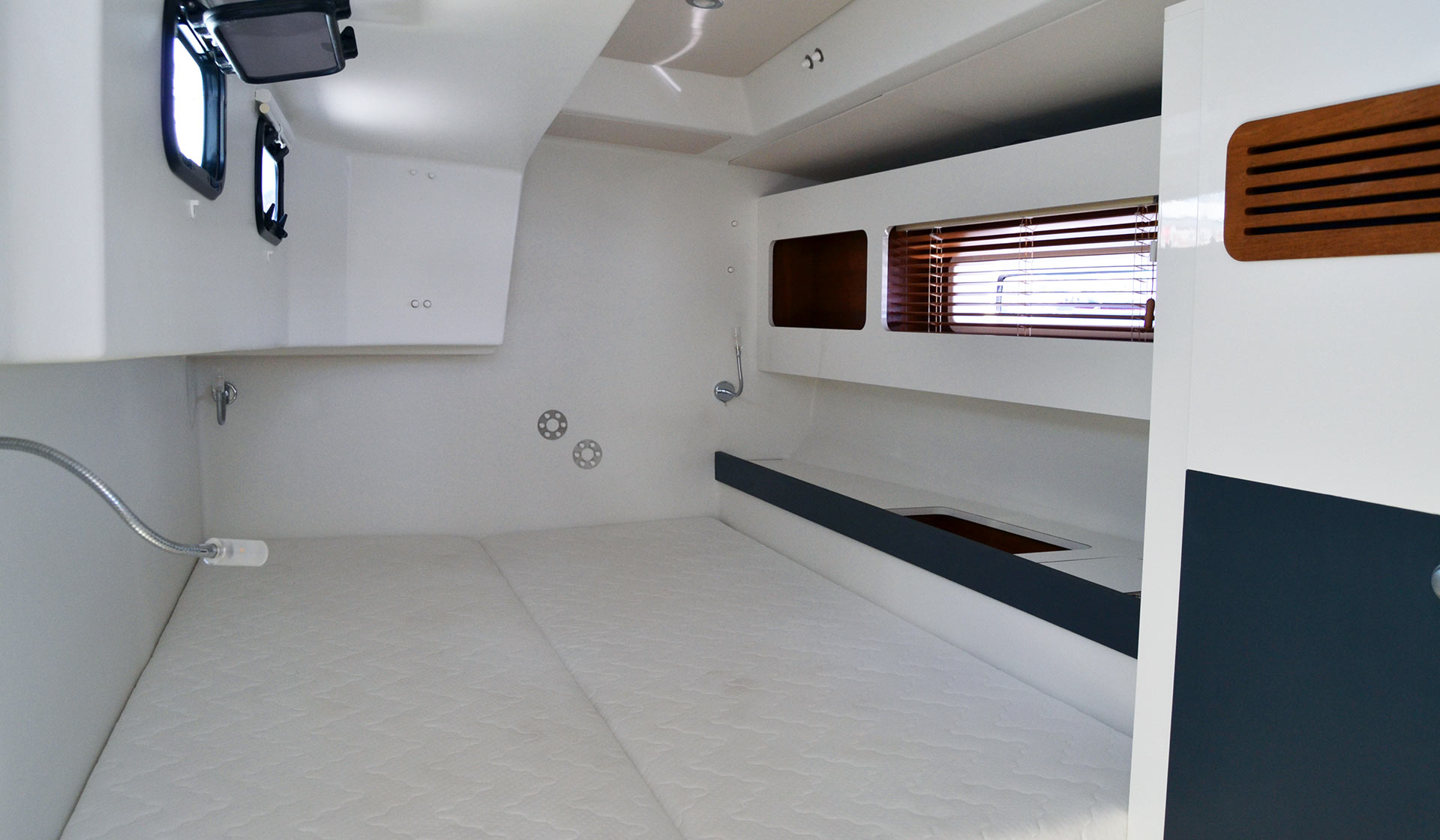 The aft cabin offers a similar big XXL-sized double bed, plenty of stowage and a nice little porthole for natural light. There´s not much design bling-bling here and – as everywhere on the boat – one can see the bare screw heads of outside fittings like winches or other installations many a time. This is a French sailing boat. I often find it very funny and refreshing, when pointing toward this fact: Why covering things that are needed to sail? Why hiding everything behind panels and veneers? I find this attitude somehow refreshing.
Cockpit, layout and roping on the RM 13.70
Again, the way I got to know French sailing culture (read about it here) it´s about going as fast and as fun from A to B. This is how I got to know Pogo-sailing and that´s essentially the same with RM, although with a different emphasis. Standing in the cockpit I first of all notice – again – that there is nothing apparent that isn´t really needed: No Teak deck flooring, no bling. Just bare anti-slip surface, plain white and that´s it. All lines are directed back aft, the layout is special in some way and – for me – something new.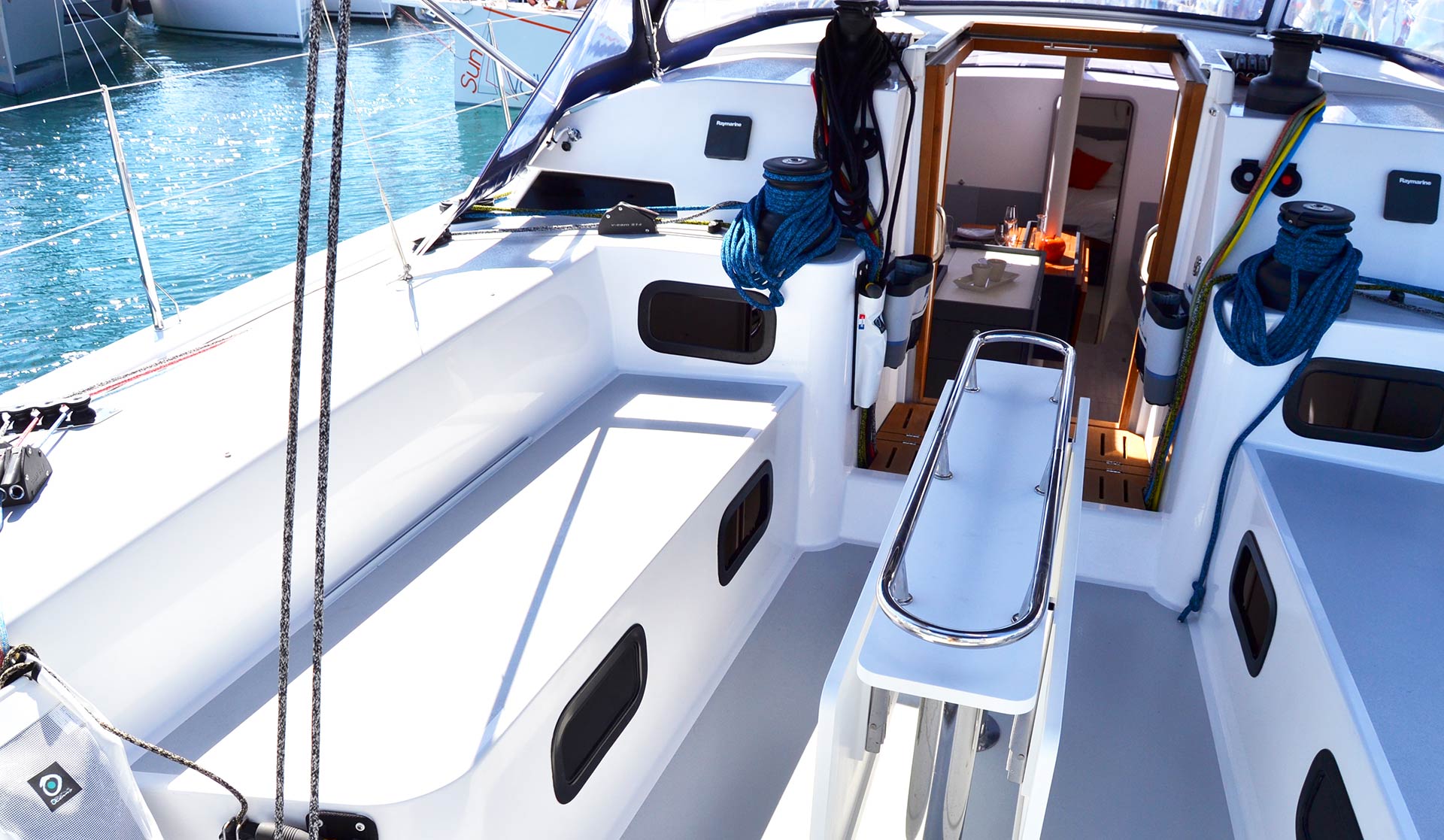 There are two winches at the read coaming, probably for operating the Gennaker or Code-sails, two winches on the roof next to the entryway down below – I guess these are utilized for operating the main, kicker and stuff, and two massive winches just behind the cabin bulkhead near the sitting benches. There´s a traveller for the main sail between the double steering and the cockpit area as well. I guess I need a third time on the RM 13.70 – this time underway – to get familiar with this particular layout as I was standing a bit clueless before this configuration.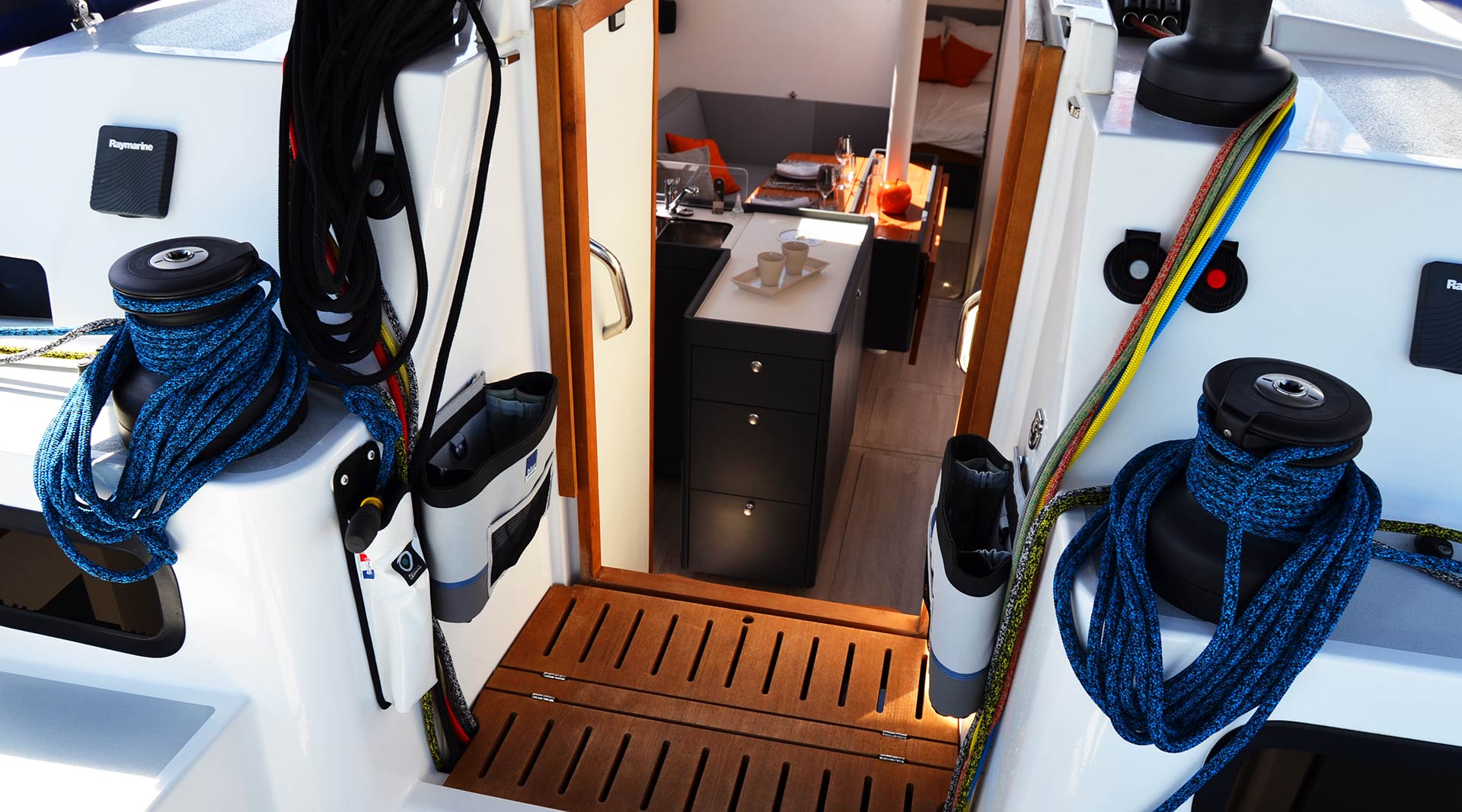 Nevertheless, I can imagine that this layout really works with a good at least double handed crew as one can work all the lines on the classic mainsheeter-position at the entryway: Four winches all around as well as the mainsheet traveller lines in reach mean that this person can virtually operate and trim all sails from this position. The helmsman can also reach for a pair of aft winches and the traveller as well. I particularly loved the compartments for lines in the cockpit floor where surplus lines will disappear under Teak-gratings.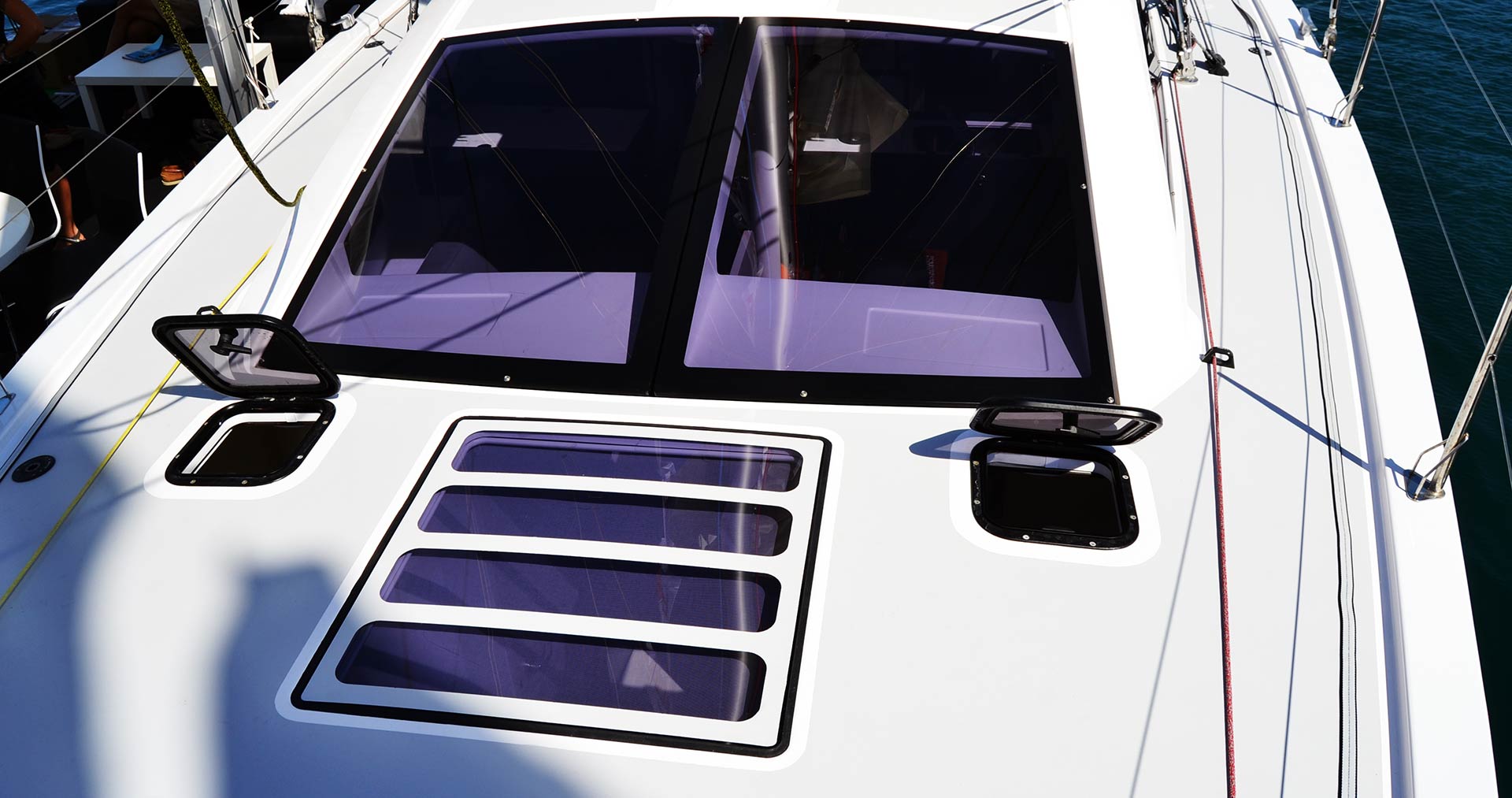 Proceeding forward I stand on the bow and admire the nice shape of the whole boat. It´s truly a fast and fun boat optimized for reaching points of sail and should go nice and fast. The negative stem in the bow is a nice design feature, the hard chines are very prominent and should add a portion of dynamic stability when sailing heeled. No question, this yacht bears a double rudder blade-configuration. Look again at these huge front windows!
In the end I think RM has done a fantastic job again with this RM 13.70. It´s really a fresh, modern and very appealing boat, sticking out of the majority of all the other boats and – above all – sticking to the RM-motto of offering a sexy approach to sailing with fun. I jump off the boat and thank Justine for the invitation – and secure her promise to invite me in the near future to get to see and experience by myself how fresh-sailing by RM Yachts really feels when underway.
All articles related to the Cannes Boat Show 2017 may be seen by clicking on the hashtag #cannesyachtingfestival
You may also like to read:
At RM Yachts in La Rochelle: Performance Cruisers made of Plywood.
Building a Classe Mini racing yacht from Plywood (Part 1 and 2)
The cruising Pogo: 12.50 revisited.