Welcome to the fourth boat walkthrough from this year´s edition of Boot boat show Duesseldorf and, again, I find it is a special boat. Nordship is a Danish brand making boats appealing to a special breed of seamen. I would call it a niche brand, nevertheless, it´s not a small name for sure. The friendly guys from Lunderskov, a small commune near famous Danish boatmaking location Kolding, had World Premiere show in Duesseldorf this year: The all new Nordship 420 DS.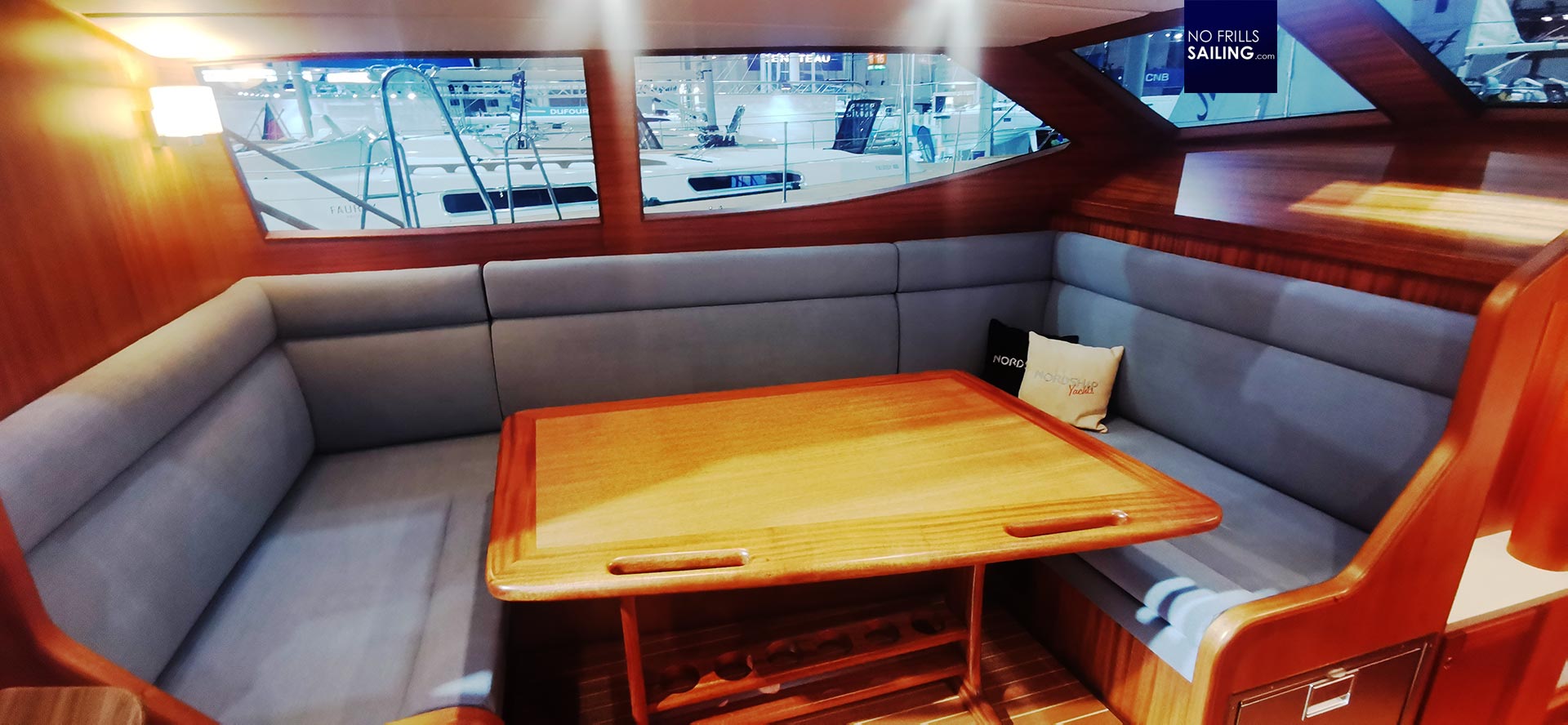 "DS", of course, stands for deck saloon and these boats enjoy a steadily growing fanbase as they offer maximum comforts, stowage and long haul sailing trip capabilities. You may have read my recent walkthrough in the Oyster 595 or about the entry level Oyster 495. Well, these boats are absolute dream yachts for sure, but for many (well, most I´d say) of us unattainable. Due to the budget needed, of course, but also maybe because of the sheer size. This is where Nordship may come handy: The fleet currently under offer ranges from a the 18 meter flagship Nordship 570 DS to the smallest, the Nordship 360 DS. And this is where it becomes interesting.
A thorough deck saloon yacht
"Small" deck saloon boats in the bread-and-butter-size around 40 feet are a rare commodity. There is Sirius, of course, a very small German high-priced boat brand, Moody, which, after having taken over by the Hanse Group kind of lost it´s appeal (to me) and some other smaller brands, of which the French brand Wauquiez is a definitive highlight, I´d say. Wauquiez chose a more luxurious approach whereas Nordship – as the name suggests – follows the path of Scandinavian boatbuilding tradition.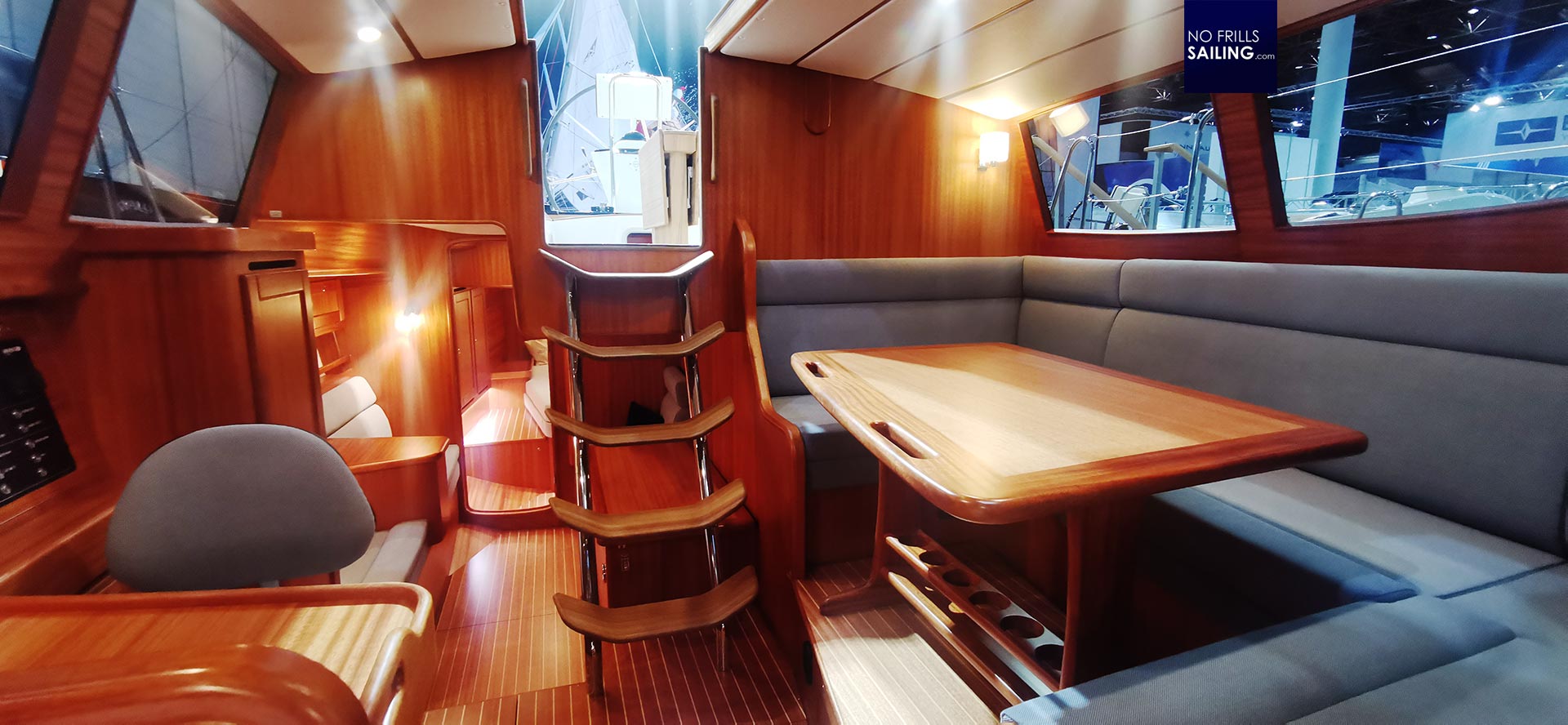 Let´s start inside. Welcome to the deck saloon: Here you can best see what the Nordship is all about. It´s a GRP boat but you won´t rarely see any bare plastic in the whole boat (except for the heads). Everything is covered with finest Mahogany (and yes, on the deck outside is still real Teak!) no matter where your eyes are taking your sight. This interior is a fine example for the approach taken by the yard.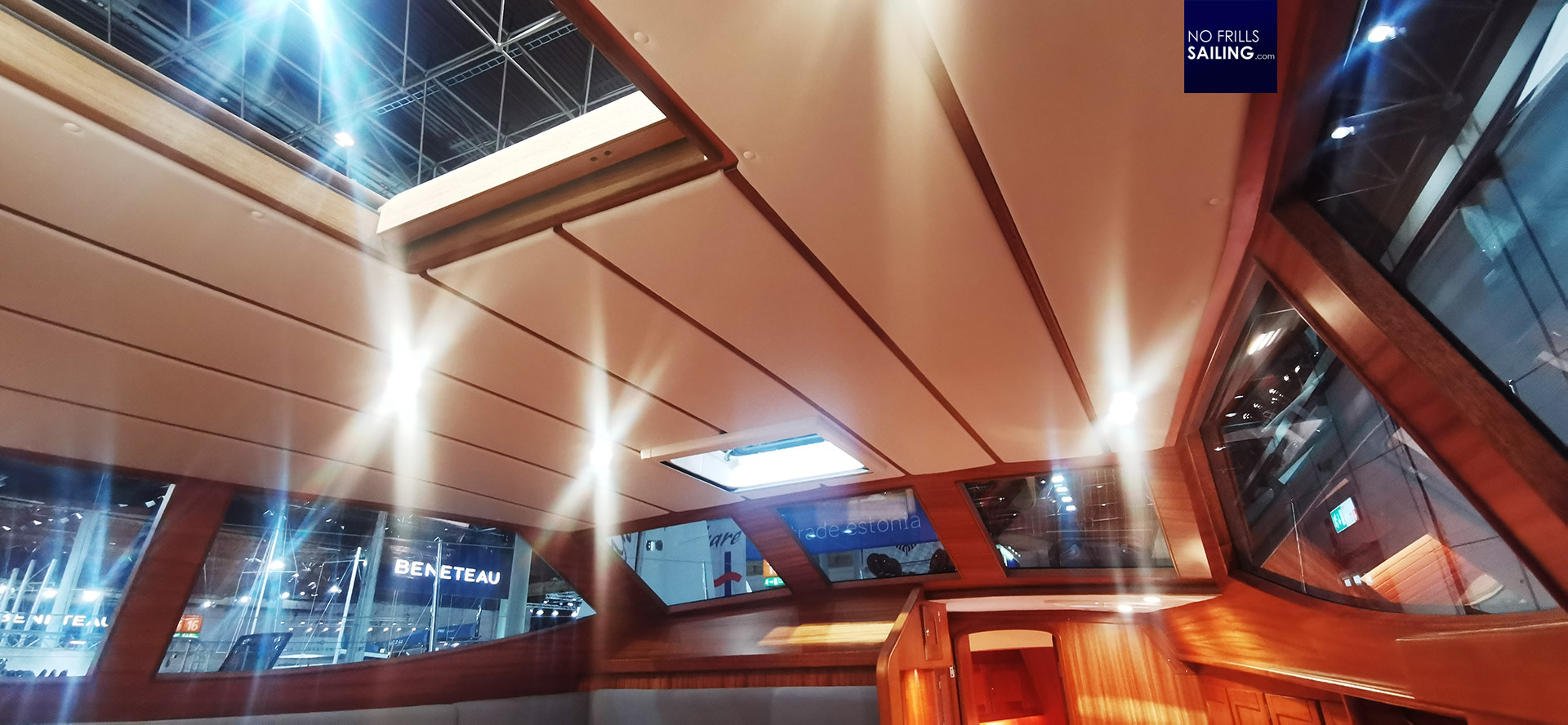 The saloon is raised and the crew will have a great 360 degrees view standing and sitting at the dinner table. Underneath the raised deck the yacht offers stowage and auxiliary gear. What I liked most is the "no frills"-approach of this boat, as I would call it: The yard makes no compromise. The boat does not even try to "safe money" or circumvent "inconveniences" which may be a blow to the budget. Similar to Wauquiez or Oyster, the idea is that if an owner decides (and can afford) to "live" on a boat, there shouldn´t be any compromises.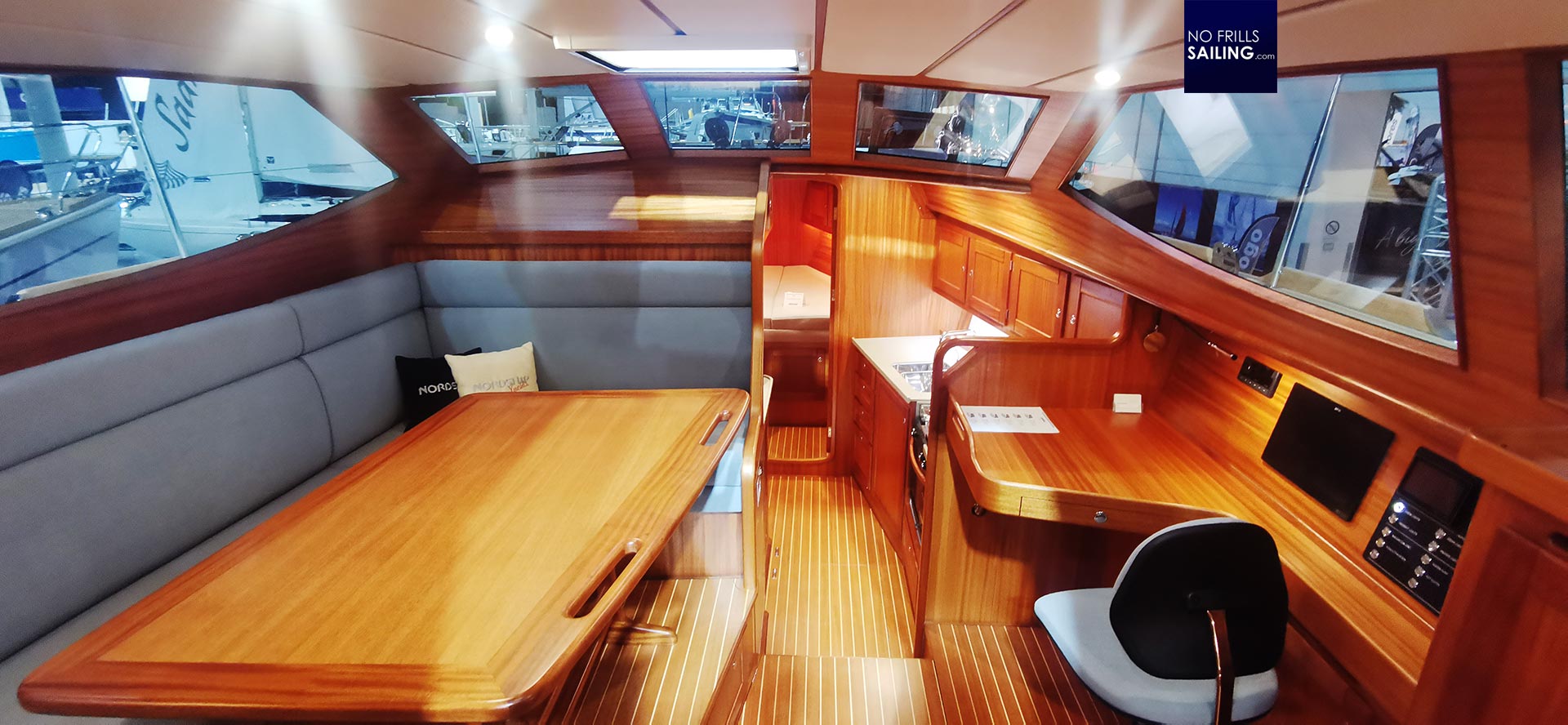 Now tell me, looking at these pictures: Isn´t this a gorgeous boat? I mean, it´s classy through and through, but also very "ship-like". The whole aura of this yacht is dripping with maritime style. Looking at this interior, I can instantly envision myself sailing for weeks and months in here, something an ordinary "med-style" vocational yacht cannot convey as strong as this yacht. So, let´s take a more detailed look.
A boat made for long haul sailing. And living aboard.
To starboard side the navigator has his area. It´s a full sized chart table and main switch panel. You are seated on a rigid but very comfortable stool that can be adjusted to fit your individual body measurements. Some may argue that classic chart tables and nav-stations are a thing of the past – and I would agree to a certain point – but on the very long trips I´d rather choose to have one of these at hand.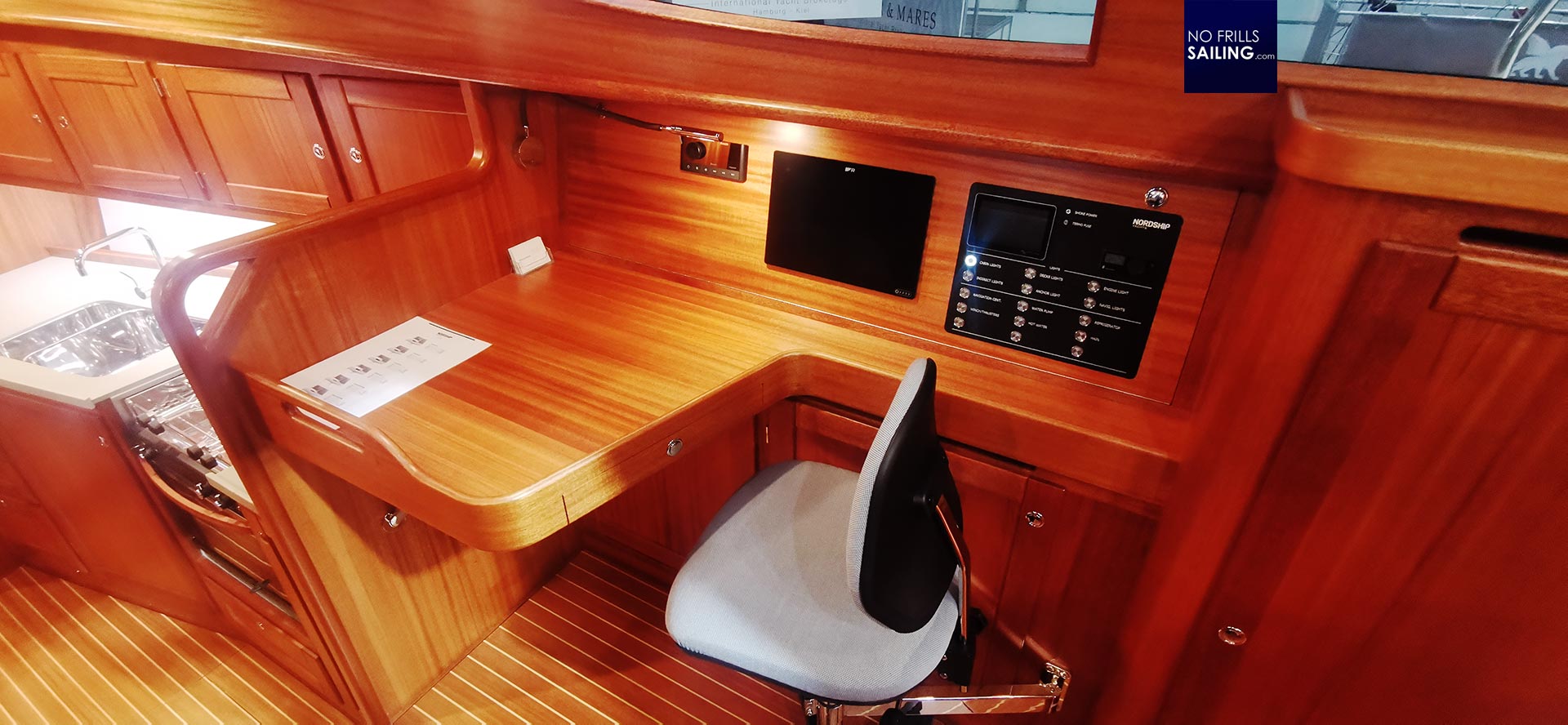 The Nordship 420 DS is a boat that wants to be sailed for a long time. It conveys a cozy, safe and sturdy character and does this with a certainty and implicitness that is absolutely convincing. No matter where my eyes take a look at, no atter which details I examine with the greatest scrutiny, this boat transports a matter of course rarely seen in yachts nowadays. Surely, this comes with a price tag.
Danish quality for the high seas
And this price tag is of course not a small one, considering the level of craftsmanship that goes into making a boat like this: Sail ready at the jetty in Denmark you should have a budget of at least 600.000 Euros ex VAT at your disposal. This can vary depending on the amount of equipment and quality of surplus "luxury" you want to have with you.
The Nordship 420 DS measures 12.80 meters total length with a waterline length of 10.80. The maximum width is 4 meters. Compared to a production brand cruiser, let´s say the Bavaria C42, she is one meter shorter and slightly heavier. With regards to sails area, the Nordship carries 84 square meters of upwind sails area, slightly less than the (somewhat bigger) Bavaria. Nevertheless, looking at the hull form, the Nordship has more seaworthy hull which will be able to go upwind much effortlessly than the very voluptuous Bavaria.
The hull shape features a fine slim entry in the bow section and a much more pronounced V-shape and round chine all the way back aft. There are no chines whatsoever, prompting towards a balanced character and much more seaworthy sailing capabilities for the Danish boat: Which is a matter of course. The Bavaria (and most of the other big production boat brands) make yachts for charter and vocational coastal cruising, the Nordship is made for long trips in all kinds of conditions.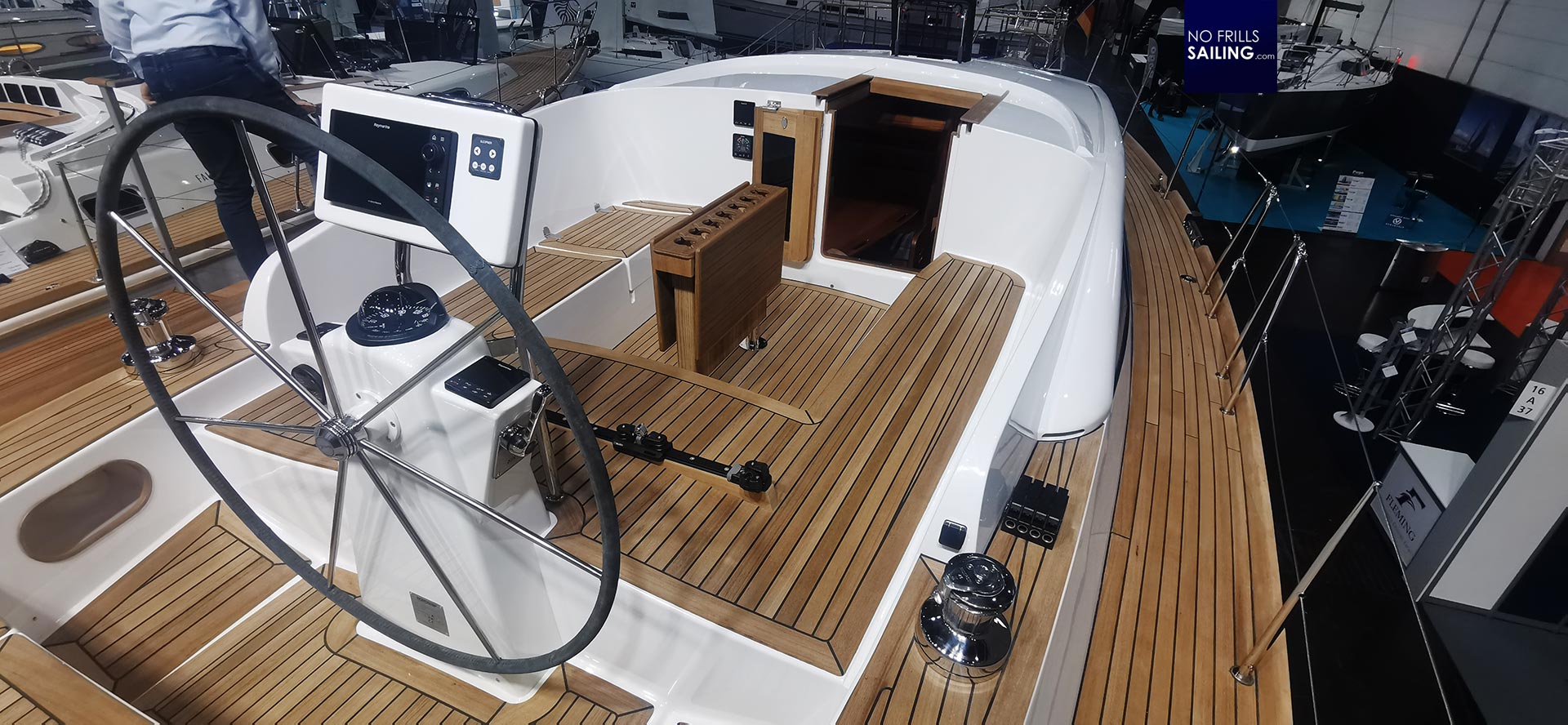 This is also apparent standing in the cockpit. I would call the Nordship a mix between center cockpit and classic aft cockpit boat. Steering "area" behind the large single wheel (another echo from the good old times) and guest area around large coamings in the cockpit are separated by a bench – which of course is there to create headroom in the owner´s cabin underneath. This "middle bench" also features a mainsheet traveler, also a rarely seen feature on modern day cruisers.
Modern styling
Nevertheless, the new generation of Nordships have undergone a significant upscaling in terms of modern lines and design. If I compare the brand new 420 DS to the 380 DS, about which I wrote a walkthrough article some 4 years ago, the differences are staggering.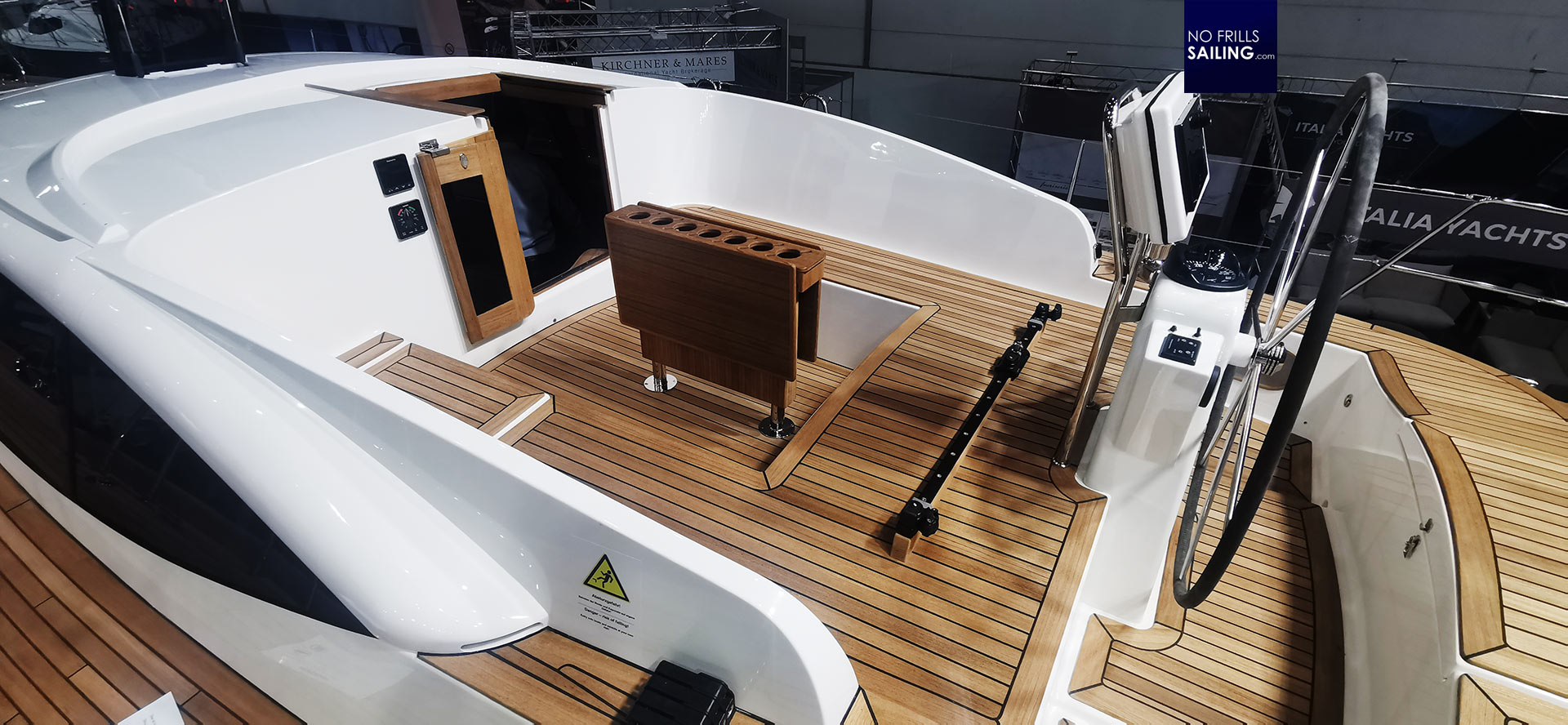 I would go as far as to say that the Nordship designers found at least some inspiration in the designs of other big blue water names like Oyster or Discovery yachts. Looking at the deckhouse, you can see almost flush lines, the "cat-like" windows and fluent, kind of "liquid" modern approach. This makes the whole boat appear much more modern and appealing, I´d say that Nordship instantly became much more attractive to a wider range of potential buyers.
The cockpit itself seems to be safe and protected from overcoming seas and spray. The coamings are unusually high, which is something you don´t want to have on an open, wide "dancefloor"-like Mediterranean yacht´s cockpit, but something that is very convenient in the boiling cold seas of the Bay of Biscay or an unnerving autumn storm in the North Sea.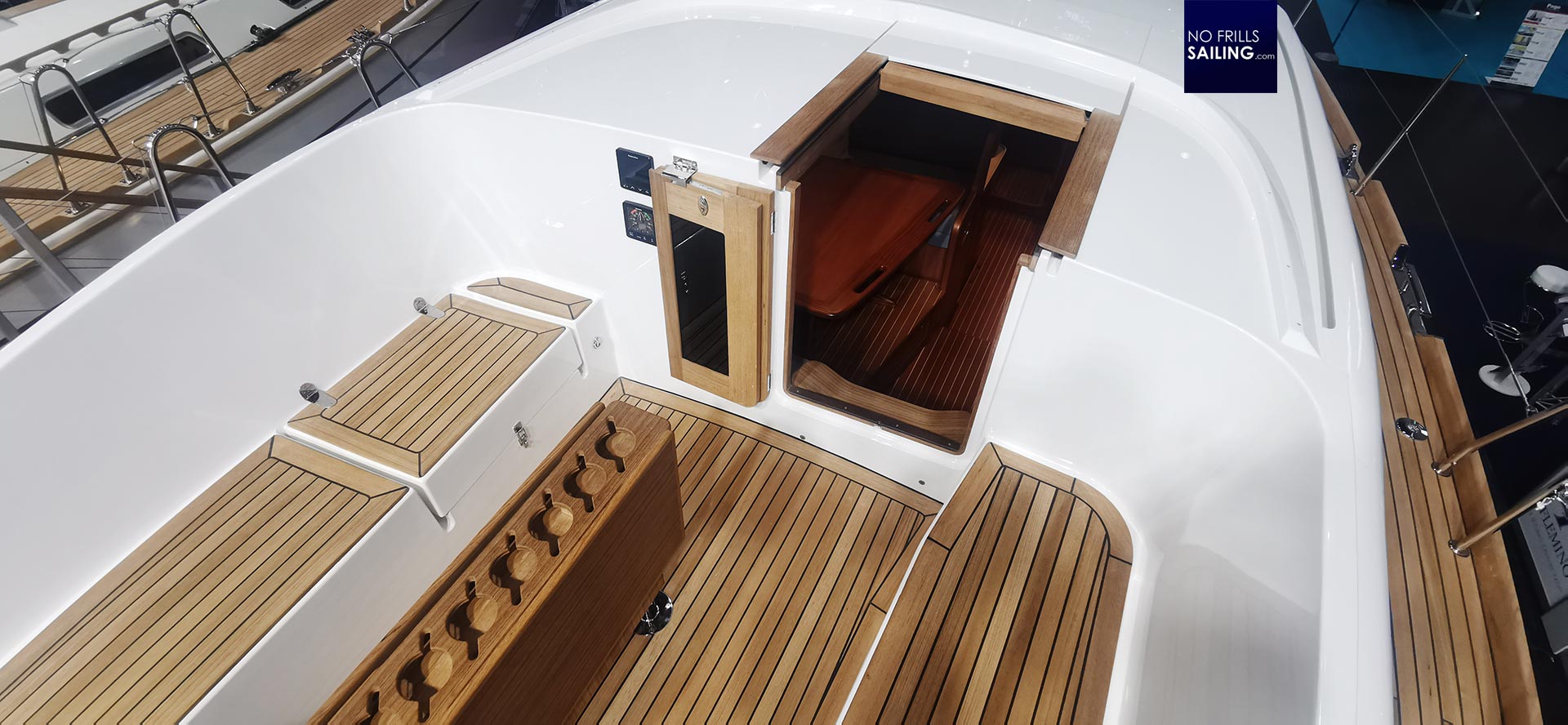 Apart from this, the cockpit is no frills and pretty simple: Two benches around a (very nicely done) cockpit table, probably tuned up by nice cockpit cushions and a sprayhood which wasn´t fitted on the boat show boat seen in Duesseldorf. Going down the entrance, you instantly notice a slightly offset entryway down to the starboard side. Again, creating headroom and volume for the owner´s bathroom.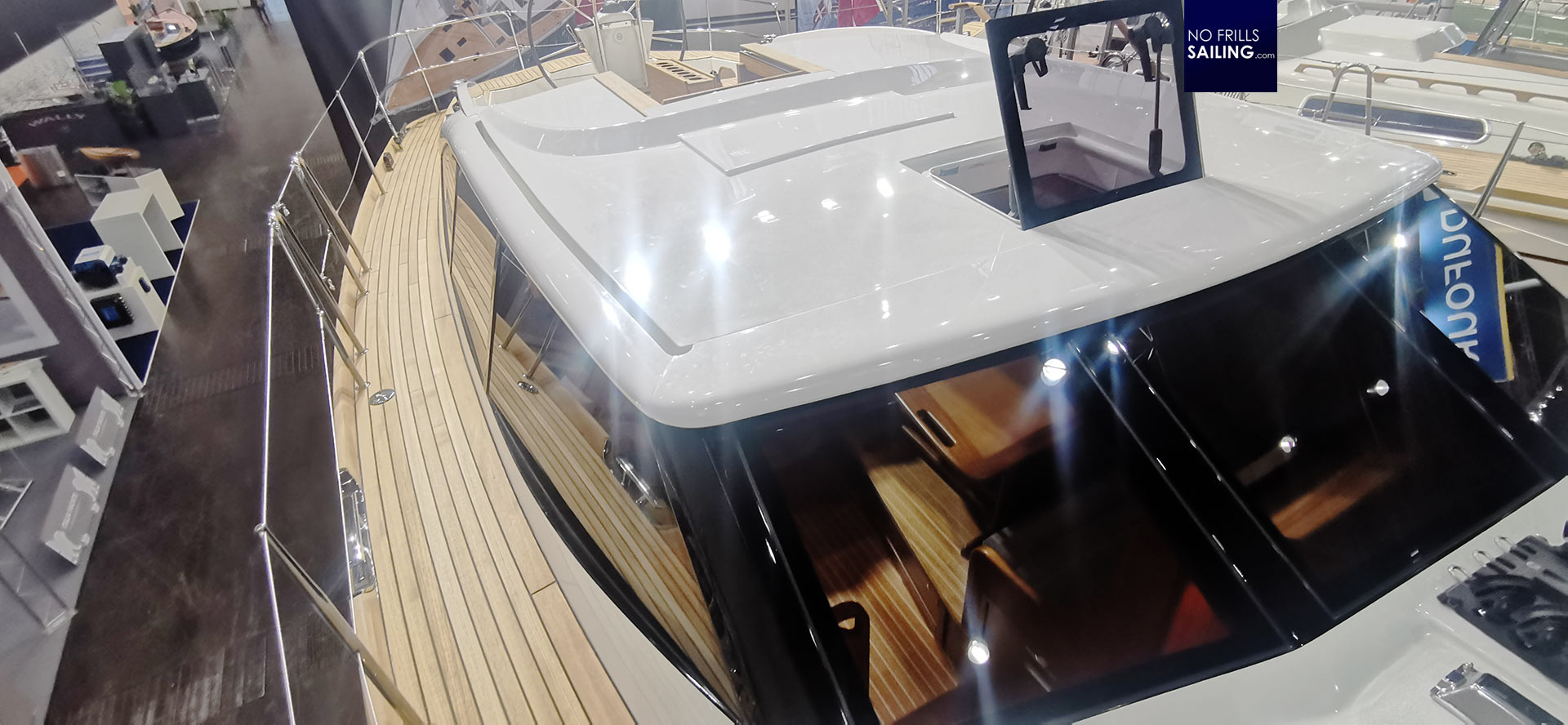 Before going down I walk around the deckhouse, which is impressive: Much more "fluent" and coherent matching the lines of the hull, it is apparent that the larger the boat becomes the better such a deckhouse looks. This is, sadly, a downside design-wise especially of deck saloon-boats (and center cockpit yachts, by the way), that they look a bit "weirder" the smaller the get. Anyways, a buyer of this boat invests in volume and natural light "below", not in design. So, let´s take a thorough look down below now …
Residing under deck
As we have already checked out the saloon itself, I pass along the starboard walkway, two more steps down, to enter the fore cabin. I am instantly surrounded by a breathtaking scent of noble Mahogany and glossy paint, this boat, albeit being brand new, does not smell at least a bit like GRP.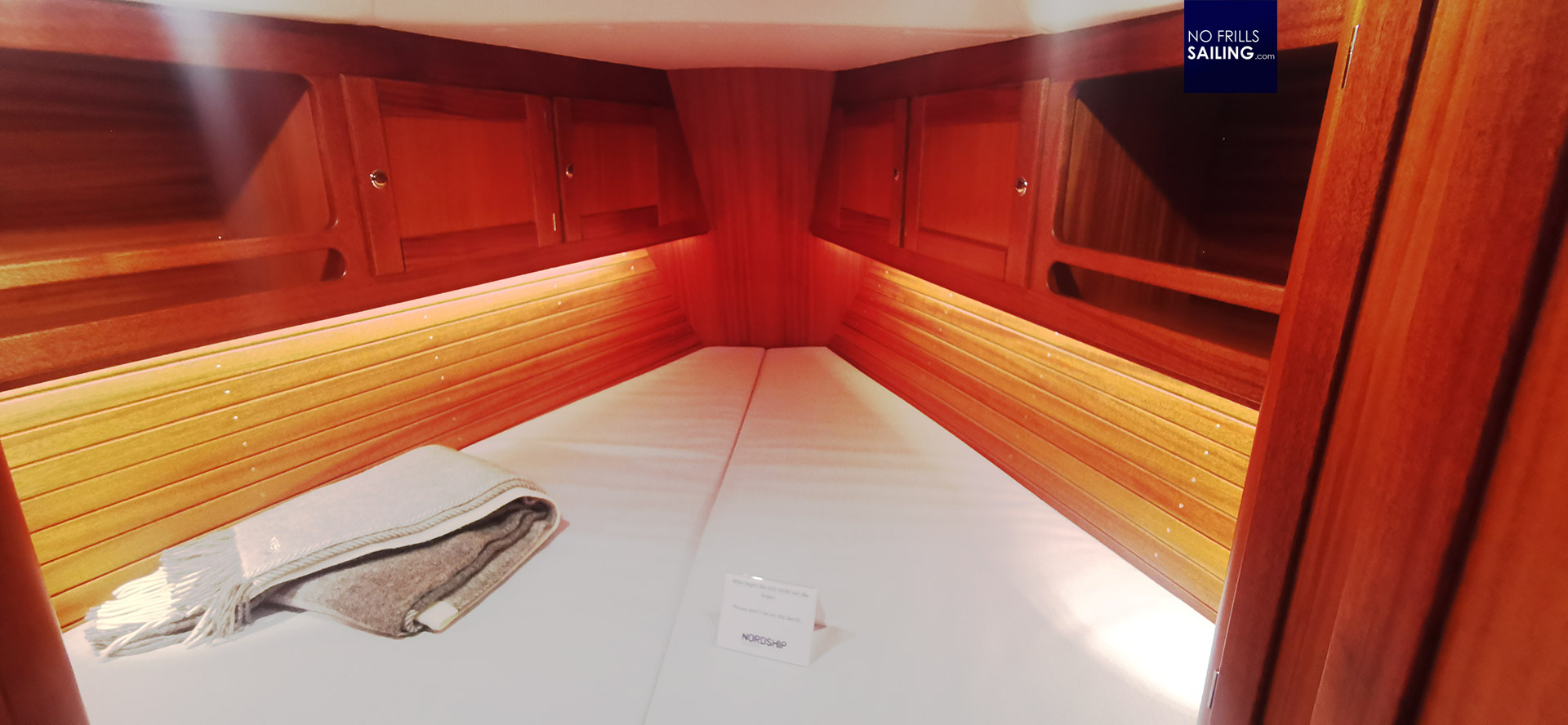 The joinery is exemplary. You remember my own refit-undertakings aboard my GRP-classic King´s Cruiser 33? In the face of such high quality craftsmanship it seems certainly futile to try to make something like this on my own. "Amateurish" would be a much too nice of an expression for what I did. Honestly, Nordship´s interior building quality is among the best I´ve ever seen when it comes to wood.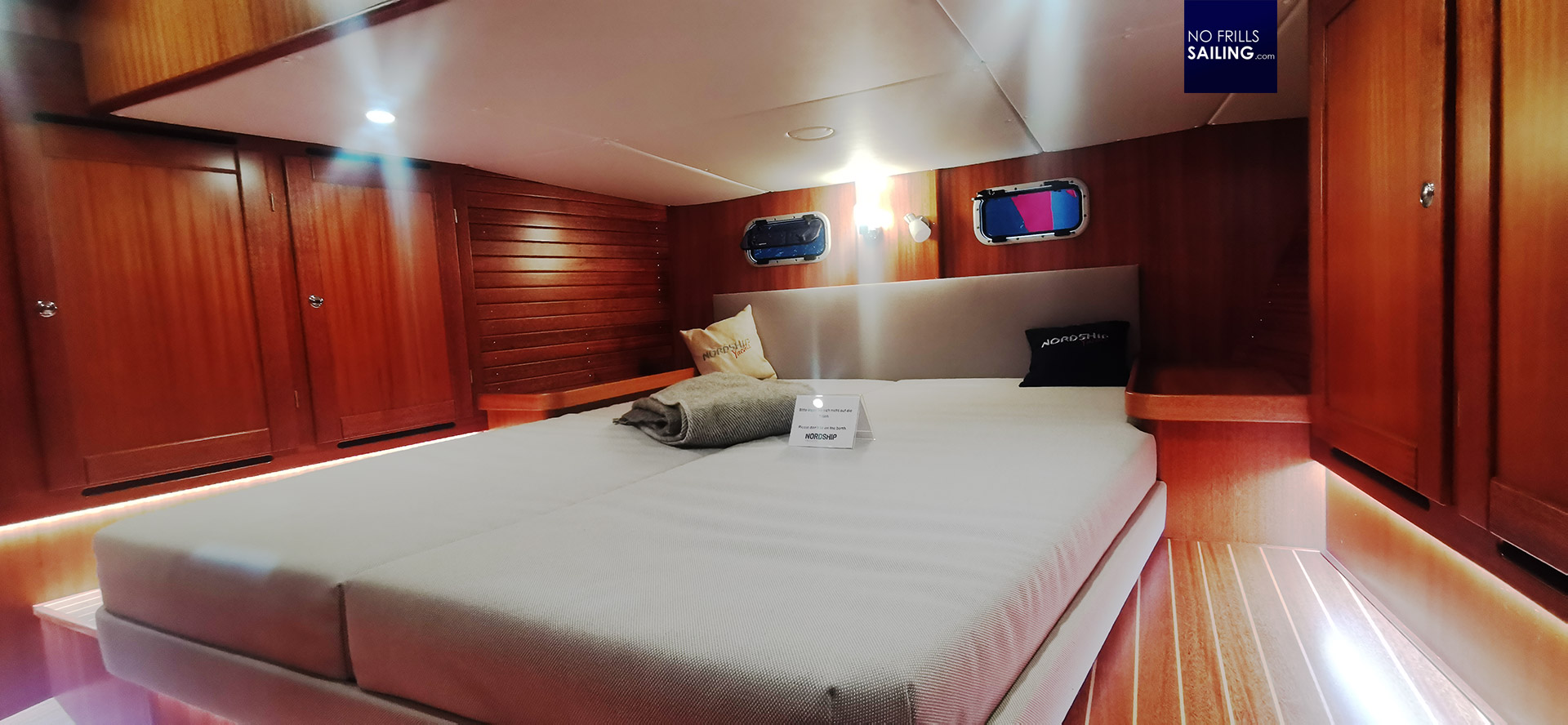 I simply love the owner´s cabin aft as well: A King-sized bed, some less headroom than expected but still a lovely atmosphere. Especially the aft-facing portholes are – again – a nod to a past time and convey a kind of classic pirate ship-like layouts of the past. The cabin on the other hand does not feature hull windows, as the whole hull of the boat does not have. Apparently, these are optional – something I surely would go for.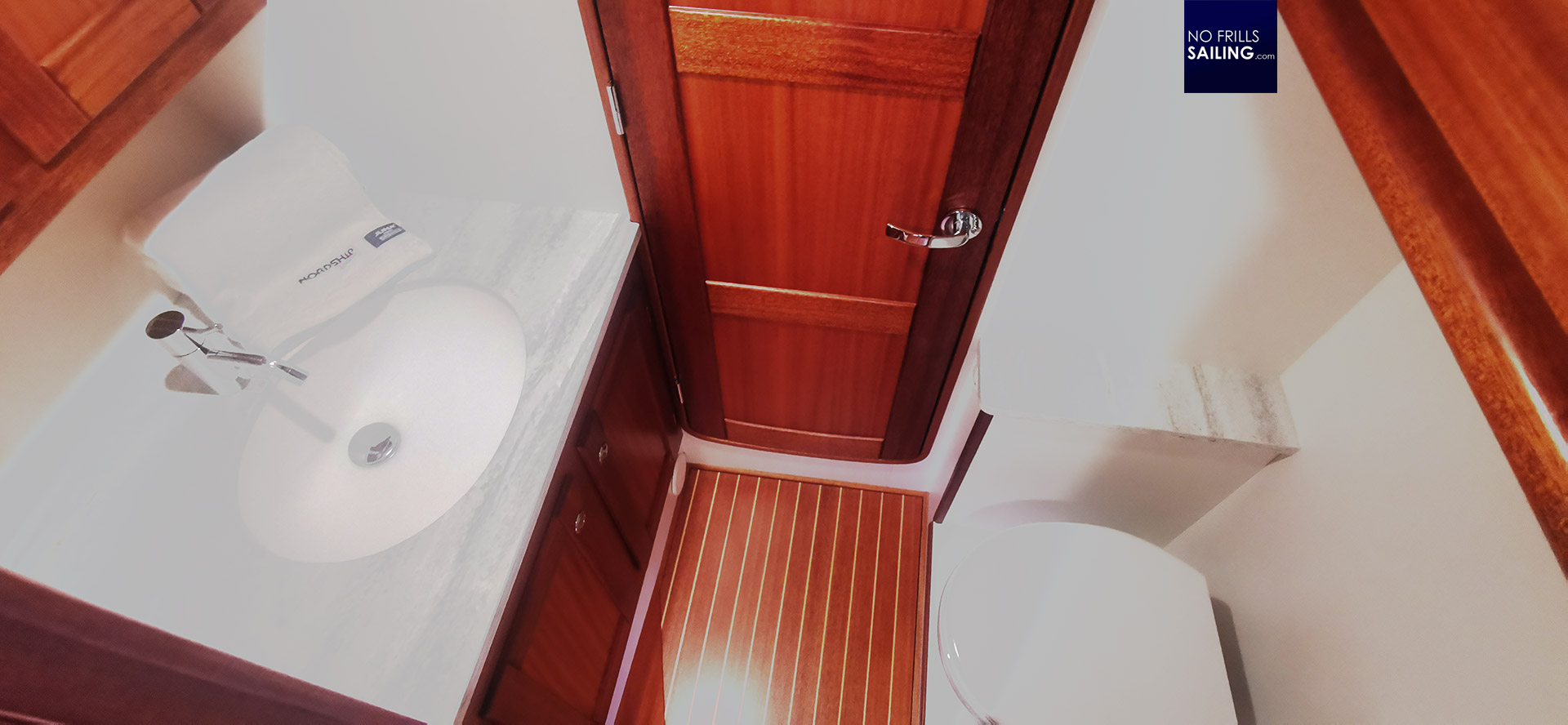 Checking out the head, the owners can enjoy a full-sized separated shower cabin (thanks to the offset entrance) and a nicely fitted toilet. Marvel stone tops and high-quality electric toilets are a matter of course. The bathrooms aren´t that big either, I´d say its also a safety feature having a bulkhead or something to grab a safe hold onto is always nearby.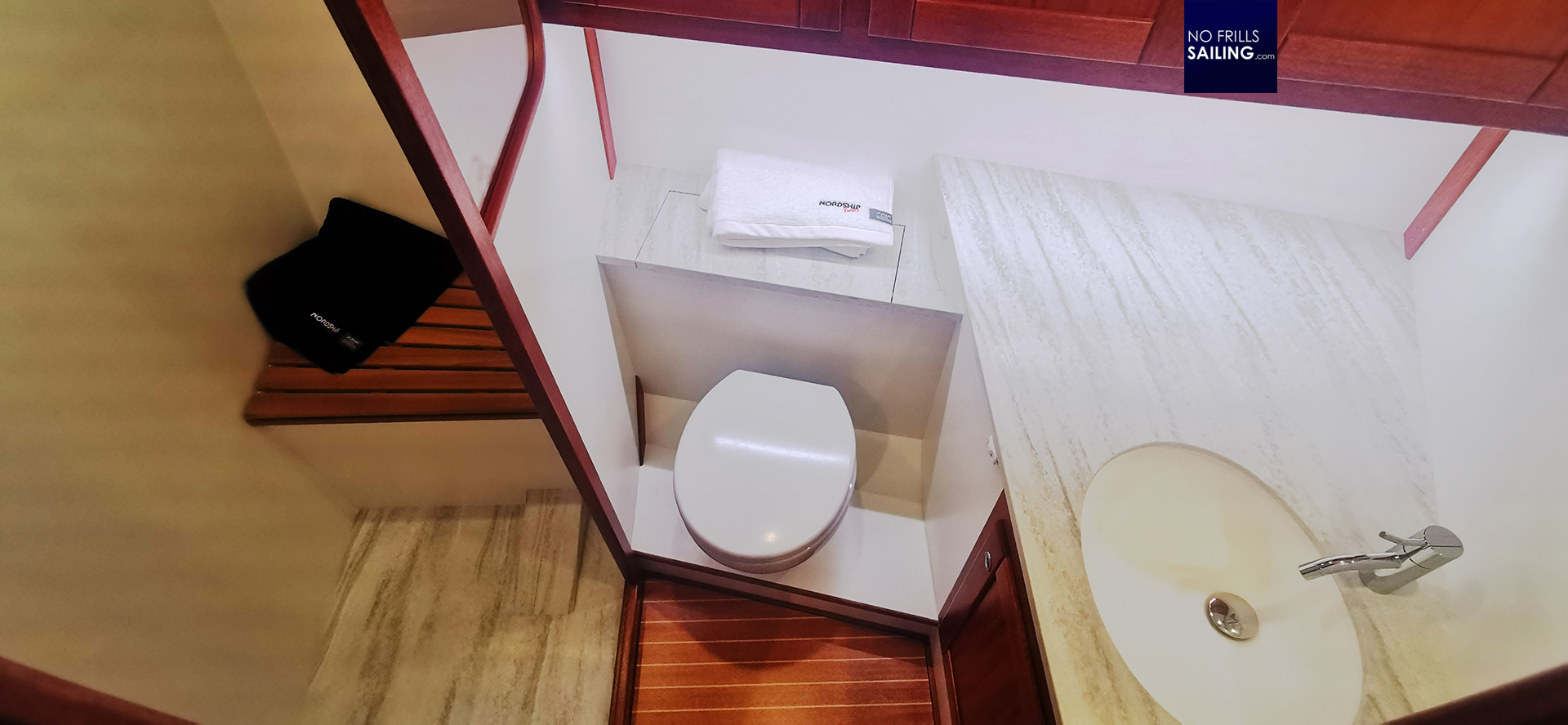 VIP-guests or family members occupying the fore cabin can also enjoy a nicely set up and fitted bathroom with all amenities needed. Although a bit smaller, the shower can be closed off completely from the rest of the room as well. A sailing couple with occasional guests or a small family of four will find the living quality aboard most appealing, I would say, if they are attracted by the classy looks of the boat.
A specialty of Nordship yachts is the "Captain´s Lounge", as I call it, because I do not have a specific name for this: I mean the walkway aft connecting the owner´s cabin in the stern with the saloon. Other than in classic deck saloon yachts, like for example Oyster, the Nordship does not have the galley to port side in the aft but place to starboard side more to the bow. This "frees" the walkway aft to be used for something else.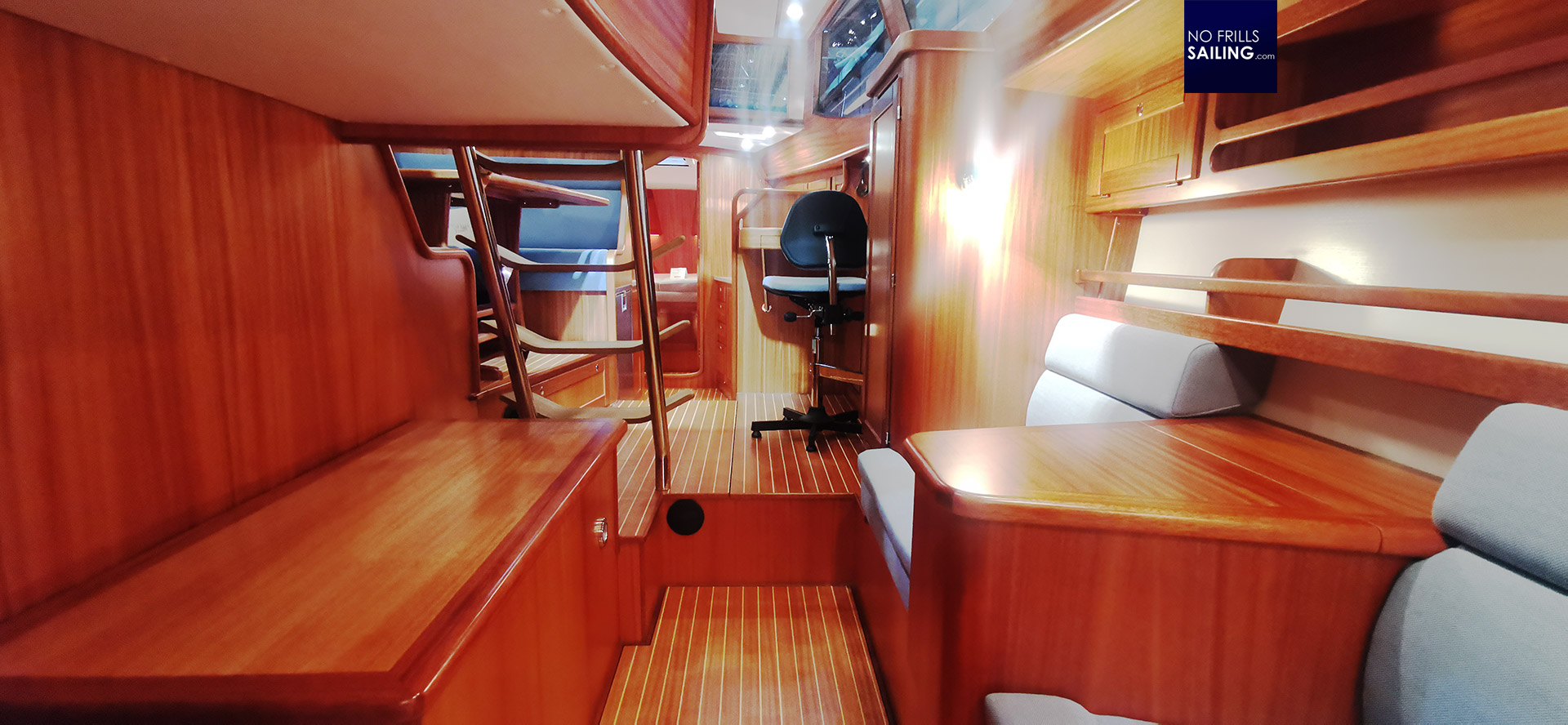 In this, the yard decided to feature "Captain´s Chairs" facing the longitudinal bulkhead and the engine housing. At first glance this space appears to be a bit weird as one could hardly imagine a situation where you don´t want to take a seat "upstairs" in the nice, light-suffused saloon but rather "down" in the "basement". But, maybe, if you fit a flatscreen to the facing wall this is a nice place to watch a movie or just enjoy a quiet drink. I personally prefer the Oyster-variant, but I am sure there are some who fancy this "lounge"-approach.
A role model galley
A true role model on the other hand is the galley on the Nordship 420 DS. As I mentioned at the start of this article, this galley is right on to of the pivotal point of the boat and thus sitting deep down in the hull. This certainly means a minimum of seamotion and loads of surplus comforts for the ship´s cook when underway, especially in rougher seas.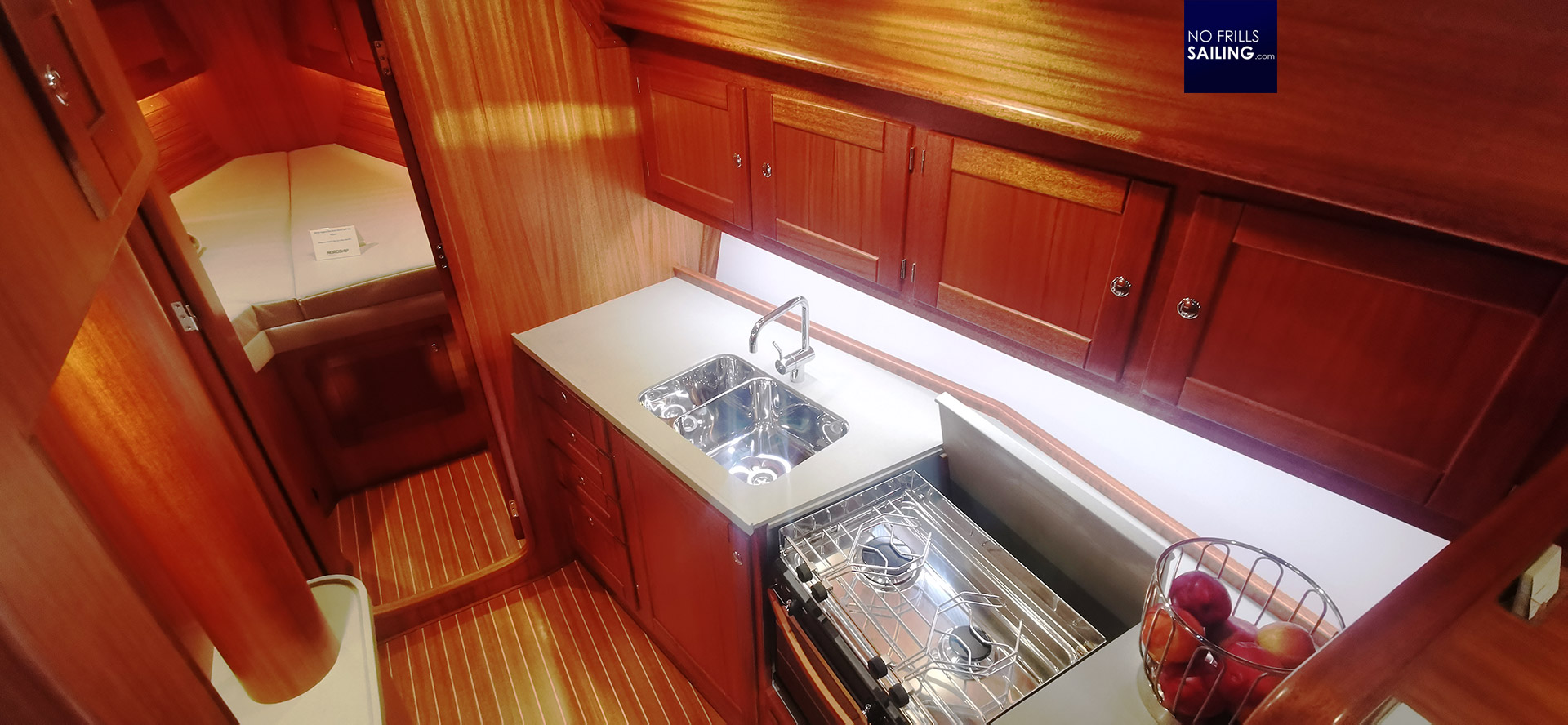 The galley has a standard 2-flame burner oven/stove combination, loads and loads of cupboards and stowage for cutlery, crockery and provisions. The yard provides some options regarding fridges, like ordinary fridges and freezers. In this, of course, a generator and inverters can be ordered as surplus auxiliary equipment.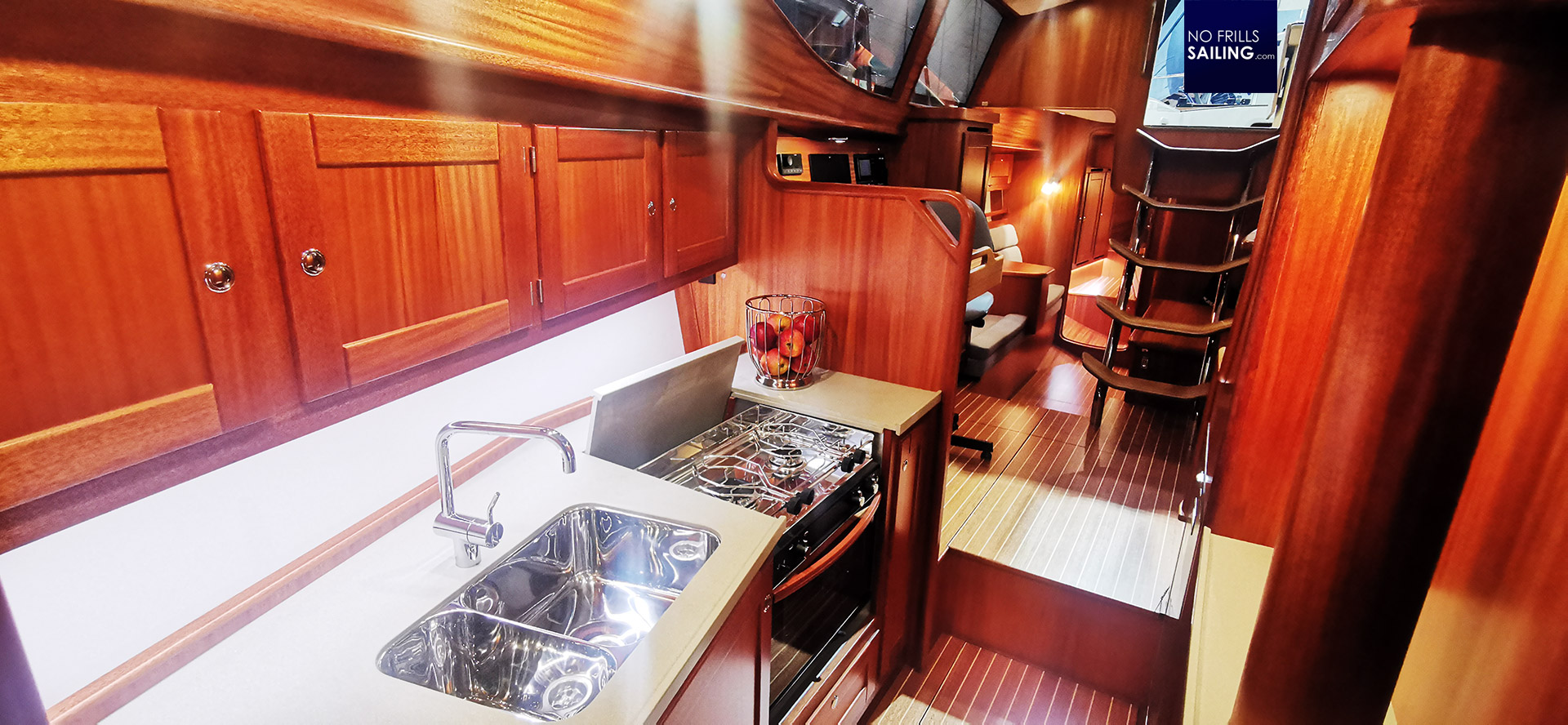 Again, the absence of any hull windows may be something that some are missing. This is most apparent in the galley that is deep down in hull and maybe a bit too "dark" for some. Others, maybe, find this feature most attractive as the galley aboard the Nordship is kind of "hidden" from the sights in the saloon: Me personally, I never like to always have the used dishes in the sink in sight, that is why I don´t like longitudinal galleys on traditional cruising yachts and would prefer galleys "out of sight".
Deciding details
Apart from those things, the Nordship 420 DS – like all other boats I have seen to date by this yard – are made with passion and true love by the yard. This can best be seen when walking alongside the hull: Unlike – shockingly so many! – other boat manufacturers where apparently speed is the driving factor and hulls are taken out of the moulds too early, the hull of the Nordship does not have any dents or bumps. You cannot see where Bulkheads are laminated to the hull (from outside) and it looks like one solid smooth surface. Because it is one. Another prime example is the Teak.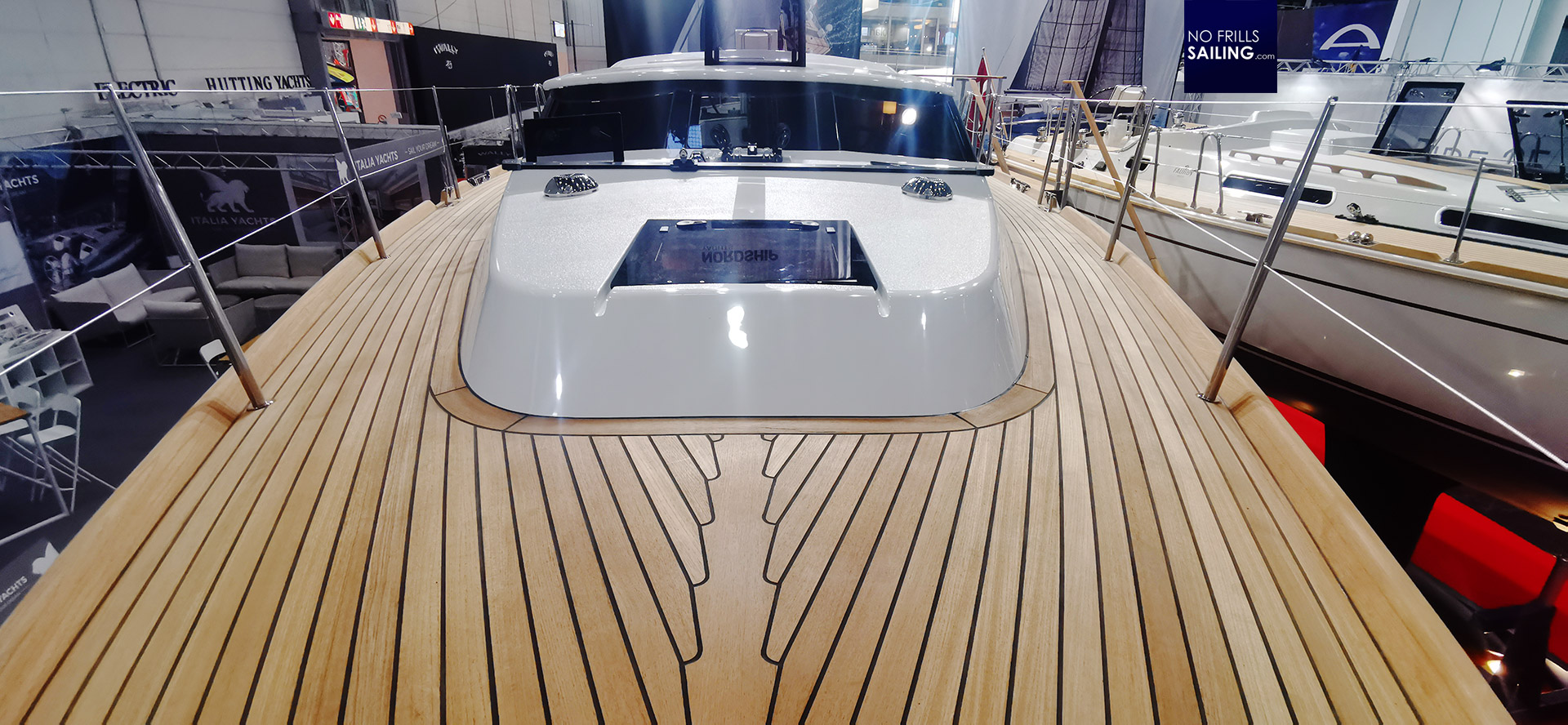 One might say that such a focus on even smallest details is a waste of time, effort and at last of the buyer´s money, but the decking alone is worth an own article here. The level of crafting out even the smallest detail is amazing. By the way, the Nordship-yard, asked if they still have enough Teak amidst the Myanmar-embargo, told me, that they have some big logs left worth many, many boats to come.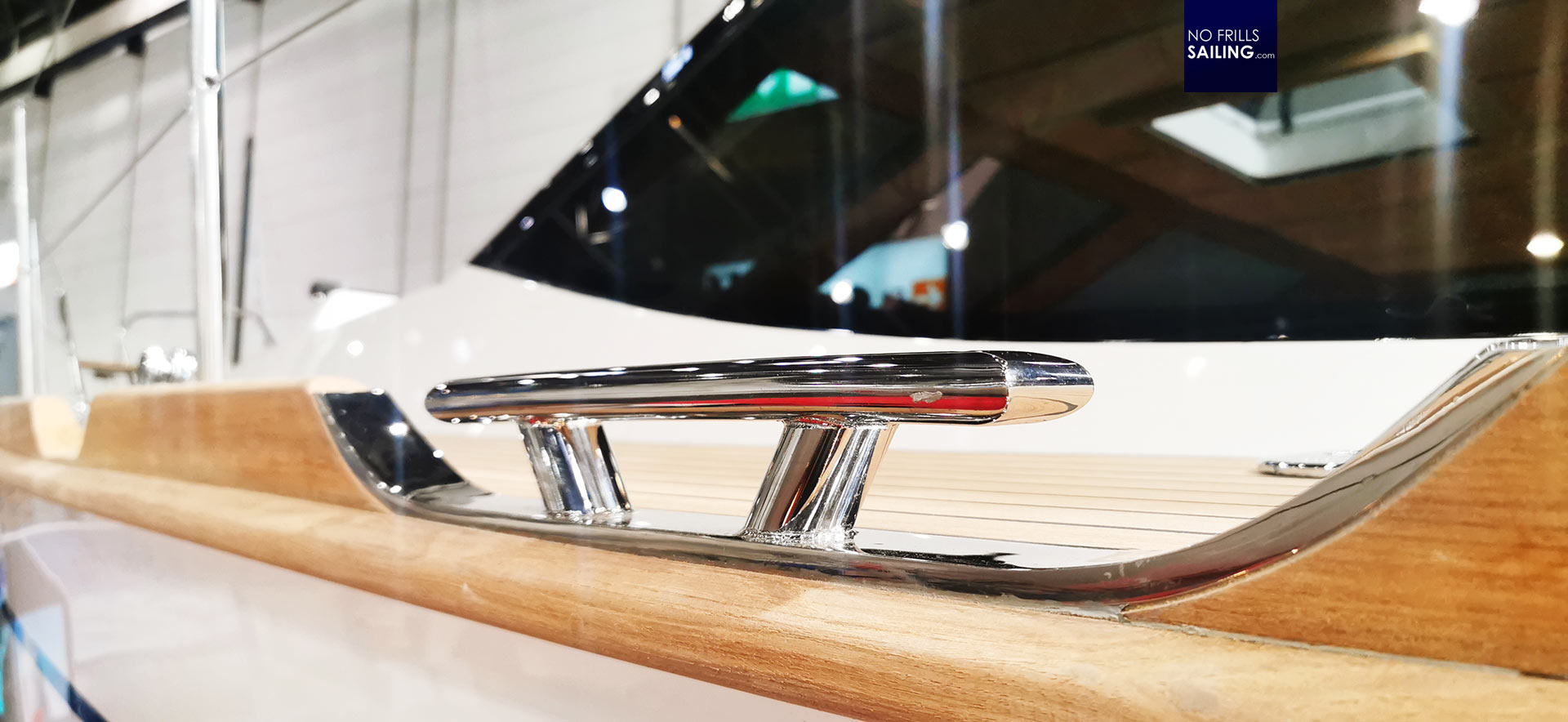 I just enjoy contemplating those boats because you don´t see this anymore with big brand production cruisers: All use the same suppliers for equipment and fittings, all look almost the same and there are hardly any surprises. Well, of course this has a reason: In this, an overall affordable price level can be guaranteed. On the other hand, seeing a boat being thought through so thoroughly – just look at this clamp! – is pure eye candy.
Fast or luxurious? Both!
Apart from the nice boat, which is a sister brand of Faurby, made by the same yard, I loved the atmosphere on the stand. I know one of the bosses, Thomas Dan Hougaard, pretty well now from many occasions and walkthroughs over the years now and I always feel welcome in such a heartly way that I instantly feel at home. Somehow. Maybe this attitude is something that is transferred by those boats? Anyways, if a Nordship is too classy or too much long haul-optimized for you, they do have another brand: Faurby.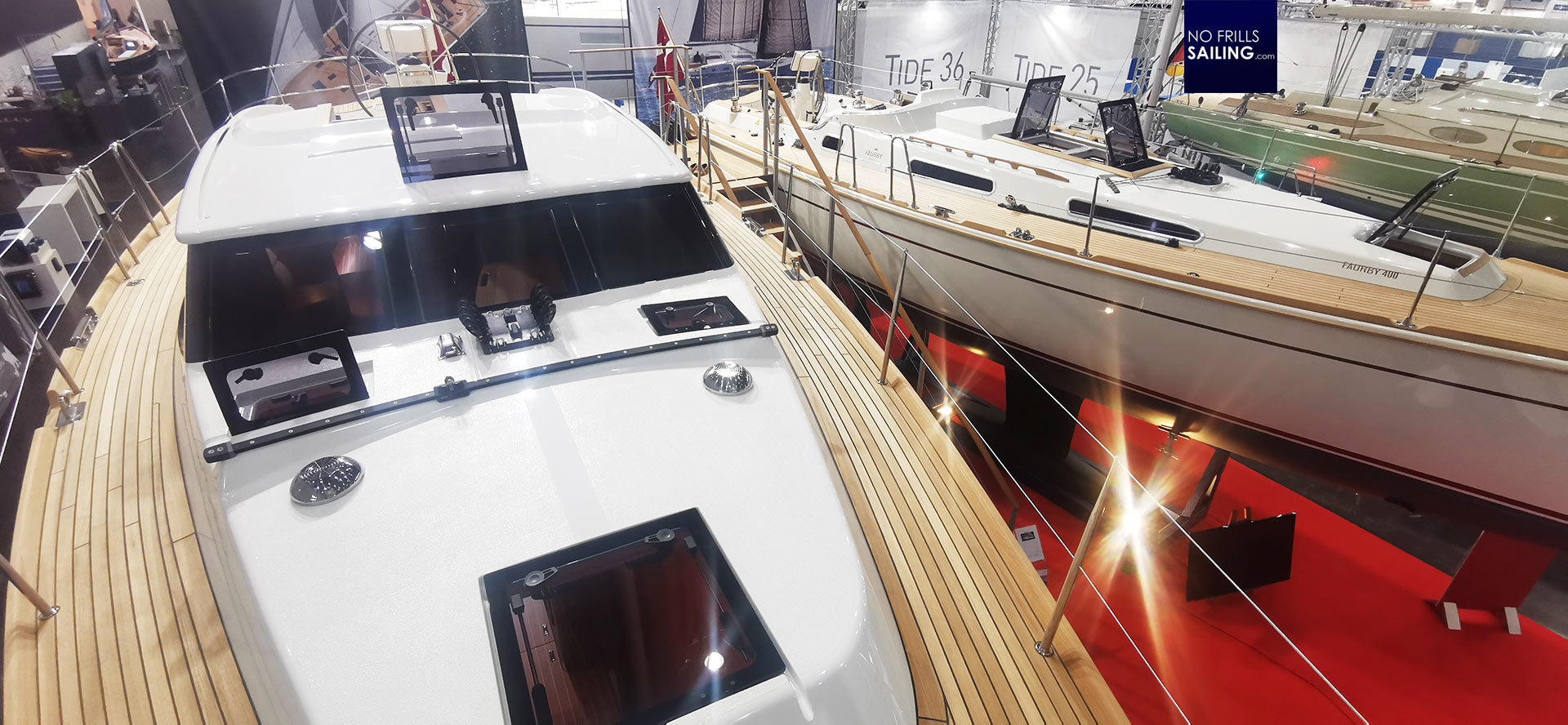 But this is something for a next article: I surely have a yard visit in Kolding on my list for this spring. I am keen on seeing how these boats are made, especially meeting the joiners who do such a fantastic job. Maybe, just maybe, a boat will be ready to sail in the water and Thomas is up for a little sea trial in the Kolding fjord. We will see.
You might also like these related articles:
The luxury pocket cruiser: Nordship 380 DS
Faurby 396E – Role model classic Scandinavian cruiser
A day at Luffe Yachts